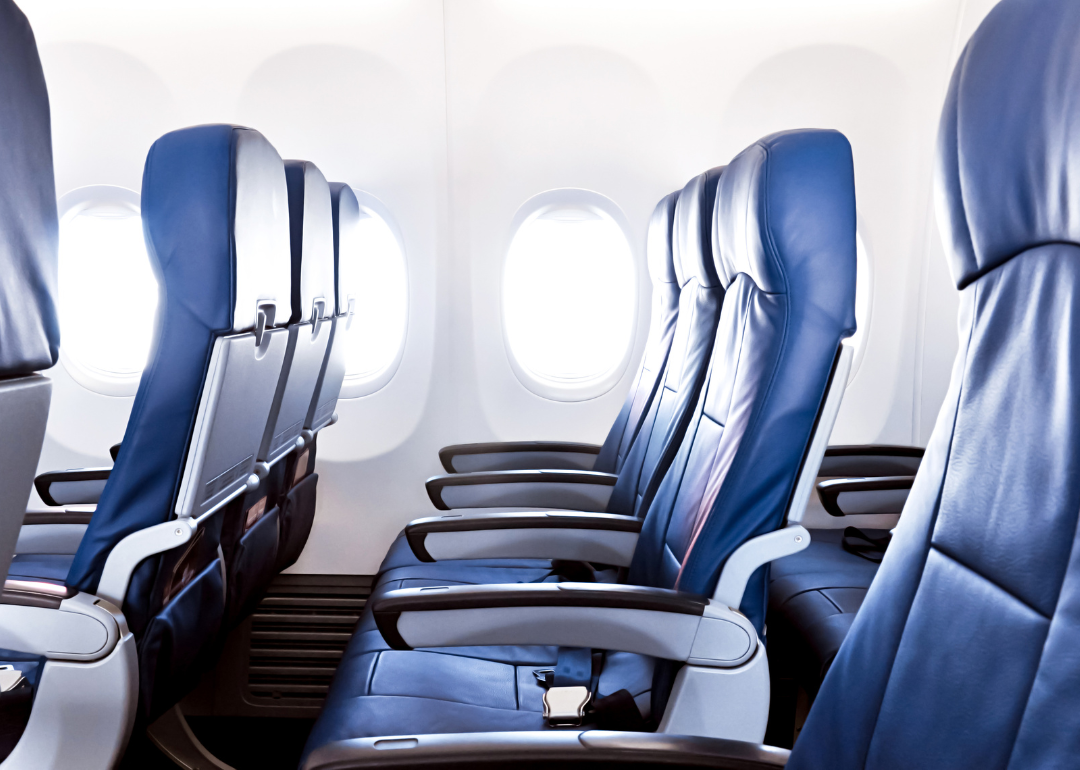 Stacker Studio
Which major airlines offer the most seat space in economy?
Atstock Productions // Shutterstock
Which major airlines offer the most seat space in economy?
During the "golden age" of travel, air travelers and aircraft alike were glamorous. Every flight was a place to see and be seen.
But with the downfall of luxurious airlines like Pan Am (which went out of business in 1991) came an influx of cheaper, more accessible flight options that made flying feel less like riding a limousine in the sky and more like taking the New York City subway or a Greyhound bus. Though economy class offerings have made a public transportation mode that used to be reserved only for the rich and the business traveler more accessible, it's a ticket class that comes with some downsides.
More passengers are being crammed into tight quarters in airplane cabins—especially in economy class. Worse yet, the seats are getting smaller. In some cases, they've shrunk by several inches, according to Forbes. 
Too-small seats aren't just uncomfortable; they may also be unsafe. The FlyersRights advocacy group has argued that the packed-like-sardines configuration could negatively impact the safety of the flight and the time it might take to evacuate the plane in case of emergency.
Yet, while the Federal Aviation Administration does regulate how many seats are allowed on a plane, the agency declined to impose a standard seat size. This means airlines have no consistency, even in the same fare class. One carrier's economy could leave you feeling footloose and fancy-free; another's could leave your knees knocking into the seat before you. 
Thanks to varying plane models in any given fleet, a wide range of experiences is also possible within a single airline. Economy is not even a single class in the main cabin nowadays but has gotten carved into several premium upgrade areas (sometimes just a few individual seats or a couple of rows).
Since it's become more difficult to feel comfortable on flights, travelers may want to do extra research before taking that next trip. To help prepare you for your journey, TravelPerk looked at SeatGuru data on economy seat space offered by each of the 10 major U.S. airlines, listed below alphabetically.
In airline speak, the seat pitch—the distance between one chair's seat back and the one behind it—is the best legroom measurement. It's also the yardstick by which most passengers judge their comfort level, and it's what tends to get sacrificed when airlines want to fit more seats onto their planes. But other factors affect spaciousness besides legroom—including seat width and a few others that might surprise you.
See which airlines offer the most room for your buck and plan accordingly on your next flight.
This story originally appeared on TravelPerk and was produced and distributed in partnership with Stacker Studio.