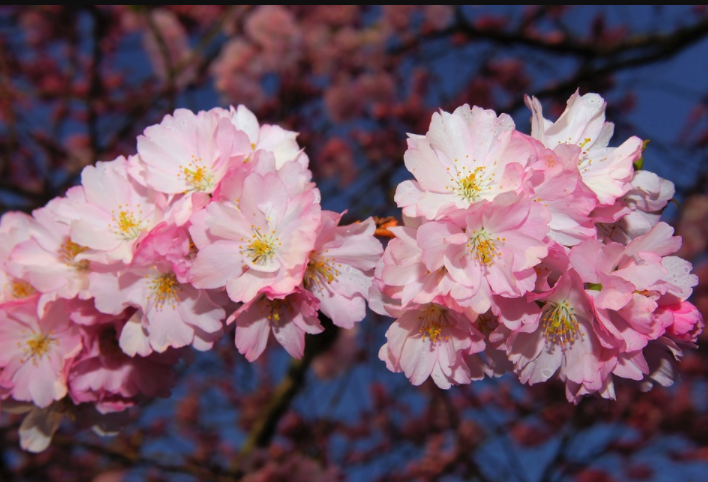 The world's best places to see cherry blossoms
The world's best places to see cherry blossoms
Whether you call them sakura, ying hua, or cherry blossoms, no sign of spring is more beloved. Around the globe, cherry blossom season is a special time of year, with blossom forecasts keeping a close eye on the fleeting blooms. Even though the act of viewing cherry blossoms—called hanami in Japanese—is most popular in Japan and Washington, D.C., we've rounded up 28 other beautiful (and some unexpected) places to ring in spring. You better hurry though; at their peak, blossoms only last a week or two!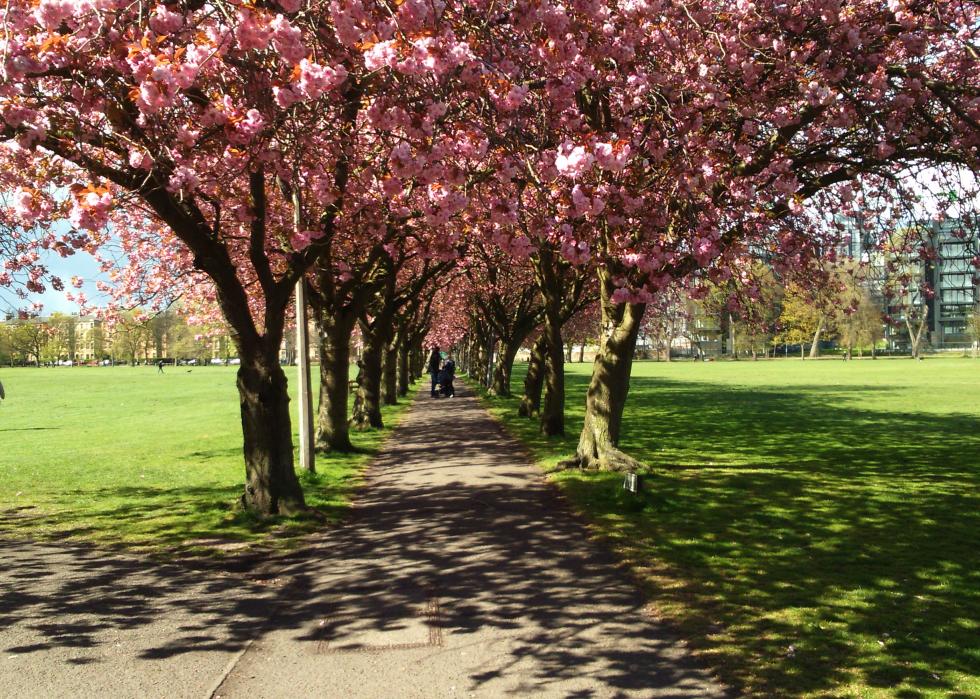 1 / 30
Edinburgh, Scotland
Spring in Edinburgh is awash in cherry blossoms, as these magical trees are abundant in Princes St. Walk and Jawbone Walk in the Meadows, right outside of the city center. For the best blooms, plan your visit in April, but a fall visit when the Great White Cherry trees' leaves are turning flaming red, is worth your time too.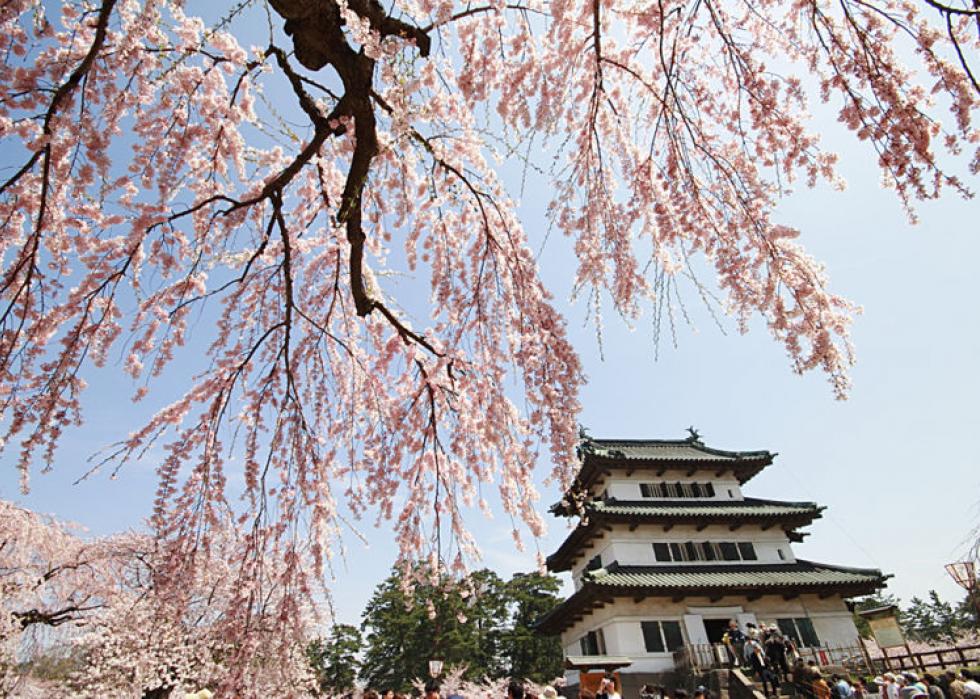 2 / 30
Hirosaki, Japan
Japan is perhaps the most famous destination for cherry blossoms—and rightfully so. Hirosaki is home to the Hirosaki Cherry Blossom Festival, held from April 21-May 6 this year. At night, the trees are illuminated.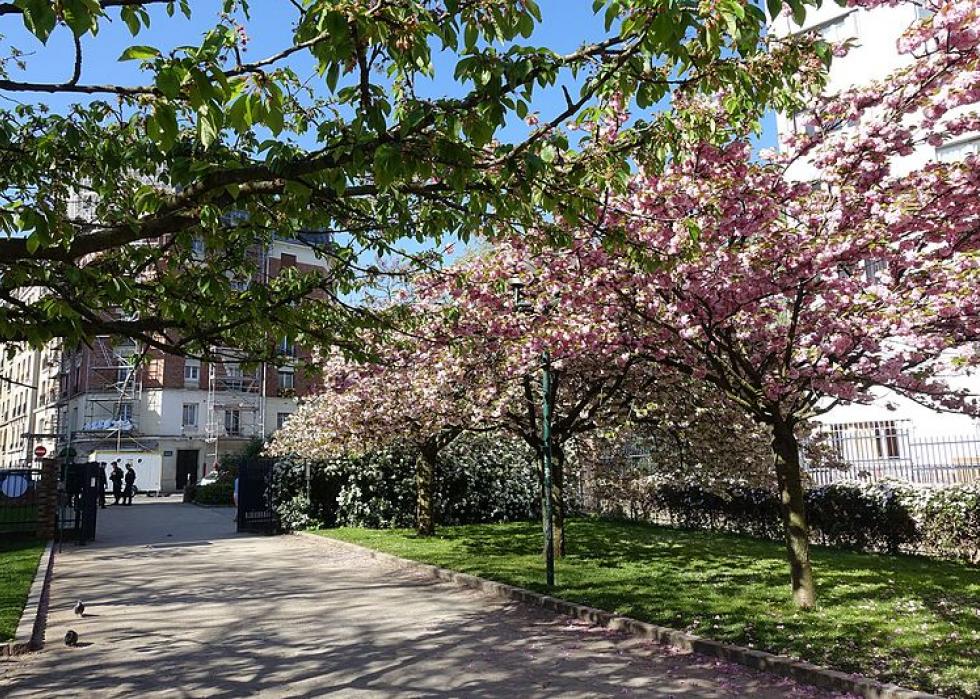 3 / 30
Guilhem Vellut // Wikimedia Commons
Paris, France
There are few sights more idyllic than the Eiffel Tower flanking by blooming cherry trees. The bulk of the city's bloom takes place in late March and early April. One special sight to withhold: the prunus shirotae tree at the Jardin des Plantes, believed to be the largest tree in Paris.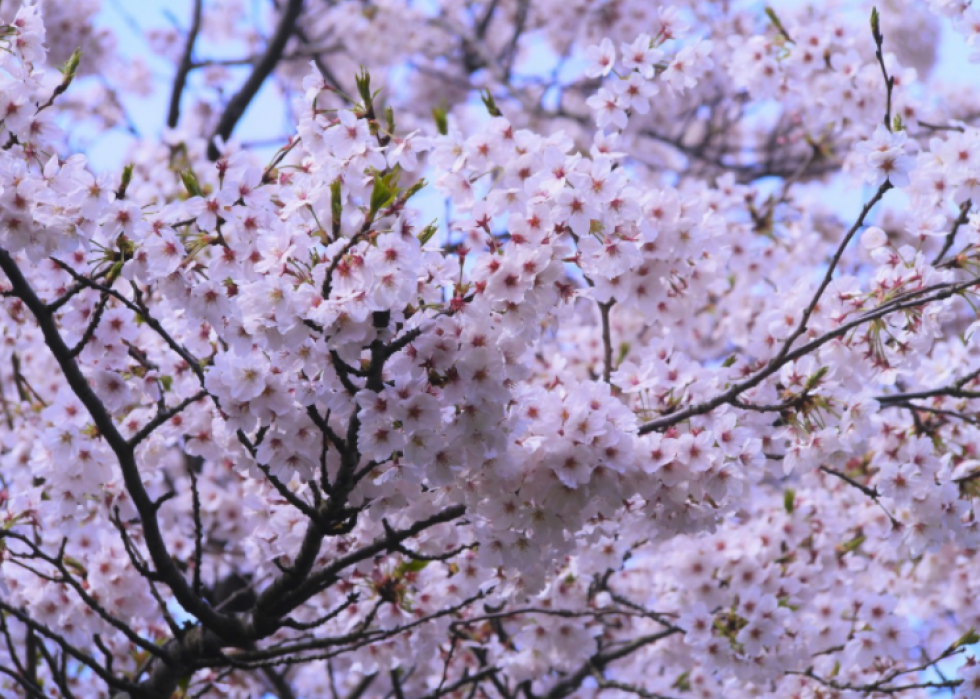 4 / 30
Traverse City, Michigan
This region in northern Michigan is scattered with cherry trees, and thus, plenty of blossoms come spring time. Most bloom throughout the month of May, and the best views can typically be seen along the M-37 highway.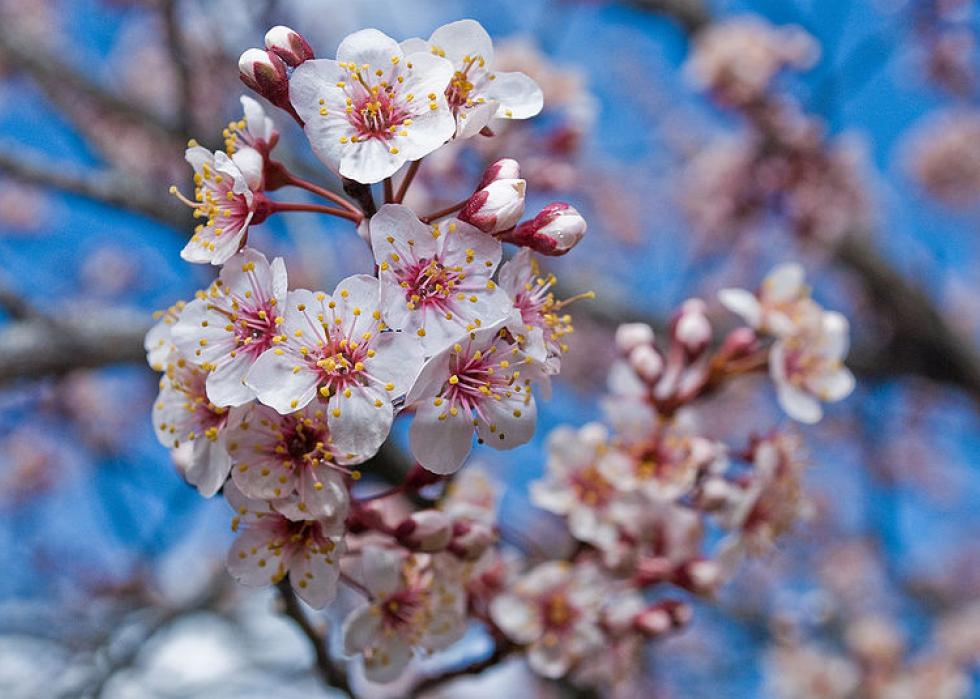 5 / 30
Chris Engelsma // Wikimedia Commons
Portsmouth, New Hampshire
Portsmouth's stunning cherry trees are a living memorial to the Portsmouth Peace Treaty, a peace agreement signed during the Russo-Japanese War in 1905. In 2012, the city received special new trees, grown from the original cuttings of Washington, D.C.'s trees, which were a gift from Japan.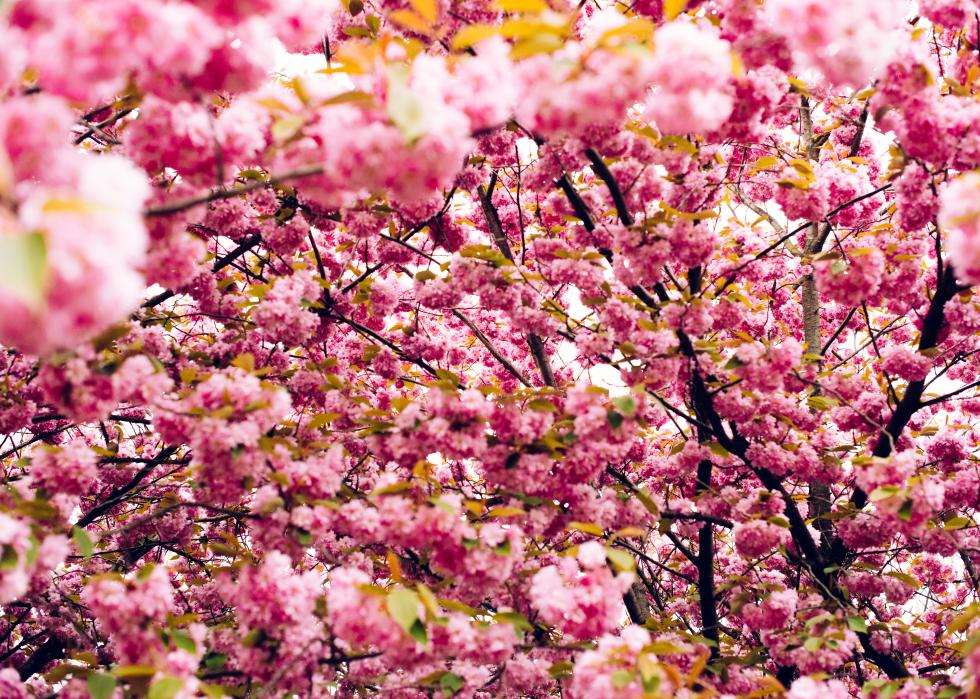 6 / 30
Gabriel Garcia Marengo // Flickr
Copenhagen, Denmark
Copenhagen Sakura Festival is held each year at the end of April. The festival celebrates the 200 cherry trees planted in the city's Langelinie Park.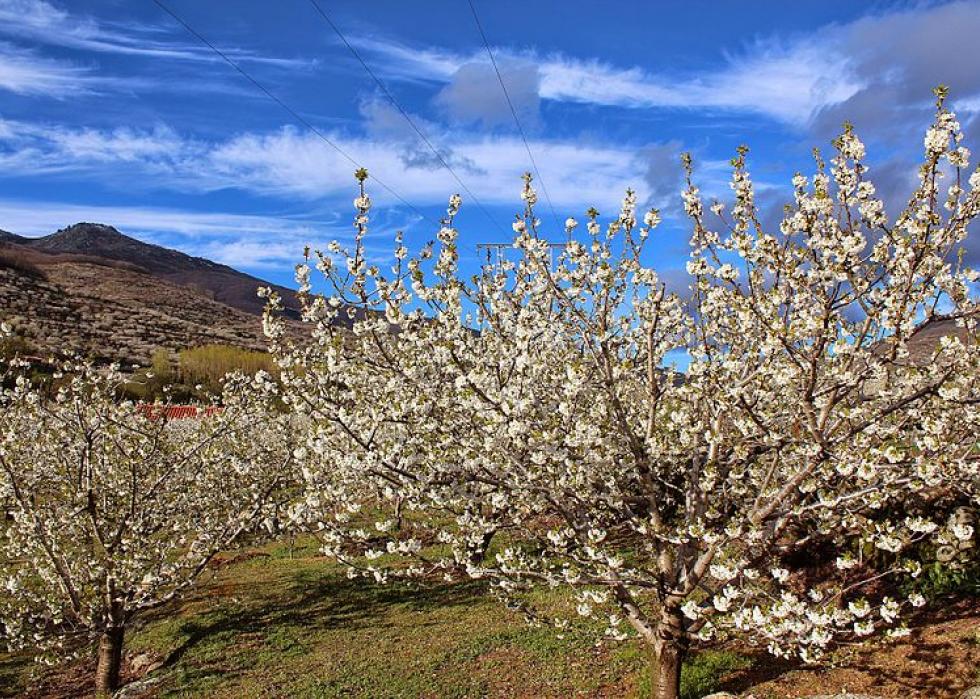 7 / 30
David Grande // Wikimedia Commons
Jerte Valley, Spain
Spain's Fiesta del Cerezo en Flor might be lesser-known, but it's easily one of the world's best cherry tree celebrations. The region is home to more than two million cherry trees and when they bloom, typically in early April, the valley appears to be covered in snow because of the abundant white blooms.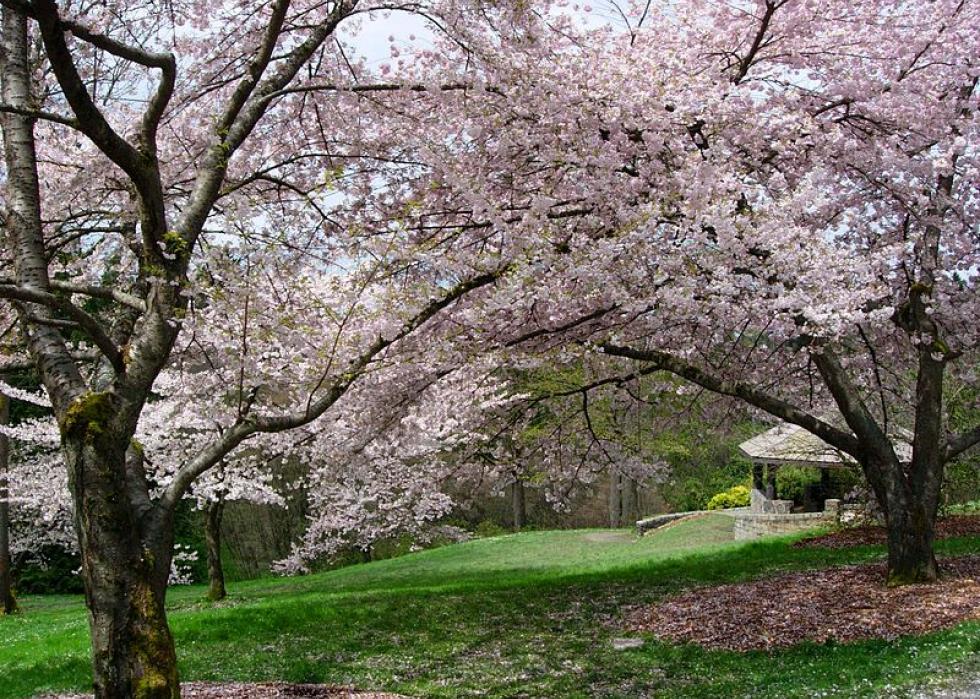 8 / 30
Hugh Millward // Wikimedia Commons
Seattle, Washington
Cherry blossom season in Seattle is a casual affair, with the beautiful trees dispersed through the city. The best views can be found on the Quad of the University of Washington and the Washington Park Arboretum.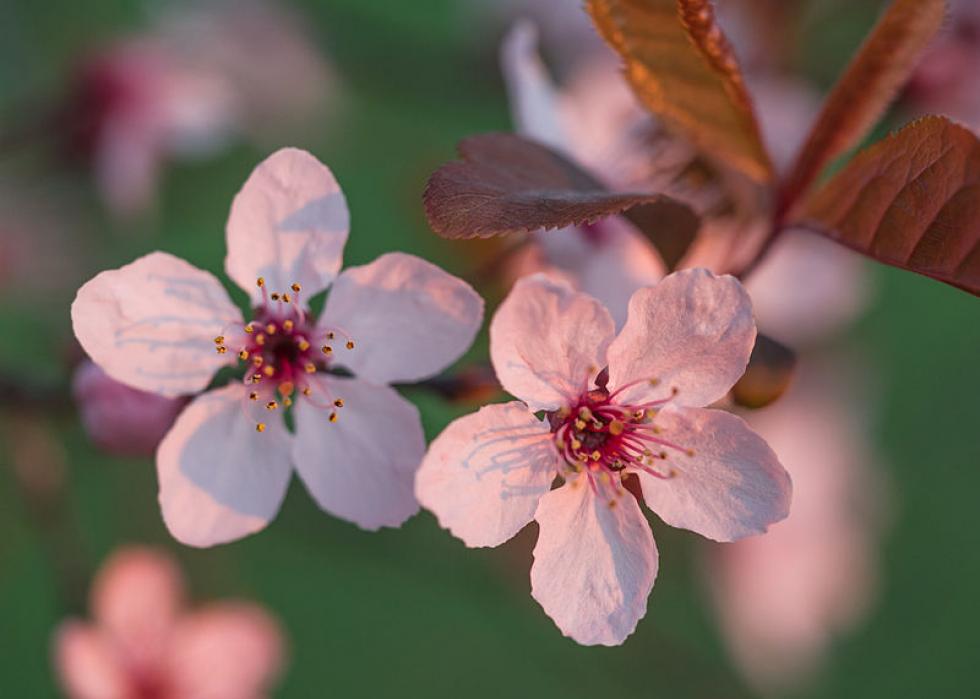 9 / 30
James Petts // Wikimedia Commons
Meghalaya, India
If you can't sneak away to see cherry blossoms in spring, don't worry—the other hemisphere's got you covered. The India Cherry Blossom Festival is typically held from late October to early November, and is the first international cherry blossom festival in the world to be celebrated in the fall.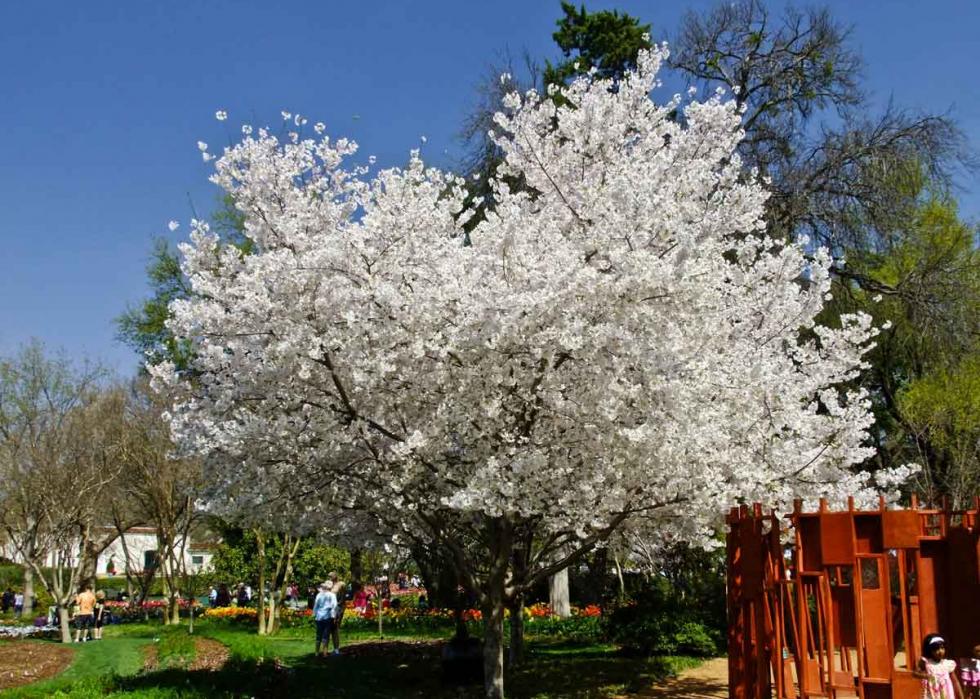 10 / 30
Allen Sheffield // Flickr
Dallas, Texas
The Dallas Arboretum is home to 150 cherry blossom trees, which put on a show each spring. Even though there aren't as many as the 3,000 trees that adorn D.C.'s National Mall, the city's arboretum is frequently ranked as one of the best botanical gardens in the country.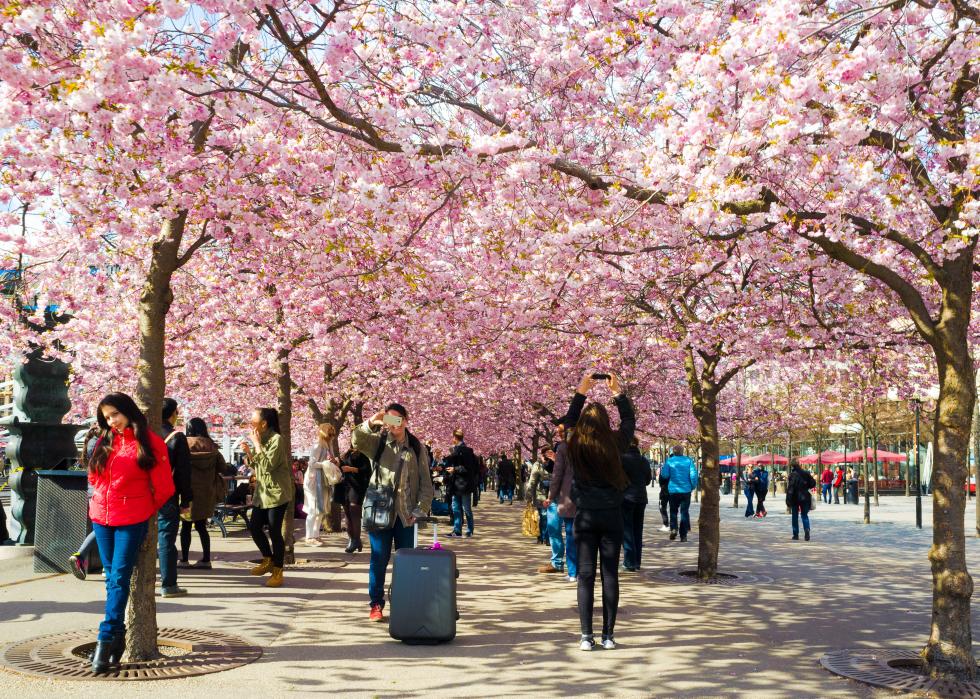 11 / 30
Stockholm, Sweden
The cherry blossoms blooming in Kungsträdgården are one of the primary signs of spring in the Swedish capital. Peak bloom usually occurs at the end of April into early May.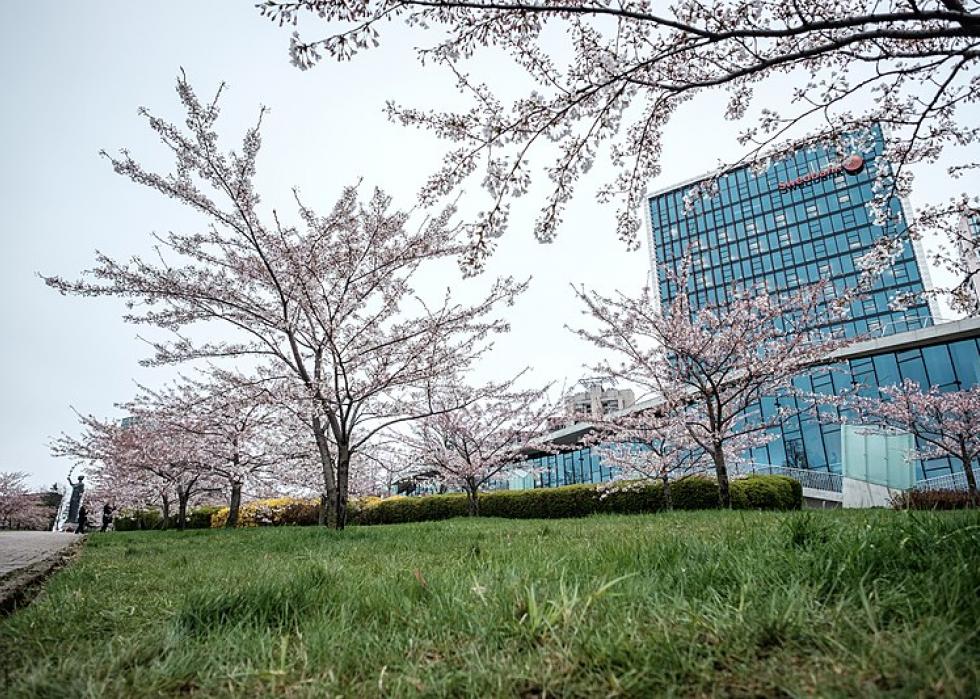 12 / 30
Karlis Dambrans // Wikimedia Commons
Vilnius, Lithuania
Crowds flock to the banks of the Neris River each spring to admire Vilnius's abundant bright-pink blooms. The country's cooler temperatures mean that blooms appear later than in other parts of the world.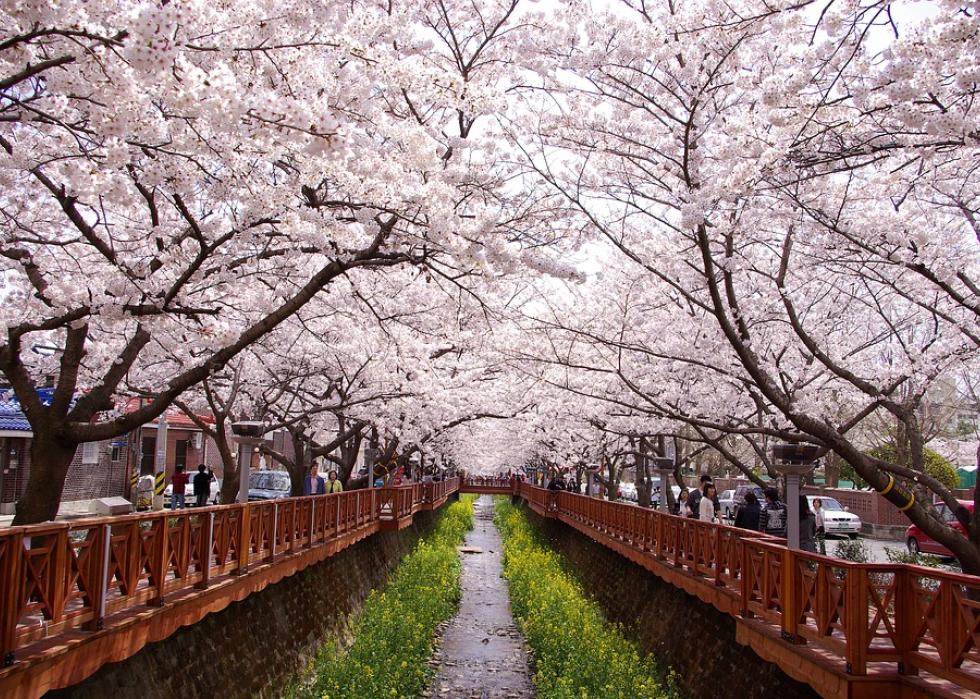 13 / 30
Jinhae, South Korea
The Jinhae Gunhangje Festival is the country's largest festival, attracting more than two million people each year. Even though it's about four hours from Seoul, the festival is well-worth the trek for the vibrant blooms, K-pop, and local cuisine.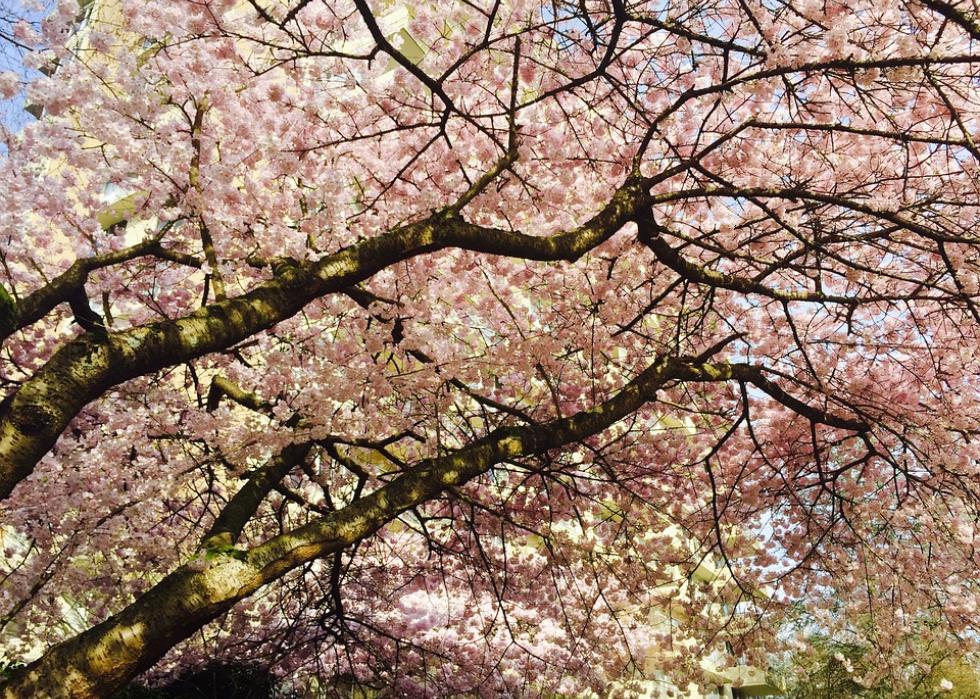 14 / 30
Vancouver, British Columbia
A whopping 40,000 cherry trees bloom each spring in this Canadian capital. The city's oldest reside in the VanDusen Botanical Garden, where they were planted in the 1930s as gifts from the Japanese mayors of Kobe and Yokohama.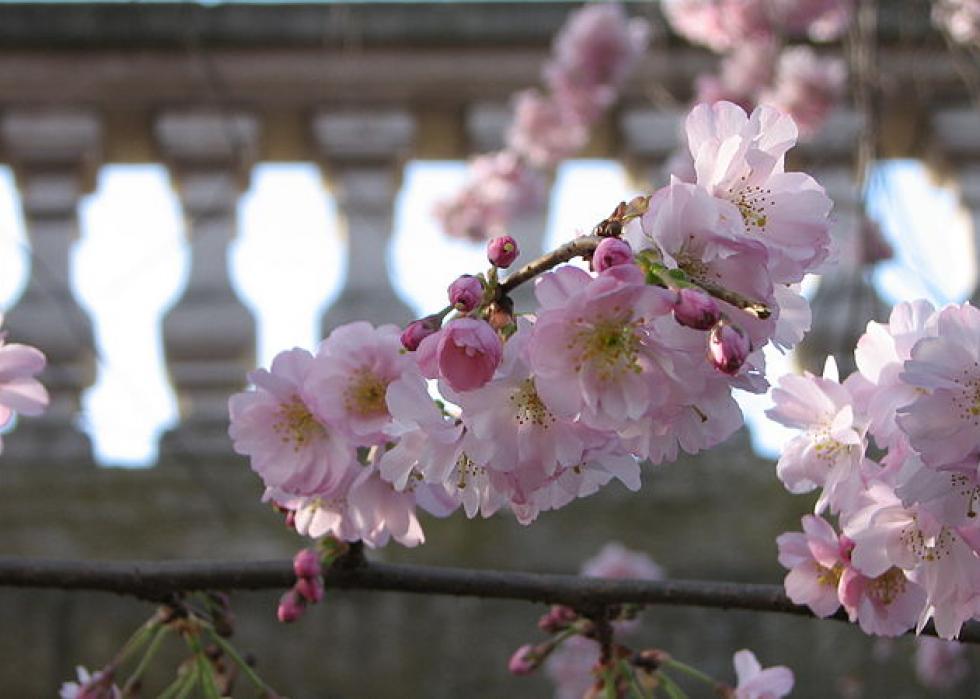 15 / 30
Christian Bortes // Wikimedia Commons
London, England
Kew Gardens is home to most of London's cherry blossoms. For the best views, begin your walk at the Rose Garden, behind the Palm House. From there, you'll see a great collection of Japanese cherry trees, including hatazakura, known for its white single flowers, the pink-blossomed prunus kanzan  and the prunus taihaku, or Great White Cherry.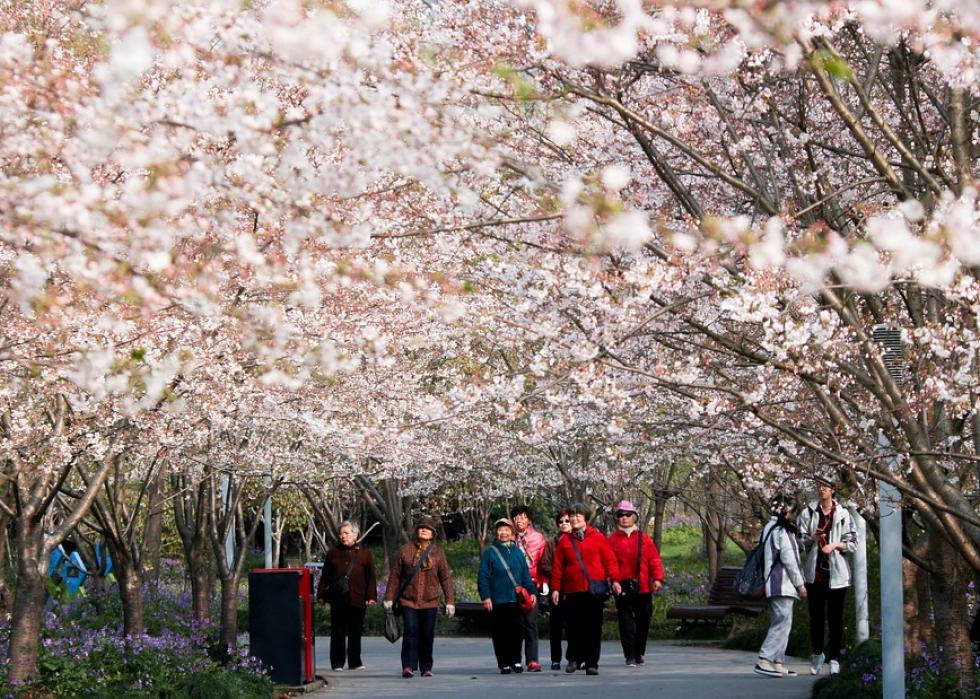 16 / 30
Shanghai, China
Gucun Park has Shanghai's largest collection of cherry blossoms, with more than 12,000 trees and 60 different varieties. Typically held in mid-to-late March, the park's festival draws crowds of nearly 500,000 people.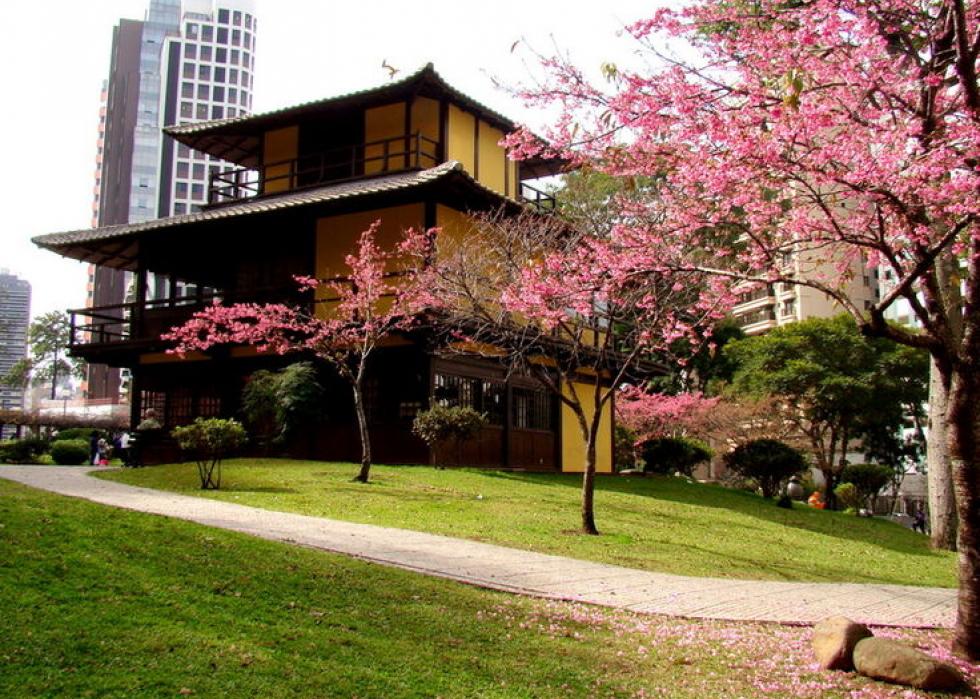 17 / 30
Samir Nosteb // Wikimedia Commons
Curitiba, Brazil
Brazil—home to the second-largest Japanese population outside of Japan—is home to countless cherry trees, but Curitiba has one of the most beautiful displays. You can spot these Brazilian blossoms in July at the city's botanical garden.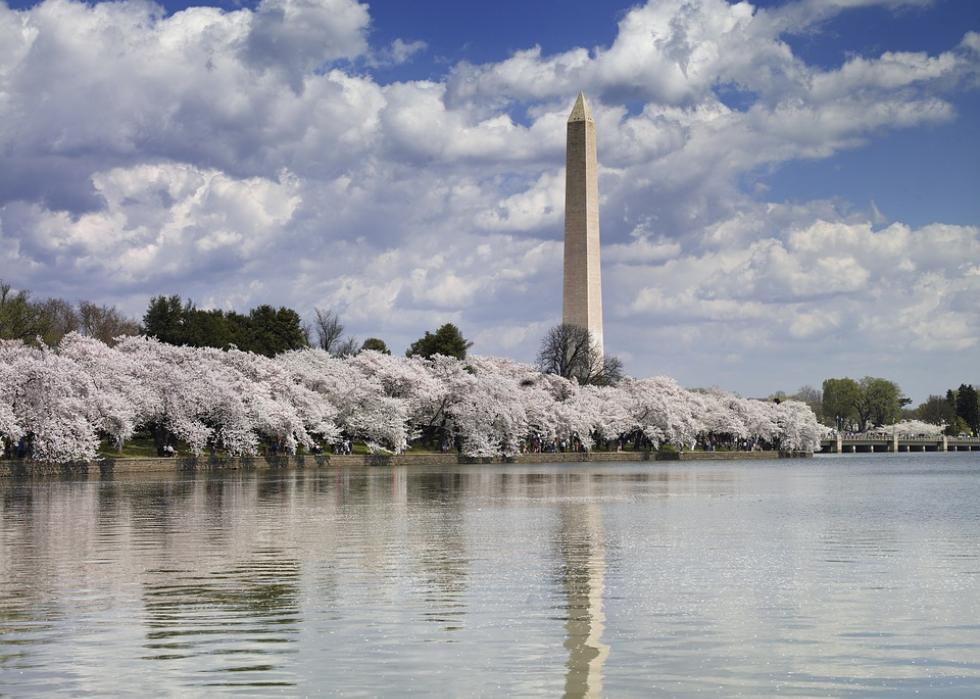 18 / 30
Washington, D.C.
Spring in D.C. is synonymous with cherry blossoms. The National Cherry Blossom Festival, held from March 27-31, commemorates the gift of Japanese cherry trees from Mayor Yukio Ozaki of Tokyo to Washington, D.C. Some hotels even get in on the action, such as The Darcy, which offers a special "Potomac in the Spring" package, including a picnic under the blooms and your own cherry tree seeds to take home.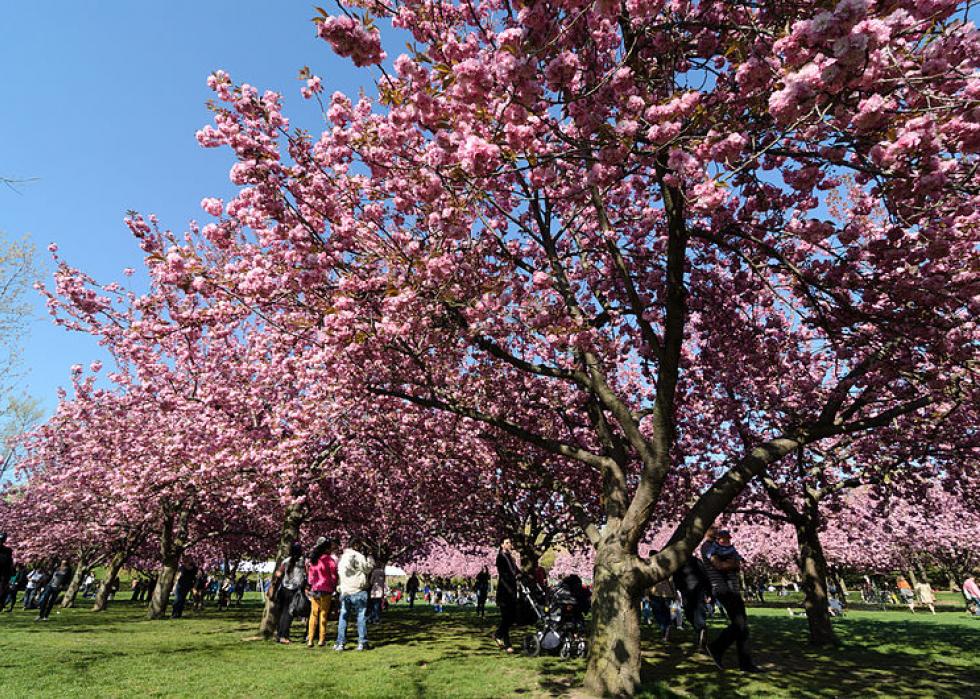 19 / 30
King of Hearts // Wikimedia Commons
Brooklyn, New York
For New Yorkers, cherry blossoms are just a few subway stops away. The Brooklyn Botanic Garden is home to hundreds of the blossoming trees, many of which were purchased in 1921 from a nursery on Long Island.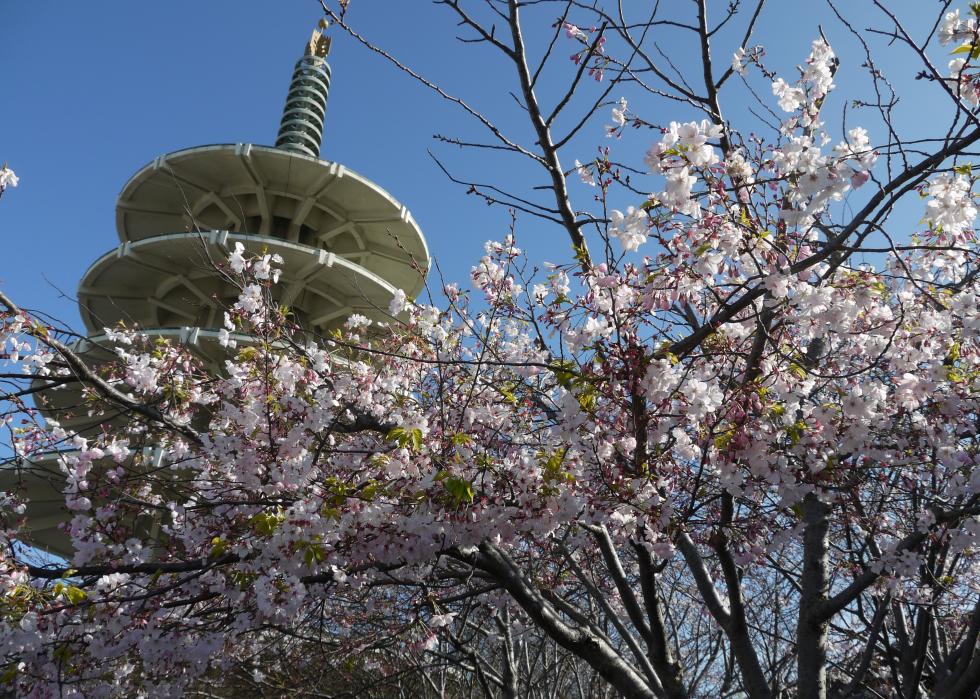 20 / 30
kennejima // Wikimedia Commons
San Francisco, California
San Francisco is home to the Northern California Cherry Blossom Festival, which takes place in mid-April. The grand parade concludes in the city's Japantown, where there is martial arts, food, cultural performances, and of course, cherry blossoms.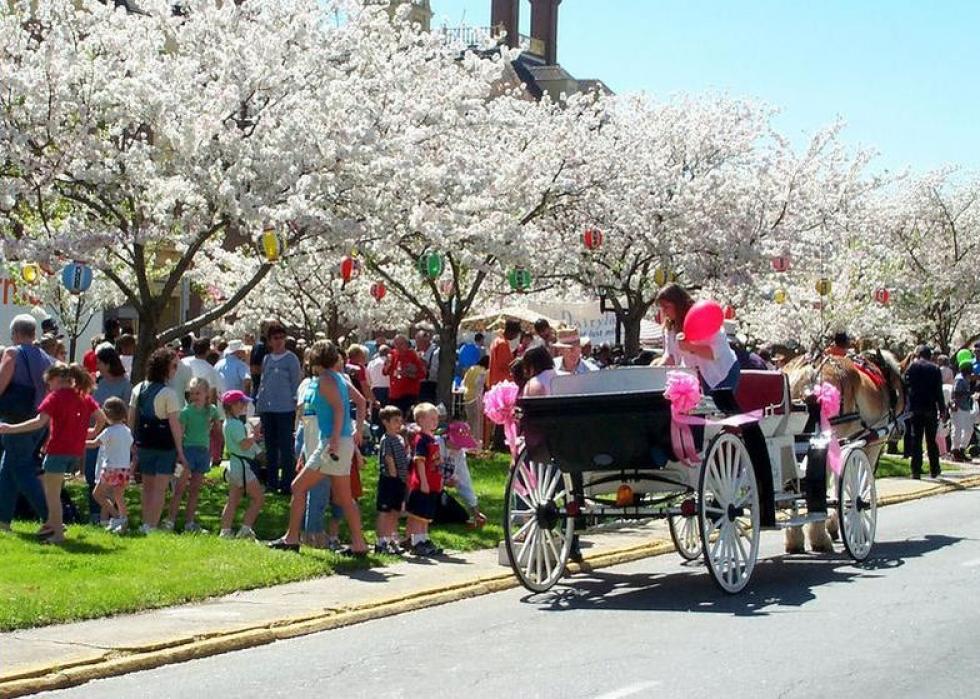 21 / 30
Macon, Georgia
Macon, the Cherry Blossom Capital of the World, is home to more than 300,000 Yoshino cherry trees, a whopping 90 times more than Washington, D.C. Every March, the town's 10-day festival celebrates the blooms with concerts, exhibits, arts and crafts, food, and more.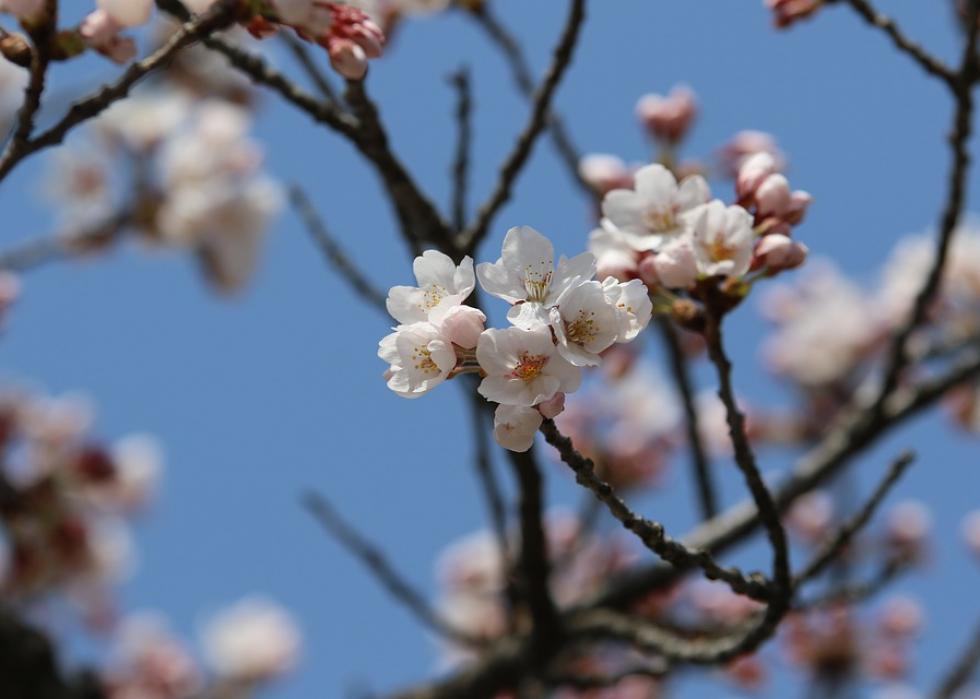 22 / 30
Buffalo, New York
Buffalo's Japanese Garden in Delaware Park has a "blizzard" of cherry blossoms each spring. The backdrop of classical architecture juxtaposed against the Japanese lanterns is a quintessential spring site in the city, whose festival is typically held in early May.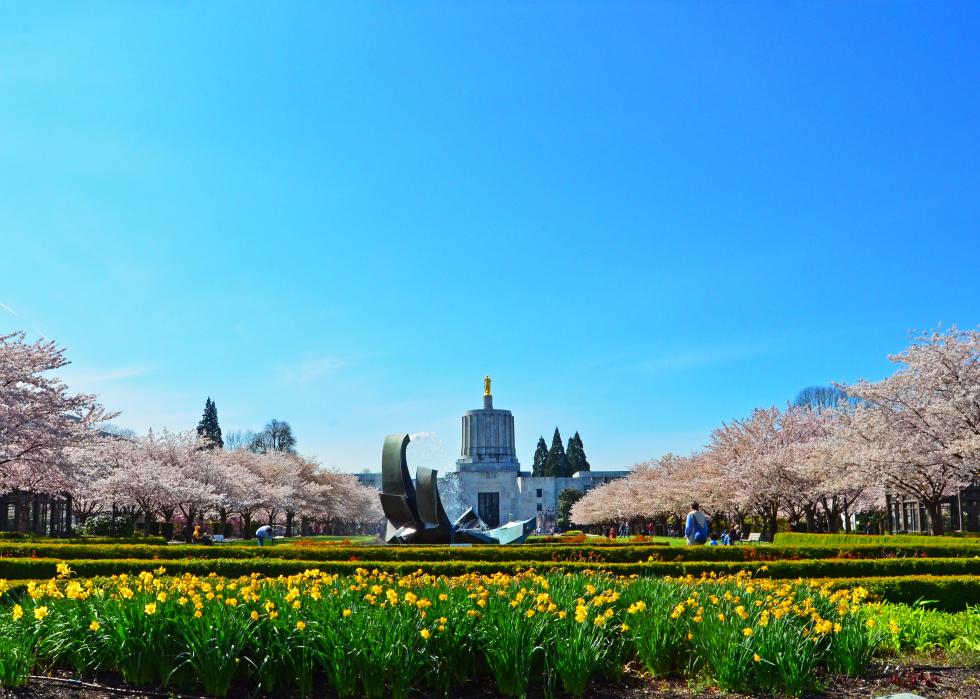 23 / 30
Salem, Oregon
Salem's Cherry Blossom Day is younger than some of the others on this list, having begun just four years ago, but the city's 150 Akebono cherry blossoms trees are worthy of a celebration. Held in early March, the day features Taiko drumming and koto music on the state's capitol mall.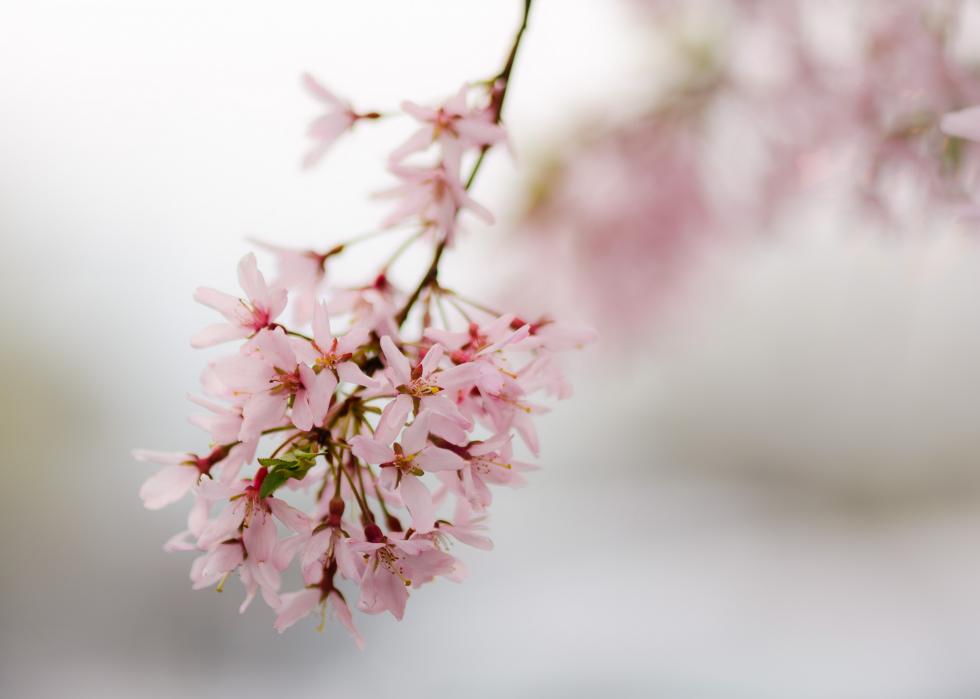 24 / 30
St. Louis, Missouri
The Missouri Botanical Garden has 230 of these delicate trees, which typically bloom from late March through early April. The most breathtaking site are the garden's Higan cherry, whose weeping branches over overrun with blossoms.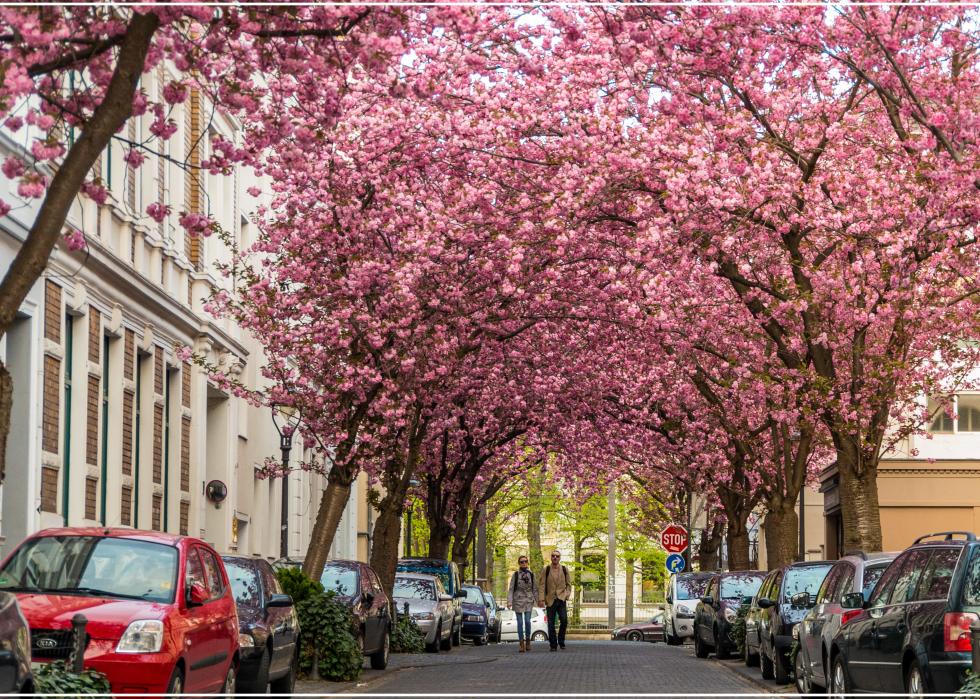 25 / 30
Bonn, Germany
The little pocket of Alstadt, in Bonn, is home to one of the most stunning spring sites in the world. The area's narrow streets are lined which cherry trees which bloom to create a colorful tunnel unlike like anything you've ever seen.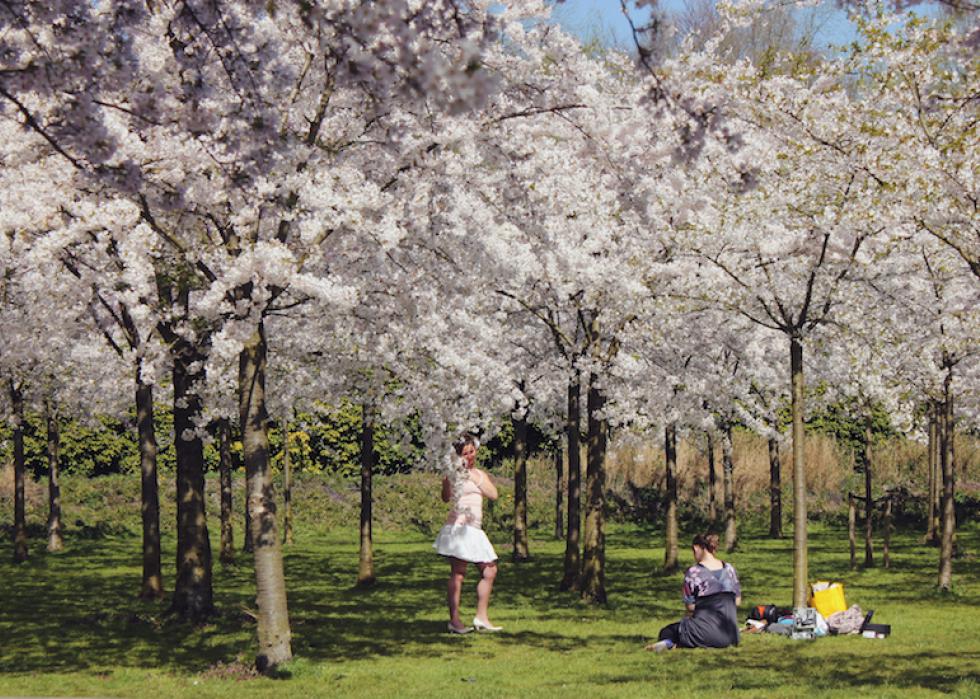 26 / 30
Amsterdam, The Netherlands
Amsterdam's Kersenbloesempark (literally Cherry Blossom Park) is, not surprisingly, the city's best place to spot these rosy blooms. This year's festival will be held on April 7.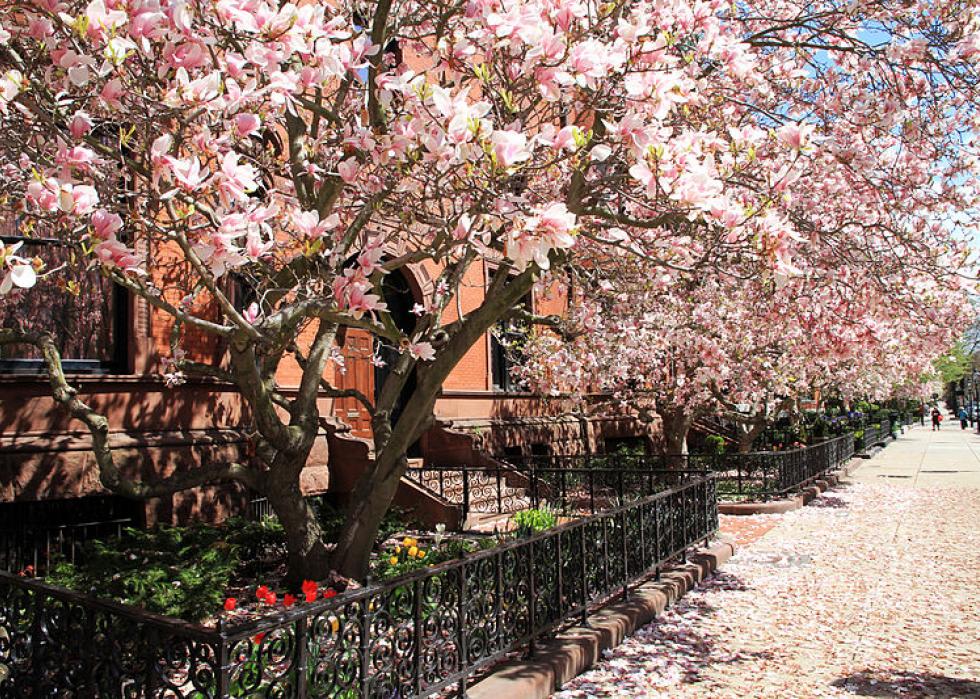 27 / 30
lngfbruno // Wikimedia Commons
Boston, Massachusetts
The esplanade along Boston's famed Charles River is home to an abundant population of cherry trees. Visit from mid-to-late April to catch them at their best.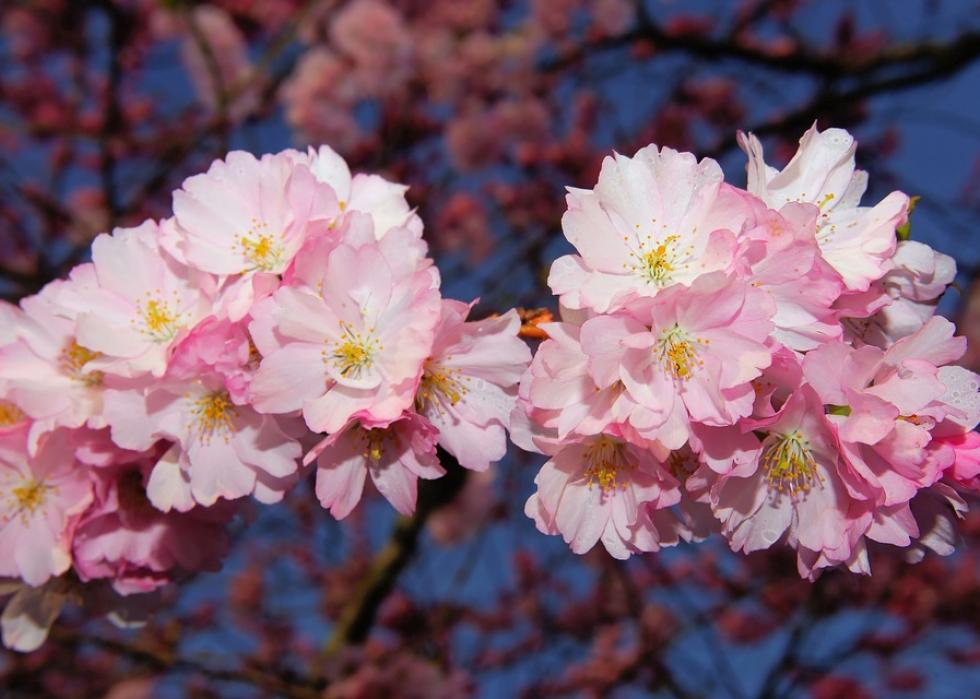 28 / 30
Dalian, China
Dalian is home to the most popular cherry blossom park in China, Longwangtang Cherry Blossom Park. The cherry trees, planted in 1921, bloom each year in late April.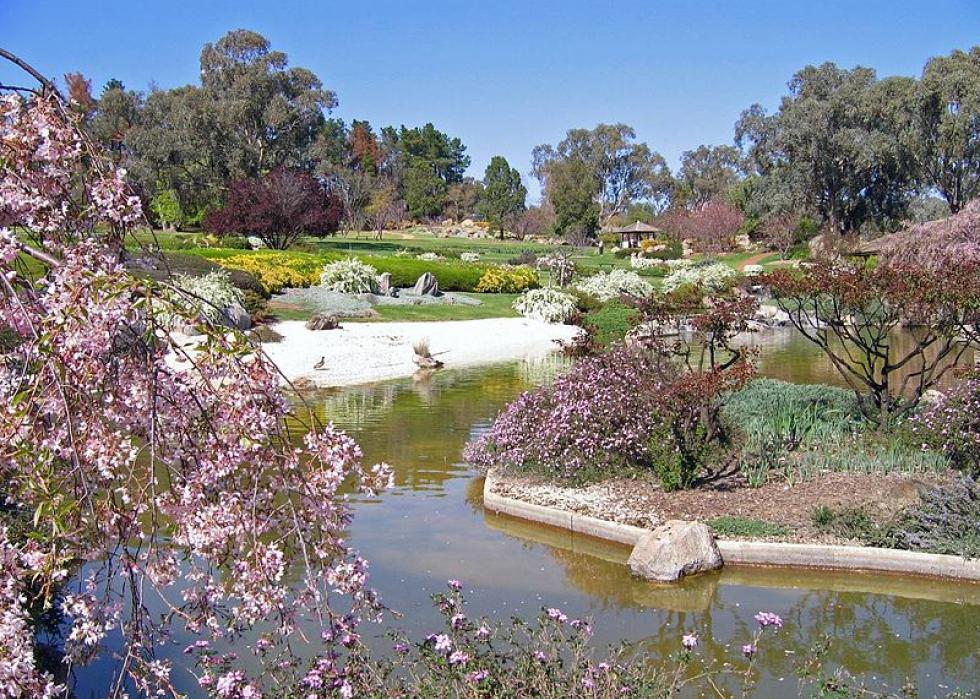 29 / 30
John O'Neill // Wikimedia Commons
Cowra, Australia
If you miss the Northern hemisphere's spring celebrations, don't fret—just head down-under to the city's eponymous Japanese garden. Cowra's blooms peak in late September through mid-October.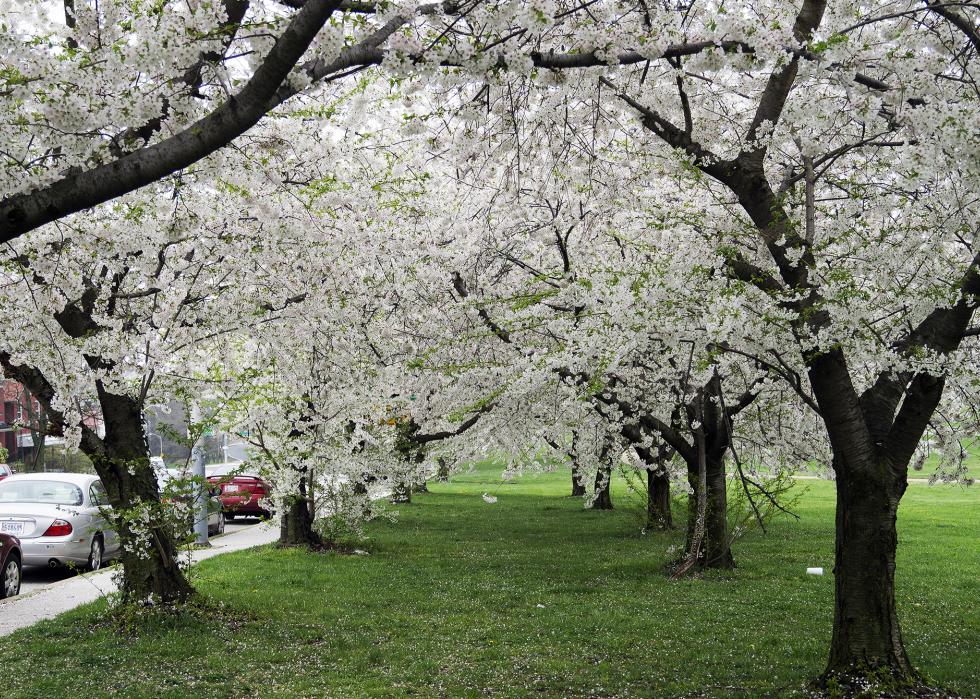 30 / 30
Bruce Emmerling // Wikimedia Commons
Hamburg, Germany
Hamburg has hosted its Kirschblütenfest each year since 1968, celebrating the city's many ties with Japan. (Osaka is one of its sister cities.) The 5,000 cherry trees are planted along the Alster lakes and in the Altonaer Balkon park.