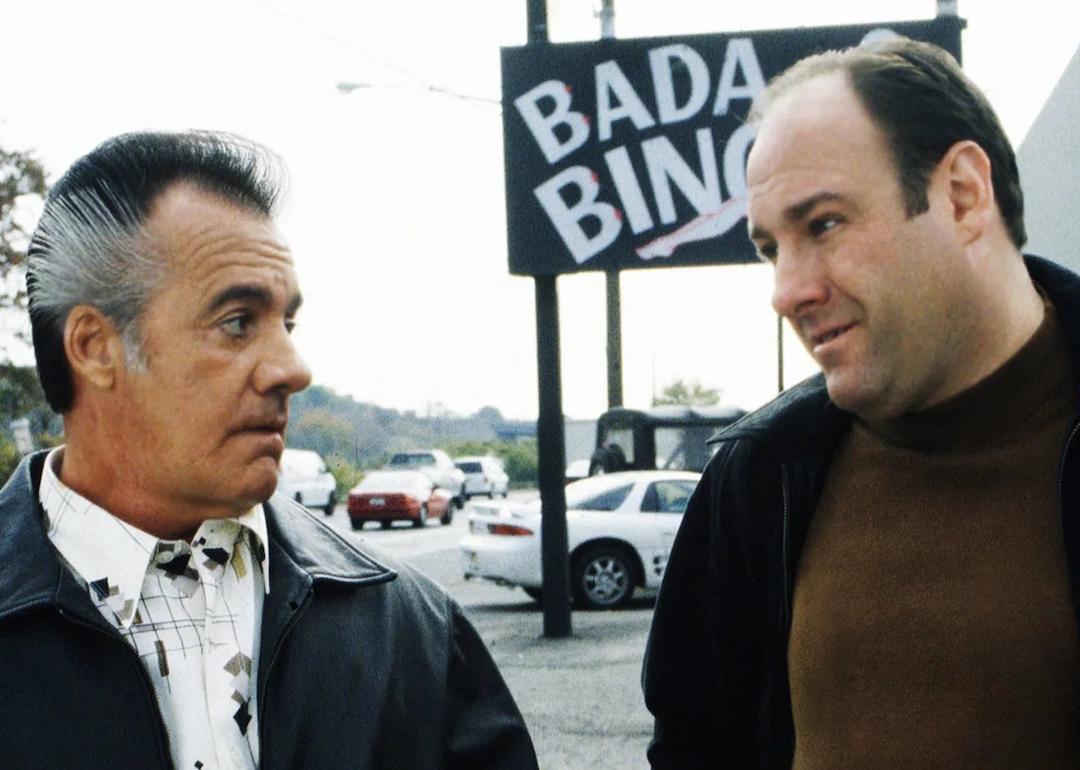 15 famous fictional bars from TV history
15 famous fictional bars from TV history
Among the surest markers of success for a TV series is to offer an immersive, universally realistic experience for viewers. Delivering compelling characters and storylines are critical elements of this, but location ranks among the most essential means by which to build a centralized vibe or feel for a show. For generations, bars—whether considered penny universities, dives, upscale lounges, or clubs—have provided characters on television the space to laugh, cry, or simply get grounded.
To celebrate the legacy of famous fictional locales, Stacker took a look back at the past and picked 15 iconic TV bars. Selections come from a wide range of shows spanning genres and decades. These locations serve as ideal tools for character engagement and development, interesting scenarios, and alternate backdrops. Bars are a ripe setting for colorful background and secondary characters—not to mention the occasional outlandish situation.
Here are some of the most famous watering holes that play key roles in some very famous TV show narratives.
You may also like: The best streaming services in 2021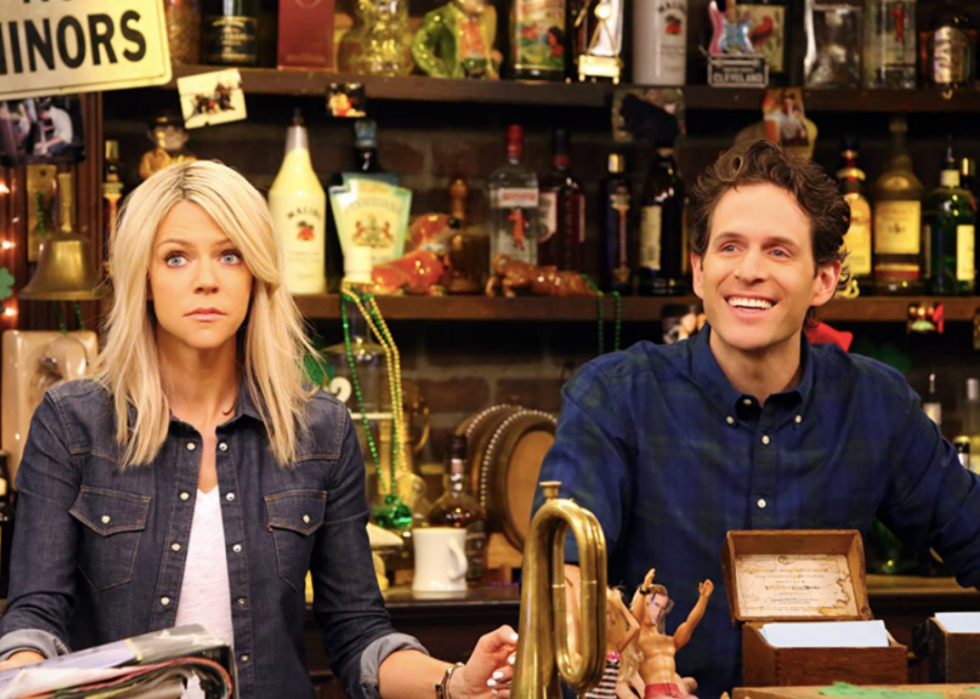 1 / 15
Paddy's Pub
The "It's Always Sunny In Philadelphia" hangout is the central place for the show's circle of friends known as "The Gang." It's a perpetually struggling Irish bar owned by the collective. Countless shenanigans occur at Paddy's Pub throughout the series, from a talent show and child beauty pageant to adult entertainment and the unforgettable "Game of Games."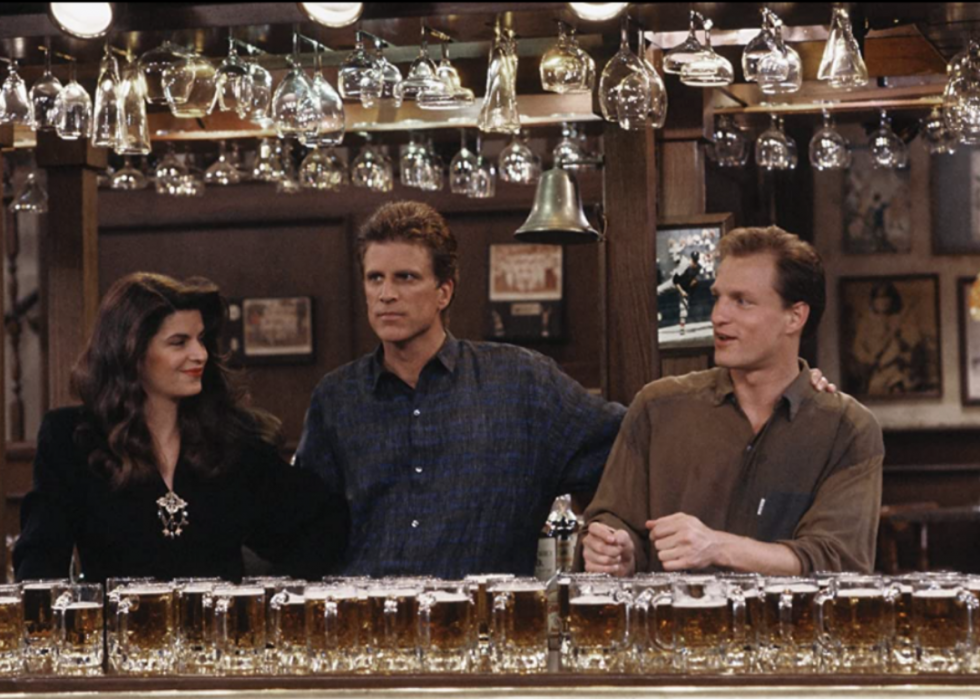 2 / 15
Cheers
There's no real or fake bar on Earth more famous than Cheers. The bar is not only the place "where everybody knows your name," it's the namesake of the series it appears on. The series (and real-life bar exterior) is set in Boston, with the pub's interior serving as the backdrop for most of each episode. Characters spend much of their time talking, drinking, and hanging out in this space that essentially holds a starring role on the series.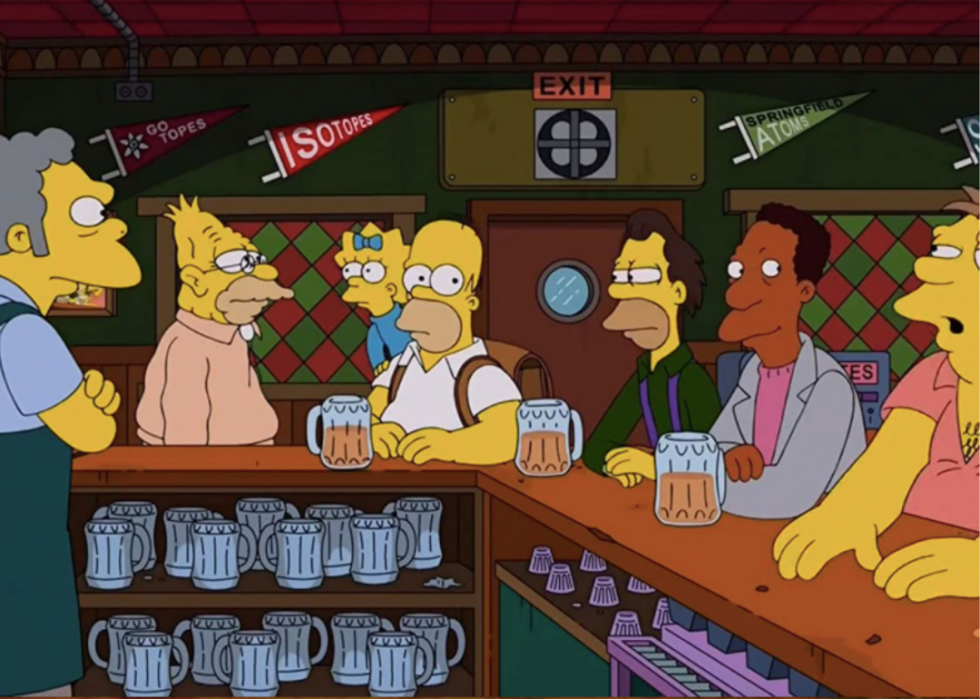 3 / 15
20th Century Fox Television
Moe's Tavern
Homer Simpson's favorite hangout is just as infamous as the Simpson home itself. Moe's is where several characters like Barney Gumble tend to hang out a lot. An early running gag on the series is Bart Simpson calling the bar and asking for someone with an inane name, causing Moe to look for the person and get laughed at by his customers. The tavern appears in many episodes, including one where Moe turns it into a gay bar and another where he fronts as a pet shop to circumvent a temporary Prohibition-era law.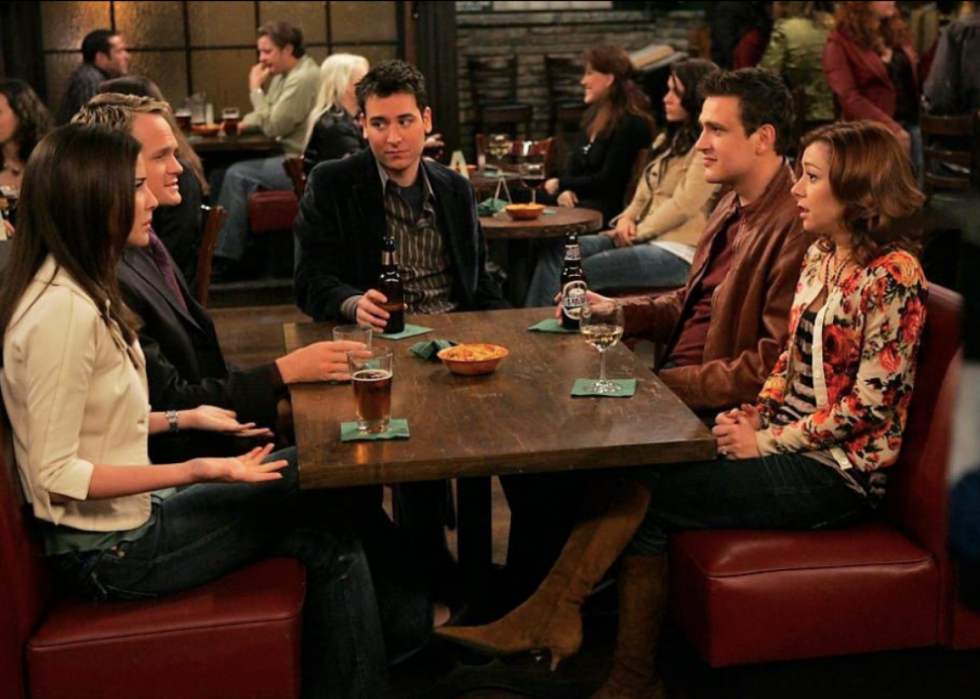 4 / 15
20th Century Fox Television
MacLaren's
"How I Met Your Mother" fans saw this pub a lot, specifically with the crew sitting together in a booth to talk about their lives. In one episode, Lily participates in a massive hot dog eating contest and stands up with a large belly. In reality, actor Alyson Hannigan was pregnant.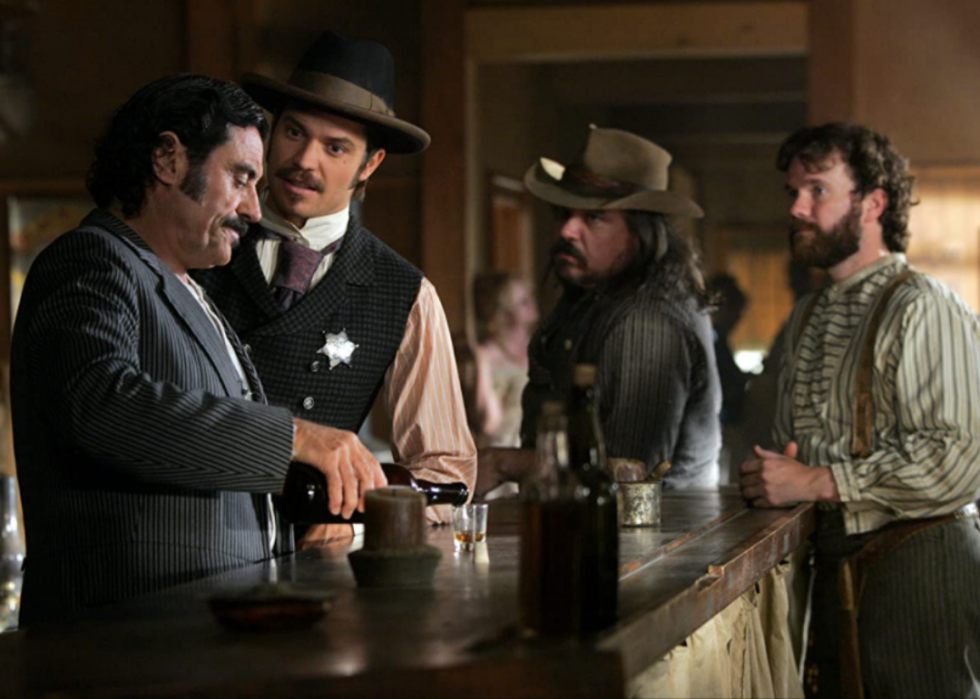 5 / 15
The Gem Saloon
This "Deadwood" Saloon plays a big role in the period Western drama, which is about the real-life city of Deadwood, South Dakota. It is based on The Gem Theater, a saloon in the late 1800s that entertained miners with different acts, fights, and other entertainment. In the show, The Gem Saloon includes a group of sex workers, making the location a brothel where its characters often hang out. Season 2 includes a fight where two men fight and fall over the saloon's balcony.
You may also like: Longest-running TV series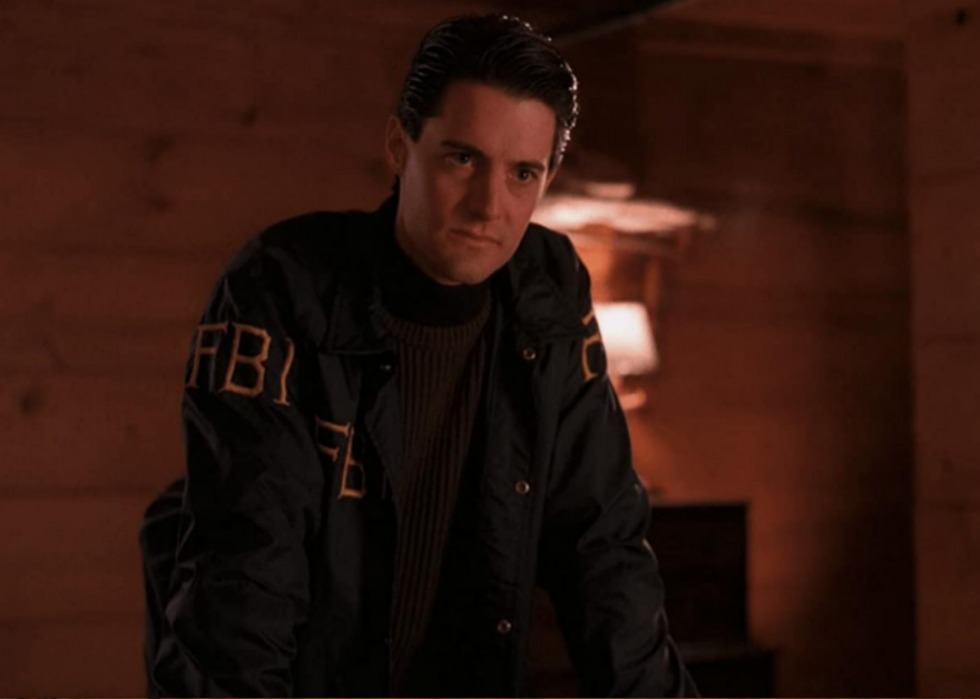 6 / 15
Bang Bang Bar
This "Twin Peaks" haunt is where the show's characters like to convene. The bar, referred to as the Roadhouse, is where Laura and Donna sneak to meet older boys, bikers hang out, and a variety of people take the center stage to perform. It's a catch-all place that brings together folks from all walks of life in this drama.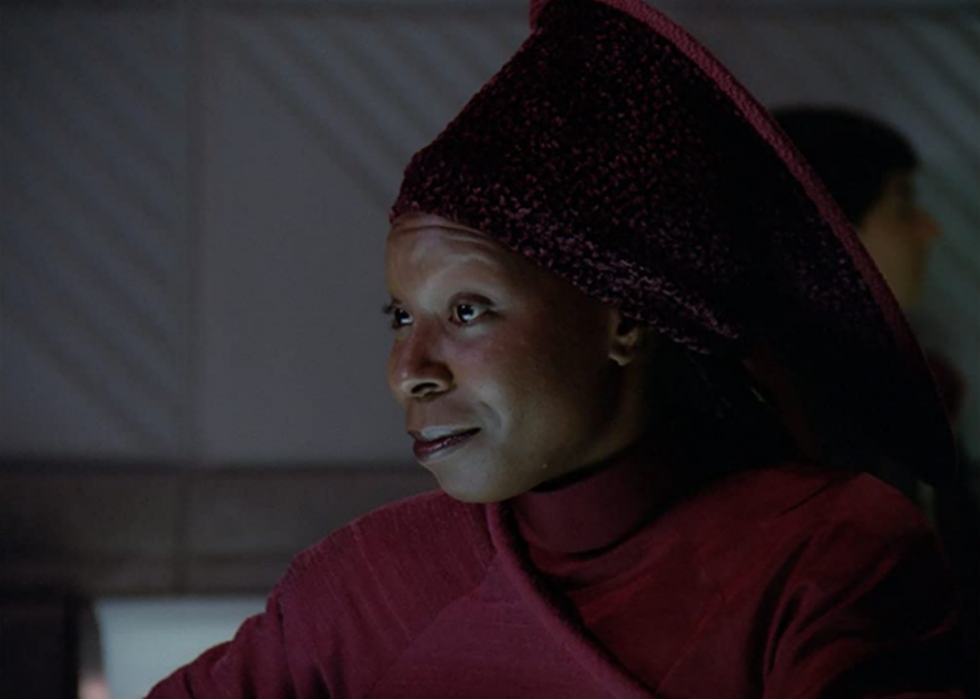 7 / 15
Ten Forward
Bars even exist in the final frontier. The lounge exists on Deck 10 as a place for crewmembers to relax, drink, eat, and even play games. Ten Forward is the location for several events like weddings, ceremonies, and even birthday parties. Guinan, famously played by Whoopi Goldberg, is perhaps the "Star Trek" character most associated with the bar, as the one who ran it.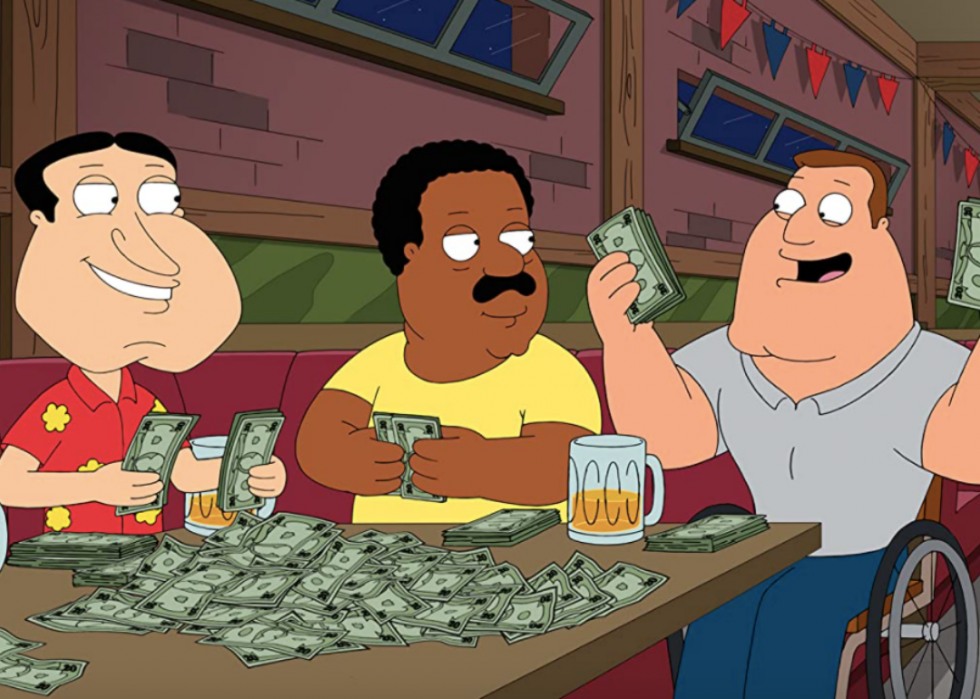 8 / 15
20th Century Fox Television
The Drunken Clam
What hasn't happened at The Drunken Clam? Peter Griffin's hangout on "Family Guy" is where he goes with his friends Joe, Quagmire, and Cleveland to sit in their same booth and drink copious amounts of beer. The Quahog hangout has been the location of several famous happenings, including Brian and Stewie getting heavily intoxicated, Peter falling off the roof and killing Joan Cusack, and God burning the place to the ground while trying to impress a woman.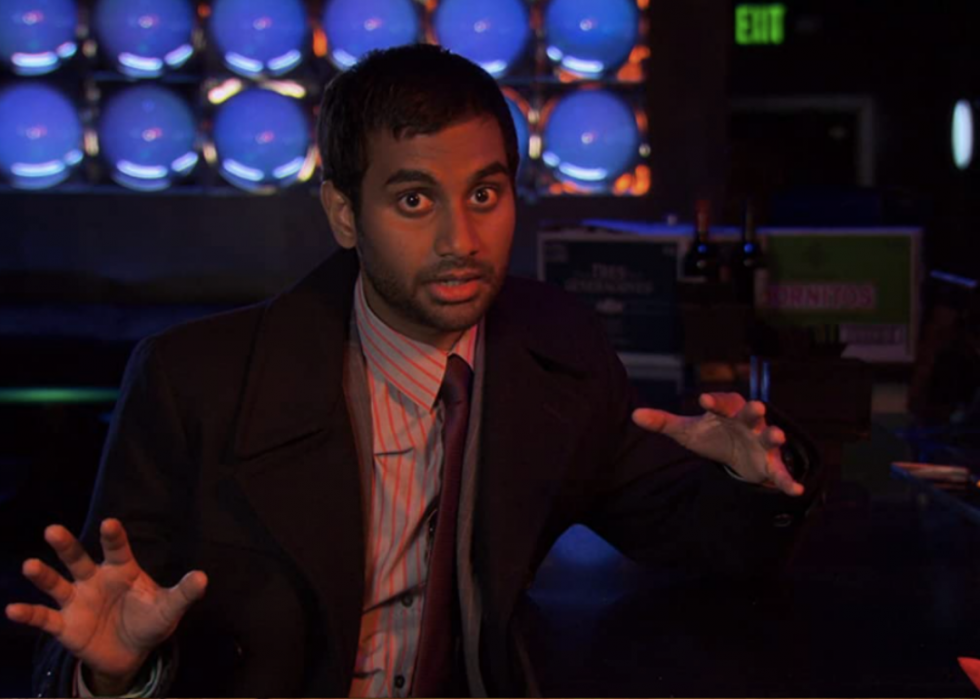 9 / 15
The Snakehole Lounge
This "Parks and Recreation" kickback is the place to be in Pawnee. It is a hangout spot for locals, including a few of the show's main cast of co-workers. In the episode "Woman of the Year," Tom Haverford, with the help of several other Parks and Recreation Department employees, buys a share of the property from its owner Freddy. The lounge is famously known as "Pawnee's Sickest Nightclub."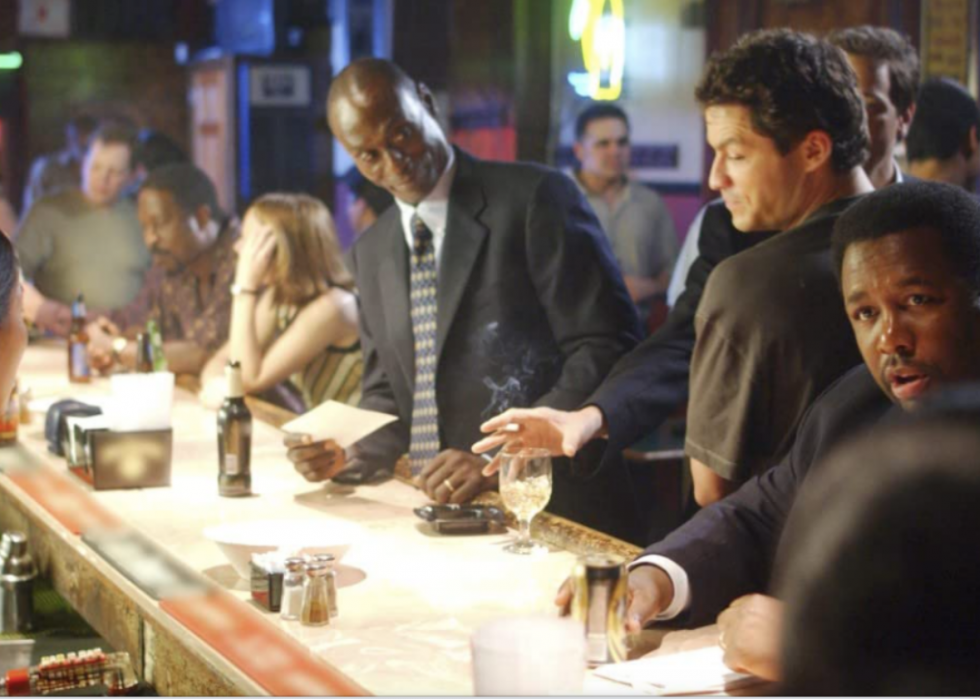 10 / 15
Blown Deadline Productions
Kavanaugh's Bar
"The Wire" is up there with the most beloved shows of all time. The show dives into the streets of Baltimore through the eyes of various groups, including law enforcement, drug rings, the government, and journalists. So it is no surprise that a key location in the series is a bar, specifically one where police gather. It is where Jay Landsman, a homicide sergeant, holds several wakes after detectives are killed in the line of duty.
You may also like: The best streaming services for sports in 2021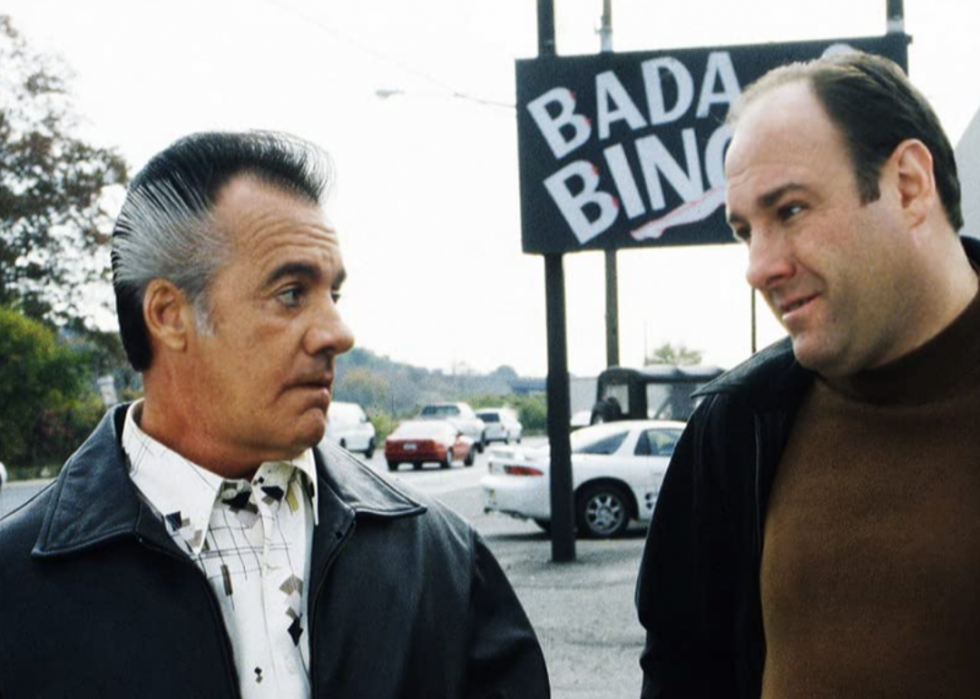 11 / 15
The Bada Bing
There's a lot more than exotic dancing going on in this club. The Bada Bing is where several characters from the Sopranos conduct business in back offices and in the midst of the action alike. Several things happen in the club, including Silvio Dante's shooting in the parking lot and Christopher Moltisanti's heroin overdose in the bathroom. The phrase "bada bing" comes from "The Godfather" character Sonny Corleone.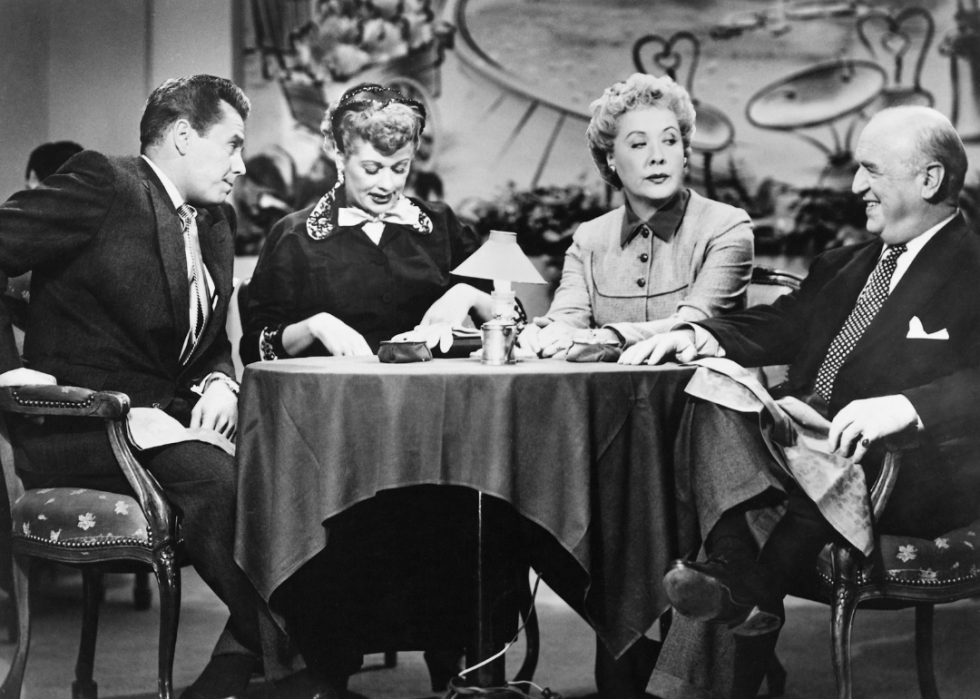 12 / 15
Tropicana
The Tropicana plays a frequent and important role on the classic sitcom "I Love Lucy." It's where musician Ricky Ricardo works as a bandleader and performer (and later as manager then owner), delivering some wonderful performances. But what fans really love are the many hilarious appearances by Lucy, his wife who wants to be in show business but doesn't have the knack for performing. It is also where Lucy famously tells Ricky that she is having a baby.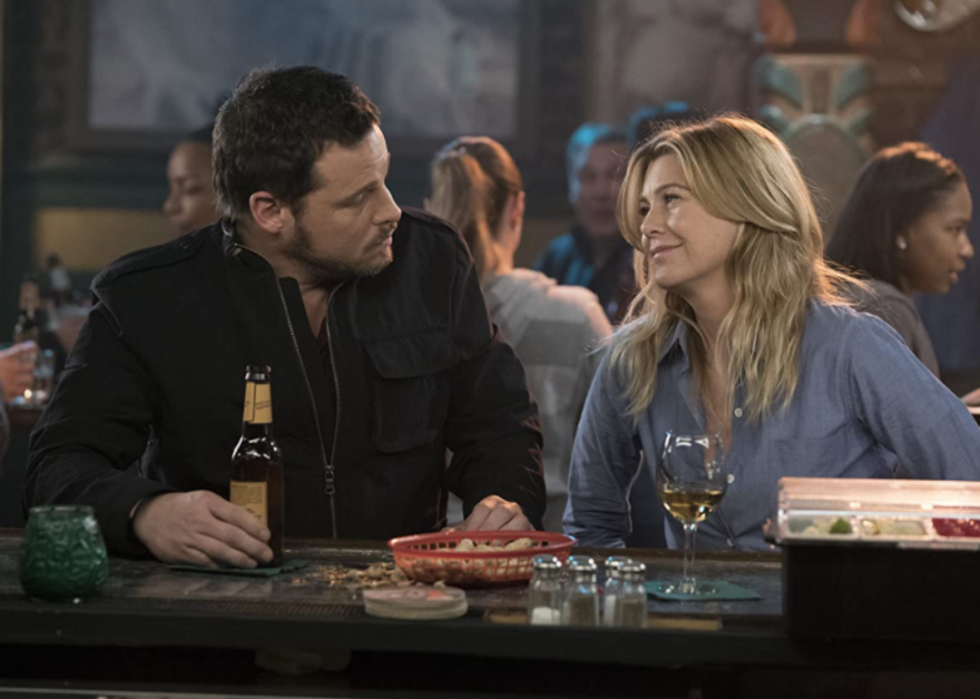 13 / 15
Emerald City Bar
This "Grey's Anatomy" bar is in the perfect location on the drama series: right across the street from Grey Sloan Memorial Hospital. The show's rotating cast of medical professionals often goes there to hang out and unwind from the neverending stress (and drama) in their lives. Emerald City Bar also has its own wild moments, including Joan crashing her car through a window and injuring a few doctors.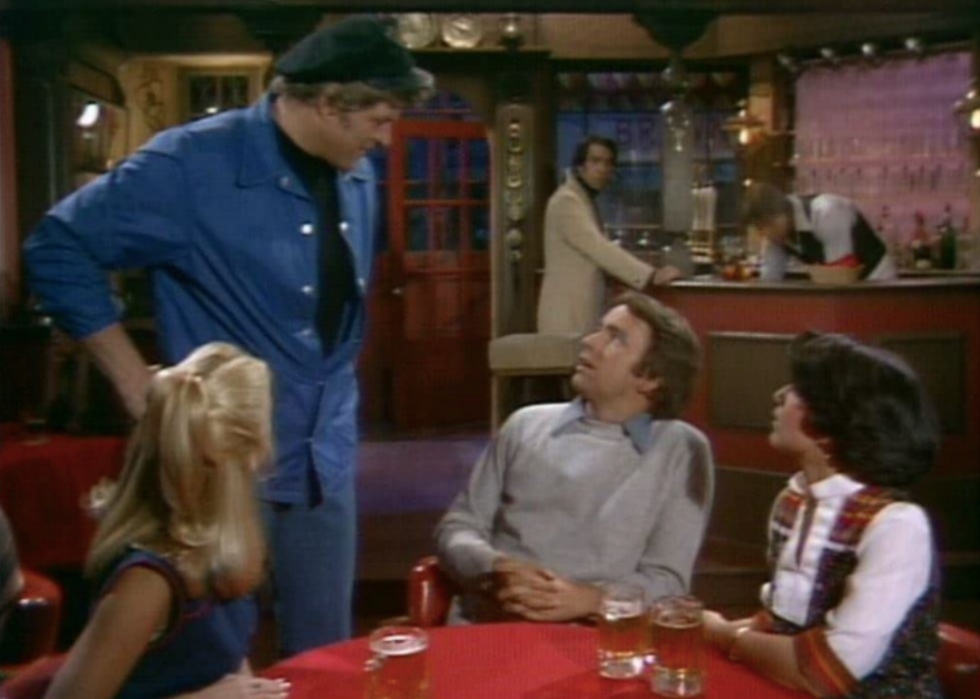 14 / 15
The Regal Beagle
Janet, Chrissy, and Jack's favorite hangout spot on "Three's Company" is a chill pub with a lot of history on the series. It is where the trio goes for some fun together, to take a moment to chill, or to meet love interests. Jack even fills in as a bartender at one point. The roommates also run into the Ropers, the couple who manage their apartment building, more frequently than they'd like to.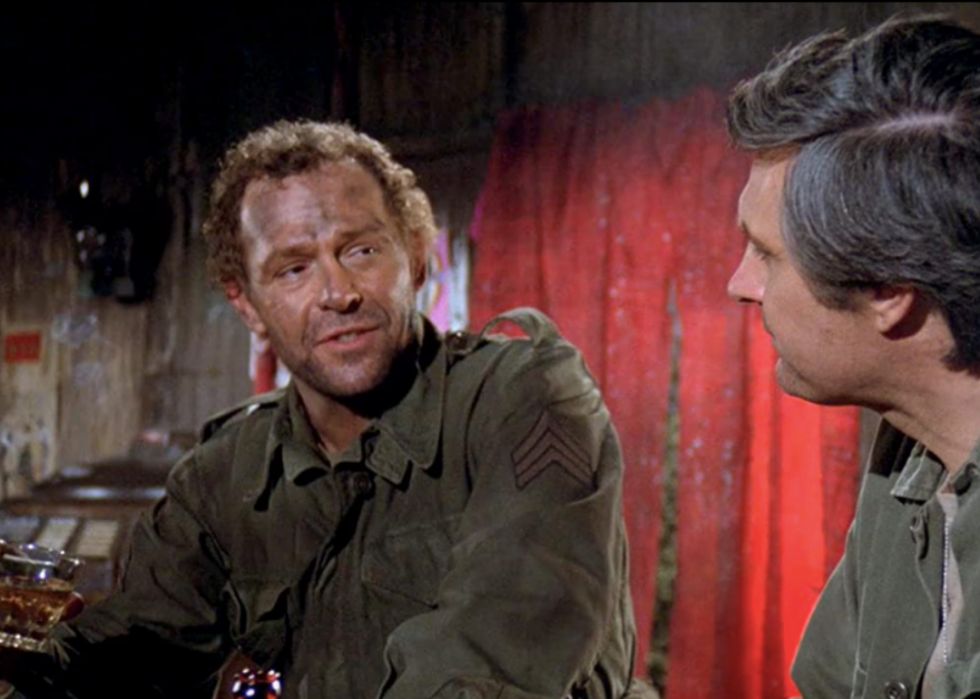 15 / 15
20th Century Fox Television
Rosie's Bar
M*A*S*H's off-base Korean bar is where its characters go to drink and get good food. It is centered in the episode "A Night at Rosie's" when Hawkeye, Scully, and BJ have a lot of drinks and decide they will make the bar its own country. For the soldiers, it is a place that is a slice of peace during the midst of war. The fictional bar honors Rose's Bar, a real place that became well known among U.S. troops during the Korean War.
You may also like: 100 worst TV shows of all time