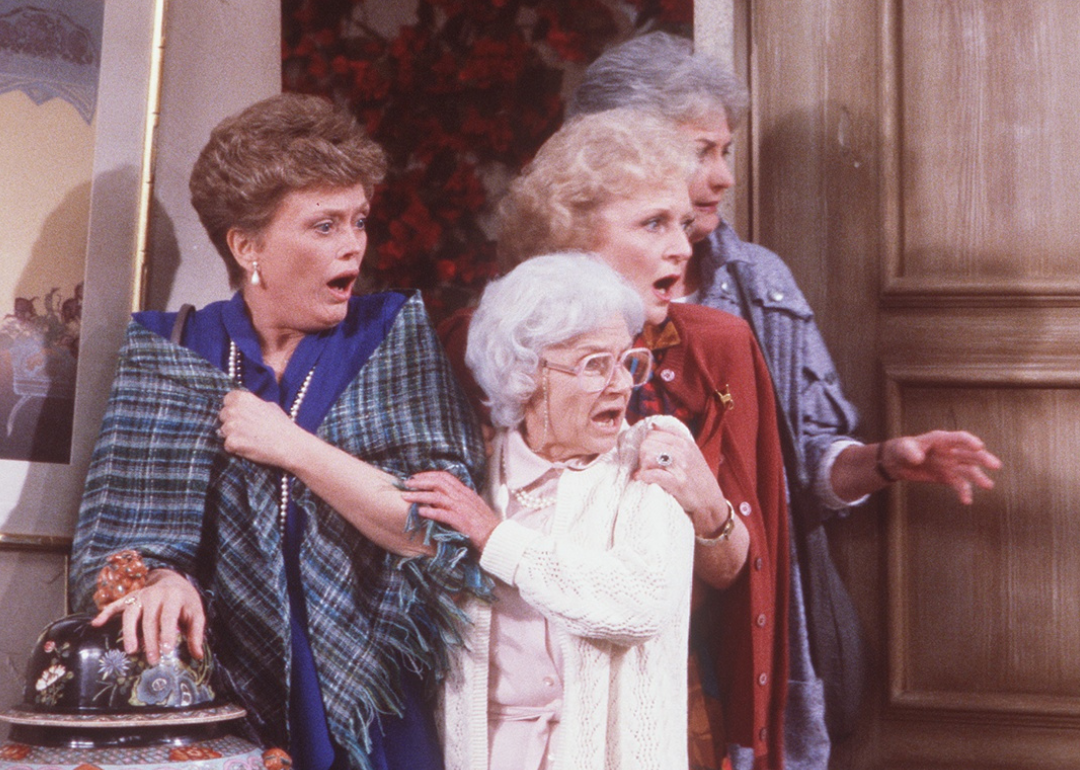 Best 'Golden Girls' episodes
Steve Fontanini/Los Angeles Times via Getty Images
Best 'Golden Girls' episodes
Nearly four decades after "The Golden Girls" first aired in 1985, the hit TV show still manages to maintain relevance in modern times. But what was it that made "The Golden Girls'' such a special series?
Through 180 episodes and seven seasons, the series—starring Rue McClanahan, Betty White, Bea Arthur, and Estelle Getty—gently but powerfully confronted a myriad of difficult conversations that other shows feared to tread: everything from ageism, to being sexually active after 50, to the failing health care system, to the HIV/AIDS crisis, to LGBTQ+ issues, and more. But on "The Golden Girls," that tough-to-swallow information was being delivered by women who reminded you of your favorite aunt, grandma, or neighbor. And the writers dared to portray older women as more than just people beyond their prime.
On top of that, there was love at the core of the series, a deep and unconditional love that can form between women. Blanche (McClanahan), Rose (White), Dorothy (Arthur), and Sophia (Getty) had a friendship that gave its fans, no matter the age, a little bit of hope that in some form or fashion, they could find true love because "Golden Girls" introduced the concept that love could come in all forms. It wasn't just romantic. It wasn't just between a man and a woman. It was something that could exist between any and everyone if you were willing to take a risk the way the four women at its center were.
To look back on the shining legacy "The Golden Girls" left behind, Stacker used IMDb data for all episodes to rank the top 25 episodes by their user rankings, with any ties broken by votes. Travel down with us (and back again) to get a crash course on some of the greatest episodes, see if your favorites made the cut, and get inspired to spend your weekend binging with the girls.
#25. My Brother, My Father (1988)
- IMDb user rating: 8.2
- Season 3, Episode 17
- Director: Terry Hughes
When it comes to plot lines interwoven throughout "The Golden Girls," the vitriolic back-and-forth between Dorothy and her sometimes friend, sometimes enemy, always ex-husband Stan (Herb Edelman) is ever-present. In this episode, the two have to pretend like they're still married when Sophia's brother Angelo (Bill Dana), who's a priest, visits from Sicily. Considering how taboo divorce is in the Catholic religion, Dorothy and Stan agree to "play house" for Sophia's sake, leading to a solid half-hour of ridiculous laughs and acerbic comments between the former couple.
#24. The Artist (1987)
- IMDb user rating: 8.2
- Season 3, Episode 13
- Director: Terry Hughes
Before "Sex and the City" took a deep look into the sex lives of 30-somethings, "The Golden Girls" was exploring the sex lives of ladies whose ages were as nebulous as their closets. In this episode, Dorothy, Blanche, and Rose all end up posing for the same lecherous artist who is looking for the perfect "mature" female form to use as a model for his sculpture. The three of them find out about each other and they wage a full-on war, only for them to find out the lothario artist, Laszlo (Tony Jay), is in no way interested in them (or women in general).
#23. Sick and Tired: Part 2 (1989)
- IMDb user rating: 8.2
- Season 5, Episode 2
- Director: Terry Hughes
Throughout the course of its seven seasons, the "Golden Girls" creators often added a little drama to a mostly hilarious series by breaking episodes up into two parts. This Season Five example features some favorite secondary characters on the show, including Dr. Harry Weston (Richard Mulligan) and his office crew, who inevitably earned their own spinoff, "Empty Nest."
In the episode, Dorothy, our favorite curmudgeon, feels sick but doctors won't believe her. They attempt to tell her it's part of aging or some sort of depression she didn't know she had due to "women troubles." In reality, that isn't the case and she's eventually diagnosed with chronic fatigue syndrome. While "The Golden Girls" was mainly a sitcom built for laughs, this episode is just one of many that touches on topics that were issues then and still are now, like invisible illnesses.
#22. One for the Money (1987)
- IMDb user rating: 8.2
- Season 3, Episode 2
- Director: Terry Hughes
Any "Golden Girls" fan knows Sophia had an insatiable desire to get rich—and quick! As the eldest of the group, and the only one unable to monetarily sustain herself through working, she often spent her days coming up with ways to become an overnight millionaire. This episode takes a nostalgic walk down memory lane through stories shared around the table—in this case, over pizza, somewhat atypical from their usual cheesecake.
The women spend the episode reminiscing over their shared moments, from dance marathons to trying to sell hose water as bottled water. While the subject of money—and survival—during their golden years was often disguised in clever jokes, the episode was also designed to highlight the harsh realities of growing old in America post-Reaganomics.
#21. The Actor (1987)
- IMDb user rating: 8.2
- Season 2, Episode 14
- Director: Terry Hughes
Dorothy, Blanche, and Rose are all twitterpated when an aging TV heartthrob, Patrick Vaughn, is starring in their local play. As the episode progresses, it turns out that Patrick (played by "Dynasty" star Lloyd Bochner) is a bit of a bad boy, who begins secretly seducing each of the women individually, unbeknownst to them. The truth comes out during the opening night of the play when it's revealed he's been sleeping with every woman in the cast. The dramatic fireworks garner the cast a standing ovation, and Patrick a swift kick out of their Miami community.
#20. Flu Attack (1986)
- IMDb user rating: 8.2
- Season 1, Episode 21
- Director: Terry Hughes
In this Season One episode of "The Golden Girls," the flu that's going around takes out Blanche, Rose, and Dorothy—and of course, it's all before a big awards dinner they're meant to attend. Sophia offers to care for them, but as the sickness progresses, a doctor is called to the scene. (Who doesn't miss the days when doctors would make house calls for $50?) Luckily, the fuel of competition between the group seems to heal them enough to get them to the awards dinner, only to all be beat out by Sophia, who gives a speech that subtly schools them on how silly they'd been acting. This one's wholesome, comedic, and a little out of touch with reality all at once.
#19. In a Bed of Rose's (1986)
- IMDb user rating: 8.2
- Season 1, Episode 15
- Director: Terry Hughes
Each star of "The Golden Girls" has a specific role: Blanche is the refuses-to-age sex kitten; Dorothy is the tough-as-nails teacher with an acerbic tongue; Sophie is the get-rich-quick-obsessed oracle doling out wisdom through stories of Sicily and hijinks gone by; and Rose is the naive country bumpkin with a sweet disposition—but also a bit of a naughty side. In this episode, the latter comes out when Rose sneaks a man into the house for a late-night romp, only to find out he's dead in her bed in the morning. All hell breaks loose as she discovers that her late suitor was secretly married and she's going to have to break it to his wife, no matter how uncomfortable it might be.
#18. What a Difference a Date Makes (1991)
- IMDb user rating: 8.3
- Season 6, Episode 22
- Director: Lex Passaris
This episode, which came towards the tail-end of the series, gave viewers an opportunity to look further into the past loves of some of the main characters, specifically Dorothy and Blanche. As Blanche tries the shake-for-breakfast fad diet in order to take her ceremonial anniversary picture in her wedding dress, Dorothy reunites with an old flame from her high school days, John Neretti (played by Hal Linden of "Barney Miller" fame), who she believed stood her up for her senior prom.
Deciding she will exact revenge for the slight, she agrees to go on a date with him, only to find out that he didn't stand her up; Sophia sent him away on the night of the dance. The two get a do-over as John offers to take Dorothy to the senior prom she's chaperoning where he tells her that fateful night forced him to change his life. The episode ends on a heartfelt note between mother and daughter.
#17. An Illegitimate Concern (1990)
- IMDb user rating: 8.3
- Season 5, Episode 18
- Director: Terry Hughes
This episode comes straight out of a tawdry daytime soap. The doorbell rings and a young man, David (Mark Moses), appears before the women, looking for George Devereaux, Blanche's late husband. When he learns George has passed, he scurries away without explanation. Later, the women spot him watching them from afar and assume he is stalking Blanche.
Instead, the young man comes back to reveal George is his father and he had a two-month affair during his work travels many years ago. Through the course of the episode, we find out that a gift that Blanche has treasured was actually something George bought her after his infidelity. It's definitely one of the more heart-wrenching episodes in "Golden Girls" history, and one that deeply humanizes Blanche.
#16. Valentine's Day (1989)
- IMDb user rating: 8.3
- Season 4, Episode 15
- Director: Terry Hughes
It's Valentine's Day, and Blanche, Rose, and Dorothy have all been stood up, so they spend their time reminiscing about their worst memories of the holiday with Sophia. The matriarch recounts one of the worst Valentine's in history—the St. Valentine's Day Massacre of 1929—which she claims to have witnessed while being stranded in Chicago.
Though the other women question her, they continue on with their collective horror stories, including a collective Valentine's they accidentally spent at a nudist colony, and the embarrassing time they were price-checked in a drug store buying condoms for a romantic weekend getaway trip (cue Blanche stepping onto a soapbox where she proclaims the virtues of safe sex). In the end, it turns out, the women haven't been stood up; it was all a clever ruse perpetrated by Sophia so her date, Latin heartthrob Julio Iglesias (appearing as himself), could make his entrance.
#15. Not Another Monday (1989)
- IMDb user rating: 8.3
- Season 5, Episode 7
- Director: Terry Hughes
This episode is one of the ones that touched upon a very real, but taboo topic. Sophia and one of her closest friends, Martha Lamont (Geraldine Fitzgerald), return back from a mutual friend's funeral who passed away after a painful illness. As the show progresses, Martha reveals that she is also ill and that she has decided to end her life. "I don't want to see another Monday … I'm going to decide when it's over. I'm afraid of the pain, of the hurting, I'm afraid of dying alone," she laments as she asks Sophia to be by her side when she does it. Considering the episode was released in the late '80s, the topic and the frankness with which suicide was discussed was far ahead of its time.
#14. Ebbtide's Revenge (1990)
- IMDb user rating: 8.3
- Season 6, Episode 12
- Director: Matthew Diamond
Another tough "Golden Girls" episode centers on the death of Phil, Sophia's son and Dorothy's younger brother, who suffers an unexpected heart attack while trying on a woman's dress at a store. The episode begins with the women getting dressed for his funeral while simultaneously discussing Phil's propensity for cross-dressing and the seeming animosity between Sophia and Phil's wife, Angela (played by award-winning actor Brenda Vaccaro).
As the group attends the funeral, Sophia and Angela begin fighting over the clothing he's wearing for the burial (a black lingerie teddy) with Angela declaring, "This is what he wanted!" Dorothy spends the rest of the episode attempting to squash the grudge between the two while being tasked with giving a gut-wrenching eulogy. Through her training in grief counseling, Rose uses her mediating skills to discover that the reason Sophia wouldn't accept Angela was that she wouldn't stop Phil from cross-dressing. The episode also discussed the terms of the time for LGBTQ+ folks, with Blanche correcting Sophia by telling her "People don't say queer anymore, they say gay."
#13. To Catch a Neighbor (1987)
- IMDb user rating: 8.3
- Season 2, Episode 24
- Director: Terry Hughes
The women welcome some new neighbors, the McDowells, though Sophia feels they've already worn out their welcome after two hours at dinner. As the group cleans up in the kitchen, Detectives Hopkins and Mullins (played by a young George Clooney and Joe Campanella, respectively) show up at their door and ask the women to use their home for a stakeout. As it turns out, their new neighbors are suspected jewel thieves.
Begrudgingly, they agree, and the unlikely group becomes housemates. As Detective Mullins and Dorothy form an instant love-hate relationship with sparks flying, Detective Hopkins and Blanche form a surrogate mother-son relationship. The episode takes some twists and turns as the women plant a bug in the McDowells' home and Hopkins is shot during a raid.
#12. A Little Romance (1985)
- IMDb user rating: 8.3
- Season 1, Episode 13
- Director: Terry Hughes
Rose is wrapped up in a whirlwind romance in this episode, this time, with a mysterious man named Dr. Jonathan Newman (played by Brent Collins). The women press her over and over for information, but Rose continues to side-step the inquisition until Blanche forces the truth. When Dr. Newman calls the house looking for Rose, Blanche invites him to dinner, unbeknownst to Rose. She is extremely upset but still refuses to reveal why until he appears at the front door: Dr. Newman is a little person.
Awkward situations ensue until the end of the episode, which sees the couple break up because Rose, as it turns out, isn't Jewish. Fun fact from this episode: Despite the character being named Dr. Newman, when Dorothy opens the door, he introduces himself as Dr. Goodman, and the error was never cut.
#11. Journey to the Center of Attention (1992)
- IMDb user rating: 8.4
- Season 7, Episode 18
- Director: Lex Passaris
In a Season Seven plot twist (or at least, a twist in the mind of Blanche Devereux), Dorothy becomes the center of attention at Blanche's favorite bar, The Rusty Anchor. After catching Dorothy on the couch watching documentaries and eating popcorn, Blanche drags her unwilling friend along to the bar with her. But it isn't long before Dorothy catches the attention of some men, making Blanche very jealous.
Of course, that doesn't stop Dorothy from going back night after night. Eventually, Blanche goes back to compete with her, jumping atop the piano in a slinky dress only to lose a shoe, almost fall off the piano completely, and get tangled in the microphone while she sings. Eventually, Dorothy and Blanche have a heart-to-heart and agree to take custody of the bar on different nights a week. Oh, and in between all of this? Sophia hosts her own (fake) wake at the house. It's a lot, but it's a classic.
#10. Scared Straight (1988)
- IMDb user rating: 8.4
- Season 4, Episode 9
- Director: Terry Hughes
Another example of "The Golden Girls" pushing the envelope and being ahead of its time is this Season Four episode that brings Blanche's brother Clayton (Monte Markham) to town for a visit. Clayton is hiding a painful secret—he is gay and doesn't know how to tell Blanche. While he's there, Blanche sets him up on a bevy of blind dates that all lead nowhere until he finally admits the truth. The topic was especially taboo when it aired in 1988, in the midst of the HIV/AIDS epidemic, but "The Golden Girls," true to its form, went there anyway.
#9. Mrs. George Devereaux (1990)
- IMDb user rating: 8.5
- Season 6, Episode 9
- Director: Matthew Diamond
Throughout the course of "The Golden Girls," we often heard about Blanche's love for her late husband George. Their relationship was that of a fairy tale, and when he died in a car accident, it turned her whole world upside down. Well, in this episode, Blanche's world is turned another 180 degrees when a secret admirer who has been sending her flowers asks to meet—and it ends up being George! To help balance all of the drama of the reveal, Dorothy, who also has her own admirers at the beginning of the episode, reveals that her suitors are none other than Lyle Waggoner and Sonny Bono (playing themselves), much to the surprise of everyone.
While the plot sounds more like something from an episode of "Dallas" than it does "The Golden Girls," it's clear why this one is a fan favorite. There's intrigue, dramatic reveals, and of course, Dorothy's head growing a few sizes from all of that romance—and anytime Dorothy is feeling herself, it's a good episode. Oh, and 30-year-old spoiler alert: It turns out everything was a dream Blanche was having.
#8. It's a Miserable Life (1986)
- IMDb user rating: 8.5
- Season 2, Episode 4
- Director: Terry Hughes
Over the course of "The Golden Girls," the women often donate their time to charitable causes. That theme carries into this episode as we watch them all attempt to save a 200-year-old oak tree that the city is attempting to cut down—only they come up against adversity when the neighbor who has the tree on her property, Frieda Claxton (Nan Martin), won't sign and is fighting to take it down. As they battle it out in a city council meeting, Rose faces Frieda's ire and they begin screaming until Rose stands up for herself and tells the neighbor to drop dead. Unfortunately, she does—right in the middle of the meeting.
As guilt takes over, Rose discovers that Frieda doesn't seem to have any loved ones to take care of her funeral arrangements, so she and her friends step in to make sure that Frieda gets a proper goodbye. Rose struggles to deal with the fact that she didn't have any positive impact on the world … until she has a brilliant idea: Rose spreads her ashes around the tree they were trying to save and uses that as leverage to keep the city from disturbing someone's final resting place. The circle of life continues!
#7. Sister of the Bride (1991)
- IMDb user rating: 8.6
- Season 6, Episode 14
- Director: Matthew Diamond
This episode is a continuation of sorts as we pick back up with Blanche's brother, Clayton. The last time he made an appearance in Season Four, he revealed to Blanche that he was gay, and though she was shocked, she came to accept it by the end of the episode. With his return in this Season Six installment, Clayton says he's bringing a big surprise with him on his visit—turns out, it's his new boyfriend, Doug (Michael Ayr).
The very real confrontation with her brother's partner in the flesh reveals that Blanche might not have been as accepting as she thought. While she struggles through it and feigns acceptance, Clayton adds another announcement: He and Doug are getting married. That news sends Blanche over the edge, and viewers watch as Blanche struggles through the stages of grief. It's a fairly real (albeit sped up for TV) depiction of the kind of emotional and mental process families can go through during times of upheaval or loss.
#6. The Way We Met (1986)
- IMDb user rating: 8.6
- Season 1, Episode 25
- Director: Terry Hughes
Season One episodes of "The Golden Girls" definitely have far more wholesome, simpler themes than the seasons that followed. They gave the audience time to get to know each of the characters individually, and together, creating a connection that would keep fans coming back year after year. In this early episode, viewers spend time sitting around the kitchen table with all four of the women as they share some cheesecake, unable to sleep after watching "Psycho."
To distract themselves, they tell the stories of how they each met. Like slices of cheesecake, the episode reveals pieces of their lives. Through flashbacks, we see that they didn't have quite as easy of a go living together at first, but they pushed through the trials and tribulations to form the bonds that blossom over the show's seven seasons.
#5. Ladies of the Evening (1986)
- IMDb user rating: 8.7
- Season 2, Episode 2
- Director: Terry Hughes
The friends discover they have a pest problem—and we don't mean Sophia's nagging. Luckily for them, the need to get out of the house for the weekend coincides with Blanche winning raffle tickets to the premiere of Burt Reynolds' new film—and a VIP after-party featuring the star himself. They decide to spend the weekend in Miami Beach but have to stay on a budget so they can fumigate. Blanche dedicates her time to finding the perfect hotel in their price range … the only problem is, the one she chooses ends up being frequented by traveling salesmen and the "ladies of the night" they spend time with.
By the time the women realize what's happening, police raid the lobby and they're arrested. Luckily, Sophia comes to bail them out. But there's one problem: Since they only had three tickets for the Burt Reynolds party, she assumes they will take her and one will sit out the event. When they refuse, she snatches the tickets through the jail bars and leaves them behind. The next day, as they all sit around in anger wishing they hadn't missed Burt Reynolds, the doorbell rings. And what do you know, it's Reynolds (playing himself), there to pick up Sophia.
#4. Isn't It Romantic? (1986)
- IMDb user rating: 8.9
- Season 2, Episode 5
- Director: Terry Hughes
Love is in the air and in this instance, someone has a crush on Rose. Dorothy's old college friend comes into town and is spending the week there to catch up. As they all spend time together, Dorothy's friend reveals they have feelings for Rose. While all of it may sound pretty cut and dry, there's one small twist—Dorothy's friend is a woman named Jean (Lois Nettleton). It was one of many episodes where "The Golden Girls" directly addressed LGBTQ+ issues decades before it became a common conversation.
While Dorothy has been aware that Jean was a lesbian for years, she hadn't revealed the information to her roommates. Over the course of the episode, we see them all have difficult conversations about sexuality, and while the language might not be the most progressive, the confrontation of the topic itself was groundbreaking for a prime-time television show.
#3. The Case of the Libertine Belle (1991)
- IMDb user rating: 9
- Season 7, Episode 2
- Director: Lex Passaris
The Sherlock Holmes (of St. Olaf) is on the case. The women agree to take a trip with Blanche on a murder mystery weekend. She's planned it as a work retreat in part to impress Kendall Nesbitt (Richard Roat) in the hopes of gaining a position under him—in more ways than one. Unfortunately, she has to include three more people to get the group rate. It all goes as planned in the beginning: An over-the-top double murder takes place and a noir-inspired detective enters to help solve the crime. A few minutes later, Dorothy stands up to solve the case.
As the excitement draws to a close, Nesbitt approaches Blanche and says he needs to see her alone, so she gives him her hotel key without hesitation. But when Blanche gets to the room, Nesbitt is laying there, dead, with a knife in his chest. Suddenly it's gone from a faux murder to a real one—or so it seems. Time reveals that Nesbitt faked his own death to add an additional layer of mystery to the evening, and eventually, laughs ensue.
#2. Old Friends (1987)
- IMDb user rating: 9.0
- Season 3, Episode 1
- Director: Terry Hughes
Some of the more heart-wrenching episodes of "The Golden Girls" also seem to be some of the fans' favorites. In the instance of this Season Three installment, the heartstrings of the story are tightly wound around Sophia, who meets a new friend along the boardwalk one day, Alvin Newcastle (Joe Seneca). The two instantly bond, sharing sarcastic quips and stories of the spouses they lost.
As the two spend more and more time together, Sophia can't help but notice that Alvin's behavior is becoming more than a little erratic. He's forgetful, he gets agitated easily, and he can't focus on topics when they're talking. Through time we learn that Alvin has Alzheimer's disease. During the '80s, when this episode aired, understanding of the condition was still in its veritable infancy stage. Through Sophia's eyes, viewers were able to feel the pain Alzheimer's can have on loved ones, as well as those battling it.
#1. One Flew Out of the Cuckoo's Nest (1992)
- IMDb user rating: 9.1
- Season 7, Episode 23
- Director: Lex Passaris
It seems only fitting that the #1 spot on our list, and the most beloved "Golden Girls" episode of all, is the two-part series finale. It all starts simply enough: Blanche's well-to-do uncle Lucas (Leslie Nielsen) is in town and she wants to fix him up. After telling Dorothy how much Lucas wants to meet her, and vice versa, the two agree to dinner. When they find out Blanche was lying and neither of them are interested, they decide to play a prank on her and pretend they've fallen head-over-heels in love with each other. Their ruse gets deeper and deeper as the episode goes on until Lucas fakes a marriage proposal that sends Blanche into a tailspin.
The pair agree to stage an elaborate breakup in order to assuage Blanche's fear that too much is changing, but that's when the show takes a twist: Lucas and Dorothy confess their actual love for each other and he asks her to get married for real. The second part of the episode sees the women figuring out their living arrangements now that Dorothy will be moving in with her soon-to-be husband—oh, and of course, Stan makes one last-ditch attempt to win Dorothy back (to no avail, however). As the series comes to a close, Dorothy is claiming her happiness, which fans had been rooting for since the very first episode. In the end, 27.2 million viewers were treated to the happy ending they deserved as well.
Data reporting by Luke Hicks. Story editing by Jaimie Etkin. Copy editing by Tim Bruns.