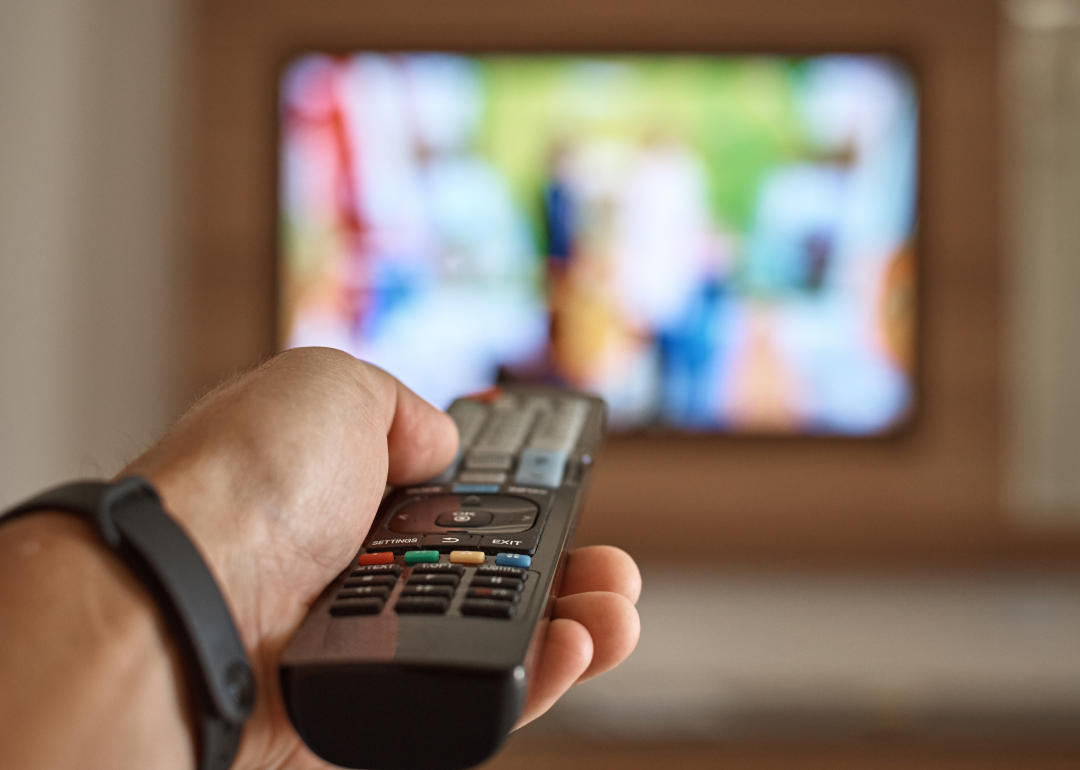 Best movies to stream on Hulu, according to critics
Best movies to stream on Hulu, according to critics
What are the best movies to stream on Hulu? The streaming giant offers mainstream hit movies alongside a wide selection of oddball masterpieces and little-known wonders that gained acclaim from critics. Stacker's list of the top 100 movies on Hulu has artsy thrillers, compelling dramas, international sensations, and popular favorites from across the globe. You'll also find a range of documentaries known for riveting, often unbelievable, forays into out-of-the-way subjects that wow and shock. These are the best films according to critics, so consider them vetted in terms of artistry and impact. Because they're esteemed by critics, a hard crowd to impress, these films are entertaining and watchable—they're the kind of films that pull you in from the first frames and keep you captivated until the end.
Stacker's list has a range of great movies from every genre, but there's no doubt that documentaries dominate the list. Documentaries have a reputation for being merely educational or staid and boring. Hulu's streaming the kind of documentaries that keep you on the edge of your seat until the end. The ones on this list are known for their dramatic, suspenseful qualities and their emotional power. You'll also find exposés on little-known topics. A few of these documentaries changed the world after they brought their subjects to light. Several offer intimate, newly surprising insights into stars like Whitney Houston, Grace Jones, Glen Campbell, and Joe Strummer that you'll find uplifting and stirring.
Hulu's fiction features include horror and sci-fi films that will awe and scare with plots that take unexpected detours. You'll find true stories and biopics that open a view into intimate and dramatic worlds. The films on our list pull you into the story with amazing cinematic artistry. There are more than a few mainstream classics alongside stand-outs that rose to greatness with a low budget or unconventional methods like shooting on a cell phone or with a square aspect ratio.
Stacker compiled Metacritic data on all films streaming on Hulu as of April 29, 2020, and ranked them according to their Metascores, with initial ties broken by IMDb user scores. Critics have an eye for excellence. Click ahead for the top films on Hulu that critics recommend. These are the movies that will wow you.
#100. Middle of Nowhere (2012)
- Director: Ava DuVernay
- Metascore: 75
- IMDb user rating: 6.4
- Runtime: 97 min
Ava DuVernay's second feature won the Best Director Award at Sundance Film Festival, earning praise for its strong point-of-view centered on a woman in Compton whose spouse is incarcerated. The strength of this film led DuVernay to her third feature, the Oscar-nominated "Selma." In "Middle of Nowhere" everyday, quiet moments are shot with a patient observation that pulls viewers into the understated drama.
#99. Mother! (2017)
- Director: Darren Aronofsky
- Metascore: 75
- IMDb user rating: 6.6
- Runtime: 121 min
The cacophonous parable "Mother!" uses archetypal themes and biblical stories to tell the story of a pregnant woman, played by Jennifer Lawrence, who lives in a lush farmhouse that's increasingly violated by unhinged people and mobs. Javier Bardem plays her spouse, a brooding, narcissistic poet. Darren Aronofsky infuses the film's violence with a strange grandeur rippling with symbolism.
#98. Nico, 1988 (2017)
- Director: Susanna Nicchiarelli
- Metascore: 75
- IMDb user rating: 6.7
- Runtime: 93 min
An avant-garde style pervades Susanna Nicchiarelli's biopic of the famous Nico from the band The Velvet Underground and also a central figure of Andy Warhol's scene in the 1960s. The film follows the icon on a 1988 tour across Europe. Actress Trine Dyrholm won praise for a performance that embodies the intensity of the woman at midlife as she confronts her relationship with her long-lost son.
#96. Dina (2017) (tie)
- Directors: Antonio Santini, Dan Sickles
- Metascore: 75
- IMDb user rating: 6.8
- Runtime: 103 min
Tenderness abounds in this documentary that follows the everyday relationship between two people on their journey to get married. Scott has Asperger's syndrome, while Dina has anxiety disorders. The two interact in ways that are direct, sweet, and moving, and critics and audiences find themselves enraptured by the quotidian beauty of the couple's approach to love.
#96. Risky Business (1983) (tie)
- Director: Paul Brickman
- Metascore: 75
- IMDb user rating: 6.8
- Runtime: 99 min
In this early hit in Tom Cruise's career, he plays a high schooler who runs a brothel out of his parent's house (they're away) with a sex worker played by Rebecca De Mornay. As in many '80s teen comedies, this one obsesses over both wealth and its mindless destruction as in an ecstatic scene that demolishes a Porsche. In the iconic underwear dance, Cruise slides through his parent's upper-class home to Bob Seger's "Old Time Rock and Roll."
#95. The Wolfpack (2015)
- Director: Crystal Moselle
- Metascore: 75
- IMDb user rating: 7.0
- Runtime: 90 min
This fascinating documentary looks at seven siblings who were confined to a New York apartment for 14 years, locked in with their mother by their father. While confined, they learn of the outside world through movies that they watch and recreate with elaborate detail that has a mesmerizing charm in several sequences. Director Crystal Moselle befriended the group once one ventured out in the world, and the others soon followed.
#92. Whitney (2018) (tie)
- Director: Kevin Macdonald
- Metascore: 75
- IMDb user rating: 7.2
- Runtime: 120 min
This documentary presents an intimate window into the life of pop diva Whitney Houston to make sense of both her talents and tragedies. Director Kevin Macdonald examines the singer's stratospheric rise and enormous vocal abilities alongside the experience of being Black in America. The film aims to shed light on the singer's marital and familial conflicts, as well as her struggles with substance abuse.
#92. The Full Monty (1997) (tie)
- Director: Peter Cattaneo
- Metascore: 75
- IMDb user rating: 7.2
- Runtime: 91 min
This story about working-class men who become strippers was a huge international hit with multiple Oscar nominations, including Best Picture. Robert Carlyle and Tom Wilkinson are a part of the ensemble of men who seek a sense of masculine identity after job loss and despair. Through their audacious plan, they gain confidence and camaraderie in a comedy about friendship and resilience.
#92. Rango (2011) (tie)
- Director: Gore Verbinski
- Metascore: 75
- IMDb user rating: 7.2
- Runtime: 107 min
Johnny Depp voices a lost house pet turned gunslinging gecko in this animated hit that pays homage to spaghetti westerns. The lizard Rango finds himself sheriff of a small town in the wild west and must rise to heroism despite not being cut out for it. Critics admire the vibrant and expansive animation that combines with wit and gags geared toward adults.
#91. Life, Animated (2016)
- Director: Roger Ross Williams
- Metascore: 75
- IMDb user rating: 7.5
- Runtime: 92 min
Owen Suskind, who is autistic, was a withdrawn and quiet child until his captivation with Disney animated films fostered an opening-up to the outside world. The now-adult Suskind, along with his family, makes for an endearing and eccentric subject in this film that documents the ways people communicate and the power of art.
#90. Misery (1990)
- Director: Rob Reiner
- Metascore: 75
- IMDb user rating: 7.8
- Runtime: 107 min
Kathy Bates won the Best Actress Oscar for her terrifying portrayal of the #1 fan of novelist Paul Sheldon (James Caan). Adapted from Stephen King's book, the film offers intense suspense and claustrophobia as an injured novelist is held hostage by his greatest admirer. It's a movie that captures the conflicts between creativity and fandom in ways that push to horror extremes.
#89. An Unreasonable Man (2006)
- Directors: Henriette Mantel, Steve Skrovan
- Metascore: 75
- IMDb user rating: 7.9
- Runtime: 122 min
Ralph Nader is widely considered responsible for putting George Bush Jr. in the White House by running as an independent who pulled votes from the Democratic presidential frontrunner. This 2006 documentary looks at the controversial figure with nuance and complexity, suggesting the power in dogged opposition. The film presents Nader's critical advocacy in auto industry safety when he began his career as a radical advocate for the greater good.
#88. Midnight Special (2016)
- Director: Jeff Nichols
- Metascore: 76
- IMDb user rating: 6.6
- Runtime: 112 min
Critics admired the performances of the all-star cast that includes Michael Shannon, Joel Edgerton, Adam Driver, and Kirsten Dunst in a sci-fi mystery that keeps the audience guessing. Set in rural Texas, a child abducted from a religious cult seems to have ties to a parallel world. Awe-inspiring visuals anchor a setting that's both ordinary and otherworldly, just like the child at the center.
#86. Leaning Into The Wind (2017) (tie)
- Director: Thomas Riedelsheimer
- Metascore: 76
- IMDb user rating: 6.8
- Runtime: 97 min
This follow-up to the 2001 documentary "Rivers and Tides" returns to land artist Andy Goldsworthy, immersing in his processes as he creates artwork in sites across the world. Goldsworthy's projects are ephemeral and naturalistic, using materials such as petals and mud and other found objects to create sculptures linked to the environment. The filmmaker's meditative style syncs well with the subject's hypnotic expression of creativity within nature.
#86. Lady Macbeth (2016) (tie)
- Director: William Oldroyd
- Metascore: 76
- IMDb user rating: 6.8
- Runtime: 89 min
Lady Macbeth begins like a Jane Austen-esque parlor drama before derailing into a strange, much more potent meditation on sex and marriage. The film proceeds with a surprisingly violent heartbeat as it depicts the experience of servants, people of color within a social world controlled by white people. Florence Pugh plays a woman sold to a wealthy white man who finds her way to power.
#85. Lo and Behold: Reveries of the Connected World (2016)
- Director: Werner Herzog
- Metascore: 76
- IMDb user rating: 7.0
- Runtime: 98 min
Werner Herzog brings his rhapsodic and intense documentary style to an unlikely subject—the internet. Herzog narrates, as usual, with a whispery authority that brims with wonder and thrill as he looks at aspects of the ubiquitous tech, including its origins, as well as its addicts, inventors, and victims of trolling.
#84. Rebirth (2011)
- Director: James Whitaker
- Metascore: 76
- IMDb user rating: 7.1
- Runtime: 104 min
This touching documentary follows five subjects in the aftermath of the 9/11 attacks and provides a decade long look at their grief and recovery. Critics find the film both a heart-wrenching gut-punch while at the same time offering inspiration and a sense of resilience.
#83. Hail Satan? (2019)
- Director: Penny Lane
- Metascore: 76
- IMDb user rating: 7.3
- Runtime: 95 min
The documentary "Hail Satan?" shows that Satanists care less about devil worship and more so about political activism that uses freedom of religion issues to point out hypocrisy and ensure the separation of church and state. The movie provides a closer look at a witty and admirable group that comes across as splendidly subversive.
#82. Cartel Land (2015)
- Director: Matthew Heineman
- Metascore: 76
- IMDb user rating: 7.4
- Runtime: 100 min
Director Matthew Heineman's shocking access to vigilante groups and drug dealers at the U.S.–Mexico border is hard to believe, especially as some footage was shot in the midst of violence. This brutal, despairing documentary looks at the drug trade, the cartels, and the innocents caught in the crossfire in an entrenched system without easy solutions.
#80. Dirty Wars (2013) (tie)
- Director: Rick Rowley
- Metascore: 76
- IMDb user rating: 7.5
- Runtime: 87 min
This Academy Award-nominated documentary inserts journalist Jeremy Scahill into the action in an investigative film centered on the Joint Special Operations Command, a group purported to carry out war-on-terror ops abroad and in secret. Scahill investigates overseas raids and assassinations in a film critics found riveting and eye-opening.
#80. Hoosiers (1986) (tie)
- Director: David Anspaugh
- Metascore: 76
- IMDb user rating: 7.5
- Runtime: 114 min
The sports films that stick with audiences link team success to a larger community. "Hoosiers" is a winning film because it makes the high school basketball in Hickory, Ind., in the 1950s, and anyone rooting for them, a force for victory. Gene Hackman plays the inspiring coach who leads the small-town boys to a healing win in this heart-swelling tearjerker.
#77. Escape from Alcatraz (1979) (tie)
- Director: Don Siegel
- Metascore: 76
- IMDb user rating: 7.6
- Runtime: 112 min
Clint Eastwood stars in this nail-biter that's based on a true story about a prisoner infamous for escape. Alcatraz seems like an impenetrable fortress, but Eastwood's convict manages to find a way while keeping the audience rooting for a criminal to break away from the brutal island.
#77. Cold Case Hammarskjöld (2019) (tie)
- Director: Mads Brügger
- Metascore: 76
- IMDb user rating: 7.6
- Runtime: 128 min
The second secretary-general of the United Nations, Dag Hammarskjöld, a man considered to be a great statesman for equality, was killed in a plane crash in 1961. This documentary presents information implicating a covert white supremacist organization that wanted him gone because they had opened clinics across Africa that weaponized the AIDS virus against Black citizens. This chilling documentary makes its lack of definitive proof an intriguing part of its style to interrogate the truth.
#77. Tickled (2016) (tie)
- Directors: David Farrier, Dylan Reeve
- Metascore: 76
- IMDb user rating: 7.6
- Runtime: 92 min
The journalist Dylan Reeve, also co-director, unwittingly gets pulled into the strange world of endurance tickling competitions as well as the even more bizarre outfit behind it. The documentary unfolds with investigative suspense moving along with gripping twists and turns that keep audiences and critics spellbound and rattled.
#75. Standing in the Shadows of Motown (2002) (tie)
- Director: Paul Justman
- Metascore: 76
- IMDb user rating: 7.8
- Runtime: 108 min
Truly unsung heroes, this documentary tells the story of the Funk Brothers, Detroit musicians gathered by Berry Gordy in 1959 who played in the background on more pop hit singles than the biggest bands in recording history. Using archival materials and new contemporary performances, this rousing film tells a little-known story about the actual heart beating behind and beneath the most popular music.
#75. American Gangster (2007) (tie)
- Director: Ridley Scott
- Metascore: 76
- IMDb user rating: 7.8
- Runtime: 157 min
Russell Crowe and Denzel Washington team up in this stylish mobster drama based on a real-life gangster and the cop who went after him. Washington plays a kingpin's driver who rises in the ranks through his own business savvy. It's a crime drama that makes audiences root for and admire the gangster despite the investigator's relentless pursuit.
#74. The Messenger (2009)
- Director: Oren Moverman
- Metascore: 77
- IMDb user rating: 7.1
- Runtime: 113 min
Oren Moverman's directorial debut tells the story of two casualty notification officers (Ben Foster and Woody Harrelson) during the Iraq War. When one of the men gets involved with a widow, it leads to both conflict and catharsis. Woody Harrelson won an Independent Spirit Award for Best Supporting Actor.
#73. Evolution (2015)
- Director: Lucile Hadzihalilovic
- Metascore: 77
- IMDb user rating: 5.9
- Runtime: 81 min
Strange and surreal visuals bring beauty to this otherwise terrifying science fiction horror film set by the sea. Young boys endure strange operations in scenes with a minimalist, dreamy atmosphere that adds mystery to medical experimentation and ups the creep factor.
#72. Saturday Night Fever (1977)
- Director: John Badham
- Metascore: 77
- IMDb user rating: 6.8
- Runtime: 118 min
John Travolta's third film, a drama about a nightclub dance contest, propelled him to stardom—he was nominated for a Best Actor Oscar and was at the center of disco-era pop culture. The film's soundtrack remains one of the bestselling of all time and features several singles by the Bee Gees, including "Stayin' Alive," which accompanies Travolta's signature strut.
#70. The Nightingale (2018) (tie)
- Director: Jennifer Kent
- Metascore: 77
- IMDb user rating: 7.3
- Runtime: 136 min
Known for its brutal violence and intense depictions of sexual assault, "The Nightingale" is a revenge fantasy set during 1825 in a British Penal colony. An Irish woman convict and an Aboriginal man team together to take vengeance upon the British officers who enslaved them.
#70. Detroit (2017) (tie)
- Director: Kathryn Bigelow
- Metascore: 77
- IMDb user rating: 7.3
- Runtime: 143 min
Kathryn Bigelow's "Detroit" uses her characteristic documentary-like objective cinematography style to dramatize the true story of the 1967 Detroit riot. The story centers on the events in the Algiers Motel, where police killed three black teenagers and brutalized others during a prolonged and illegal interrogation. Critics found the film difficult to sit through despite its crucial social message on documented police brutality toward Black Americans throughout history.
#69. I, Tonya (2017)
- Director: Craig Gillespie
- Metascore: 77
- IMDb user rating: 7.5
- Runtime: 119 min
Told in documentary style, this feature dramatizes the stranger-than-fiction events between Tonya Harding and Nancy Kerrigan during the 1994 ice skating championships when Tonya's husband and his lackey attack her opponent. Tonya (Margot Robbie) comes from the wrong side of the tracks and infuses the staid sport with scrappy athleticism that can't win against Kerrigan's upper crust elegance.
#68. Best of Enemies (2015)
- Directors: Robert Gordon, Morgan Neville
- Metascore: 77
- IMDb user rating: 7.6
- Runtime: 87 min
The birth of now-ubiquitous TV political punditry started in 1968 after a ratings bid by ABC paired left and right-wing talking heads in an unscripted live debate that ran for 10 nights. This documentary examines the cultural context surrounding William F. Buckley Jr., the noted conservative who went up against Gore Vidal, a liberal novelist and intellectual. Audiences at the time were enraptured by the competitive sparring, which descended into name-calling as well as Buckley threatening to sock Vidal in the face.
#67. Zero Days (2016)
- Director: Alex Gibney
- Metascore: 77
- IMDb user rating: 7.8
- Runtime: 116 min
Told in the style of a thriller, "Zero Days" takes a deep dive into the world of cyber warfare and the threat of computer viruses. Director Alex Gibney implicates the U.S. and Israel as the creators of Stuxnet, insidiously expert malware used against an Iranian nuclear facility that subsequently unleashed a new and tremendously destructive force into the larger world.
#66. Jiro Dreams of Sushi (2011)
- Director: David Gelb
- Metascore: 77
- IMDb user rating: 7.9
- Runtime: 81 min
The world's greatest Sushi chef operates a tiny establishment in one of Tokyo's subway stations. Jiro, in his late-80s during filming, earned a coveted three stars from the prestigious Michelin guide. The documentary focuses on his perfectionist dedication to cuisine as an art form and his relationship with the son in line to take over.
#64. Beach Rats (2017) (tie)
- Director: Eliza Hittman
- Metascore: 78
- IMDb user rating: 6.4
- Runtime: 98 min
Harris Dickinson won praise for his performance as Frankie, a Brooklyn teen making sense of his fluid sexuality while grappling with a society that demands hetero-normative conformity. Eliza Hittman's coming-of-age drama offers a sensitive, compassionately observed portrait of Frankie's desires and dilemmas.
#64. The Princess of Montpensier (2010) (tie)
- Director: Bertrand Tavernier
- Metascore: 78
- IMDb user rating: 6.4
- Runtime: 139 min
This lavish historical drama takes place during the late 1500s religious wars in France. The costumes and set pieces provide a sumptuous backdrop to this story of a princess in an arranged marriage who becomes the object of affection to multiple men.
#63. The Sisters Brothers (2018)
- Director: Jacques Audiard
- Metascore: 78
- IMDb user rating: 7.0
- Runtime: 122 min
John C. Reilly and Joaquin Phoenix play brothers and assassins in this stylish Western set during an 1851 Gold Rush. Jake Gyllenhaal and Riz Ahmed star as prospectors with a formula for gold. With the brothers in pursuit, things turn dark and deadly in this brooding film with a cynical bent on greed.
#62. Monos (2019)
- Director: Alejandro Landes
- Metascore: 78
- IMDb user rating: 7.1
- Runtime: 102 min
In this allegorical film, a squad of teen soldiers holds a prisoner captive on a remote island as they take directives from an unnamed organization. Though the group has military training, they drift into "Lord of the Flies" style chaos and violence. Critics appreciated the film's unique imagery and themes around innocence lost.
#61. Airplane! (1980)
- Directors: Jim Abrahams, David Zucker, Jerry Zucker
- Metascore: 78
- IMDb user rating: 7.7
- Runtime: 88 min
"Airplane" spoofed popular airport disaster movies in a send-up that jabbed at romance stereotypes and other ridiculous conventions. The film launched its own franchise and a whole genre of parody films. Much of the humor is dated and silly, but it's still a comedy classic packed with laughs, including a memorable performance that launched Leslie Nielsen as a comedy star after a career as a dramatic actor.
#60. Free Willy (1993)
- Director: Simon Wincer
- Metascore: 79
- IMDb user rating: 6.0
- Runtime: 112 min
"Free Willy" is known for the triumphant leap captured in the movie poster. It's a sentimental family film that started a three-movie franchise. A foster kid teams up with an amusement park orca whale, and both embark on a journey to find family by escaping a harsh world.
#59. Annihilation (2018)
- Director: Alex Garland
- Metascore: 79
- IMDb user rating: 6.9
- Runtime: 115 min
Critics consider this sci-fi adventure a much more intellectual take than the usual alien confrontations. Natalie Portman plays a soldier sent with a group of women to explore "The Shimmer," a strange, expanding mutation that eventually overtakes the team. The movie presents themes around identity, trust, and contagion in its story about a horror creature that copies its host.
#58. Kinsey (2004)
- Director: Bill Condon
- Metascore: 79
- IMDb user rating: 7.0
- Runtime: 118 min
Liam Neeson plays the infamous Dr. Kinsey in this biopic about the pioneer of sex research who was himself staid and repressed despite spearheading studies considered both radical and obscene during the 1950s. Laura Linney earned a Best Supporting Oscar nomination in her acclaimed performance as Kinsey's wife, a woman confined by the expectations of the time period, but making the best of it.
#57. Let Me In (2010)
- Director: Matt Reeves
- Metascore: 79
- IMDb user rating: 7.1
- Runtime: 116 min
This acclaimed, atmospheric remake of the 2007 Swedish film "Let the Right One In," stars Chloë Grace Moretz as a young vampire, while Kodi Smit-McPhee plays the bullied 12-year-old she befriends. Critics praised the film for retaining the artsy horror of the original while resetting the chilling, but also tender scare-fest in a town in New Mexico.
#56. Joe Strummer: The Future Is Unwritten (2007)
- Director: Julien Temple
- Metascore: 79
- IMDb user rating: 7.6
- Runtime: 124 min
Archival performance footage and voice recordings from BBC radio offer an inside look at the influential musician, Joe Strummer, who was once at the center of the punk music scene. Fans get an intimate look at the legendary rocker, frontman of The Clash, through interviews with friends and fellow musicians commenting on his legacy and ideals.
#55. Mother (2009)
- Director: Bong Joon Ho
- Metascore: 79
- IMDb user rating: 7.8
- Runtime: 129 min
Bong Joon Ho's eccentric thriller opens and closes with the titular mother's ecstatic dances. Gorgeous visuals abound in this story of a mother willing to do anything for her mentally disabled son. Hye-ja Kim gives a stunning performance as a woman who believes her son is wrongfully accused of murder.
#54. Glen Campbell: I'll Be Me (2014)
- Director: James Keach
- Metascore: 79
- IMDb user rating: 8.0
- Runtime: 116 min
Country music icon Glen Campbell goes on a farewell tour, but this documentary also follows the unfolding of the musician's diagnosis with Alzheimer's disease and the ways he and his family reckon with it. The film offers a moving look at the reality of the condition while also being an inspiring tribute to a legend whose memories fade while his music carries forward.
#53. Sorry to Bother You (2018)
- Director: Boots Riley
- Metascore: 80
- IMDb user rating: 6.9
- Runtime: 112 min
The debut of writer-director Boots Riley stars LaKeith Stanfield and Tessa Thompson in a funny, bizarro satire about corporate workforce cogs. The film presents a workplace where Black telemarketers are forced to speak with white voices in order to get ahead. Soon, the narrative takes an even more insane detour that's vivid and harsh in ways that belie the seeming civility of the movie's title.
#52. The Queen of Versailles (2012)
- Director: Lauren Greenfield
- Metascore: 80
- IMDb user rating: 7.1
- Runtime: 100 min
This documentary focuses on a billionaire couple with a passel of kids who are building the biggest house in America. The film provides a mesmerizing look into the lives of the super-wealthy as they model their home on the Palace of Versailles. During filming, a financial crisis threatens the mogul's immense project giving audiences a rare view into what a hard knock life is like when it hits the rich.
#50. Iris (2014) (tie)
- Director: Albert Maysles
- Metascore: 80
- IMDb user rating: 7.2
- Runtime: 79 min
Style icon Iris Apfel, now nearing 100 years old, is known for brash combinations of artisanal textiles, designer pieces, and wild accessories to create her own unique brand of chic. Apfel makes for a charismatic documentary subject who inspires with her sense of humor, exuberant curiosity, and flair for fashion as an expression of soul.
#50. Wild Rose (2018) (tie)
- Director: Tom Harper
- Metascore: 80
- IMDb user rating: 7.2
- Runtime: 101 min
In this upbeat music film, Jessie Buckley plays a Scottish single mom ex-con who dreams of becoming a country music star. She has a voice that wows and the strength to buck the odds, but her talent conflicts with responsibility and circumstance. It's a movie about the ways dreams and expectations clash with motherhood.
#49. Love & Mercy (2014)
- Director: Bill Pohlad
- Metascore: 80
- IMDb user rating: 7.4
- Runtime: 121 min
In this biopic, Paul Dano and John Cusack each play the legendary frontman of The Beach Boys, Brian Wilson, at different ages during the 1960s and 1980s. The movie dramatized the periods when Wilson was under the care of a meddling psychiatrist (played by Paul Giamatti), who made the musician's struggles with mental illness much worse. The film is known for its powerful presentation of one of the geniuses of pop music.
#48. True Grit (2010)
- Directors: Ethan Coen, Joel Coen
- Metascore: 80
- IMDb user rating: 7.6
- Runtime: 110 min
The Coen brothers bring their quirky trademark style to this remake of the classic John Wayne Western, updating it with their own edge. Hailee Steinfeld, Jeff Bridges, and Matt Damon star in the archetypal story of vengeance set in the wild west—a zone of unrelenting harshness and scant redemption.
#47. Food, Inc. (2008)
- Director: Robert Kenner
- Metascore: 80
- IMDb user rating: 7.8
- Runtime: 94 min
"Food, Inc." reveals an eye-opening journey from factory to grocery store that overturns the notion of pastoral farm-fresh food production. The film had a global impact on industry changes due to its depiction of the corporations, chemicals, and conditions at the center of the modern food chain.
#46. Whose Streets? (2017)
- Directors: Sabaah Folayan, Damon Davis
- Metascore: 81
- IMDb user rating: 4.9
- Runtime: 90 min
"Whose Streets?," a documentary made by Ferguson activists, links the 2014 police brutality protests to systemic American racism and its historical roots in slavery and oppression toward Black people. The film gives voice to the protesters, activists, and people directly involved in the community where Michael Brown was shot by police. The film privileges the perspective of Black people as it shines a light on profound, institutionalized injustice.
#45. Woman at War (2018)
- Director: Benedikt Erlingsson
- Metascore: 81
- IMDb user rating: 7.4
- Runtime: 101 min
Halldóra Geirharðsdóttir gives a captivating performance as a one-woman eco-activist determined to thwart production at an aluminum plant in rural Iceland. Critics admired the film's gorgeous cinematography and quirky, stylistic edge as it presents the power of a single, determined woman who also aims to adopt a child.
#44. Waiting for 'Superman' (2010)
- Director: Davis Guggenheim
- Metascore: 81
- IMDb user rating: 7.5
- Runtime: 111 min
The documentary "Waiting for 'Superman'" tackles the problems in America's education system, looking closely at five children across the nation who struggle to get into charter schools. The film is known for its gripping lottery sequence as students and their families wait out a system with scant odds. While the film is praised for exposing a system rife with problems, its limit is posing unregulated charter schools as the solution.
#43. Three Identical Strangers (2018)
- Director: Tim Wardle
- Metascore: 81
- IMDb user rating: 7.7
- Runtime: 96 min
This harrowing documentary plays out like a suspenseful mystery as the story of identical triplets separated at birth unfolds with alarming and increasingly heartbreaking details. At first, the film seems the story of siblings miraculously reunited after a life lived apart who gain minor fame from the details of their story. As they age and investigate the circumstances of their separation, shocking details emerge that are deeply affecting for the triplets—and audiences.
#42. Hunt for the Wilderpeople (2016)
- Director: Taika Waititi
- Metascore: 81
- IMDb user rating: 7.9
- Runtime: 101 min
Known for its charm and heartwarming appeal, this coming-of-age dramedy explores the relationship between a foster child (Julian Dennison) and his caregiver (Sam Neill), deemed unfit by the state, as the two abscond to the wild. Writer-director Taika Waititi's wit and style are on display in this film about escape as a means to find your way in the world.
#41. Toni Morrison: The Pieces I Am (2019)
- Director: Timothy Greenfield-Sanders
- Metascore: 82
- IMDb user rating: 7.1
- Runtime: 120 min
Toni Morrison's incomparable genius resonates throughout this documentary about her life and works. The esteemed Nobelist speaks openly about writing as a Black woman, and viewers see interviews with white men who question the validity of her perspective. The film confronts racism and the experience of being a woman of letters within such a system while celebrating the ways Morrison navigated and transcended those limits.
#40. A Quiet Place (2018)
- Director: John Krasinski
- Metascore: 82
- IMDb user rating: 7.5
- Runtime: 90 min
John Krasinski masterfully directs this thriller set in an apocalyptic world where no one can make a sound. Krasinski also stars (with real-life wife) Emily Blunt as parents trying to keep their children safe in a world where monsters attack at the slightest noise. The premise of necessary silence offers a cinematic world filled with striking visual details, expressive acting, and unrelenting suspense.
#39. The Second Mother (2015)
- Director: Anna Muylaert
- Metascore: 82
- IMDb user rating: 7.8
- Runtime: 112 min
Set in Sao Paulo, this cunning domestic comedy examines the ways class and privilege intersect with familial roles. Regina Casé won acclaim for the depth of her performance as a housekeeper who leaves her daughter to be raised by relatives while she takes a job with a wealthy family. Once grown, her daughter shows up, moves in, and turns the household upside down with her outspoken ways.
#38. Embrace of the Serpent (2015)
- Director: Ciro Guerra
- Metascore: 82
- IMDb user rating: 7.9
- Runtime: 125 min
Shot almost exclusively in black and white, and acclaimed for its vivid and lush cinematography, "Embrace the Serpent," connects two timelines, in 1909 and 1940. In each time period, white men come to the Colombian Amazon and ask an indigenous shaman to help them find a rare plant. Stunning landscape imagery transports viewers into a natural world threatened by colonialism.
#37. Cunningham (2019)
- Director: Alla Kovgan
- Metascore: 83
- IMDb user rating: 6.5
- Runtime: 93 min
Taking its artistic themes to heart, this documentary about American dancer and choreographer Merce Cunningham was shot in 3D. Cunningham refers to modern dance as a "whole visual experience" and director Alla Kovgan follows suit. Through recreations and archival footage, the film makes for a sensual feast.
#36. Paranoid Park (2007)
- Director: Gus Van Sant
- Metascore: 83
- IMDb user rating: 6.7
- Runtime: 85 min
Gus Van Sant's "Paranoid Park" uses the director's signature hovering, documentary-like camera to portray anxious, yet dreamlike teenage life. The movie presents skateboard youth culture in Portland, Ore., and focuses on a shocking event that upends the life of the high schooler responsible.
#34. '71 (2014) (tie)
- Director: Yann Demange
- Metascore: 83
- IMDb user rating: 7.2
- Runtime: 99 min
Set during the Troubles in Ireland, "'71" takes place over the course of a single night as a British soldier (Jack O'Connell) gets left behind after a protest patrol. Nerve-wracking events occur as the soldier becomes ensnared in violence and near-escapes that show the futile anguish of the conflict and its human cost.
#34. Fighter (2000) (tie)
- Director: Amir Bar-Lev
- Metascore: 83
- IMDb user rating: 7.2
- Runtime: 91 min
This documentary starts out as a travelogue as two friends in their seventies, Jan Wiener and Arnost Lustig, return to Czechoslovakia with the filmmaker to retrace their steps during World War ll. They both lost their families and underwent unimaginable hardship with Lustig ending up in a concentration camp. Partway through the film, the men argue about a wartime event that never quite resolves and comes to encapsulate the painful history for those who survived the era.
#32. The Cave (2019) (tie)
- Director: Feras Fayyad
- Metascore: 83
- IMDb user rating: 7.4
- Runtime: 107 min
Feras Fayyad, the Oscar-nominated documentarian, follows up his "Last Men in Aleppo" with "The Cave," another documentary that focuses on the civil war in Syria. "The Cave" documents the experience of Dr. Amani Ballour, a pediatrician who treats injured civilians in an underground hospital. The film depicts harrowing footage of the war's impact on innocent civilians, especially children.
#32. Up in the Air (2009) (tie)
- Director: Jason Reitman
- Metascore: 83
- IMDb user rating: 7.4
- Runtime: 109 min
George Clooney plays a corporate Everyman tasked with traveling to various firms to fire people. Anna Kendrick plays a young exec looking to streamline the firing process through video chat. The comedy is both funny and sad as it explores an existential dread and isolation that undergirds what seems, on paper, to be success.
#30. Seymour: An Introduction (2014) (tie)
- Director: Ethan Hawke
- Metascore: 83
- IMDb user rating: 7.5
- Runtime: 84 min
Ethan Hawke directed this straightforward documentary that captures the pleasures of music and the importance of teaching. The film follows Seymour Bernstein, a modest piano virtuoso, who devoted his life to teaching others how to play the instrument he mastered. The film offers a tender, captivating meditation on the slow process of learning a new skill.
#30. The Guilty (2018) (tie)
- Director: Gustav Möller
- Metascore: 83
- IMDb user rating: 7.5
- Runtime: 85 min
This tense Danish thriller takes place in a single location, a police station, as a call center desk jockey (Jakob Cedergren), gets embroiled in helping an abducted woman over the phone. Like other films set in limited spaces ("Locke," "Buried," or Hitchcock's "Rear Window"), "The Guilty" brims with a sense of helplessness and suspense as it twists to its unexpected conclusion.
#29. Blackfish (2013)
- Director: Gabriela Cowperthwaite
- Metascore: 83
- IMDb user rating: 8.1
- Runtime: 83 min
Gabriela Cowperthwaite's acclaimed documentary is credited with having made a significant impact on both SeaWorld and the orca whale industry. The film uses suspense and drama to examine the deaths of 3 people due to an orca, Tilikum. Cowperthwaite documents the abusive conditions of capture and captivity that seem to have contributed to the whale's aggression.
#28. Free Solo (2018)
- Directors: Jimmy Chin, Elizabeth Chai Vasarhelyi
- Metascore: 83
- IMDb user rating: 8.2
- Runtime: 100 min
Provocative and suspenseful footage was shot by the camera crew who climbed alongside Alex Honnold as he trained for a free solo climb of El Capitan in Yosemite National Park. The film follows Honnold's quest to climb a vertical rock formation without ropes or protection, and documents his compulsion, the physical training required, and the relationship with his girlfriend that's often at odds with his personal goal.
#27. Love After Love (2017)
- Director: Russell Harbaugh
- Metascore: 84
- IMDb user rating: 5.4
- Runtime: 91 min
Russell Harbaugh co-wrote and directed this drama that immerses the audience within a family's experience of grief during and after the grueling terminal illness of its patriarch. Andie MacDowell gives an impressive performance as the grieving widow, with Chris O'Dowd and James Adomian as her grown sons in this often emotionally brutal look at everyday life and loss.
#26. Booksmart (2019)
- Director: Olivia Wilde
- Metascore: 84
- IMDb user rating: 7.2
- Runtime: 102 min
Two high school seniors played by Kaitlyn Dever and Beanie Feldstein leave their staid and obedient ways behind to embark on a night of partying. Olivia Wilde directed this film that was praised for its witty and poignant coming-of-age story focused on the genre-busting experience of young women.
#25. 13 Assassins (2010)
- Director: Takashi Miike
- Metascore: 84
- IMDb user rating: 7.6
- Runtime: 141 min
Takashi Miike, known for horror films that teem with gore, upends the moral fabric of the samurai genre in his remake of the 1963 film of the same name. Set in 1844, 13 samurai are hired to overturn a murderous leader set on civil war. Since they're outnumbered, they employ booby traps and other combat methods in a film that swells with extreme bloodshed.
#24. Support the Girls (2018)
- Director: Andrew Bujalski
- Metascore: 85
- IMDb user rating: 6.4
- Runtime: 93 min
Regina Hall gives a riveting performance as the manager of a roadside, "Hooters"- like diner as she tries to hold it together on a day when everything goes awry. Andrew Bujalski's comedy is lauded for presenting women's solidarity within a capitalist system that doesn't value the people who support it.
#23. Meek's Cutoff (2010)
- Director: Kelly Reichardt
- Metascore: 85
- IMDb user rating: 6.5
- Runtime: 104 min
Kelly Reichardt's revisionist Western was shot in a 4:3 aspect ratio. The square screen technique contrasts with the usual widescreen landscapes of the genre and captures the closed-in experience of her women characters. Michelle Williams plays a frontier woman in 1845 whose allegiance moves to a Native American captive (Rod Rondeaux) after the wagon train's guide, Meek (Bruce Greenwood), proves inept.
#22. Vincere (2009)
- Director: Marco Bellocchio
- Metascore: 85
- IMDb user rating: 6.9
- Runtime: 128 min
This operettic Italian melodrama focuses on the little-known history of Benito Mussolini's first wife, Ida (Giovanna Mezzogiorno), who was later denied and persecuted (along with their son) by the fascist leader and his lackeys. Director Marco Bellocchio intersperses historical footage from the time period within a narrative that focuses on a woman's obsession with betrayal as she tries to figure out the truth while being relentlessly shut down, eventually ending up in an asylum.
#21. The Host (2006)
- Director: Bong Joon Ho
- Metascore: 85
- IMDb user rating: 7.1
- Runtime: 120 min
Bong Joon Ho's popular, acclaimed hit updates the classic Godzilla narrative with an ecological edge and a film style that combines visual splendor with unexpected narrative twists. "The Host" offers a scathing social and political commentary on various injustices, including American science and military presence, as embodied by the monster that unleashes its fury on Seoul.
#19. Tea With the Dames (2018) (tie)
- Director: Roger Michell
- Metascore: 85
- IMDb user rating: 7.3
- Runtime: 84 min
This documentary features candid conversations between four titans of the British stage and screen, Dames Judi Dench, Joan Plowright, Eileen Atkins, and Maggie Smith. Filmed across an afternoon inside and outside a lush country estate, the women dish on their lives as major actresses with wit and insight.
#19. Say Anything... (1989) (tie)
- Director: Cameron Crowe
- Metascore: 85
- IMDb user rating: 7.3
- Runtime: 100 min
John Cusack portrays Lloyd Dobler, a rare male rom-com lead who seeks to support a woman's ambitions over his own. "Say Anything" features the iconic holding-up-a-boombox scene where Lloyd serenades Diane (Ione Skye) with Peter Gabriel's "In Your Eyes." This is a rare late 1980s-era teen comedy with a charm that still endures.
#18. Flight of the Red Balloon (2007)
- Director: Hou Hsiao-Hsien
- Metascore: 86
- IMDb user rating: 6.6
- Runtime: 115 min
Albert Lamorisse's famous 1956 short film, "The Red Balloon," followed a young boy and his sentient red balloon through Parisian streets in a film that was funny, tragic, and ultimately uplifting. Hou Hsiao-Hsien's 2007 remake expands the material but follows the same premise to produce a feature that captures the magic and humanity of its source. Juliette Binoche gives an affecting performance as the youngster's single mom.
#17. Little Men (2016)
- Director: Ira Sachs
- Metascore: 86
- IMDb user rating: 6.7
- Runtime: 85 min
"Little Men" focuses on the moving friendship that forms between two young boys after the inheritance of a Brooklyn brownstone connects them. One child's parents inherit the building and move upstairs, while the other child's mother is a longtime renter of shop space on the ground floor. The children's relationship becomes imperiled when their parents conflict over a steep rent increase in an intimate drama that examines the impinging strictures of class.
#16. Tangerine (2015)
- Director: Sean Baker
- Metascore: 86
- IMDb user rating: 7.1
- Runtime: 88 min
This quick-paced comedy was shot entirely on iPhones and stars two trans actresses in lead roles, Kitana Kiki Rodriguez and Mya Taylor. Critics praised its LGBTQ+ representation as it tells the story of two friends who search for a cheating lover throughout the streets of L.A. on Christmas Eve.
#15. Mission: Impossible - Fallout (2018)
- Director: Christopher McQuarrie
- Metascore: 86
- IMDb user rating: 7.7
- Runtime: 147 min
The sixth "Mission Impossible" installment, the most well-reviewed film in the franchise, continues with Tom Cruise as the spry, on-the-go action hero Ethan Hunt. This one upgrades the usual no-way-out scenarios and impassable stunt set pieces with non-stop cinematic derring-do that's witty and surprising.
#14. Honeyland (2019)
- Directors: Tamara Kotevska, Ljubomir Stefanov
- Metascore: 86
- IMDb user rating: 8.0
- Runtime: 89 min
This award-winning documentary takes viewers to a rural Macedonian bee farm where a woman cultivates honey using slow, sustainable methods. Soon, a large family moves next door and looks to cultivate their own honey business. "Honeyland" offers an emotional look at the ethics of profit and production through the story of the drama and tension that often arises between neighbors.
#13. The Duke of Burgundy (2014)
- Director: Peter Strickland
- Metascore: 87
- IMDb user rating: 6.6
- Runtime: 104 min
This acclaimed erotic drama teases with elaborately stylish sound and visuals as much as it does with content. It follows the dom and sub relationship between a wealthy woman (Sidse Babett Knudsen) and her maid (Chiara D'Anna). The women are involved in elaborate roleplay as they study moths and butterflies, and both subjects are presented within an artsy visual register.
#12. If Beale Street Could Talk (2018)
- Director: Barry Jenkins
- Metascore: 87
- IMDb user rating: 7.1
- Runtime: 119 min
Barry Jenkins's visually stunning and emotionally poignant adaptation brings James Baldwin's classic novel to life on screen. Jenkins evokes the Black American experience captured in the novel with his signature film style that gives a rich, intimate presentation of love and relationships embattled within an impossible system of injustice.
#11. Jane (2017)
- Director: Brett Morgen
- Metascore: 87
- IMDb user rating: 7.8
- Runtime: 90 min
"Jane" documents Jane Goodall's extraordinary work with chimpanzees, but it's also a moving portrait of the scientist as a young woman and throughout her career. The documentary comprises footage from the late 1960s that was believed lost. Critics found the film to be a standout in the already full canon of Goodall documentaries for its compelling portrait of the inspiring figure and her influential, impassioned work.
#10. Jane Fonda in Five Acts (2018)
- Director: Susan Lacy
- Metascore: 87
- IMDb user rating: 7.9
- Runtime: 133 min
Jane Fonda was 78 years old during interviews in this documentary that covers the iconic actress and activist across different life stages. The five acts or sections in the film are named after men in her life until the fifth, which is named after her. The film examines Fonda as a Hollywood star and as a controversial political figure through a lens of cultural expectations of women's roles.
#9. Chicken Run (2000)
- Directors: Peter Lord, Nick Park
- Metascore: 88
- IMDb user rating: 7.0
- Runtime: 84 min
The Wallace and Gromit team produced this popular stop motion animated adventure about chickens who plot an escape after realizing a farmer plans to turn them into a pot pie. Mel Gibson voices an American rooster who leads the gang on a makeshift flight to freedom. Critics and audiences adore the charming animation and unexpectedly moving story about ingenuity and breaking free.
#8. Crime + Punishment (2018)
- Director: Stephen T. Maing
- Metascore: 88
- IMDb user rating: 7.4
- Runtime: 112 min
This searing documentary follows 12 NYPD cops, all of them persons of color, who blow the whistle on predatory and illegal practices within the department. They're forced to fill arrest quotas and are punished when they fail to adhere to predatory, illegal practices. The film shows the deeply unjust, systemic racism that entraps people of color on both sides of the law.
#7. Nobody Knows (2004)
- Director: Hirokazu Kore-eda
- Metascore: 88
- IMDb user rating: 8.1
- Runtime: 141 min
Hirokazu Kore-eda's moving drama focuses on everyday details in the lives of four children abandoned in a Tokyo apartment. No one knows their plight or existence as the foursome scramble to survive in a film that's penetrating and emotionally intense. The slow-paced realism creates a humanistic visual poetry out of tragic circumstances.
#6. Apollo 11 (2019)
- Director: Todd Douglas Miller
- Metascore: 88
- IMDb user rating: 8.2
- Runtime: 93 min
This rousing documentary features stunning, newly discovered footage from the 1969 moon launch. Critics praised its achievement in filmmaking, the restoration of film and audio, that immerses audiences into a historical event previously unknown with this level of intensity and detail. The film captures the cultural moment in a mode that seems both historical and infused with science-fiction action film wonder and spectacle.
#5. Minding the Gap (2018)
- Director: Bing Liu
- Metascore: 90
- IMDb user rating: 8.1
- Runtime: 93 min
Bing Liu's sensitive skateboarding documentary follows a group of young friends in Rockford, Illinois, as it examines questions on conflicting notions of masculinity. The verité or naturalistic style offers an intimate, often poignant and heartbreaking, glimpse into the subjects' lives as they face the difficulties of adulthood.
#4. Platoon (1986)
- Director: Oliver Stone
- Metascore: 92
- IMDb user rating: 8.1
- Runtime: 120 min
Charlie Sheen catapulted to stardom after his performance as a naïve college student who drops his privileged lifestyle to go to Vietnam. The innocent soldier whose eyes are opened to the reality of that war was a stand-in for American audiences. In 1986, the film was received as a stringent critique of rote patriotism through its depiction of brutality by American soldiers.
#3. Shoplifters (2018)
- Director: Hirokazu Kore-eda
- Metascore: 93
- IMDb user rating: 8.0
- Runtime: 121 min
Hirokazu Kore-eda's tender, intimate look at a happenstance family struggling in poverty won the Palme d'Or at the Cannes Film Festival. Critics laud the film's spare, naturalistic style that captures the emotional heft of parents and children who forge bonds within perilous circumstances.
#2. Amazing Grace (2018)
- Directors: Alan Elliott, Sydney Pollack
- Metascore: 94
- IMDb user rating: 7.5
- Runtime: 89 min
"Amazing Grace" was shot over two nights in 1972, capturing Aretha Franklin's live gospel performances that became her best-selling gospel album. The project was shelved until 2018 when digital technology allowed the asynchronous sound to match up with the images. The film captures the Watts church community and features stunning footage of Franklin's unmatched vocal genius.
#1. Parasite (2019)
- Director: Bong Joon Ho
- Metascore: 96
- IMDb user rating: 8.6
- Runtime: 132 min
Bong Joon Ho's stunning domestic thriller took the world by storm, winning major film awards, including the Best Picture Oscar, becoming the first non-English language film to do so. "Parasite" follows a lower-class family whose lives entwine with the wealthy family they work for with shocking results. The film offers funny, stringent class commentary and stunning visual imagery.