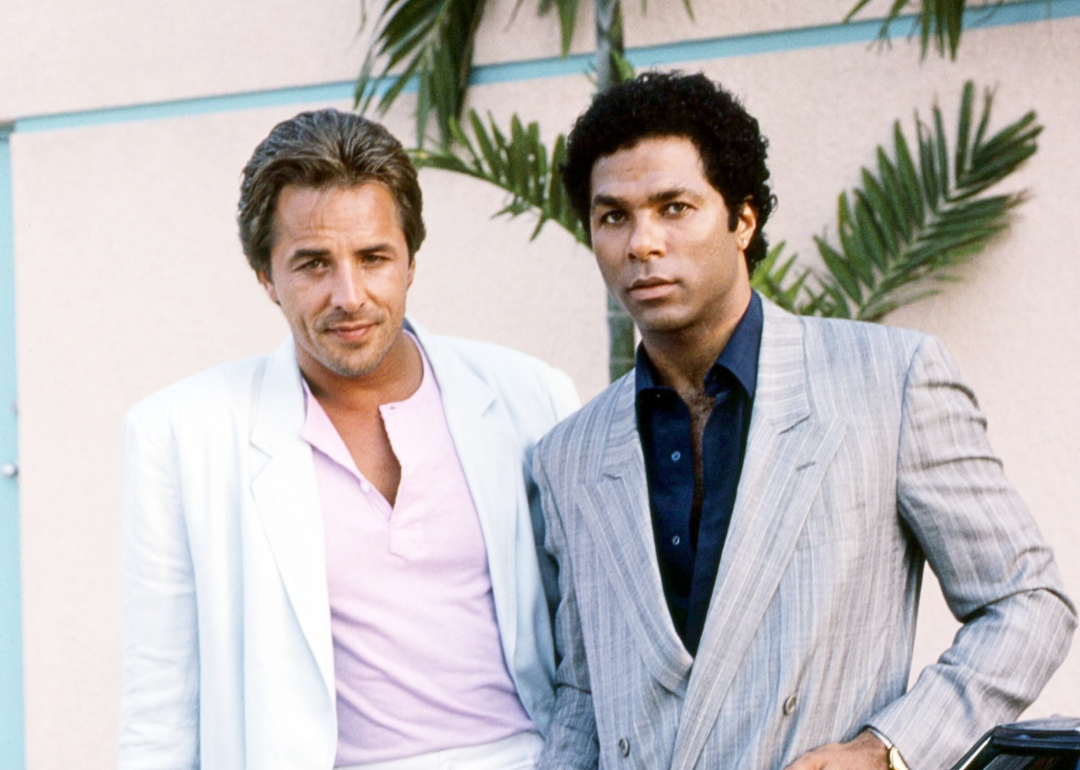 Best TV dramas of the '80s
Silver Screen Collection/Getty Images
Best TV dramas of the '80s
The 1980s brought us many things: neon fashion, big hair sprayed into submission, the rise of the yuppie, and some of the best television shows to hit the small screen. During the era, while the channels may have been limited, the offerings were eclectic. On this list alone, one show was nominated for 21 Emmys in its first season, though it had extremely low ratings. Another series starred an old man and a talking dog. These shows brought millions of viewers into vast worlds that included everything from police precincts to law firms, twilight zones to Victorian-era London, and to places both known and unknown where they could forget about life for a while.
The insular worlds that existed behind the small screen, powered by the thrum of now archaic technology acted as a prime escape during a time when the United States, and the world, was starting to see massive changes. A rise of neoconservatism had made its way into the White House through the concept of Reaganomics, from the war on drugs to the proverbial war on the poor. The country was under the constant threat of a Cold War without realizing a Gulf War was looming on the horizon. Television viewers were able to find time to decompress as they tuned in, tuned out, and turned off the outside world for at least 23 minutes of programming a night if they only watched one show.
Stacker compiled data on all drama TV shows that ran from 1980-1989 and ranked them according to the IMDb user rating, with ties broken by votes. To qualify, the show had to have at least 2,500 votes. Only English-language shows were considered.
#50. In the Heat of the Night
- IMDb user rating: 7.5
- On air: 1988-1995
Loosely based on both a 1965 novel and a 1967 film of the same name, "In the Heat of the Night" starred Carroll O'Connor and Howard E. Rollins Jr. It was a neo-noir crime series that was known for addressing the overt racism that existed in the fictional town of Sparta, Mississippi, where the show took place. The show took a realistic look at the volatile dynamics within the lines and banter of its characters.
#49. Tales From the Darkside
- IMDb user rating: 7.5
- On air: 1983-1988
Directed by George Romero, best known for the Night of the Living Dead franchise, "Tales From the Darkside" was a horror series spanning over four seasons. Like "The Twilight Zone," each episode was a self-contained story and featured a narrator, allowing you to get lost in a brand new story each week without missing a plot line. Many episodes of "Tales From the Darkside" were based on books and short stories from authors like Stephen King, Clive Barker, Michael Bishop, and Michael McDowell.
#48. Little House on the Prairie
- IMDb user rating: 7.5
- On air: 1974-1983
A loose adaptation of the popular book series by the same name, "Little House on the Prairie" was a historical drama set in 1800s Minnesota. The series centered on young Laura Ingalls Wilder, the bestselling author's real name, following her family's life on their farm for nine seasons. Favored among many as a family-friendly option for everyone to watch, the show found its audience early. The main actors of the show included Melissa Gilbert, Melissa Sue Anderson, Karen Grassle, Michael Landon, Lindsay Greenbush, and Sidney Greenbush.
#47. Miami Vice
- IMDb user rating: 7.5
- On air: 1984-1989
Partners Sonny Crockett (Don Johnson) and Ricardo Tubbs (Philip Michael Thomas) are detectives in a vice squad who go undercover in the Miami drug scene. "Miami Vice" launched a fashion movement for men, including sandals, white linen suits, and pastel T-shirts. Several actors made memorable appearances on the show, including Bruce Willis, Julia Roberts, and Jimmy Smits in his acting debut.
#46. The Waltons
- IMDb user rating: 7.6
- On air: 1972-1981
"The Waltons" was an American historical drama created by Earl Hamner Jr. It aired during the 1970s and 1980s, and was based on "Spencer's Mountain," Hamner's book and film of the same name. "The Waltons" follows the main character John "John-Boy" Walton Jr.'s family through the 1930s and 1940s, during the Great Depression and World War II. While the rural Virginia community where the family lived doesn't exist, it was based on Hamner's upbringing in Schuyler, Virginia. After the series ended in 1981, six films featuring the Walton family were made, all released between 1982 and 1997.
#45. Moonlighting
- IMDb user rating: 7.6
- On air: 1985-1989
"Moonlighting" is a mystery-meets-comedy drama set in Los Angeles, starring Bruce Willis and Cybill Shepherd, who portrayed private detectives David Addison Jr. and Madolyn "Maddie" Hayes, respectively. After losing money at the hands of her accountant, former supermodel Maddie rebrands a failing detective agency at David's behest. Thus, the Blue Moon Detective Agency is born, alongside the characters' notable on-screen romance and sexual tension.
#44. I Know My First Name Is Steven
- IMDb user rating: 7.7
- On air: 1989
The 1989 miniseries "I Know My First Name Is Steven" was based on the real-life 1972 kidnapping of Steven Stayner. The 7-year-old Steven was kidnapped in California by Kenneth Parnell with the help of Ervin Edward Murphy. The two-part series traverses the seven years Steven is abused by Parnell, including the kidnapping of another child named Timmy White when Steven was 14. Steven and Timmy manage to escape and notify the police, ultimately leading to Parnell and Murphy's arrest.
#43. Alfred Hitchcock Presents
- IMDb user rating: 7.7
- On air: 1985-1989
"Alfred Hitchcock Presents" debuted in 1985 and was an update of the popular 1950s series of the same name. This version featured both newly written scripts and remakes of the original in addition to showing a colorized version of Hitchcock to introduce each episode. Several directors worked on the show, including Tim Burton, David Henry Chase, and Burt Reynolds. The show ran for four seasons, encapsulating elements of drama, crime, thriller, and horror.
#42. Shaka Zulu
- IMDb user rating: 7.7
- On air: 1986
"Shaka Zulu" was a 1986 South African historical drama TV series based on Joshua Sinclair's novel. The show followed the Zulu people of South Africa and their king, known as Shaka Zulu, who ruled from 1816 to 1828. Within just one season, the series centers on Shaka Zulu, the expansion of the Zulu Kingdom, and their interaction with the British administration.
#41. The Twilight Zone
- IMDb user rating: 7.7
- On air: 1985-1989
With the original series lasting five seasons, "The Twilight Zone" remains a cult classic among science fiction fans. Created by Rod Serling and shot entirely in black and white, "The Twilight Zone" is known for its plot twists and dips into other genres, like dark comedy and horror. The success of those original seasons led to radio shows, films, and four revival television series, including one in 2019 led by actor and filmmaker Jordan Peele.
#40. Minder
- IMDb user rating: 7.8
- On air: 1979-1994
"Minder" was a British comedy-drama focused on organized crime in London. Central to the show is London's working class, including the main characters Terry McCann (Dennis Waterman) and Arthur Daley (George Cole). The show ran for 11 seasons before ending in 1994. A revival was attempted in 2009 but was canceled after just six episodes.
#39. Wiseguy
- IMDb user rating: 7.8
- On air: 1987-1990
"Wiseguy" was a crime drama following Vincent Michael "Vinnie" Terranova, an undercover agent whose job is bringing down organized crime. After spending a stint in prison, Terranova (Ken Wahl), until after Season 3, began to work for the Organized Crime Bureau, a fictitious division of the FBI. "Wiseguy" focused on story arcs and the details of Terranova's experience as an undercover agent. Steven Bauer replaced Wahl before the show ended in 1990, leaving three episodes unaired.
#38. Lovejoy
- IMDb user rating: 7.8
- On air: 1986-1994
"Lovejoy" is a British crime comedy-drama, known for the adventures of its main character and breaking the fourth wall. The show is based on the novels of the same name, written by John Grant. Played by Ian McShane, Lovejoy is a con artist and an antique dealer, known for his uncanny ability to spot whether an item is genuine or fake and then using his gifts to help out others. "Lovejoy" ran for a total of six seasons, including the five-year gap between the first and second season.
#37. Bangkok Hilton
- IMDb user rating: 7.8
- On air: 1989
A three-part Australian mini-series, "Bangkok Hilton" aired in 1989 and centered on a fictitious prison. Hal Stanton (Denholm Elliott) falls in love with Catherine Faulkner (Judy Morris). Because of what's seen as a betrayal of his military comrades during World War II, their relationship is forced to end. Kat (Nicole Kidman) is the love child of the affair, and she discovers the truth about her parent's relationship after being wrongfully detained and imprisoned. Through the three parts of the series, though Catherine has died, Kat and Hal separately navigate obstacles in an effort to make their way back to one another.
#36. The Equalizer
- IMDb user rating: 7.8
- On air: 1985-1989
Robert McCall is "The Equalizer," a former intelligence agent who helps his clients get out of tough spots when no one else can. The series spawned two films starring Denzel Washington as McCall and a television series with a spin: Queen Latifah plays Robyn McCall, a single mom, in this updated variation that began airing in 2021.
#35. The Thorn Birds
- IMDb user rating: 7.9
- On air: 1983
"The Thorn Birds" was another popular miniseries from the 1980s. Adapted from the novel by Colleen McCullough, the four parts of the miniseries span the course of 60 years in the lives of the Cleary family, who moved from New Zealand to Australia to care for their aunt's ranch. Centering on Meggie Cleary (Rachel Ward), the sole daughter in a family of sons, the show followed her from childhood until her elder years, including family drama; her falling in love with Father Ralph (Richard Chamberlain), the family's priest; and her traumatic childbirth.
#34. Cheers
- IMDb user rating: 7.9
- On air: 1982-1993
The long-running "Cheers" was an American show that centers on a local Boston bar, the workers, and its regular patrons. Sam Malone (Ted Danson) is a former baseball player, the bar's owner, and head bartender, known for being a "player" and struggling with alcohol addiction. Other show regulars included Kirsty Alley, Bebe Neuwirth, Kelsey Grammer, George Wendt, Shelley Long, and Nicholas Colasanto.
#33. Jane Eyre
- IMDb user rating: 8
- On air: 1983
This 1983 miniseries was an adaptation of the novel by Charlotte Brontë. Set in the late 1700s to the early 1800s, the plot follows Jane Eyre (Zelah Clarke) throughout her abuse as a child, into her adult years, and her love affair with her employer, Edward Rochester (Timothy Dalton). Several adaptations of "Jane Eyre" happened both before and after this one, including another TV miniseries in 2006 and the 2011 film starring Mia Wasikowska, Michael Fassbender, and Judi Dench.
#32. St. Elsewhere
- IMDb user rating: 8
- On air: 1982-1988
"St. Elsewhere" was an American medical drama that ran for six seasons. Starring Ed Begley Jr., Howie Mandel, and Denzel Washington, among many others, the show follows doctors at a looked-down-upon Boston hospital. Through real-life situations and subject matter, the doctors aim to teach their medical interns and turn the hospital's reputation around.
#31. North and South: Book 2, Love and War
- IMDb user rating: 8
- On air: 1986
The second installment of the "North and South" miniseries continues to follow friends Orry Main (Patrick Swayze) and George Hazard (James Read). This segment of "North and South" follows Main and Hazard and their families, touching on topics like abolition and showing the continued impact of the Civil War on the country. Other stars include Kirsty Alley, David Carradine, and Philip Casnoff.
#30. North and South: Book 1, North and South
- IMDb user rating: 8
- On air: 1985
The "North and South" miniseries is split into three parts, following the friendship of Civil War soldiers Orry Main (Patrick Swayze) and George Hazard (James Read). The two became close during their tenure at the U.S. Military Academy at West Point, only to find themselves and their families on different sides of the impending war. This first installment follows the pair through the struggle of Main's romantic relationship and the collective desire for the war between the North and South to end.
#29. Degrassi High
- IMDb user rating: 8.1
- On air: 1989-1991
"Degrassi High" followed the Canadian teen hit, "Degrassi: Junior High," both created by Linda Schuyler and Kit Hood. Based in Toronto, the two seasons covered real-life topics affecting youth, including abortion, AIDS, and suicide. "Degrassi High" was followed by popular spinoffs, including "Degrassi: The Next Generation" and "Degrassi: Next Class." Stephen Brogan, who played Archie Simpson, remained on all later iterations of the show to reprise his character. Other actors from "Degrassi High" also made appearances, including Amanda Stepto, Stacie Mistysyn, and Pat Mastroianni. Talks of another Degrassi show emerged, and it was originally set to release in 2023 but was later dropped.
#28. Blake's 7
- IMDb user rating: 8.1
- On air: 1978-1981
British science-fiction show "Blake's 7" follows a rebel leader for four seasons. Roj Blake (Gareth Thomas) makes every effort to bring down the Terran Federation, a dictatoresque government that controls Earth and other planets and is known for using brainwashing and surveillance as means of control. Michael Keating, Jan Chappell, and Paul Darrow round out the main cast for a majority of the show's run.
#27. The Winds of War
- IMDb user rating: 8.1
- On air: 1983
"The Winds of War" is a 1983 historical drama miniseries adaptation of the Herman Wouk book of the same name. The seven episodes blend real historical figures and fictional characters to follow the families of Victor "Pug" Henry and Natalie Jastrow in tandem with worldwide events connected to World War II. This includes main character Armin von Roon who is a general in Hitler's German General Staff. "The Winds of War" was followed by the sequel "War and Remembrance" in 1988.
#26. Shogun
- IMDb user rating: 8.1
- On air: 1980
Filmed entirely in Japan, "Shōgun" is an American historical drama miniseries based on the James Clavell novel. Originally taken prisoner by samurai, Englishman John Blackthorne (Richard Chamberlain) is forced to remain in Japan and assimilate into Japanese customs after being shipwrecked. Despite initial skepticism, the miniseries shows Blackthorne gaining the trust of Lord Yoshi Toranaga (Toshirô Mifune), who is destined to later become the shōgun. "Shōgun" is loosely based on the real story of William Adams and his journey to Japan in 1600, which was also adapted into a musical and a video game.
#25. The Golden Girls
- IMDb user rating: 8.1
- On air: 1985-1992
"The Golden Girls" centers on friends and roommates Dorothy, Rose, Blanche, and Dorothy's mother, Sophia. The group comes to live together at Blanche's home when Dorothy and Rose respond to an ad in the paper, with Sophia joining after her retirement home burns down. Set in Miami, the show centers on the lives of the four older women, including their relationships with each other and their romantic interests. The notable actors Betty White, Bea Arthur, Estelle Getty, and Rue McClanahan made up the beloved cast.
#24. China Beach
- IMDb user rating: 8.2
- On air: 1988-1991
"China Beach," the story of a nurse and her colleagues at a field hospital during the Vietnam War, won five Emmy Awards over its four-season run. While the show was critically acclaimed, it took a long time for its DVD release, which may have been due to issues with the licensing of the music used in the series.
#23. Unsolved Mysteries
- IMDb user rating: 8.2
- On air: 1987-2010
Beginning as a series of specials, the original "Unsolved Mysteries" was an American crime documentary-style show focused on cold cases such as murders and kidnappings. Through reenactments, the show also covered other situations without proper explanation, including paranormal occurrences like UFO sightings. Including a pause between 2002 and 2007, "Unsolved Mysteries" spanned two decades before its revival in 2020.
#22. Soap
- IMDb user rating: 8.2
- On air: 1977-1981
"Soap," created by Susan Harris, who also created fan favorites like "The Golden Girls" and "It Takes Two" and wrote for shows like "All in the Family," was created as a parody of popular soap operas. To mirror the genre, "Soap" included plots filled with melodrama and ongoing tropes, including alien abduction, cults, amnesia, and murder. The show was narrated by Rod Roddy and aired for four seasons. In addition to main actor Katherine Helmond, the cast included former soap opera actors, including Robert Mandan and Donnelly Rhodes.
#21. Hill Street Blues
- IMDb user rating: 8.2
- On air: 1981-1987
The original ensemble drama, "Hill Street Blues" followed the lives of those working in an inner-city police precinct. The innovative show was known for multi-episode story arcs and hand-held camera work. Though its debut season received unbelievably low ratings, it also garnered 21 Emmy nominations, winning eight.
#20. Inspector Morse
- IMDb user rating: 8.2
- On air: 1987-2000
Based on the novels written by Colin Dexter, "Inspector Morse" was a British crime drama series. It followed Detective Chief Inspector Endeavor Morse (John Thaw) and Detective Sgt. Robbie Lewis (Kevin Whately). Within each episode, a new mystery and its resolution were shown. The drama spanned seven seasons between 1987 and 1993, with three specials airing between 1995 and 2000. Spinoffs "Lewis" and "Endeavor" were later aired in 2006 and 2012, respectively, with the latter lasting nine seasons.
#19. War and Remembrance
- IMDb user rating: 8.3
- On air: 1988-1989
"War and Remembrance" is the 1988 sequel to "Winds of War," also based on Herman Wouk's novel. The historical drama miniseries is set in the late 1930s and continues into the 1940s, including the time the United States entered World War II and the aftermath of Pearl Harbor and the bombing of Hiroshima. The cast included Robert Mitchum, who reprised his role as Victor "Pug" Henry; Jane Seymour; and Hart Bochner. The series received several Emmy nominations and awards for Best Miniseries, Special Effects, and Single-camera Production Editing. It won three Golden Globes, including Best Miniseries and Best Supporting Actor.
#18. Crime Story
- IMDb user rating: 8.3
- On air: 1986-1988
In early 1960s Chicago, a cop fights crime and zeroes in on a local street thug, slowly working his way up in organized crime. The theme song for "Crime Story" was a rerecorded version of Del Shannon's 1961 hit song "Runaway." The show didn't make it past its sophomore season, though it has since gained a decent following through streaming sites.
#17. Edge of Darkness
- IMDb user rating: 8.3
- On air: 1985
"Edge of Darkness" was a six-episode 1985 British drama and political thriller directed by Martin Campbell. The series focused on policeman Ronald Craven (Bob Peck), a widower pushing to discover the truth about his daughter's murder. The investigations lead to him uncovering secrets that were much bigger than he anticipated, mirroring the lack of transparency around nuclear involvement during the time. A remake starring Mel Gibson and set in the United States was filmed by Campbell in 2010.
#16. Tour of Duty
- IMDb user rating: 8.3
- On air: 1987-1990
This biting drama focused on the tour of duty of a U.S. Army platoon that was living, fighting, and dying out in the field during the Vietnam War. The series won one Emmy during its three seasons on television. The last two seasons were filmed using the former "M-A-S-H" set—though the humor from "M-A-S-H" did not carry over to the "Tour of Duty" scripting.
#15. Barney Miller
- IMDb user rating: 8.3
- On air: 1975-1982
Set in Greenwich Village, "Barney Miller" was an American show about a fictitious 12th precinct New York City police department on East Sixth Street. The spinoff, "Fish," was created before the series' end and ran from 1977 to 1978. "Barney Miller" received a swath of nominations and awards, including an Emmy for Outstanding Comedy Series, Outstanding Writing in a Comedy Series, and Outstanding Directing in a Comedy or Comedy-Variety or Music Series. It also won a Golden Globe Award for Best Television Comedy or Musical Series.
#14. All Creatures Great and Small
- IMDb user rating: 8.4
- On air: 1978-1990
Based on the books by veterinary surgeon and author Alf Wight, who wrote under James Herriot, "All Creatures Great and Small" was a British comedy-drama created by Bill Sellars that ran for seven seasons. Set in Yorkshire, England, in the 1930s, the initial airing of the series from 1978-1980 was based directly on Herriot's books; the second was from 1988-1990, created from original scripts. A remake of "All Creatures Great and Small" began in 2020 and in 2023 is appearing on PBS.
#13. Robin Hood
- IMDb user rating: 8.4
- On air: 1984-1986
In this version of "Robin Hood," a mythical being appoints two men to champion the fight for the oppressed against their rulers, including an evil sheriff. Jason Connery plays Robin Hood in the series. His father, Sean Connery, played Robin Hood in the 1976 film "Robin and Marian," perhaps indicating that playing dashing heroes is apparently an inherited trait.
#12. Anne of Avonlea
- IMDb user rating: 8.4
- On air: 1987
This Canadian sequel to "Anne of Green Gables," based on the books and short stories written by Lucy Maud Montgomery, continues to follow Anne Shirley, who is now a schoolteacher at Kingsport Ladies' College and an aspiring writer. This miniseries shows Anne (Megan Follows) struggling to adjust to life as a teacher in Avonlea, her journey as a writer, and her eventual relationship with Gilbert Blythe (Jonathan Crombie). "Anne of Avonlea" is one of the sequels, and another includes the 2000 release "Anne of Green Gables: The Continuing Story," which featured many of the original characters from the 1987 miniseries.
#11. Doctor Who
- IMDb user rating: 8.4
- On air: 1963-1989
The U.K.-based "Doctor Who" is a favorite of science fiction fans that has spanned decades and seen many iterations. The main character, The Doctor, is otherworldly and travels through time and space, but appears to be human. Over time, the actors who have played The Doctor shift their human form, folding in that shifting of actors within the ongoing plot. Thirteen different actors have portrayed The Doctor, with Jodie Whittaker being the first woman in 2017 and the upcoming Ncuti Gatwa as the first Black portrayal. The most recent revival of "Doctor Who" began in 2005, and is listed in Guinness World Records as the longest-running science fiction television series in the world.
#10. The Wonder Years
- IMDb user rating: 8.4
- On air: 1988-1993
Set from 1968 to 1973, "The Wonder Years" is a coming-of-age series that follows Kevin Arnold through his adolescence. The show is narrated by an adult version of Kevin (Fred Savage). As one of three kids in a middle-class family, Kevin is shown figuring out how he relates to friends, his girlfriend Winnie (Danica McKellar), and his family. The show received various nominations and awards, including an Emmy for Outstanding Comedy Series, and Savage garnered Outstanding Lead Actor for a Comedy Series.
#9. Auf Wiedersehen, Pet
- IMDb user rating: 8.5
- On air: 1983-2004
A group of British construction workers travels to Germany to live and work. There was a 16-year gap between Seasons 2 and 3, so while the first two seasons were filmed in the 1980s, the final three were filmed in the early 2000s. The first and only time the words of the show's title, "Auf wiedersehen, pet," were uttered, was in the final season.
#8. Smiley's People
- IMDb user rating: 8.5
- On air: 1982
"Smiley's People" is a six-part British spy drama based on the novel by John le Carré. In this sequel to "Tinker Tailor Soldier Spy," George Smiley (Alec Guinness) is called out of retirement from the intelligence service after the murder of someone he knows. The series received positive reviews from both critics and fans alike, including earning the series four BAFTA awards.
#7. Anne of Green Gables
- IMDb user rating: 8.5
- On air: 1985
"Anne of Green Gables" is a Canadian miniseries based on the short stories of Lucy Maud Montgomery. To the surprise of brother and sister Matthew Cuthbert (Richard Farnsworth) and Marilla Cuthbert (Colleen Dewhurst), respectively, orphan Anne Shirley (Megan Follows) is sent to a farm on Prince Edward Island to help them. This 1985 version of Montgomery's writings is one of several adaptations, including a rendition released in the 1970s.
#6. The Singing Detective
- IMDb user rating: 8.6
- On air: 1986
"The Singing Detective" is a six-episode British drama series about mystery writer Philip E. Marlow (Michael Gambon) and his experience with psoriatic arthritis, a chronic skin and joint disease. Based on writer Dennis Potter's personal experience with the debilitating condition, the character Marlow is bedridden in the hospital, plagued with both open lesions and writer's block. Because of Marlow's fever and pain, he reaches a state of delirium where he finds himself within the world of his in-progress novel, the traumatic flashbacks of his childhood in England, and his real-time life in the hospital. In 2003, the show was adapted in the United States, starring Robert Downey Jr. and Mel Gibson.
#5. Brideshead Revisited
- IMDb user rating: 8.6
- On air: 1981
An 11-episode British series based on Evelyn Waugh's novel of the same name, "Brideshead Revisited" follows Charles Ryder (Matthew Goode) through the 1920s to the 1940s. Ryder's relationships with the affluent Julia (Haley Atwell) and Sebastian Flyte (Ben Whishaw), who live in the Brideshead Castle, provide commentary on topics like Catholicism, wealth, and alcoholism. "Brideshead Revisited" has received high praise for its adherence to Waugh's novel and the actors' overall performances. This version was followed by a 2008 film adaptation and a miniseries revival in 2022.
#4. The Return of Sherlock Holmes
- IMDb user rating: 8.7
- On air: 1986-1988
Sherlock Holmes (Jeremy Brett) and his partner Dr. Watson (Edward Hardwicke) return to solve no less than six more mysteries. Hardwicke took over the role of Dr. Watson from David Burke, who had played Watson in "The Adventures of Sherlock Holmes."
#3. The Adventures of Sherlock Holmes
- IMDb user rating: 8.7
- On air: 1984-1985
In "The Adventures of Sherlock Holmes," over the course of two seasons, investigator Sherlock Holmes (Jeremy Brett) and his loyal friend Dr. Watson (David Burke in this series) solve a variety of mysteries. Victorian-era British illustrator Sidney Paget's drawings appear during the show's closing credits.
#2. Lonesome Dove
- IMDb user rating: 8.7
- On air: 1989
"Lonesome Dove" is a four-part adaptation based on Larry McMurtry's novel. The American Western is set in 1870, following a boarding stable run by former Texas Rangers Augustus "Gus" McCrae (Robert Duvall) and Woodrow F. Call (Tommy Lee Jones). Other actors in the series include Danny Glover, Diane Lane, and Ricky Schroder. "Lonesome Dove" received widespread acclaim, including winning seven Emmy awards.
#1. The Storyteller
- IMDb user rating: 8.8
- On air: 1987-1989
Created by puppet master Jim Henson, "The Storyteller" is focused on European folk tales told by a mysterious old storyteller to his talking dog. Henson's daughter, Lisa, suggested the idea for the show while studying folklore and mythology at Harvard. Anthony Minghella wrote the series, and John Hurt played the storyteller.