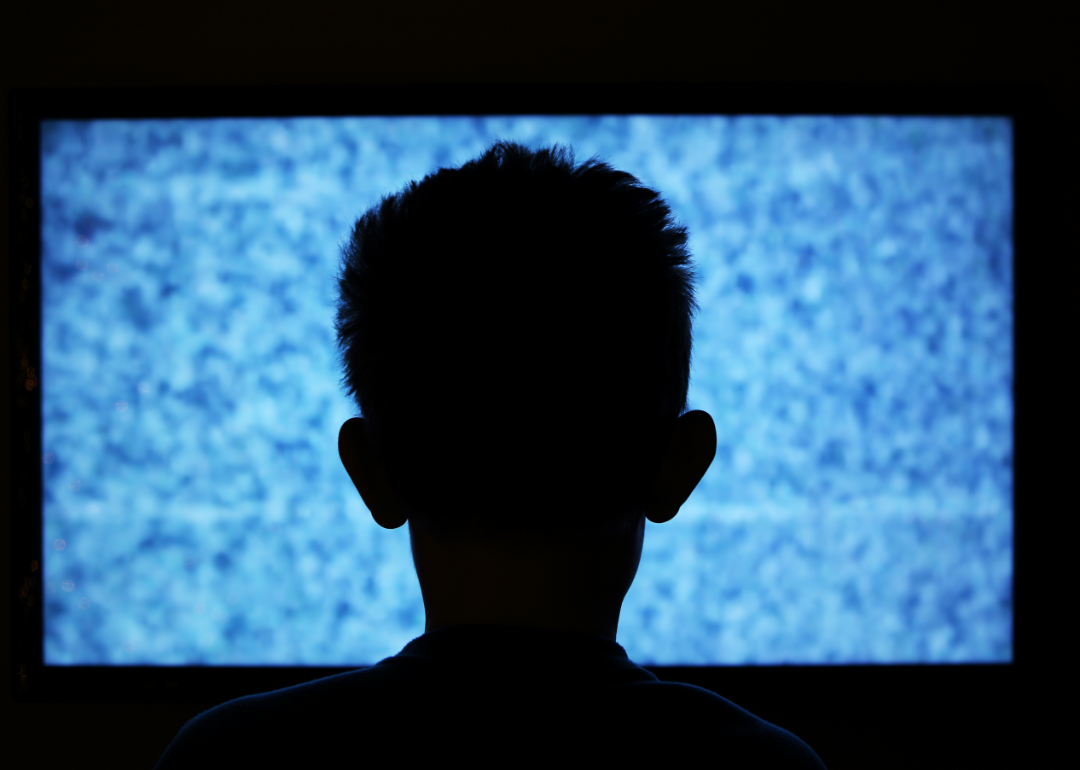 Lowest Rated Sitcoms of All Time
Worst Sitcoms of All Time
The network sitcom is part cage and part canvas. The tight constraints of FCC regulators and the structure built by commercial breaks can lead some comedians to crash and burn in the format.
But the best creators find ways to elevate the form — Jerry Seinfeld and Larry David used ad breaks to create little intertwined jokes; Ricky Gervais and Stephen Merchant played with the fourth wall; and Dan Harmon had fun with old-school conventions like the Christmas special. When comedians rise to the occasion, it leads to their finest on-camera moments — Tracy Morgan in "Werewolf Bar Mitzvah"; Julia Louis-Dreyfus on the dancefloor; Will Arnett pantomiming a chicken.
The 40 shows on this list struggled to approach those grace notes. There are no Soup Nazis, no Diversity Days, and only one capuchin monkey, but definitely not one as charming as Marcel. These are the 40 lowest-rated sitcoms based on their IMDb user rating, focusing on series with at least 2,000 votes. Get ready for many situations and not so much comedy.
#40: Teachers
Years: 2016–
IMDb Rating: 5.9
Teachers, adapted from a web series and the brainchild of the improv group the Katydids, is about a group of elementary school educators behaving poorly. Albert Einstein once said, "It is the supreme art of the teacher to awaken joy in creative expression and knowledge." It's impossible to know how the bicycle-loving genius would've consumed television, but he may have passed on this TVLand offering. It's too bad, because the web-to-TV transition has blessed us with two of the best shows of the last few years: High Maintenance and Insecure.  
#39: Bad Judge
Years: 2014–2015
IMDb Rating: 5.9
The premise of Bad Judge is both flimsy and unpliable. Flimsy because it's hard to rest a show upon the idea that a judge is a hard-drinking, frazzled, and disorganized party animal, and unpliable because this story can only go one way. Bad Judge was cancelled quickly by NBC — apparently someone at the network judged it to be bad.
#38: Jessie
Years: 2011–2015
IMDb Rating: 5.9
This Disney Channel original series centers on a young woman from Texas who moves to New York City to chase her dreams. Despite the low rating, Jessie has been nominated for several Kids' and Teen Choice Awards.
#37: Zoey 101
Years: 2005–2008
IMDb Rating: 5.9
This Nickelodeon Channel show tells the story of Zoey Brooks, one of the first female students at a Southern California all-boys boarding school. The premise for Zoey 101 is actually pretty fun, starring Britney Spears's little sister, Jamie Lynn, but as you'd expect from the rating, this kids' show does not have many great performances.
#36: The Thundermans
Years: 2013–
IMDb Rating: 5.8
Also gracing Nickelodeon's airwaves, The Thundermans is a series about a suburban family with a secret: they all have superpowers. The show is a bit like a live-action The Incredibles, but it's main focus is teenage twins who have different dreams for their powers: Phoebe (Kira Kosarin) wants to save the world, while Max (Jack Griffo) wants to destroy it.  
#35: True Jackson, VP
Years: 2008–2011
IMDb Rating: 5.8
Think Big, but instead of a toy company, the 15-year-old gets to enter the world of fashion. In True Jackson, VP, the titular character (Keke Palmer) is selling sandwiches in New York City's fashion district when the founder of designer Mad Style compliments her clothing alterations and hires her as VP. Throughout the series, we see the teenage True navigate her way through the strange world of fashion. At one point, Justin Bieber arrives for a guest appearance.
#34: Sabrina, the Animated Series
Years: 1999–2000
IMDb Rating: 5.8
In the middle of Sabrina, the Teenage Witch's incredibly successful run, ABC tried to add an entry into the Sabrina Extended Universe with this animated prequel. The show follows the witch through her preteen years, as she begins to discover her powers. Sabrina is voiced by Melissa Joan Hart's younger sister Emily, but unfortunately the animated version never got close, in ratings or general enjoyability, to the original T.G.I.F. classic. 
#33: One Big Happy
Years: 2015–
IMDb Rating: 5.8
One Big Happy tells (or attempted to tell) the story of a lesbian woman (Elisha Cuthbert) who gets pregnant with her best friend Luke's (Nick Zano) baby. When Luke then falls in love and quickly marries Prudence (Kelly Brook), shenanigans ensue. This show was cancelled after just six episodes, because much of the story and jokes felt milquetoast and unoriginal, despite the seemingly edgy concept. It's a shame, because Cuthbert and Zano were both incredible on the criminally underrated Happy Endings.
#32: Rush Hour
Years: 2016–
IMDb Rating: 5.8
The buddy cop classic reimagined as a 30-minute CBS comedy was doomed from the start — lacking the kinetic chemistry between Chris Tucker and Jackie Chan that made the franchise such a hit. In the CBS version, Justin Hires and Jon Foo never reach that impossible standard.
#31: Kevin Can Wait
Years: 2016–
IMDb Rating: 5.8
Kevin James (Paul Blart: Mall Cop) has made some questionable choices in his career, but there were reasons to be excited about his new CBS comedy, Kevin Can Wait. When the show reunited him with Leah Remini, everyone hoped for some King of Queens-like comedy. But unfortunately the sitcom, with James playing a retired cop trying — in his trademark bumbling fashion — to be a good father, took a dark turn when showrunners killed off his wife late in Season 1 in order to bring Remini on full time. What should have been low-stakes fun turned strange and dark — a far cry from traditional Kevin Jamesian fare.    
#30: Clueless
Years: 1996–1999
IMDb Rating: 5.7
Riding the success of the Alicia Silverstone/Paul Rudd high school classic, ABC launched a series of the same name and premise the next year. Somehow, the network managed to retain many of the film's actors, including Stacey Dash, who plays protagonist Cher's friend Dee. This show was not great, but it was an incredible relic of '90s television, with guest appearances from Sabrina, the Teenage Witch (Melissa Joan Hart) and two characters from Moesha.
#29: Suddenly Susan
Years: 1996–2000
IMDb Rating: 5.7
When Susan Keane (Brooke Shields) leaves her wealthy fiancé at the altar, she has to begin navigating life as an independent woman. Her fiancé's brother (Judd Nelson) is also her boss at the San Francisco-based magazine The Gate, and asks her to start writing a column about her suddenly single life. This show is a watered-down Sex and the City, though this writer does love to dream of a world where the magazine life is still so glamorous. 
#28: Pair of Kings
Years: 2010–2013
IMDb Rating: 5.7
This Disney Channel original series tells the story of a pair of Chicago teenage twins who learn that they are actually the heirs to the throne of the fictional Kinkow island nation. The show is kind of like the Princess Diaries, but with much less grace and much more focus on what happens once the unexpecting American teen is asked to lead. It's a bit of mess, but good enough fun for a Disney show.
#27: Animal Practice
Years: 2012–2013
IMDb Rating: 5.7
This is a show that should never have made it out of the elevator pitching stage. Animal Practice is about a brilliant, disagreeable vet (Justin Kirk) and his co-starring monkey — some strange brew of House and the Marcel the Monkey story arc from Friends. Unsurprisingly, the show was quickly cancelled, but amazingly, the pilot was directed by the Russo Brothers, who went on to helm two Captain America films and Avengers: Infinity War.
#26: Dr. Ken
Years: 2015–2017
IMDb Rating: 5.7
It hurts to admit how bad Dr. Ken really is. Any fan of the NBC cult classic Community has a soft spot for Ken Jeong, who stars as this sitcom's titular doctor, juggling family life and his career in this critically demolished ABC show. Unfortunately, Jeong's reckless and over-the-top comedy style which made him famous in small side roles just doesn't translate as a sitcom's leading man. 
#25: 1600 Penn
Years: 2012–2013
IMDb Rating: 5.7
1600 Penn is a good reminder of how different things were five years ago. The idea of a goofy comedy following an eccentric First Family through their time at the White House is unthinkable in the Age of Trump. Soon after the failed first season, creator/star Josh Gad played Olaf in Frozen and became a household name. Life also changed for another co-creator, former Obama staffer Jon Lovett, who now hosts the hugely popular political podcast Pod Save America. Though things feel dark now, perhaps someday we'll be ready for an offbeat comedy about a reality-TV-host-turned-president and his large adult children.
#24: Sam & Cat
Years: 2013–2014
IMDb Rating: 5.7
We can talk about the storyline of this Nickelodeon show (two roommates start a babysitting service), but the important of Sam & Cat is that it stars Ariana Grande as Cat Valentine. A fun fact about the show: every episode's name is a hashtag.
#23: Moesha
Years: 1996–2001
IMDb Rating: 5.6
There are some terrible sitcoms on this list — Moesha isn't one of them. The UPN hit stars Brandy as a high schooler finding her way in the affluent Leimert Park neighborhood in South Central Los Angeles. The show featured an incredible collection of guest stars during its six-year run, including Snoop Dogg, Jamie Foxx, and Kobe Bryant (who, in real life, took Brandy to prom when he was still in high school). As important as the show itself are the other series by writer Mara Brock Akil — Girlfriends and The Game — that both were born from Moesha. 
#22: Hope & Faith
Years: 2003–2006
IMDb Rating: 5.6
In the film Young Adult, a depressed, semi-famous writer (Charlize Theron) leaves the city to return to a small Midwest town and adjusts, painfully and haltingly, to the realities of her life. Hope & Faith takes a similar premise — a soap opera star (Kelly Ripa) goes to live in small-town Ohio with her nice and normal sister's family after her character is killed off. Unlike Young Adult, Ripa doesn't wrestle with what we give up for notoriety, and how hard it is to return to a place that once was the whole world, and now is inconsequential. Instead this show sticks with more surface-level "divas being divas" jokes.  
#21: Whitney
Years: 2011–2013
IMDb Rating: 5.6
It was strange that two shows by comedian Whitney Cummings — 2 Broke Girls and Whitney — came out on two different networks in the same year. While the former succeeded in a by-the-book CBS comedy kind of way, the latter tried to be more interesting. Whitney follows a committed-to-being unmarried couple (Cummings and Chris D'Elia) figuring things out in Chicago. Unfortunately the show never reaches the weird manic genius of Happy Endings or New Girl, and instead feels like a bunch of one-liners mashed together into a storyline.
#20: The Cleveland Show
Years: 2009–2013
IMDb Rating: 5.6
However you feel about dirty jokes and absurdist flashbacks, Family Guy has become a canonical television show. The same cannot be said for the spinoff, which follows the family of Peter Griffin's friend, Cleveland. This show never delivers the belly laughs of the original, but it still ran for four seasons. Creator Seth MacFarlane always seems to find a way to sing showtunes all the way to the bank.  
#19: Dads
Years: 2013–2014
IMDb Rating: 5.5
Family Guy writer Alec Sulkin created this short-lived Fox show starring another Family Guy alum, Seth Green, and Giovanni Ribisi. Green and Ribisi are two successful 30-somethings enjoying their careers as video game developers until both men's dads move in. Incredibly, Dads has a 0% on Rotten Tomatoes, with all 37 critics giving the show a negative review. You'd have hoped that early on in the process, before the painful reception, someone involved with Dads would've yelled, "Uncle!"
#18: Bordertown
Years: 2016–
IMDb Rating: 5.3
Created by yet another Family Guy alum, Bordertown tells the story of an area right on the edge of the United States and Mexico. While 2016 was the right time for a show about immigration, this crude comedy in the style of Family Guy feels a bit off for the consequential topic. Showrunner Mark Hentemann has neither the finesse nor the built-in trust of the South Park creators, so the show ends up just feeling precarious to watch — when will a joke go too far and why are we doing this in the first place?
#17: Bad Teacher
Years: 2014–
IMDb Rating: 5.3
The movie Bad Teacher was vulgar and just okay, aside from an electric comedic performance from Cameron Diaz. The show, which follows the same premise (a misbehaving teacher who couldn't care less about kids tries to find a rich husband so she can quit), fails to reach the darkness or shock necessary for the idea to take flight.
#16: I Hate My Teenage Daughter
Years: 2011–2012
IMDb Rating: 5.3
As Gilmore Girls proved, the interplay between teenage girls and their single mothers is fascinating, funny, and full of drama. In I Hate My Teenage Daughter, we learn that doubling the amount of single mothers and teenage daughters does not create a doubly fascinating, funny, and drama-filled series. Instead, we're left with the most surface-level sitcom setups — we never connect with mothers Jamie Presley and Katie Finneran, and never believe the relationships with their daughters. 
#15: Are You There, Chelsea?
Years: 2012–
IMDb Rating: 5.1
This short-lived series, based on comedian Chelsea Handler's best-selling memoir Are You There Vodka? It's Me, Chelsea, stars Laura Prepon in the Chelsea Handler role. Handler's comedy is blue, which makes it a tough fit for network TV. Instead, the show feels watered-down to the point where you can barely taste the boozy flavor — it becomes something the hilarious and crass Handler would certainly send back.
#14: The Secret Life of the American Teenager
Years: 2008–2013
IMDb Rating: 5.1
Get one thing straight: this show is incredibly campy. But putting that aside, the story of a 15-year-old teenager who gets pregnant and sees her life change is packed full of stars. The part of the pregnant teen was Shailene Woodley's first big role (her breakout performance in Spectacular Now coincided perfectly with the end of the series), and her mom is played by the one and only Molly Ringwald. The series, which ran on ABC Family, is soft-focus and over-the-top, but also heartwarming.  
#13: A.N.T. Farm
Years: 2011–2014
IMDb Rating: 4.9
When writers of a certain age hear the title of this Disney Channel show, they think of a specific cover of "Smooth Criminal". But the A.N.T. in the title actually stands for Advanced Natural Talent — the characters are middle-school savants placed in an accelerated program at the local San Francisco high school. As you'd imagine, the ANTs are bullied by the high schoolers and must band together to make it through the school year.
#12: Cory in the House
Years: 2007–2008
IMDb Rating: 4.9
This Disney Channel show gets a 10 out of 10 for its elevator pitch: teenager Cory Baxter's (Kyle Massey) life changes when his dad is hired to be the White House chef. The series, which has the unfortunate look of a Disney show (low budget and brightly colored), follows Cory from San Francisco to 1600 Pennsylvania Ave. However you feel about the series, it has found a truly inventive way to get its action into the White House.
#11: Fish Hooks
Years: 2010–2014
IMDb Rating: 4.8
This Disney channel cartoon tells the story of two brothers and their dynamic friend, who the shy brother has fallen for. It takes place in a high school, which is located in an aquarium, which is located in a pet store — did we mention all the characters are fish? This show isn't breaking new ground, but delivers well-tread tropes in a charming way.
#10: Shake It Up!
Years: 2010–2013
IMDb Rating: 4.8
Disney Channel shows may not be fine art, but they have a knack for finding up-and-coming stars. On Shake It Up!, Disney found two promising young performers who are just now breaking into the world of mainstream films. The show follows two best friends (Zendaya and Bella Thorne) who get their dream gig — becoming professional dancers on a local show. The drama comes from trying to balance the opportunity with their life as high school students.
#9: Hannah Montana
Years: 2006–2011
IMDb Rating: 4.8
 
To be this low-rated, critics have to have strong feelings about you. And everyone has feelings, positive or negative, about Miley Cyrus. The singer/songwriter/tabloid celebrity stars as a high schooler who moonlights as a pop star under a pseudonym.
#8: Dog with a Blog
Years: 2012–2015
IMDb Rating: 4.7
In this Disney Channel series a family adopts a dog hoping the new responsibility will help their feuding stepkids bond. Finding out that the dog can talk and write snappy online content does end up becoming the key to the kids' newfound friendship. As a lover of language, it's impossible not to be charmed by a show called Dog with a Blog; but as a blogger, it's impossible not to be a bit terrified. What if dogs do start to blog? What if they can learn to write copy for lists?
#7: Jonas
Years: 2009–2010
IMDb Rating: 4.6
This show is rated this low for a similar reason as Hannah Montana — everyone has strong feelings about the Brothers Jonas. This show follows the three teenage Jonas bros as they attempt to be regular kids despite their teenybopper stardom. Just for good measure, they live in a firehouse — it's a bit psychedelic '60s boy band, but a lot more painful Disney Channel comedy.
#6: Cavemen
Years: 2007–
IMDb Rating: 4.4
Adaptations are always difficult (see: Rush Hour and Bad Teacher), but they're doubly so when you're adapting a Geico commercial! Cavemen, the short-lived ABC sitcom, follows the cavemen from the insurance ad as they try to live normal lives in modern-day Atlanta. The fact that this series got picked up is mind-boggling, but it does give us some hope that the delightful family of bears from the Charmin ads will finally get the chance to tell their story.
#5: Mulaney
Years: 2014–2015
IMDb Rating: 4.3
John Mulaney is one of the funniest people in comedy, which is why this sitcom was such a disappointment. He's on the pantheon of Saturday Night Live writers, so everyone was rooting for Mulaney's Fox comedy. But the show, which feels like a stale ripoff of Seinfeld, fell flat for critics and viewers alike. It was cancelled after one season, but Mulaney will be fine. Since then, he's starred on Broadway in The Oh, Hello Show and was a big part of the incredibly smart/funny Netflix coming-of-age cartoon, Big Mouth. 
#4: Allen Gregory
Years: 2011–
IMDb Rating: 4.3
Because of financial strain from the Great Recession, a stuck-up 7-year-old, voiced by Jonah Hill, must transfer to public school in this Fox animated series. It's pretty incredible that a show voiced by Hill — who had just been nominated for his performance in Moneyball and would go on to star in 21 Jump Street the next year — couldn't get a second season. But the review from Alan Sepinwall does a good job explaining why: "This show actually made me hate a 7-year-old. Well-done."
#3: Meet the Browns
Years: 2009–2012
IMDb Rating: 3.7
Tyler Perry's TBS series Meet the Browns is an adaptation of his 2008 film of the same name. In the show, we see a multi-generational family living in a house, all while running a retirement home. Cora Jean Simmons-Brown (Tamela Mann), trying to survive life in the crazy family, is the daughter of church deacon Leroy S. Brown (David Mann) and Perry's most famous character, Madea (played by Perry himself). However you feel about Tyler Perry, you have tip your cap to his ability to create an endless well of content from the Madea Universe. 
#2: The Inbetweeners
Years: 2012–
IMDb Rating: 3.4
MTV's adaptation of the much-adored British teen series was, well, not adored at all. The show follows four high schoolers perfectly in the middle of the school's popularity spectrum — not nerds but definitely not cool kids either. The premise is fun and the British iteration has been compared to Freaks and Geeks. Unfortunately, as so often is the case, the journey across the pond was bumpy (which is why NBC's The Office was such a miracle).
#1: House of Payne
Years: 2006–
IMDb Rating: 3.4
Tyler Perry is an absolute force in the film industry, and House of Payne is his most successful TV project ever (according to Forbes, the actor/writer/producer/songwriter made $130 million in 2011). House of Payne follows the Paynes, an extended family living under one roof in Atlanta. It's classic Tyler Perry — a mix of soapy drama and slapstick comedy. But we should all be so lucky as to have created the "Lowest-Rated Sitcom Ever" — the show ran for 254 episodes and a spinoff called The Paynes will be premiering on OWN next year.