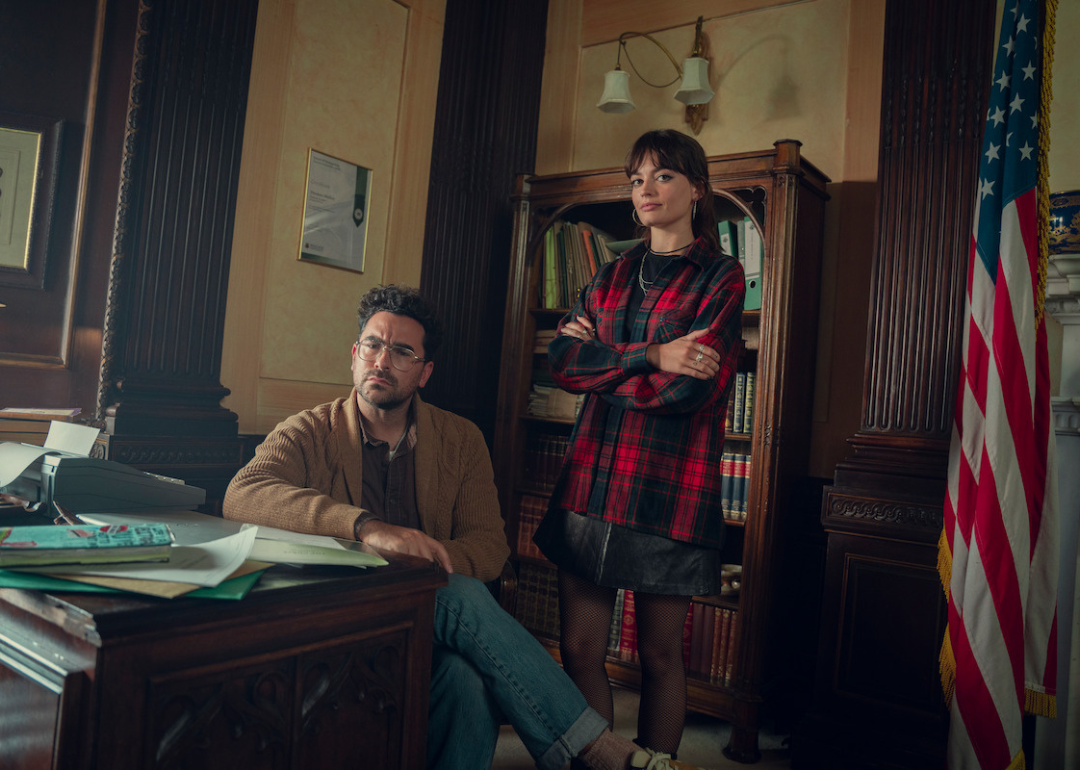 Most popular TV shows on Netflix last week
Most popular TV shows on Netflix last week
A couple of Netflix favorites made it to the latest most-watched television shows list. But subscribers have been enjoying one particular classic from outside Netflix's usual catalog of originals.
Thanks to a licensing deal with Warner Bros. Discovery, select legacy HBO titles have been making their way to Netflix. "The Pacific," a 10-part miniseries that aired in 2010 on HBO, landed on Netflix on Sept. 15. The Steven Spielberg and Tom Hanks-executive produced series follows U.S. Marines fighting in the Pacific front of World War II, and it acts as the companion piece to the 2001 miniseries "Band of Brothers." While "Band of Brothers" hit Netflix on the same day as its sister show, "The Pacific" hit the charts first; while the former show is generally the more famous one, many would argue that "The Pacific" is the superior WWII series.
Going back to Netflix Originals, "Sex Education" returned on Sept. 21 for its fourth and final season, consisting of eight episodes. The British comedy-drama primarily follows Otis (Asa Butterfield), a student with a sex therapist mother (Gillian Anderson) who becomes somewhat of a sex therapist and adviser himself to his peers. The final season sees Otis and his friends adjusting to a new school after their previous one is shut down. A number of new characters are also added to the mix. Anyone who's seen "Barbie" will recognize cast members Emma Mackey, Connor Swindells, and Ncuti Gatwa, who will soon become the new star of "Doctor Who." 
For those who aren't in the mood for a scripted drama, Netflix brought back its hit reality show "Love Is Blind" on Sept. 22 for a fifth season. Episodes 1 to 4 are currently out, with the remaining six episodes to follow weekly. For the uninitiated, "Love Is Blind" showcases a social experiment where single individuals are put in "pods" and go on dates with other participants. The key here is that they can only hear their dates and have no idea what they look like. Eventually, they are given the option to go on longer dates and even propose marriage; they do not meet face-to-face until a marriage proposal is accepted. Naturally, things can get emotionally messy.
To see what other shows are climbing the ranks, check out the list that Stacker has compiled of the most-watched television shows on Netflix for the week of Sept. 18-Sept. 24.
#10. The Pacific
- Total weeks in top ten: 1
#9. Inside the World's Toughest Prisons: Season 7
- Total weeks in top ten: 1
#8. ONE PIECE: Season 1
- Total weeks in top ten: 4
#7. Sex Education: Season 4
- Total weeks in top ten: 1
#6. Murdaugh Murders: A Southern Scandal: Season 1
- Total weeks in top ten: 4
#5. Love Is Blind: Season 5
- Total weeks in top ten: 1
#4. Dear Child: Limited Series
- Total weeks in top ten: 3
#3. Virgin River: Season 5
- Total weeks in top ten: 3
#2. Kountry Wayne: A Woman's Prayer
- Total weeks in top ten: 1
#1. Murdaugh Murders: A Southern Scandal: Season 2
- Total weeks in top ten: 1