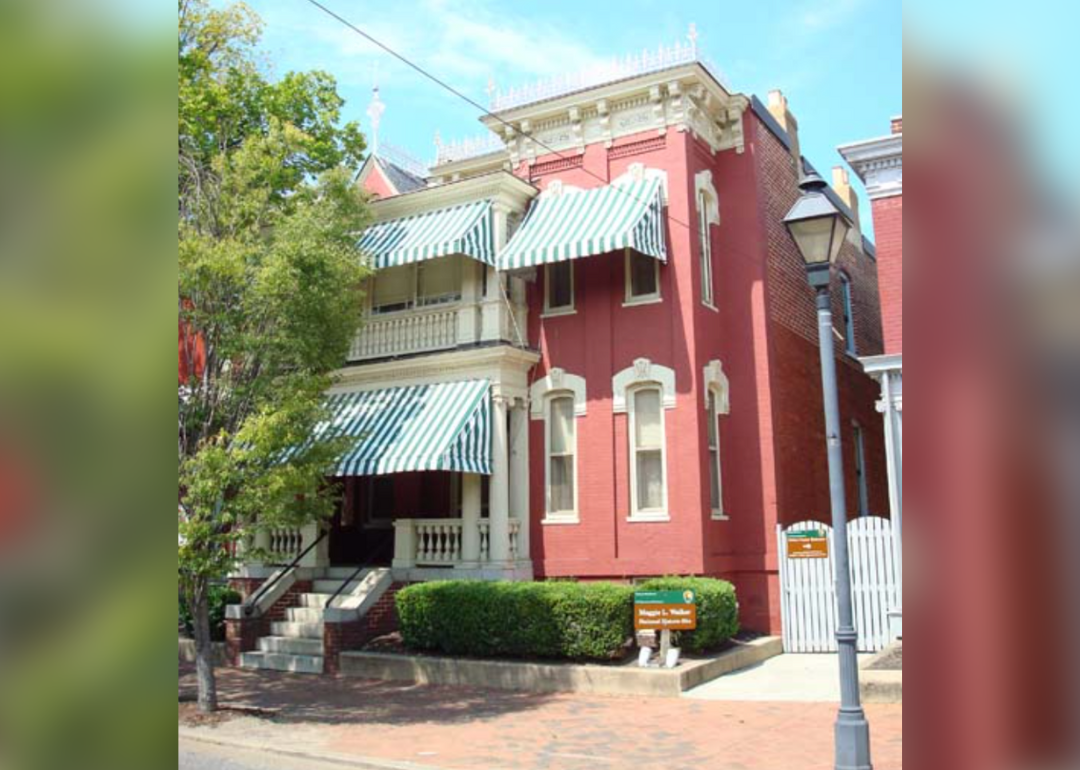 Explore historic sites commemorating Black history in Virginia
National Park Service // Wikimedia Commons
Explore historic sites commemorating Black history in Virginia
The legacies of influential Black Americans have not always been acknowledged, so it's not uncommon that modern-day residents may overlook the historic sites of their own cities.
While some historical Black figures in the U.S. are more well-known than others, there are in fact thousands of people dating back generations to 17th-century slavery who left traces of their visions and impacts all across the country. Whether prominent figures such as Robert Abbott, who founded one of the largest African American newspapers in the country, or more under-the-radar originators such as Obrey Wendell Hamlet, who cultivated unique vacation experiences in the Rocky Mountains, one thing's for certain: There is far more uncharted Black history in this country than charted.
Stacker identified historic sites commemorating Black history across 47 states, using the National Register of Historic Places. North Dakota, Vermont, Hawaii, and Wyoming did not have Black historic sites listed on the registry. While some states, especially in the South, are home to many sites central to the civil rights movement, Stacker listed the total sites in every state and the names of three historic sites where available. You can visit the full registry of 232 historic sites and explore the Civil Rights Trail to learn about additional locations across the U.S.
Read on to explore and learn about the historic sites celebrating Black history in your state, or read the national story here.
Virginia by the numbers
- Sites commemorating Black history: 221 (44 with state significance, 19 with national significance)
- Maggie Lena Walker House, National Historic Site (Richmond)
- Southern Albemarle Rural Historic District (Charlottesville)
- Bruin's Slave Jail (Alexandria)
Maggie L. Walker was a visionary with myriad interests. She was a newspaper editor, a prominent leader in community organizations, and the first Black woman to become president of a bank in the United States. Walker dedicated her life to promoting economic empowerment and transforming the scope of black businesses and education for African Americans during the Jim Crow era. Today, Walker's home, the Maggie L. Walker National Historic Site, serves as a tribute to her legacy and provides house tours by appointment.
Continue reading to see which sites commemorate Black history in other states in your area.
Kentucky
- Sites commemorating Black history: 96 (26 with state significance, 4 with national significance)
- Central Colored School (Louisville)
- Louisville Free Public Library, Western Branch (Louisville)
- Camp Nelson (Nicholasville)
The Central Colored School, built in 1873, was the first public-funded school for African Americans in Louisville. The school was funded by taxpayers as well as Kentucky's public education system.
Maryland
- Sites commemorating Black history: 44 (6 with state significance, 2 with national significance)
- Hampton National Historic Site (Towson)
- Sumner, Charles, Post #25, Grand Army of the Republic (Chestertown)
- African Methodist Episcopal Church (Cumberland)
The Sumner, Charles, Post #25, Grand Army of the Republic, built in 1908, was named after Charles Sumner, a senator who was against slavery and a huge advocate for voting rights for African Americans. For decades, the building served as a meeting hall for the Grand Army of the Republic, a veteran's association, and is one of two African American veteran halls in the U.S. that still exists to this day.