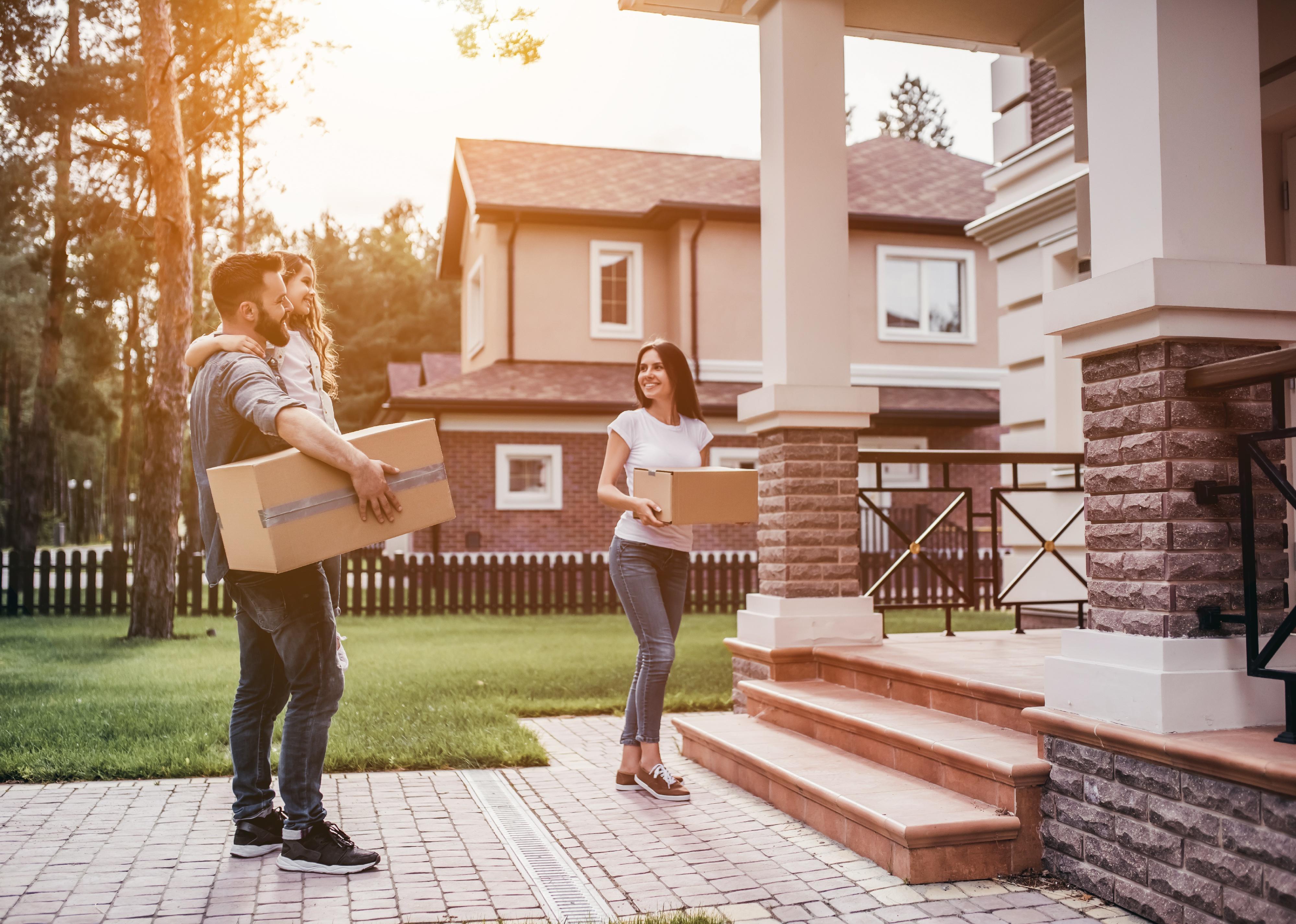 Cities with the fastest-growing home prices in Washington
4 PM production // Shutterstock
Cities with the fastest-growing home prices in Washington
Stacker compiled a list of cities with the fastest growing home prices in Washington using data from Zillow. Cities are ranked by the dollar change in Zillow Home Values Index for all homes from the twelve months ending September 2022. The charts in this story were created automatically using Matplotlib. Data was available for 409 cities and towns in Washington. Home values in the top city on the list grew by $975,066 over the last 12 months.
Metros with the most cities in the top 50
#1. Seattle-Tacoma-Bellevue, WA: 29
#2. Ellensburg, WA: 4
#3. Bellingham, WA: 3
#3. Wenatchee, WA: 3
#5. Aberdeen, WA: 1
#5. Bremerton-Silverdale-Port Orchard, WA: 1
#5. Port Angeles, WA: 1
#5. Portland-Vancouver-Hillsboro, OR-WA: 1
#5. Shelton, WA: 1
#5. Spokane-Spokane Valley, WA: 1
Read on to see which cities made the list.
You may also like: Highest rated IPAs in Washington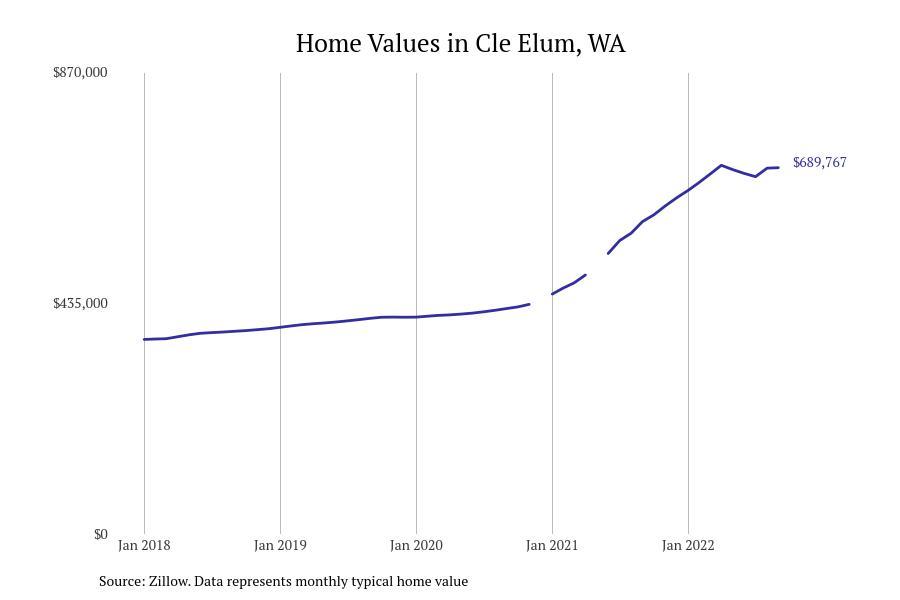 1 / 50
#50. Cle Elum
- Typical home value: $689,767
- 1-year price change: +$101,617 (+17.3%)
- 5-year price change: +$334,763 (+94.3%)
- Metro area: Ellensburg, WA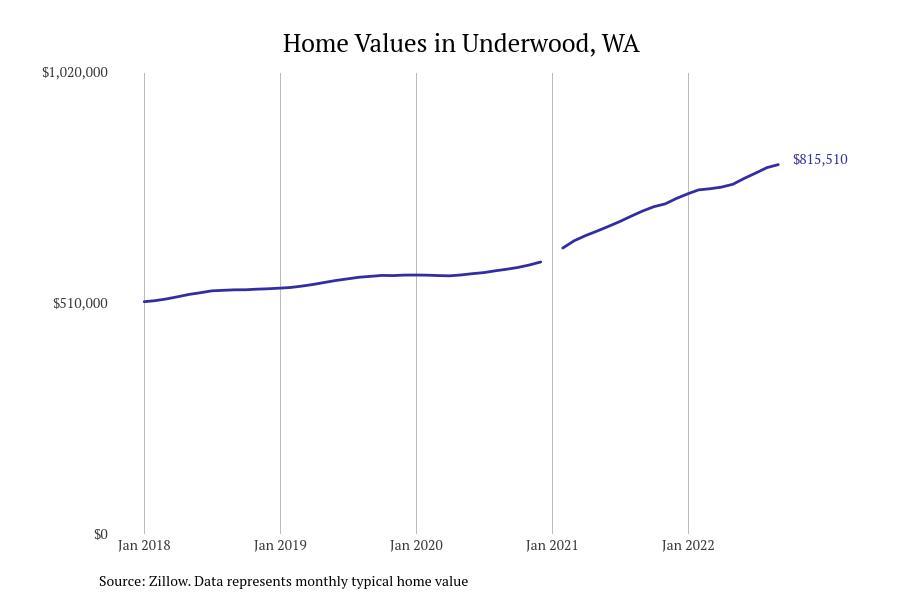 2 / 50
#49. Underwood
- Typical home value: $815,510
- 1-year price change: +$102,641 (+14.4%)
- 5-year price change: +$316,754 (+63.5%)
- Metro area: Portland-Vancouver-Hillsboro, OR-WA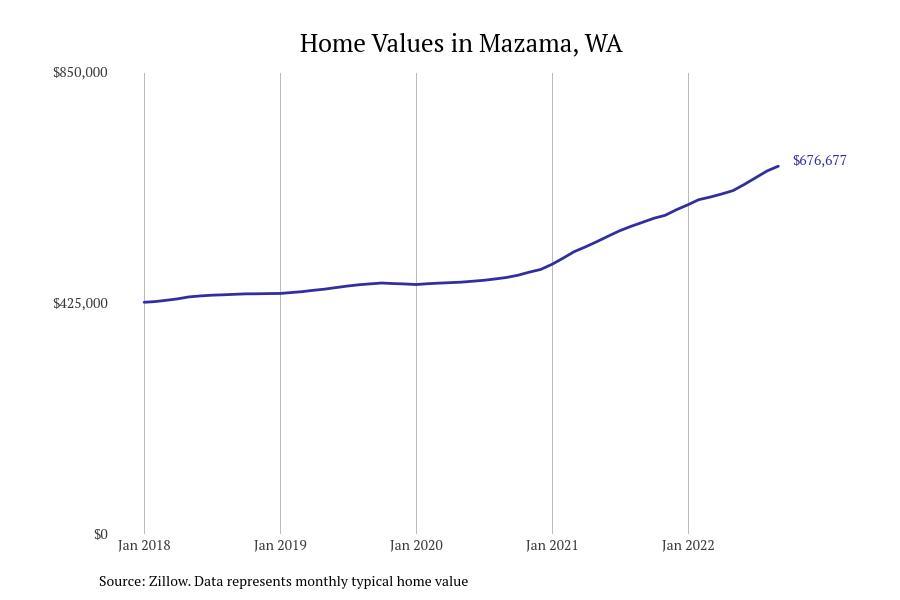 3 / 50
#48. Mazama
- Typical home value: $676,677
- 1-year price change: +$103,307 (+18.0%)
- 5-year price change: +$261,181 (+62.9%)
- Metro area: not in a metro area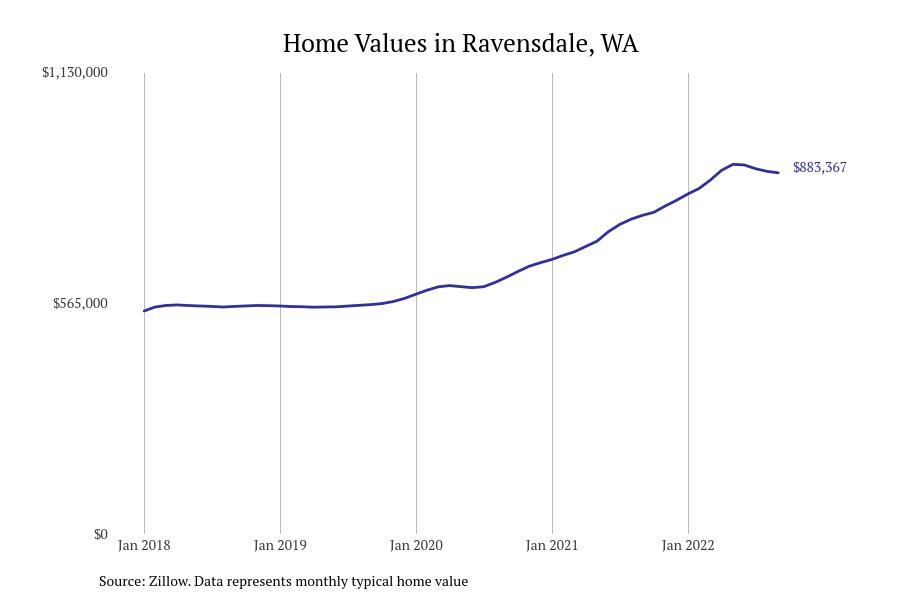 4 / 50
#47. Ravensdale
- Typical home value: $883,367
- 1-year price change: +$104,013 (+13.3%)
- 5-year price change: +$358,489 (+68.3%)
- Metro area: Seattle-Tacoma-Bellevue, WA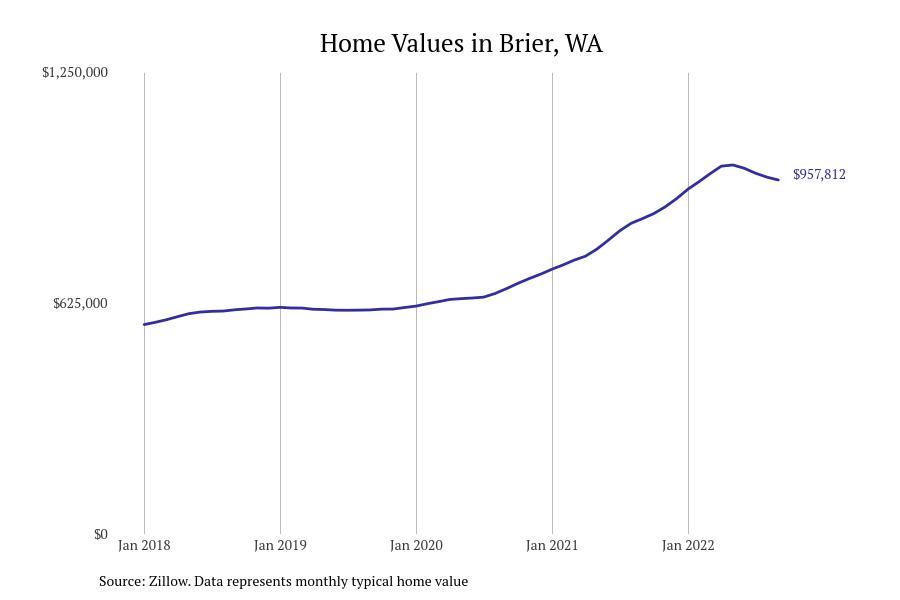 5 / 50
#46. Brier
- Typical home value: $957,812
- 1-year price change: +$104,632 (+12.3%)
- 5-year price change: +$413,354 (+75.9%)
- Metro area: Seattle-Tacoma-Bellevue, WA
You may also like: Famous actors from Washington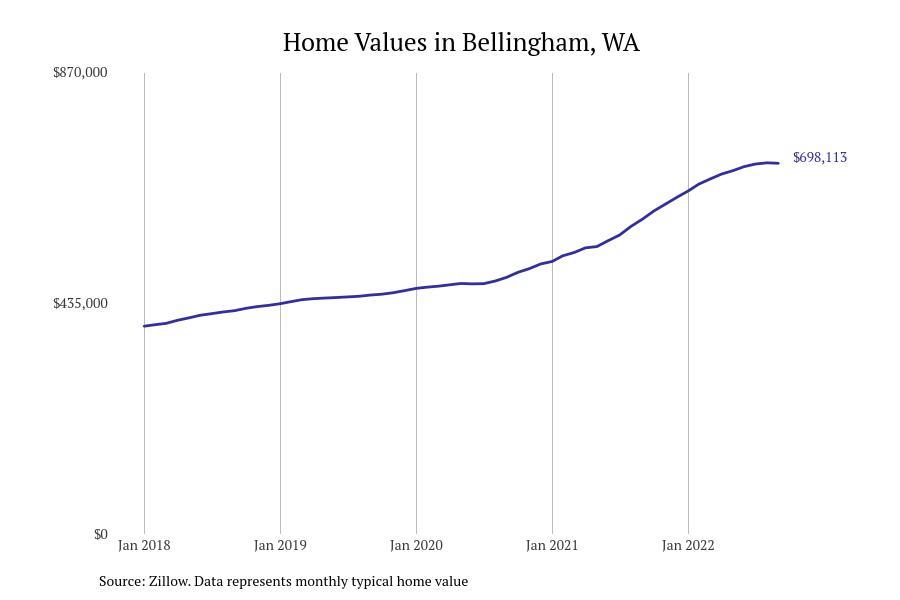 6 / 50
#45. Bellingham
- Typical home value: $698,113
- 1-year price change: +$105,302 (+17.8%)
- 5-year price change: +$314,132 (+81.8%)
- Metro area: Bellingham, WA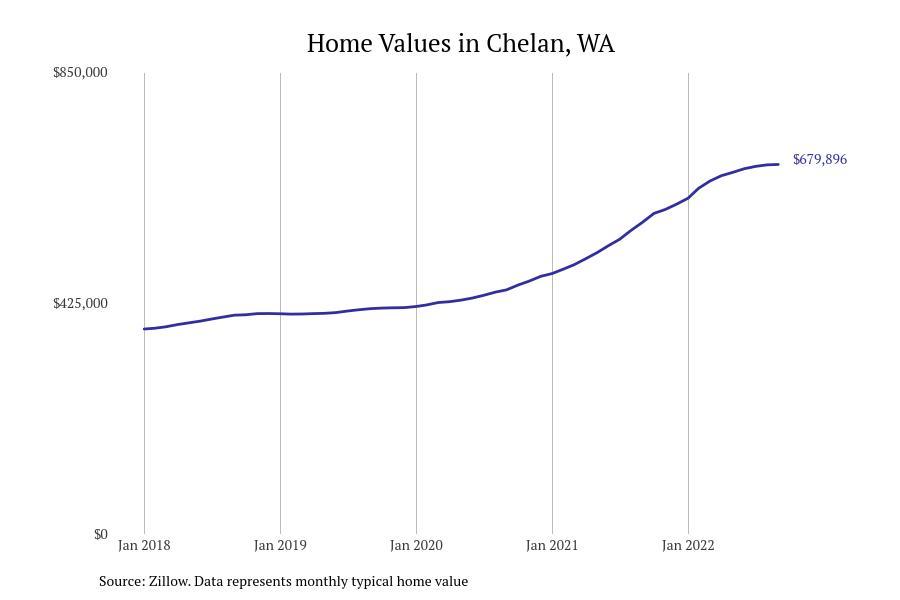 7 / 50
#44. Chelan
- Typical home value: $679,896
- 1-year price change: +$106,576 (+18.6%)
- 5-year price change: +$302,058 (+79.9%)
- Metro area: Wenatchee, WA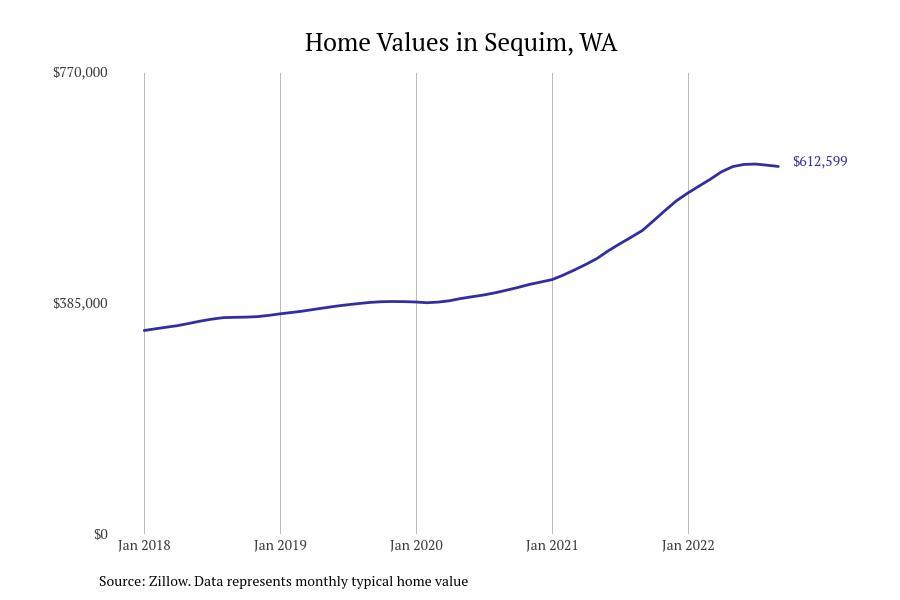 8 / 50
#43. Sequim
- Typical home value: $612,599
- 1-year price change: +$106,694 (+21.1%)
- 5-year price change: +$282,569 (+85.6%)
- Metro area: Port Angeles, WA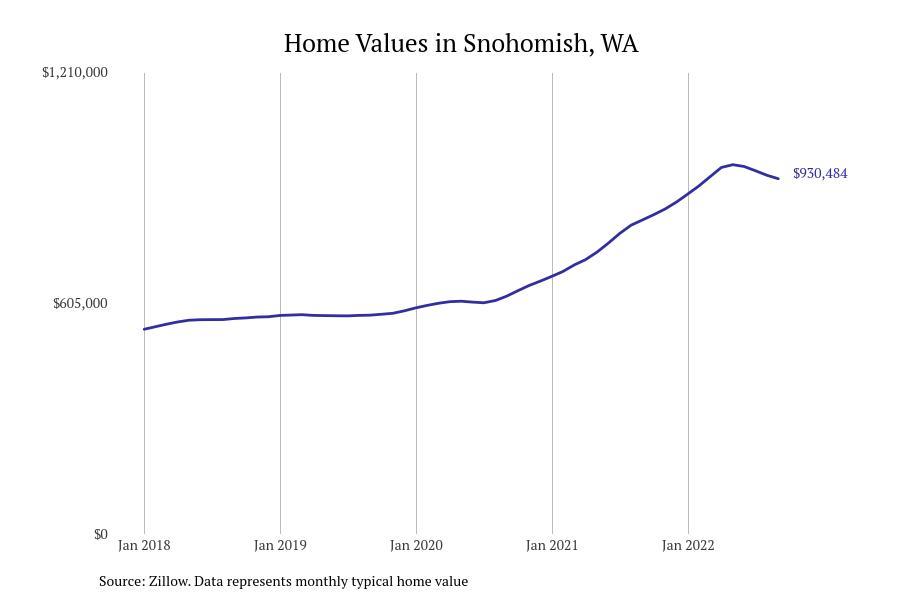 9 / 50
#42. Snohomish
- Typical home value: $930,484
- 1-year price change: +$108,043 (+13.1%)
- 5-year price change: +$417,732 (+81.5%)
- Metro area: Seattle-Tacoma-Bellevue, WA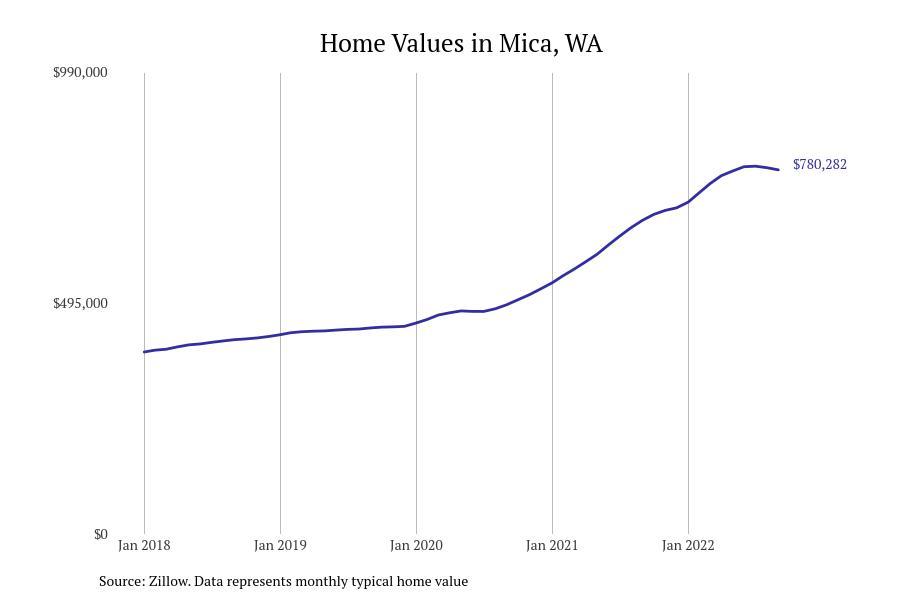 10 / 50
#41. Mica
- Typical home value: $780,282
- 1-year price change: +$108,224 (+16.1%)
- 5-year price change: +$398,707 (+104.5%)
- Metro area: Spokane-Spokane Valley, WA
You may also like: Most rural counties in Washington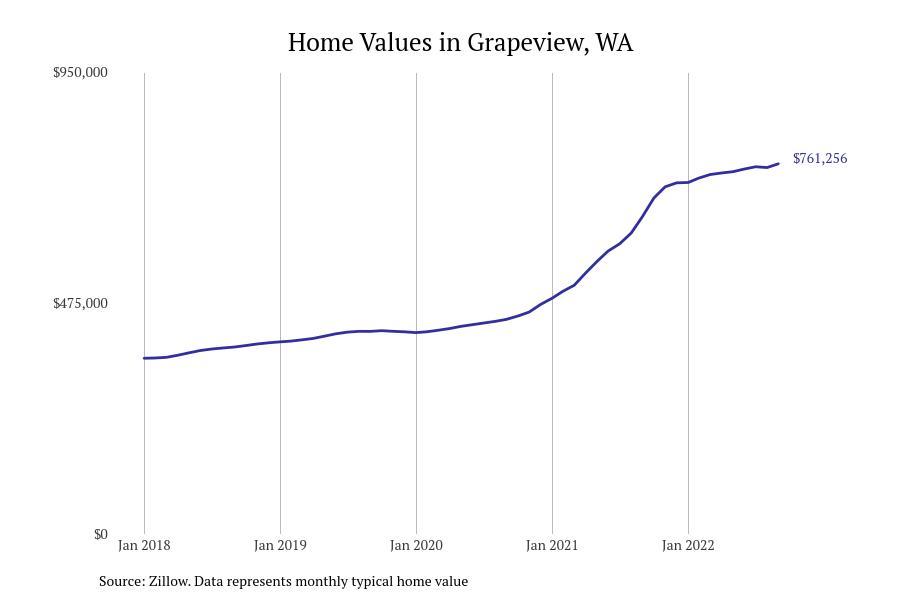 11 / 50
#40. Grapeview
- Typical home value: $761,256
- 1-year price change: +$108,750 (+16.7%)
- 5-year price change: +$409,803 (+116.6%)
- Metro area: Shelton, WA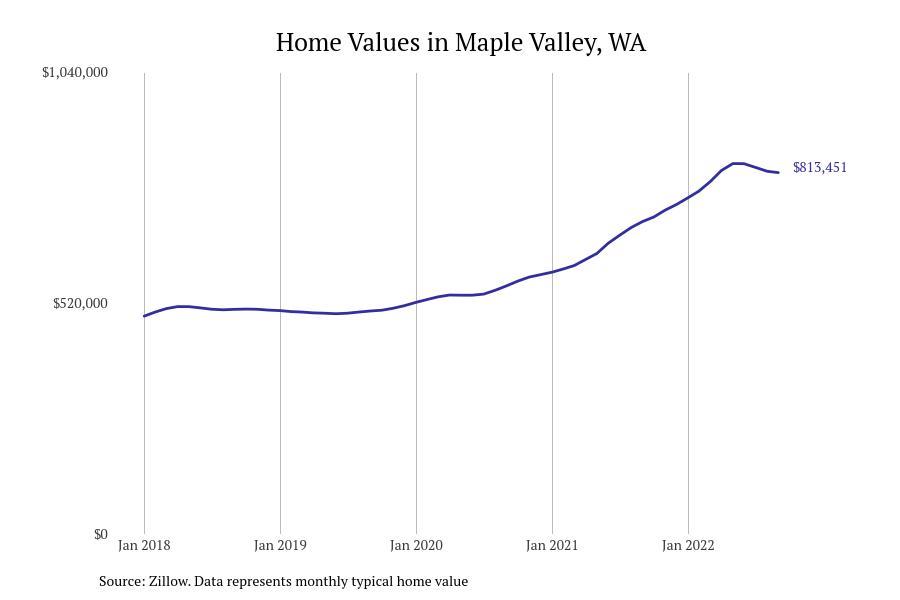 12 / 50
#39. Maple Valley
- Typical home value: $813,451
- 1-year price change: +$110,325 (+15.7%)
- 5-year price change: +$339,041 (+71.5%)
- Metro area: Seattle-Tacoma-Bellevue, WA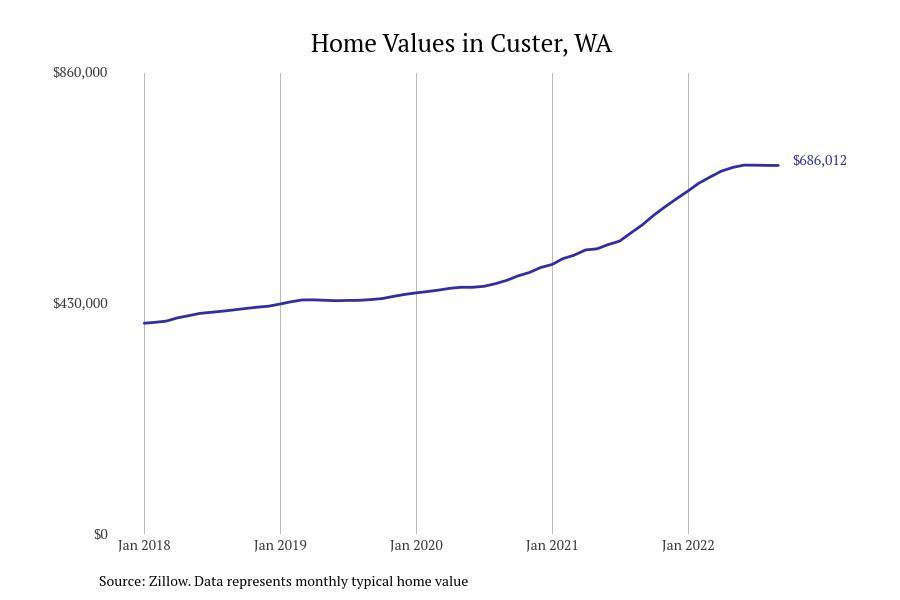 13 / 50
#38. Custer
- Typical home value: $686,012
- 1-year price change: +$110,485 (+19.2%)
- 5-year price change: +$299,378 (+77.4%)
- Metro area: Bellingham, WA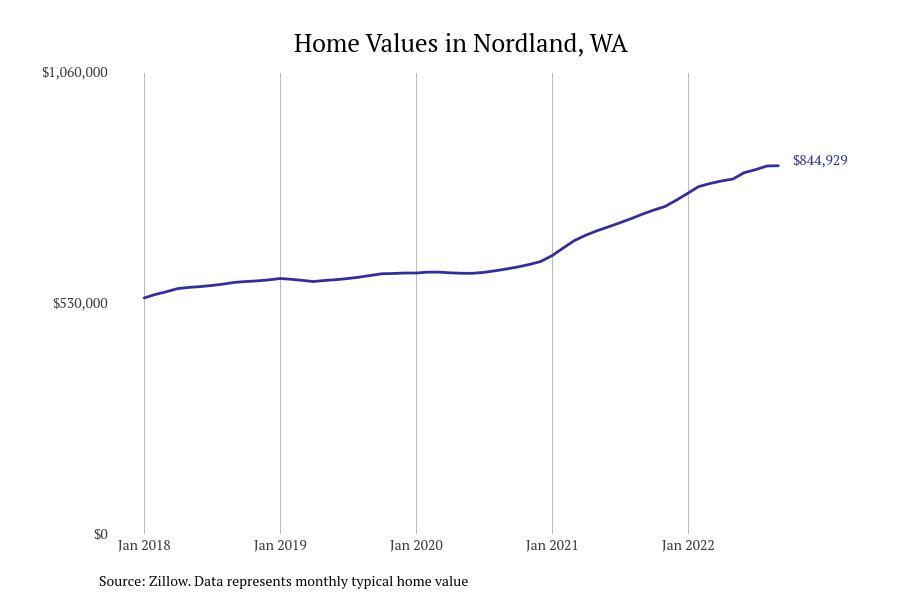 14 / 50
#37. Nordland
- Typical home value: $844,929
- 1-year price change: +$111,071 (+15.1%)
- 5-year price change: +$318,481 (+60.5%)
- Metro area: not in a metro area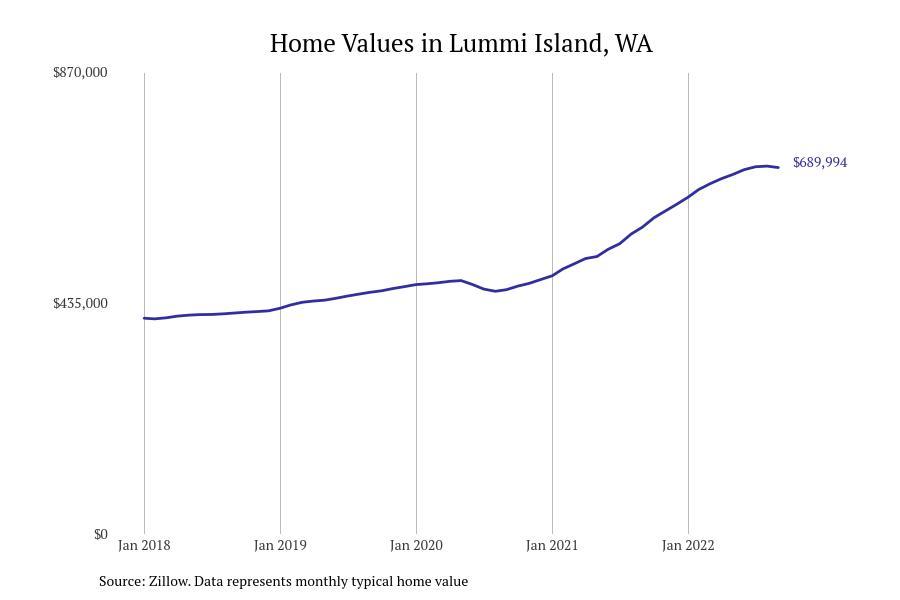 15 / 50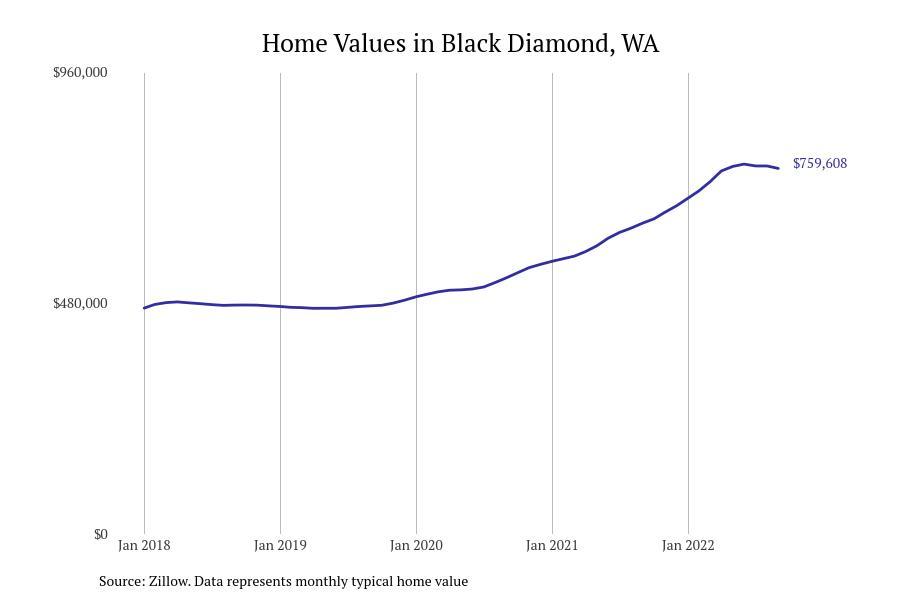 16 / 50
#35. Black Diamond
- Typical home value: $759,608
- 1-year price change: +$113,869 (+17.6%)
- 5-year price change: +$306,484 (+67.6%)
- Metro area: Seattle-Tacoma-Bellevue, WA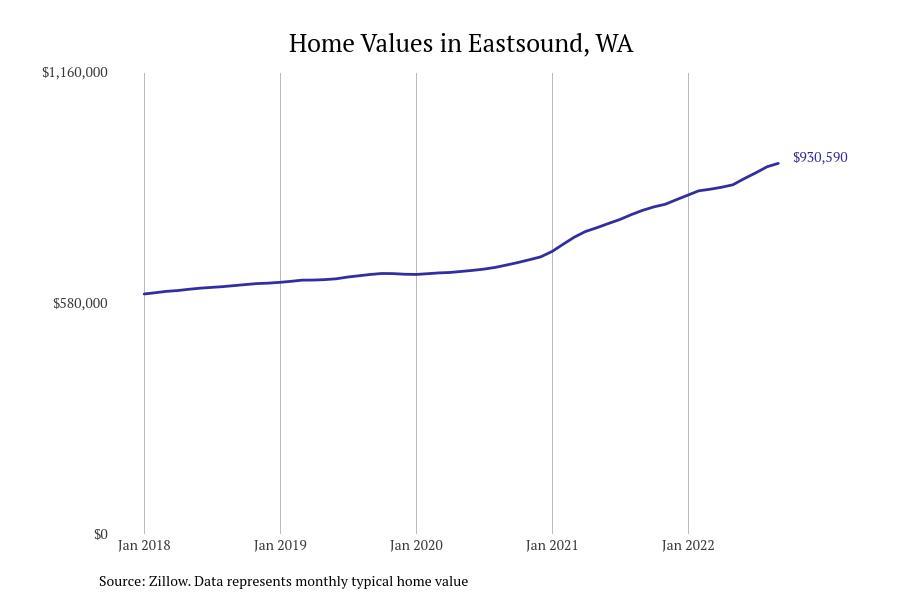 17 / 50
#34. Eastsound
- Typical home value: $930,590
- 1-year price change: +$118,132 (+14.5%)
- 5-year price change: +$343,497 (+58.5%)
- Metro area: not in a metro area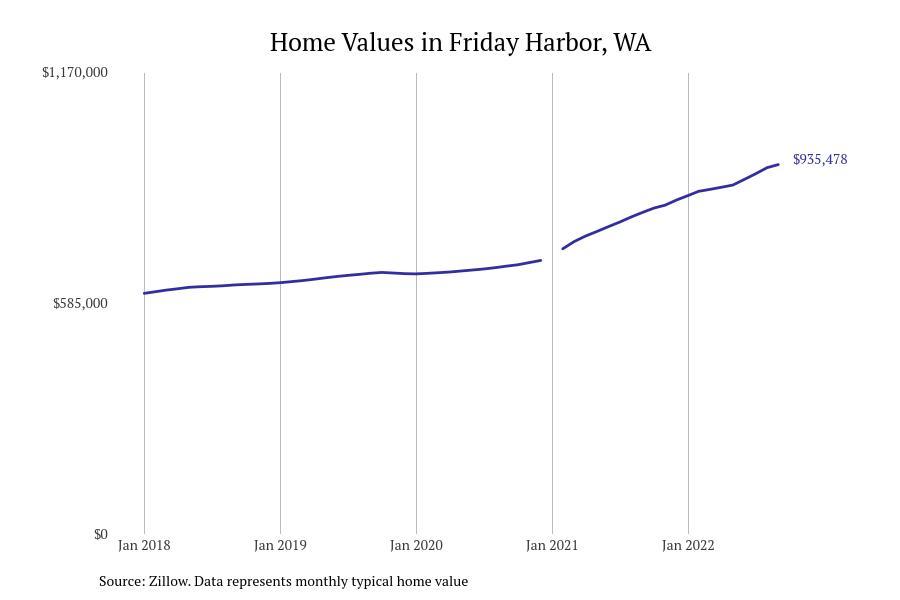 18 / 50
#33. Friday Harbor
- Typical home value: $935,478
- 1-year price change: +$121,197 (+14.9%)
- 5-year price change: +$341,906 (+57.6%)
- Metro area: not in a metro area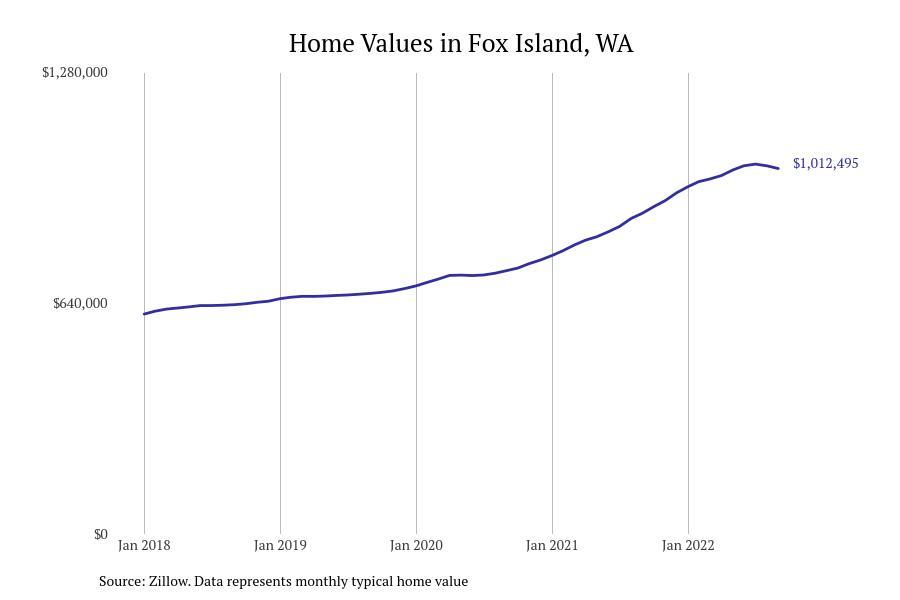 19 / 50
#32. Fox Island
- Typical home value: $1,012,495
- 1-year price change: +$123,838 (+13.9%)
- 5-year price change: +$439,869 (+76.8%)
- Metro area: Seattle-Tacoma-Bellevue, WA
20 / 50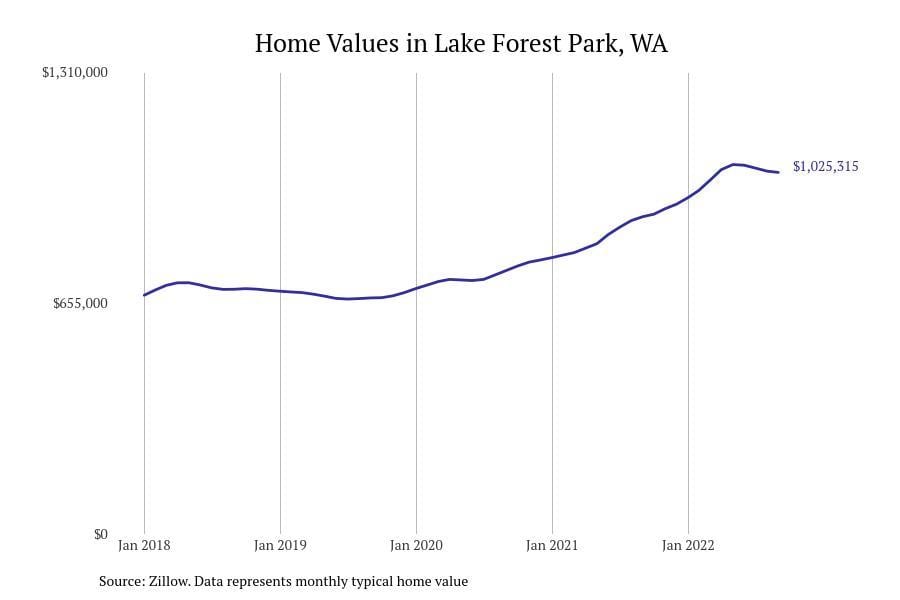 21 / 50
#30. Lake Forest Park
- Typical home value: $1,025,315
- 1-year price change: +$125,862 (+14.0%)
- 5-year price change: +$376,333 (+58.0%)
- Metro area: Seattle-Tacoma-Bellevue, WA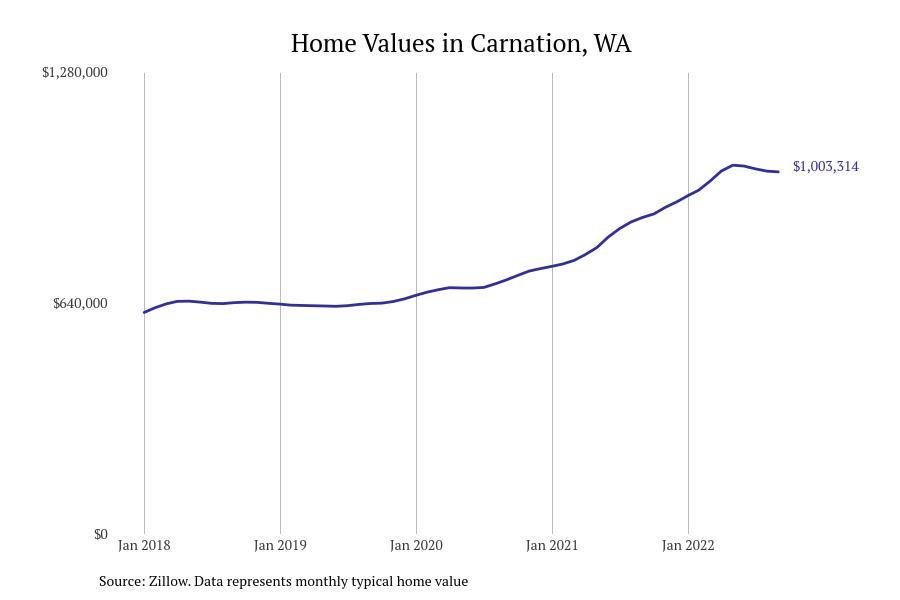 22 / 50
#29. Carnation
- Typical home value: $1,003,314
- 1-year price change: +$126,371 (+14.4%)
- 5-year price change: +$407,757 (+68.5%)
- Metro area: Seattle-Tacoma-Bellevue, WA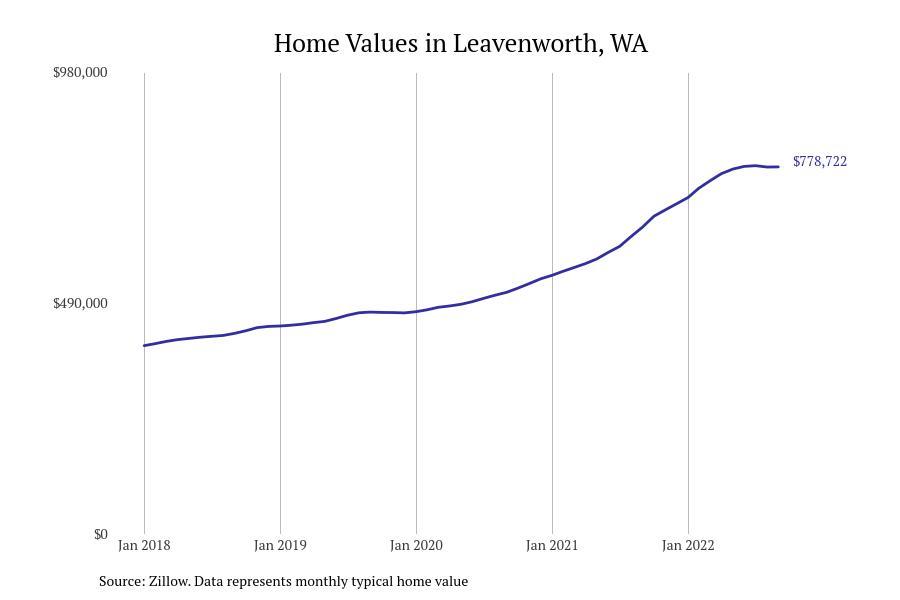 23 / 50
#28. Leavenworth
- Typical home value: $778,722
- 1-year price change: +$128,039 (+19.7%)
- 5-year price change: +$384,930 (+97.7%)
- Metro area: Wenatchee, WA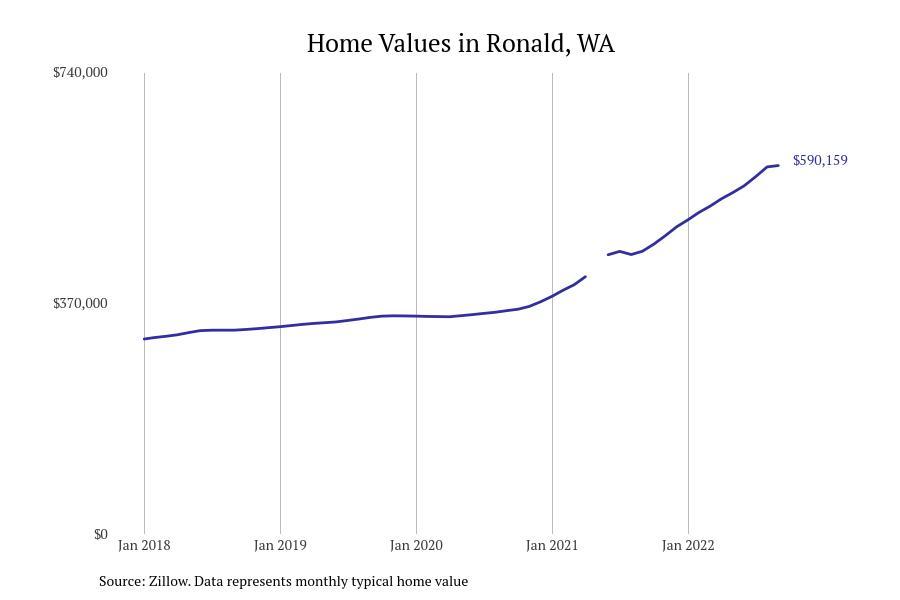 24 / 50
#27. Ronald
- Typical home value: $590,159
- 1-year price change: +$137,289 (+30.3%)
- 5-year price change: +$290,364 (+96.9%)
- Metro area: Ellensburg, WA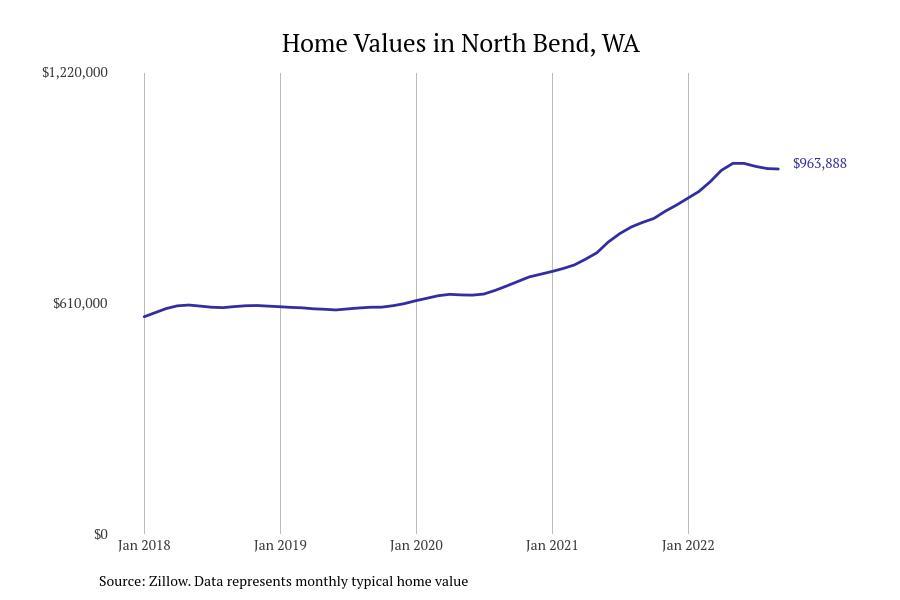 25 / 50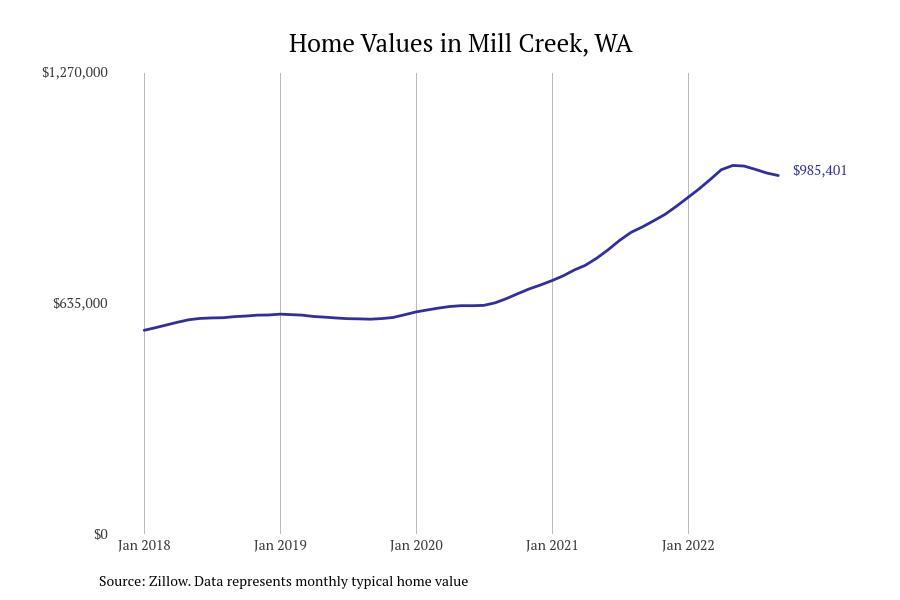 26 / 50
#25. Mill Creek
- Typical home value: $985,401
- 1-year price change: +$141,357 (+16.7%)
- 5-year price change: +$451,305 (+84.5%)
- Metro area: Seattle-Tacoma-Bellevue, WA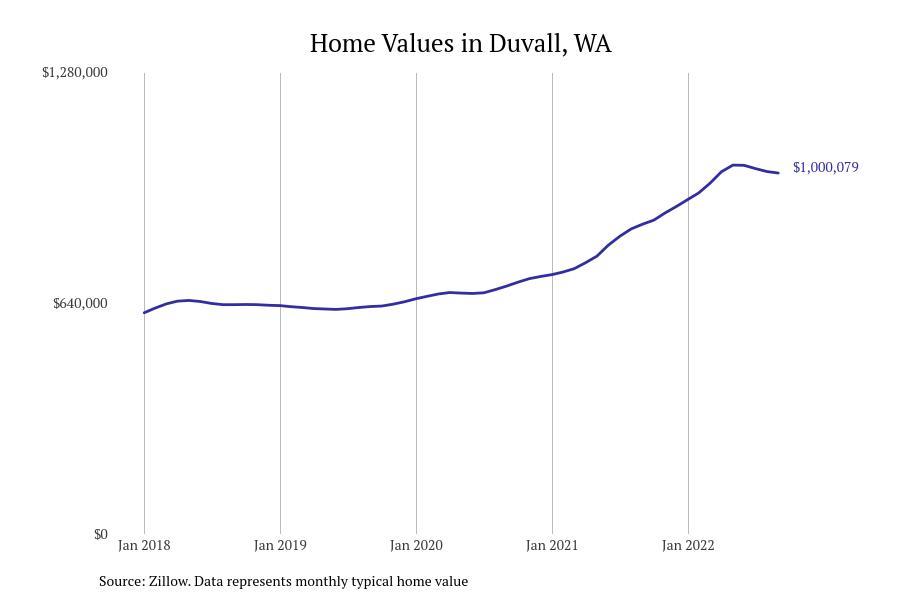 27 / 50
#24. Duvall
- Typical home value: $1,000,079
- 1-year price change: +$141,940 (+16.5%)
- 5-year price change: +$405,525 (+68.2%)
- Metro area: Seattle-Tacoma-Bellevue, WA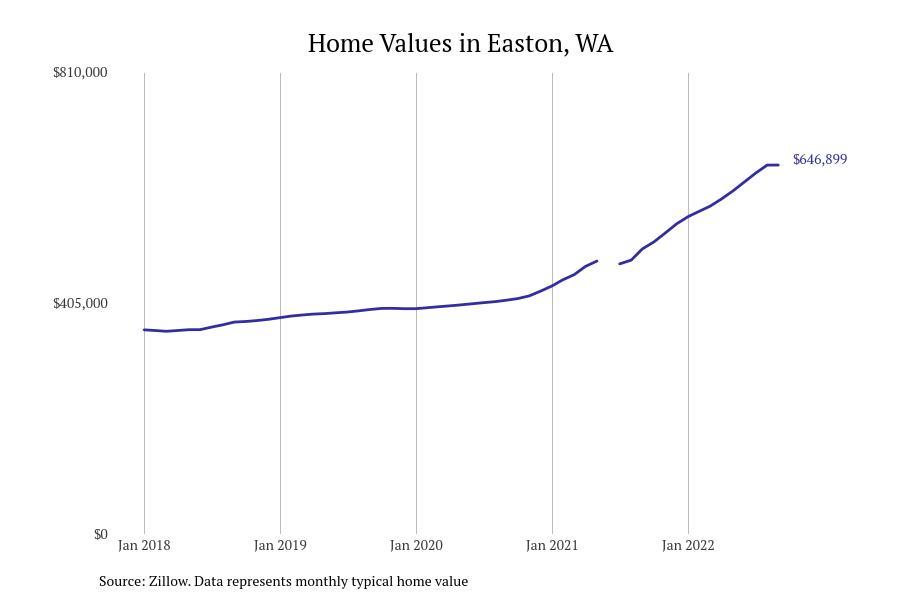 28 / 50
#23. Easton
- Typical home value: $646,899
- 1-year price change: +$147,014 (+29.4%)
- 5-year price change: data not available
- Metro area: Ellensburg, WA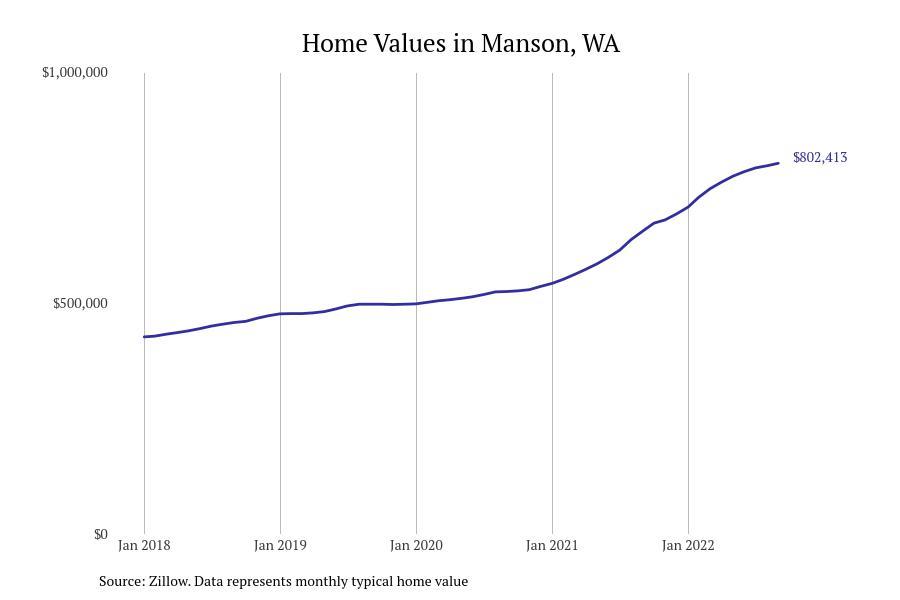 29 / 50
#22. Manson
- Typical home value: $802,413
- 1-year price change: +$147,366 (+22.5%)
- 5-year price change: +$383,222 (+91.4%)
- Metro area: Wenatchee, WA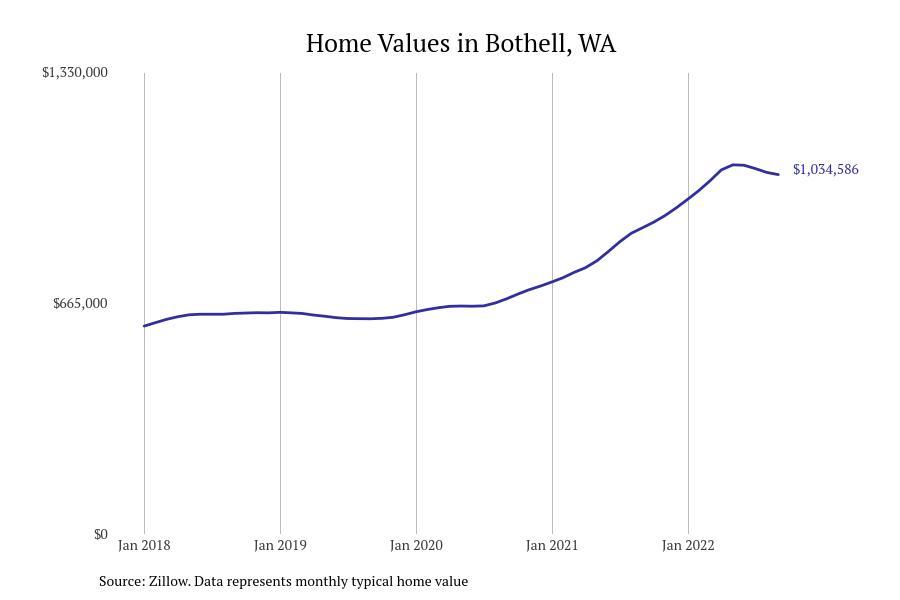 30 / 50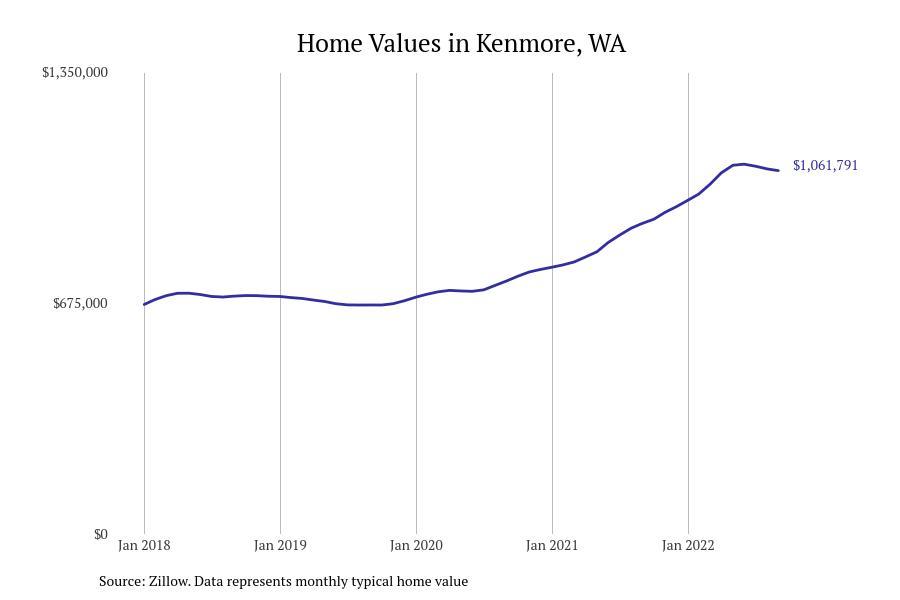 31 / 50
#20. Kenmore
- Typical home value: $1,061,791
- 1-year price change: +$154,075 (+17.0%)
- 5-year price change: +$421,233 (+65.8%)
- Metro area: Seattle-Tacoma-Bellevue, WA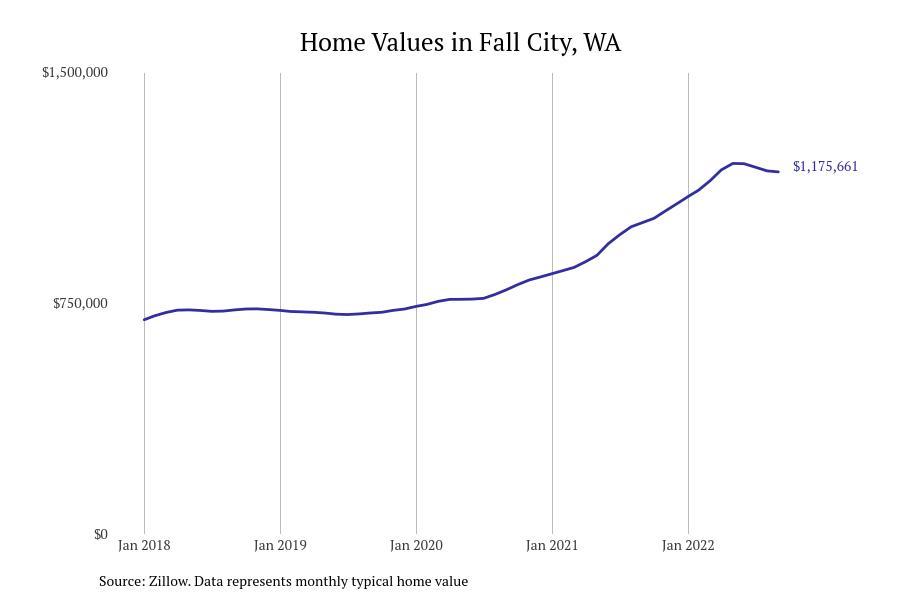 32 / 50
#19. Fall City
- Typical home value: $1,175,661
- 1-year price change: +$164,676 (+16.3%)
- 5-year price change: +$506,147 (+75.6%)
- Metro area: Seattle-Tacoma-Bellevue, WA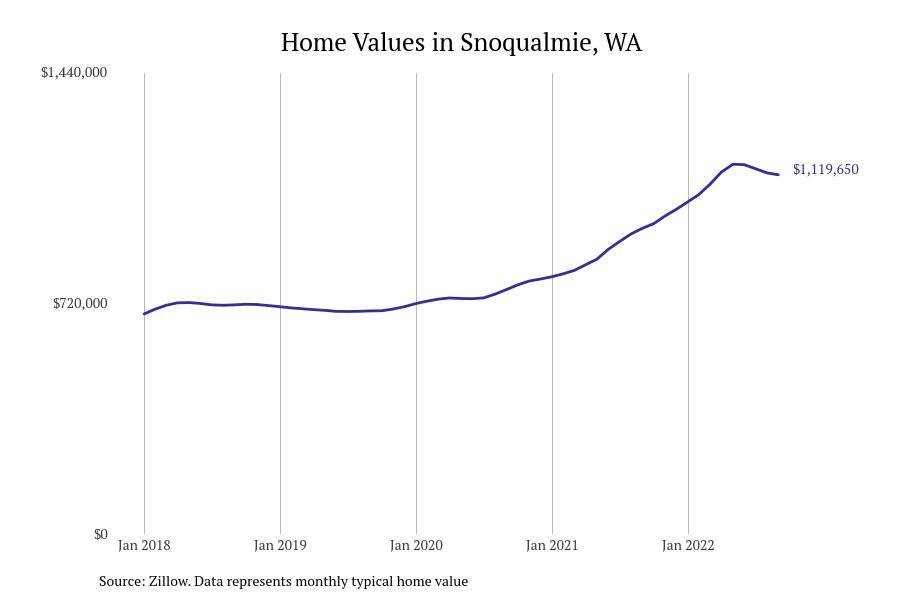 33 / 50
#18. Snoqualmie
- Typical home value: $1,119,650
- 1-year price change: +$166,814 (+17.5%)
- 5-year price change: +$464,035 (+70.8%)
- Metro area: Seattle-Tacoma-Bellevue, WA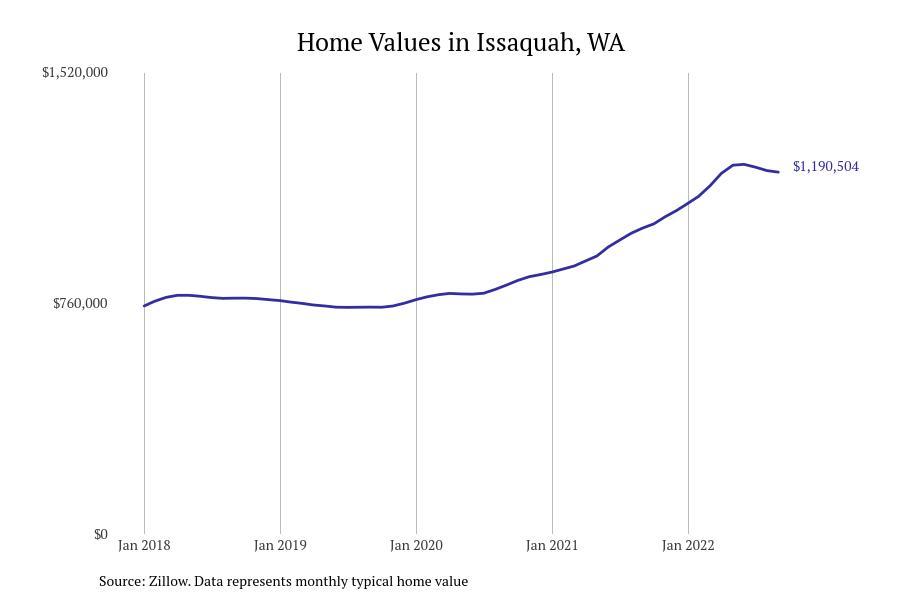 34 / 50
#17. Issaquah
- Typical home value: $1,190,504
- 1-year price change: +$184,356 (+18.3%)
- 5-year price change: +$470,439 (+65.3%)
- Metro area: Seattle-Tacoma-Bellevue, WA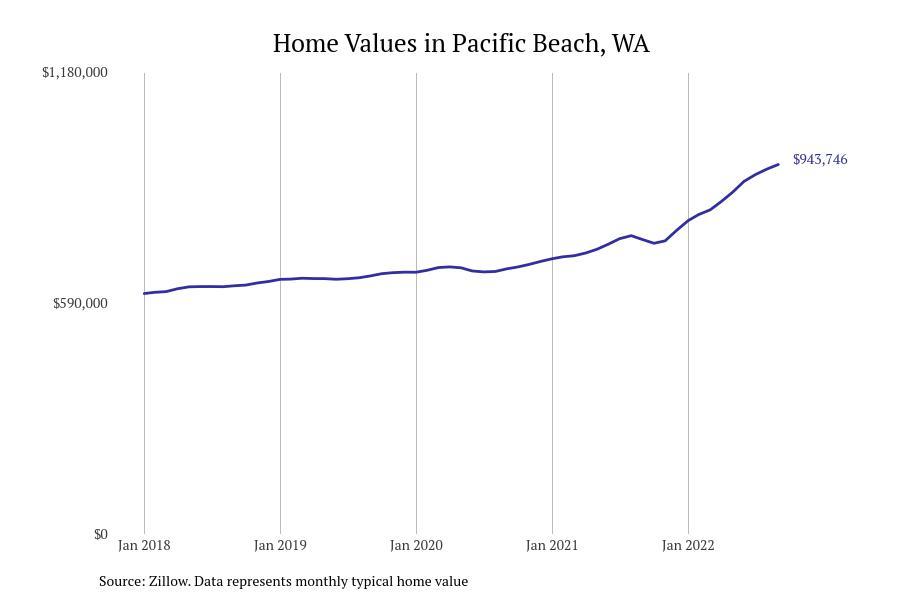 35 / 50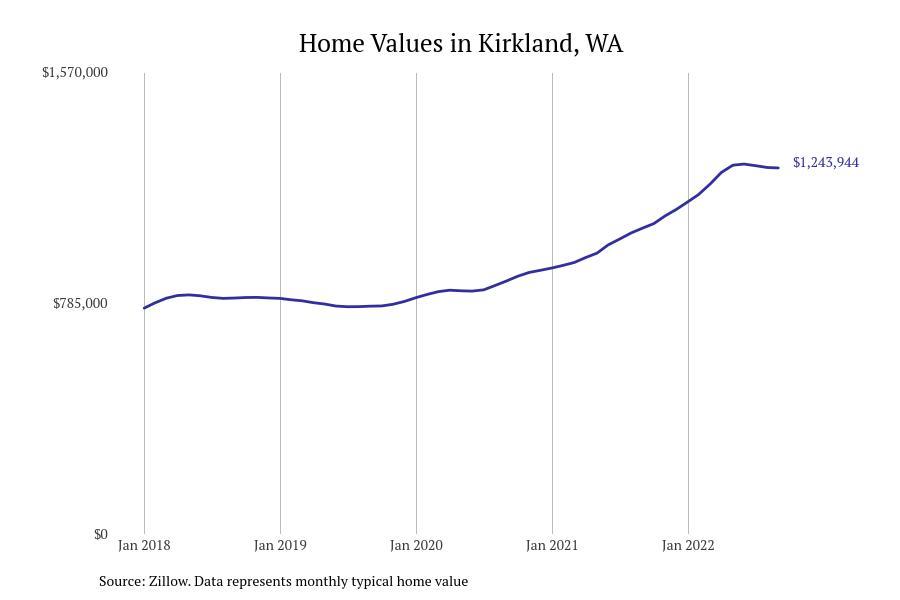 36 / 50
#15. Kirkland
- Typical home value: $1,243,944
- 1-year price change: +$204,756 (+19.7%)
- 5-year price change: +$518,024 (+71.4%)
- Metro area: Seattle-Tacoma-Bellevue, WA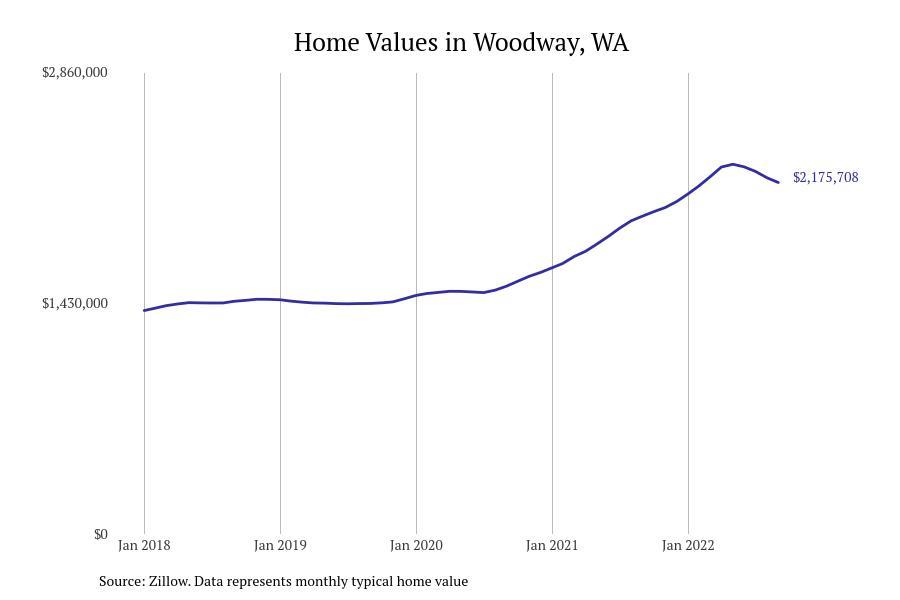 37 / 50
#14. Woodway
- Typical home value: $2,175,708
- 1-year price change: +$208,243 (+10.6%)
- 5-year price change: +$853,197 (+64.5%)
- Metro area: Seattle-Tacoma-Bellevue, WA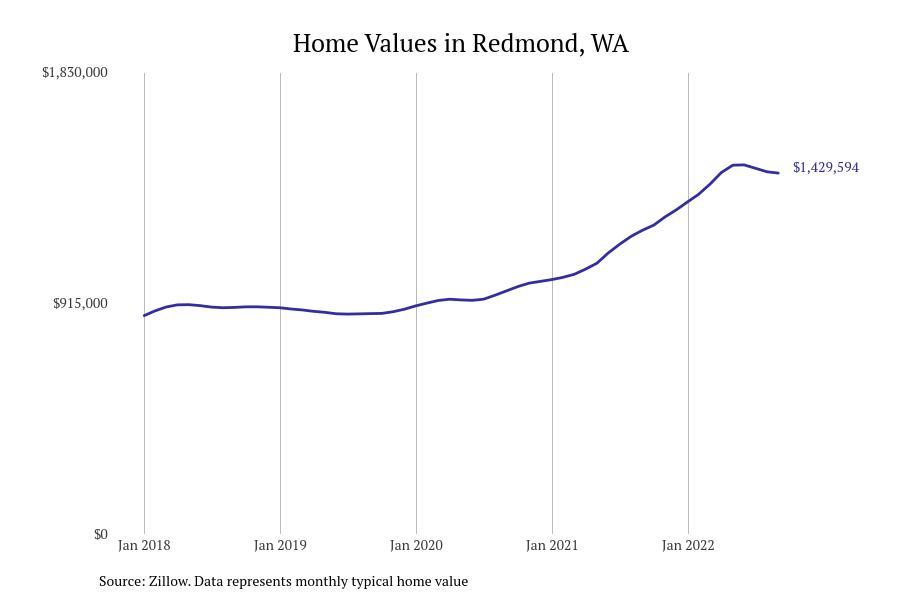 38 / 50
#13. Redmond
- Typical home value: $1,429,594
- 1-year price change: +$226,667 (+18.8%)
- 5-year price change: +$603,226 (+73.0%)
- Metro area: Seattle-Tacoma-Bellevue, WA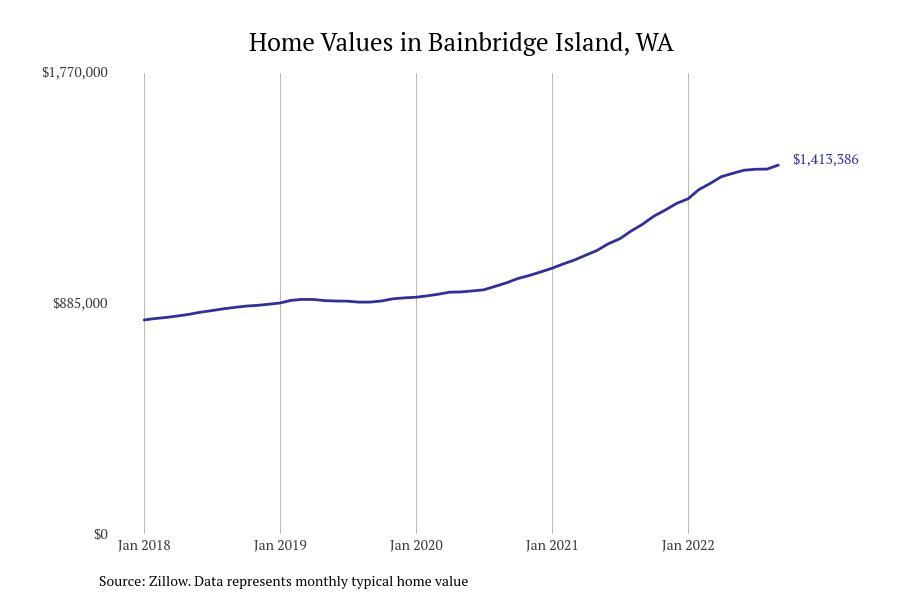 39 / 50
#12. Bainbridge Island
- Typical home value: $1,413,386
- 1-year price change: +$227,077 (+19.1%)
- 5-year price change: +$611,765 (+76.3%)
- Metro area: Bremerton-Silverdale-Port Orchard, WA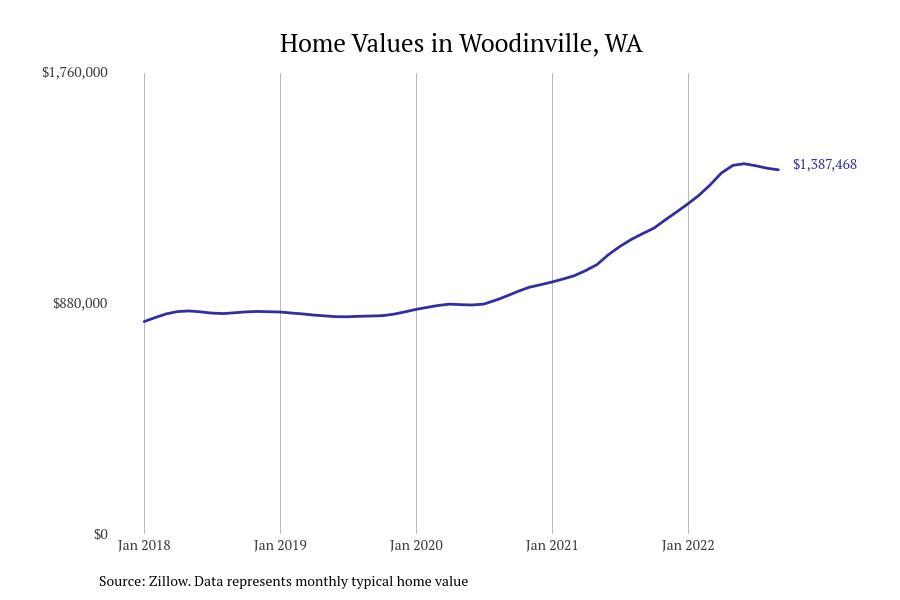 40 / 50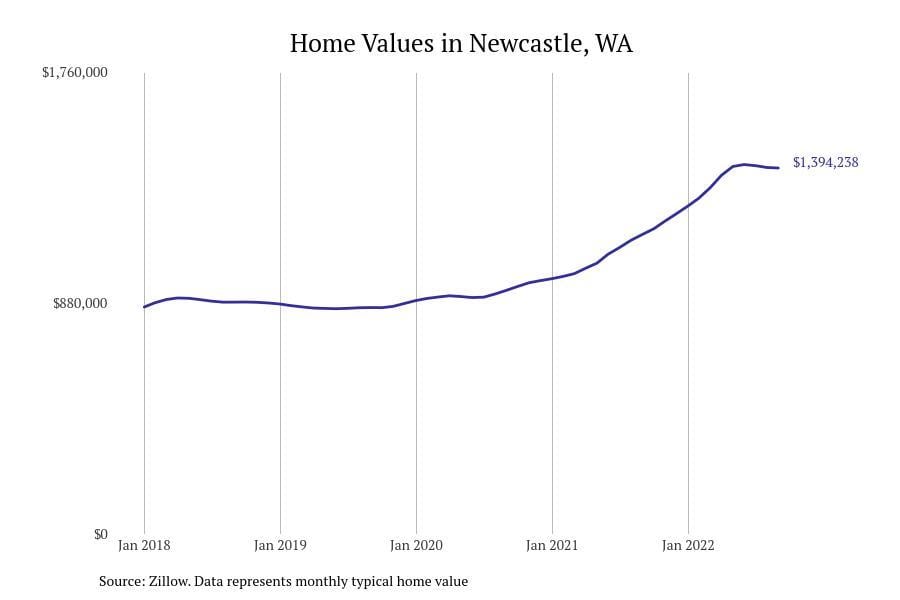 41 / 50
#10. Newcastle
- Typical home value: $1,394,238
- 1-year price change: +$253,147 (+22.2%)
- 5-year price change: +$570,700 (+69.3%)
- Metro area: Seattle-Tacoma-Bellevue, WA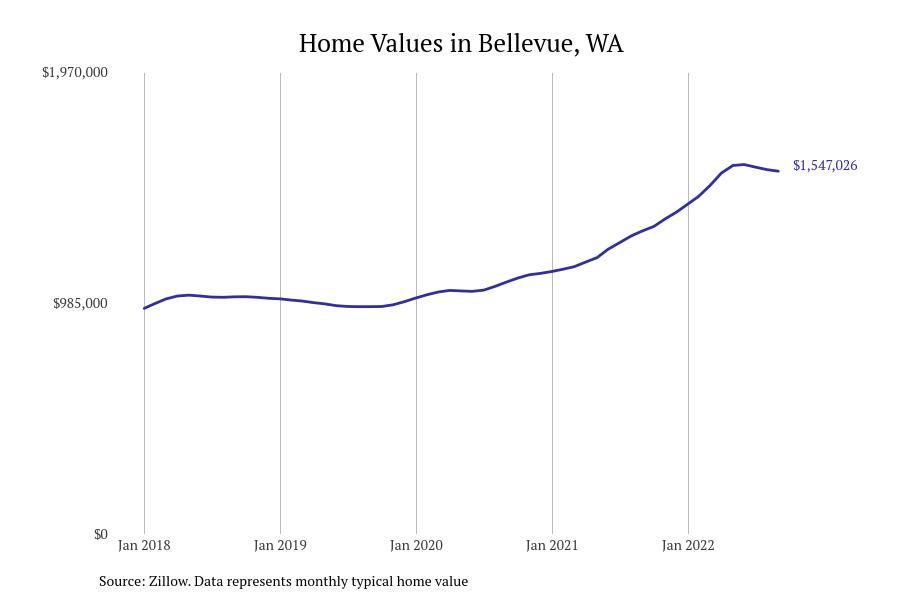 42 / 50
#9. Bellevue
- Typical home value: $1,547,026
- 1-year price change: +$254,768 (+19.7%)
- 5-year price change: +$634,846 (+69.6%)
- Metro area: Seattle-Tacoma-Bellevue, WA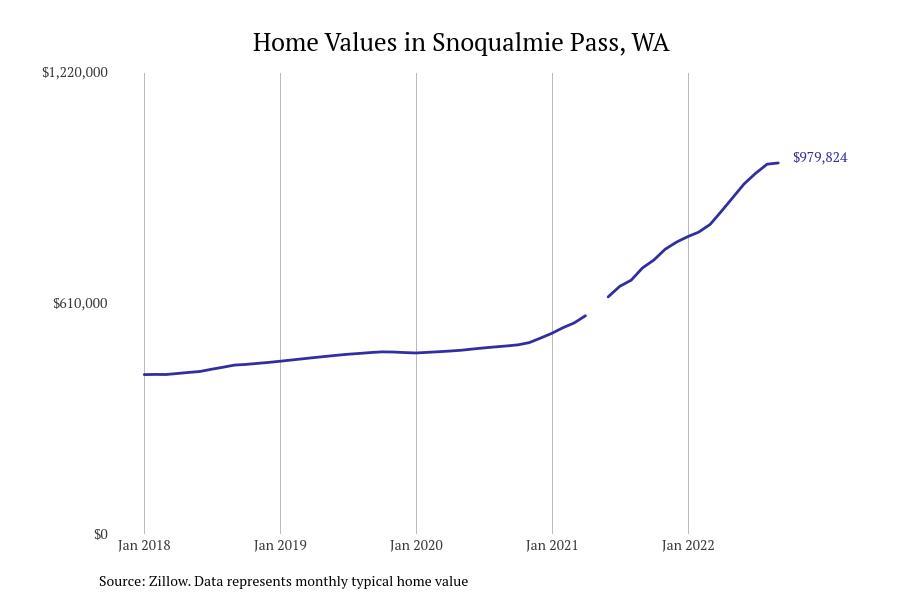 43 / 50
#8. Snoqualmie Pass
- Typical home value: $979,824
- 1-year price change: +$277,482 (+39.5%)
- 5-year price change: +$576,492 (+142.9%)
- Metro area: Ellensburg, WA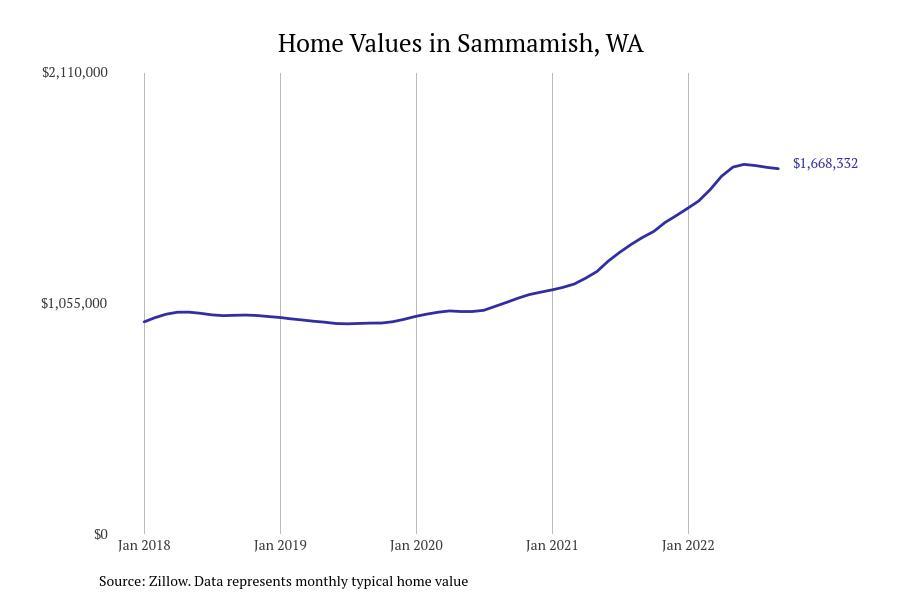 44 / 50
#7. Sammamish
- Typical home value: $1,668,332
- 1-year price change: +$314,170 (+23.2%)
- 5-year price change: +$738,070 (+79.3%)
- Metro area: Seattle-Tacoma-Bellevue, WA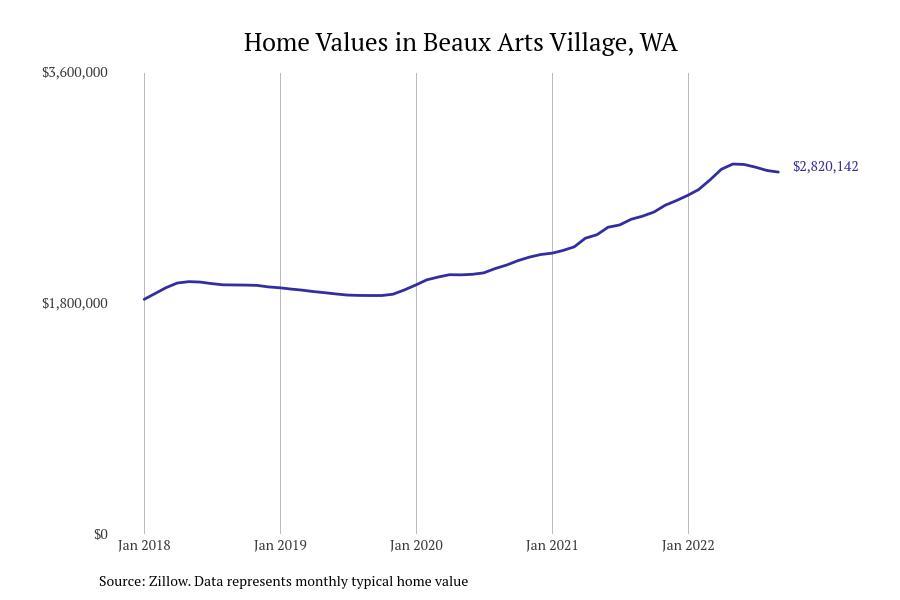 45 / 50
#6. Beaux Arts Village
- Typical home value: $2,820,142
- 1-year price change: +$343,872 (+13.9%)
- 5-year price change: +$1,069,602 (+61.1%)
- Metro area: Seattle-Tacoma-Bellevue, WA
You may also like: Most valuable crops grown in Washington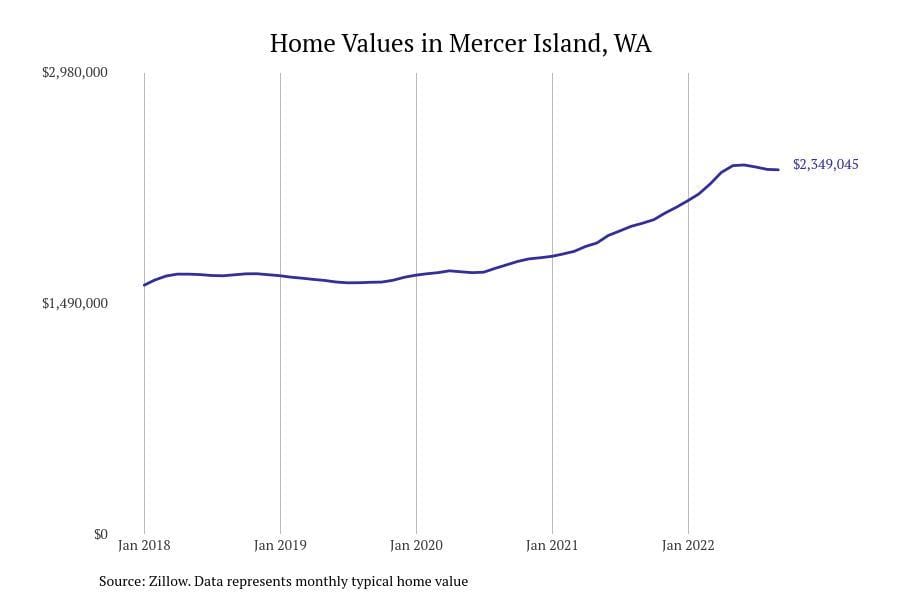 46 / 50
#5. Mercer Island
- Typical home value: $2,349,045
- 1-year price change: +$344,670 (+17.2%)
- 5-year price change: +$800,268 (+51.7%)
- Metro area: Seattle-Tacoma-Bellevue, WA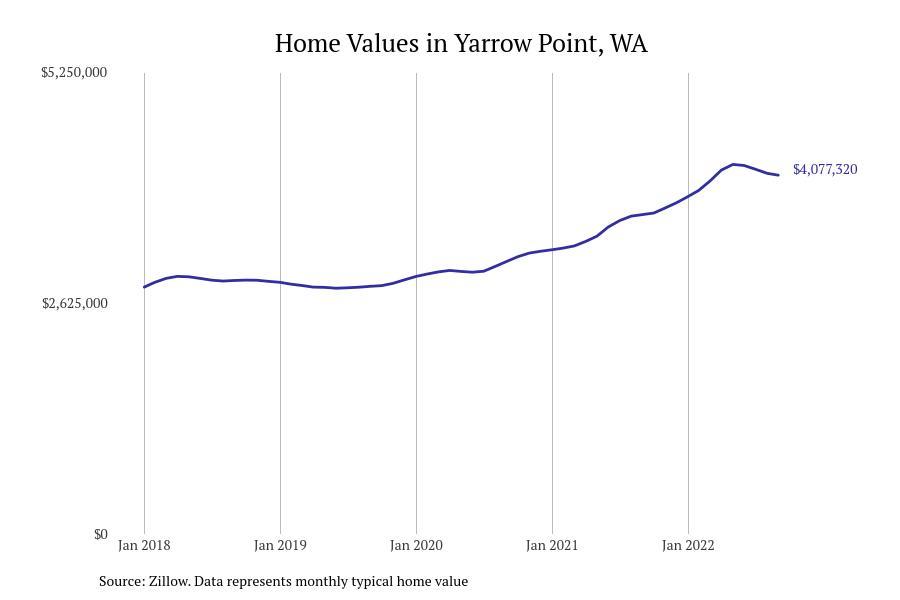 47 / 50
#4. Yarrow Point
- Typical home value: $4,077,320
- 1-year price change: +$447,926 (+12.3%)
- 5-year price change: +$1,385,070 (+51.4%)
- Metro area: Seattle-Tacoma-Bellevue, WA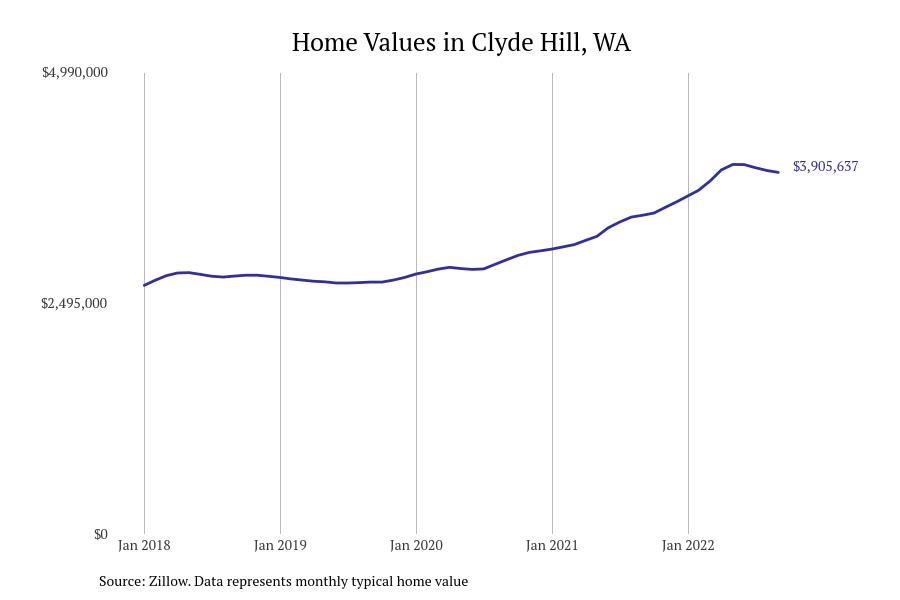 48 / 50
#3. Clyde Hill
- Typical home value: $3,905,637
- 1-year price change: +$463,190 (+13.5%)
- 5-year price change: +$1,327,856 (+51.5%)
- Metro area: Seattle-Tacoma-Bellevue, WA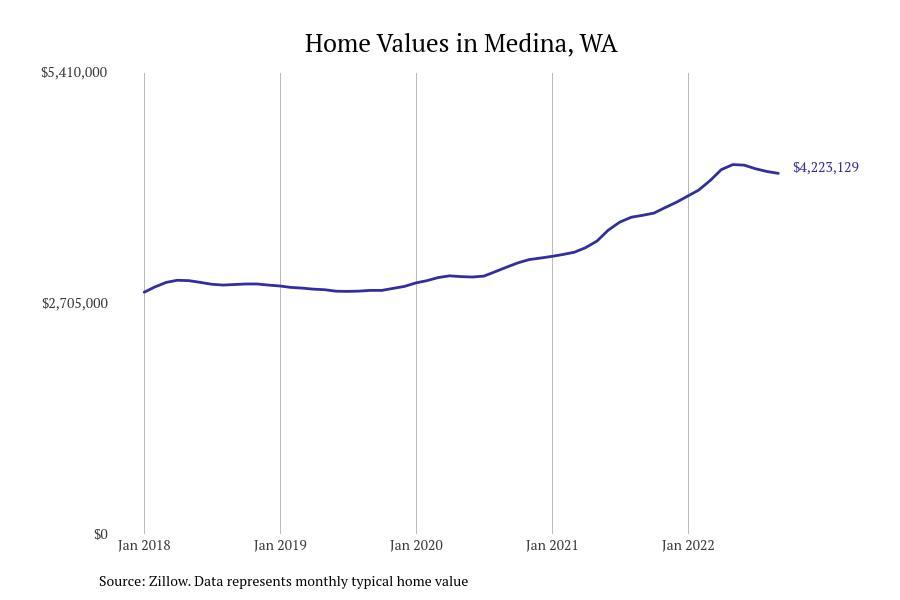 49 / 50
#2. Medina
- Typical home value: $4,223,129
- 1-year price change: +$491,815 (+13.2%)
- 5-year price change: +$1,509,366 (+55.6%)
- Metro area: Seattle-Tacoma-Bellevue, WA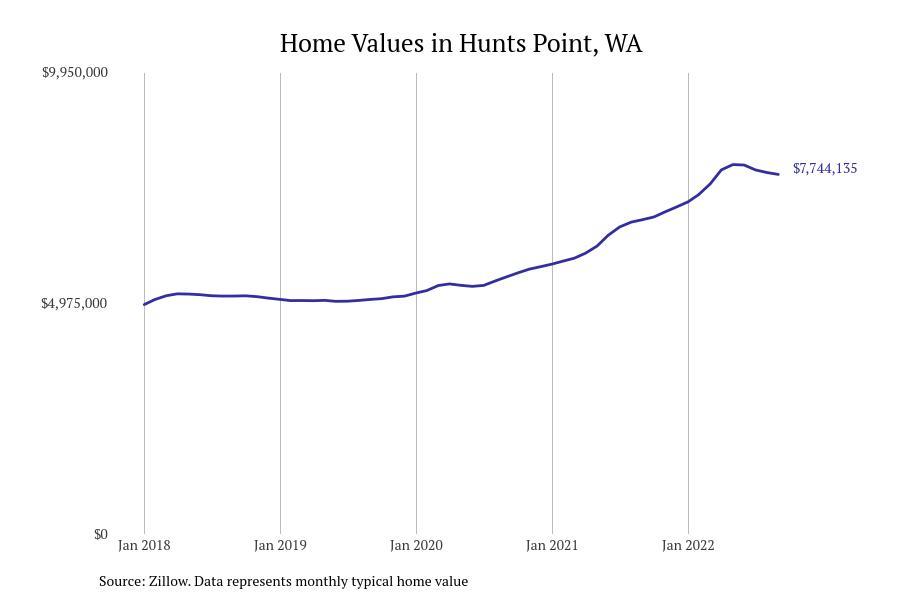 50 / 50
#1. Hunts Point
- Typical home value: $7,744,135
- 1-year price change: +$975,066 (+14.4%)
- 5-year price change: +$2,973,234 (+62.3%)
- Metro area: Seattle-Tacoma-Bellevue, WA
You may also like: States sending the most people to Washington