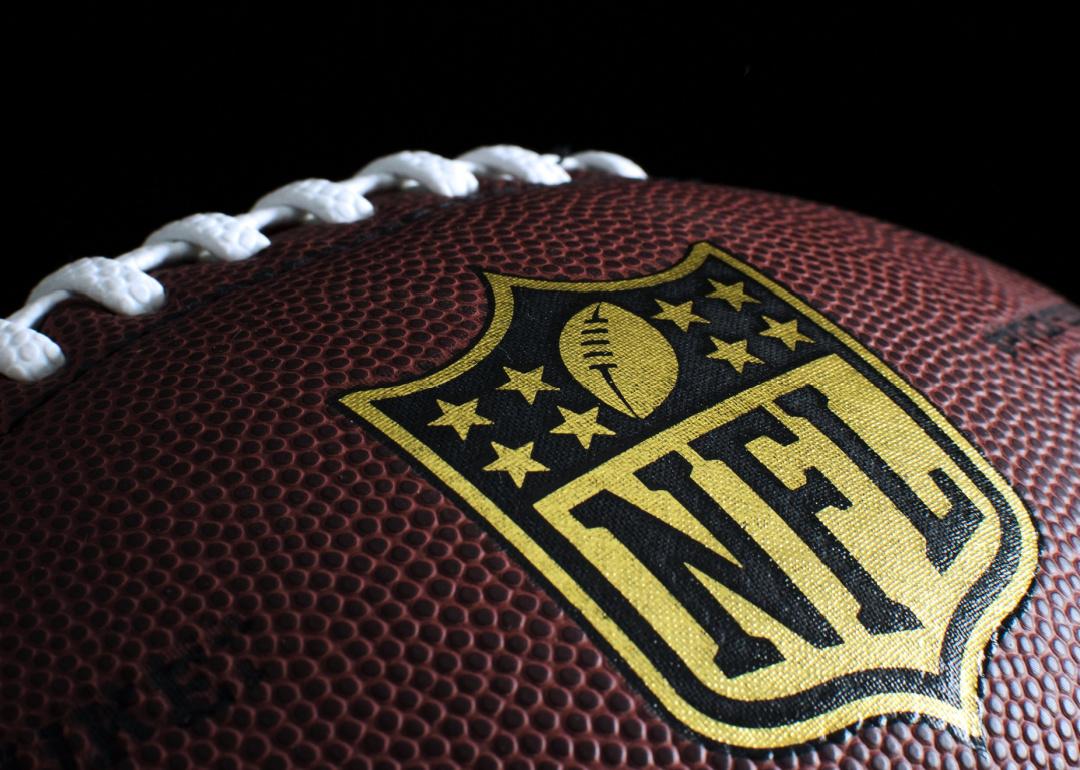 Best seasons in Seattle Seahawks history
Twin Design // Shutterstock
Best seasons in Seattle Seahawks history
With over a century of history that dates back to 1920, the NFL has plenty of memorable seasons.
In the 2016 season, for instance, Tom Brady was suspended his first four games before he orchestrated a miraculous 28-3 comeback to cap the year in the Super Bowl. Then there's the 1985 Chicago Bears and their Super Bowl Shuffle. The 2004 season saw a trio of astounding feats, with Peyton Manning breaking Dan Marino's long-standing passing touchdown record, a rookie quarterback leading Pittsburgh to a 15-1 record, and Philadelphia's Terrell Owens lighting up the league at wide receiver before a broken leg ended his regular season. The strike seasons of 1982 and 1987 were memorable in their own, unique ways, too. And who could forget the 1972 Miami Dolphins, the only team to win a Super Bowl with a perfect record.
It's hard to single out the best NFL season—and harder still to try and qualify or quantify what "best" really is.
But what about the best seasons of a single team? Can we determine the best seasons in a team's history?
To a degree, that's quantifiable, and where this list comes in. Stacker compiled the top 10 best seasons in Seattle Seahawks history using Pro-Football-Reference.com data that goes back to the first NFL season in 1920. Seasons were ranked based on how far the team progressed in the playoffs in a particular year. Any ties were broken first by each season's regular season record, then by net points per game. Supplemental data points include the team's head coach and, for years after 1931, top passers, rushers, and receivers of specific seasons.
Read on through to find out which seasons count as the Seattle Seahawks' best. Of course, there's wiggle room to define what makes a season one of the "best"—take a peek below to see if you agree with how the rankings played out.
#10. 2007
- Regular season record: 10-6
- Playoffs: Lost in divisional round
- Points per game: 24.6
- Opponent points per game: 18.2
- Net points per game: 6.4
- Head coach: Mike Holmgren
- Top passer: Matt Hasselbeck
- Top rusher: Shaun Alexander
- Top receiver: Bobby Engram
#9. 2015
- Regular season record: 10-6
- Playoffs: Lost in divisional round
- Points per game: 26.4
- Opponent points per game: 17.3
- Net points per game: 9.1
- Head coach: Pete Carroll
- Top passer: Russell Wilson
- Top rusher: Thomas Rawls
- Top receiver: Doug Baldwin
#8. 2016
- Regular season record: 10-5-1
- Playoffs: Lost in divisional round
- Points per game: 22.1
- Opponent points per game: 18.3
- Net points per game: 3.9
- Head coach: Pete Carroll
- Top passer: Russell Wilson
- Top rusher: Christine Michael
- Top receiver: Doug Baldwin
#7. 2019
- Regular season record: 11-5
- Playoffs: Lost in divisional round
- Points per game: 25.3
- Opponent points per game: 24.9
- Net points per game: 0.4
- Head coach: Pete Carroll
- Top passer: Russell Wilson
- Top rusher: Chris Carson
- Top receiver: Tyler Lockett
#6. 2012
- Regular season record: 11-5
- Playoffs: Lost in divisional round
- Points per game: 25.8
- Opponent points per game: 15.3
- Net points per game: 10.4
- Head coach: Pete Carroll
- Top passer: Russell Wilson
- Top rusher: Marshawn Lynch
- Top receiver: Sidney Rice
#5. 1984
- Regular season record: 12-4
- Playoffs: Lost in divisional round
- Points per game: 26.1
- Opponent points per game: 17.6
- Net points per game: 8.5
- Head coach: Chuck Knox
- Top passer: Dave Krieg
- Top rusher: David Hughes
- Top receiver: Steve Largent
#4. 1983
- Regular season record: 9-7
- Playoffs: Lost in conference championship
- Points per game: 25.2
- Opponent points per game: 24.8
- Net points per game: 0.4
- Head coach: Chuck Knox
- Top passer: Dave Krieg
- Top rusher: Curt Warner
- Top receiver: Steve Largent
#3. 2014
- Regular season record: 12-4
- Playoffs: Lost in Super Bowl
- Points per game: 24.6
- Opponent points per game: 15.9
- Net points per game: 8.8
- Head coach: Pete Carroll
- Top passer: Russell Wilson
- Top rusher: Marshawn Lynch
- Top receiver: Doug Baldwin
#2. 2005
- Regular season record: 13-3
- Playoffs: Lost in Super Bowl
- Points per game: 28.3
- Opponent points per game: 16.9
- Net points per game: 11.3
- Head coach: Mike Holmgren
- Top passer: Matt Hasselbeck
- Top rusher: Shaun Alexander
- Top receiver: Bobby Engram
#1. 2013
- Regular season record: 13-3
- Playoffs: Won Super Bowl
- Points per game: 26.1
- Opponent points per game: 14.4
- Net points per game: 11.6
- Head coach: Pete Carroll
- Top passer: Russell Wilson
- Top rusher: Marshawn Lynch
- Top receiver: Golden Tate