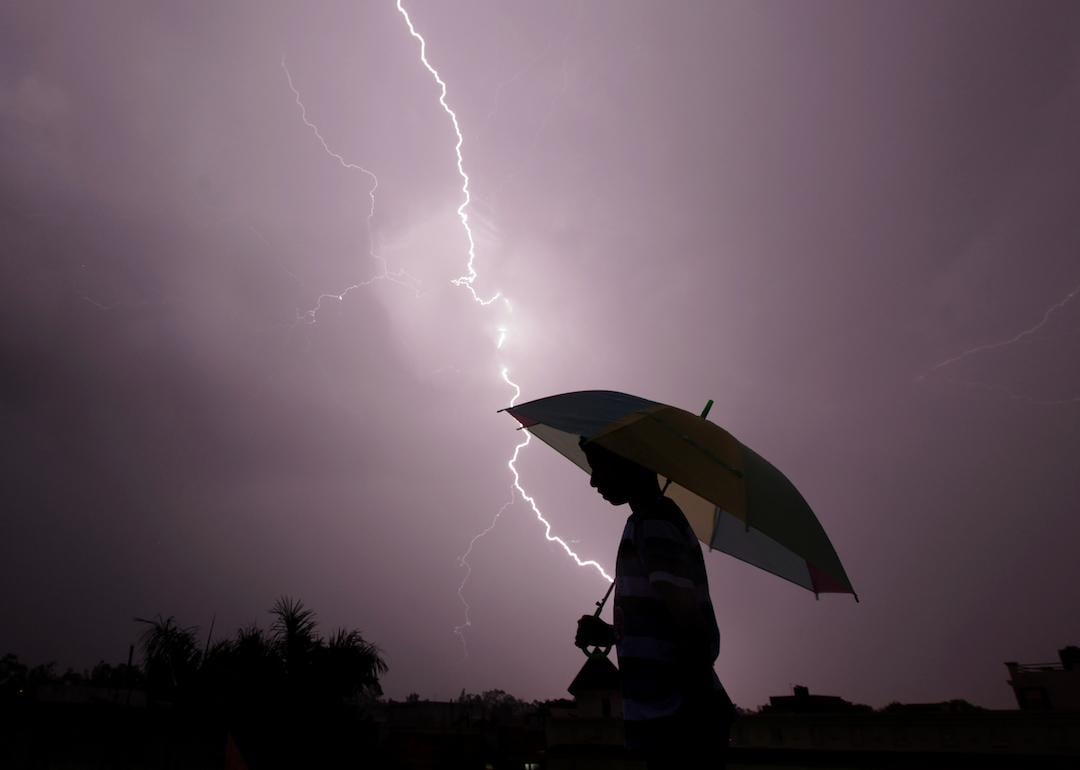 50 common weather terms, explained
Rakesh Bakshi // AFP via Getty Images
50 common weather terms, explained
In the year 350 B.C., the Greek philosopher Aristotle gave one of the earliest descriptions of weather patterns in a text called "Meteorologica." It included some of mankind's first attempts to observe and record natural phenomena like water evaporation and earthquakes. Although it was a far cry from the Weather Channel, "Meteorologica" was the start of something that had eluded human beings for time immemorial: the ability to understand—and even predict—the weather.
Modern weather forecasting is a $7 billion a year industry—and for good reason. Despite all the advanced technology of modern society, humans are still pretty much at the mercy of the elements. America's GDP can fluctuate by more than $1.34 trillion depending on the weather. In 2020 alone, more than 60,000 weather events killed 585 people in the United States and injured more than 1,700 more with flash floods, tropical storms, heat, tornadoes, ice storms, and thunderstorms doing most of the damage.
Weather forecasters are easy targets because, like football referees, people tend to take notice only when they get it wrong. The reality, however, is that meteorologists are right in astonishing percentages. When weathermen and women issue seven-day forecasts, they're accurate about 80% of the time—90% for five-day forecasts. If someone had told Aristotle that human beings would one day be able to accurately predict the weather nine times out of 10, five days in advance, he likely would have laughed at their overactive imagination.
It's important to note that "climate" and "weather" are not interchangeable terms. Weather describes the short-term—day-to-day and hour-to-hour—state of the atmosphere, including temperature, precipitation, wind, and visibility. Climate, on the other hand, measures average weather patterns over several decades. Global-warming deniers often cite anomalies like warm spells in the winter as evidence backing their point of view, when they are referencing the weather, not the climate.
Stacker used a variety of scientific sources to compile a list of 50 common weather terms. Here's a look at the phrases, words, and terminology that dominate weather reports, which are correct far more frequently than the people who craft them are given credit for.
You may also like: Notable weather events from the year you were born