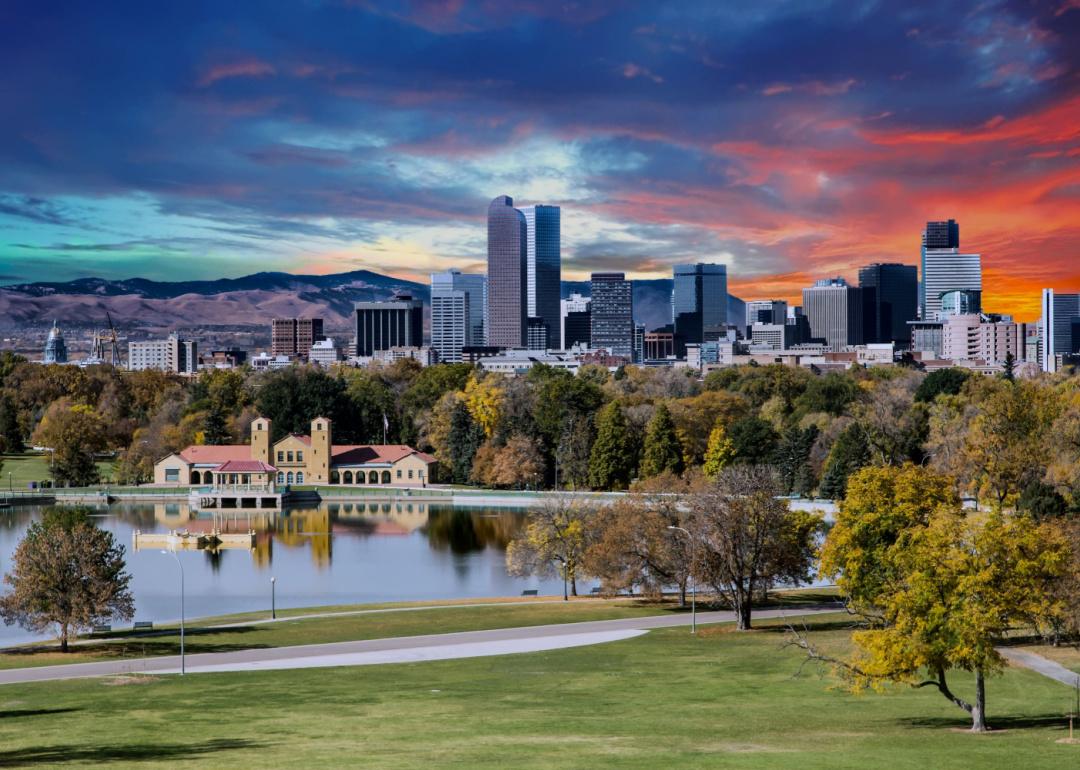 Stacker Studio
Major cities with the biggest projected water shortages by 2040
Darryl Brooks // Shutterstock
Major cities with the biggest projected water shortages by 2040
Cities around the world satiate people's thirst for entertainment, culture, and opportunity. Yet many will eventually fail to quench the simple thirst for water.
The World Health Organization predicts that half of the people in the world will reside in water-stressed areas by 2025 as a result of rising temperatures, growing populations, water scarcity, and other factors. The World Resources Institute predicts that by 2040, 33 nations will experience extremely high water stress.
Sublet.com, owned by Nestpick Inc, ranked 20 cities from across the globe according to their projected water shortage ratios in 2040 as part of Nestpick's 2050 Climate Change City Index. The water shortage ratio shows the raw demand versus supply ratio, where a ratio of 1.0 indicates that water supply matches demand in a city. A ratio below 1.0 signifies that the supply exceeds the demand, and a ratio above 1.0 indicates demand outweighs supply. The water shortage relative increase is the percent increase in the water stress ratio between 2020 and 2040. If the water shortage ratio decreased between 2020 and 2040, the relative increase is shown as 0%. Learn more about how Nestpick calculates the relative increase percentage by reading its index methodology.
Water shortages are not new to the majority of these cities. After facing years of supply dips fueled by dry spells, overuse, and other issues, they have already been devising strategies for preserving their water access—some of which have stirred controversy. Keep reading to discover which major cities are predicted to the biggest projected water shortages between 2020 and 2040.
1 / 20
#20. San Francisco
- Water shortage ratio in 2020: 0.99
- Projected water shortage ratio in 2040: 1.05
While the drought this year threatens water resources across California, San Francisco remains at a stable 75% capacity with residential water use there below the state average. Citizens were asked to curtail their use by 6%, and other irrigation users were asked to decrease their usage as well, according to Calmatters, foregoing restrictions. That is despite the threat of severe drought in the San Francisco Bay area and water restrictions in nearby communities.
San Francisco is helped in weathering droughts by its stable water sources—the Tuolumne, Alameda, and Peninsula watersheds—and a water agreement allowing the city to store water at the Don Pedro reservoirs. The supplies at Hetch Hetchy reservoir within the Tuolumne, which supplies San Francisco with 85% of its water, have shrunk each year in the past few years, but not to unmanageable levels, according to the San Francisco Chronicle.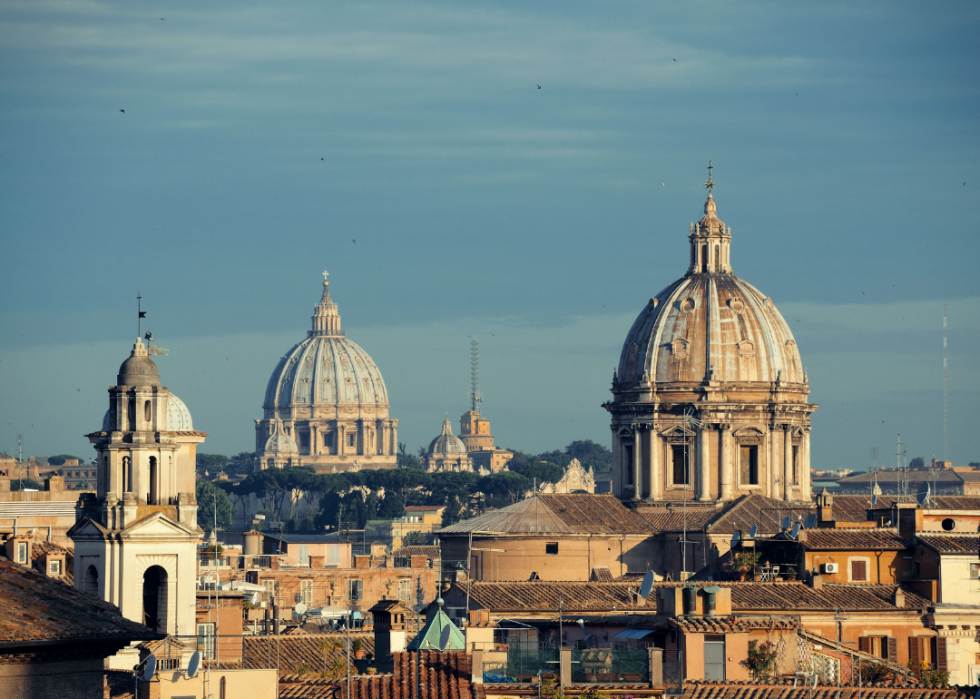 2 / 20
#19. Rome
- Water shortage ratio in 2020: 0.93
- Projected water shortage ratio in 2040: 1.06
Water resources for Italy's capital, home of the revolutionary and civilization-building aqueduct, have been plagued by abnormally dry weather and infrastructure deficiencies in recent years. In 2017, widespread drought fueled by high temperatures and a lack of rain and snow cover forced the city to reduce water pressure and close 2,500 drinking fountains to conserve water. The city, which draws its water from springs, also was almost forced to ration water that year.
As Romans face water stress from global warming, they—along with the rest of Italy's population—have to contend with water infrastructure that leaks about 3 billion cubic meters of water each year nationwide. Rome, which has been losing about 40% of its water, upgraded more than 3,000 miles of pipes as of last year.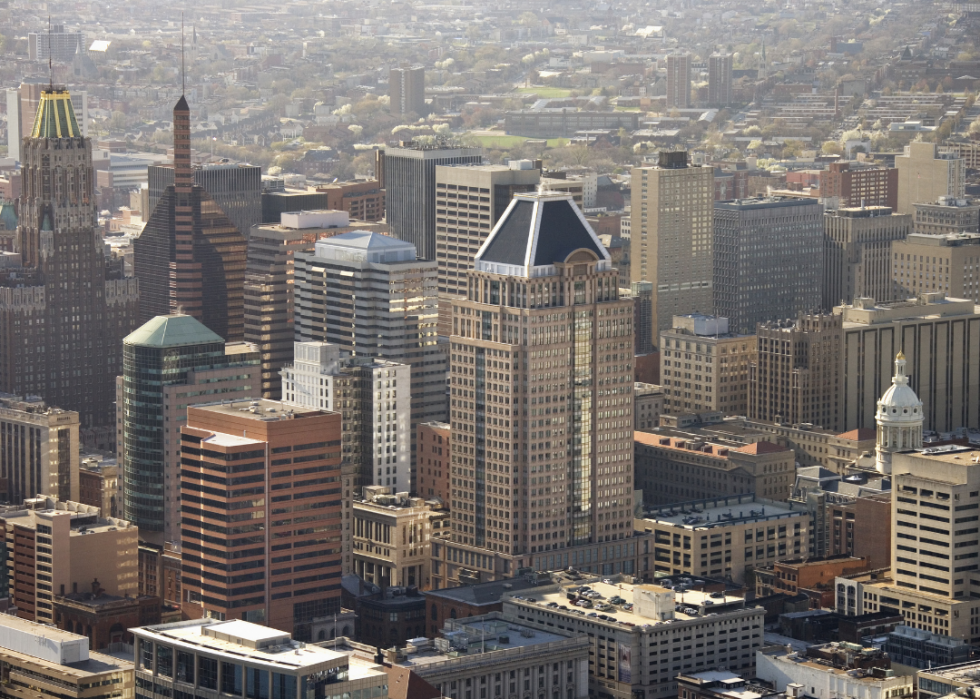 3 / 20
#18. Baltimore
- Water shortage ratio in 2020: 1.38
- Projected water shortage ratio in 2040: 1.43
Baltimore faces threats to its water infrastructure and quality, as well as high costs for residents. Increased temperatures will also increase water demand and could strain water supply systems, according to the state Department of Natural Resources. Residents are paying higher water and sewer fees to help the city deal with its ailing infrastructure, and the NAACP found in 2018 that Black neighborhoods were hurt more by increased billing, which is compounded by broken water meters that deny the city of its due revenue.
The city's sustainability plan calls for investments to incentivize efforts to retrofit housing to become more energy- and water-efficient. Advocacy groups like the Baltimore Right to Water Coalition and Food and Water Watch have pushed for the implementation of the Water Accountability and Equity Act to help protect residents' from unsustainable water fees.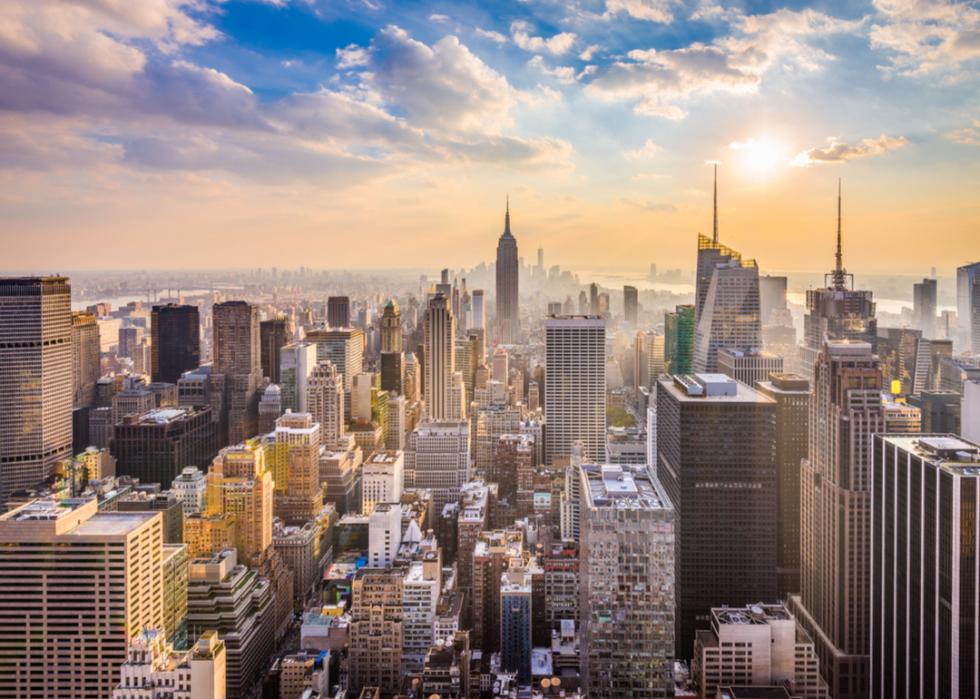 4 / 20
Sean Pavone // Shutterstock
#17. New York
- Water shortage ratio in 2020: 1.62
- Projected water shortage ratio in 2040: 1.65
New York City siphons more than 1 billion gallons of water a day for its residents from upstate watersheds, a supply threatened by increased droughts in that region, exacerbated by climate change and infrastructure issues over the years. The Delaware Aqueduct, for example, leaked up to 35 million gallons of water daily until repairs were made in 2019.
The water quality of New York City water, which is unfiltered, also is at risk. By 2050, all 14 wastewater recovery resource facilities will be at least partially below base flood elevation, threatening possible wastewater pollution as a result of flood damage. City officials have continued investing toward its $100 billion, 10-year OneNYC initiative, which includes improvements to water and sewer infrastructure and climate resilience. Efforts like this to protect its water resources will prevent the Environmental Protection Agency from requiring the city to spend $8–$12 billion toward constructing—and about $350 million annually for maintaining—water filtration systems for two of its watersheds.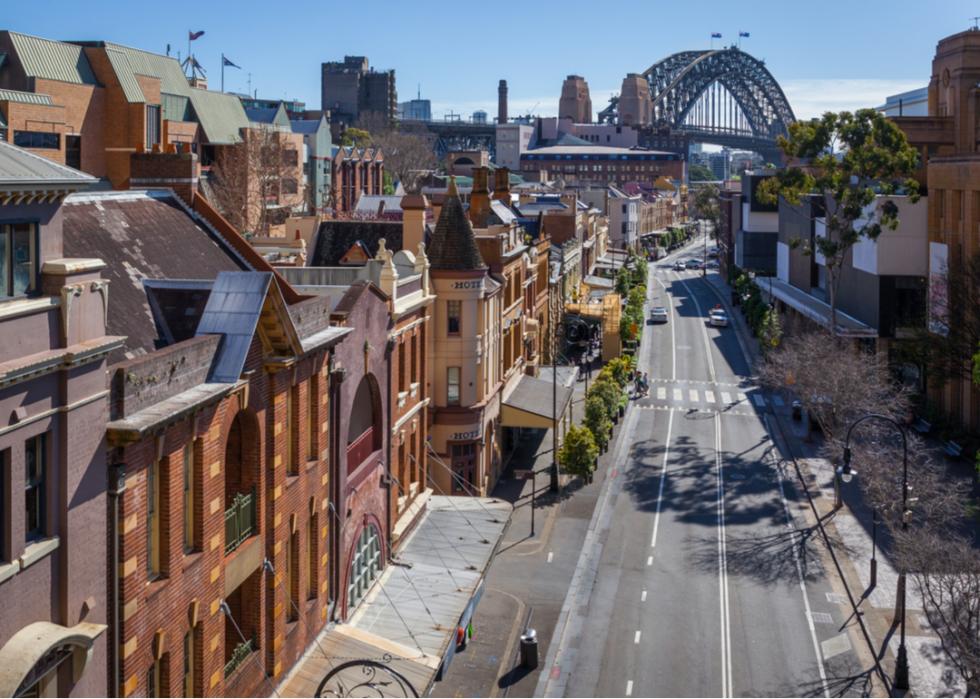 5 / 20
Maurizio De Mattei // Shutterstock
#16. Sydney
- Water shortage ratio in 2020: 1.56
- Projected water shortage ratio in 2040: 1.95
Government officials failed to adapt the water infrastructure of the country's largest city to increased drought from climate change and population growth. The New South Wales auditor general found that Sydney Water Corp. and the Department of Planning, Industry and Environment failed to adequately assess water resources, implement conservation initiatives, and support water resources with the necessary funding since the implementation of the Metropolitan Water Plan in 2017.
The lack of investment coincided with 34 months of abnormal dryness across the nation from January 2017 to October 2019. The associated record-breaking heat and drought significantly dwindled Sydney's water supply in 2019, forcing the city to implement water restrictions that lasted more than a year. Following the inspector general's report, the New South Wales planning department and Sydney Water both committed to improved water conservation efforts.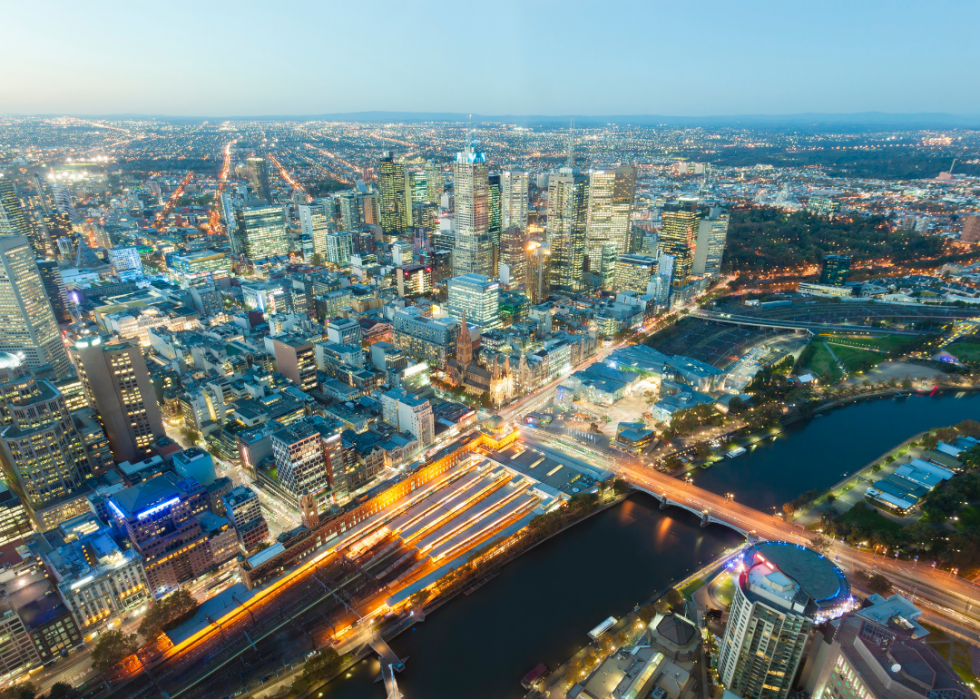 6 / 20
#15. Melbourne, Australia
- Water shortage ratio in 2020: 1.20
- Projected water shortage ratio in 2040: 2.01
A 2017 analysis from Melbourne Water found that demand for water could exceed supply in Melbourne by 2028, and the city could face a water crisis by 2050.
Like Sydney, Melbourne's growing population—which could double by 2065—and worsening droughts threaten the city's water supply. Higher temperatures, longer dry spells, and more intense storms, all influenced by climate change, shake up the stability of the water supply by creating more volatile rainfall scenarios. An uptick in bushfires also brings more pressure to Melbourne's water systems.
In response, Melbourne Water plans to expand its recycled water initiatives, including refilling reservoirs and partnering with companies and communities to increase the amount of stormwater being harvested.
7 / 20
#14. Cape Town, South Africa
- Water shortage ratio in 2020: 1.95
- Projected water shortage ratio in 2040: 2.19
Cape Town almost reached a Day Zero event—when the water would be shut off due to dwindling supply—during a 2018 drought, and some believe the second-largest city in South Africa might face another in the future. In 2018, a combination of city-mandated use tariffs and prohibitions on nonessential uses, a new water pressure system, habit changes among users, and a return to normal rainfall, among other factors, helped Cape Town dodge Day Zero.
The city faces the very real threat of harsher, multi-day droughts, including the possibility of droughts similar to 2018 occurring two or three times a decade due to climate change, according to researchers in 2020 at Stanford University and the National Oceanic and Atmospheric Administration (NOAA). To help alleviate water stress, Cape Town in 2020 began siphoning groundwater from a nearby aquifer, plans to fund invasive species removal from its waterways, and intends to secure backup water sources by forming partnerships with large users outside of the city.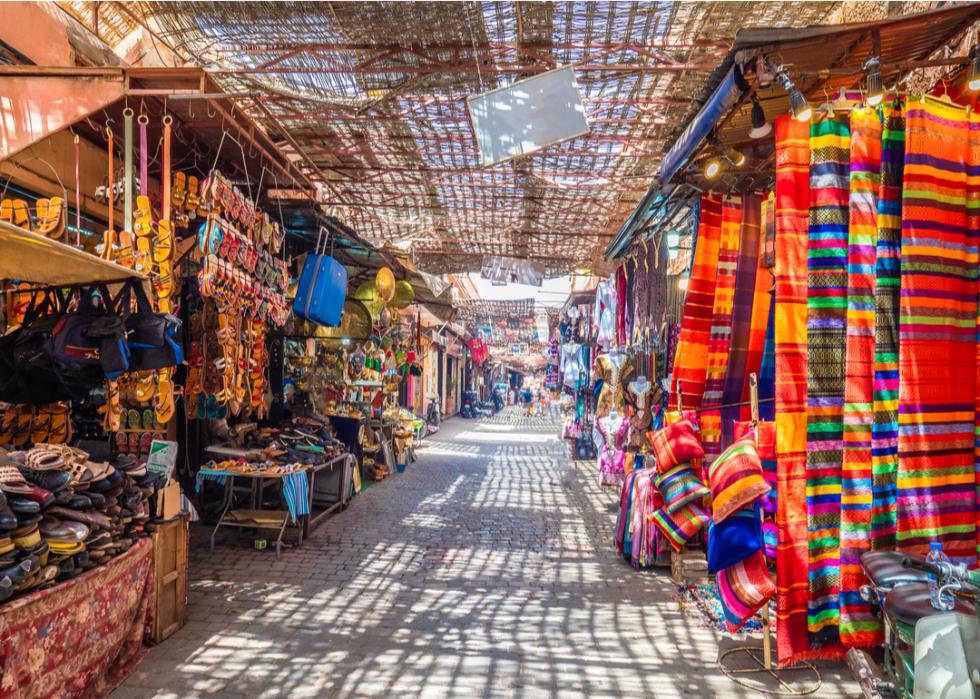 8 / 20
Balate Dorin // Shutterstock
#13. Marrakesh, Morocco
- Water shortage ratio in 2020: 1.54
- Projected water shortage ratio in 2040: 2.47
Marrakesh is striving to find more water sources to keep its residents' taps flowing. Faced with growing threats of climate change and low groundwater quantity and quality, the city in 2016 partnered with the World Bank and the Water Partnership program on a multi-year effort to mitigate the effects of climate change. Among these goals are options for enhanced water security such as stormwater capture, or using either stormwater or treated wastewater to artificially recharge an aquifer. These efforts follow droughts in the city and nation that caused significant water shortages and prompted funding allocations to affected farmers.
Morrocan officials also plan to build infrastructure in and around Marrakesh. Upgrades will be made to Marrakesh's ​Station Nord ​Wastewater ​Treatment Plant so it can reuse wastewater for landscaping and golf course irrigation.​ Officials also plan to build seawater distillation plants near the city and several dams to amplify the nation's water resources.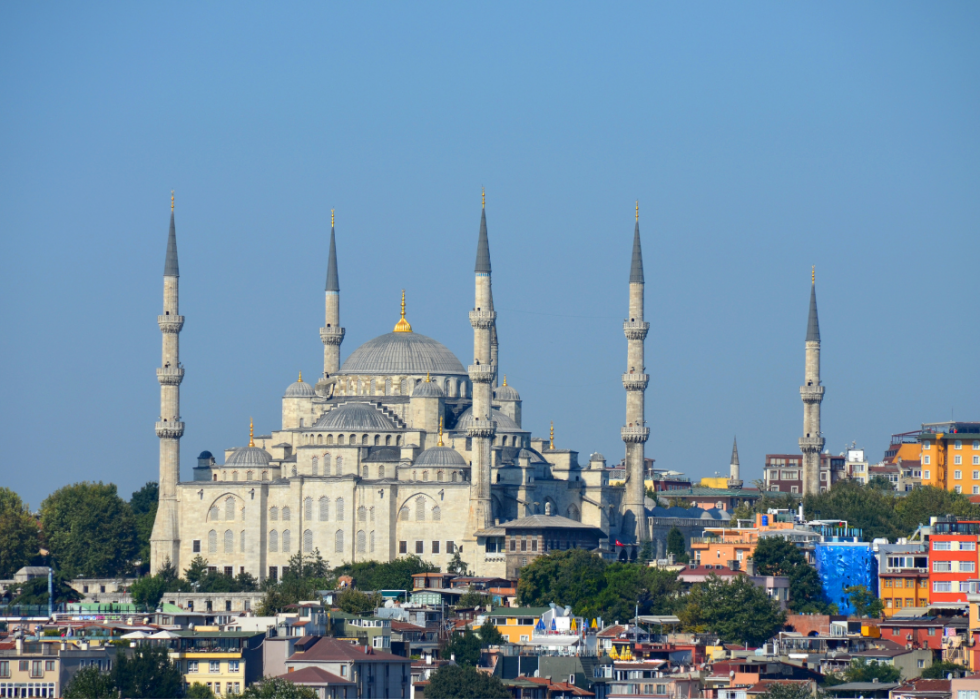 9 / 20
#12. Istanbul
- Water shortage ratio in 2020: 1.54
- Projected water shortage ratio in 2040: 2.78
Istanbul braced for a possible depletion of its water in early 2021 as it experienced the most severe drought to hit Turkey in a decade. A rare precipitation event alleviated water supply concerns for the cities in Turkey, with Istanbul receiving enough to last nearly eight months without any other rain or snow as of March.
Droughts and water supply issues are not new to Istanbul. A higher rate of droughts with growing severity in the last 40 years is exacerbated by industrialization alongside booming populations and related sprawl. In response to increased drought risk from climate change, Istanbul plans to launch a control center for improved water supply monitoring and to mandate the implementation of cisterns in new buildings to harvest stormwater and groundwater. It also has plans for a large-scale dam project on the Melen River that would help to meet the city's water supply needs.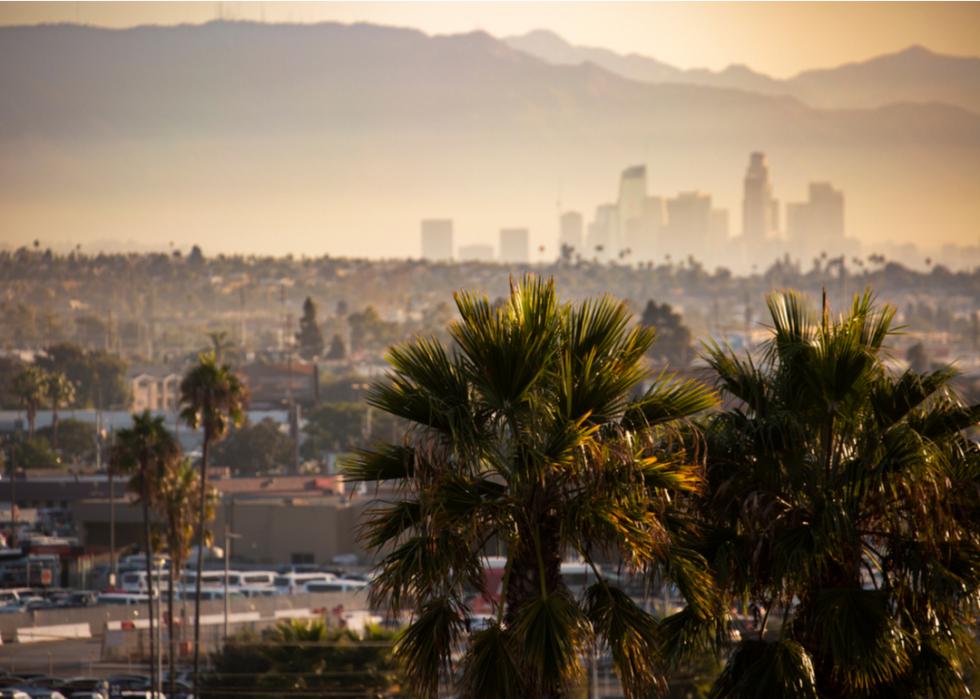 10 / 20
Matt Gush // Shutterstock
#11. Los Angeles
- Water shortage ratio in 2020: 3.63
- Projected water shortage ratio in 2040: 3.34
California Gov. Gavin Newsom on July 8 expanded a regional state of emergency for 50 counties in wake of a drought that threatens water supplies, but Los Angeles was not among those listed. According to Calmatters, a wet year and decreases in water use over time brought "record levels of water in storage" for the Metropolitan Water District, which supplies water to Los Angeles and five other counties.
Despite the arid nature of southern California, a combination of water sources—including imported water, recycled wastewater, and nurtured groundwater—has helped Los Angeles endure droughts, the publication reported. However, droughts fueled by climate change, an overall drop in rain and snowpack, a large population, and leaks from faulty infrastructure threatened Los Angeles' water supply in the long term. In 2018, Los Angeles County passed Measure W, kickstarting an effort to devise ways to harness rainwater for its water supply, among other efforts.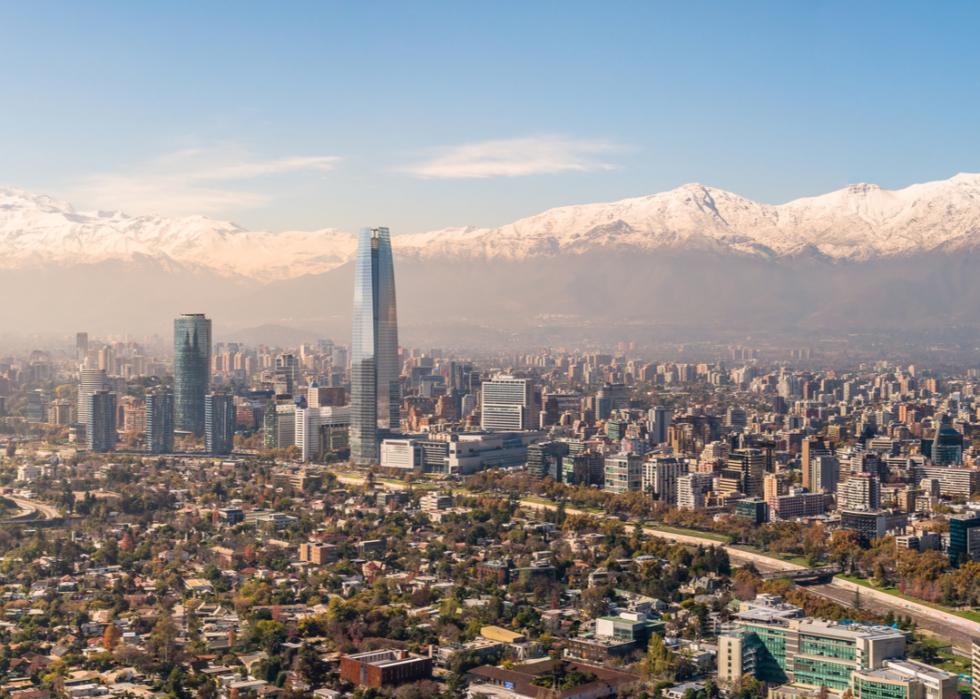 11 / 20
Pakawat Thongcharoen // Shutterstock
#10. Santiago, Chile
- Water shortage ratio in 2020: 1.64
- Projected water shortage ratio in 2040: 3.51
Analyses in the last decade project Santiago may lose 40% of its available water by 2070, with a population increase in the coming years expected to compound the city's water scarcity.
Declining precipitation and record-breaking heat with a glacial retreat in Chile have dramatically shrunk Santiago's water supply: The city received just 10% to 20% of its average rainfall in recent years. Santiago and the rest of Chile are also in the midst of a more than decade-long megadrought, one of the worst droughts in recent history.
Throughout Chile, a minimally regulated, market-driven water supply system has allowed companies to privatize the water supply and raise water costs for residents. Increased rates have already driven many small farmers to abandon operations and citizens to protest the federal government and demand constitutional revisions to end privatization. Meanwhile, Chilean officials have proposed increasing oversight of water providers.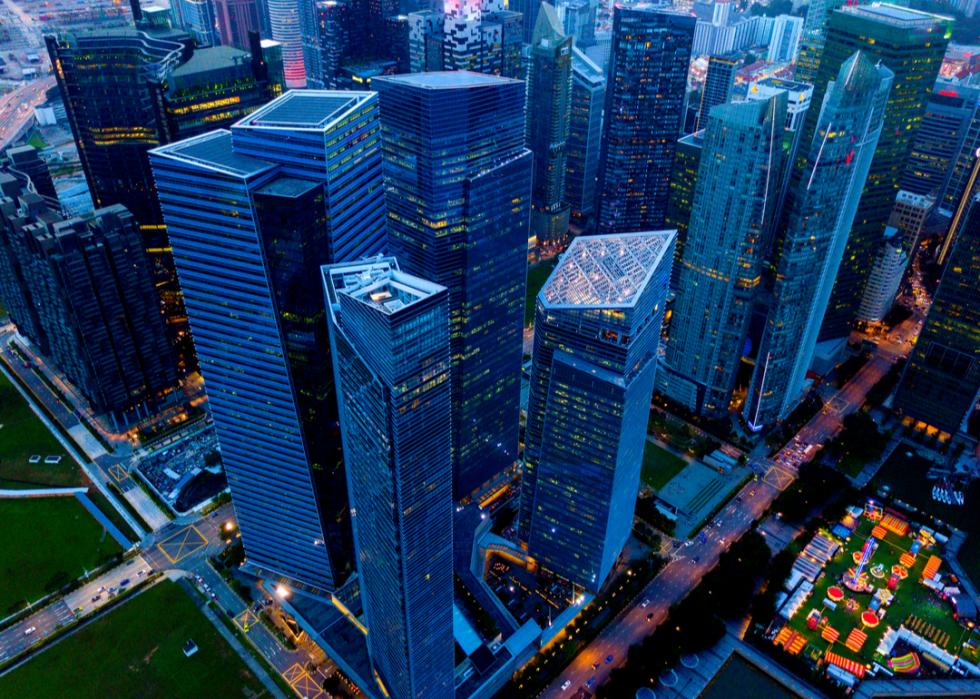 12 / 20
fotogenicstudio // Shutterstock
#9. Singapore
- Water shortage ratio in 2020: 3.24
- Projected water shortage ratio in 2040: 3.57
Singapore is among the top water-stressed countries in the world. Drought can hamper its supply, while intense rainfall can "overwhelm our drainage system and lead to flash floods," according to the National Climate Change secretariat.
The federal government expects that the nation's water use—430 million gallons per day—could double to 860 million gallons by 2060, even as its resources face stress from climate change. To address the growing need for more water resources, officials struck a deal with Malaysia to import water, have begun building facilities that provide reclaimed and desalinated water, and conducted a campaign to encourage citizens to reduce their water usage.
Imports from Malaysia could be in jeopardy, however, as an agreement between the two nations is set to expire in 2061 and officials from both nations are embattled over costs, which could result in arbitration.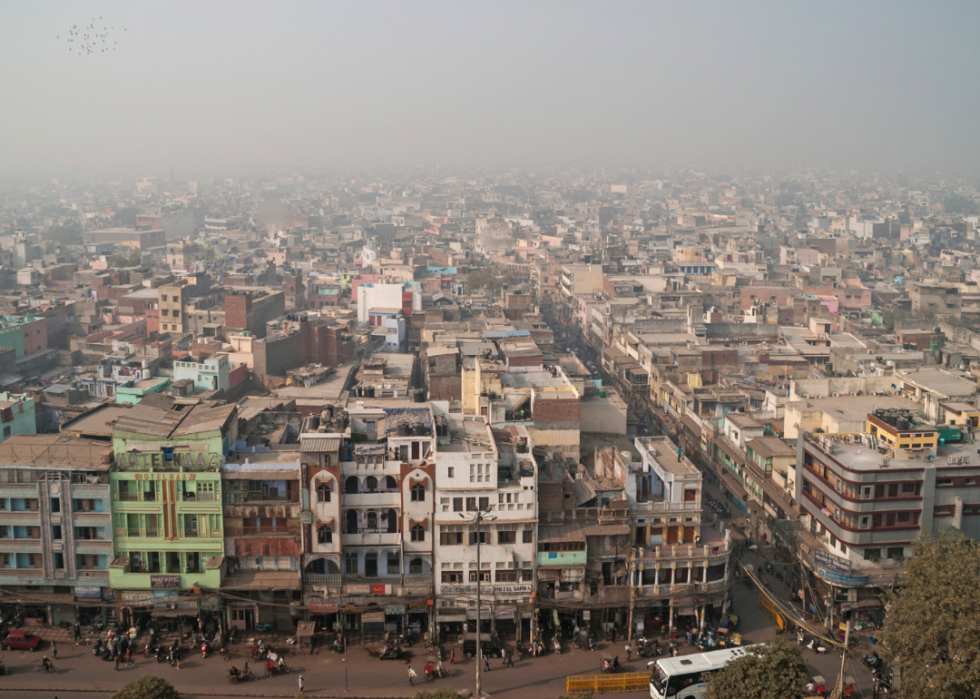 13 / 20
#8. Delhi, India
- Water shortage ratio in 2020: 4.53
- Projected water shortage ratio in 2040: 3.97
Water shortages are common in the city, caused by a lack of raw supply, repair work, contamination, and other issues. The city, and much of India, face dirty and scarce water resources in part due to groundwater depletion and drought.
Threats to the country's water supplies could cause farms—most of which are not irrigated—to shutter and put citizens' food supplies at risk, according to Circle of Blue. Health problems are also anticipated as farmers turn to untreated water when wells run dry.
A shortage in May due to reduced water supply from neighboring states, along with contamination, affected hospitals at a time when cases of COVID-19 were spiking. When the city neared a Day Zero event in 2020, residents fought and killed each other over tanker water and had to borrow money to pay for illegally obtained supplies—including those provided by the so-called "water mafia."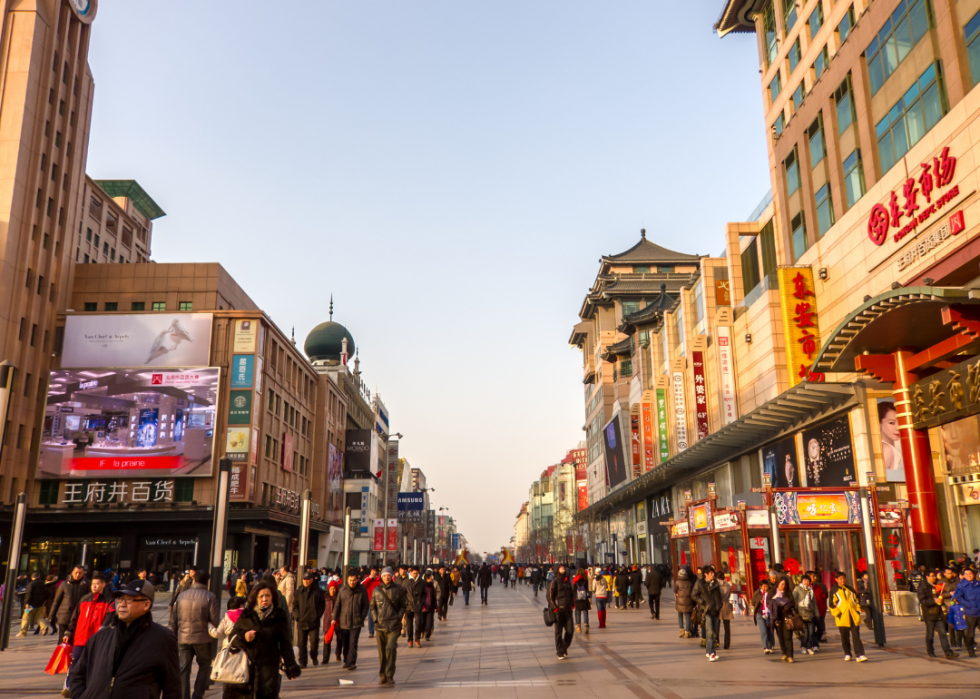 14 / 20
#7. Beijing
- Water shortage ratio in 2020: 4.91
- Projected water shortage ratio in 2040: 4.23
Beijing's aquifers are diminishing from excessive use, and about 40% of its water was too polluted as of 2017. The nation's capital, like much of the nation, has been experiencing abnormally dry weather, including a 116-day drought that lasted from October 2017 to February 2018.
In recent years, resource-management issues have also inhibited access to an ample supply of water in Beijing. Three heavily industrialized provinces in the northern portion of the country—Beijing, Tianjin, and Hebei—only received enough water to provide each resident below 184 cubic meters annually, lower than the 500 cubic meter limit for water scarcity defined by the United Nations, according to Earth.org.
One attempt to solve the capital's water woes has been the construction of the South-to-North water diversion project, a 2,700-mile-long series of aqueducts to transport enough water from southern China to supply 70% of the city's water, according to Circle of Blue. However, some fear demand will outweigh supply considering growing industries, a rising city population, and the construction of a new city southwest of the capital that will house 5.4 million residents.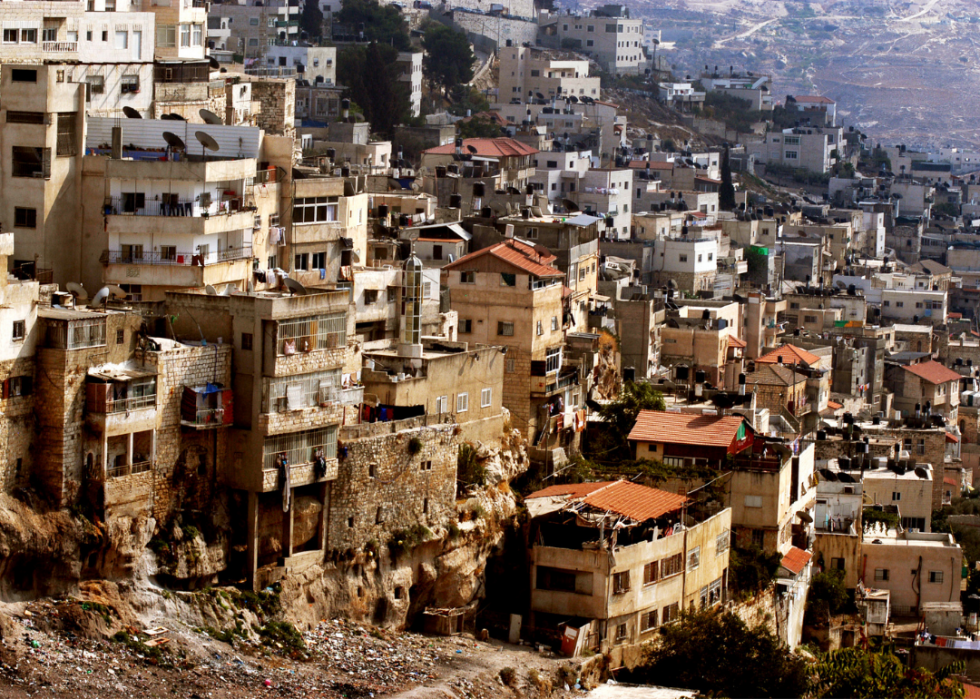 15 / 20
#6. Jerusalem
- Water shortage ratio in 2020: 3.52
- Projected water shortage ratio in 2040: 5.27
Chronic water shortages in Israel have evolved into a crisis, as the water deficit may soon leave the population without enough water for household and municipal needs. According to the Israel Ministry of Foreign Affairs, years of drought, aquifer resources becoming brackish or polluted as they dwindle, increased demand from a growing population, and a lack of action played roles in the nation's lack of water.
Shortages have prompted Israeli officials to reduce water allocations to the agriculture industry, causing a decline in production, the ministry reported. Israel has tried to combat the problem over the years by erecting desalination plants, with the facilities providing 40% of the nation's drinking water. The national government hopes to build more plants to supply 70% of the national water supply, but some fear that the country will still face problems unless additional conservation efforts are taken and the costs and national security risks posed by them outweigh the good, according to the Associated Press.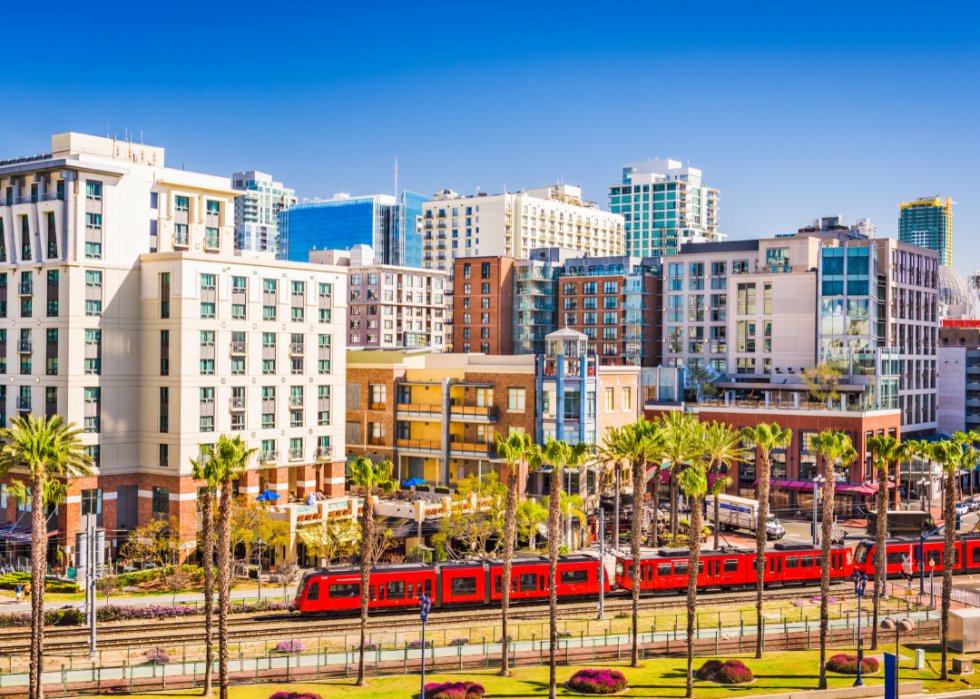 16 / 20
#5. San Diego
- Water shortage ratio in 2020: 5.77
- Projected water shortage ratio in 2040: 5.42
Drought, population growth, and the overdrawing of water from its resources over the years have hurt San Diego's ability to adequately provide water for its residents. Growing concern about its water supply prompted officials in there to shift gears on how water is obtained and used.
In the last several decades, investments were made to bolster the city's resources. These include the construction of desalination and recycled water facilities, the pumping of groundwater, and the capture of stormwater. Officials also plan to erect a new wastewater-to-drinking water recycling system named Pure Water, which is expected to provide as much as 43% of the city's water.
The San Diego County Water Authority has predicted these investments—along with reduced water consumption by citizens and businesses along with mandates for more water-efficient housing—San Diego will be able to endure droughts and enjoy ample water until 2045.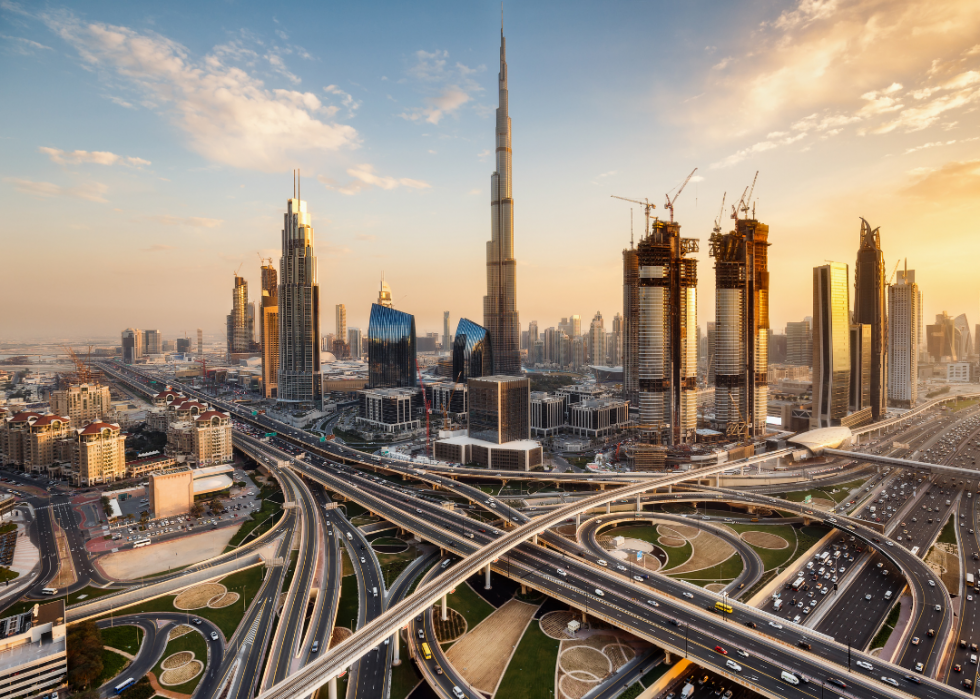 17 / 20
#4. Dubai, United Arab Emirates
- Water shortage ratio in 2020: 7.08
- Projected water shortage ratio in 2040: 8.01
Dubai's significantly reduced water supply was caused by rapid urbanization, a spike in population, and droughts brought about and worsened by climate change.
In the wake of the city's growth and a lack of sufficient rain, Dubai turned to desalinated seawater from the Arabian Gulf, which provides 89.9% of its water supply today. Desalination isn't a cure-all, however: It can be costly, pose harmful effects to human health and the environment, and has resulted in the overuse of water resources throughout the Middle East. The United Arab Emirates, which has among the highest rates of water consumption per capita worldwide, is in danger of diminishing its natural freshwater repositories in about 50 years, according to the Water Project.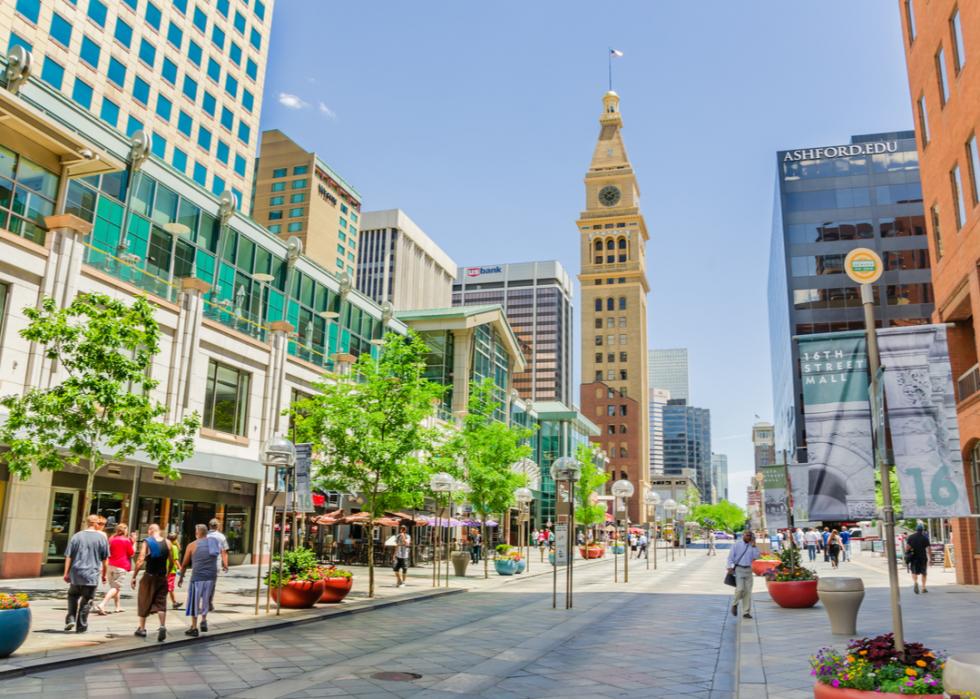 18 / 20
Albert Pego // Shutterstock
#3. Denver
- Water shortage ratio in 2020: 14.88
- Projected water shortage ratio in 2040: 18.28
Denver relies on snowmelt to fuel its water repositories. Rising global temperatures are causing earlier snowmelt that leaves the city with less available water in the summer and fall.
Pollution from runoff and wildfires also affect the city's available water. In 2014, Denver Water, which provides water to the city, found that if temperatures increase by 5 degrees Fahrenheit, water supplies could decrease by 20%. At the same time, the utility predicted that a city population growth of one-third by 2024 would cause an annual deficit of 34,000 acre-feet of water, which is the amount needed annually to support 225,000 people.
In response, Denver Water aims to expand the Gross Reservoir, a controversial project, as well as other efforts involving increased storage, reuse, and efficiency.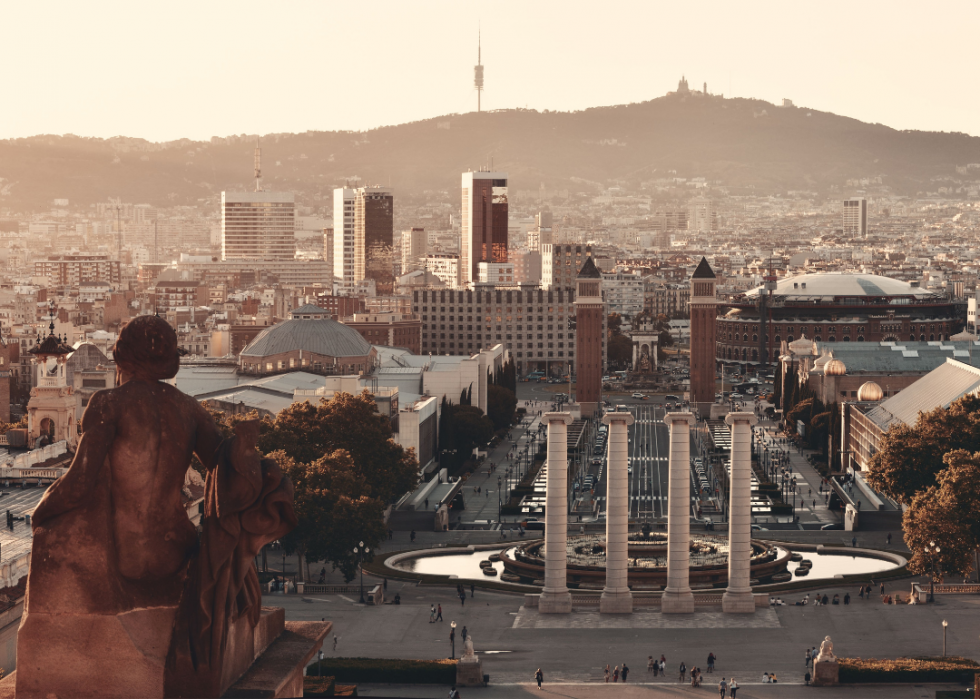 19 / 20
#2. Barcelona, Spain
- Water shortage ratio in 2020: 31.82
- Projected water shortage ratio in 2040: 35.98
The possibility of more frequent droughts fueled by climate change puts Barcelona's water supply in jeopardy, as drought has done for years.
In 2008, the driest year in Spain on record, reservoir supplies for Barcelona plummeted, forcing the city to import water from France. Following another nationwide drought in 2017, Barcelona implemented a drought protocol that provided planned actions to take for various scenarios that "optimize water without restricting basic services, such as reducing water pressure and substituting safe water with groundwater for watering parks and gardens, street cleaning, and other uses," according to Info Barcelona.
The city also adopted its Climate Action Plan with initiatives to mitigate water shortages and, according to Circle of Blue, has plans to modernize its water system. At the same time, water usage in the city and Spain overall has declined from 2008 to 2016, in part due to system repairs to decrease leakage, efficiency updates for households, and behavioral changes.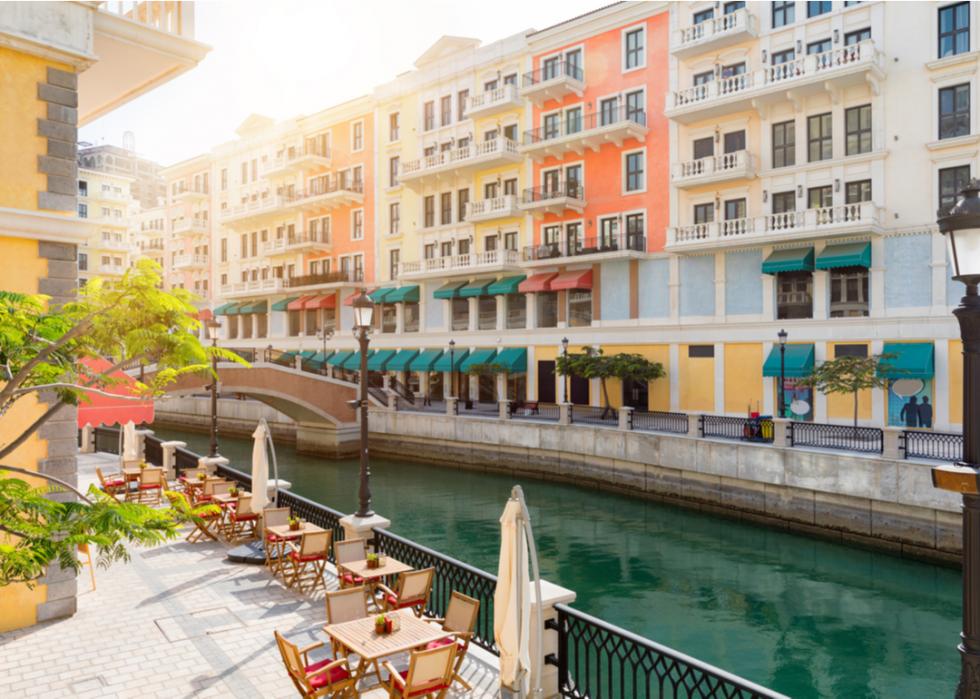 20 / 20
Sven Hansche // Shutterstock
#1. Doha, Qatar
- Water shortage ratio in 2020: 51.77
- Projected water shortage ratio in 2040: 51.21
Qatar is experiencing more water stress than any nation and stands alongside 16 other countries that possess extremely high baselines for water stress. The country also is predicted to stand among the most water-stressed in 2040.
Qatar lacks natural water supplies and experiences unpredictable rainfall, yet it possesses one of the highest domestic water consumption rates globally. A more arid climate and rising sea levels, which can contaminate aquifers by imbuing them with salt, threaten Qatar's water supplies, and a growing population will strain them.
To help address the issue, the country aims to build more desalination plants, particularly ones that use solar power for greater energy efficiency, cease groundwater extraction, and replenish aquifers with desalinated water, wrote Katherine Korein in her story "Qatar Water Scarcity: Tackling the Global Water Crisis." In Doha, officials plan to build a reservoir that they say will bolster the city's water supply from three days to a week at any given time.
This story was produced and distributed in partnership with Stacker Studio.
This story originally appeared on and was produced and distributed in partnership with Stacker Studio.