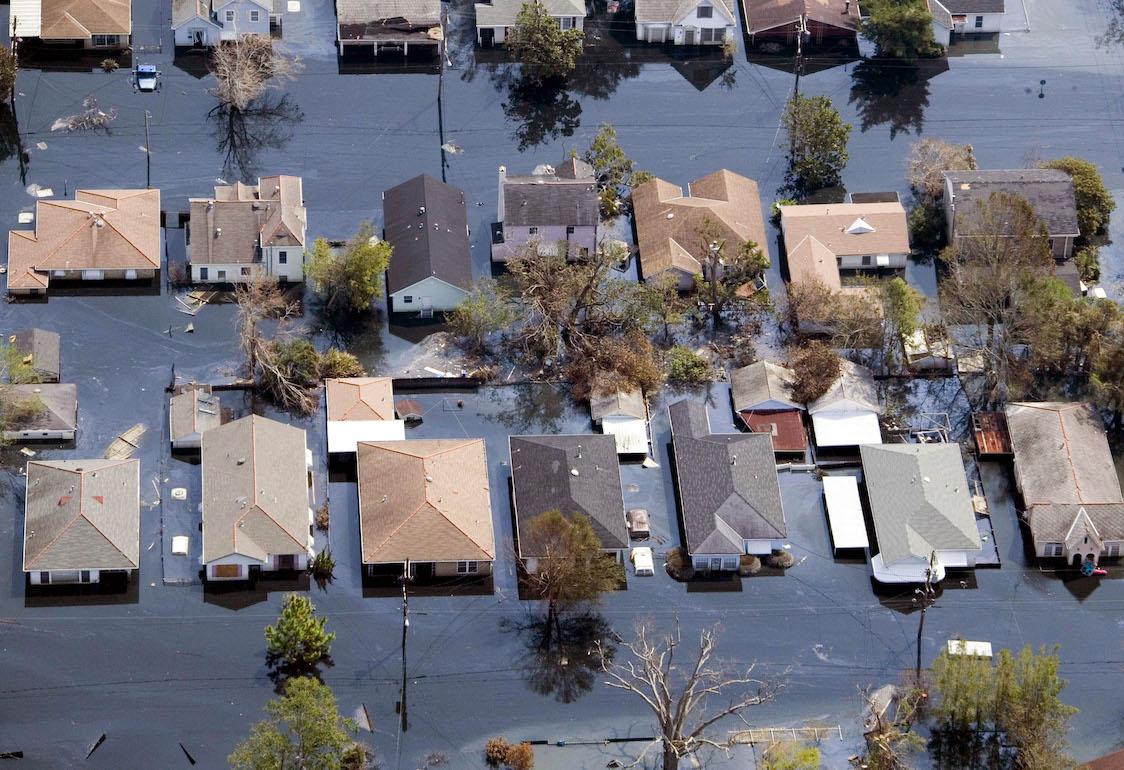 States with the highest risk of flooding
Jerry Grayson/Helifilms Australia PTY Ltd // Getty Images
States with the highest risk of flooding
It's spring, which means for much of the U.S., it's flood season. Warnings and watches have been pouring in from across the country, including current ones in Ohio, Illinois, Wisconsin, Idaho, Kansas, Oregon, Missouri, and more. And that's after earlier floods have already devastated communities this season—in Texas, two children and their mother were killed by a flash flood near a usually small creek. Some Iowa towns spent weeks underwater after the Missouri River flooded in March. Meanwhile, West Virginia and Louisiana are still struggling to recover after major floods from more than two years ago.
While it may seem like almost all of the country is at risk for being plunged underwater at any second, the flooding risk actually varies by state. Stacker wanted to know: which states are most likely to flood? In order to determine a ranking, we harnessed 2011 data from the Federal Emergency Management Agency's National Flood Hazard Layer and the agency's Designated Special Flood Hazard Area (SFHA) estimates. The National Flood Hazard Layer is a national database used to calculate the percentage of each county in the U.S. that qualifies as an SFHA; SFHA regions have a 1% annual chance of flooding.
All of the statistics were found through the CDC's National Environmental Public Health Tracking Network. Stacker first assessed the data provided on the county level, then added up all threatened land within each county to determine how much land was under threat in each state. The resulting ranking shows the states in order, from lowest to highest, of the percentage of each within FEMA's Designated Special Flood Hazard Area.
Although we may continually be fighting flooding events—and even more so as the climate continues to change—we are at least able to take some steps forward in predicting and combating them. Scientists are starting to use drones, supercomputers, and sonar to predict where rivers will overflow and to help monitor flood control projects. Generally speaking, we have a glimmer of hope.
Read on to find out how your state ranks.
You may also like: Most extreme temperatures in the history of every state
#51. Alaska
Percentage of state within flood hazard area: 0.5%
Total flood hazard area: 1,286 square miles (#42 among all states)
#50. Wyoming
Percentage of state within flood hazard area: 1.6%
Total flood hazard area: 1,462 square miles (#41 among all states)
#49. Hawaii
Percentage of state within flood hazard area: 1.81%
Total flood hazard area: 124 square miles (#50 among all states)
#48. Idaho
Percentage of state within flood hazard area: 1.89%
Total flood hazard area: 1,589 square miles (#39 among all states)
#47. Montana
Percentage of state within flood hazard area: 1.89%
Total flood hazard area: 2,485 square miles (#32 among all states)
#46. Colorado
Percentage of state within flood hazard area: 2.04%
Total flood hazard area: 1,890 square miles (#38 among all states)
#45. Utah
Percentage of state within flood hazard area: 2.72%
Total flood hazard area: 1,944 square miles (#37 among all states)
#44. Nevada
Percentage of state within flood hazard area: 2.74%
Total flood hazard area: 2,981 square miles (#28 among all states)
#43. New Mexico
Percentage of state within flood hazard area: 2.76%
Total flood hazard area: 2,966 square miles (#29 among all states)
#42. Oregon
Percentage of state within flood hazard area: 3.32%
Total flood hazard area: 3,231 square miles (#26 among all states)
#41. North Dakota
Percentage of state within flood hazard area: 3.36%
Total flood hazard area: 1,993 square miles (#36 among all states)
#40. Arizona
Percentage of state within flood hazard area: 3.52%
Total flood hazard area: 4,014 square miles (#21 among all states)
#39. South Dakota
Percentage of state within flood hazard area: 3.89%
Total flood hazard area: 2,217 square miles (#34 among all states)
#38. West Virginia
Percentage of state within flood hazard area: 4.02%
Total flood hazard area: 975 square miles (#44 among all states)
#37. Michigan
Percentage of state within flood hazard area: 4.67%
Total flood hazard area: 2,534 square miles (#31 among all states)
#36. Washington
Percentage of state within flood hazard area: 4.73%
Total flood hazard area: 3,247 square miles (#25 among all states)
#35. Pennsylvania
Percentage of state within flood hazard area: 5.29%
Total flood hazard area: 2,398 square miles (#33 among all states)
#34. Ohio
Percentage of state within flood hazard area: 6.9%
Total flood hazard area: 2,855 square miles (#30 among all states)
#33. California
Percentage of state within flood hazard area: 7.2%
Total flood hazard area: 11,434 square miles (#5 among all states)
#32. Minnesota
Percentage of state within flood hazard area: 7.2%
Total flood hazard area: 5,627 square miles (#16 among all states)
#31. Vermont
Percentage of state within flood hazard area: 7.33%
Total flood hazard area: 705 square miles (#45 among all states)
#30. New Hampshire
Percentage of state within flood hazard area: 7.43%
Total flood hazard area: 690 square miles (#46 among all states)
#29. New York
Percentage of state within flood hazard area: 7.53%
Total flood hazard area: 3,715 square miles (#24 among all states)
#28. Iowa
Percentage of state within flood hazard area: 8.17%
Total flood hazard area: 4,541 square miles (#18 among all states)
#27. Nebraska
Percentage of state within flood hazard area: 8.88%
Total flood hazard area: 5,450 square miles (#17 among all states)
#26. Maine
Percentage of state within flood hazard area: 9.04%
Total flood hazard area: 3,058 square miles (#27 among all states)
#25. Kansas
Percentage of state within flood hazard area: 9.1%
Total flood hazard area: 6,487 square miles (#13 among all states)
#24. Kentucky
Percentage of state within flood hazard area: 9.63%
Total flood hazard area: 3,879 square miles (#22 among all states)
#23. Virginia
Percentage of state within flood hazard area: 9.83%
Total flood hazard area: 4,043 square miles (#20 among all states)
#22. Connecticut
Percentage of state within flood hazard area: 10.14%
Total flood hazard area: 511 square miles (#47 among all states)
#21. Oklahoma
Percentage of state within flood hazard area: 10.28%
Total flood hazard area: 7,075 square miles (#11 among all states)
#20. Wisconsin
Percentage of state within flood hazard area: 10.29%
Total flood hazard area: 5,746 square miles (#15 among all states)
#19. Indiana
Percentage of state within flood hazard area: 10.32%
Total flood hazard area: 3,737 square miles (#23 among all states)
#18. Tennessee
Percentage of state within flood hazard area: 10.5%
Total flood hazard area: 4,424 square miles (#19 among all states)
#17. Texas
Percentage of state within flood hazard area: 10.97%
Total flood hazard area: 27,752 square miles (#1 among all states)
#16. Massachusetts
Percentage of state within flood hazard area: 11.77%
Total flood hazard area: 993 square miles (#43 among all states)
#15. Illinois
Percentage of state within flood hazard area: 12.27%
Total flood hazard area: 6,916 square miles (#12 among all states)
#14. Rhode Island
Percentage of state within flood hazard area: 14.78%
Total flood hazard area: 172 square miles (#49 among all states)
#13. Alabama
Percentage of state within flood hazard area: 14.93%
Total flood hazard area: 7,736 square miles (#10 among all states)
#12. Missouri
Percentage of state within flood hazard area: 15.06%
Total flood hazard area: 10,415 square miles (#7 among all states)
#11. Georgia
Percentage of state within flood hazard area: 15.19%
Total flood hazard area: 8,963 square miles (#8 among all states)
#10. North Carolina
Percentage of state within flood hazard area: 17.13%
Total flood hazard area: 8,765 square miles (#9 among all states)
#9. District of Columbia
Percentage of state within flood hazard area: 17.71%
Total flood hazard area: 12 square miles (#51 among all states)
#8. Delaware
Percentage of state within flood hazard area: 19.12%
Total flood hazard area: 391 square miles (#48 among all states)
#7. Maryland
Percentage of state within flood hazard area: 19.17%
Total flood hazard area: 2,097 square miles (#35 among all states)
#6. South Carolina
Percentage of state within flood hazard area: 19.2%
Total flood hazard area: 5,993 square miles (#14 among all states)
#5. New Jersey
Percentage of state within flood hazard area: 19.27%
Total flood hazard area: 1,517 square miles (#40 among all states)
#4. Arkansas
Percentage of state within flood hazard area: 22.57%
Total flood hazard area: 12,051 square miles (#4 among all states)
#3. Mississippi
Percentage of state within flood hazard area: 23.14%
Total flood hazard area: 11,068 square miles (#6 among all states)
#2. Florida
Percentage of state within flood hazard area: 40.08%
Total flood hazard area: 23,976 square miles (#3 among all states)
#1. Louisiana
Percentage of state within flood hazard area: 50.56%
Total flood hazard area: 24,792 square miles (#2 among all states)