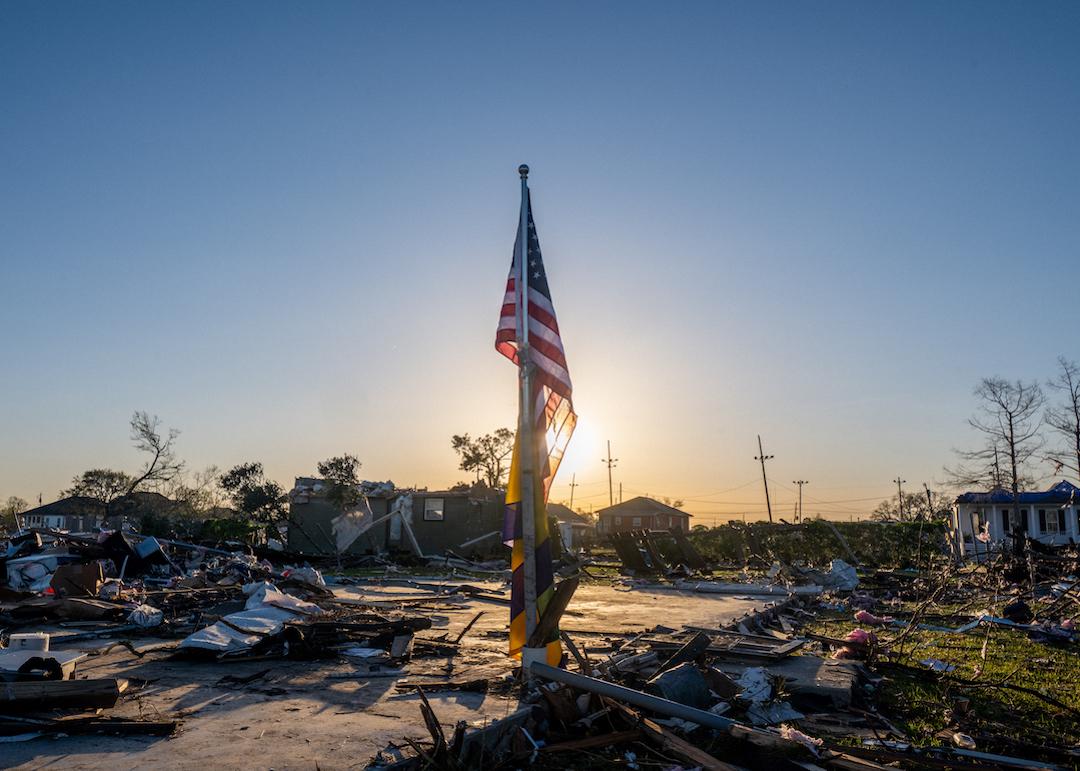 States with the most severe summer weather
Brandon Bell // Getty Images
States with the most severe summer weather
With summer weather comes the sun, more daylight, and rumbling midday thunderstorms, but occasionally the scales tip toward the extreme. And as the planet continues to get warmer every year, expect the dog days of summer to bring more weird weather phenomenons and intense storms. Take, for example, California's LNU Lightning Complex fire—which by Aug. 26 had already burned more than 350,000 acres—or dual storms that formed over the Gulf in August, one of which has developed into a hurricane and is expected to make landfall late on Aug. 26 as a Category 4.
The number of heat waves has been steadily increasing, with the number of hot spells tripling the long-term average as recently as 2011 and 2012. The amount of heavy torrential downpours has also been rising, especially since 1991. In some regions, including the Northeast, Midwest, and Great Plains, downpours are over 30% above the 1901–1960 average. Since warm air contains more water vapor than cold air, excess moisture finds its way into storm systems, causing more torrential rain.
Climate change exacerbates weirder-than-normal weather, interfering with ocean currents, lending extra heat to tornadoes, extending droughts, and intensifying flooding. In 2011, four out of five Americans claimed to have experienced extreme weather, while more than a third experienced personal harm from natural disasters.
Still, certain spots in the United States are more favorable to summer storms than others. While Miami might be a warm refuge in the winter, its summer heat and humidity are almost unbearable, and the city ranks ninth out of the top 10 cities most likely to be hit by a tropical storm or hurricane. Meteorologists also recommend avoiding New Orleans, Dallas, Mobile, and Corpus Christi during the summer months.
Using May 2020 data from the National Oceanic and Atmospheric Administration's Storm Events Database, Stacker ranked each state—and the District of Columbia and Puerto Rico—by the total property damage because of summer weather occurrences from 2009 to 2019. It classified a summer weather event if it happened in June, July, August, or September.
Keep reading to discover which states have the most severe summer weather.
You may also like: States with the most hailstorms