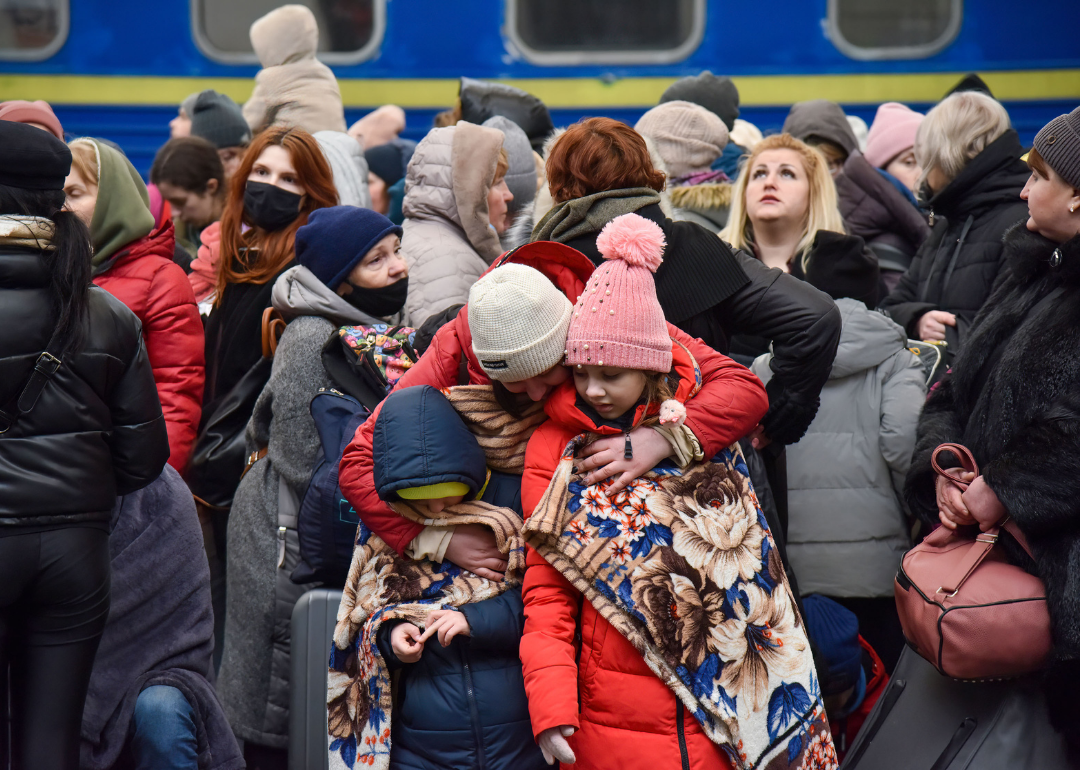 Countries accepting the most Ukrainian refugees
Pavlo Palamarchuk/SOPA Images/LightRocket via Getty Images
Countries accepting the most Ukrainian refugees
Since Russia's Feb. 24 invasion of Ukraine, millions of Ukrainians have fled their country and escaped to surrounding Eastern and Central European nations in droves. As of March 31, over 4 million, or about 10% of all Ukrainians, had left.
The massive scale and rapidity of the exodus out of Ukraine is unprecedented in recent European history and was last seen during World War II. The escalating refugee crisis highlights the welcoming attitudes of other European countries toward Ukrainian refugees, particularly among nations that have historically taken an antirefugee stance.
Understanding why Vladamir Putin invaded Ukraine is, in some ways, tied to where refugees are going. In 2004, Ukraine's Orange Revolution set the country on a new path, politically and culturally aligning with Western Europe rather than Russia. After Kremlin-backed Ukrainian leader Viktor Yanukovych was overthrown in 2014, Putin seized Ukraine's Crimea Peninsula, giving Russia control over the economically and militarily important Sevastopol naval base.
Ever since, Putin has sought other ways to regain control over Ukraine, stoking pro-Russian separatist movements in eastern Ukraine and circulating rumors that Ukrainian President Volodymyr Zelenskiy's government is full of neo-Nazis. Leading up to the invasion, Ukraine tied itself closer to European powers like the European Union and NATO. Just before invading, Putin claimed his aims were to "demilitarize" Ukraine, while at the same time officially recognizing the pro-Russian separatist groups.
Now, Ukrainian refugees are fleeing to neighboring countries, many of which were also formerly part of the Soviet Union, and who have since joined NATO and the EU. Some analysts believe this shared history, as well as shared defiance of Putin, has led many Europeans to embrace Ukrainian refugees. However, there is a stark difference in Europe's reception of refugees from Ukraine in contrast to refugees from the Middle East, Africa, and Asia.
According to a survey of 18,000 people across 15 European countries, factors like religion, language skills, and country of origin of potential refugees impact how many Europeans evaluate who is worthy of being granted safety and asylum. Bulgarian Prime Minister Kiril Petkov put it explicitly when he said of Ukrainian refugees, "These people are Europeans. These people are intelligent, they are educated people. ... This is not the refugee wave we have been used to…"
Other countries have also pledged to aid Ukraine in its efforts to fight back Russian forces and accept refugees. President Joe Biden has announced $1 billion in military aid and promised the U.S. would accept up to 100,000 refugees fleeing the crisis. Germany broke its long-standing policy of not sending weapons to conflict zones and has promised to aide Ukraine. The EU granted Ukrainian refugees a temporary residence permit that removes the need for them to request asylum in any EU member country, allowing them to move freely throughout Europe.
To determine which countries have taken in the most people fleeing Ukraine since fighting broke out Feb. 24, Stacker compiled refugee data (last updated April 3) from the United Nations High Commissioner for Refugees. The UNHCR compiles these statistics from several government sources from each country, primarily looking at border crossing data, but since the war between Russia and Ukraine is ongoing, these numbers are only estimates and does not consider refugees who have passed through one country to get to another. The only exception are refugees who have crossed the border between Moldova and Romania.
You may also like: Where US refugees come from—and why