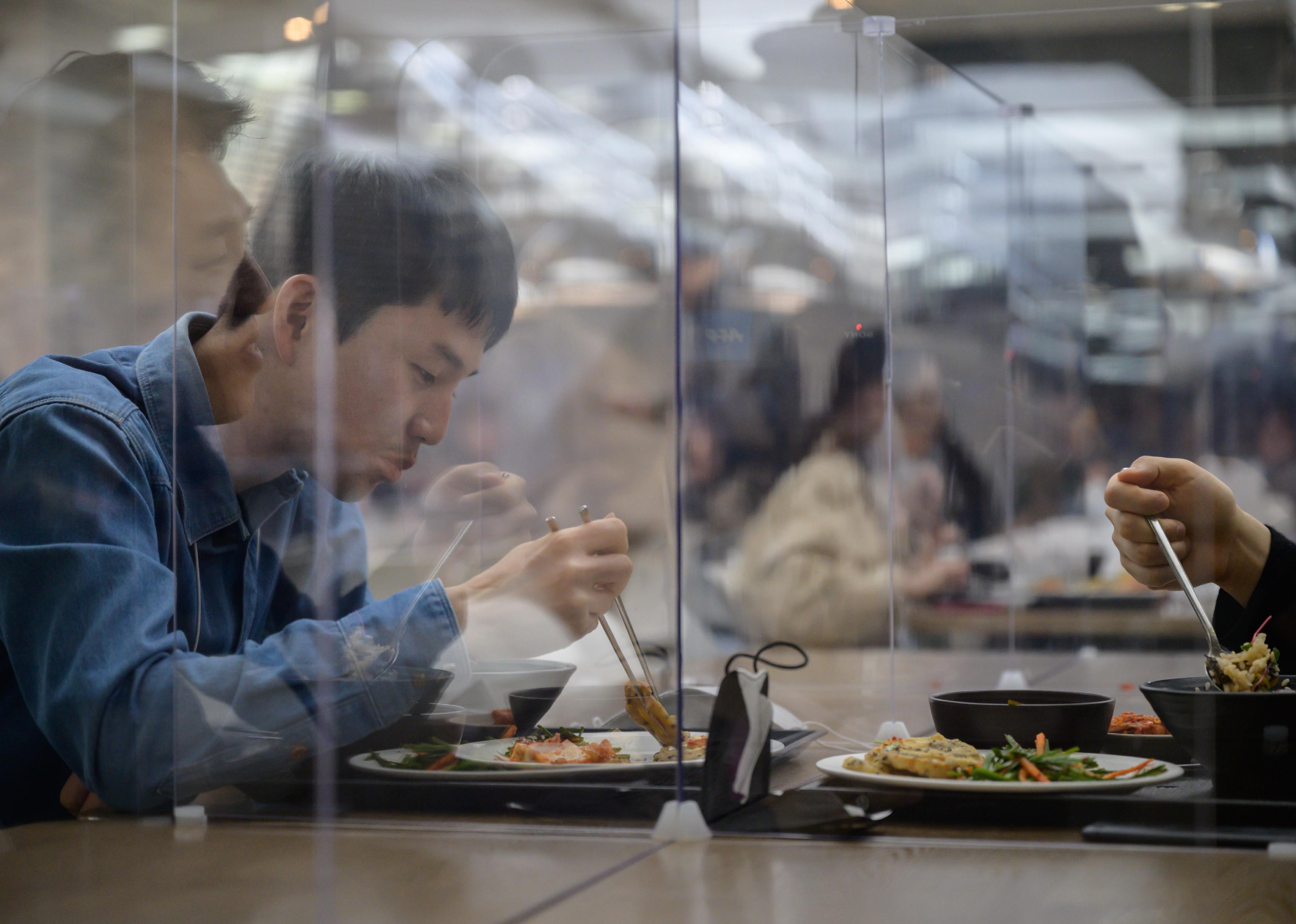 New normal: What reopening looks like around the world
ED JONES/AFP via Getty Images
New normal: What reopening looks like around the world
COVID-19 lockdowns are lifting, and the world we are emerging into looks different. Normal life as we knew it before the pandemic must adjust to mitigate the risk of future outbreaks. That means a world that looks and feels maybe a little less human.
The way we dine out, shop, learn, and worship are all being adapted to a new normal, a new way of existing in a socially distant world—if only temporarily. 
For now, clouds of disinfectant, hazmat suits over professional suits, and temperature scans are among the new everyday protocols in place to help us along the way in redefining normal life. 
Click through to see images from around the world curated by Stacker, depicting how life is changing in the wake of COVID-19. 
You may also like: Quaranchella: How music is lifting spirits during the pandemic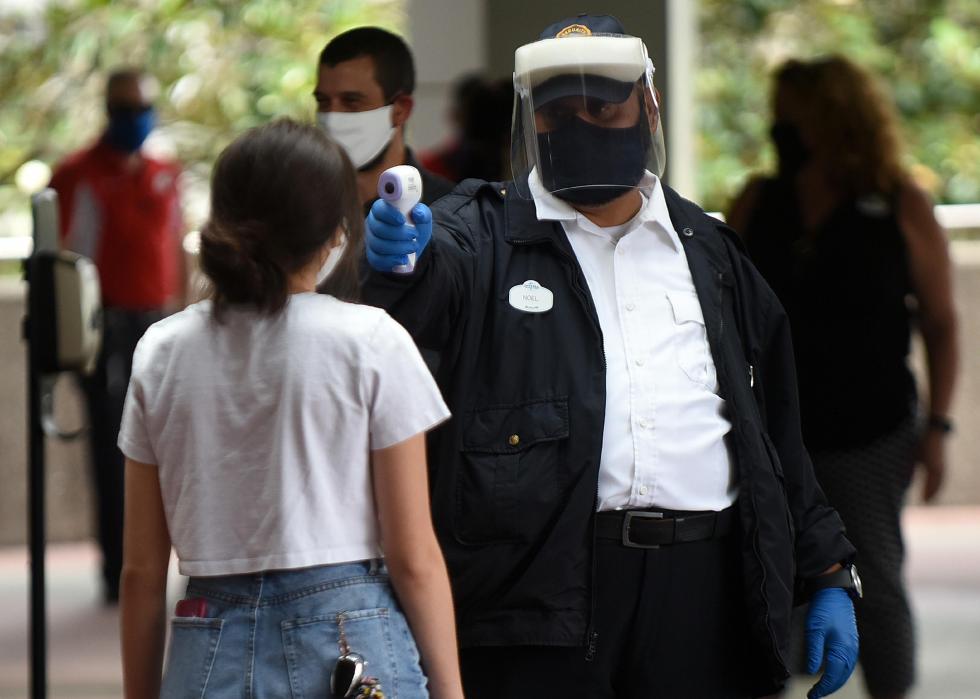 1 / 50
Paul Hennessy / Echoes Wire/Barcroft Media via Getty Images
Theme park temperature checks in Orlando
Pictured: A security guard checks the temperature of a guest before allowing her to enter at Universal Orlando's CityWalk, in Orlando, Florida.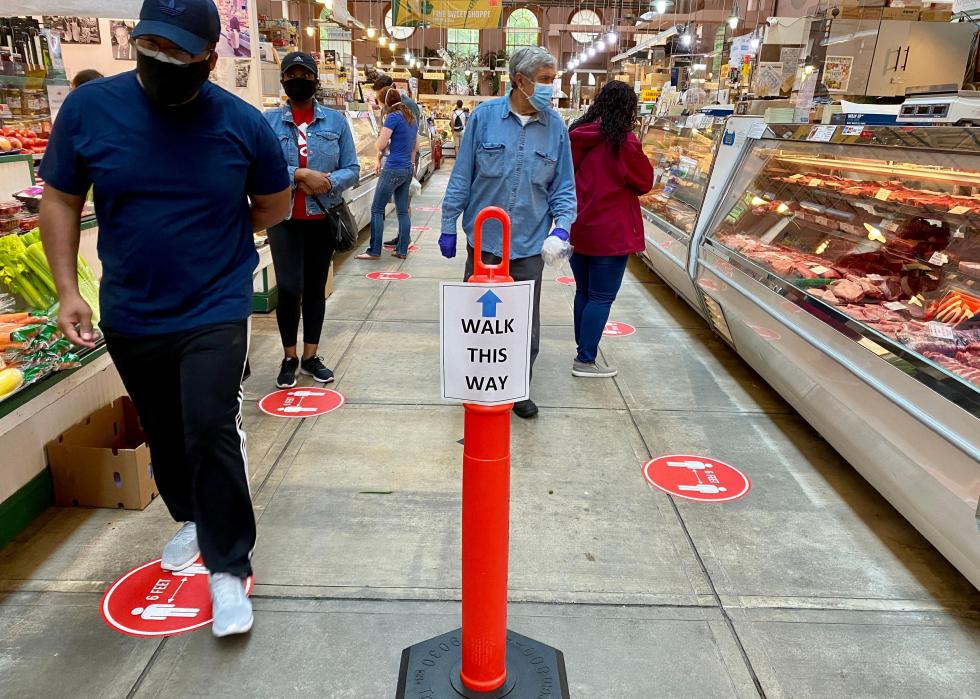 2 / 50
DANIEL SLIM/AFP via Getty Images
Walk this way in Washington DC
Pictured: Shoppers wearing masks in the Eastern Market in Washington D.C. abide by new grocery store protocol.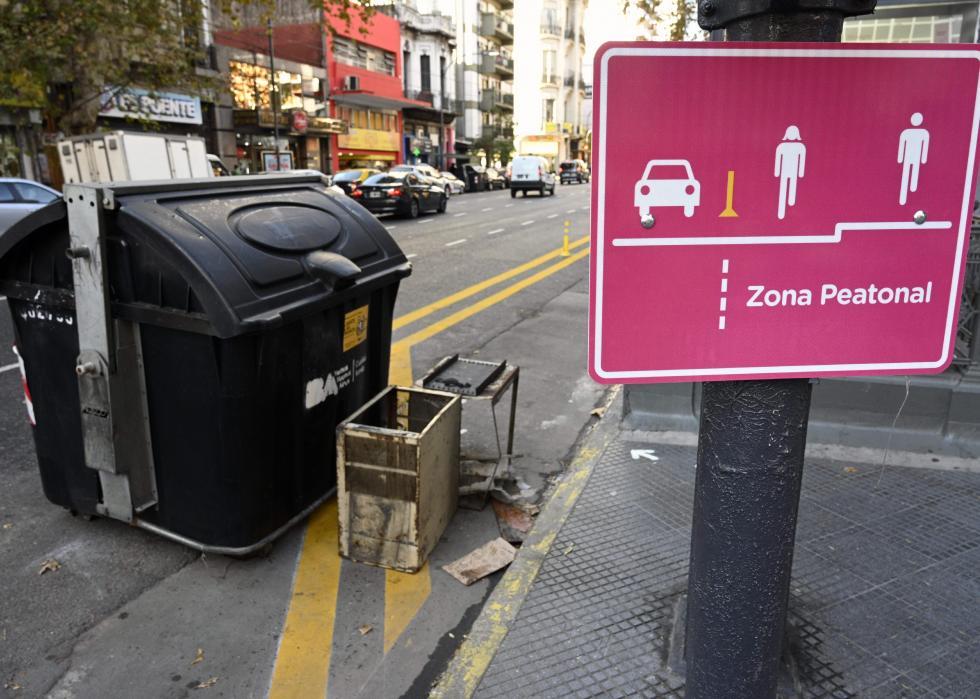 3 / 50
JUAN MABROMATA/AFP via Getty Images
Expanded sidewalks in Argentina
Pictured: A sign marks a new pedestrian lane to widen the sidewalk for ample social distance on Avenida Corrientes in Buenos Aires, Argentina.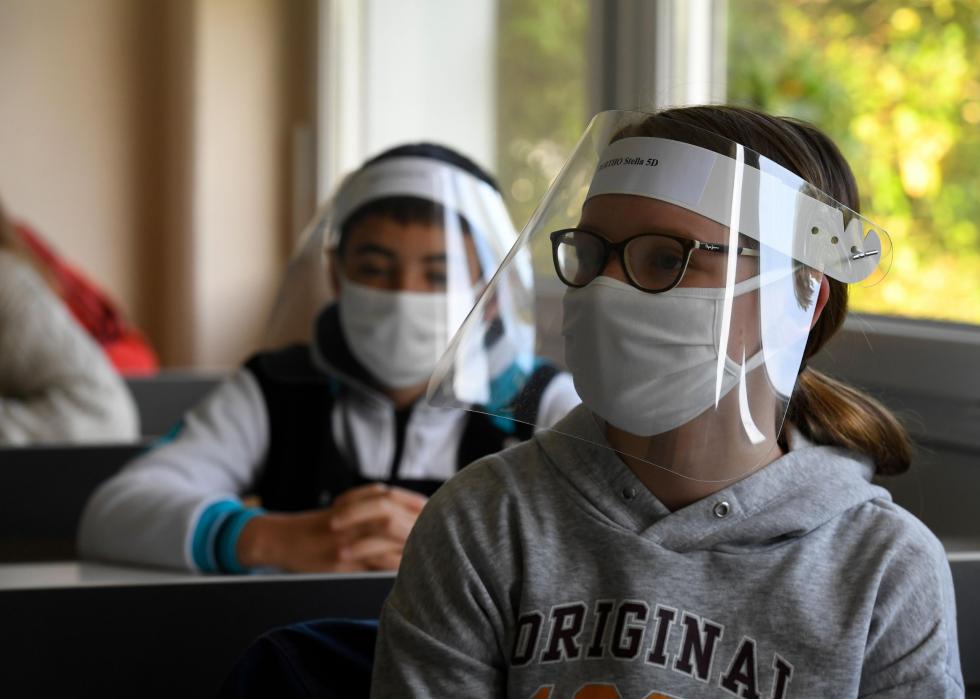 4 / 50
DAMIEN MEYER/AFP via Getty Images
Face shields for schoolchildren in France
Pictured: Schoolchildren wearing protective face shields and masks attend class at Collège Claude Debussy in Angers, France.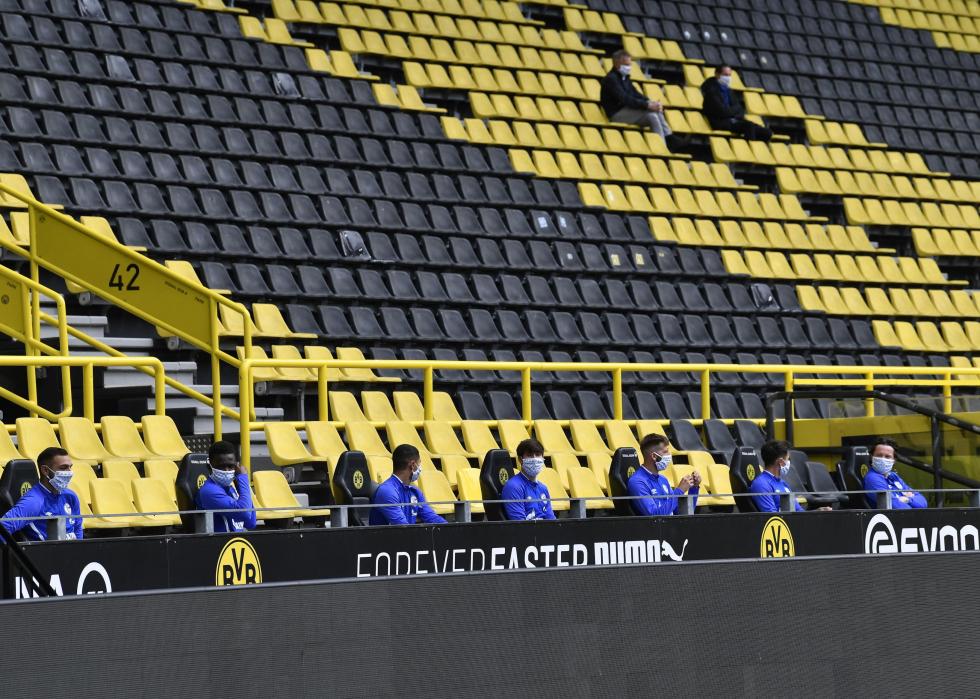 5 / 50
Martin Meissner/PA Images via Getty Images
'Fussball' without fans in Germany
Pictured: FC Schalke 04 substitute players sit on the bench in an empty stadium during the German Bundesliga match at Borussia Dortmund.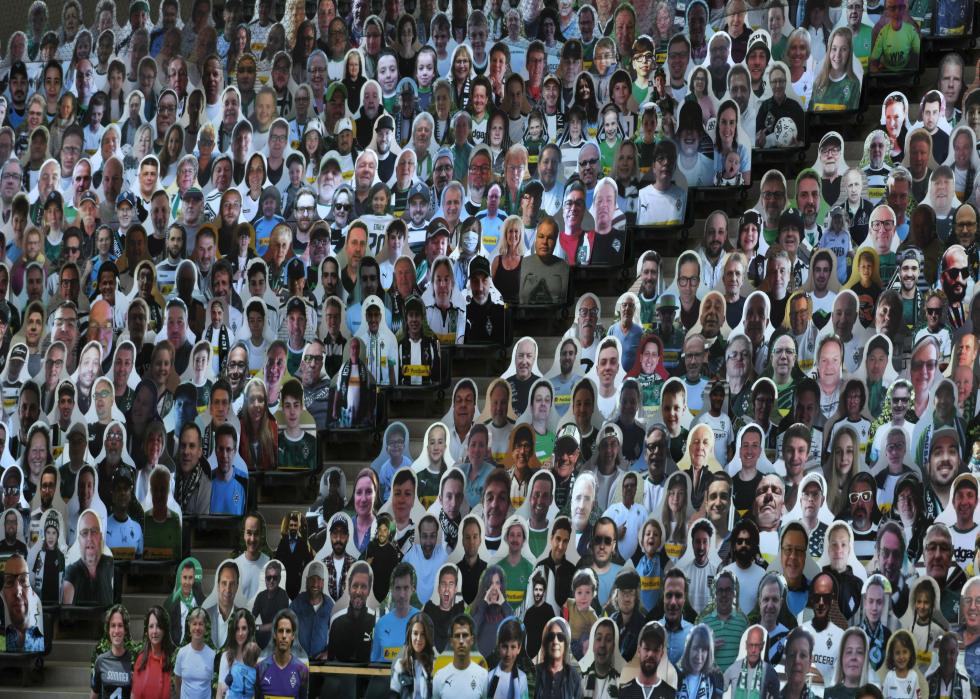 6 / 50
INA FASSBENDER/AFP via Getty Images
Cardboard crowds as German soccer supporters
Pictured: In the absence of real-life fans, cardboard cutouts of Borussia Monchengladbach supporters are placed throughout Borussia-Park.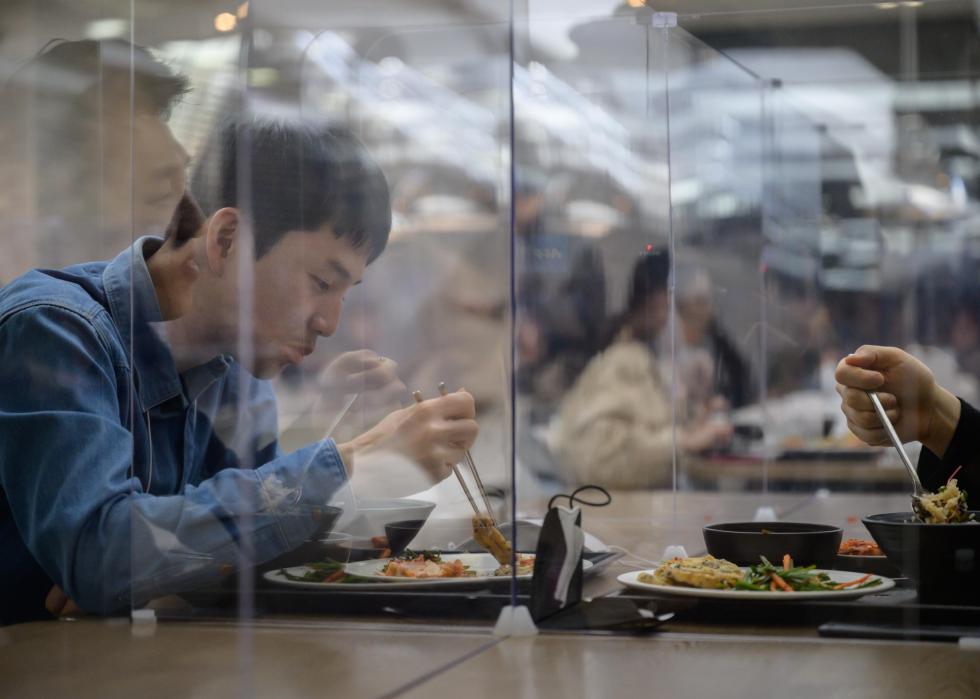 7 / 50
ED JONES/AFP via Getty Images
Iso-lunch in South Korea
Pictured: Employees eat lunch behind protective screens at the Hyundai Card credit card company in Seoul, South Korea.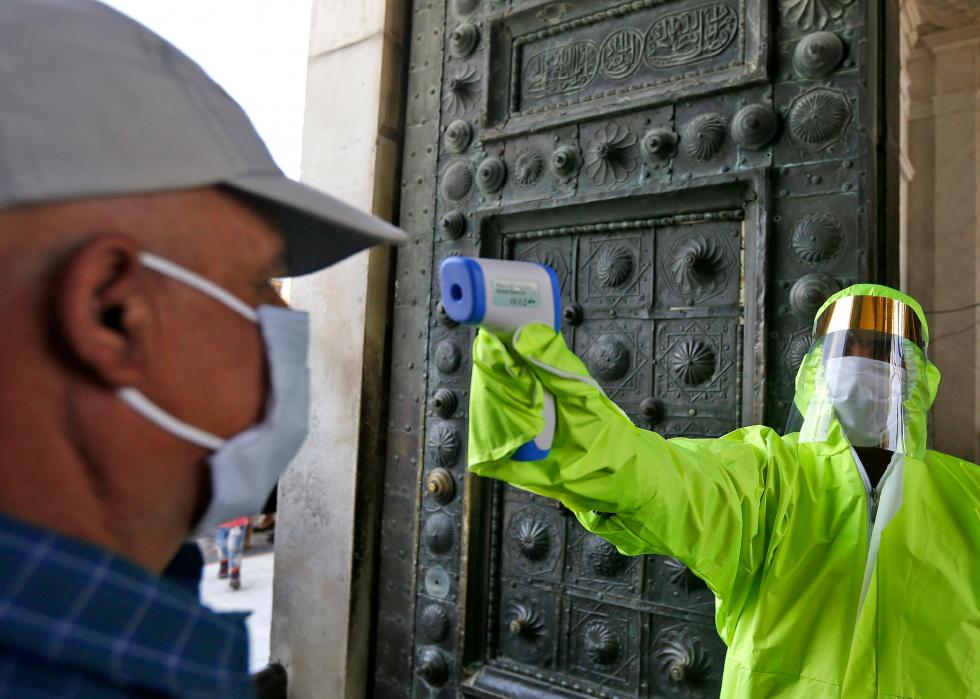 8 / 50
LOUAI BESHARA/AFP via Getty Images
Measuring temperatures at a mosque in Syria
Pictured: A medic checks the temperature of a worshipper before entering the Umayyad Mosque in Damascus, Syria, for Friday prayer.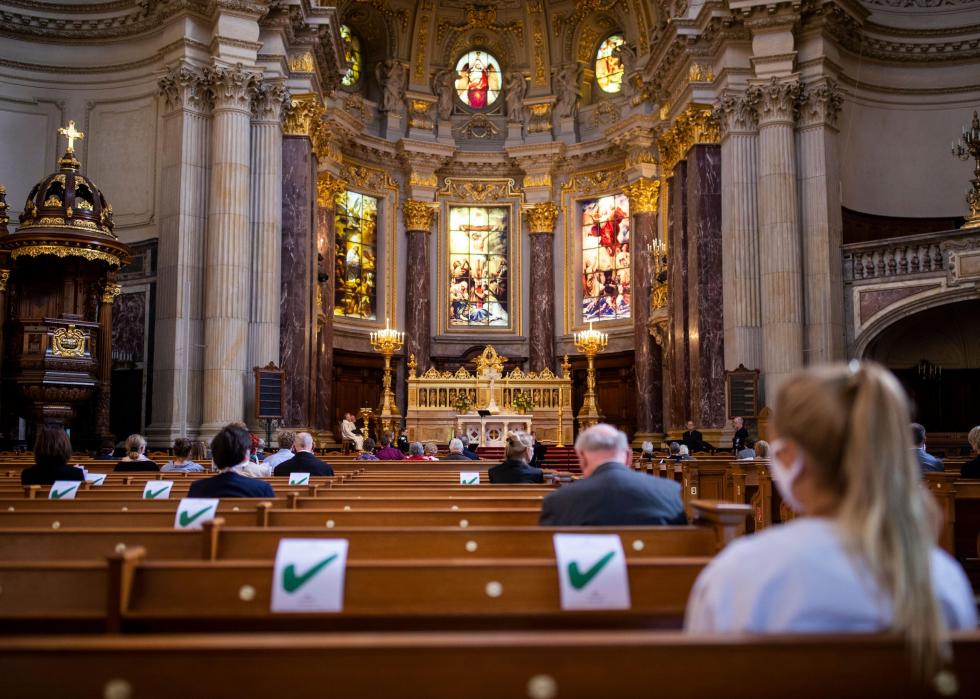 9 / 50
ODD ANDERSEN/AFP via Getty Images
Social distancing at Sunday services in Berlin
Pictured: Members of the congregation observe social distancing at a Sunday service at the Berliner Dom cathedral in Berlin, Germany. The German capital's Protestant cathedral reopened for worshippers on May 17 after going online for two months.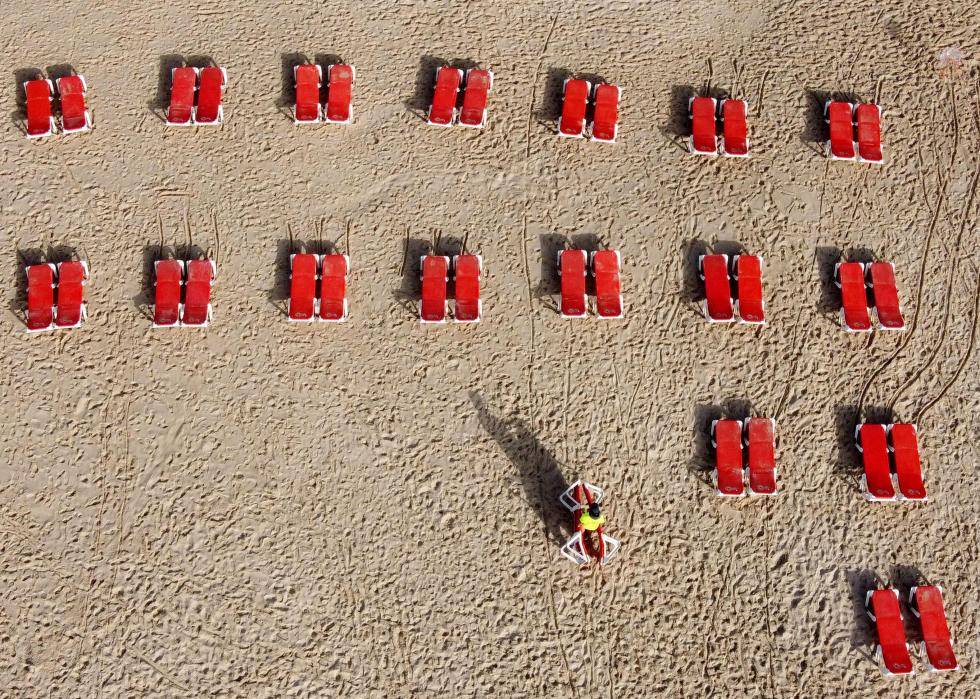 10 / 50
JACK GUEZ/AFP via Getty Images
Spreading out on the beaches in Tel Aviv
Pictured: Lounge chairs laid out on a beach in Tel Aviv, Israel, according to social distancing guidelines. Beaches are now open for the first time after two months of confinement due to COVID-19.
11 / 50
Donato Fasano // Getty Images
Facial thermal detectors in Italy
Pictured: A man uses a facial thermal detector before entering a building in Bari, Italy.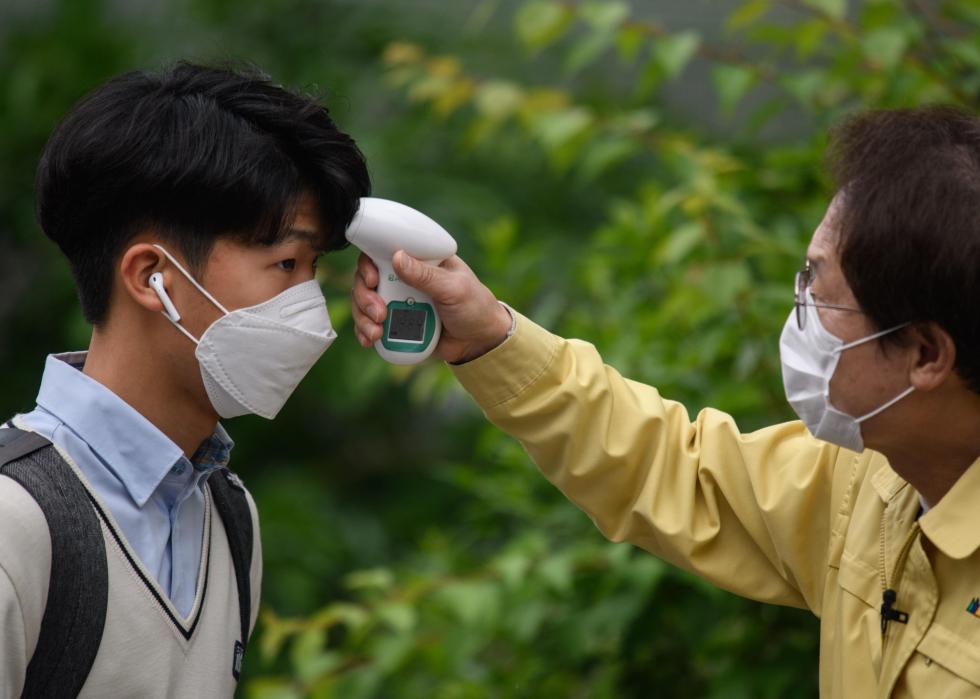 12 / 50
Photo by ED JONES/AFP via Getty Images
Testing for high temps in Seoul
Pictured: Students undergo a temperature check from city education officials as they arrive at Kyungbock High School in Seoul, South Korea.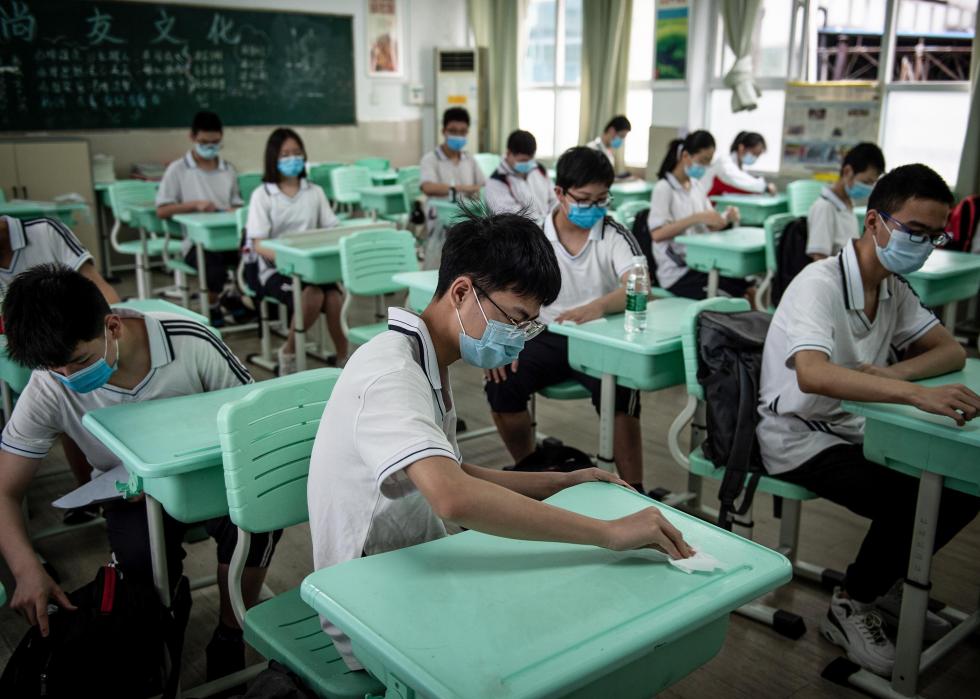 13 / 50
Back-to-school protocols in Wuhan
Pictured: Students disinfect their desks and prepare for class in Wuhan on their first day back since schools reopened.
14 / 50
Stefano Guidi // Getty Images
Temperature tests before retail therapy in Italy
Pictured: A security officer checks the temperature of a man at the entrance to La Rinascente, a high-end shopping center in Turin, Italy.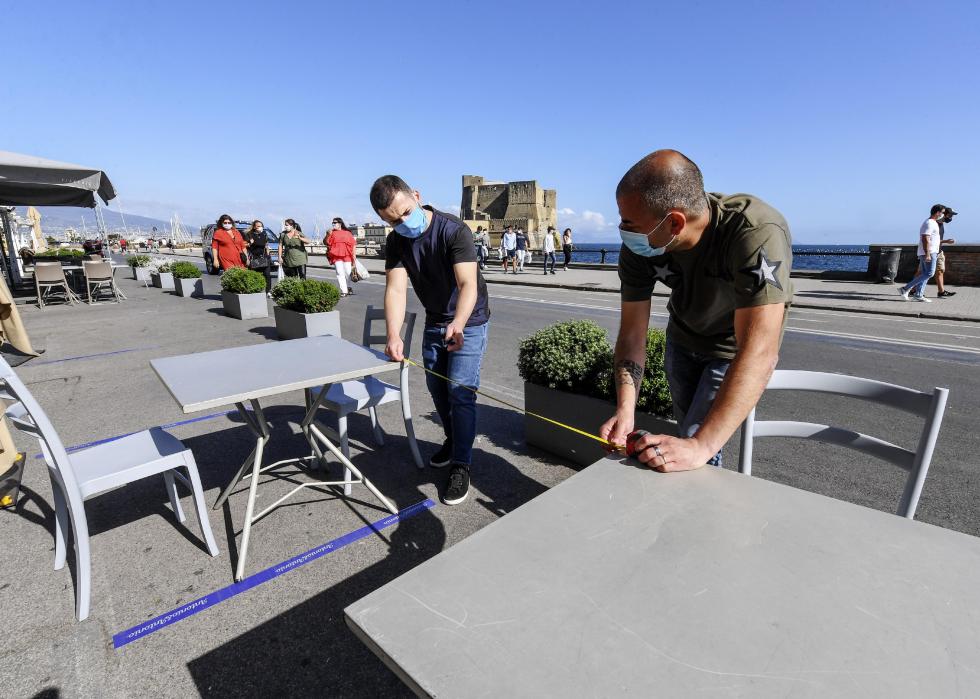 15 / 50
Salvatore Laporta/KONTROLAB/LightRocket via Getty Images
Spreading out at a seaside cafe in Naples
Pictured: Staff members arrange tables to meet social distancing regulations in front of a restaurant on the Lungomare Caracciolo in Naples, Italy.
16 / 50
Noam Galai // Getty Images
Sealed for delivery at a post office in New York City
Pictured: A view inside the United States Postal Office in Murray Hill, New York.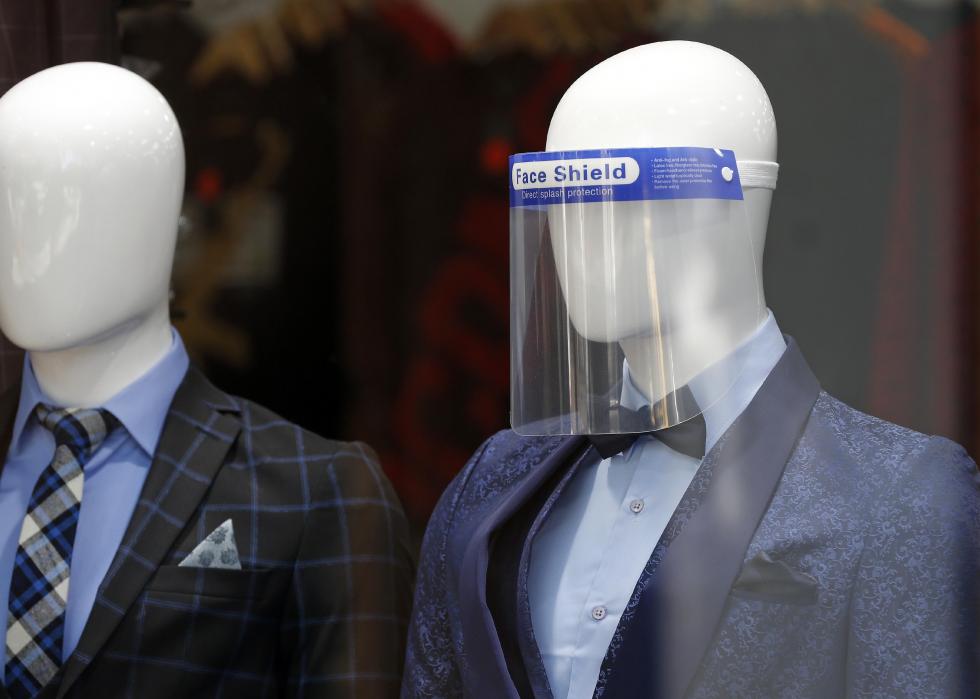 17 / 50
Photo by Chesnot // Getty Images
PPE as a fashion staple in Paris
Pictured: A mannequin dons a protective face shield in the window of a wedding shop in Paris. Personal protective equipment (PPE) is being displayed as a standard piece of wardrobe in retail stores around the world.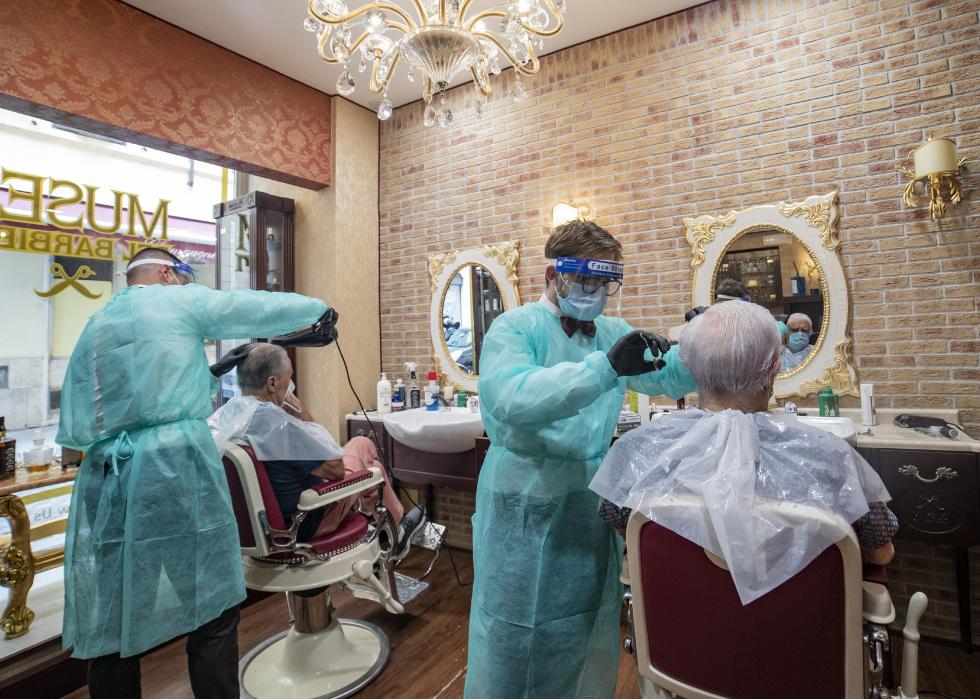 18 / 50
Davide Fracassi/Pacific Press/LightRocket via Getty Images
Cautious clippings in a Roman barber shop
Pictured: Barbers dressed in personal protective equipment trim men's hair as businesses reopen in Rome.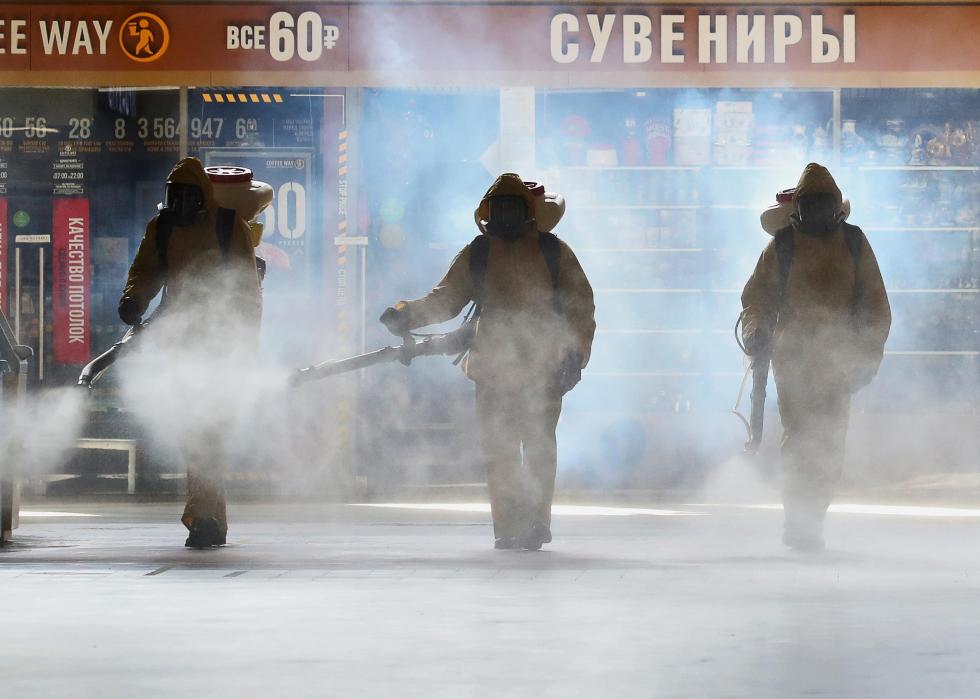 19 / 50
Vyacheslav Prokofyev\TASS via Getty Images
Disinfecting Russian railway stations
Pictured: Several members of the Russian Ministry of Emergency Situations disinfect Kiyevsky Railway Station in Moscow.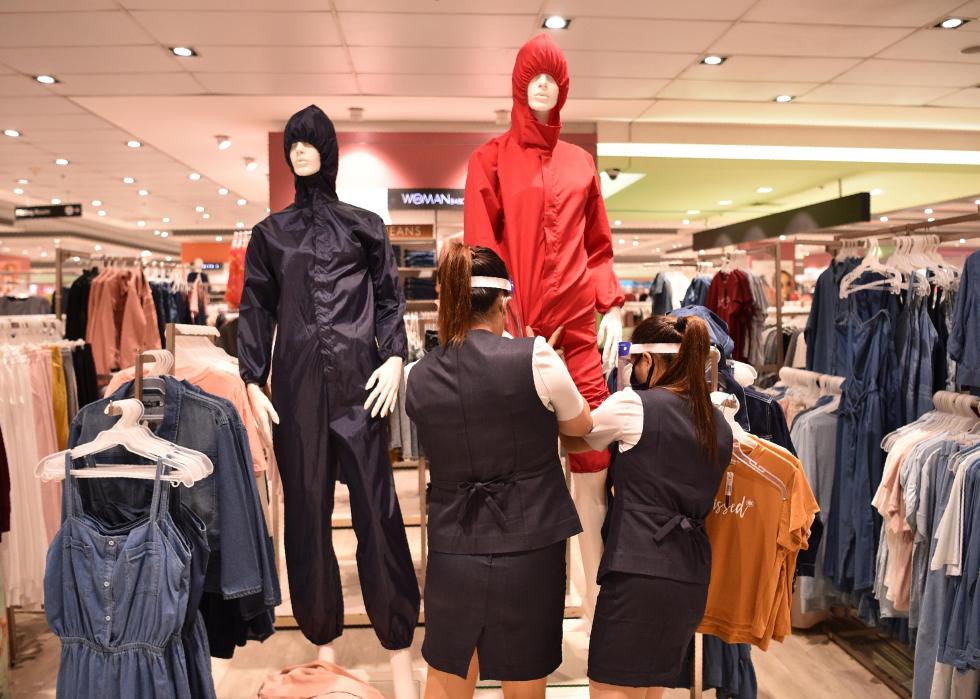 20 / 50
ED ALJIBE/AFP via Getty Images
Personal protective fashion on sale in the Philippines
Pictured: Employees dress mannequins in personal protective suits at a retail store in Manila.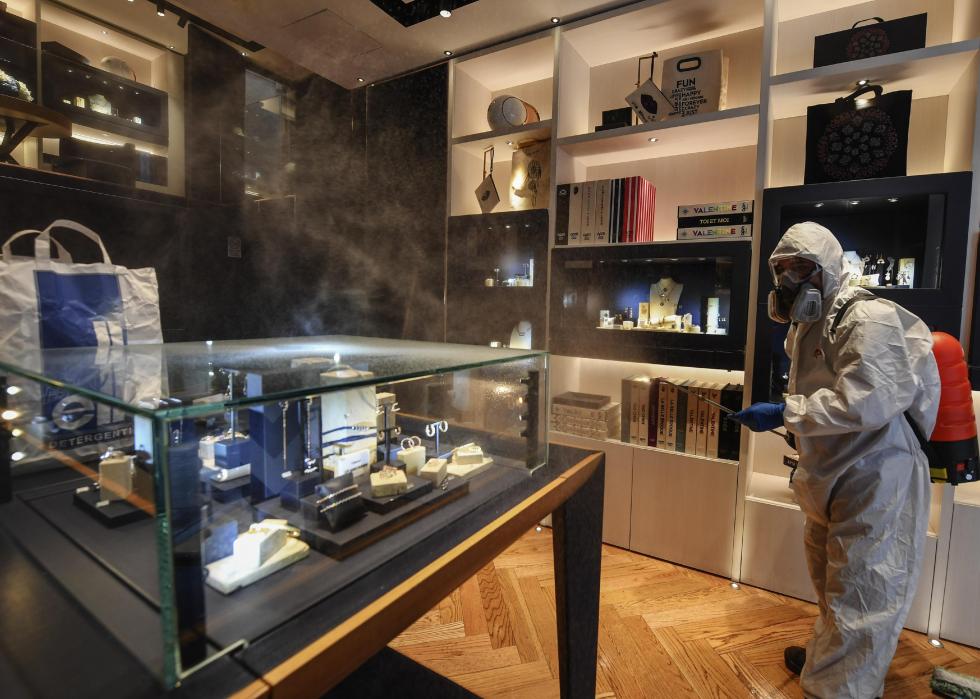 21 / 50
Salvatore Laporta/KONTROLAB/LightRocket via Getty Images
Luxury items sprayed for safety in Italy
Pictured: A worker disinfects a jewelry store in Naples.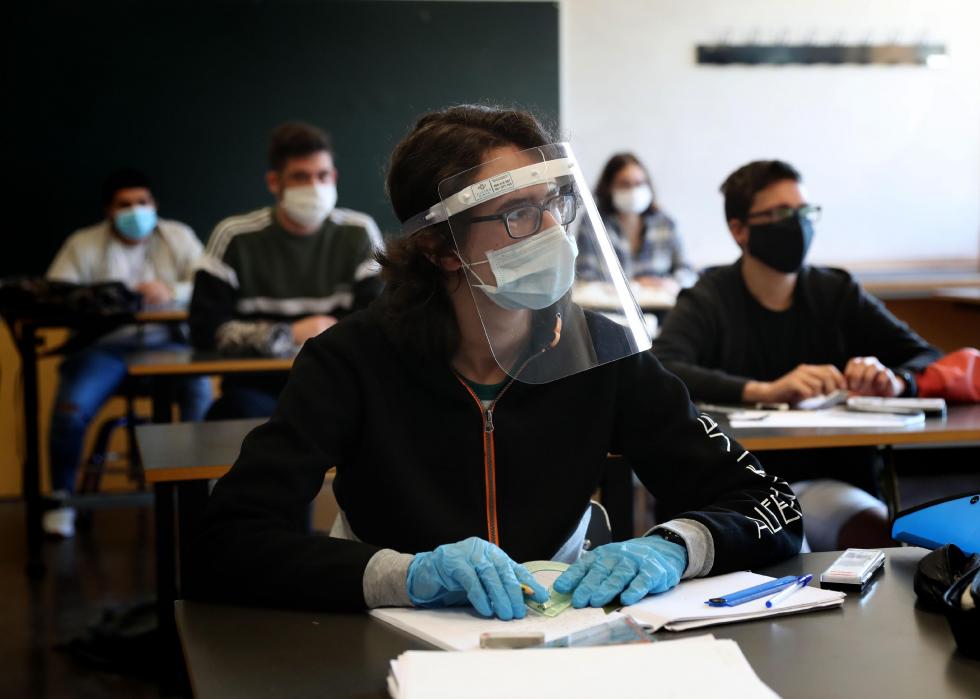 22 / 50
Xinhua/Pedro Fiuza via Getty Images
Proper protection at schools in Portugal
Pictured: A student wearing a face mask and shield attends a class at Escola Básica e Secundária de Santa Maria in Sintra, Portugal.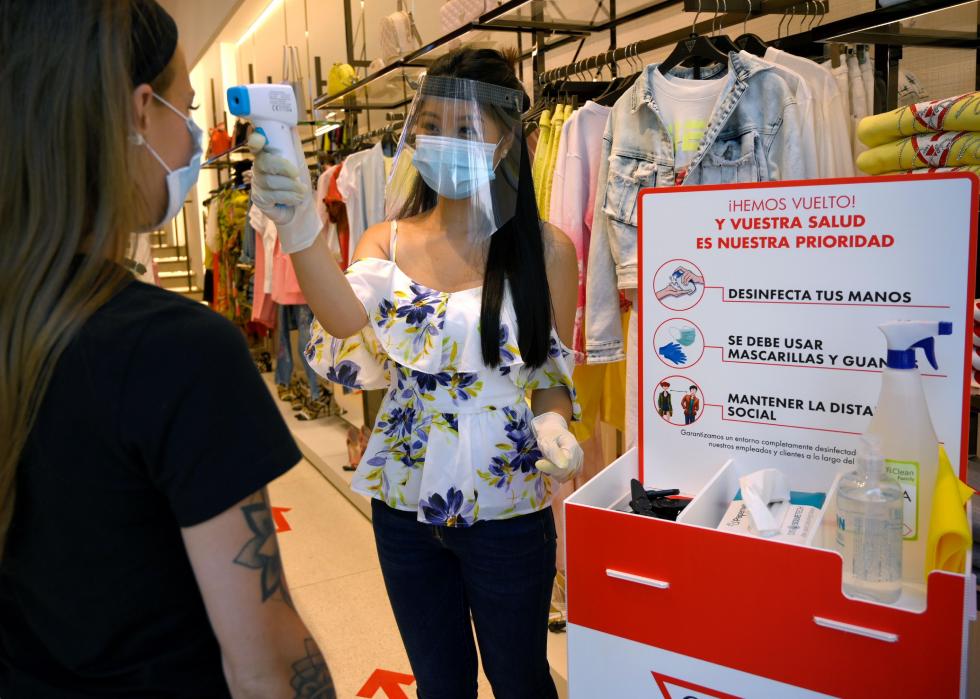 23 / 50
LLUIS GENE/AFP via Getty Images
A sterile welcome at a store in Spain
Pictured: An employee wearing a face shield and mask takes the temperature of a customer inside a clothing store in Barcelona.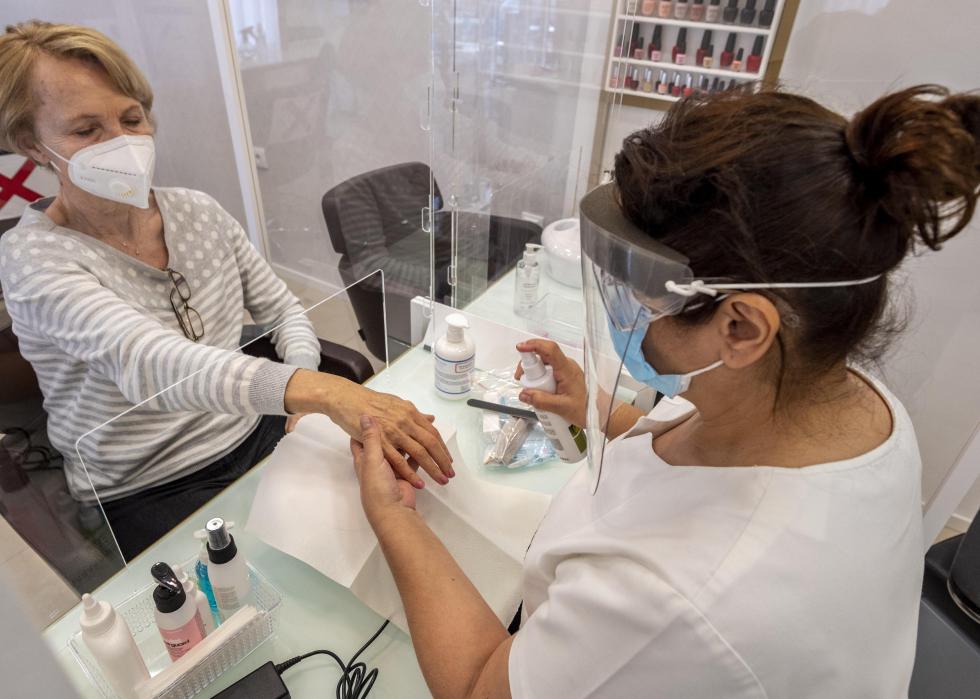 24 / 50
Horacio Villalobos#Corbis/Corbis via Getty Images
Masked manicure with plexiglass shield in Portugal
Pictured: A manicurist and her client wear masks while separated by a plexiglass shield during an appointment at Nuance Cabeleireiro in Cascais, Portugal.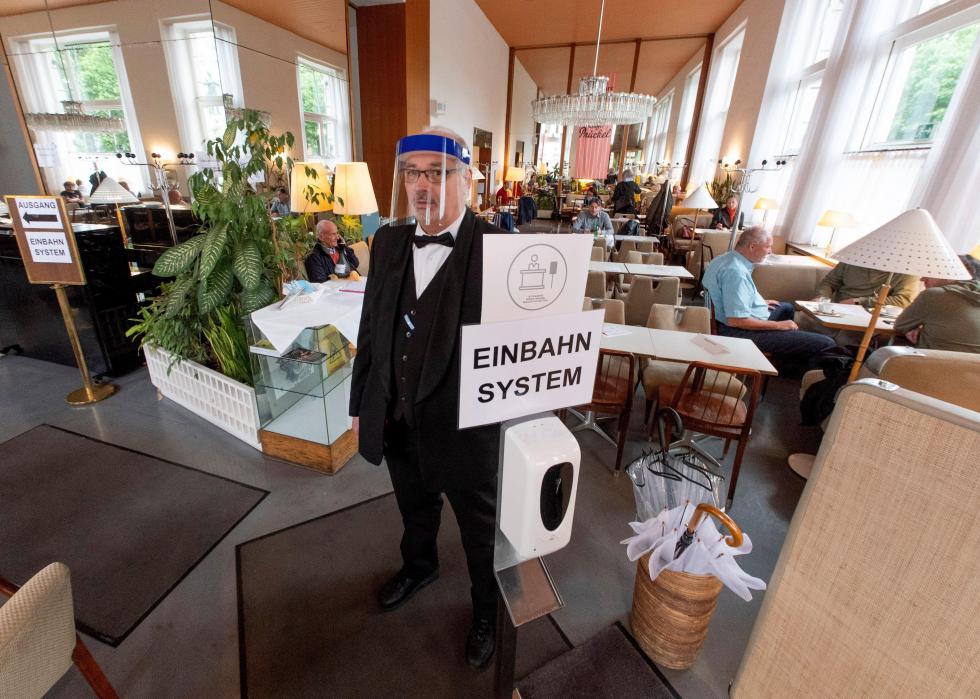 25 / 50
JOE KLAMAR/AFP via Getty Images
Caution at a cafe in Vienna
Pictured: A waiter wears a face shield during his shift at Café Prückel in Vienna, Austria.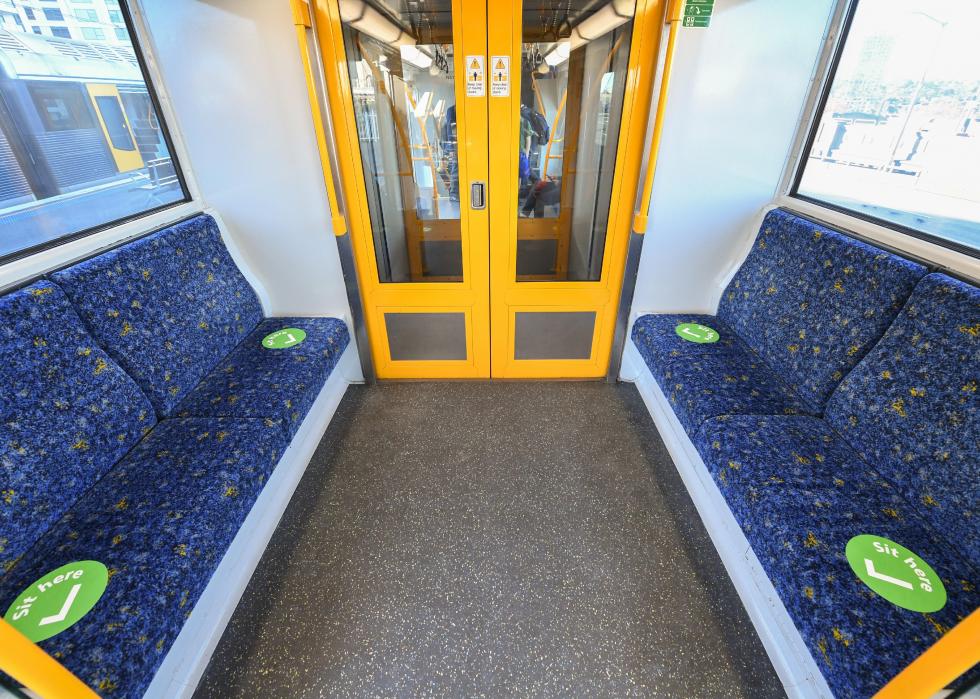 26 / 50
James D. Morgan // Getty Images
Distancing down under in Sydney
Pictured: Green "sit here" stickers on seats indicate where commuters can remain at a safe distance aboard trains in Sydney, Australia.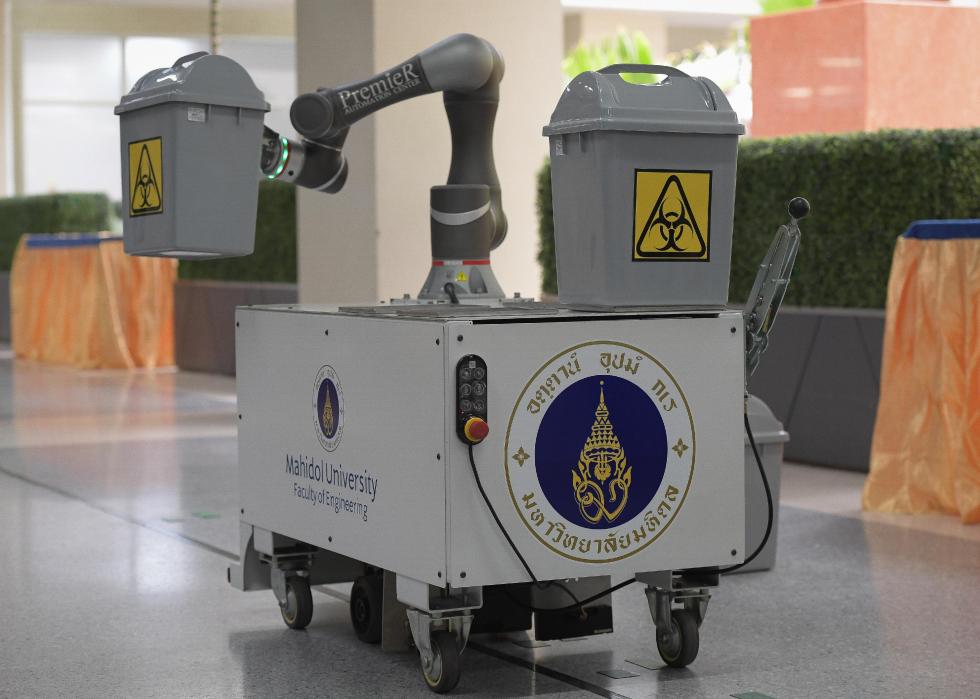 27 / 50
Vachira Vachira/NurPhoto via Getty Images
Waste collection technology in Thailand
Pictured: A demonstration of "Wastie Robot," a contaminated waste collection robot designed to prevent and reduce the chance of infections during the pandemic. "Wastie Robot" will be used in hospitals that are treating COVID-19 patients.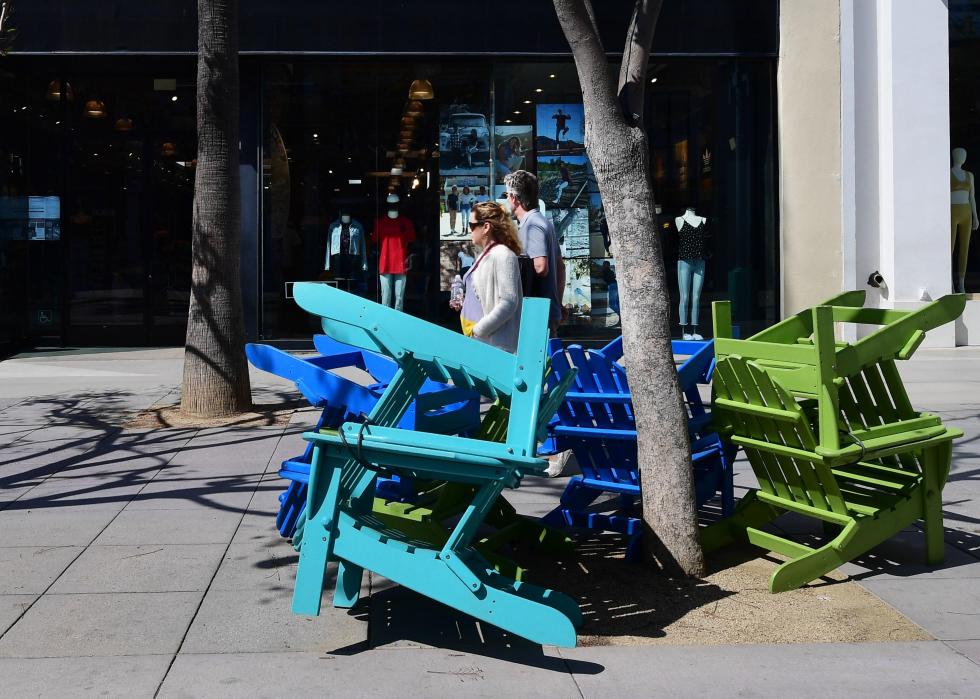 28 / 50
FREDERIC J. BROWN/AFP via Getty Images
Limited seating in Los Angeles
Pictured: To prevent groups of people from gathering, chairs are stacked together and locked up along the Third Street Promenade in Santa Monica, California.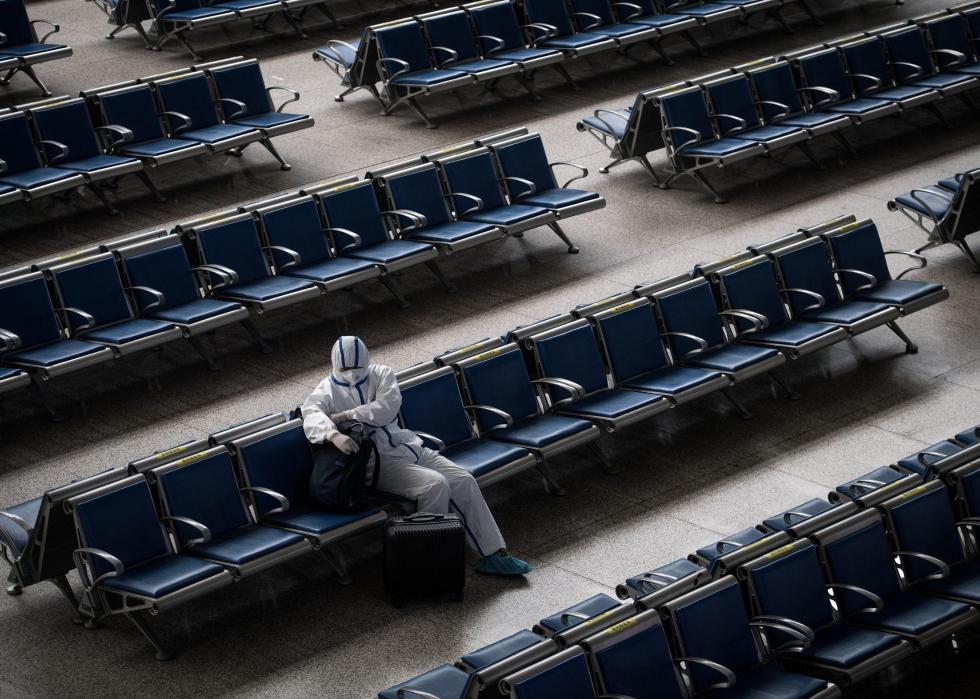 29 / 50
Extra precautions for a train journey in China
Pictured: A passenger wears a hazmat suit as a precaution against COVID-19 as he waits for a train at Hankou Railway Station in Wuhan, in China's central Hubei province.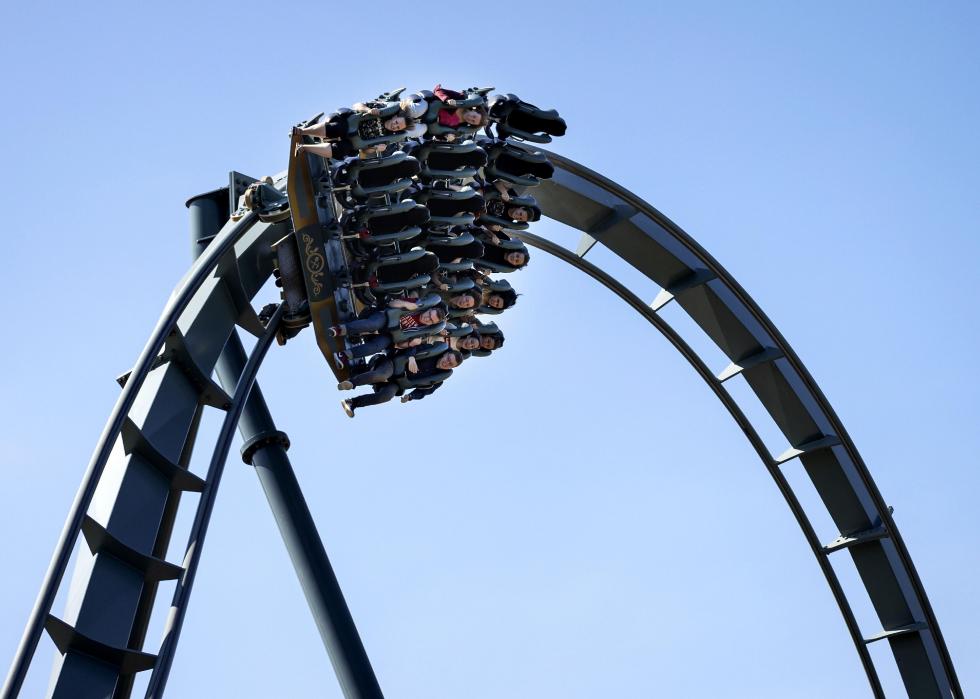 30 / 50
ROBIN VAN LONKHUIJSEN/ANP/AFP via Getty Images
Limiting thrills in the Netherlands
Pictured: Visitors sit in a limited-seating roller coaster during the reopening of Efteling theme park in Kaatsheuvel, Netherlands.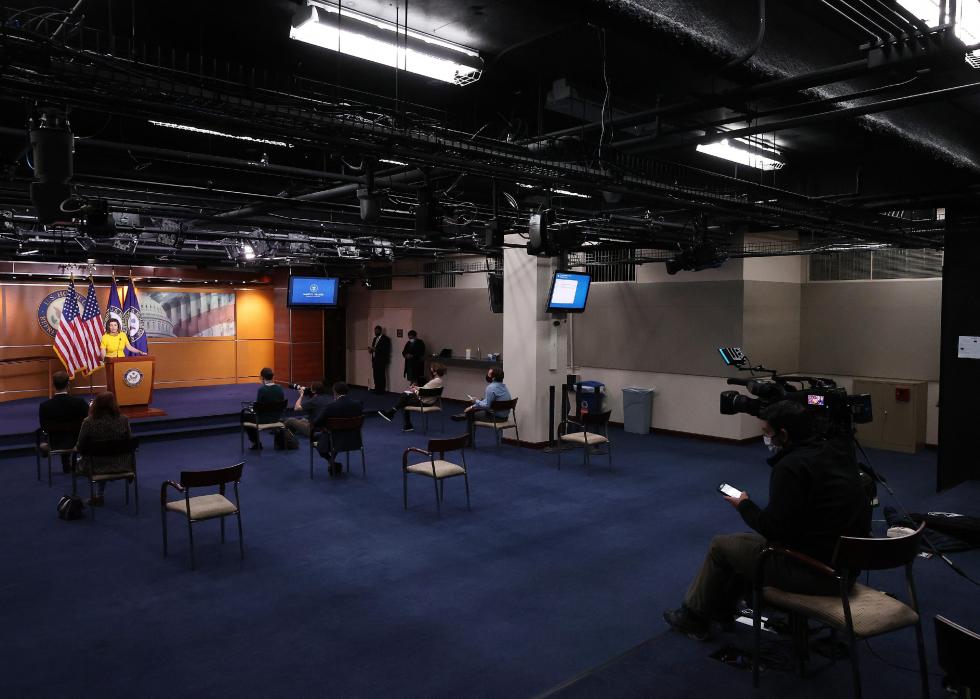 31 / 50
Chip Somodevilla // Getty Images
Restricted reporting at the U.S. Capitol
Pictured: Members of the media practice social distancing during a news conference with Speaker of the House Nancy Pelosi (D-CA) at the U.S. Capitol in Washington D.C.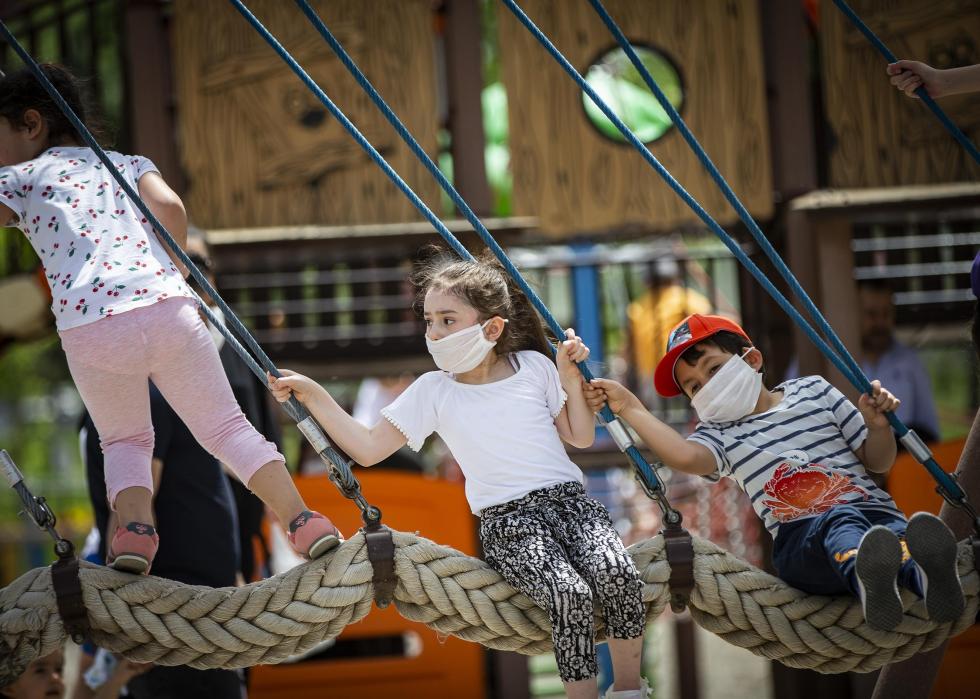 32 / 50
Ozge Elif Kizil/Anadolu Agency via Getty Images
Precaution during playtime in Turkey
Pictured: Children wearing protective masks swing on a playground in Ankara, Turkey. Children aged 14 and under in Turkey are allowed to leave their homes between 11 a.m.–3 p.m. but must stay within walking distance and wear masks.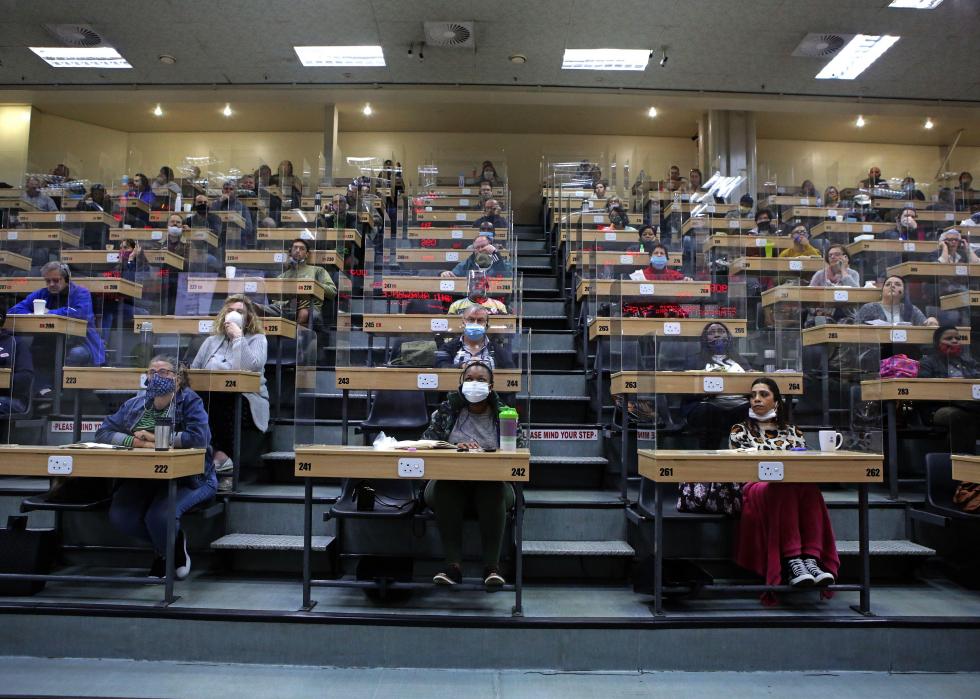 33 / 50
PHILL MAGAKOE/AFP via Getty Images
Perspex cubicles at a flower auction in South Africa
Pictured: Bidders sitting in perspex cubicles inside the Multiflora auction warehouse in Johannesburg, South Africa.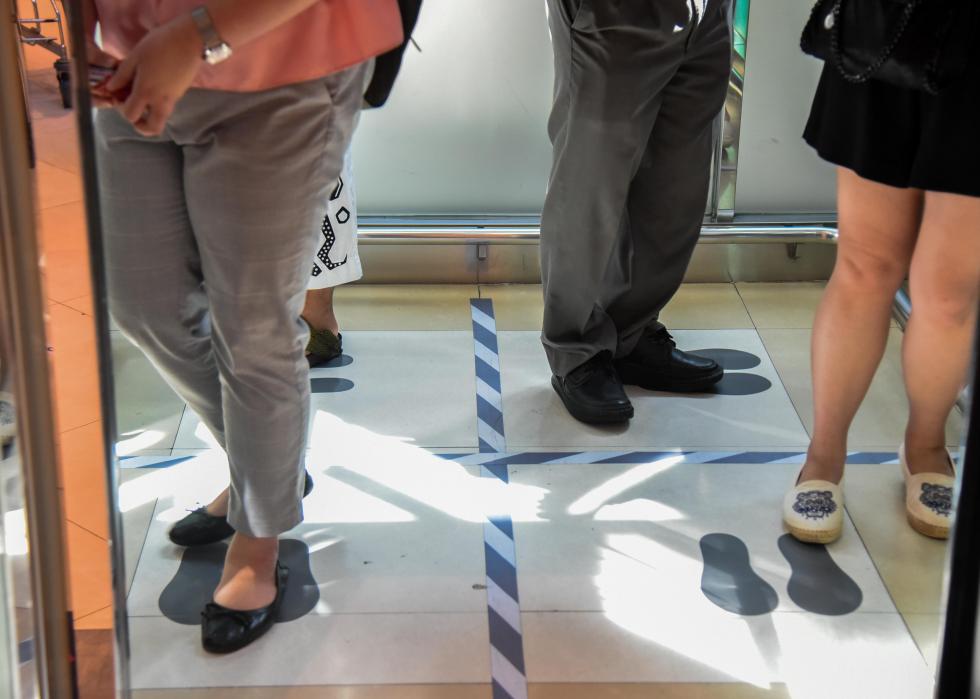 34 / 50
Yuttachai Kongprasert / Echoes Wire/Barcroft Media via Getty Images
Following instructions on an elevator in Bangkok
Pictured: An elevator in the Siam Paragon shopping mall guides shoppers on where to stand and which direction to face to limit exposure. Shopping malls reopened in Thailand on May 17 with strict health and safety measures.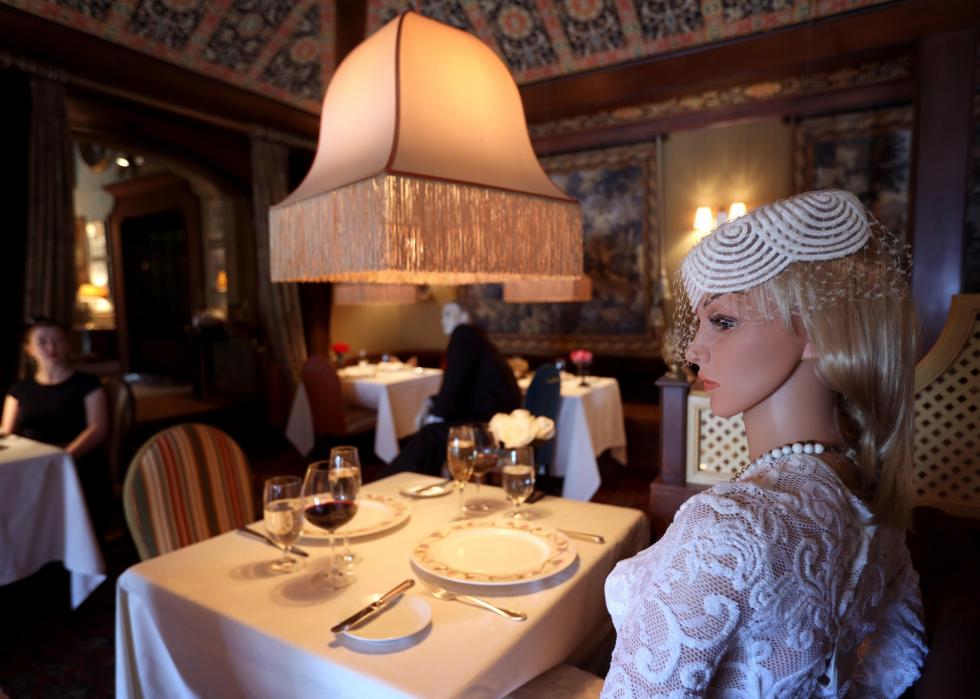 35 / 50
Win McNamee // Getty Images
A room full of 'diners' in Virginia
Pictured: Mannequins in 1940s-era clothing are seated in the dining area of The Inn at Little Washington, a Michelin Three Star restaurant in Rappahannock County. Due to the COVID-19 pandemic, the Commonwealth of Virginia will allow restaurants to reopen at only 50% capacity to maintain social distancing; however, Chef Patrick O'Connell plans to keep the mannequins in place when it reopens May 29 rather than leave the tables vacant when diners return.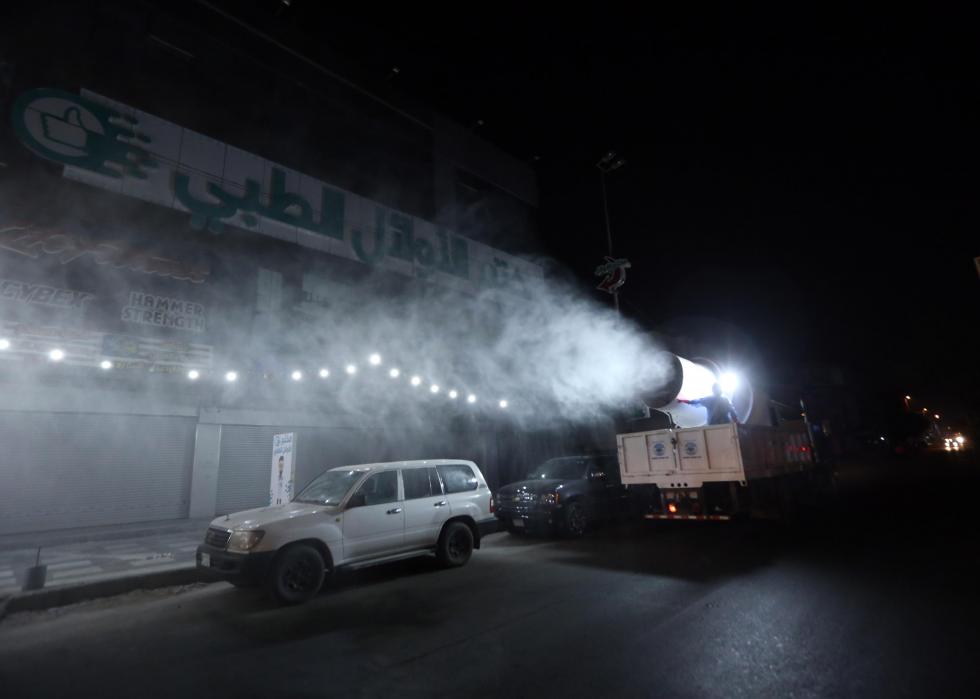 36 / 50
Murtadha Al-Sudani/Anadolu Agency via Getty Images
Disinfecting after dark in Baghdad
Pictured: Officials use massive sprayers to disinfect the streets in Baghdad, Iraq, to curb the spread of COVID-19.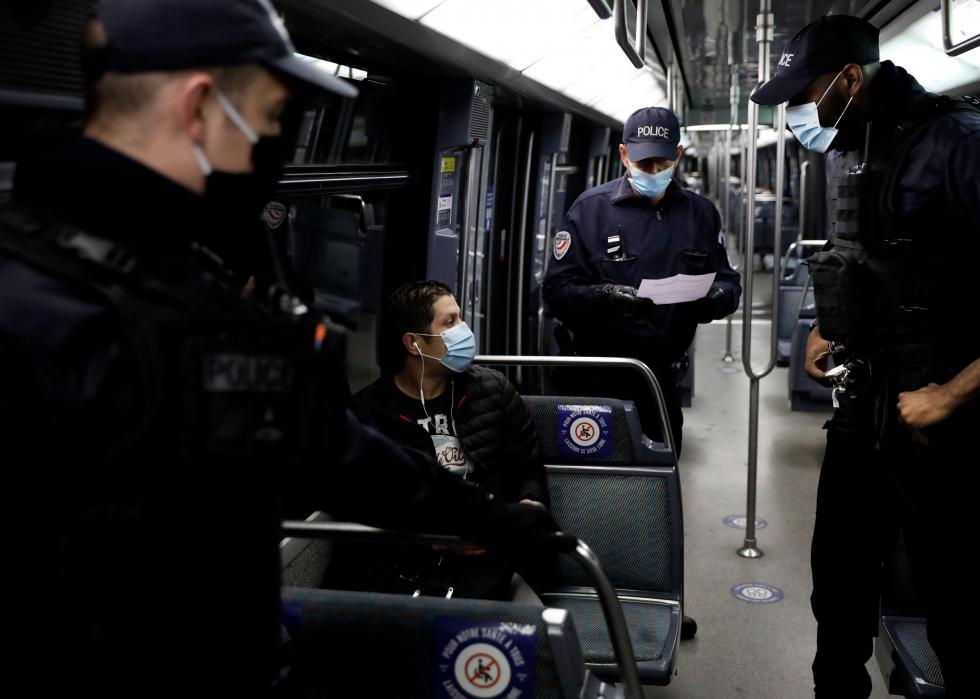 37 / 50
THOMAS COEX/AFP via Getty Images
Employment certificates to ride the metro in Paris
Pictured: French police officers patrol subway commuters at Paris' Gare du Nord train station during rush hour on May 15, 2020, as France eases lockdown measures. They monitor the use of protective face masks and confirm riders' employment certificates, allowing them to commute between 6:30–9 a.m.
38 / 50
Lorenzo Palizzolo // Getty Images
Celebrating mass from behind a mask in Milan
Pictured: A priest wearing a protective mask celebrates mass with a limited congregation in Milan, Italy.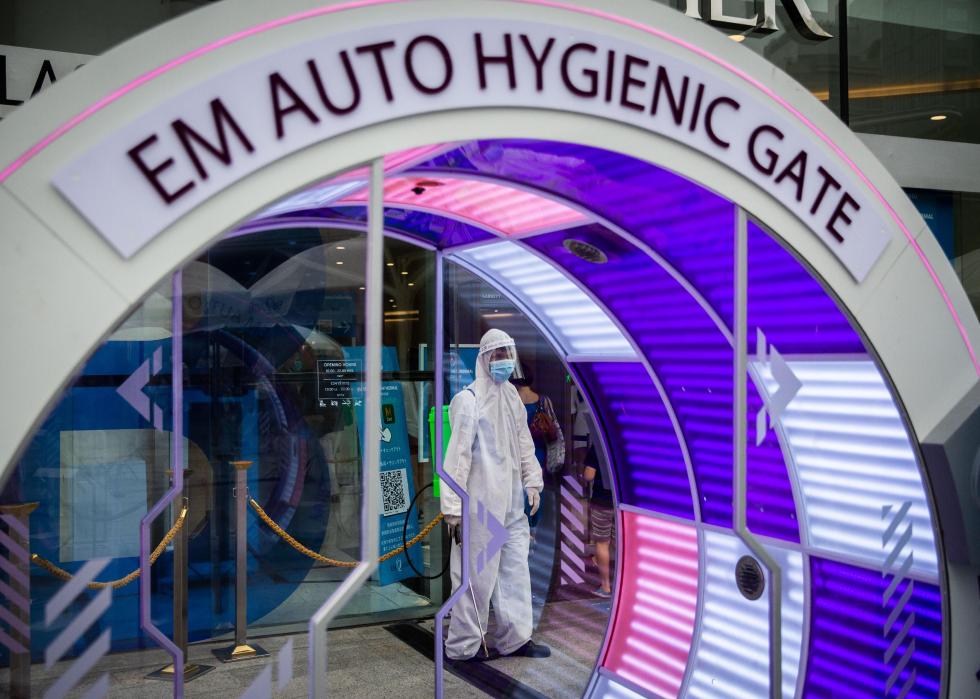 39 / 50
Lauren DeCicca // Getty Images
Temperature checks and hazmat suits in a Thailand mall
Pictured: A staff member in a hazmat suit stands near the "EM Auto Hygienic Gate" outside of EmQuartier, a mall in Bangkok. Thailand has allowed shopping malls to reopen following closure on March 22; they must follow social distancing and sanitizing protocols, as well as employ temperature checks upon mall and shop entry.
40 / 50
Kevin Mazur // Getty Images
Watching where you stand in Arkansas
Pictured: The men's bathroom during the first socially distanced concert at TempleLive on May 18, 2020 in Fort Smith, Arkansas.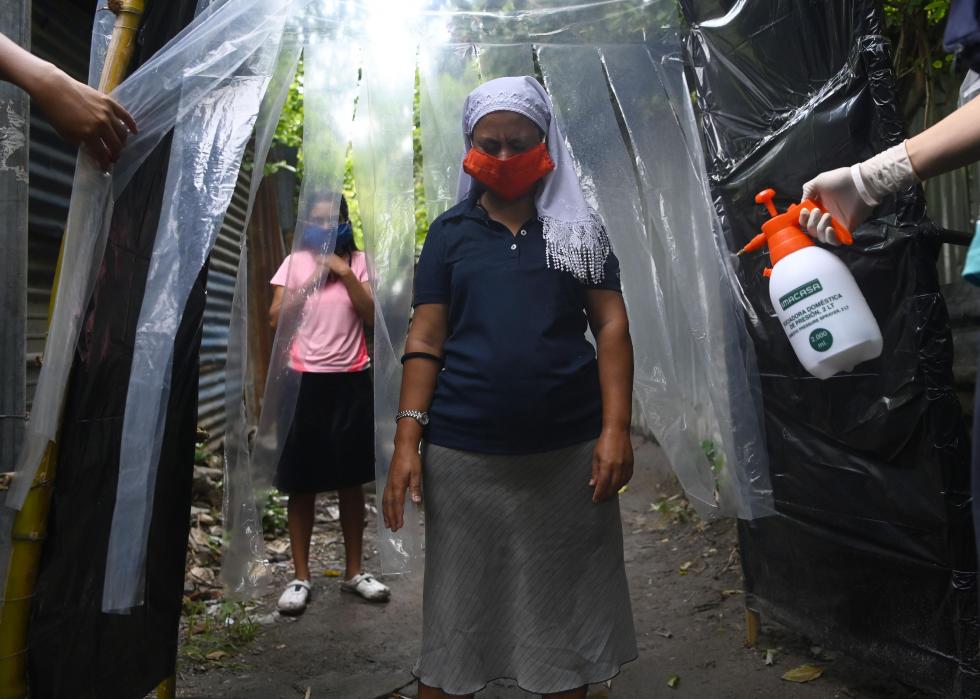 41 / 50
MARVIN RECINOS/AFP via Getty Images
Disinfection upon entrance in El Salvador
Pictured: Members of the Tinetti community disinfect neighbors in the capital city of San Salvador.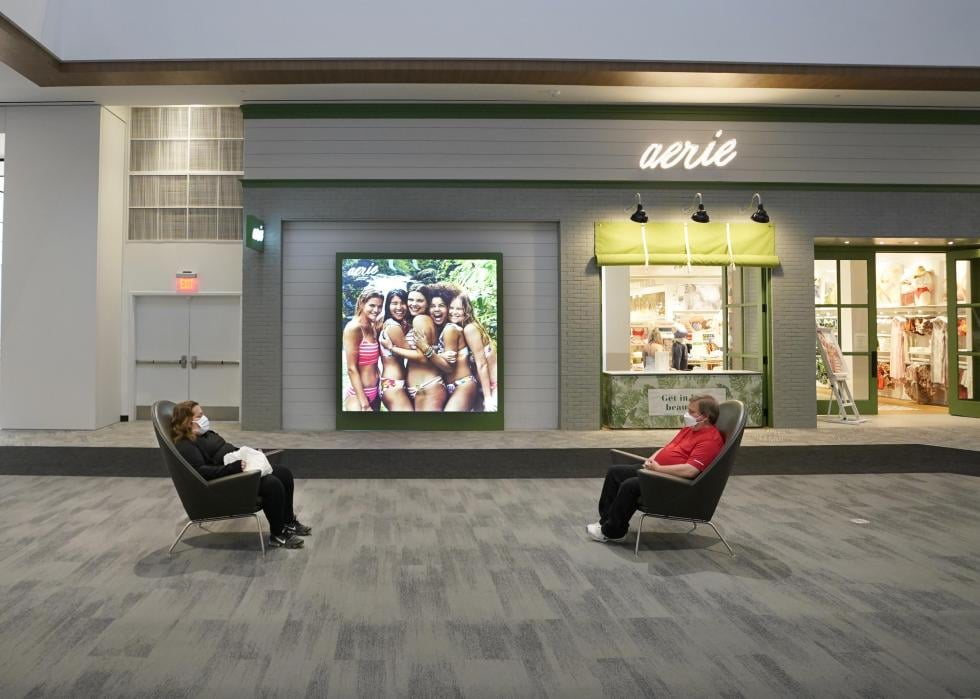 42 / 50
TIMOTHY A. CLARY/AFP via Getty Images
Distancing at a mall in Connecticut
Pictured: A couple sit in The SoNo Collection shopping mall in Norwalk, Connecticut.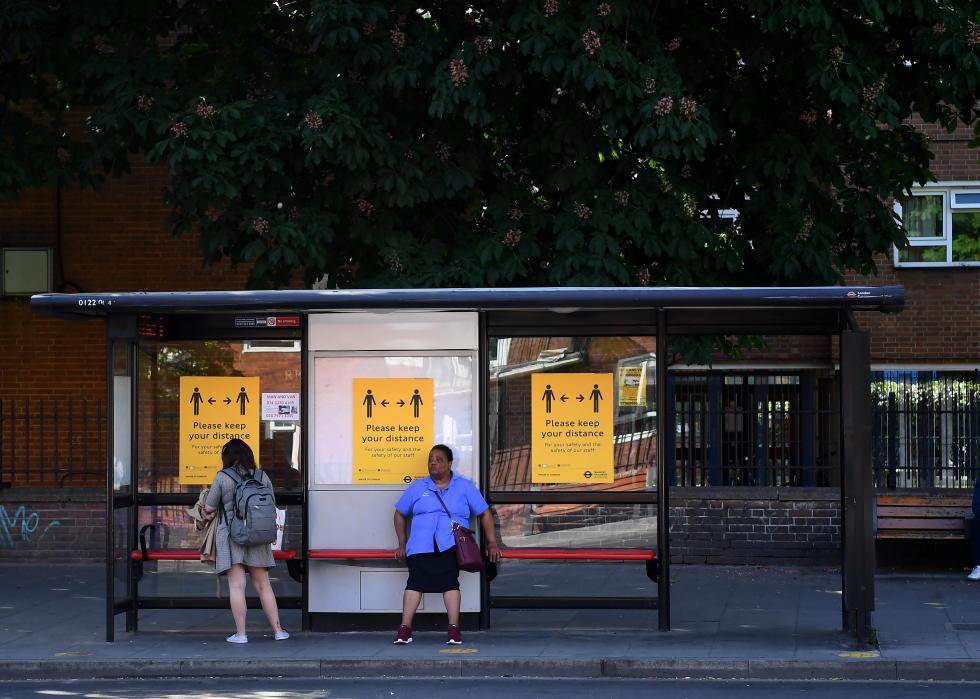 43 / 50
Alex Davidson // Getty Images
Signs to remind of distancing at a bus stop in London
Pictured: A view of a bus stop with social distancing signs in London, England.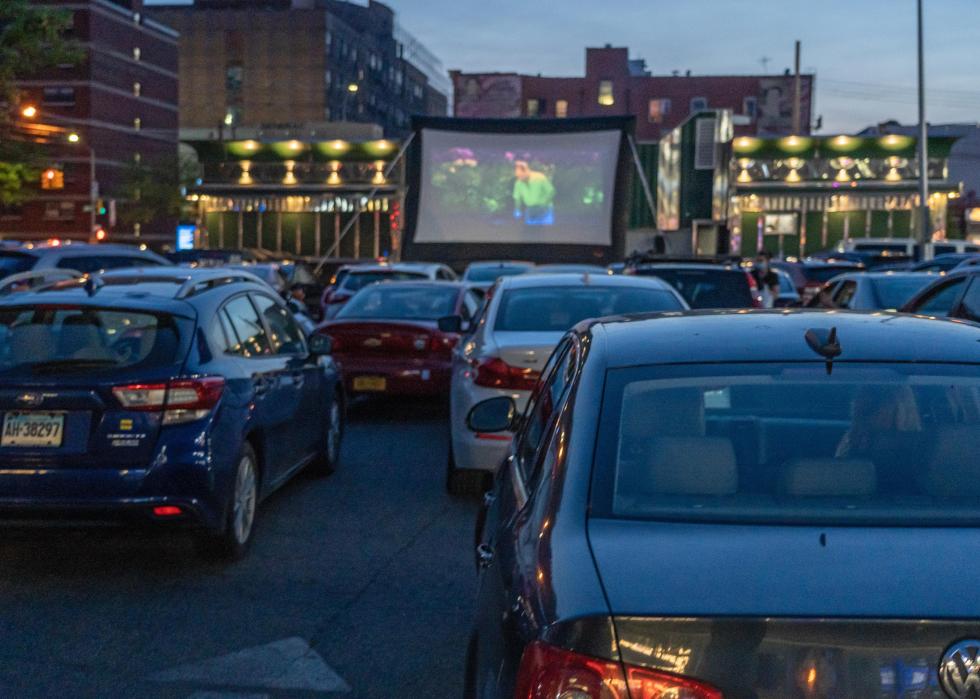 44 / 50
Ron Adar / Echoes Wire/Barcroft Media via Getty Images
A revival of the drive-in movie in New York City
Pictured: Bel Aire Diner hosts a pop-up drive-in movie in their adjacent parking lot, keeping guests socially distant amid the pandemic in Queens.
45 / 50
Mario Tama // Getty Images
Pop-up marriage booths in California
Pictured: Couples prepare to take marriage vows at one of six pop-up socially distanced marriage booths in the Honda Center parking lot on May 19, 2020 in Anaheim. With many wedding ceremonies on hold and county offices closed, the Orange County Clerk-Recorder has set up where the Anaheim Ducks play for civil ceremonies. Clerk-Recorder staff perform the ceremonies from inside the booths and couples are allowed one witness.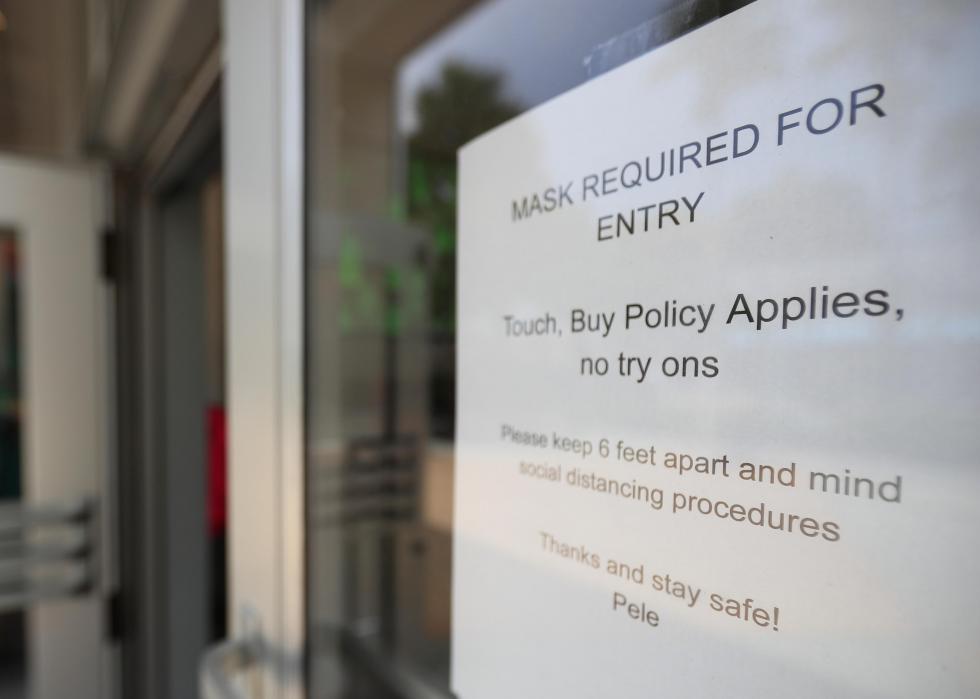 46 / 50
Cliff Hawkins // Getty Images
A touch-buy policy in Miami Beach
Pictured: Store policies for entry are posted at the Pelé Soccer store on Lincoln Road, May 20, 2020, in Miami Beach. The city has begun to allow the reopening of nonessential retail and personal grooming businesses, as well as offices and museums.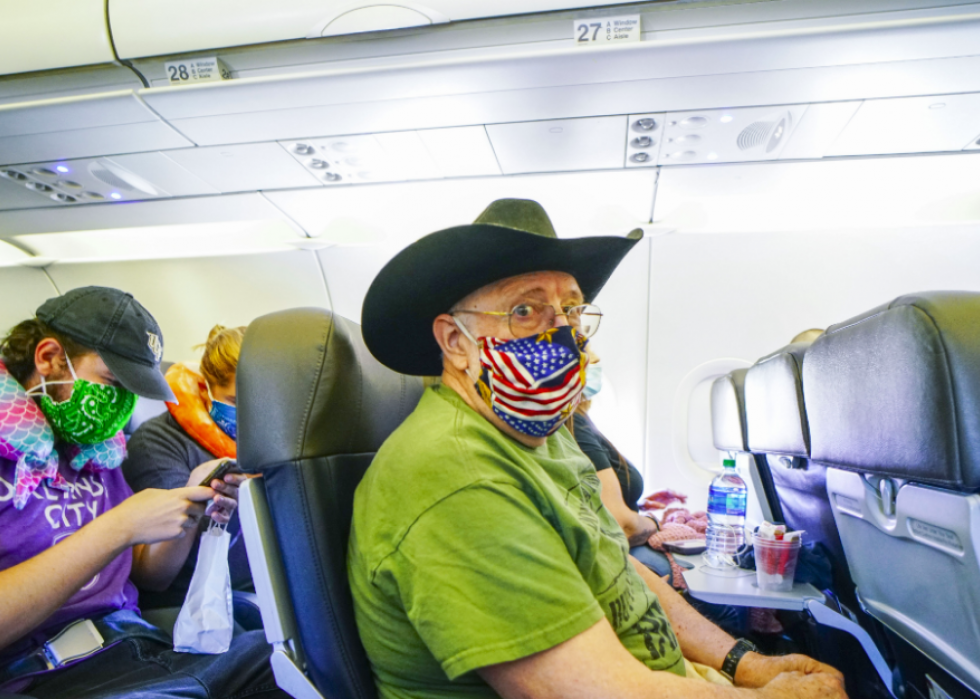 47 / 50
Sandy Huffaker // Getty Images
Masks are a must when it comes to air travel
Pictured: Passengers at San Diego International Airport onboard an American Airlines flight to Charlotte, North Carolina, on May 20, 2020.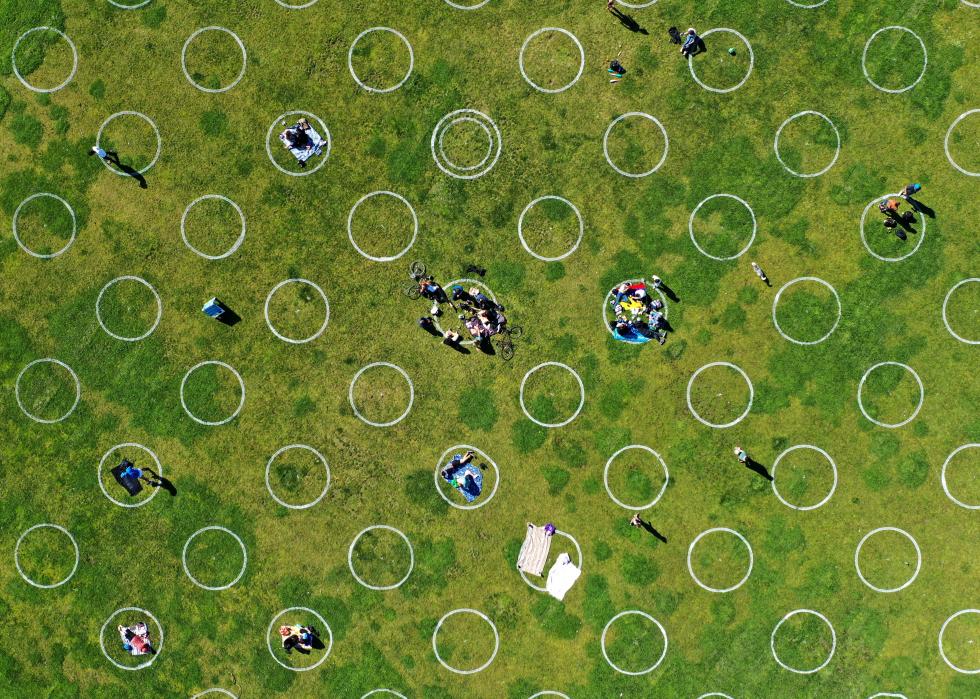 48 / 50
Justin Sullivan/Getty Images
A different kind of social circle in California
Pictured: New social distancing circles in Dolores Park in San Francisco.
49 / 50
Milos Bicanski // Getty Images
Culture from afar in Greece
Pictured: Tourists take photos behind plexiglass at the entrance of the Acropolis in Athens, Greece.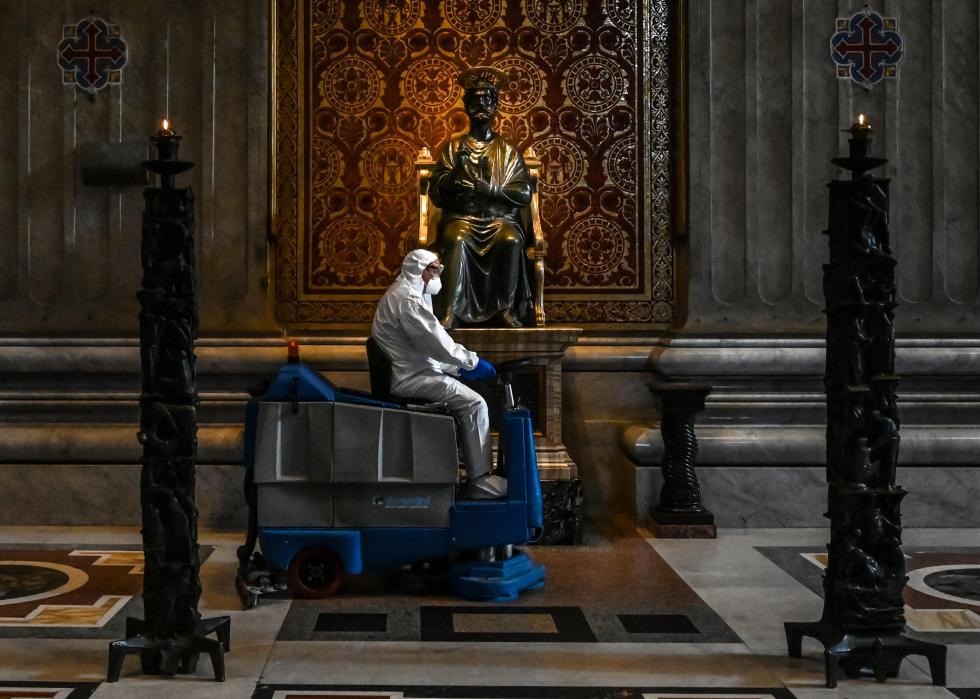 50 / 50
ALBERTO PIZZOLI/AFP via Getty Images
Modern sanitation in the most historic places