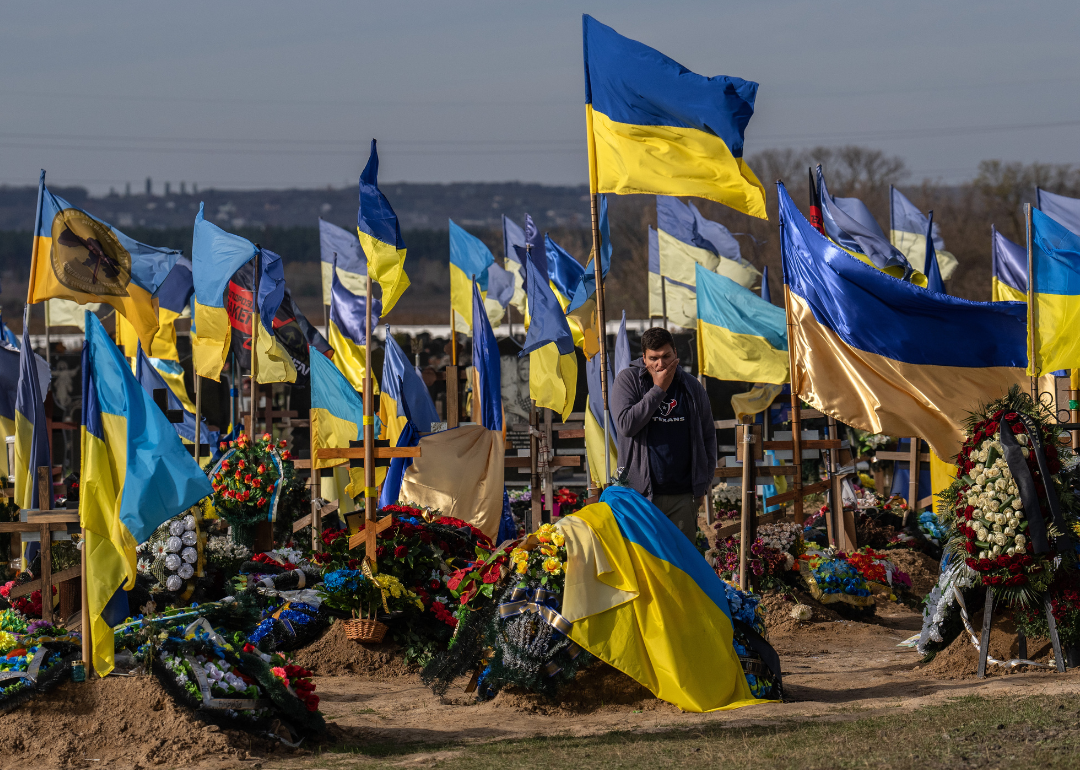 Oil prices and refugees: 7 charts that show how the world has changed since Russia invaded Ukraine
Carl Court // Getty Images
Oil prices and refugees: 7 charts that show how the world has changed since Russia invaded Ukraine
One year ago, Russia invaded Ukraine, violating its sovereignty and territorial integrity, and triggering a chain reaction of geopolitical and economic consequences worldwide. Vladimir Putin's justification for war, he proclaimed, was to "demilitarize and denazify Ukraine" and "bring to trial those who perpetrated numerous bloody crimes against civilians, including against citizens of the Russian Federation," despite a dearth of evidence to support such claims and strong opposition from scholars of Nazism and genocide.
The war's impact on the world at large pales in comparison to what the people of Ukraine have endured. More than 12 million people, 90% of which are estimated to be women and children, have fled or been forcibly removed from their country, and at least 5 million people have been internally displaced. More than 58,000 alleged war crimes—some of which likely amount to crimes against humanity—have been reported across Ukraine.
Still, the war's profound global effects are more accurately labeled as waves, not ripples. The complexity of sanctions and retaliatory bans disrupted commodity exports and prices. Three months into the war, global food prices increased by 30% from the previous year, largely due to the limited cooking oil, fertilizer, and grain exported from Ukraine, according to U.N. Secretary-General António Guterres.
The radiating effect of this lack of food availability, conflated with higher prices, is driving up rates of global starvation and famine. Roughly 345 million people are food insecure. Of those, 50 million people living in 45 countries are approaching famine. While the war in Ukraine is not solely to blame, over the past year it has become a significant driver of global food insecurity and a harbinger of potential famine.
In the United States, the consequences of Russia's invasion were most acutely felt at the gas pump, as crude oil and gasoline prices spiked in response to global market volatility. At its peak, national average prices hit record highs, surpassing $5 per gallon.
The geopolitical ramifications of Russia's war in Ukraine continue to unfold, but they are already beginning to reshape the world. Choosing a side, for many countries, is not just a moral choice. It is an evaluation of alliances, borders, trade relationships, and risk. This is apparent nowhere stronger, perhaps, than in China's position—its Communist government has both endorsed a nonnuclear pledge to the G20 but also voiced its desire to strengthen ties with the Russian Federation and to undermine the effects of global sanctions.
Stacker created seven charts that show how the world has changed since Russia invaded Ukraine one year ago using data from a variety of government, academic, and news sources.
You may also like: Voter demographics of every state