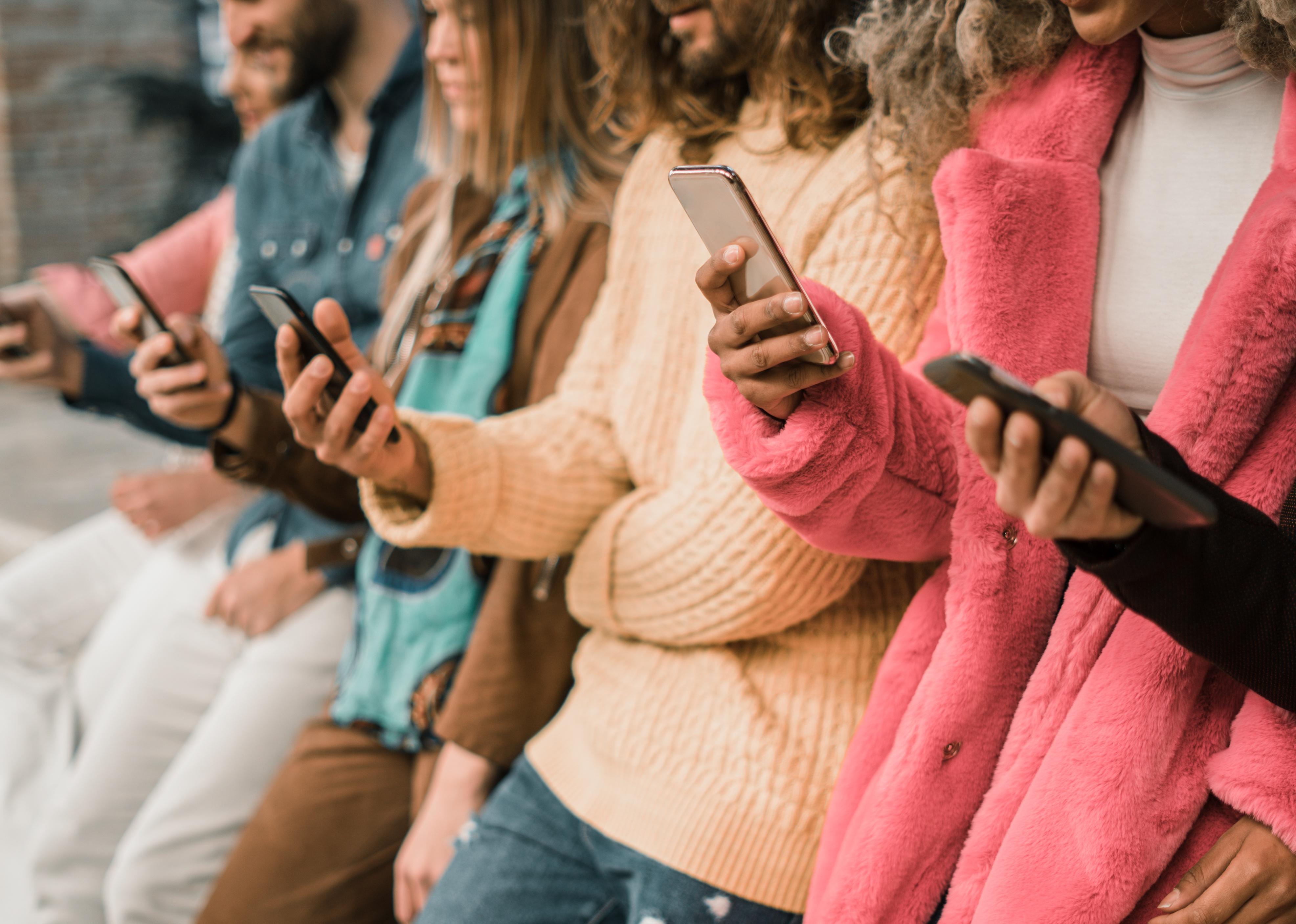 Stacker Studio
These countries have the most mobile phone users
These countries have the most mobile phone users
The smartphone revolution of 2007 dramatically transformed how people interact with technology and the outside world. It was a significant advancement beyond standard consumer mobile phones, which enabled people to communicate with each other on the go.
Combined with breakthroughs in telecommunication technologies like 3G, 4G, and 5G—which enabled the transmission of an increasing amount of data at faster speeds—smartphones soon became indispensable in everyday life. In our pockets, we now have the power to instantly call, text, or video chat with family and friends around the world, find answers to any question in the time it takes to type a search query, send and make payments through digital wallets, stream TV series and films, post updates to your followers about what you just ate, play countless games to crush candy or catapult birds, and more.
During the COVID-19 pandemic, smartphones became essential as many countries, such as Singapore and Qatar, began mandating that residents keep contact-tracing applications on their phones at all times. The devices also made life much easier for many people who needed to order groceries and food deliveries during lockdowns and self-quarantine.
As the role of smartphones in work, life, and leisure has expanded over the years, mobile phones have become more of a necessity than a luxury. Unsurprisingly, the number of smartphones sold worldwide has risen from approximately 122.3 million in 2007 to around 1.4 billion in 2022, according to data from Statista.
In the United States alone, 85% of residents have a smartphone, according to a 2021 Pew Research Center survey. Some people have more than one device to help create boundaries between different parts of their life in our increasingly interconnected digital world.
Though cellphones have become ubiquitous in many regions, there are plenty of places in the world that lack internet-ready economies, have low internet penetration, and have poor or underdeveloped data infrastructure—all of which are essential for people to make the best of their devices.
To address these issues, organizations like the World Bank have invested in efforts to bolster broadband access in countries such as Burundi, the Democratic Republic of the Congo, Rwanda, Gabon, and Malawi, among others. The organization's Digital Development Global Practice liaises with local governments to promote inclusive and responsible digitalization in developing countries.
In partnership with Visible, Stacker used data from the International Telecommunication Union via the World Bank to examine the rate of mobile phone subscriptions worldwide. The data includes billable and prepaid devices. While rates surpass one phone per person in many places, ownership of multiple devices per person inflates the overall average.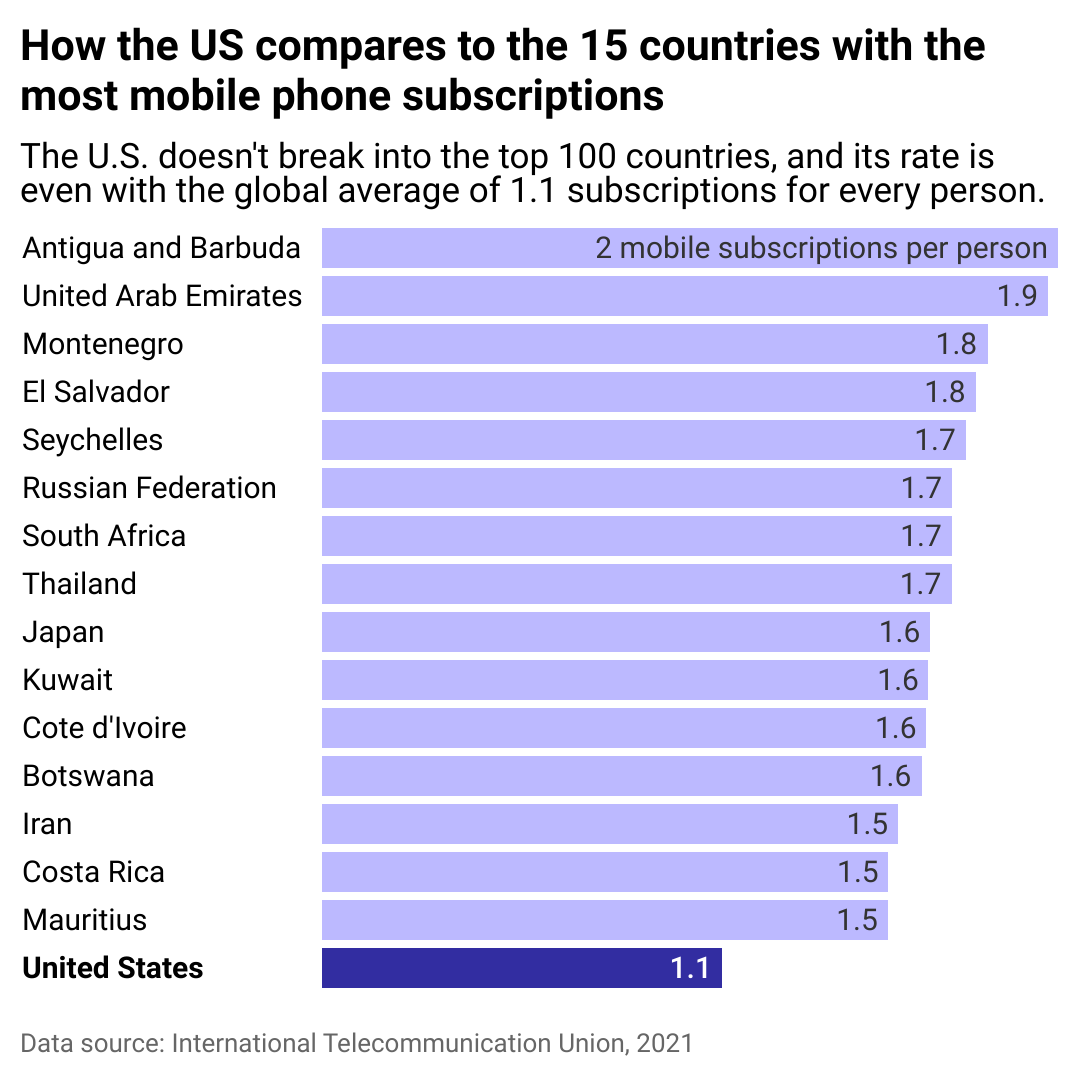 1 / 2
The global rate of mobile phone subscriptions is climbing
The worldwide rate of mobile phone subscriptions has grown nearly ninefold between 2001 and 2021, according to the ITU analysis.
The subscriptions counted are only those that allow users to make phone calls on their devices—including post-paid and prepaid subscriptions active in the three months before the data was collected. Many of these mobile phones also transmit information over a mobile connection to the internet. But people whose phone connections only connect to the internet, and not their nation's local telephone network, are not included in the analysis. Also excluded are USB modems, public mobile data systems, and radio paging services.
The massive increase in mobile phone subscriptions can be attributed to shifts in both demand and supply. On the demand side, as cellphones occupy greater relevance in daily life and have become necessary for many professions, more people want more devices, and faster, reliable connections at affordable prices have grown.
According to a June 2023 report from Ericsson, the demand for mobile internet bandwidth continues to increase worldwide, almost doubling in the two years from the beginning of 2021 to the start of 2023. On the supply side, technological advances have allowed companies to pack even more capability—functions, sensors, processing power, and data storage—into smartphones, boosting their usefulness.
More efficient components and larger storage capacity—combined with initiatives by organizations such as GSMA to promote smartphone connectivity in developing markets—have helped more people afford more useful cellphones and subscribe to the data and voice services they require.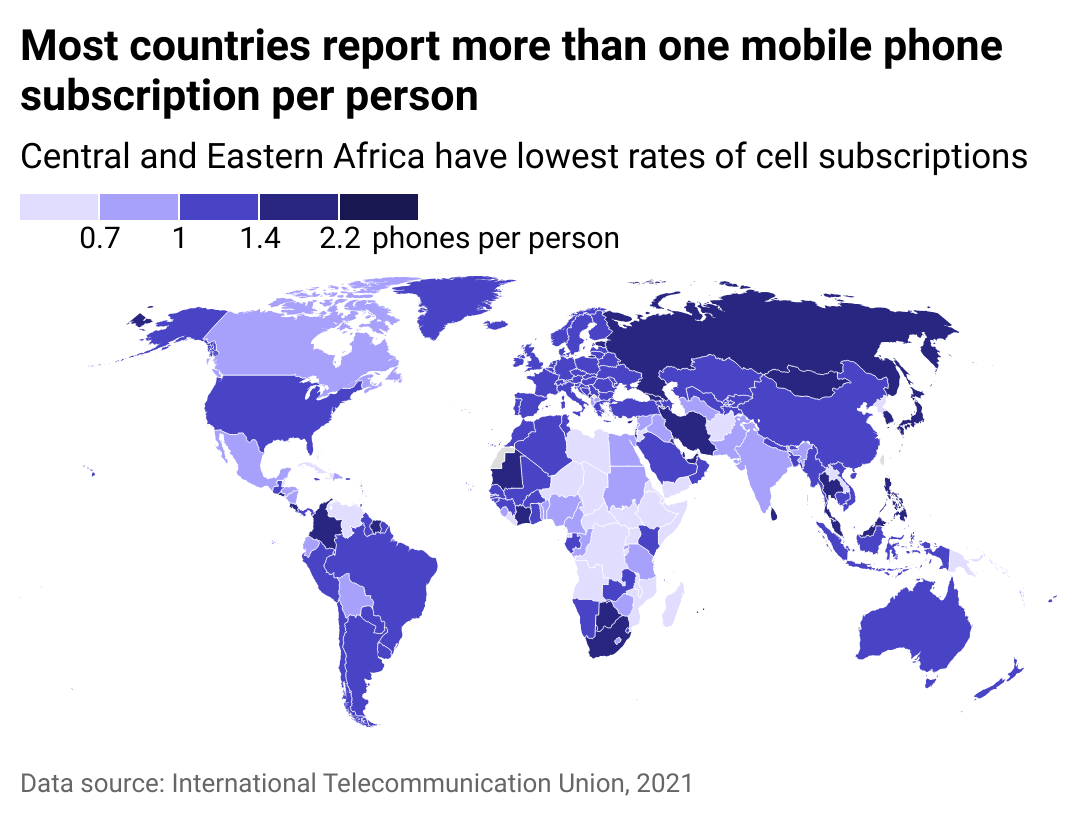 2 / 2
Wide disparities in mobile phone adoption remain
Countries such as Russia and South Africa report more mobile phone plan sign-ups than their populations because so many people in those countries use more than one phone. In fact, as of late 2022, there were more mobile phones in use around the world than people on the planet, according to the ITU.
Although the number of mobile phone plan subscriptions and smartphone ownership has risen worldwide, the growth in usage is not equally distributed among all countries. In emerging economies, the increase in smartphone ownership is concentrated mainly among those who are young, highly educated, and well-to-do financially, according to a 2019 Pew Research Center report. Nonetheless, the report found that since 2015, more people of all ages have been using smartphones.
Lack of access to smartphones and reliable smartphone operators is a barrier not only to online activity but to the physical world as well: Booking flight tickets, setting up medical appointments, and banking are all increasingly done online.
A lack of mobile phone ownership is a barrier to accessing essential financial services in countries like Ethiopia, according to the World Bank. To help with economic growth and development in the Global South, the bank says it is important to ensure more people have access to reliable smartphones and data infrastructure.
Story editing by Jeff Inglis. Copy editing by Tim Bruns.
This story originally appeared on Visible and was produced and distributed in partnership with Stacker Studio.