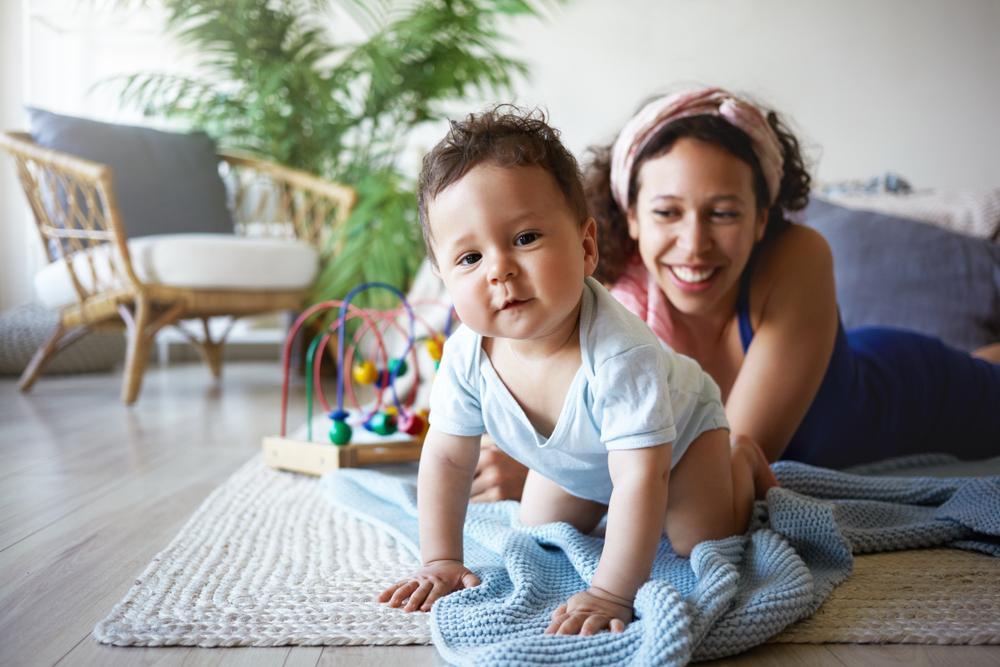 Best and worst states to have a baby
shurkin_son // Shutterstock
Best and worst states to have a baby
Having a baby isn't all teeny-tiny socks, adorable stuffed animals, and polka-dot onesies. Besides all the "aww"-inducing cuteness, there are plenty of real concerns for expectant parents—health and safety is chief among them. The United States has the worst maternal mortality rate in the developed world. The country's parental leave policies—or lack thereof—fall far behind other countries. The cost of raising children in America has risen exponentially since the 1960s and continues to grow. And those are just a few of the facts that parents must consider.  
But within the United States, which states are safest for new parents and their babies? Using data from WalletHub, Stacker ranked all 50 states and Washington, D.C. from least to most baby-friendly. WalletHub used 26 key indicators to score each state on cost, health care access, baby friendliness, and family friendliness. Indicators included hospital delivery charges, infant mortality rate, midwives and obstetrician-gynecologists per capita, parental leave policies, and birth rate.
Whether or not you're ready to start a family, this ranking of the best and worst states to have a baby may give you food for thought.
#51. Mississippi
Total score: 23.16
Cost rank: #29
Health care rank: #50
Baby-friendliness rank: #44
Family-friendliness rank: #49
#50. Alabama
Total score: 25.28
Cost rank: #47
Health care rank: #46
Baby-friendliness rank: #50
Family-friendliness rank: #48
#49. South Carolina
Total score: 27.53
Cost rank: #34
Health care rank: #48
Baby-friendliness rank: #49
Family-friendliness rank: #44
#48. Louisiana
Total score: 30.57
Cost rank: #1
Health care rank: #51
Baby-friendliness rank: #32
Family-friendliness rank: #46
#47. Oklahoma
Total score: 31.93
Cost rank: #45
Health care rank: #41
Baby-friendliness rank: #23
Family-friendliness rank: #45
#46. West Virginia
Total score: 32.17
Cost rank: #10
Health care rank: #45
Baby-friendliness rank: #47
Family-friendliness rank: #47
#45. Georgia
Total score: 33.6
Cost rank: #23
Health care rank: #43
Baby-friendliness rank: #31
Family-friendliness rank: #42
#44. Arkansas
Total score: 33.69
Cost rank: #9
Health care rank: #49
Baby-friendliness rank: #26
Family-friendliness rank: #43
#43. New Mexico
Total score: 34.74
Cost rank: #16
Health care rank: #36
Baby-friendliness rank: #25
Family-friendliness rank: #50
#42. Nevada
Total score: 34.78
Cost rank: #33
Health care rank: #26
Baby-friendliness rank: #48
Family-friendliness rank: #41
#41. Tennessee
Total score: 35.26
Cost rank: #44
Health care rank: #47
Baby-friendliness rank: #15
Family-friendliness rank: #36
#40. North Carolina
Total score: 37.46
Cost rank: #30
Health care rank: #31
Baby-friendliness rank: #42
Family-friendliness rank: #38
#39. Florida
Total score: 37.99
Cost rank: #41
Health care rank: #40
Baby-friendliness rank: #28
Family-friendliness rank: #32
#38. Arizona
Total score: 39.12
Cost rank: #22
Health care rank: #25
Baby-friendliness rank: #38
Family-friendliness rank: #40
#37. Missouri
Total score: 40.22
Cost rank: #31
Health care rank: #39
Baby-friendliness rank: #43
Family-friendliness rank: #24
#36. Kentucky
Total score: 40.76
Cost rank: #7
Health care rank: #38
Baby-friendliness rank: #33
Family-friendliness rank: #37
#35. Texas
Total score: 41.49
Cost rank: #40
Health care rank: #44
Baby-friendliness rank: #29
Family-friendliness rank: #20
#34. Delaware
Total score: 41.97
Cost rank: #37
Health care rank: #20
Baby-friendliness rank: #41
Family-friendliness rank: #31
#33. Wyoming
Total score: 42.09
Cost rank: #48
Health care rank: #33
Baby-friendliness rank: #17
Family-friendliness rank: #28
#32. Michigan
Total score: 42.43
Cost rank: #6
Health care rank: #35
Baby-friendliness rank: #39
Family-friendliness rank: #35
#31. Indiana
Total score: 42.52
Cost rank: #8
Health care rank: #42
Baby-friendliness rank: #30
Family-friendliness rank: #30
#30. Montana
Total score: 43.46
Cost rank: #15
Health care rank: #23
Baby-friendliness rank: #46
Family-friendliness rank: #27
#29. Alaska
Total score: 45.83
Cost rank: #51
Health care rank: #5
Baby-friendliness rank: #7
Family-friendliness rank: #39
#28. Idaho
Total score: 45.87
Cost rank: #13
Health care rank: #18
Baby-friendliness rank: #24
Family-friendliness rank: #34
#27. South Dakota
Total score: 46.18
Cost rank: #49
Health care rank: #16
Baby-friendliness rank: #45
Family-friendliness rank: #19
#26. Pennsylvania
Total score: 46.78
Cost rank: #4
Health care rank: #32
Baby-friendliness rank: #51
Family-friendliness rank: #18
#25. Virginia
Total score: 47.04
Cost rank: #17
Health care rank: #28
Baby-friendliness rank: #35
Family-friendliness rank: #21
#24. Kansas
Total score: 47.4
Cost rank: #35
Health care rank: #9
Baby-friendliness rank: #36
Family-friendliness rank: #26
#23. Maryland
Total score: 47.61
Cost rank: #5
Health care rank: #29
Baby-friendliness rank: #27
Family-friendliness rank: #29
#22. Ohio
Total score: 48.26
Cost rank: #3
Health care rank: #34
Baby-friendliness rank: #34
Family-friendliness rank: #23
#21. Illinois
Total score: 50.56
Cost rank: #32
Health care rank: #24
Baby-friendliness rank: #20
Family-friendliness rank: #15
#20. New Jersey
Total score: 50.64
Cost rank: #43
Health care rank: #30
Baby-friendliness rank: #16
Family-friendliness rank: #12
#19. Wisconsin
Total score: 53.65
Cost rank: #46
Health care rank: #22
Baby-friendliness rank: #18
Family-friendliness rank: #6
#18. New York
Total score: 53.86
Cost rank: #42
Health care rank: #27
Baby-friendliness rank: #13
Family-friendliness rank: #7
#17. Maine
Total score: 54.03
Cost rank: #21
Health care rank: #7
Baby-friendliness rank: #37
Family-friendliness rank: #17
#16. Oregon
Total score: 54.67
Cost rank: #12
Health care rank: #10
Baby-friendliness rank: #11
Family-friendliness rank: #25
#15. Rhode Island
Total score: 54.79
Cost rank: #36
Health care rank: #6
Baby-friendliness rank: #9
Family-friendliness rank: #22
#14. Iowa
Total score: 54.95
Cost rank: #25
Health care rank: #21
Baby-friendliness rank: #21
Family-friendliness rank: #8
#13. Hawaii
Total score: 55.04
Cost rank: #14
Health care rank: #12
Baby-friendliness rank: #2
Family-friendliness rank: #33
#12. Utah
Total score: 55.17
Cost rank: #24
Health care rank: #17
Baby-friendliness rank: #10
Family-friendliness rank: #16
#11. Washington
Total score: 55.99
Cost rank: #26
Health care rank: #14
Baby-friendliness rank: #14
Family-friendliness rank: #13
#10. California
Total score: 56.07
Cost rank: #50
Health care rank: #11
Baby-friendliness rank: #6
Family-friendliness rank: #10
#9. District of Columbia
Total score: 56.44
Cost rank: #28
Health care rank: #37
Baby-friendliness rank: #1
Family-friendliness rank: N/A
#8. Nebraska
Total score: 56.59
Cost rank: #19
Health care rank: #15
Baby-friendliness rank: #22
Family-friendliness rank: #9
#7. Colorado
Total score: 57.8
Cost rank: #38
Health care rank: #8
Baby-friendliness rank: #4
Family-friendliness rank: #14
#6. Connecticut
Total score: 59.3
Cost rank: #39
Health care rank: #13
Baby-friendliness rank: #3
Family-friendliness rank: #11
#5. North Dakota
Total score: 63.21
Cost rank: #2
Health care rank: #19
Baby-friendliness rank: #19
Family-friendliness rank: #4
#4. New Hampshire
Total score: 65.65
Cost rank: #11
Health care rank: #2
Baby-friendliness rank: #40
Family-friendliness rank: #3
#3. Minnesota
Total score: 67.06
Cost rank: #18
Health care rank: #4
Baby-friendliness rank: #5
Family-friendliness rank: #2
#2. Massachusetts
Total score: 67.76
Cost rank: #27
Health care rank: #3
Baby-friendliness rank: #12
Family-friendliness rank: #1
#1. Vermont
Total score: 69.61
Cost rank: #20
Health care rank: #1
Baby-friendliness rank: #8
Family-friendliness rank: #5