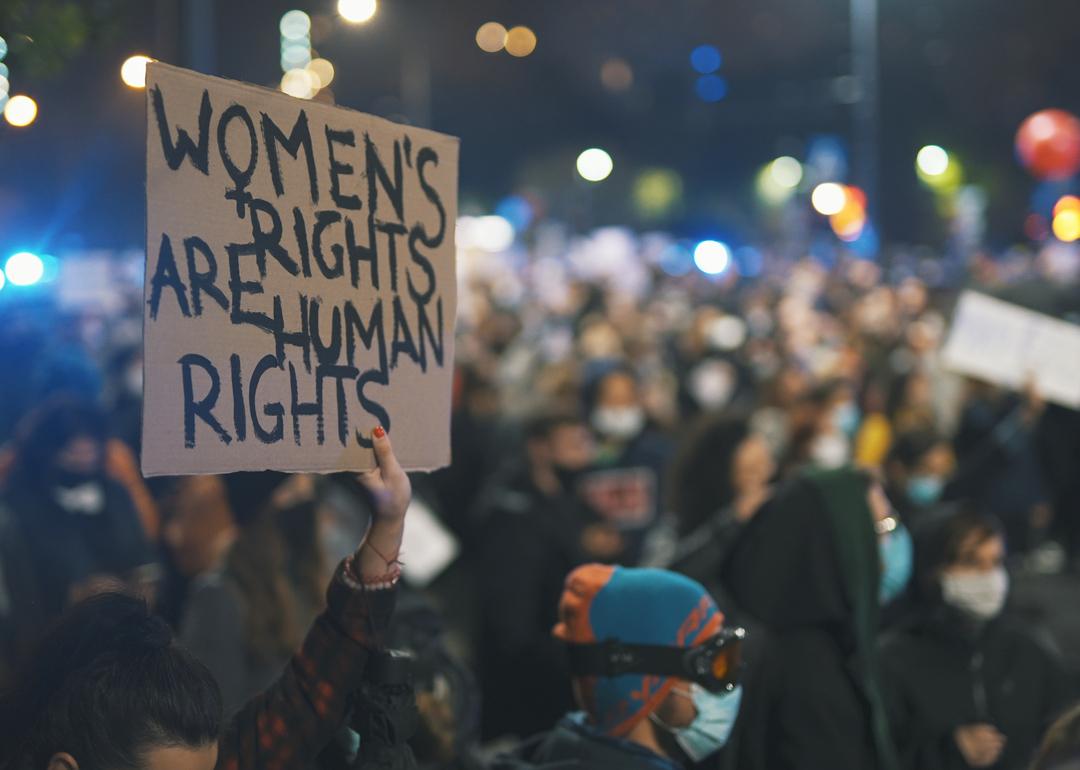 Best and worst states for women
CameraCraft // Shutterstock
Best and worst states for women
Note: This article contains discussion of domestic violence and rape.
The #MeToo movement ushered in a modern wave of feminism, with a new generation of activists building off work done by the feminists in previous waves to highlight long-standing issues while articulating structural solutions. Women's rights have come a long way since the suffragettes won women the right to vote in 1920, after 100 years of work, or when the second-wave feminist movement demanded and won the right to abortion after a decade of activism. 
But while women won the right the vote, they remain underrepresented in the nation's halls of power: 24 women (24%) currently serve in the Senate, and 119 women (27.4%) currently serve in the House of Representatives. And those numbers are even more dire considering women of color. Of those 143 women currently serving in the 117th Congress, 51 are women of color—and despite the overall low numbers, Congress is the most diverse it's ever been. Still, when Kamala Harris became the first woman and person of color to win the vice presidency, her exit from the Senate left it without a single Black woman. Women won the right to vote more than 100 years ago, but we've never had a female president.
The COVID-19 pandemic has underscored the frail gains made by women, as the economic recession and job losses have primarily harmed women who have been forced out of jobs in order to take on the labor of childcare and as fathers fail to step up to perform an equal share of household work. Women also are more likely to work in low-wage and precarious jobs in the industries that have been hardest hit by the pandemic, including restaurants, retail, hospitality, and health care. This points to the fact that even before the pandemic, women overall are more impoverished than men. Nearly two-thirds of all minimum-wage workers in the U.S. are women. And while the Equal Pay Act federally mandates equal pay, the gender gap still exists, with women making 81 cents to every man's dollar in 2020. When the wage gap incorporates race, Black and Latina women make only 75 cents on the dollar—25% less than what their white male counterpart makes.
Outside of the workplace, America remains a dangerous place for women. Intimate partner violence is a public health epidemic that accounts for 15% of all violent crime. One in five women women (and one in 71 men) in the U.S. has been raped in their lifetime. Transgender women are especially targeted with harassment and violence, making up the majority of the victims of hate violence homicides in 2020. States continue to make abortions restrictive and difficult for women to obtain. A study of 11 developed countries found the U.S. to have the highest maternal mortality rate, a dearth of maternity care providers, and the only country that doesn't mandate paid parental leave. Women are twice as likely to be diagnosed with depression than men.
With a myriad number of problems facing equality in mind, Stacker turned to WalletHub for a look at the best and worst states for women. By looking at socioeconomic factors (such as unemployment and poverty rates, attitudes towards women equality, and median earnings) and health care and safety (such as rates of violent acts against women, depression rates, and quality of women's hospitals), WalletHub ranked states in order of their treatment of women. Socioeconomic factors were weighted at 60%, and health care and safety at 40%. A more detailed methodology can be found here.
If you or someone you know are currently experiencing domestic violence, you can call the National Domestic Violence Hotline 1-800-787-3224 or visit it online.
#51. Louisiana
- Total score: 36.26
- Economic and social well-being rank: #51
- Health and safety rank: #46
#50. Mississippi
- Total score: 36.63
- Economic and social well-being rank: #50
- Health and safety rank: #49
#49. Arkansas
- Total score: 37.13
- Economic and social well-being rank: #46
- Health and safety rank: #51
#48. Alabama
- Total score: 39.40
- Economic and social well-being rank: #48
- Health and safety rank: #44
#47. Oklahoma
- Total score: 40.20
- Economic and social well-being rank: #44
- Health and safety rank: #50
#46. South Carolina
- Total score: 40.34
- Economic and social well-being rank: #47
- Health and safety rank: #43
#45. Idaho
- Total score: 44.66
- Economic and social well-being rank: #49
- Health and safety rank: #28
#44. West Virginia
- Total score: 45.11
- Economic and social well-being rank: #39
- Health and safety rank: #47
#43. Texas
- Total score: 46.11
- Economic and social well-being rank: #42
- Health and safety rank: #39
#42. Georgia
- Total score: 46.68
- Economic and social well-being rank: #43
- Health and safety rank: #37
#41. Utah
- Total score: 48.51
- Economic and social well-being rank: #45
- Health and safety rank: #26
#40. Nevada
- Total score: 48.75
- Economic and social well-being rank: #28
- Health and safety rank: #48
#39. Kentucky
- Total score: 48.88
- Economic and social well-being rank: #36
- Health and safety rank: #40
#38. Wyoming
- Total score: 49.34
- Economic and social well-being rank: #41
- Health and safety rank: #32
#37. Tennessee
- Total score: 49.59
- Economic and social well-being rank: #29
- Health and safety rank: #45
#36. Alaska
- Total score: 50.03
- Economic and social well-being rank: #30
- Health and safety rank: #42
#35. Missouri
- Total score: 50.18
- Economic and social well-being rank: #33
- Health and safety rank: #38
#34. Florida
- Total score: 51.31
- Economic and social well-being rank: #38
- Health and safety rank: #29
#33. New Mexico
- Total score: 51.59
- Economic and social well-being rank: #27
- Health and safety rank: #41
#32. North Carolina
- Total score: 52.04
- Economic and social well-being rank: #35
- Health and safety rank: #31
#31. Kansas
- Total score: 52.37
- Economic and social well-being rank: #32
- Health and safety rank: #34
#30. Arizona
- Total score: 52.53
- Economic and social well-being rank: #31
- Health and safety rank: #35
#29. Illinois
- Total score: 54.26
- Economic and social well-being rank: #40
- Health and safety rank: #18
#28. Pennsylvania
- Total score: 55.21
- Economic and social well-being rank: #34
- Health and safety rank: #23
#27. Indiana
- Total score: 56.68
- Economic and social well-being rank: #20
- Health and safety rank: #33
#26. California
- Total score: 57.48
- Economic and social well-being rank: #37
- Health and safety rank: #9
#25. Oregon
- Total score: 57.57
- Economic and social well-being rank: #25
- Health and safety rank: #24
#24. Montana
- Total score: 58.08
- Economic and social well-being rank: #13
- Health and safety rank: #36
#23. South Dakota
- Total score: 58.33
- Economic and social well-being rank: #22
- Health and safety rank: #25
#22. Michigan
- Total score: 59.08
- Economic and social well-being rank: #14
- Health and safety rank: #30
#21. Virginia
- Total score: 59.24
- Economic and social well-being rank: #24
- Health and safety rank: #22
#20. Ohio
- Total score: 59.26
- Economic and social well-being rank: #19
- Health and safety rank: #27
#19. Nebraska
- Total score: 59.30
- Economic and social well-being rank: #26
- Health and safety rank: #19
#18. Maryland
- Total score: 61.40
- Economic and social well-being rank: #21
- Health and safety rank: #15
#17. New Jersey
- Total score: 64.24
- Economic and social well-being rank: #23
- Health and safety rank: #6
#16. Wisconsin
- Total score: 64.55
- Economic and social well-being rank: #11
- Health and safety rank: #14
#15. Washington
- Total score: 64.65
- Economic and social well-being rank: #10
- Health and safety rank: #16
#14. North Dakota
- Total score: 65.02
- Economic and social well-being rank: #12
- Health and safety rank: #12
#13. New Hampshire
- Total score: 65.23
- Economic and social well-being rank: #18
- Health and safety rank: #8
#12. New York
- Total score: 66.83
- Economic and social well-being rank: #17
- Health and safety rank: #5
#11. Delaware
- Total score: 67.22
- Economic and social well-being rank: #7
- Health and safety rank: #21
#10. Vermont
- Total score: 67.43
- Economic and social well-being rank: #8
- Health and safety rank: #13
#9. Rhode Island
- Total score: 67.51
- Economic and social well-being rank: #9
- Health and safety rank: #7
#8. Connecticut
- Total score: 67.92
- Economic and social well-being rank: #15
- Health and safety rank: #3
#7. Hawaii
- Total score: 68.13
- Economic and social well-being rank: #16
- Health and safety rank: #2
#6. District of Columbia
- Total score: 68.62
- Economic and social well-being rank: #2
- Health and safety rank: #20
#5. Colorado
- Total score: 69.17
- Economic and social well-being rank: #4
- Health and safety rank: #17
#4. Maine
- Total score: 70.60
- Economic and social well-being rank: #6
- Health and safety rank: #11
#3. Iowa
- Total score: 71.17
- Economic and social well-being rank: #3
- Health and safety rank: #10
#2. Minnesota
- Total score: 75.16
- Economic and social well-being rank: #1
- Health and safety rank: #4
#1. Massachusetts
- Total score: 75.66
- Economic and social well-being rank: #5
- Health and safety rank: #1