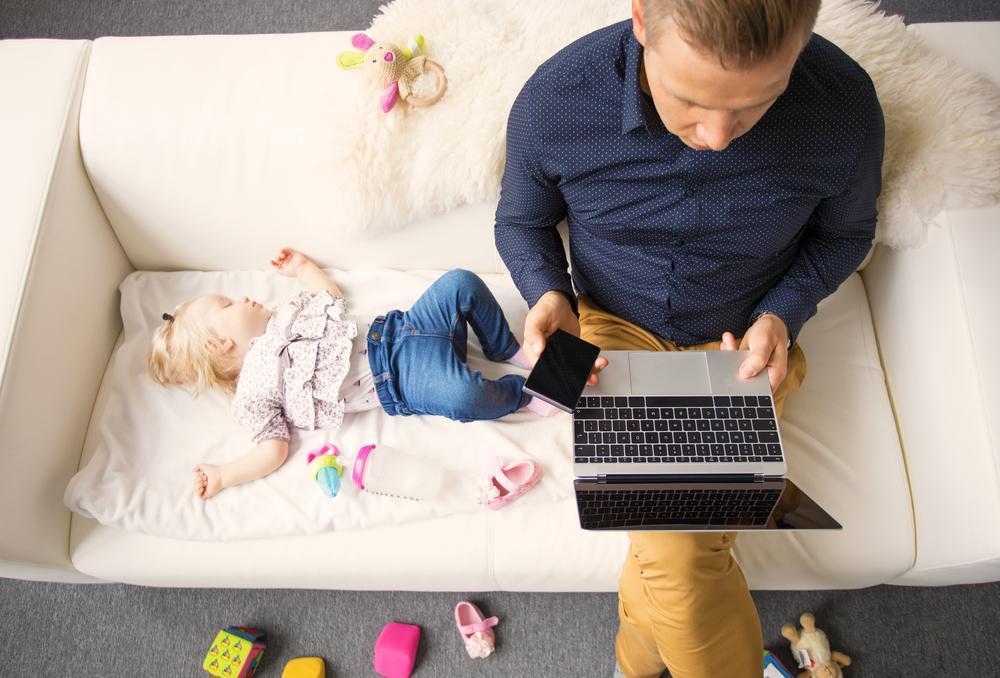 Best and worst states for working dads
Kaspars Grinvalds // Shutterstock
Best and worst states for working dads
It goes without saying that the role of the American father has changed drastically over the course of the past few decades. Once perceived as the de facto breadwinners, who were primarily responsible for instilling moral and religious values in their children, the household patriarchs now wear a handful of different hats due to a breadth of societal changes serving as catalysts for noticeable shifts in traditional family structure. Not only has female engagement in the workforce nearly doubled since World War II—jumping from 32.7% in 1948 to 56.8% in 2016—but child care has played an increasingly large role in the minds of many American fathers, with the average U.S. dad spending thrice as much time looking after his kids than was the case in 1965. While each of these factors have played a significant role in facilitating a transition toward a more family-oriented American father, the vast majority of dads still have to go to work every day to provide in some way for their families.
In celebration of Father's Day, Stacker referenced a WalletHub study to compile a list of the best states for working dads. The 50 states, as well as the District of Columbia, are ranked according to a handful of metrics, which heavily influence the quality of life for an employed father: socioeconomic well-being, access to child-care necessities, work-life balance, and overall male health in the state.
Read on to discover which states best enable career advancement for fathers, while also allowing for valuable time with loved ones.
#51. Mississippi
Total score: 33.78
Economic and social well-being rank: 45/51
Work-life balance rank: 50/51
Child care rank: 39/51
Health rank: 51/51


 
#50. Nevada
Total score: 35.12
Economic and social well-being rank: 51/51
Work-life balance rank: 22/51
Child care rank: 48/51
Health rank: 41/51


 
#49. West Virginia
Total score: 36.91
Economic and social well-being rank: 40/51
Work-life balance rank: 43/51
Child care rank: 45/51
Health rank: 45/51


 
#48. New Mexico
Total score: 38.22
Economic and social well-being rank: 50/51
Work-life balance rank: 19/51
Child care rank: 46/51
Health rank: 39/51


 
#47. Louisiana
Total score: 38.25
Economic and social well-being rank: 26/51
Work-life balance rank: 45/51
Child care rank: 49/51
Health rank: 46/51


 
#46. Alabama
Total score: 38.47
Economic and social well-being rank: 37/51
Work-life balance rank: 46/51
Child care rank: 43/51
Health rank: 50/51


 
#45. Idaho
Total score: 39.38
Economic and social well-being rank: 33/51
Work-life balance rank: 37/51
Child care rank: 51/51
Health rank: 28/51


 
#44. Arkansas
Total score: 40.72
Economic and social well-being rank: 44/51
Work-life balance rank: 26/51
Child care rank: 41/51
Health rank: 49/51


 
#43. Georgia
Total score: 40.77
Economic and social well-being rank: 41/51
Work-life balance rank: 48/51
Child care rank: 29/51
Health rank: 43/51


 
#42. Arizona
Total score: 40.88
Economic and social well-being rank: 48/51
Work-life balance rank: 29/51
Child care rank: 44/51
Health rank: 23/51


 
#41. Alaska
Total score: 41.11
Economic and social well-being rank: 34/51
Work-life balance rank: 33/51
Child care rank: 50/51
Health rank: 29/51


 
#40. South Carolina
Total score: 41.82
Economic and social well-being rank: 42/51
Work-life balance rank: 40/51
Child care rank: 35/51
Health rank: 42/51


 
#39. Oklahoma
Total score: 42.56
Economic and social well-being rank: 32/51
Work-life balance rank: 49/51
Child care rank: 27/51
Health rank: 47/51


 
#38. Texas
Total score: 45.74
Economic and social well-being rank: 30/51
Work-life balance rank: 51/51
Child care rank: 13/51
Health rank: 32/51


 
#37. Michigan
Total score: 45.86
Economic and social well-being rank: 31/51
Work-life balance rank: 34/51
Child care rank: 37/51
Health rank: 33/51


 
#36. Tennessee
Total score: 46.83
Economic and social well-being rank: 35/51
Work-life balance rank: 28/51
Child care rank: 25/51
Health rank: 44/51


 
#35. South Dakota
Total score: 47.17
Economic and social well-being rank: 23/51
Work-life balance rank: 42/51
Child care rank: 38/51
Health rank: 13/51


 
#34. Kentucky
Total score: 47.30
Economic and social well-being rank: 36/51
Work-life balance rank: 32/51
Child care rank: 16/51
Health rank: 48/51


 
#33. Florida
Total score: 48.18
Economic and social well-being rank: 46/51
Work-life balance rank: 23/51
Child care rank: 19/51
Health rank: 27/51


 
#32. North Carolina
Total score: 48.18
Economic and social well-being rank: 38/51
Work-life balance rank: 31/51
Child care rank: 20/51
Health rank: 35/51


 
#31. Missouri
Total score: 48.37
Economic and social well-being rank: 22/51
Work-life balance rank: 35/51
Child care rank: 34/51
Health rank: 34/51


 
#30. Wyoming
Total score: 48.44
Economic and social well-being rank: 9/51
Work-life balance rank: 47/51
Child care rank: 36/51
Health rank: 30/51


 
#29. Pennsylvania
Total score: 49.35
Economic and social well-being rank: 14/51
Work-life balance rank: 41/51
Child care rank: 33/51
Health rank: 31/51


 
#28. Montana
Total score: 50.75
Economic and social well-being rank: 29/51
Work-life balance rank: 18/51
Child care rank: 32/51
Health rank: 37/51


 
#27. Ohio
Total score: 52.31
Economic and social well-being rank: 21/51
Work-life balance rank: 24/51
Child care rank: 26/51
Health rank: 38/51


 
#26. Oregon
Total score: 53.14
Economic and social well-being rank: 47/51
Work-life balance rank: 3/51
Child care rank: 42/51
Health rank: 21/51


 
#25. Indiana
Total score: 53.27
Economic and social well-being rank: 24/51
Work-life balance rank: 30/51
Child care rank: 9/51
Health rank: 40/51


 
#24. California
Total score: 53.40
Economic and social well-being rank: 49/51
Work-life balance rank: 1/51
Child care rank: 47/51
Health rank: 10/51


 
#23. Hawaii
Total score: 54.69
Economic and social well-being rank: 39/51
Work-life balance rank: 6/51
Child care rank: 40/51
Health rank: 4/51


 
#22. Washington
Total score: 54.75
Economic and social well-being rank: 25/51
Work-life balance rank: 13/51
Child care rank: 31/51
Health rank: 8/51


 
#21. Colorado
Total score: 55.06
Economic and social well-being rank: 18/51
Work-life balance rank: 20/51
Child care rank: 28/51
Health rank: 7/51


 
#20. New York
Total score: 56.06
Economic and social well-being rank: 43/51
Work-life balance rank: 8/51
Child care rank: 23/51
Health rank: 24/51


 
#19. Kansas
Total score: 56.21
Economic and social well-being rank: 13/51
Work-life balance rank: 27/51
Child care rank: 18/51
Health rank: 25/51


 
#18. Nebraska
Total score: 56.87
Economic and social well-being rank: 7/51
Work-life balance rank: 25/51
Child care rank: 24/51
Health rank: 12/51


 
#17. Maine
Total score: 57.23
Economic and social well-being rank: 28/51
Work-life balance rank: 10/51
Child care rank: 17/51
Health rank: 22/51


 
#16. Maryland
Total score: 57.62
Economic and social well-being rank: 4/51
Work-life balance rank: 36/51
Child care rank: 12/51
Health rank: 16/51


 
#15. North Dakota
Total score: 58.30
Economic and social well-being rank: 1/51
Work-life balance rank: 38/51
Child care rank: 15/51
Health rank: 20/51


 
#14. Illinois
Total score: 58.78
Economic and social well-being rank: 20/51
Work-life balance rank: 16/51
Child care rank: 10/51
Health rank: 26/51


 
#13. Iowa
Total score: 59.00
Economic and social well-being rank: 6/51
Work-life balance rank: 21/51
Child care rank: 22/51
Health rank: 9/51


 
#12. Virginia
Total score: 59.34
Economic and social well-being rank: 3/51
Work-life balance rank: 44/51
Child care rank: 8/51
Health rank: 14/51


 
#11. Utah
Total score: 59.60
Economic and social well-being rank: 19/51
Work-life balance rank: 12/51
Child care rank: 14/51
Health rank: 15/51


 
#10. New Hampshire
Total score: 61.09
Economic and social well-being rank: 5/51
Work-life balance rank: 39/51
Child care rank: 7/51
Health rank: 6/51


 
#9. District of Columbia
Total score: 61.10
Economic and social well-being rank: 17/51
Work-life balance rank: 7/51
Child care rank: 30/51
Health rank: 18/51


 
#8. Wisconsin
Total score: 61.51
Economic and social well-being rank: 12/51
Work-life balance rank: 15/51
Child care rank: 11/51
Health rank: 11/51


 
#7. Delaware
Total score: 64.05
Economic and social well-being rank: 15/51
Work-life balance rank: 17/51
Child care rank: 2/51
Health rank: 36/51


 
#6. Rhode Island
Total score: 65.09
Economic and social well-being rank: 27/51
Work-life balance rank: 2/51
Child care rank: 21/51
Health rank: 17/51


 
#5. New Jersey
Total score: 68.17
Economic and social well-being rank: 10/51
Work-life balance rank: 14/51
Child care rank: 1/51
Health rank: 19/51


 
#4. Massachusetts
Total score: 69.12
Economic and social well-being rank: 11/51
Work-life balance rank: 11/51
Child care rank: 3/51
Health rank: 2/51


 
#3. Vermont
Total score: 70.37
Economic and social well-being rank: 16/51
Work-life balance rank: 5/51
Child care rank: 4/51
Health rank: 3/51


 
#2. Minnesota
Total score: 71.17
Economic and social well-being rank: 2/51
Work-life balance rank: 9/51
Child care rank: 5/51
Health rank: 1/51


 
#1. Connecticut
Total score: 72.10
Economic and social well-being rank: 8/51
Work-life balance rank: 4/51
Child care rank: 6/51
Health rank: 5/51