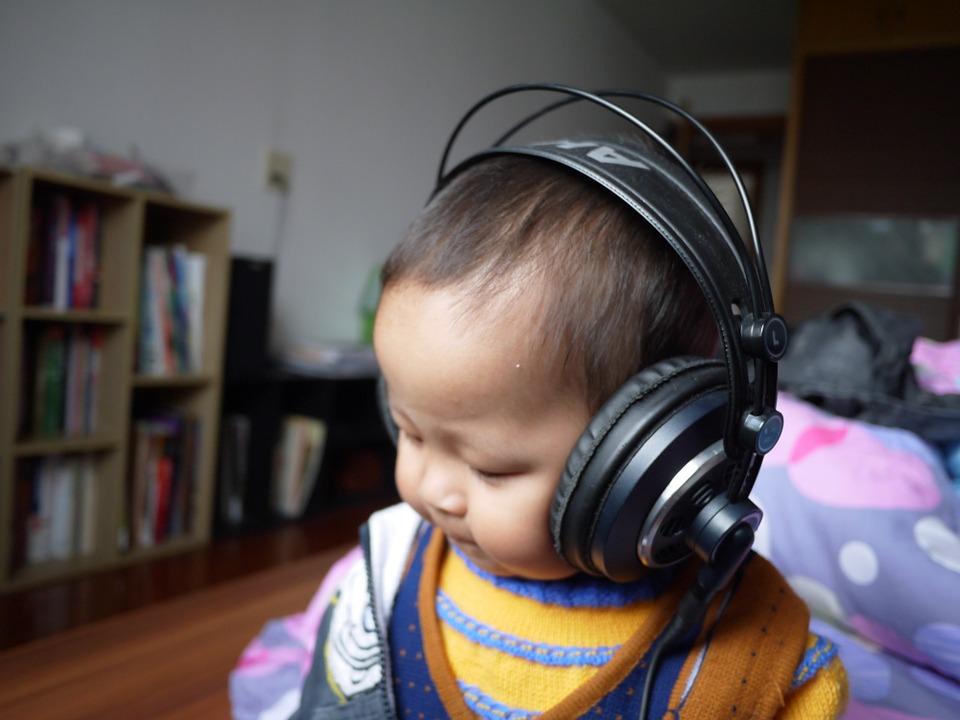 Facts about every state that will make you smile
Facts about every state that will make you smile
The weather is hitting record highs (and lows), and the stock market is unpredictable as ever - sometimes it can feel like up is down, or as if the earth is slowly falling off of its axis. Unfortunately, if it bleeds, it leads, and today's media is often filled with demoralizing stories of a world gone mad. Sometimes, you just want something to smile about.
To help shed some light on your day, we put in the research to find a unique, smile-worthy fact about every state in America. Believe it or not, there is a US State that has banned any and all laws prohibiting public intoxication. (Yes, you read that right). Can you guess where the world record for number of people simultaneously twerking took place? Or where there are laws about how high pickles have to bounce to be considered pickles?
We live in a crazy world, but chin up - there's plenty to smile about. Read on to see Stacker's list of facts about every state to make you smile.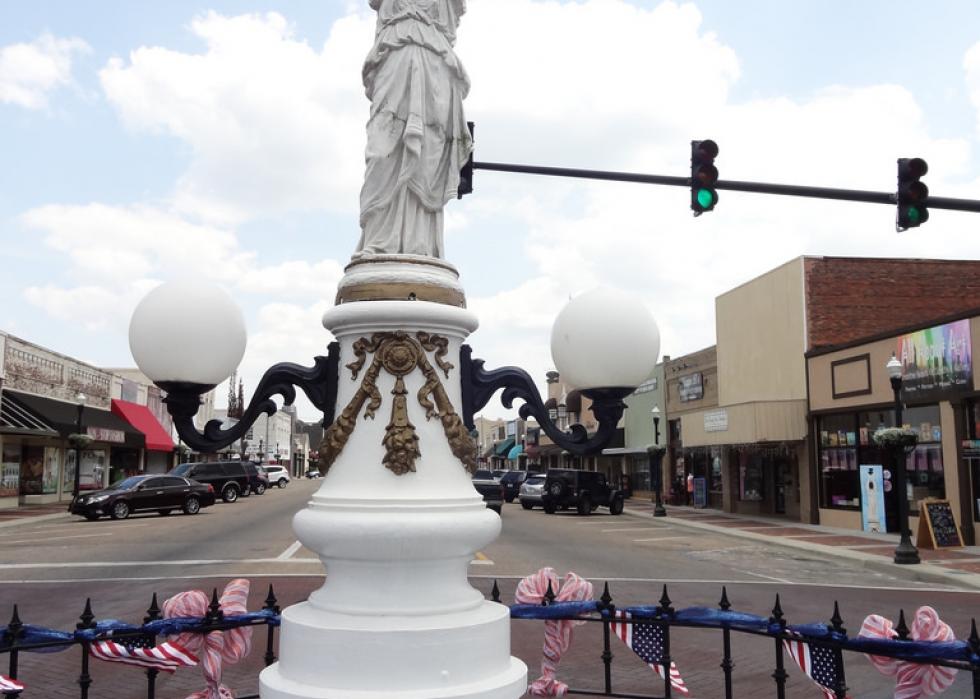 1 / 50
#50. Alabama
Alabama has a monument to… an insect.  This state has a statue honoring the boll weevil, a bug that burrowed into Alabama soil starting in 1909 and killed cotton plants, destroying the state's primary agricultural output.  This destruction forced Alabama farmers to diversify, leading them to future success with peanuts and other profitable crops.  Although the monument was erected in 1919, a statue of the insect itself wasn't added until 30 years later.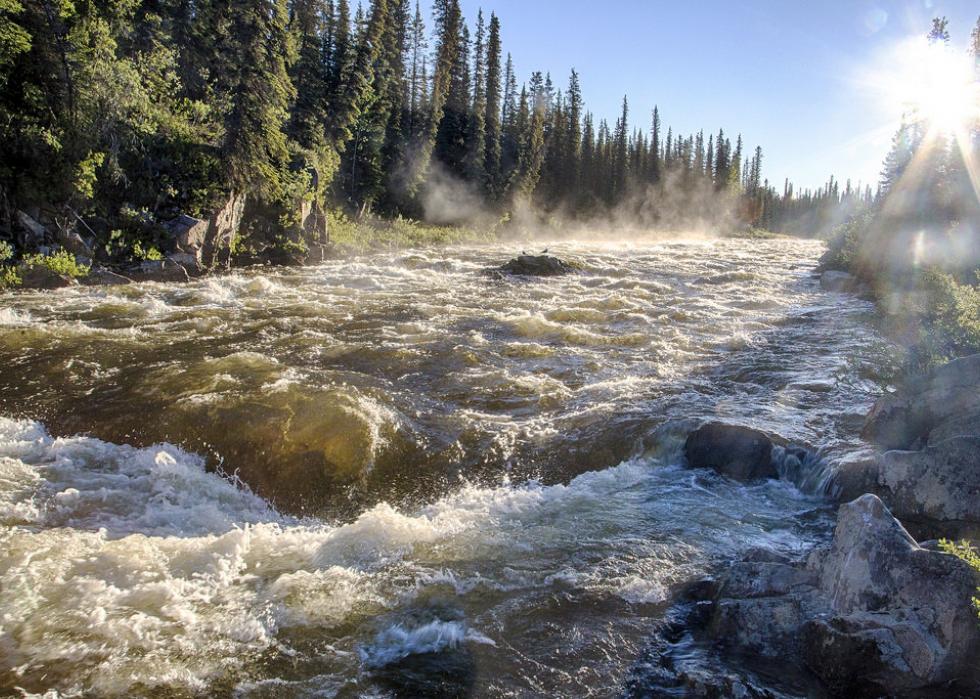 2 / 50
Bureau of Land Management // Flickr
#49. Alaska
Not only is Alaska the largest state by landmass, it's also the largest state by water mass: it has over 3,000 rivers, and about 3.5 million lakes of 20 acres or more.  Lake Iliamna, the biggest of these lakes, is roughly the size of Connecticut.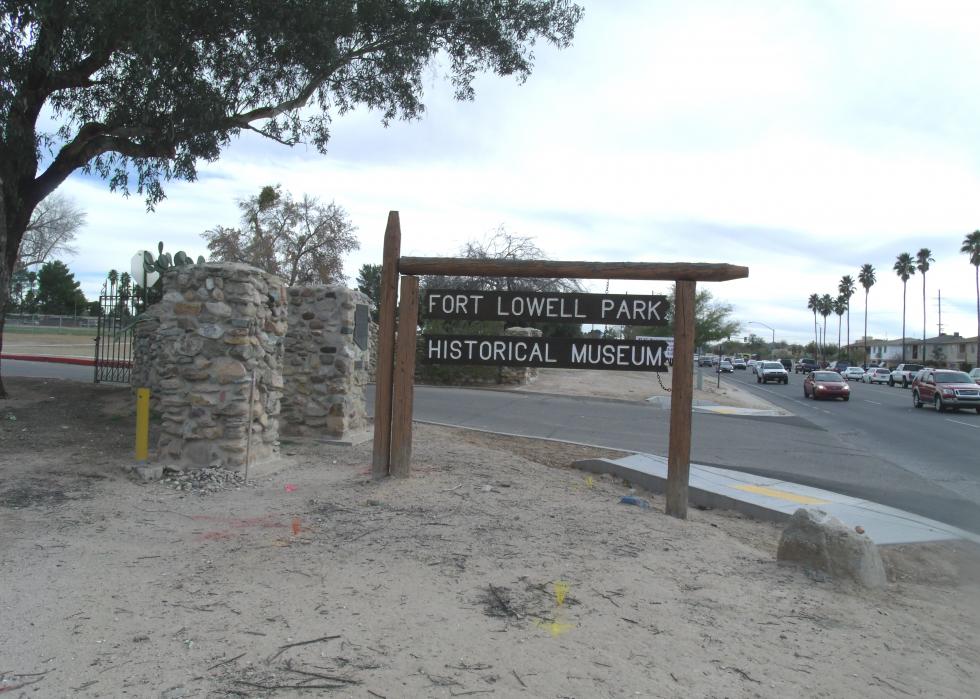 3 / 50
Tony the Marine // Wikimedia Commons
#48. Arizona
Arizona officially joined the U.S. on Valentine's Day - February 14th, 1912.  For this reason, the state is now known as the "Nation's Valentine."  Fort Lowell, a historic park, celebrates this day each year with special exhibitions on Arizona history.
4 / 50
Enrico Mevius // Wikimedia Commons
#47. Arkansas
Arkansas is the home of the World Championship Duck Contest, an event that aims to crown the best competitive duck caller each year.  This sport is basically exactly what it sounds like: contestants vocalize duck calls, as they would when out on a hunting trip, and are judged on their ability to attract birds.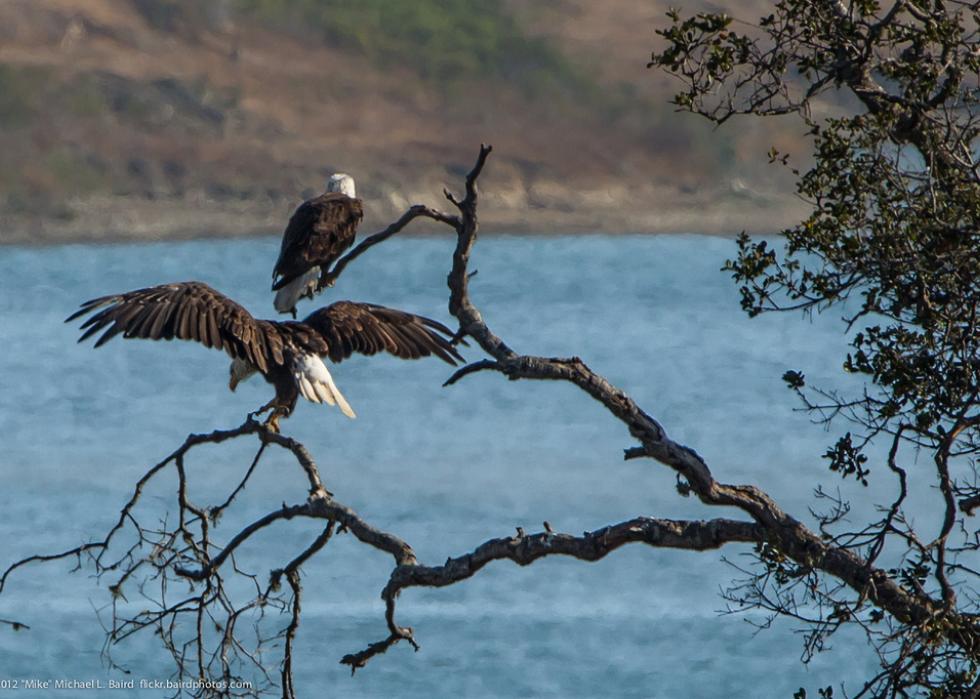 5 / 50
#46. California
If you ever want to feel really patriotic, go to northern California's Klamath Basin National Wildlife Refuge in February.  Each winter, the Klamath Basin attracts hundreds to thousands of bald eagles that have migrated from other parts of the country, and the refuge celebrates by hosting America's longest-running bird festival over President's Day weekend.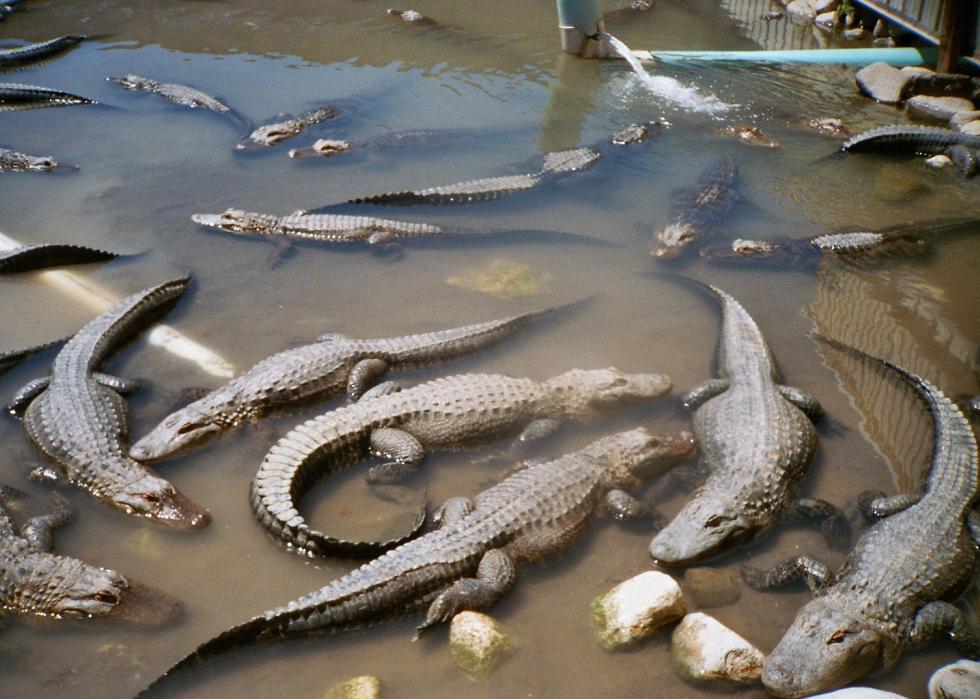 6 / 50
Rolf Blauert // Wikimedia Commons
#45. Colorado
There are alligators in Colorado. Not naturally of course, but the Colorado Alligator Farm is the only high-altitude sanctuary of its kind in the world. A geothermal water area keeps them safe from the cold.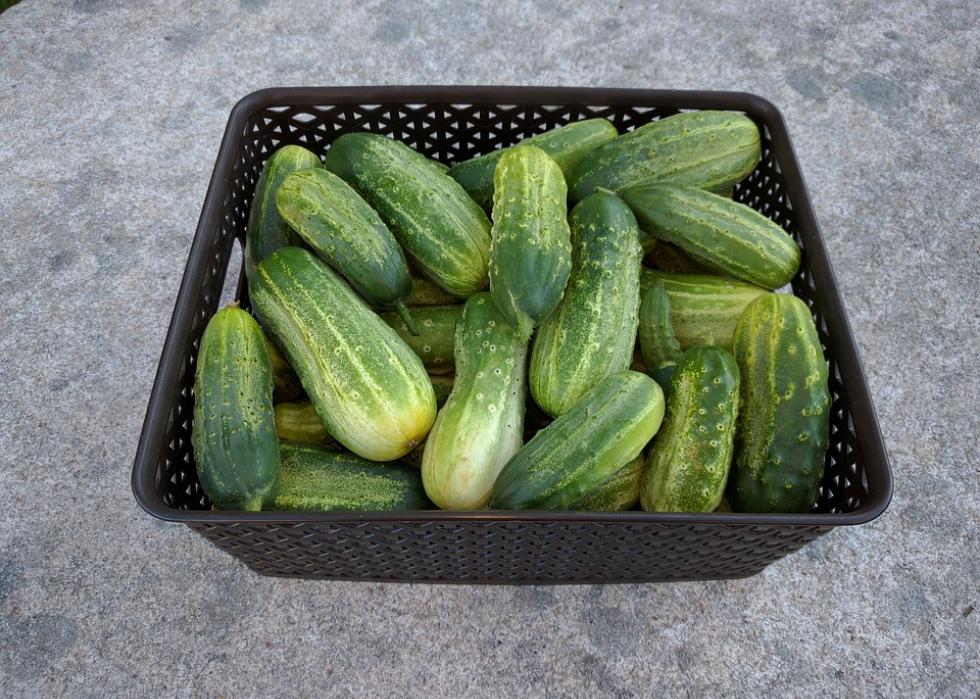 7 / 50
#44. Connecticut
"A pickle's not a pickle if it doesn't bounce." Now, that's not a cute aphorism Connecticutians say, but an actual law.  In 1948, pickle packers Sidney Sparer and Moses Dexler were arrested and fined $500 for selling pickles "unfit for human consumption."  When asked how he quality tested the pickles, Connecticut Food and Drug Commissioner Frederick Holcomb told the Hartford Courant that, along with lab tests, he dropped them one foot and looked for a bounce.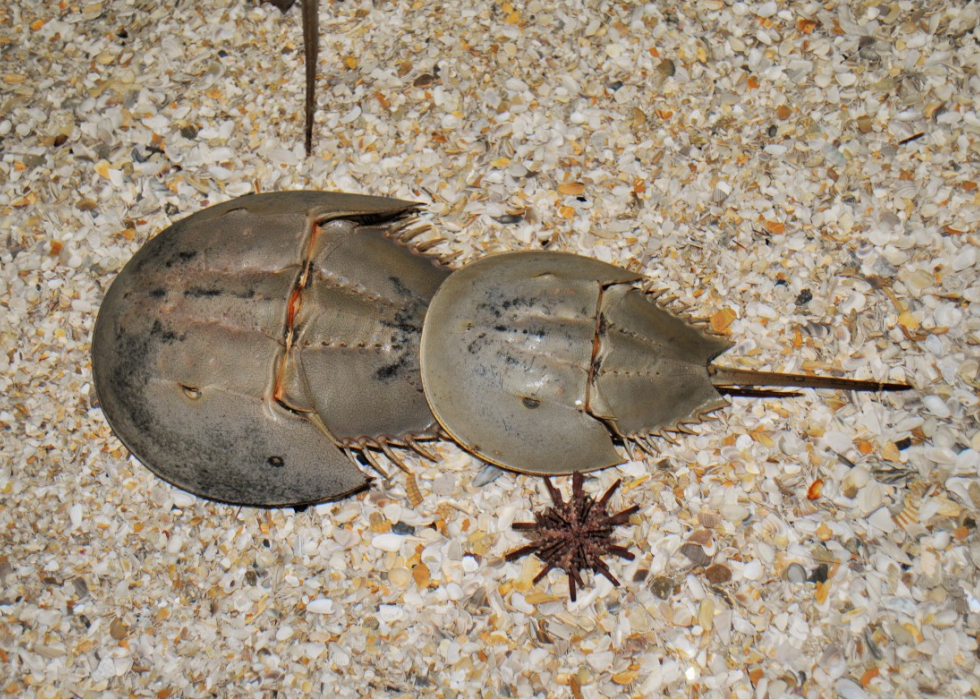 8 / 50
#43. Delaware
Delaware is a tiny state, but its coastline is home to more horseshoe crabs than any other singular place in the world.  For this reason, the animal is Delaware's state marine animal.  Horseshoe crabs are such an ancient species they're considered living fossils, and are incredibly valuable both medically (various body parts are used for detecting bacterial poisons in medications, vision studies, and making bandages) and ecologically (they're the main food source for over a million shore birds).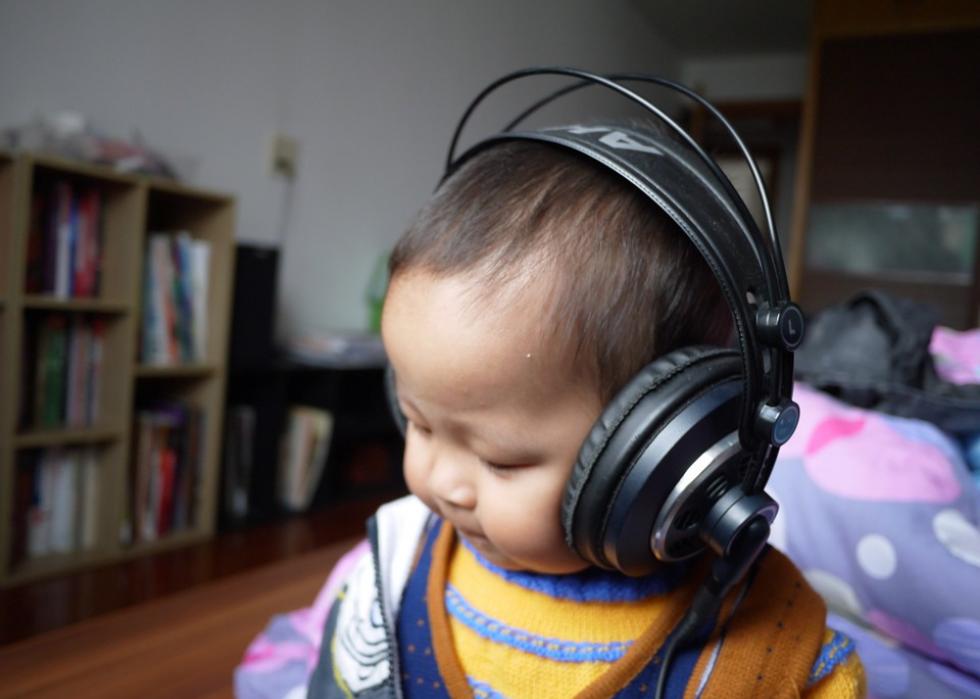 9 / 50
#42. Florida
As of a 1998 state law, all state-funded Florida daycare centers and preschools are required to play classical music for their children.  Classical music does not actually help in brain development (as state senator Bill Turner said when he voted for the law), but the Mozart still remains.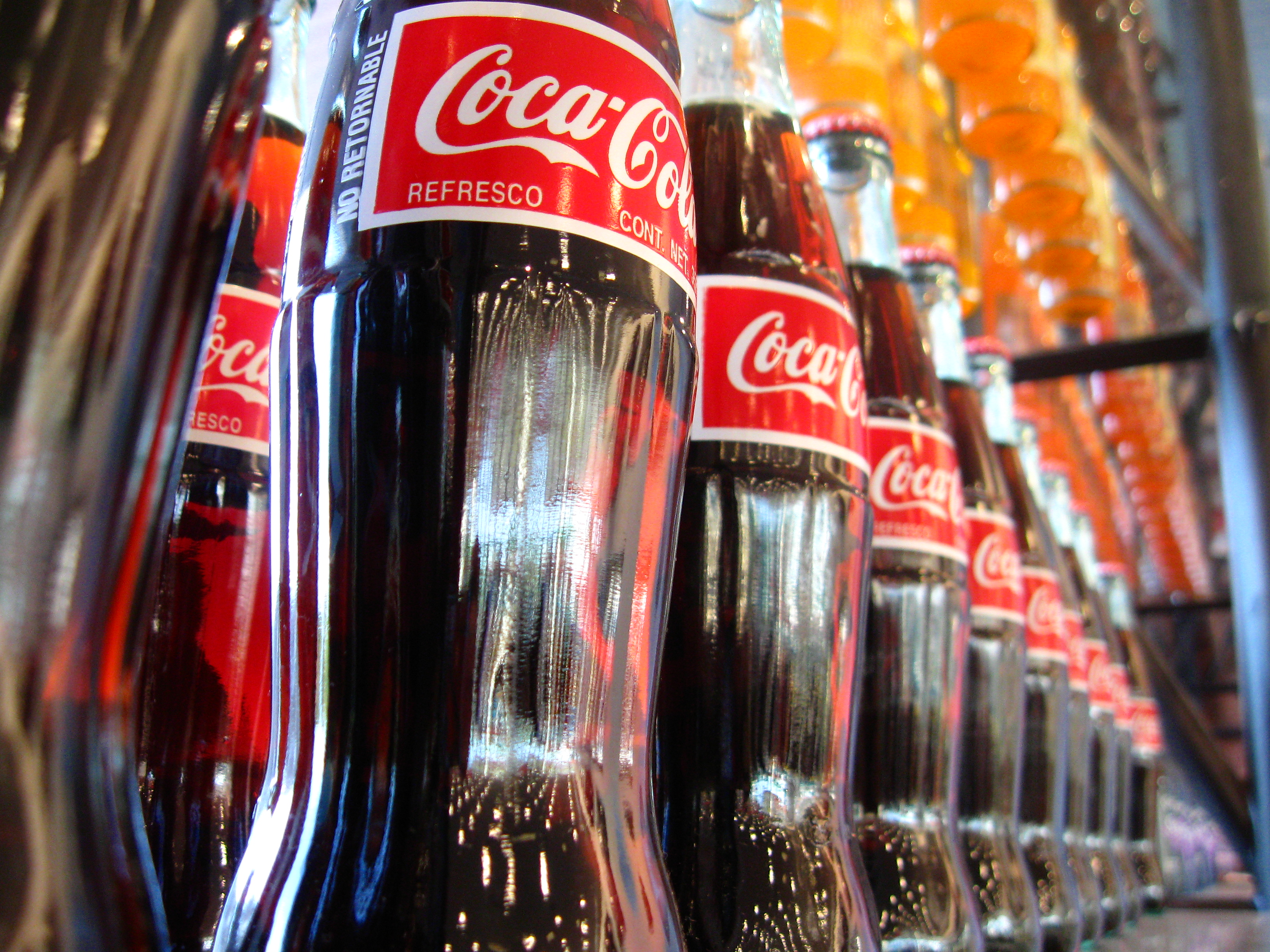 10 / 50
#41. Georgia
As the home of the Coca-Cola conglomerate, Georgia and its residents don't take too kindly to Pepsi. In fact, one kid was suspended from high school just for wearing a Pepsi shirt. To be fair,  he wore it on National Coke Day, which is a thing.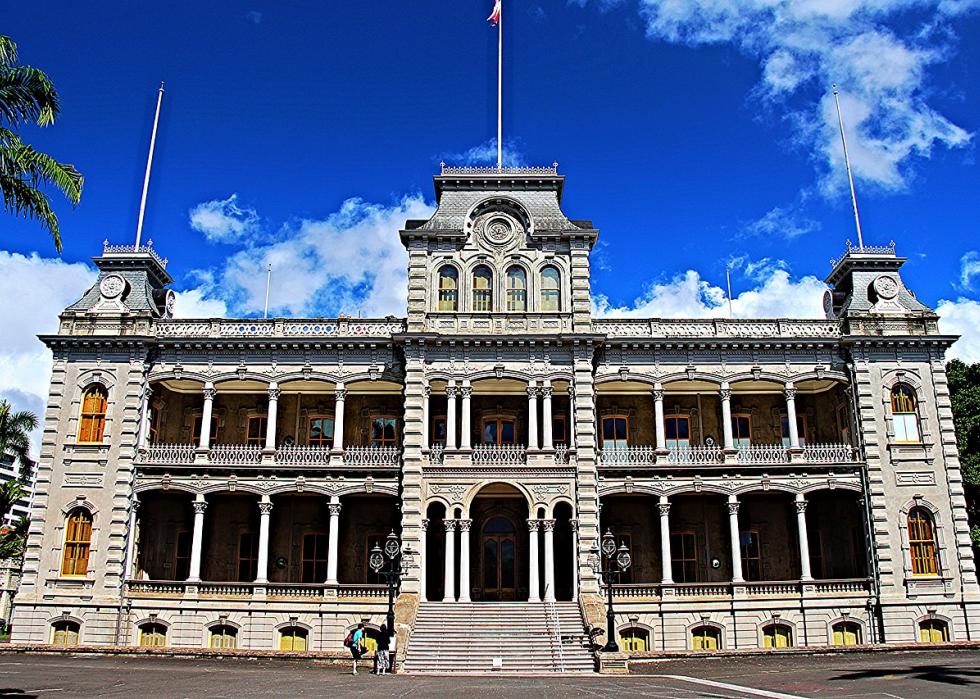 11 / 50
Jason Raia // Wikimedia Commons
#40. Hawaii
Kings and queens in the Land of the Free? Hawaii is the home of America's only royal palace, the 'Iolani Palace. Seat of the Kalākaua Dynasty in the late 1800s, it is now a Historical Landmark in downtown Honolulu.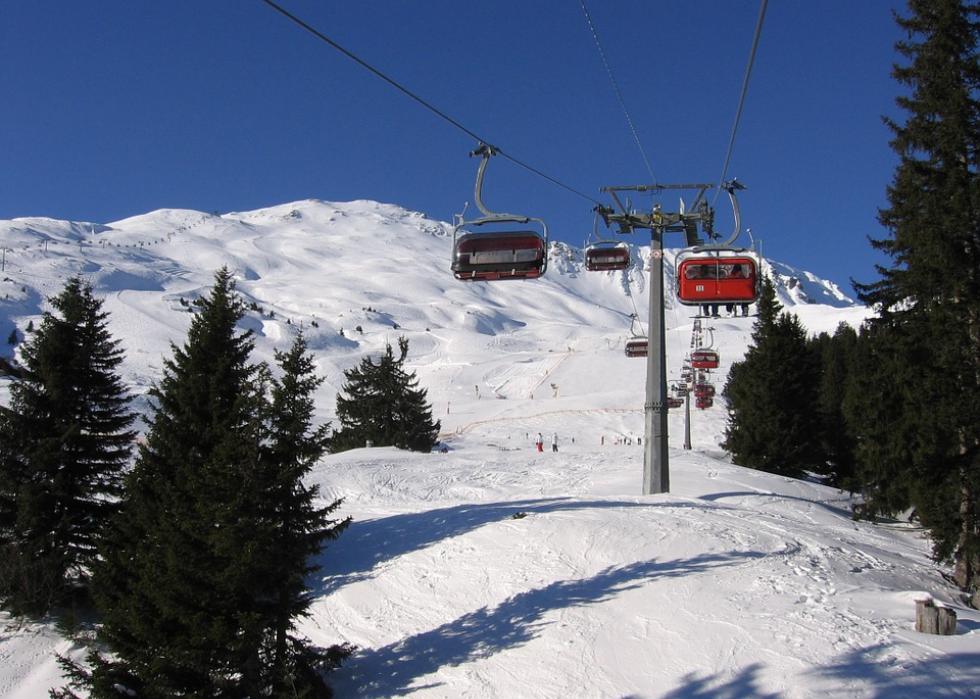 12 / 50
#39. Idaho
Relieved that you can ride a ski lift to the top of a mountain instead of clambering up there yourself?  You have Idaho to thank for that - it was in this state, in the 1930s, that engineers at Idaho's Sun Valley, America's first ski resort, developed this comfortable technology.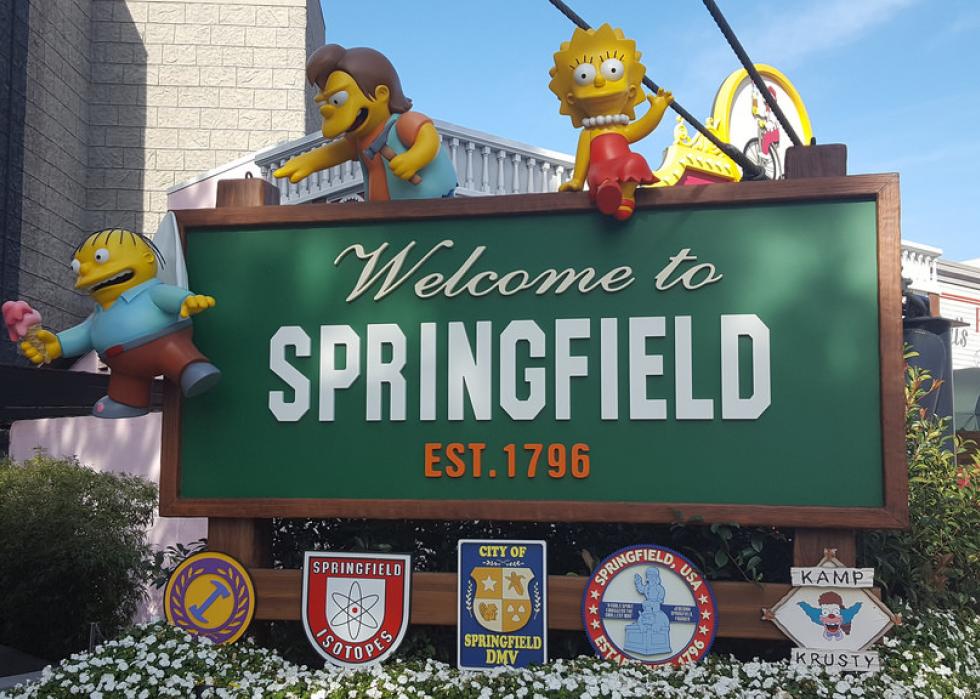 13 / 50
#38. Illinois
Many Illinois residents believe Springfield, home of the Simpsons, is based on Springfield, their state's capitol.  In fact, this fictional city is not based on a real-life Springfield at all.  Matt Groening, the show's creator, named his Springfield after learning that it's one of the most popular city names in America.  He said in an interview with The Smithsonian: "I thought, 'This will be cool; everyone will think it's their Springfield.' And they do."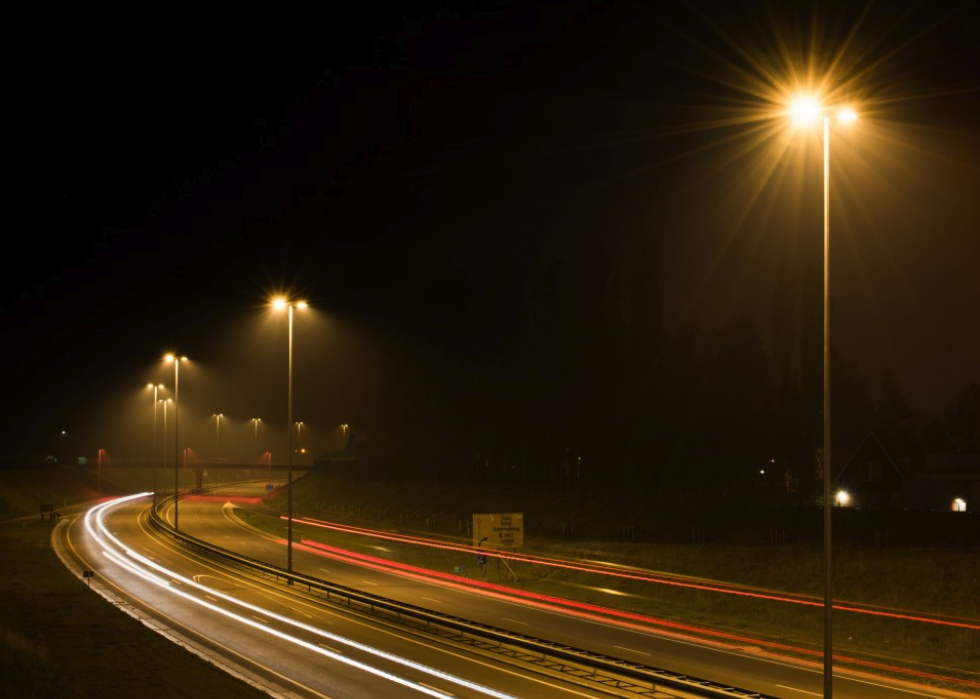 14 / 50
#37. Indiana
Move over, Paris. Wabash, Indiana is the true city of lights. In 1880, Wabash become the first city in the world to use electric streetlights, earning it the nickname "First Electrically Lighted City in the World."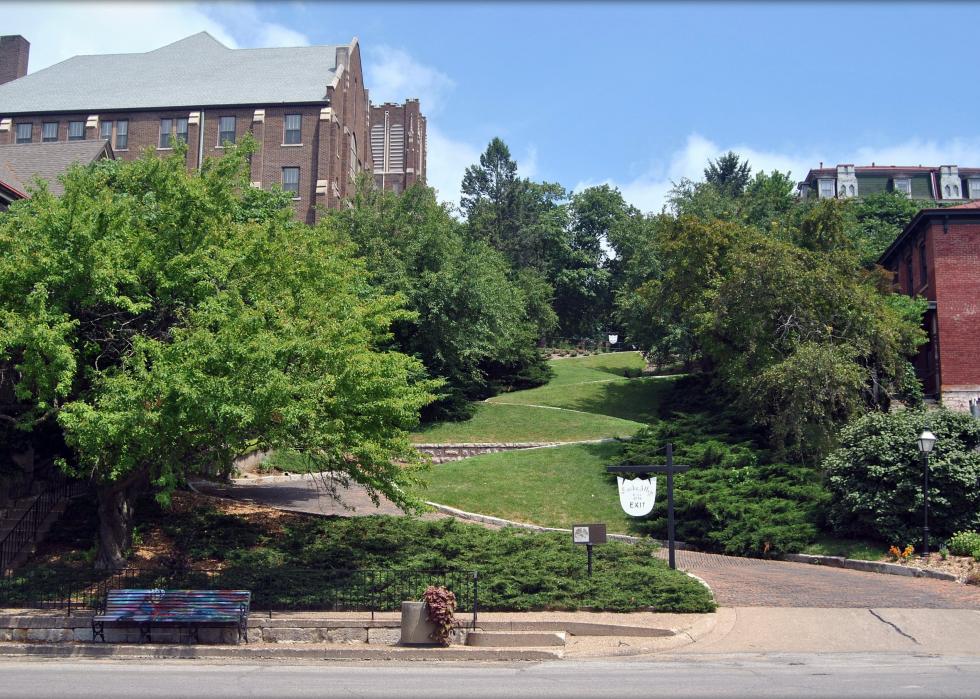 15 / 50
Steve Wilson // Wikicommons
#36. Iowa
Snake Alley in Burlington, Iowa, is considered the "Crookedest Street in the World." While awarded the title in 1940 by Robert Ripley of Ripley's Believe It or Not, the street has since been dethroned by San Francisco's Lombard Street, whose curves beat it by 100°.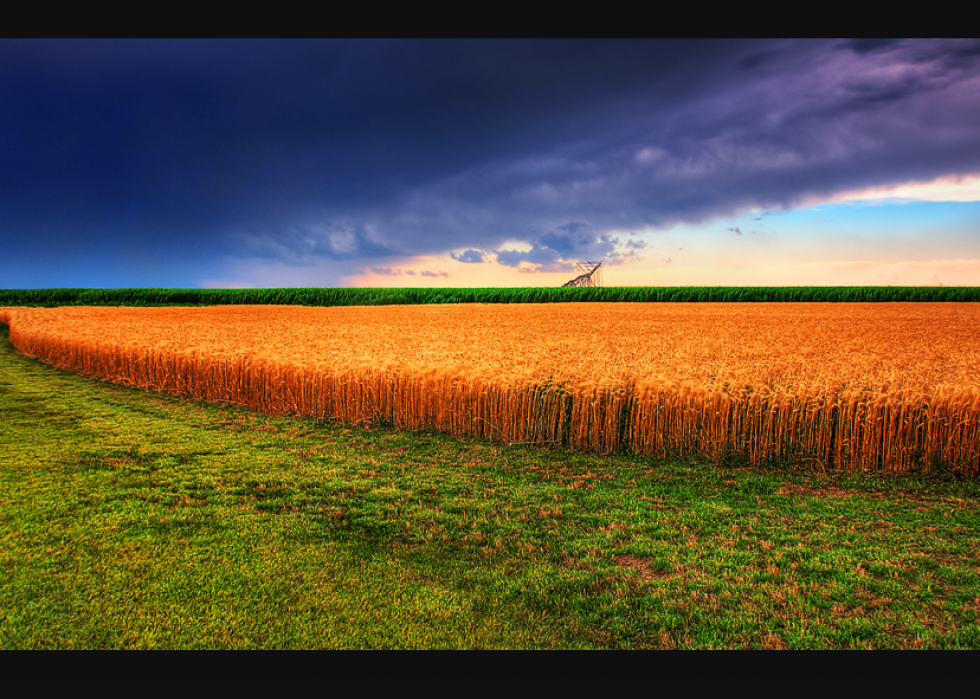 16 / 50
#35. Kansas
People like to say Kansas is flatter than a pancake, but what they don't know is that scientists actually proved that Kansas was, in fact, flatter than a pancake. In 2003, three geographers compared topographic data from the U.S. Geological Survey to an IHOP pancake. The calculated flatness of a pancake was 95.7%, but the Sunflower State beat it out at 99.7%.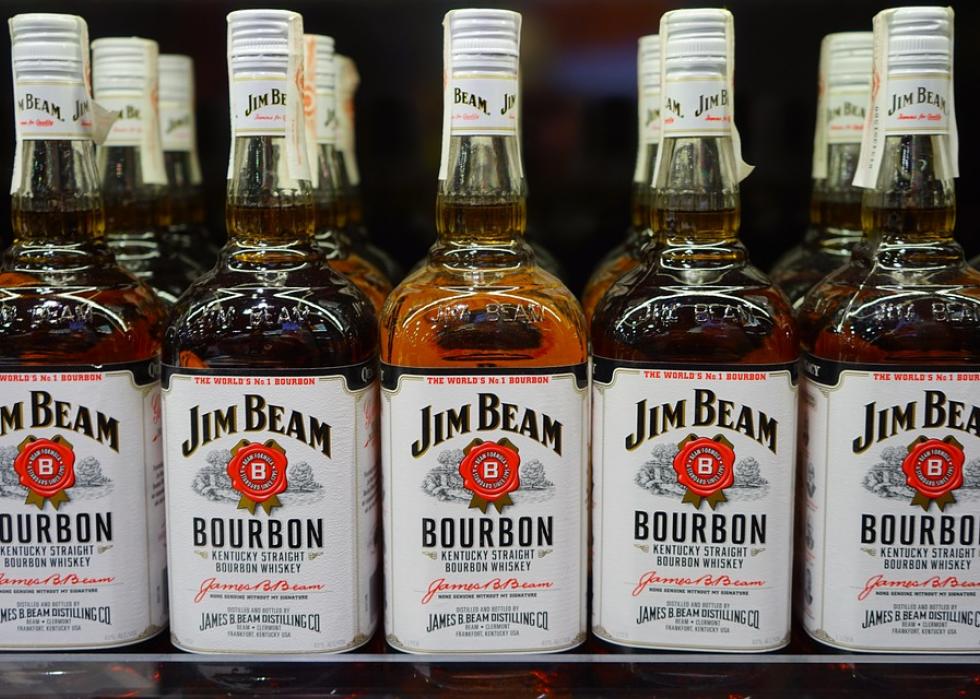 17 / 50
#34. Kentucky
Kentucky is the birthplace of bourbon, thanks to its perfect convergence of climate, conditions, and pure limestone water.  There are currently 1.5 barrels of bourbon for every person in the state.  But the government is taking advantage of all that bourbon, with 7 different bourbon taxes contributing to funds for education, public safety, public health, and other local community needs.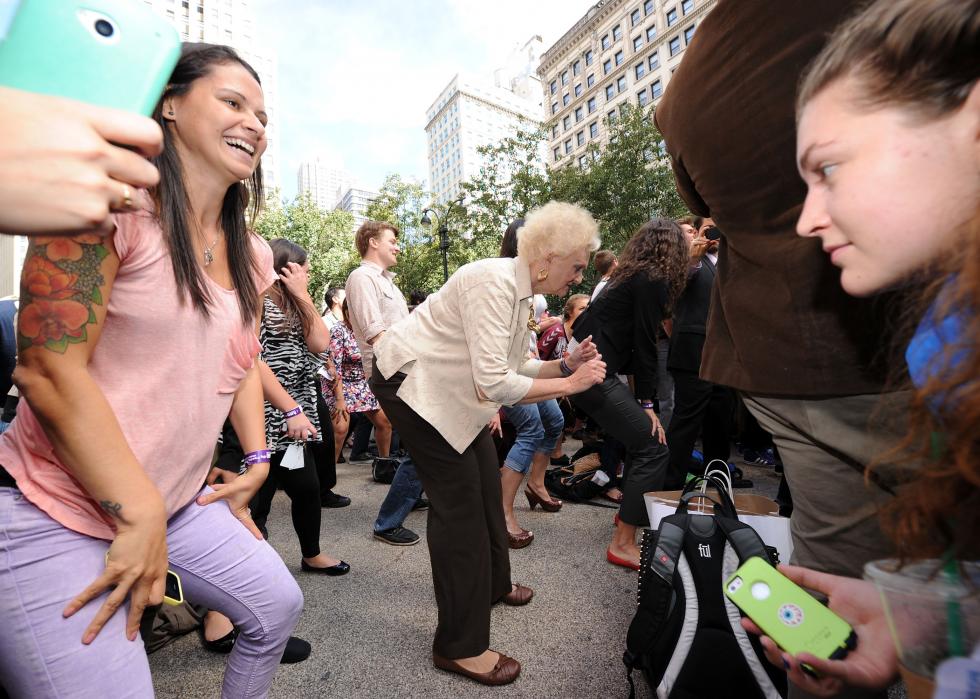 18 / 50
#33. Louisiana
You might think the dance capital of America would be NYC or LA, but there's actually compelling evidence to make it New Orleans.  This city was the site of the world record for most people simultaneously twerking (406 people), at a music festival in 2014.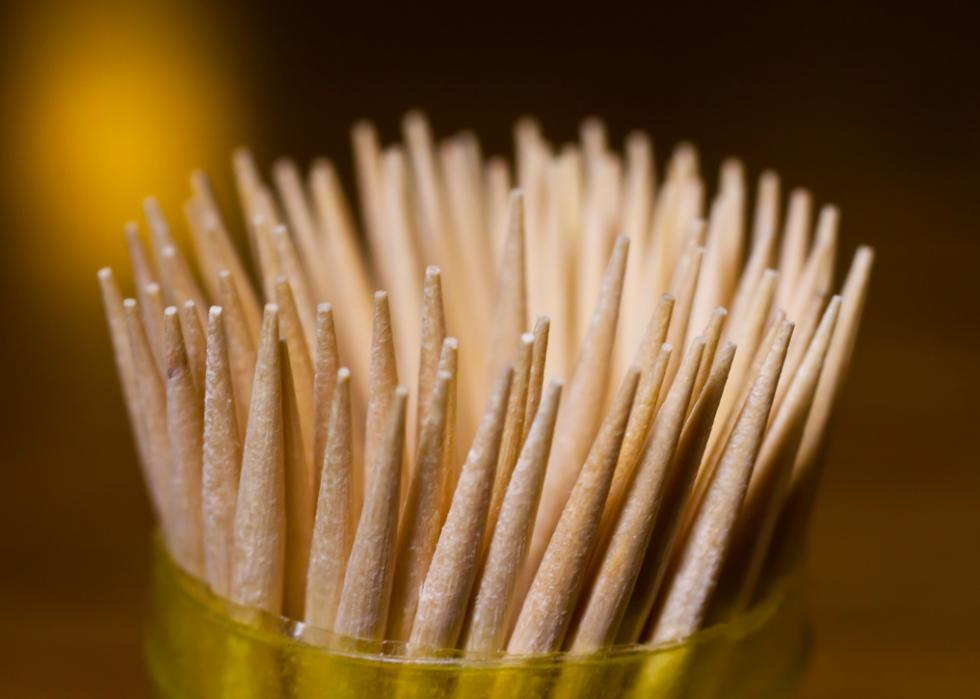 19 / 50
#32. Maine
Of all the toothpicks you've ever used in your life, most probably came from Maine. The country's Eastern-most state supplies 90% of all America's toothpicks.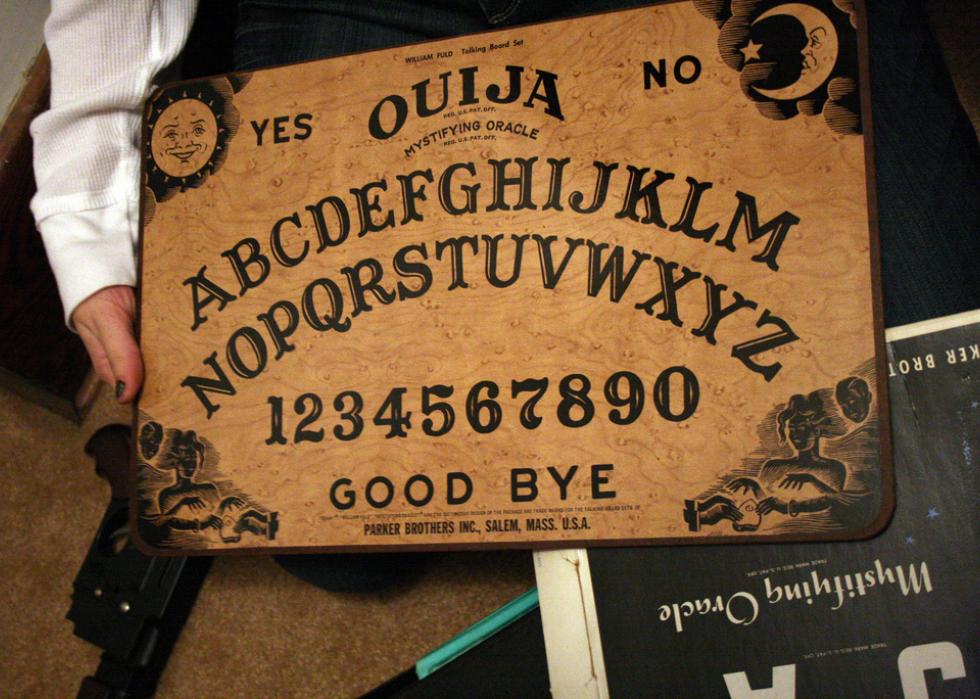 20 / 50
#31. Maryland
The ouija board was invented at a boarding house in Baltimore, Maryland in 1890, when Elijah Bond, its original patenter, and medium Helen Peters "asked the board what it would like to be called."  That boarding house still stands today, but it's now the location of a 7/11.  Bond is more loyal to his creation; there's a ouija board engraved on the back of his tombstone.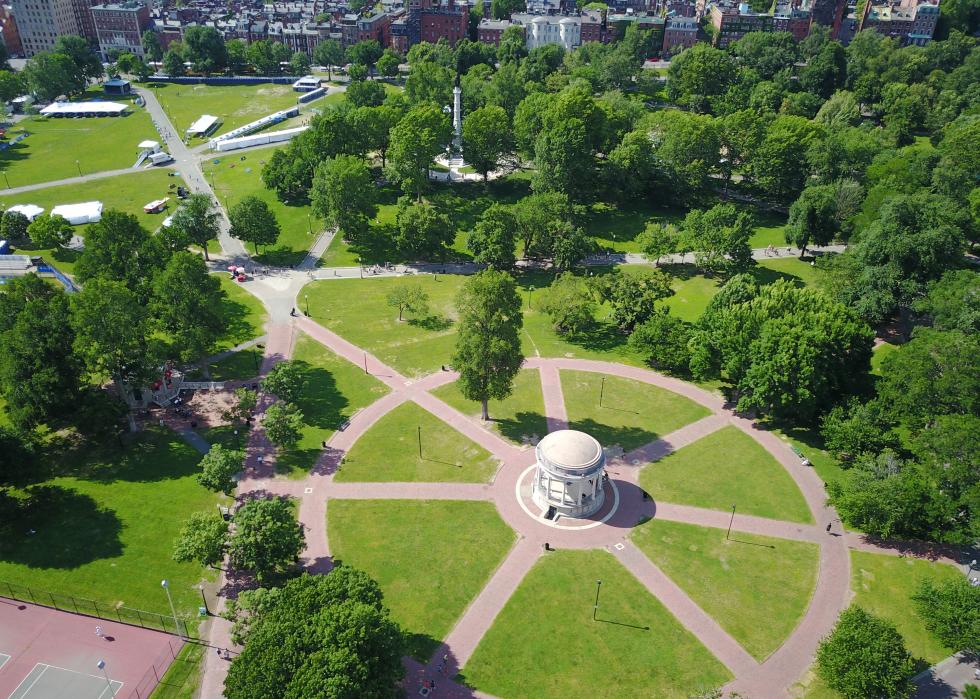 21 / 50
AbhiSuryawanshi // Wikimedia Commons
#30. Massachusetts
Massachusetts is home to Boston Common, the oldest park in America.  After its founding in 1634, this park has been the site of momentous occasions such as colonial militia organizing for the Revolution and a civil rights rally led by Martin Luther King, Jr.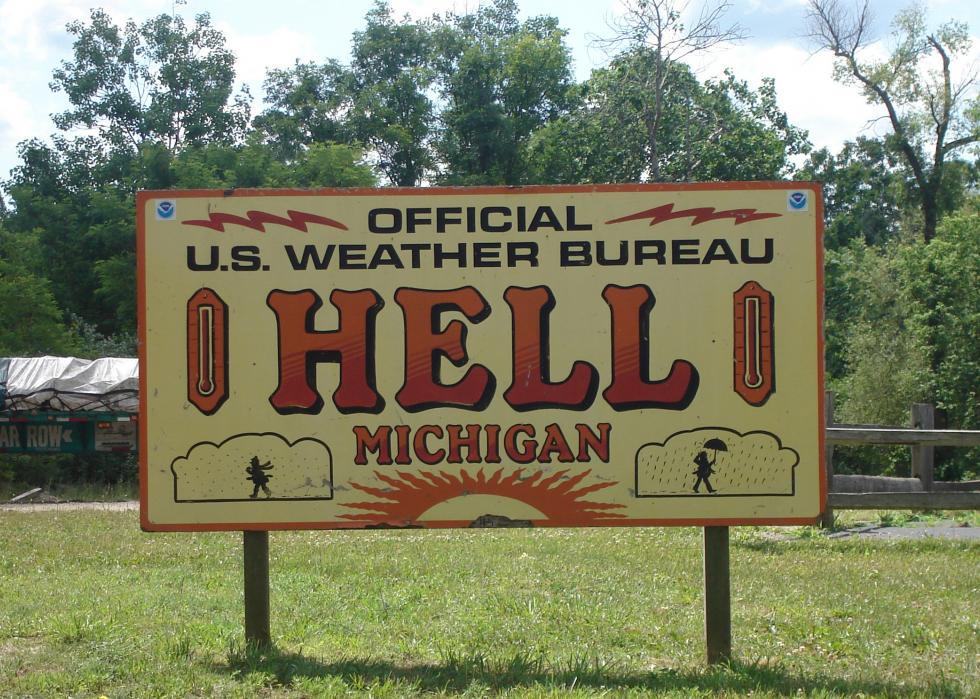 22 / 50
Sswonk // Wikimedia Commons
#29. Michigan
Michigan is the only place in the world where you can find cities named both Paradise and Hell. This state truly spans all realms.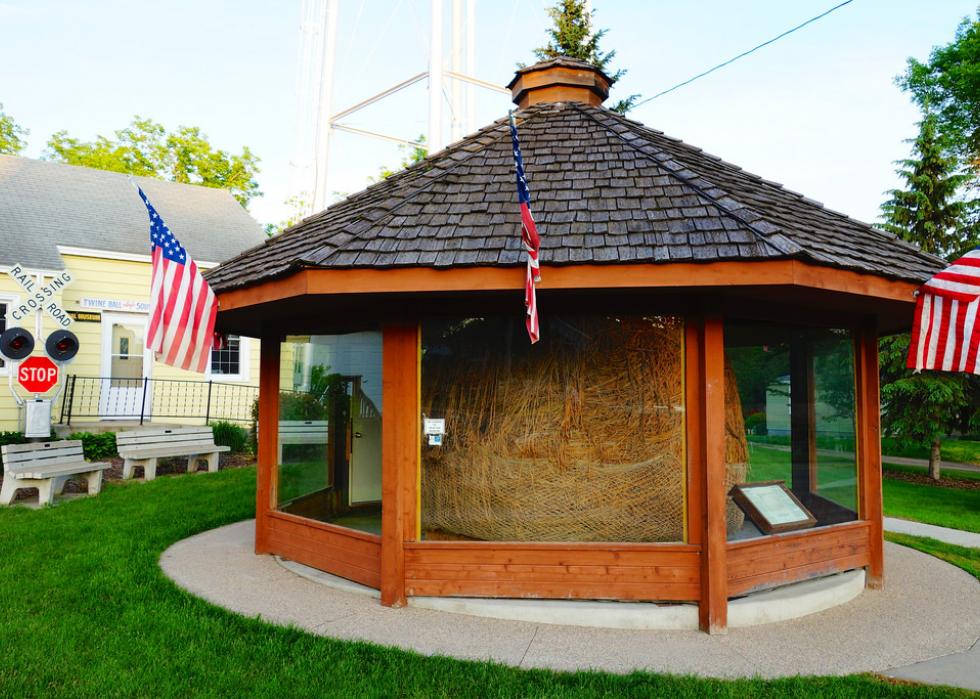 23 / 50
#28. Minnesota
Along with trees, cold weather, and polite residents, Minnesota can boast about a famous roadside attraction: the world's largest twine ball rolled by one man, located in Darwin, Minnesota.  The "rolled by one man" caveat is added because a rival large twine ball, located in Cawker City, Kansas, grows regularly thanks to additions by townspeople and tourists - Darwin residents "feel that this is cheating."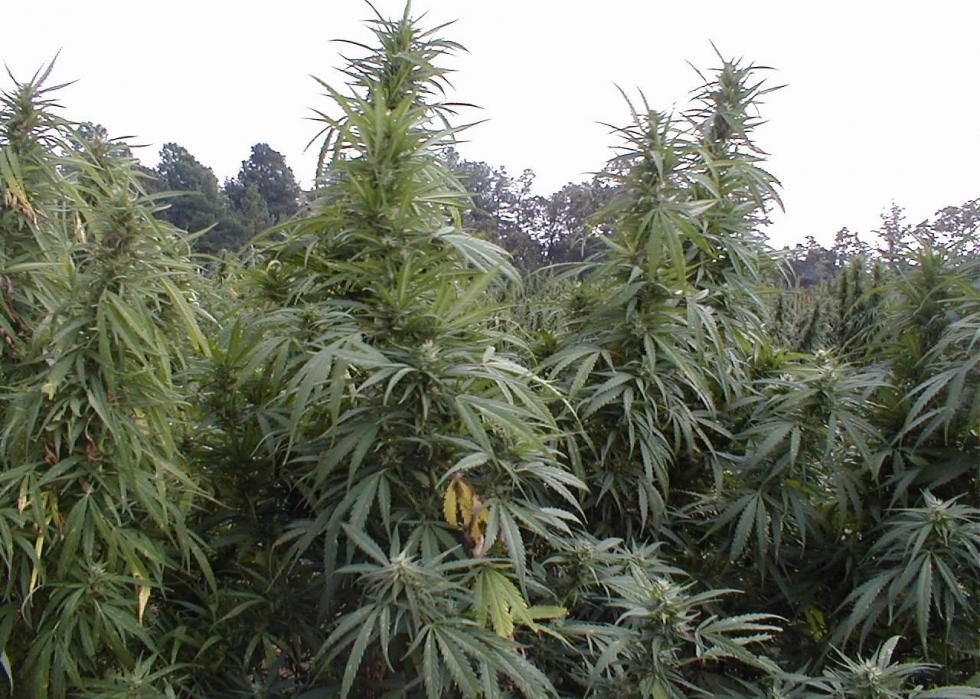 24 / 50
Uknown // Wikimedia Commons
#27. Mississippi
Since 1968, a lab at the University of Mississippi has been America's only federally-funded research center for growing and investigating marijuana.  This lab has made many significant contributions to the field, from identifying the chemical structures of THC and CBD to developing new strains for medical uses.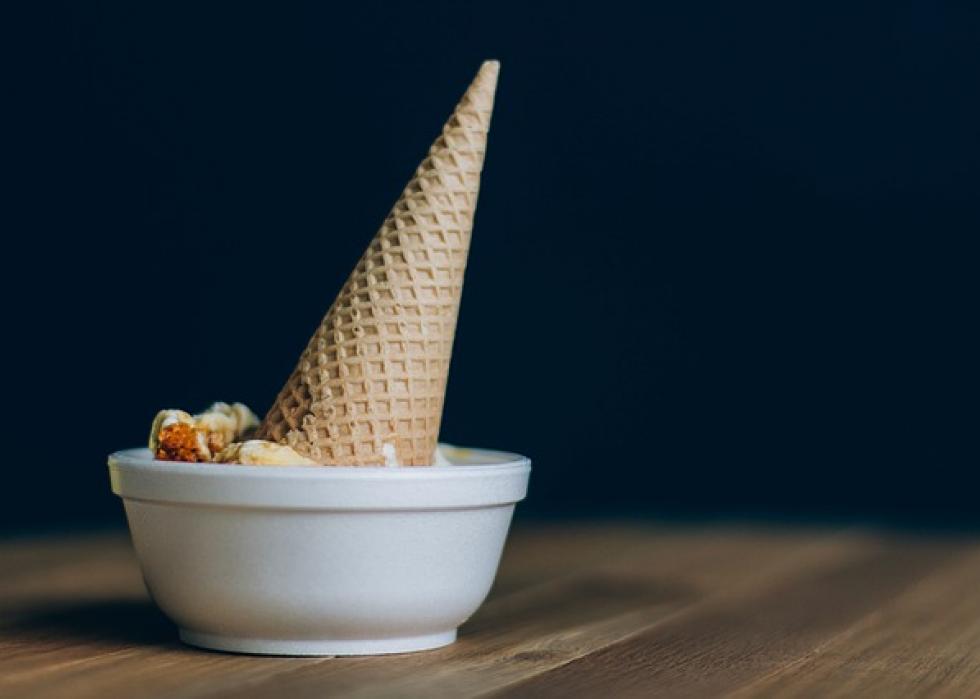 25 / 50
#26. Missouri
The 1904 St. Louis World's Fair introduced two famous culinary staples to the masses: iced tea and the ice cream cone. For the latter, the legend says an ice cream vendor ran out of cups and asked a waffle-maker next door to help him out.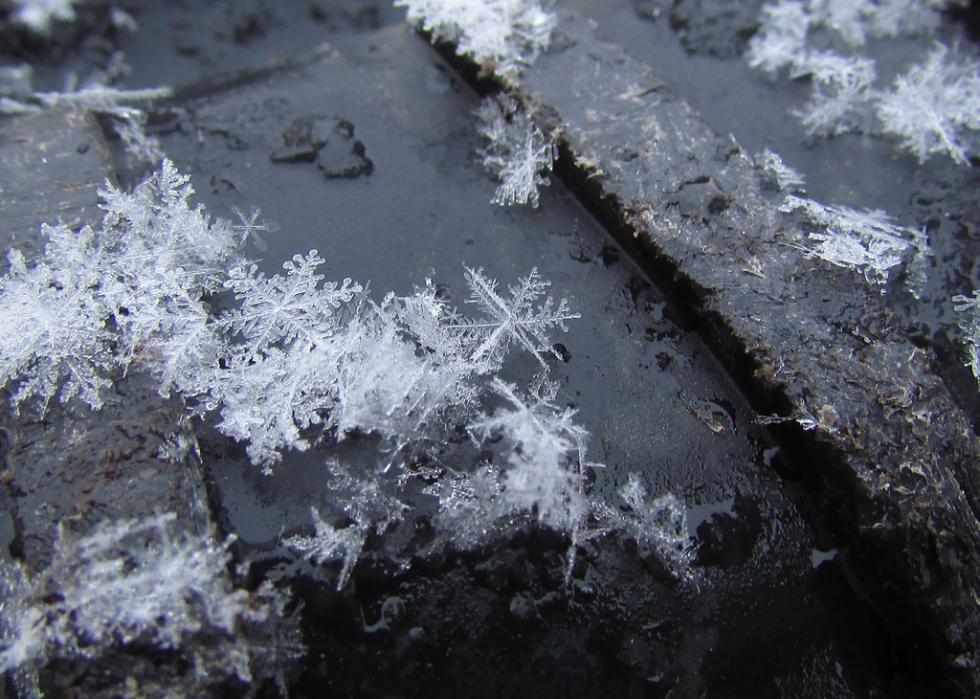 26 / 50
#25. Montana
The largest ever snowflakes ever observed were seen at Fort Keogh, Montana during a snowstorm in 1887.  Guinness World Records quotes a rancher who braved this storm as saying the flakes were "larger than milk pans;" he measured one at 15 inches.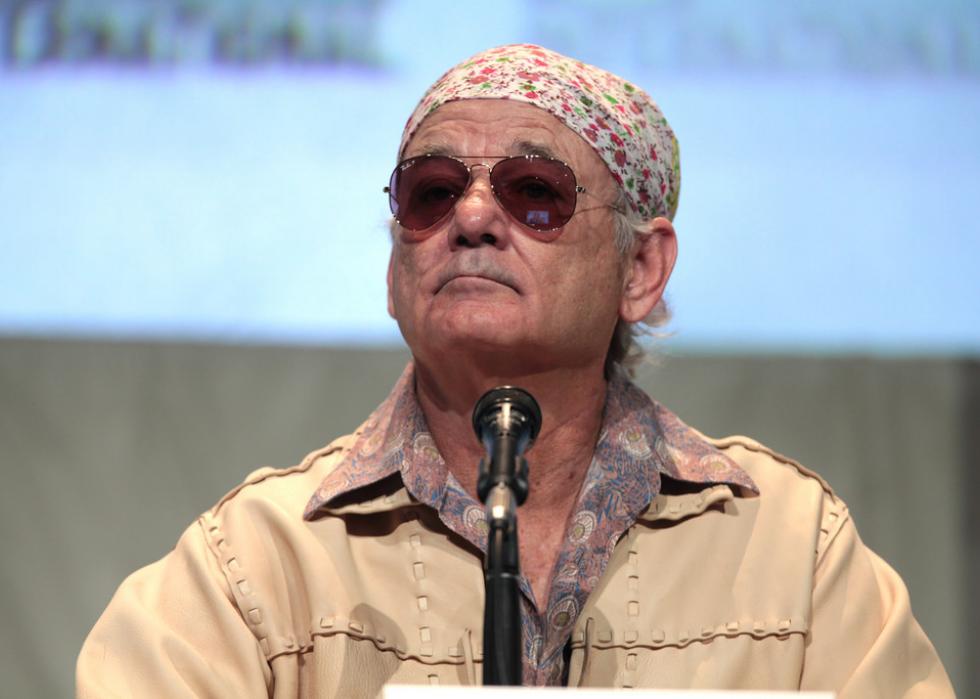 27 / 50
#24. Nebraska
Even though Nebraska is a landlocked state, it has a Navy.  This great institution was created by Lieutenant Governor T.W. Metcalfe in 1931 when Governor Charles Bryan was on vacation, because Metcalfe wanted to give his friends gag government appointments.  All members of the Nebraska Navy are admirals, and all admirals must have "contributed in some way to the state, promoted Nebraska and warranted recognition as determined by the governor."  Past admirals include: John Glenn, Bill Murray, David Letterman, Queen Elizabeth II, and Mickey Mouse.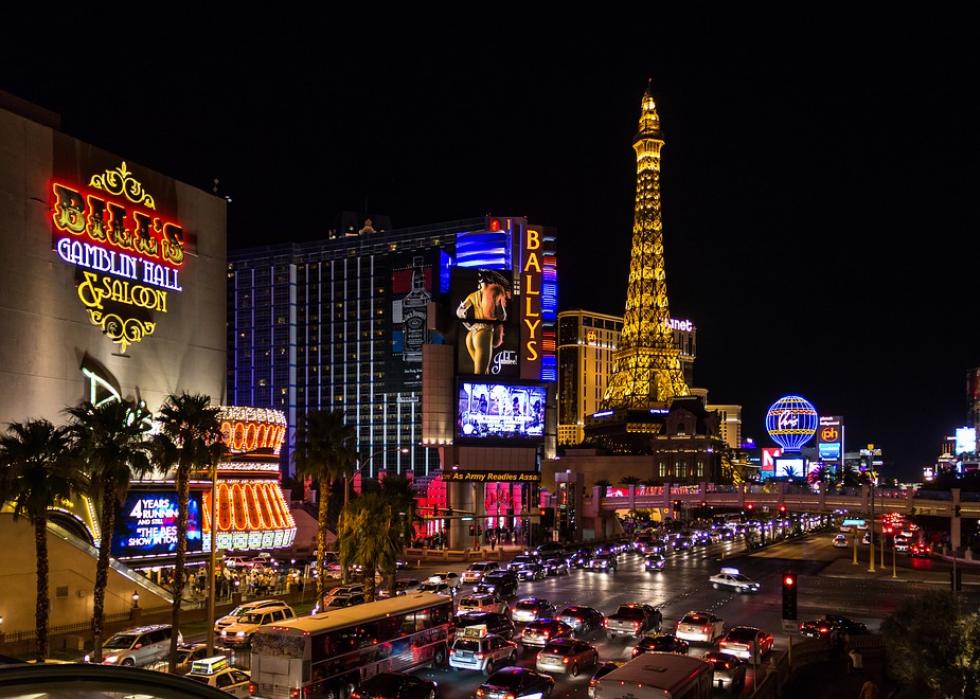 28 / 50
#23. Nevada
Nevada is the only state that specifically bans criminalizing public intoxication.  The state law declares that, "the use of alcohol, the status of drunkard and the fact of being found in an intoxicated condition are not public offenses and shall not be so treated in any ordinance or resolution of a county, city or town."  Disturbing the peace, trespassing, drunk driving, and public urination are all still crimes, though, so you still need to be careful.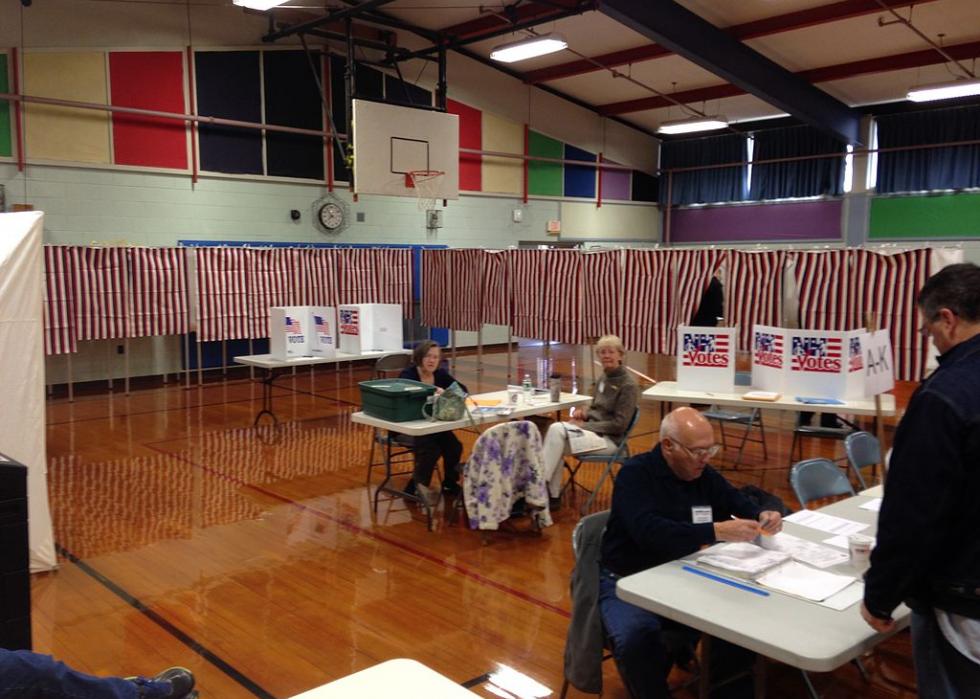 29 / 50
MarkBuckawicki // Wikimedia Commons
#22. New Hampshire
New Hampshire is one of the most publicly responsible states.  It was the first of the original 13 colonies to draft a state constitution, which was ratified on January 5, 1776 (a full six months before the Declaration of Independence).  And New Hampshire starts voting in a presidential election before any other state, with polls opening at midnight in Dixville Notch.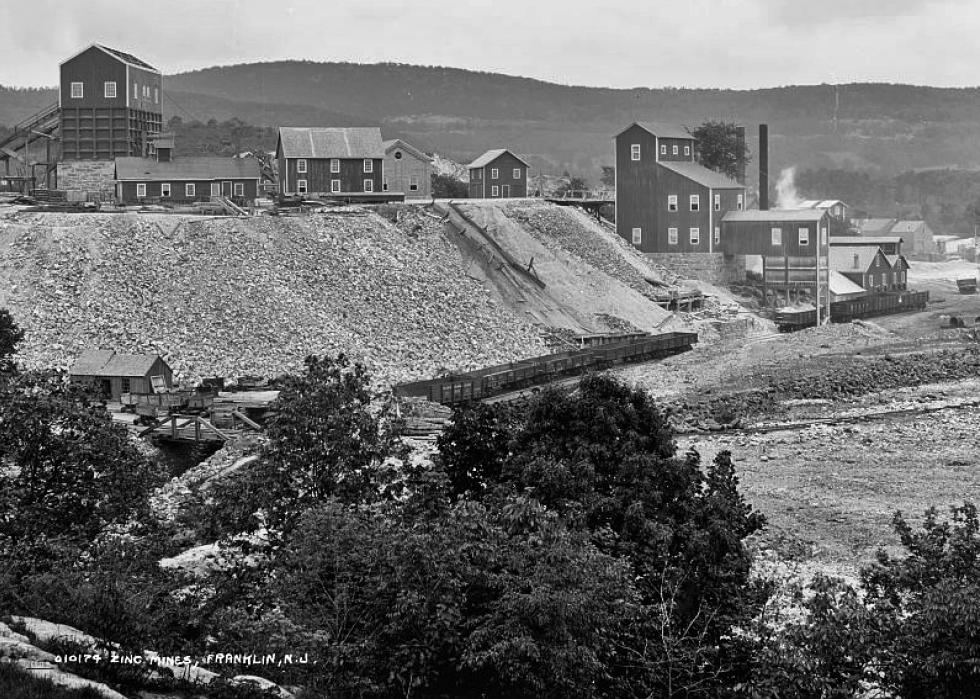 30 / 50
Detroit Publishing Co. // Wikimedia Commons
#21. New Jersey
New Jersey gets a lot of flack (especially from New Yorkers), but it has one feature that's undeniably cool: a long-dormant volcano.  Rutan Hill, in Sussex County, was an active volcano about 440 million years ago, and is now a popular site both for geologists and developers - houses can be found all the way up to the summit.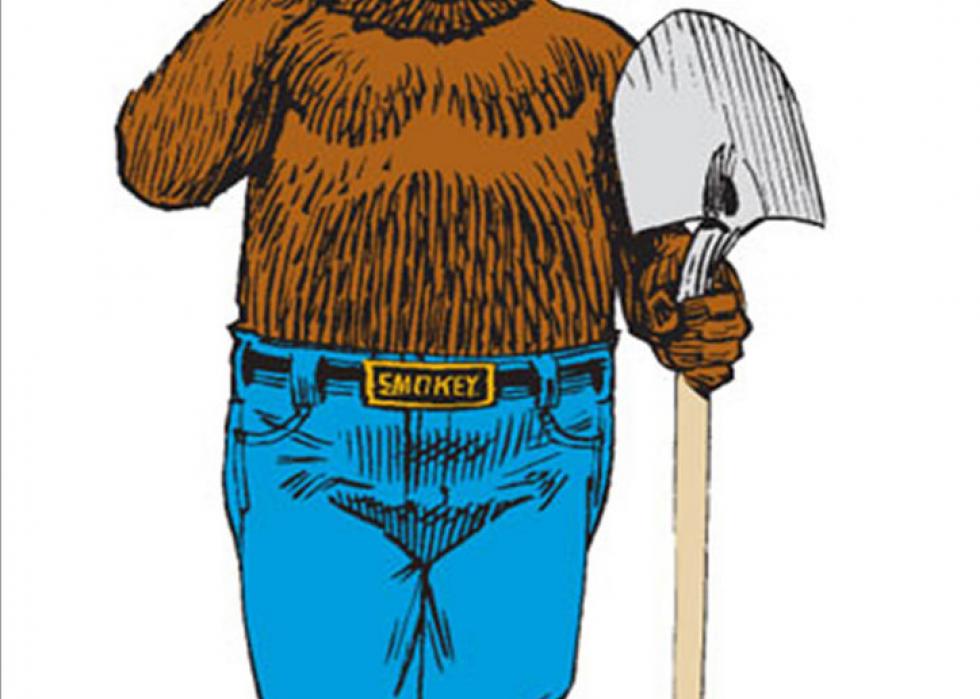 31 / 50
U.S. Department of Agriculture // Flickr
#20. New Mexico
Most of us know Smokey the Bear as the U.S. Forest Service mascot telling us to prevent forest fires. But Smokey was actually real; in 1950, an American Black Bear cub was caught in a forest fire, but survived by climbing a tree. The cub was rescued by firefighters, and his original name was "Hotfoot Teddy" before it was changed.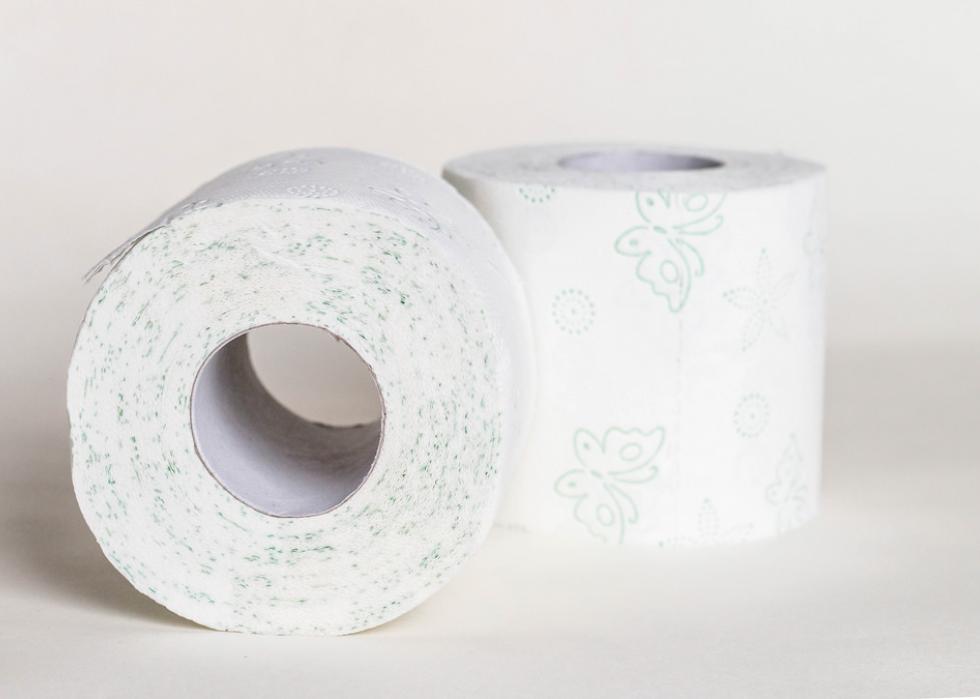 32 / 50
#19. New York
Modern, commercially available toilet paper was invented in New York City in 1857 by Joseph Gayetty.  And this past December, the city's great toilet paper legacy continued when Charmin opened up public restrooms in Times Square - to "help all people Enjoy the Go, on the go" with 14 unique stalls transporting visitors to other (less disgusting?) locations.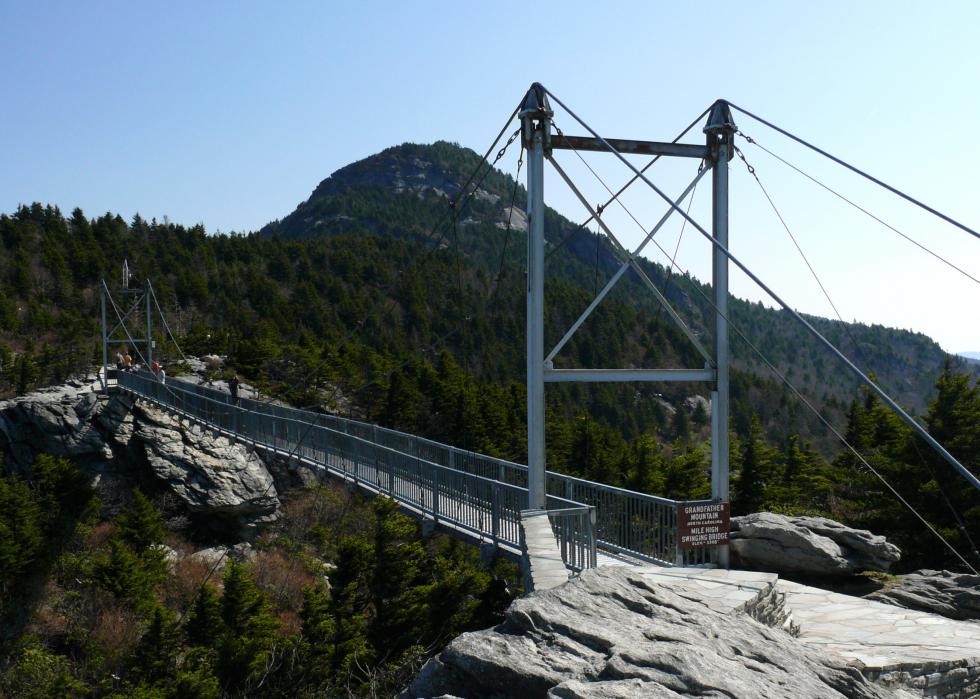 33 / 50
Ken Thomas // Wikimedia Commons
#18. North Carolina
It's well-known that the Wright Brothers' first airplane flight happened in North Carolina, in 1903.  But you don't need to be an expert engineer to get high in the sky in this state - at Grandfather Mountain, a private park near Linville, visitors can walk across a Mile-High Swinging Bridge, and see views of the Charlotte skyline from the mountain's summit.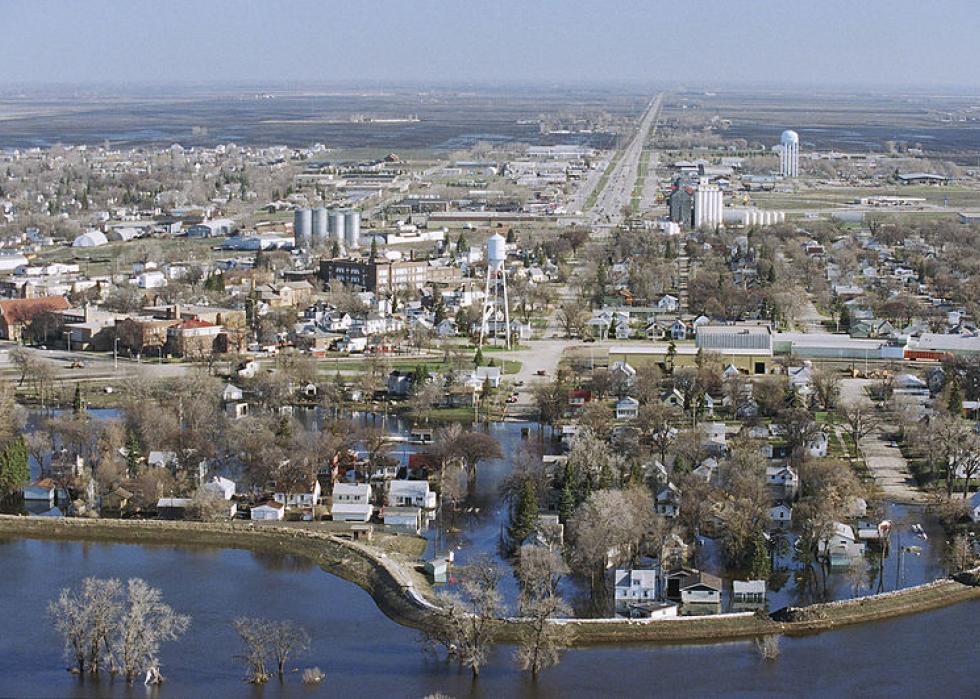 34 / 50
Michael Rieger // Wikimedia Commons
#17. North Dakota
North Dakota is a big agricultural state - with over 90% of its land area taken up by farms and ranches, it leads the U.S. in honey, soybeans, and sunflowers.  One way the state celebrates this industry is with the world's largest french fry feed, held every year at the Potato Bowl (a college football event) in the aptly named Grand Forks, North Dakota.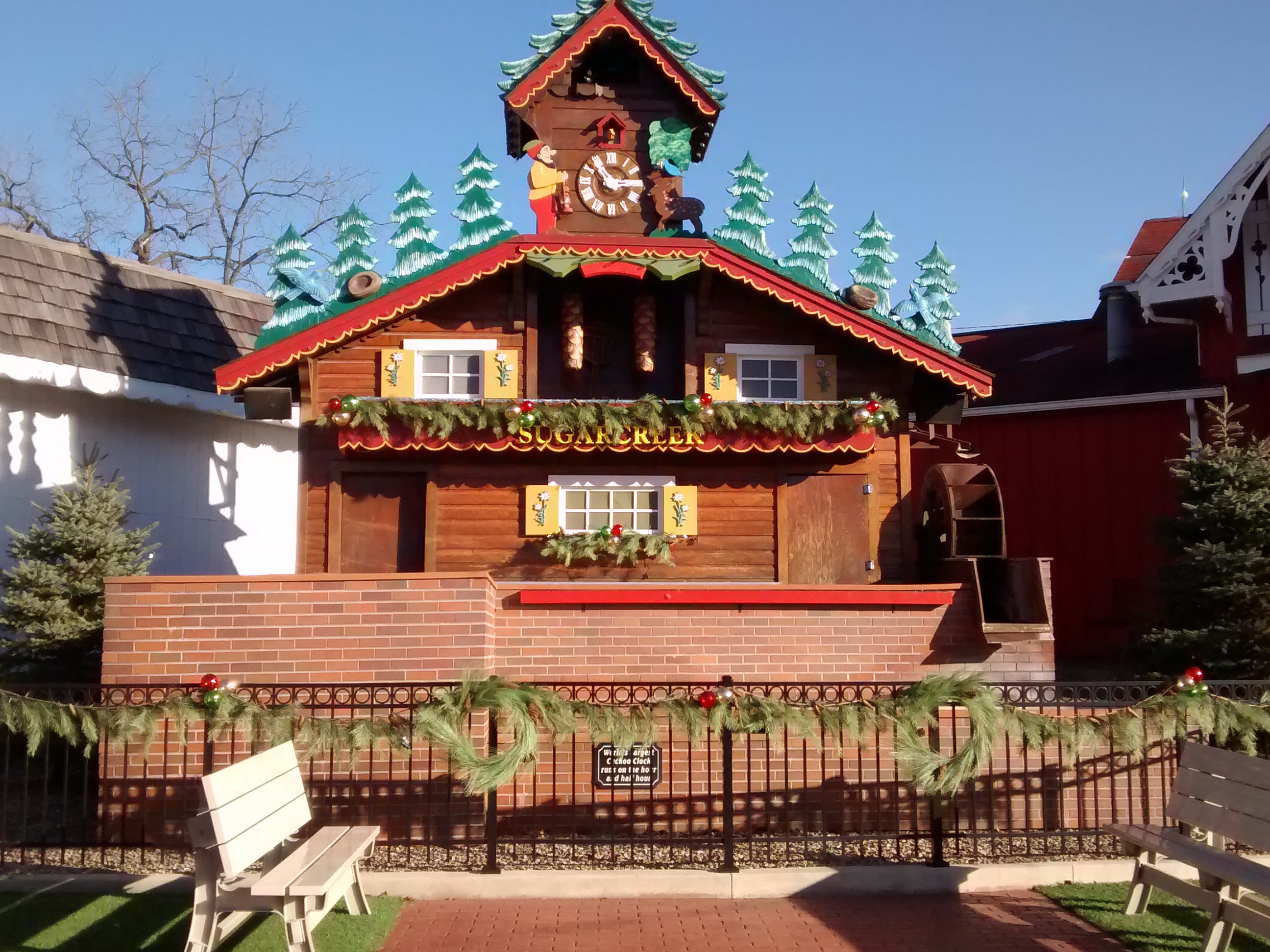 35 / 50
Kreuzfeld // Wikimedia Commons
#16. Ohio
Ohio has the world's largest cuckoo clock - a 24-foot-tall structure hosted in the Swiss-themed tourist town of Sugarcreek.  If you visit this town, you can see the clock in action: every 30 minutes, a mechanical Bavarian oompa band accompanies a mechanical couple dancing the polka.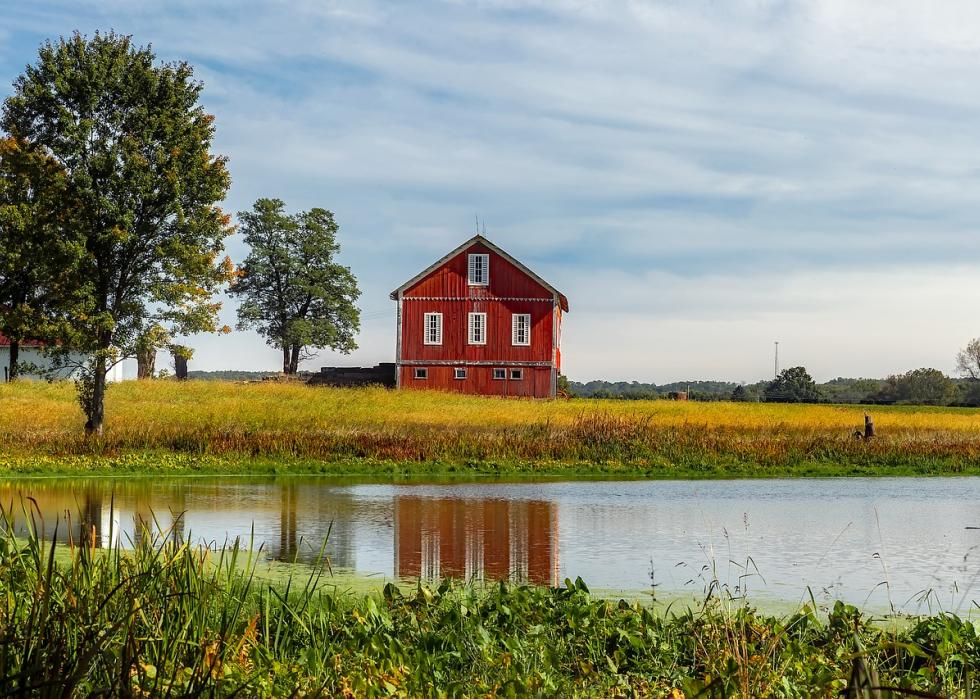 36 / 50
#15. Oklahoma
Of all the controversies in Oklahoma, none is more scandalous than the official state vegetable; a watermelon. Watermelon's status is widely considered as a fruit, but scientists point out its links to the cucumber family. The matter was settled once and for all by the Oklahoma state legislature.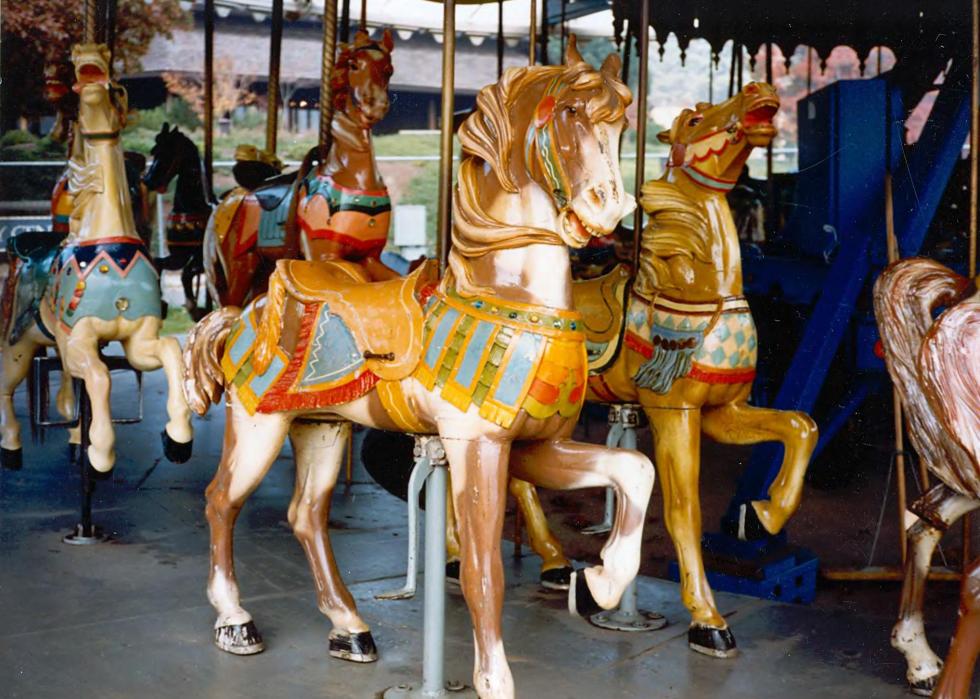 37 / 50
Mangels Carousel Museum // Wikimedia
#14. Oregon
Oregon is home to the Historic Carousel museum. This museum has the world's largest and most comprehensive collection of carousel horses!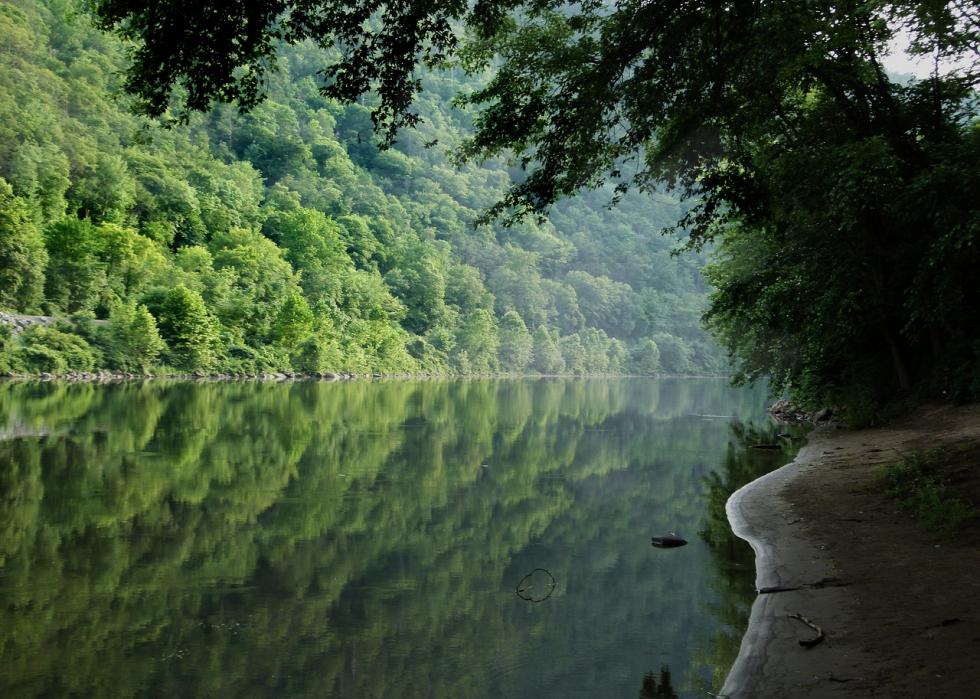 38 / 50
#13. Pennsylvania
Have we been spelling Pennsylvania wrong this whole time? The state's name, as it appears on the Liberty Bell, only has one N. The Constitution should clear everything up, right? Nope — the name appears with both one N and two in different sections. You'd think the Founding Fathers would have spell-checked such an important document beforehand.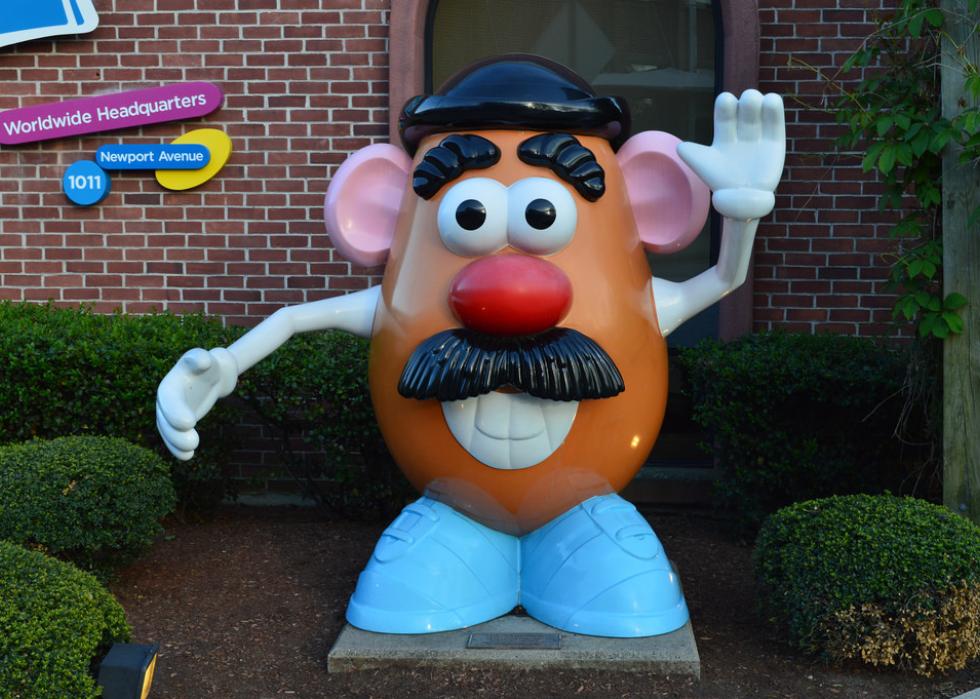 39 / 50
#12. Rhode Island
Every state needs ambassadors, but some make better choices than others. Take Rhode Island's decision to make Mr. Potato Head its official travel ambassador, with dozens of statues in his likewise erected throughout the state. Still, it's a far better representative than the Rhode Island School of Design mascot...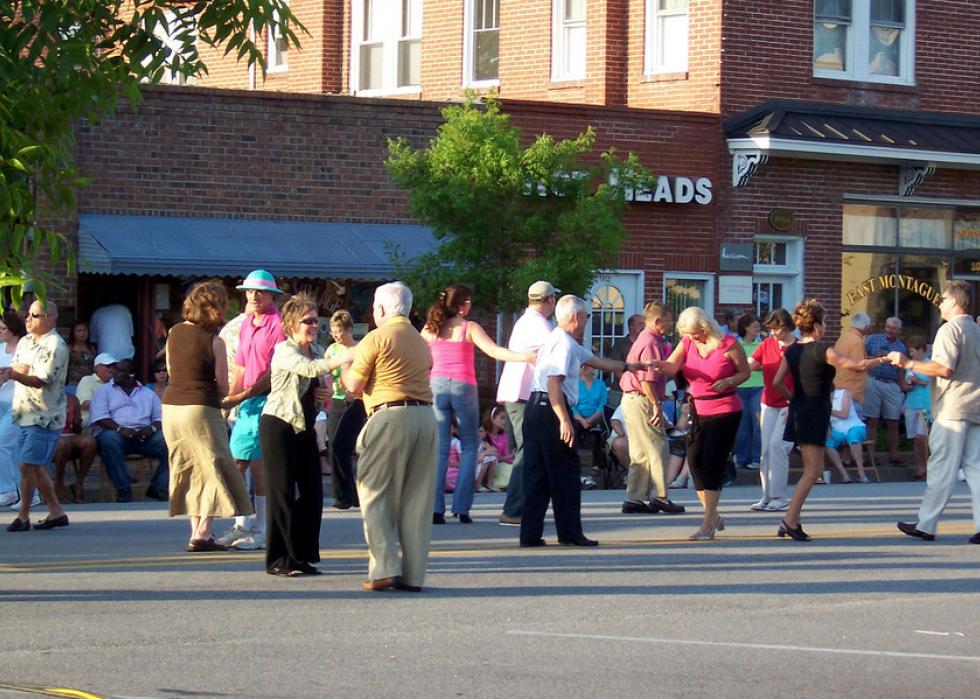 40 / 50
North Charleston // Flickr
#11. South Carolina
"May I have this Shag?" South Carolina's state dance is the Carolina Shag, a partner dance that goes great with Beach Music.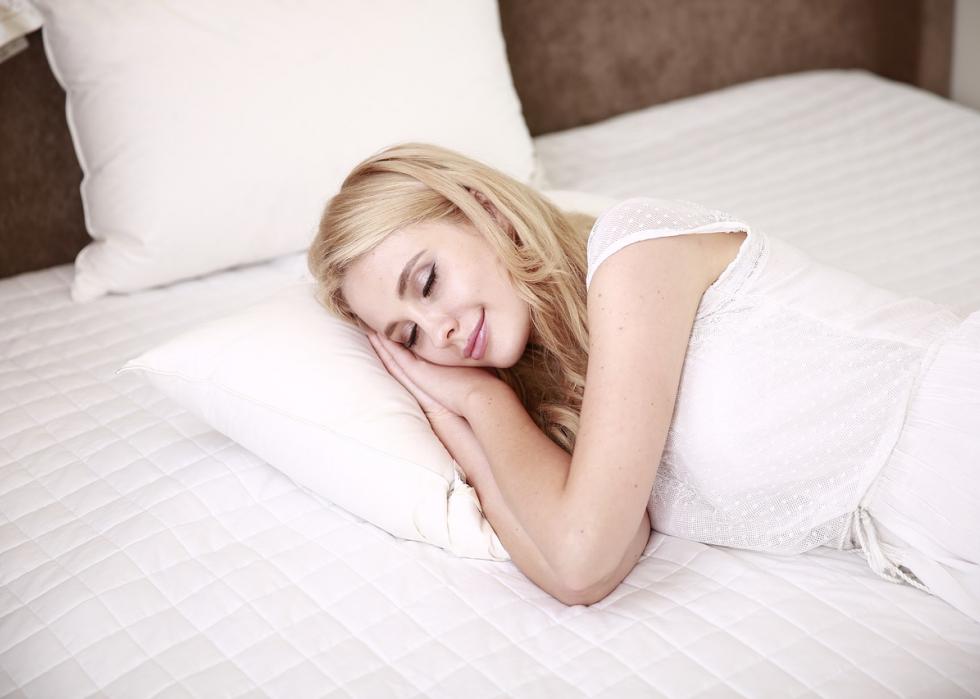 41 / 50
#10. South Dakota
Tired? Need to sleep? Just head over to South Dakota, the most well-rested state in America. According to a CDC survey, 71.6% of the state population gets seven hours of sleep or more, more than any other state.
42 / 50
#9. Tennessee
Tennessee has more official state songs than anyone, with ten officially noted and more as honorary state songs. They even divide it by genre, with a state polka and a state rap, etc. What more do you expect from the home of Graceland?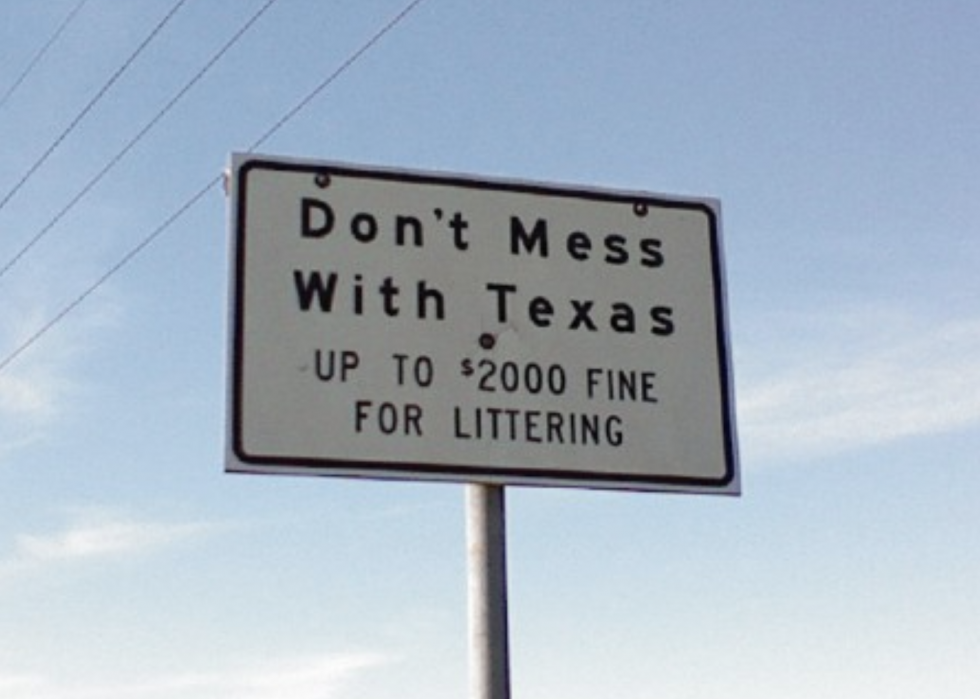 43 / 50
#8. Texas
The common state phrase "Don't mess with Texas" might sound like an intimidating threat to an outsider, but it's actually meant to be taken literally. "Don't mess with Texas" was a 1985 campaign slogan by the Texas Department of Transportation to reduce littering!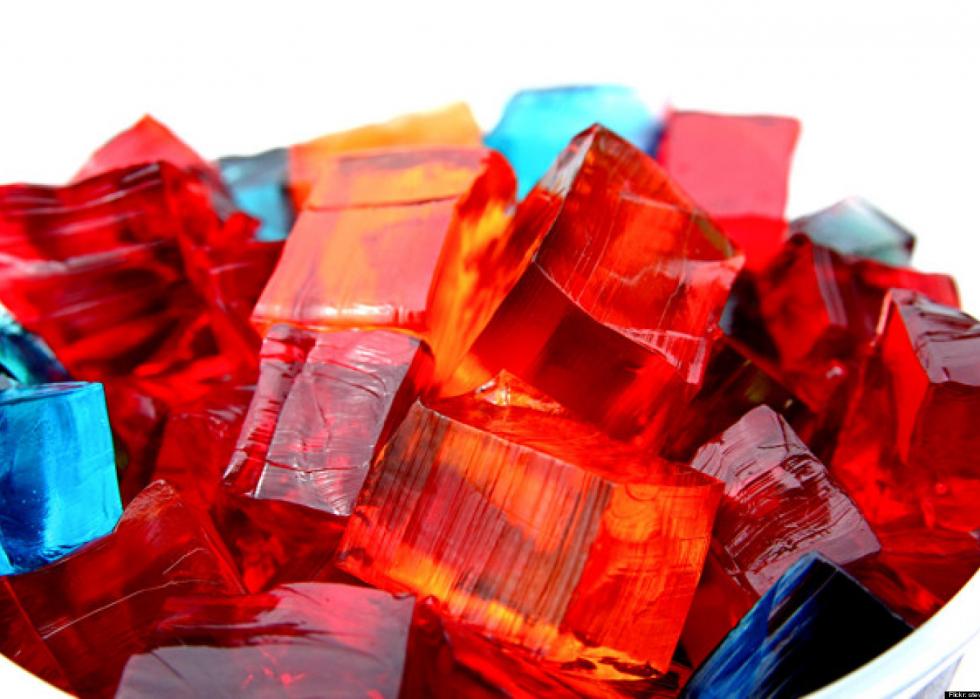 44 / 50
#7. Utah
To say that Utah eats more Jell-O than other states is an understatement: it eats twice as much Jell-O on average than any other state. Some new sources attribute this to Jell-O's marketing as a family snack; Utah's Mormons tend to have big families, and the snacks are convenient for church gatherings.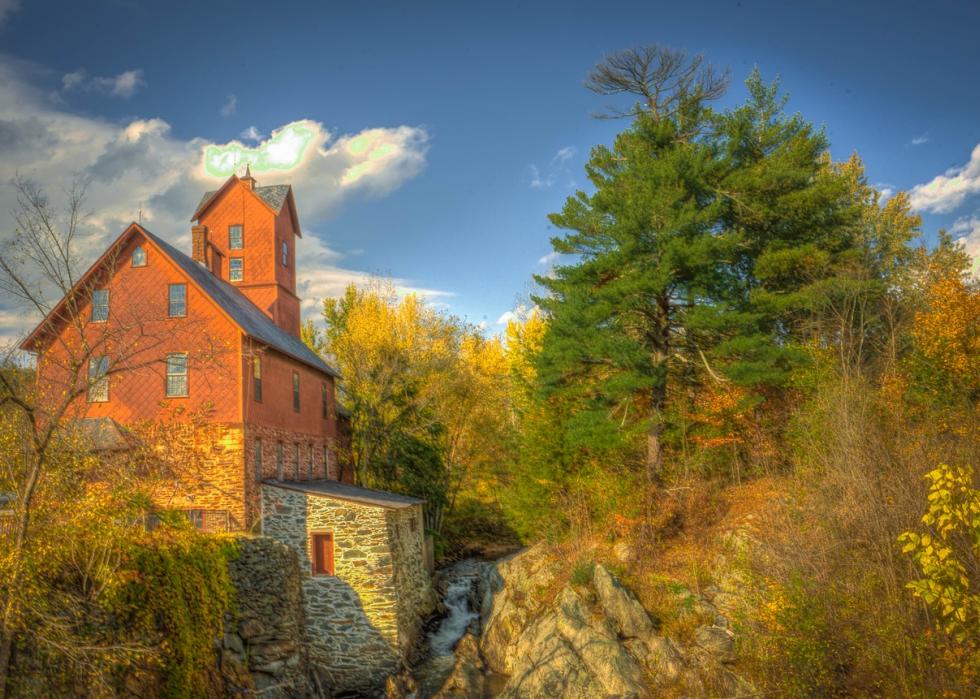 45 / 50
#6. Vermont
The Nation of Vermont? For 14 years, from 1777 to 1791, Vermont was an independent country. The Vermont Republic has its own currency, legislature, and executive officers called a "governor."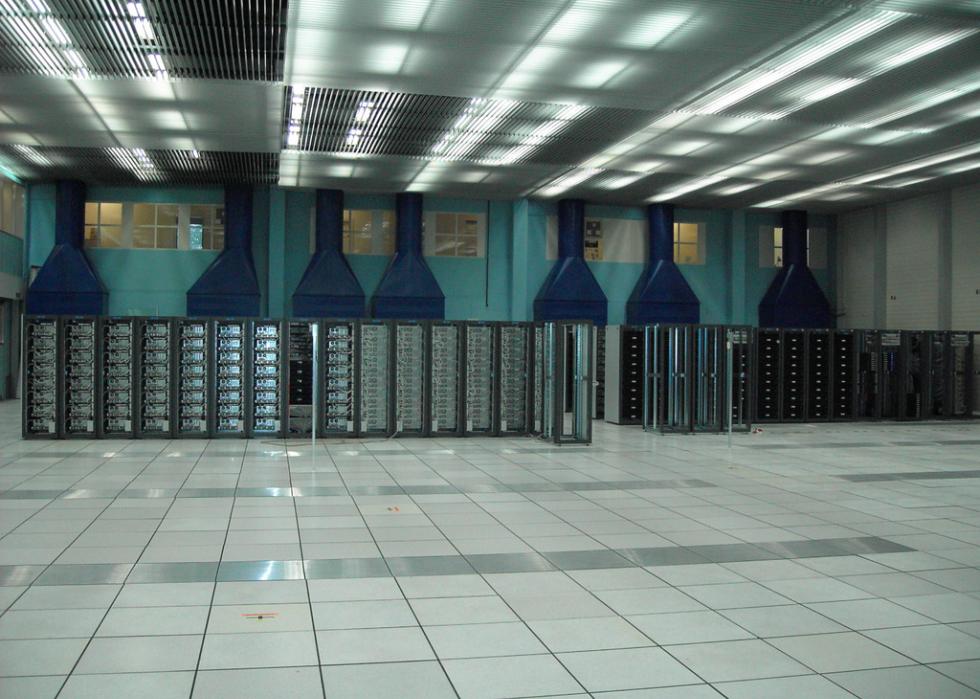 46 / 50
#5. Virginia
If you ask someone "Where is the Internet," they'll probably laugh and say, "it's just data that travels through the air." But the truth is, the Internet's in Virginia. Roughly 70% of all Internet traffic — worldwide — flows through the server farms in Northern Virginia.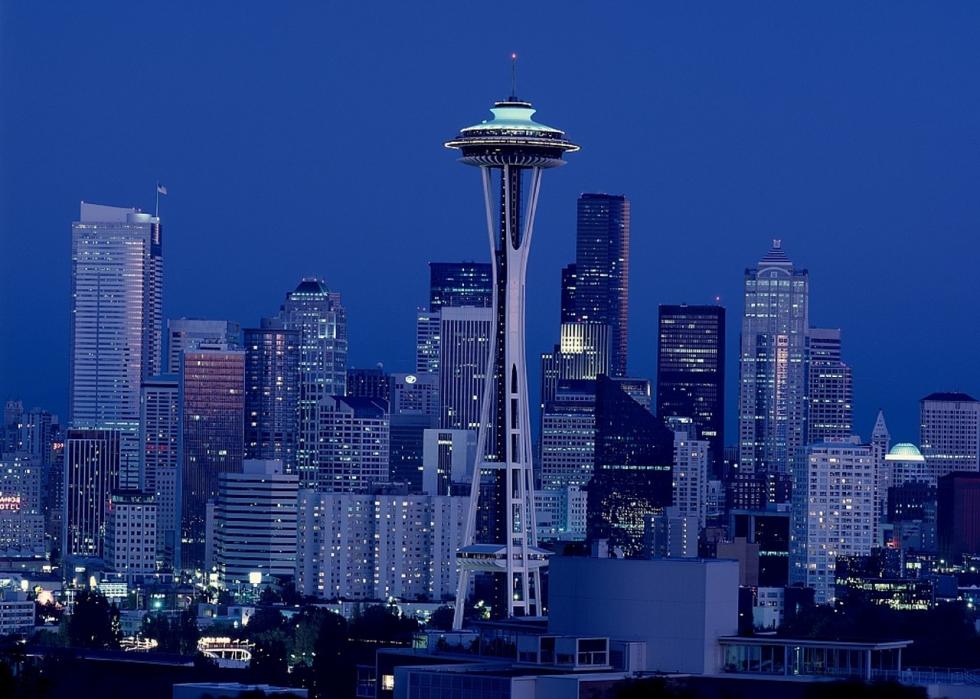 47 / 50
#4. Washington
Washington is one of the more innovative states on the list. Home to many inventions ranging from the kidney dialysis machine to Pictionary and the Slinky Dog - there is no shortage of new ideas and products coming from The Evergreen State.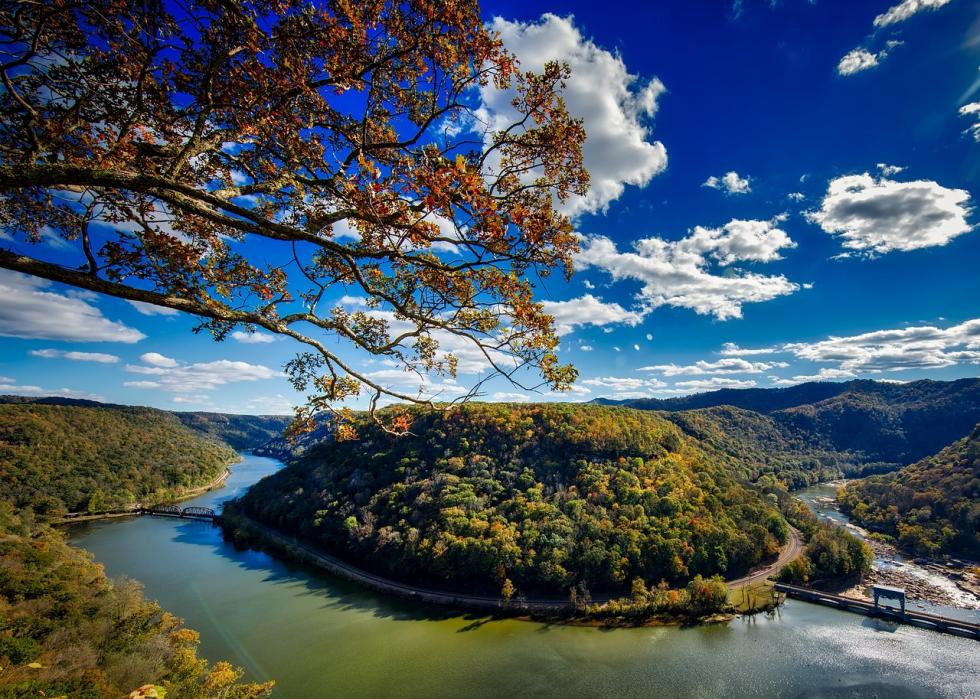 48 / 50
#3. West Virginia
In an alternate universe, "Westylvania" would be on this list instead of West Virginia. Westylvania was a proposed state (immediately following the revolution) encompassing most of West Virginia, with just a little Pennsylvania, Maryland, Kentucky, and Virginia. The movement was defeated by Congress wary of taking frontier land from existing states, and a vicious rebuttal from Pittsburgh who wanted to stay in Pennsylvania.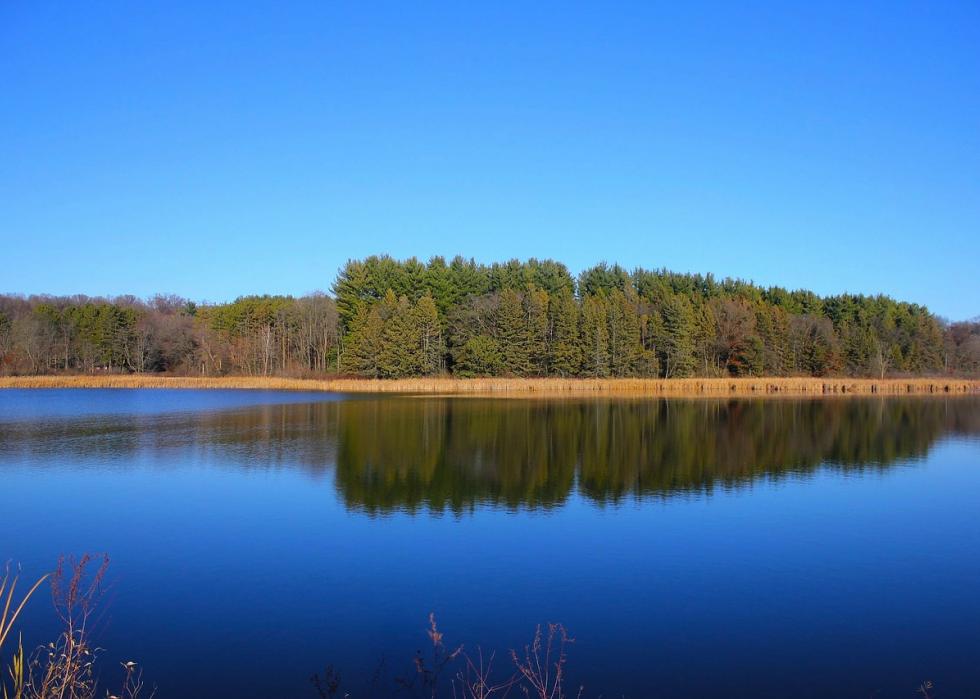 49 / 50
#2. Wisconsin
Home of the cheeseheads, Wisconsin is the country's leader in cheese production, "churning" out over 3 billion pounds every year, particularly Swiss cheese.
50 / 50
#1. Wyoming
In 1932, Wyoming was the birthplace of the famed Jackalope. Brothers Douglas and Ralph Herrick created the twisted taxidermy curiosity by attaching the antlers of a deer with the body of a jack rabbit.