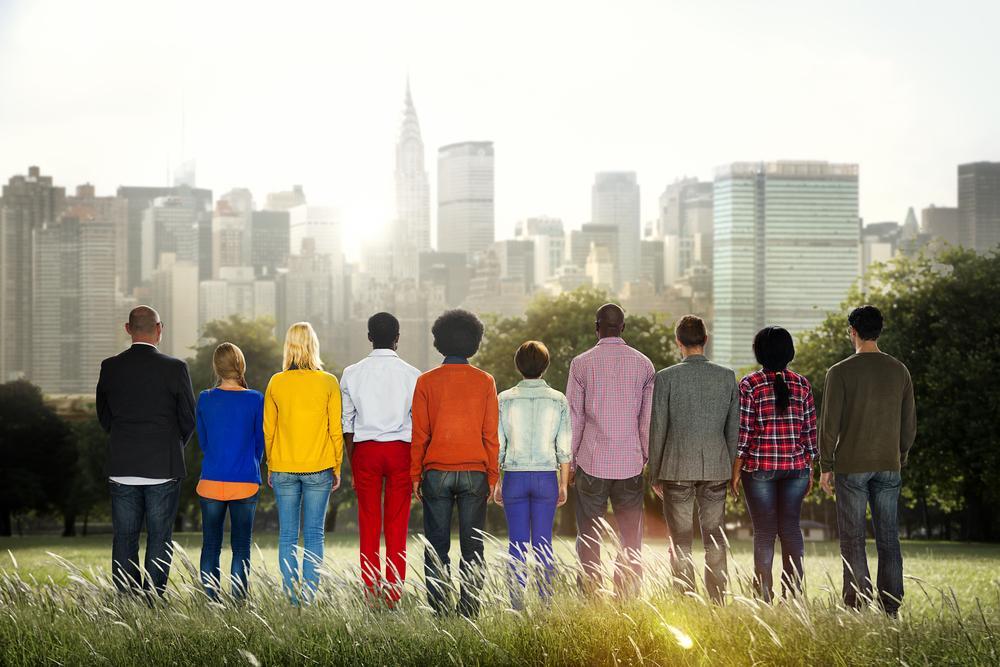 The most diverse place in every state
Rawpixel.com // Shutterstock
The most diverse place in every state
A nation which statistically ranks as fairly average from the standpoint of ethnic diversity, America's reputation as "The Great Melting Pot" is perhaps more true today than it was a century ago, but there is undoubtedly still a great amount of room for improvement in a handful of facets of contemporary society if that title is to be appropriately earned. More than half a century after the death of Dr. Martin Luther King, Jr., segregation is still rampant not only in the context of race, but as it pertains to income distribution, political preference, religious affiliation, and a myriad of other group-defining characteristics. Though there is immense work to be done in making America the best home that it can be for people of all backgrounds, one must recognize and appreciate the strides which have been made in the right direction over the past few decades.
In celebration of the places around the country which best demonstrate the ideals of inclusion and togetherness, Stacker referenced a Niche study to compile a list of the most diverse places in every state. Each city and town included in the slideshow consists of a minimum of 1,000 residents and was ranked according to a number of key factors, the likes of which include race, age, and income variance. Read on to discover the most diverse place in your home state.
Click here to read about the least diverse places in every state. 
Alabama: Bayou La Batre
Population: 2,532
Diversity grade: A+
Median household income: $40,909
Household income brackets: (Less than $25,000: 33%; $25,000-$44,000: 19%; $45,000-$74,000: 29%; $75,000-$149,000: 17%; $150,000+: 3%)
Racial diversity: (White: 46%; Asian: 32%; African American: 10%; Hispanic: 6%; Two or more races: 6%; American Indian or Alaska native: 0%; Hawaiian or other Pacific Islander: 0%; Other race: 0%)
Age range: (Less than 10 years old: 18%; 10-17 years old: 11%; 18-24 years old: 14%; 25-34 years old: 15%; 35-44 years old: 11%)
Alaska: North Pole
Population: 2,300
Diversity grade: B+
Median household income: $69,806
Household income brackets: (Less than $25,000: 12%; $25,000-$44,000: 13%; $45,000-$74,000: 27%; $75,000-$149,000: 39%; $150,000+: 9%)
Racial diversity: (White: 78%; Two or more races: 8%; African American: 7%; Asian: 4%; American Indian or Alaska native: 2%; Hispanic: 1%; Hawaiian or other Pacific Islander: 0%; Other race: 0%)
Age range: (Less than 10 years old: 15%; 10-17 years old: 12%; 18-24 years old: 13%; 25-34 years old: 20%; 35-44 years old: 10%)
Arizona: Phoenix
Population: 1,555,324
Diversity grade: A+
Median household income: $49,328
Household income brackets: (Less than $25,000: 25%; $25,000-$44,000: 22%; $45,000-$74,000: 22%; $75,000-$149,000: 23%; $150,000+: 9%)
Racial diversity: (White: 44%; Hispanic: 42%; African American: 6%; Asian: 3%; Two or more races: 2%; American Indian or Alaska native: 2%; Hawaiian or other Pacific Islander: 0%; Other race: 0%)
Age range: (Less than 10 years old: 15%; 10-17 years old: 12%; 18-24 years old: 10%; 25-34 years old: 16%; 35-44 years old: 14%)
Arkansas: Little Rock
Population: 197,640
Diversity grade: A+
Median household income: $46,578
Household income brackets: (Less than $25,000: 27%; $25,000-$44,000: 22%; $45,000-$74,000: 21%; $75,000-$149,000: 20%; $150,000+: 11%)
Racial diversity: (White: 46%; African American: 42%; Hispanic: 7%; Asian: 3%; Two or more races: 2%; Other race: 0%; American Indian or Alaska native: 0%; Hawaiian or other Pacific Islander: 0%)
Age range: (Less than 10 years old: 13%; 10-17 years old: 10%; 18-24 years old: 9%; 25-34 years old: 16%; 35-44 years old: 13%)
California: Vallejo
Population: 119,644
Diversity grade: A+
Median household income: $59,600
Household income brackets: (Less than $25,000: 22%; $25,000-$44,000: 17%; $45,000-$74,000: 21%; $75,000-$149,000: 30%; $150,000+: 10%)
Racial diversity: (Hispanic: 25%; White: 24%; Asian: 23%; African American: 21%; Two or more races: 6%; Hawaiian or other Pacific Islander: 1%; American Indian or Alaska native: 0%; Other race: 0%)
Age range: (Less than 10 years old: 12%; 10-17 years old: 9%; 18-24 years old: 10%; 25-34 years old: 14%; 35-44 years old: 12%)
Colorado: Aurora
Population: 351,131
Diversity grade: A+
Median household income: $55,303
Household income brackets: (Less than $25,000: 18%; $25,000-$44,000: 22%; $45,000-$74,000: 26%; $75,000-$149,000: 27%; $150,000+: 7%)
Racial diversity: (White: 46%; Hispanic: 29%; African American: 15%; Asian: 5%; Two or more races: 3%; American Indian or Alaska native: 0%; Other race: 0%; Hawaiian or other Pacific Islander: 0%)
Age range: (Less than 10 years old: 15%; 10-17 years old: 11%; 18-24 years old: 9%; 25-34 years old: 16%; 35-44 years old: 15%)
Connecticut: East Hartford
Population: 50,834
Diversity grade: A+
Median household income: $50,750
Household income brackets: (Less than $25,000: 23%; $25,000-$44,000: 22%; $45,000-$74,000: 24%; $75,000-$149,000: 25%; $150,000+: 6%)
Racial diversity: (White: 35%; Hispanic: 31%; African American: 27%; Asian: 4%; Two or more races: 2%; Other race: 0%; American Indian or Alaska native: 0%; Hawaiian or other Pacific Islander: 0%)
Age range: (Less than 10 years old: 12%; 10-17 years old: 11%; 18-24 years old: 9%; 25-34 years old: 14%; 35-44 years old: 15%)
Delaware: Bear
Population: 19,904
Diversity grade: A+
Median household income: $66,250
Household income brackets: (Less than $25,000: 15%; $25,000-$44,000: 22%; $45,000-$74,000: 21%; $75,000-$149,000: 31%; $150,000+: 11%)
Racial diversity: (White: 41%; African American: 34%; Hispanic: 17%; Asian: 5%; Two or more races: 3%; Other race: 1%; American Indian or Alaska native: 0%; Hawaiian or other Pacific Islander: 0%)
Age range: (Less than 10 years old: 12%; 10-17 years old: 11%; 18-24 years old: 9%; 25-34 years old: 18%; 35-44 years old: 15%)
Florida: Sunrise
Population: 91,177
Diversity grade: A+
Median household income: $50,297
Household income brackets: (Less than $25,000: 24%; $25,000-$44,000: 21%; $45,000-$74,000: 23%; $75,000-$149,000: 26%; $150,000+: 6%)
Racial diversity: (African American: 33%; White: 32%; Hispanic: 28%; Asian: 4%; Two or more races: 2%; Other race: 1%; American Indian or Alaska native: 0%; Hawaiian or other Pacific Islander: 0%)
Age range: (Less than 10 years old: 13%; 10-17 years old: 9%; 18-24 years old: 9%; 25-34 years old: 14%; 35-44 years old: 13%)
Georgia: Lilburn
Population: 12,481
Diversity grade: A+
Median household income: $51,079
Household income brackets: (Less than $25,000: 23%; $25,000-$44,000: 22%; $45,000-$74,000: 26%; $75,000-$149,000: 21%; $150,000+: 8%)
Racial diversity: (White: 33%; Hispanic: 25%; Asian: 21%; African American: 18%; Two or more races: 3%; Other race: 0%; Hawaiian or other Pacific Islander: 0%; American Indian or Alaska native: 0%)
Age range: (Less than 10 years old: 16%; 10-17 years old: 12%; 18-24 years old: 8%; 25-34 years old: 12%; 35-44 years old: 14%)
Idaho: Paul
Population: 1,367
Diversity grade: A
Median household income: $47,216
Household income brackets: (Less than $25,000: 24%; $25,000-$44,000: 22%; $45,000-$74,000: 28%; $75,000-$149,000: 24%; $150,000+: 2%)
Racial diversity: (White: 60%; Hispanic: 34%; American Indian or Alaska native: 4%; Two or more races: 3%; Asian: 0%; African American: 0%; Hawaiian or other Pacific Islander: 0%; Other race: 0%)
Age range: (Less than 10 years old: 14%; 10-17 years old: 14%; 18-24 years old: 4%; 25-34 years old: 14%; 35-44 years old: 11%)
Illinois: Chicago
Population: 2,714,017
Diversity grade: A+
Median household income: $50,434
Household income brackets: (Less than $25,000: 28%; $25,000-$44,000: 18%; $45,000-$74,000: 19%; $75,000-$149,000: 23%; $150,000+: 12%)
Racial diversity: (White: 32%; African American: 31%; Hispanic: 29%; Asian: 6%; Two or more races: 2%; Other race: 0%; American Indian or Alaska native: 0%; Hawaiian or other Pacific Islander: 0%)
Age range: (Less than 10 years old: 13%; 10-17 years old: 9%; 18-24 years old: 11%; 25-34 years old: 19%; 35-44 years old: 14%)
Indiana: Hammond
Population: 78,349
Diversity grade: A+
Median household income: $41,685
Household income brackets: (Less than $25,000: 29%; $25,000-$44,000: 25%; $45,000-$74,000: 25%; $75,000-$149,000: 18%; $150,000+: 3%)
Racial diversity: (White: 40%; Hispanic: 36%; African American: 22%; Two or more races: 2%; Asian: 1%; Other race: 0%; American Indian or Alaska native: 0%; Hawaiian or other Pacific Islander: 0%)
Age range: (Less than 10 years old: 15%; 10-17 years old: 12%; 18-24 years old: 11%; 25-34 years old: 14%; 35-44 years old: 13%)
Iowa: Storm Lake
Population: 10,768
Diversity grade: A+
Median household income: $43,226
Household income brackets: (Less than $25,000: 26%; $25,000-$44,000: 26%; $45,000-$74,000: 23%; $75,000-$149,000: 21%; $150,000+: 3%)
Racial diversity: (White: 40%; Hispanic: 38%; Asian: 15%; African American: 5%; Hawaiian or other Pacific Islander: 2%; Two or more races: 0%; American Indian or Alaska native: 0%; Other race: 0%)
Age range: (Less than 10 years old: 16%; 10-17 years old: 11%; 18-24 years old: 17%; 25-34 years old: 13%; 35-44 years old: 11%)
Kansas: Kansas City
Population: 149,755
Diversity grade: A+
Median household income: $39,536
Household income brackets: (Less than $25,000: 31%; $25,000-$44,000: 25%; $45,000-$74,000: 23%; $75,000-$149,000: 18%; $150,000+: 2%)
Racial diversity: (White: 39%; Hispanic: 29%; African American: 25%; Asian: 4%; Two or more races: 3%; American Indian or Alaska native: 0%; Hawaiian or other Pacific Islander: 0%; Other race: 0%)
Age range: (Less than 10 years old: 16%; 10-17 years old: 12%; 18-24 years old: 9%; 25-34 years old: 15%; 35-44 years old: 13%)
Kentucky: Radcliff
Population: 22,806
Diversity grade: A+
Median household income: $46,821
Household income brackets: (Less than $25,000: 27%; $25,000-$44,000: 21%; $45,000-$74,000: 27%; $75,000-$149,000: 22%; $150,000+: 3%)
Racial diversity: (White: 55%; African American: 26%; Hispanic: 8%; Two or more races: 8%; Asian: 2%; Hawaiian or other Pacific Islander: 0%; Other race: 0%; American Indian or Alaska native: 0%)
Age range: (Less than 10 years old: 14%; 10-17 years old: 12%; 18-24 years old: 10%; 25-34 years old: 16%; 35-44 years old: 11%)
Louisiana: Terrytown
Population: 24,959
Diversity grade: A+
Median household income: $41,794
Household income brackets: (Less than $25,000: 30%; $25,000-$44,000: 23%; $45,000-$74,000: 23%; $75,000-$149,000: 19%; $150,000+: 4%)
Racial diversity: (African American: 36%; White: 33%; Hispanic: 23%; Asian: 4%; Two or more races: 4%; American Indian or Alaska native: 0%; Hawaiian or other Pacific Islander: 0%; Other race: 0%)
Age range: (Less than 10 years old: 18%; 10-17 years old: 11%; 18-24 years old: 11%; 25-34 years old: 16%; 35-44 years old: 13%)
Maine: Portland
Population: 66,649
Diversity grade: B+
Median household income: $48,259
Household income brackets: (Less than $25,000: 27%; $25,000-$44,000: 20%; $45,000-$74,000: 21%; $75,000-$149,000: 24%; $150,000+: 8%)
Racial diversity: (White: 82%; African American: 8%; Asian: 4%; Hispanic: 3%; Two or more races: 3%; Other race: 0%; American Indian or Alaska native: 0%; Hawaiian or other Pacific Islander: 0%)
Age range: (Less than 10 years old: 10%; 10-17 years old: 7%; 18-24 years old: 11%; 25-34 years old: 22%; 35-44 years old: 12%)
Maryland: Montgomery Village
Population: 33,091
Diversity grade: A+
Median household income: $76,105
Household income brackets: (Less than $25,000: 10%; $25,000-$44,000: 18%; $45,000-$74,000: 22%; $75,000-$149,000: 32%; $150,000+: 18%)
Racial diversity: (Hispanic: 31%; White: 31%; African American: 21%; Asian: 11%; Two or more races: 4%; Other race: 1%; American Indian or Alaska native: 0%; Hawaiian or other Pacific Islander: 0%)
Age range: (Less than 10 years old: 15%; 10-17 years old: 10%; 18-24 years old: 10%; 25-34 years old: 15%; 35-44 years old: 14%)
Massachusetts: Boston
Population: 658,279
Diversity grade: A+
Median household income: $58,516
Household income brackets: (Less than $25,000: 28%; $25,000-$44,000: 14%; $45,000-$74,000: 18%; $75,000-$149,000: 25%; $150,000+: 16%)
Racial diversity: (White: 45%; African American: 23%; Hispanic: 19%; Asian: 9%; Two or more races: 2%; Other race: 1%; American Indian or Alaska native: 0%; Hawaiian or other Pacific Islander: 0%)
Age range: (Less than 10 years old: 10%; 10-17 years old: 7%; 18-24 years old: 16%; 25-34 years old: 23%; 35-44 years old: 12%)
Michigan: Ypsilanti Charter Township
Population: 54,475
Diversity grade: A+
Median household income: $46,339
Household income brackets: (Less than $25,000: 25%; $25,000-$44,000: 23%; $45,000-$74,000: 23%; $75,000-$149,000: 24%; $150,000+: 5%)
Racial diversity: (White: 53%; African American: 32%; Hispanic: 7%; Two or more races: 6%; Asian: 3%; Other race: 0%; American Indian or Alaska native: 0%; Hawaiian or other Pacific Islander: 0%)
Age range: (Less than 10 years old: 13%; 10-17 years old: 10%; 18-24 years old: 12%; 25-34 years old: 16%; 35-44 years old: 14%)
Minnesota: Brooklyn Center
Population: 30,785
Diversity grade: A+
Median household income: $46,400
Household income brackets: (Less than $25,000: 23%; $25,000-$44,000: 25%; $45,000-$74,000: 23%; $75,000-$149,000: 24%; $150,000+: 4%)
Racial diversity: (White: 43%; African American: 28%; Asian: 15%; Hispanic: 10%; Two or more races: 3%; American Indian or Alaska native: 0%; Other race: 0%; Hawaiian or other Pacific Islander: 0%)
Age range: (Less than 10 years old: 18%; 10-17 years old: 10%; 18-24 years old: 9%; 25-34 years old: 18%; 35-44 years old: 13%)
Mississippi: Morton
Population: 3,430
Diversity grade: A
Median household income: $33,007
Household income brackets: (Less than $25,000: 30%; $25,000-$44,000: 37%; $45,000-$74,000: 20%; $75,000-$149,000: 11%; $150,000+: 2%)
Racial diversity: (African American: 39%; White: 34%; Hispanic: 28%; American Indian or Alaska native: 0%; Asian: 0%; Hawaiian or other Pacific Islander: 0%; Other race: 0%; Two or more races: 0%)
Age range: (Less than 10 years old: 14%; 10-17 years old: 12%; 18-24 years old: 13%; 25-34 years old: 15%; 35-44 years old: 15%)
Missouri: Olivette
Population: 7,830
Diversity grade: A+
Median household income: $68,700
Household income brackets: (Less than $25,000: 11%; $25,000-$44,000: 18%; $45,000-$74,000: 23%; $75,000-$149,000: 25%; $150,000+: 23%)
Racial diversity: (White: 53%; African American: 26%; Asian: 10%; Hispanic: 6%; Two or more races: 4%; American Indian or Alaska native: 0%; Hawaiian or other Pacific Islander: 0%; Other race: 0%)
Age range: (Less than 10 years old: 12%; 10-17 years old: 15%; 18-24 years old: 5%; 25-34 years old: 11%; 35-44 years old: 14%)
Montana: Great Falls
Population: 59,479
Diversity grade: B+
Median household income: $43,497
Household income brackets: (Less than $25,000: 28%; $25,000-$44,000: 23%; $45,000-$74,000: 23%; $75,000-$149,000: 21%; $150,000+: 5%)
Racial diversity: (White: 85%; American Indian or Alaska native: 5%; Hispanic: 4%; Two or more races: 4%; Asian: 1%; African American: 1%; Hawaiian or other Pacific Islander: 0%; Other race: 0%)
Age range: (Less than 10 years old: 13%; 10-17 years old: 9%; 18-24 years old: 10%; 25-34 years old: 15%; 35-44 years old: 11%)
Nebraska: South Sioux City
Population: 13,268
Diversity grade: A
Median household income: $48,438
Household income brackets: (Less than $25,000: 30%; $25,000-$44,000: 16%; $45,000-$74,000: 33%; $75,000-$149,000: 18%; $150,000+: 3%)
Racial diversity: (Hispanic: 48%; White: 38%; African American: 6%; Asian: 4%; American Indian or Alaska native: 3%; Two or more races: 1%; Other race: 1%; Hawaiian or other Pacific Islander: 0%)
Age range: (Less than 10 years old: 19%; 10-17 years old: 11%; 18-24 years old: 10%; 25-34 years old: 14%; 35-44 years old: 12%)
Nevada: Spring Valley
Population: 190,661
Diversity grade: A+
Median household income: $51,228
Household income brackets: (Less than $25,000: 19%; $25,000-$44,000: 24%; $45,000-$74,000: 28%; $75,000-$149,000: 23%; $150,000+: 6%)
Racial diversity: (White: 41%; Hispanic: 22%; Asian: 19%; African American: 11%; Two or more races: 5%; Hawaiian or other Pacific Islander: 1%; American Indian or Alaska native: 0%; Other race: 0%)
Age range: (Less than 10 years old: 11%; 10-17 years old: 9%; 18-24 years old: 9%; 25-34 years old: 16%; 35-44 years old: 15%)
New Hampshire: Nashua
Population: 87,279
Diversity grade: A-
Median household income: $68,944
Household income brackets: (Less than $25,000: 17%; $25,000-$44,000: 17%; $45,000-$74,000: 20%; $75,000-$149,000: 33%; $150,000+: 13%)
Racial diversity: (White: 75%; Hispanic: 12%; Asian: 7%; Two or more races: 2%; African American: 2%; Other race: 0%; American Indian or Alaska native: 0%; Hawaiian or other Pacific Islander: 0%)
Age range: (Less than 10 years old: 13%; 10-17 years old: 8%; 18-24 years old: 9%; 25-34 years old: 15%; 35-44 years old: 13%)
New Jersey: Jersey City
Population: 261,666
Diversity grade: A+
Median household income: $60,703
Household income brackets: (Less than $25,000: 25%; $25,000-$44,000: 15%; $45,000-$74,000: 18%; $75,000-$149,000: 26%; $150,000+: 17%)
Racial diversity: (Hispanic: 28%; Asian: 25%; African American: 23%; White: 21%; Two or more races: 2%; Other race: 1%; American Indian or Alaska native: 0%; Hawaiian or other Pacific Islander: 0%)
Age range: (Less than 10 years old: 13%; 10-17 years old: 8%; 18-24 years old: 9%; 25-34 years old: 22%; 35-44 years old: 16%)
New Mexico: Albuquerque
Population: 556,859
Diversity grade: A+
Median household income: $48,127
Household income brackets: (Less than $25,000: 27%; $25,000-$44,000: 20%; $45,000-$74,000: 22%; $75,000-$149,000: 24%; $150,000+: 7%)
Racial diversity: (Hispanic: 48%; White: 41%; American Indian or Alaska native: 4%; African American: 3%; Asian: 2%; Two or more races: 2%; Other race: 0%; Hawaiian or other Pacific Islander: 0%)
Age range: (Less than 10 years old: 13%; 10-17 years old: 10%; 18-24 years old: 10%; 25-34 years old: 16%; 35-44 years old: 13%)
New York: Queens
Population: 2,310,011
Diversity grade: A+
Median household income: $59,758
Household income brackets: (Less than $25,000: 21%; $25,000-$44,000: 18%; $45,000-$74,000: 22%; $75,000-$149,000: 28%; $150,000+: 11%)
Racial diversity: (Hispanic: 28%; White: 26%; Asian: 25%; African American: 17%; Two or more races: 2%; Other race: 2%; American Indian or Alaska native: 0%; Hawaiian or other Pacific Islander: 0%)
Age range: (Less than 10 years old: 12%; 10-17 years old: 9%; 18-24 years old: 9%; 25-34 years old: 16%; 35-44 years old: 14%)
North Carolina: Charlotte
Population: 808,834
Diversity grade: A+
Median household income: $55,599
Household income brackets: (Less than $25,000: 21%; $25,000-$44,000: 21%; $45,000-$74,000: 22%; $75,000-$149,000: 25%; $150,000+: 12%)
Racial diversity: (White: 43%; African American: 35%; Hispanic: 14%; Asian: 6%; Two or more races: 2%; Other race: 0%; American Indian or Alaska native: 0%; Hawaiian or other Pacific Islander: 0%)
Age range: (Less than 10 years old: 14%; 10-17 years old: 10%; 18-24 years old: 10%; 25-34 years old: 18%; 35-44 years old: 15%)
North Dakota: Grafton
Population: 4,287
Diversity grade: B+
Median household income: $44,926
Household income brackets: (Less than $25,000: 28%; $25,000-$44,000: 22%; $45,000-$74,000: 24%; $75,000-$149,000: 25%; $150,000+: 2%)
Racial diversity: (White: 81%; Hispanic: 13%; American Indian or Alaska native: 4%; Asian: 2%; Two or more races: 1%; African American: 0%; Hawaiian or other Pacific Islander: 0%; Other race: 0%)
Age range: (Less than 10 years old: 16%; 10-17 years old: 9%; 18-24 years old: 7%; 25-34 years old: 10%; 35-44 years old: 9%)
Ohio: Springdale
Population: 11,205
Diversity grade: A+
Median household income: $49,200
Household income brackets: (Less than $25,000: 26%; $25,000-$44,000: 21%; $45,000-$74,000: 28%; $75,000-$149,000: 19%; $150,000+: 7%)
Racial diversity: (White: 43%; African American: 33%; Hispanic: 18%; Asian: 5%; Two or more races: 1%; Other race: 0%; American Indian or Alaska native: 0%; Hawaiian or other Pacific Islander: 0%)
Age range: (Less than 10 years old: 18%; 10-17 years old: 11%; 18-24 years old: 5%; 25-34 years old: 11%; 35-44 years old: 12%)
Oklahoma: Oklahoma City
Population: 620,015
Diversity grade: A+
Median household income: $50,070
Household income brackets: (Less than $25,000: 24%; $25,000-$44,000: 22%; $45,000-$74,000: 22%; $75,000-$149,000: 24%; $150,000+: 8%)
Racial diversity: (White: 55%; Hispanic: 19%; African American: 14%; Two or more races: 5%; Asian: 4%; American Indian or Alaska native: 3%; Other race: 0%; Hawaiian or other Pacific Islander: 0%)
Age range: (Less than 10 years old: 15%; 10-17 years old: 11%; 18-24 years old: 9%; 25-34 years old: 16%; 35-44 years old: 13%)
Oregon: Wood Village
Population: 3,996
Diversity grade: A
Median household income: $47,786
Household income brackets: (Less than $25,000: 23%; $25,000-$44,000: 26%; $45,000-$74,000: 27%; $75,000-$149,000: 20%; $150,000+: 4%)
Racial diversity: (White: 47%; Hispanic: 39%; Two or more races: 4%; Asian: 3%; Hawaiian or other Pacific Islander: 3%; American Indian or Alaska native: 2%; African American: 2%; Other race: 0%)
Age range: (Less than 10 years old: 21%; 10-17 years old: 16%; 18-24 years old: 7%; 25-34 years old: 20%; 35-44 years old: 9%)
Pennsylvania: Norristown
Population: 34,460
Diversity grade: A+
Median household income: $44,168
Household income brackets: (Less than $25,000: 28%; $25,000-$44,000: 23%; $45,000-$74,000: 22%; $75,000-$149,000: 22%; $150,000+: 5%)
Racial diversity: (African American: 34%; White: 33%; Hispanic: 26%; Two or more races: 4%; Asian: 3%; Hawaiian or other Pacific Islander: 0%; Other race: 0%; American Indian or Alaska native: 0%)
Age range: (Less than 10 years old: 16%; 10-17 years old: 10%; 18-24 years old: 9%; 25-34 years old: 20%; 35-44 years old: 13%)
Rhode Island: Providence
Population: 178,851
Diversity grade: A+
Median household income: $37,366
Household income brackets: (Less than $25,000: 36%; $25,000-$44,000: 20%; $45,000-$74,000: 18%; $75,000-$149,000: 18%; $150,000+: 8%)
Racial diversity: (Hispanic: 42%; White: 35%; African American: 13%; Asian: 6%; Two or more races: 3%; American Indian or Alaska native: 1%; Other race: 1%; Hawaiian or other Pacific Islander: 0%)
Age range: (Less than 10 years old: 13%; 10-17 years old: 10%; 18-24 years old: 18%; 25-34 years old: 17%; 35-44 years old: 12%)
South Carolina: Hardeeville
Population: 4,789
Diversity grade: A+
Median household income: $44,682
Household income brackets: (Less than $25,000: 22%; $25,000-$44,000: 29%; $45,000-$74,000: 25%; $75,000-$149,000: 20%; $150,000+: 5%)
Racial diversity: (White: 54%; African American: 25%; Hispanic: 16%; Asian: 3%; Two or more races: 3%; American Indian or Alaska native: 0%; Hawaiian or other Pacific Islander: 0%; Other race: 0%)
Age range: (Less than 10 years old: 12%; 10-17 years old: 8%; 18-24 years old: 15%; 25-34 years old: 12%; 35-44 years old: 10%)
South Dakota: Huron
Population: 13,149
Diversity grade: A-
Median household income: $44,941
Household income brackets: (Less than $25,000: 27%; $25,000-$44,000: 23%; $45,000-$74,000: 28%; $75,000-$149,000: 19%; $150,000+: 3%)
Racial diversity: (White: 74%; Hispanic: 12%; Asian: 11%; American Indian or Alaska native: 1%; Two or more races: 1%; African American: 0%; Hawaiian or other Pacific Islander: 0%; Other race: 0%)
Age range: (Less than 10 years old: 17%; 10-17 years old: 10%; 18-24 years old: 8%; 25-34 years old: 14%; 35-44 years old: 11%)
Tennessee: Nashville
Population: 643,771
Diversity grade: A
Median household income: $49,891
Household income brackets: (Less than $25,000: 23%; $25,000-$44,000: 22%; $45,000-$74,000: 23%; $75,000-$149,000: 23%; $150,000+: 8%)
Racial diversity: (White: 56%; African American: 28%; Hispanic: 10%; Asian: 4%; Two or more races: 2%; American Indian or Alaska native: 0%; Other race: 0%; Hawaiian or other Pacific Islander: 0%)
Age range: (Less than 10 years old: 13%; 10-17 years old: 8%; 18-24 years old: 11%; 25-34 years old: 19%; 35-44 years old: 14%)
Texas: Stafford
Population: 18,026
Diversity grade: A+
Median household income: $59,402
Household income brackets: (Less than $25,000: 17%; $25,000-$44,000: 16%; $45,000-$74,000: 31%; $75,000-$149,000: 29%; $150,000+: 7%)
Racial diversity: (African American: 31%; White: 22%; Asian: 22%; Hispanic: 22%; Two or more races: 3%; Other race: 0%; American Indian or Alaska native: 0%; Hawaiian or other Pacific Islander: 0%)
Age range: (Less than 10 years old: 10%; 10-17 years old: 8%; 18-24 years old: 12%; 25-34 years old: 19%; 35-44 years old: 14%)
Utah: South Salt Lake
Population: 24,575
Diversity grade: A
Median household income: $39,198
Household income brackets: (Less than $25,000: 29%; $25,000-$44,000: 28%; $45,000-$74,000: 22%; $75,000-$149,000: 19%; $150,000+: 2%)
Racial diversity: (White: 52%; Hispanic: 25%; Asian: 12%; African American: 5%; Two or more races: 2%; Hawaiian or other Pacific Islander: 2%; American Indian or Alaska native: 2%; Other race: 0%)
Age range: (Less than 10 years old: 16%; 10-17 years old: 10%; 18-24 years old: 13%; 25-34 years old: 24%; 35-44 years old: 14%)
Vermont: Winooski
Population: 7,209
Diversity grade: B+
Median household income: $49,596
Household income brackets: (Less than $25,000: 31%; $25,000-$44,000: 16%; $45,000-$74,000: 23%; $75,000-$149,000: 25%; $150,000+: 5%)
Racial diversity: (White: 82%; Asian: 9%; African American: 4%; Hispanic: 3%; Two or more races: 1%; Other race: 1%; American Indian or Alaska native: 0%; Hawaiian or other Pacific Islander: 0%)
Age range: (Less than 10 years old: 10%; 10-17 years old: 4%; 18-24 years old: 17%; 25-34 years old: 23%; 35-44 years old: 12%)
Virginia: Annandale
Population: 43,158
Diversity grade: A+
Median household income: $80,717
Household income brackets: (Less than $25,000: 12%; $25,000-$44,000: 14%; $45,000-$74,000: 21%; $75,000-$149,000: 30%; $150,000+: 23%)
Racial diversity: (White: 32%; Hispanic: 31%; Asian: 25%; African American: 8%; Two or more races: 3%; Other race: 0%; American Indian or Alaska native: 0%; Hawaiian or other Pacific Islander: 0%)
Age range: (Less than 10 years old: 13%; 10-17 years old: 9%; 18-24 years old: 9%; 25-34 years old: 14%; 35-44 years old: 15%)
Washington: Kent
Population: 125,492
Diversity grade: A+
Median household income: $61,033
Household income brackets: (Less than $25,000: 18%; $25,000-$44,000: 19%; $45,000-$74,000: 24%; $75,000-$149,000: 29%; $150,000+: 11%)
Racial diversity: (White: 47%; Asian: 18%; Hispanic: 16%; African American: 10%; Two or more races: 5%; Hawaiian or other Pacific Islander: 2%; American Indian or Alaska native: 1%; Other race: 0%)
Age range: (Less than 10 years old: 14%; 10-17 years old: 11%; 18-24 years old: 10%; 25-34 years old: 17%; 35-44 years old: 14%)
West Virginia: Ranson
Population: 4,830
Diversity grade: A
Median household income: $49,063
Household income brackets: (Less than $25,000: 30%; $25,000-$44,000: 19%; $45,000-$74,000: 17%; $75,000-$149,000: 26%; $150,000+: 8%)
Racial diversity: (White: 63%; African American: 19%; Hispanic: 11%; Two or more races: 4%; Asian: 3%; American Indian or Alaska native: 0%; Hawaiian or other Pacific Islander: 0%; Other race: 0%)
Age range: (Less than 10 years old: 16%; 10-17 years old: 11%; 18-24 years old: 5%; 25-34 years old: 20%; 35-44 years old: 17%)
Wisconsin: Milwaukee
Population: 598,672
Diversity grade: A+
Median household income: $36,801
Household income brackets: (Less than $25,000: 35%; $25,000-$44,000: 23%; $45,000-$74,000: 21%; $75,000-$149,000: 17%; $150,000+: 4%)
Racial diversity: (African American: 39%; White: 36%; Hispanic: 18%; Asian: 4%; Two or more races: 3%; American Indian or Alaska native: 0%; Other race: 0%; Hawaiian or other Pacific Islander: 0%)
Age range: (Less than 10 years old: 15%; 10-17 years old: 11%; 18-24 years old: 13%; 25-34 years old: 17%; 35-44 years old: 12%)
Wyoming: South Greeley
Population: 4,345
Diversity grade: A-
Median household income: $46,533
Household income brackets: (Less than $25,000: 26%; $25,000-$44,000: 22%; $45,000-$74,000: 29%; $75,000-$149,000: 20%; $150,000+: 3%)
Racial diversity: (White: 68%; Hispanic: 27%; Two or more races: 3%; African American: 2%; Hawaiian or other Pacific Islander: 1%; Asian: 0%; American Indian or Alaska native: 0%; Other race: 0%)
Age range: (Less than 10 years old: 17%; 10-17 years old: 8%; 18-24 years old: 10%; 25-34 years old: 15%; 35-44 years old: 11%)