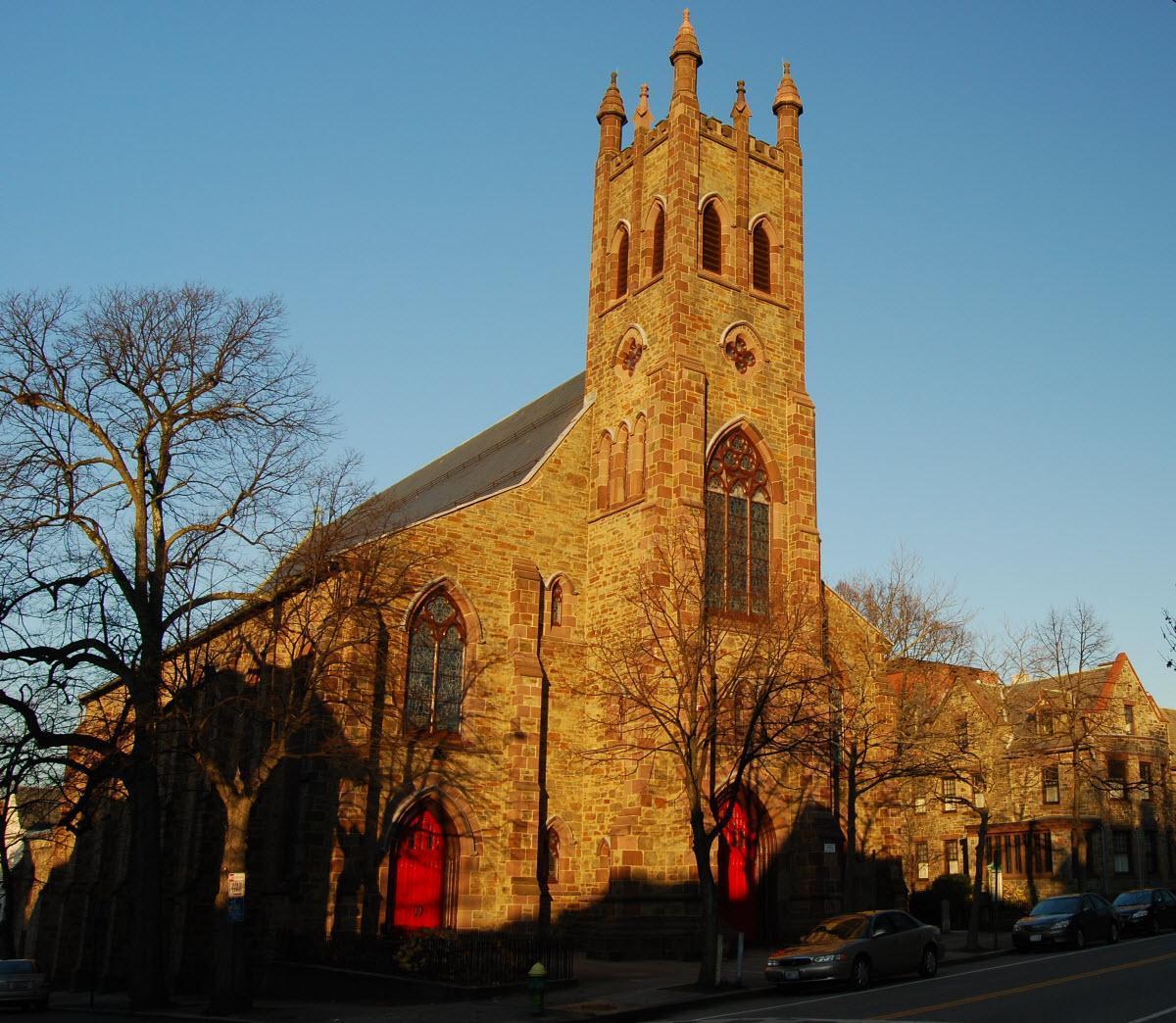 Most religious states
Religion has been a cornerstone of American history from the moment the Pilgrims sailed the Mayflower to Plymouth Rock. From Prohibition in the 1920s to the civil rights movement, many historic moments have had roots in religious institutions. In addition, churches have long served as places to gather and engage with one's community. But as the American public becomes increasingly less religious, these institutions have played a smaller role in citizens' everyday lives.
This shift hasn't been universal, however—while some states have seen a decline in religiosity in recent years, there are many for whom faith remains a vital part of daily life. Stacker dug into the Pew Research Center's 2014 Religious Landscape Study to determine the states where religious beliefs are the strongest. From July through September of that year, Pew asked 35,000 adults across the country a series of four questions: whether they found religion important, whether they prayed daily, whether they attended worship services weekly, and whether they believed in god with absolute certainty.
Each state's total religiosity was calculated by combining the percentage of those who answered two of the four questions in favor of religious devotion without indicating a lack of religious devotion in the other questions, and those who answered three of the four in favor of religious devotion, but indicated a lack of religious devotion in the remaining question.
Check out Stacker's list to see how religious your state is and why the southeastern United States may just deserve the moniker of "Bible Belt."
RELATED: States that remarry the most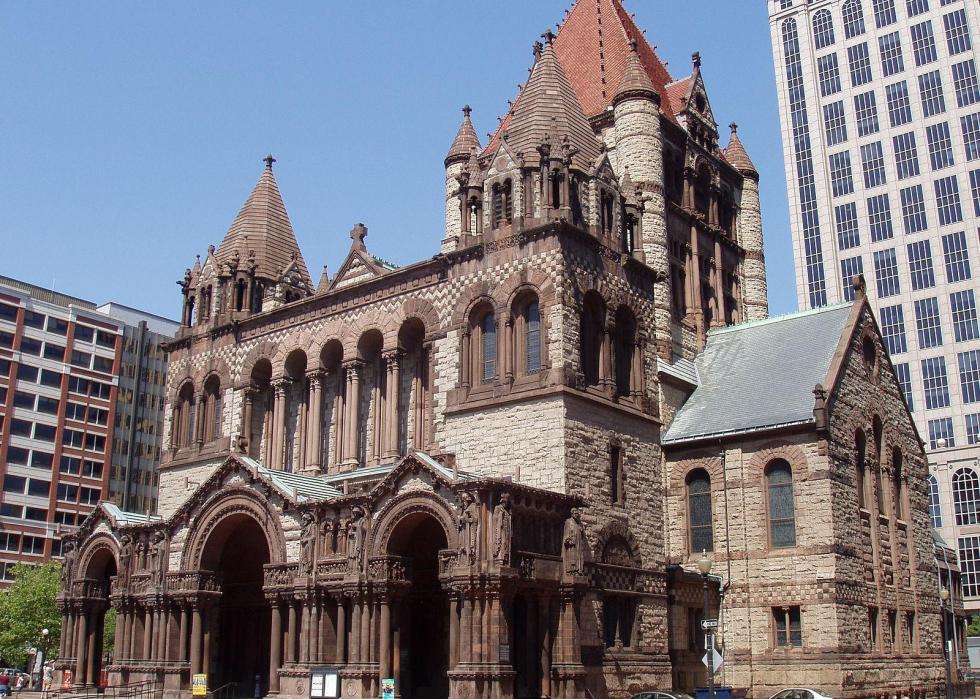 1 / 51
Trinity Church in Boston, MA by Daderot // Wikicommons
#50. Massachusetts (tie)
Overall religiosity index: 33%
Percentage of adults who find religion very important: 33%
Percentage of adults who pray daily: 23%
Percentage of adults who attend worship services weekly: 37%
Percentage of adults who believe in god with absolute certainty: 40%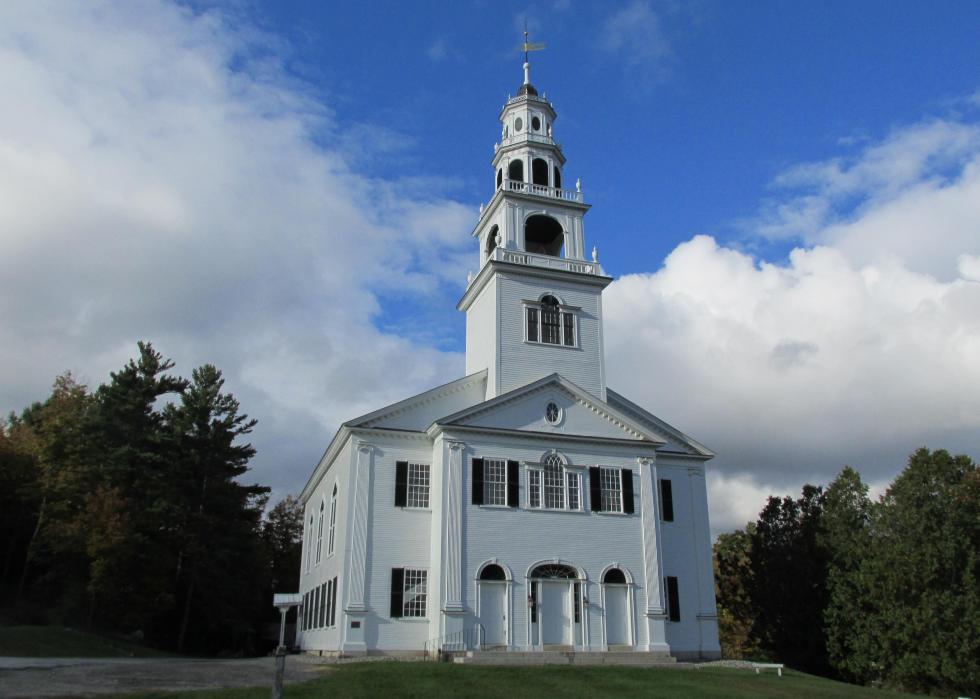 2 / 51
Acworth Congregational Church, by John Phelan // Wikicommons
#50. New Hampshire (tie)
Overall religiosity index: 33%
Percentage of adults who find religion very important: 33%
Percentage of adults who pray daily: 22%
Percentage of adults who attend worship services weekly: 36%
Percentage of adults who believe in god with absolute certainty: 43%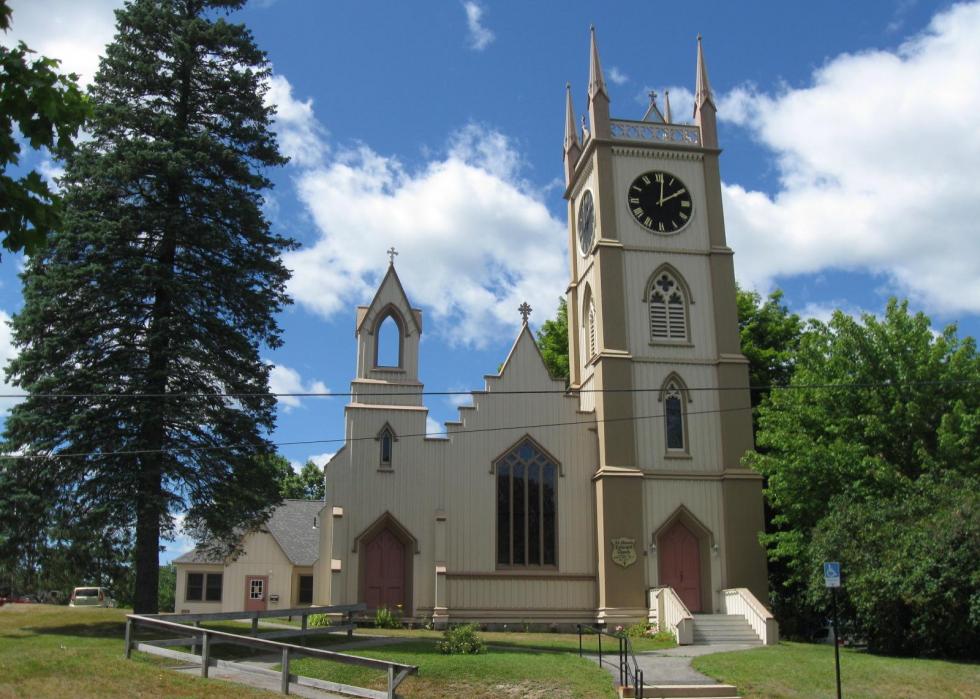 3 / 51
St. Anne's Episcopal Church, by Ken Gallager // Wikicommons
#48. Maine (tie)
Overall religiosity index: 34%
Percentage of adults who find religion very important: 34%
Percentage of adults who pray daily: 22%
Percentage of adults who attend worship services weekly: 35%
Percentage of adults who believe in god with absolute certainty: 48%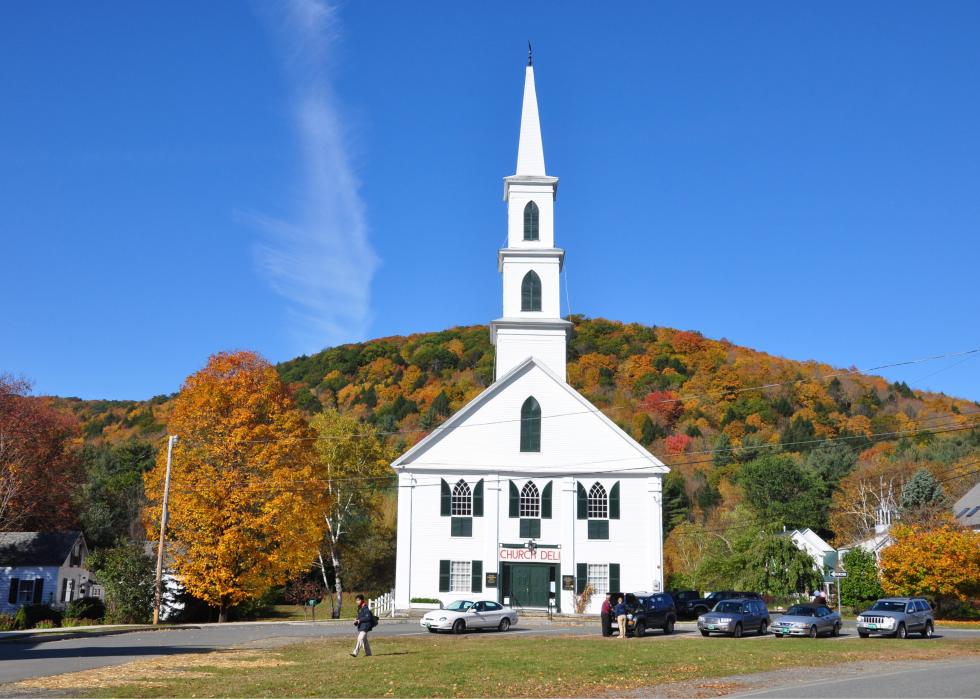 4 / 51
chensiyuan // Wikicommons
#48. Vermont (tie)
Overall religiosity index: 34%
Percentage of adults who find religion very important: 32%
Percentage of adults who pray daily: 21%
Percentage of adults who attend worship services weekly: 33%
Percentage of adults who believe in god with absolute certainty: 41%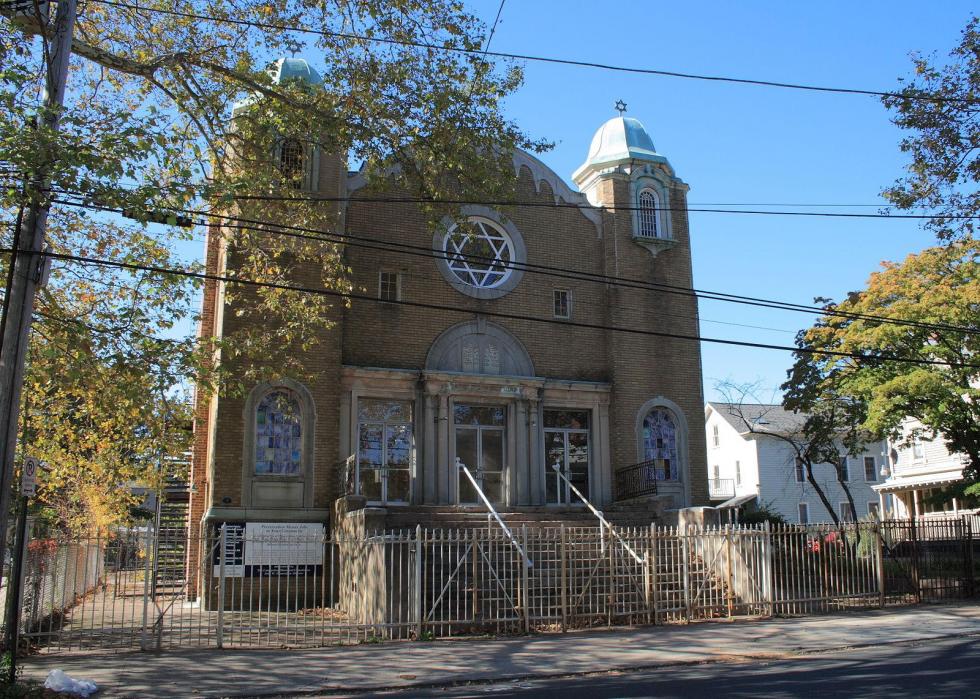 5 / 51
Beth Israel Synagogue in New Haven, CT by Sage Ross // Wikicommons
#47. Connecticut
Overall religiosity index: 43%
Percentage of adults who find religion very important: 42%
Percentage of adults who pray daily: 28%
Percentage of adults who attend worship services weekly: 47%
Percentage of adults who believe in god with absolute certainty: 54%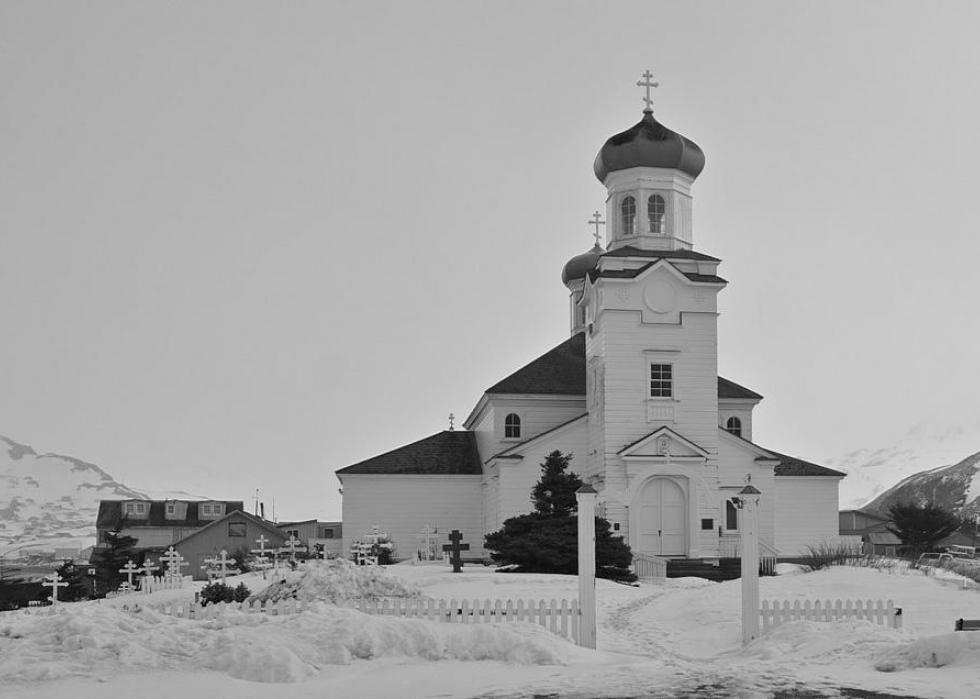 6 / 51
#44. Alaska (tie)
Overall religiosity index: 45%
Percentage of adults who find religion very important: 41%
Percentage of adults who pray daily: 30%
Percentage of adults who attend worship services weekly: 49%
Percentage of adults who believe in god with absolute certainty: 55%
7 / 51
Idriss Mosque in Seattle, WA, by Joe Mabel // Wikicommons
#44. Washington (tie)
Overall religiosity index: 45%
Percentage of adults who find religion very important: 44%
Percentage of adults who pray daily: 30%
Percentage of adults who attend worship services weekly: 46%
Percentage of adults who believe in god with absolute certainty: 55%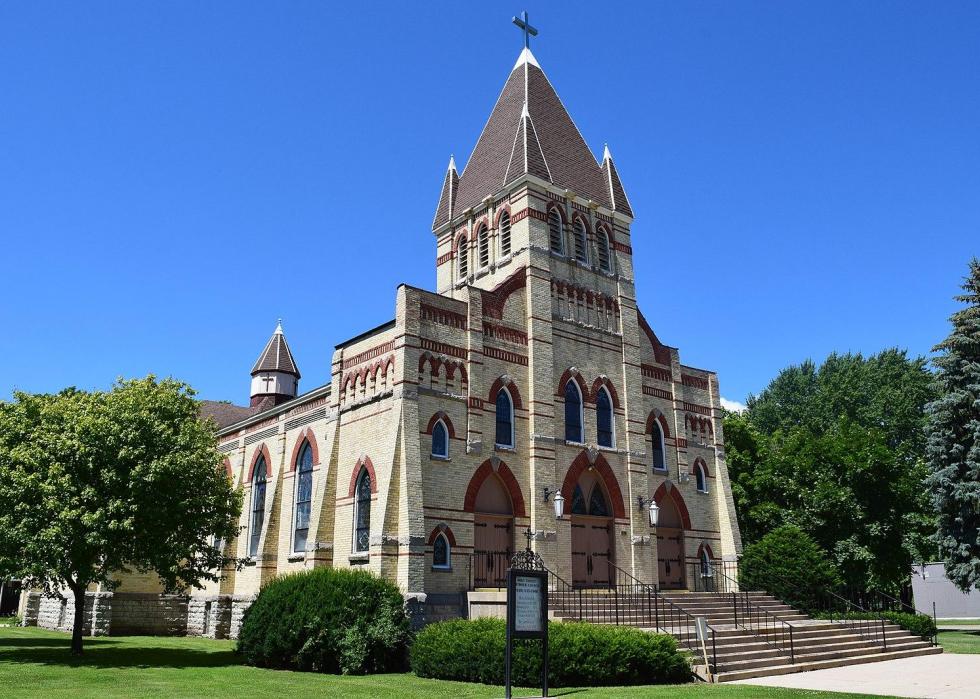 8 / 51
TheCatalyst31 // Wikicommons
#44. Wisconsin (tie)
Overall religiosity index: 45%
Percentage of adults who find religion very important: 44%
Percentage of adults who pray daily: 27%
Percentage of adults who attend worship services weekly: 46%
Percentage of adults who believe in god with absolute certainty: 56%
9 / 51
Central Synagogue in New York, NY by Gryffindor // Wikicommons
#43. New York
Overall religiosity index: 46%
Percentage of adults who find religion very important: 45%
Percentage of adults who pray daily: 29%
Percentage of adults who attend worship services weekly: 48%
Percentage of adults who believe in god with absolute certainty: 56%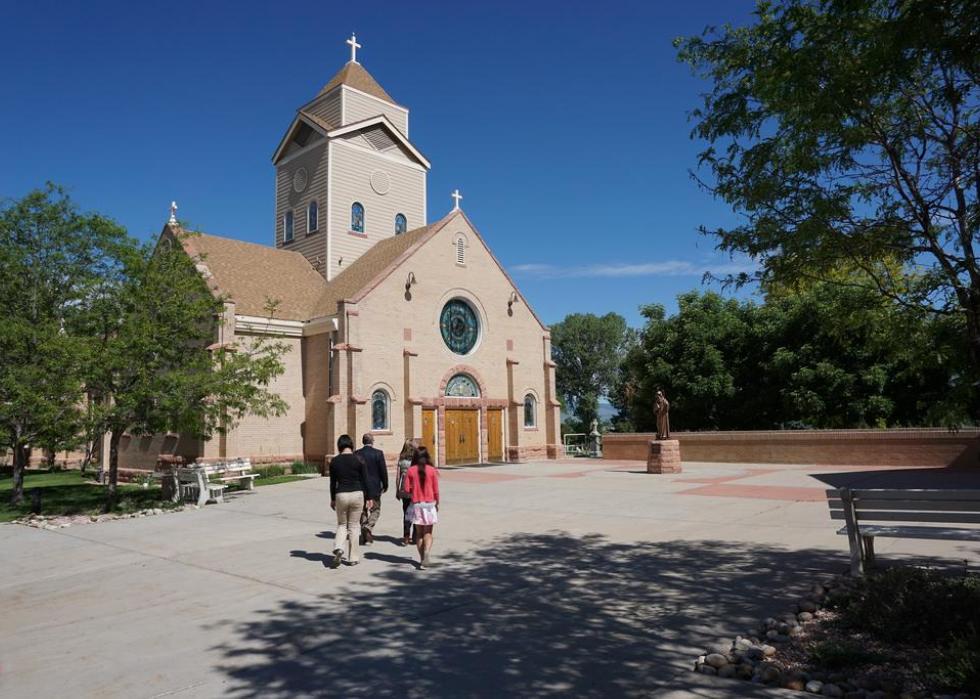 10 / 51
Let Ideas Compete // Flickr
#41. Colorado (tie)
Overall religiosity index: 47%
Percentage of adults who find religion very important: 47%
Percentage of adults who pray daily: 30%
Percentage of adults who attend worship services weekly: 50%
Percentage of adults who believe in god with absolute certainty: 55%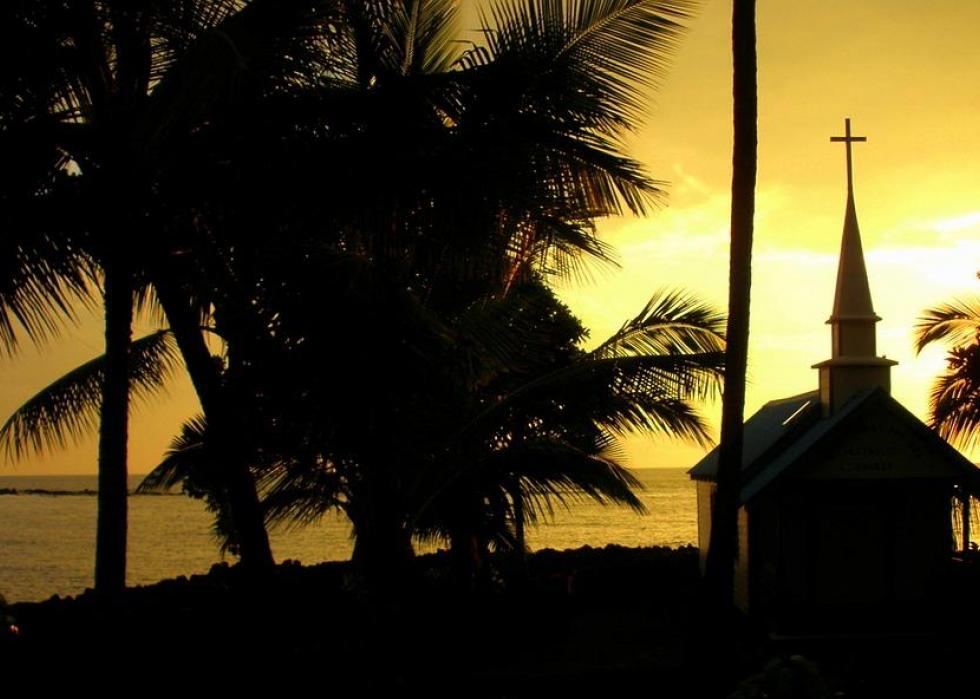 11 / 51
#41. Hawaii (tie)
Overall religiosity index: 47%
Percentage of adults who find religion very important: 44%
Percentage of adults who pray daily: 28%
Percentage of adults who attend worship services weekly: 52%
Percentage of adults who believe in god with absolute certainty: 62%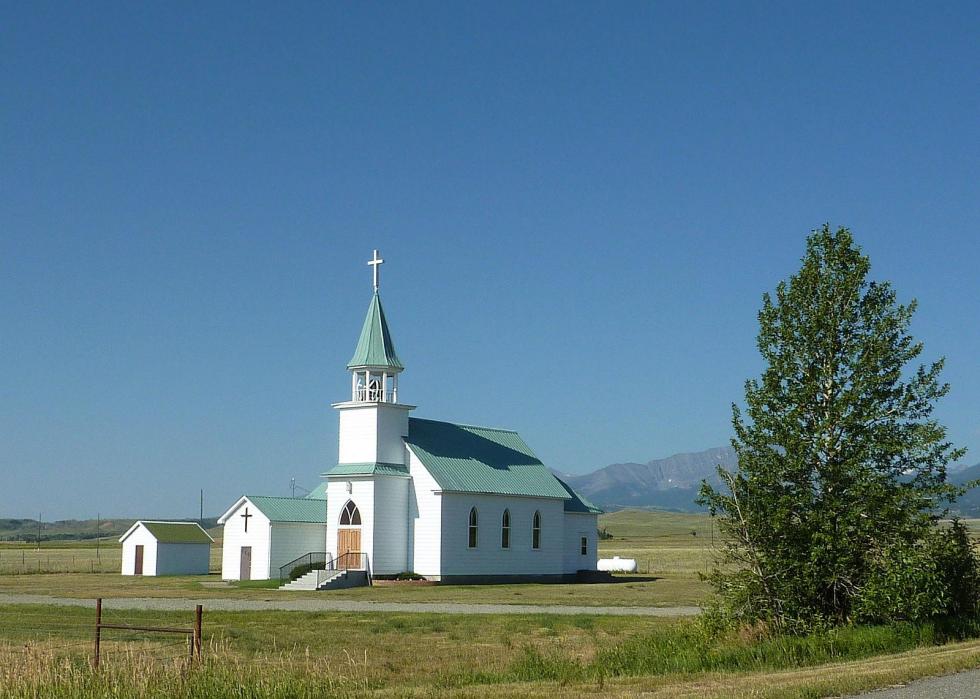 12 / 51
#39. Montana (tie)
Overall religiosity index: 48%
Percentage of adults who find religion very important: 44%
Percentage of adults who pray daily: 31%
Percentage of adults who attend worship services weekly: 51%
Percentage of adults who believe in god with absolute certainty: 64%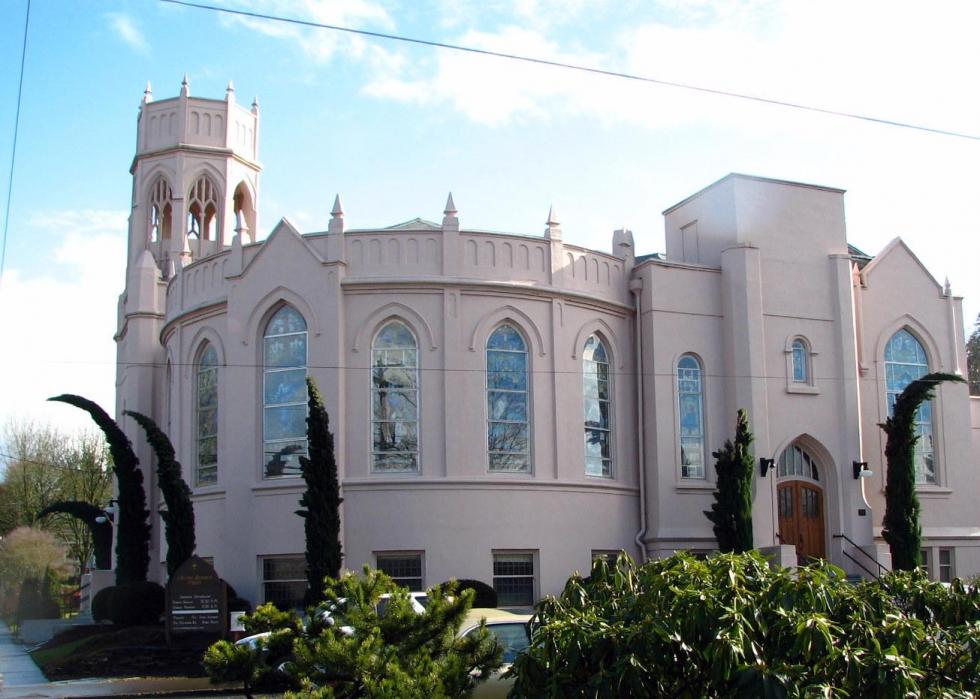 13 / 51
Ian Poellet // Wikicommons
#39. Oregon (tie)
Overall religiosity index: 48%
Percentage of adults who find religion very important: 45%
Percentage of adults who pray daily: 29%
Percentage of adults who attend worship services weekly: 45%
Percentage of adults who believe in god with absolute certainty: 57%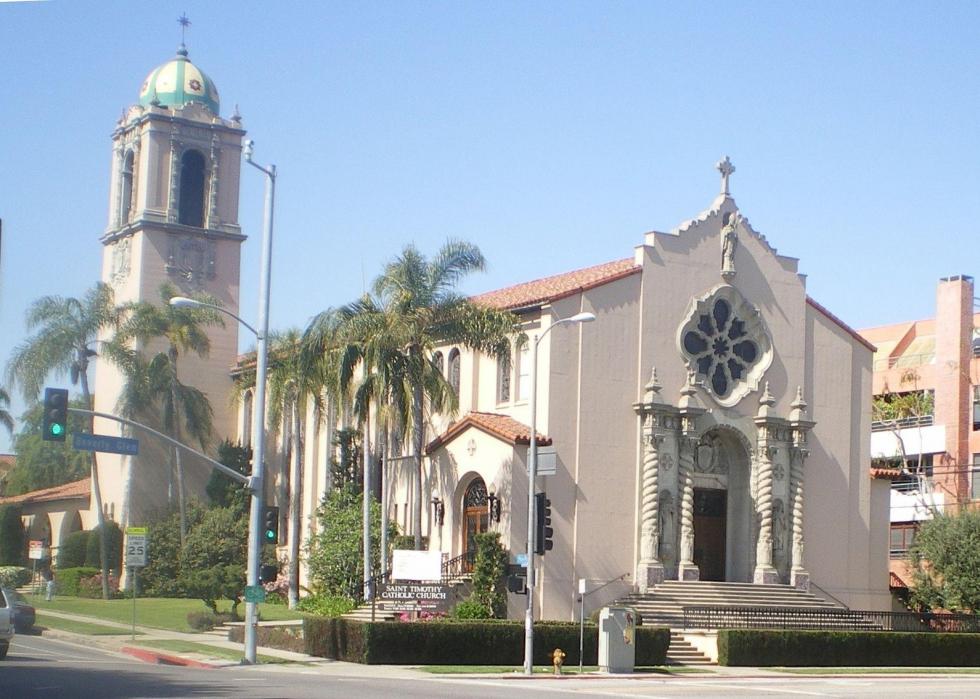 14 / 51
#35. California (tie)
Overall religiosity index: 49%
Percentage of adults who find religion very important: 47%
Percentage of adults who pray daily: 31%
Percentage of adults who attend worship services weekly: 51%
Percentage of adults who believe in god with absolute certainty: 54%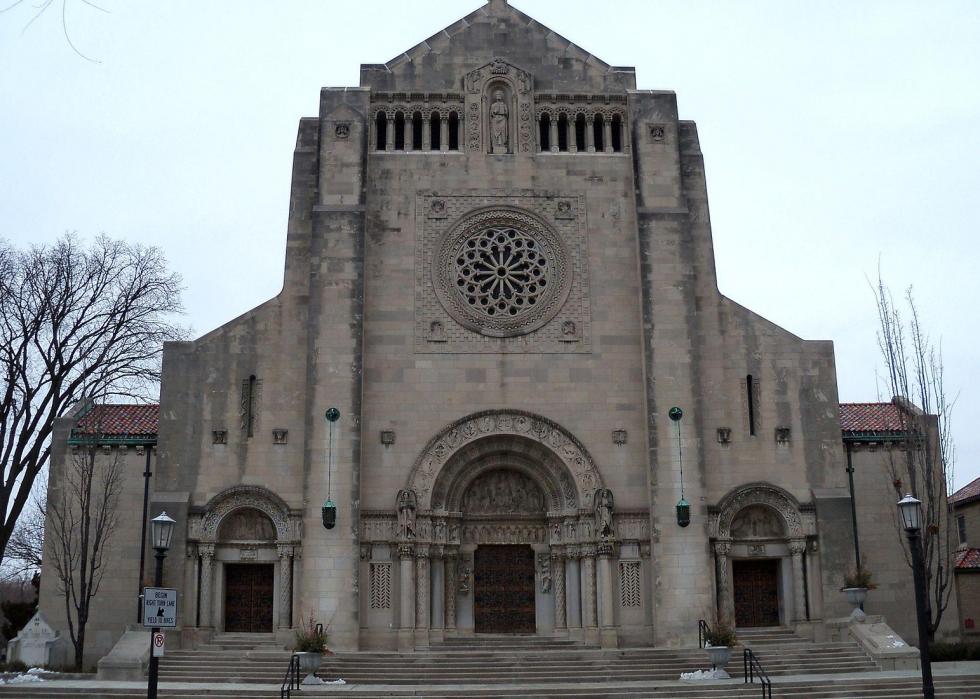 15 / 51
AlexiusHoratius // Wikicommons
#35. Minnesota (tie)
Overall religiosity index: 49%
Percentage of adults who find religion very important: 46%
Percentage of adults who pray daily: 34%
Percentage of adults who attend worship services weekly: 47%
Percentage of adults who believe in god with absolute certainty: 56%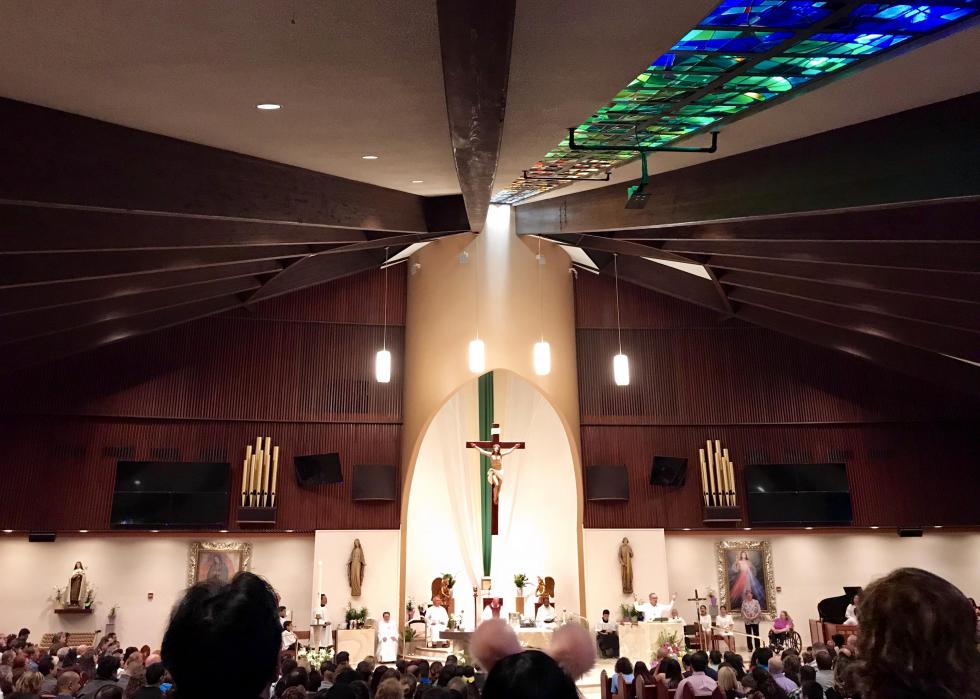 16 / 51
ExorcisioTe // Wikicommons
#35. Nevada (tie)
Overall religiosity index: 49%
Percentage of adults who find religion very important: 44%
Percentage of adults who pray daily: 31%
Percentage of adults who attend worship services weekly: 48%
Percentage of adults who believe in god with absolute certainty: 59%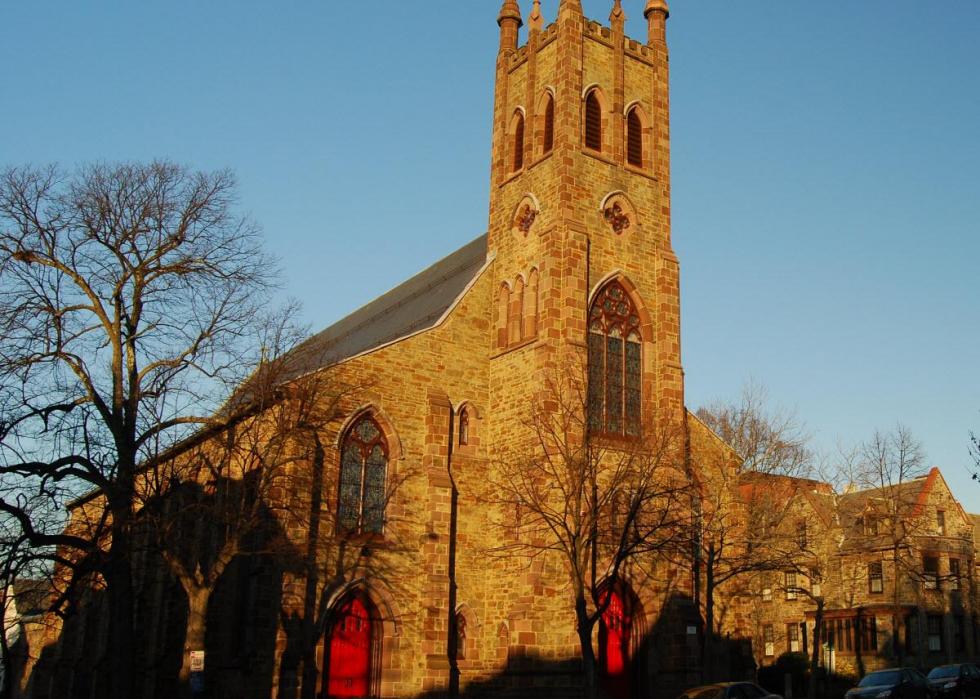 17 / 51
#35. Rhode Island (tie)
Overall religiosity index: 49%
Percentage of adults who find religion very important: 48%
Percentage of adults who pray daily: 36%
Percentage of adults who attend worship services weekly: 48%
Percentage of adults who believe in god with absolute certainty: 60%
18 / 51
#33. Idaho (tie)
Overall religiosity index: 51%
Percentage of adults who find religion very important: 51%
Percentage of adults who pray daily: 35%
Percentage of adults who attend worship services weekly: 50%
Percentage of adults who believe in god with absolute certainty: 62%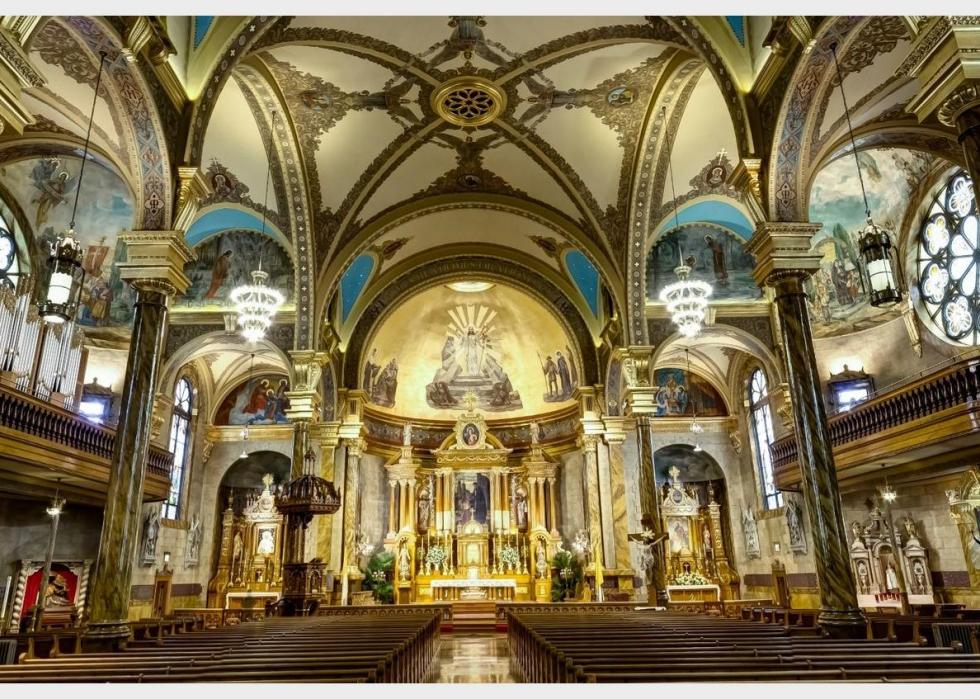 19 / 51
#33. Illinois (tie)
Overall religiosity index: 51%
Percentage of adults who find religion very important: 50%
Percentage of adults who pray daily: 34%
Percentage of adults who attend worship services weekly: 51%
Percentage of adults who believe in god with absolute certainty: 61%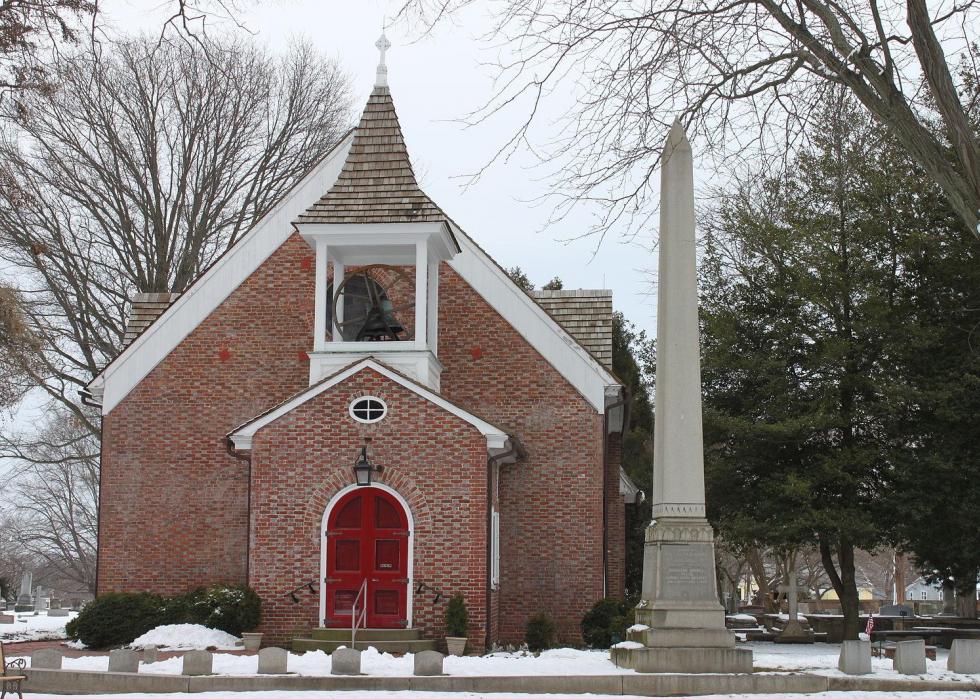 20 / 51
#32. Delaware
Overall religiosity index: 52%
Percentage of adults who find religion very important: 46%
Percentage of adults who pray daily: 34%
Percentage of adults who attend worship services weekly: 49%
Percentage of adults who believe in god with absolute certainty: 61%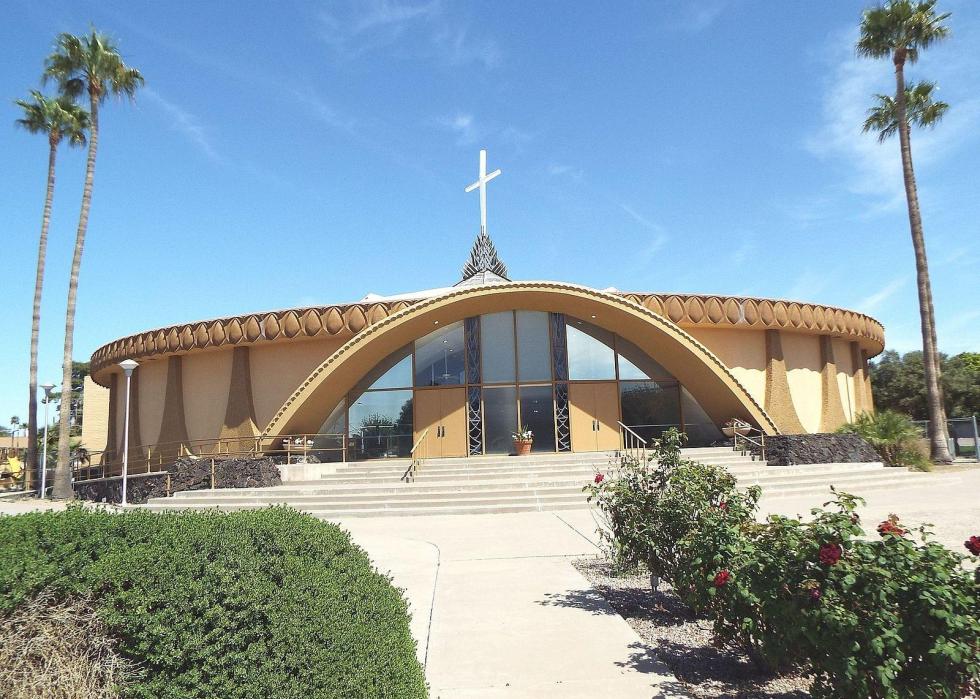 21 / 51
Marine 69-71 // Wikicommons
#27. Arizona (tie)
Overall religiosity index: 53%
Percentage of adults who find religion very important: 51%
Percentage of adults who pray daily: 34%
Percentage of adults who attend worship services weekly: 55%
Percentage of adults who believe in god with absolute certainty: 62%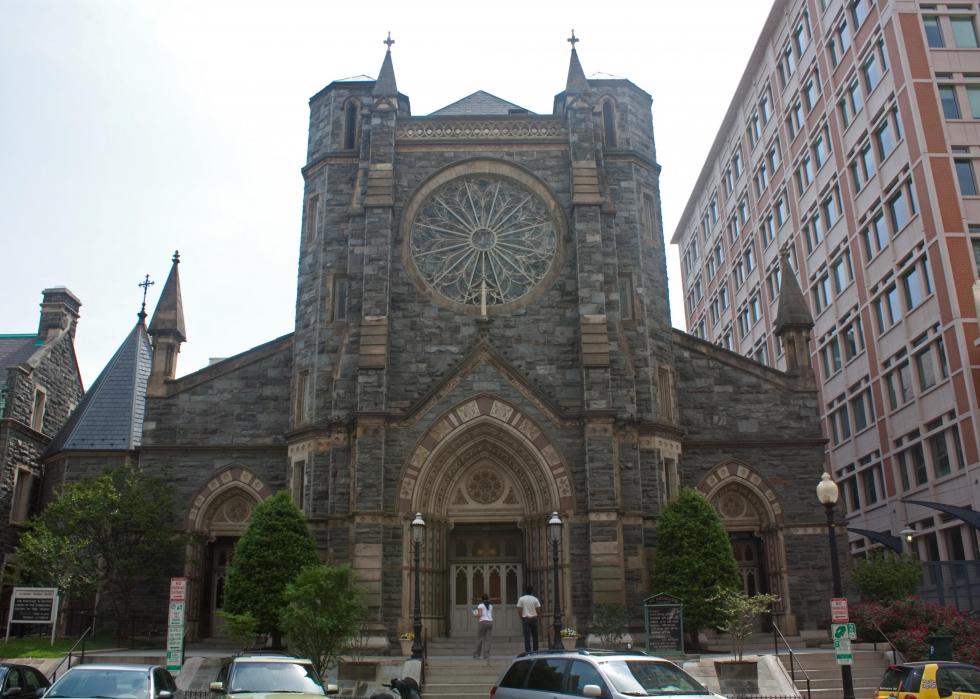 22 / 51
#27. District of Columbia (tie)
Overall religiosity index: 53%
Percentage of adults who find religion very important: 50%
Percentage of adults who pray daily: 28%
Percentage of adults who attend worship services weekly: 51%
Percentage of adults who believe in god with absolute certainty: 55%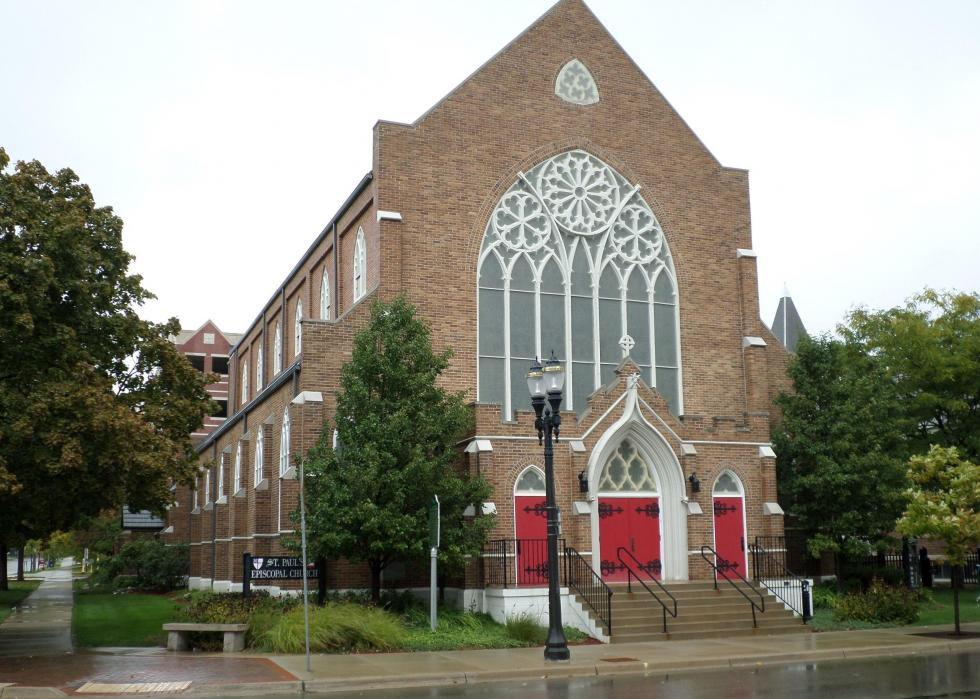 23 / 51
kennethaw88 // Wikicommons
#27. Michigan (tie)
Overall religiosity index: 53%
Percentage of adults who find religion very important: 50%
Percentage of adults who pray daily: 33%
Percentage of adults who attend worship services weekly: 53%
Percentage of adults who believe in god with absolute certainty: 63%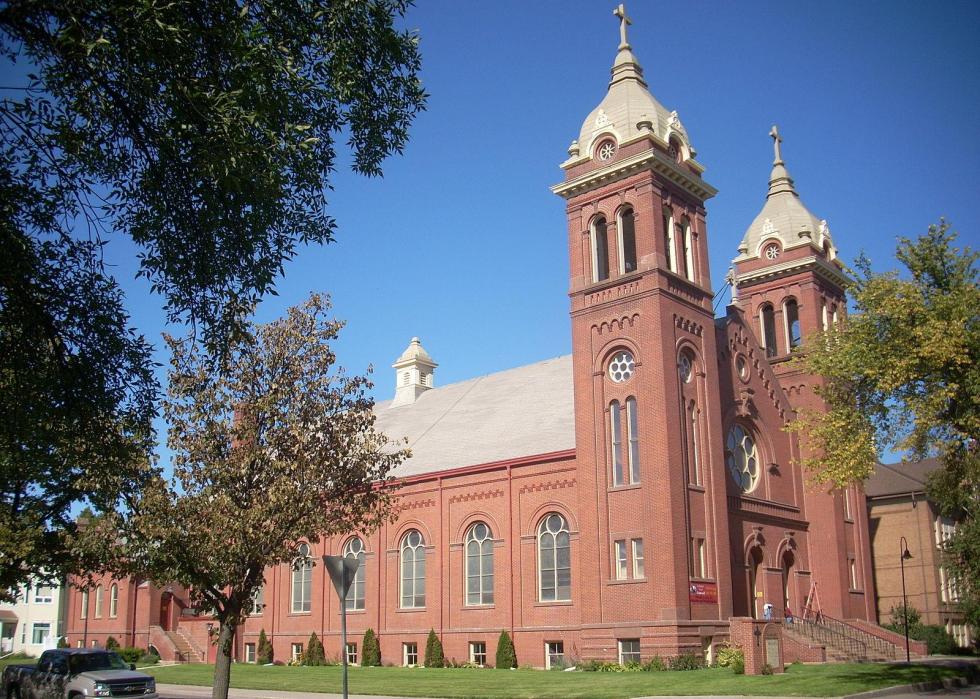 24 / 51
Glorioussandwich // Wikicommons
#27. North Dakota (tie)
Overall religiosity index: 53%
Percentage of adults who find religion very important: 53%
Percentage of adults who pray daily: 33%
Percentage of adults who attend worship services weekly: 51%
Percentage of adults who believe in god with absolute certainty: 64%
25 / 51
Smallbones // Wikicommons
#27. Pennsylvania (tie)
Overall religiosity index: 53%
Percentage of adults who find religion very important: 51%
Percentage of adults who pray daily: 34%
Percentage of adults who attend worship services weekly: 54%
Percentage of adults who believe in god with absolute certainty: 61%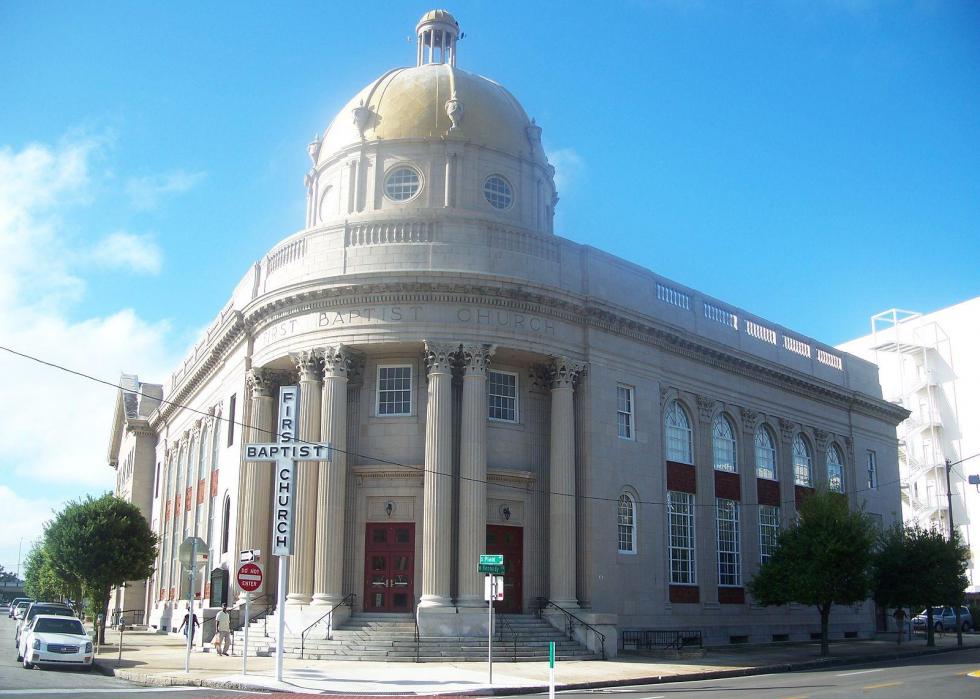 26 / 51
#22. Florida (tie)
Overall religiosity index: 54%
Percentage of adults who find religion very important: 53%
Percentage of adults who pray daily: 35%
Percentage of adults who attend worship services weekly: 56%
Percentage of adults who believe in god with absolute certainty: 64%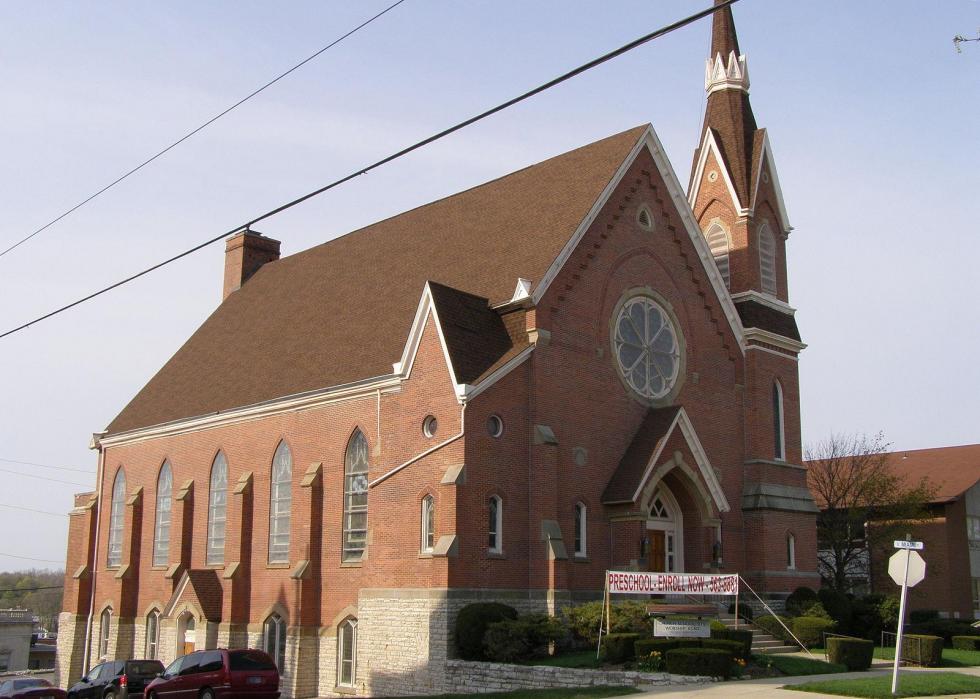 27 / 51
Chris Light // Wikicommons
#22. Indiana (tie)
Overall religiosity index: 54%
Percentage of adults who find religion very important: 53%
Percentage of adults who pray daily: 37%
Percentage of adults who attend worship services weekly: 52%
Percentage of adults who believe in god with absolute certainty: 63%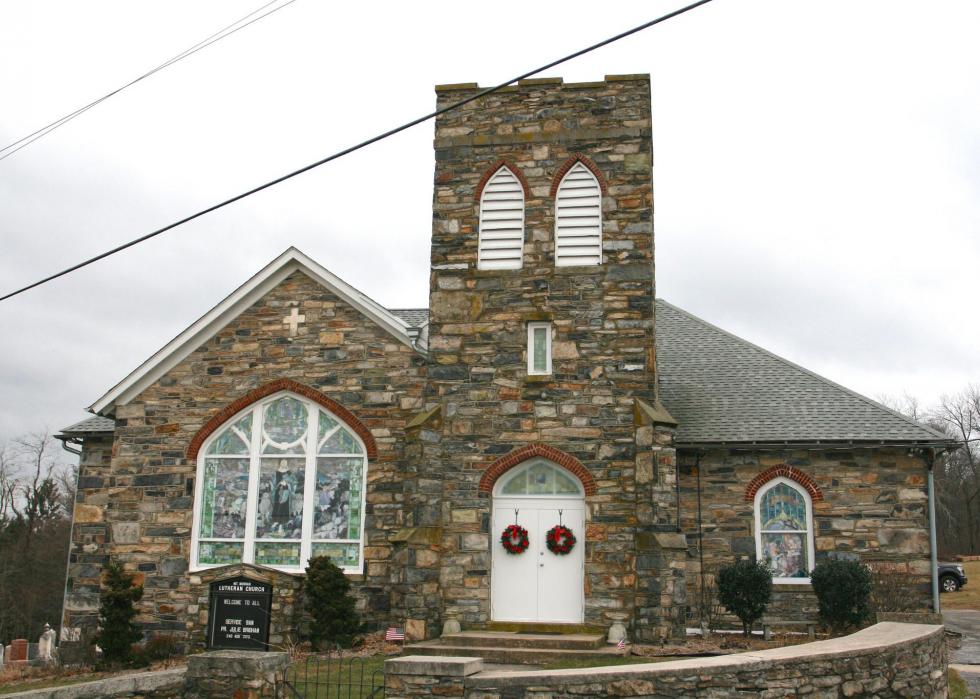 28 / 51
Jb91archivist // Wikicommons
#22. Maryland (tie)
Overall religiosity index: 54%
Percentage of adults who find religion very important: 50%
Percentage of adults who pray daily: 31%
Percentage of adults who attend worship services weekly: 51%
Percentage of adults who believe in god with absolute certainty: 64%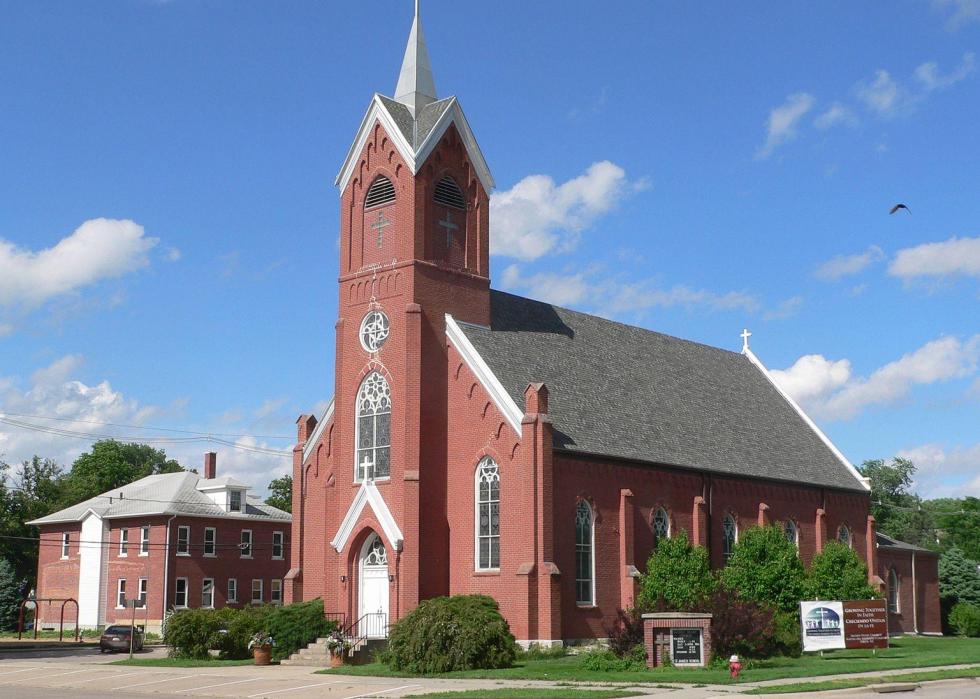 29 / 51
Ammodramus // Wikicommons
#22. Nebraska (tie)
Overall religiosity index: 54%
Percentage of adults who find religion very important: 54%
Percentage of adults who pray daily: 39%
Percentage of adults who attend worship services weekly: 52%
Percentage of adults who believe in god with absolute certainty: 66%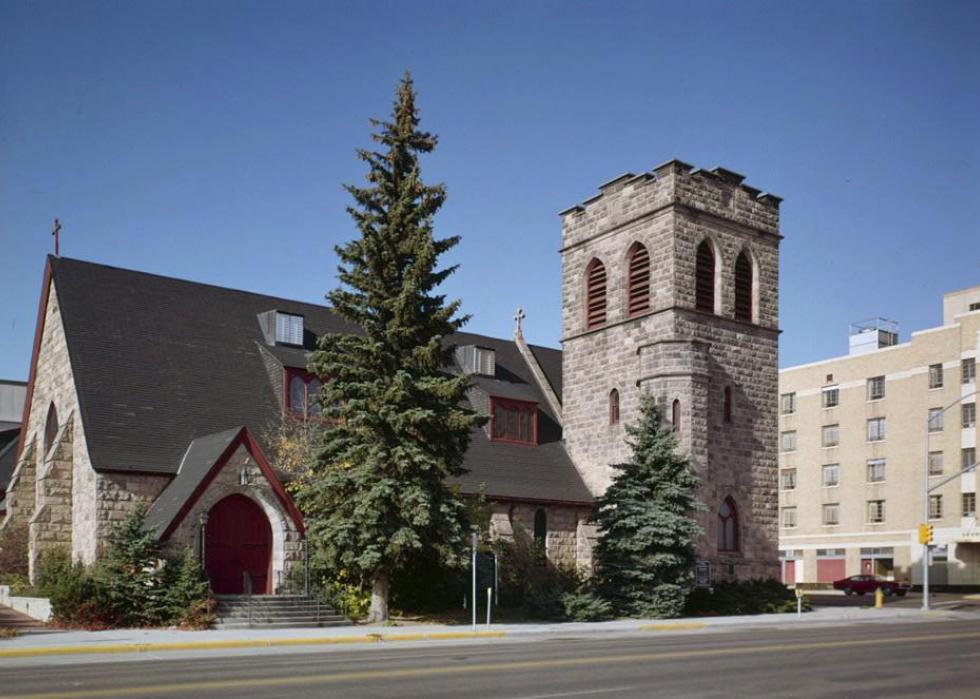 30 / 51
Library of Congress // Wikicommons
#22. Wyoming (tie)
Overall religiosity index: 54%
Percentage of adults who find religion very important: 49%
Percentage of adults who pray daily: 38%
Percentage of adults who attend worship services weekly: 53%
Percentage of adults who believe in god with absolute certainty: 66%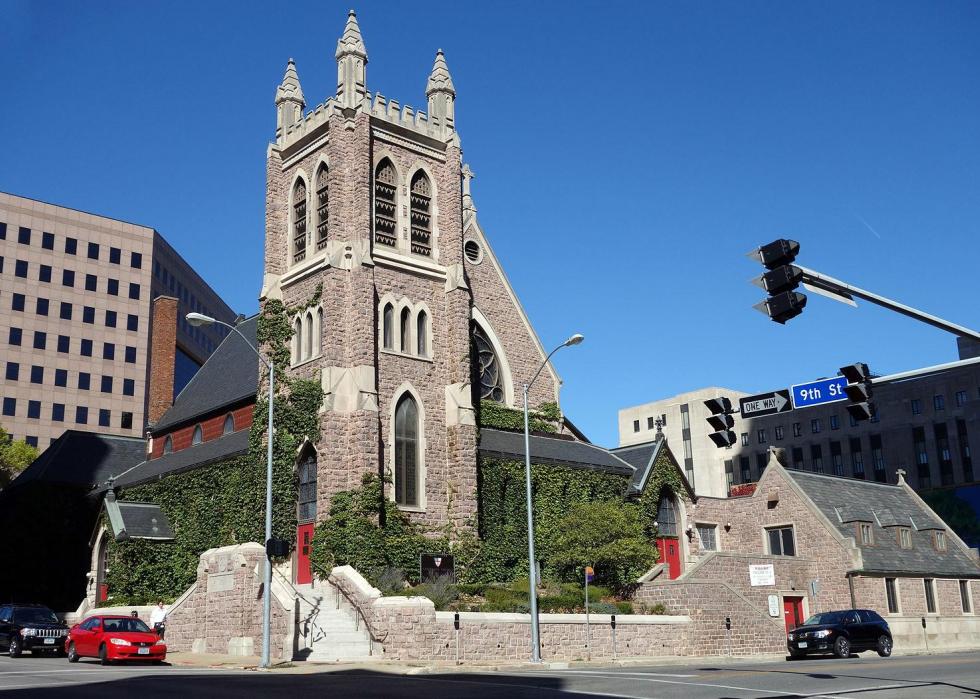 31 / 51
C. A. Tucker // Wikicommons
#19. Iowa (tie)
Overall religiosity index: 55%
Percentage of adults who find religion very important: 53%
Percentage of adults who pray daily: 36%
Percentage of adults who attend worship services weekly: 50%
Percentage of adults who believe in god with absolute certainty: 66%
32 / 51
#19. Kansas (tie)
Overall religiosity index: 55%
Percentage of adults who find religion very important: 50%
Percentage of adults who pray daily: 37%
Percentage of adults who attend worship services weekly: 53%
Percentage of adults who believe in god with absolute certainty: 66%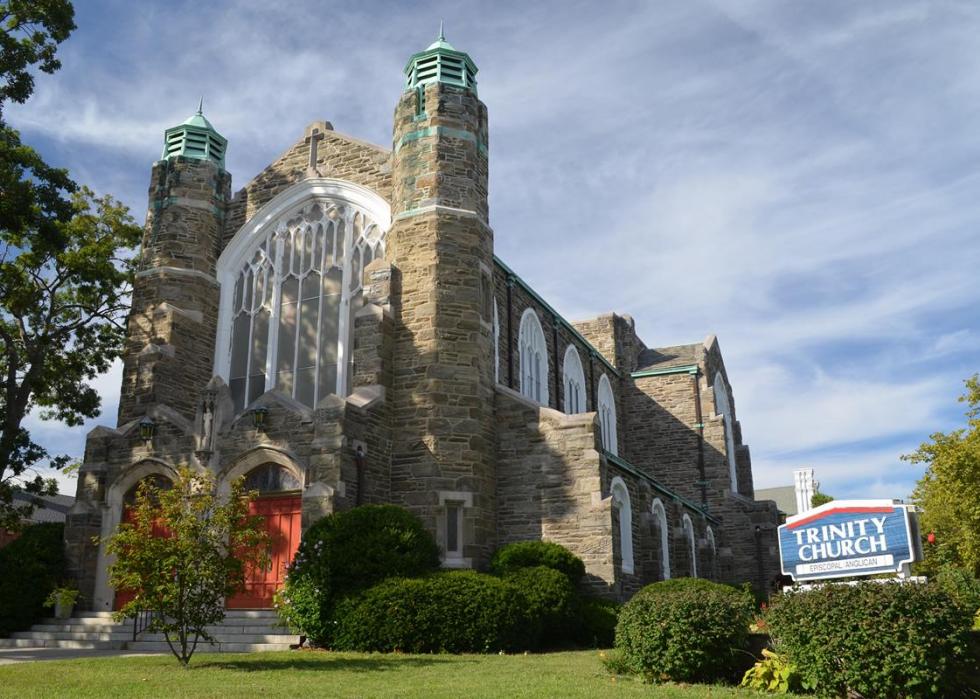 33 / 51
#19. New Jersey (tie)
Overall religiosity index: 55%
Percentage of adults who find religion very important: 50%
Percentage of adults who pray daily: 35%
Percentage of adults who attend worship services weekly: 53%
Percentage of adults who believe in god with absolute certainty: 60%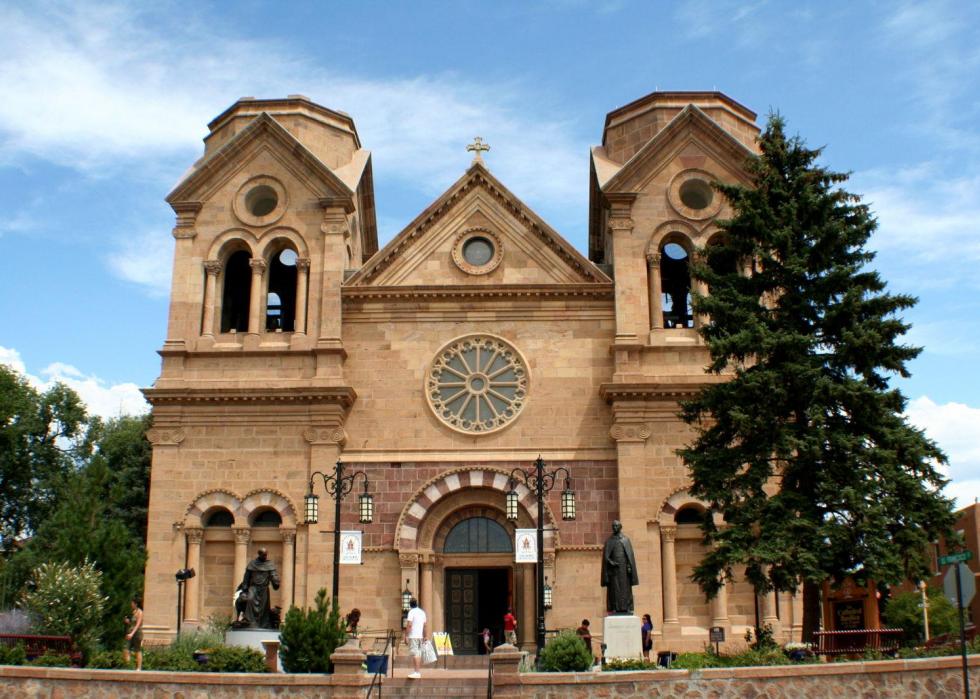 34 / 51
Asaavedra32 // Wikicommons
#18. New Mexico
Overall religiosity index: 57%
Percentage of adults who find religion very important: 59%
Percentage of adults who pray daily: 36%
Percentage of adults who attend worship services weekly: 55%
Percentage of adults who believe in god with absolute certainty: 63%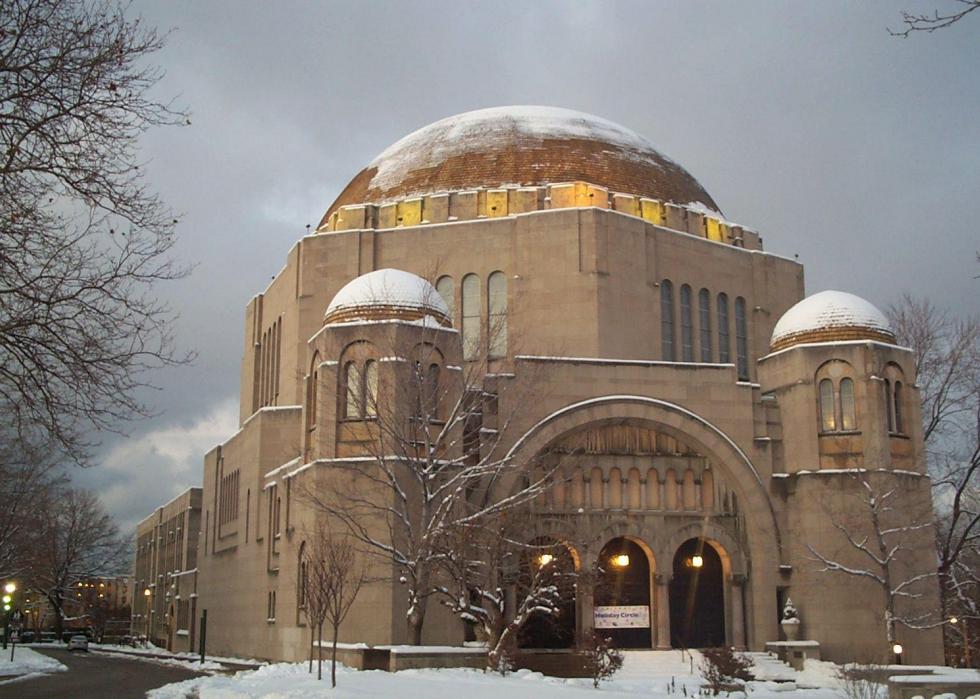 35 / 51
stu_spivack // Wikicommons
#17. Ohio
Overall religiosity index: 58%
Percentage of adults who find religion very important: 56%
Percentage of adults who pray daily: 38%
Percentage of adults who attend worship services weekly: 57%
Percentage of adults who believe in god with absolute certainty: 67%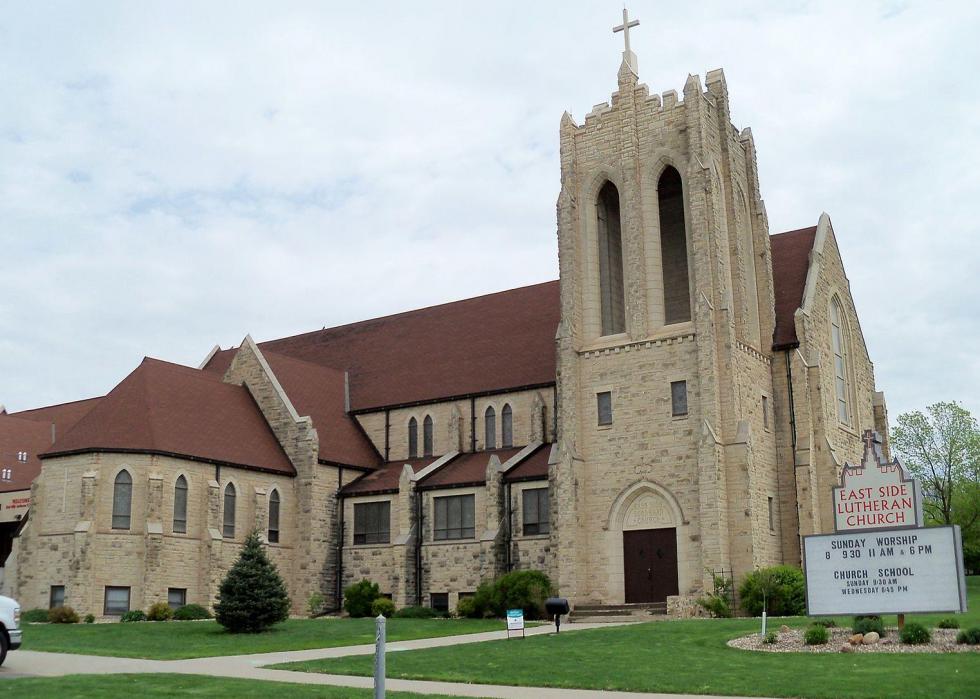 36 / 51
AlexiusHoratius // Wikicommons
#16. South Dakota
Overall religiosity index: 59%
Percentage of adults who find religion very important: 57%
Percentage of adults who pray daily: 36%
Percentage of adults who attend worship services weekly: 56%
Percentage of adults who believe in god with absolute certainty: 69%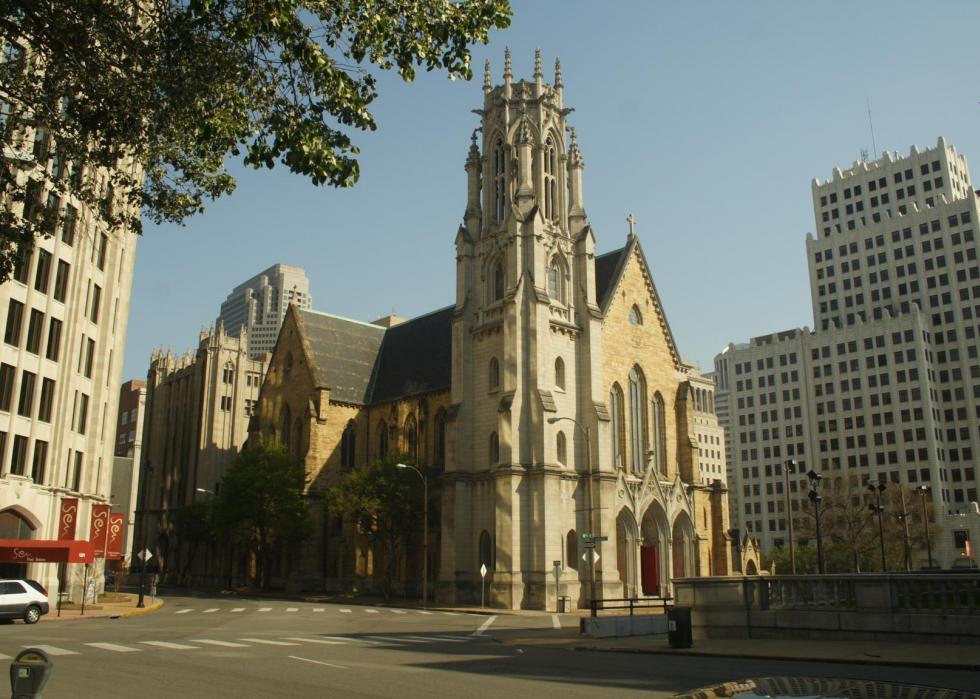 37 / 51
Matthew Black // Wikicommons
#15. Missouri
Overall religiosity index: 60%
Percentage of adults who find religion very important: 56%
Percentage of adults who pray daily: 37%
Percentage of adults who attend worship services weekly: 59%
Percentage of adults who believe in god with absolute certainty: 70%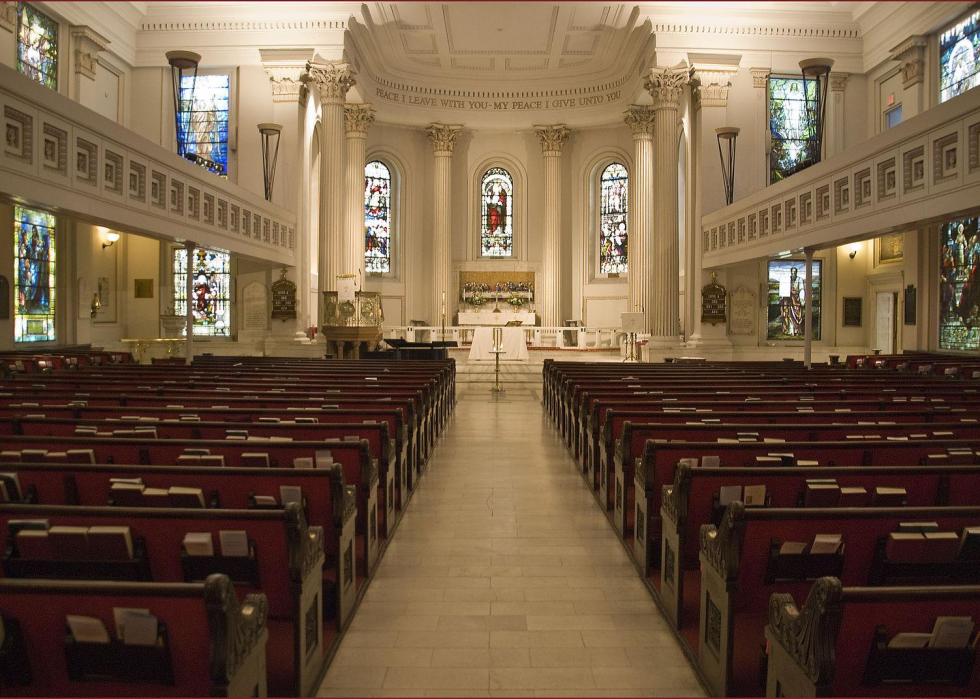 38 / 51
Ron Cogswell // Wikicommons
#14. Virginia
Overall religiosity index: 61%
Percentage of adults who find religion very important: 60%
Percentage of adults who pray daily: 44%
Percentage of adults who attend worship services weekly: 60%
Percentage of adults who believe in god with absolute certainty: 67%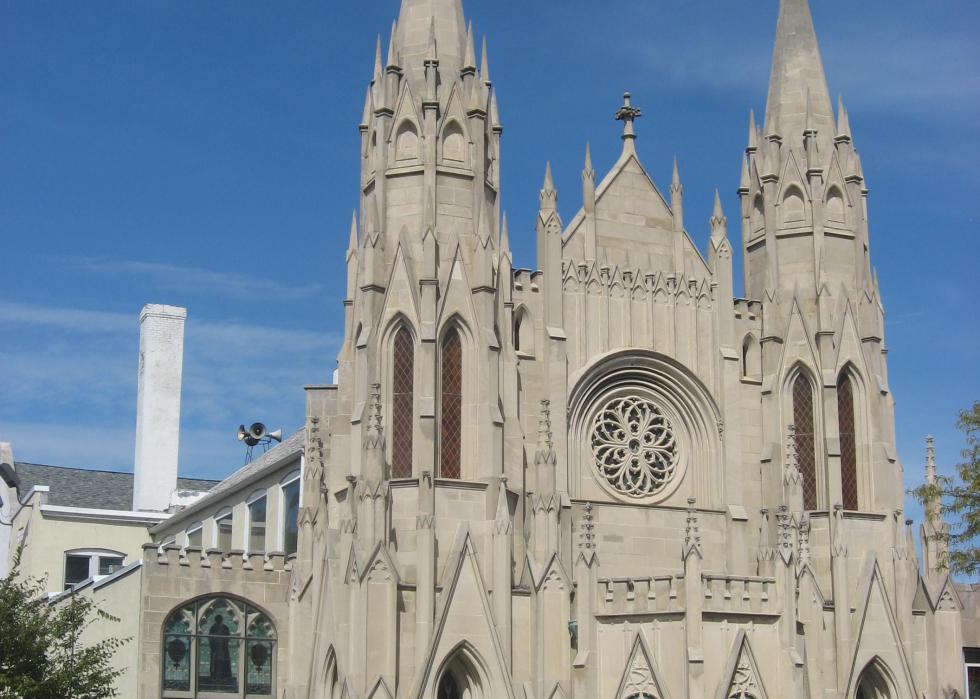 39 / 51
#13. Kentucky
Overall religiosity index: 63%
Percentage of adults who find religion very important: 63%
Percentage of adults who pray daily: 39%
Percentage of adults who attend worship services weekly: 63%
Percentage of adults who believe in god with absolute certainty: 75%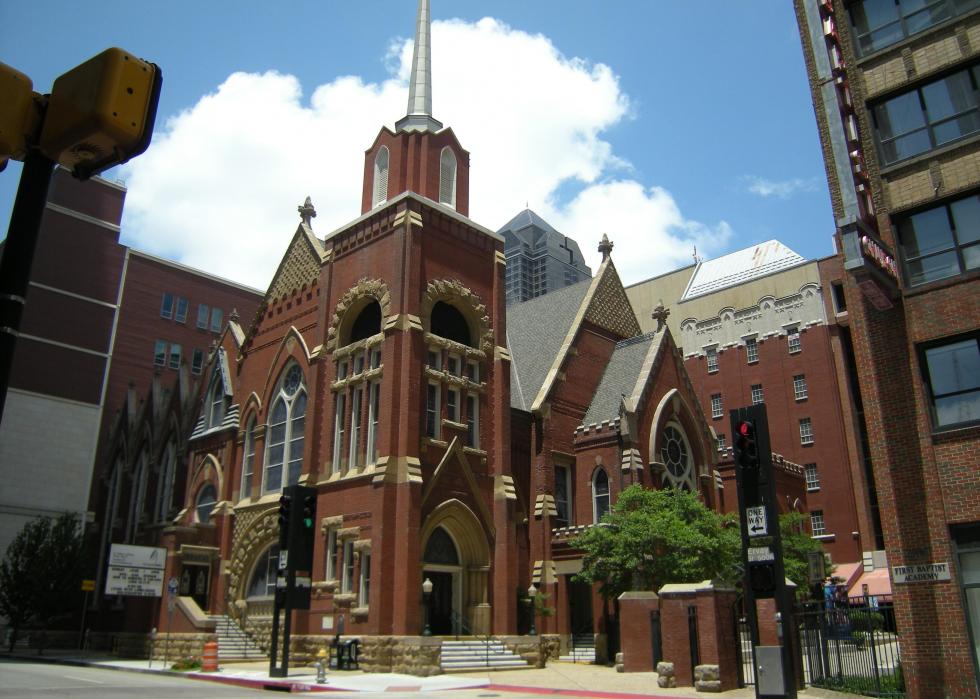 40 / 51
#11. Texas (tie)
Overall religiosity index: 64%
Percentage of adults who find religion very important: 63%
Percentage of adults who pray daily: 42%
Percentage of adults who attend worship services weekly: 63%
Percentage of adults who believe in god with absolute certainty: 69%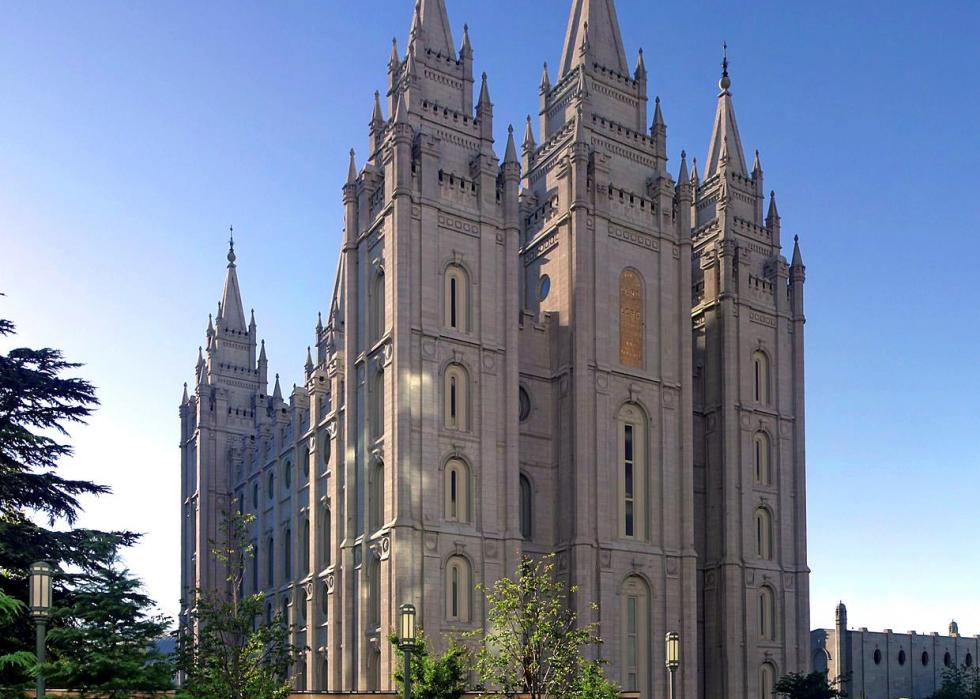 41 / 51
#11. Utah (tie)
Overall religiosity index: 64%
Percentage of adults who find religion very important: 58%
Percentage of adults who pray daily: 53%
Percentage of adults who attend worship services weekly: 61%
Percentage of adults who believe in god with absolute certainty: 61%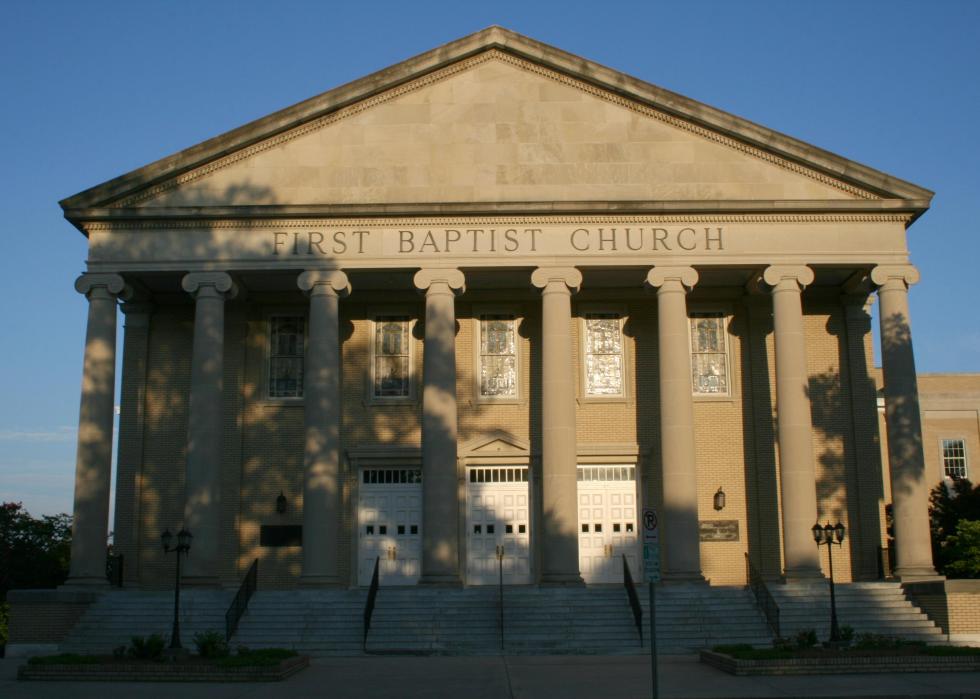 42 / 51
Ildar Sagdejev // Wikicommons
#10. North Carolina
Overall religiosity index: 65%
Percentage of adults who find religion very important: 62%
Percentage of adults who pray daily: 39%
Percentage of adults who attend worship services weekly: 66%
Percentage of adults who believe in god with absolute certainty: 73%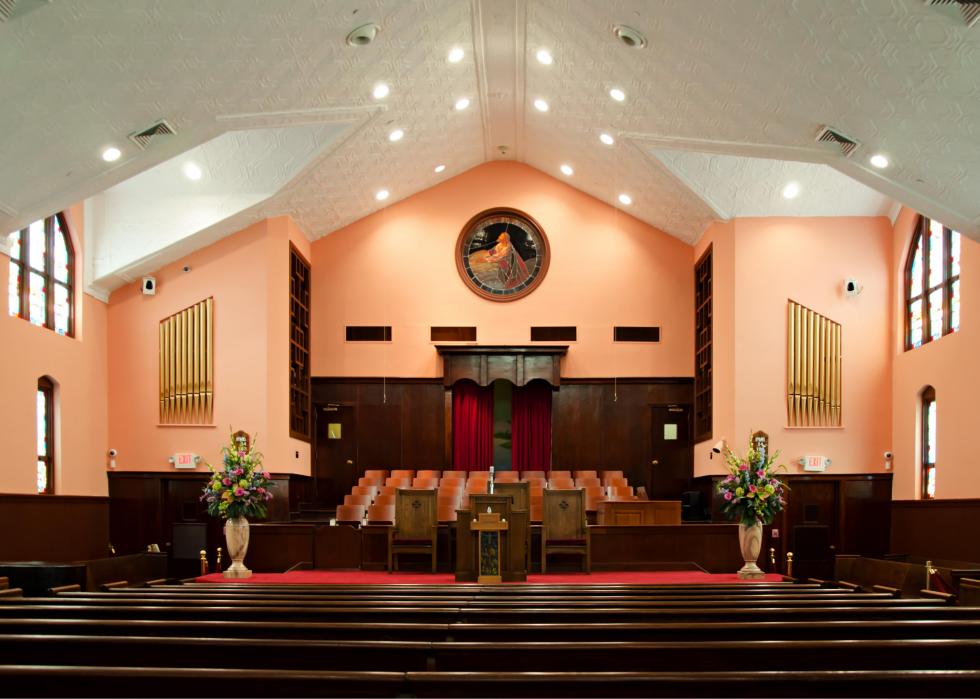 43 / 51
Mikefairbanks // Wikicommons
#8. Georgia (tie)
Overall religiosity index: 66%
Percentage of adults who find religion very important: 64%
Percentage of adults who pray daily: 42%
Percentage of adults who attend worship services weekly: 64%
Percentage of adults who believe in god with absolute certainty: 74%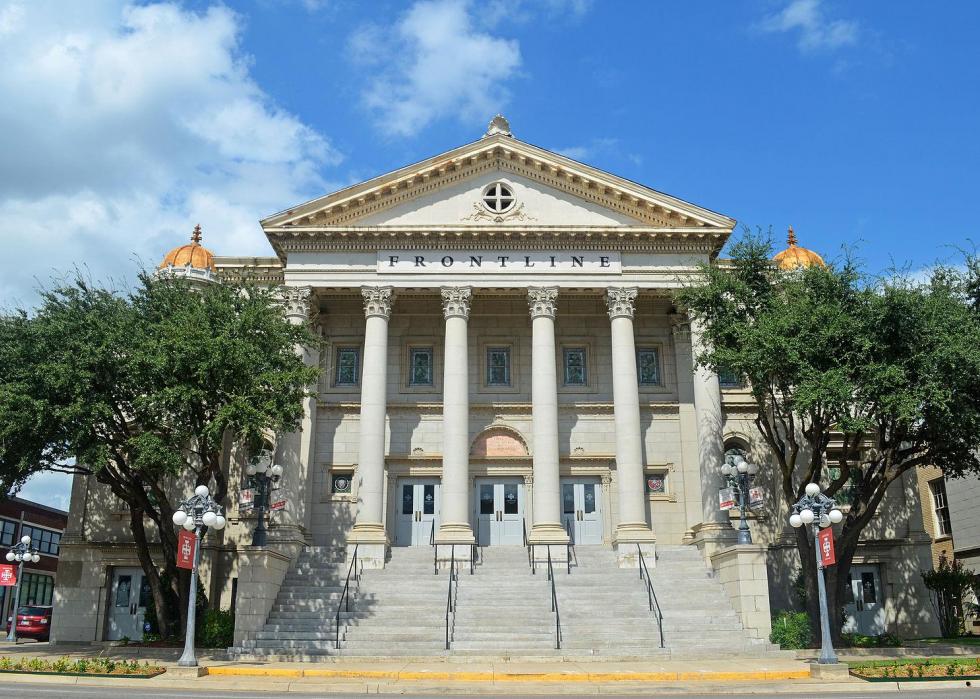 44 / 51
Patrick W. Moore // Wikicommons
#8. Oklahoma (tie)
Overall religiosity index: 66%
Percentage of adults who find religion very important: 64%
Percentage of adults who pray daily: 43%
Percentage of adults who attend worship services weekly: 65%
Percentage of adults who believe in god with absolute certainty: 71%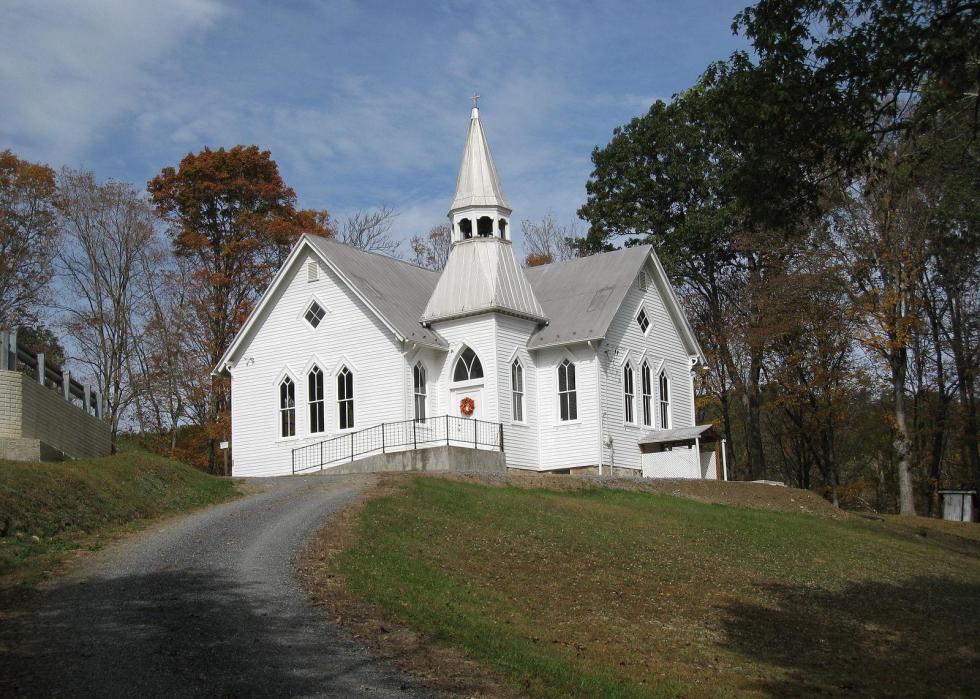 45 / 51
Justin A. Wilcox // Wikicommons
#7. West Virginia
Overall religiosity index: 69%
Percentage of adults who find religion very important: 64%
Percentage of adults who pray daily: 46%
Percentage of adults who attend worship services weekly: 68%
Percentage of adults who believe in god with absolute certainty: 77%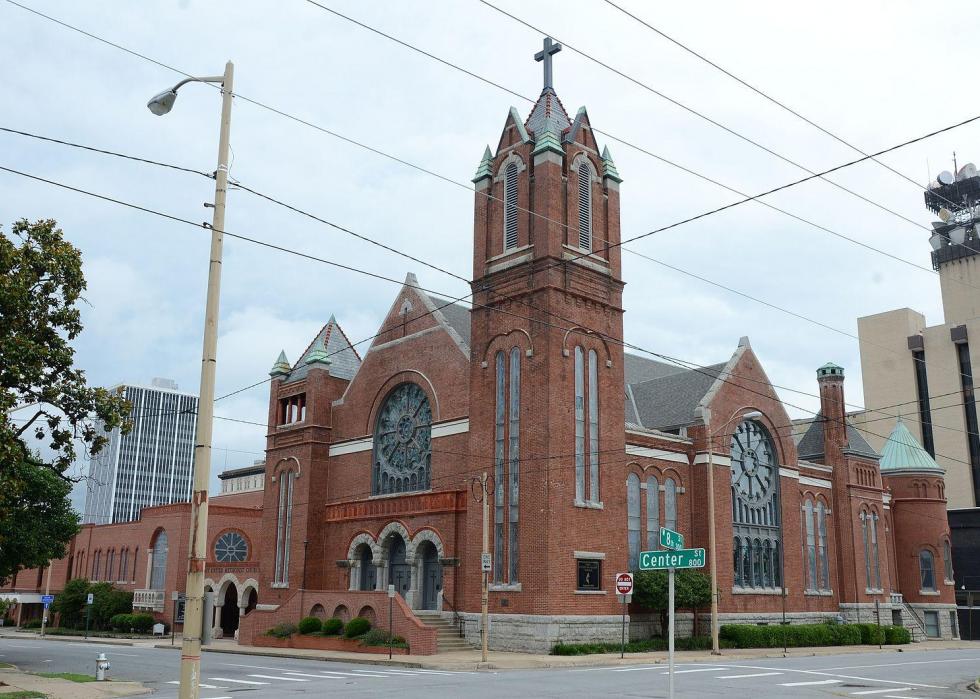 46 / 51
#5. Arkansas (tie)
Overall religiosity index: 70%
Percentage of adults who find religion very important: 70%
Percentage of adults who pray daily: 41%
Percentage of adults who attend worship services weekly: 65%
Percentage of adults who believe in god with absolute certainty: 77%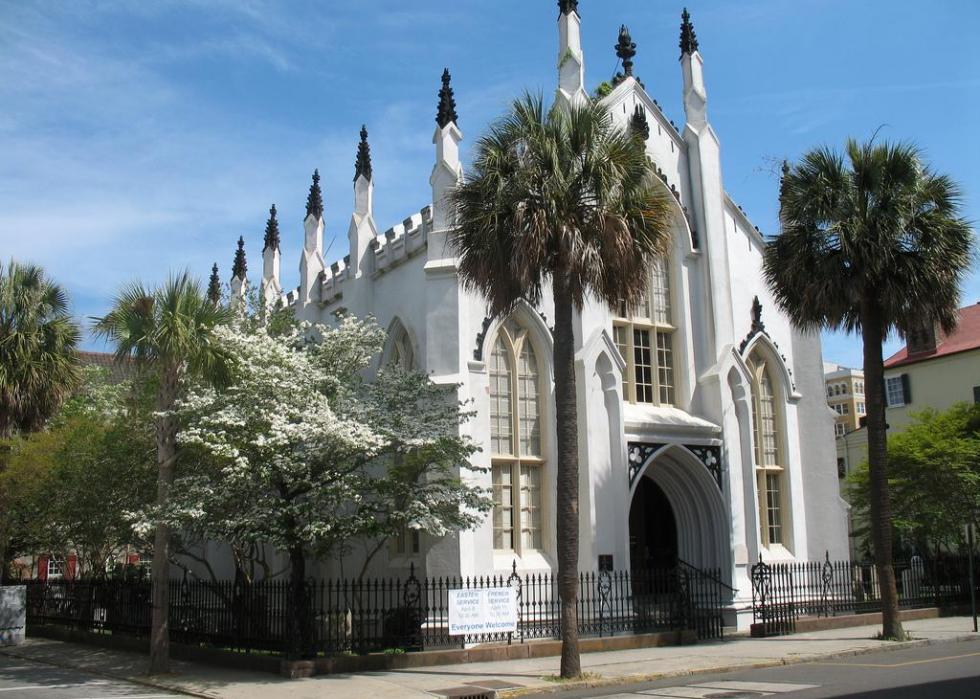 47 / 51
#5. South Carolina (tie)
Overall religiosity index: 70%
Percentage of adults who find religion very important: 69%
Percentage of adults who pray daily: 47%
Percentage of adults who attend worship services weekly: 66%
Percentage of adults who believe in god with absolute certainty: 74%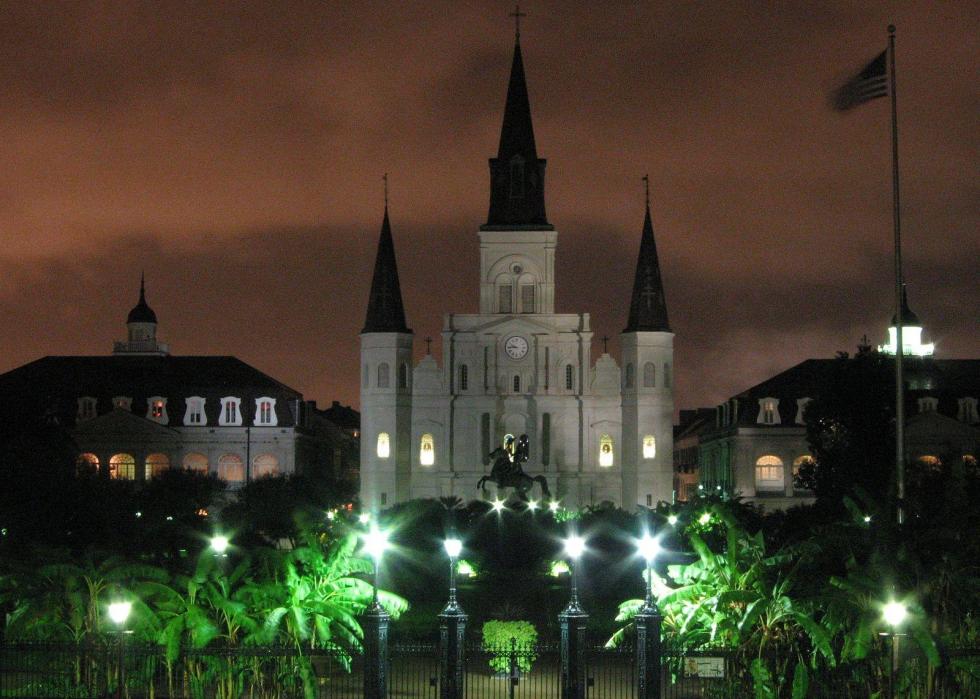 48 / 51
#4. Louisiana
Overall religiosity index: 71%
Percentage of adults who find religion very important: 71%
Percentage of adults who pray daily: 46%
Percentage of adults who attend worship services weekly: 68%
Percentage of adults who believe in god with absolute certainty: 75%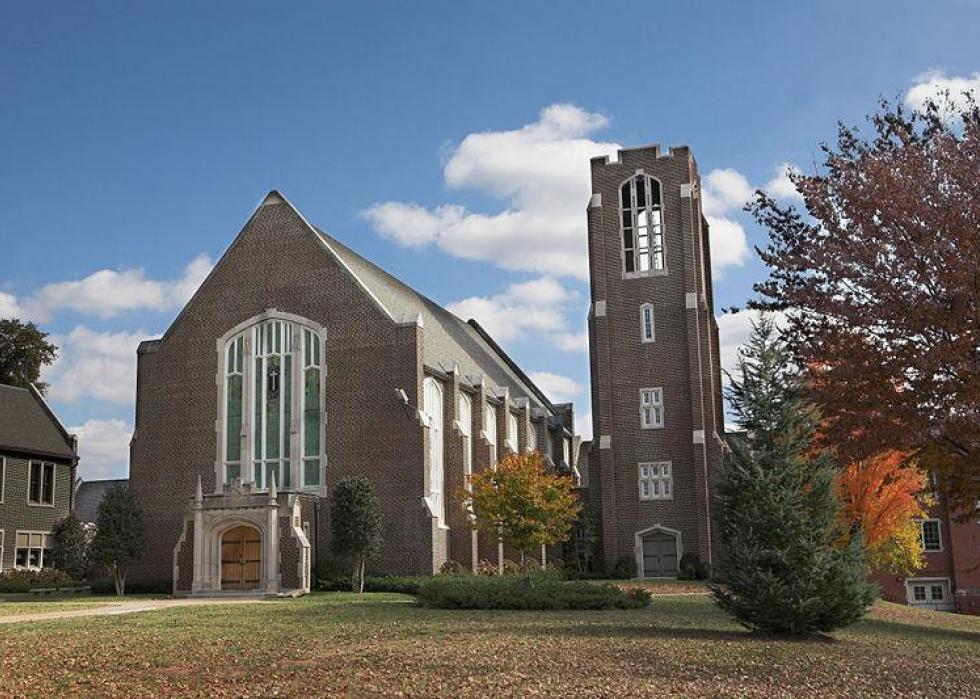 49 / 51
Johncw1959 // Wikicommons
#3. Tennessee
Overall religiosity index: 73%
Percentage of adults who find religion very important: 71%
Percentage of adults who pray daily: 51%
Percentage of adults who attend worship services weekly: 70%
Percentage of adults who believe in god with absolute certainty: 78%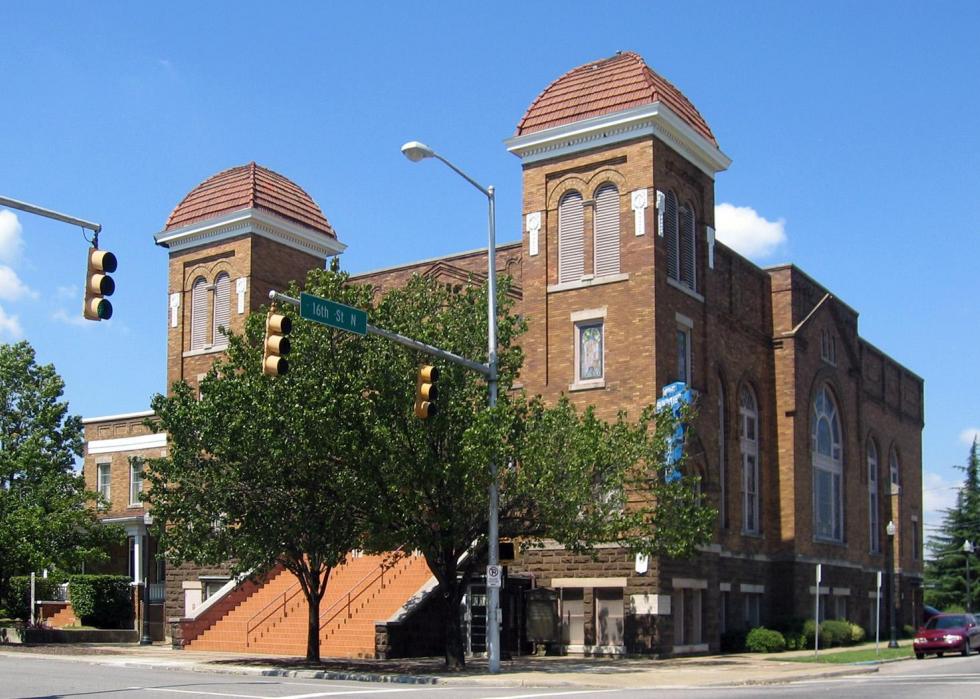 50 / 51
John Morse // Wikicommons
#1. Alabama (tie)
Overall religiosity index: 77%
Percentage of adults who find religion very important: 77%
Percentage of adults who pray daily: 51%
Percentage of adults who attend worship services weekly: 73%
Percentage of adults who believe in god with absolute certainty: 82%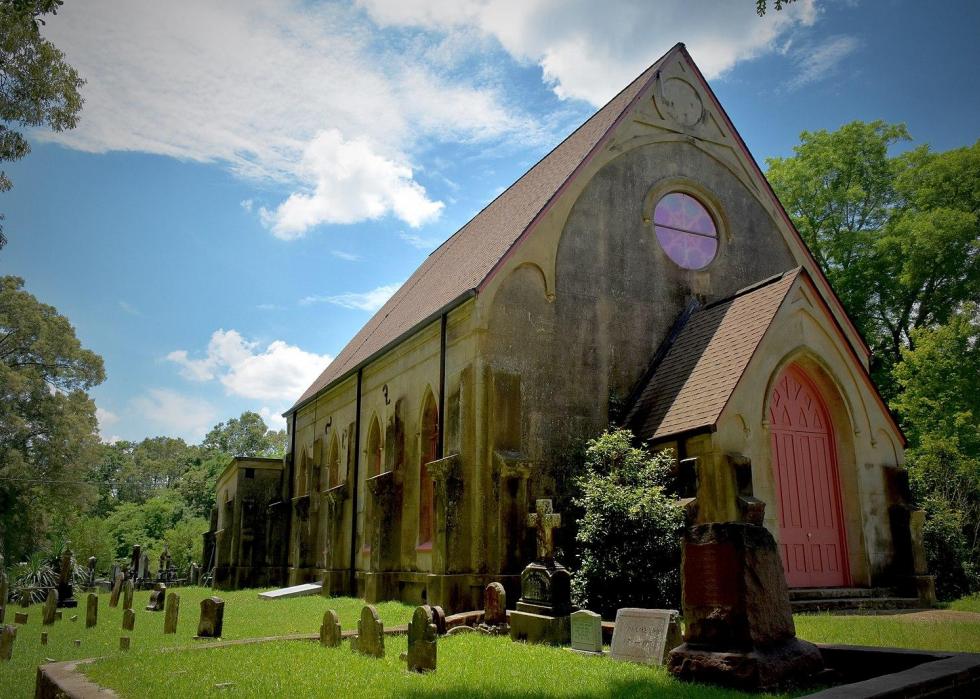 51 / 51
Mthunter58 // Wikicommons
#1. Mississippi (tie)
Overall religiosity index: 77%
Percentage of adults who find religion very important: 74%
Percentage of adults who pray daily: 49%
Percentage of adults who attend worship services weekly: 75%
Percentage of adults who believe in god with absolute certainty: 82%