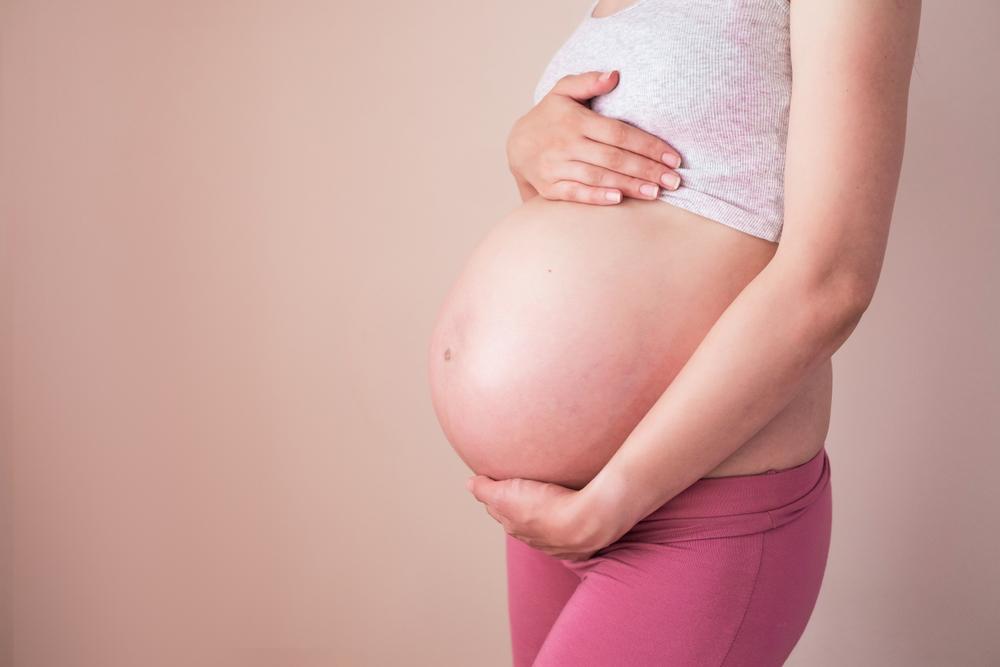 States having the most babies
States having the most babies
In 2016, 3,945,875 babies were born in the United States. While that might sound like a lot, U.S. births are actually at a 30-year low. In fact, the birth rate has dropped for nearly every group of women of reproductive age to a low not seen since 1987.
Using 2016 data from the Centers for Disease Control and Prevention (CDC), the American Community Survey (ACS), and the Social Security Administration, Stacker ranked the states having the most babies in order of least to most. Since state populations vary, the list is ranked according to the number of babies born in each state per 100,000 people of the total state population. The list, which includes Washington, D.C., also reveals the number of mothers who gave birth that year as well as state's most popular baby names in 2016.
It's important to note that the CDC counted the number of births from women ages 15–44, while ACS counted all women ages 15–50 who gave birth. Due to the five-year discrepancy, several states document more mothers than babies.
RELATED: Best and worst states to have a baby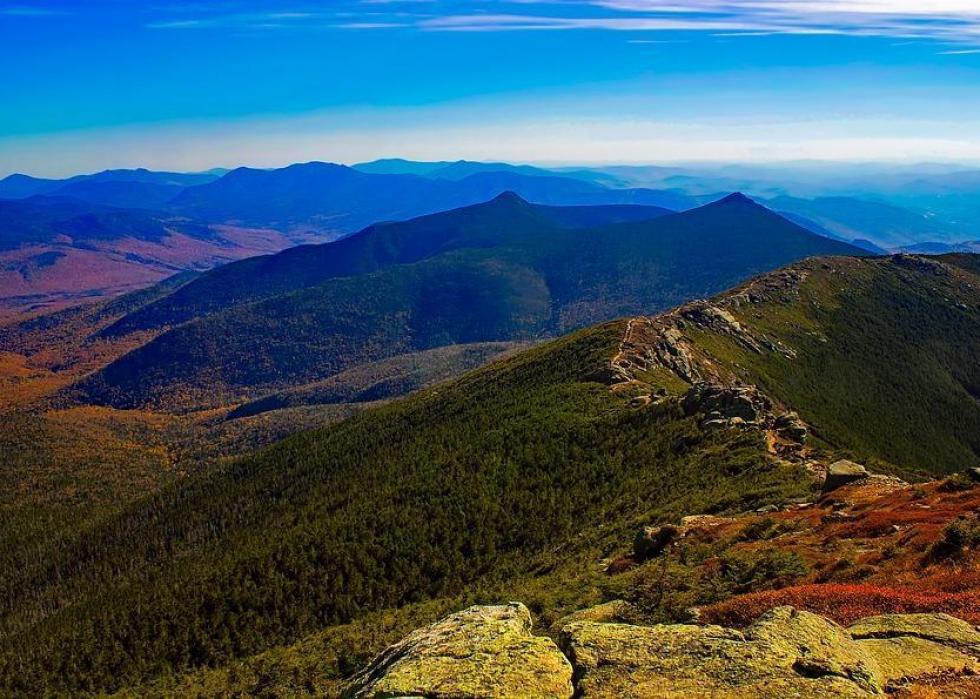 1 / 51
#51. New Hampshire
Estimated state population: 1,334,795
Number of women who gave birth in 2016: 14,773
Number of babies born in 2016: 12,267
Newborn babies per 100,000 people: 919
Most popular female baby name: Charlotte
Most popular male baby name: Noah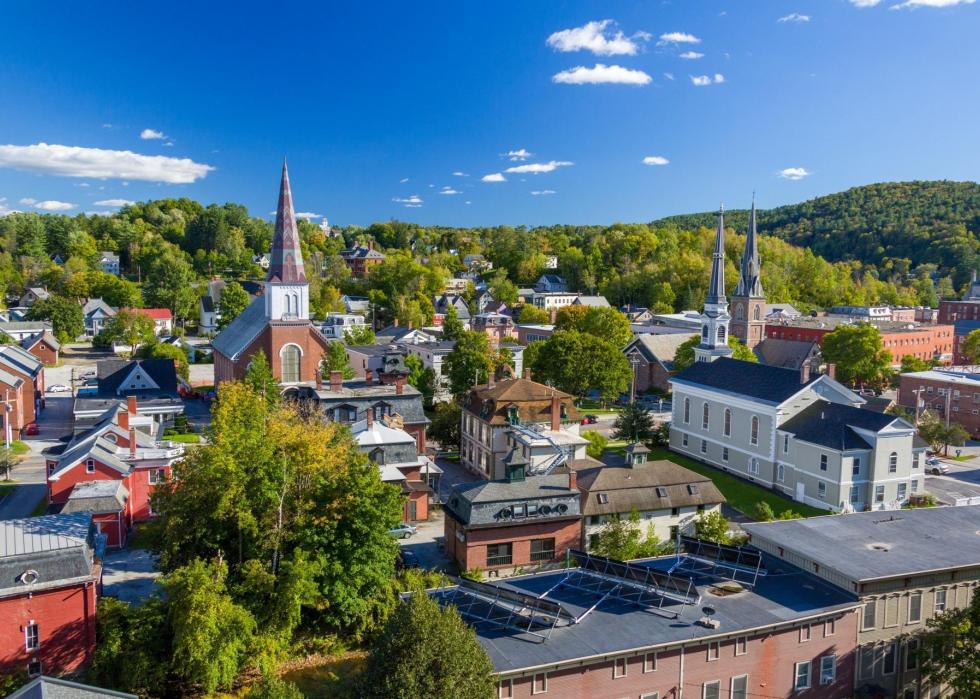 2 / 51
#50. Vermont
Estimated state population: 624,594
Number of women who gave birth in 2016: 5,961
Number of babies born in 2016: 5,756
Newborn babies per 100,000 people: 922
Most popular female baby name: Harper
Most popular male baby name: Owen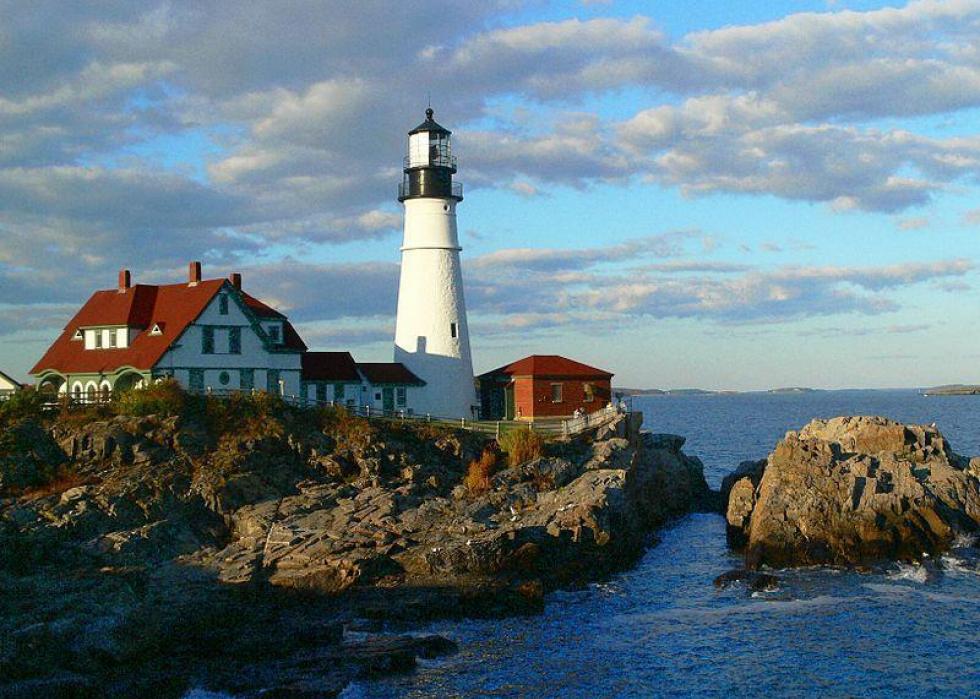 3 / 51
Jubileejourney // Wikicommons
#49. Maine
Estimated state population: 1,331,479
Number of women who gave birth in 2016: 13,554
Number of babies born in 2016: 12,705
Newborn babies per 100,000 people: 954
Most popular female baby name: Emma
Most popular male baby name: Liam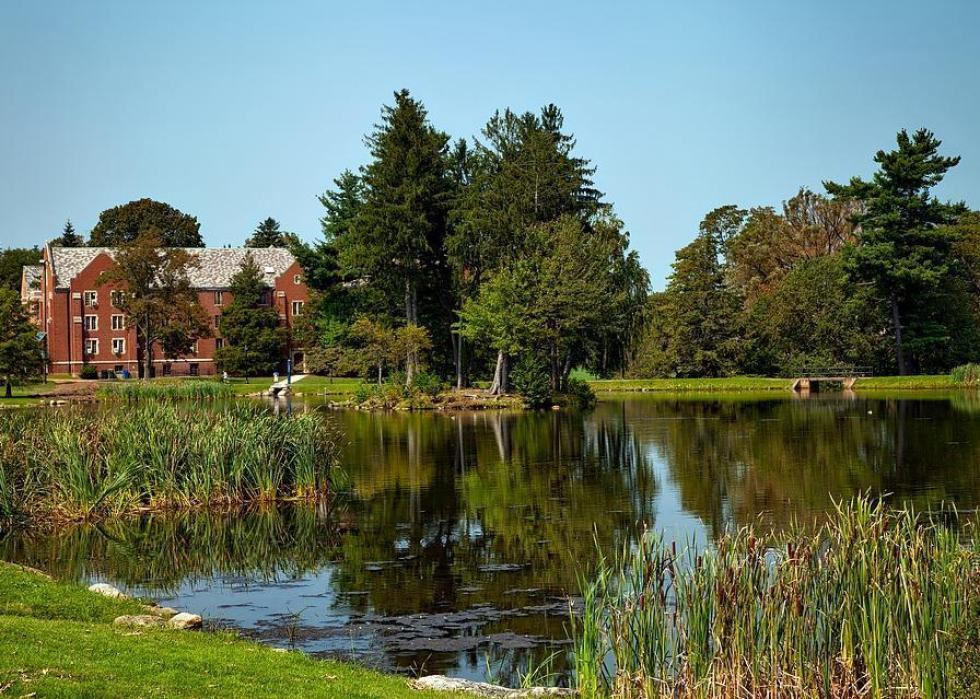 4 / 51
#48. Connecticut
Estimated state population: 3,576,452
Number of women who gave birth in 2016: 37,545
Number of babies born in 2016: 36,015
Newborn babies per 100,000 people: 1,007
Most popular female baby name: Olivia
Most popular male baby name: Noah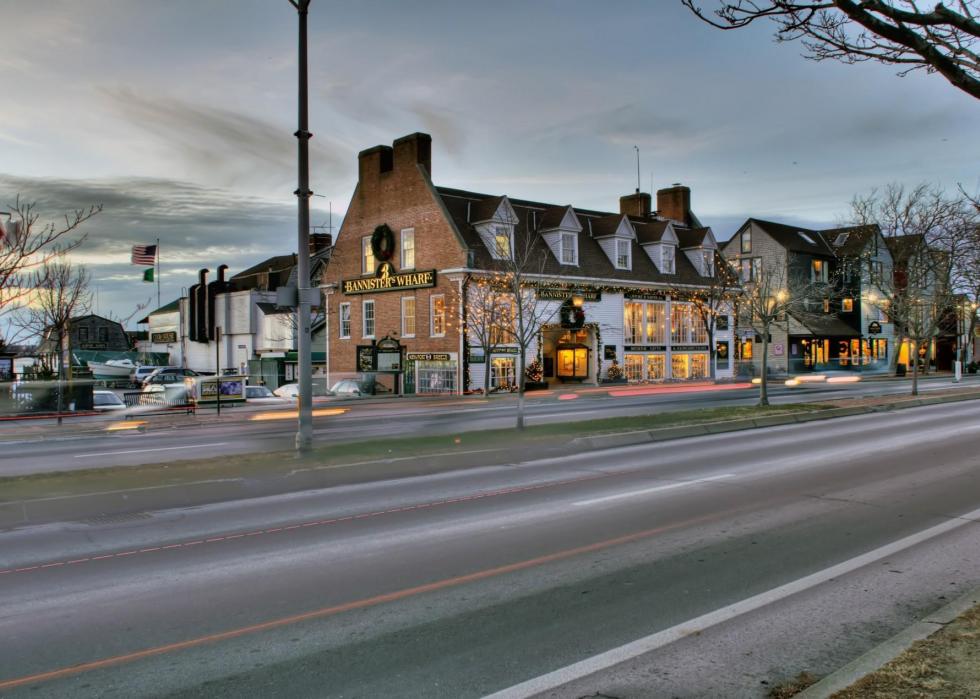 5 / 51
#47. Rhode Island
Estimated state population: 1,056,426
Number of women who gave birth in 2016: 11,615
Number of babies born in 2016: 10,798
Newborn babies per 100,000 people: 1,022
Most popular female baby name: Olivia
Most popular male baby name: Liam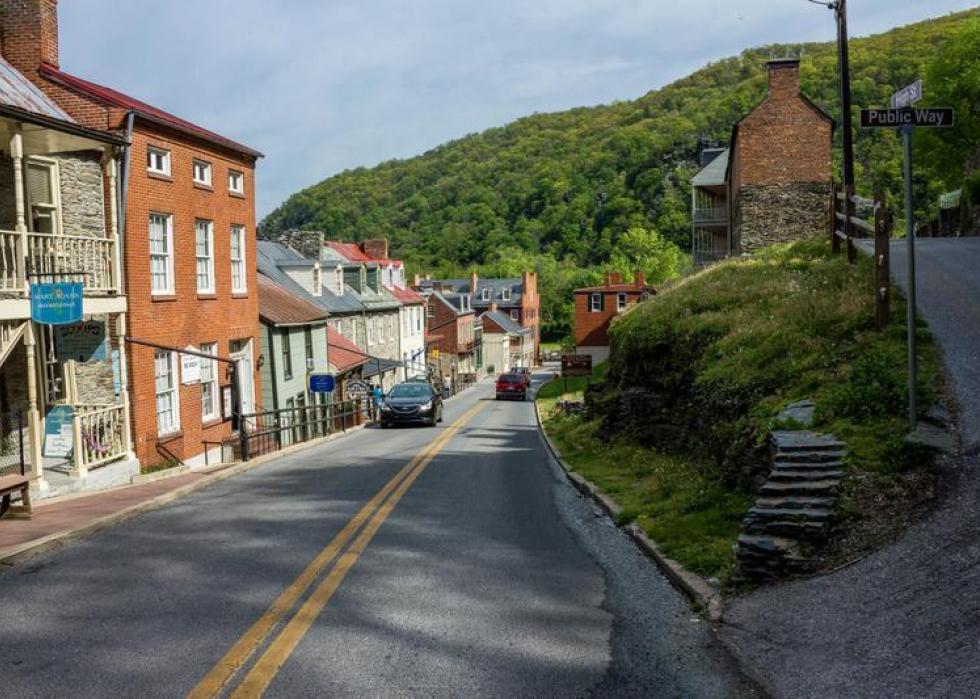 6 / 51
#46. West Virginia
Estimated state population: 1,831,102
Number of women who gave birth in 2016: 19,174
Number of babies born in 2016: 19,079
Newborn babies per 100,000 people: 1,042
Most popular female baby name: Harper
Most popular male baby name: Mason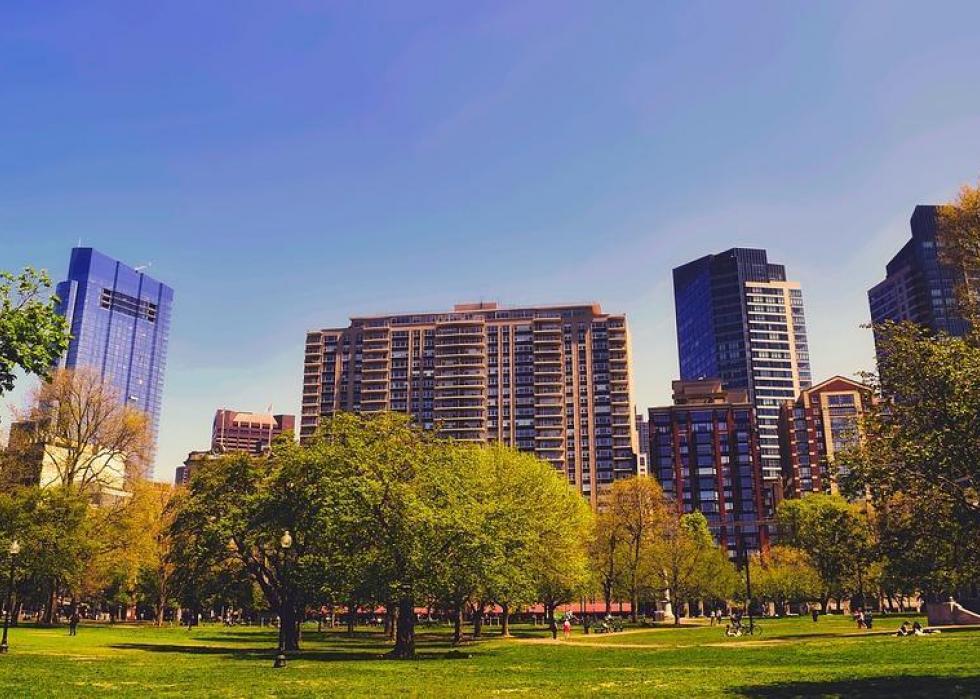 7 / 51
#45. Massachusetts
Estimated state population: 6,811,779
Number of women who gave birth in 2016: 74,631
Number of babies born in 2016: 71,317
Newborn babies per 100,000 people: 1,047
Most popular female baby name: Olivia
Most popular male baby name: Benjamin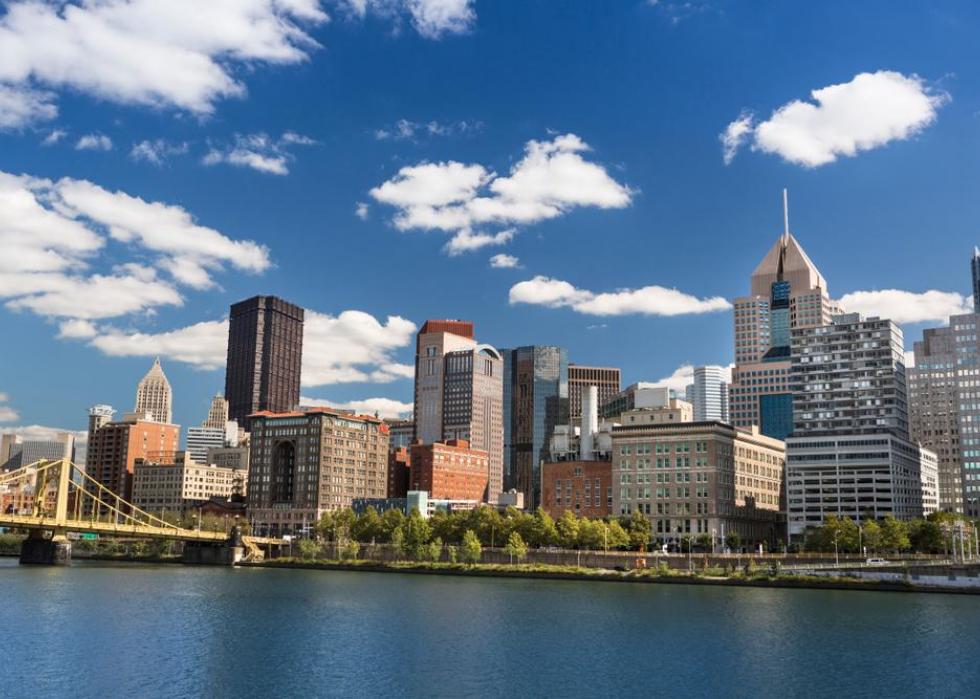 8 / 51
Aevan Stock // Shutterstock
#44. Pennsylvania
Estimated state population: 12,784,227
Number of women who gave birth in 2016: 147,204
Number of babies born in 2016: 139,409
Newborn babies per 100,000 people: 1,090
Most popular female baby name: Emma
Most popular male baby name: Liam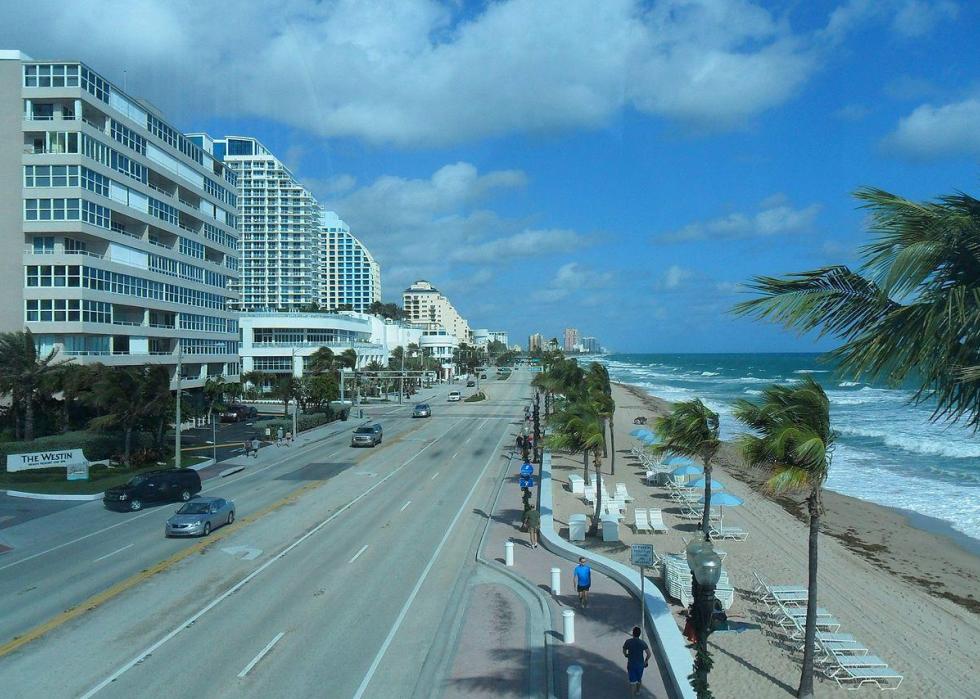 9 / 51
Milei.vencel // Wikicommons
#43. Florida
Estimated state population: 20,612,439
Number of women who gave birth in 2016: 216,349
Number of babies born in 2016: 225,022
Newborn babies per 100,000 people: 1,092
Most popular female baby name: Isabella
Most popular male baby name: Liam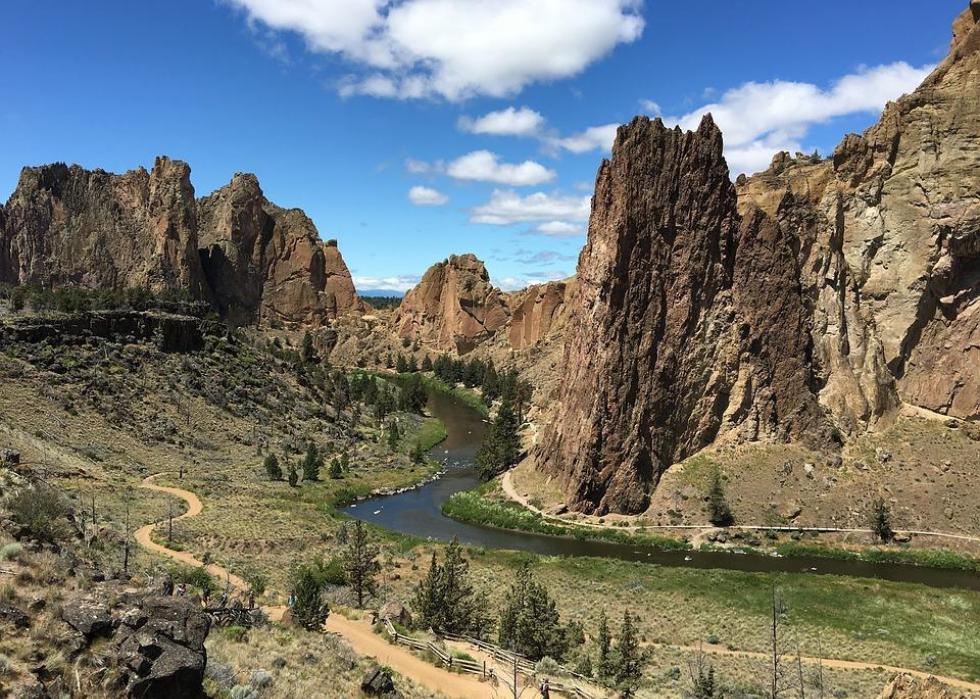 10 / 51
#42. Oregon
Estimated state population: 4,093,465
Number of women who gave birth in 2016: 45,441
Number of babies born in 2016: 45,535
Newborn babies per 100,000 people: 1,112
Most popular female baby name: Olivia
Most popular male baby name: Oliver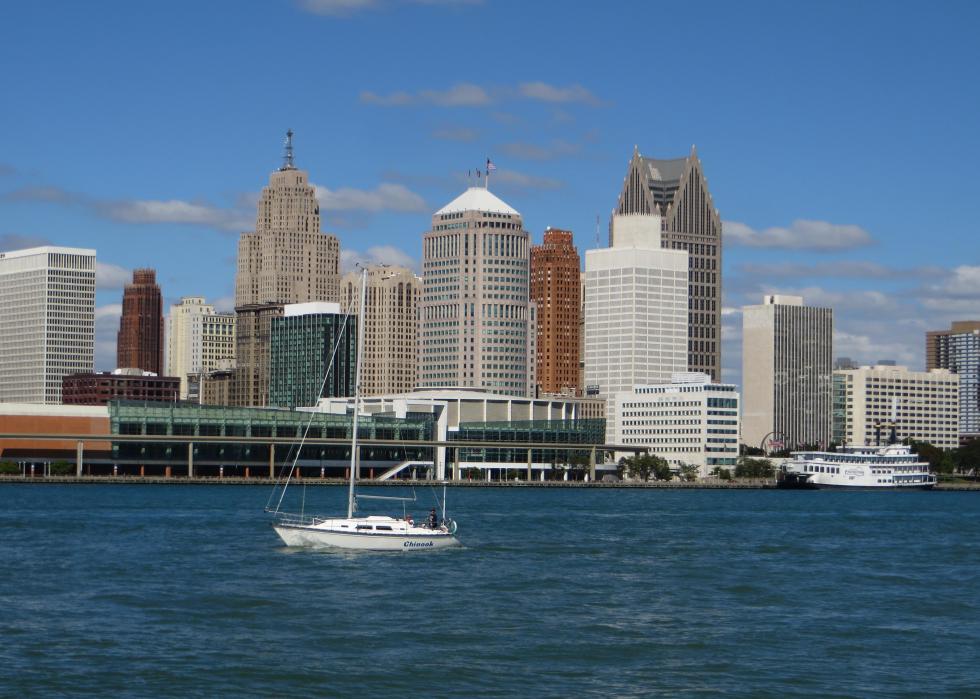 11 / 51
#41. Michigan
Estimated state population: 9,928,300
Number of women who gave birth in 2016: 119,371
Number of babies born in 2016: 113,315
Newborn babies per 100,000 people: 1,141
Most popular female baby name: Ava
Most popular male baby name: Noah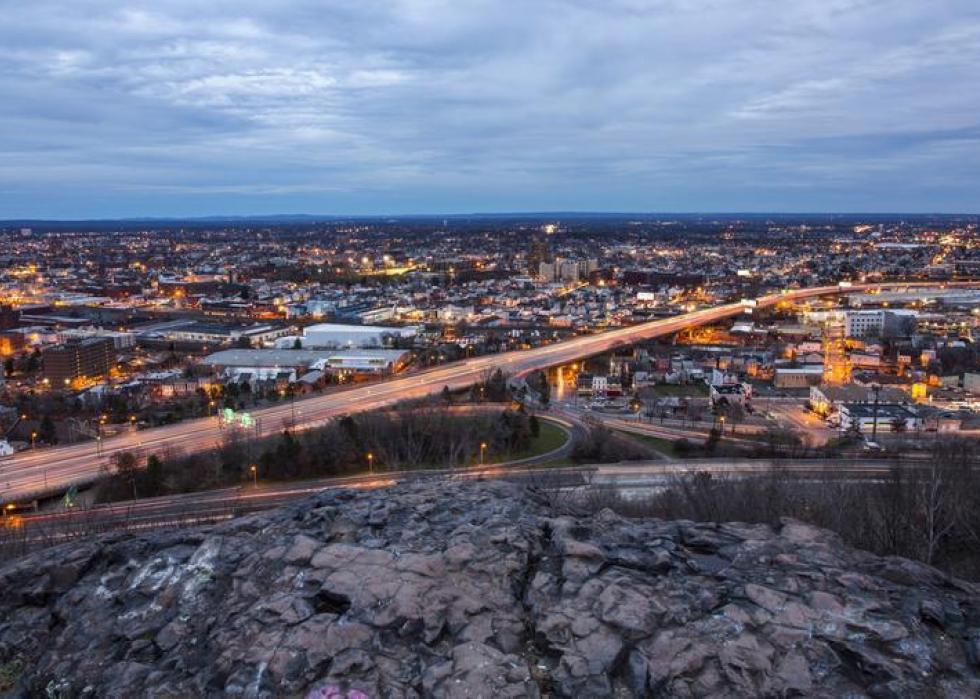 12 / 51
#40. New Jersey
Estimated state population: 8,944,469
Number of women who gave birth in 2016: 103,847
Number of babies born in 2016: 102,647
Newborn babies per 100,000 people: 1,148
Most popular female baby name: Mia
Most popular male baby name: Liam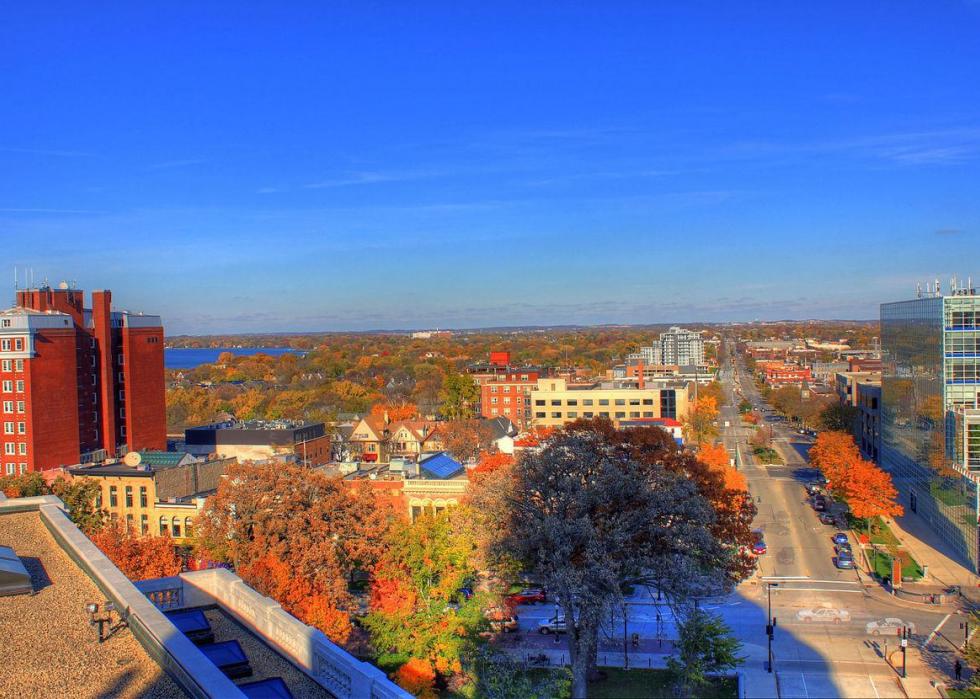 13 / 51
#39. Wisconsin
Estimated state population: 5,778,708
Number of women who gave birth in 2016: 67,581
Number of babies born in 2016: 66,615
Newborn babies per 100,000 people: 1,153
Most popular female baby name: Olivia
Most popular male baby name: Oliver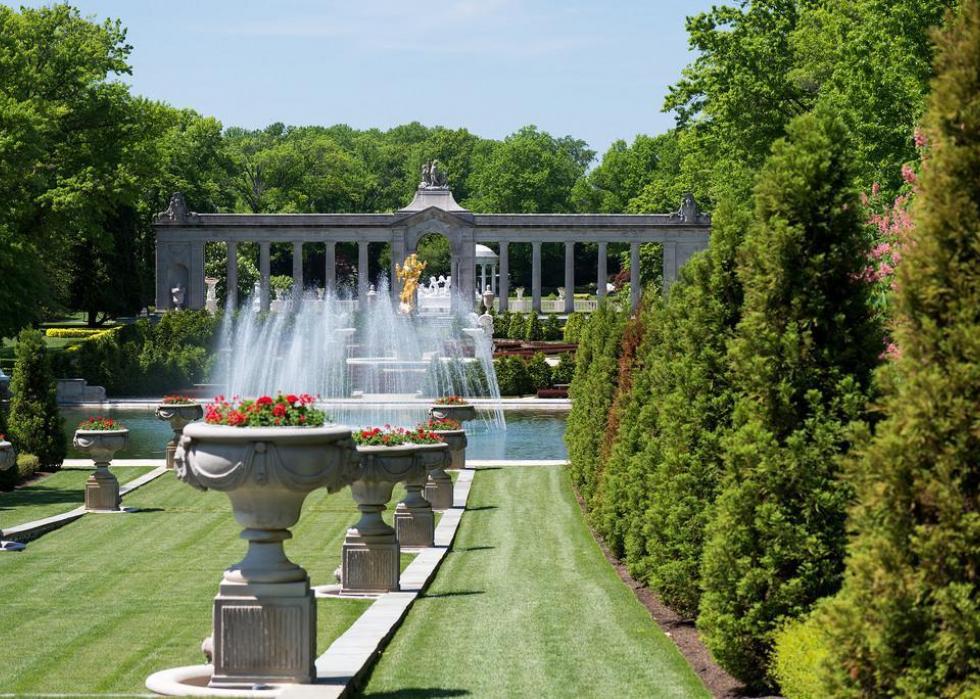 14 / 51
IIP Photo Archive // Flickr
#38. Delaware
Estimated state population: 952,065
Number of women who gave birth in 2016: 11,136
Number of babies born in 2016: 10,992
Newborn babies per 100,000 people: 1,155
Most popular female baby name: Olivia
Most popular male baby name: Liam
15 / 51
#37. South Carolina
Estimated state population: 4,961,119
Number of women who gave birth in 2016: 59,397
Number of babies born in 2016: 57,342
Newborn babies per 100,000 people: 1,156
Most popular female baby name: Ava
Most popular male baby name: William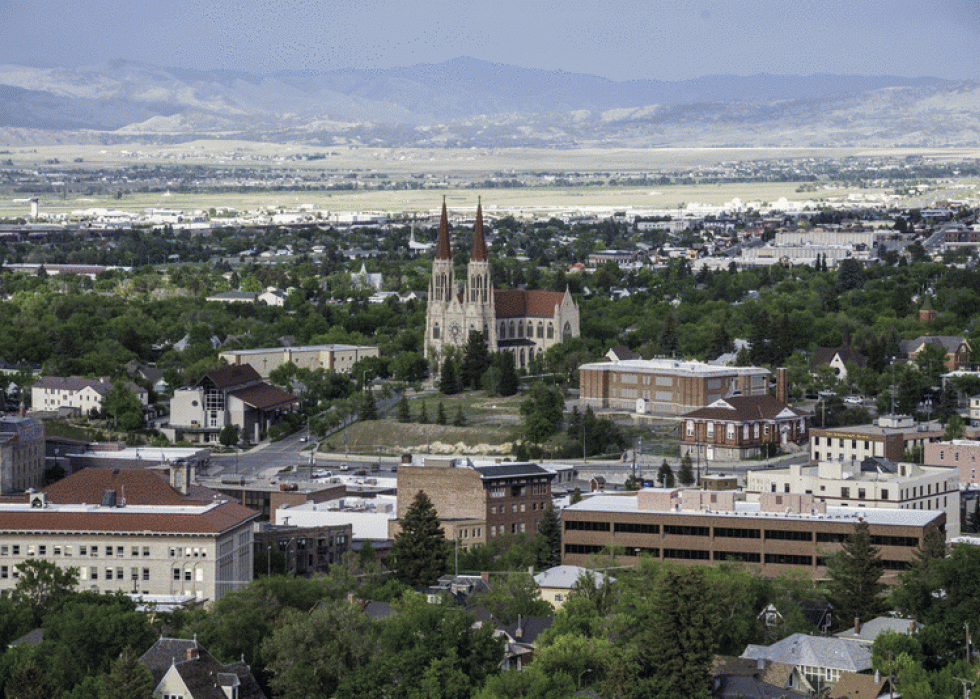 16 / 51
#36. Montana
Estimated state population: 1,042,520
Number of women who gave birth in 2016: 11,585
Number of babies born in 2016: 12,282
Newborn babies per 100,000 people: 1,178
Most popular female baby name: Harper
Most popular male baby name: James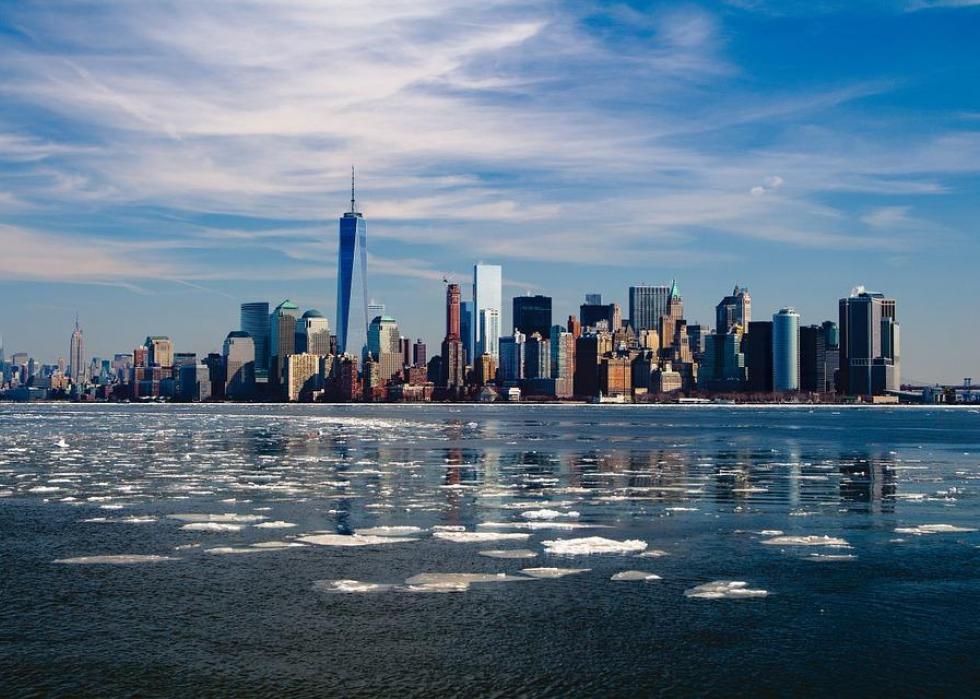 17 / 51
#34 (tie). New York
Estimated state population: 19,745,289
Number of women who gave birth in 2016: 230,560
Number of babies born in 2016: 234,283
Newborn babies per 100,000 people: 1,187
Most popular female baby name: Olivia
Most popular male baby name: Liam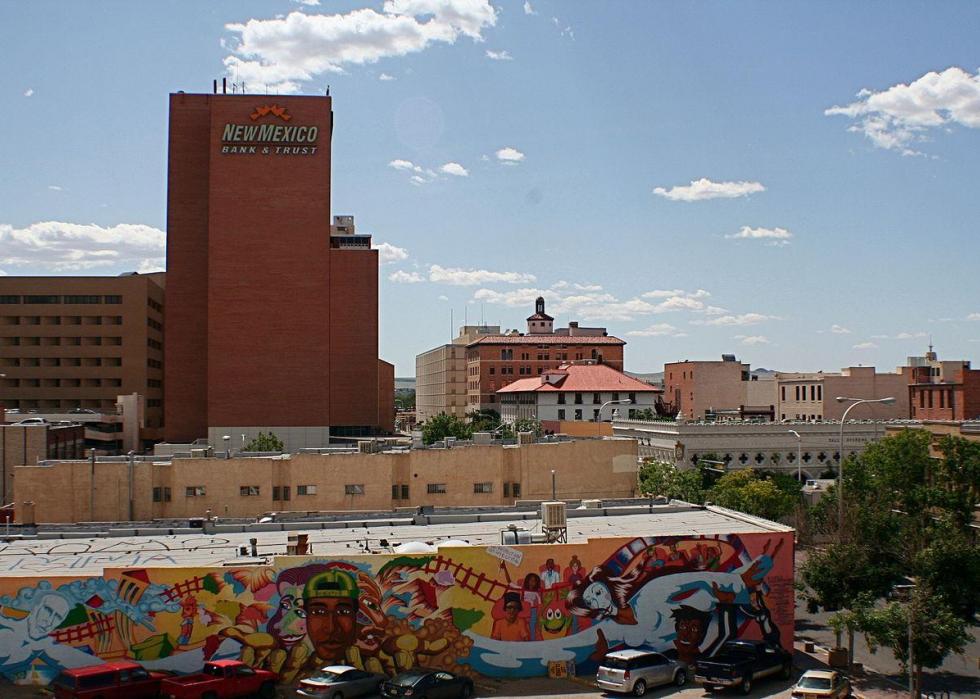 18 / 51
Asaavedra32 // Wikicommons
#34 (tie). New Mexico
Estimated state population: 2,081,015
Number of women who gave birth in 2016: 26,395
Number of babies born in 2016: 24,692
Newborn babies per 100,000 people: 1,187
Most popular female baby name: Mia
Most popular male baby name: Elijah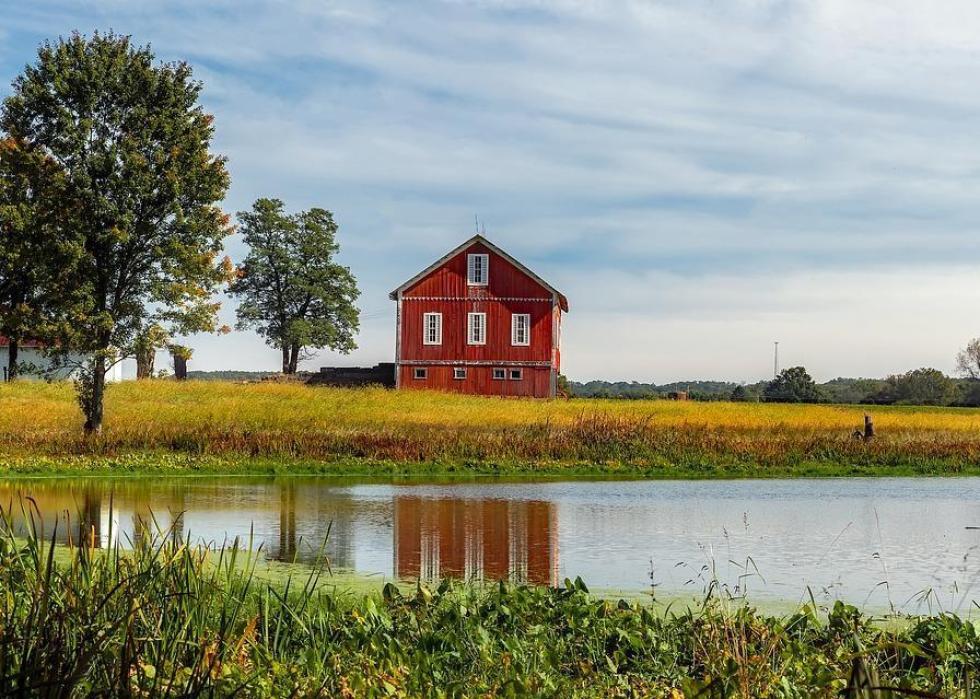 19 / 51
#33. Ohio
Estimated state population: 11,614,373
Number of women who gave birth in 2016: 141,349
Number of babies born in 2016: 138,085
Newborn babies per 100,000 people: 1,189
Most popular female baby name: Emma
Most popular male baby name: Liam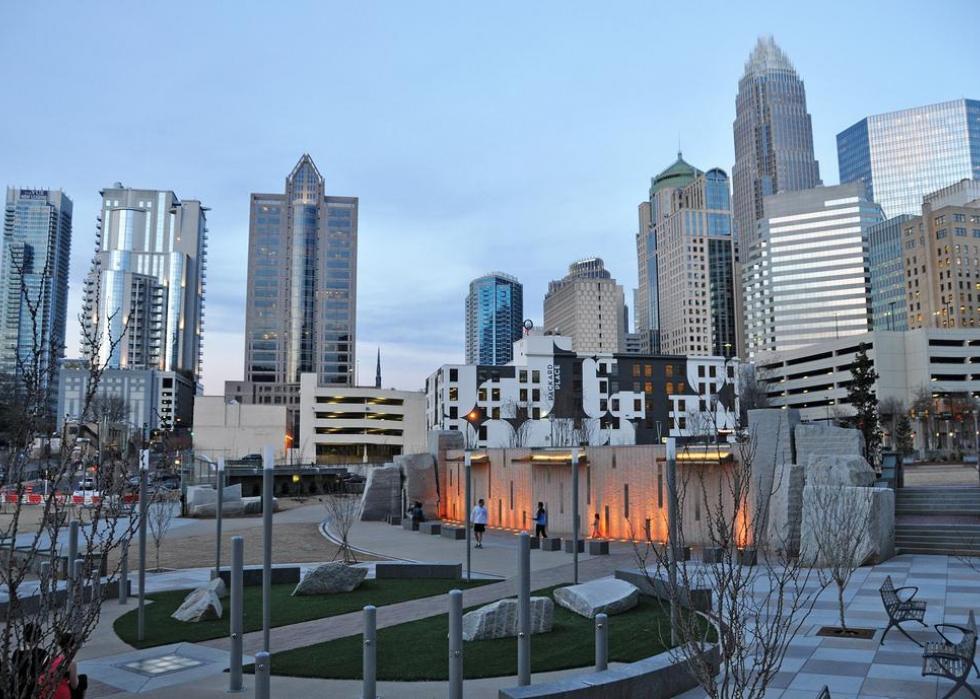 20 / 51
#32. North Carolina
Estimated state population: 10,146,788
Number of women who gave birth in 2016: 123,050
Number of babies born in 2016: 120,779
Newborn babies per 100,000 people: 1,190
Most popular female baby name: Ava
Most popular male baby name: William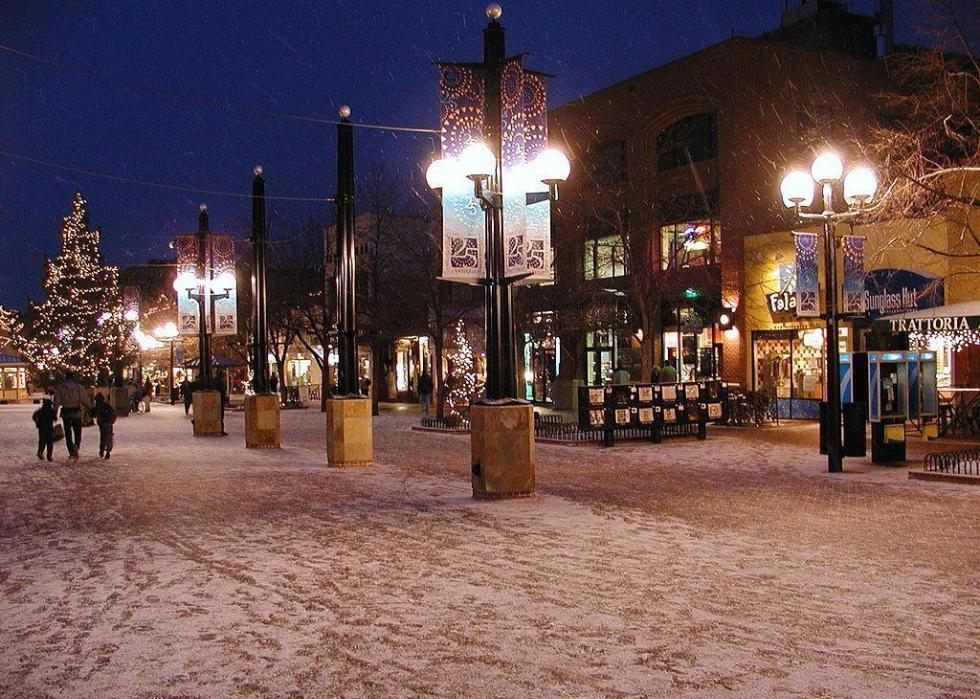 21 / 51
Schlendiran // Wikicommons
#31. Colorado
Estimated state population: 5,540,545
Number of women who gave birth in 2016: 68,806
Number of babies born in 2016: 66,613
Newborn babies per 100,000 people: 1,202
Most popular female baby name: Olivia
Most popular male baby name: Liam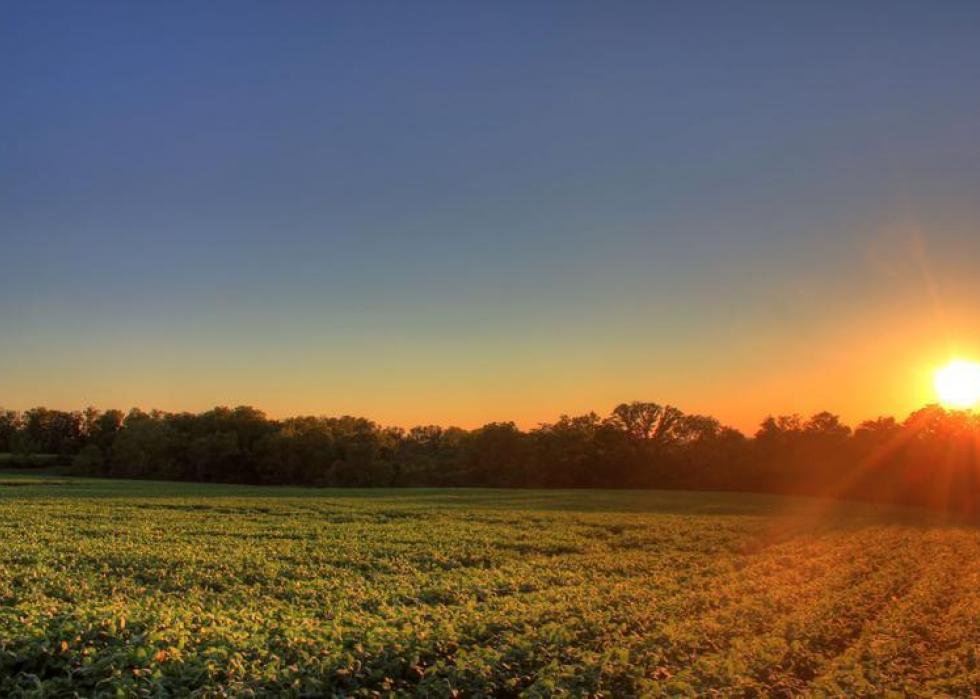 22 / 51
#30. Illinois
Estimated state population: 12,801,539
Number of women who gave birth in 2016: 157,783
Number of babies born in 2016: 154,445
Newborn babies per 100,000 people: 1,206
Most popular female baby name: Olivia
Most popular male baby name: Noah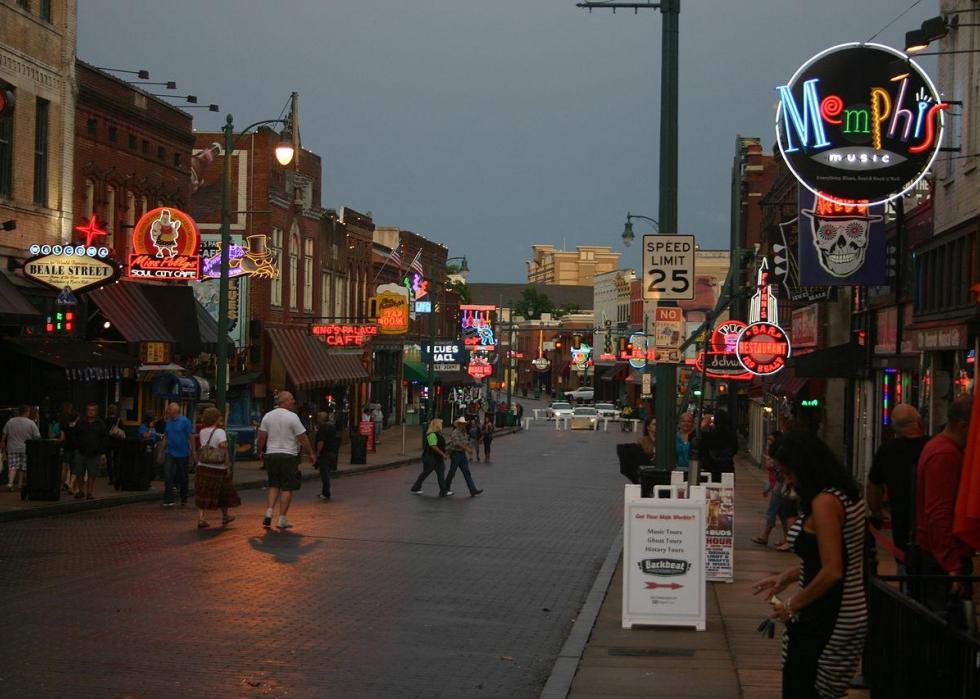 23 / 51
#29. Tennessee
Estimated state population: 6,651,194
Number of women who gave birth in 2016: 81,912
Number of babies born in 2016: 80,807
Newborn babies per 100,000 people: 1,215
Most popular female baby name: Emma
Most popular male baby name: William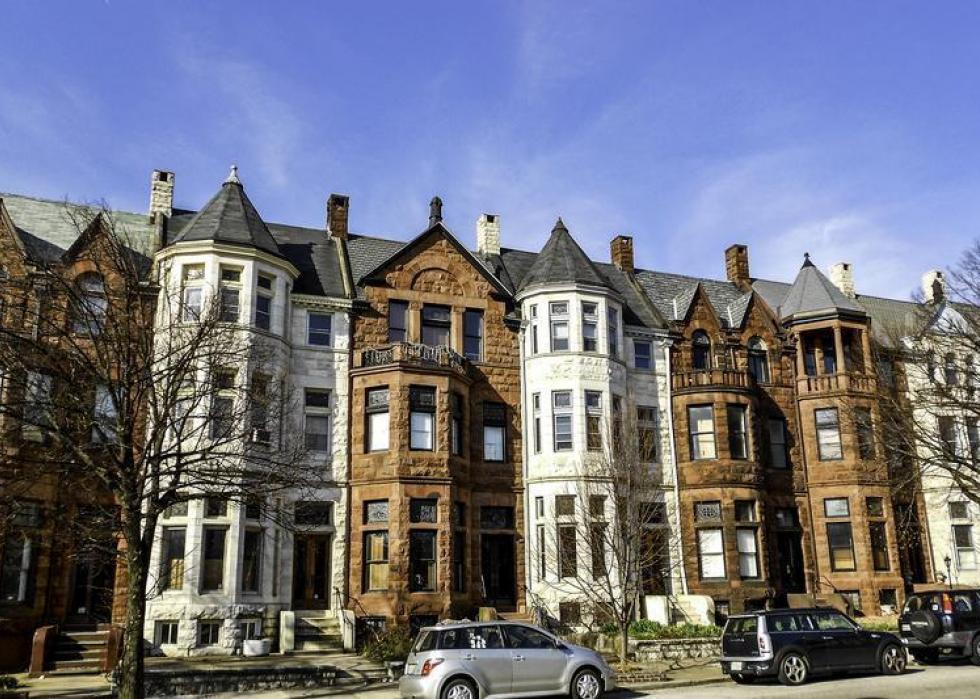 24 / 51
#28 (tie). Maryland
Estimated state population: 6,016,447
Number of women who gave birth in 2016: 74,732
Number of babies born in 2016: 73,136
Newborn babies per 100,000 people: 1,216
Most popular female baby name: Ava
Most popular male baby name: Noah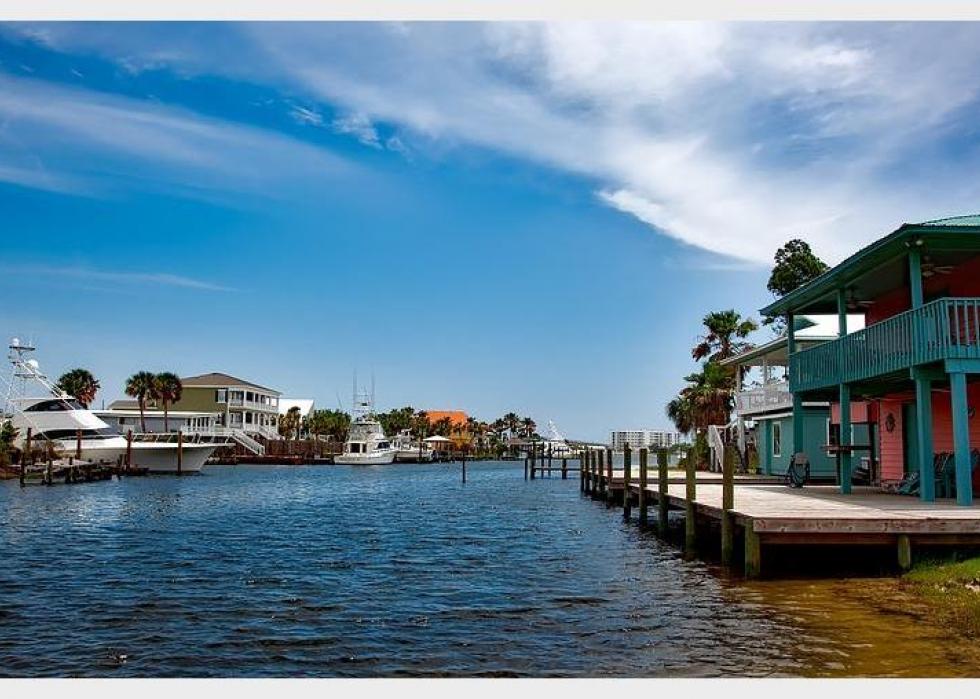 25 / 51
#27 (tie). Alabama
Estimated state population: 4,863,300
Number of women who gave birth in 2016: 59,424
Number of babies born in 2016: 59,151
Newborn babies per 100,000 people: 1,216
Most popular female baby name: Ava
Most popular male baby name: William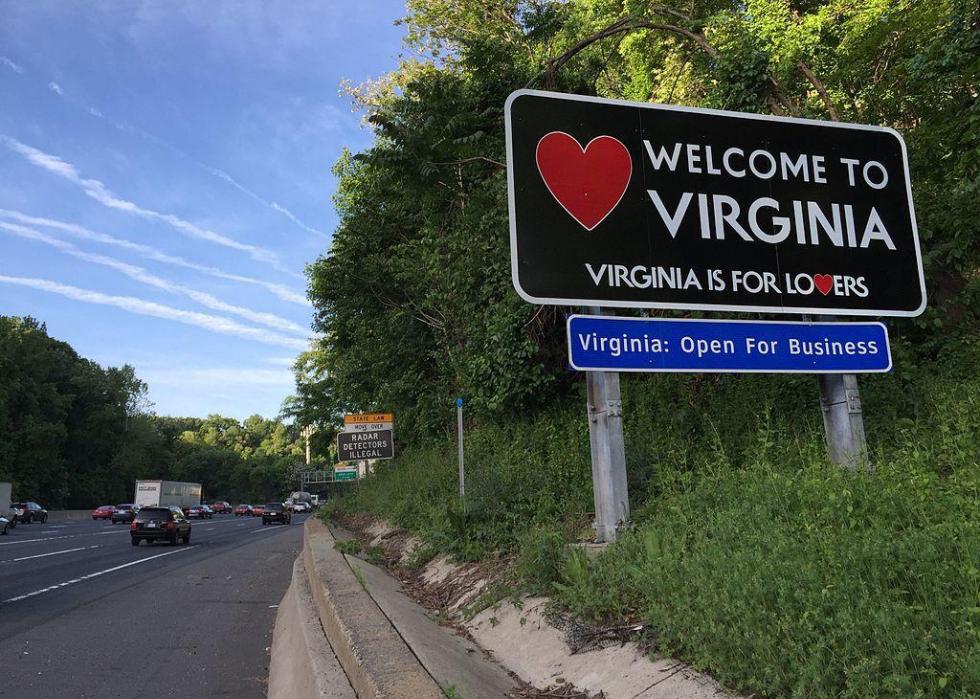 26 / 51
#26. Virginia
Estimated state population: 8,411,808
Number of women who gave birth in 2016: 106,850
Number of babies born in 2016: 102,460
Newborn babies per 100,000 people: 1,218
Most popular female baby name: Olivia
Most popular male baby name: William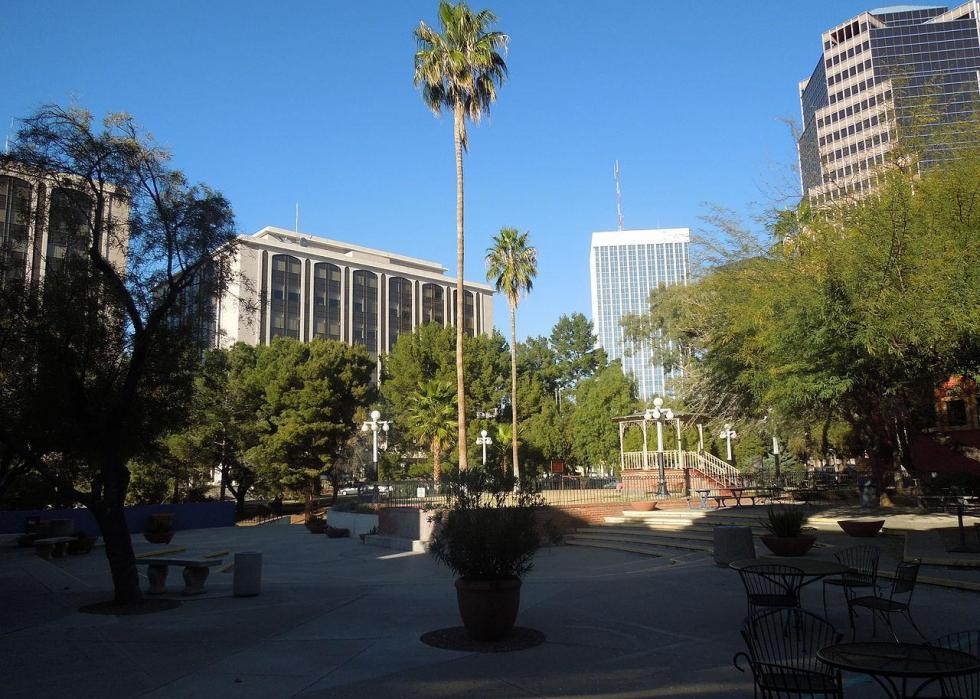 27 / 51
#25. Arizona
Estimated state population: 6,931,071
Number of women who gave birth in 2016: 84,496
Number of babies born in 2016: 84,520
Newborn babies per 100,000 people: 1,219
Most popular female baby name: Emma
Most popular male baby name: Noah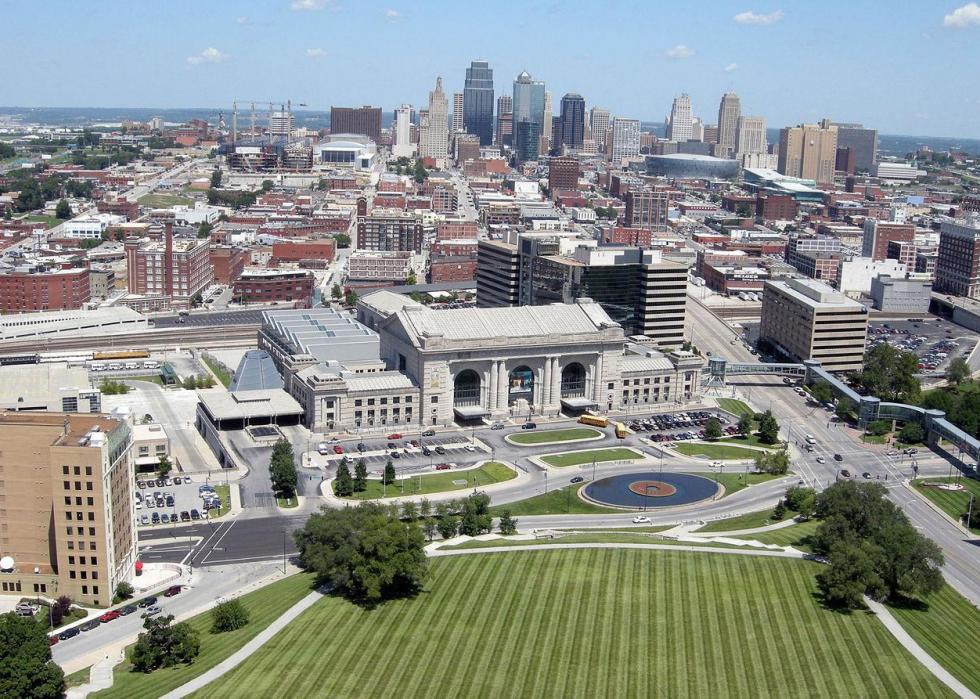 28 / 51
Brian Hillegas // Wikicommons
#24. Missouri
Estimated state population: 6,093,000
Number of women who gave birth in 2016: 76,475
Number of babies born in 2016: 74,705
Newborn babies per 100,000 people: 1,226
Most popular female baby name: Olivia
Most popular male baby name: William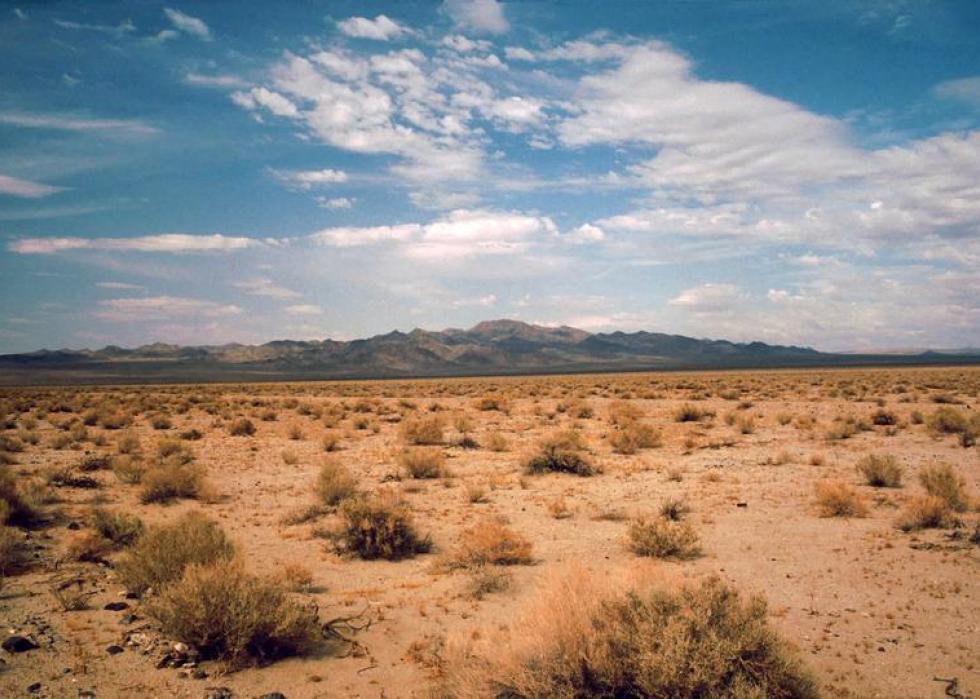 29 / 51
#23. Nevada
Estimated state population: 2,940,058
Number of women who gave birth in 2016: 35,200
Number of babies born in 2016: 36,260
Newborn babies per 100,000 people: 1,233
Most popular female baby name: Mia
Most popular male baby name: Liam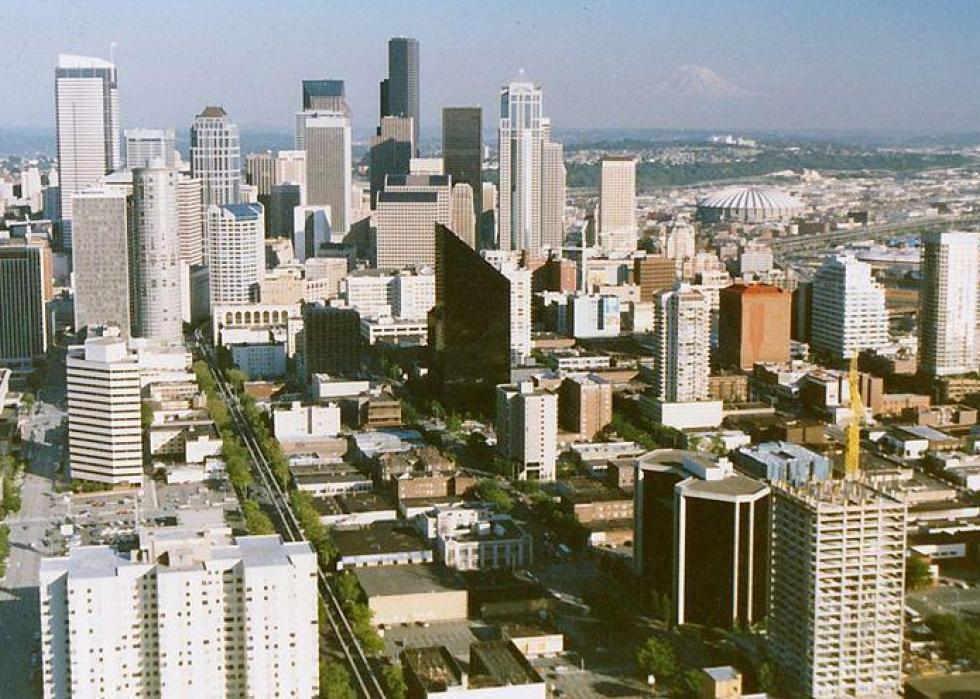 30 / 51
Roman Eugeniusz // Wikimedia Commons
#22. Washington
Estimated state population: 7,288,000
Number of women who gave birth in 2016: 89,634
Number of babies born in 2016: 90,505
Newborn babies per 100,000 people: 1,242
Most popular female baby name: Emma
Most popular male baby name: Liam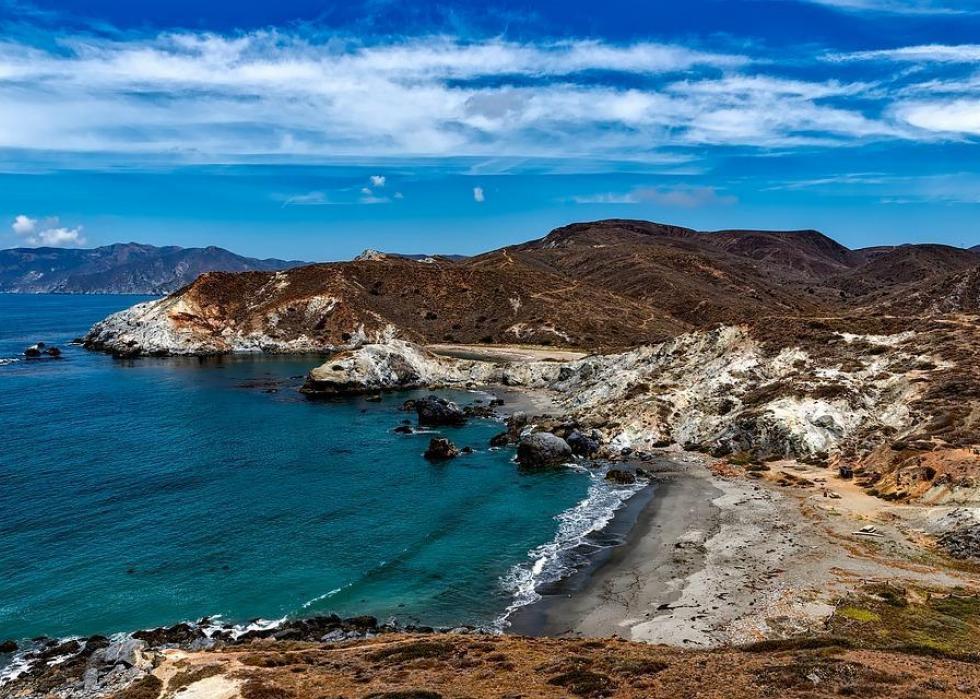 31 / 51
#21. California
Estimated state population: 39,250,017
Number of women who gave birth in 2016: 486,456
Number of babies born in 2016: 488,827
Newborn babies per 100,000 people: 1,245
Most popular female baby name: Mia
Most popular male baby name: Noah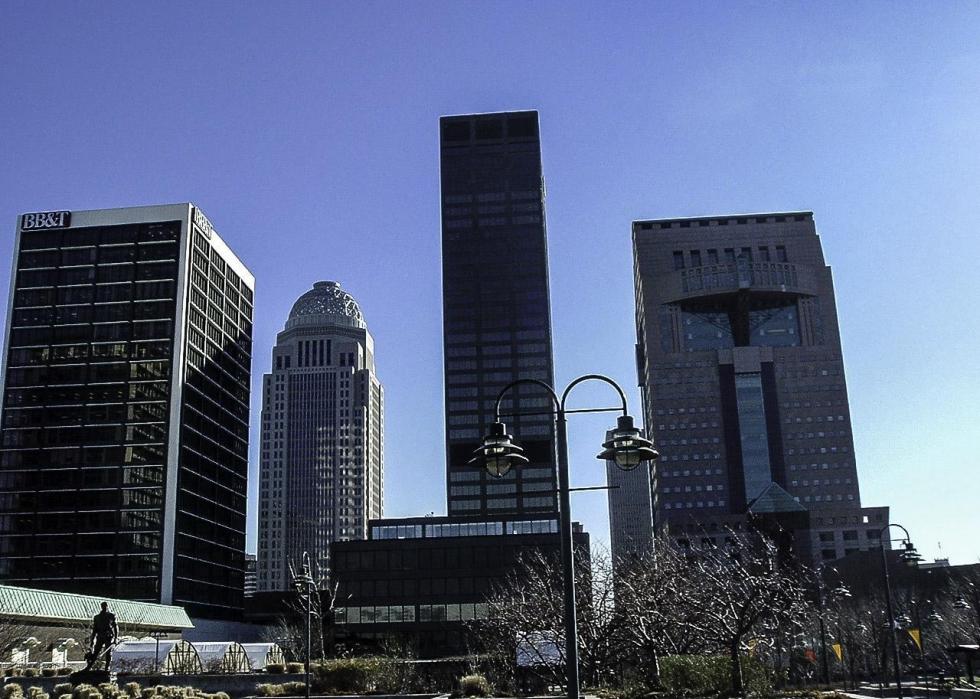 32 / 51
#20. Kentucky
Estimated state population: 4,436,974
Number of women who gave birth in 2016: 55,667
Number of babies born in 2016: 55,449
Newborn babies per 100,000 people: 1,250
Most popular female baby name: Emma
Most popular male baby name: William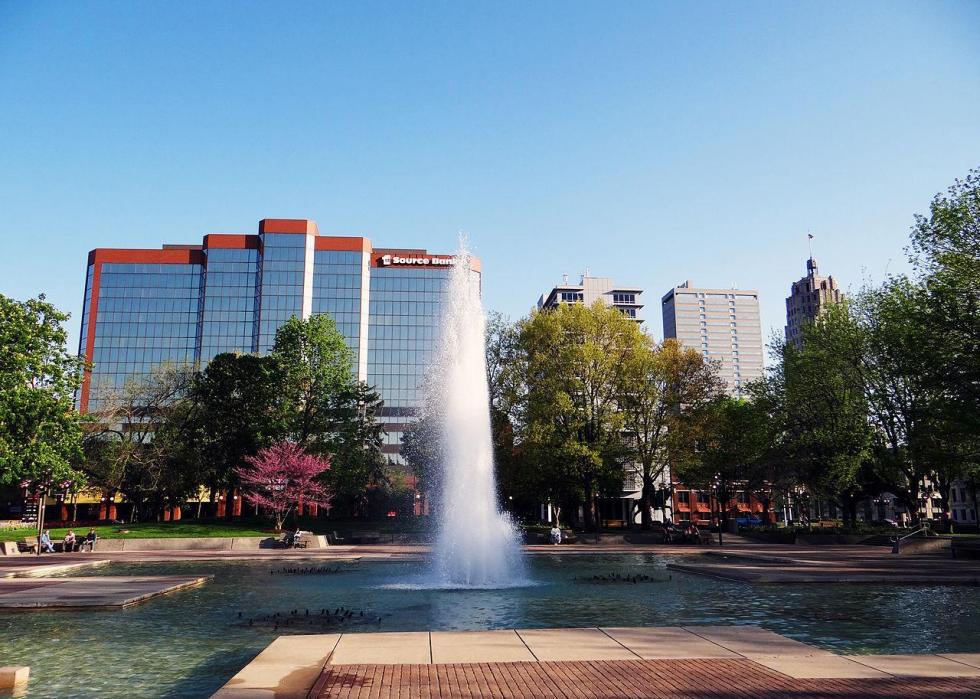 33 / 51
Momoneymoproblemz // Wikicommons
#19. Indiana
Estimated state population: 6,633,053
Number of women who gave birth in 2016: 85,814
Number of babies born in 2016: 83,091
Newborn babies per 100,000 people: 1,253
Most popular female baby name: Emma
Most popular male baby name: Liam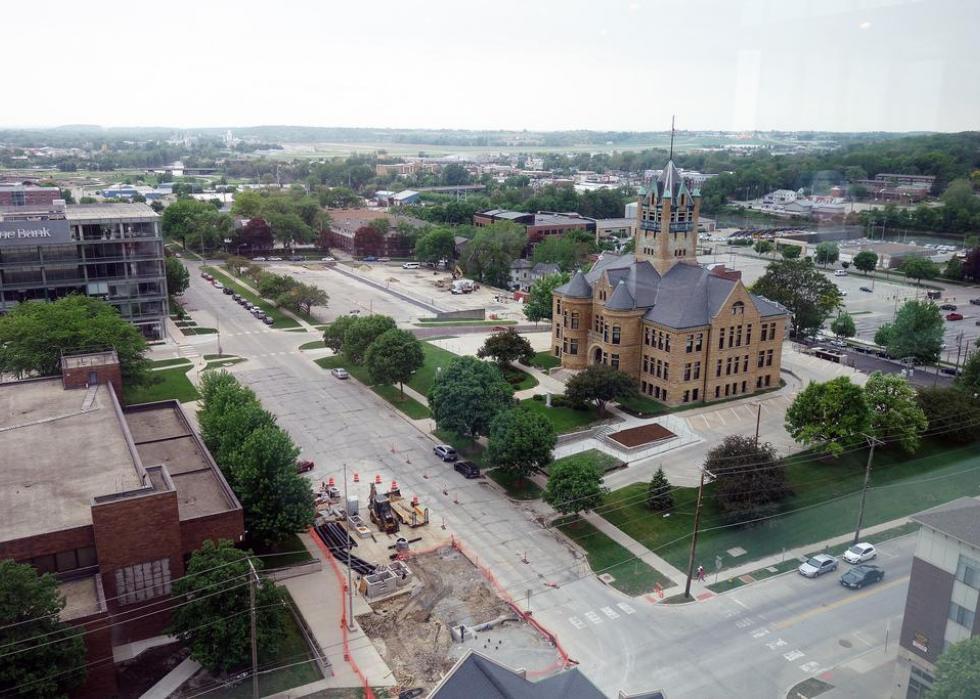 34 / 51
#18. Iowa
Estimated state population: 3,134,693
Number of women who gave birth in 2016: 41,109
Number of babies born in 2016: 39,403
Newborn babies per 100,000 people: 1,257
Most popular female baby name: Olivia
Most popular male baby name: Oliver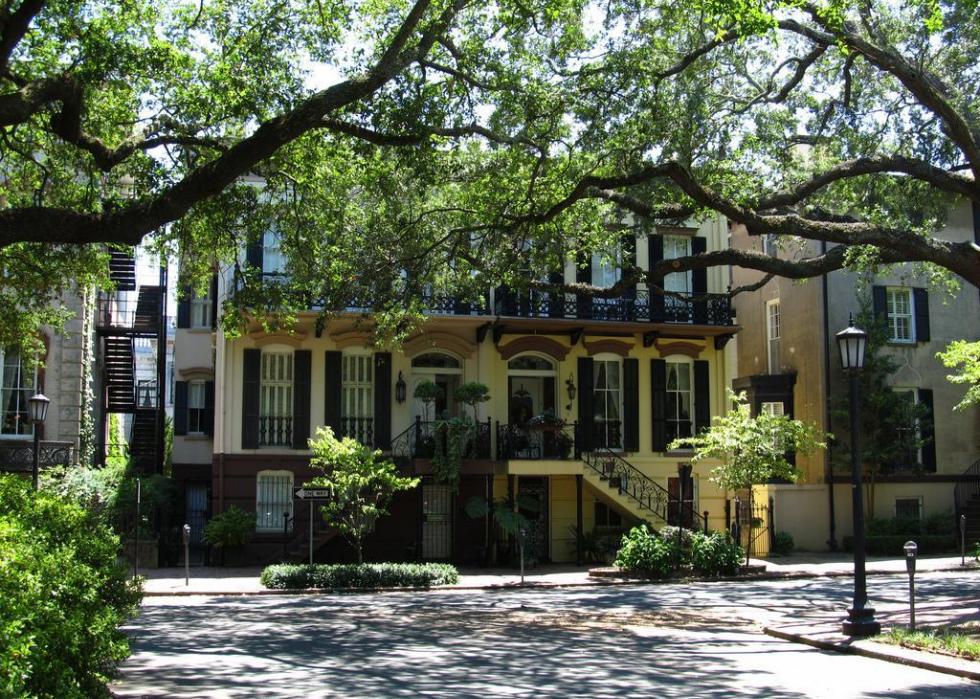 35 / 51
#16 (tie). Georgia
Estimated state population: 10,310,371
Number of women who gave birth in 2016: 139,714
Number of babies born in 2016: 130,042
Newborn babies per 100,000 people: 1,261
Most popular female baby name: Ava
Most popular male baby name: William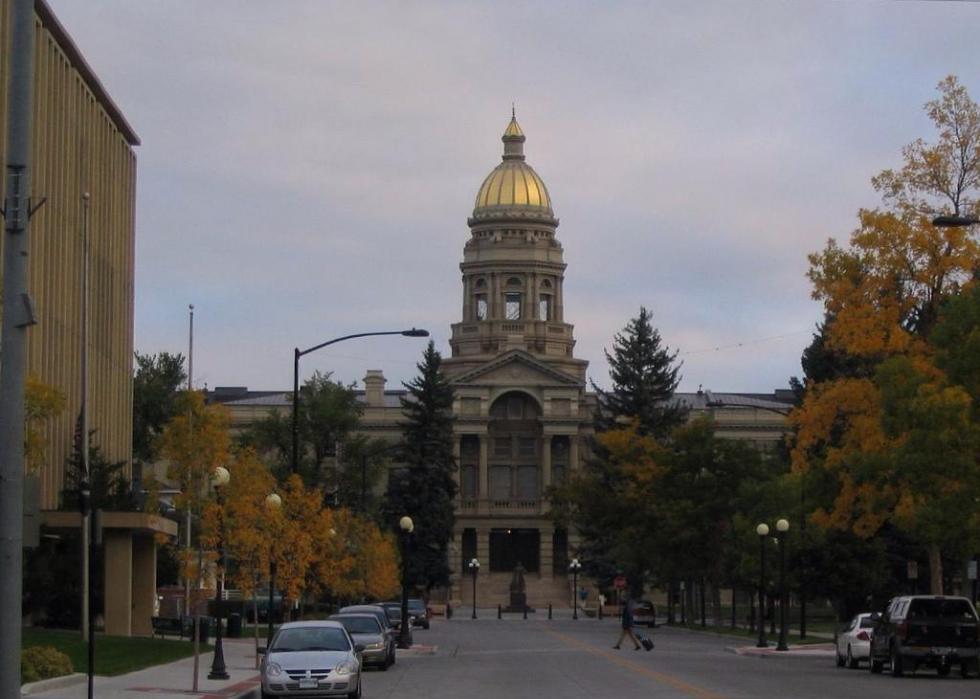 36 / 51
#16 (tie). Wyoming
Estimated state population: 585,501
Number of women who gave birth in 2016: 7,687
Number of babies born in 2016: 7,386
Newborn babies per 100,000 people: 1,261
Most popular female baby name: Emma
Most popular male baby name: Wyatt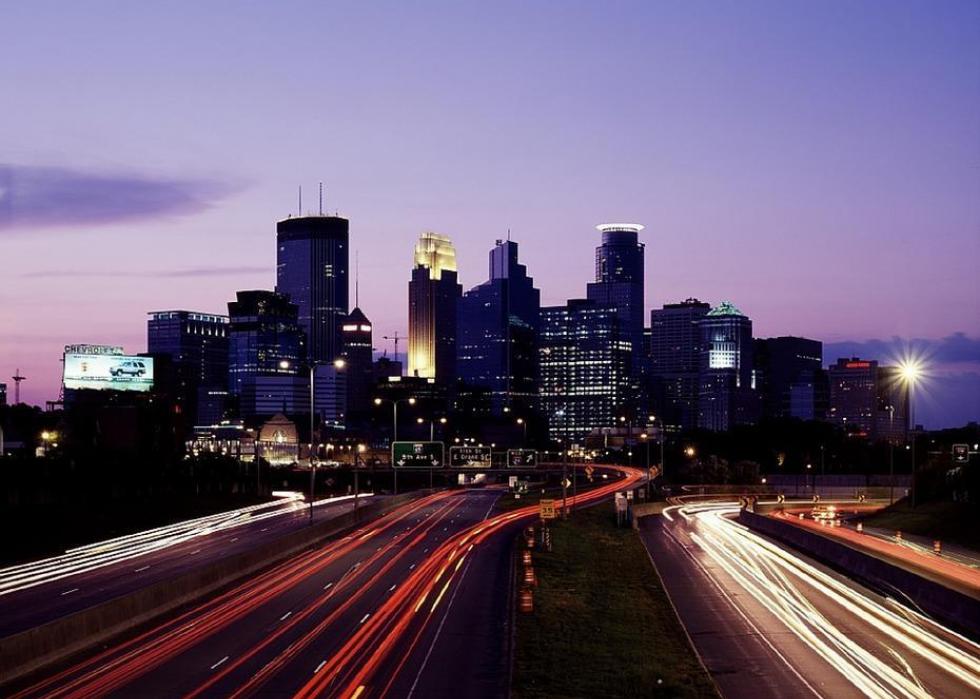 37 / 51
#14 (tie). Minnesota
Estimated state population: 5,519,952
Number of women who gave birth in 2016: 73,145
Number of babies born in 2016: 69,749
Newborn babies per 100,000 people: 1,264
Most popular female baby name: Evelyn
Most popular male baby name: Henry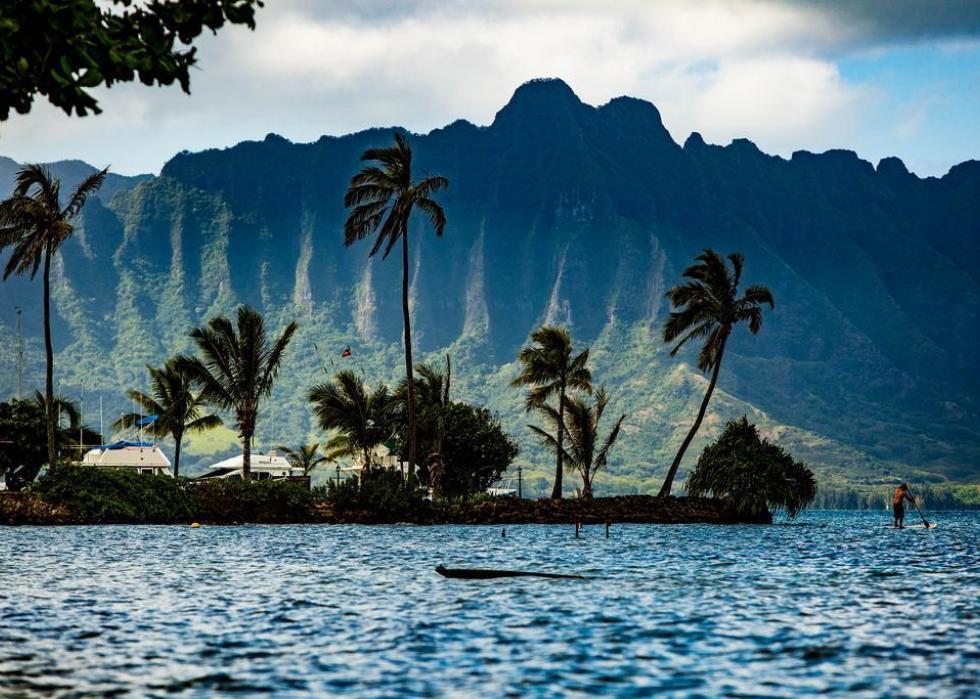 38 / 51
Anthony Quintano // Flickr
#14 (tie). Hawaii
Estimated state population: 1,428,557
Number of women who gave birth in 2016: 20,121
Number of babies born in 2016: 18,059
Newborn babies per 100,000 people: 1,264
Most popular female baby name: Olivia
Most popular male baby name: Noah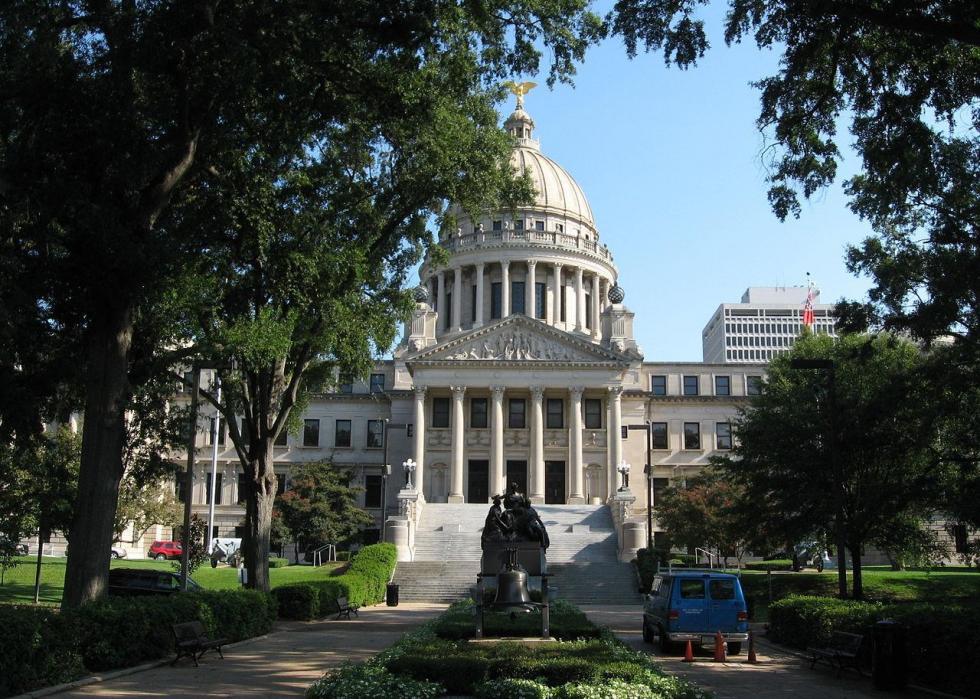 39 / 51
#13. Mississippi
Estimated state population: 2,988,726
Number of women who gave birth in 2016: 38,127
Number of babies born in 2016: 37,928
Newborn babies per 100,000 people: 1,269
Most popular female baby name: Ava
Most popular male baby name: William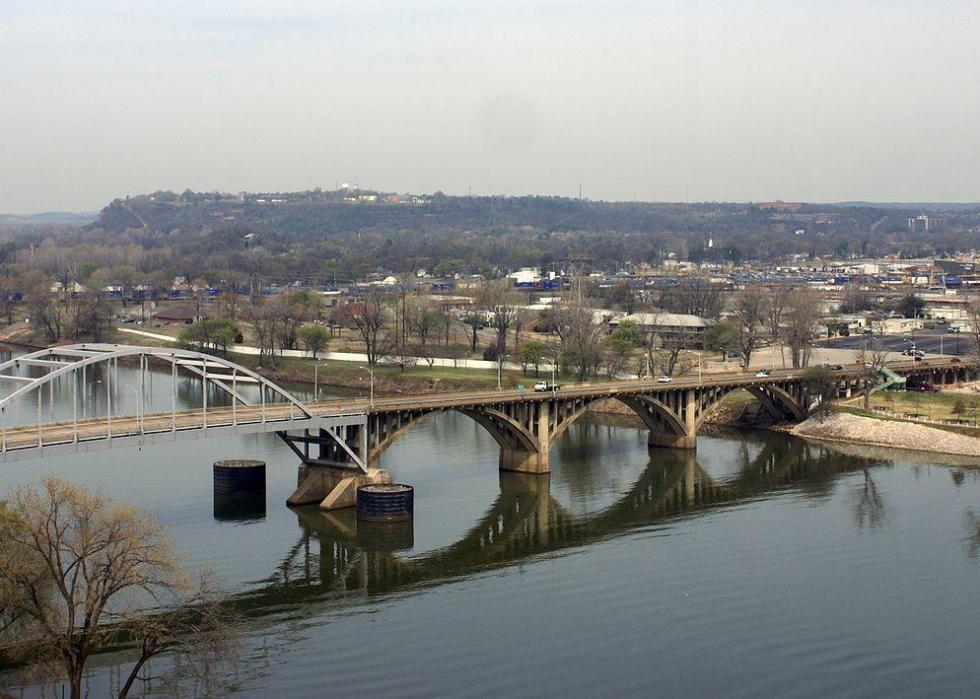 40 / 51
Belinda Hankins Miller // Wikicommons
#12. Arkansas
Estimated state population: 2,988,248
Number of women who gave birth in 2016: 39,828
Number of babies born in 2016: 38,274
Newborn babies per 100,000 people: 1,281
Most popular female baby name: Ava
Most popular male baby name: Elijah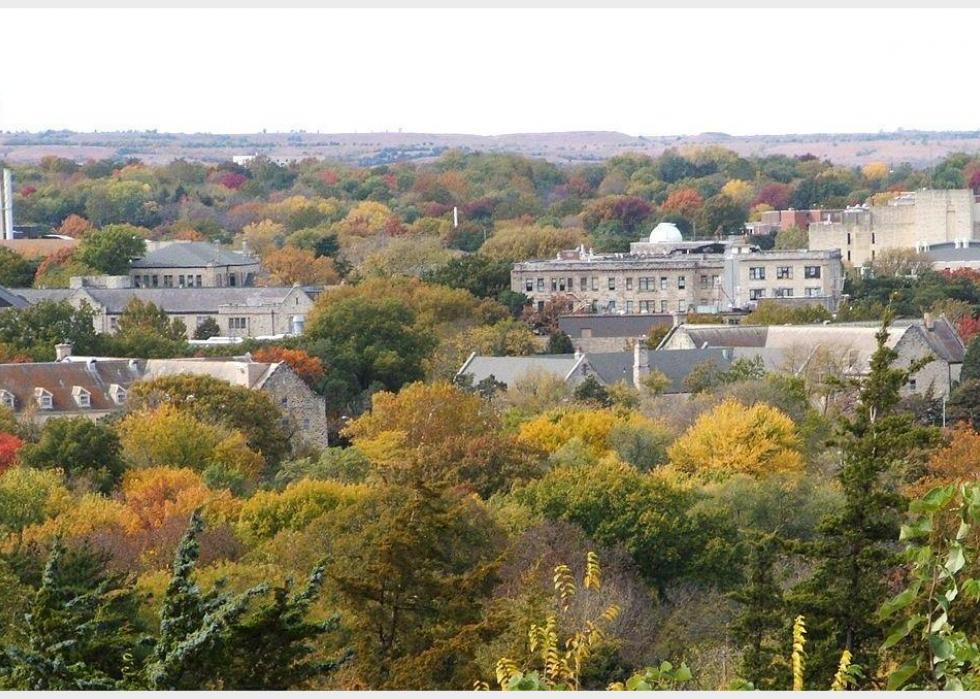 41 / 51
#11. Kansas
Estimated state population: 2,907,289
Number of women who gave birth in 2016: 40,033
Number of babies born in 2016: 38,053
Newborn babies per 100,000 people: 1,309
Most popular female baby name: Emma
Most popular male baby name: Benjamin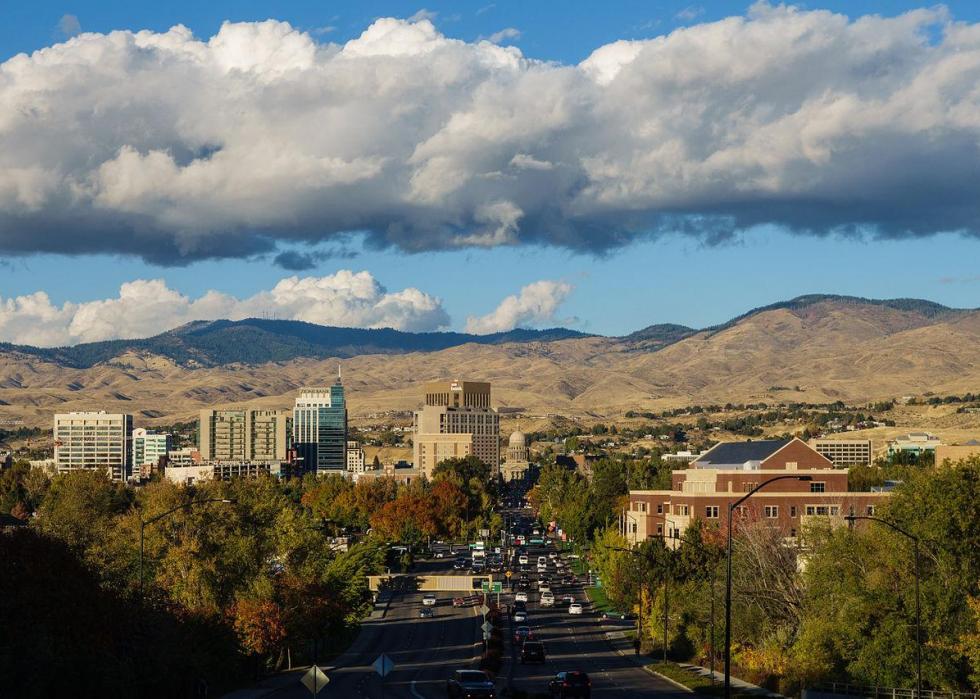 42 / 51
#10. Idaho
Estimated state population: 1,683,140
Number of women who gave birth in 2016: 22,319
Number of babies born in 2016: 22,482
Newborn babies per 100,000 people: 1,336
Most popular female baby name: Emma
Most popular male baby name: Oliver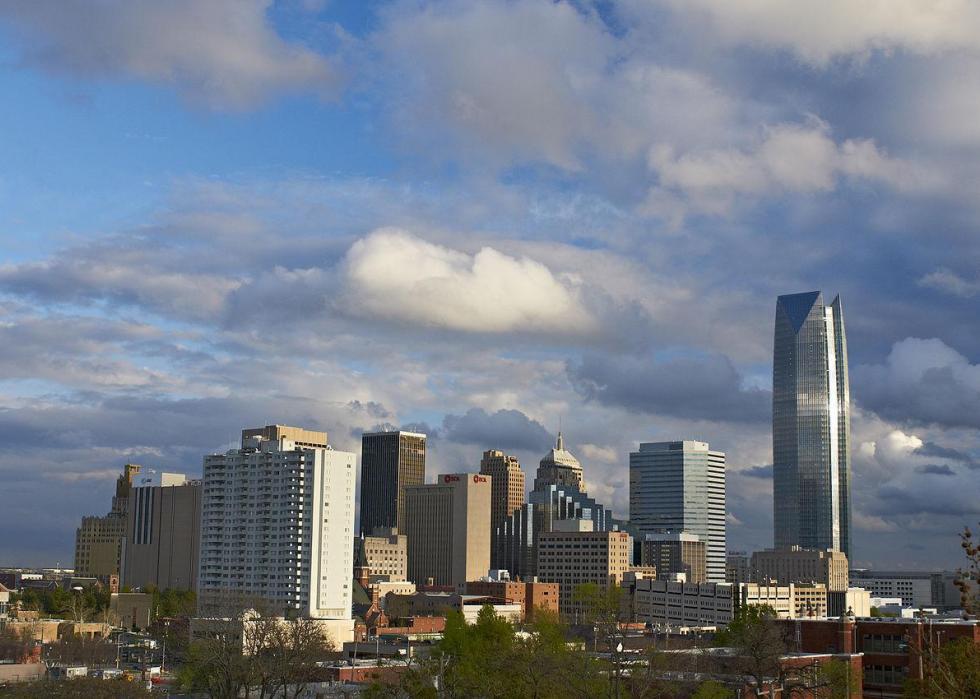 43 / 51
Oklahoma CIty Convention and Visitor's Bureau // Wikicommons
#9. Oklahoma
Estimated state population: 3,923,561
Number of women who gave birth in 2016: 52,506
Number of babies born in 2016: 52,592
Newborn babies per 100,000 people: 1,340
Most popular female baby name: Emma
Most popular male baby name: Liam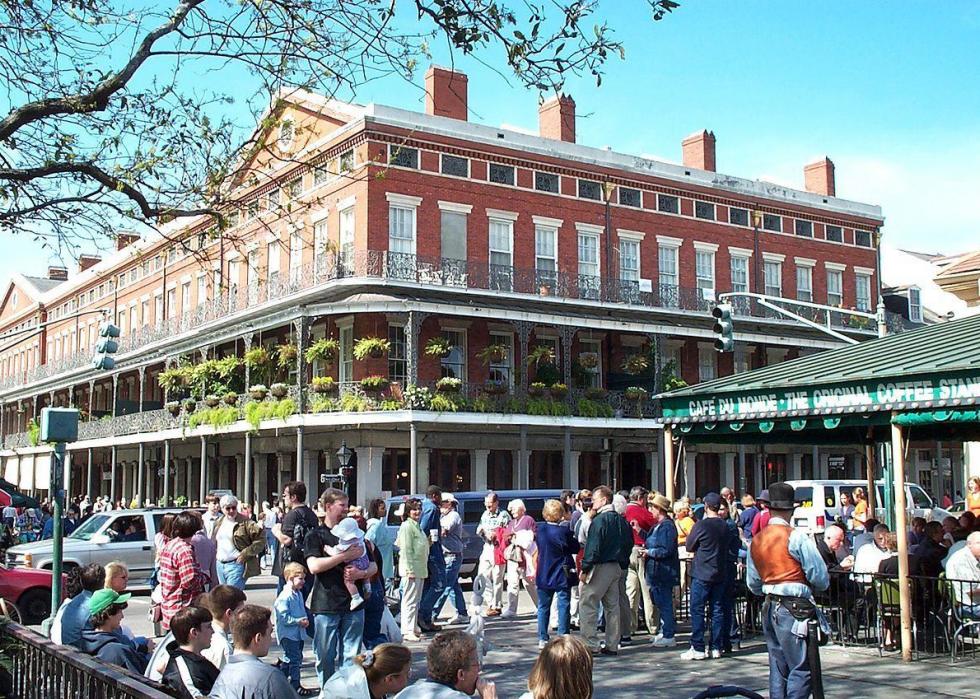 44 / 51
#8. Louisiana
Estimated state population: 4,681,666
Number of women who gave birth in 2016: 60,733
Number of babies born in 2016: 63,178
Newborn babies per 100,000 people: 1,349
Most popular female baby name: Ava
Most popular male baby name: Liam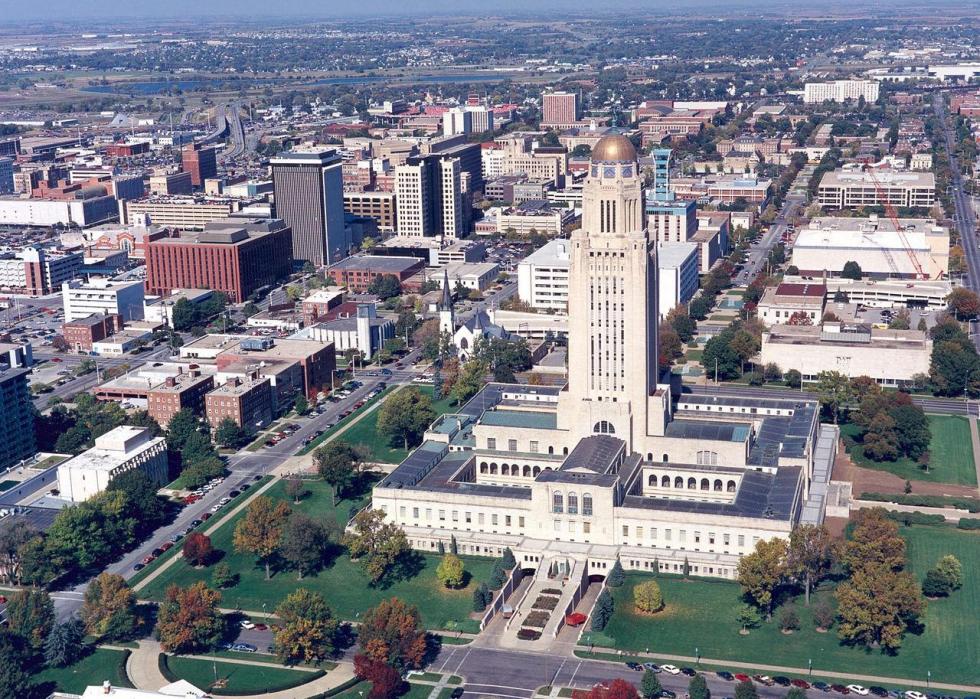 45 / 51
#7. Nebraska
Estimated state population: 1,907,116
Number of women who gave birth in 2016: 27,484
Number of babies born in 2016: 26,589
Newborn babies per 100,000 people: 1,394
Most popular female baby name: Emma
Most popular male baby name: Liam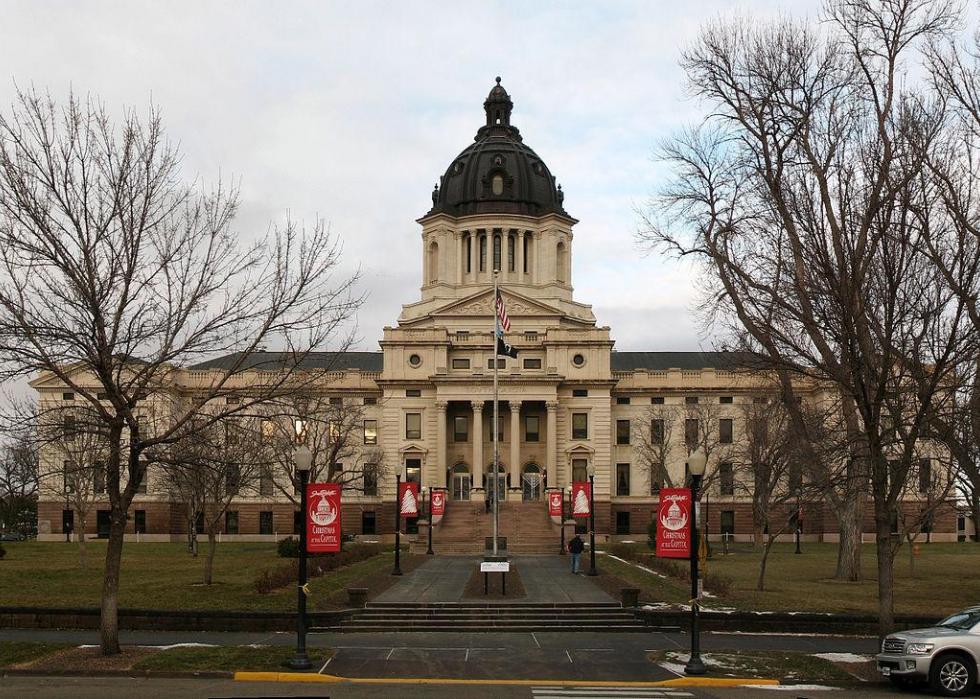 46 / 51
Jake DeGroot // Wikicommons
#6. South Dakota
Estimated state population: 865,454
Number of women who gave birth in 2016: 12,609
Number of babies born in 2016: 12,275
Newborn babies per 100,000 people: 1,418
Most popular female baby name: Emma
Most popular male baby name: Oliver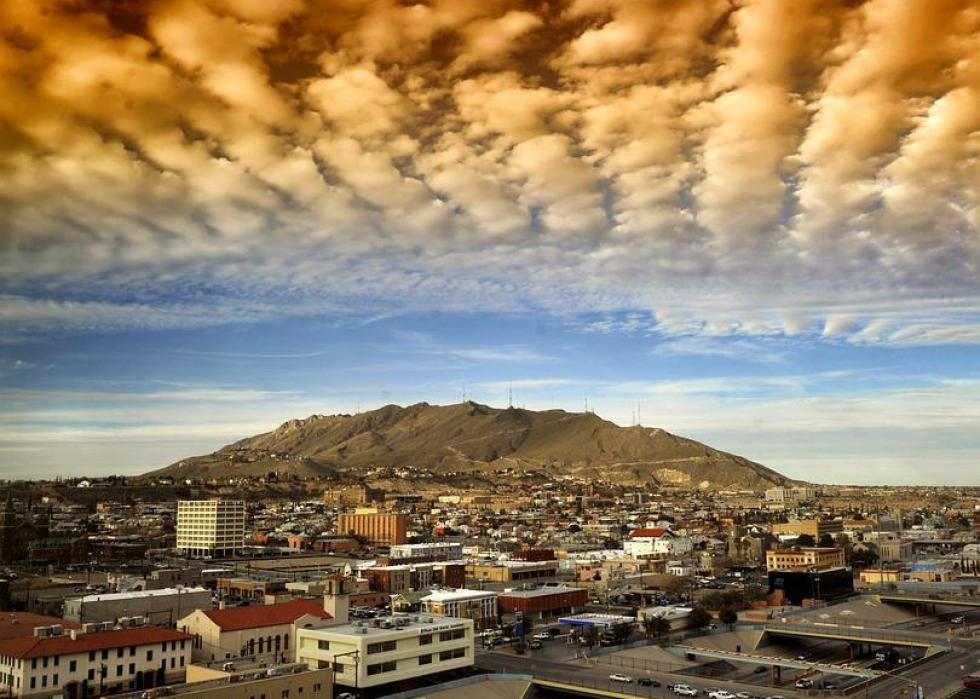 47 / 51
#5. Texas
Estimated state population: 27,862,596
Number of women who gave birth in 2016: 398,001
Number of babies born in 2016: 398,047
Newborn babies per 100,000 people: 1,429
Most popular female baby name: Emma
Most popular male baby name: Noah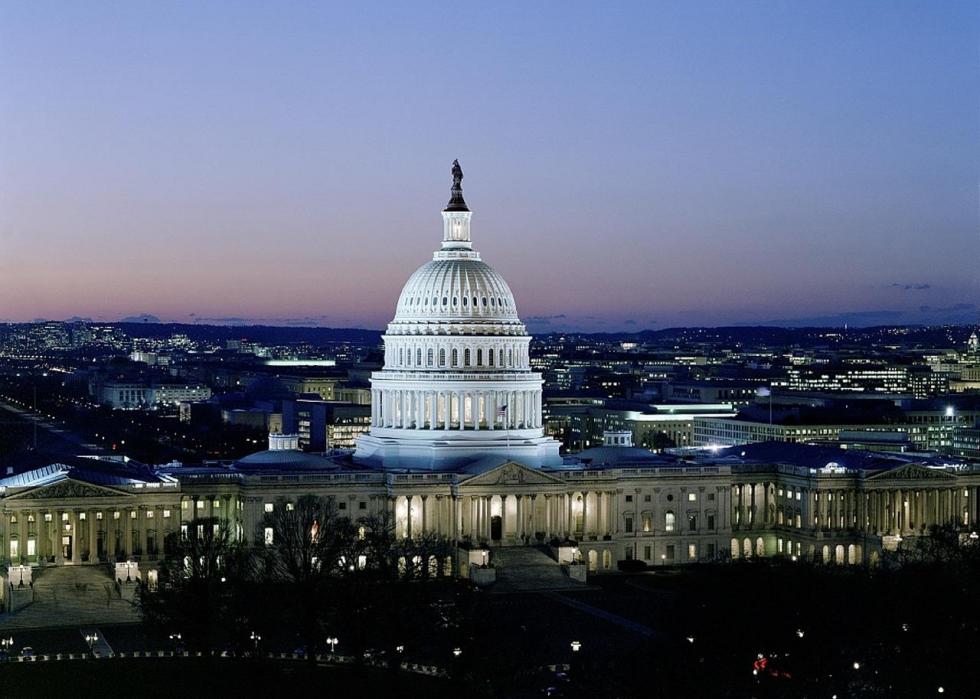 48 / 51
#4. District of Columbia
Estimated state population: 681,170
Number of women who gave birth in 2016: 9,531
Number of babies born in 2016: 9,858
Newborn babies per 100,000 people: 1,447
Most popular female baby name: Ava
Most popular male baby name: William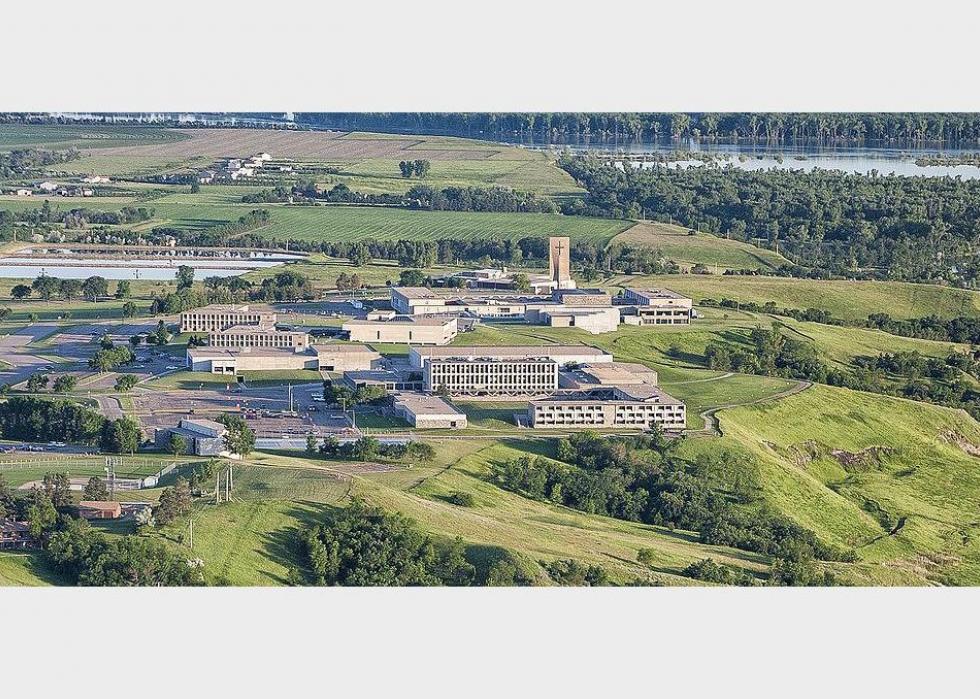 49 / 51
Jerald F Anderson // Wikicommons
#3. North Dakota
Estimated state population: 757,952
Number of women who gave birth in 2016: 11,409
Number of babies born in 2016: 11,383
Newborn babies per 100,000 people: 1,502
Most popular female baby name: Harper
Most popular male baby name: Oliver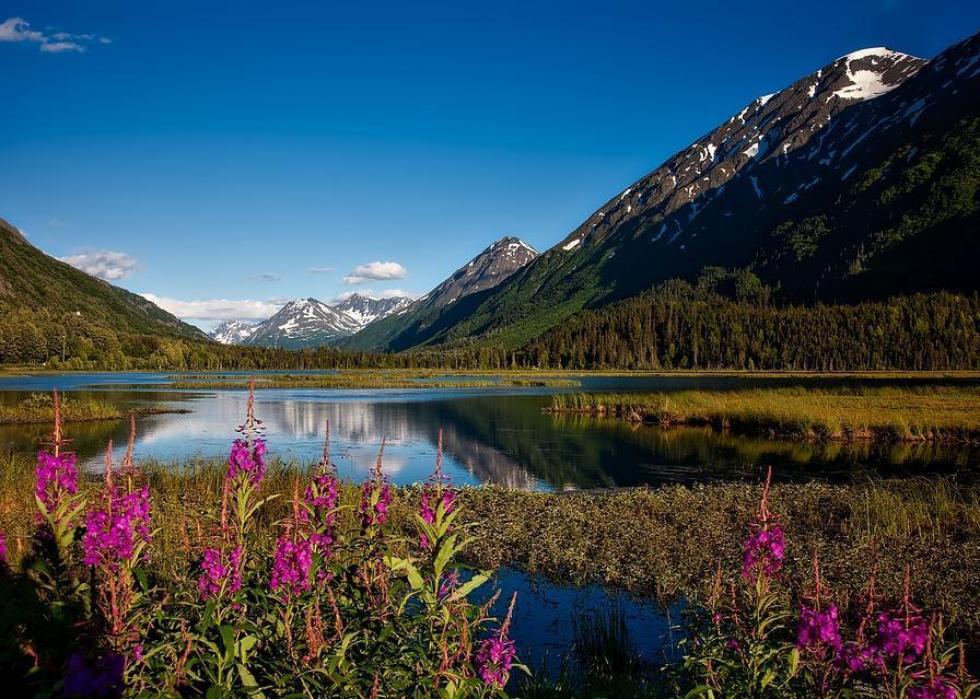 50 / 51
#2. Alaska
Estimated state population: 741,894
Number of women who gave birth in 2016: 10,518
Number of babies born in 2016: 11,209
Newborn babies per 100,000 people: 1,511
Most popular female baby name: Emma
Most popular male baby name: James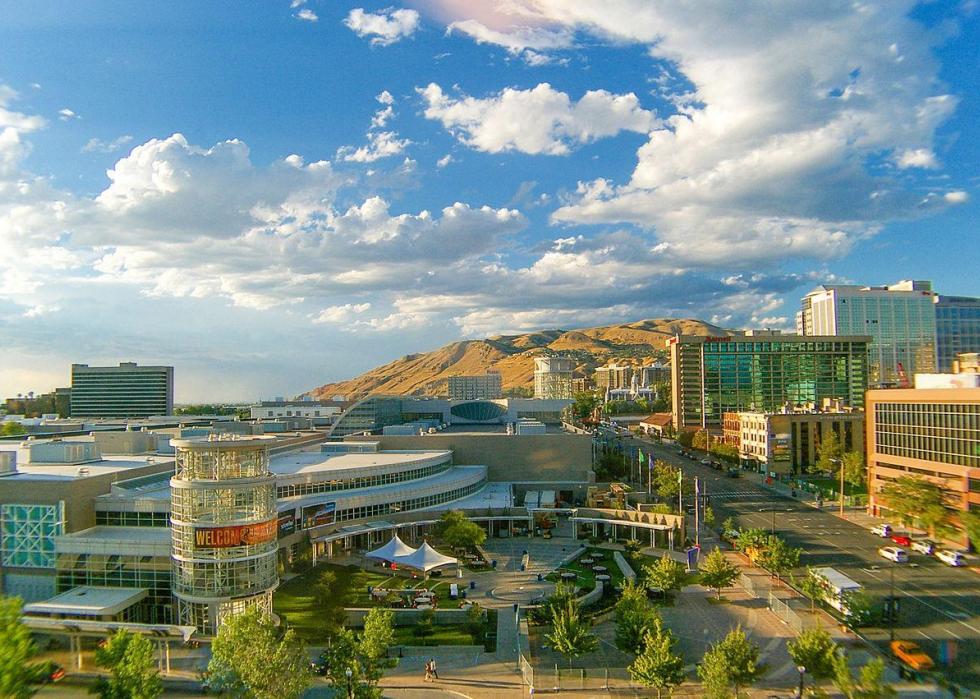 51 / 51
#1. Utah
Estimated state population: 3,051,217
Number of women who gave birth in 2016: 52,918
Number of babies born in 2016: 50,464
Newborn babies per 100,000 people: 1,654
Most popular female baby name: Olivia
Most popular male baby name: Oliver