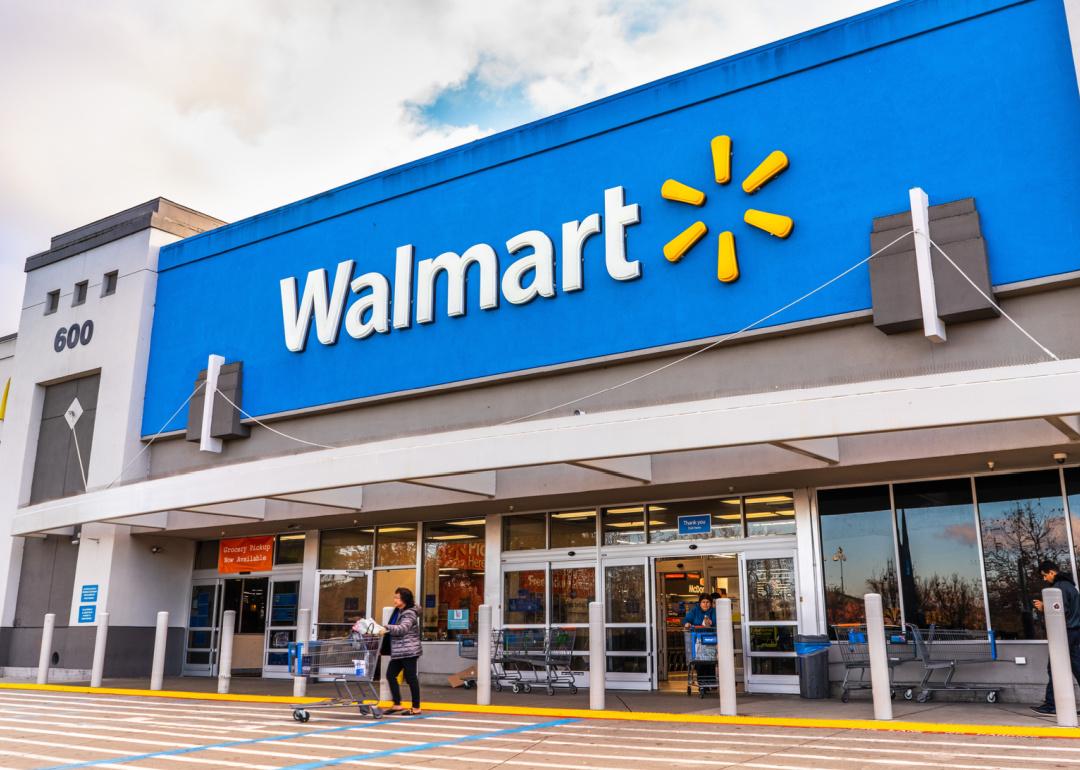 States with the most Walmarts
Sundry Photography // Shutterstock
States with the most Walmarts
Much like baseball and Fourth of July cookouts, the United States' largest company, Walmart, has become an American emblem. The stores represent something of a melting pot in their own right, since you can find practically anything for an affordable price under one roof.
With more than $500 billion in reported revenue, the retail supercenter and convenience store giants have made more than double ExxonMobil's $244 billion, making them the top dog in American corporate history. While this immense financial success is the result of shoppers across all 50 states, certain locations have more shopping centers than others, contributing disproportionately to the total number.
Using data from its corporate site, Stacker listed the states with the most Walmart locations. States with the same number of stores are considered "ties."
Read on to see how many Walmarts there are in your home state.
ALSO: Click here to see where Walmart ranks among the most valuable companies in the world.
#52. District of Columbia
Total Walmart stores: 3
Total sales associates: not reported
Average hourly wage: not reported
Donations to local community organizations: not reported
Walmarts per 100,000 people: 0.43
#51. Vermont
Total Walmart stores: 6
Total sales associates: 1,216
Average hourly wage: $13.8
Donations to local community organizations: $465,603
Walmarts per 100,000 people: 0.96
#50. Rhode Island
Total Walmart stores: 9
Total sales associates: 2,368
Average hourly wage: $13.84
Donations to local community organizations: $1.33 million
Walmarts per 100,000 people: 0.85
#49. Delaware
Total Walmart stores: 10
Total sales associates: 4,485
Average hourly wage: $13.04
Donations to local community organizations: $1.20 million
Walmarts per 100,000 people: 1.04
#47. Alaska (tie)
Total Walmart stores: 12
Total sales associates: 2,982
Average hourly wage: $14.98
Donations to local community organizations: $2.37 million
Walmarts per 100,000 people: 1.62
#47. Hawaii (tie)
Total Walmart stores: 12
Total sales associates: 4,126
Average hourly wage: $15.91
Donations to local community organizations: $1.75 million
Walmarts per 100,000 people: 0.84
#46. Wyoming
Total Walmart stores: 14
Total sales associates: 4,648
Average hourly wage: $13.91
Donations to local community organizations: $6.84 million
Walmarts per 100,000 people: 2.42
#45. Montana
Total Walmart stores: 16
Total sales associates: 4,861
Average hourly wage: $13.8
Donations to local community organizations: $4.25 million
Walmarts per 100,000 people: 1.52
#43. North Dakota (tie)
Total Walmart stores: 17
Total sales associates: 4,727
Average hourly wage: $15.84
Donations to local community organizations: $3.40 million
Walmarts per 100,000 people: 2.25
#43. South Dakota (tie)
Total Walmart stores: 17
Total sales associates: 5,301
Average hourly wage: $14.27
Donations to local community organizations: $3.49 million
Walmarts per 100,000 people: 1.95
#42. Maine
Total Walmart stores: 25
Total sales associates: 6,773
Average hourly wage: $14.2
Donations to local community organizations: $9.82 million
Walmarts per 100,000 people: 1.87
#41. Idaho
Total Walmart stores: 27
Total sales associates: 7,657
Average hourly wage: $13.45
Donations to local community organizations: $5.50 million
Walmarts per 100,000 people: 1.57
#40. New Hampshire
Total Walmart stores: 29
Total sales associates: 7,593
Average hourly wage: $14.31
Donations to local community organizations: $4.23 million
Walmarts per 100,000 people: 2.16
#39. Connecticut
Total Walmart stores: 36
Total sales associates: 8,760
Average hourly wage: $14.5
Donations to local community organizations: $4.89 million
Walmarts per 100,000 people: 1.00
#38. Puerto Rico
Total Walmart stores: 42
Total sales associates: 13,999
Average hourly wage: $12.22
Donations to local community organizations: $5.54 million
Walmarts per 100,000 people: 1.26
#37. Oregon
Total Walmart stores: 43
Total sales associates: 11,583
Average hourly wage: $14.29
Donations to local community organizations: $8.47 million
Walmarts per 100,000 people: 1.04
#36. West Virginia
Total Walmart stores: 44
Total sales associates: 11,864
Average hourly wage: $13.6
Donations to local community organizations: $9.41 million
Walmarts per 100,000 people: 2.42
#35. Nebraska
Total Walmart stores: 47
Total sales associates: 12,634
Average hourly wage: $14.35
Donations to local community organizations: $7.80 million
Walmarts per 100,000 people: 2.45
#33. Massachusetts (tie)
Total Walmart stores: 50
Total sales associates: 11,921
Average hourly wage: $14.65
Donations to local community organizations: $5.10 million
Walmarts per 100,000 people: 0.73
#33. Nevada (tie)
Total Walmart stores: 50
Total sales associates: 14,175
Average hourly wage: $14.02
Donations to local community organizations: $15.06 million
Walmarts per 100,000 people: 1.67
#32. New Mexico
Total Walmart stores: 53
Total sales associates: 14,201
Average hourly wage: $14.07
Donations to local community organizations: $16.45 million
Walmarts per 100,000 people: 2.54
#31. Utah
Total Walmart stores: 59
Total sales associates: 17,069
Average hourly wage: $14.21
Donations to local community organizations: $15.26 million
Walmarts per 100,000 people: 1.90
#30. Maryland
Total Walmart stores: 61
Total sales associates: 18,111
Average hourly wage: $13.19
Donations to local community organizations: $6.57 million
Walmarts per 100,000 people: 1.01
#28. Iowa (tie)
Total Walmart stores: 68
Total sales associates: 17,486
Average hourly wage: $14.5
Donations to local community organizations: $11.98 million
Walmarts per 100,000 people: 2.16
#28. Washington (tie)
Total Walmart stores: 68
Total sales associates: 19,957
Average hourly wage: $14.48
Donations to local community organizations: $19.12 million
Walmarts per 100,000 people: 0.92
#27. New Jersey
Total Walmart stores: 73
Total sales associates: 20,777
Average hourly wage: $13.93
Donations to local community organizations: $8.10 million
Walmarts per 100,000 people: 0.81
#26. Minnesota
Total Walmart stores: 82
Total sales associates: 22,456
Average hourly wage: $14.31
Donations to local community organizations: $28.56 million
Walmarts per 100,000 people: 1.47
#25. Kansas
Total Walmart stores: 84
Total sales associates: 20,103
Average hourly wage: $13.49
Donations to local community organizations: $11.58 million
Walmarts per 100,000 people: 2.88
#24. Mississippi
Total Walmart stores: 85
Total sales associates: 24,180
Average hourly wage: $13.84
Donations to local community organizations: $13.57 million
Walmarts per 100,000 people: 2.85
#23. Wisconsin
Total Walmart stores: 99
Total sales associates: 30,300
Average hourly wage: $13.75
Donations to local community organizations: $28.03 million
Walmarts per 100,000 people: 1.71
#21. Colorado (tie)
Total Walmart stores: 106
Total sales associates: 27,643
Average hourly wage: $14.2
Donations to local community organizations: $24.66 million
Walmarts per 100,000 people: 1.89
#21. Kentucky (tie)
Total Walmart stores: 106
Total sales associates: 29,554
Average hourly wage: $13.89
Donations to local community organizations: $23.22 million
Walmarts per 100,000 people: 2.38
#20. New York
Total Walmart stores: 115
Total sales associates: 37,282
Average hourly wage: $13.93
Donations to local community organizations: $25.26 million
Walmarts per 100,000 people: 0.58
#19. Michigan
Total Walmart stores: 120
Total sales associates: 31,229
Average hourly wage: $13.46
Donations to local community organizations: $25.86 million
Walmarts per 100,000 people: 1.20
#18. South Carolina
Total Walmart stores: 124
Total sales associates: 32,165
Average hourly wage: $13.71
Donations to local community organizations: $29.62 million
Walmarts per 100,000 people: 2.47
#16. Arizona (tie)
Total Walmart stores: 130
Total sales associates: 33,814
Average hourly wage: $13.89
Donations to local community organizations: $28.08 million
Walmarts per 100,000 people: 1.85
#16. Indiana (tie)
Total Walmart stores: 130
Total sales associates: 39,875
Average hourly wage: $13.57
Donations to local community organizations: $32.33 million
Walmarts per 100,000 people: 1.95
#15. Arkansas
Total Walmart stores: 132
Total sales associates: 52,367
Average hourly wage: $13.47
Donations to local community organizations: $64.31 million
Walmarts per 100,000 people: 4.39
#14. Oklahoma
Total Walmart stores: 135
Total sales associates: 32,713
Average hourly wage: $13.21
Donations to local community organizations: $588.7 million
Walmarts per 100,000 people: 3.43
#13. Louisiana
Total Walmart stores: 138
Total sales associates: 36,309
Average hourly wage: $13.76
Donations to local community organizations: $28.86 million
Walmarts per 100,000 people: 2.95
#12. Alabama
Total Walmart stores: 145
Total sales associates: 37,207
Average hourly wage: $13.63
Donations to local community organizations: $30.29 million
Walmarts per 100,000 people: 2.97
#10. Tennessee (tie)
Total Walmart stores: 155
Total sales associates: 40,598
Average hourly wage: $13.69
Donations to local community organizations: $36.37 million
Walmarts per 100,000 people: 2.31
#10. Virginia (tie)
Total Walmart stores: 155
Total sales associates: 43,623
Average hourly wage: $13.54
Donations to local community organizations: $37.45 million
Walmarts per 100,000 people: 1.83
#9. Missouri
Total Walmart stores: 156
Total sales associates: 42,029
Average hourly wage: $13.56
Donations to local community organizations: $46.08 million
Walmarts per 100,000 people: 2.55
#8. Pennsylvania
Total Walmart stores: 161
Total sales associates: 52,338
Average hourly wage: $13.68
Donations to local community organizations: $29.45 million
Walmarts per 100,000 people: 1.26
#7. Ohio
Total Walmart stores: 172
Total sales associates: 50,186
Average hourly wage: $13.64
Donations to local community organizations: $43.72 million
Walmarts per 100,000 people: 1.48
#6. Illinois
Total Walmart stores: 194
Total sales associates: 53,687
Average hourly wage: $ $13.60
Donations to local community organizations: $46.57 million
Walmarts per 100,000 people: 1.52
#5. Georgia
Total Walmart stores: 215
Total sales associates: 60,002
Average hourly wage: $ $13.99
Donations to local community organizations: $43.88 million
Walmarts per 100,000 people: 2.06
#4. North Carolina
Total Walmart stores: 219
Total sales associates: 57,785
Average hourly wage: $13.87
Donations to local community organizations: $52.77 million
Walmarts per 100,000 people: 2.13
#3. California
Total Walmart stores: 306
Total sales associates: 89,881
Average hourly wage: $14.35
Donations to local community organizations: $61.19 million
Walmarts per 100,000 people: 0.77
#2. Florida
Total Walmart stores: 383
Total sales associates: 107,460
Average hourly wage: $13.72
Donations to local community organizations: $82.75 million
Walmarts per 100,000 people: 1.83
#1. Texas
Total Walmart stores: 599
Total sales associates: 168,403
Average hourly wage: $13.39
Donations to local community organizations: $113.90 million
Walmarts per 100,000 people: 2.12