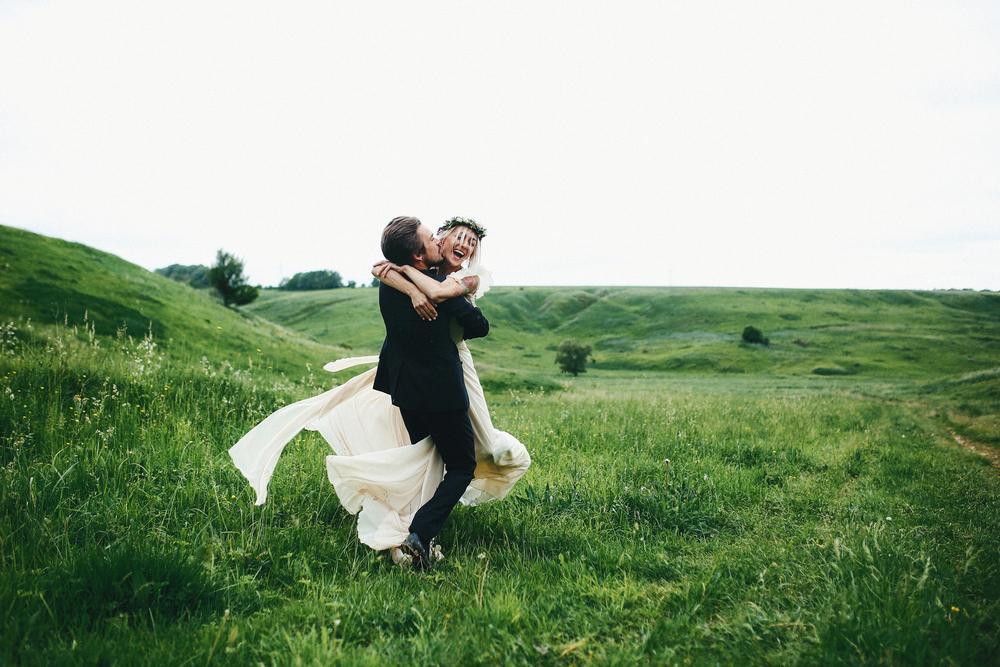 States where people get married the youngest
jujikrivne // Shutterstock
States where people get married the youngest
Ah, to be young and in love–there is nothing quite like it.  Throughout the ages, finding a partner and settling down has been one of life's greatest rites of passage, as young adults routinely listed finding a husband or wife as a top reason for attending college. But the times they are a-changin', and marriage rates have been in decline for decades, currently stagnating around 7% annually–their lowest in recorded history.
Still, though the national average may be affected by changing attitudes towards marriage across the country, looking at more granular state-by-state data shows how different American life can be from region to region. Indeed, the average age for marriage in some states is a full four years younger than others, accounting for over a 20% difference in median age of marriage.
To help depict trends across the country, Stacker analyzed census data from the 2016 American Community Survey on median age at first marriage. The census surveyed first marriage ages for both males and females and reported the median age for both genders in each state (including Washington D.C. and Puerto Rico), and the average of these was used to generate the overall value for ranking each state. Read on to see where your state stacks up.
#52. Washington D.C.
Average median age at first marriage: 30.3 (6.1% above national median)
Male median age at first marriage: 30.3 (2.7% above national median)
Female median age at first marriage: 30.3 (9.8% above national median)
Difference between male and female medians: 0 years
#51. Rhode Island
Average median age at first marriage: 30.2 (5.8% above national median)
Male median age at first marriage: 30.7 (4.1% above national median)
Female median age at first marriage: 29.6 (7.2% above national median)
Difference between male and female medians: 1.1 years
#50. New York
Average median age at first marriage: 30.2 (5.8% above national median)
Male median age at first marriage: 30.8 (4.4% above national median)
Female median age at first marriage: 29.5 (6.9% above national median)
Difference between male and female medians: 1.3 years
#49. Massachusetts
Average median age at first marriage: 30.2 (5.8% above national median)
Male median age at first marriage: 30.8 (4.4% above national median)
Female median age at first marriage: 29.6 (7.2% above national median)
Difference between male and female medians: 1.2 years
#48. Puerto Rico
Average median age at first marriage: 30 (5.1% above national median)
Male median age at first marriage: 30.8 (4.4% above national median)
Female median age at first marriage: 29.2 (5.8% above national median)
Difference between male and female medians: 1.6 years
#47. Connecticut
Average median age at first marriage: 29.9 (4.7% above national median)
Male median age at first marriage: 30.7 (4.1% above national median)
Female median age at first marriage: 29.1 (5.4% above national median)
Difference between male and female medians: 1.6 years
#46. New Jersey
Average median age at first marriage: 29.8 (4.4% above national median)
Male median age at first marriage: 30.6 (3.7% above national median)
Female median age at first marriage: 29 (5.1% above national median)
Difference between male and female medians: 1.6 years
#45. Vermont
Average median age at first marriage: 29.5 (3.3% above national median)
Male median age at first marriage: 30.6 (3.7% above national median)
Female median age at first marriage: 28.3 (2.5% above national median)
Difference between male and female medians: 2.3 years
#44. Maryland
Average median age at first marriage: 29.4 (3% above national median)
Male median age at first marriage: 30.2 (2.4% above national median)
Female median age at first marriage: 28.6 (3.6% above national median)
Difference between male and female medians: 1.6 years
#43. Florida
Average median age at first marriage: 29.3 (2.6% above national median)
Male median age at first marriage: 30.3 (2.7% above national median)
Female median age at first marriage: 28.3 (2.5% above national median)
Difference between male and female medians: 2 years
#42. Delaware
Average median age at first marriage: 29.3 (2.6% above national median)
Male median age at first marriage: 30.2 (2.4% above national median)
Female median age at first marriage: 28.4 (2.9% above national median)
Difference between male and female medians: 1.8 years
#41. California
Average median age at first marriage: 29.3 (2.6% above national median)
Male median age at first marriage: 30.3 (2.7% above national median)
Female median age at first marriage: 28.3 (2.5% above national median)
Difference between male and female medians: 2 years
#40. Pennsylvania
Average median age at first marriage: 29.2 (2.3% above national median)
Male median age at first marriage: 30 (1.7% above national median)
Female median age at first marriage: 28.4 (2.9% above national median)
Difference between male and female medians: 1.6 years
#39. Illinois
Average median age at first marriage: 29.2 (2.3% above national median)
Male median age at first marriage: 30 (1.7% above national median)
Female median age at first marriage: 28.4 (2.9% above national median)
Difference between male and female medians: 1.6 years
#38. New Hampshire
Average median age at first marriage: 29 (1.6% above national median)
Male median age at first marriage: 30.1 (2% above national median)
Female median age at first marriage: 27.9 (1.1% above national median)
Difference between male and female medians: 2.2 years
#37. Michigan
Average median age at first marriage: 28.8 (0.9% above national median)
Male median age at first marriage: 29.8 (1% above national median)
Female median age at first marriage: 27.7 (0.4% above national median)
Difference between male and female medians: 2.1 years
#36. Oregon
Average median age at first marriage: 28.6 (0.2% above national median)
Male median age at first marriage: 29.5 (matches national median)
Female median age at first marriage: 27.6 (matches national median)
Difference between male and female medians: 1.9 years
#35. South Carolina
Average median age at first marriage: 28.5 (0.2% below national median)
Male median age at first marriage: 29.2 (1% below national median)
Female median age at first marriage: 27.7 (0.4% above national median)
Difference between male and female medians: 1.5 years
#34. Wisconsin
Average median age at first marriage: 28.4 (0.5% below national median)
Male median age at first marriage: 29.3 (0.7% below national median)
Female median age at first marriage: 27.4 (0.7% below national median)
Difference between male and female medians: 1.9 years
#33. Ohio
Average median age at first marriage: 28.4 (0.5% below national median)
Male median age at first marriage: 29.3 (0.7% below national median)
Female median age at first marriage: 27.4 (0.7% below national median)
Difference between male and female medians: 1.9 years
#32. Louisiana
Average median age at first marriage: 28.4 (0.5% below national median)
Male median age at first marriage: 29.3 (0.7% below national median)
Female median age at first marriage: 27.5 (0.4% below national median)
Difference between male and female medians: 1.8 years
#31. Arizona
Average median age at first marriage: 28.4 (0.5% below national median)
Male median age at first marriage: 29.4 (0.3% below national median)
Female median age at first marriage: 27.4 (0.7% below national median)
Difference between male and female medians: 2 years
#30. Minnesota
Average median age at first marriage: 28.3 (0.9% below national median)
Male median age at first marriage: 29.3 (0.7% below national median)
Female median age at first marriage: 27.2 (1.4% below national median)
Difference between male and female medians: 2.1 years
#29. Maine
Average median age at first marriage: 28.3 (0.9% below national median)
Male median age at first marriage: 29.4 (0.3% below national median)
Female median age at first marriage: 27.1 (1.8% below national median)
Difference between male and female medians: 2.3 years
#28. Virginia
Average median age at first marriage: 28.2 (1.2% below national median)
Male median age at first marriage: 29.2 (1% below national median)
Female median age at first marriage: 27.2 (1.4% below national median)
Difference between male and female medians: 2 years
#27. Nevada
Average median age at first marriage: 28.2 (1.2% below national median)
Male median age at first marriage: 29.2 (1% below national median)
Female median age at first marriage: 27.2 (1.4% below national median)
Difference between male and female medians: 2 years
#26. Hawaii
Average median age at first marriage: 28.1 (1.6% below national median)
Male median age at first marriage: 28.6 (3.1% below national median)
Female median age at first marriage: 27.5 (0.4% below national median)
Difference between male and female medians: 1.1 years
#25. Georgia
Average median age at first marriage: 28.1 (1.6% below national median)
Male median age at first marriage: 29 (1.7% below national median)
Female median age at first marriage: 27.2 (1.4% below national median)
Difference between male and female medians: 1.8 years
#24. North Carolina
Average median age at first marriage: 28 (1.9% below national median)
Male median age at first marriage: 28.8 (2.4% below national median)
Female median age at first marriage: 27.1 (1.8% below national median)
Difference between male and female medians: 1.7 years
#23. Washington
Average median age at first marriage: 27.9 (2.3% below national median)
Male median age at first marriage: 29 (1.7% below national median)
Female median age at first marriage: 26.8 (2.9% below national median)
Difference between male and female medians: 2.2 years
#22. Colorado
Average median age at first marriage: 27.9 (2.3% below national median)
Male median age at first marriage: 28.9 (2% below national median)
Female median age at first marriage: 26.9 (2.5% below national median)
Difference between male and female medians: 2 years
#21. New Mexico
Average median age at first marriage: 27.8 (2.6% below national median)
Male median age at first marriage: 28.4 (3.7% below national median)
Female median age at first marriage: 27.2 (1.4% below national median)
Difference between male and female medians: 1.2 years
#20. Montana
Average median age at first marriage: 27.5 (3.7% below national median)
Male median age at first marriage: 28.6 (3.1% below national median)
Female median age at first marriage: 26.4 (4.3% below national median)
Difference between male and female medians: 2.2 years
#19. Missouri
Average median age at first marriage: 27.5 (3.7% below national median)
Male median age at first marriage: 28.2 (4.4% below national median)
Female median age at first marriage: 26.8 (2.9% below national median)
Difference between male and female medians: 1.4 years
#18. Mississippi
Average median age at first marriage: 27.5 (3.7% below national median)
Male median age at first marriage: 28.4 (3.7% below national median)
Female median age at first marriage: 26.6 (3.6% below national median)
Difference between male and female medians: 1.8 years
#17. Indiana
Average median age at first marriage: 27.5 (3.7% below national median)
Male median age at first marriage: 28.4 (3.7% below national median)
Female median age at first marriage: 26.6 (3.6% below national median)
Difference between male and female medians: 1.8 years
#16. Alaska
Average median age at first marriage: 27.5 (3.7% below national median)
Male median age at first marriage: 29 (1.7% below national median)
Female median age at first marriage: 26 (5.8% below national median)
Difference between male and female medians: 3 years
#15. Texas
Average median age at first marriage: 27.4 (4.% below national median)
Male median age at first marriage: 28.3 (4.1% below national median)
Female median age at first marriage: 26.5 (4.% below national median)
Difference between male and female medians: 1.8 years
#14. Tennessee
Average median age at first marriage: 27.4 (4.% below national median)
Male median age at first marriage: 28.2 (4.4% below national median)
Female median age at first marriage: 26.5 (4.% below national median)
Difference between male and female medians: 1.7 years
#13. West Virginia
Average median age at first marriage: 27.2 (4.7% below national median)
Male median age at first marriage: 28.3 (4.1% below national median)
Female median age at first marriage: 26.1 (5.4% below national median)
Difference between male and female medians: 2.2 years
#12. Iowa
Average median age at first marriage: 27.2 (4.7% below national median)
Male median age at first marriage: 28.1 (4.7% below national median)
Female median age at first marriage: 26.2 (5.1% below national median)
Difference between male and female medians: 1.9 years
#11. Nebraska
Average median age at first marriage: 27.1 (5.1% below national median)
Male median age at first marriage: 28 (5.1% below national median)
Female median age at first marriage: 26.2 (5.1% below national median)
Difference between male and female medians: 1.8 years
#10. Alabama
Average median age at first marriage: 27.1 (5.1% below national median)
Male median age at first marriage: 27.9 (5.4% below national median)
Female median age at first marriage: 26.3 (4.7% below national median)
Difference between male and female medians: 1.6 years
#9. Kentucky
Average median age at first marriage: 26.9 (5.8% below national median)
Male median age at first marriage: 27.8 (5.8% below national median)
Female median age at first marriage: 25.9 (6.2% below national median)
Difference between male and female medians: 1.9 years
#8. North Dakota
Average median age at first marriage: 26.8 (6.1% below national median)
Male median age at first marriage: 27.6 (6.4% below national median)
Female median age at first marriage: 25.9 (6.2% below national median)
Difference between male and female medians: 1.7 years
#7. Wyoming
Average median age at first marriage: 26.7 (6.5% below national median)
Male median age at first marriage: 27.6 (6.4% below national median)
Female median age at first marriage: 25.7 (6.9% below national median)
Difference between male and female medians: 1.9 years
#6. South Dakota
Average median age at first marriage: 26.7 (6.5% below national median)
Male median age at first marriage: 27.5 (6.8% below national median)
Female median age at first marriage: 25.9 (6.2% below national median)
Difference between male and female medians: 1.6 years
#5. Kansas
Average median age at first marriage: 26.7 (6.5% below national median)
Male median age at first marriage: 27.5 (6.8% below national median)
Female median age at first marriage: 25.9 (6.2% below national median)
Difference between male and female medians: 1.6 years
#4. Oklahoma
Average median age at first marriage: 26.4 (7.5% below national median)
Male median age at first marriage: 27.2 (7.8% below national median)
Female median age at first marriage: 25.5 (7.6% below national median)
Difference between male and female medians: 1.7 years
#3. Arkansas
Average median age at first marriage: 26.3 (7.9% below national median)
Male median age at first marriage: 27.2 (7.8% below national median)
Female median age at first marriage: 25.4 (8.% below national median)
Difference between male and female medians: 1.8 years
#2. Idaho
Average median age at first marriage: 25.8 (9.6% below national median)
Male median age at first marriage: 26.7 (9.5% below national median)
Female median age at first marriage: 24.9 (9.8% below national median)
Difference between male and female medians: 1.8 years
#1. Utah
Average median age at first marriage: 25.2 (11.7% below national median)
Male median age at first marriage: 26.2 (11.2% below national median)
Female median age at first marriage: 24.2 (12.3% below national median)
Difference between male and female medians: 2 years