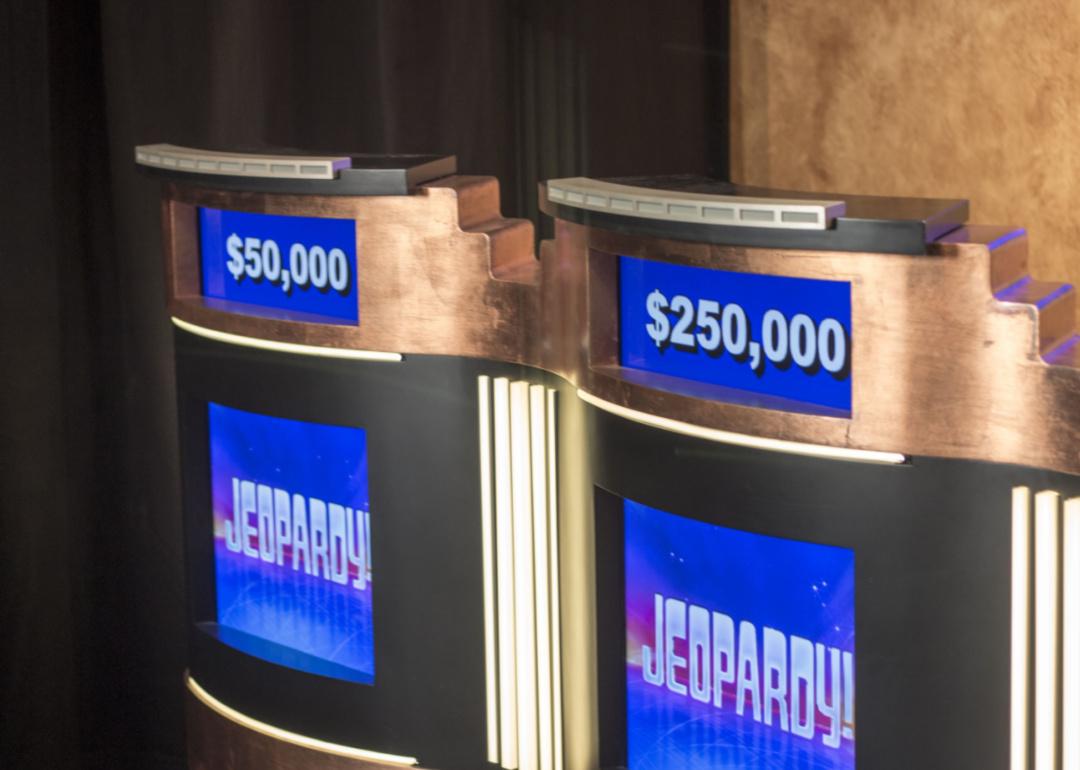 Which state is this 'Jeopardy!' clue about?
Ryan J. Thompson // Shutterstock
Which state is this 'Jeopardy!' clue about?
There are few game shows as revered as "Jeopardy!"—helmed by one of America's most-adored television personalities, Alex Trebek. Trebek took on hosting responsibilities forthe popular game show since 1984, two decades after the show's premiere. "Jeopardy!" is taped 46 days out of every year, with Trebek changing suits five times each of those days to account for each episode being filmed. To date, he has hosted more than 7,000 shows. His dedication to the game show (unless there's a Lakers game on TV, he says he dutifully watches the show every night) has paid off: "Jeopardy!" is the proud bearer of more Emmy Awards than any other game show and more than 9 million viewers who tune in each week to play along.
"Jeopardy!" withstood two cancellations before Trebek came on board, and the game show has become synonymous with his name—making his disclosure in 2019 of having stage 4 pancreatic cancer all the more difficult for his faithful fans. 
To celebrate all things "Jeopardy!" and Trebek, Stacker turned to the fan-created "Jeopardy!" Archive and found three clues for each of the 50 states from the questions curated there. The states are in no particular order, making readers' tasks a true challenge: to guess which state each set of three clues—covering geography, history, pop culture, and everything in between—corresponds with. Think you have what it takes? Click through to put your state knowledge to the test and see if you have the mettle to be a "Jeopardy!" champion—even if you can't beat Ken Jennings' 74-game winning streak.
You may also like: Can you answer these real 'Jeopardy!' clues about your state?