2020 climate disasters in 50 photos
2020 climate disasters in 50 photos
After nearly 20 years of mega-drought, California's 2020 wildfire season has been the worst on record. More than 4 million acres of California have burned so far this year, with one fire reaching newly classified "gigafire" status as it surpassed 1 million acres. To the north, Oregon has experienced fires in places that rarely catch fire. Smoke blanketed the sky so thickly that some residents didn't see blue for days.
Another record has been broken: that of named tropical storms. After running out of the alphabetical list of names for tropical storms, new storms have been named after the Greek alphabet. Tropical storm Delta hit the Gulf Coast in early October; it will only take three more storms until 2020 is officially the most active hurricane season—which ends Nov. 30—on record.
Those tropical storms have repeatedly battered U.S. coastal regions from the Gulf Coast to the far East Coast. Delta was Louisiana's seventh storm to make landfall. Just six weeks earlier, Hurricane Laura was especially catastrophic, killing at least 77 people across its path of Haiti, the Dominican Republic, and the United States, where its landfall in Louisiana set the record of the most powerful storm in the state's history.
The Midwest experienced a rare group of storms called "derechos" in August, with hurricane-like conditions and winds that reached up to 112 mph in Iowa, where it pulled roofs from homes, toppled deep-rooted trees, flattened crops, cracked powerlines like toothpicks, and killed two people. Thousands across Iowa, Indiana, and Illinois were without power for days.
All summer long cities across the United States experienced record-setting heat. Across the South and especially in Texas and Florida, cities experienced more days of extreme heat. California's Death Valley hit 130 degrees Fahrenheit in August, the hottest the Earth has been in nearly a century.
Between June and September in the United States, scientists at the National Centers for Environmental Information estimate that weather disasters have amounted to $16 billion in damages. In its Fifth Assessment Report, the Intergovernmental Panel on Climate Change highlighted the widespread extreme weather events: "Recent climate changes and individual extreme events demonstrate both impacts of climate-related stresses and vulnerabilities of exposed systems," its North American summary stated.
While the United States has faced a particularly tumultuous year of climate disasters, the rest of the globe has experienced an equal share of destruction and weather-related grief, as these notable photographs will show.
Devastating wildfires hit Australia, the Amazon, Siberian forests, Indonesia, and Argentina so far this year. Though the Pacific typhoon season has been uncharacteristically quiet in 2020, the typhoons that have hit the region have resulted in several deaths, flash flooding, and billions in damage. Parts of England were also inundated with flooding. Siberia, synonymous with frigid temperatures, hit 100 degrees Fahrenheit in June, accompanied by wildfires.
Photos of nature and human habitats destroyed or dramatically altered due to climate disasters capture the catastrophic results better than words. Stacker has compiled 2020's most notable weather into 50 photos.
Read on to view photos of this year's climate disasters, with most occurring while countries have been battling the COVID-19 pandemic as well.
You may also like: Cities before conflict: what it was like to visit Juarez, Tehran, and 13 other afflicted places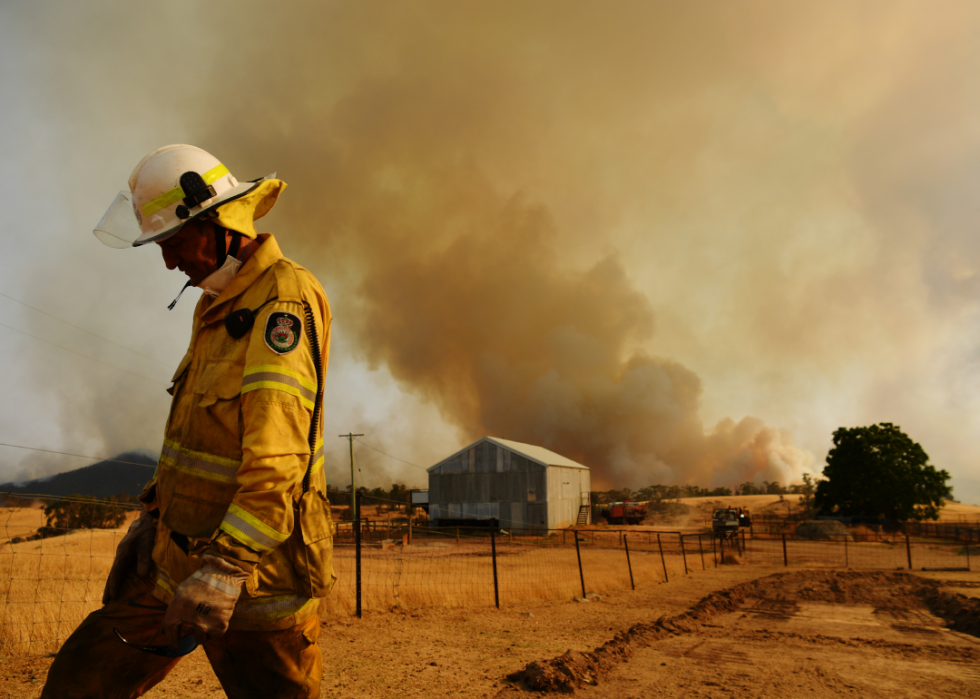 1 / 50
Unprecedented Australian wildfires
Rural Fire Service firefighter Trevor Stewart views a flank of a fire on Jan. 11, in Tumbarumba, Australia. Cooler temperatures forecasted for the next seven days brought some reprieve to firefighters in New South Wales following weeks of emergency level bushfires across the state.
Across Australia, 20 people died in the bushfires, including three volunteer firefighters. About 2,079 homes were destroyed this bushfire season, more than half of them since Jan. 1, and 830 homes were damaged.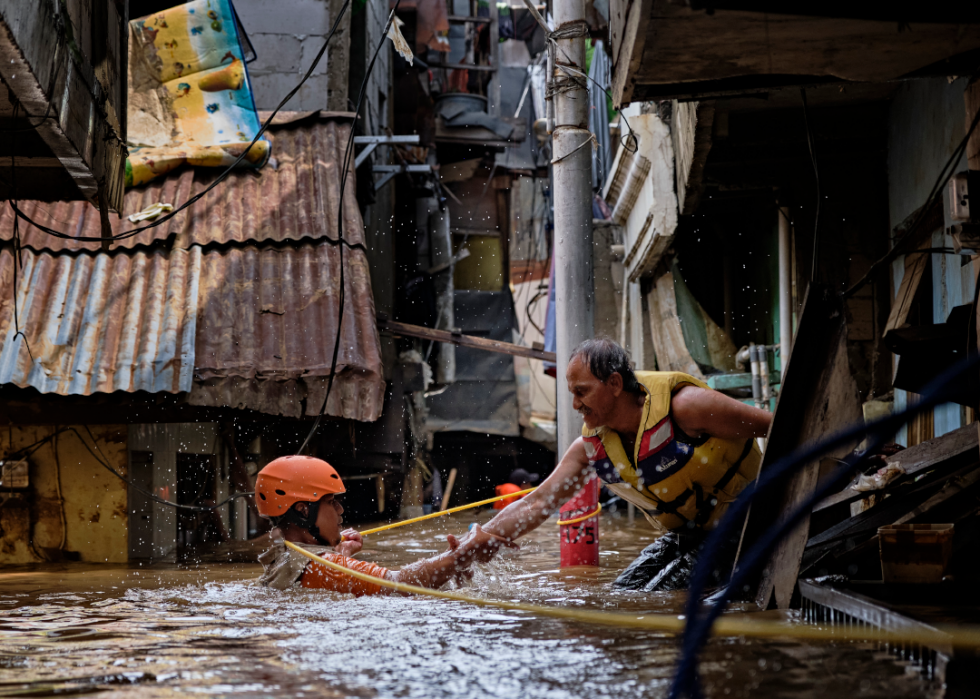 2 / 50
Deadly flash floods in Jakarta
A rescue worker helps his colleague as they navigate through a flooded neighborhood in Jakarta, Indonesia, on Jan. 2. Flooding caused by record-breaking amounts of rain left at least 17 people dead and tens of thousands displaced from their homes as the city, which is nearly 40% below sea level, prepared for continued rains.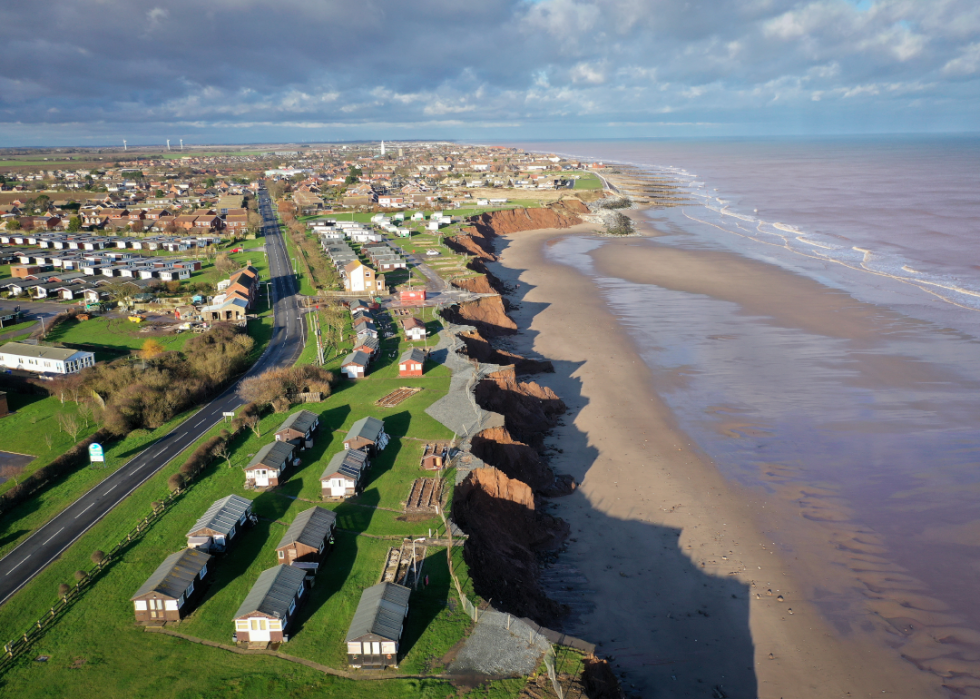 3 / 50
Christopher Furlong // Getty Images
Coastal erosion in the United Kingdom
The effects of global warming have created storms and sea swells that have seen the East Coast of the United Kingdom lose approximately 3 feet of coast line each year. Holiday chalets abandoned due to coastal erosion wait to be demolished or taken by the sea in the village of Withernsea in the East Riding of Yorkshire on Jan 9. Landslips and cliff falls caused by waterlogged land and sea erosion has claimed hundreds of roads, homes, and holiday accommodations.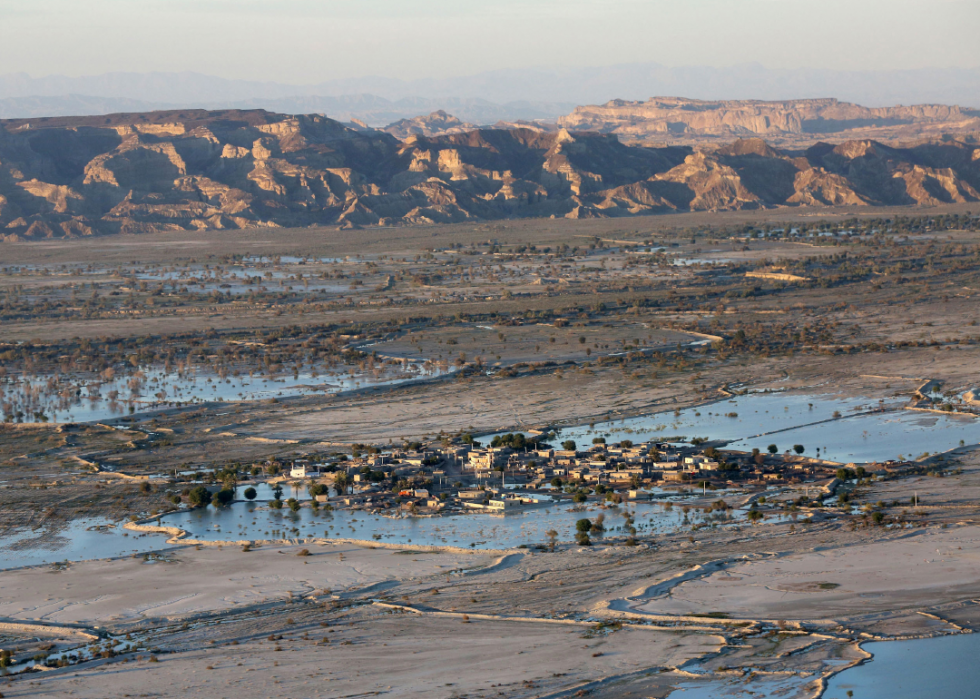 4 / 50
ALIREZA MASOUMI/ISNA/AFP // Getty Images
Deadly floods in Iran
On Jan. 13, rain water covered the village of Dashtiari as floods ravaged Iran's Sistan-Baluchistan region. The severe downpours led to floods across the entire area, blocking nearly 900 roads, cutting off electricity in 877 villages, and damaging homes and irrigation canal networks.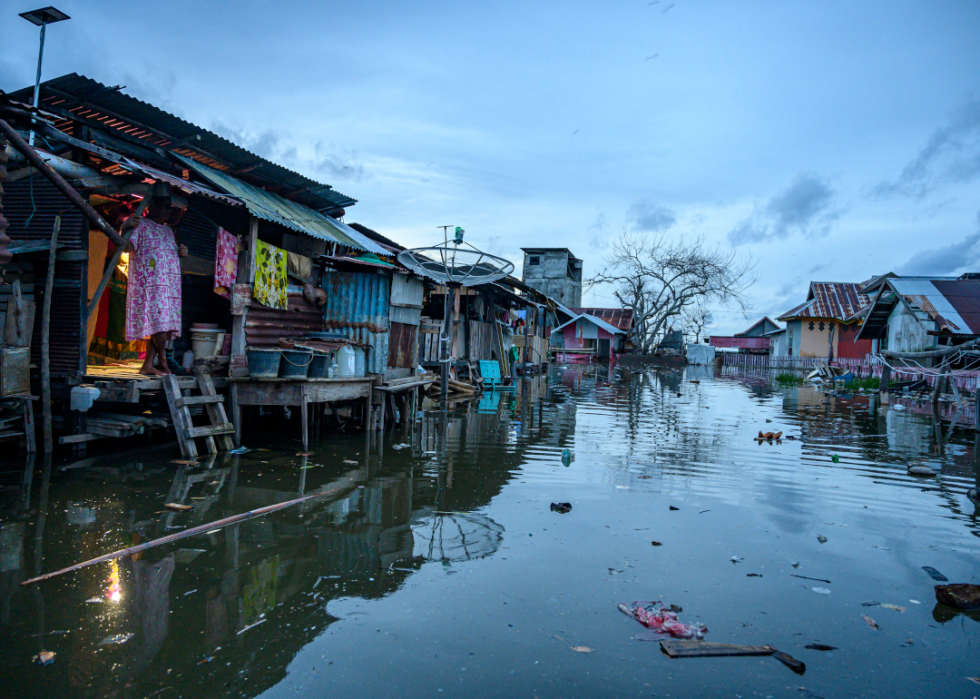 5 / 50
Basri Marzuki/NurPhoto // Getty Images
Tidal flooding in Sulawesi
Since a 7.4 magnitude earthquake hit the center of Tompe Village in the Sirenja District, Donggala Regency, Central Sulawesi Province, Indonesia, on Sept. 28, 2018, a decrease in land surface as deep as 6 feet—due to landslides and watershed degradation—has caused tidal floods and sea tides to enter residential areas every two weeks. On Jan. 12, local residents were forced to flee to higher ground during the flooding, only to return to their homes as the water receded.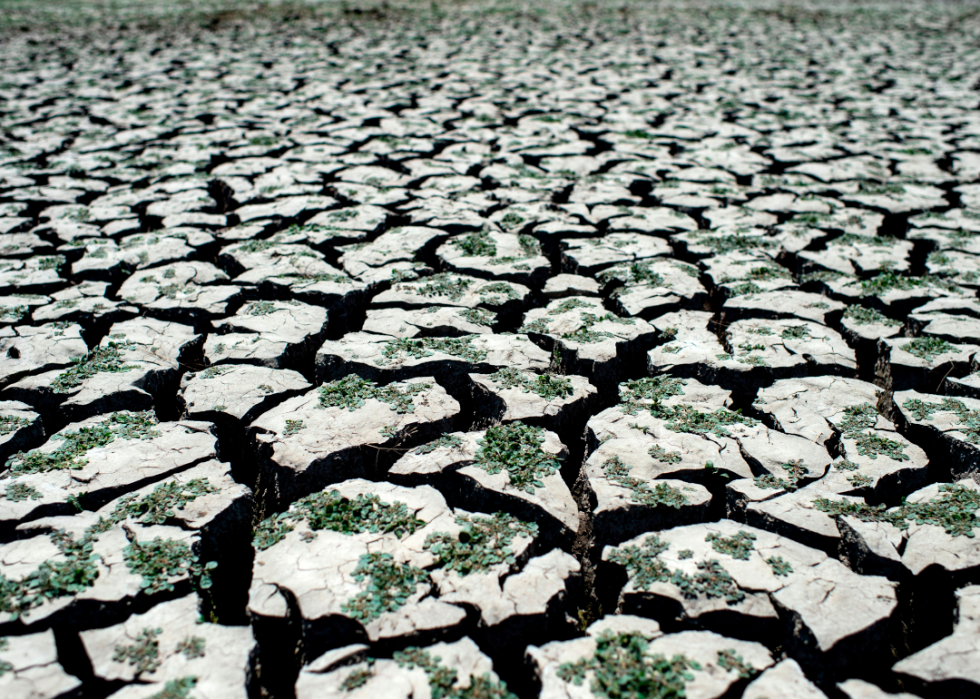 6 / 50
MARTIN BERNETTI/AFP // Getty Images
Drought in Chile
View of a dried area of the Penuelas Lake in Valparaiso, Chile, on Jan. 22. Flows of rivers and reservoirs have reached historic minimums in Chile. A severe drought hit the country's central area, making local communities more vulnerable to face the coronavirus pandemic.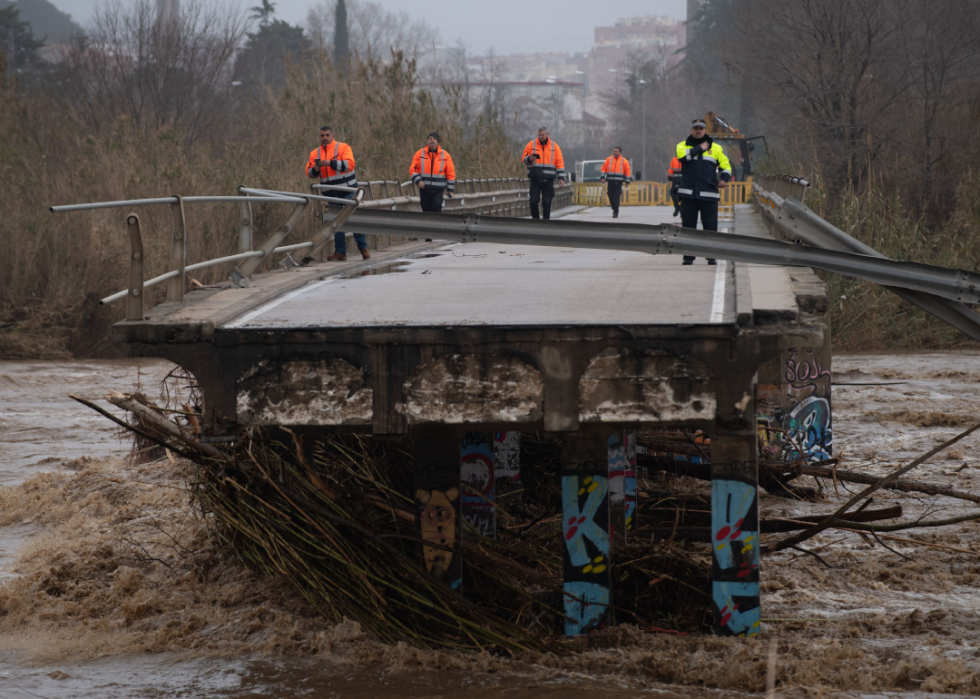 7 / 50
JOSEP LAGO/AFP // Getty Images
Storm Gloria in Spain
Policemen and security members walk on a fallen bridge in Malgrat de Mar, near Girona, Spain, on Jan. 22, as Storm Gloria battered the country's eastern coast. A winter storm, which killed at least 12 people, lashed much of eastern Spain for three days, cutting power, forcing the closure of schools, and severing road and rail links.
National weather agency Aemet placed most of northeastern Spain on alert because of the storm packing wind gusts of over 60 mph, heavy snowfall, freezing rain, and massive waves that smashed into seafront promenades, and damaged shops and restaurants.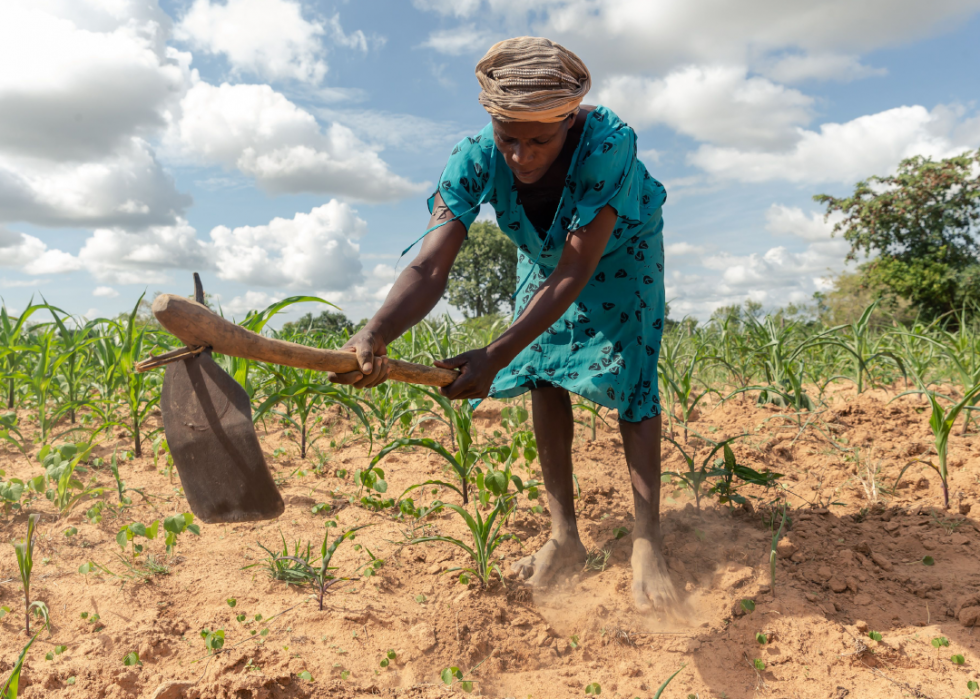 8 / 50
JEKESAI NJIKIZANA/AFP // Getty Images
Ongoing drought causes severe food insecurity in Zimbabwe
Josephine Ganye works in her wilting and stunted maize fields caused by the unrelenting heat and poor rainfall in southern Africa's drought-prone Buhera, Zimbabwe, on Jan 28.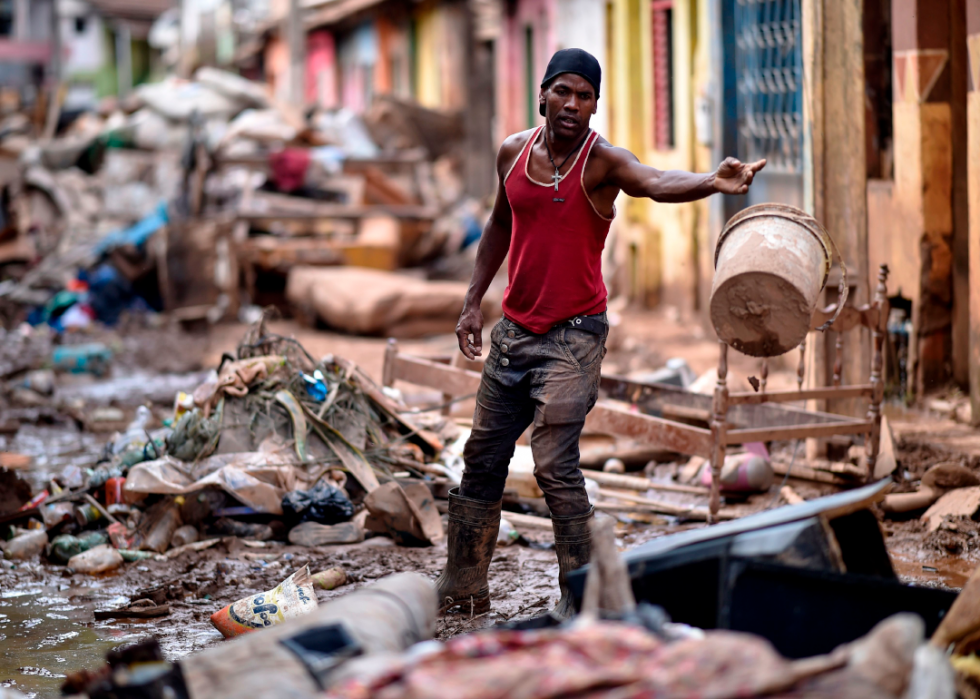 9 / 50
DOUGLAS MAGNO/AFP // Getty Images
Catastrophic rain, landslides, and flooding in Brazil
Wanderley Vieira attempts to clear up rubble following the overflow of the Da Prata stream due to torrential rains in Raposos, a metropolitan region of Belo Horizonte, Minas Gerais state, Brazil, on Jan. 28. The death toll from days of intense storms and flooding in southeastern Brazil rose to 45, while 12 were injured, according to local civil defense officials.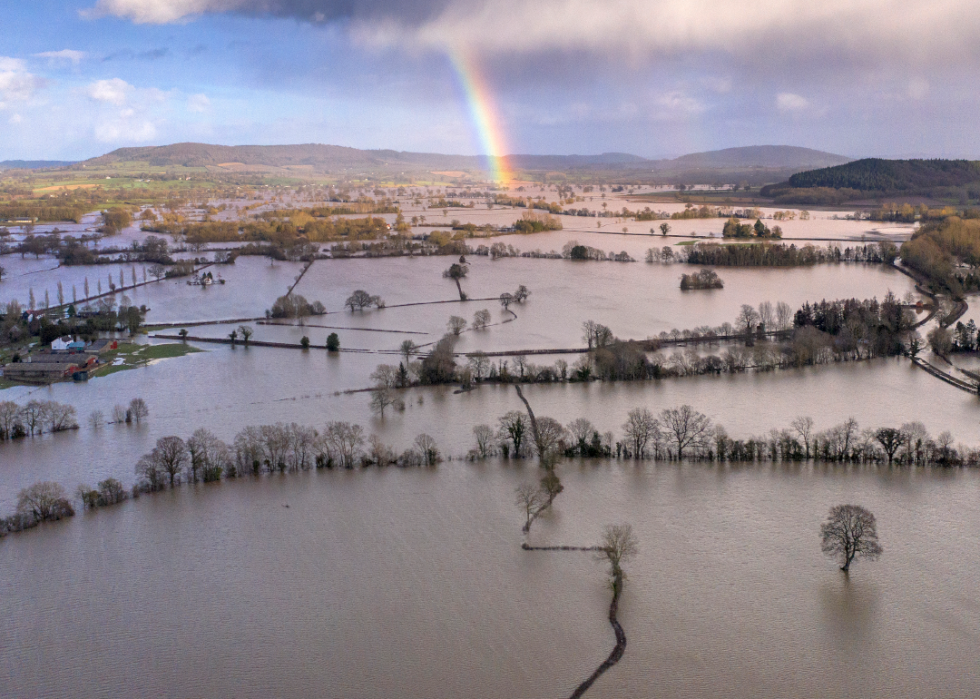 10 / 50
Christopher Furlong // Getty Images
Storm Dennis causes record-breaking floods in the United Kingdom
A rainbow appears over flooded fields on Feb. 17, in the Wye Valley, near the hamlet of Wellesley, following Storm Dennis in Hereford, England. Storm Dennis was the second named storm to bring extreme weather to the area in a week and followed in the aftermath of Storm Ciara.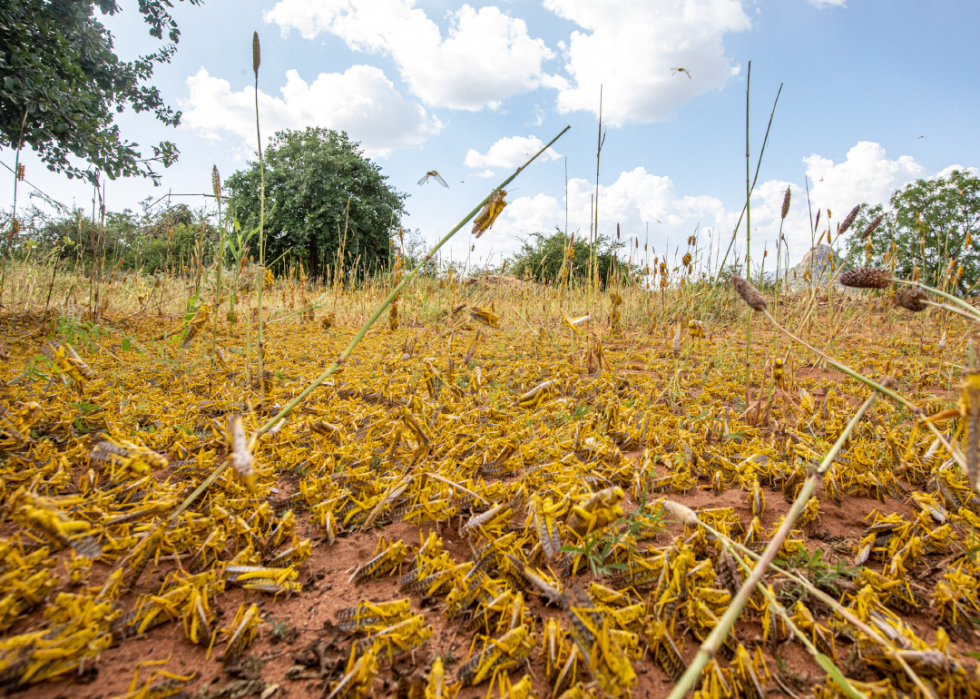 11 / 50
Xinhua/Zhang Yu // Getty Images
Massive locust swarms in Kenya
A swarm of desert locusts invade parts of Mwingi Town in Kitui County, Kenya, on Feb. 20. Extreme weather events due to the climate crisis have become the new normal in the Horn of Africa as heavy rains and cyclonic activity resulted in a desert locust upsurge that has affected countries in the region and beyond, according to the United Nations Office for the Coordination of Humanitarian Affairs.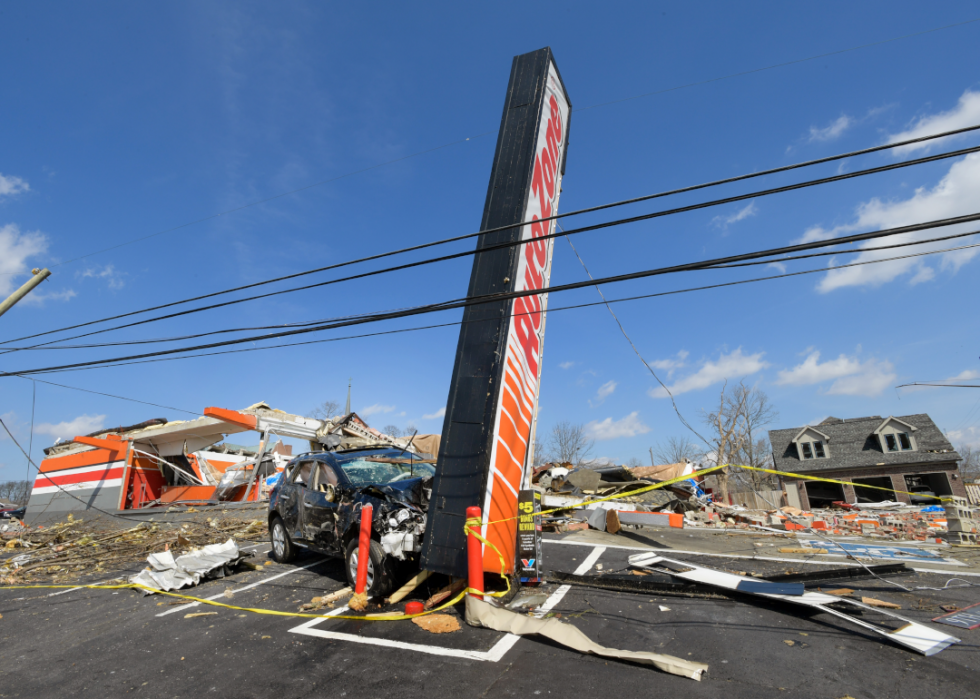 12 / 50
Jason Kempin // Getty Images
Tornado outbreaks in Southeastern United States
Devastating tornadoes damaged buildings in the Germantown neighborhood of Nashville, Tennessee, on March 3. At least 25 people were killed after overnight tornadoes ripped across Tennessee, causing widespread damage throughout the state.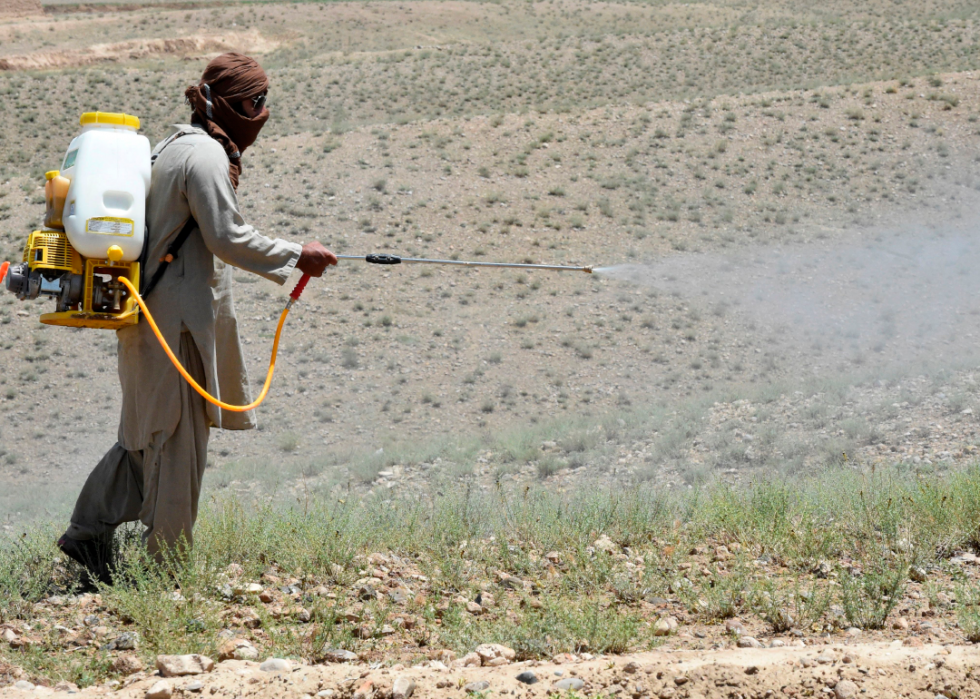 13 / 50
BANARAS KHAN/AFP // Getty Images
Locust plague in South Asia
On May 14, an official of the Agriculture Department sprays pesticides to kill locusts in a field in the Pishin district, some 37 miles from Quetta, Pakistan. Area farmers struggle to combat the worst locust plague in nearly three decades as insect swarms decimate entire harvests in the country's agricultural heartlands and send food prices soaring.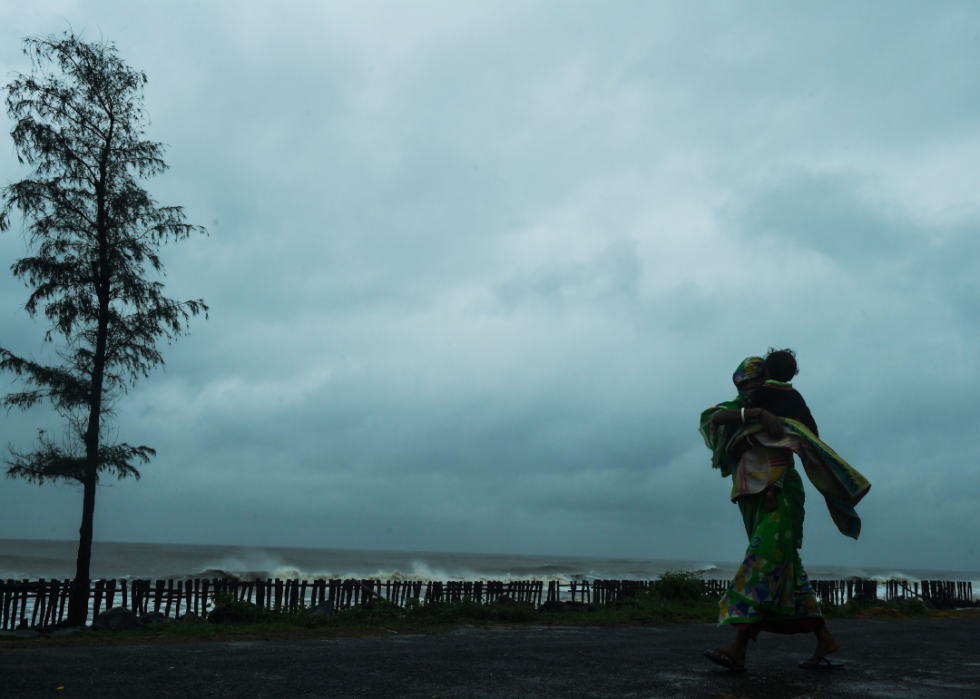 14 / 50
DIBYANGSHU SARKAR/AFP // Getty Images
Cyclone Amphan devastates India and Bangladesh
A woman carrying her child walks along a road near the Tajpur Beach to take shelter ahead of the expected landfall of Cyclone Amphan in Midnapore, West Bengal, in India on May 20. Several million people took shelter and prayed for the best as the Bay of Bengal's fiercest cyclone in decades roared toward Bangladesh and eastern India, with devastating and deadly storm surges.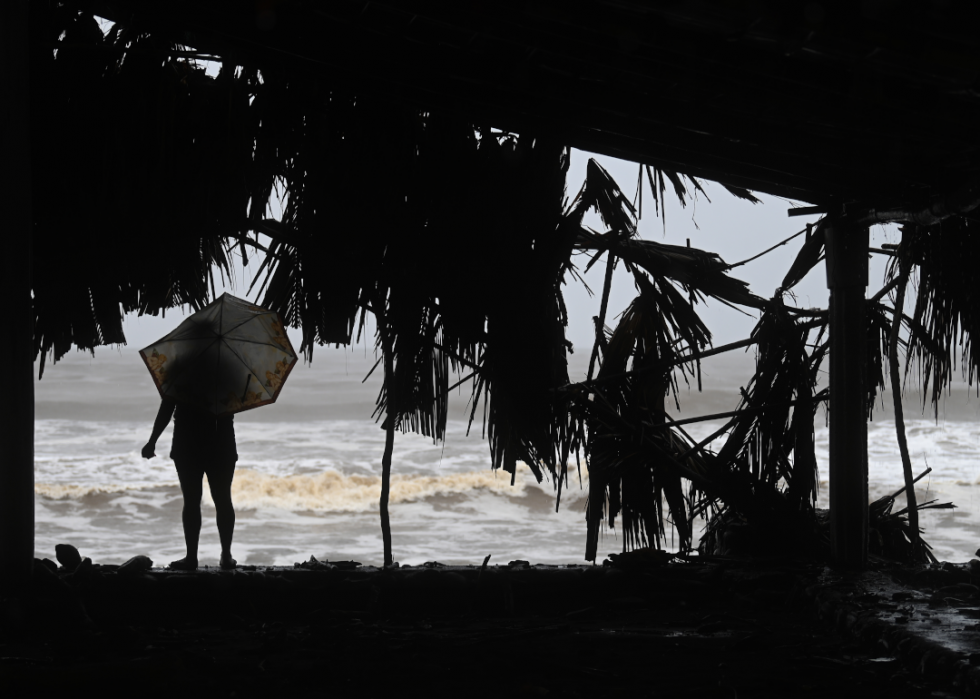 15 / 50
MARVIN RECINOS/AFP // Getty Images
Tropical storm Amanda in El Salvador
A man surveys damage at the commercial area of Sunzal Beach affected by tropical storm Amanda in La Libertad, El Salvador, on June 1. Storm Amanda left a trail of destruction and death as it passed through northern Central America, where 18 people died and countless homes and roads were devastated by the cyclone.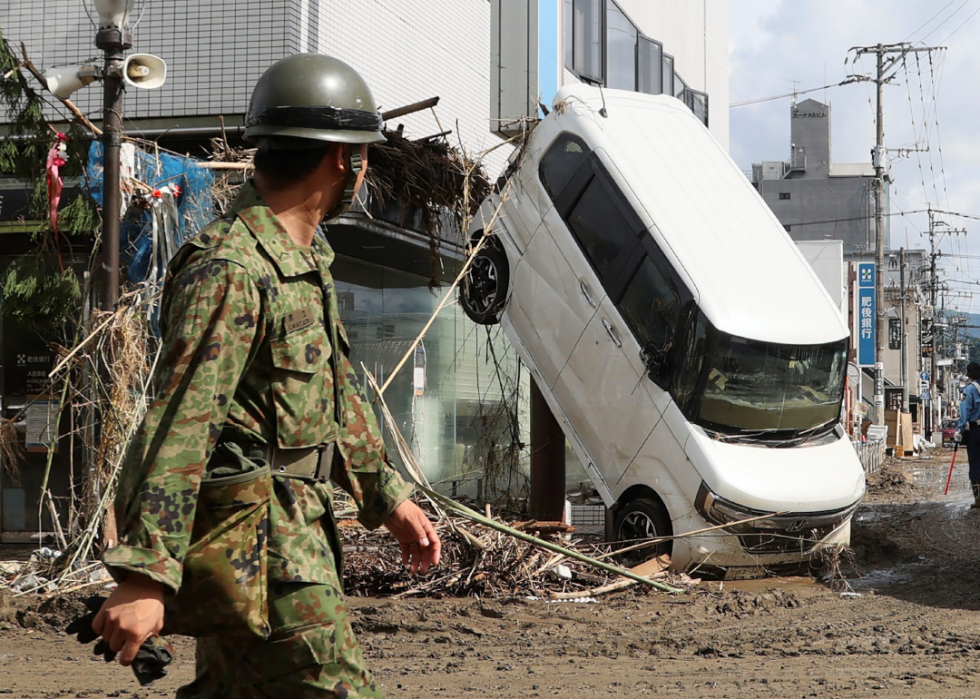 16 / 50
STR/JIJI PRESS/AFP // Getty Images
Floods and landslides in Japan
An officer walks past a damaged car in Hitoyoshi, in the Kumamoto Prefecture of Japan on July 8. Prime Minister Shinzo Abe pledged that Japan would deploy more troops to search for survivors of the devastating floods and landslides that killed at least 62 people in the southwest part of the country.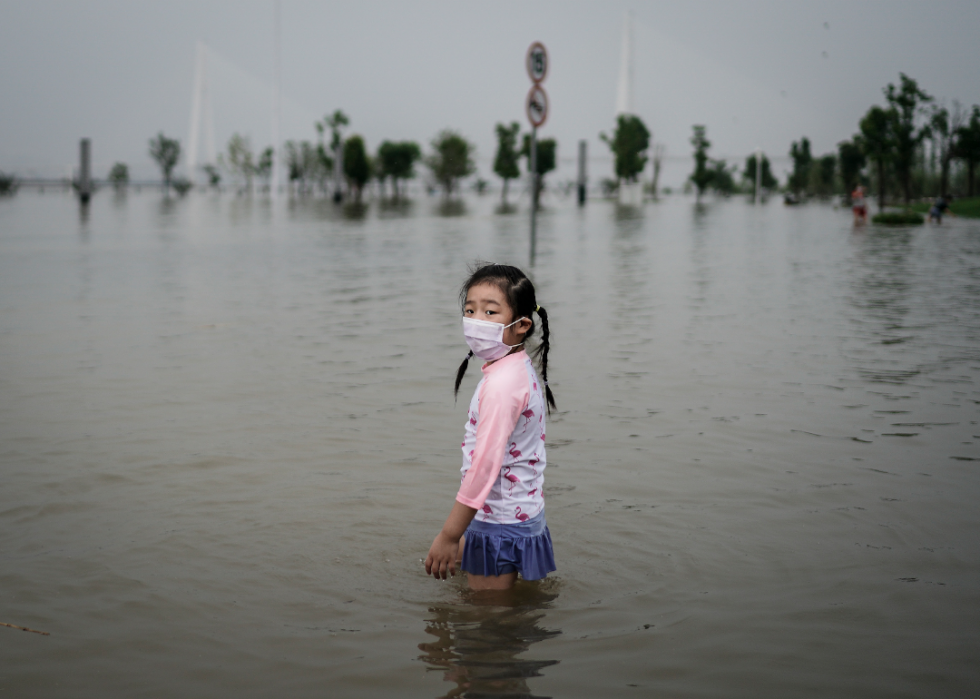 17 / 50
Deadly flooding in Wuhan, China
A young girl wearing a mask plays in Jiantan park, flooded by heavy rains along the Yangtze River on July 10, in Wuhan, China. On July 5, Wuhan had upgraded its emergency response for flood control from Grade III to Grade II, the second-highest of a four-tier system.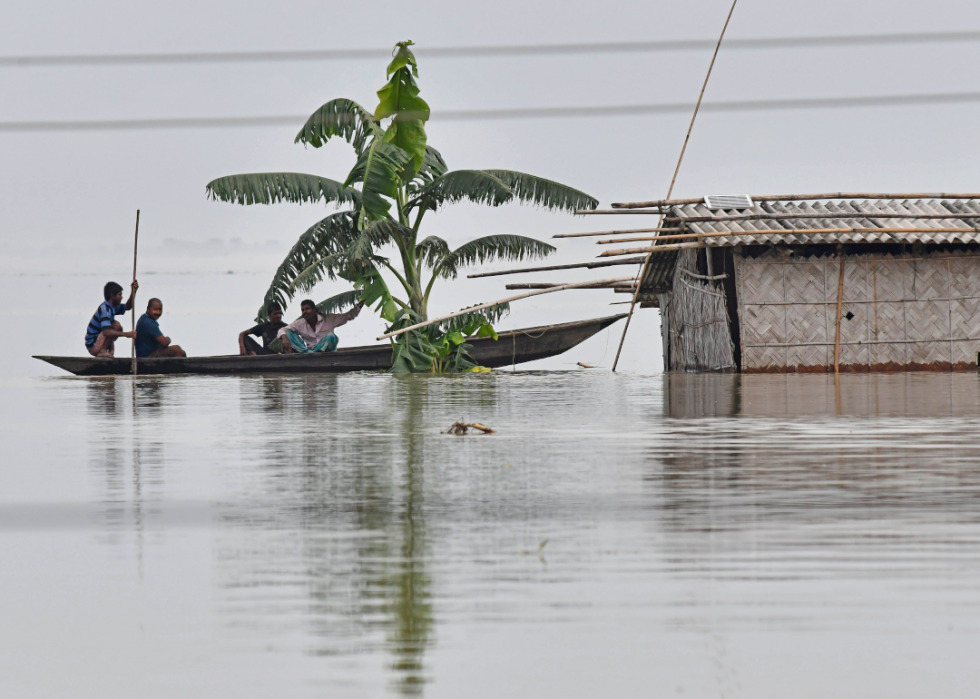 18 / 50
BIJU BORO/AFP // Getty Images
Monsoon floods affect millions in India and Bangladesh
Villagers paddle their boat next to a partially submerged hut in the flood-affected area of Hatisila, in the Kamrup district of Assam, India, on July 14. Flooding is an annual phenomenon in the country's northeast area, claiming hundreds of lives each year.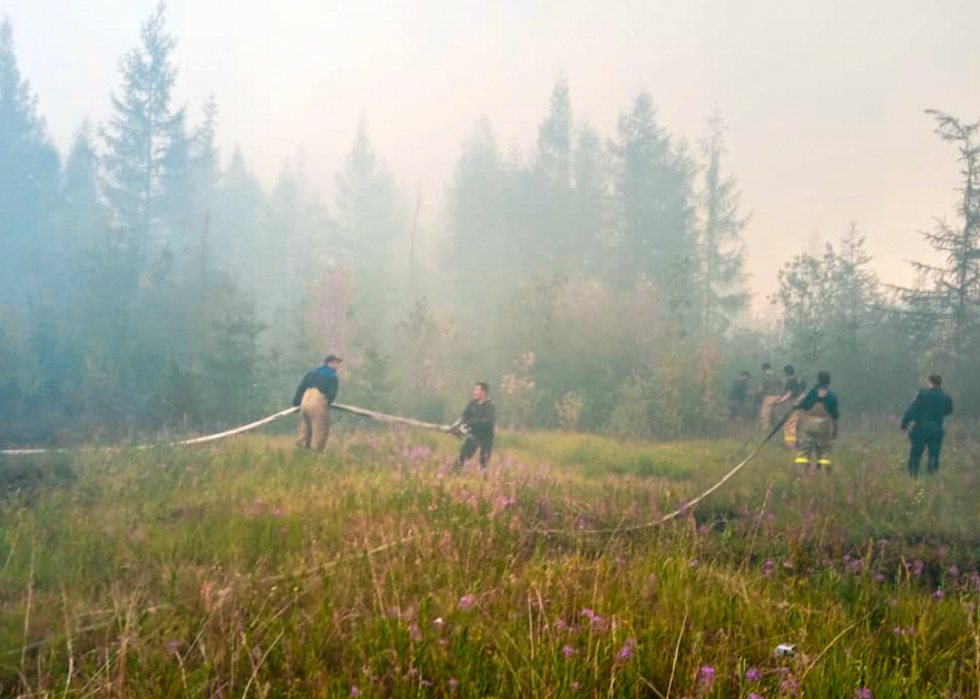 19 / 50
RUSSIAN EMERGENCY MINISTRY/AFP // Getty Images
Siberian wildfires produce record carbon emissions
Russian firefighters work to extinguish forest fires near the village of Batagay, Sakha Republic in Yakutia on July 11. Freakishly warm weather across large swaths of Siberia since January, combined with low soil moisture, contributed to a resurgence of wildfires that devastated the region last summer, according to the European Union's climate monitoring network. Russia's forest service battled blazes by cloud seeding and the use of explosives.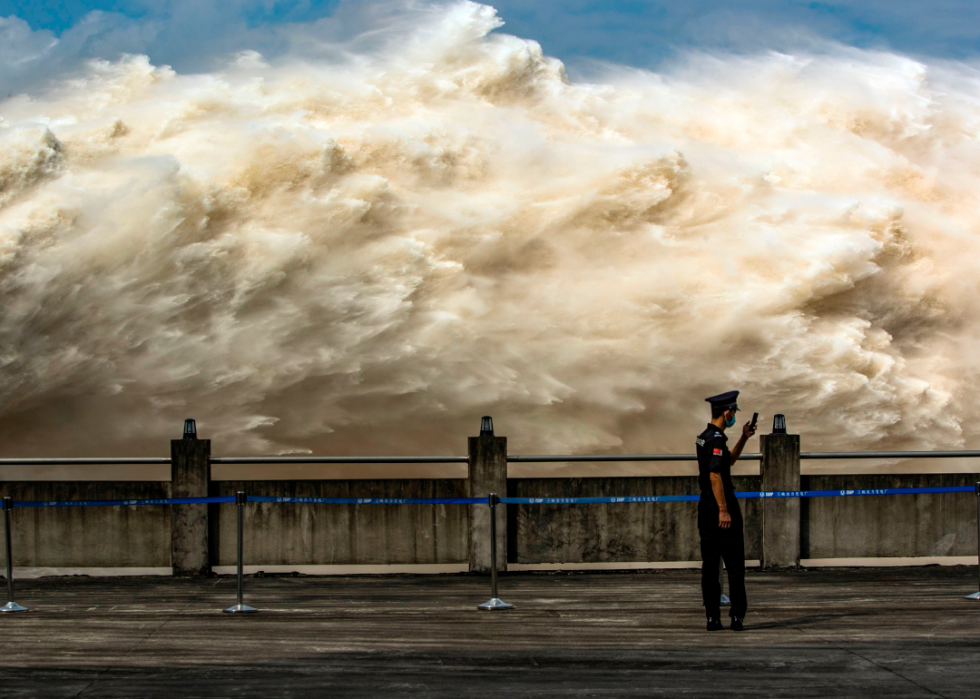 20 / 50
Extreme flooding reaches China's Three Gorges Dam
On July 19, a security guard looks at his smartphone while water is released from the Three Gorges Dam, a gigantic hydropower project on the Yangtze River, to relieve flood pressure in Yichang, central China's Hubei province. Since the beginning of July, rising waters across central and eastern China left more than 158 people dead or missing, and the affected almost 54 million people, according to the ministry of emergency management.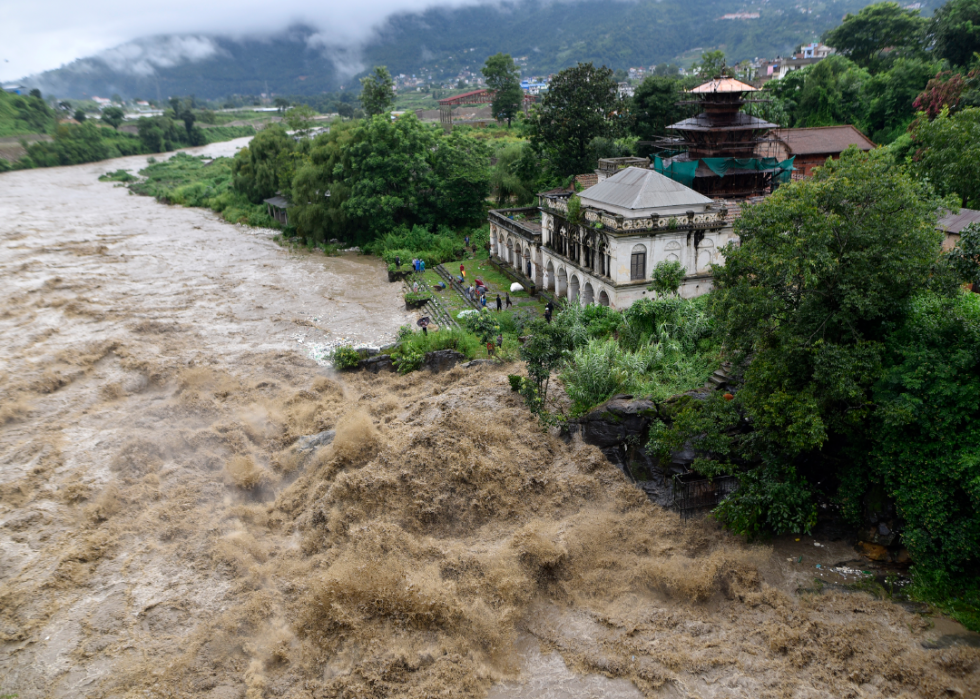 21 / 50
Narayan Maharjan/NurPhoto // Getty Images
Deadly flash floods and landslides in Nepal
The flooded Bagmati River areas that were affected due to incessant rainfall in Kathmandu, Nepal, on July 20. Normal life across the country, including Kathmandu Valley, was devastated by the heavy rains.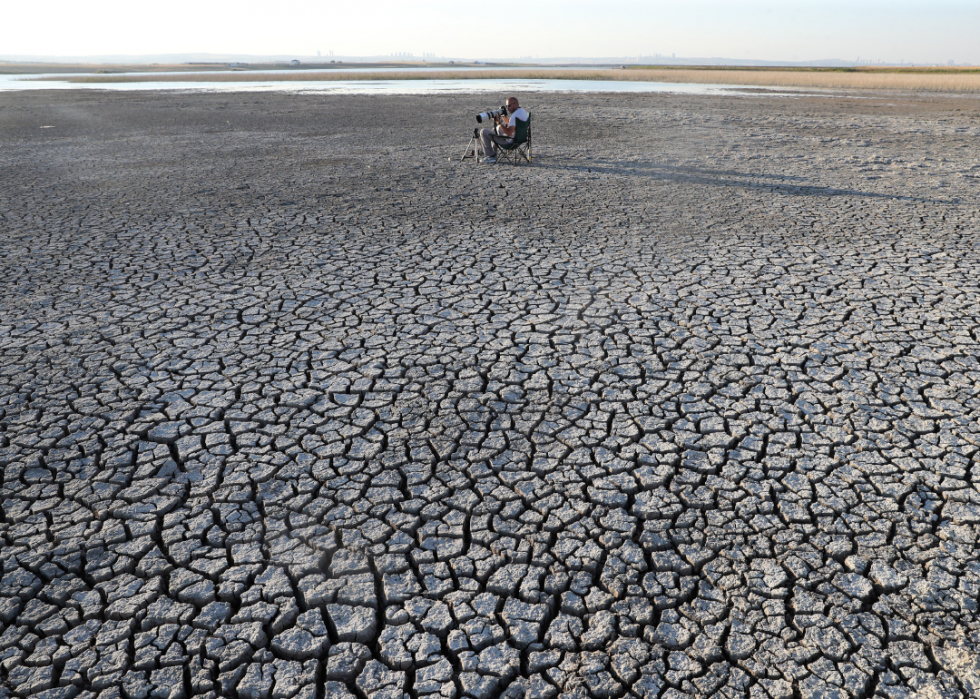 22 / 50
ADEM ALTAN/AFP // Getty Images
Drought in Turkey
A photographer takes pictures of the cracked soil after a drought at Dikilitas Pond in the Golbasi district of Ankara, Turkey, on July 23.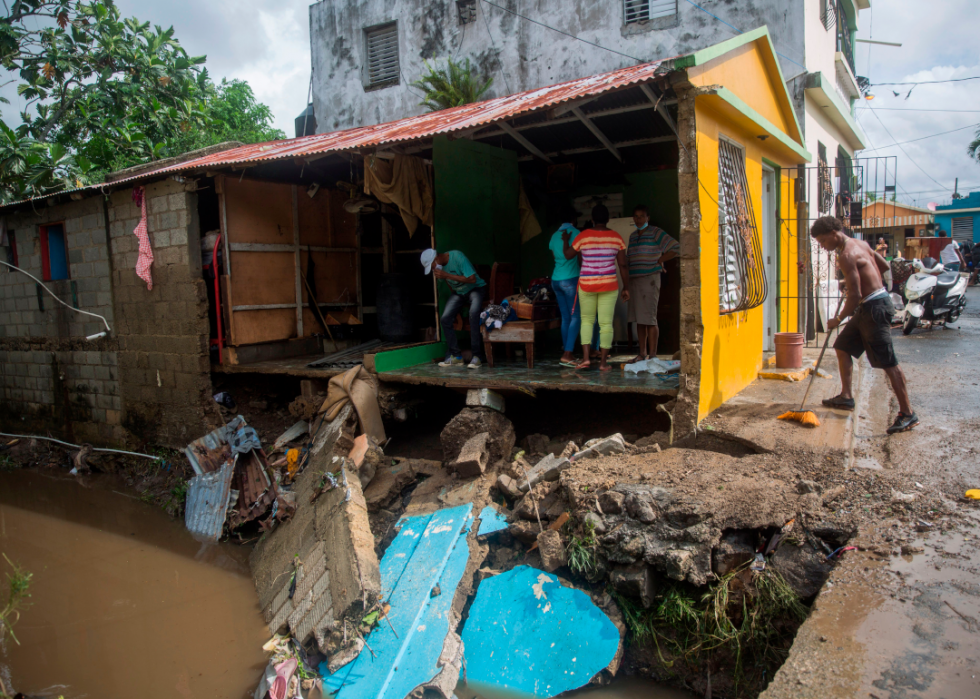 23 / 50
ERIKA SANTELICES/AFP // Getty Images
Tropical storm Isaias in Dominican Republic
View of a destroyed house after the overflow of the Magua River on July 31. The overflow was caused by heavy rains driven by the tropical storm Isaias in the city of Hato Mayor, northwest of Santo Domingo in the Dominican Republic.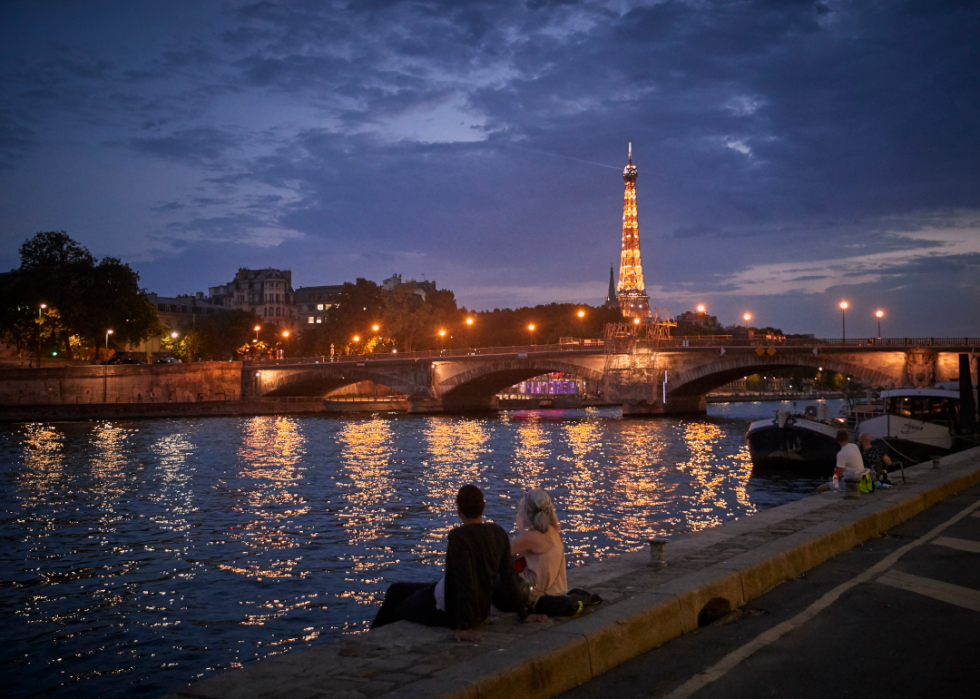 24 / 50
Kiran Ridley // Getty Images
Record-breaking temperatures in Paris and around the world
A couple sitting by the Seine at dusk on July 31, as temperatures started to cool after a day of searing heat in Paris. The temperature hit a record by reaching 104 degrees Fahrenheit that day, as the city braced itself for a second wave of cases of the coronavirus.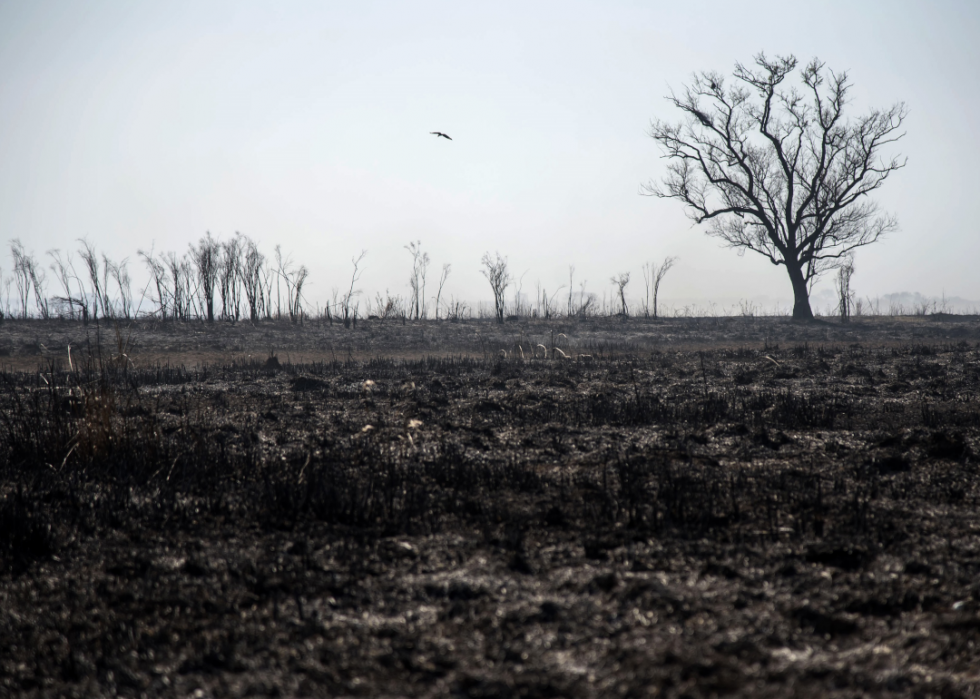 25 / 50
MARCELO MANERA/AFP // Getty Images
Fires rage in Argentina's Paraná Delta
After a brutal drought, the Paraná River Delta in Entre Rios Province, near the Argentine city of Rosario, Santa Fe Province, displays burning wetlands on Aug. 1. It is one of the largest and most biodiverse ecosystems in the world and has been burning like never before since the beginning of 2020.
Argentina's environment minister accused stockbreeders and tenants for the fires as they often use fire to "clean up" grasslands. However, the producers strongly reject the accusations, arguing the fires also undermine their activity.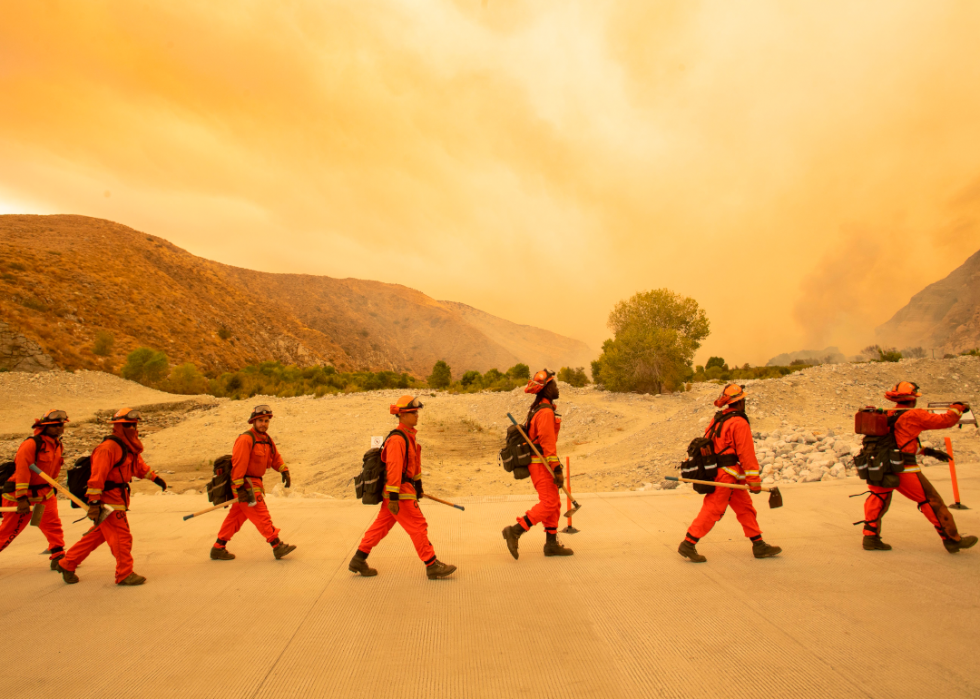 26 / 50
JOSH EDELSON/AFP // Getty Images
Apple Fire burns in Whitewater, California
Inmate firefighters arrive at the scene of a new fire start about 20 miles from the Apple Fire in Whitewater, California, on Aug. 2. More than 1,300 firefighters were battling a blaze that was burning out of control at the same time in southern California, threatening thousands of people and homes east of Los Angeles. The Apple Fire that broke out near the city of San Bernardino charred more than 20,000 acres, sending up columns of smoke visible from miles away.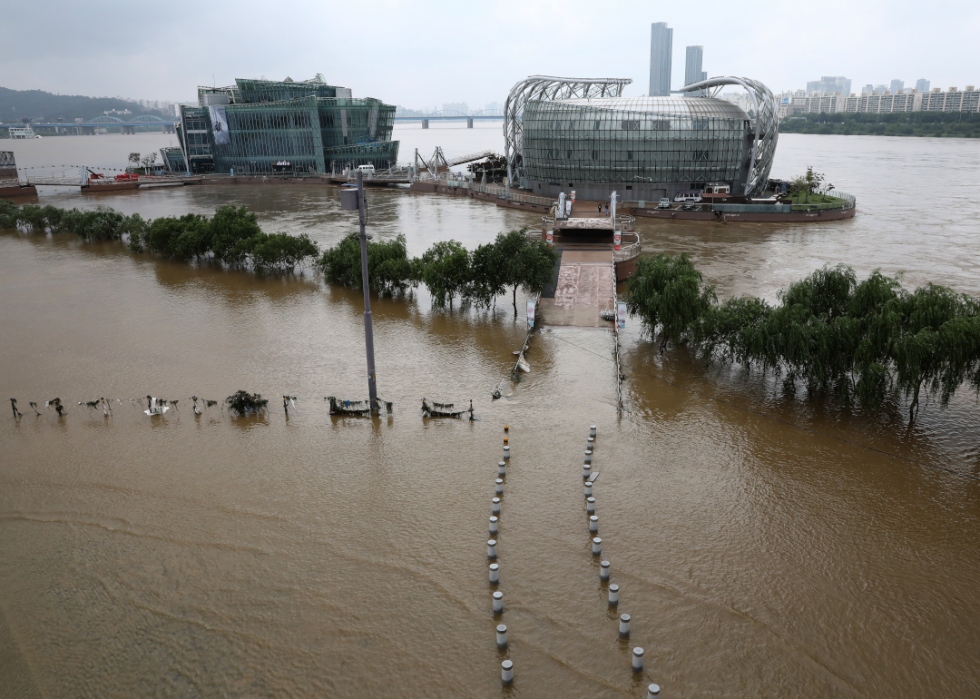 27 / 50
Chung Sung-Jun // Getty Images
Deadly flooding in South Korea
The flooded Han River Park is seen after torrential rain on Aug. 4, in Seoul, South Korea. Damage from heavy rain that pounded the country's central region for 42 days, the longest monsoon in the area since 2013, killed 14 and left more than 1,000 displaced from their homes.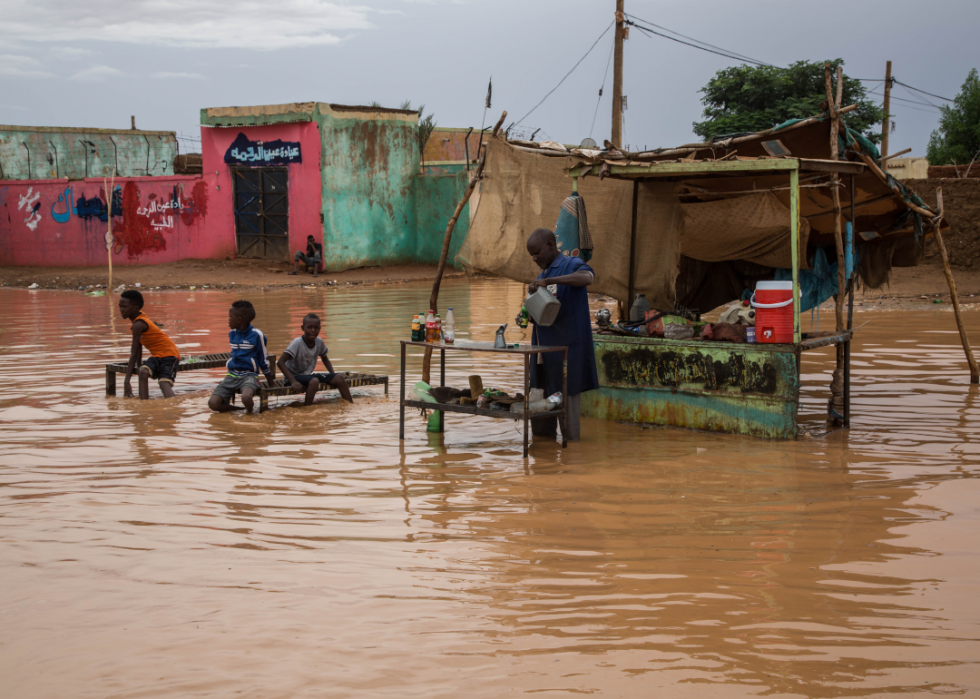 28 / 50
Mahmoud Hjaj/Anadolu Agency // Getty Images
Widespread flooding in Sudan
Children appear in a flooded street after heavy rain hit Khartoum, Sudan, on Aug. 1. The rains took 100 lives, damaged more than 100,000 homes, and water levels in the Nile River and some of its tributaries rose to heights not seen in the past 100 years.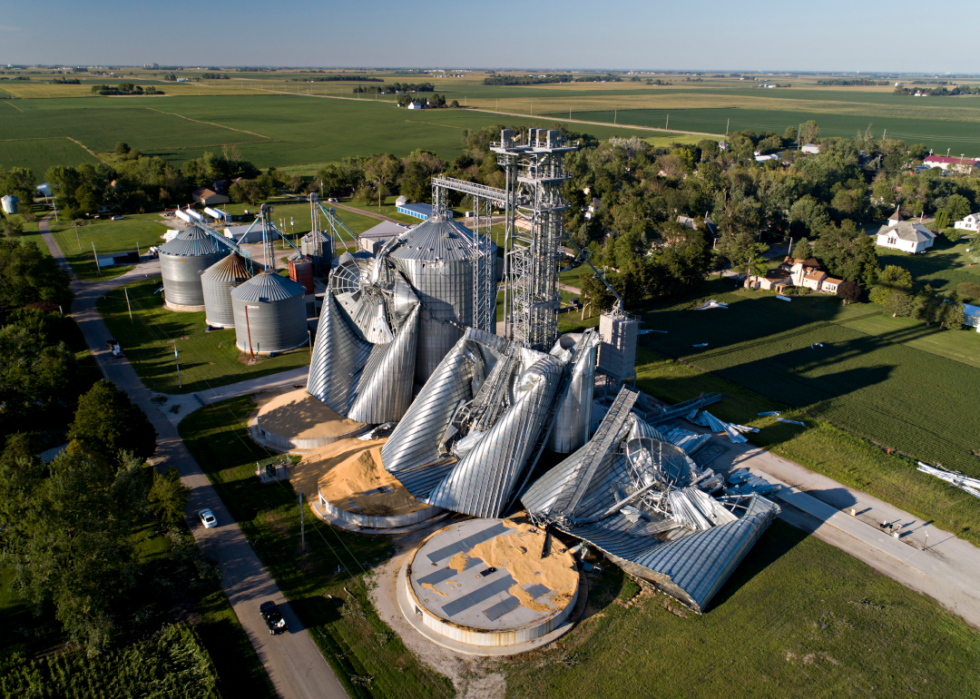 29 / 50
Daniel Acker // Getty Images
Derecho in Iowa
An aerial image from a drone shows damaged grain bins at the Heartland Co-Op grain elevator on Aug. 11, in Luther, Iowa. Iowa Gov. Kim Reynolds said early estimates indicate 10 million acres, nearly a third of the state's land used for crops, were damaged when a powerful storm battered the region a day earlier with winds up to 140 mph.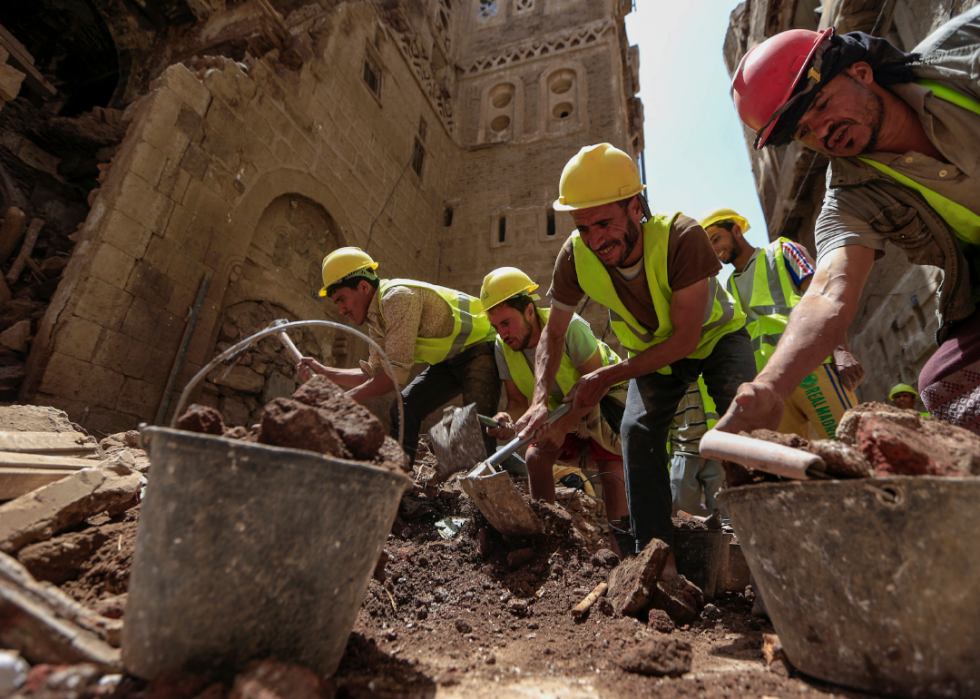 30 / 50
MOHAMMED HUWAIS/AFP // Getty Images
Deadly flooding in Yemen
Yemeni laborers remove the rubble ahead of restoration work on the site of a collapsed UNESCO-listed building following heavy rains, in the old city of the Yemeni capital Sanaa, on Aug. 12. Flash floods triggered by torrential rains killed at least 172 people across Yemen, damaging homes and UNESCO-listed world heritage sites, officials said.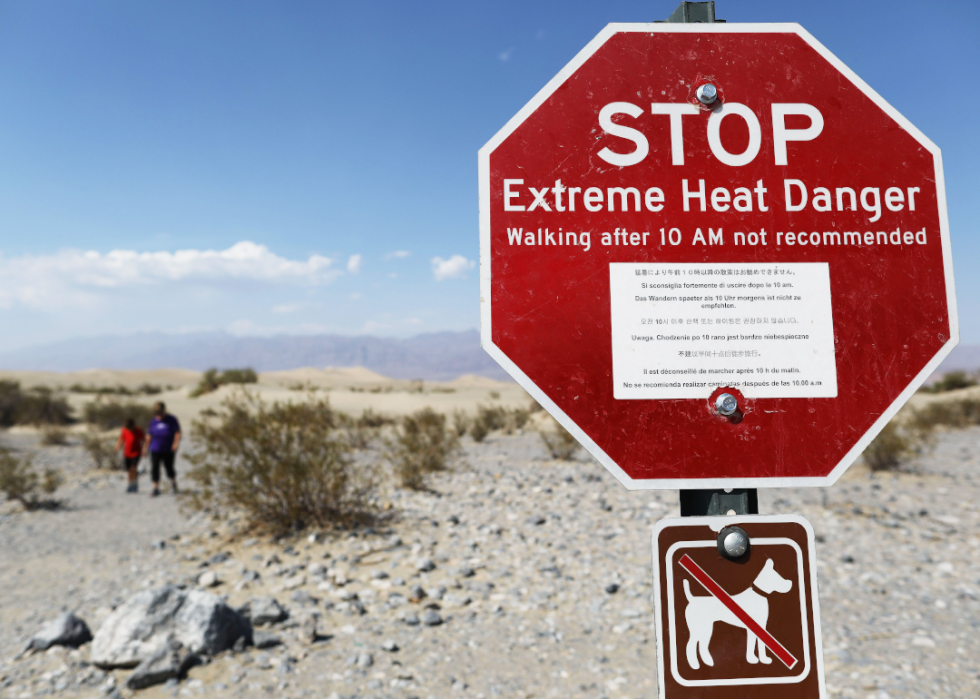 31 / 50
Mario Tama // Getty Images
Record-breaking temperatures in California
Visitors walk near a sign warning of extreme heat danger on Aug. 17, in Death Valley National Park, California. The temperature reached 130 degrees Fahrenheit at Death Valley National Park on Aug. 16, hitting what may be the hottest temperature recorded on Earth since at least 1913, according to the National Weather Service. Park visitors were warned to "travel prepared to survive."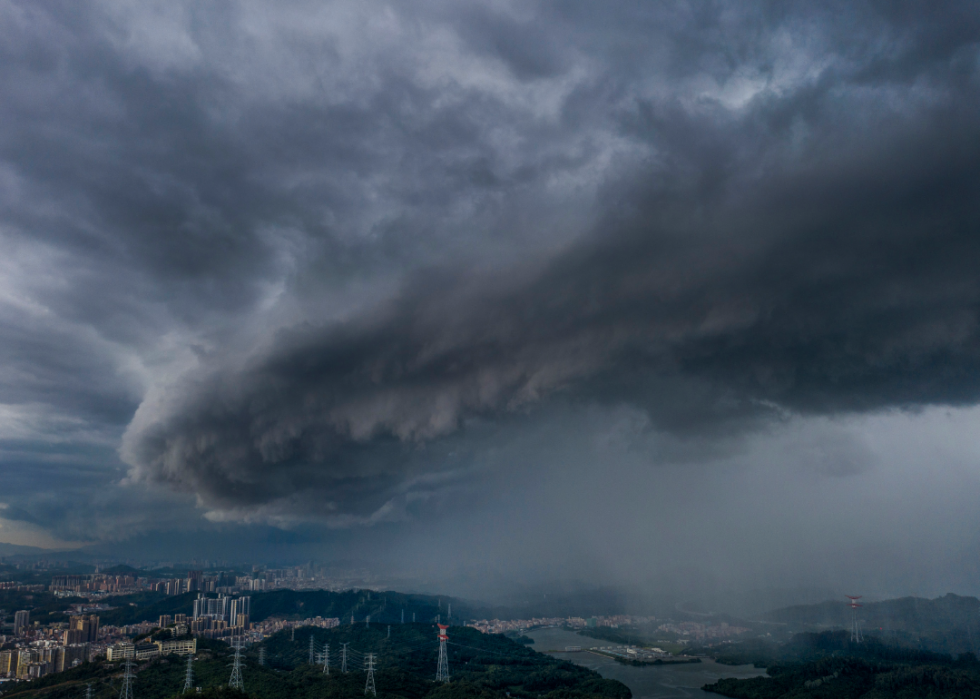 32 / 50
Typhoon Higos hits Shenzhen Guangdong
Dark clouds hang over the skyline as Typhoon Higos approached on Aug. 18, in Shenzhen, Guangdong Province of China. The storm crippled all forms of transportation in the area, including local road, air, water and rail traffic.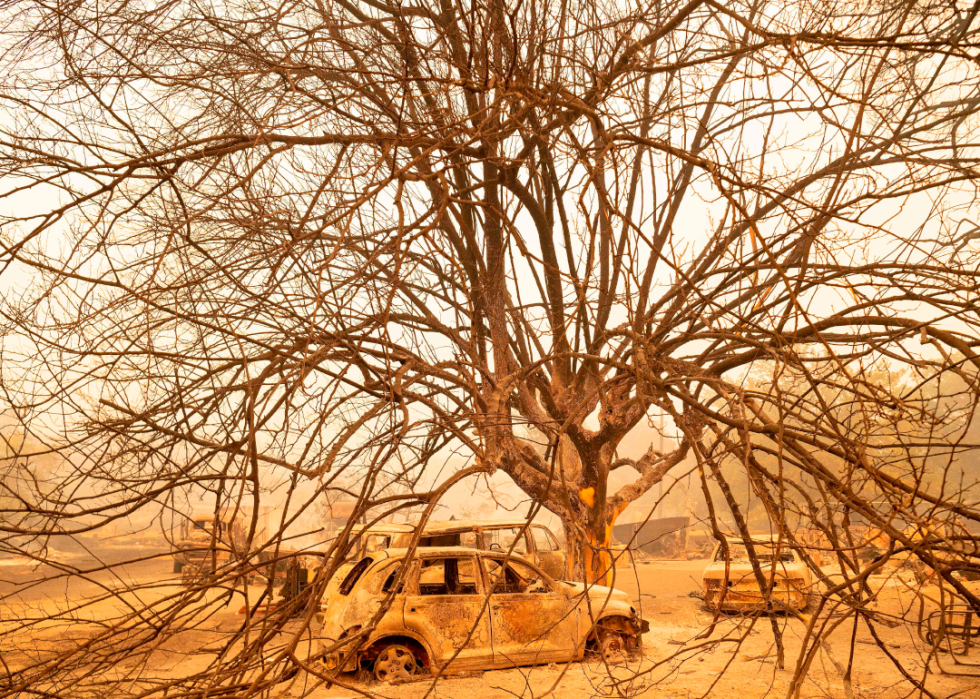 33 / 50
JOSH EDELSON/AFP // Getty Images
LNU Lightning Complex Fire in California
Burned out vehicles sit under a damaged tree at a residence in Vacaville, California, during the LNU Lightning Complex fire on Aug. 19. California was in a state of emergency that day as dozens of fast-moving fires, many triggered by lightning strikes during an extreme heat wave, spread across the north and center of the state, threatening homes and causing the evacuation of thousands of people.
About 20 fires broke out in the area of Vacaville in the northern Bay Area and collectively called the LNU Lightning Complex Fire after the intense lightning storm that sparked the conflagration earlier in the week.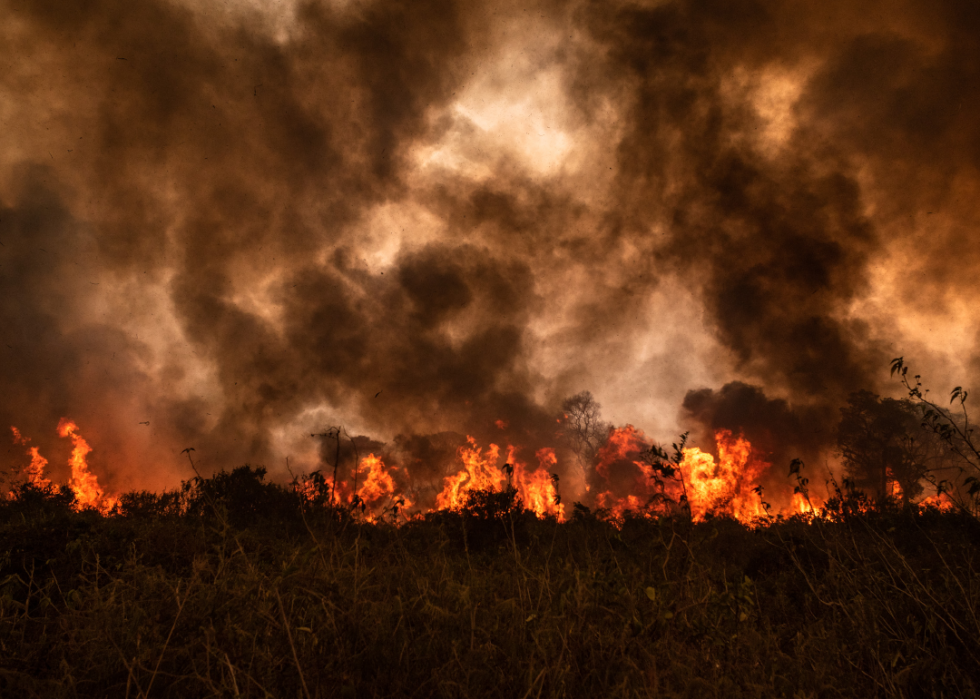 34 / 50
Gustavo Basso/NurPhoto // Getty Images
Record-setting fires in Brazil's tropical wetlands
Out of control forest fires burn the area of the Brazilian Pantanal in rural Pocone, Mato Grosso, Brazil, on Aug. 19, in the largest fire ever recorded in the rich biome. The Brazilian Pantanal—one of the largest tropical floodplains in the world—has been suffering since the end of July with the worst wildfires in its registered history. More than 22% of the floodplain has already burned.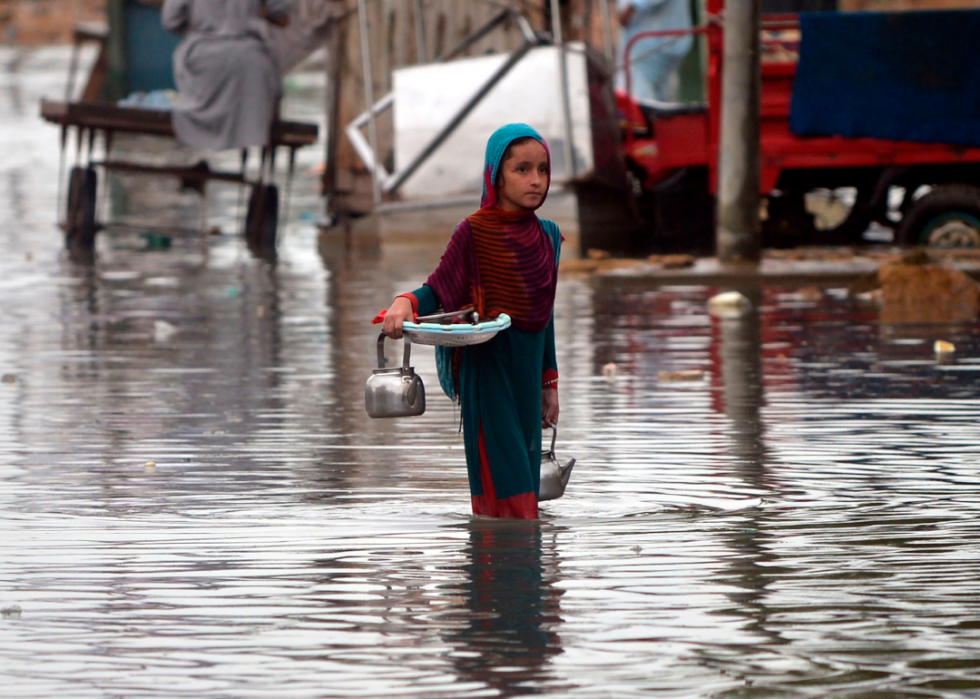 35 / 50
RIZWAN TABASSUM/AFP // Getty Images
Widespread flooding in Pakistan and India
A girl carries a tea kettle as she wades through a flooded street after heavy record-breaking monsoon rains devastated Pakistan's port city of Karachi on Aug. 25.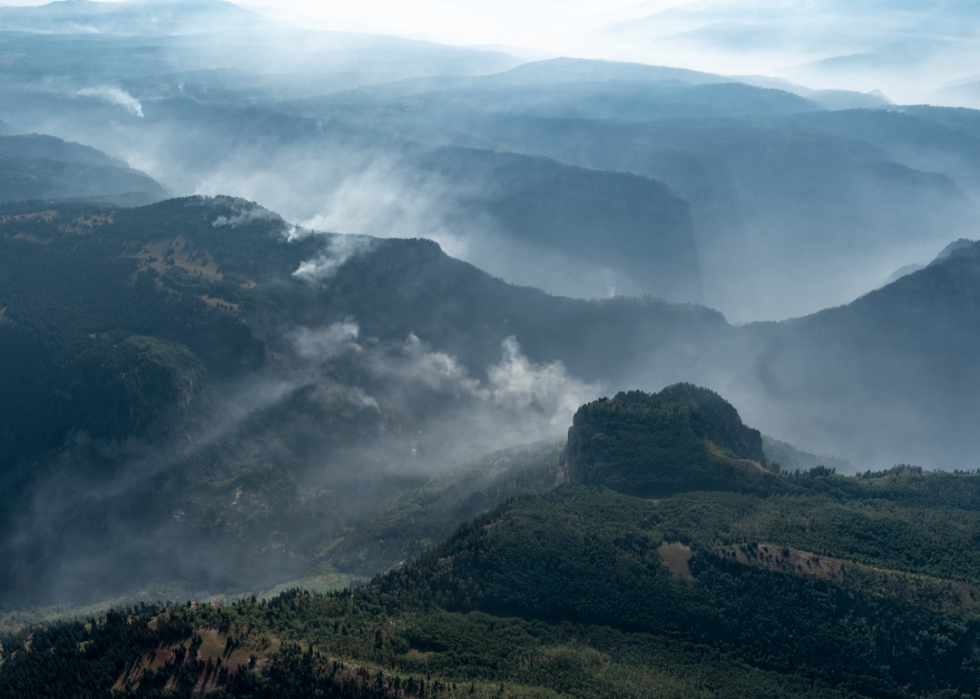 36 / 50
Alex Edelman // Getty Images
Grizzly Creek Fire in Colorado
Smoke from the Grizzly Creek Fire blankets Glenwood Canyon and Interstate 70 on Aug. 26, in Glenwood Springs, Colorado. The fire, at over 50% containment, burned more than 30,300 acres and forced a two-week closure of Interstate 70.
The closure of the interstate, which serves as a main highway between the Western Colorado Rockies and Denver, harmed businesses and the tourism industry as no traffic was able to pass into Glenwood Canyon. Wildfires that burned across the state contributed to air quality warnings.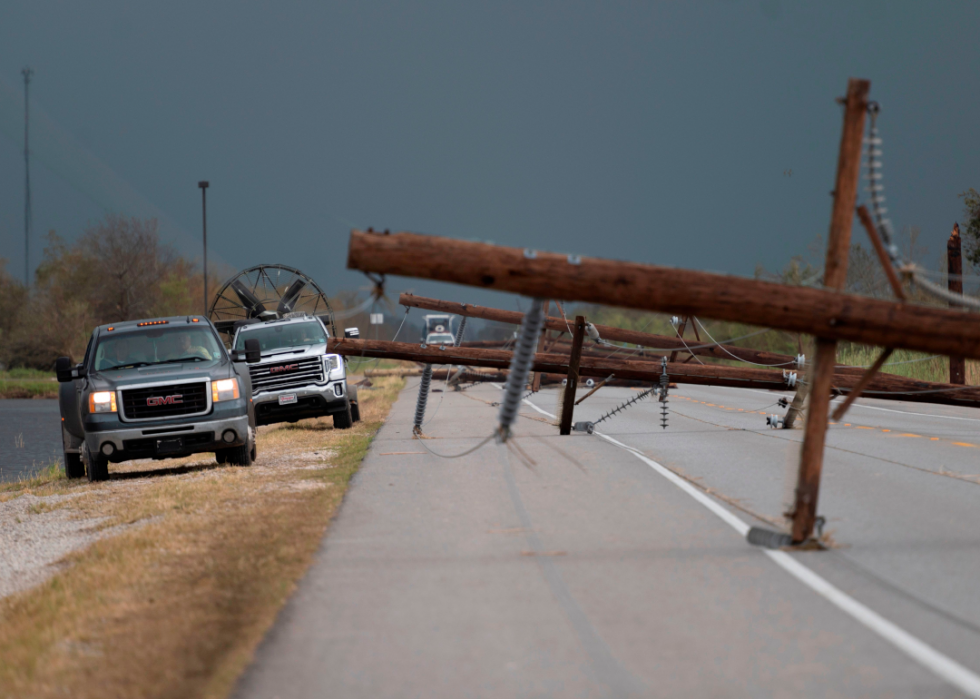 37 / 50
ANDREW CABALLERO-REYNOLDS/AFP // Getty Images
Hurricane Laura makes landfall in Louisiana
People trying to reach their homes in Cameron Parish drive past downed power lines after the passing of Hurricane Laura south of Lake Charles, Louisiana on Aug. 28. At least 26 people were killed by Hurricane Laura in Louisiana, but the governor said on Aug. 27, that the most powerful storm to make landfall in the U.S. state in living memory did not cause the "catastrophic" damage that had been feared.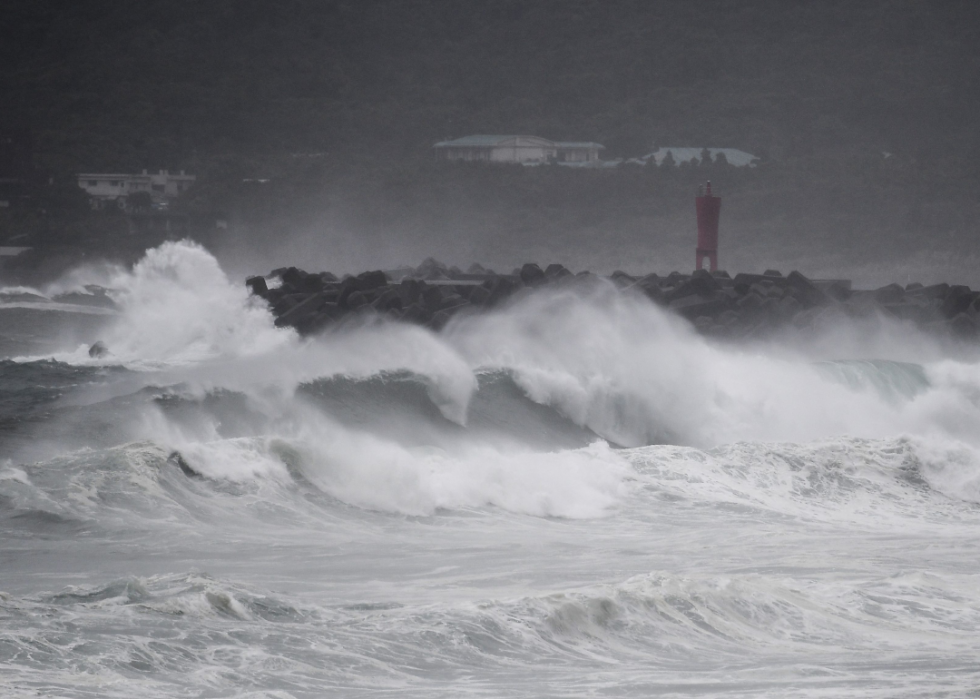 38 / 50
CHARLY TRIBALLEAU/AFP // Getty Images
Super Typhoon Haishen hits Japan
Waves crash on the coast as Typhoon Haishen approaches Makurazaki, Kagoshima Prefecture on Sept. 6. Typhoon Haishen headed toward southern Japan, with officials warning of record rainfall and winds strong enough to snap power poles and flip vehicles.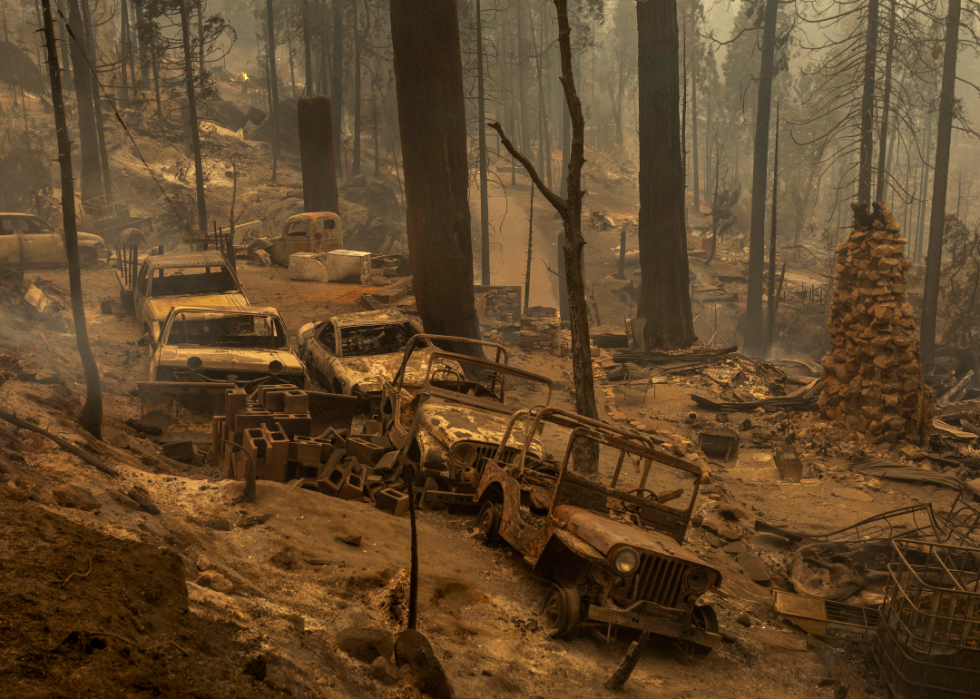 39 / 50
David McNew // Getty Images
California's Sierra National Forest burns
A community of forest homes lies in ruins along Auberry Road in the Meadow Lakes area after the Creek Fire swept through on Sept. 8, near Shaver Lake, California. California Gov. Gavin Newsom declared a state of emergency in five California counties after record heatwave temperatures fueled numerous wildfires over the Labor Day weekend. The state of emergency applied to Fresno, Madera, Mariposa, San Bernardino, and San Diego counties.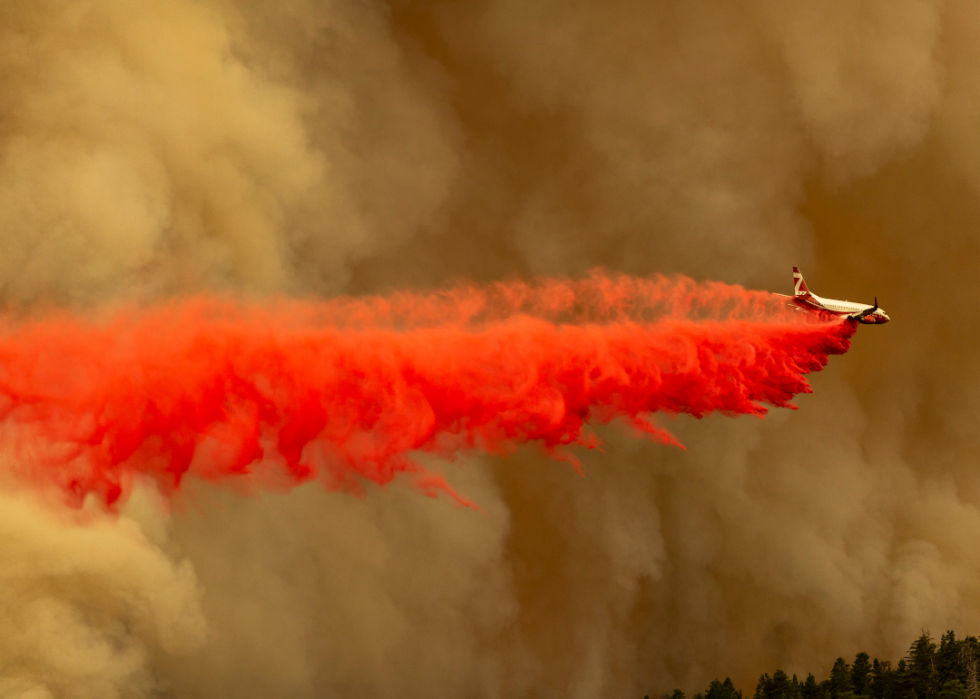 40 / 50
David McNew // Getty Images
Bobcat Fire burns in California's Angeles National Forest
A Coulson 737 firefighting tanker jet drops fire retardant to slow the Bobcat Fire at the top of a major run up a mountainside in the Angeles National Forest on Sept. 10, north of Monrovia, California. The state's wildfires that had already incinerated a record 2.3 million acres this year and more are expected to continue until December. The Bobcat Fire grew to about 100,000 acres, and was 6% contained.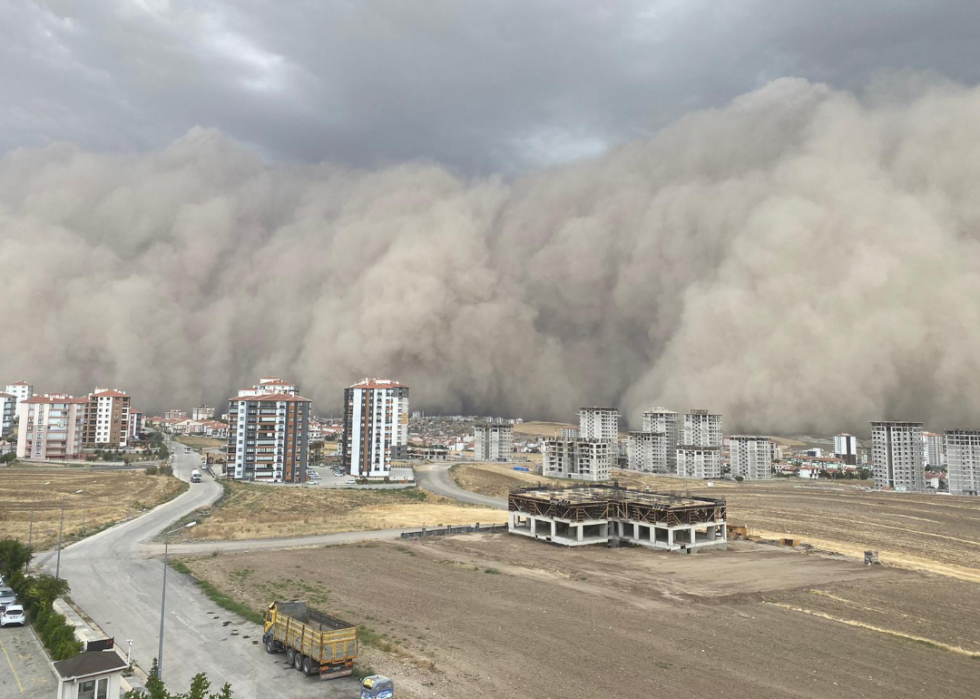 41 / 50
Kadim Koc/Anadolu Agency // Getty Images
Dust storm hits Akara, Turkey
A massive cloud of dust—a sandstorm, or haboob—grays the sky in the Turkish capital of Ankara on Sept. 12.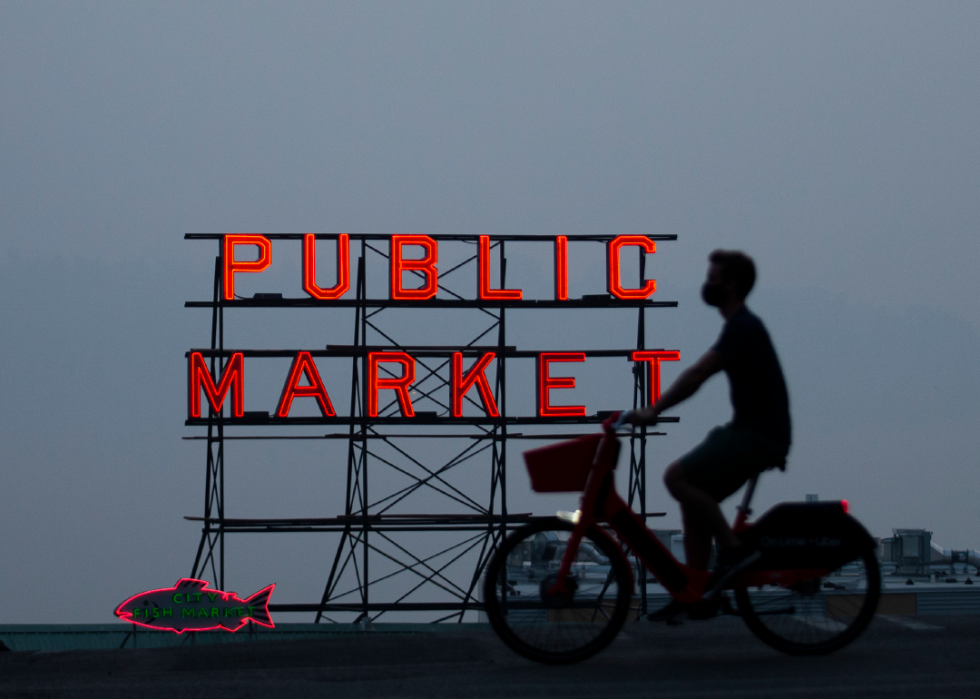 42 / 50
Lindsey Wasson // Getty Images
Wildfires in Washington
Wildfire smoke obscures the view of Elliott Bay as a person bikes past a Pike Place Market sign on Sept. 11, in Seattle. Air quality worsened as smoke from dozens of wildfires in forests of the Pacific Northwest and along the West Coast descended onto the region.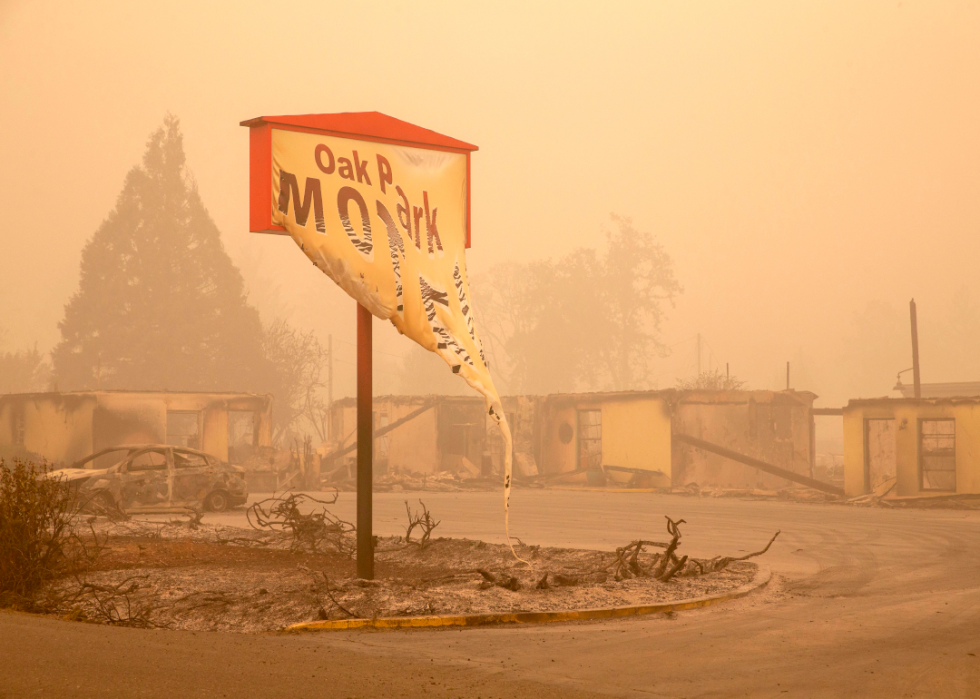 43 / 50
ROB SCHUMACHER/POOL/AFP // Getty Images
Beachie Creek Fire in Oregon
The melted sign of the Oak Park Motel destroyed by the flames of the Beachie Creek Fire is seen in Gates, east of Salem, Oregon, on Sept. 13. The wildfire caused the evacuation of 40,000 residents, killing at least nine people.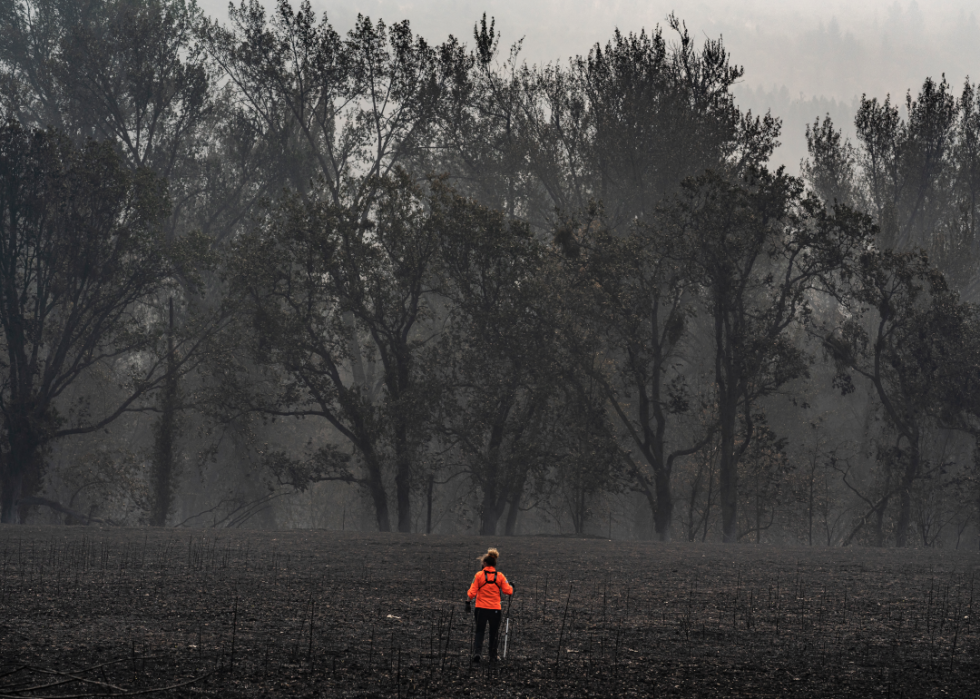 44 / 50
Nathan Howard // Getty Images
Oregon's Almeda Fire destroys homes
A firefighter checks for hot spots in a landscape completely charred by the Almeda Fire along Highway 99 on Sept. 15, in Talent, Oregon. City leaders estimate at least 600 homes were lost.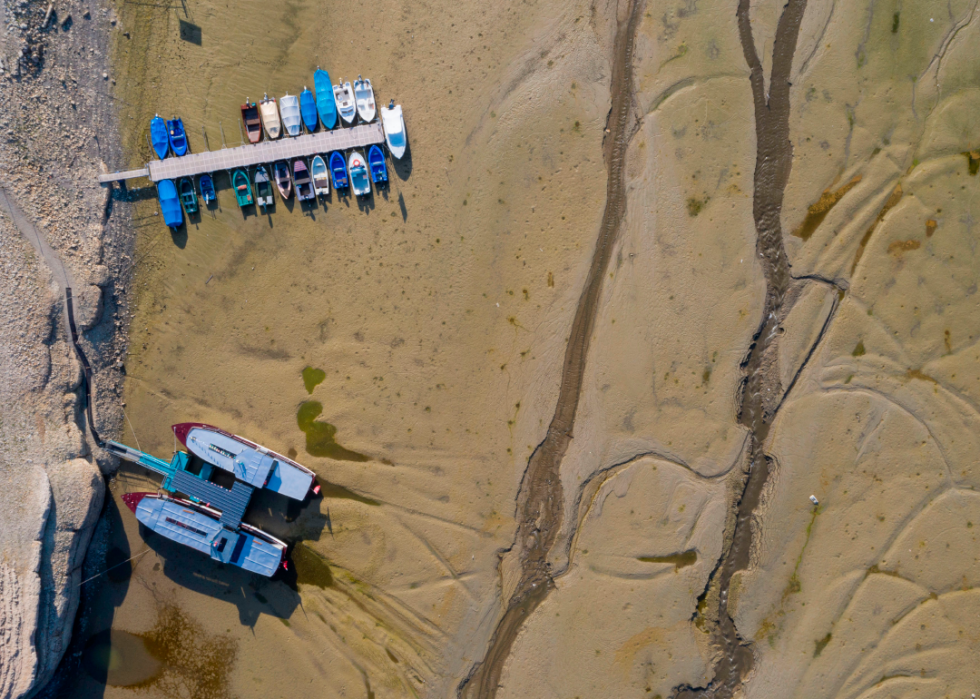 45 / 50
SEBASTIEN BOZON/AFP // Getty Images
Eastern France experiences drought
An aerial view shows boats sitting on the bed of the dried-out Doubs River on Sept. 15, in Villers-le-Lac, eastern France. A drought in the region has caused the river to be at one of its lowest levels in more than a century.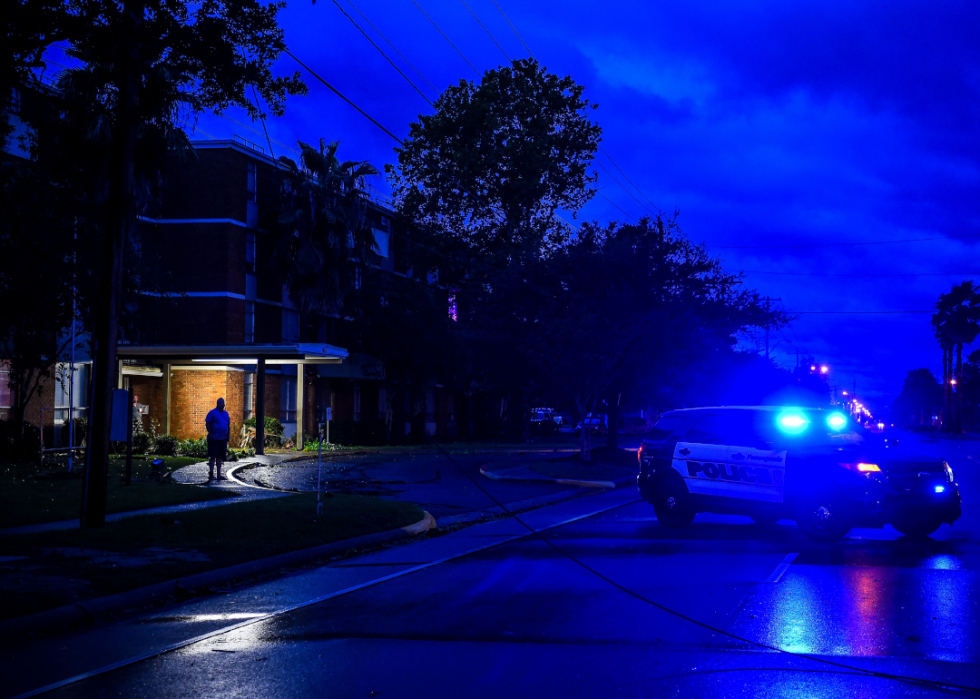 46 / 50
CHANDAN KHANNA/AFP // Getty Images
Hurricane Sally slams the Gulf Coast
A resident looks at a broken power cable as it lies on the street during Hurricane Sally in Pascagoula, Mississippi, on Sept. 16. Hurricane Sally barrelled into the U.S. Gulf Coast with forecasts of drenching rains that could provoke "historic" and potentially deadly flash floods.
The National Hurricane Center said the Category 2 storm hit Gulf Shores, Alabama, at about 5:45 a.m. EDT, bringing maximum sustained winds of about 105 mph. Its slow-moving action helped generate great amounts of rainfall that left hundreds of thousands of residents with flooded streets and no power.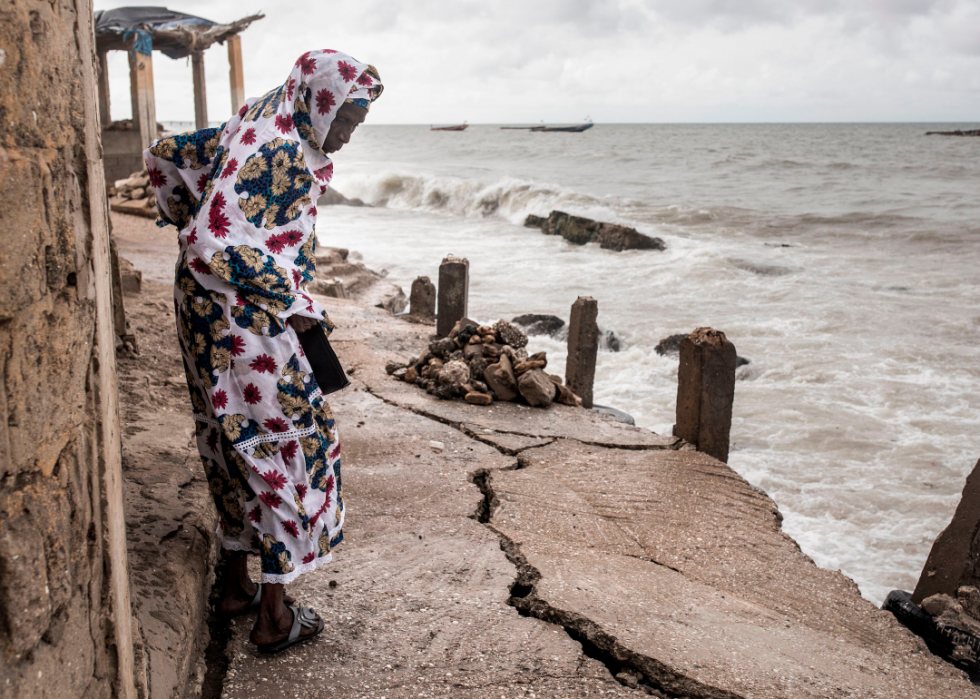 47 / 50
JOHN WESSELS/AFP // Getty Images
Erosion eats away Senegal coast
A woman looks down a newly formed crack in the walkway that leads to the mosque in Bargny, Senegal, on Sept. 18. Fishing villages like Bargny have been fighting the rising seas for decades as hundreds of houses have been lost and families displaced.
Through the months of July to September, peaking at the equinox, coastal towns like Bargny braced for the worst—tides were at their highest, rising every year; and storms were more frequent, battering the coastline, which speeds up the erosion.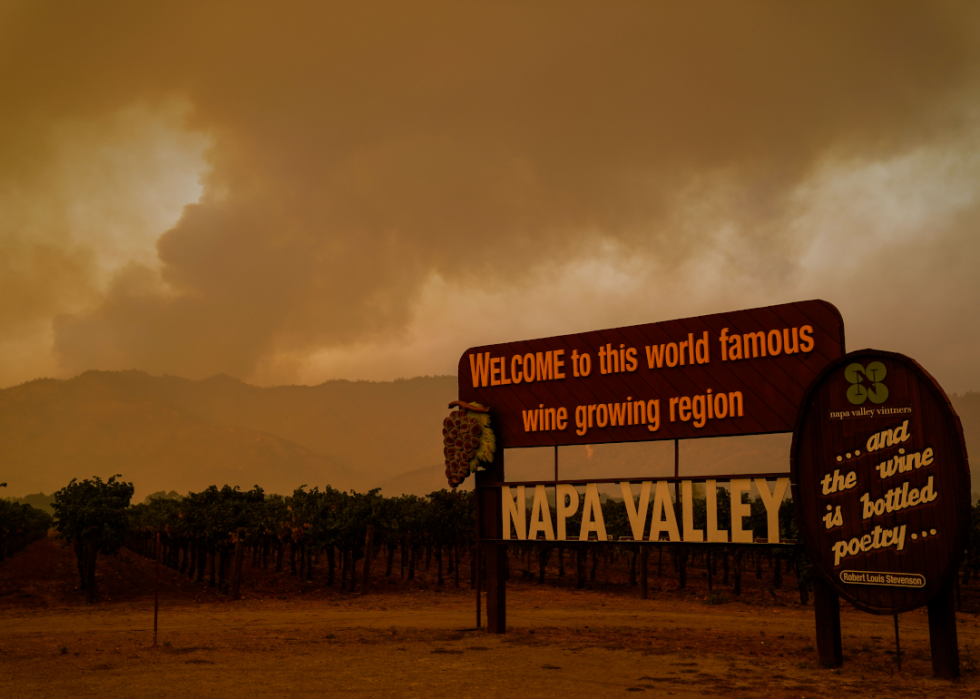 48 / 50
Kent Nishimura // Los Angeles Times // Getty Images
Glass Fire devastates Napa and Sonoma counties
The Glass Fire caused damage in Napa County along CA-128, as seen on Sept. 30, in Calistoga, California. In 13 days, the fire covered more than 67,000 acres and burned into Sonoma County. It damaged close to 300 buildings and destroyed more than 1,500 more in the counties.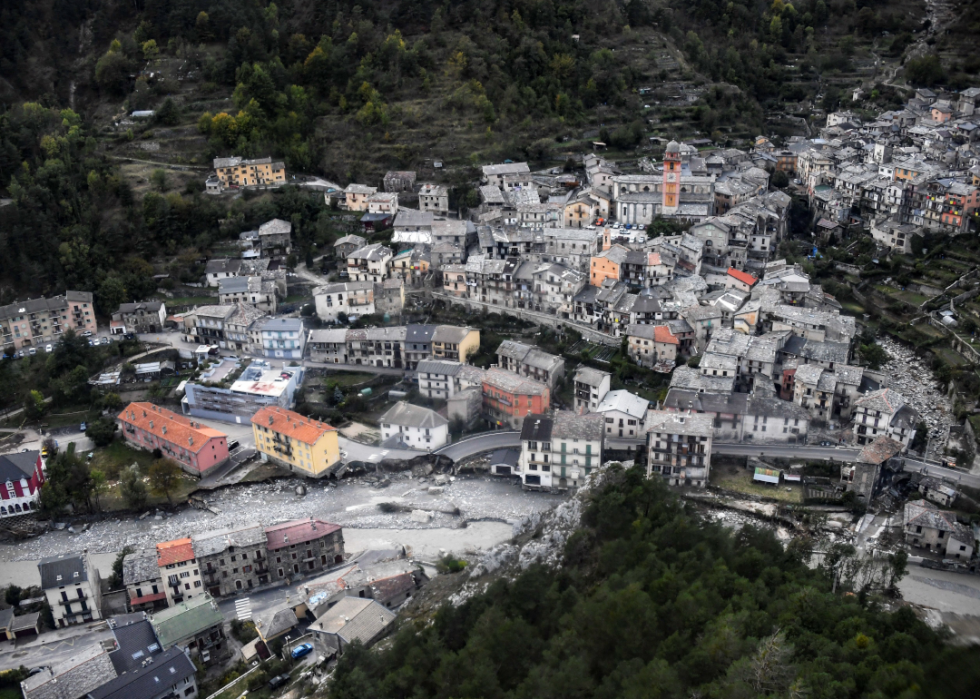 49 / 50
CHRISTOPHE SIMON/AFP // Getty Images
Deadly flooding in southeastern France
An aerial view of Tende, in southeast France near the Italian border, on Oct. 6, shows widespread damage caused by extensive flooding in the Alpes-Maritimes departement. Intense flooding hammered southeast France, Oct. 2, causing at least 12 confirmed deaths. Hundreds of people were evacuated after storms dumped huge amounts of rain that turned streams into churning torrents that swept away cars, houses and bridges in the French Alps north of Nice.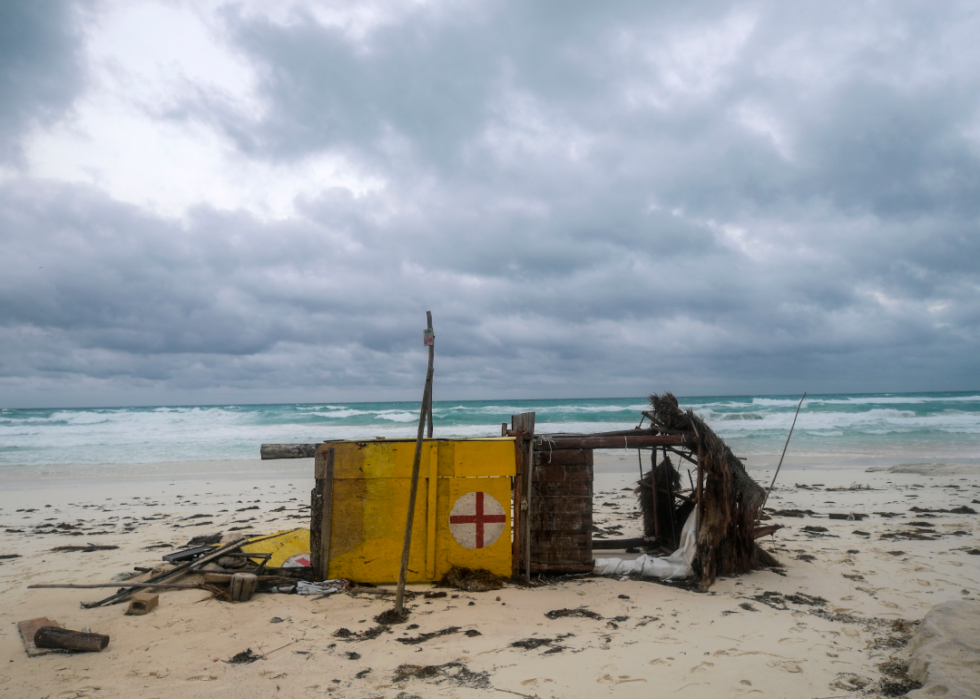 50 / 50
PEDRO PARDO/AFP // Getty Images
Hurricane Delta hits the Gulf Coast
View of a fallen lifeguard cabin at the beach after the passage of Hurricane Delta in Cancun, Quintana Roo state, Mexico, on Oct. 7. Hurricane Delta slammed into Mexico's Caribbean coast early Wednesday, toppling trees, ripping down power lines and lashing a string of major beach resorts with winds of up to 110 mph.
It was the 10th named storm to make landfall in the U.S. this year, reaching Creole, Louisiana, as a Category 2 storm at 7 p.m. EDT on Oct. 9, packing 100 mph winds. It was the second in six weeks to slam Louisiana–-Hurricane Laura visited at the end of August.
You may also like: Worst-run cities in America