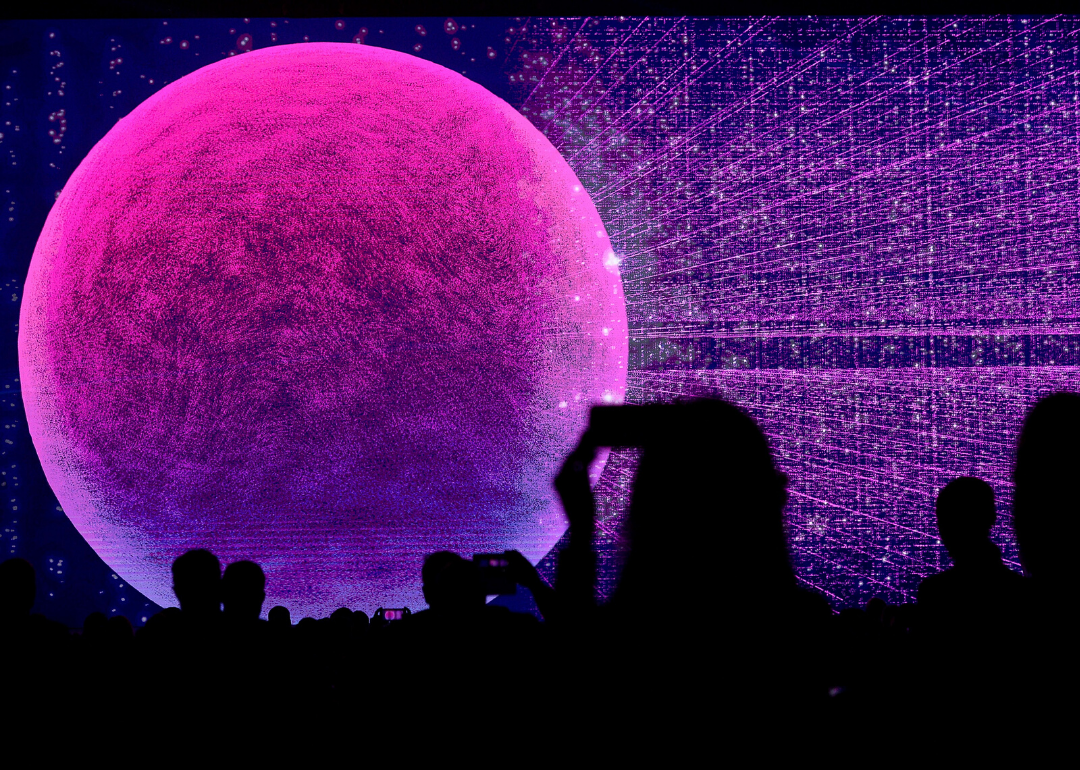 25 major technological advances of the last decade
JOSEP LAGO // Getty Images
25 major technological advances of the last decade
When we think about the gadgets, gizmos, and apps aplenty that we use in our everyday lives, it's hard to imagine that there was ever a time when we got along without them. From food delivery apps like Seamless and music streaming services like Spotify and Google (and the magnificent art of Googling), certain tech advancements that have arisen over the past years and decades have become so ubiquitous that we hardly even give them a second thought.
Yet, the reality is those that are most central to our lives didn't even exist 10 years ago. From technological advances like Uber that have changed how we get from point A to point B to apps like Venmo that have created a social experience around sending and requesting money, the past decade has seen several tech trends that have become commonplace while still affecting how we live in major ways.
Stacker scoured some of the top sources for tech and news to compile a list of 25 major advancements in technology that have changed the way we live our lives and interact with the world around us, along with the companies that have spearheaded technological breakthroughs to make them part of our everyday lives.
The tech inventions and innovations on this list span a wide range of categories, including transportation, fitness, food, finance, and even romance. And while each of the spotlighted items on this list reflects a different trend that we've seen over the past 10 years, there's one thing that they all have in common: In addition to shaping our lives over the past decade, they're paving the way for how we live in the future.
Centralized work communications
As far as technologies that have transformed the modern workplace, few examples are more significant than Slack, which was launched in 2013. The instant-messaging app is one that has drastically transformed the way people communicate in business and transformed the world of remote work by creating a kind of hub for communications, file sharing, team group chats, and more to maximize efficiency no matter where in the world employees are.
While the workplace is certainly the space that has been most affected by the launch of Slack, that's not to say it's the only place. The chat platform has also been utilized by friends, families, couples, and networking groups as a tool for communicating. Why? The widespread (and almost constant) use of the platform allows for one of the most frictionless ways for everyone to connect.
New formats for sharing our personal lives and marketing our businesses
It's hard to believe there was ever a time when we weren't chronicling our every experience on the 'gram—and it's even harder to believe that time was as recent as a decade ago. Since its launch in 2010, Instagram has completely transformed human behavior, from the way we travel and find travel inspiration, to the way we eat and share our meals, to the way we interact with our friends, families, and in some cases total strangers.
The social media platform, which in 2018 had over 1 billion active users, has always been a source of entertainment and inspiration for users. And in addition to finding new ways to continue conquering that space for users via the introduction of such features as Boomerang, Instagram Stories, and IGTV, the app is now evolving into a powerful tool for marketers, as well.
The dawn of temporary social shares
In the same vein as Instagram, Snapchat is another social media platform that has become so ubiquitous in modern culture that it's hard to remember a time before its existence. Snapchat, which initially launched as Picaboo back in 2011, is interesting as one of the only social platforms of its kind to replicate real-time communication in the sense that it's fleeting. The idea behind the app was that it would be a place where people could send disappearing images to one another.
Today, a number of features—including Snapchat Discover, which features short-form ad content from brands; Lenses, which add filters to photos taken with the self-facing camera; and group messaging—have made the app one of the most popular social networks for casual users and marketers alike.
Virtual home assistants
When Amazon Echo launched back in 2014, it brought with it a new kind of "smart home"—and a new association for the name Alexa. The smart speaker basically acts as a virtual assistant, with the ability to do anything from tell you the weather for the day, to update you on the latest headlines, to play your music.
All it takes is a simple "Hey, Alexa" to summon the speaker, after which the built-in voice recognition can process different questions and commands from users. The first-of-its-kind speaker ultimately set the stage for additional smart speakers to come.
'Smart' homes
On the topic of smart homes, Google started one of its own back in 2014 with the launch of Google Nest, which creates smart, connected devices for almost everything one might need in the home. The first product under Google Nest was the WiFi-connected Learning Thermostat (though this was actually created back in 2011 by a team of Apple alumni before being purchased by Google in 2014). The company has since rolled out a host of additional smart home products, including a smoke detector, security system, Chromecast, and more.
Virtual payment systems and card readers for small businesses
A lot has changed in how payments can be made over the years, but Square is one of the biggest products to evolve out of the past decade. It is an incredibly easy-to-use credit card processing system that offers a range of features and options in a high-quality free point of sale (POS) system.
Of all the ways that Square has positively impacted payment options for businesses, though, one of the best is the opportunity for small business owners or budding entrepreneurs. The Square Reader—a small card reader that can plug into a smartphone—makes it easy for people to take card payments anywhere, which is a game-changer.
New ways to destroy indoor air pollutants
It's no secret that clean air is essential for healthy living, just like it's no secret that cleaning up your air is kind of a tall order. When the Molekule launched back in 2014, the first-of-its-kind air purification system employed patented Photo Electrochemical Oxidation (PECO) technology to destroy pollutants in the air on a molecular level.
Browser extensions that clip virtual coupons
Honey, which launched back in 2012, is a money-saving browser extension that works by scanning the internet for coupons and promo codes to help you save money while you're shopping. Honey could then earn a commission from partnering retailers. Though the extension faced its fair share of skepticism since its launch, it nevertheless managed to garner 8 million users by 2018 and, in 2019, was bought by PayPal for a whopping $4 billion in the company's largest acquisition to date.
A happy medium between phones and computers
Back in 2010, Steve Jobs presented the idea of a new kind of tech device that could exist somewhere between a laptop and a smartphone. With the introduction of the iPad, Jobs and Apple eventually sparked and transformed the tablet game entirely by creating a piece of tech with the kind of multi-touch surface that users love in their phone, but with a larger display that mimicked a personal computer.
Wireless earbuds
It was not too long ago that most people were still bound to their phones by headphone wires, but Apple shook that up in 2016 with the introduction of the AirPods. Though wireless bluetooth-enabled headphones were hardly a novel concept at the time, they quickly rose to insane popularity and became the mainstream wireless headphones by far. Thanks largely to their crystal clear sound, their (mostly) problem-free connecting, and their quick charge time, the AirPods have basically taken over— even if they've also gotten their fair share of mockery and meme action in the process.
Self-driving cars
Formerly called the Google self-driving project, which actually started back in 2009, Waymo, a self-driving tech company, came into existence in 2016 under Alphabet. The company has since focused on the development of autonomous vehicles. Waymo launched a fully self-driving minivan in partnership with Fiat Chrysler in 2017, and in 2018 in Phoenix, the company rolled out Waymo One, the first fully operating self-driving service where riders can hail autonomous cars like they would an Uber or Lyft.
Microblogging
Another social network that we've come to know as commonplace yet that didn't even exist 10 years ago is Twitter. From offering an outlet for silly ponderings, to breaking news in close to real time, to facilitating the mobilization of people for a political purpose (such as was the case with the Arab Spring), Twitter has played a pivotal role in the way that people communicate, mobilize, and spread information since its launch in 2010. The service provides people the chance to "microblog" in short bursts of text, making for constant updates of users' feeds that coincide with breaking news and other real-time events.
The domination of online dating apps
In addition to taking over our workplaces and replacing good old-fashioned couponing, tech managed to weasel its way (read: totally dominate) our love lives this decade, too. With the advent of Tinder in 2012—and subsequent apps like Hinge (2012) and Bumble (2014)—finding love became as easy as swiping right on an app, which a user might do based on a number of factors, including photos and quick facts. Regardless of whether people have success with dating apps or not, Tinder's launch spurred a dating app movement that has entirely changed how a whole new generation of people thinks of dating and relationships.
Ride-sharing apps
Though Uber was already in the works by 2009, the app didn't actually launch in San Francisco until 2010. The ride-hailing service allows people to call a private or shared car using an app, and has set the stage for a number of subsequent car-share apps (e.g. Lyft and Via) since its launch. Though Uber has run into a number of reputation-tainting scandals in more recent years, there's still no denying that the app played a major role in transforming the public transportation industry as we know it today.
Short-form video sharing
Though it didn't last (the app shut down in 2016), Vine was something of a cultural phenomenon for the four years that it did exist—and until today. When it launched in 2012, Vine was one of the first social media platforms to focus on short-form video. The introduction of more video features on apps like Twitter, Instagram, and Snapchat, though, forced Vine to fold in the face of growing competition.
The app's legacy lives on in the form of Vine clips that exist on the internet and continue getting shared and referenced in popular culture. The app's legacy also lives on in the form of several celebrities who became famous by way of Vine, including singer/songwriter Shawn Mendes. Today, the rise of a new app, TikTok, is the newest player in the short-form-video-with-viral-potential space.
Freemium digital offerings
Sure, Candy Crush might not be your idea of the most revolutionary piece of tech to come out of the last 10 years, but you might want to take another look. The three-match puzzle game has been hugely popular since its launch in 2012. The game's popularity serves as an interesting case study in freemium models turned major moneymakers.
Five years after its launch, Candy Crush downloads topped 2.73 billion, and the game had generated a whopping $250 million in revenue. Just one year after that, in 2018, Candy Crush alone made $945 million, while the entire Candy Crush Saga—which includes additional games like Candy Crush Soda Saga and Candy Crush Friends Saga—topped $1.5 billion.
Digitized diaper monitoring
We've got wearable trackers for ourselves, and 2019 has given us wearable tech for our babies, too. Lumi by Pampers is an all-in-one baby monitoring system that works with a sensor on a baby's diaper. That sensor then communicates with an app that keeps track of the collected data so that parents can remain better in tune to their babies' needs. While this is still a newer piece of tech that will surely continue evolving over time, it's a clear example of the direction that tech may be going by 2020.
Smart/in-home exercise equipment
Whether you love it or hate it, there's no denying that the Peloton bike—and now, the Peloton treadmill, too—has changed the at-home and boutique fitness worlds in a major way. The high-tech exercise bike, which sells for over $2,000 (plus a monthly membership fee) and has garnered a cult-like following since its launch in 2014, transformed the way that people work out in their own homes by incorporating a built-in bike screen with access to a wide range of live and on-demand workout classes with real instructors. The company has subsequently set the stage for other disruptors in the at-home tech space, including Mirror and Tonal.
Huge advances in VR
This decade brought us a new wave of virtual reality gadgets that have totally changed how we interact with tech and the world around us. One of the biggest players in the VR space, Oculus (a division of Facebook), came to the stage in 2012, introducing its first product—a VR headset called the Oculus Rift—a year later in 2013. The company has since launched a number of additional headsets that have been used in many applications, with gaming as one of the biggest.
Direct-pay apps
If you've ever dealt with the headache of trying to split a bill after a group dinner, you have likely found relief in the invention of Venmo. Owned by PayPal, Venmo is a mobile payment service that allows people to easily send and request money from each other using an app. While Venmo has functioned to make exchanging money easier—the app is now used for everything from splitting those dinner bills to paying rent—it has also created an interesting social culture around payments thanks to an activity feed that displays payment activity (but not payment amount) between people you know.
Virtual grocery shopping
When you find yourself in need of groceries yet entirely uninterested in dealing with the lines at your local grocery store, you can rest assured knowing that the past decade has brought us speedy delivery. With the birth of delivery service Instacart in 2012, you can now easily order your grocery items with the push of a few buttons and, voila, you've got yourself a restocked fridge sans supermarket run.
Data-driven approaches to centralized bike-sharing
Tech innovations in the transportation space have seen quite a bit of action in the past decade, and Citi Bike is yet another example of that trend. In the company of other bike-sharing platforms around the country, like Bay Wheels in California and Biketown in Oregon, Citi Bike allows people around New York to use communal bikes that sit in docks around the city when not in use. The bike-sharing platform employs revolutionary tech from operating company Motivate, which designs and deploys technologies and systems that allow for new modes of transportation, like bike-sharing.
4G Networks (2010)
Prior to 2010, we were all still using 3G and didn't even realize what we were missing. At the start of the decade that 4G (and the first 4G handset, Sprint's HTC EVO) was introduced and offered a higher-speed alternative to its predecessor.
Hoverboards
You may not necessarily see everyone riding around on hoverboards just yet, but 2015 saw us enter into a tech phase that is at least one step closer to "Back to the Future." The first ever hoverboard, The Hendo hoverboard, made its debut in a video on Kickstarter in 2015 after husband-and-wife team Greg and Jill Henderson created a functioning prototype.
Upgraded fitness trackers
If you ask anyone how many steps they ought to be taking every day, chances are they will quickly spit out "10,000." The widely accepted minimum daily step count is one that has become a major focal point over the past decade, in large part thanks to a trend of fitness trackers that started with early iterations like the Fitbit Ultra, which launched in 2011 (though Fitbit itself has existed since 2007).
This initial version of a pedometer that syncs up to your smartphone set the stage for a whole slew of fitness trackers that have emerged over the past several years, some of which have incorporated aspects of competition to help encourage more activity. Overall, this tracker set in motion a movement of wearables that have largely changed the fitness industry.