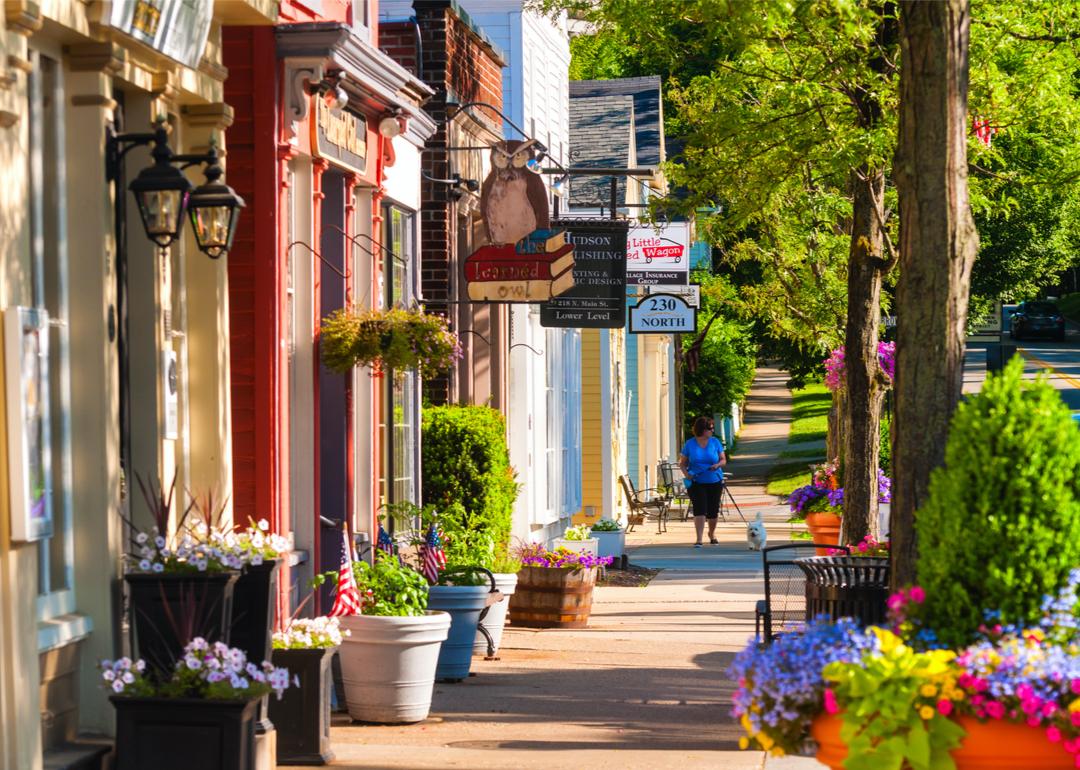 50 small towns that are home to big businesses
Kenneth Sponsler // Shutterstock
50 small towns that are home to big businesses
In 2020, the coronavirus pandemic has challenged many aspects of life that have long been taken for granted, like the ability to socialize in public, watch a movie in a theater, or shop at a small business. When lockdown measures went into place earlier this year, many small businesses were forced to close their doors, and few were able to reopen.
The disappearance of many of these locally owned companies has led thousands of shoppers and diners to recommit to the "shop local" trend, in hopes that the businesses that are still hanging on will be able to keep their doors open.
Small businesses are essential, often providing more jobs in a given city than their larger counterparts. They also often lack the resources, like cash reserves, needed to persevere through unprecedented times like these. For example, in New York City, where locally owned companies represent 98% of the area's employers and provide more than 3 million jobs, more than one-third of small businesses are expected to close due to the pandemic.
Big businesses, on the other hand, are generally able to weather storms such as these. Giant companies like Chase Bank, Target, and Amazon aren't relying on this month's revenues to keep the lights on and employees on payroll. However, this line between big businesses that don't need the money and small businesses that so desperately do begins to blur when major companies that are headquartered in small towns are concerned.
When major corporations like Walmart or Caterpillar are located in a smaller or more rural town, they tend to be the area's largest employer. The collapse or failure of any one of these businesses wouldn't just be a blow to the corporation, but would devastate the local economy as well.
In the following slides, Stacker has compiled a list of 50 of these big businesses that are headquartered in small towns, using data from the various company and local government sites, as well as Forbes and Fortune. Many of them are examples of companies where failure, whether due to the coronavirus or otherwise, would ruin the host city.
While there aren't strict criteria for what defines either a big business or a small town, each of these corporations makes billions or millions of dollars in annual revenue, employs thousands of individuals, or has hundreds of storefronts. Additionally, no town on our list tops 75,000 residents.
From Walmart to Whirlpool, read on to find out which big businesses have established their headquarters in small-town America.
Walmart
In 1950, Sam Walton moved to Bentonville, Arkansas, and opened up his first Walton's 5&10 store. Flash forward 70 years, and Walmart, as the chain has since been renamed, is the largest retail company in the world, with annual revenue of more than $530 billion. While the retailer may have moved up, it hasn't moved out, and headquarters remain in this town of 50,000.
Marathon Petroleum
Located in northwest Ohio, Findlay is home to some 41,000 residents and the seat of the Marathon Petroleum company. In 2011, the company that handles the refining, marketing, and transport of petroleum products in the United States moved to the tiny Midwestern town after a series of mergers and splits. As of 2019, Marathon Petroleum employed almost 61,000 people across the country.
Hormel Foods
Skippy, Country Crock, Spam, and Justin's are all brands under the Hormel Foods label, which was founded in 1891. The packaged and refrigerated foods brand has been headquartered in Austin, Minnesota, home to just over 25,000 people, for the past 130 years, and, despite its growth, the company has no plans to relocate.
ADP
Automatic Data Processing, or ADP, provides human resources solutions, like payroll systems, scheduling software, and time clock applications. The company, which earned more than $14 billion in revenue last year, is headquartered in Roseland, New Jersey, a town of 5,800 people located just under an hour from New York City.
Mastercard
Founded in 1966, Mastercard was originally a co-op that was owned by 25,000 banks and financial institutions that issued its credit and debit cards. Today, the payments industry company, which operates more like a technology company than a financial company, is independently owned and brings in $7.9 billion a year in profits. Its corporate headquarters are in Purchase, New York, a hamlet upstate from New York City with a population of 5,300.
CenturyLink
A telecommunications company at its core, CenturyLink provides cable, phone, and internet services to an estimated 49.2 million people around the country. Recently rebranded Lumed Technologies, the brand is headquartered in Monroe, Louisiana, a town of 47,000. With a workforce 42,500 people strong, the total number of CenturyLink employees almost surpasses that of its hometown.
Progressive Corporation
Jack Green and Joseph Lewis, both lawyers, founded Progressive Corporation, an insurance company in Mayfield Village, Ohio, in 1937. Now one of the largest providers of car insurance in the United States, the corporation also covers items such as boats, motorcycles, and RVs. One key to the company's success may be that it hasn't moved from its roots, remaining headquartered in the town with a population of 3,300.
Mrs. Fields
Palo Alto, California, 1977: A young Debbie Fields opens her first storefront in the Pier 39 shopping center to sell her warm chocolate chip cookies. Broomfield, Colorado, 2012: Mrs. Fields headquarters moved to the city with 69,000 residents in order to be close to Denver and the quick service franchise companies that were operating out of that area. Now offering 14 different flavors of cookies, the homegrown franchise remains one of America's sweetest indulgences.
Kellogg's
In 1894, W.K. Kellogg changed breakfast forever when he invented the corn flake at the Battle Creek Sanitorium, a health resort run by his brother, the renowned John Harvey Kellogg. A little over a decade later, in 1906, W.K. Kellogg began his own business, the Battle Creek Toasted Corn Flake Company, and the rest, as they say, is history. Today, the company, which brings in $13.5 billion a year in revenues, remains in Battle Creek, a city of 51,000 people.
PepsiCo
There's truly no combination better than a salty snack and a cold, sugary beverage, which is exactly why PepsiCo, created by the merger of the Pepsi-Cola Company and Frito-Lay, has found such massive success. The company's brands include major names like Gatorade, Quaker, Tropicana, Frito-Lay, and Pepsi, which bring in a combined $67 billion in net revenue each year. While the brands may be major, the company's home town of Purchase, New York, with a population of 5,300, is quite the opposite.
Land's End
Launched as a mail-order business for yachting equipment, Land's End opened its doors in Chicago around 1963. The brand was originally a hardware store and didn't fully pivot to clothing until 1975 with the launch of its color catalog. In 1980, founder Gary Comer moved the company's headquarters out of the big city to Dodgeville, Wisconsin, population 4,600, in order to help his employees live healthier, more balanced lives.
Dick's Sporting Goods
Richard Stack was just 18 when he opened a small fishing tackle store in 1948 in Binghamton, New York. By 1970, Stack had expanded his product line to include gear for all kinds of sports and outdoor adventures. Today, the company, which is run by family and still operates out of Binghamton, earns $7.3 billion in revenue each year.
Capital One
McLean, Virginia, may be a small town with only 47,000 residents, but it's incredibly wealthy, containing two of the most expensive zip codes in the United States. The Eastern city is also home to Capital One Bank, which was founded there in 1988. With more than 47,000 employees and 755 branches, the bank is one of the largest in North America.
Mars Inc.
One of the largest food companies in the world, Mars Inc. has four distinct business segments: Mars Petcare—Pedigree, Whiskas, and Royal Canin; Mars Food—Ben's Original, Tasty Bite; Mars Wrigley—M&Ms, Skittles, Snickers, and Extra; and Mars Edge—Cocoavia. Founded in 1911, the company remains family owned and incredibly private, although its headquarters have moved from its native Tacoma, Washington, to McLean, Virginia, with a population of 47,000.
Fruit of the Loom
Born in 1851, Fruit of the Loom, an underwear and clothing manufacturer, is 160 years old and one of the oldest American brands. Benjamin and Robert Knight founded the company in Warwick, Rhode Island, but the headquarters have since moved to Bowling Green, Kentucky. The business employs 28,000 people around the world to create colorful, comfortable, and high-quality t-shirts, socks, underwear, and other items.
IBM
IBM is an information technology company that sells computer hardware, middleware, and software. Generating annual revenues north of $76 billion each year, the huge company is headquartered in Armonk, New York, a hamlet that's home to just over 4,000 people.
Cardinal Health
Providing both health care services and health care products, Cardinal Health was founded by Robert D. Walter in 1979. Now serving more than 90% of hospitals in the United States, the company, which is headquartered in Dublin, Ohio, with a population of 48,000, ranks among the top 25 Fortune 500 companies.
CVS
Brothers Stanley and Sidney Goldstein with their partner Ralph Hoagland opened the first CVS in 1963. The pharmacy chain quickly expanded, hitting 100 stores by 1970. Today, the retailer, which remains a leader in its industry, operates 10,000 stores around the country while maintaining its small-town feel, thanks, in large part, to its Woonsocket, Rhode Island, headquarters.
AmerisourceBergen
AmerisourceBergen is a wholesale drug company headquartered in the tiny town of Chesterbrook, Pennsylvania, population 4,700. While its original goal may have been to provide Americans with low-cost prescription medication, the company is now being sued by the state of West Virginia for its contributions to the opioid epidemic.
Johnson & Johnson
Founded in New Brunswick, New Jersey, in 1886, Johnson & Johnson's primary goal over its 130 years of existence has been to transform human health and well-being. The medical device, pharmaceutical, and consumer packaged goods company is now one of the most valuable in the world, with sales that top $82.2 billion annually. The corporation remains headquartered in its original New Jersey town of 56,000.
AMC Theaters
Since opening its first movie theater in Kansas City, Missouri, in 1920, AMC Theaters has grown into the largest theater chain in the world, with 8,380 screens. Unfortunately for the AMC legacy, the coronavirus pandemic is threatening the future of this chain, located in Leawood, Kansas, and movie theaters as a whole.
Cracker Barrel
In 1969, Dan Evins opened the first Cracker Barrel restaurant and gift store just off of Interstate 40 in Lebanon, Tennessee, population 35,000. Believing that cross-country travelers using the country's new highway system would need a place to stretch their legs, eat a good meal, and refuel, Evins was sure his idea would be a success. Now with 650+ locations and more than 73,000 employees, Cracker Barrel is another example of an American success story rooted in a small town.
Sanderson Farms
Sanderson Farms is the third-largest poultry producer in the United States, and, according to Forbes, one of the country's best employers. More than 14,600 people work for the farm, which is headquartered in Laurel, Mississippi, a small town of 18,600.
Rite Aid
Another one of the nation's leading drug store chains, Rite Aid has 2,500 stores in 19 states that employ some 51,000 associates. Originally founded under the name Thrif D Discount Center, the company opened its first store in Scranton, Pennsylvania. Currently, its headquarters are in Camp Hill, Pennsylvania, which lies three miles outside of Harrisburg and is home to just under 8,000 people.
NextEra Energy
The second-largest energy company in the United States, NextEra Energy employs 13,900 people who contribute to the company's $17.2 billion in annual revenues. Unlike its chief competitor ExxonMobil, who's set up shop in the massive Irving, Texas, NextEra doesn't need a large hub to get the job done, instead choosing to operate out of the small town of Juno Beach, Florida, population 3,600.
Walgreens
In 1922, Walgreens drugstores invented the malted milkshake, a sweet treat that put the otherwise ordinary retailer on the map. Now, almost 100 years later, the chain opened its 8,000th store and officially established itself as one of the most valuable brands in the world. The company was founded in Chicago in 1901, but looking for more space and a lower overhead cost in 1975, Walgreens moved its headquarters north of the city to Deerfield, Illinois, with a population of 18,700.
Kohler
Today, Kohler is best known for its plumbing products, like showerheads, toilets, and faucets, but when it was founded in 1873 by John Michael Kohler, the company sold plows and other farm tools. A lot has changed with the company, which now generates $7 billion in annual revenue, but certain things, like its location in Kohler, Wisconsin, population 2,000, remain the same.
Caterpillar
Walgreens isn't the only major company to call Deerfield, Illinois, home—Caterpillar Inc., which makes tractors, construction, and mining equipment, is also headquartered in the small town. Forbes ranked the company #91 on its "World's Most Valuable Brands" list in 2020, and with $51 billion in annual revenue, it's easy to see why.
Bath & Body Works
Often referred to as "the smelliest store in the mall," the first Bath & Body Works store opened in a Cambridge, Massachusetts, shopping center in 1990. While the body care and home fragrance retailer created an image for itself as a home-grown, Midwestern brand, it's actually a spin-off of an Express fragrance line, which was, at one time, owned by L Brands. Yet the company's current headquarters are in Reynoldsburg, Ohio, a place that's home to 38,000 people and not at all far off from that "down-home" claim.
Family Dollar Stores
Family Dollar's operating philosophy that "the customers are the boss, and you need to keep them happy" has been in place since the first store opened in Charlotte, North Carolina, in November 1959. This concept has allowed the discount retailer to expand to 8,000 stores across the country, earning $10.5 billion in annual revenues. The chain's headquarters are not far from where it all began in Matthews, North Carolina, population 32,600, a suburb of Charlotte.
The Hershey Company
Arguably the most ubiquitous chocolate brand in the world, The Hershey Company unveiled its first product, Hershey's Cocoa, to the world in 1894. In 2019, Forbes ranked The Hershey Company #2 on its "America's Most Reputable Brands" list, recognizing how the company has committed to and invested in the nation, its employees, and its local community in Hershey, Pennsylvania, population 14,500.
Merck & Co.
Merck & Co. is one of the largest and oldest pharmaceutical companies in the world. Engaged in producing both human and animal drugs and vaccines, the corporation's U.S. headquarters are in Kenilworth, New Jersey, a town of just under 8,000 people.
Trader Joe's
A relative newcomer to the grocery store scene, Trader Joe's opened its first store in Pasadena, California, in 1957. A favorite with millennials and Gen Z, the chain offers fresh, private label products at an affordable price, especially compared with competitors like Whole Foods. The culinary trader is headquartered in Monrovia, California, a southern locale that is home to 36,700 people.
Amdocs
Specializing in software and services, like billing solutions, for communications and media platforms, Amdocs grossed $4.1 billion in revenue last year. Founded by Morris Kahn, a billionaire who lives off the Israeli coast, the company moved its headquarters from the Middle Eastern country to Chesterfield, Missouri, population 47,400, sometime in the 1990s.
JB Hunt Transport
A Fortune 500 company, JB Hunt Transport Services was founded by husband and wife team Johnnie Bryant and Johnelle Hunt in 1961. The trucking company currently employs almost 30,000 people who work throughout the United States, Canada, and Mexico. Its head offices are in Lowell, Arkansas, a tiny town of 7,000 people.
US Foods
In 2015, before it went public, US Foods was the 13th largest privately owned company in the United States. With $25.9 billion in annual revenue, the food services distributor, which delivers fresh, prepackaged, and frozen foods to restaurants, health care, hospitality, government, and educational entities around the country, remains one of the biggest businesses headquartered in small-town America. It's currently located in Rosemont, Illinois, a village northwest of Chicago with 4,200 residents.
Sonoco
It was 120 years ago in Hartsville, South Carolina, that Sonoco, a packaging goods company, debuted its first product—a cone-shaped paper yarn carrier. In 2020, Sonoco is the world's largest producer of paperboard containers, but the company hasn't strayed far from its humble roots. In fact, the company and its 21,000 employees remain based in Hartsville, a town of 7,500 people just two hours from Myrtle Beach.
Carnival Cruise Line
Ted Arison started Carnival Cruise Line in 1972 with a single ocean liner he named the Mardi Gras and, as legend has it, just enough fuel to make the voyage from Miami to San Juan, Puerto Rico. Often cited as a classic example of "the American dream," the company grew from a single ship to a fleet of 100, making it the largest cruise ship line in the world. Even in the face of its immense success, the business remains headquartered in Doral, Florida, a town of 61,000.
Lowes
If you've ever embarked on a home improvement project, it's likely you took a trip to Lowes for supplies before getting started. What began as a small hardware store in North Carolina has now blossomed into one of the largest home improvement and hardware chains in the country. Case in point: In 2019, the chain did $72.1 billion in sales, all while operating out of its headquarters in Mooresville, North Carolina, population 38,400.
Discover Financial Services
With 39 million active cardholders in the United States, Discover Financial Services is among the largest credit card companies in existence. But the company doesn't just offer credit cards, it also operates Discover Bank, Diners Club International, and the Pulse network. Headquartered in Riverwood, Illinois, home to 3,600 people, the corporation employs 17,200.
Dow Chemical
The Dow Chemical Company can trace its roots back to 1897 when it was established to help the Midland Chemical Company. Today, the chemical extraction corporation is multinational and the second-largest chemical company in the world. Despite the fact that it brings in $86 billion in annual revenue and could relocate literally anywhere in the world, headquarters remain in Midland, Michigan, population 41,700.
Cabela's
Like all good success stories, Cabela's began around a kitchen table in 1961 when Richard Cabela began filling fly fishing orders through the mail. In the years since, the specialty retailer has flourished, selling outdoor products, including goods needed for hunting, fishing, and camping, in its 34 stores and through its catalog. In 2016, the store was acquired by Bass Pro Shops for $5.5 billion, but its headquarters remain in Sidney, Nebraska, population 6,700.
Ball Corporation
The five Ball brothers—Edmund, Frank, George, Lucius, and William—started the Ball Corporation in 1880; but it wasn't until 1884, when they introduced their glass home canning jars, that the business became a household name. Today, the company no longer produces the canning jars since it spun that portion of the business off to the Jardin Corporation, but it remains one of the largest metal packaging companies in the country. Located in Broomfield, Colorado, the Ball Corporation makes $566 million in annual revenue and employs more than 18,000 workers.
Baskin-Robbins
In 1945, another set of brothers, Irvine Robbins and Burton Baskin started a chain of ice cream specialty shops they dubbed Baskin-Robbins. Together, the duo ran six stores in southern California before expanding into franchising. With 7,900 locations around the world, the neighborhood ice cream spot certainly qualifies as a big business, even though it's headquartered in Canton, Massachusetts, with a population of 24,000.
Jo-Ann Fabrics
The largest fabric and craft supply retailer in the nation, Jo-Ann Fabrics began as a single store in Cleveland, back in 1943. Now headquartered in nearby Hudson, Ohio, population 22,200, Jo-Ann's has 865 stores in 49 states and does about $2.4 billion in sales annually.
Sears
In 1887, the first Sears store opened in Chicago selling watches and jewelry. Incorporated as Sears, Roebuck & Co. in 1893, the company expanded its offerings and quickly became the largest general merchandise retailer in the United States, a position it held until 1990 when it was surpassed by Walmart. Despite declaring bankruptcy and shrinking substantially, the corporation still exists today through subsidiaries and is headquartered in Hoffman Estates, Illinois.
Abercrombie & Fitch
During their teenage years, most millennials either owned or longed to own a piece of clothing from Abercrombie & Fitch. Originally founded as an outdoor clothing retailer, A&F dressed the likes of Theodore Roosevelt, John F. Kennedy, Amelia Earhart, and Charles Lindbergh before becoming a poorly lit, teenybopper mall staple. Centered in New Albany, Ohio, today's iteration of A&F still employs some 42,000 people.
Penske Automotive Group
Bloomfield Hills, Michigan, a town of 4,000 people, has been home to the Penske Automotive Group since its founding in 1992. The Fortune 500 company is a major distributor of commercial trucks, engines, and related automotive parts. It has also been ranked the 63rd best company to work for in the world by Forbes Magazine.
CHS Inc.
A farmer- and rancher-owned collective, CHS Inc. operates a host of businesses including food processing plants, Cenex fuel, and Ventura Foods. A Fortune 100 company, CHS made $829 million in profits in 2019. Its headquarters are in Inver Grove Heights, Minnesota, population 35,400.
Whirlpool
Finally, there's Whirlpool, the world's leading manufacturer of home appliances. The company sells about $20 billion worth of goods each year, making it one of the largest companies on the list. Its headquarters lie in Benton Harbor, Michigan, a town with 9,800 residents.