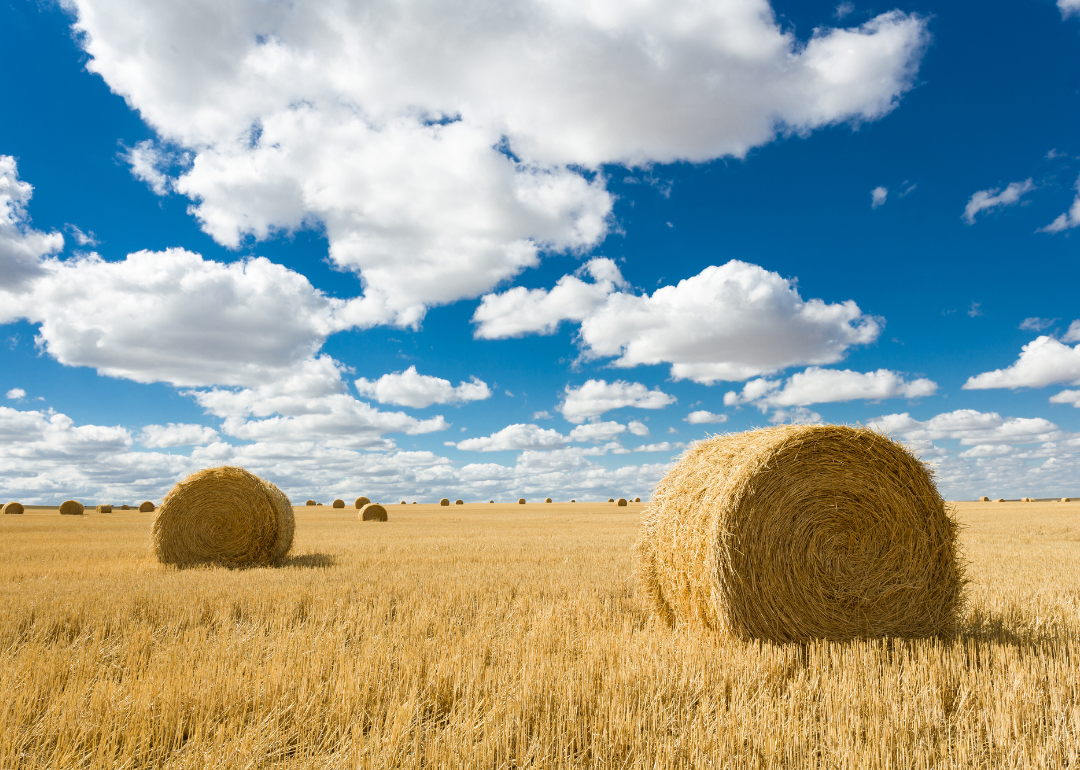 Biggest farming county in every state
Laurens Hoddenbagh // Shutterstock
Biggest farming county in every state
Homesteaders and newcomers to the United States way back in the early days would grow and harvest their own food. By the time the U.S. was officially founded, cities were growing fast and more opportunity existed outside of farming resulting in less farmers. 
To determine the biggest farming county in every state, Stacker compiled data from the United States Department of Agriculture's Census of Agriculture, released every five years. The information is from 2017, the most recent data available, and includes agricultural sales from each county and what percentage those sales are of the total agricultural market in the state.
In 1785, the first agricultural groups in the U.S. were founded, but the industry only began to have representation in the government almost 40 years later when the U.S. House of Representatives established the Agriculture Committee. The farming industry hit its peak in 1935 when 6.8 million farms were in operation, and even though it is in decline, farming is still a major industry in the U.S.—about 2.05 million farms are currently in operation.
Keep reading to discover the biggest farming county in your own home state.
You may also like: County with the most severe weather in every state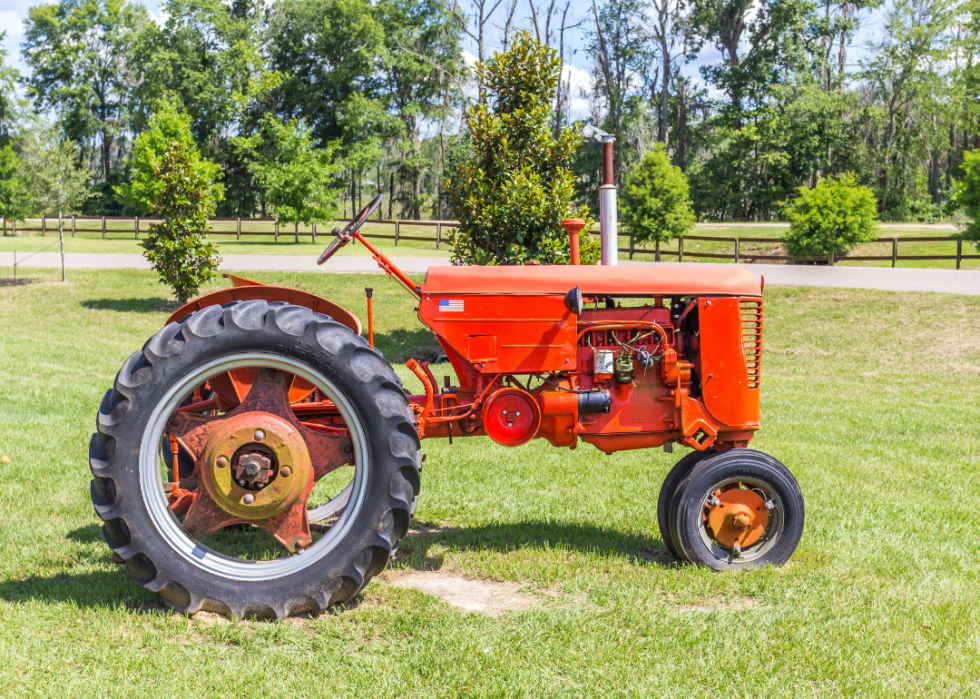 1 / 50
Mccallk69 // Shutterstock
Alabama: De Kalb
- Agricultural sales: $573.3 million (9.7% of state sales)

- Crop sales: $25.0 million (2.2% of state crop sales)
- Top crops: Grains, oilseeds, dry beans, dry peas ($14.9 million), Vegetables, melons, potatoes, sweet potatoes ($3.6 million), Cotton and cottonseed ($1.1 million)

- Livestock and animal product sales: $548.2 million (11.5% of state animal sales)
- Top livestock: Poultry and eggs ($519.4 million), Cattle and calves ($17.3 million), Hogs and pigs ($10.3 million)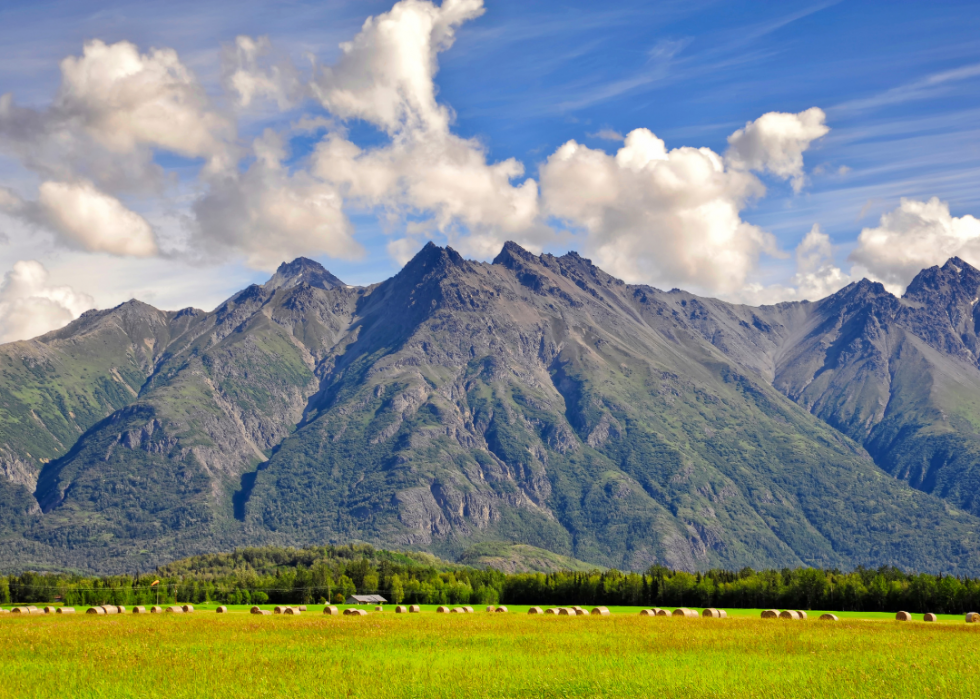 2 / 50
Danita Delimont // Shutterstock
Alaska: Anchorage
- Agricultural sales: $37.5 million (53.3% of state sales)

- Crop sales: $17.1 million (57.8% of state crop sales)
- Top crops: Nursery, greenhouse, floriculture, sod ($10.8 million), Vegetables, melons, potatoes, sweet potatoes ($4.2 million), Other crops and hay ($2.0 million)

- Livestock and animal product sales: $20.4 million (50.0% of state animal sales)
- Top livestock: Aquaculture ($17.7 million), Cattle and calves ($898,000), Hogs and pigs ($383,000)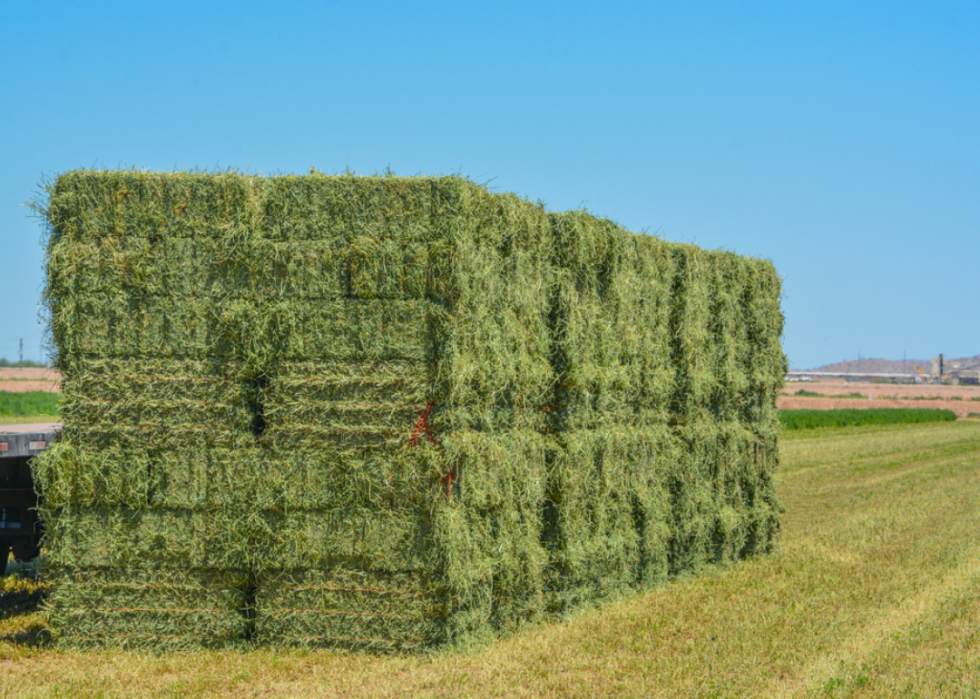 3 / 50
Norm Lane // Shutterstock
Arizona: Maricopa
- Agricultural sales: $1.2 billion (47.4% of state sales)

- Crop sales: $475.7 million (45.6% of state crop sales)
- Top crops: Vegetables, melons, potatoes, sweet potatoes ($163.1 million), Other crops and hay ($129.5 million), Nursery, greenhouse, floriculture, sod ($123.7 million)

- Livestock and animal product sales: $733.4 million (48.7% of state animal sales)
- Top livestock: Milk from cows ($487.7 million), Horses, ponies, mules, burros, donkeys ($21.5 million), Sheep, goats, wool, mohair, milk ($1.1 million)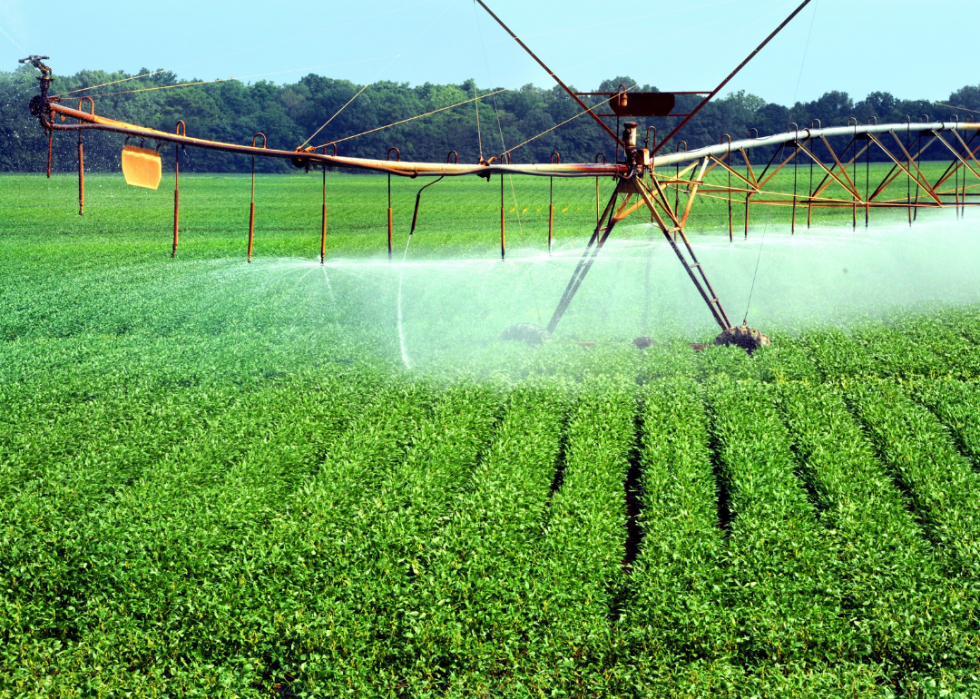 4 / 50
Bonita R. Cheshier // Shutterstock
Arkansas: Benton
- Agricultural sales: $593.4 million (6.3% of state sales)

- Crop sales: $7.6 million (0.2% of state crop sales)
- Top crops: Other crops and hay ($3.3 million), Nursery, greenhouse, floriculture, sod ($1.8 million), Grains, oilseeds, dry beans, dry peas ($1.6 million)

- Livestock and animal product sales: $585.8 million (9.7% of state animal sales)
- Top livestock: Poultry and eggs ($536.0 million), Cattle and calves ($41.6 million), Milk from cows ($4.1 million)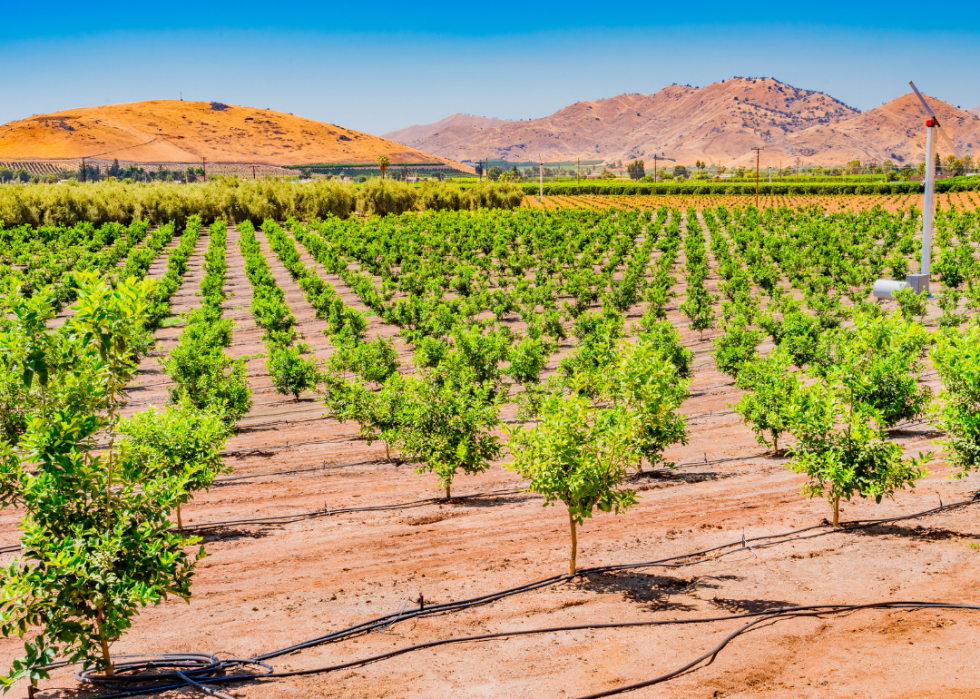 5 / 50
Patricia Elaine Thomas // Shutterstock
California: Fresno
- Agricultural sales: $5.7 billion (12.8% of state sales)

- Crop sales: $4.1 billion (12.3% of state crop sales)
- Top crops: Fruits, tree nuts, berries ($3.0 billion), Vegetables, melons, potatoes, sweet potatoes ($822.7 million), Cotton and cottonseed ($139.2 million)

- Livestock and animal product sales: $1.7 billion (14.2% of state animal sales)
- Top livestock: Poultry and eggs ($634.9 million), Cattle and calves ($618.1 million), Milk from cows ($390.1 million)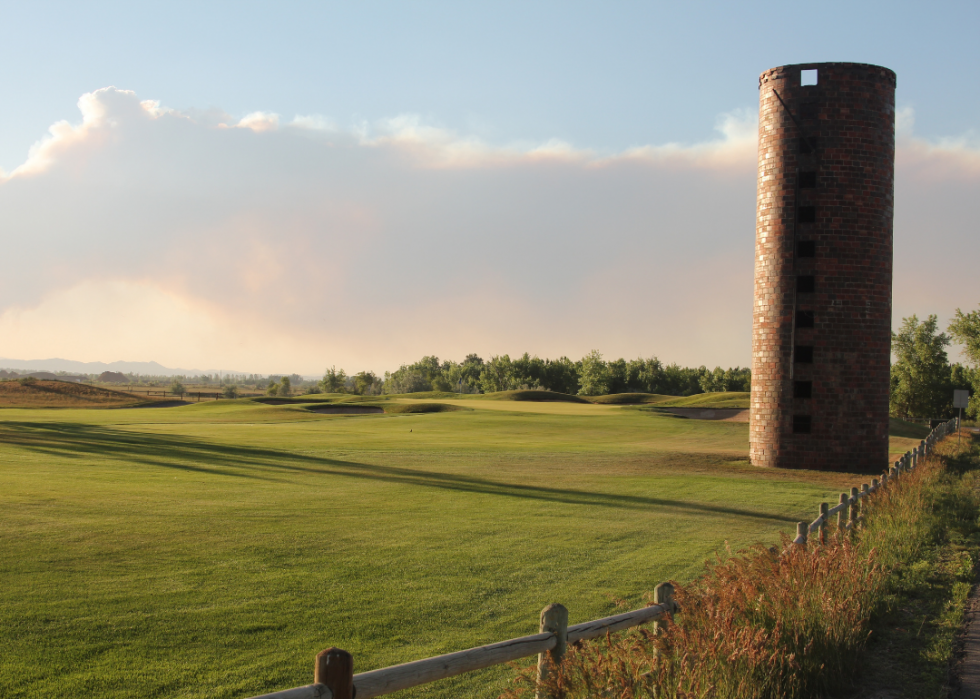 6 / 50
Rexjaymes // Shutterstock
Colorado: Weld
- Agricultural sales: $2.0 billion (27.3% of state sales)

- Crop sales: $348.6 million (15.6% of state crop sales)
- Top crops: Grains, oilseeds, dry beans, dry peas ($140.5 million), Nursery, greenhouse, floriculture, sod ($97.6 million), Other crops and hay ($63.7 million)

- Livestock and animal product sales: $1.7 billion (32.3% of state animal sales)
- Top livestock: Cattle and calves ($1.1 billion), Milk from cows ($452.8 million), Sheep, goats, wool, mohair, milk ($106.7 million)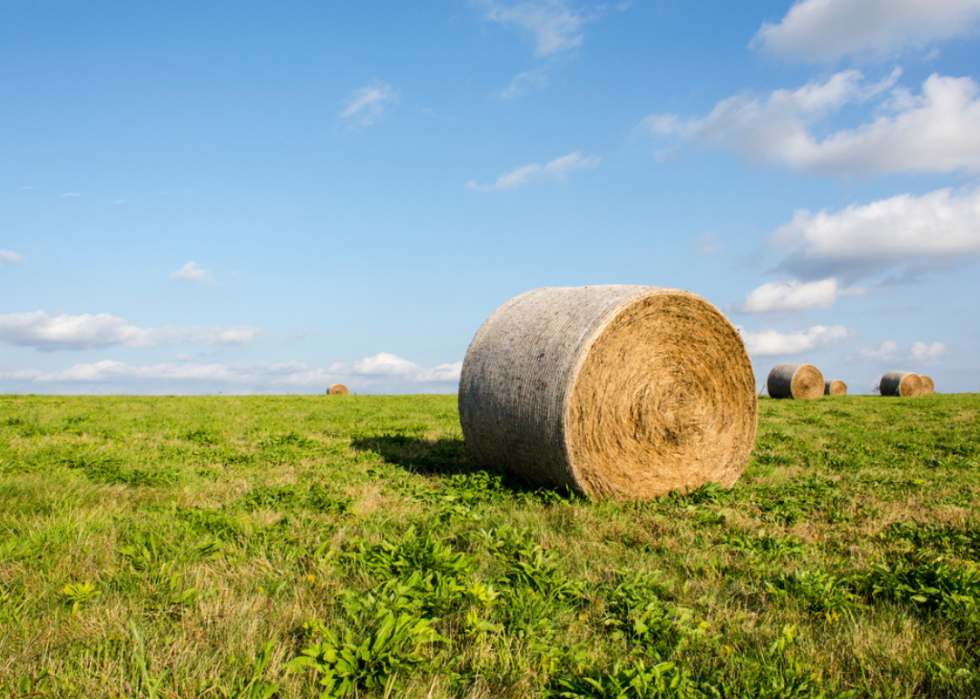 7 / 50
ostreetphotography // Shutterstock
Connecticut: New London
- Agricultural sales: $135.8 million (23.4% of state sales)

- Crop sales: $75.4 million (18.0% of state crop sales)
- Top crops: Nursery, greenhouse, floriculture, sod ($65.7 million), Vegetables, melons, potatoes, sweet potatoes ($3.2 million), Fruits, tree nuts, berries ($2.8 million)

- Livestock and animal product sales: $60.4 million (37.7% of state animal sales)
- Top livestock: Milk from cows ($22.8 million), Sheep, goats, wool, mohair, milk ($449,000), Aquaculture ($432,000)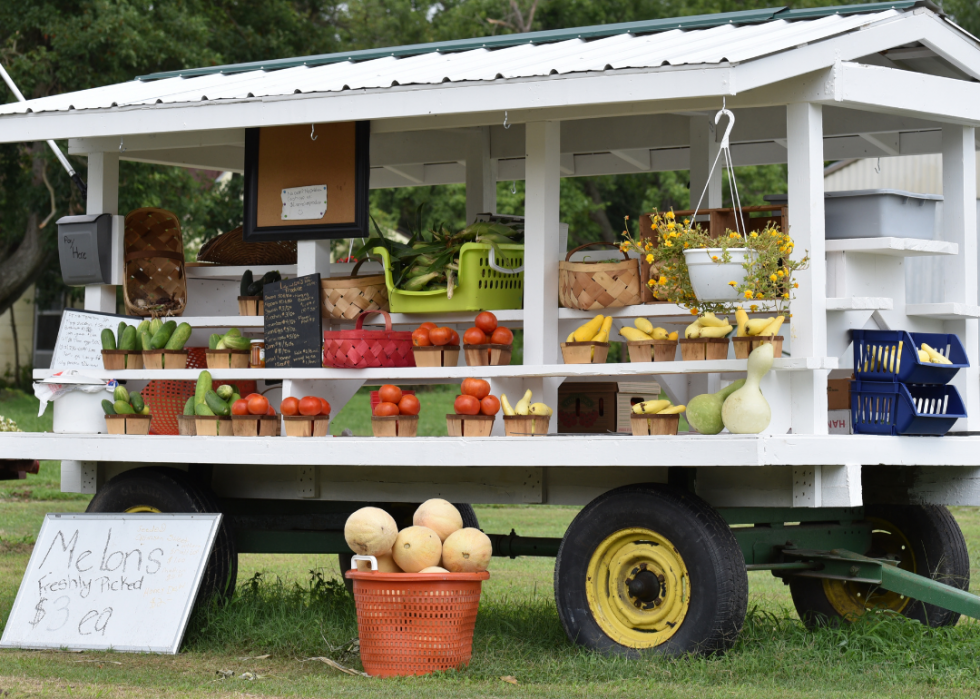 8 / 50
Dee Dalasio // Shutterstock
Delaware: Sussex
- Agricultural sales: $1.0 billion (69.1% of state sales)

- Crop sales: $182.4 million (56.0% of state crop sales)
- Top crops: Grains, oilseeds, dry beans, dry peas ($126.9 million), Vegetables, melons, potatoes, sweet potatoes ($35.6 million), Nursery, greenhouse, floriculture, sod ($17.5 million)

- Livestock and animal product sales: $830.2 million (72.8% of state animal sales)
- Top livestock: Poultry and eggs ($818.4 million), Milk from cows ($7.8 million), Cattle and calves ($1.8 million)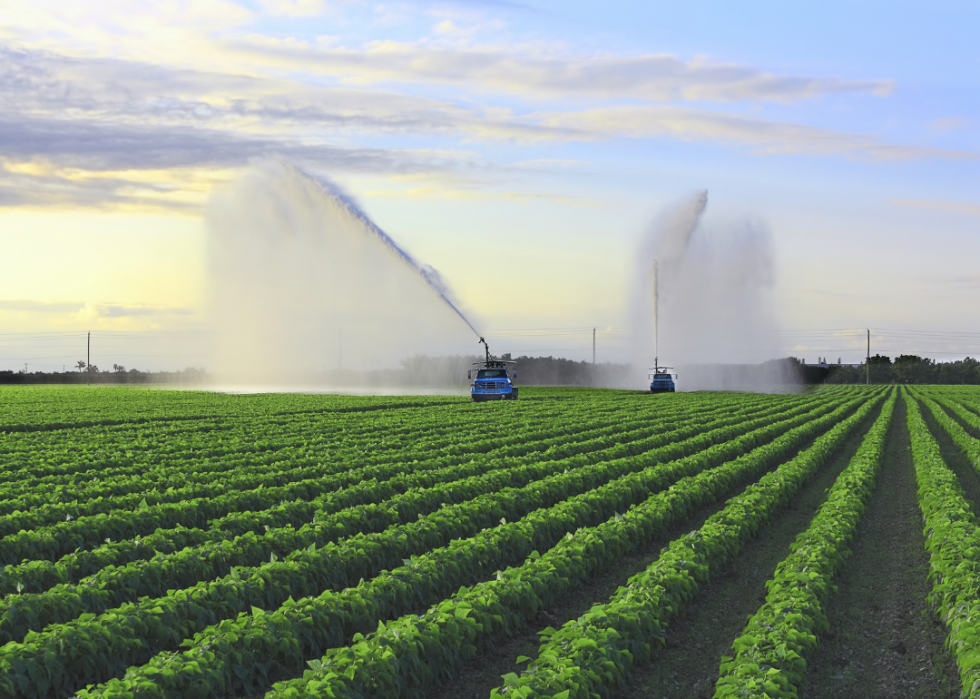 9 / 50
Rudy Umans // Shutterstock
Florida: Palm Beach
- Agricultural sales: $901.7 million (12.3% of state sales)

- Crop sales: $886.2 million (15.5% of state crop sales)
- Top crops: Other crops and hay ($377.9 million), Vegetables, melons, potatoes, sweet potatoes ($323.0 million), Nursery, greenhouse, floriculture, sod ($171.0 million)

- Livestock and animal product sales: $15.5 million (0.9% of state animal sales)
- Top livestock: Horses, ponies, mules, burros, donkeys ($10.0 million), Cattle and calves ($3.3 million), Other animals and animal products ($1.7 million)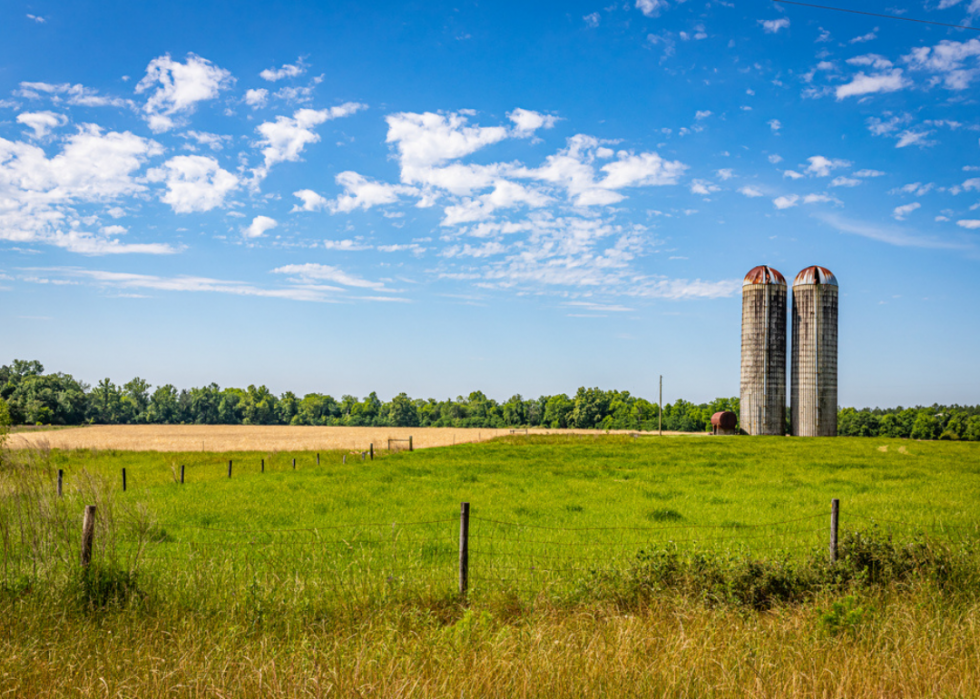 10 / 50
Gestalt Imagery // Shutterstock
Georgia: Tattnall
- Agricultural sales: $387.7 million (4.1% of state sales)

- Crop sales: $111.2 million (3.5% of state crop sales)
- Top crops: Vegetables, melons, potatoes, sweet potatoes ($90.0 million), Fruits, tree nuts, berries ($7.3 million), Other crops and hay ($5.1 million)

- Livestock and animal product sales: $276.4 million (4.4% of state animal sales)
- Top livestock: Poultry and eggs ($255.5 million), Cattle and calves ($10.7 million), Sheep, goats, wool, mohair, milk ($37,000)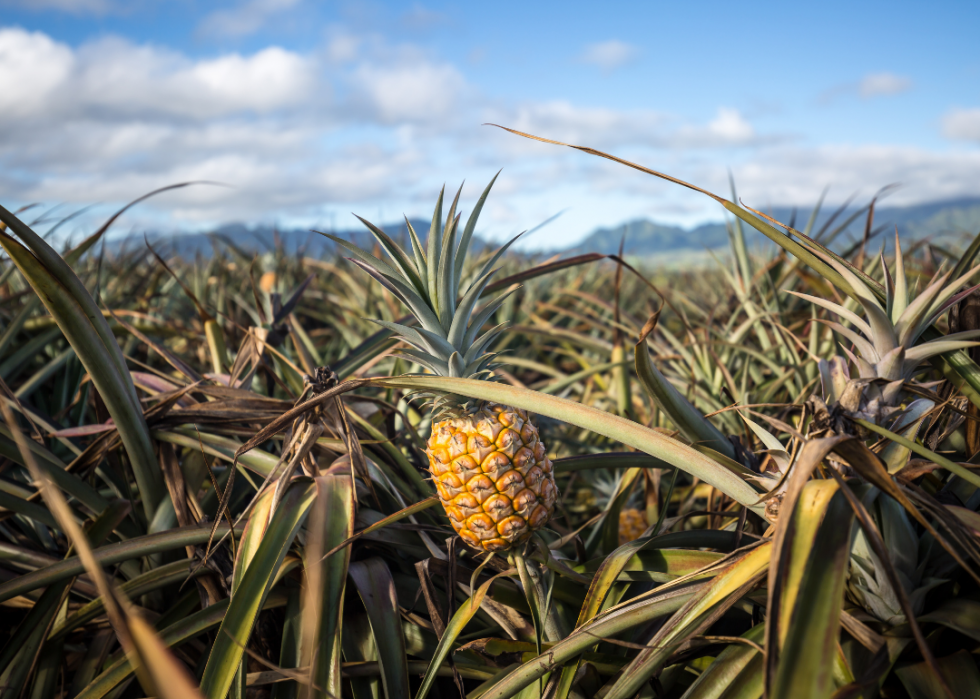 11 / 50
Evan Austen // Shutterstock
Hawaii: Hawaii
- Agricultural sales: $269.2 million (47.7% of state sales)

- Crop sales: $160.0 million (38.4% of state crop sales)
- Top crops: Fruits, tree nuts, berries ($92.8 million), Nursery, greenhouse, floriculture, sod ($50.3 million), Vegetables, melons, potatoes, sweet potatoes ($15.6 million)

- Livestock and animal product sales: $109.1 million (74.4% of state animal sales)
- Top livestock: Aquaculture ($59.3 million), Other animals and animal products ($23.3 million), Cattle and calves ($14.2 million)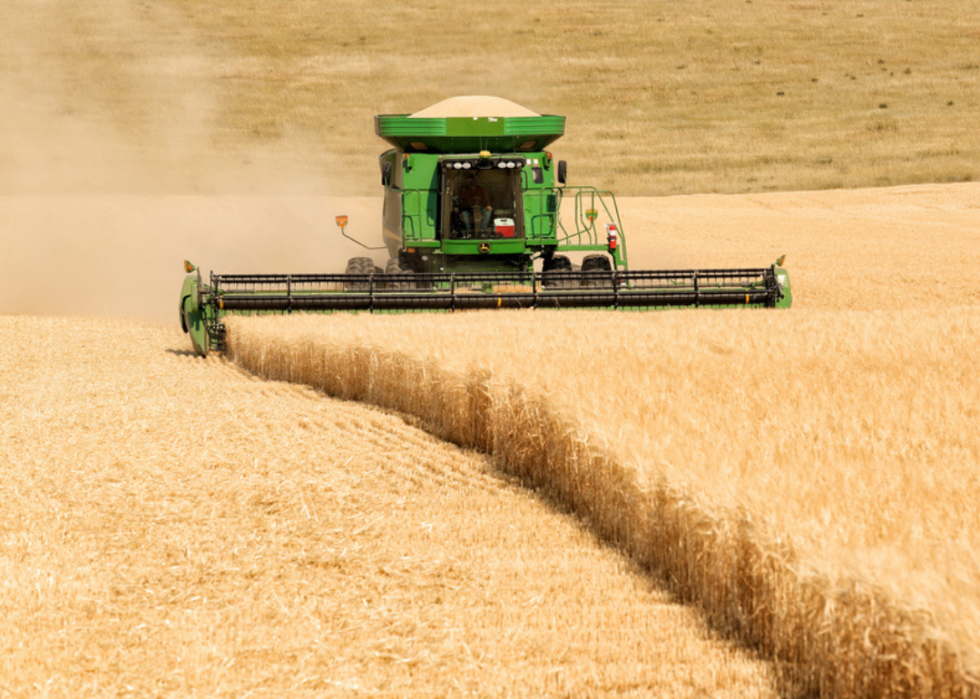 12 / 50
Idaho: Cassia
- Agricultural sales: $926.7 million (12.2% of state sales)

- Crop sales: $255.3 million (8.0% of state crop sales)
- Top crops: Vegetables, melons, potatoes, sweet potatoes ($104.7 million), Grains, oilseeds, dry beans, dry peas ($77.2 million), Other crops and hay ($72.4 million)

- Livestock and animal product sales: $671.4 million (15.4% of state animal sales)
- Top livestock: Cattle and calves ($401.9 million), Milk from cows ($234.1 million), Sheep, goats, wool, mohair, milk ($2.1 million)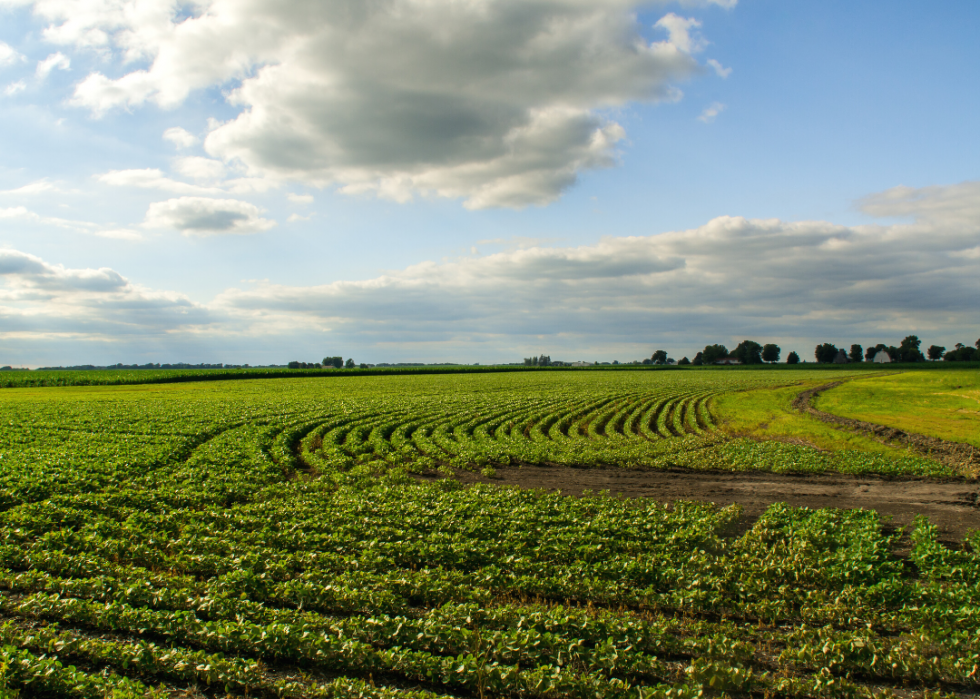 13 / 50
Eddie J. Rodriquez // Shutterstock
Illinois: Mclean
- Agricultural sales: $457.1 million (2.7% of state sales)

- Crop sales: $388.7 million (2.9% of state crop sales)
- Top crops: Grains, oilseeds, dry beans, dry peas ($386.1 million), Other crops and hay ($1.0 million), Nursery, greenhouse, floriculture, sod ($946,000)

- Livestock and animal product sales: $68.4 million (2.2% of state animal sales)
- Top livestock: Hogs and pigs ($36.4 million), Sheep, goats, wool, mohair, milk ($104,000), Poultry and eggs ($102,000)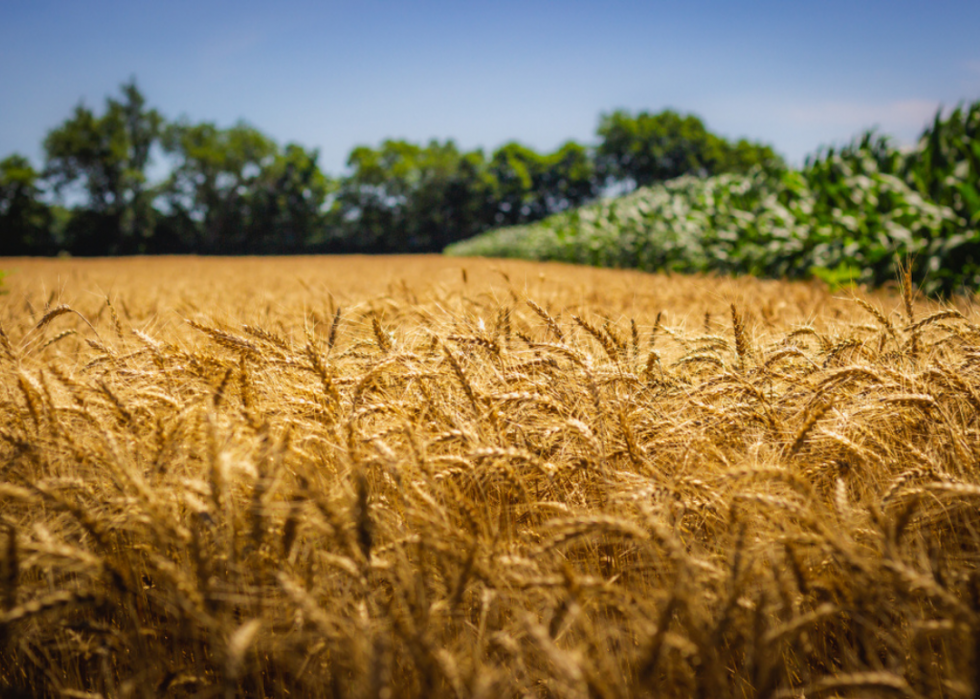 14 / 50
Andy Konieczny // Shutterstock
Indiana: Jay
- Agricultural sales: $372.6 million (3.4% of state sales)

- Crop sales: $88.1 million (1.2% of state crop sales)
- Top crops: Grains, oilseeds, dry beans, dry peas ($87.3 million), Other crops and hay ($793,000)

- Livestock and animal product sales: $284.5 million (7.1% of state animal sales)
- Top livestock: Poultry and eggs ($168.5 million), Hogs and pigs ($95.8 million), Cattle and calves ($9.8 million)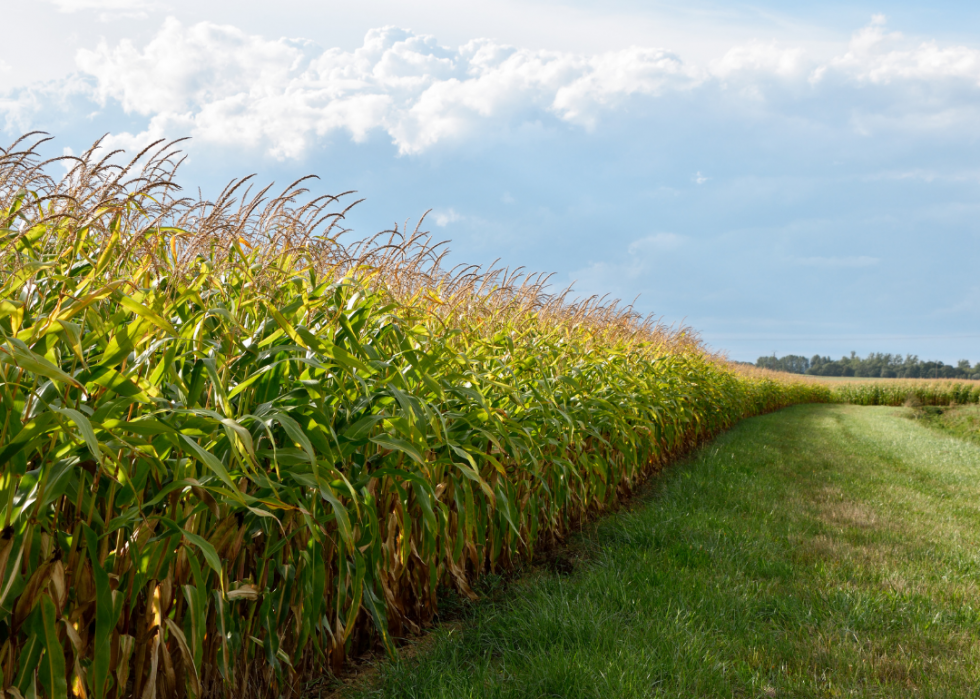 15 / 50
Kritsana Laroque // Shutterstock
Iowa: Sioux
- Agricultural sales: $1.7 billion (5.9% of state sales)

- Crop sales: $277.7 million (2.0% of state crop sales)
- Top crops: Grains, oilseeds, dry beans, dry peas ($264.8 million), Vegetables, melons, potatoes, sweet potatoes ($228,000), Fruits, tree nuts, berries ($157,000)

- Livestock and animal product sales: $1.4 billion (9.4% of state animal sales)
- Top livestock: Cattle and calves ($699.3 million), Hogs and pigs ($445.7 million), Milk from cows ($144.9 million)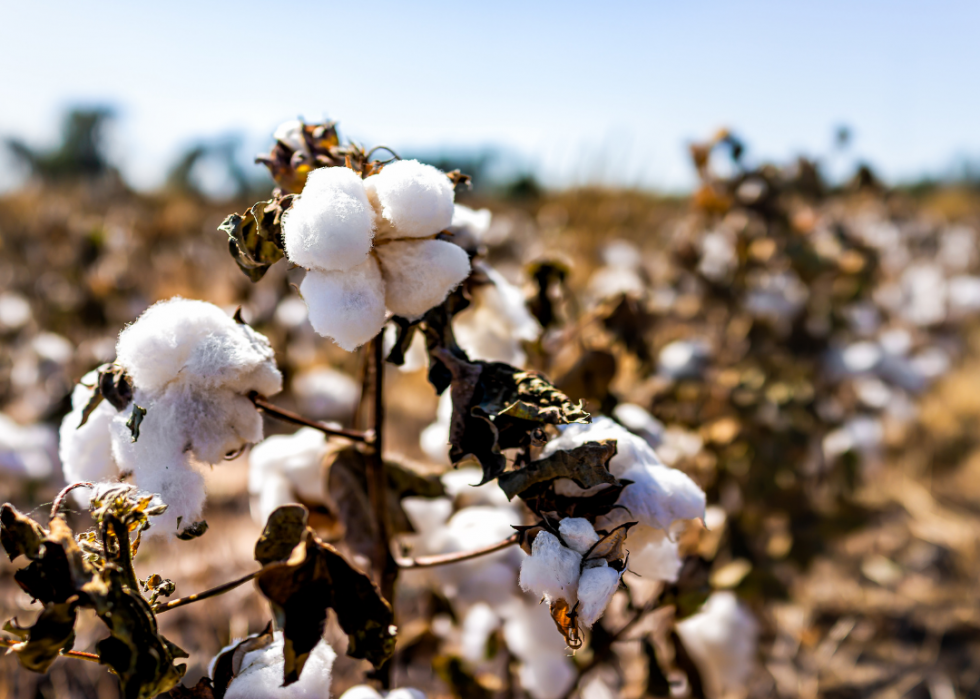 16 / 50
Andriy Blokhin // Shutterstock
Kansas: Haskell
- Agricultural sales: $1.2 billion (6.3% of state sales)

- Crop sales: $106.2 million (1.7% of state crop sales)
- Top crops: Grains, oilseeds, dry beans, dry peas ($99.9 million)

- Livestock and animal product sales: $1.1 billion (8.7% of state animal sales)
- Top livestock: Cattle and calves ($1.1 billion)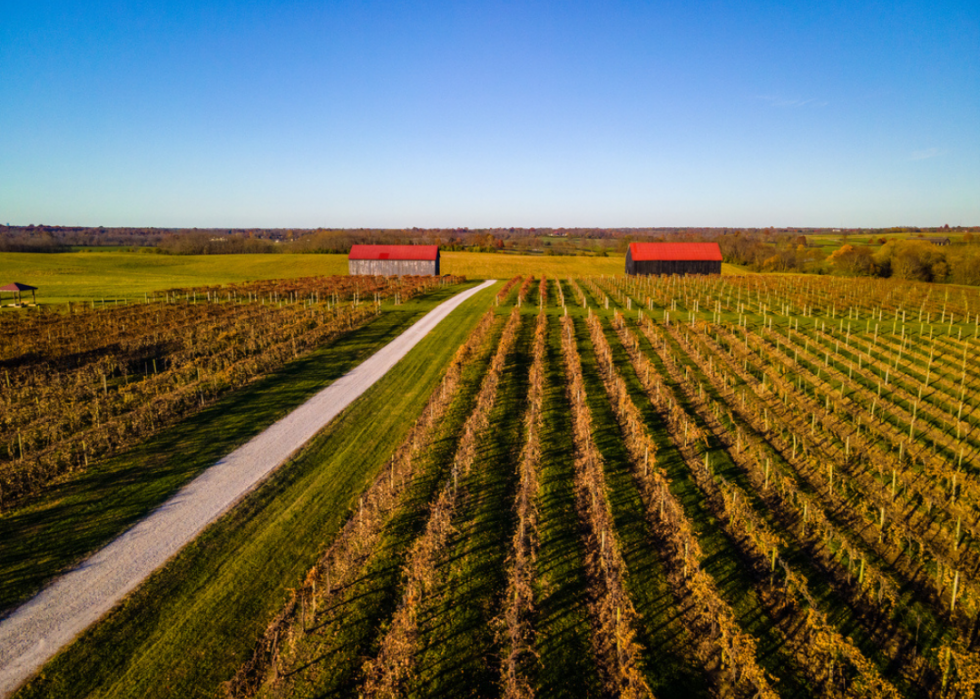 17 / 50
Ivelin Denev // Shutterstock
Kentucky: Graves
- Agricultural sales: $346.2 million (6.0% of state sales)

- Crop sales: $102.8 million (4.0% of state crop sales)
- Top crops: Grains, oilseeds, dry beans, dry peas ($88.1 million), Tobacco ($13.6 million), Fruits, tree nuts, berries ($145,000)

- Livestock and animal product sales: $243.3 million (7.6% of state animal sales)
- Top livestock: Poultry and eggs ($230.7 million), Cattle and calves ($7.5 million), Milk from cows ($1.0 million)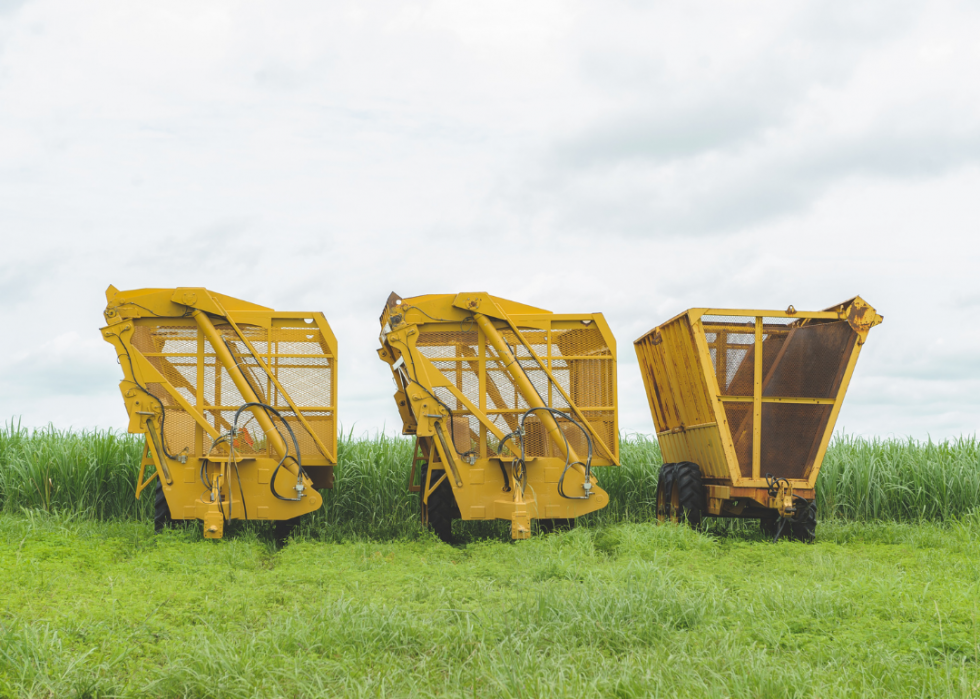 18 / 50
ccpixx photography // Shutterstock
Louisiana: Rapides
- Agricultural sales: $147.5 million (4.6% of state sales)

- Crop sales: $134.8 million (6.5% of state crop sales)
- Top crops: Nursery, greenhouse, floriculture, sod ($80.4 million), Grains, oilseeds, dry beans, dry peas ($40.1 million), Other crops and hay ($8.5 million)

- Livestock and animal product sales: $12.8 million (1.1% of state animal sales)
- Top livestock: Cattle and calves ($7.7 million), Aquaculture ($4.3 million), Horses, ponies, mules, burros, donkeys ($258,000)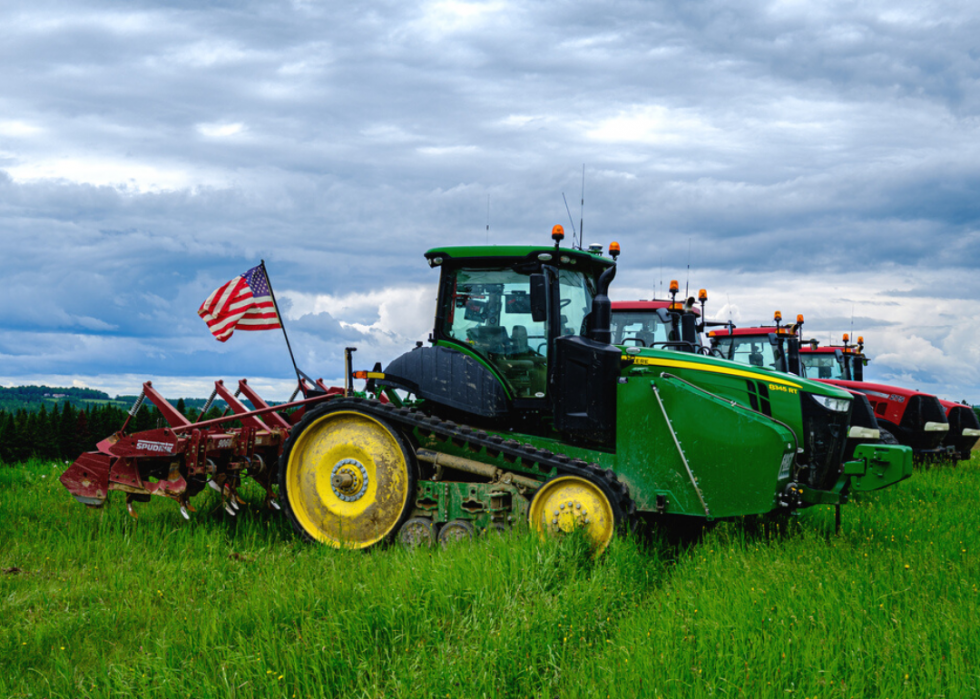 19 / 50
Bruce Peter // Shutterstock
Maine: Aroostook
- Agricultural sales: $202.0 million (35.0% of state sales)

- Crop sales: $187.6 million (49.3% of state crop sales)
- Top crops: Vegetables, melons, potatoes, sweet potatoes ($174.7 million), Grains, oilseeds, dry beans, dry peas ($7.9 million), Other crops and hay ($3.1 million)

- Livestock and animal product sales: $14.3 million (7.3% of state animal sales)
- Top livestock: Cattle and calves ($7.8 million), Milk from cows ($4.9 million), Other animals and animal products ($1.2 million)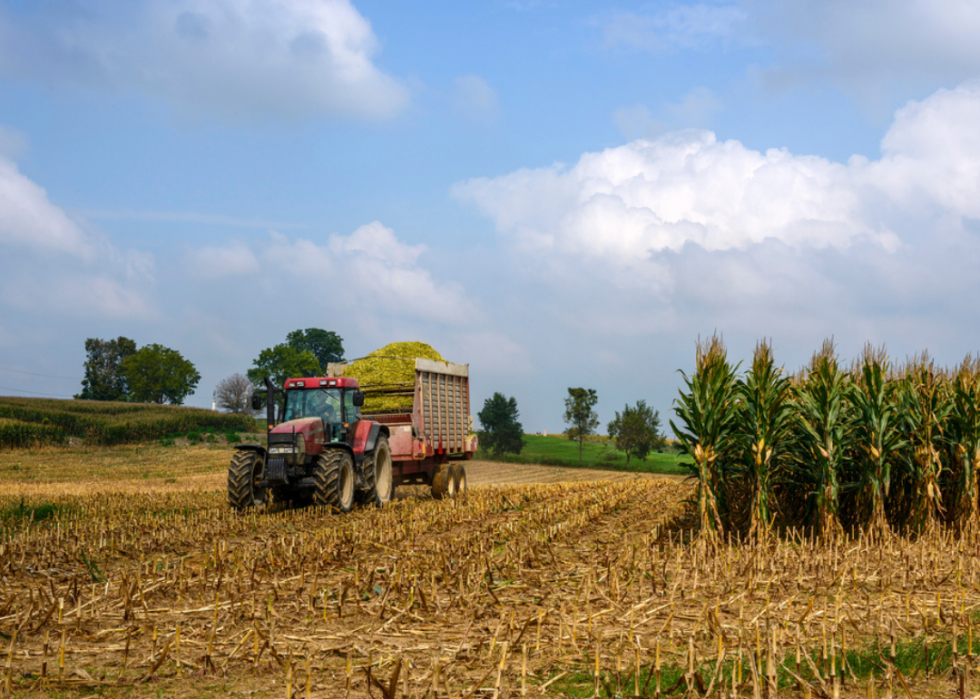 20 / 50
Malachi Jacobs // Shutterstock
Maryland: Wicomico
- Agricultural sales: $304.0 million (12.3% of state sales)

- Crop sales: $68.3 million (7.2% of state crop sales)
- Top crops: Nursery, greenhouse, floriculture, sod ($31.0 million), Grains, oilseeds, dry beans, dry peas ($25.8 million), Vegetables, melons, potatoes, sweet potatoes ($10.8 million)

- Livestock and animal product sales: $235.6 million (15.5% of state animal sales)
- Top livestock: Poultry and eggs ($233.9 million), Aquaculture ($1.3 million), Cattle and calves ($245,000)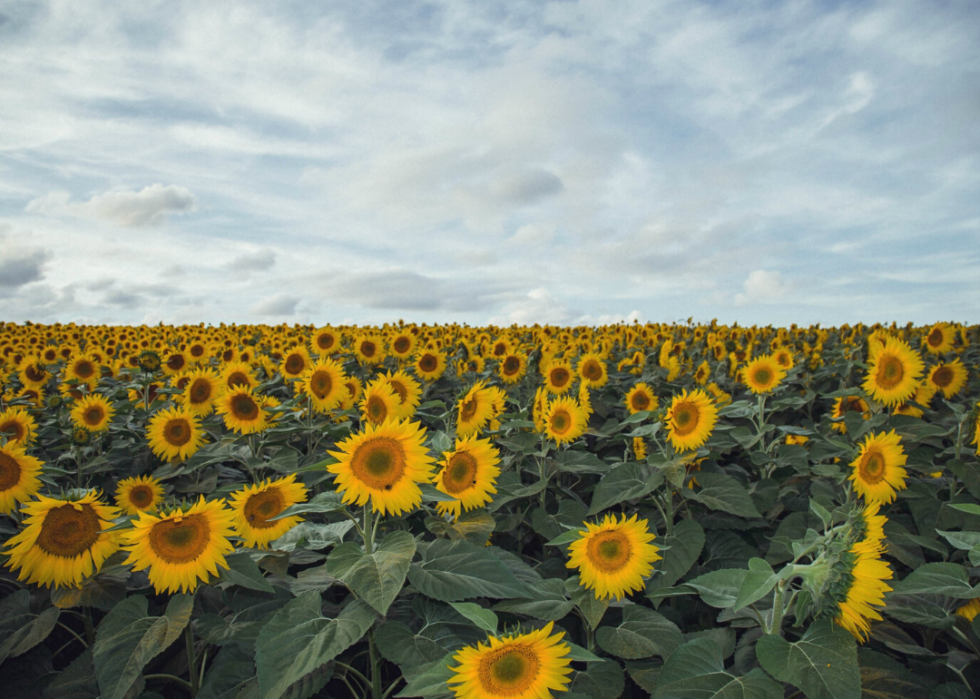 21 / 50
Sarah Jennie // Shutterstock
Massachusetts: Plymouth
- Agricultural sales: $71.9 million (15.6% of state sales)

- Crop sales: $62.1 million (17.7% of state crop sales)
- Top crops: Fruits, tree nuts, berries ($47.1 million), Nursery, greenhouse, floriculture, sod ($10.2 million), Vegetables, melons, potatoes, sweet potatoes ($3.8 million)

- Livestock and animal product sales: $9.8 million (8.8% of state animal sales)
- Top livestock: Aquaculture ($6.8 million), Other animals and animal products ($1.2 million), Milk from cows ($645,000)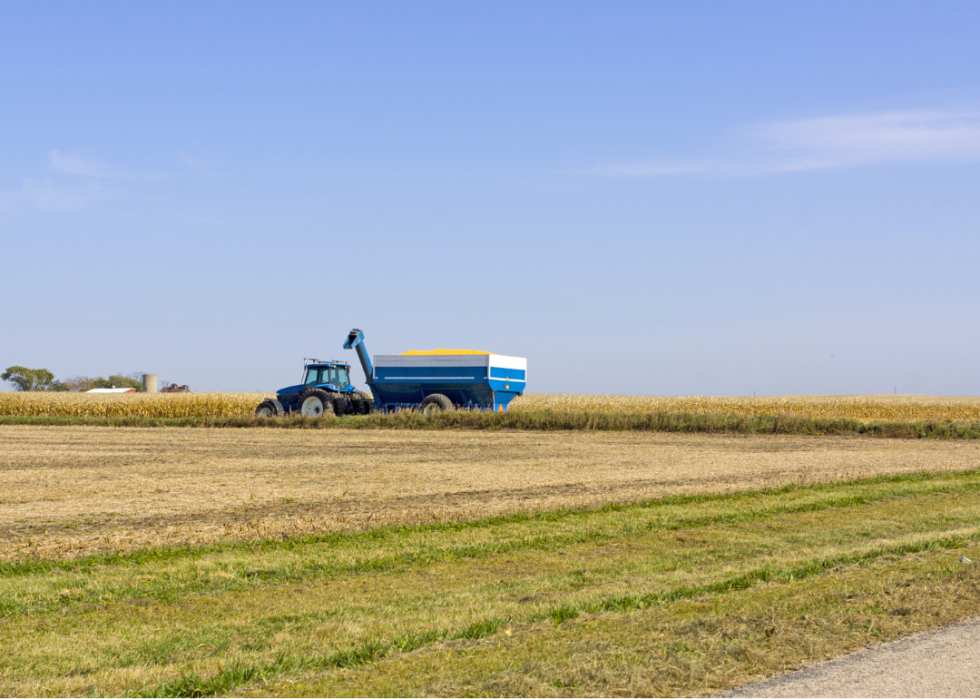 22 / 50
Michigan: Huron
- Agricultural sales: $610.8 million (7.3% of state sales)

- Crop sales: $263.0 million (5.7% of state crop sales)
- Top crops: Grains, oilseeds, dry beans, dry peas ($195.0 million), Nursery, greenhouse, floriculture, sod ($65.8 million), Nursery, greenhouse, floriculture, sod ($687,000)

- Livestock and animal product sales: $347.8 million (9.3% of state animal sales)
- Top livestock: Milk from cows ($200.3 million), Cattle and calves ($125.6 million), Hogs and pigs ($14.2 million)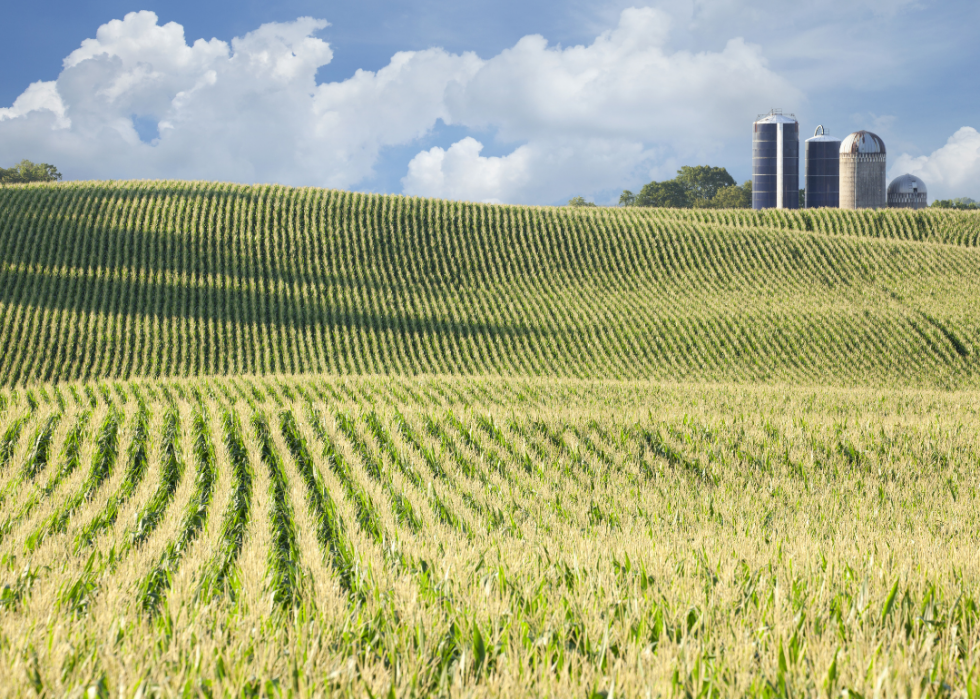 23 / 50
Dan Thornberg // Shutterstock
Minnesota: Stearns
- Agricultural sales: $748.0 million (4.1% of state sales)

- Crop sales: $179.1 million (1.8% of state crop sales)
- Top crops: Grains, oilseeds, dry beans, dry peas ($153.7 million), Other crops and hay ($14.7 million), Vegetables, melons, potatoes, sweet potatoes ($5.8 million)

- Livestock and animal product sales: $568.9 million (7.0% of state animal sales)
- Top livestock: Milk from cows ($254.8 million), Poultry and eggs ($164.0 million), Cattle and calves ($113.0 million)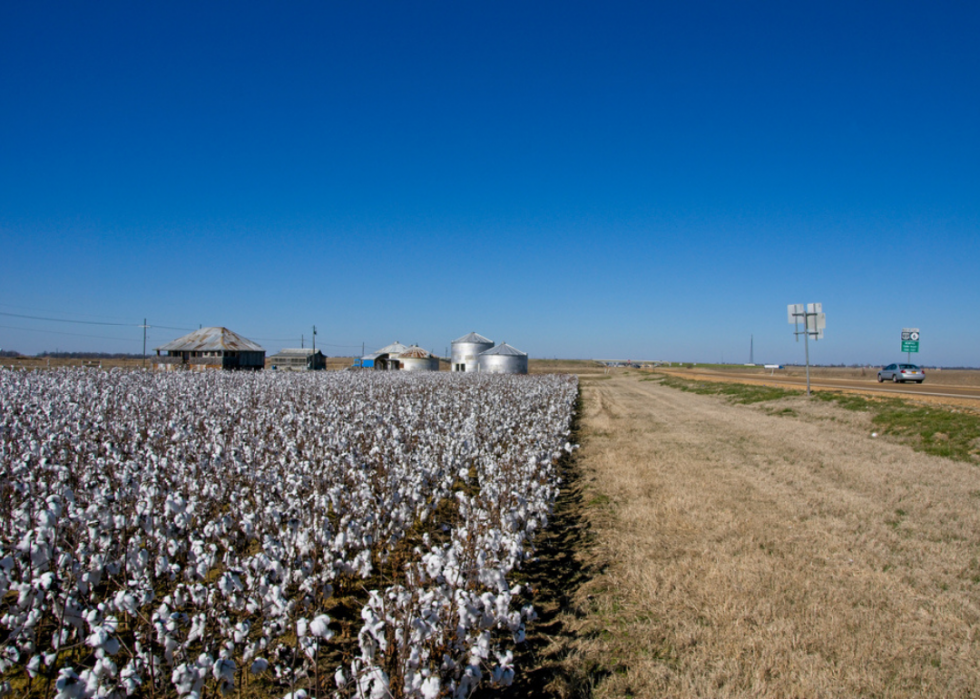 24 / 50
Mississippi: Leake
- Agricultural sales: $328.0 million (5.6% of state sales)

- Crop sales: $4.6 million (0.2% of state crop sales)
- Top crops: Other crops and hay ($3.1 million), Cotton and cottonseed ($1.0 million), Grains, oilseeds, dry beans, dry peas ($441,000)

- Livestock and animal product sales: $323.4 million (8.2% of state animal sales)
- Top livestock: Poultry and eggs ($318.3 million), Cattle and calves ($5.0 million), Horses, ponies, mules, burros, donkeys ($65,000)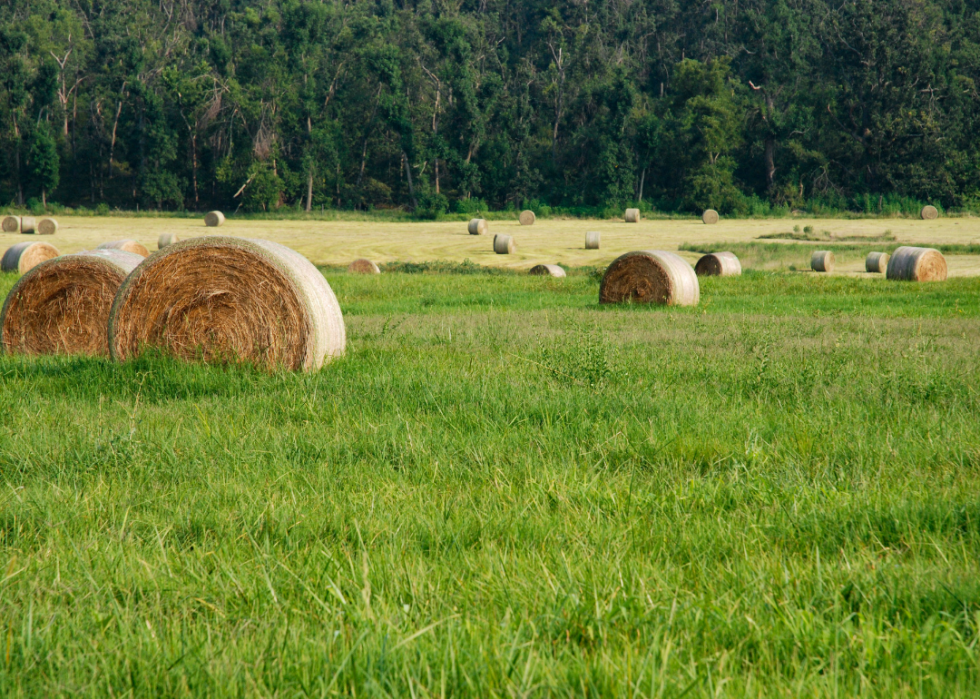 25 / 50
Picturesque Japan // Shutterstock
Missouri: Barry
- Agricultural sales: $403.1 million (3.9% of state sales)

- Crop sales: $16.8 million (0.3% of state crop sales)
- Top crops: Grains, oilseeds, dry beans, dry peas ($11.7 million), Other crops and hay ($3.3 million), Nursery, greenhouse, floriculture, sod ($753,000)

- Livestock and animal product sales: $386.3 million (7.7% of state animal sales)
- Top livestock: Poultry and eggs ($329.7 million), Cattle and calves ($37.3 million), Milk from cows ($18.2 million)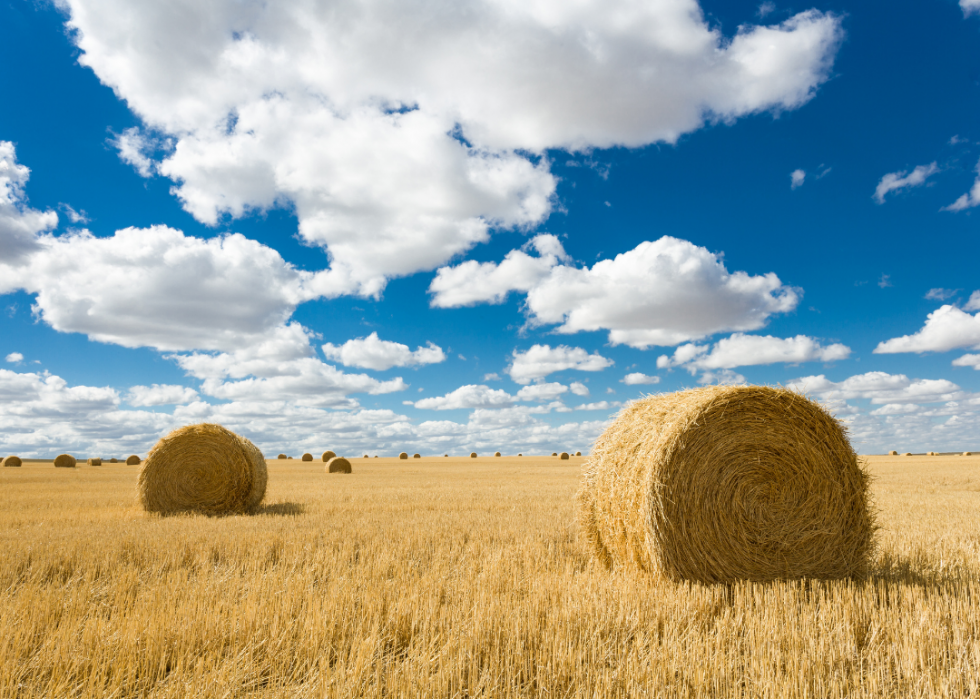 26 / 50
Laurens Hoddenbagh // Shutterstock
Montana: Chouteau
- Agricultural sales: $170.7 million (4.7% of state sales)

- Crop sales: $143.6 million (9.1% of state crop sales)
- Top crops: Grains, oilseeds, dry beans, dry peas ($139.5 million), Other crops and hay ($4.0 million)

- Livestock and animal product sales: $27.1 million (1.3% of state animal sales)
- Top livestock: Cattle and calves ($22.2 million), Poultry and eggs ($3.2 million)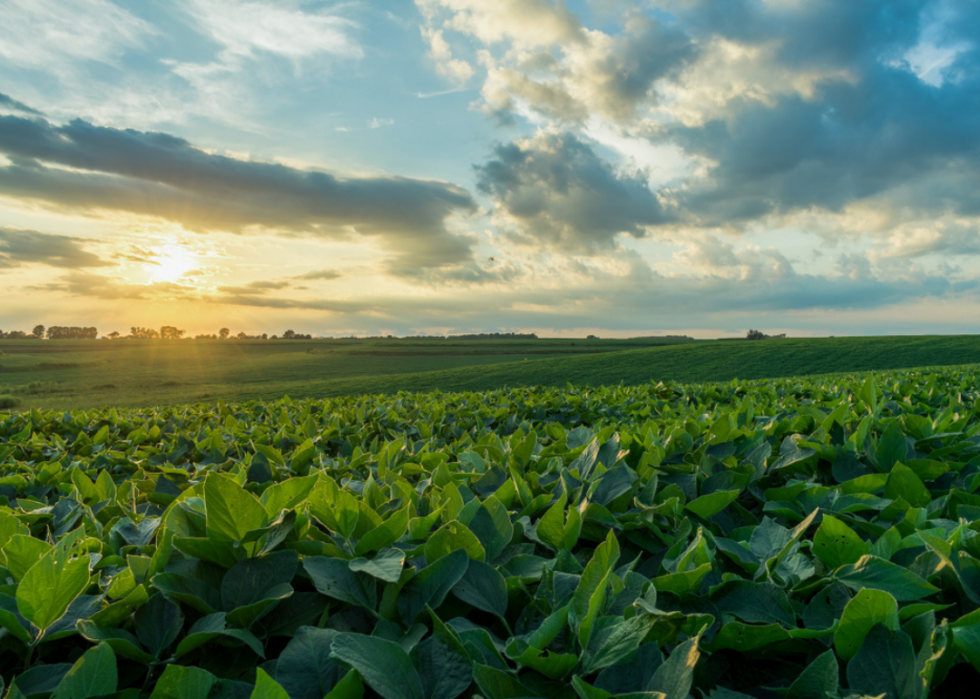 27 / 50
Matthew Menard // Shutterstock
Nebraska: Cuming
- Agricultural sales: $1.1 billion (5.2% of state sales)

- Crop sales: $178.2 million (1.9% of state crop sales)
- Top crops: Grains, oilseeds, dry beans, dry peas ($175.6 million), Other crops and hay ($2.5 million)

- Livestock and animal product sales: $953.8 million (7.6% of state animal sales)
- Top livestock: Cattle and calves ($878.9 million), Hogs and pigs ($66.6 million), Milk from cows ($7.7 million)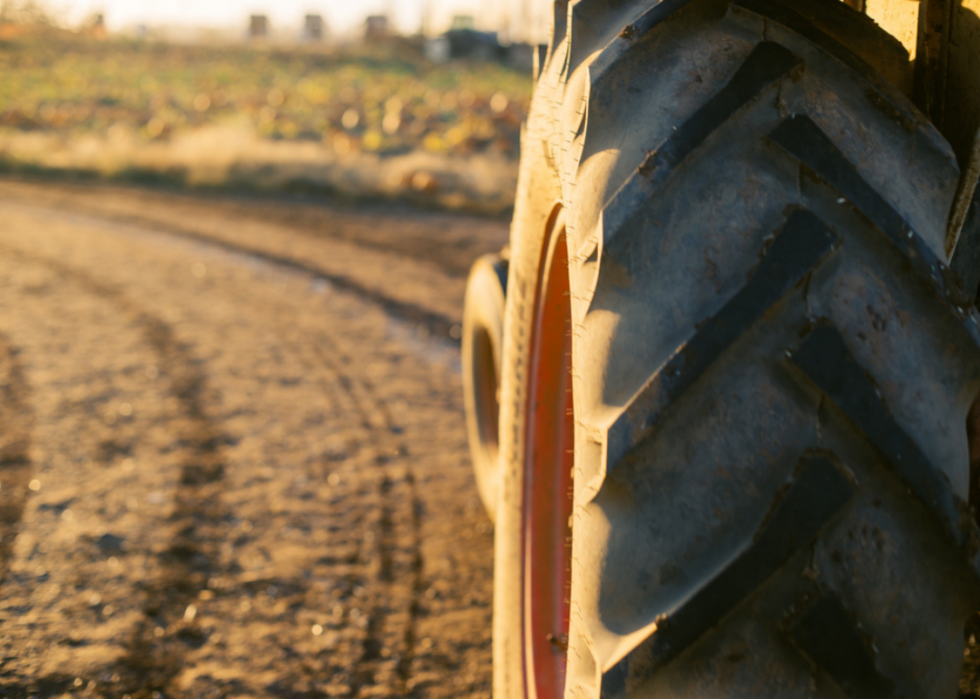 28 / 50
Cavan-Images // Shutterstock
Nevada: Humboldt
- Agricultural sales: $105.7 million (17.6% of state sales)

- Crop sales: $75.2 million (27.5% of state crop sales)
- Top crops: Other crops and hay ($61.4 million), Grains, oilseeds, dry beans, dry peas ($4.0 million), Fruits, tree nuts, berries ($29,000)

- Livestock and animal product sales: $30.4 million (9.3% of state animal sales)
- Top livestock: Cattle and calves ($30.1 million), Horses, ponies, mules, burros, donkeys ($119,000), Sheep, goats, wool, mohair, milk ($117,000)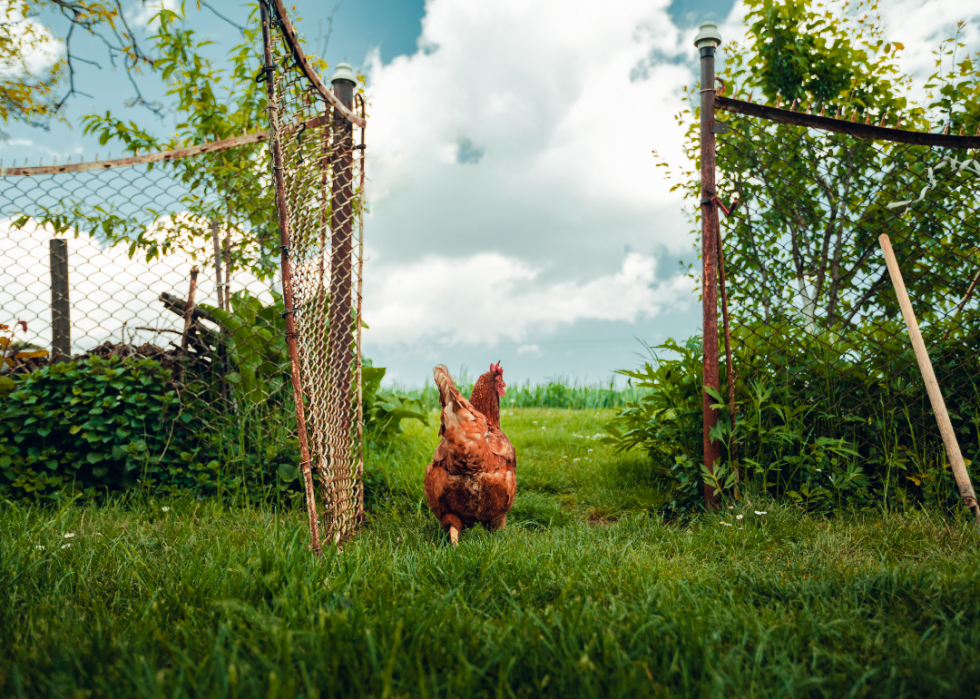 29 / 50
Matt Benzero // Shutterstock
New Hampshire: Merrimack
- Agricultural sales: $49.3 million (26.3% of state sales)

- Crop sales: $36.6 million (33.9% of state crop sales)
- Top crops: Nursery, greenhouse, floriculture, sod ($28.6 million), Vegetables, melons, potatoes, sweet potatoes ($2.6 million), Other crops and hay ($2.6 million)

- Livestock and animal product sales: $12.8 million (16.0% of state animal sales)
- Top livestock: Milk from cows ($9.2 million), Cattle and calves ($2.0 million), Horses, ponies, mules, burros, donkeys ($970,000)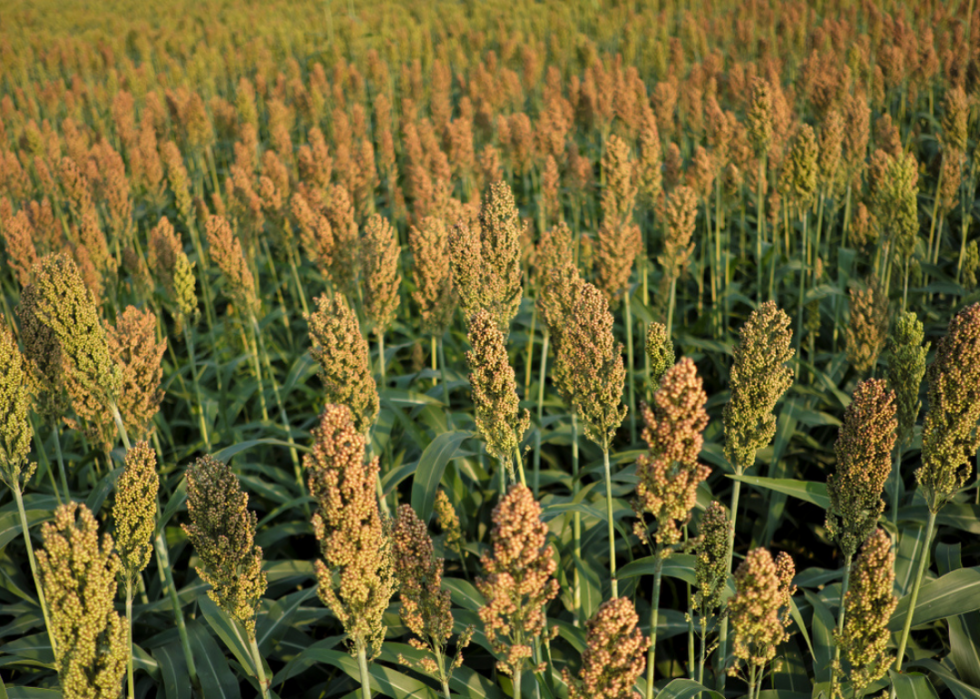 30 / 50
Matt Smith Photographer // Shutterstock
New Jersey: Cumberland
- Agricultural sales: $212.6 million (19.4% of state sales)

- Crop sales: $207.4 million (21.1% of state crop sales)
- Top crops: Nursery, greenhouse, floriculture, sod ($137.7 million), Vegetables, melons, potatoes, sweet potatoes ($47.7 million), Fruits, tree nuts, berries ($11.6 million)

- Livestock and animal product sales: $5.2 million (4.6% of state animal sales)
- Top livestock: Milk from cows ($1.1 million), Cattle and calves ($820,000), Horses, ponies, mules, burros, donkeys ($177,000)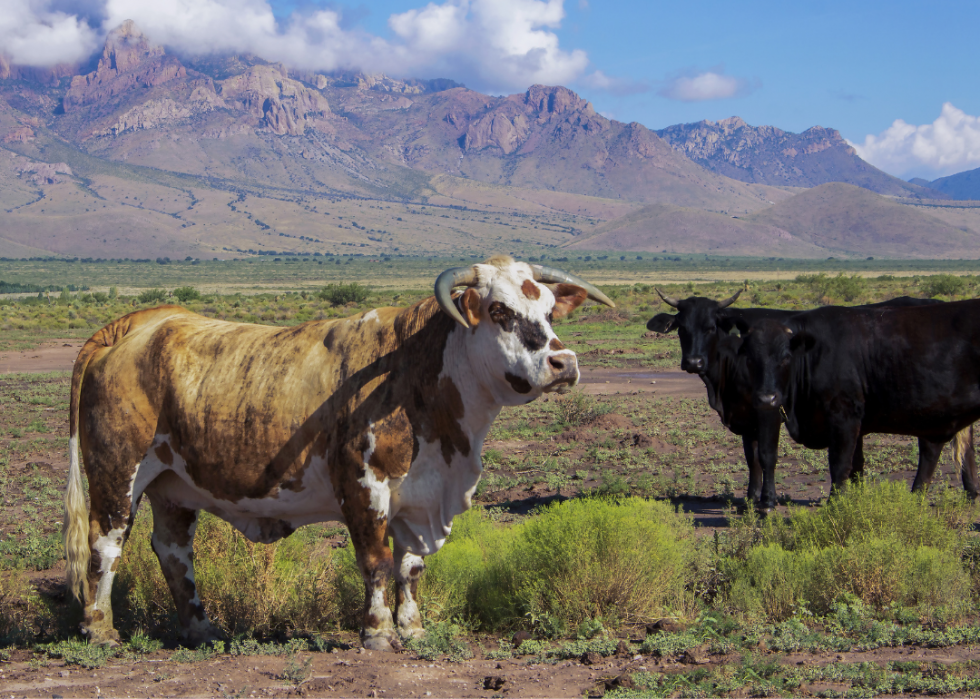 31 / 50
Erin Donalson // Shutterstock
New Mexico: Curry
- Agricultural sales: $480.6 million (19.1% of state sales)

- Crop sales: $31.5 million (4.8% of state crop sales)
- Top crops: Grains, oilseeds, dry beans, dry peas ($20.3 million), Other crops and hay ($6.0 million), Cotton and cottonseed ($4.3 million)

- Livestock and animal product sales: $449.1 million (24.0% of state animal sales)
- Top livestock: Milk from cows ($343.0 million), Cattle and calves ($105.6 million), Horses, ponies, mules, burros, donkeys ($239,000)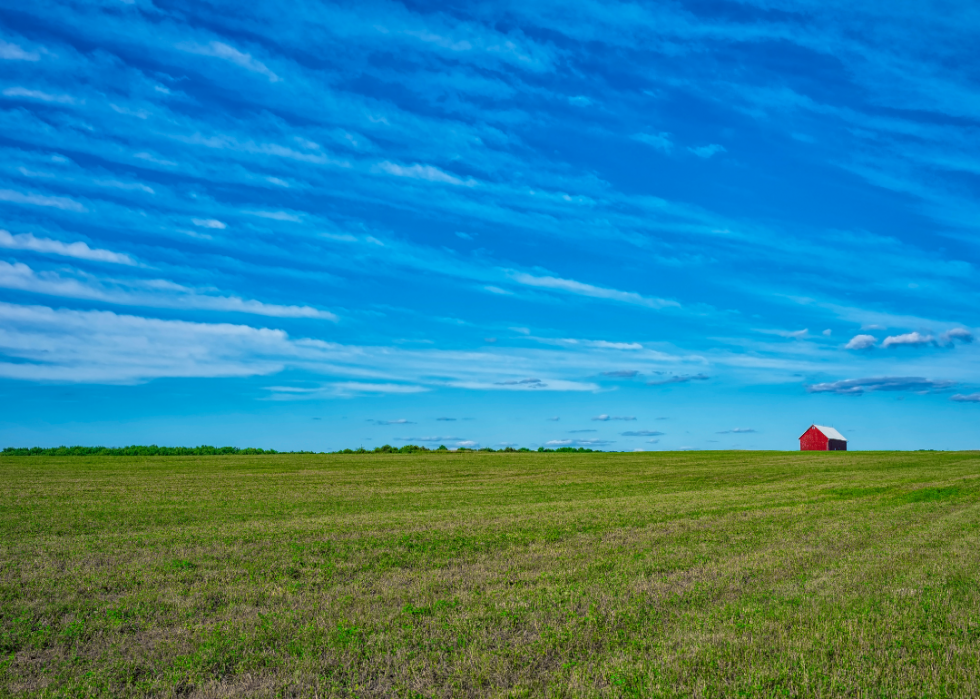 32 / 50
New York: Wyoming
- Agricultural sales: $307.5 million (5.6% of state sales)

- Crop sales: $64.9 million (3.1% of state crop sales)
- Top crops: Grains, oilseeds, dry beans, dry peas ($28.0 million), Vegetables, melons, potatoes, sweet potatoes ($20.6 million), Other crops and hay ($15.4 million)

- Livestock and animal product sales: $242.6 million (7.2% of state animal sales)
- Top livestock: Milk from cows ($201.4 million), Cattle and calves ($40.2 million), Sheep, goats, wool, mohair, milk ($444,000)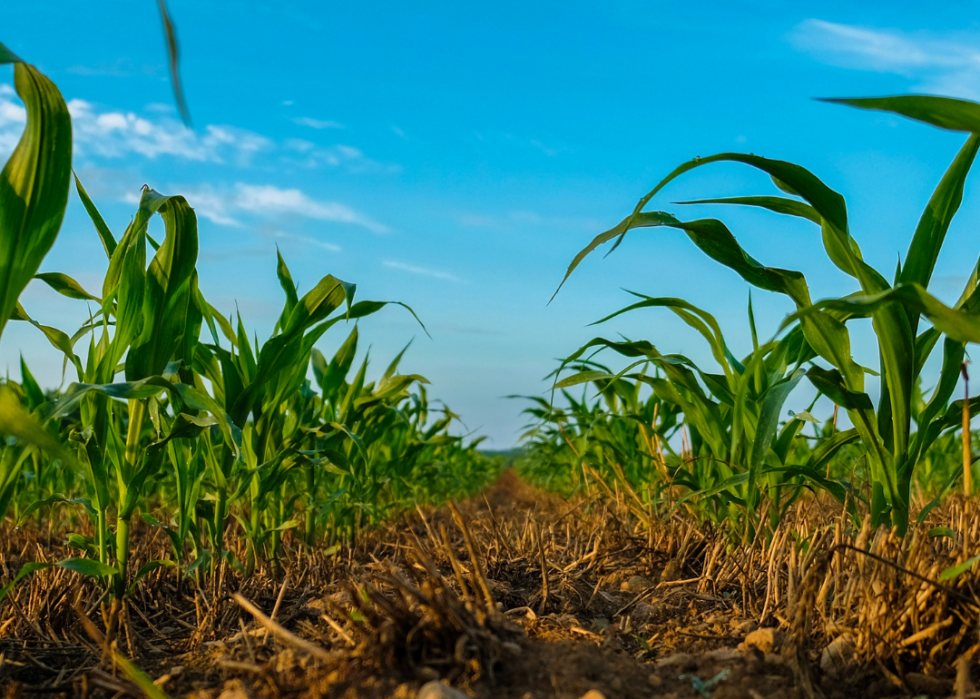 33 / 50
North Carolina: Duplin
- Agricultural sales: $1.3 billion (10.1% of state sales)

- Crop sales: $97.8 million (2.8% of state crop sales)
- Top crops: Grains, oilseeds, dry beans, dry peas ($46.3 million), Vegetables, melons, potatoes, sweet potatoes ($26.9 million), Tobacco ($8.3 million)

- Livestock and animal product sales: $1.2 billion (12.8% of state animal sales)
- Top livestock: Hogs and pigs ($678.2 million), Poultry and eggs ($478.9 million), Cattle and calves ($6.7 million)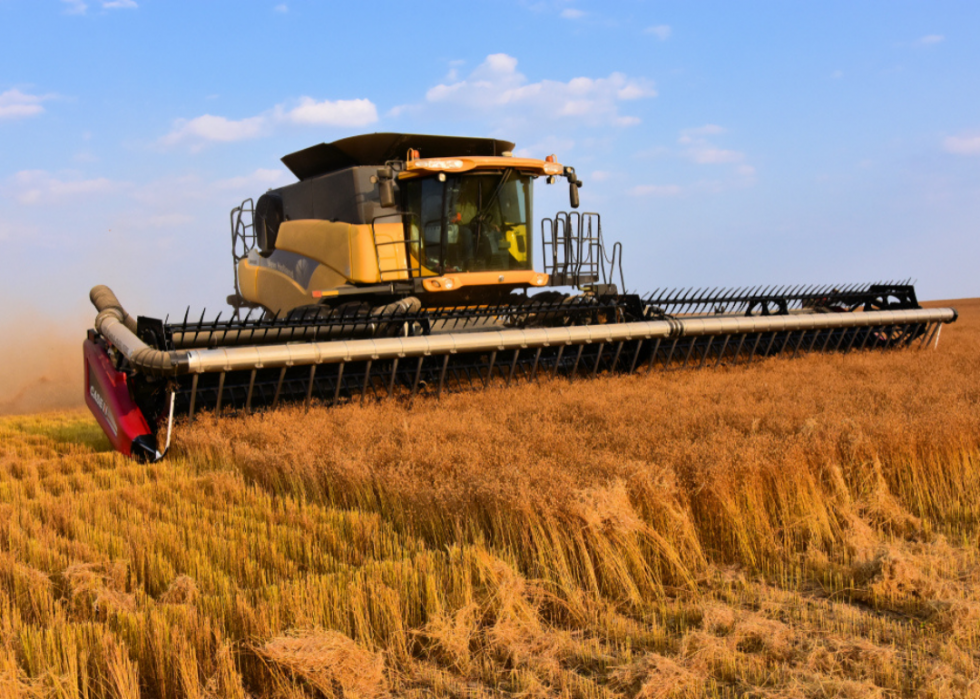 34 / 50
northlight // Shutterstock
North Dakota: Cass
- Agricultural sales: $439.5 million (5.3% of state sales)

- Crop sales: $417.2 million (6.2% of state crop sales)
- Top crops: Grains, oilseeds, dry beans, dry peas ($394.9 million), Other crops and hay ($21.6 million), Nursery, greenhouse, floriculture, sod ($529,000)

- Livestock and animal product sales: $22.3 million (1.4% of state animal sales)
- Top livestock: Cattle and calves ($10.0 million), Other animals and animal products ($9.3 million), Hogs and pigs ($1.8 million)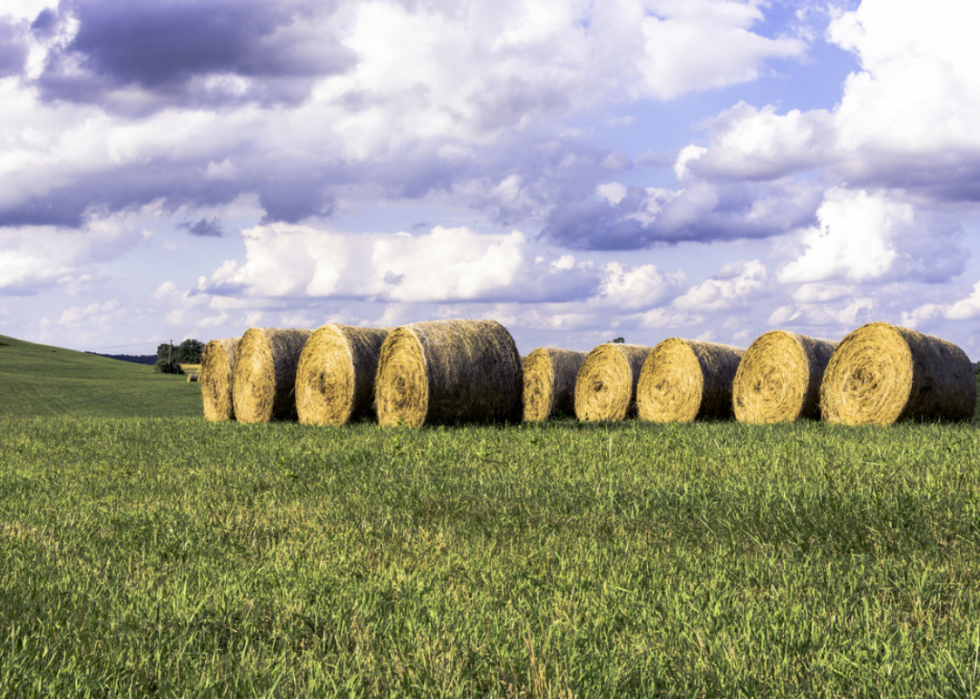 35 / 50
Ohio: Mercer
- Agricultural sales: $631.6 million (6.7% of state sales)

- Crop sales: $123.3 million (2.3% of state crop sales)
- Top crops: Grains, oilseeds, dry beans, dry peas ($119.2 million), Other crops and hay ($3.7 million), Nursery, greenhouse, floriculture, sod ($218,000)

- Livestock and animal product sales: $508.3 million (12.7% of state animal sales)
- Top livestock: Poultry and eggs ($256.5 million), Hogs and pigs ($132.8 million), Milk from cows ($63.3 million)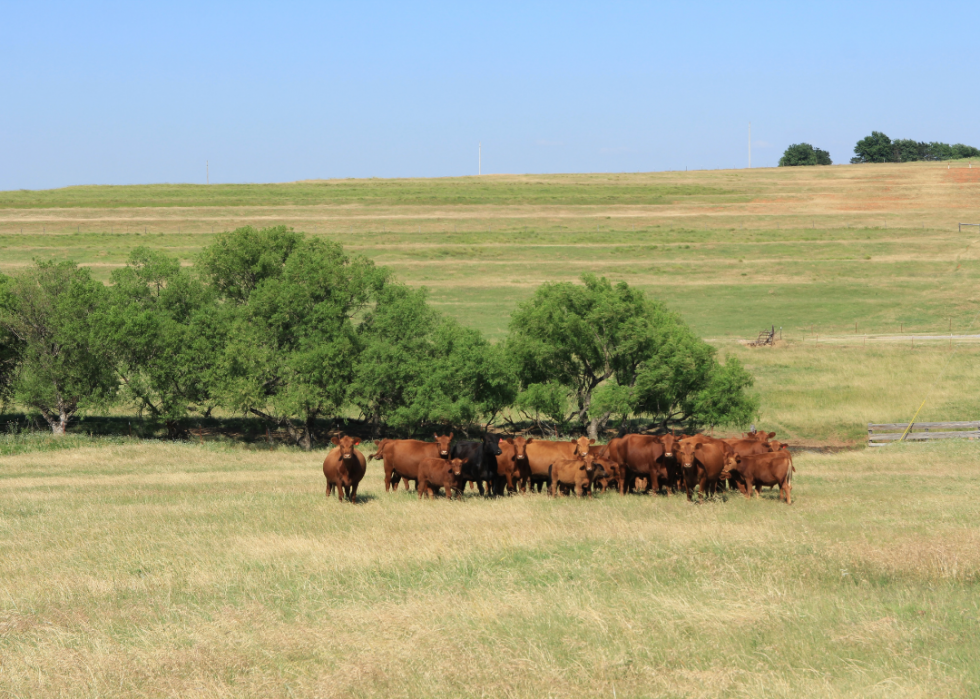 36 / 50
BUI LE MANH HUNG // Shutterstock
Oklahoma: Texas
- Agricultural sales: $1.1 billion (15.4% of state sales)

- Crop sales: $125.2 million (8.3% of state crop sales)
- Top crops: Grains, oilseeds, dry beans, dry peas ($115.7 million), Cotton and cottonseed ($5.5 million)

- Livestock and animal product sales: $1.0 billion (17.3% of state animal sales)
- Top livestock: Cattle and calves ($613.8 million), Hogs and pigs ($396.2 million), Horses, ponies, mules, burros, donkeys ($298,000)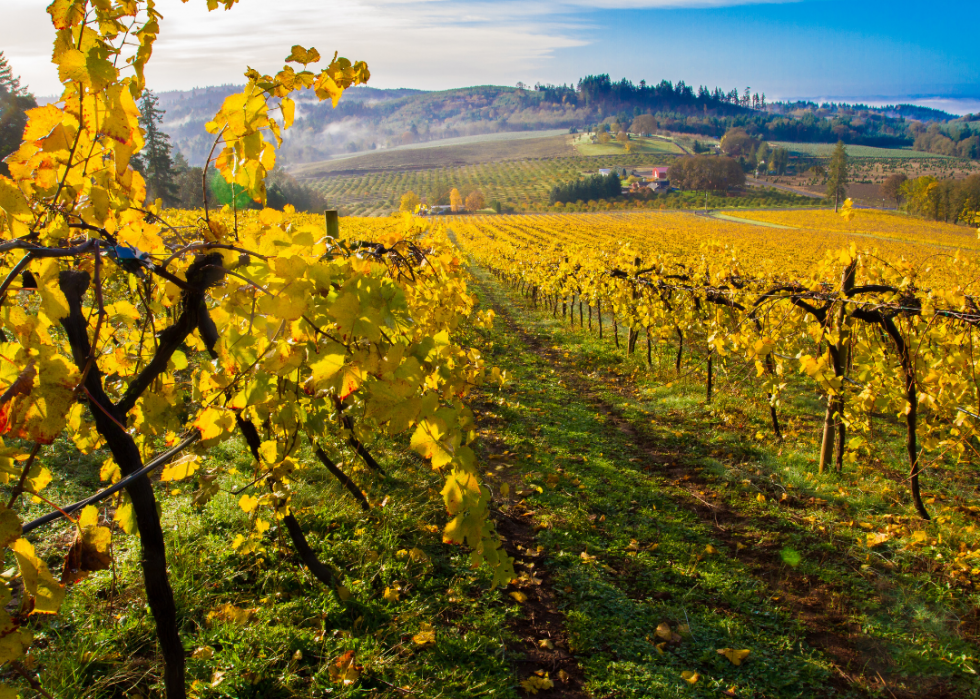 37 / 50
Oregon: Marion
- Agricultural sales: $701.6 million (13.9% of state sales)

- Crop sales: $603.4 million (18.6% of state crop sales)
- Top crops: Nursery, greenhouse, floriculture, sod ($277.7 million), Other crops and hay ($138.2 million), Fruits, tree nuts, berries ($92.2 million)

- Livestock and animal product sales: $98.2 million (5.4% of state animal sales)
- Top livestock: Milk from cows ($48.4 million), Poultry and eggs ($29.7 million), Cattle and calves ($9.7 million)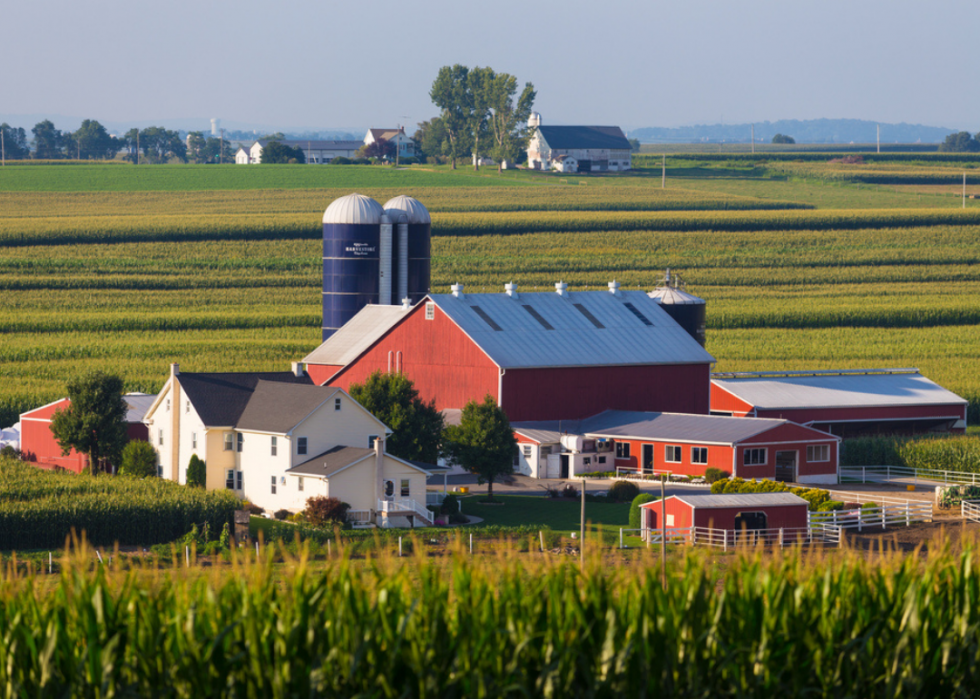 38 / 50
George Sheldon // Shutterstock
Pennsylvania: Lancaster
- Agricultural sales: $1.5 billion (19.7% of state sales)

- Crop sales: $231.3 million (8.3% of state crop sales)
- Top crops: Grains, oilseeds, dry beans, dry peas ($109.8 million), Nursery, greenhouse, floriculture, sod ($46.5 million), Tobacco ($27.9 million)

- Livestock and animal product sales: $1.3 billion (26.2% of state animal sales)
- Top livestock: Poultry and eggs ($580.6 million), Milk from cows ($414.3 million), Hogs and pigs ($144.4 million)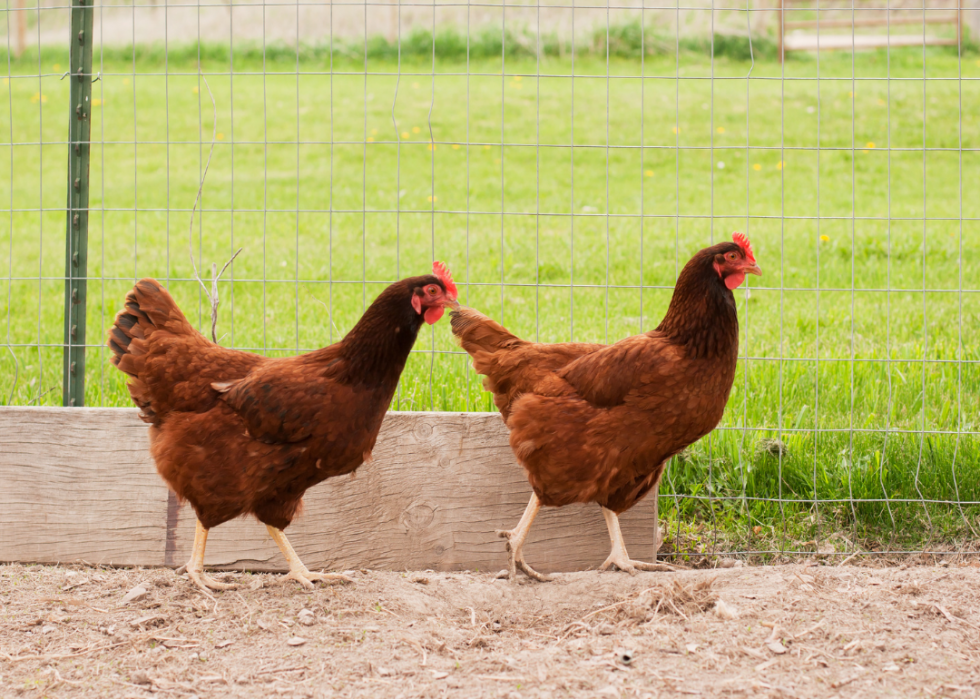 39 / 50
Emily Skeels // Shutterstock
Rhode Island: Washington
- Agricultural sales: $22.2 million (16.4% of state sales)

- Crop sales: $17.1 million (41.8% of state crop sales)
- Top crops: Nursery, greenhouse, floriculture, sod ($13.8 million), Vegetables, melons, potatoes, sweet potatoes ($2.4 million), Other crops and hay ($441,000)

- Livestock and animal product sales: $5.1 million (5.4% of state animal sales)
- Top livestock: Aquaculture ($3.6 million), Milk from cows ($567,000), Cattle and calves ($241,000)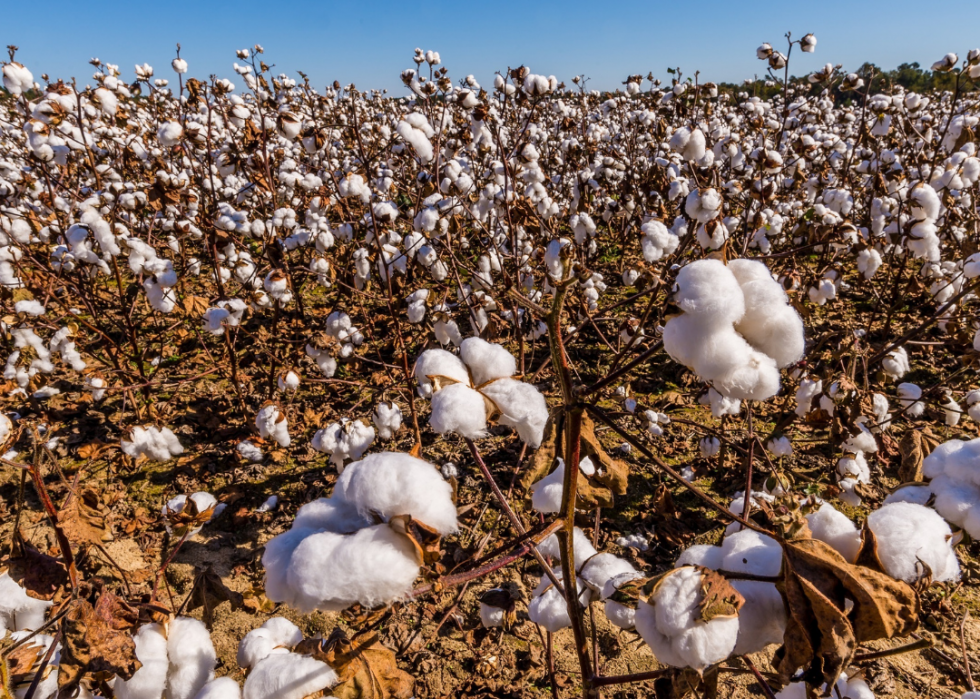 40 / 50
Shanti Hesse // Shutterstock
South Carolina: Lexington
- Agricultural sales: $222.2 million (7.1% of state sales)

- Crop sales: $72.1 million (6.7% of state crop sales)
- Top crops: Nursery, greenhouse, floriculture, sod ($6.4 million), Grains, oilseeds, dry beans, dry peas ($5.5 million), Other crops and hay ($3.5 million)

- Livestock and animal product sales: $150.0 million (7.4% of state animal sales)
- Top livestock: Poultry and eggs ($146.1 million), Cattle and calves ($2.6 million), Horses, ponies, mules, burros, donkeys ($342,000)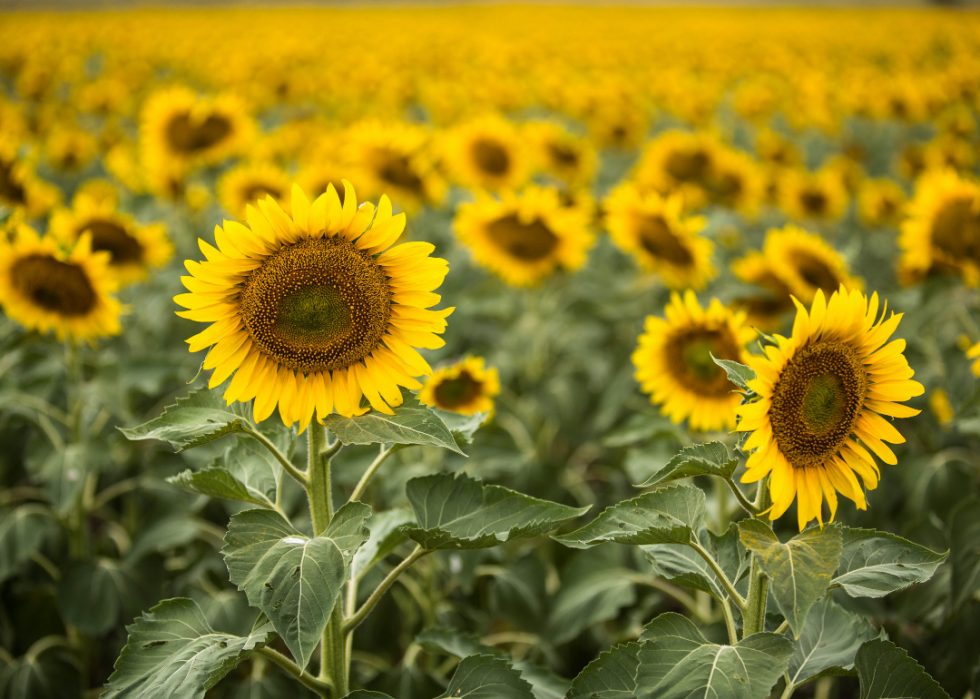 41 / 50
Carol Mellema // Shutterstock
South Dakota: Spink
- Agricultural sales: $382.5 million (4.0% of state sales)

- Crop sales: $281.7 million (5.5% of state crop sales)
- Top crops: Grains, oilseeds, dry beans, dry peas ($278.9 million), Other crops and hay ($2.3 million), Vegetables, melons, potatoes, sweet potatoes ($444,000)

- Livestock and animal product sales: $100.8 million (2.2% of state animal sales)
- Top livestock: Cattle and calves ($82.0 million), Hogs and pigs ($9.3 million), Poultry and eggs ($8.5 million)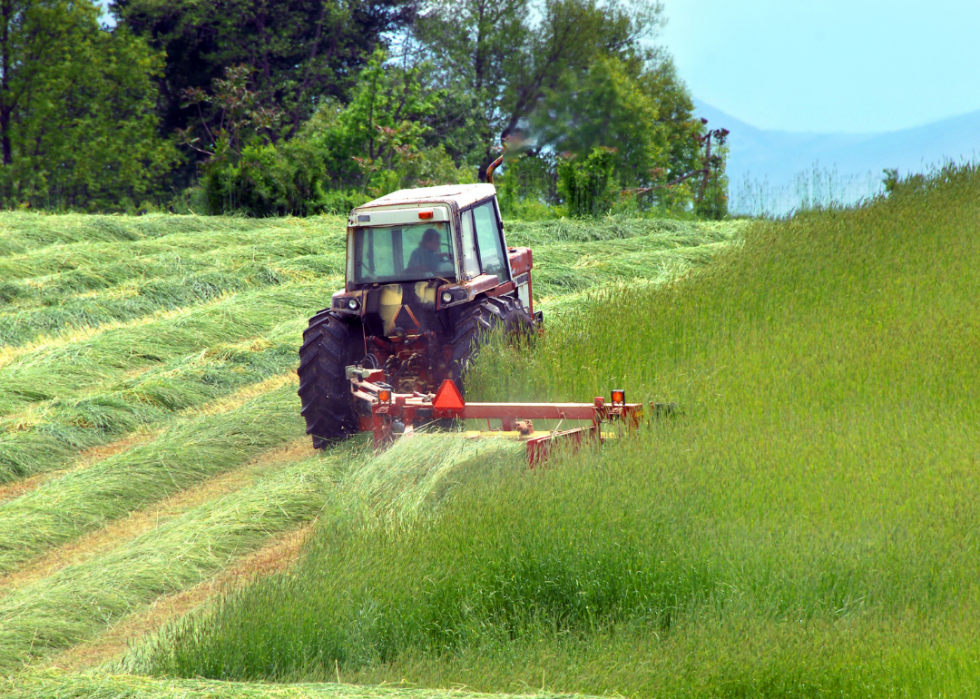 42 / 50
Bonita R. Cheshier // Shutterstock
Tennessee: Bedford
- Agricultural sales: $151.6 million (4.2% of state sales)

- Crop sales: $21.7 million (1.0% of state crop sales)
- Top crops: Grains, oilseeds, dry beans, dry peas ($16.3 million), Other crops and hay ($4.9 million), Nursery, greenhouse, floriculture, sod ($206,000)

- Livestock and animal product sales: $129.9 million (8.5% of state animal sales)
- Top livestock: Poultry and eggs ($83.2 million), Cattle and calves ($24.0 million), Horses, ponies, mules, burros, donkeys ($12.3 million)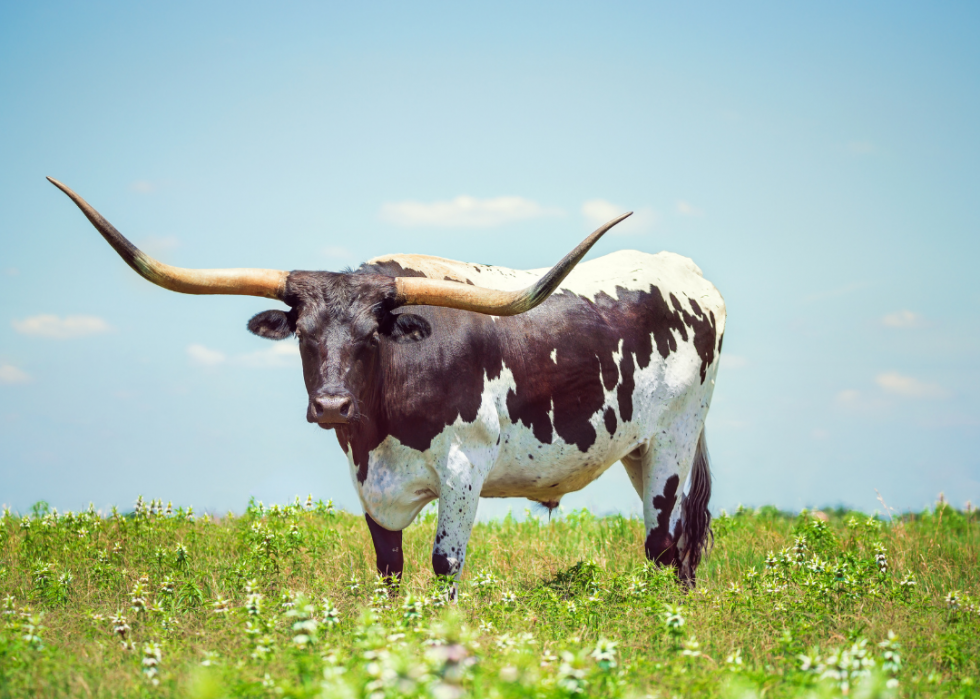 43 / 50
Leena Robinson // Shutterstock
Texas: Deaf Smith
- Agricultural sales: $1.6 billion (6.7% of state sales)

- Crop sales: $92.8 million (1.4% of state crop sales)
- Top crops: Grains, oilseeds, dry beans, dry peas ($67.1 million), Cotton and cottonseed ($20.1 million), Other crops and hay ($5.5 million)

- Livestock and animal product sales: $1.5 billion (8.7% of state animal sales)
- Top livestock: Cattle and calves ($1.4 billion), Milk from cows ($177.2 million), Horses, ponies, mules, burros, donkeys ($171,000)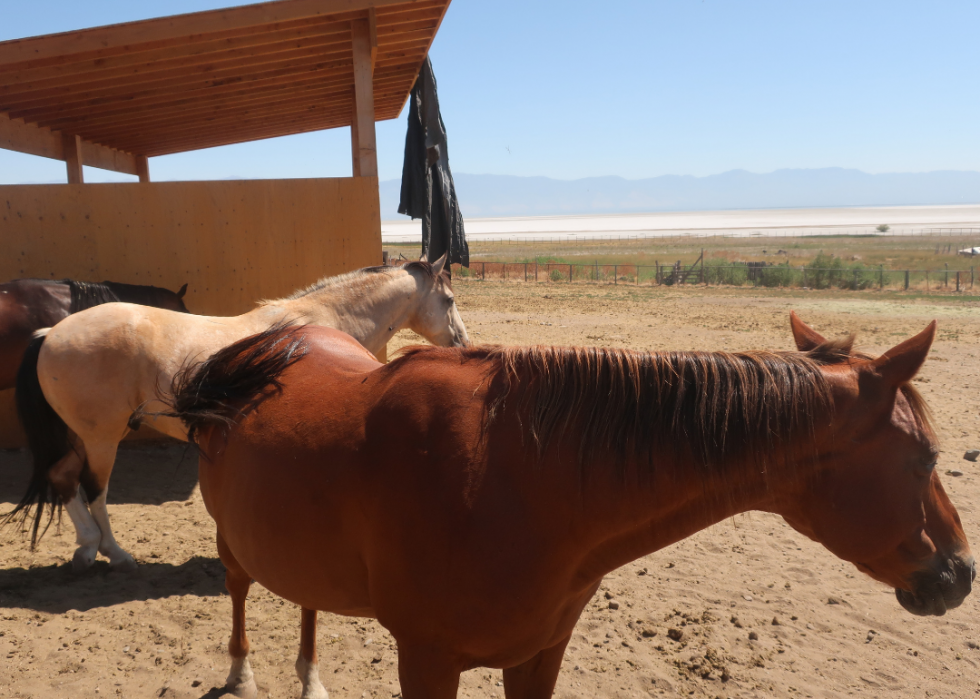 44 / 50
robertzwinchell // Shutterstock
Utah: Beaver
- Agricultural sales: $258.0 million (13.1% of state sales)

- Crop sales: $20.1 million (3.6% of state crop sales)
- Top crops: Other crops and hay ($17.1 million), Grains, oilseeds, dry beans, dry peas ($2.5 million), Nursery, greenhouse, floriculture, sod ($452,000)

- Livestock and animal product sales: $237.9 million (17.0% of state animal sales)
- Top livestock: Hogs and pigs ($219.9 million), Cattle and calves ($11.5 million), Milk from cows ($6.3 million)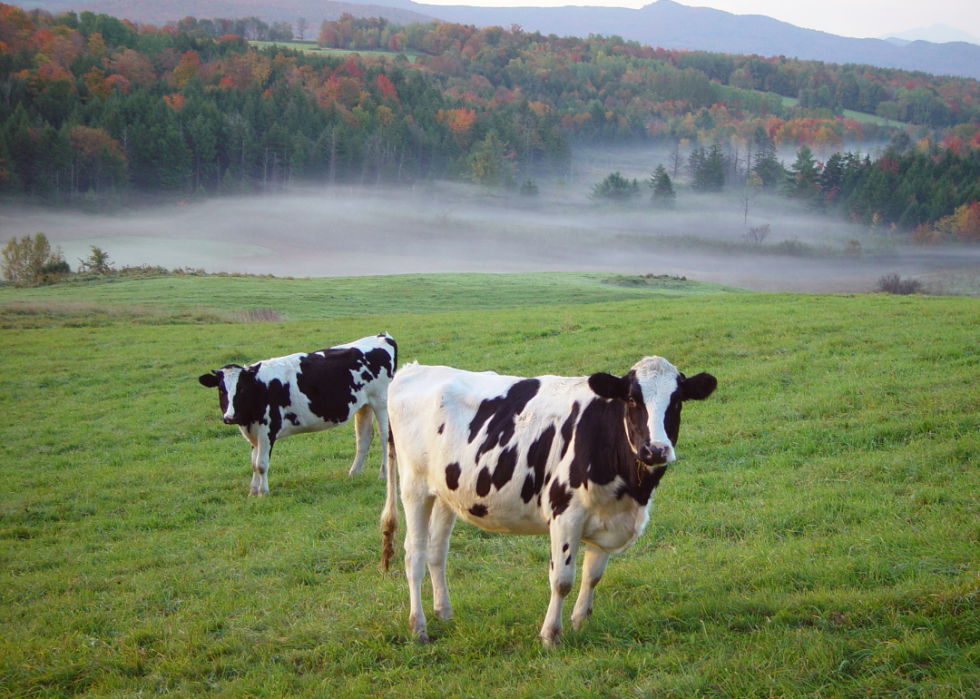 45 / 50
Vermont: Franklin
- Agricultural sales: $185.6 million (28.8% of state sales)

- Crop sales: $38.7 million (20.7% of state crop sales)
- Top crops: Other crops and hay ($30.7 million), Grains, oilseeds, dry beans, dry peas ($3.9 million), Nursery, greenhouse, floriculture, sod ($2.0 million)

- Livestock and animal product sales: $146.9 million (32.2% of state animal sales)
- Top livestock: Milk from cows ($129.5 million), Cattle and calves ($14.5 million), Sheep, goats, wool, mohair, milk ($1.4 million)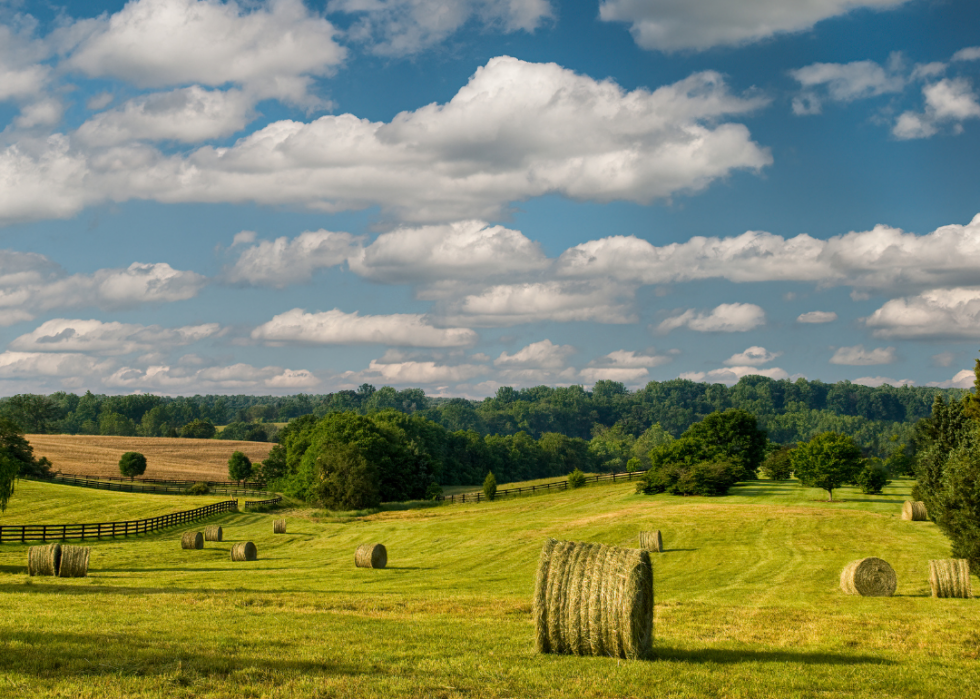 46 / 50
Gerry Bishop // Shutterstock
Virginia: Rockingham
- Agricultural sales: $795.9 million (20.9% of state sales)

- Crop sales: $54.3 million (4.2% of state crop sales)
- Top crops: Grains, oilseeds, dry beans, dry peas ($25.6 million), Nursery, greenhouse, floriculture, sod ($16.1 million), Fruits, tree nuts, berries ($4.9 million)

- Livestock and animal product sales: $741.6 million (29.4% of state animal sales)
- Top livestock: Poultry and eggs ($582.0 million), Milk from cows ($112.4 million), Cattle and calves ($45.8 million)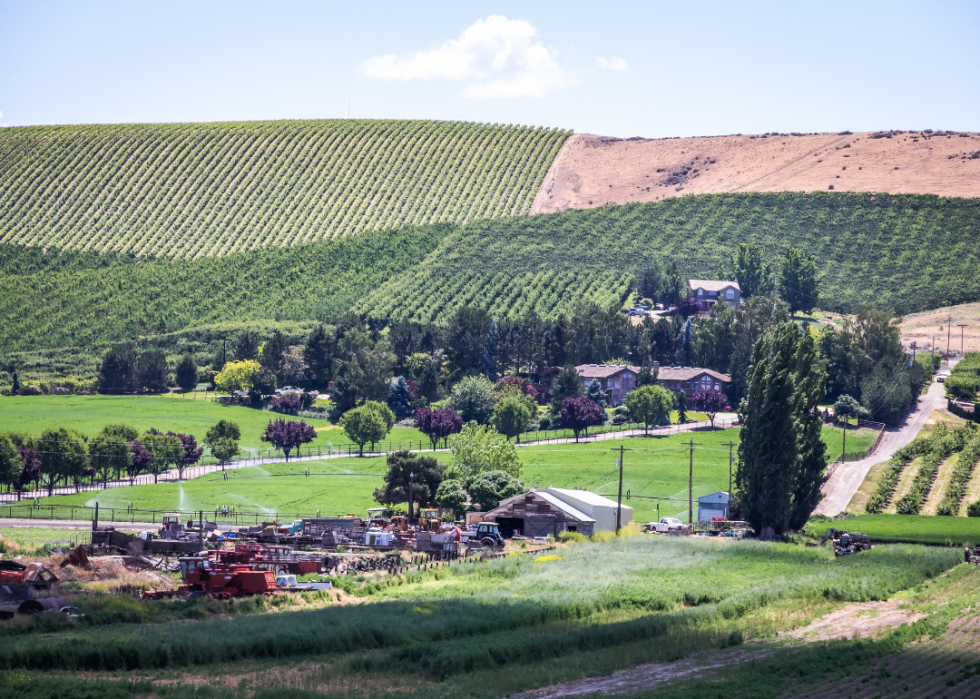 47 / 50
Wiraj Karve // Shutterstock
Washington: Yakima
- Agricultural sales: $2.0 billion (21.8% of state sales)

- Crop sales: $1.4 billion (21.7% of state crop sales)
- Top crops: Fruits, tree nuts, berries ($947.9 million), Other crops and hay ($372.2 million), Grains, oilseeds, dry beans, dry peas ($51.8 million)

- Livestock and animal product sales: $571.0 million (22.3% of state animal sales)
- Top livestock: Milk from cows ($415.9 million), Cattle and calves ($145.8 million), Other animals and animal products ($3.3 million)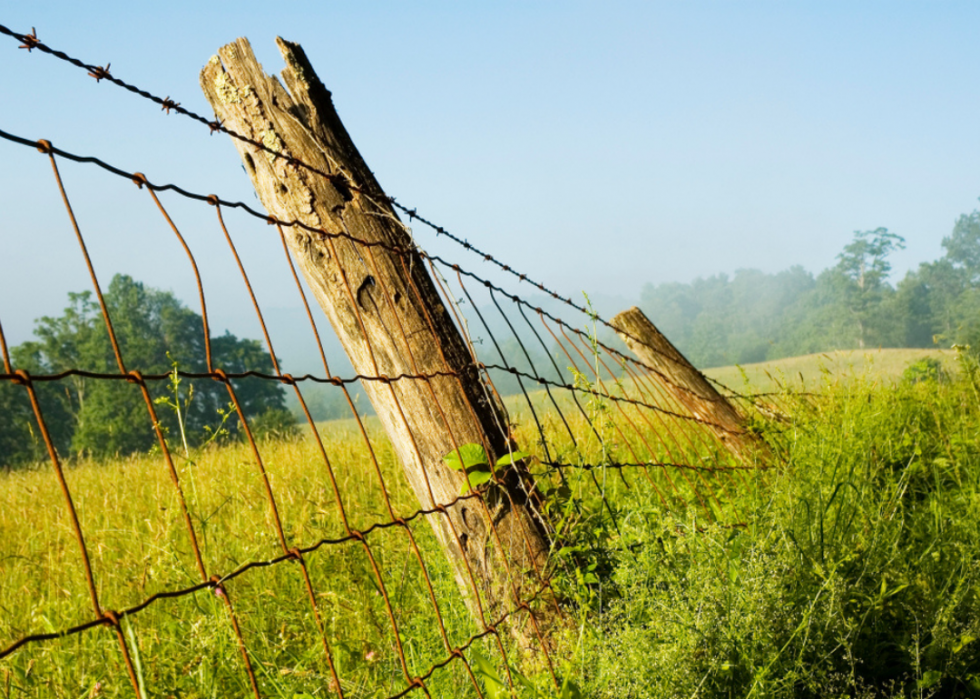 48 / 50
Malachi Jacobs // Shutterstock
West Virginia: Hardy
- Agricultural sales: $190.6 million (25.3% of state sales)

- Crop sales: $5.4 million (3.5% of state crop sales)
- Top crops: Grains, oilseeds, dry beans, dry peas ($3.5 million), Other crops and hay ($1.6 million), Nursery, greenhouse, floriculture, sod ($167,000)

- Livestock and animal product sales: $185.2 million (30.8% of state animal sales)
- Top livestock: Poultry and eggs ($173.2 million), Cattle and calves ($11.6 million), Sheep, goats, wool, mohair, milk ($134,000)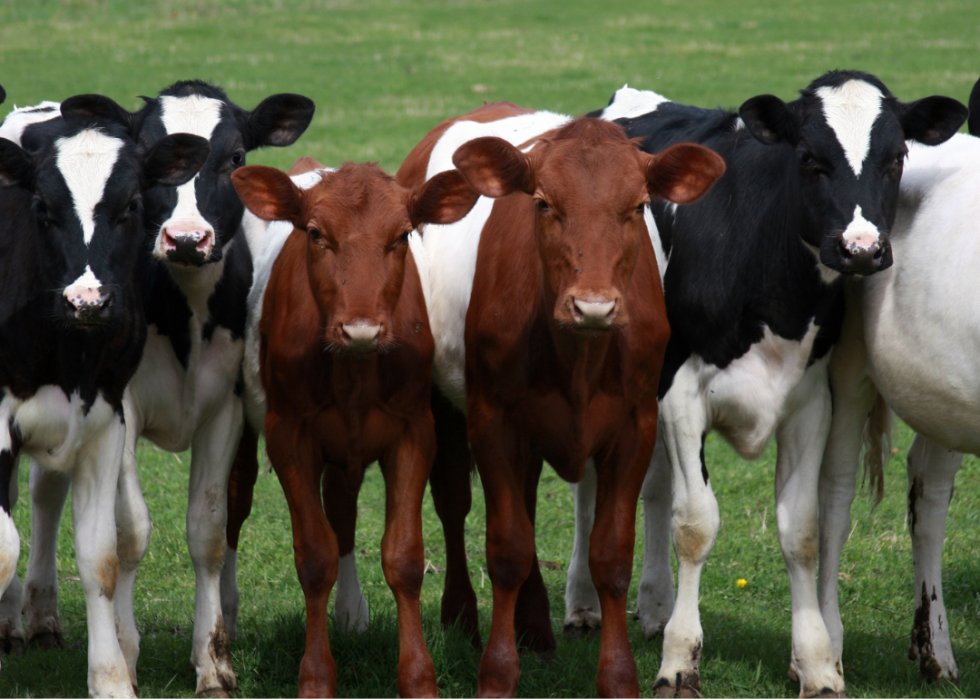 49 / 50
dcwcreations // Shutterstock
Wisconsin: Dane
- Agricultural sales: $509.1 million (4.5% of state sales)

- Crop sales: $185.0 million (4.6% of state crop sales)
- Top crops: Grains, oilseeds, dry beans, dry peas ($151.6 million), Nursery, greenhouse, floriculture, sod ($14.2 million), Other crops and hay ($8.1 million)

- Livestock and animal product sales: $324.1 million (4.4% of state animal sales)
- Top livestock: Milk from cows ($230.2 million), Cattle and calves ($79.0 million), Hogs and pigs ($10.5 million)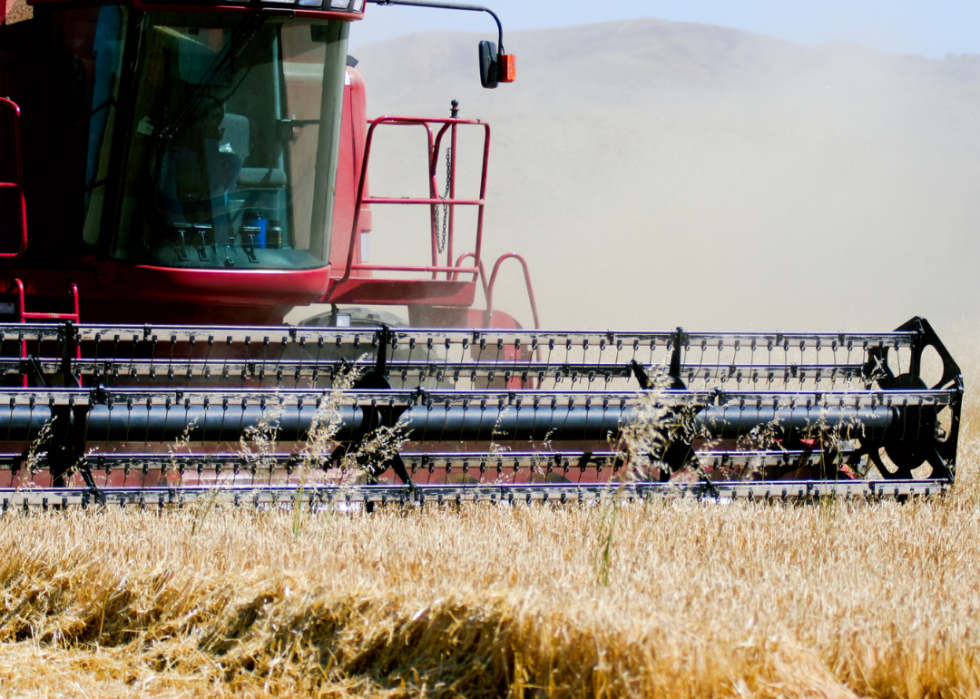 50 / 50
Sascha Burkard // Shutterstock
Wyoming: Goshen
- Agricultural sales: $201.9 million (13.7% of state sales)

- Crop sales: $48.5 million (15.3% of state crop sales)
- Top crops: Other crops and hay ($24.6 million), Grains, oilseeds, dry beans, dry peas ($22.2 million), Nursery, greenhouse, floriculture, sod ($1.6 million)

- Livestock and animal product sales: $153.4 million (13.3% of state animal sales)
- Top livestock: Cattle and calves ($151.1 million), Horses, ponies, mules, burros, donkeys ($609,000), Sheep, goats, wool, mohair, milk ($207,000)