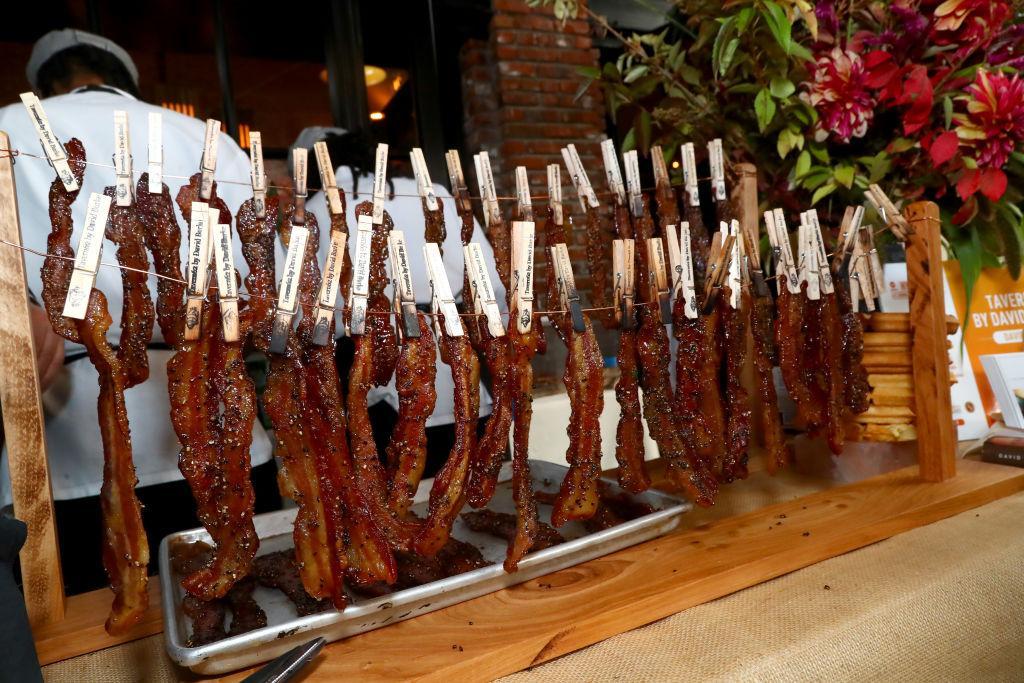 The cost of bacon the year you were born
Elena Veselova // Shutterstock
Cost of bacon the year you were born
Perhaps no food commands a larger fan club than bacon does. The Beatles of foods, everyone loves their own variety, and everyone loves to talk about just how much they love it. But as trendy as bacon is today, it's been a mainstay of western culture for centuries, with the first commercialization of the product dating back to 1700's England. But how has the price of the savory treat changed throughout our lives?
Using data from the Bureau of Labor Statistics, we analyzed the average price for 1 pound of bacon from 1980-2018 along with CPI changes from 1939-1980 for bacon and related products, offering both the absolute price for each year and the inflation-adjusted price to compare to today.
Read on to see the price of bacon the year you were born.
1939
Absolute bacon price: $0.26
Inflation-adjusted price: $4.61 (#45 most expensive year in 80-year span)
1940
Absolute bacon price: $0.23
Inflation-adjusted price: $3.77 (#75 most expensive year in 80-year span)
1941
Absolute bacon price: $0.29
Inflation-adjusted price: $4.46 (#55 most expensive year in 80-year span)
1942
Absolute bacon price: $0.33
Inflation-adjusted price: $4.82 (#38 most expensive year in 80-year span)
1943
Absolute bacon price: $0.35
Inflation-adjusted price: $4.77 (#40 most expensive year in 80-year span)
1944
Absolute bacon price: $0.33
Inflation-adjusted price: $4.29 (#62 most expensive year in 80-year span)
1945
Absolute bacon price: $0.33
Inflation-adjusted price: $4.11 (#68 most expensive year in 80-year span)
1946
Absolute bacon price: $0.44
Inflation-adjusted price: $5.12 (#29 most expensive year in 80-year span)
1947
Absolute bacon price: $0.64
Inflation-adjusted price: $7.13 (#2 most expensive year in 80-year span)
1948
Absolute bacon price: $0.63
Inflation-adjusted price: $6.54 (#4 most expensive year in 80-year span)
1949
Absolute bacon price: $0.55
Inflation-adjusted price: $5.72 (#14 most expensive year in 80-year span)
1950
Absolute bacon price: $0.52
Inflation-adjusted price: $5.41 (#22 most expensive year in 80-year span)
1951
Absolute bacon price: $0.55
Inflation-adjusted price: $5.27 (#25 most expensive year in 80-year span)
1952
Absolute bacon price: $0.53
Inflation-adjusted price: $4.97 (#34 most expensive year in 80-year span)
1953
Absolute bacon price: $0.65
Inflation-adjusted price: $6.02 (#10 most expensive year in 80-year span)
1954
Absolute bacon price: $0.67
Inflation-adjusted price: $6.22 (#7 most expensive year in 80-year span)
1955
Absolute bacon price: $0.54
Inflation-adjusted price: $5.03 (#31 most expensive year in 80-year span)
1956
Absolute bacon price: $0.48
Inflation-adjusted price: $4.38 (#59 most expensive year in 80-year span)
1957
Absolute bacon price: $0.61
Inflation-adjusted price: $5.45 (#21 most expensive year in 80-year span)
1958
Absolute bacon price: $0.66
Inflation-adjusted price: $5.67 (#16 most expensive year in 80-year span)
1959
Absolute bacon price: $0.55
Inflation-adjusted price: $4.70 (#44 most expensive year in 80-year span)
1960
Absolute bacon price: $0.54
Inflation-adjusted price: $4.55 (#50 most expensive year in 80-year span)
1961
Absolute bacon price: $0.59
Inflation-adjusted price: $4.91 (#36 most expensive year in 80-year span)
1962
Absolute bacon price: $0.58
Inflation-adjusted price: $4.80 (#39 most expensive year in 80-year span)
1963
Absolute bacon price: $0.57
Inflation-adjusted price: $4.61 (#46 most expensive year in 80-year span)
1964
Absolute bacon price: $0.57
Inflation-adjusted price: $4.56 (#49 most expensive year in 80-year span)
1965
Absolute bacon price: $0.69
Inflation-adjusted price: $5.48 (#20 most expensive year in 80-year span)
1966
Absolute bacon price: $0.81
Inflation-adjusted price: $6.25 (#6 most expensive year in 80-year span)
1967
Absolute bacon price: $0.71
Inflation-adjusted price: $5.34 (#23 most expensive year in 80-year span)
1968
Absolute bacon price: $0.70
Inflation-adjusted price: $4.99 (#32 most expensive year in 80-year span)
1969
Absolute bacon price: $0.75
Inflation-adjusted price: $5.12 (#28 most expensive year in 80-year span)
1970
Absolute bacon price: $0.81
Inflation-adjusted price: $5.23 (#26 most expensive year in 80-year span)
1971
Absolute bacon price: $0.69
Inflation-adjusted price: $4.25 (#64 most expensive year in 80-year span)
1972
Absolute bacon price: $0.83
Inflation-adjusted price: $4.99 (#33 most expensive year in 80-year span)
1973
Absolute bacon price: $1.15
Inflation-adjusted price: $6.47 (#5 most expensive year in 80-year span)
1974
Absolute bacon price: $1.15
Inflation-adjusted price: $5.80 (#12 most expensive year in 80-year span)
1975
Absolute bacon price: $1.54
Inflation-adjusted price: $7.14 (#1 most expensive year in 80-year span)
1976
Absolute bacon price: $1.50
Inflation-adjusted price: $6.59 (#3 most expensive year in 80-year span)
1977
Absolute bacon price: $1.38
Inflation-adjusted price: $5.68 (#15 most expensive year in 80-year span)
1978
Absolute bacon price: $1.59
Inflation-adjusted price: $6.07 (#9 most expensive year in 80-year span)
1979
Absolute bacon price: $1.47
Inflation-adjusted price: $5.06 (#30 most expensive year in 80-year span)
1980
Absolute bacon price: $1.46
Inflation-adjusted price: $4.44 (#56 most expensive year in 80-year span)
1981
Absolute bacon price: $1.67
Inflation-adjusted price: $4.57 (#48 most expensive year in 80-year span)
1982
Absolute bacon price: $2.05
Inflation-adjusted price: $5.31 (#24 most expensive year in 80-year span)
1983
Absolute bacon price: $1.94
Inflation-adjusted price: $4.87 (#37 most expensive year in 80-year span)
1984
Absolute bacon price: $1.86
Inflation-adjusted price: $4.46 (#53 most expensive year in 80-year span)
1985
Absolute bacon price: $1.94
Inflation-adjusted price: $4.50 (#51 most expensive year in 80-year span)
1986
Absolute bacon price: $2.08
Inflation-adjusted price: $4.74 (#41 most expensive year in 80-year span)
1987
Absolute bacon price: $2.14
Inflation-adjusted price: $4.70 (#42 most expensive year in 80-year span)
1988
Absolute bacon price: $1.88
Inflation-adjusted price: $3.97 (#71 most expensive year in 80-year span)
1989
Absolute bacon price: $1.77
Inflation-adjusted price: $3.56 (#76 most expensive year in 80-year span)
1990
Absolute bacon price: $2.12
Inflation-adjusted price: $4.06 (#70 most expensive year in 80-year span)
1991
Absolute bacon price: $2.22
Inflation-adjusted price: $4.07 (#69 most expensive year in 80-year span)
1992
Absolute bacon price: $1.92
Inflation-adjusted price: $3.41 (#77 most expensive year in 80-year span)
1993
Absolute bacon price: $1.93
Inflation-adjusted price: $3.33 (#79 most expensive year in 80-year span)
1994
Absolute bacon price: $1.99
Inflation-adjusted price: $3.35 (#78 most expensive year in 80-year span)
1995
Absolute bacon price: $1.99
Inflation-adjusted price: $3.25 (#80 most expensive year in 80-year span)
1996
Absolute bacon price: $2.47
Inflation-adjusted price: $3.93 (#72 most expensive year in 80-year span)
1997
Absolute bacon price: $2.68
Inflation-adjusted price: $4.17 (#67 most expensive year in 80-year span)
1998
Absolute bacon price: $2.54
Inflation-adjusted price: $3.89 (#73 most expensive year in 80-year span)
1999
Absolute bacon price: $2.55
Inflation-adjusted price: $3.82 (#74 most expensive year in 80-year span)
2000
Absolute bacon price: $3.03
Inflation-adjusted price: $4.39 (#58 most expensive year in 80-year span)
2001
Absolute bacon price: $3.25
Inflation-adjusted price: $4.59 (#47 most expensive year in 80-year span)
2002
Absolute bacon price: $3.24
Inflation-adjusted price: $4.49 (#52 most expensive year in 80-year span)
2003
Absolute bacon price: $3.20
Inflation-adjusted price: $4.34 (#60 most expensive year in 80-year span)
2004
Absolute bacon price: $3.38
Inflation-adjusted price: $4.46 (#54 most expensive year in 80-year span)
2005
Absolute bacon price: $3.39
Inflation-adjusted price: $4.33 (#61 most expensive year in 80-year span)
2006
Absolute bacon price: $3.44
Inflation-adjusted price: $4.26 (#63 most expensive year in 80-year span)
2007
Absolute bacon price: $3.66
Inflation-adjusted price: $4.40 (#57 most expensive year in 80-year span)
2008
Absolute bacon price: $3.66
Inflation-adjusted price: $4.24 (#65 most expensive year in 80-year span)
2009
Absolute bacon price: $3.61
Inflation-adjusted price: $4.20 (#66 most expensive year in 80-year span)
2010
Absolute bacon price: $4.11
Inflation-adjusted price: $4.70 (#43 most expensive year in 80-year span)
2011
Absolute bacon price: $4.63
Inflation-adjusted price: $5.14 (#27 most expensive year in 80-year span)
2012
Absolute bacon price: $4.56
Inflation-adjusted price: $4.95 (#35 most expensive year in 80-year span)
2013
Absolute bacon price: $5.29
Inflation-adjusted price: $5.66 (#17 most expensive year in 80-year span)
2014
Absolute bacon price: $5.78
Inflation-adjusted price: $6.09 (#8 most expensive year in 80-year span)
2015
Absolute bacon price: $5.45
Inflation-adjusted price: $5.74 (#13 most expensive year in 80-year span)
2016
Absolute bacon price: $5.42
Inflation-adjusted price: $5.64 (#18 most expensive year in 80-year span)
2017
Absolute bacon price: $5.77
Inflation-adjusted price: $5.88 (#11 most expensive year in 80-year span)
2018
Absolute bacon price: $5.57
Inflation-adjusted price: $5.57 (#19 most expensive year in 80-year span)