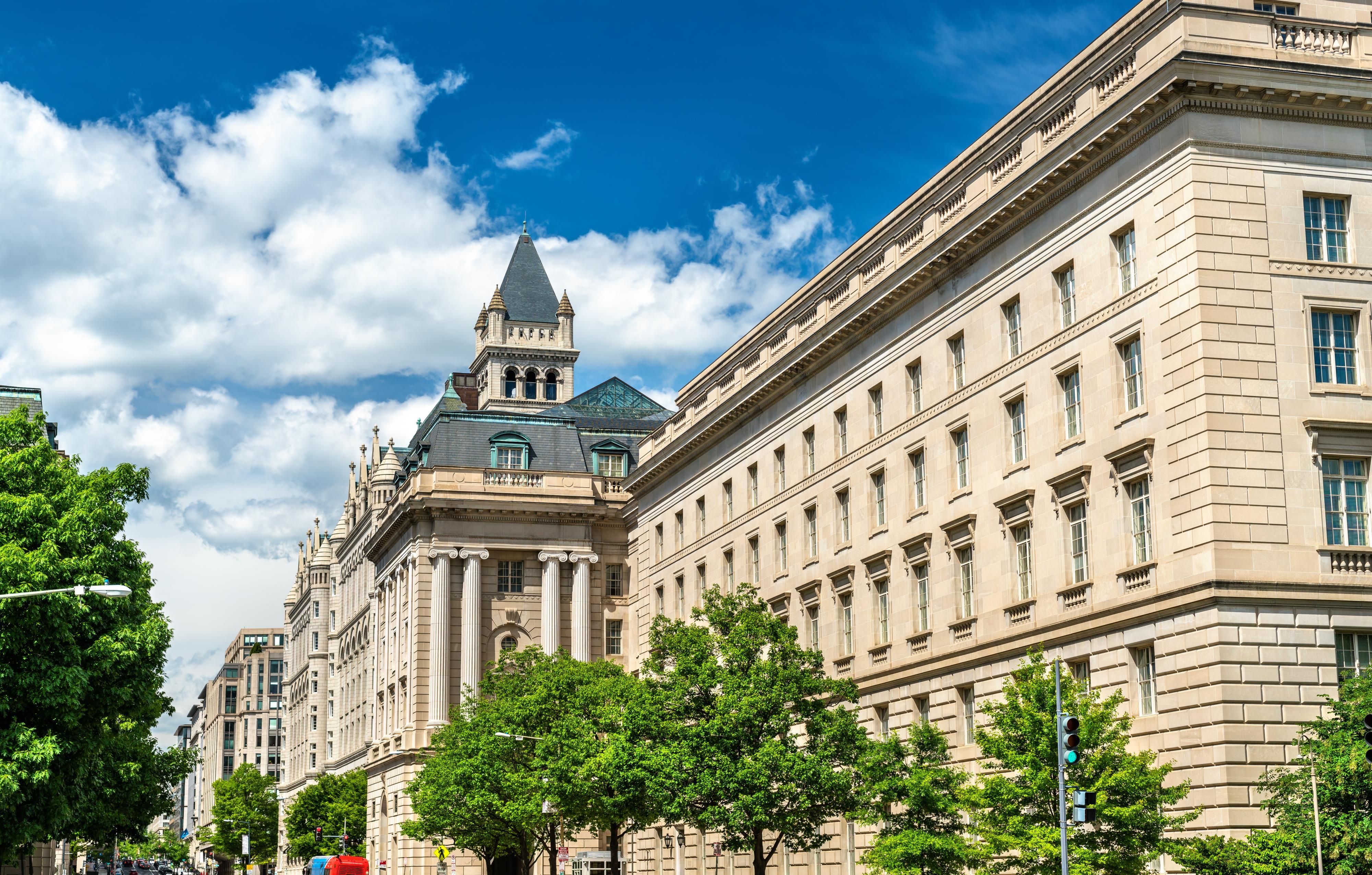 How much does your state spend on you?
The Internal Revenue Service Building in Washington D.C. — Leonid Andronov // Shutterstock
How much does your state spend on you?
School, roads, parks, and safety—so many institutions rely on government funding to stay in operation, providing a backbone upon which communities live their lives. As the Trump administration cuts federal funding to many agencies, these responsibilities are falling even more on the shoulders of state and local governments.
Most people know their taxes go into these institutions. It's why parents send their children to public school instead of private, or demand that the work go faster when construction blocks up commutes. But how much of what residents pay is actually going back towards their individual lives?
To answer this question, Stacker analyzed findings from the U.S. Census Bureau's 2015 Study of State and Local Government Finances. Stacker divided the total expenditure for each state by that state's population to calculate the amount that state government is spending on each of its citizens. Stacker also calculated the spending per capita for several specific areas to get an idea of how different states are prioritizing their funds.
The top spending areas for most states were education, public welfare, and intergovernmental expenditures—money paid to other governments as fiscal aid, reimbursements, or in lieu of taxes; these three spending amounts are included for each state. Also included are each state's spending on the police, parks and recreation, and highways, as the total spending amounts for the broad categories in which these expenses fall—public safety, housing and environmental protection, and transportation, respectively—were not available. All ranks are based on spending per capita.
Read on to find out how much your state government is spending on you and to compare its spending habits across the country.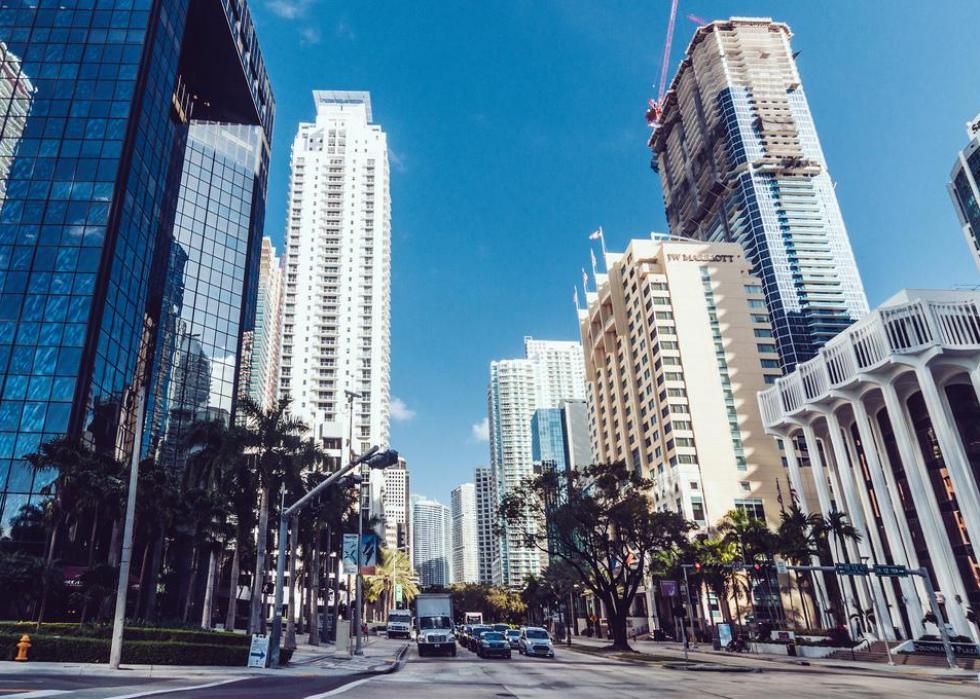 1 / 50
#50. Florida
Total state spending: $86.28 million ($4.11 per capita)
Education spending: $10.55 million ($0.50 per capita, #50 highest)
Public welfare spending: $25.91 million ($1.23 per capita, #44 highest)
Intergovernmental spending: $19.17 million ($0.91 per capita, #47 highest)
Police spending: $536,164 ($0.03 per capita, #48 highest)
Parks and recreation spending: $154,414 ($0.01 per capita, #45 highest)
Highway spending: $6.7 million ($0.32 per capita, #32 highest)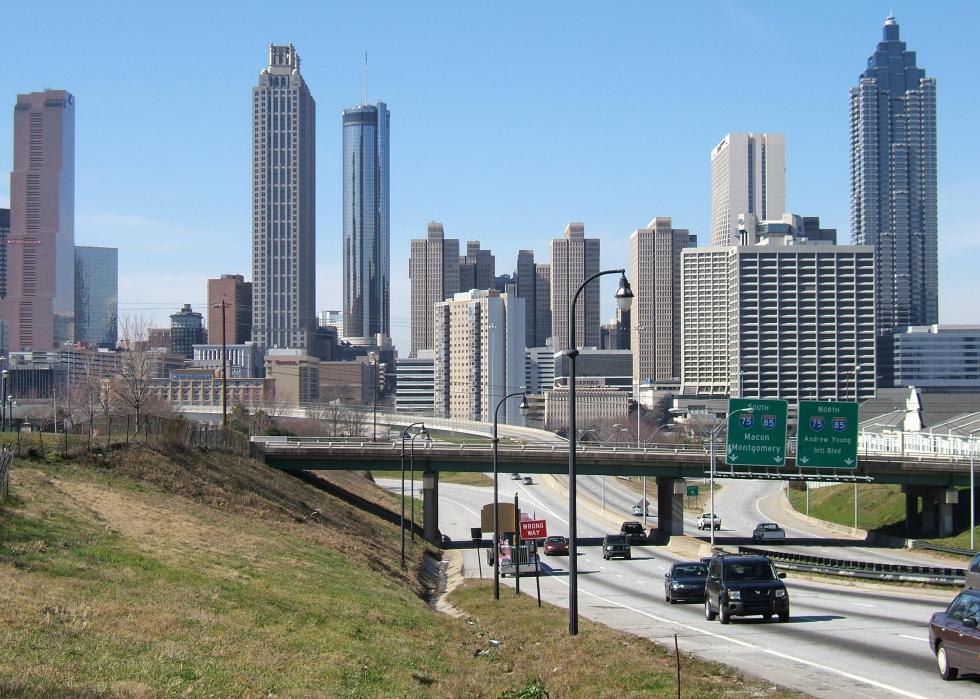 2 / 50
Reinhard Kraasch // Wikimedia Commons
#49. Georgia
Total state spending: $46.52 million ($4.46 per capita)
Education spending: $7.89 million ($0.76 per capita, #43 highest)
Public welfare spending: $11.77 million ($1.13 per capita, #49 highest)
Intergovernmental spending: $11.09 million ($1.06 per capita, #42 highest)
Police spending: $345,985 ($0.03 per capita, #42 highest)
Parks and recreation spending: $206,090 ($0.02 per capita, #24 highest)
Highway spending: $1.77 million ($0.17 per capita, #49 highest)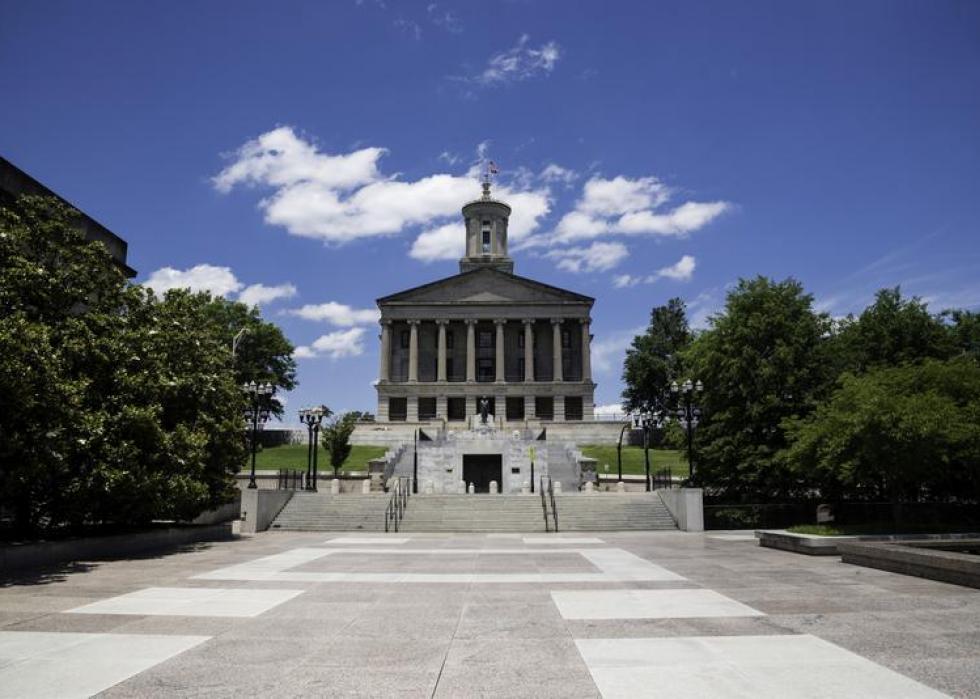 3 / 50
#48. Tennessee
Total state spending: $31.28 million ($4.66 per capita)
Education spending: $5.05 million ($0.75 per capita, #44 highest)
Public welfare spending: $10.55 million ($1.57 per capita, #28 highest)
Intergovernmental spending: $7.23 million ($1.08 per capita, #41 highest)
Police spending: $249,521 ($0.04 per capita, #34 highest)
Parks and recreation spending: $85,410 ($0.01 per capita, #35 highest)
Highway spending: $1.4 million ($0.21 per capita, #45 highest)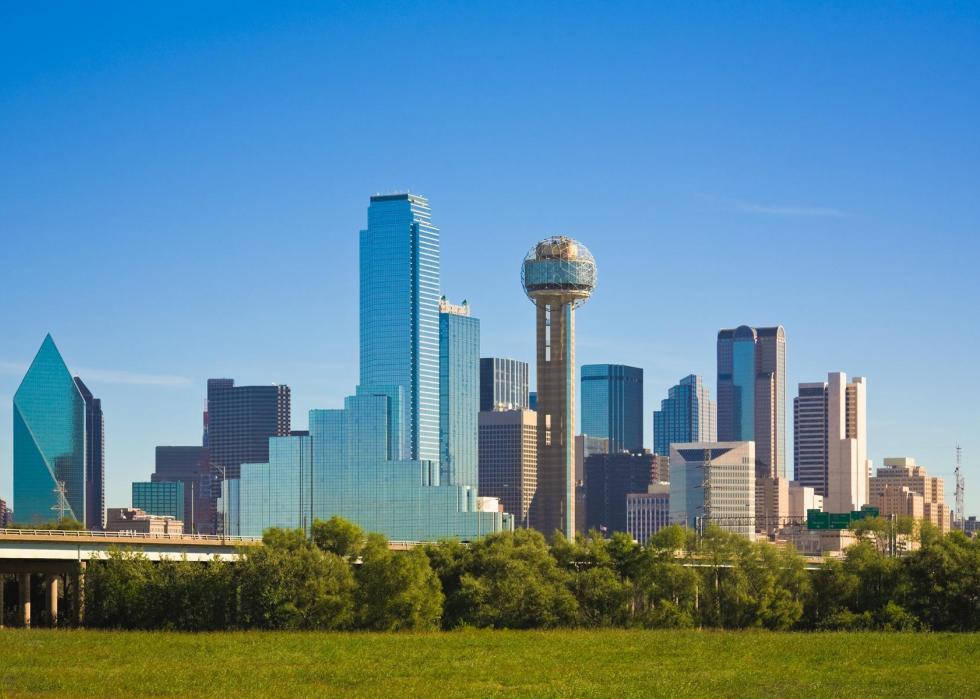 4 / 50
Alan Botting // Wikimedia Commons
#47. Texas
Total state spending: $136.93 million ($4.84 per capita)
Education spending: $25.58 million ($0.90 per capita, #34 highest)
Public welfare spending: $34.97 million ($1.24 per capita, #43 highest)
Intergovernmental spending: $29.95 million ($1.06 per capita, #43 highest)
Police spending: $1.01 million ($0.04 per capita, #36 highest)
Parks and recreation spending: $142,796 ($0.01 per capita, #48 highest)
Highway spending: $8.09 million ($0.29 per capita, #36 highest)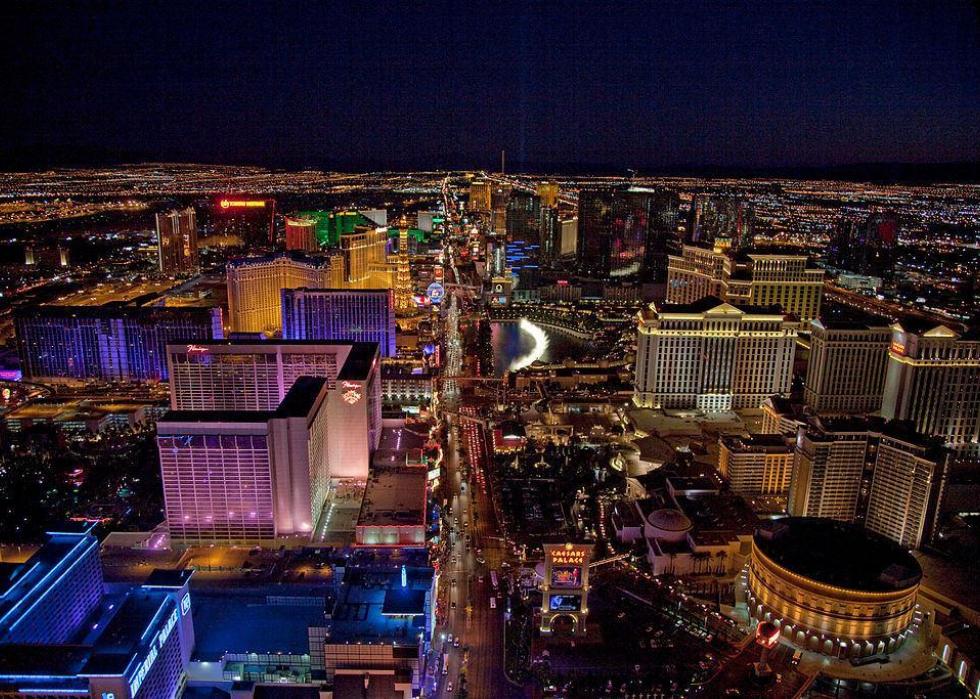 5 / 50
IIP Photo Archive // Flickr
#46. Nevada
Total state spending: $14.72 million ($4.91 per capita)
Education spending: $1.88 million ($0.63 per capita, #49 highest)
Public welfare spending: $3.64 million ($1.22 per capita, #45 highest)
Intergovernmental spending: $4.34 million ($1.45 per capita, #24 highest)
Police spending: $94,042 ($0.03 per capita, #45 highest)
Parks and recreation spending: $19,087 ($0.01 per capita, #46 highest)
Highway spending: $526,505 ($0.18 per capita, #47 highest)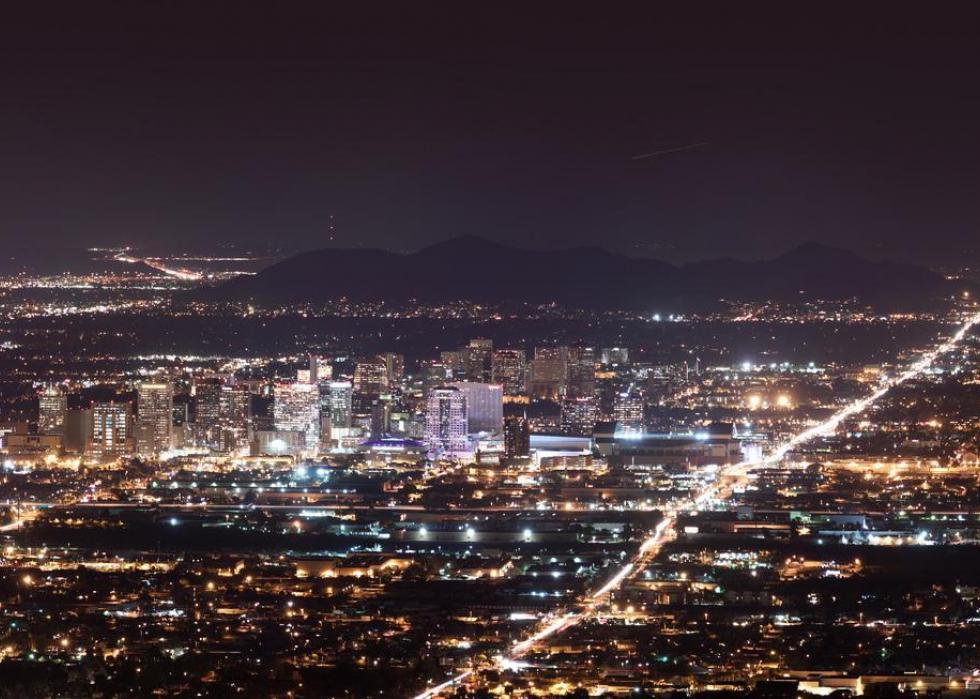 6 / 50
#45. Arizona
Total state spending: $35.34 million ($5.04 per capita)
Education spending: $6.33 million ($0.90 per capita, #35 highest)
Public welfare spending: $10.08 million ($1.44 per capita, #34 highest)
Intergovernmental spending: $7.83 million ($1.12 per capita, #38 highest)
Police spending: $235,943 ($0.03 per capita, #37 highest)
Parks and recreation spending: $61,923 ($0.01 per capita, #43 highest)
Highway spending: $1.22 million ($0.17 per capita, #48 highest)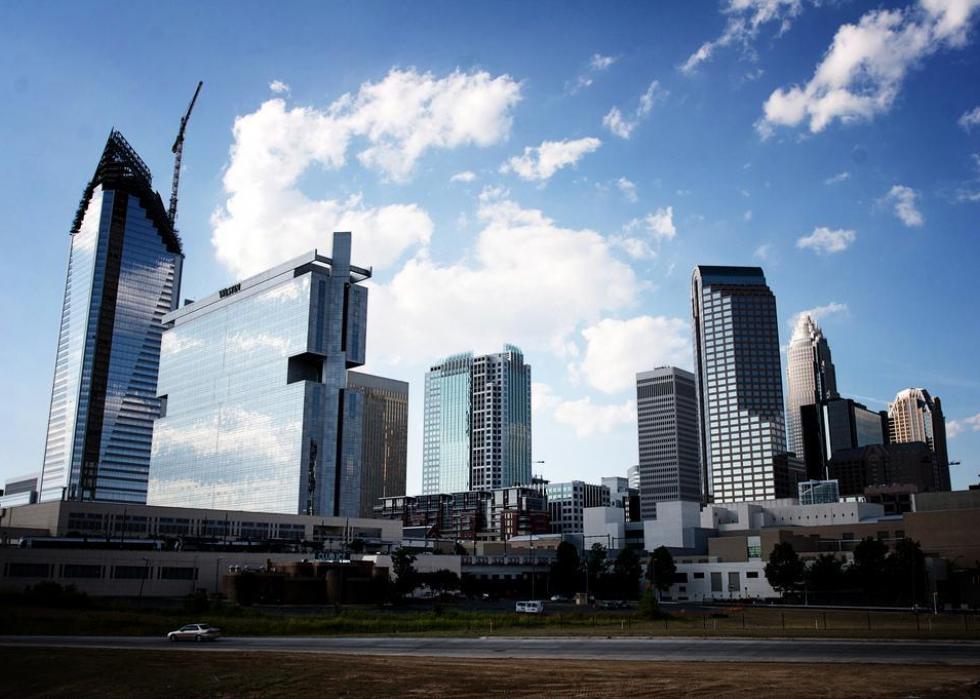 7 / 50
#44. North Carolina
Total state spending: $52.7 million ($5.13 per capita)
Education spending: $9.4 million ($0.92 per capita, #32 highest)
Public welfare spending: $11.96 million ($1.16 per capita, #48 highest)
Intergovernmental spending: $13.02 million ($1.27 per capita, #32 highest)
Police spending: $661,126 ($0.06 per capita, #10 highest)
Parks and recreation spending: $156,807 ($0.02 per capita, #31 highest)
Highway spending: $3.48 million ($0.34 per capita, #25 highest)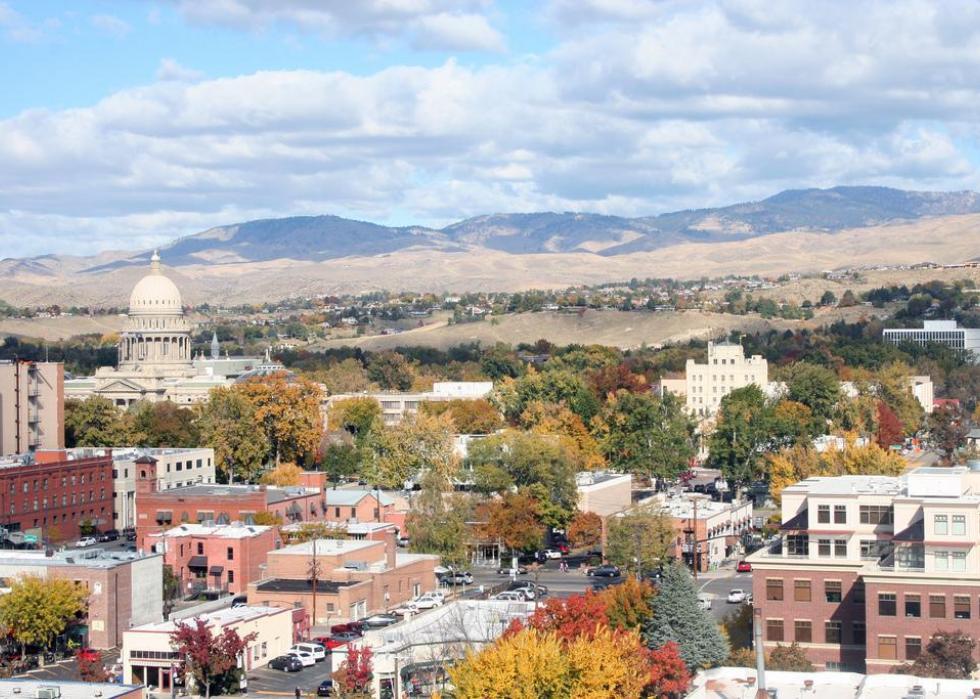 8 / 50
Boise Metro Chamber of Commerce // Flickr
#43. Idaho
Total state spending: $8.87 million ($5.17 per capita)
Education spending: $1.09 million ($0.63 per capita, #47 highest)
Public welfare spending: $2.3 million ($1.34 per capita, #41 highest)
Intergovernmental spending: $2.16 million ($1.26 per capita, #33 highest)
Police spending: $57,052 ($0.03 per capita, #41 highest)
Parks and recreation spending: $27,451 ($0.02 per capita, #29 highest)
Highway spending: $580,559 ($0.34 per capita, #26 highest)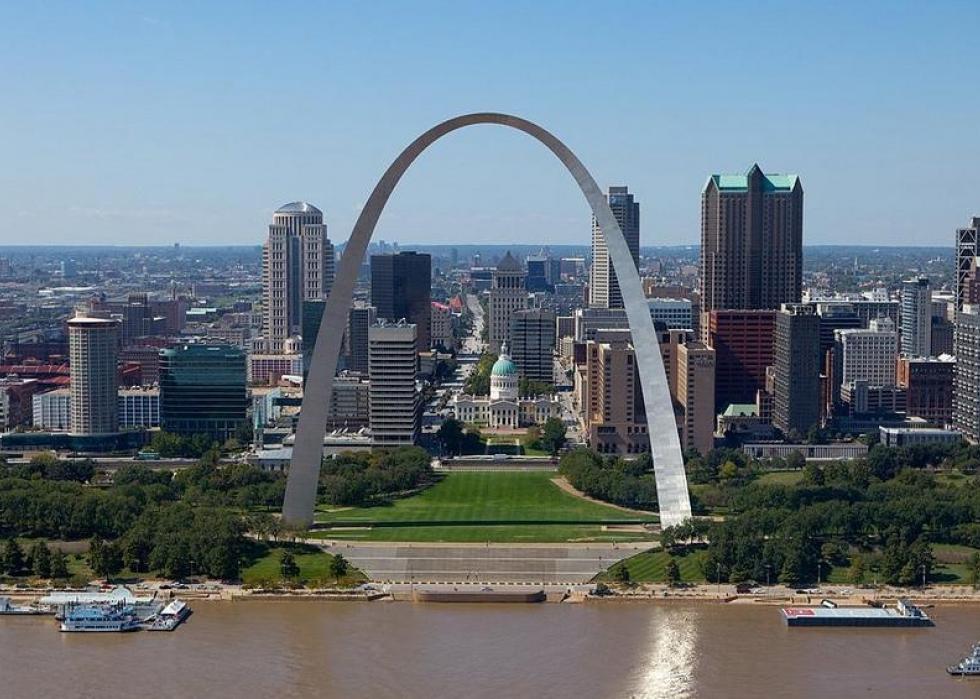 9 / 50
#42. Missouri
Total state spending: $31.77 million ($5.20 per capita)
Education spending: $4.25 million ($0.70 per capita, #45 highest)
Public welfare spending: $8.4 million ($1.37 per capita, #37 highest)
Intergovernmental spending: $5.99 million ($0.98 per capita, #45 highest)
Police spending: $232,679 ($0.04 per capita, #32 highest)
Parks and recreation spending: $59,137 ($0.01 per capita, #38 highest)
Highway spending: $1.33 million ($0.22 per capita, #44 highest)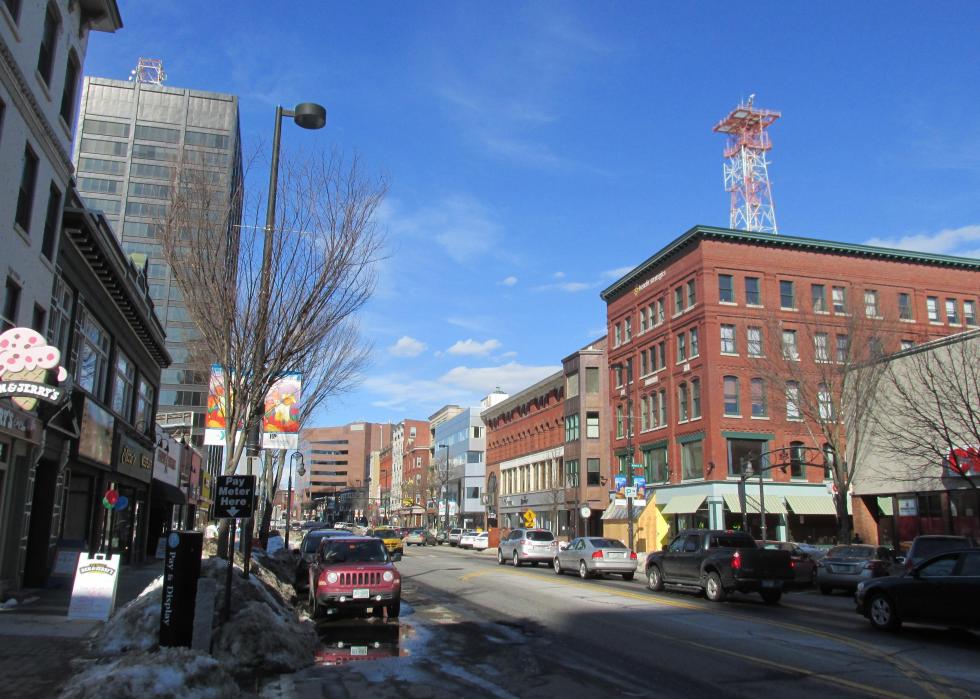 10 / 50
John Phelan // Wikimedia Commons
#41. New Hampshire
Total state spending: $7.08 million ($5.27 per capita)
Education spending: $1.08 million ($0.80 per capita, #41 highest)
Public welfare spending: $1.93 million ($1.44 per capita, #33 highest)
Intergovernmental spending: $573,048 ($0.43 per capita, #49 highest)
Police spending: $63,611 ($0.05 per capita, #20 highest)
Parks and recreation spending: $24,906 ($0.02 per capita, #27 highest)
Highway spending: $462,277 ($0.34 per capita, #24 highest)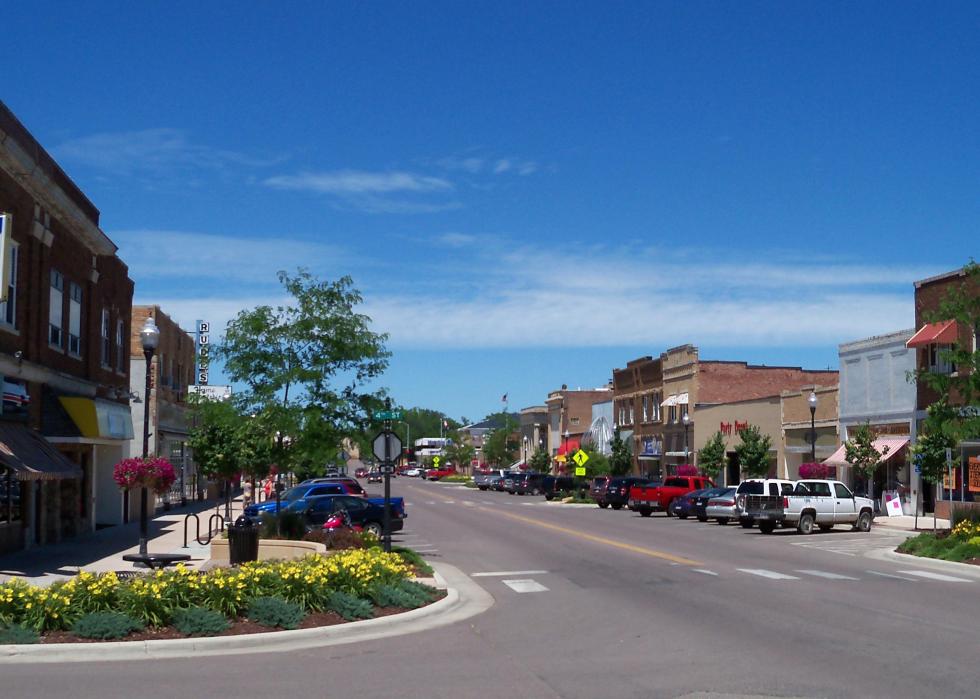 11 / 50
Jon Platek // Wikicommons
#40. South Dakota
Total state spending: $4.68 million ($5.38 per capita)
Education spending: $740,728 ($0.85 per capita, #38 highest)
Public welfare spending: $1.03 million ($1.19 per capita, #46 highest)
Intergovernmental spending: $772,034 ($0.89 per capita, #48 highest)
Police spending: $43,389 ($0.05 per capita, #19 highest)
Parks and recreation spending: $44,443 ($0.05 per capita, #3 highest)
Highway spending: $546,613 ($0.63 per capita, #6 highest)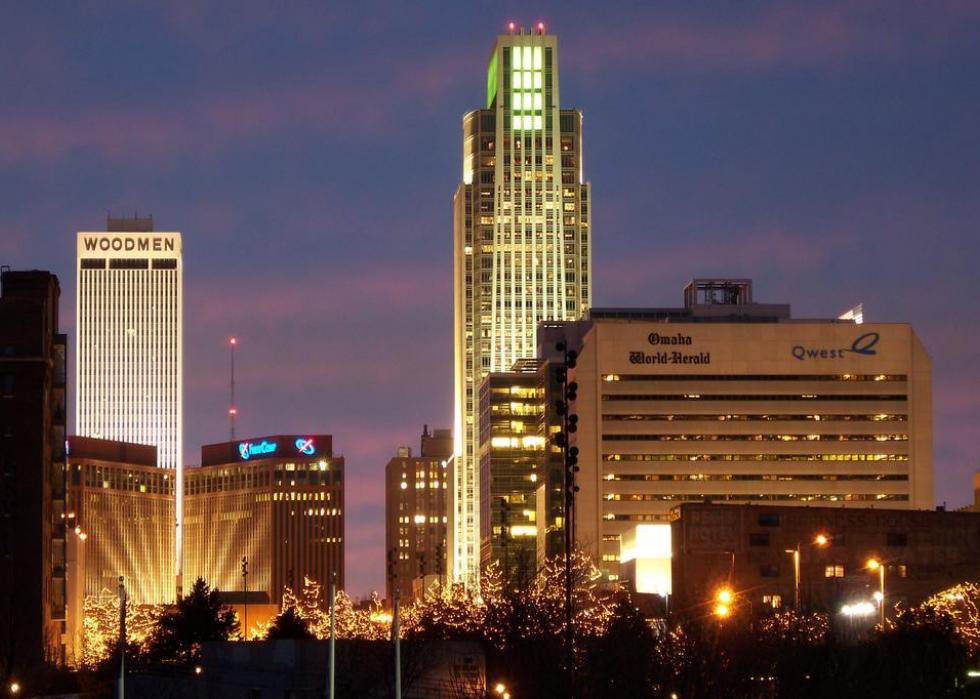 12 / 50
#39. Nebraska
Total state spending: $10.45 million ($5.44 per capita)
Education spending: $2.06 million ($1.07 per capita, #17 highest)
Public welfare spending: $2.58 million ($1.35 per capita, #40 highest)
Intergovernmental spending: $2.3 million ($1.20 per capita, #35 highest)
Police spending: $70,700 ($0.04 per capita, #35 highest)
Parks and recreation spending: $45,623 ($0.02 per capita, #15 highest)
Highway spending: $787,556 ($0.41 per capita, #16 highest)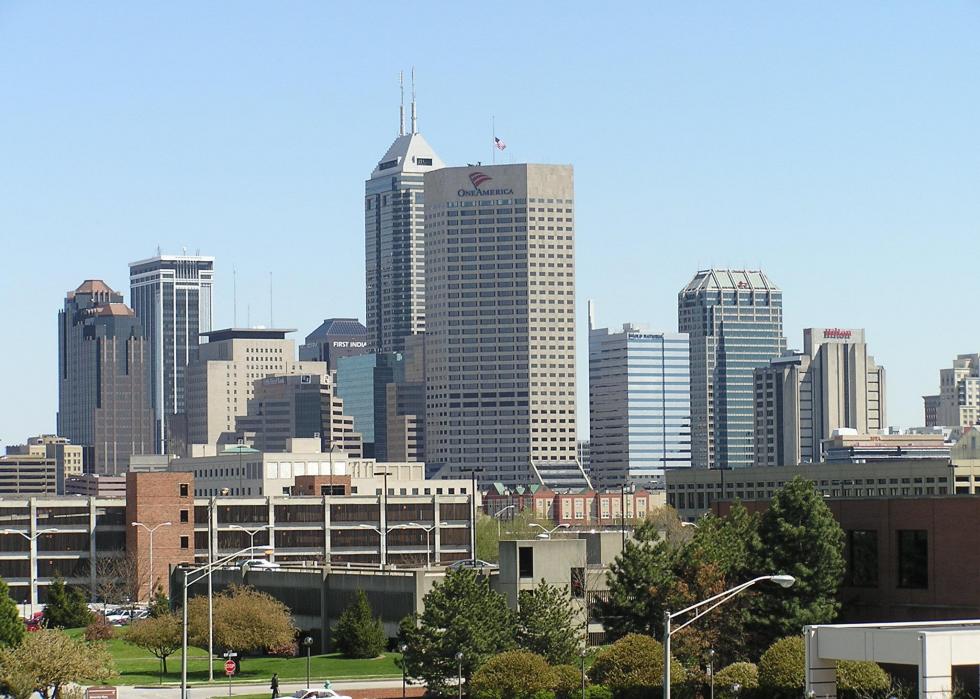 13 / 50
Jasssmit // Wikimedia Commons
#38. Indiana
Total state spending: $37.49 million ($5.62 per capita)
Education spending: $7.03 million ($1.05 per capita, #20 highest)
Public welfare spending: $11.45 million ($1.72 per capita, #25 highest)
Intergovernmental spending: $9.55 million ($1.43 per capita, #25 highest)
Police spending: $216,872 ($0.03 per capita, #44 highest)
Parks and recreation spending: $60,886 ($0.01 per capita, #42 highest)
Highway spending: $1.74 million ($0.26 per capita, #38 highest)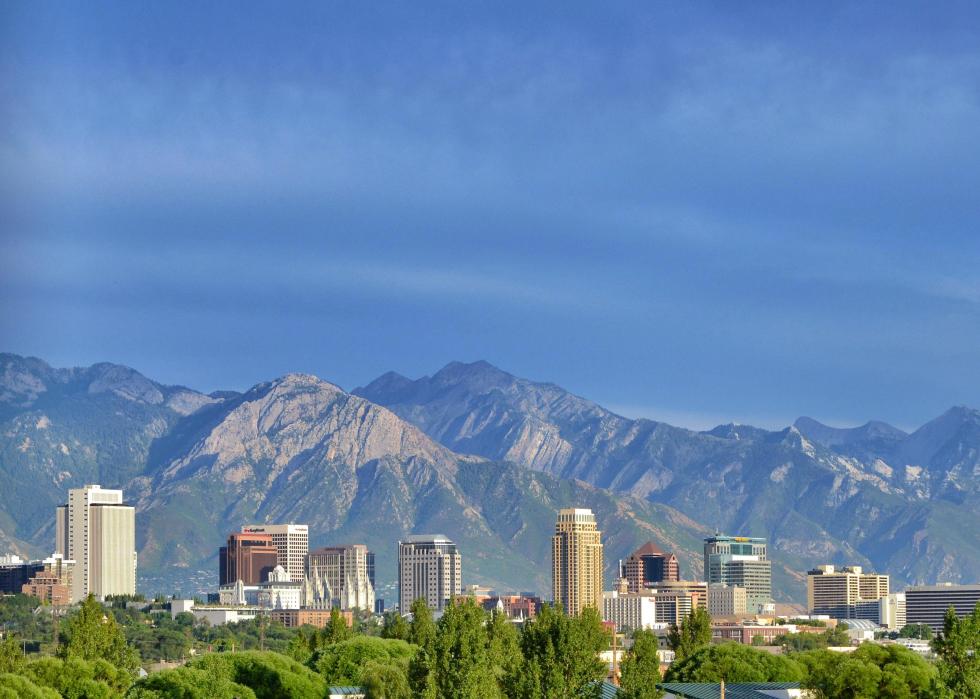 14 / 50
Garrett // Wikimedia Commons
#37. Utah
Total state spending: $17.91 million ($5.77 per capita)
Education spending: $4.27 million ($1.38 per capita, #6 highest)
Public welfare spending: $3.22 million ($1.04 per capita, #50 highest)
Intergovernmental spending: $3.34 million ($1.08 per capita, #40 highest)
Police spending: $134,278 ($0.04 per capita, #23 highest)
Parks and recreation spending: $43,933 ($0.01 per capita, #32 highest)
Highway spending: $782,700 ($0.25 per capita, #39 highest)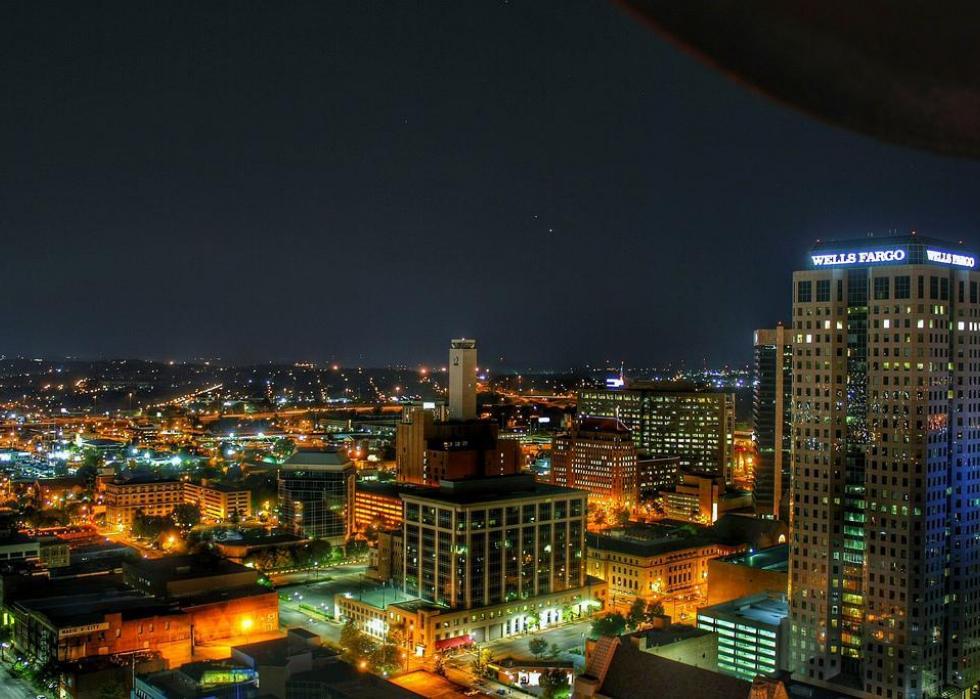 15 / 50
IIP Photo Archive // Flickr
#36. Alabama
Total state spending: $29.19 million ($5.99 per capita)
Education spending: $5.82 million ($1.19 per capita, #9 highest)
Public welfare spending: $6.72 million ($1.38 per capita, #36 highest)
Intergovernmental spending: $6.61 million ($1.36 per capita, #28 highest)
Police spending: $162,224 ($0.03 per capita, #40 highest)
Parks and recreation spending: $17,951 ($0.00 per capita, #49 highest)
Highway spending: $1.6 million ($0.33 per capita, #28 highest)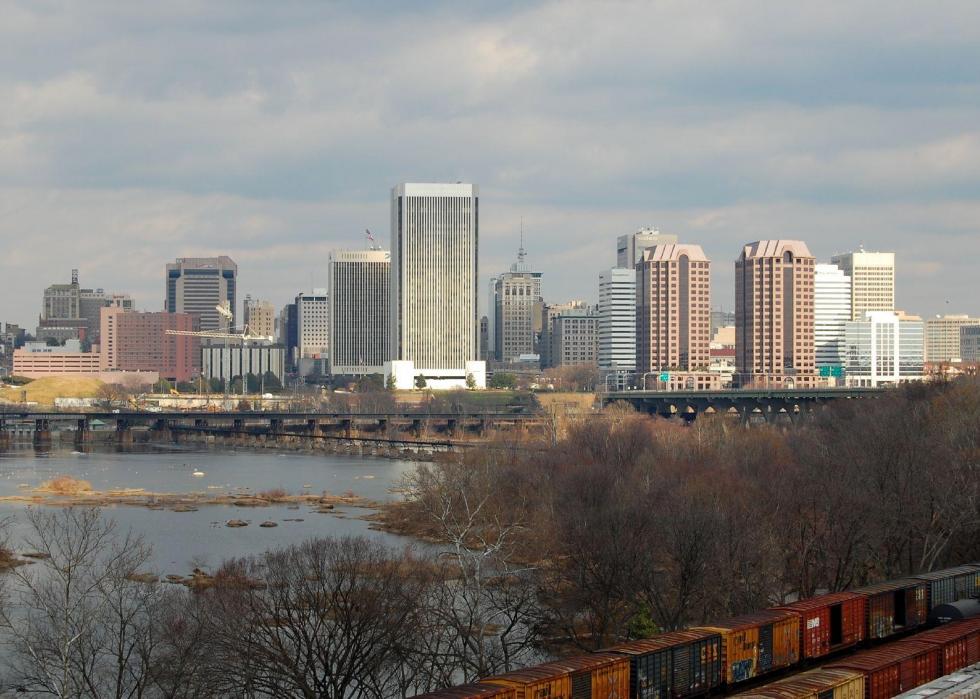 16 / 50
#35. Virginia
Total state spending: $51.01 million ($6.02 per capita)
Education spending: $8.67 million ($1.02 per capita, #23 highest)
Public welfare spending: $9.98 million ($1.18 per capita, #47 highest)
Intergovernmental spending: $12.58 million ($1.49 per capita, #22 highest)
Police spending: $350,985 ($0.04 per capita, #27 highest)
Parks and recreation spending: $115,342 ($0.01 per capita, #33 highest)
Highway spending: $3.2 million ($0.38 per capita, #20 highest)
17 / 50
Khanrak // Wikimedia Commons
#34. South Carolina
Total state spending: $30.56 million ($6.08 per capita)
Education spending: $5.51 million ($1.10 per capita, #14 highest)
Public welfare spending: $7.31 million ($1.45 per capita, #32 highest)
Intergovernmental spending: $5.96 million ($1.19 per capita, #36 highest)
Police spending: $164,110 ($0.03 per capita, #43 highest)
Parks and recreation spending: $95,305 ($0.02 per capita, #26 highest)
Highway spending: $1.17 million ($0.23 per capita, #40 highest)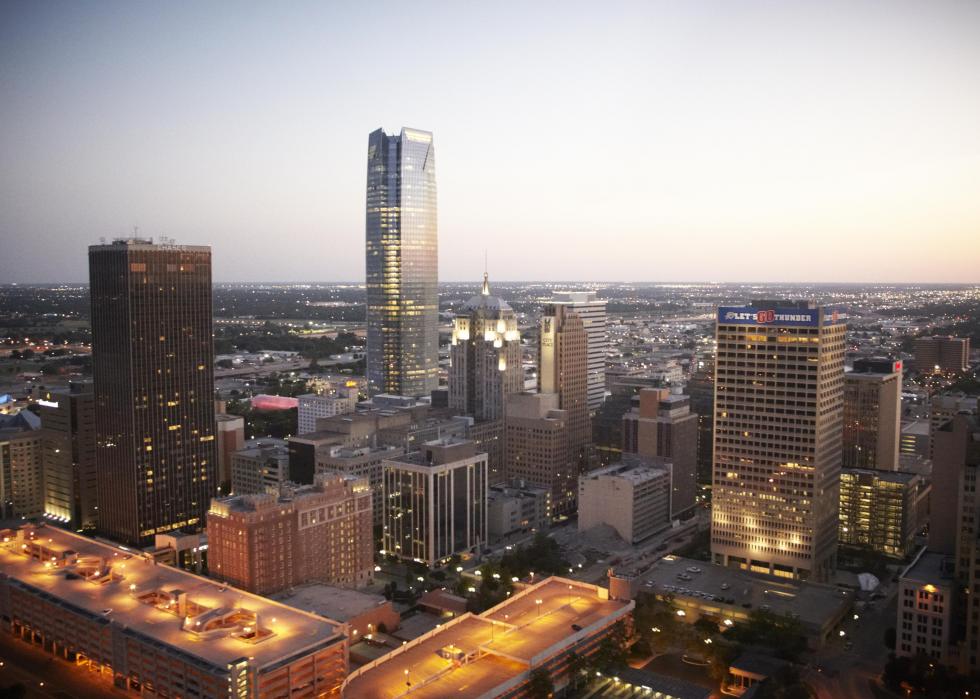 18 / 50
Greater Oklahoma City Chamber and Oklahoma City Convention and Visitors Bureau // Wikimedia Commons
#33. Oklahoma
Total state spending: $23.98 million ($6.10 per capita)
Education spending: $4.21 million ($1.07 per capita, #18 highest)
Public welfare spending: $6.46 million ($1.64 per capita, #26 highest)
Intergovernmental spending: $4.34 million ($1.10 per capita, #39 highest)
Police spending: $225,852 ($0.06 per capita, #13 highest)
Parks and recreation spending: $87,619 ($0.02 per capita, #19 highest)
Highway spending: $1.72 million ($0.44 per capita, #15 highest)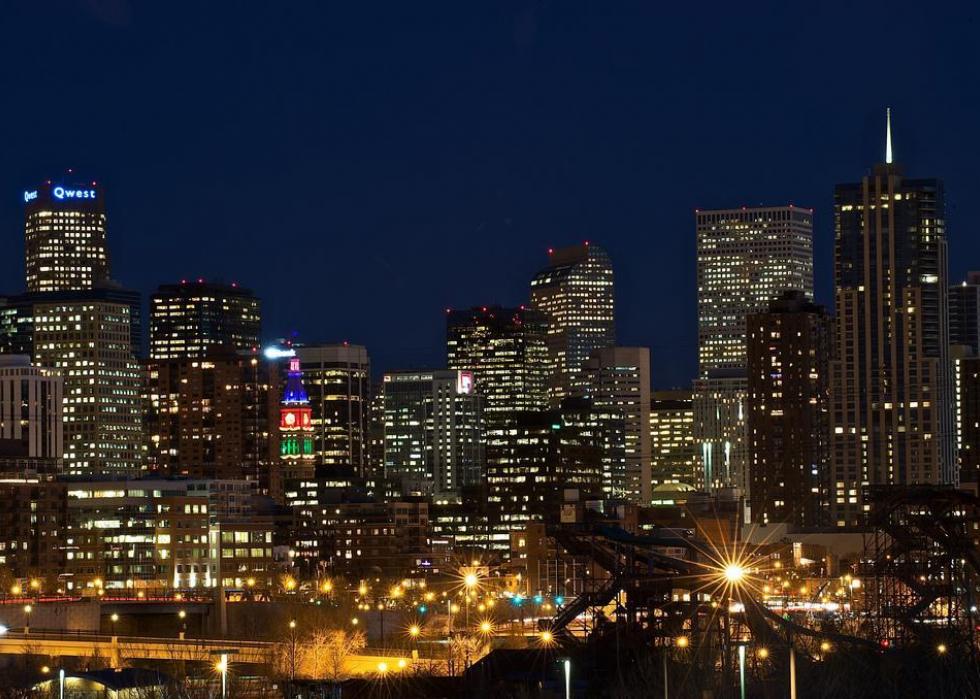 19 / 50
#32. Colorado
Total state spending: $34.43 million ($6.14 per capita)
Education spending: $5.91 million ($1.05 per capita, #21 highest)
Public welfare spending: $6.97 million ($1.24 per capita, #42 highest)
Intergovernmental spending: $7.46 million ($1.33 per capita, #29 highest)
Police spending: $226,429 ($0.04 per capita, #28 highest)
Parks and recreation spending: $88,100 ($0.02 per capita, #30 highest)
Highway spending: $1.24 million ($0.22 per capita, #41 highest)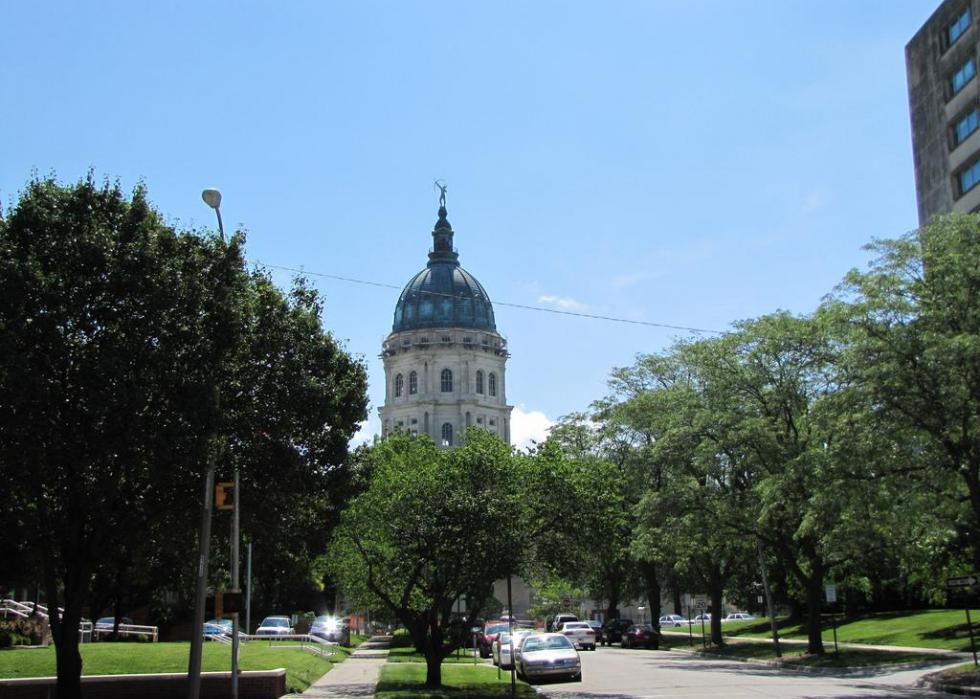 20 / 50
#31. Kansas
Total state spending: $17.93 million ($6.16 per capita)
Education spending: $2.71 million ($0.93 per capita, #29 highest)
Public welfare spending: $3.98 million ($1.37 per capita, #39 highest)
Intergovernmental spending: $4.85 million ($1.66 per capita, #13 highest)
Police spending: $97,501 ($0.03 per capita, #38 highest)
Parks and recreation spending: $37,827 ($0.01 per capita, #34 highest)
Highway spending: $1.09 million ($0.37 per capita, #21 highest)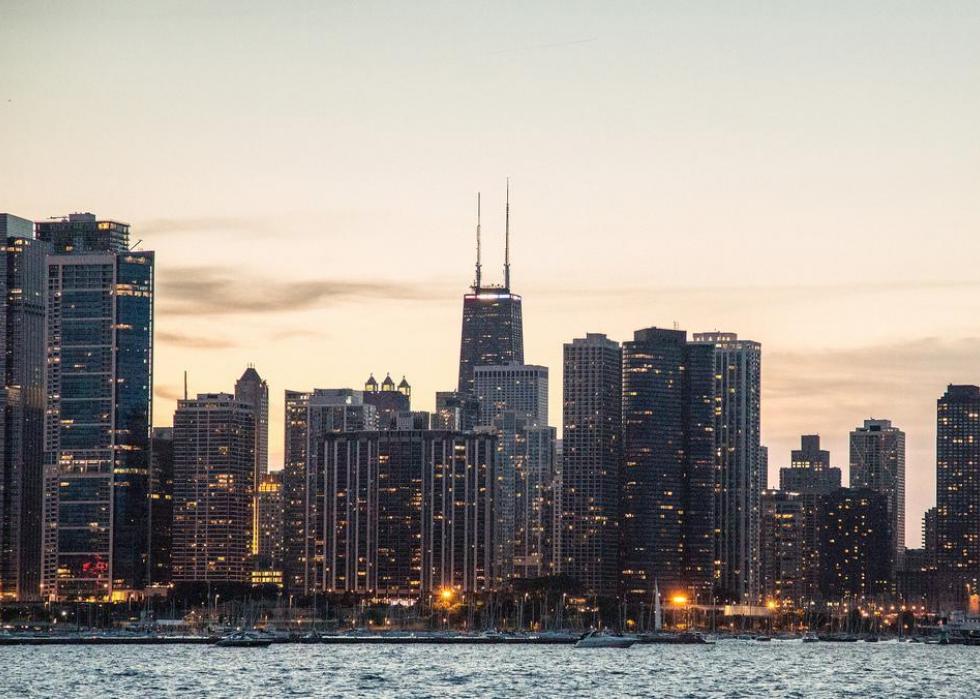 21 / 50
#30. Illinois
Total state spending: $82.3 million ($6.43 per capita)
Education spending: $8.71 million ($0.68 per capita, #46 highest)
Public welfare spending: $20.31 million ($1.59 per capita, #27 highest)
Intergovernmental spending: $18.56 million ($1.45 per capita, #23 highest)
Police spending: $428,386 ($0.03 per capita, #39 highest)
Parks and recreation spending: $97,145 ($0.01 per capita, #44 highest)
Highway spending: $6.15 million ($0.48 per capita, #13 highest)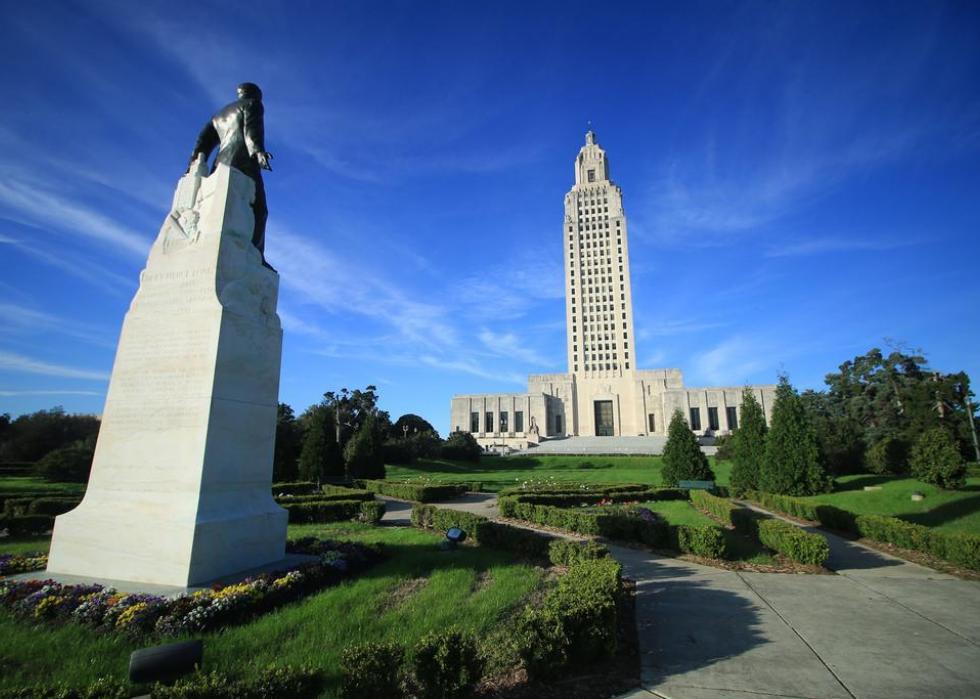 22 / 50
Antrell Williams // Flickr
#29. Louisiana
Total state spending: $30.99 million ($6.61 per capita)
Education spending: $4.73 million ($1.01 per capita, #24 highest)
Public welfare spending: $8.2 million ($1.75 per capita, #21 highest)
Intergovernmental spending: $5.73 million ($1.22 per capita, #34 highest)
Police spending: $295,567 ($0.06 per capita, #11 highest)
Parks and recreation spending: $311,932 ($0.07 per capita, #2 highest)
Highway spending: $1.53 million ($0.33 per capita, #29 highest)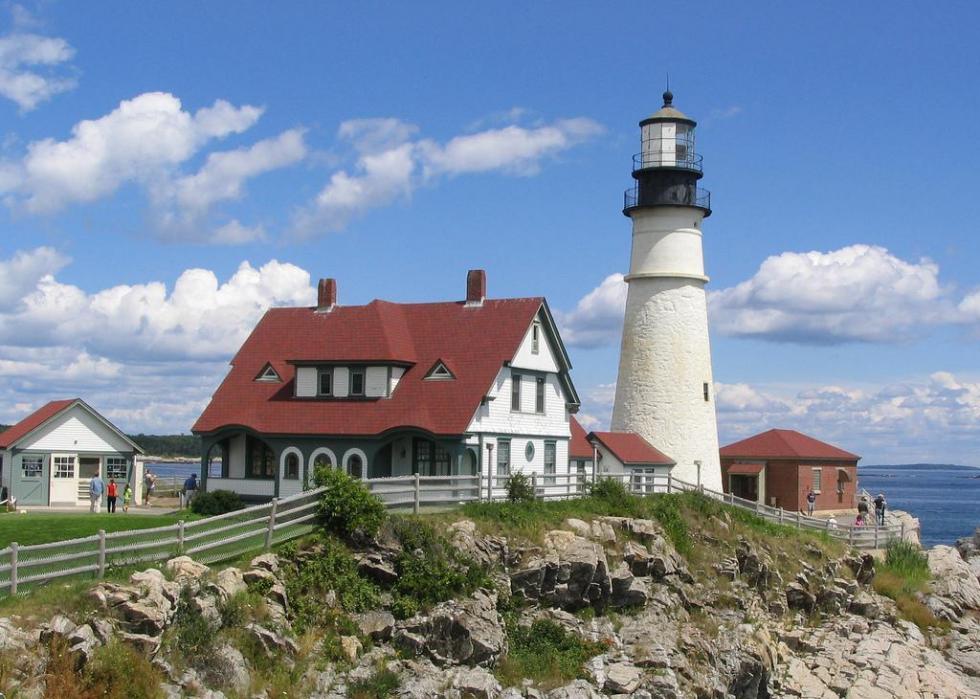 23 / 50
#28. Maine
Total state spending: $8.84 million ($6.62 per capita)
Education spending: $1.01 million ($0.76 per capita, #42 highest)
Public welfare spending: $2.9 million ($2.17 per capita, #13 highest)
Intergovernmental spending: $1.25 million ($0.94 per capita, #46 highest)
Police spending: $73,889 ($0.06 per capita, #16 highest)
Parks and recreation spending: $7,616 ($0.01 per capita, #47 highest)
Highway spending: $623,047 ($0.47 per capita, #14 highest)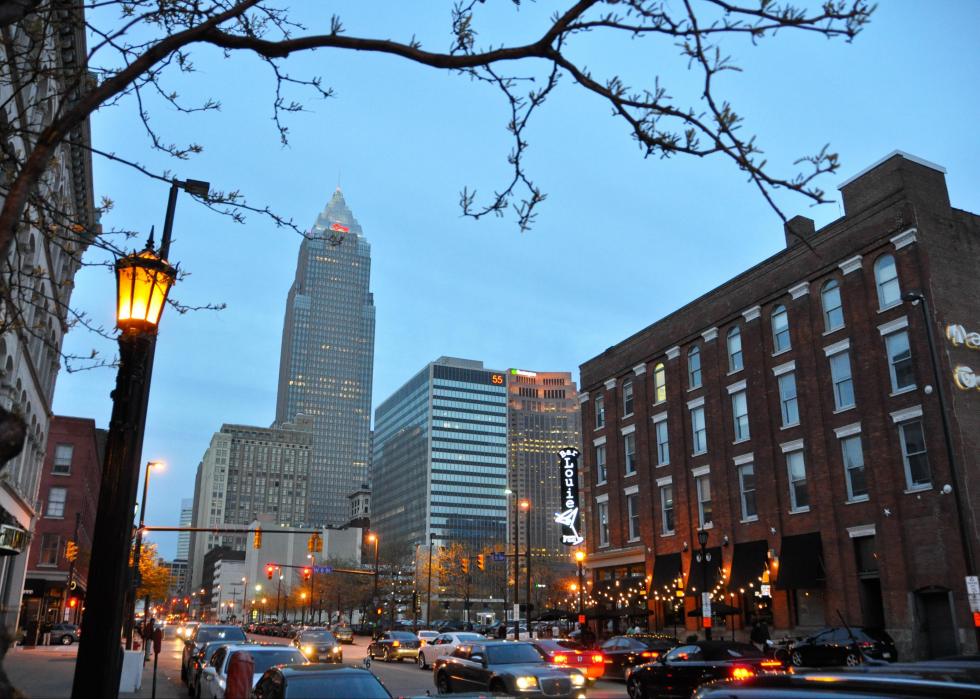 24 / 50
Chris Gent // Wikimedia Commons
#27. Ohio
Total state spending: $79.02 million ($6.78 per capita)
Education spending: $10.63 million ($0.91 per capita, #33 highest)
Public welfare spending: $17.63 million ($1.51 per capita, #31 highest)
Intergovernmental spending: $17.87 million ($1.53 per capita, #15 highest)
Police spending: $290,154 ($0.02 per capita, #49 highest)
Parks and recreation spending: $107,357 ($0.01 per capita, #41 highest)
Highway spending: $3.31 million ($0.28 per capita, #37 highest)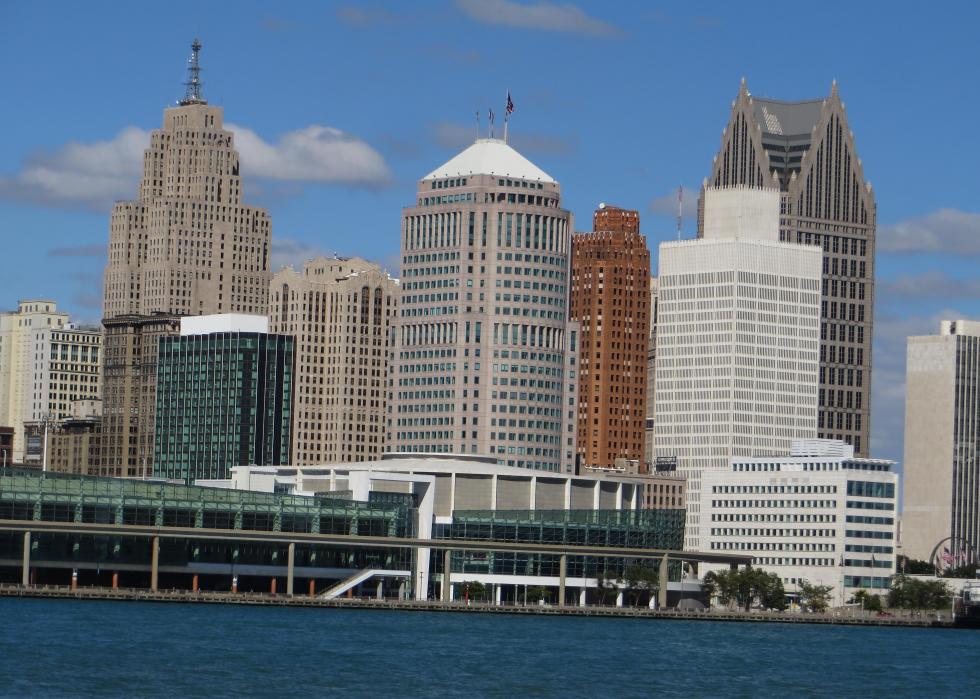 25 / 50
Ken L./ Wikimedia Commons
#26. Michigan
Total state spending: $67.66 million ($6.79 per capita)
Education spending: $10.55 million ($1.06 per capita, #19 highest)
Public welfare spending: $15.3 million ($1.54 per capita, #30 highest)
Intergovernmental spending: $20.49 million ($2.06 per capita, #9 highest)
Police spending: $429,505 ($0.04 per capita, #24 highest)
Parks and recreation spending: $115,008 ($0.01 per capita, #37 highest)
Highway spending: $1.22 million ($0.12 per capita, #50 highest)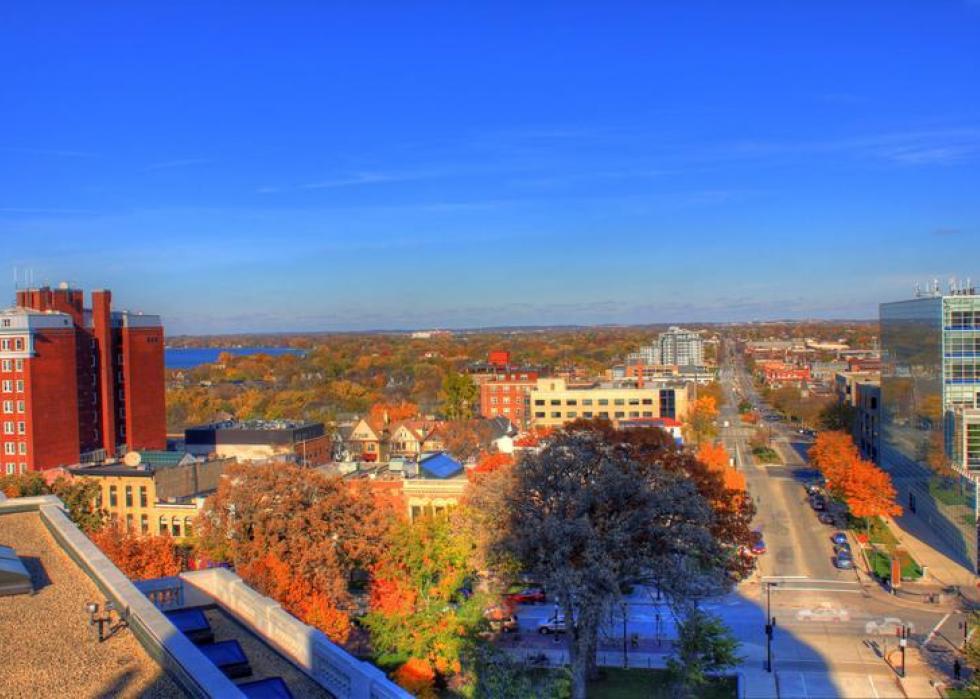 26 / 50
#25. Wisconsin
Total state spending: $39.78 million ($6.86 per capita)
Education spending: $5.32 million ($0.92 per capita, #31 highest)
Public welfare spending: $9.96 million ($1.72 per capita, #24 highest)
Intergovernmental spending: $10.39 million ($1.79 per capita, #10 highest)
Police spending: $121,174 ($0.02 per capita, #50 highest)
Parks and recreation spending: $19,212 ($0.00 per capita, #50 highest)
Highway spending: $1.89 million ($0.33 per capita, #30 highest)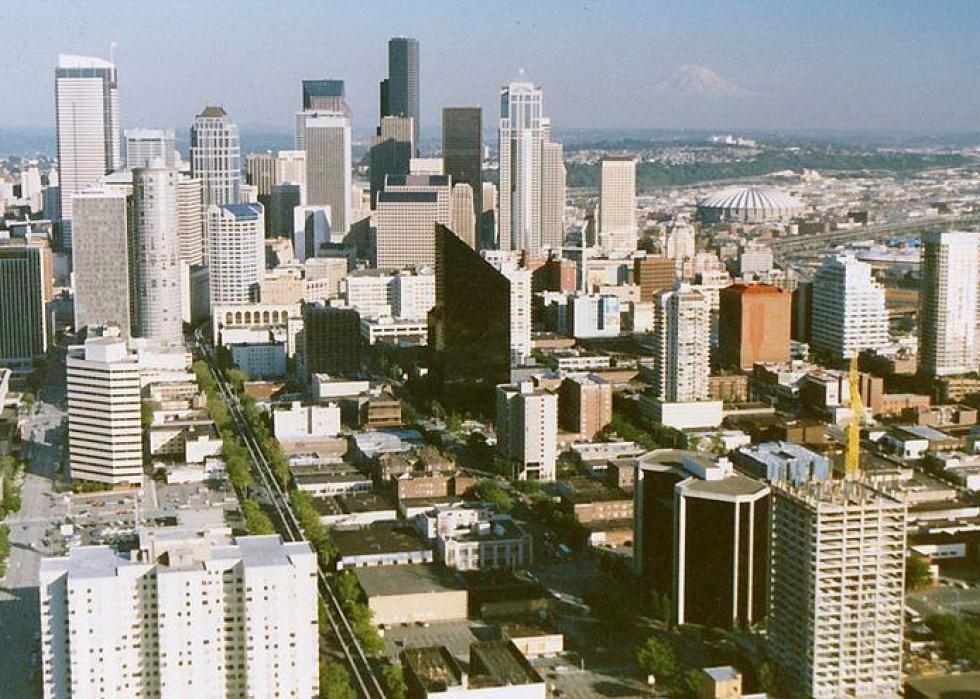 27 / 50
Roman Eugeniusz // Wikimedia Commons
#24. Washington
Total state spending: $50.87 million ($6.87 per capita)
Education spending: $8.42 million ($1.14 per capita, #11 highest)
Public welfare spending: $11.48 million ($1.55 per capita, #29 highest)
Intergovernmental spending: $11.02 million ($1.49 per capita, #20 highest)
Police spending: $277,312 ($0.04 per capita, #33 highest)
Parks and recreation spending: $68,212 ($0.01 per capita, #40 highest)
Highway spending: $2.17 million ($0.29 per capita, #34 highest)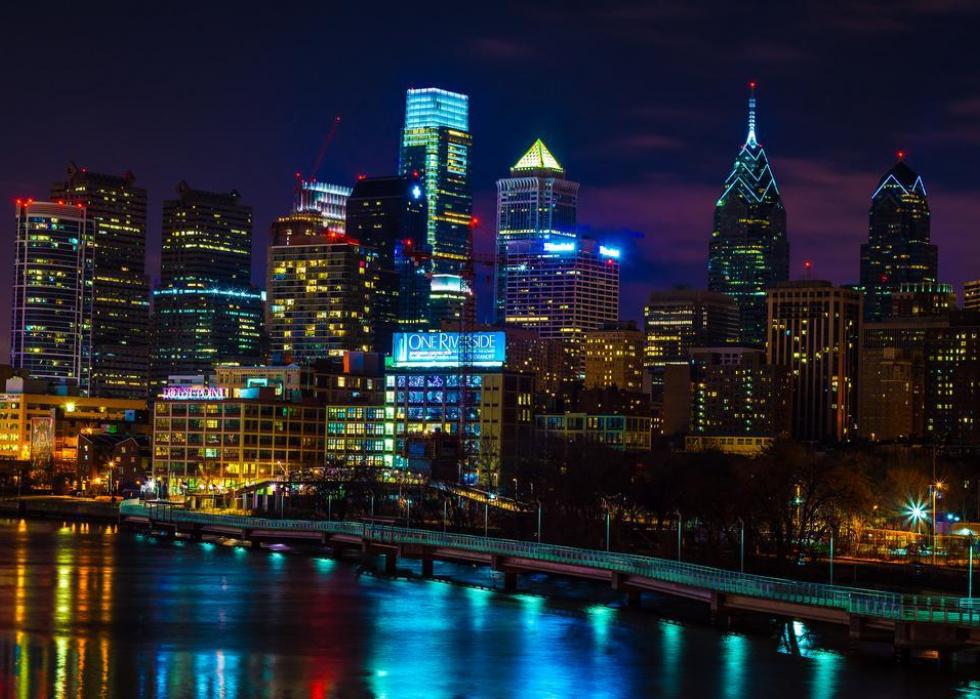 28 / 50
#23. Pennsylvania
Total state spending: $88.95 million ($6.95 per capita)
Education spending: $10.64 million ($0.83 per capita, #40 highest)
Public welfare spending: $22.86 million ($1.78 per capita, #20 highest)
Intergovernmental spending: $19.41 million ($1.52 per capita, #16 highest)
Police spending: $1.01 million ($0.08 per capita, #7 highest)
Parks and recreation spending: $298,773 ($0.02 per capita, #17 highest)
Highway spending: $6.96 million ($0.54 per capita, #9 highest)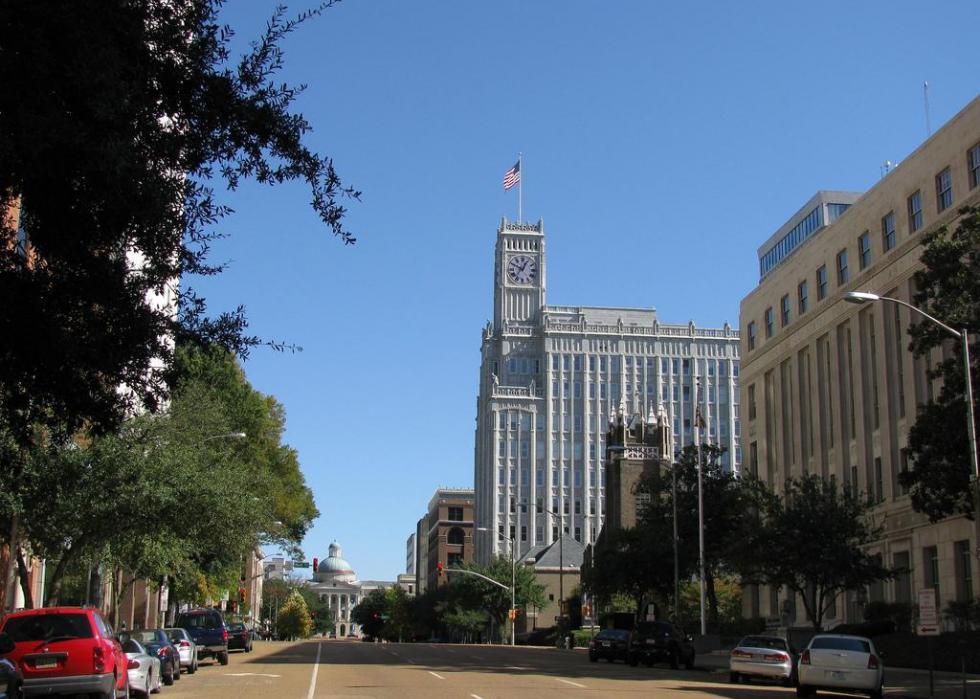 29 / 50
#22. Mississippi
Total state spending: $21.11 million ($7.07 per capita)
Education spending: $2.62 million ($0.88 per capita, #37 highest)
Public welfare spending: $5.82 million ($1.95 per capita, #17 highest)
Intergovernmental spending: $5.14 million ($1.72 per capita, #12 highest)
Police spending: $126,240 ($0.04 per capita, #26 highest)
Parks and recreation spending: $60,922 ($0.02 per capita, #23 highest)
Highway spending: $945,501 ($0.32 per capita, #33 highest)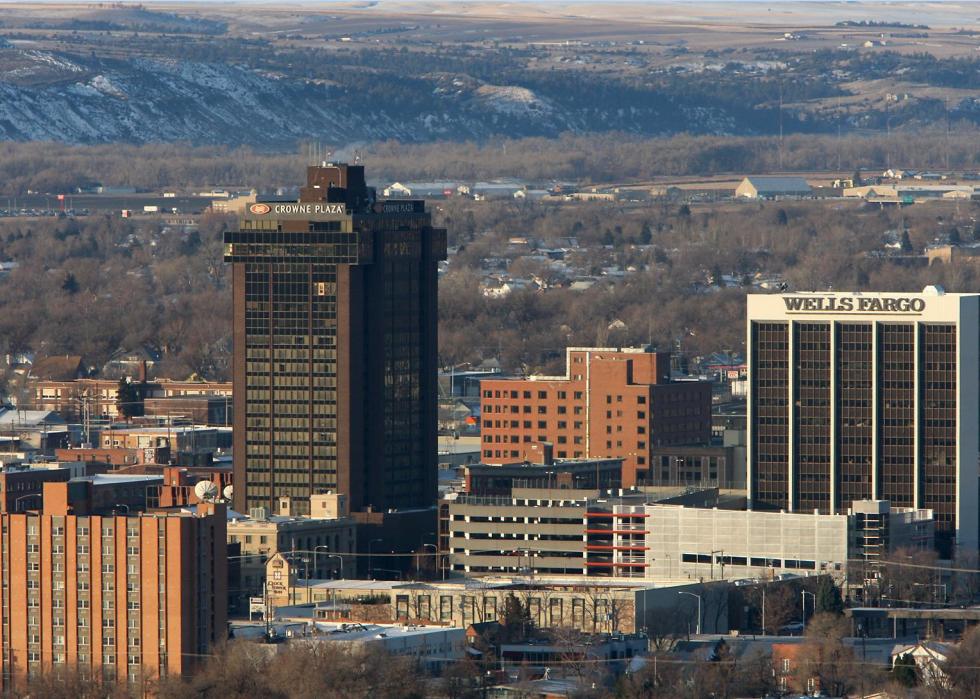 30 / 50
Pruhter // Wikimedia Commons
#21. Montana
Total state spending: $7.45 million ($7.09 per capita)
Education spending: $998,994 ($0.95 per capita, #26 highest)
Public welfare spending: $1.51 million ($1.44 per capita, #35 highest)
Intergovernmental spending: $1.40 million ($1.33 per capita, #30 highest)
Police spending: $53,056 ($0.05 per capita, #18 highest)
Parks and recreation spending: $20,547 ($0.02 per capita, #25 highest)
Highway spending: $744,894 ($0.71 per capita, #5 highest)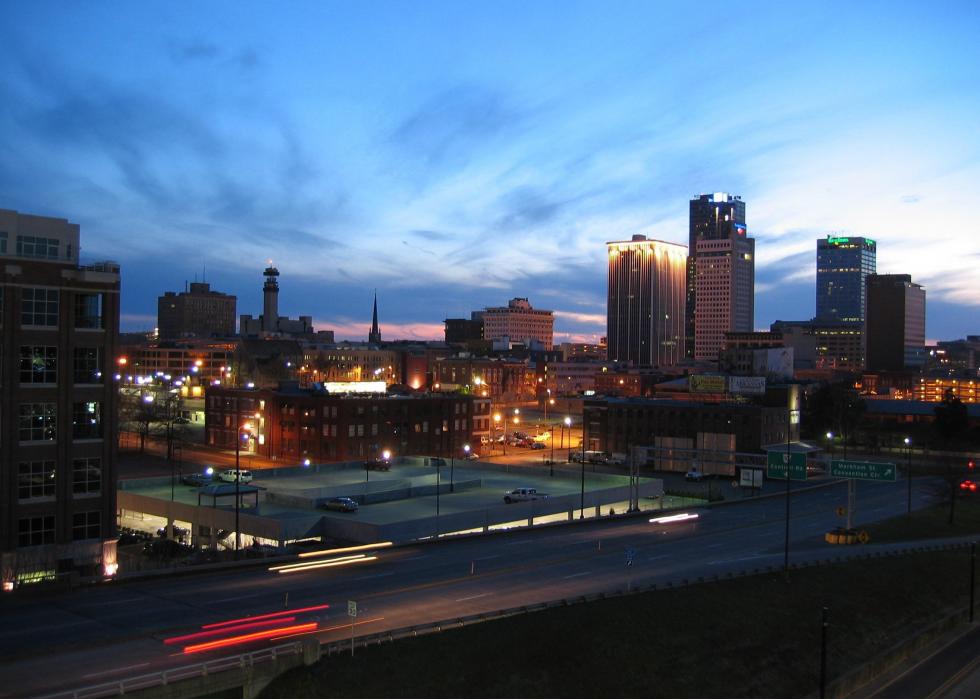 31 / 50
Bruce W. Stracener // Wikimedia Commons
#20. Arkansas
Total state spending: $21.37 million ($7.11 per capita)
Education spending: $3.17 million ($1.05 per capita, #22 highest)
Public welfare spending: $6.64 million ($2.21 per capita, #12 highest)
Intergovernmental spending: $5.21 million ($1.74 per capita, #11 highest)
Police spending: $116,569 ($0.04 per capita, #29 highest)
Parks and recreation spending: $63,732 ($0.02 per capita, #22 highest)
Highway spending: $1.18 million ($0.39 per capita, #17 highest)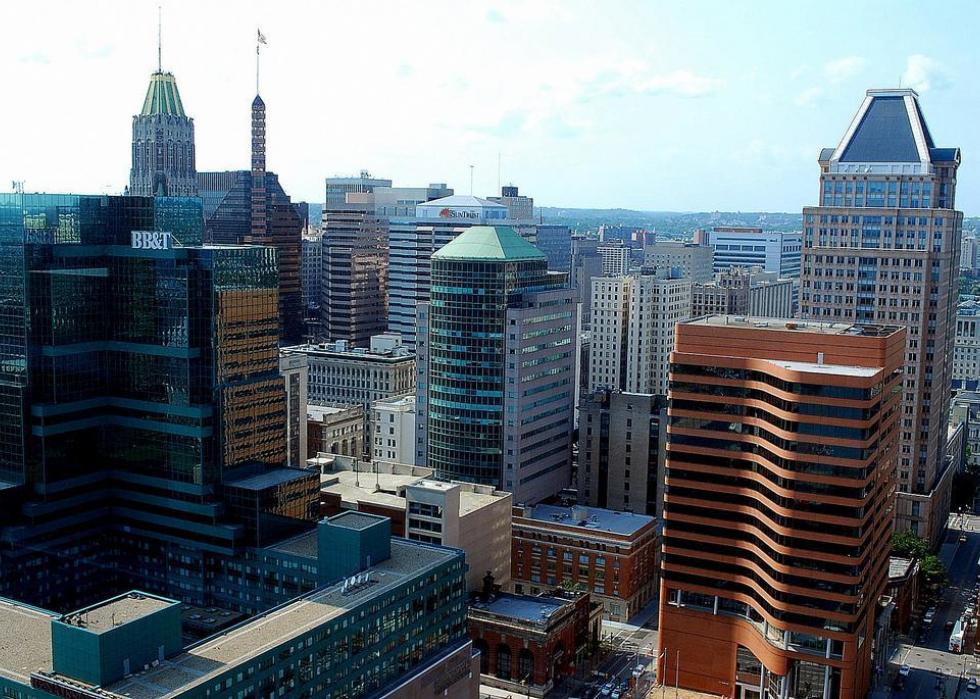 32 / 50
#19. Maryland
Total state spending: $43.18 million ($7.14 per capita)
Education spending: $5.38 million ($0.89 per capita, #36 highest)
Public welfare spending: $12.12 million ($2.00 per capita, #16 highest)
Intergovernmental spending: $9.16 million ($1.51 per capita, #17 highest)
Police spending: $500,186 ($0.08 per capita, #5 highest)
Parks and recreation spending: $131,247 ($0.02 per capita, #21 highest)
Highway spending: $2.34 million ($0.39 per capita, #18 highest)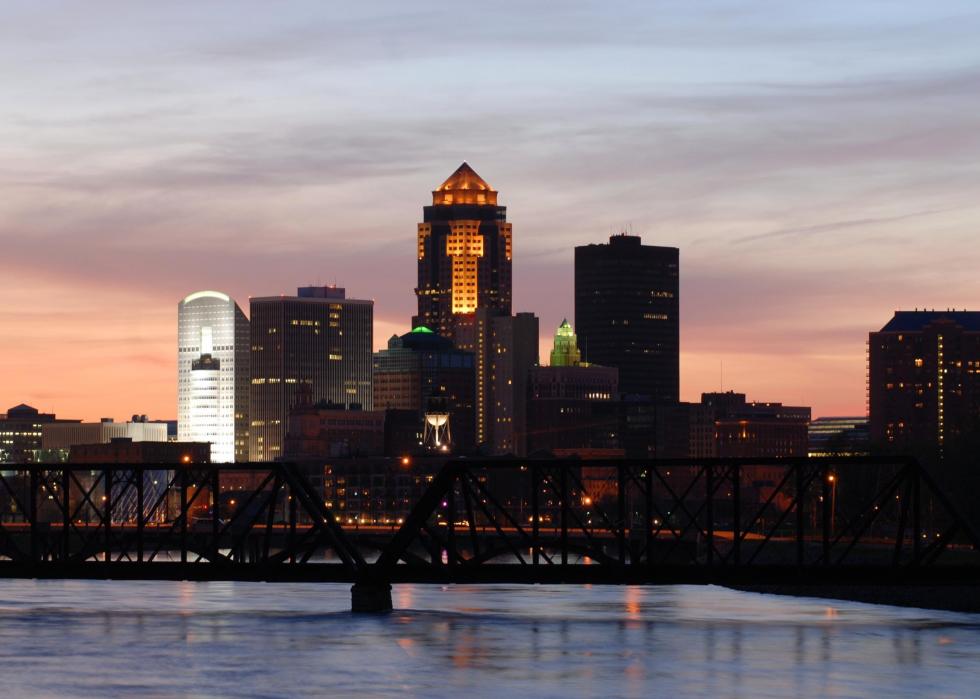 33 / 50
#18. Iowa
Total state spending: $22.76 million ($7.24 per capita)
Education spending: $3.49 million ($1.11 per capita, #12 highest)
Public welfare spending: $6.1 million ($1.94 per capita, #18 highest)
Intergovernmental spending: $5.23 million ($1.66 per capita, #14 highest)
Police spending: $97,139 ($0.03 per capita, #46 highest)
Parks and recreation spending: $29,294 ($0.01 per capita, #39 highest)
Highway spending: $1.54 million ($0.49 per capita, #11 highest)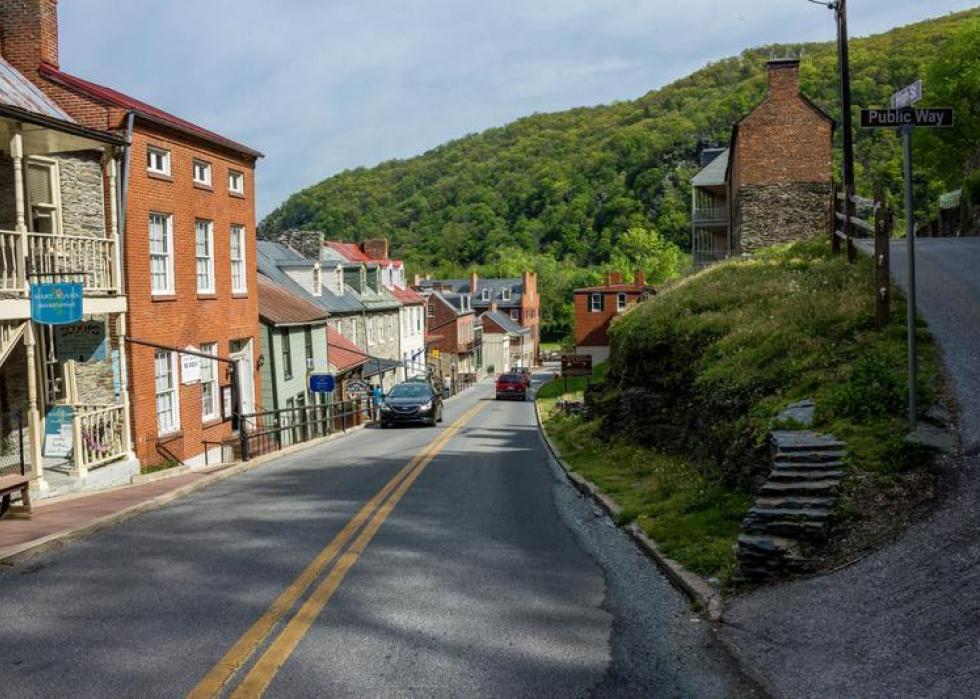 34 / 50
#17. West Virginia
Total state spending: $13.49 million ($7.43 per capita)
Education spending: $2.1 million ($1.16 per capita, #10 highest)
Public welfare spending: $4.37 million ($2.41 per capita, #8 highest)
Intergovernmental spending: $2.34 million ($1.29 per capita, #31 highest)
Police spending: $76,847 ($0.04 per capita, #25 highest)
Parks and recreation spending: $45,137 ($0.02 per capita, #13 highest)
Highway spending: $1.05 million ($0.58 per capita, #7 highest)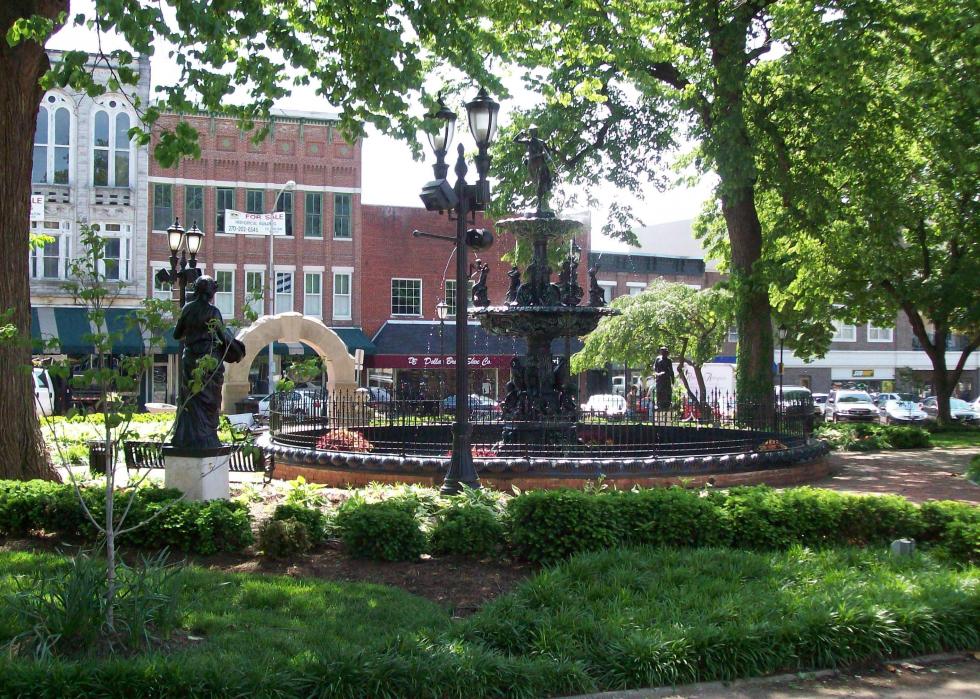 35 / 50
OPMaster // Wikimedia Commons
#16. Kentucky
Total state spending: $33.32 million ($7.48 per capita)
Education spending: $5.71 million ($1.28 per capita, #7 highest)
Public welfare spending: $10.8 million ($2.43 per capita, #7 highest)
Intergovernmental spending: $4.71 million ($1.06 per capita, #44 highest)
Police spending: $169,671 ($0.04 per capita, #31 highest)
Parks and recreation spending: $98,061 ($0.02 per capita, #20 highest)
Highway spending: $2.5 million ($0.56 per capita, #8 highest)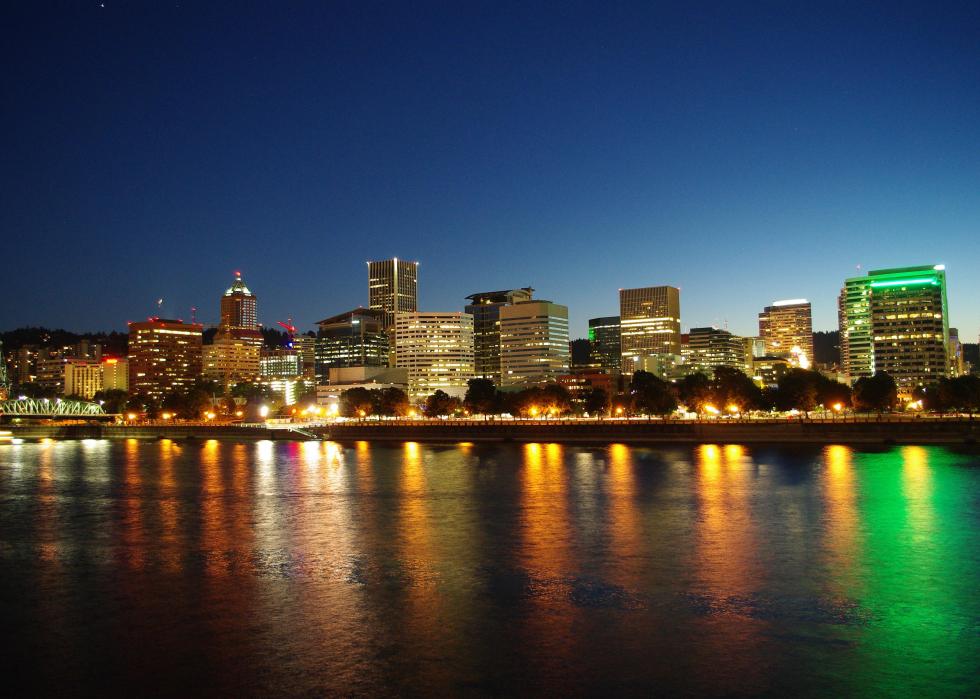 36 / 50
M.O. Stevens // Wikimedia Commons
#15. Oregon
Total state spending: $32.06 million ($7.74 per capita)
Education spending: $3.93 million ($0.95 per capita, #28 highest)
Public welfare spending: $9.32 million ($2.25 per capita, #10 highest)
Intergovernmental spending: $6.21 million ($1.50 per capita, #19 highest)
Police spending: $190,922 ($0.05 per capita, #21 highest)
Parks and recreation spending: $73,490 ($0.02 per capita, #28 highest)
Highway spending: $909,241 ($0.22 per capita, #43 highest)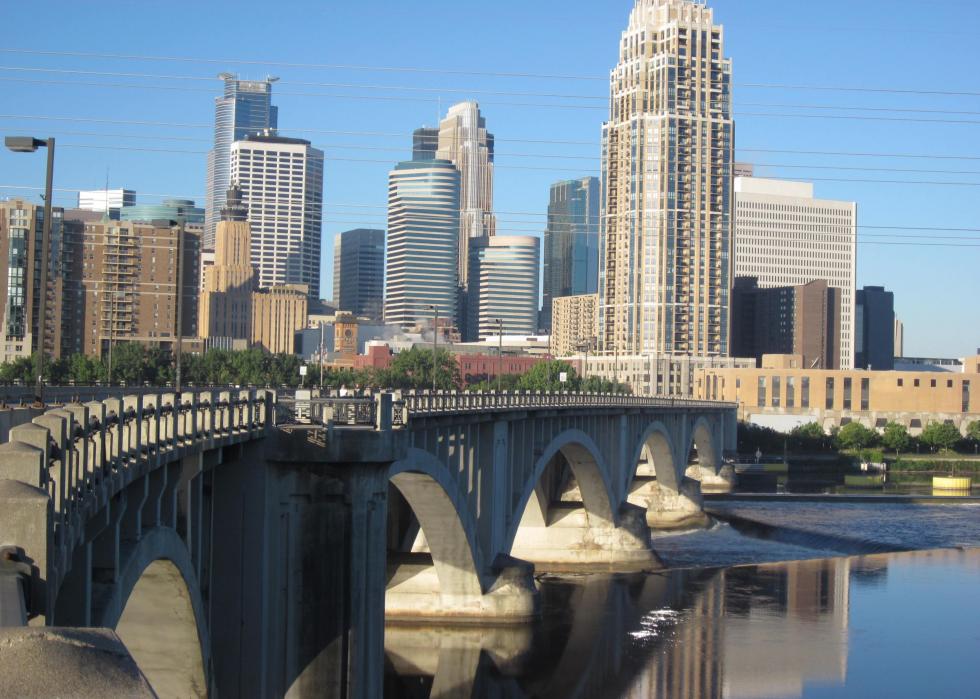 37 / 50
Doug Kerr // Wikimedia Commons
#14. Minnesota
Total state spending: $43.23 million ($7.75 per capita)
Education spending: $5.58 million ($1.00 per capita, #25 highest)
Public welfare spending: $12.47 million ($2.24 per capita, #11 highest)
Intergovernmental spending: $12.83 million ($2.30 per capita, #8 highest)
Police spending: $315,064 ($0.06 per capita, #15 highest)
Parks and recreation spending: $226,319 ($0.04 per capita, #7 highest)
Highway spending: $1.87 million ($0.34 per capita, #27 highest)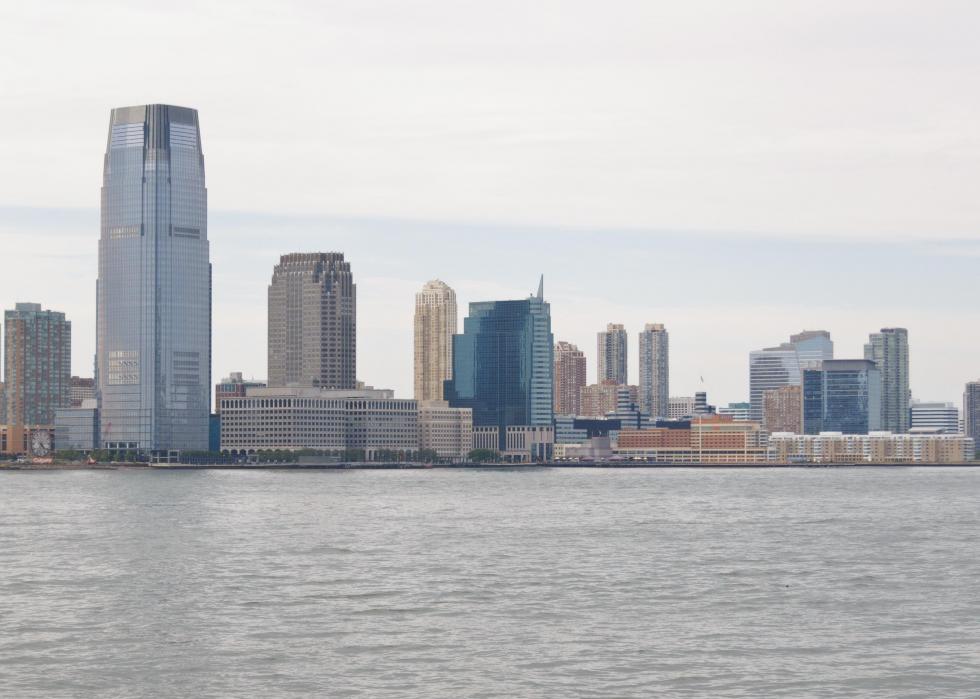 38 / 50
King of Hearts // Wikimedia Commons
#13. New Jersey
Total state spending: $71.43 million ($7.93 per capita)
Education spending: $9.8 million ($1.09 per capita, #15 highest)
Public welfare spending: $16.28 million ($1.81 per capita, #19 highest)
Intergovernmental spending: $12.47 million ($1.38 per capita, #26 highest)
Police spending: $512,786 ($0.06 per capita, #14 highest)
Parks and recreation spending: $216,507 ($0.02 per capita, #14 highest)
Highway spending: $3.22 million ($0.36 per capita, #23 highest)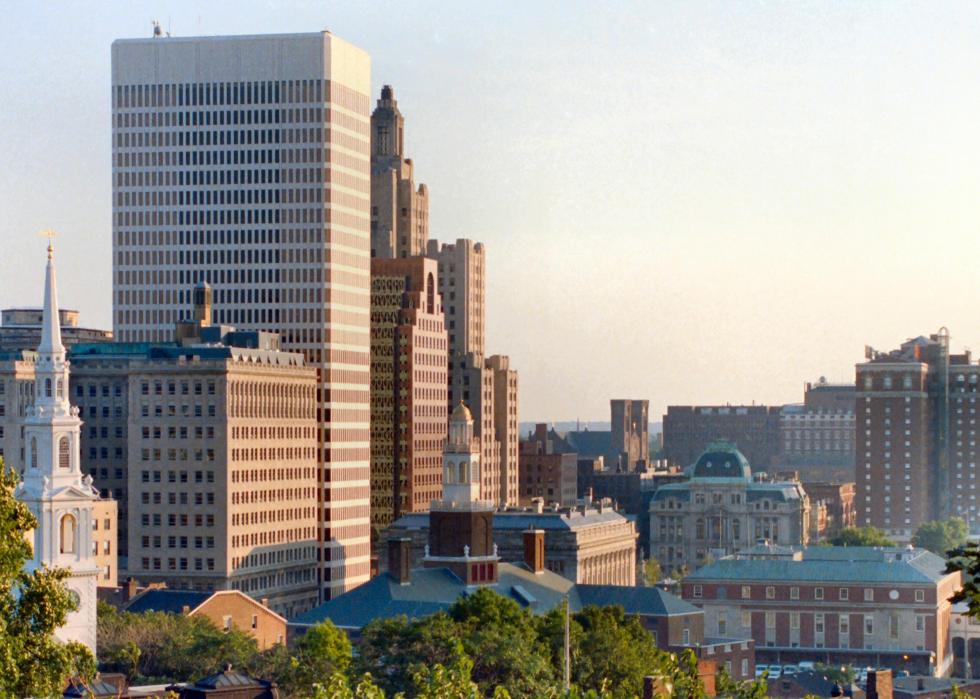 39 / 50
Will Hart // Wikimedia Commons
#12. Rhode Island
Total state spending: $8.58 million ($8.10 per capita)
Education spending: $980,513 ($0.93 per capita, #30 highest)
Public welfare spending: $2.61 million ($2.46 per capita, #6 highest)
Intergovernmental spending: $1.23 million ($1.16 per capita, #37 highest)
Police spending: $81,869 ($0.08 per capita, #8 highest)
Parks and recreation spending: $34,105 ($0.03 per capita, #8 highest)
Highway spending: $307,423 ($0.29 per capita, #35 highest)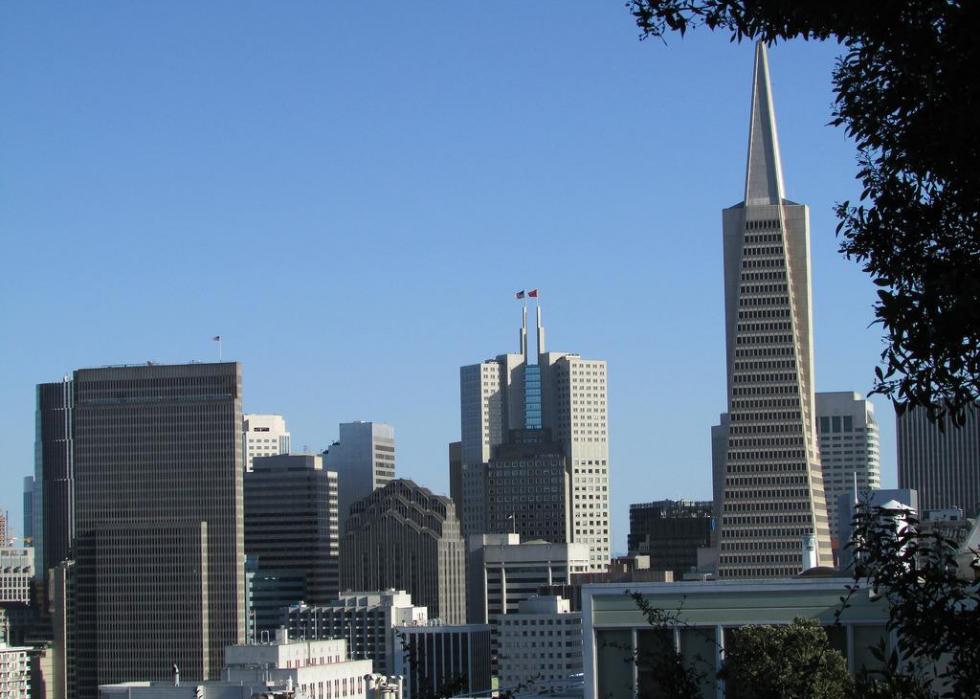 40 / 50
#11. California
Total state spending: $320.58 million ($8.11 per capita)
Education spending: $33.00 million ($0.83 per capita, #39 highest)
Public welfare spending: $85.12 million ($2.15 per capita, #14 highest)
Intergovernmental spending: $97.97 million ($2.48 per capita, #6 highest)
Police spending: $1.77 million ($0.04 per capita, #22 highest)
Parks and recreation spending: $457,196 ($0.01 per capita, #36 highest)
Highway spending: $7.05 million ($0.18 per capita, #46 highest)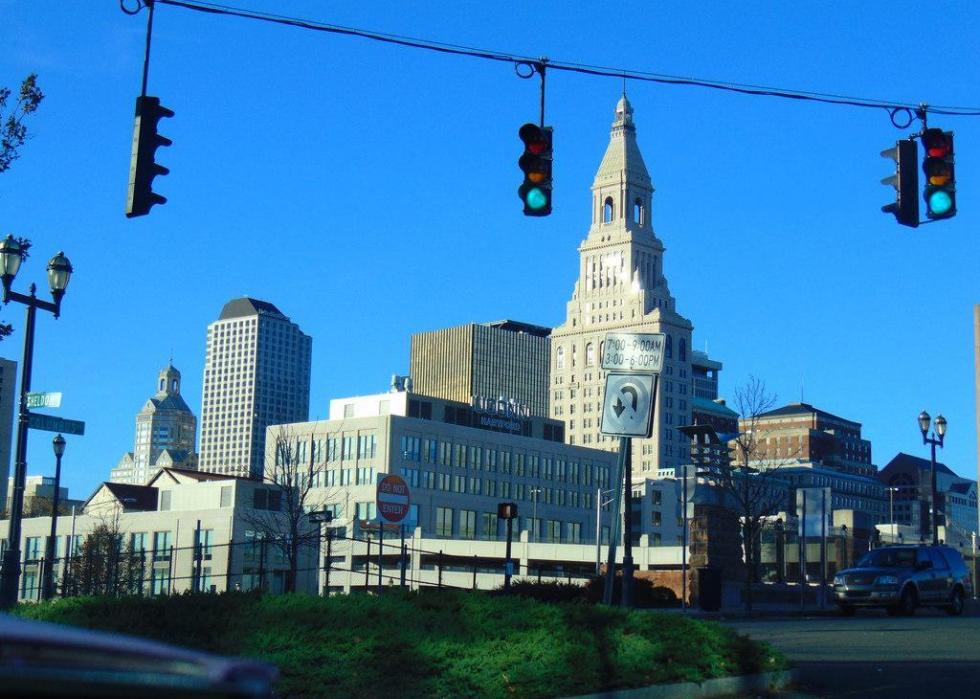 41 / 50
#10. Connecticut
Total state spending: $30.89 million ($8.61 per capita)
Education spending: $3.88 million ($1.08 per capita, #16 highest)
Public welfare spending: $7.32 million ($2.04 per capita, #15 highest)
Intergovernmental spending: $5.34 million ($1.49 per capita, #21 highest)
Police spending: $241,416 ($0.07 per capita, #9 highest)
Parks and recreation spending: $106,032 ($0.03 per capita, #11 highest)
Highway spending: $1.17 million ($0.32 per capita, #31 highest)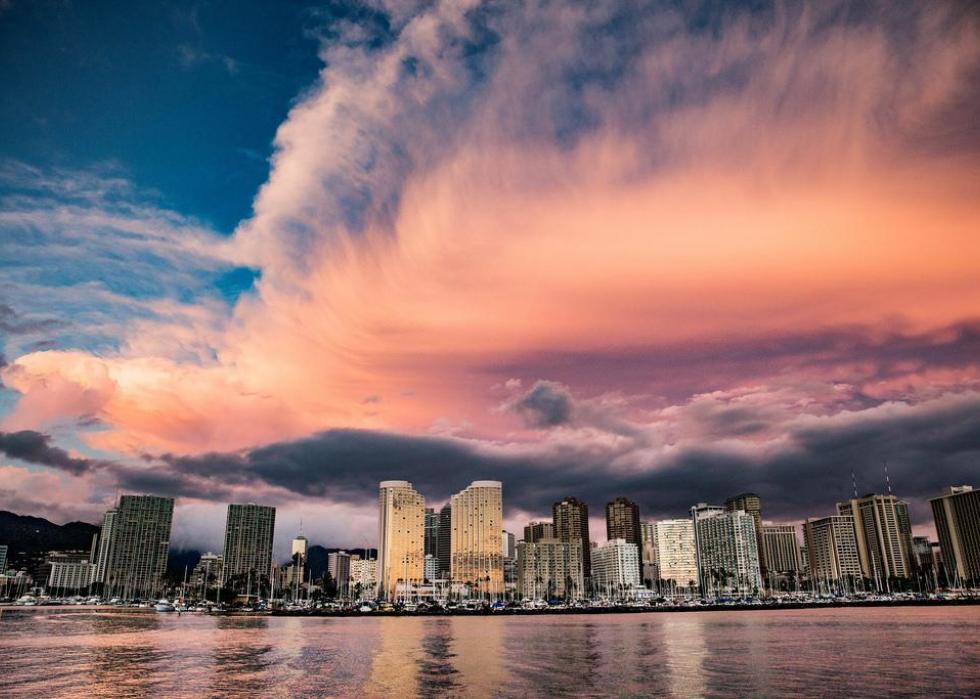 42 / 50
Anthony Quintano // Flickr
#9. Hawaii
Total state spending: $12.41 million ($8.70 per capita)
Education spending: $3.23 million ($2.26 per capita, #1 highest)
Public welfare spending: $2.48 million ($1.74 per capita, #23 highest)
Intergovernmental spending: $267,863 ($0.19 per capita, #50 highest)
Police spending: $37,958 ($0.03 per capita, #47 highest)
Parks and recreation spending: $98,882 ($0.07 per capita, #1 highest)
Highway spending: $549,795 ($0.39 per capita, #19 highest)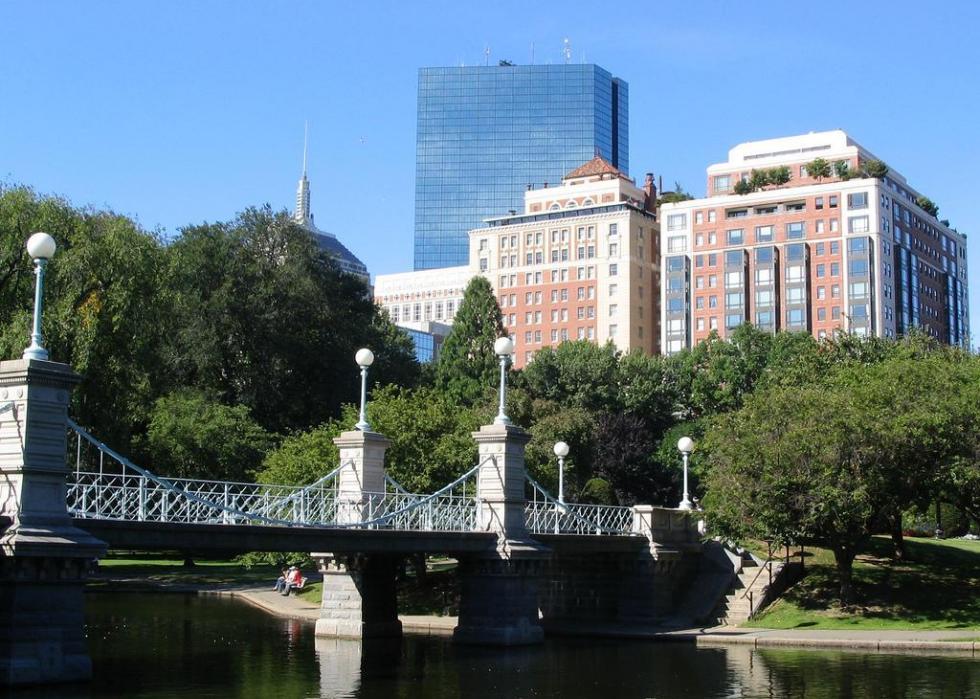 43 / 50
#8. Massachusetts
Total state spending: $61.38 million ($8.95 per capita)
Education spending: $6.52 million ($0.95 per capita, #27 highest)
Public welfare spending: $18.49 million ($2.69 per capita, #3 highest)
Intergovernmental spending: $9.38 million ($1.37 per capita, #27 highest)
Police spending: $812,305 ($0.12 per capita, #4 highest)
Parks and recreation spending: $160,312 ($0.02 per capita, #16 highest)
Highway spending: $2.5 million ($0.36 per capita, #22 highest)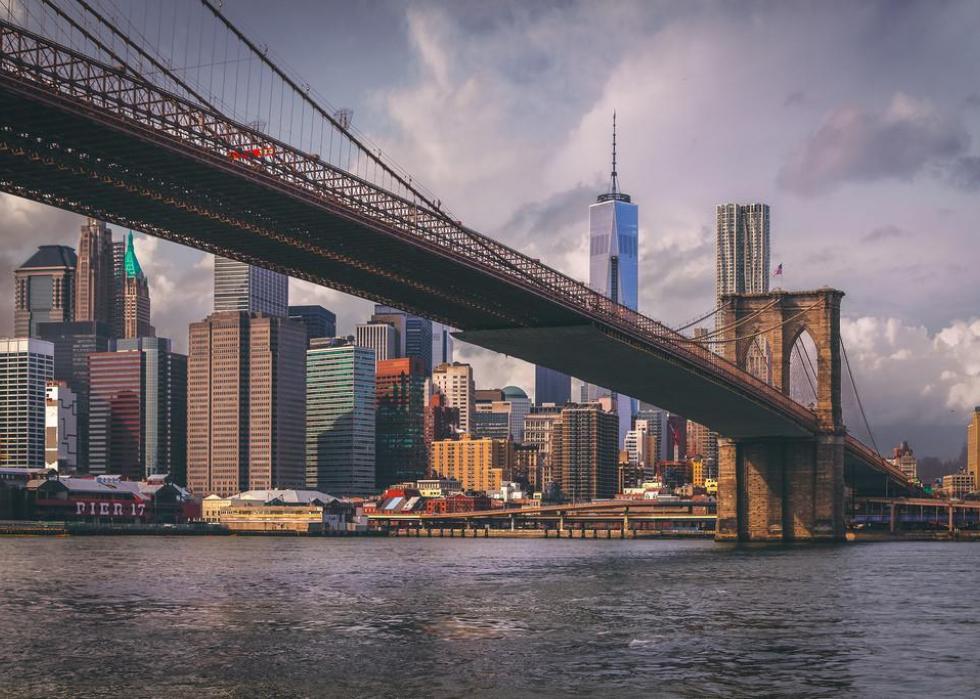 44 / 50
Andrés Nieto Porras // Flickr
#7. New York
Total state spending: $185.6 million ($9.35 per capita)
Education spending: $12.49 million ($0.63 per capita, #48 highest)
Public welfare spending: $50.31 million ($2.53 per capita, #5 highest)
Intergovernmental spending: $58.06 million ($2.93 per capita, #3 highest)
Police spending: $761,217 ($0.04 per capita, #30 highest)
Parks and recreation spending: $609,703 ($0.03 per capita, #10 highest)
Highway spending: $4.37 million ($0.22 per capita, #42 highest)
45 / 50
#6. Delaware
Total state spending: $8.99 million ($9.35 per capita)
Education spending: $1.73 million ($1.80 per capita, #3 highest)
Public welfare spending: $2.31 million ($2.40 per capita, #9 highest)
Intergovernmental spending: $1.45 million ($1.51 per capita, #18 highest)
Police spending: $133,120 ($0.14 per capita, #3 highest)
Parks and recreation spending: $40,167 ($0.04 per capita, #6 highest)
Highway spending: $507,581 ($0.53 per capita, #10 highest)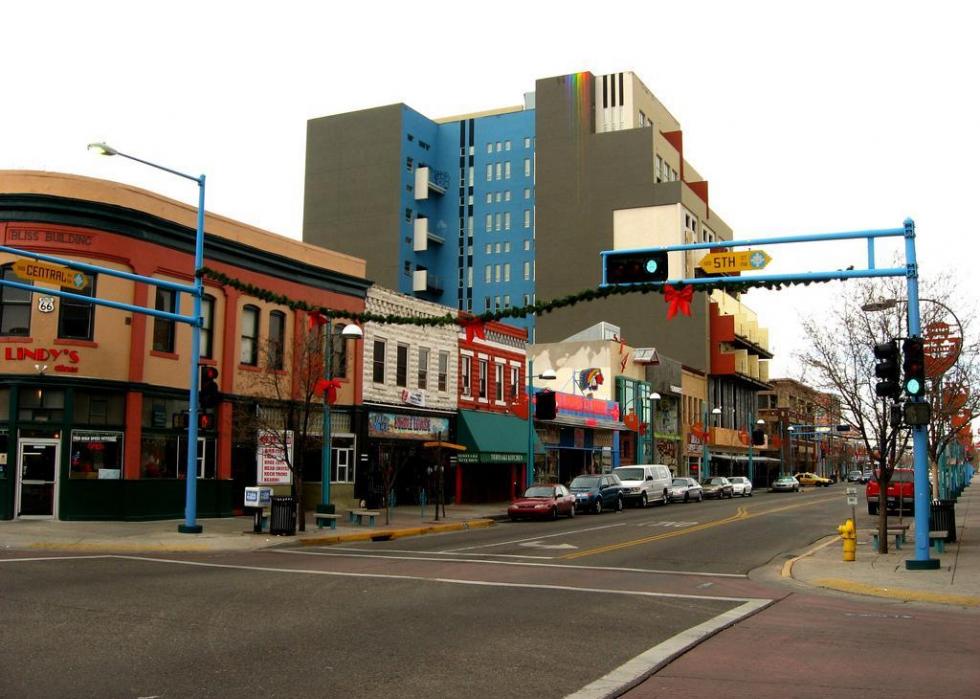 46 / 50
#5. New Mexico
Total state spending: $20.04 million ($9.60 per capita)
Education spending: $2.61 million ($1.25 per capita, #8 highest)
Public welfare spending: $5.61 million ($2.69 per capita, #4 highest)
Intergovernmental spending: $4.87 million ($2.33 per capita, #7 highest)
Police spending: $127,617 ($0.06 per capita, #12 highest)
Parks and recreation spending: $57,129 ($0.03 per capita, #12 highest)
Highway spending: $1.01 million ($0.48 per capita, #12 highest)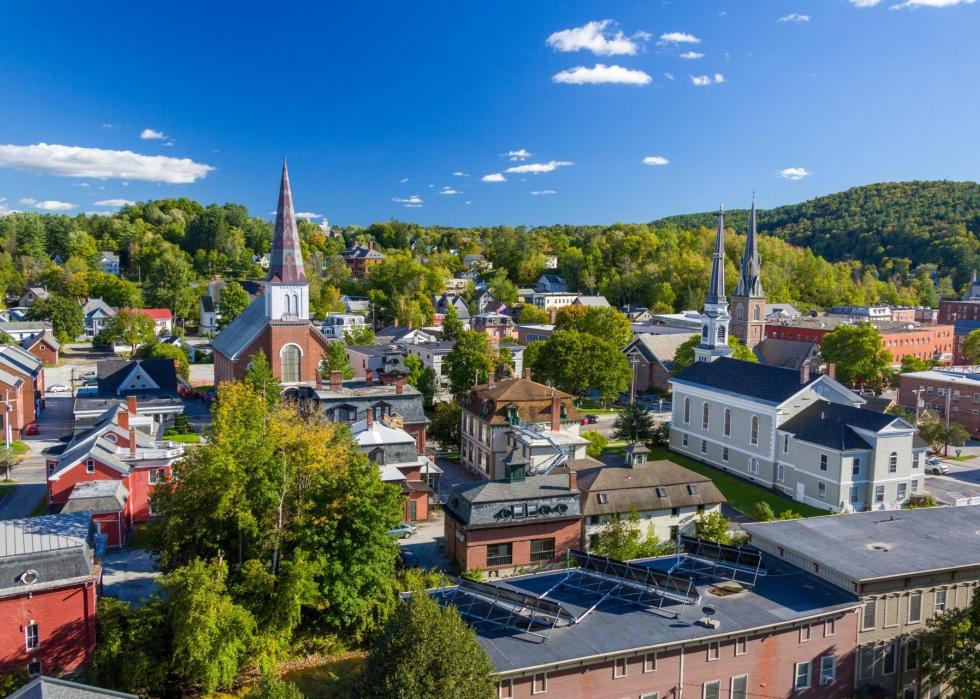 47 / 50
#4. Vermont
Total state spending: $6.45 million ($10.35 per capita)
Education spending: $950,591 ($1.52 per capita, #5 highest)
Public welfare spending: $1.73 million ($2.77 per capita, #1 highest)
Intergovernmental spending: $1.61 million ($2.59 per capita, #5 highest)
Police spending: $102,661 ($0.16 per capita, #2 highest)
Parks and recreation spending: $14,513 ($0.02 per capita, #18 highest)
Highway spending: $501,722 ($0.80 per capita, #4 highest)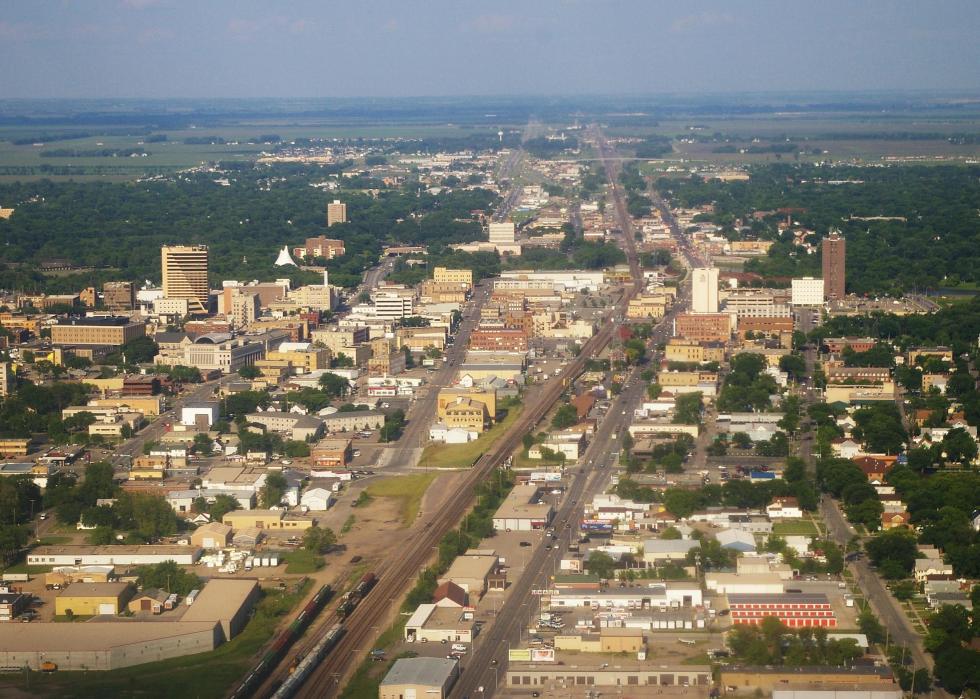 48 / 50
Ron Reiring // Wikicommons
#3. North Dakota
Total state spending: $8.22 million ($10.89 per capita)
Education spending: $1.22 million ($1.61 per capita, #4 highest)
Public welfare spending: $1.32 million ($1.74 per capita, #22 highest)
Intergovernmental spending: $2.56 million ($3.38 per capita, #2 highest)
Police spending: $41,401 ($0.05 per capita, #17 highest)
Parks and recreation spending: $32,813 ($0.04 per capita, #5 highest)
Highway spending: $968,868 ($1.28 per capita, #2 highest)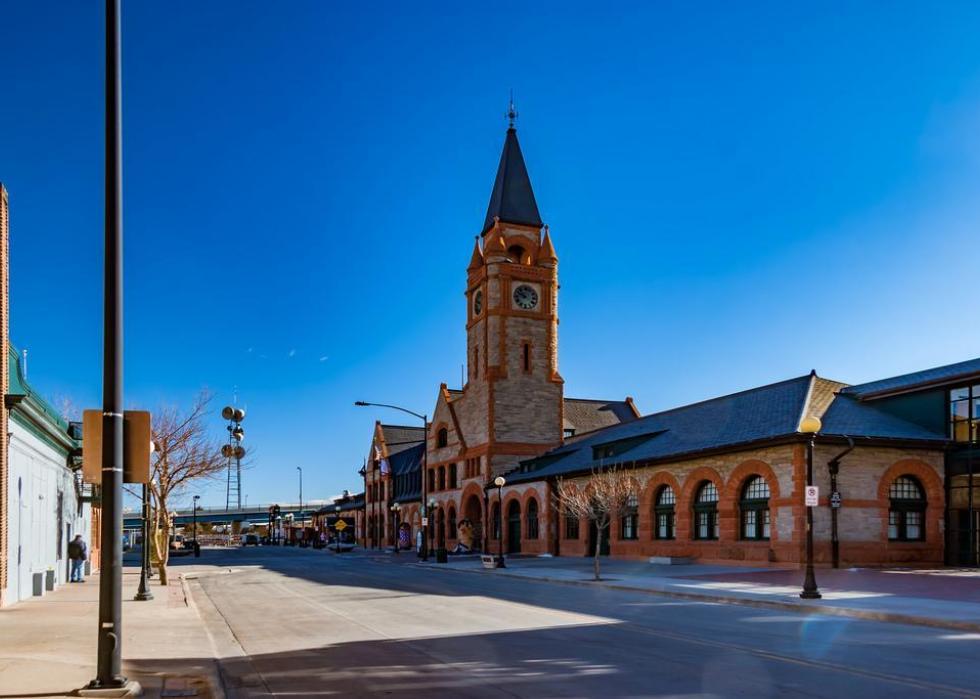 49 / 50
Michel Rathwell // Flickr
#2. Wyoming
Total state spending: $6.41 million ($11.06 per capita)
Education spending: $636,652 ($1.10 per capita, #13 highest)
Public welfare spending: $795,264 ($1.37 per capita, #38 highest)
Intergovernmental spending: $2.1 million ($3.62 per capita, #1 highest)
Police spending: $45,605 ($0.08 per capita, #6 highest)
Parks and recreation spending: $28,567 ($0.05 per capita, #4 highest)
Highway spending: $522,500 ($0.90 per capita, #3 highest)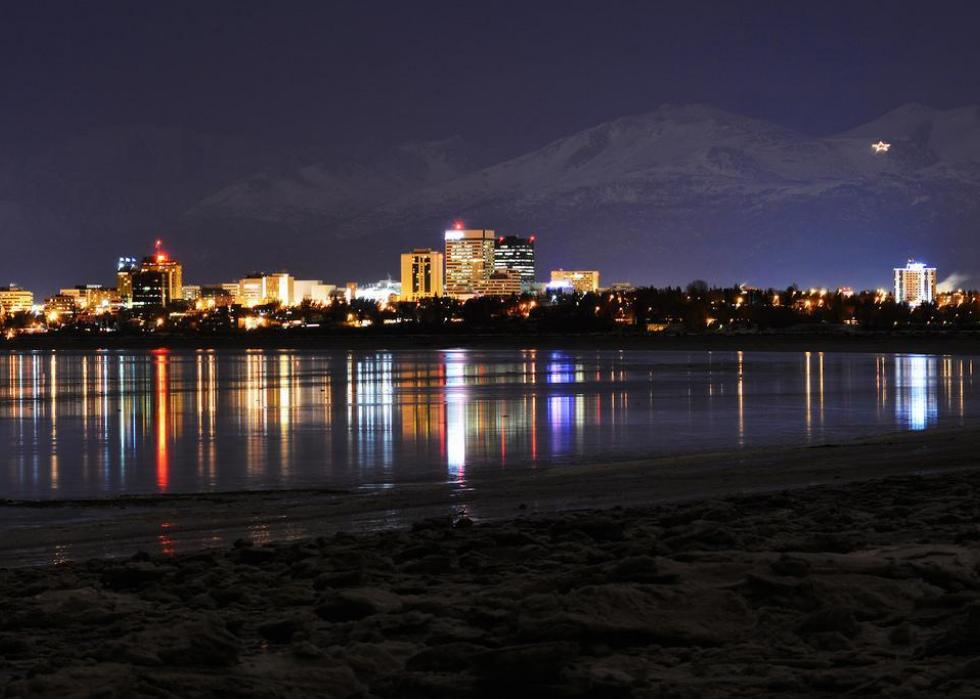 50 / 50
#1. Alaska
Total state spending: $13.01 million ($17.58 per capita)
Education spending: $1.48 million ($2.00 per capita, #2 highest)
Public welfare spending: $2.01 million ($2.71 per capita, #2 highest)
Intergovernmental spending: $2.04 million ($2.75 per capita, #4 highest)
Police spending: $131,028 ($0.18 per capita, #1 highest)
Parks and recreation spending: $23,011 ($0.03 per capita, #9 highest)
Highway spending: $1.27 million ($1.72 per capita, #1 highest)