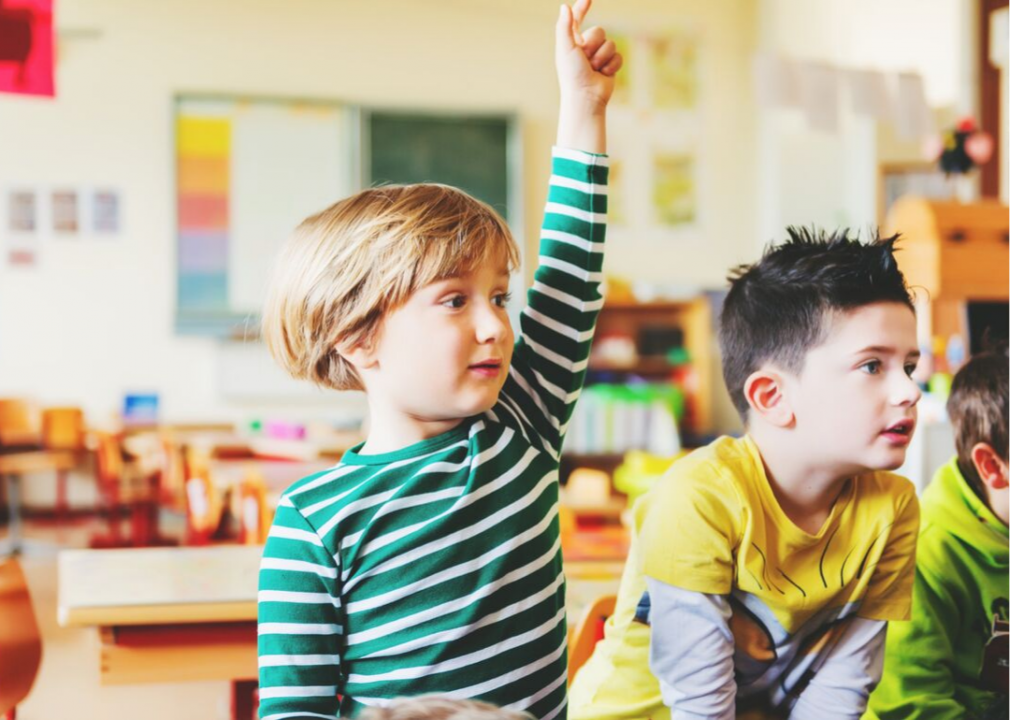 How much teachers make around the world
Anna Nahabed // Shutterstock
How much teachers make around the world
To provide every child in the world with primary and secondary education, countries over the next 12 years would have to hire an astounding 68.8 million teachers, according to the United Nations Educational, Scientific and Cultural Organization. This "global teacher shortage" is exacerbated by the fact that in one-third of the world's countries, less than 75% of teachers are trained to national standards, as reported by Global Citizen. Many teachers receive notoriously low salaries, work longer hours than other similarly compensated jobs, and lack access to wider support systems—all of which makes teacher burnout commonplace in many parts of the world.
To get a comprehensive picture of pay scales for educators worldwide, Stacker examined data collected by the Organisation for Economic Co-operation and Development (OECD). That group mined information from Brazil, Costa Rica, and all OECD nations except Belgium and the United Kingdom, and compiled it in ascending order. The data includes salaries of primary, lower secondary, and upper secondary teachers at two points: entry-level, and teachers with 15 years of experience. Numbers listed are the average teacher's gross salary after pension and social security contributions and before taxes and deductions.
Read on to find out where teachers earn more money—and where they might deserve a raise.
You may also like: Highest-paying jobs in education
#37. Latvia
- Primary school starting salary: $14,494 (#37 among listed countries)
- Primary school salary with 15-years experience: data not available 
- Lower secondary school starting salary: $14, 494 (#37)
- Lower secondary school salary with 15-years experience: data not available 
- Upper secondary school starting salary: $14,494 (#37)
- Upper secondary school salary with 15-years experience: data not available 
#36. Hungary
- Primary school starting salary: $14,545 (#36 among listed countries)
- Primary school salary with 15-years experience: $21,090 (#32)
- Lower secondary school starting salary: $16,161 (#33)
- Lower secondary school salary with 15-years experience: $21,090 (#32)
- Upper secondary school starting salary: $16,161 (#33)
- Upper secondary school salary with 15-years experience: $23,433 (#31)
#35. Brazil
- Primary school starting salary: $14,775 (#35 among listed countries)
- Primary school salary with 15-years experience: data not available
- Lower secondary school starting salary: $14,775 (#36)
- Lower secondary school salary with 15-years experience: data not available
- Upper secondary school starting salary: $14,775 (#36)
- Upper secondary school salary with 15-years experience: data not available
#34. Slovak Republic (Slovakia)
- Primary school starting salary: $15,339 (#34 among listed countries)
- Primary school salary with 15-years experience: $21,553 (#31)
- Lower secondary school starting salary: $15,339 (#35)
- Lower secondary school salary with 15-years experience: $21,553 (#31)
- Upper secondary school starting salary: $15,339 (#35)
- Upper secondary school salary with 15-years experience: $21,553 (#32)
#33. Poland
- Primary school starting salary: $16,140 (#33 among listed countries)
- Primary school salary with 15-years experience: $26,428 (#28)
- Lower secondary school starting salary: $16,140 (#34)
- Lower secondary school salary with 15-years experience: $26,428 (#28)
- Upper secondary school starting salary: $16,140 (#34)
- Upper secondary school salary with 15-years experience: $26,428 (#28)
#32. Colombia
- Primary school starting salary: $19,624 (#32 among listed countries)
- Primary school salary with 15-years experience: $35,788 (#22)
- Lower secondary school starting salary: $19,624 (#32)
- Lower secondary school salary with 15-years experience: $35,788 (#23)
- Upper secondary school starting salary: $19,624 (#32)
- Upper secondary school salary with 15-years experience: $35,788 (#23)
#31. Greece
- Primary school starting salary: $19,825 (#31 among listed countries)
- Primary school salary with 15-years experience: $26,198 (#29)
- Lower secondary school starting salary: $19,825 (#31)
- Lower secondary school salary with 15-years experience: $26,198 (#29)
- Upper secondary school starting salary: $19,825 (#31)
- Upper secondary school salary with 15-years experience: $26,198 (#29)
#30. Lithuania
- Primary school starting salary: $20,255 (#30 among listed countries)
- Primary school salary with 15-years experience: $21,084 (#33)
- Lower secondary school starting salary: $20,255 (#30)
- Lower secondary school salary with 15-years experience: $21,084 (#33)
- Upper secondary school starting salary: $20,255 (#30)
- Upper secondary school salary with 15-years experience: $21,084 (#33)
#29. Mexico
- Primary school starting salary: $20,852 (#29 among listed countries)
- Primary school salary with 15-years experience: $33,076 (#24)
- Lower secondary school starting salary: $26,560 (#23)
- Lower secondary school salary with 15-years experience: $42,316 (#19)
- Upper secondary school starting salary: $50,776 (#4)
- Upper secondary school salary with 15-years experience: $62,678 (#7)
#28. Israel
- Primary school starting salary: $21,276 (#28 among listed countries)
- Primary school salary with 15-years experience: $31,532 (#25)
- Lower secondary school starting salary: $21,389 (#29)
- Lower secondary school salary with 15-years experience: $34,860 (#24)
- Upper secondary school starting salary: $22,629 (#27)
- Upper secondary school salary with 15-years experience: $33,449 (#25)
#27. Czech Republic
- Primary school starting salary: $21,854 (#27 among listed countries)
- Primary school salary with 15-years experience: $24,273 (#30)
- Lower secondary school starting salary: $21,854 (#28)
- Lower secondary school salary with 15-years experience: $24,359 (#30)
- Upper secondary school starting salary: $21,854 (#29)
- Upper secondary school salary with 15-years experience: $24,359 (#30)
#26. Estonia
- Primary school starting salary: $22,178 (#26 among listed countries)
- Primary school salary with 15-years experience: data not available
- Lower secondary school starting salary: $22,178 (#27)
- Lower secondary school salary with 15-years experience: data not available
- Upper secondary school starting salary: $22,178 (#28)
- Upper secondary school salary with 15-years experience: data not available
#25. Chile
- Primary school starting salary: $23,747 (#25 among listed countries)
- Primary school salary with 15-years experience: $34,577 (#23)
- Lower secondary school starting salary: $23,747 (#26)
- Lower secondary school salary with 15-years experience: $34,577 (#25)
- Upper secondary school starting salary: $24,555 (#26)
- Upper secondary school salary with 15-years experience: $35,763 (#24)
#24. Costa Rica
- Primary school starting salary: $24,239 (#24 among listed countries)
- Primary school salary with 15-years experience: $30,709 (#26)
- Lower secondary school starting salary: $25,251 (#25)
- Lower secondary school salary with 15-years experience: $31,994 (#26)
- Upper secondary school starting salary: $25,251 (#25)
- Upper secondary school salary with 15-years experience: $31,994 (#26)
#23. Turkey
- Primary school starting salary: $25,955 (#23 among listed countries)
- Primary school salary with 15-years experience: $28,545 (#27)
- Lower secondary school starting salary: $25,955 (#24)
- Lower secondary school salary with 15-years experience: $28,545 (#27)
- Upper secondary school starting salary: $25,955 (#24)
- Upper secondary school salary with 15-years experience: $28,545 (#27)
#22. Slovenia
- Primary school starting salary: $28,031 (#22 among listed countries)
- Primary school salary with 15-years experience: $42,111 (#19)
- Lower secondary school starting salary: $28,031 (#22)
- Lower secondary school salary with 15-years experience: $42,111 (#20)
- Upper secondary school starting salary: $28,031 (#23)
- Upper secondary school salary with 15-years experience: $42,111 (#20)
#21. Italy
- Primary school starting salary: $30,403 (#21 among listed countries)
- Primary school salary with 15-years experience: $36,604 (#21)
- Lower secondary school starting salary: $32,725 (#17)
- Lower secondary school salary with 15-years experience: $39,840 (#21)
- Upper secondary school starting salary: $32,725 (#18)
- Upper secondary school salary with 15-years experience: $40,952 (#21)
#20. Japan
- Primary school starting salary: $30,560 (#20 among listed countries)
- Primary school salary with 15-years experience: $51,339 (#11)
- Lower secondary school starting salary: $30,560 (#21)
- Lower secondary school salary with 15-years experience: $51,339 (#12)
- Upper secondary school starting salary: $30,560 (#22)
- Upper secondary school salary with 15-years experience: $51,321 (#14)
#19. France
- Primary school starting salary: $30,872 (#19 among listed countries)
- Primary school salary with 15-years experience: $37,700 (#20)
- Lower secondary school starting salary: $32,492 (#19)
- Lower secondary school salary with 15-years experience: $39,320 (#22)
- Upper secondary school starting salary: $32,492 (#19)
- Upper secondary school salary with 15-years experience: $39,320 (#22)
#18. New Zealand
- Primary school starting salary: $30,890 (#18 among listed countries)
- Primary school salary with 15-years experience: $47,311 (#13)
- Lower secondary school starting salary: $31,392 (#20)
- Lower secondary school salary with 15-years experience: $47,950 (#13)
- Upper secondary school starting salary: $31,894 (#20)
- Upper secondary school salary with 15-years experience: $48,589 (#16)
#17. Korea
- Primary school starting salary: $32,485 (#17 among listed countries)
- Primary school salary with 15-years experience: $57,179 (#9)
- Lower secondary school starting salary: $32,548 (#18)
- Lower secondary school salary with 15-years experience: $57,242 (#9)
- Upper secondary school starting salary: $31,799 (#21)
- Upper secondary school salary with 15-years experience: $56,493 (#11)
#16. Portugal
- Primary school starting salary: $33,516 (#16 among listed countries)
- Primary school salary with 15-years experience: $43,280 (#16)
- Lower secondary school starting salary: $33,516 (#16)
- Lower secondary school salary with 15-years experience: $43,280 (#17)
- Upper secondary school starting salary: $33,516 (#17)
- Upper secondary school salary with 15-years experience: $43,280 (#19)
#15. Finland
- Primary school starting salary: $33,916 (#15 among listed countries)
- Primary school salary with 15-years experience: $42,180 (#18)
- Lower secondary school starting salary: $36,629 (#14)
- Lower secondary school salary with 15-years experience: $45,555 (#16)
- Upper secondary school starting salary: $38,842 (#14)
- Upper secondary school salary with 15-years experience: $49,175 (#15)
#14. Ireland
- Primary school starting salary: $36,553 (#14 among listed countries)
- Primary school salary with 15-years experience: $61,534 (#7)
- Lower secondary school starting salary: $36,553 (#15)
- Lower secondary school salary with 15-years experience: $62,135 (#7)
- Upper secondary school starting salary: $36,553 (#16)
- Upper secondary school salary with 15-years experience: $62,135 (#8)
#13. Iceland
- Primary school starting salary: $38,336 (#13 among listed countries)
- Primary school salary with 15-years experience: $42,369 (#17)
- Lower secondary school starting salary: $38,336 (#13)
- Lower secondary school salary with 15-years experience: $42,369 (#18)
- Upper secondary school starting salary: $37,335 (#15)
- Upper secondary school salary with 15-years experience: $46,228 (#18)
#12. Norway
- Primary school starting salary: $38,559 (#12 among listed countries)
- Primary school salary with 15-years experience: $47,387 (#12)
- Lower secondary school starting salary: $38,559 (#12)
- Lower secondary school salary with 15-years experience: $47,387 (#14)
- Upper secondary school starting salary: $46,914 (#5)
- Upper secondary school salary with 15-years experience: $51,838 (#13)
#11. Sweden
- Primary school starting salary: $39,131 (#11 among listed countries)
- Primary school salary with 15-years experience: $45,636 (#15)
- Lower secondary school starting salary: $40,348 (#10)
- Lower secondary school salary with 15-years experience: $47,323 (#15)
- Upper secondary school starting salary: $40,823 (#12)
- Upper secondary school salary with 15-years experience: $47,470 (#17)
#10. Canada
- Primary school starting salary: $39,937 (#10 among listed countries)
- Primary school salary with 15-years experience: $67,301 (#3)
- Lower secondary school starting salary: $39,937 (#11)
- Lower secondary school salary with 15-years experience: $67,301 (#4)
- Upper secondary school starting salary: $39,937 (#13)
- Upper secondary school salary with 15-years experience: $67,301 (#4)
#9. United States
- Primary school starting salary: $40,067 (#9 among listed countries)
- Primary school salary with 15-years experience: $62,404 (#6)
- Lower secondary school starting salary: $40,602 (#9)
- Lower secondary school salary with 15-years experience: $64,467 (#5)
- Upper secondary school starting salary: $41,430 (#11)
- Upper secondary school salary with 15-years experience: $64,426 (#5)
#8. Spain
- Primary school starting salary: $40,813 (#8 among listed countries)
- Primary school salary with 15-years experience: $47,107 (#14)
- Lower secondary school starting salary: $45,509 (#5)
- Lower secondary school salary with 15-years experience: $52,506 (#11)
- Upper secondary school starting salary: $45,509 (#7)
- Upper secondary school salary with 15-years experience: $52,506 (#12)
#7. Netherlands
- Primary school starting salary: $42,133 (#7 among listed countries)
- Primary school salary with 15-years experience: $63,413 (#4)
- Lower secondary school starting salary: $43,132 (#7)
- Lower secondary school salary with 15-years experience: $76,006 (#3)
- Upper secondary school starting salary: $43,132 (#9)
- Upper secondary school salary with 15-years experience: $76,006 (#3)
#6. Austria
- Primary school starting salary: $42,702 (#6 among listed countries)
- Primary school salary with 15-years experience: $51,788 (#10)
- Lower secondary school starting salary: $42,277 (#8)
- Lower secondary school salary with 15-years experience: $54,407 (#10)
- Upper secondary school starting salary: $41,918 (#10)
- Upper secondary school salary with 15-years experience: $59,627 (#10)
#5. Australia
- Primary school starting salary: $44,287 (#5 among listed countries)
- Primary school salary with 15-years experience: $63,098 (#5)
- Lower secondary school starting salary: $44,247 (#6)
- Lower secondary school salary with 15-years experience: $63,393 (#6)
- Upper secondary school starting salary: $44,247 (#8)
- Upper secondary school salary with 15-years experience: $63,393 (#6)
#4. Denmark
- Primary school starting salary: $48,989 (#4 among listed countries)
- Primary school salary with 15-years experience: $57,206 (#8)
- Lower secondary school starting salary: $49,482 (#4)
- Lower secondary school salary with 15-years experience: $58,349 (#8)
- Upper secondary school starting salary: $46,383 (#6)
- Upper secondary school salary with 15-years experience: $60,278 (#9)
#3. Switzerland
- Primary school starting salary: $58,017 (#3 among listed countries)
- Primary school salary with 15-years experience: data not available
- Lower secondary school starting salary: $65,010 (#3)
- Lower secondary school salary with 15-years experience: data not available
- Upper secondary school starting salary: $73,250 (#2)
- Upper secondary school salary with 15-years experience: data not available
#2. Germany
- Primary school starting salary: $60,507 (#2 among listed countries)
- Primary school salary with 15-years experience: $74,486 (#2)
- Lower secondary school starting salary: $67,163 (#2)
- Lower secondary school salary with 15-years experience: $80,993 (#2)
- Upper secondary school starting salary: $70,749 (#3)
- Upper secondary school salary with 15-years experience: $85,206 (#2)
#1. Luxembourg
- Primary school starting salary: $74,400 (#1 among listed countries)
- Primary school salary with 15-years experience: $108,624 (#1)
- Lower secondary school starting salary: $84,320 (#1)
- Lower secondary school salary with 15-years experience: $116,312 (#1)
- Upper secondary school starting salary: $84,320 (#1)
- Upper secondary school salary with 15-years experience: $116,312 (#1)