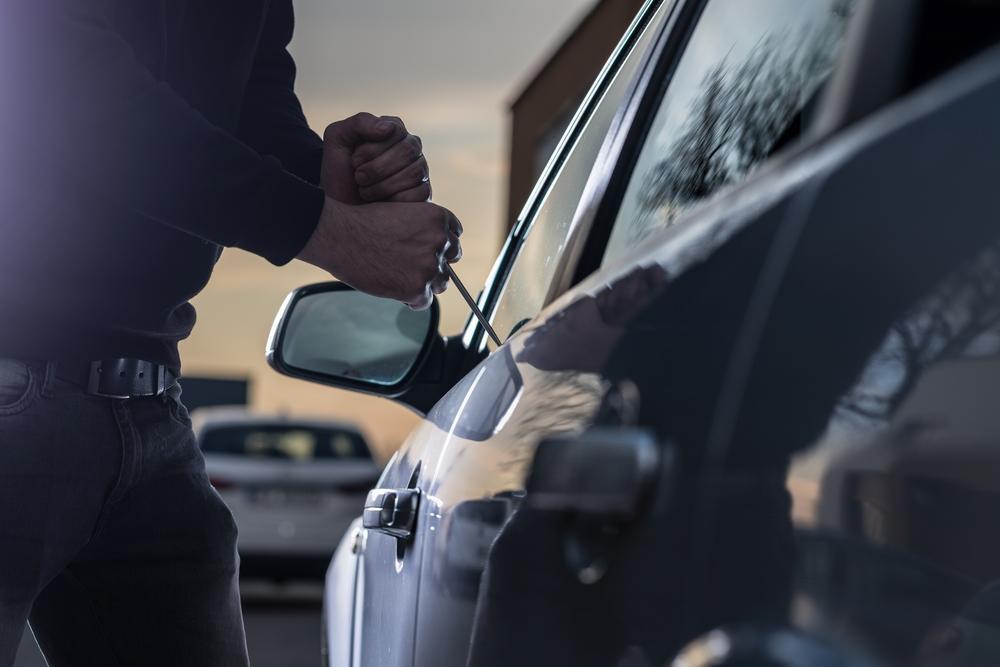 Metros where your car is most likely to be stolen
Metros where your car is most likely to be stolen
Few experiences are more deflating than arriving at your parking spot, only to find it vacant. Deflating, yes, but certainly not rare. Even though motor vehicle theft has dropped by nearly 25% in the past decade, it still accounts for 10% of all property crime. In 2017 alone there were 773,139 motor vehicle thefts nationwide—that's nearly three-quarters of a million stolen cars in the United States in a single year. Where you live, however, has a big impact on your likelihood of becoming a victim.
Stacker compiled a list of the 50 metropolitan areas that are most prone to auto theft, in ascending order with the metro area with the highest proportion ranked #1. The list is the result of an analysis of 351 metro areas examined in the 2017 FBI Uniform Crime Report. The report estimates the average rate of motor vehicle theft nationwide to be 237.4 per 100,000 inhabitants in 2017, compared to 315.4 per 100,000 in 2008.
Read on to find out if your metro area lands on the list of America's auto theft hotspots.
#50. Urban Honolulu, HI
2017 motor vehicle theft rate: 364.1 per 100,000 residents (53.6% above the national average)
2017 motor vehicle thefts: 3,606 (0.5% of all U.S. motor vehicle thefts)
Change in theft rate from 2016-2017: down 16.6%
2017 metro population: 990,384
#49. Memphis, TN-MS-AR
2017 motor vehicle theft rate: 369.7 per 100,000 residents (55.9% above the national average)
2017 motor vehicle thefts: 4,980 (0.6% of all U.S. motor vehicle thefts)
Change in theft rate from 2016-2017: up 20.3%
2017 metro population: 1,346,961
#48. Little Rock-North Little Rock-Conway, AR
2017 motor vehicle theft rate: 369.9 per 100,000 residents (56% above the national average)
2017 motor vehicle thefts: 2,741 (0.4% of all U.S. motor vehicle thefts)
Change in theft rate from 2016-2017: down 2.6%
2017 metro population: 741,067
#47. Cleveland, TN
2017 motor vehicle theft rate: 376.6 per 100,000 residents (58.8% above the national average)
2017 motor vehicle thefts: 461 (<0.1% of all U.S. motor vehicle thefts)
Change in theft rate from 2016-2017: up 8.2%
2017 metro population: 122,405
#46. Louisville/Jefferson County, KY-IN
2017 motor vehicle theft rate: 383.8 per 100,000 residents (61.9% above the national average)
2017 motor vehicle thefts: 4,959 (0.6% of all U.S. motor vehicle thefts)
Change in theft rate from 2016-2017: down 11.5%
2017 metro population: 1,291,962
#45. Chattanooga, TN-GA
2017 motor vehicle theft rate: 394.3 per 100,000 residents (66.3% above the national average)
2017 motor vehicle thefts: 2,194 (0.3% of all U.S. motor vehicle thefts)
Change in theft rate from 2016-2017: up 20.1%
2017 metro population: 556,437
#44. Salem, OR
2017 motor vehicle theft rate: 396.5 per 100,000 residents (67.2% above the national average)
2017 motor vehicle thefts: 1,678 (0.2% of all U.S. motor vehicle thefts)
Change in theft rate from 2016-2017: up 37.4%
2017 metro population: 423,228
#43. Topeka, KS
2017 motor vehicle theft rate: 397.2 per 100,000 residents (67.5% above the national average)
2017 motor vehicle thefts: 924 (0.1% of all U.S. motor vehicle thefts)
Change in theft rate from 2016-2017: down 5.2%
2017 metro population: 232,643
#42. Amarillo, TX
2017 motor vehicle theft rate: 408.8 per 100,000 residents (72.4% above the national average)
2017 motor vehicle thefts: 1,083 (0.1% of all U.S. motor vehicle thefts)
Change in theft rate from 2016-2017: up 4.8%
2017 metro population: 264,936
#41. Chico, CA
2017 motor vehicle theft rate: 413.1 per 100,000 residents (74.2% above the national average)
2017 motor vehicle thefts: 941 (0.1% of all U.S. motor vehicle thefts)
Change in theft rate from 2016-2017: down 9.0%
2017 metro population: 227,777
#40. Columbia, SC
2017 motor vehicle theft rate: 414.4 per 100,000 residents (74.8% above the national average)
2017 motor vehicle thefts: 3,425 (0.4% of all U.S. motor vehicle thefts)
Change in theft rate from 2016-2017: up 4.2%
2017 metro population: 826,594
#39. Milwaukee-Waukesha-West Allis, WI
2017 motor vehicle theft rate: 418.1 per 100,000 residents (76.3% above the national average)
2017 motor vehicle thefts: 6,587 (0.9% of all U.S. motor vehicle thefts)
Change in theft rate from 2016-2017: down 8.9%
2017 metro population: 1,575,520
#38. Los Angeles-Long Beach-Anaheim, CA
2017 motor vehicle theft rate: 420.5 per 100,000 residents (77.3% above the national average)
2017 motor vehicle thefts: 56,241 (7.3% of all U.S. motor vehicle thefts)
Change in theft rate from 2016-2017: up 0.2%
2017 metro population: 13,375,094
#37. Grants Pass, OR
2017 motor vehicle theft rate: 420.7 per 100,000 residents (77.4% above the national average)
2017 motor vehicle thefts: 364 (<0.1% of all U.S. motor vehicle thefts)
Change in theft rate from 2016-2017: up 4.4%
2017 metro population: 86,520
#36. Merced, CA
2017 motor vehicle theft rate: 428.3 per 100,000 residents (80.6% above the national average)
2017 motor vehicle thefts: 1,158 (0.1% of all U.S. motor vehicle thefts)
Change in theft rate from 2016-2017: down 19.6%
2017 metro population: 270,396
#35. Reno, NV
2017 motor vehicle theft rate: 430.1 per 100,000 residents (81.4% above the national average)
2017 motor vehicle thefts: 2,003 (0.3% of all U.S. motor vehicle thefts)
Change in theft rate from 2016-2017: up 8.5%
2017 metro population: 465,669
#34. Charleston, WV
2017 motor vehicle theft rate: 433.8 per 100,000 residents (82.9% above the national average)
2017 motor vehicle thefts: 933 (0.1% of all U.S. motor vehicle thefts)
Change in theft rate from 2016-2017: up 15.9%
2017 metro population: 215,067
#33. Fresno, CA
2017 motor vehicle theft rate: 444.9 per 100,000 residents (87.6% above the national average)
2017 motor vehicle thefts: 4,391 (0.6% of all U.S. motor vehicle thefts)
Change in theft rate from 2016-2017: down 16.2%
2017 metro population: 986,951
#32. Wichita, KS
2017 motor vehicle theft rate: 448.2 per 100,000 residents (89% above the national average)
2017 motor vehicle thefts: 2,896 (0.4% of all U.S. motor vehicle thefts)
Change in theft rate from 2016-2017: up 15.3%
2017 metro population: 646,209
#31. Riverside-San Bernardino-Ontario, CA
2017 motor vehicle theft rate: 450.5 per 100,000 residents (90.0% above the national average)
2017 motor vehicle thefts: 20,599 (2.7% of all U.S. motor vehicle thefts)
Change in theft rate from 2016-2017: down 12.7%
2017 metro population: 4,572,004
#30. Vallejo-Fairfield, CA
2017 motor vehicle theft rate: 451.8 per 100,000 residents (90.5% above the national average)
2017 motor vehicle thefts: 2,007 (0.3% of all U.S. motor vehicle thefts)
Change in theft rate from 2016-2017: down 8.6%
2017 metro population: 444,232
#29. Yakima, WA
2017 motor vehicle theft rate: 452.9 per 100,000 residents (91% above the national average)
2017 motor vehicle thefts: 1,138 (0.1% of all U.S. motor vehicle thefts)
Change in theft rate from 2016-2017: down 6.8%
2017 metro population: 251,281
#28. Mobile, AL
2017 motor vehicle theft rate: 456.6 per 100,000 residents (92.5% above the national average)
2017 motor vehicle thefts: 1,894 (0.2% of all U.S. motor vehicle thefts)
Change in theft rate from 2016-2017: up 36.9%
2017 metro population: 414,842
#27. Santa Cruz-Watsonville, CA
2017 motor vehicle theft rate: 458.5 per 100,000 residents (93.3% above the national average)
2017 motor vehicle thefts: 1,267 (0.2% of all U.S. motor vehicle thefts)
Change in theft rate from 2016-2017: down 13.4%
2017 metro population: 276,313
#26. Madera, CA
2017 motor vehicle theft rate: 459.6 per 100,000 residents (93.8% above the national average)
2017 motor vehicle thefts: 713 (<0.1% of all U.S. motor vehicle thefts)
Change in theft rate from 2016-2017: up 24.3%
2017 metro population: 155,133
#25. Spokane-Spokane Valley, WA
2017 motor vehicle theft rate: 464.2 per 100,000 residents (95.7% above the national average)
2017 motor vehicle thefts: 2,614 (0.3% of all U.S. motor vehicle thefts)
Change in theft rate from 2016-2017: down 14.2%
2017 metro population: 563,140
#24. Las Vegas-Henderson-Paradise, NV
2017 motor vehicle theft rate: 466.2 per 100,000 residents (96.6% above the national average)
2017 motor vehicle thefts: 10,272 (1.3% of all U.S. motor vehicle thefts)
Change in theft rate from 2016-2017: down 7.6%
2017 metro population: 2,203,346
#23. Salinas, CA
2017 motor vehicle theft rate: 474.9 per 100,000 residents (100.3% above the national average)
2017 motor vehicle thefts: 2,080 (0.3% of all U.S. motor vehicle thefts)
Change in theft rate from 2016-2017: down 18.1%
2017 metro population: 437,962
#22. Omaha-Council Bluffs, NE-IA
2017 motor vehicle theft rate: 476.8 per 100,000 residents (101.1% above the national average)
2017 motor vehicle thefts: 4,451 (0.6% of all U.S. motor vehicle thefts)
Change in theft rate from 2016-2017: up 8.0%
2017 metro population: 933,488
#21. Visalia-Porterville, CA
2017 motor vehicle theft rate: 479.4 per 100,000 residents (102.1% above the national average)
2017 motor vehicle thefts: 2,219 (0.3% of all U.S. motor vehicle thefts)
Change in theft rate from 2016-2017: up 4.5%
2017 metro population: 462,877
#20. Seattle-Tacoma-Bellevue, WA
2017 motor vehicle theft rate: 481.0 per 100,000 residents (102.8% above the national average)
2017 motor vehicle thefts: 18,627 (2.4% of all U.S. motor vehicle thefts)
Change in theft rate from 2016-2017: down 14.1%
2017 metro population: 3,872,207
#19. Kahului-Wailuku-Lahaina, HI
2017 motor vehicle theft rate: 486.5 per 100,000 residents (105.1% above the national average)
2017 motor vehicle thefts: 807 (0.1% of all U.S. motor vehicle thefts)
Change in theft rate from 2016-2017: up 11.8%
2017 metro population: 165,868
#18. Tulsa, OK
2017 motor vehicle theft rate: 490.7 per 100,000 residents (106.9% above the national average)
2017 motor vehicle thefts: 4,857 (0.6% of all U.S. motor vehicle thefts)
Change in theft rate from 2016-2017: up 0.6%
2017 metro population: 989,910
#17. Portland-Vancouver-Hillsboro, OR-WA
2017 motor vehicle theft rate: 516.9 per 100,000 residents (117.9% above the national average)
2017 motor vehicle thefts: 12,728 (1.6% of all U.S. motor vehicle thefts)
Change in theft rate from 2016-2017: up 34.1%
2017 metro population: 2,462,322
#16. Stockton-Lodi, CA
2017 motor vehicle theft rate: 521.1 per 100,000 residents (119.7% above the national average)
2017 motor vehicle thefts: 3,861 (0.5% of all U.S. motor vehicle thefts)
Change in theft rate from 2016-2017: up 7.3%
2017 metro population: 740,904
#15. San Jose-Sunnyvale-Santa Clara, CA
2017 motor vehicle theft rate: 521.5 per 100,000 residents (119.9% above the national average)
2017 motor vehicle thefts: 10,431 (1.3% of all U.S. motor vehicle thefts)
Change in theft rate from 2016-2017: up 3.2%
2017 metro population: 2,000,325
#14. Springfield, MO
2017 motor vehicle theft rate: 521.5 per 100,000 residents (119.9% above the national average)
2017 motor vehicle thefts: 2,414 (0.3% of all U.S. motor vehicle thefts)
Change in theft rate from 2016-2017: up 16.7%
2017 metro population: 462,905
#13. Denver-Aurora-Lakewood, CO
2017 motor vehicle theft rate: 525.3 per 100,000 residents (121.5% above the national average)
2017 motor vehicle thefts: 15,209 (2% of all U.S. motor vehicle thefts)
Change in theft rate from 2016-2017: up 13.6%
2017 metro population: 2,895,448
#12. San Francisco-Oakland-Hayward, CA
2017 motor vehicle theft rate: 536.7 per 100,000 residents (126.3% above the national average)
2017 motor vehicle thefts: 25,398 (3.3% of all U.S. motor vehicle thefts)
Change in theft rate from 2016-2017: down 10.8%
2017 metro population: 4,732,078
#11. Yuba City, CA
2017 motor vehicle theft rate: 564.5 per 100,000 residents (138% above the national average)
2017 motor vehicle thefts: 974 (0.1% of all U.S. motor vehicle thefts)
Change in theft rate from 2016-2017: up 30.5%
2017 metro population: 172,545
#10. Billings, MT
2017 motor vehicle theft rate: 569.6 per 100,000 residents (140.1% above the national average)
2017 motor vehicle thefts: 976 (0.1% of all U.S. motor vehicle thefts)
Change in theft rate from 2016-2017: up 6.2%
2017 metro population: 171,334
#9. Salt Lake City, UT
2017 motor vehicle theft rate: 582.1 per 100,000 residents (145.4% above the national average)
2017 motor vehicle thefts: 7,005 (0.9% of all U.S. motor vehicle thefts)
Change in theft rate from 2016-2017: down 1.4%
2017 metro population: 1,203,339
#8. Modesto, CA
2017 motor vehicle theft rate: 592.9 per 100,000 residents (150% above the national average)
2017 motor vehicle thefts: 3,234 (0.4% of all U.S. motor vehicle thefts)
Change in theft rate from 2016-2017: down 8.5%
2017 metro population: 545,448
#7. Fairbanks, AK
2017 motor vehicle theft rate: 613.9 per 100,000 residents (158.8% above the national average)
2017 motor vehicle thefts: 216 (<0.1% of all U.S. motor vehicle thefts)
Change in theft rate from 2016-2017: up 55.3%
2017 metro population: 35,185
#6. Bakersfield, CA
2017 motor vehicle theft rate: 661.9 per 100,000 residents (179% above the national average)
2017 motor vehicle thefts: 5,899 (0.8% of all U.S. motor vehicle thefts)
Change in theft rate from 2016-2017: down 9.6%
2017 metro population: 891,188
#5. St. Joseph, MO-KS
2017 motor vehicle theft rate: 674.2 per 100,000 residents (184.2% above the national average)
2017 motor vehicle thefts: 853 (0.1% of all U.S. motor vehicle thefts)
Change in theft rate from 2016-2017: up 33.2%
2017 metro population: 126,515
#4. Redding, CA
2017 motor vehicle theft rate: 679.0 per 100,000 residents (186.2% above the national average)
2017 motor vehicle thefts: 1,221 (0.2% of all U.S. motor vehicle thefts)
Change in theft rate from 2016-2017: up 39.2%
2017 metro population: 179,818
#3. Pueblo, CO
2017 motor vehicle theft rate: 828.0 per 100,000 residents (249% above the national average)
2017 motor vehicle thefts: 1,370 (0.2% of all U.S. motor vehicle thefts)
Change in theft rate from 2016-2017: up 2.2%
2017 metro population: 165,456
#2. Albuquerque, NM
2017 motor vehicle theft rate: 998.3 per 100,000 residents (320.7% above the national average)
2017 motor vehicle thefts: 9,135 (1.2% of all U.S. motor vehicle thefts)
Change in theft rate from 2016-2017: down 1.9%
2017 metro population: 915,069
#1. Anchorage, AK
2017 motor vehicle theft rate: 1,046 per 100,000 residents (340.8% above the national average)
2017 motor vehicle thefts: 3,279 (0.4% of all U.S. motor vehicle thefts)
Change in theft rate from 2016-2017: up 54.1%
2017 metro population: 313,465