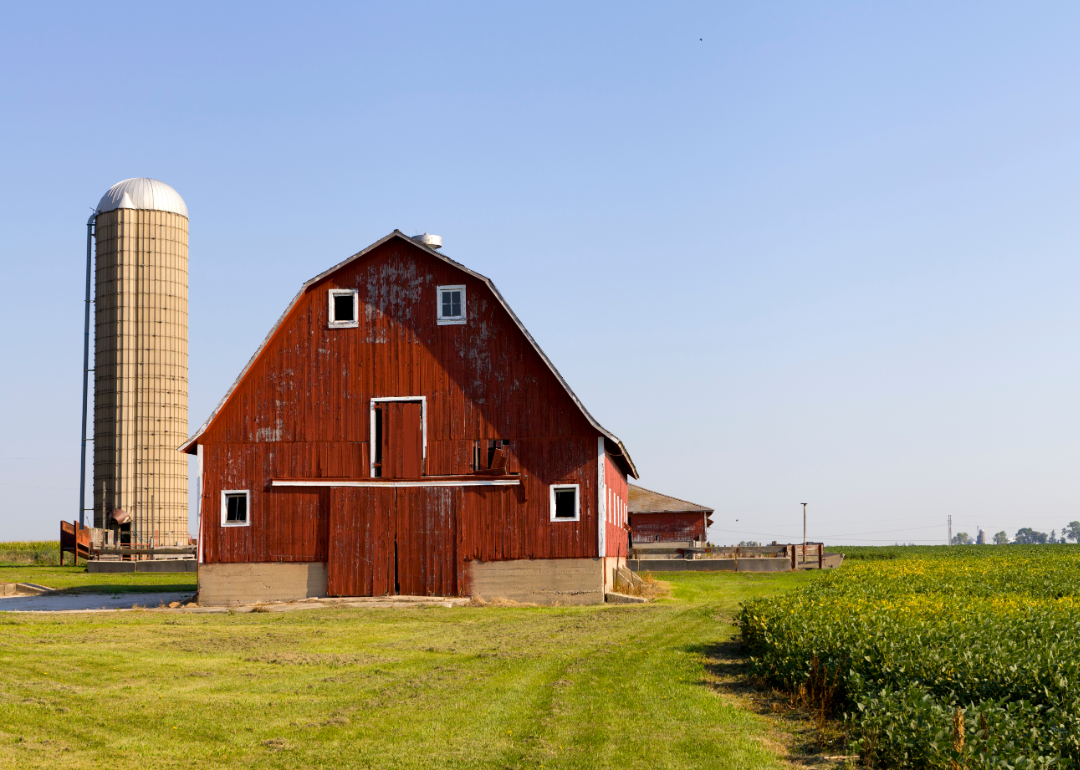 Most rural counties in every state
Most rural counties in every state
It's predicted that by 2050, two-thirds of the world's population will live in cities. A once-agrarian planet is rapidly urbanizing, and America is no exception.
There was a time when most Americans lived in communities that by almost any measure could be called countrified. But today, much of the rural U.S. is hollowing out as young people flee to cities, death rates outnumber birth rates, sparsely populated towns age, metro suburbs expand, immigrants settle in densely populated areas, and so-called "new economy" jobs and wealth become concentrated almost exclusively in urban centers.
Still, more than 700 U.S. counties have 100% rural land, defined as the population, housing, and territory not contained within urbanized areas or clusters. "Urban" in this sense is considered an area with a densely settled core of census tracts or blocks and count at least 2,500 people, at least 1,500 of whom must be residents of non-institutional buildings. Areas with 50,000 people or more are considered urbanized areas, while areas with between 2,500 and 50,000 people are considered urban clusters.
Stacker pulled data from the 2010 Census Urban and Rural Classification to compile a list of the most rural county in each state. This information—the most recent available, as the census only conducts this study every ten years—includes the total square mileage of each county's rural and urban space, the rural population, the overall county population, and population density in rural areas. Keep reading to discover your state's most rural locale.
Alabama: Baldwin County
- Total rural area: 1,484 square miles (93.32% of the county)
- Total urban area: 106 square miles (6.68% of the county)
- Population in rural areas: 77,060 (42.28% of county population)
- Total population of the county: 182,265
- Population density in rural areas: 51.9 people per square mile
Alaska: Yukon-Koyukuk County
- Total rural area: 145,505 square miles (100% of the county)
- Total urban area: 0 square miles (0.00% of the county)
- Population in rural areas: 5,588 (100% of county population)
- Total population of the county: 5,588
- Population density in rural areas: 0 people per square mile
Arizona: Coconino County
- Total rural area: 18,571 square miles (99.74% of the county)
- Total urban area: 47 square miles (0.26% of the county)
- Population in rural areas: 42,297 (31.47% of county population)
- Total population of the county: 134,421
- Population density in rural areas: 2.3 people per square mile
Arkansas: Union County
- Total rural area: 1,024 square miles (98.54% of the county)
- Total urban area: 15 square miles (1.46% of the county)
- Population in rural areas: 22,695 (54.5% of county population)
- Total population of the county: 41,639
- Population density in rural areas: 22.2 people per square mile
California: San Bernardino County
- Total rural area: 19,431 square miles (96.88% of the county)
- Total urban area: 626 square miles (3.12% of the county)
- Population in rural areas: 96,357 (4.73% of county population)
- Total population of the county: 2.0 million
- Population density in rural areas: 5 people per square mile
Colorado: Las Animas County
- Total rural area: 4,767 square miles (99.88% of the county)
- Total urban area: 6 square miles (0.12% of the county)
- Population in rural areas: 6,326 (40.79% of county population)
- Total population of the county: 15,507
- Population density in rural areas: 1.3 people per square mile
Connecticut: Litchfield County
- Total rural area: 827 square miles (89.84% of the county)
- Total urban area: 94 square miles (10.16% of the county)
- Population in rural areas: 78,722 (41.45% of county population)
- Total population of the county: 189,927
- Population density in rural areas: 95.2 people per square mile
Delaware: Sussex County
- Total rural area: 821 square miles (87.74% of the county)
- Total urban area: 115 square miles (12.26% of the county)
- Population in rural areas: 81,428 (41.3% of county population)
- Total population of the county: 197,145
- Population density in rural areas: 99.1 people per square mile
Florida: Collier County
- Total rural area: 1,820 square miles (91.08% of the county)
- Total urban area: 178 square miles (8.92% of the county)
- Population in rural areas: 27,284 (8.49% of county population)
- Total population of the county: 321,520
- Population density in rural areas: 15 people per square mile
Georgia: Ware County
- Total rural area: 870 square miles (97.48% of the county)
- Total urban area: 22 square miles (2.52% of the county)
- Population in rural areas: 10,691 (29.44% of county population)
- Total population of the county: 36,312
- Population density in rural areas: 12.3 people per square mile
Hawaii: Hawaii County
- Total rural area: 3,942 square miles (97.85% of the county)
- Total urban area: 87 square miles (2.15% of the county)
- Population in rural areas: 70,313 (37.99% of county population)
- Total population of the county: 185,079
- Population density in rural areas: 17.8 people per square mile
Idaho: Idaho County
- Total rural area: 8,476 square miles (99.98% of the county)
- Total urban area: 2 square miles (0.02% of the county)
- Population in rural areas: 13,117 (80.64% of county population)
- Total population of the county: 16,267
- Population density in rural areas: 1.5 people per square mile
Illinois: McLean County
- Total rural area: 1,129 square miles (95.38% of the county)
- Total urban area: 55 square miles (4.62% of the county)
- Population in rural areas: 27,974 (16.5% of county population)
- Total population of the county: 169,572
- Population density in rural areas: 24.8 people per square mile
Indiana: LaPorte County
- Total rural area: 557 square miles (93.11% of the county)
- Total urban area: 41 square miles (6.89% of the county)
- Population in rural areas: 39,713 (35.63% of county population)
- Total population of the county: 111,467
- Population density in rural areas: 71.3 people per square mile
Iowa: Kossuth County
- Total rural area: 970 square miles (99.73% of the county)
- Total urban area: 3 square miles (0.27% of the county)
- Population in rural areas: 10,203 (65.64% of county population)
- Total population of the county: 15,543
- Population density in rural areas: 10.5 people per square mile
Kansas: Butler County
- Total rural area: 1,408 square miles (98.49% of the county)
- Total urban area: 22 square miles (1.51% of the county)
- Population in rural areas: 26,664 (40.47% of county population)
- Total population of the county: 65,880
- Population density in rural areas: 18.9 people per square mile
Kentucky: Pike County
- Total rural area: 780 square miles (99.13% of the county)
- Total urban area: 7 square miles (0.87% of the county)
- Population in rural areas: 57,090 (87.8% of county population)
- Total population of the county: 65,024
- Population density in rural areas: 73.2 people per square mile
Louisiana: Vernon County
- Total rural area: 1,306 square miles (98.32% of the county)
- Total urban area: 22 square miles (1.68% of the county)
- Population in rural areas: 26,113 (49.9% of county population)
- Total population of the county: 52,334
- Population density in rural areas: 20 people per square mile
Maine: Aroostook County
- Total rural area: 6,662 square miles (99.86% of the county)
- Total urban area: 10 square miles (0.14% of the county)
- Population in rural areas: 57,687 (80.27% of county population)
- Total population of the county: 71,870
- Population density in rural areas: 8.7 people per square mile
Maryland: Garrett County
- Total rural area: 643 square miles (99.33% of the county)
- Total urban area: 4 square miles (0.67% of the county)
- Population in rural areas: 25,251 (83.9% of county population)
- Total population of the county: 30,097
- Population density in rural areas: 39.3 people per square mile
Massachusetts: Worcester County
- Total rural area: 1,103 square miles (73.03% of the county)
- Total urban area: 408 square miles (26.97% of the county)
- Population in rural areas: 146,856 (18.39% of county population)
- Total population of the county: 798,552
- Population density in rural areas: 133.1 people per square mile
Michigan: Marquette County
- Total rural area: 1,786 square miles (98.78% of the county)
- Total urban area: 22 square miles (1.22% of the county)
- Population in rural areas: 27,830 (41.49% of county population)
- Total population of the county: 67,077
- Population density in rural areas: 15.6 people per square mile
Minnesota: St. Louis County
- Total rural area: 6,176 square miles (98.85% of the county)
- Total urban area: 72 square miles (1.15% of the county)
- Population in rural areas: 74,313 (37.11% of county population)
- Total population of the county: 200,226
- Population density in rural areas: 12 people per square mile
Mississippi: Yazoo County
- Total rural area: 914 square miles (99.07% of the county)
- Total urban area: 9 square miles (0.93% of the county)
- Population in rural areas: 12,519 (44.61% of county population)
- Total population of the county: 28,065
- Population density in rural areas: 13.7 people per square mile
Missouri: Texas County
- Total rural area: 1,177 square miles (99.99% of the county)
- Total urban area: 0 square miles (0.01% of the county)
- Population in rural areas: 25,803 (99.21% of county population)
- Total population of the county: 26,008
- Population density in rural areas: 21.9 people per square mile
Montana: Beaverhead County
- Total rural area: 5,539 square miles (99.96% of the county)
- Total urban area: 2 square miles (0.04% of the county)
- Population in rural areas: 4,637 (50.15% of county population)
- Total population of the county: 9,246
- Population density in rural areas: 0.8 people per square mile
Nebraska: Cherry County
- Total rural area: 5,959 square miles (99.97% of the county)
- Total urban area: 2 square miles (0.03% of the county)
- Population in rural areas: 3,000 (52.51% of county population)
- Total population of the county: 5,713
- Population density in rural areas: 0.5 people per square mile
Nevada: Nye County
- Total rural area: 18,138 square miles (99.76% of the county)
- Total urban area: 44 square miles (0.24% of the county)
- Population in rural areas: 15,500 (35.27% of county population)
- Total population of the county: 43,946
- Population density in rural areas: 0.9 people per square mile
New Hampshire: Coos County
- Total rural area: 1,789 square miles (99.7% of the county)
- Total urban area: 5 square miles (0.30% of the county)
- Population in rural areas: 21,896 (66.24% of county population)
- Total population of the county: 33,055
- Population density in rural areas: 12.2 people per square mile
New Jersey: Burlington County
- Total rural area: 579 square miles (72.47% of the county)
- Total urban area: 220 square miles (27.53% of the county)
- Population in rural areas: 29,900 (6.66% of county population)
- Total population of the county: 448,734
- Population density in rural areas: 51.7 people per square mile
New Mexico: Catron County
- Total rural area: 6,924 square miles (100% of the county)
- Total urban area: 0 square miles (0.00% of the county)
- Population in rural areas: 3,725 (100% of county population)
- Total population of the county: 3,725
- Population density in rural areas: 0.5 people per square mile
New York: St. Lawrence County
- Total rural area: 2,661 square miles (99.27% of the county)
- Total urban area: 19 square miles (0.73% of the county)
- Population in rural areas: 69,396 (61.99% of county population)
- Total population of the county: 111,944
- Population density in rural areas: 26.1 people per square mile
North Carolina: Sampson County
- Total rural area: 937 square miles (99.15% of the county)
- Total urban area: 8 square miles (0.85% of the county)
- Population in rural areas: 53,893 (84.96% of county population)
- Total population of the county: 63,431
- Population density in rural areas: 57.5 people per square mile
North Dakota: McKenzie County
- Total rural area: 2,760 square miles (100% of the county)
- Total urban area: 0 square miles (0.00% of the county)
- Population in rural areas: 6,360 (100% of county population)
- Total population of the county: 6,360
- Population density in rural areas: 2.3 people per square mile
Ohio: Ross County
- Total rural area: 672 square miles (97.5% of the county)
- Total urban area: 17 square miles (2.50% of the county)
- Population in rural areas: 45,801 (58.67% of county population)
- Total population of the county: 78,064
- Population density in rural areas: 68.2 people per square mile
Oklahoma: Osage County
- Total rural area: 2,234 square miles (99.43% of the county)
- Total urban area: 13 square miles (0.57% of the county)
- Population in rural areas: 28,233 (59.47% of county population)
- Total population of the county: 47,472
- Population density in rural areas: 12.6 people per square mile
Oregon: Harney County
- Total rural area: 10,131 square miles (99.98% of the county)
- Total urban area: 3 square miles (0.02% of the county)
- Population in rural areas: 3,291 (44.34% of county population)
- Total population of the county: 7,422
- Population density in rural areas: 0.3 people per square mile
Pennsylvania: Lycoming County
- Total rural area: 1,190 square miles (96.85% of the county)
- Total urban area: 39 square miles (3.15% of the county)
- Population in rural areas: 42,121 (36.28% of county population)
- Total population of the county: 116,111
- Population density in rural areas: 35.4 people per square mile
Puerto Rico: Utuado County
- Total rural area: 100 square miles (87.89% of the county)
- Total urban area: 14 square miles (12.11% of the county)
- Population in rural areas: 15,556 (46.93% of county population)
- Total population of the county: 33,149
- Population density in rural areas: 155.9 people per square mile
Rhode Island: Washington County
- Total rural area: 244 square miles (74.01% of the county)
- Total urban area: 86 square miles (25.99% of the county)
- Population in rural areas: 39,139 (30.82% of county population)
- Total population of the county: 126,979
- Population density in rural areas: 160.6 people per square mile
South Carolina: Orangeburg County
- Total rural area: 1,074 square miles (97.14% of the county)
- Total urban area: 32 square miles (2.86% of the county)
- Population in rural areas: 58,995 (63.78% of county population)
- Total population of the county: 92,501
- Population density in rural areas: 54.9 people per square mile
South Dakota: Meade County
- Total rural area: 3,460 square miles (99.7% of the county)
- Total urban area: 11 square miles (0.30% of the county)
- Population in rural areas: 9,664 (38% of county population)
- Total population of the county: 25,434
- Population density in rural areas: 2.8 people per square mile
Tennessee: Wayne County
- Total rural area: 734 square miles (100% of the county)
- Total urban area: 0 square miles (0.00% of the county)
- Population in rural areas: 17,021 (100% of county population)
- Total population of the county: 17,021
- Population density in rural areas: 23.2 people per square mile
Texas: Brewster County
- Total rural area: 6,180 square miles (99.93% of the county)
- Total urban area: 4 square miles (0.07% of the county)
- Population in rural areas: 3,219 (34.87% of county population)
- Total population of the county: 9,232
- Population density in rural areas: 0.5 people per square mile
Utah: San Juan County
- Total rural area: 7,818 square miles (99.98% of the county)
- Total urban area: 2 square miles (0.02% of the county)
- Population in rural areas: 11,482 (77.87% of county population)
- Total population of the county: 14,746
- Population density in rural areas: 1.5 people per square mile
Vermont: Windsor County
- Total rural area: 958 square miles (98.82% of the county)
- Total urban area: 11 square miles (1.18% of the county)
- Population in rural areas: 42,836 (75.59% of county population)
- Total population of the county: 56,670
- Population density in rural areas: 44.7 people per square mile
Virginia: Pittsylvania County
- Total rural area: 953 square miles (98.37% of the county)
- Total urban area: 16 square miles (1.63% of the county)
- Population in rural areas: 54,380 (85.63% of county population)
- Total population of the county: 63,506
- Population density in rural areas: 57.1 people per square mile
Washington: Okanogan County
- Total rural area: 5,263 square miles (99.91% of the county)
- Total urban area: 5 square miles (0.09% of the county)
- Population in rural areas: 32,891 (79.99% of county population)
- Total population of the county: 41,120
- Population density in rural areas: 6.2 people per square mile
West Virginia: Randolph County
- Total rural area: 1,034 square miles (99.41% of the county)
- Total urban area: 6 square miles (0.59% of the county)
- Population in rural areas: 18,344 (62.38% of county population)
- Total population of the county: 29,405
- Population density in rural areas: 17.7 people per square mile
Wisconsin: Marathon County
- Total rural area: 1,497 square miles (96.87% of the county)
- Total urban area: 48 square miles (3.13% of the county)
- Population in rural areas: 57,634 (42.99% of county population)
- Total population of the county: 134,063
- Population density in rural areas: 38.5 people per square mile
Wyoming: Sweetwater County
- Total rural area: 10,408 square miles (99.82% of the county)
- Total urban area: 19 square miles (0.18% of the county)
- Population in rural areas: 4,782 (10.92% of county population)
- Total population of the county: 43,806
- Population density in rural areas: 0.5 people per square mile