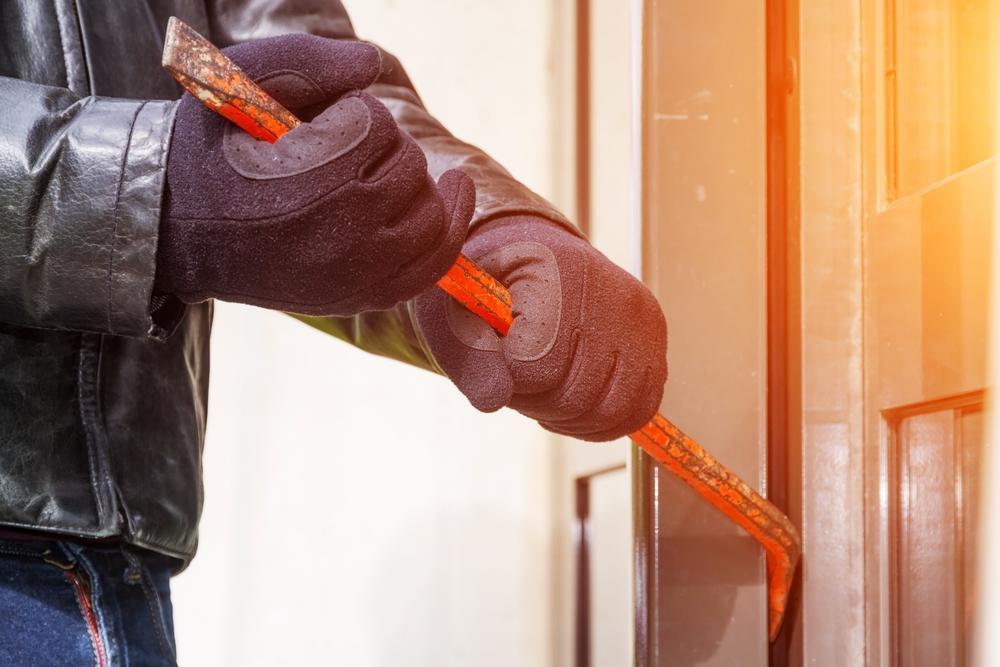 States with the highest burglary rates
States with the highest burglary rates
Surveys show that the American public believes crime is on the rise across the country, but the actual numbers tell a different story. Though the violent crime rate has crept back up between 2014 and 2016, it is nowhere near its peak in the '70s and '80s. Property crimes like robbery, theft, and burglary have seen similar declines and have only continued to decrease. Burglaries—legally defined as the unlawful entry into a building, structure, vehicle, or watercraft with the intent to commit a crime—have dropped by an incredible 37.1% since 2008 according to the FBI's Uniform Crime Reporting (UCR) program.
As with most crimes, the decline in burglary rates has not been seen in all parts of the country, so Stacker turned to the FBI's 2017 Crime in the U.S. Report—updated on Sept. 24, 2018—to determine which states have the highest burglary rates. All 50 states, the District of Columbia, and Puerto Rico were ranked by the number of burglaries per 100,000 people, and the 2016 burglary and overall property crime rates are included for comparison.
Has your state made the greatest strides in decreasing its burglary rate or does it still have a ways to go? Read through Stacker's list to find out.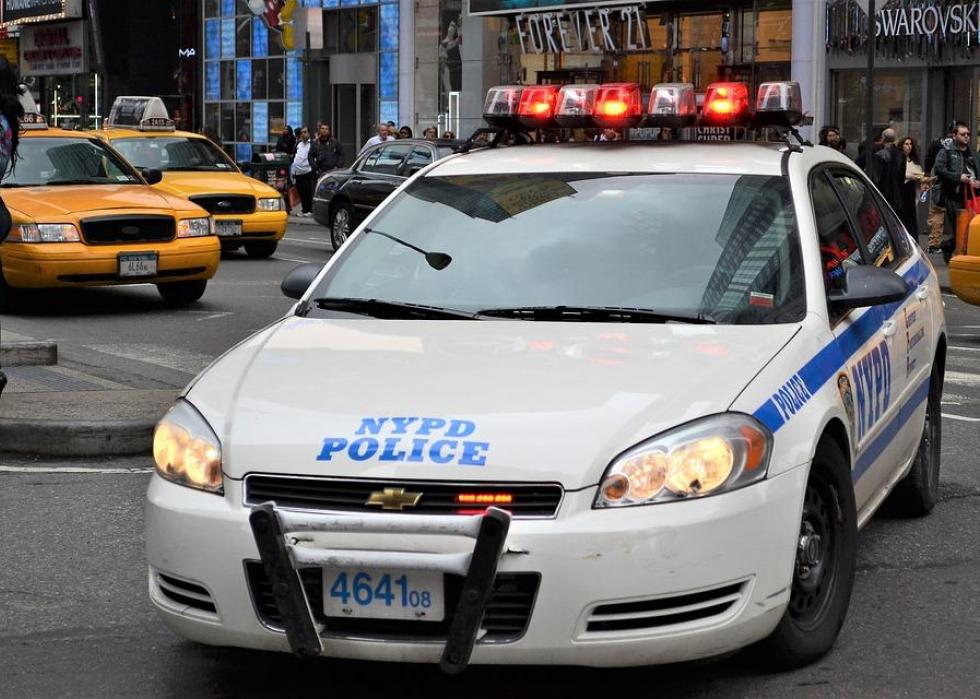 1 / 52
Artistic Operations // Pixabay
#52. New York
Burglary rate: 176.3 crimes per 100,000 people (59% below national average)
Total burglaries: 35,002
2016 burglary rate: 200.9 crimes per 100,000 people (-12.2% change to 2017)
Overall property crime rate: 1,514 crimes per 100,000 people (Rank: #47; 35.9% below national average)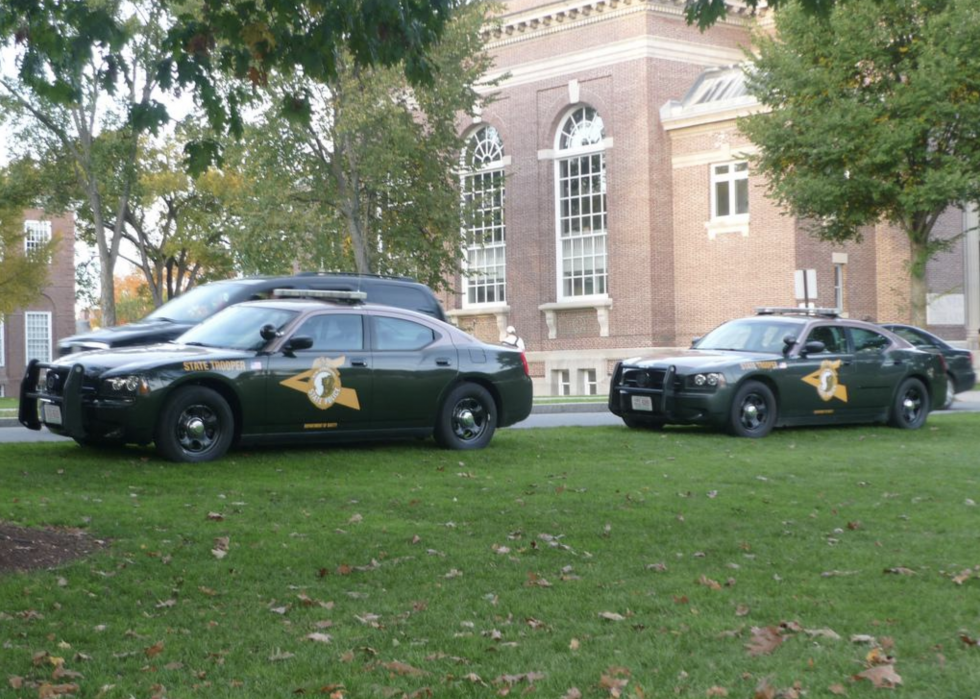 2 / 52
#51. New Hampshire
Burglary rate: 191.7 crimes per 100,000 people (55.5% below national average)
Total burglaries: 2,574
2016 burglary rate: 223.9 crimes per 100,000 people (-14.4% change to 2017)
Overall property crime rate: 1,382 crimes per 100,000 people (Rank: #51; 41.5% below national average)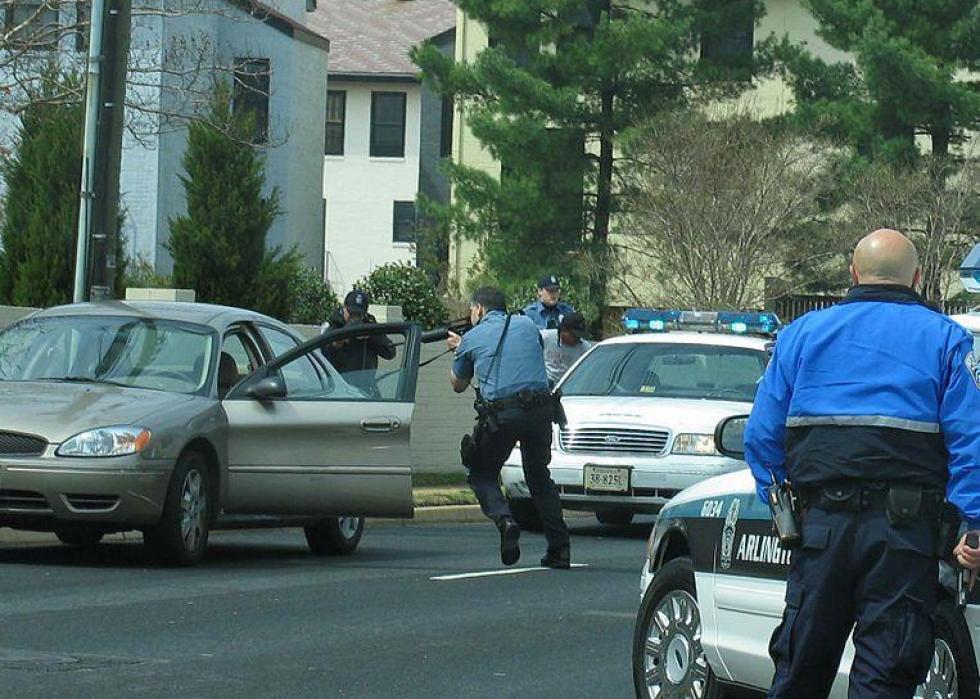 3 / 52
Arlington County // Wikimedia Commons
#50. Virginia
Burglary rate: 218 crimes per 100,000 people (49.3% below national average)
Total burglaries: 18,468
2016 burglary rate: 239.6 crimes per 100,000 people (-9% change to 2017)
Overall property crime rate: 1,793 crimes per 100,000 people (Rank: #41; 24.1% below national average)
4 / 52
User:Mattes // Wikimedia Commons
#49. Puerto Rico
Burglary rate: 238.2 crimes per 100,000 people (44.7% below national average)
Total burglaries: 7,949
2016 burglary rate: 242.2 crimes per 100,000 people (-1.7% change to 2017)
Overall property crime rate: 934 crimes per 100,000 people (Rank: #52; 60.5% below national average)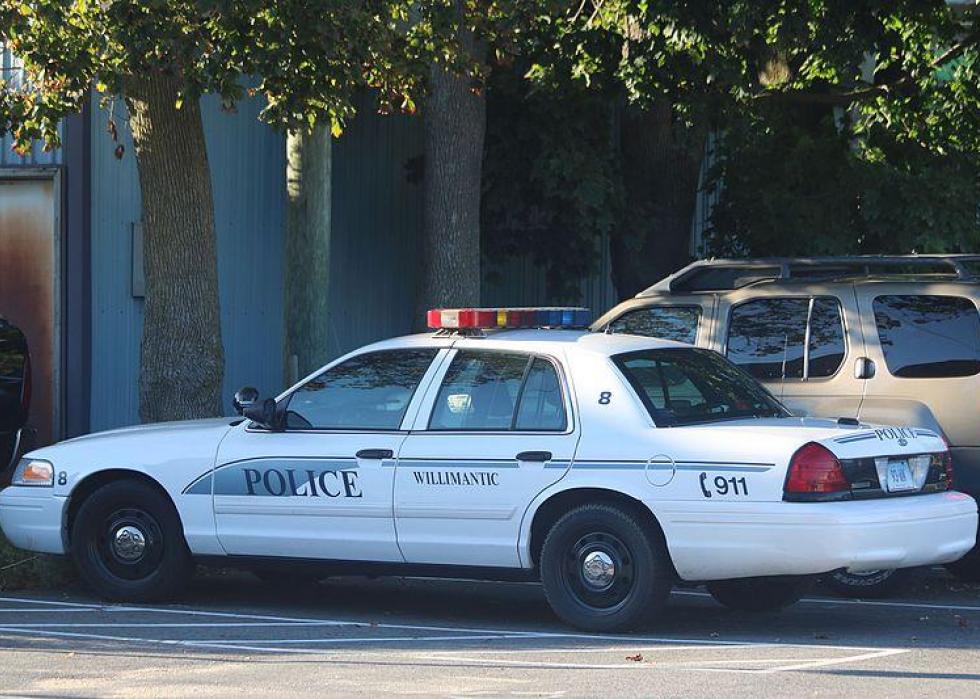 5 / 52
Grendelkhan // Wikimedia Commons
#48. Connecticut
Burglary rate: 247.8 crimes per 100,000 people (42.4% below national average)
Total burglaries: 8,890
2016 burglary rate: 281.7 crimes per 100,000 people (-12.1% change to 2017)
Overall property crime rate: 1,770 crimes per 100,000 people (Rank: #42; 25.1% below national average)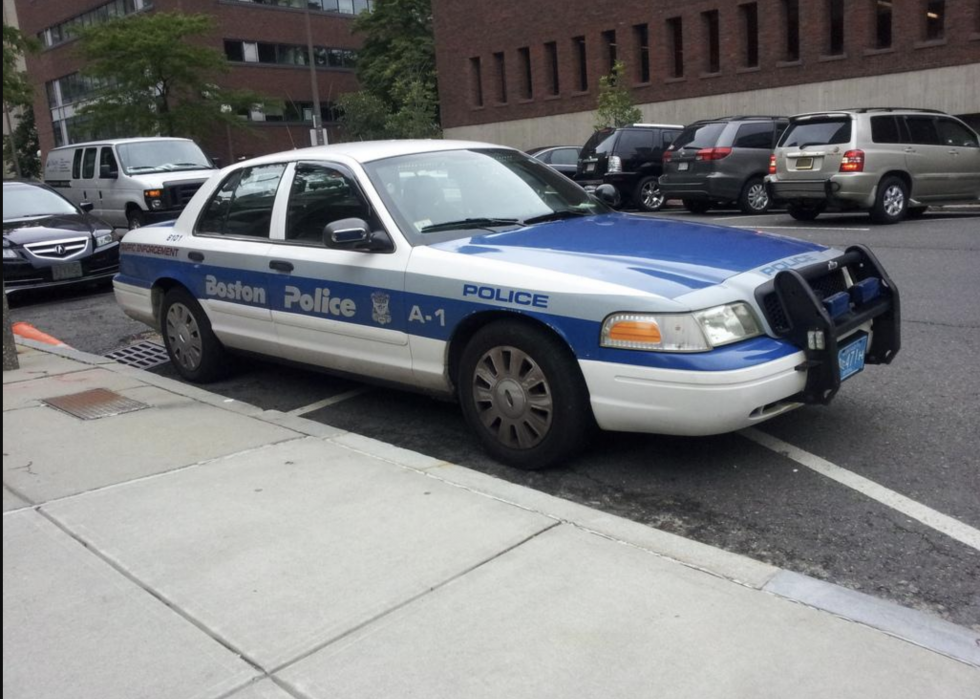 6 / 52
#47. Massachusetts
Burglary rate: 249.1 crimes per 100,000 people (42.1% below national average)
Total burglaries: 17,089
2016 burglary rate: 281.4 crimes per 100,000 people (-11.5% change to 2017)
Overall property crime rate: 1,437 crimes per 100,000 people (Rank: #49; 39.2% below national average)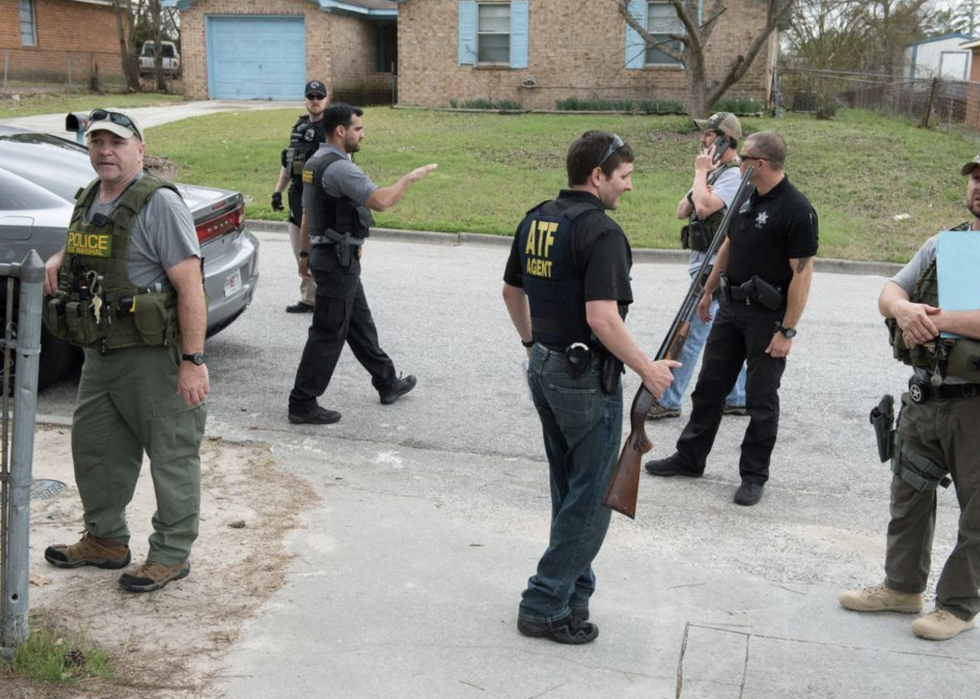 7 / 52
Office of Public Affairs // Flickr
#46. Maine
Burglary rate: 249.6 crimes per 100,000 people (42% below national average)
Total burglaries: 3,334
2016 burglary rate: 300.8 crimes per 100,000 people (-17% change to 2017)
Overall property crime rate: 1,507 crimes per 100,000 people (Rank: #48; 36.2% below national average)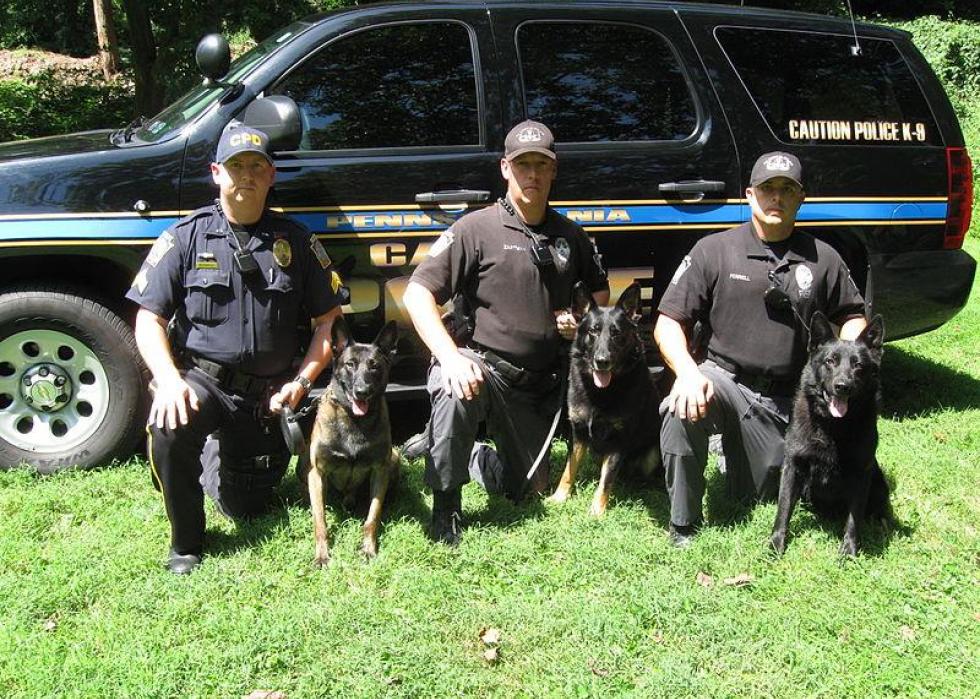 8 / 52
Gbudman // Wikimedia Commons
#45. Pennsylvania
Burglary rate: 250.3 crimes per 100,000 people (41.8% below national average)
Total burglaries: 32,057
2016 burglary rate: 275.1 crimes per 100,000 people (-9% change to 2017)
Overall property crime rate: 1,649 crimes per 100,000 people (Rank: #44; 30.2% below national average)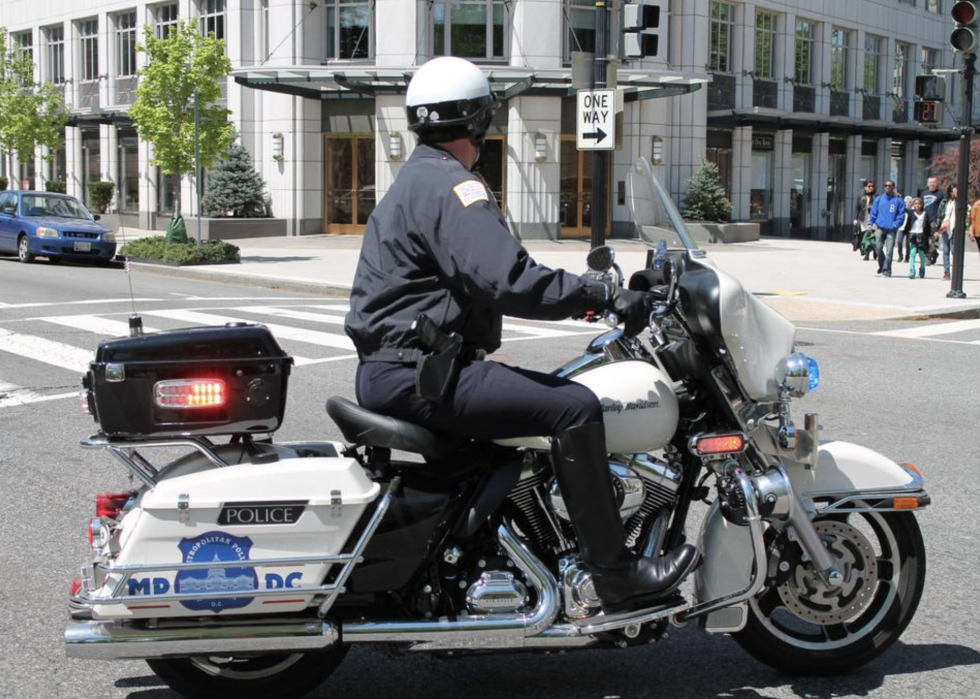 9 / 52
#44. District of Columbia
Burglary rate: 260.7 crimes per 100,000 people (39.4% below national average)
Total burglaries: 1,809
2016 burglary rate: 345 crimes per 100,000 people (-24.4% change to 2017)
Overall property crime rate: 4,284 crimes per 100,000 people (Rank: #1; 81.4% above national average)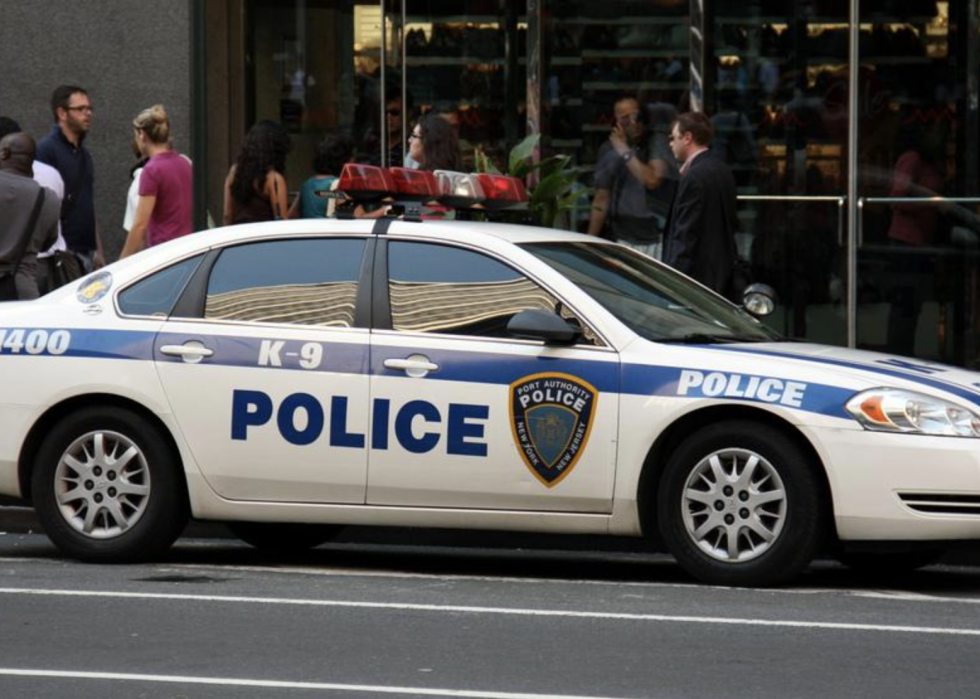 10 / 52
André Gustavo Stumpf // Flickr
#43. New Jersey
Burglary rate: 265.3 crimes per 100,000 people (38.4% below national average)
Total burglaries: 23,891
2016 burglary rate: 281 crimes per 100,000 people (-5.6% change to 2017)
Overall property crime rate: 1,556 crimes per 100,000 people (Rank: #46; 34.2% below national average)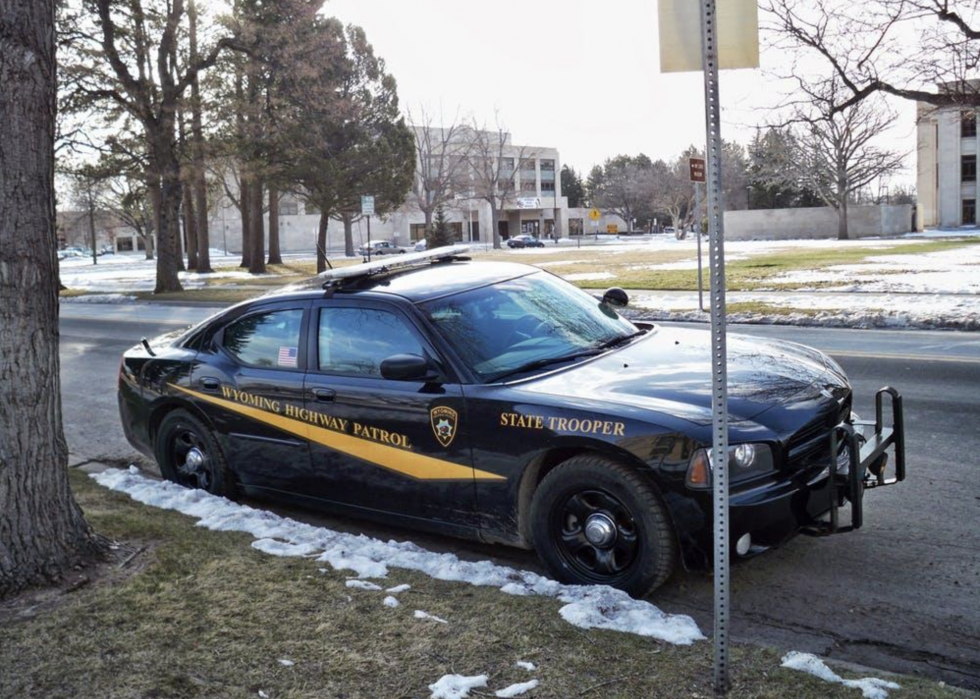 11 / 52
#42. Wyoming
Burglary rate: 275 crimes per 100,000 people (36.1% below national average)
Total burglaries: 1,593
2016 burglary rate: 302.8 crimes per 100,000 people (-9.2% change to 2017)
Overall property crime rate: 1,830 crimes per 100,000 people (Rank: #38; 22.5% below national average)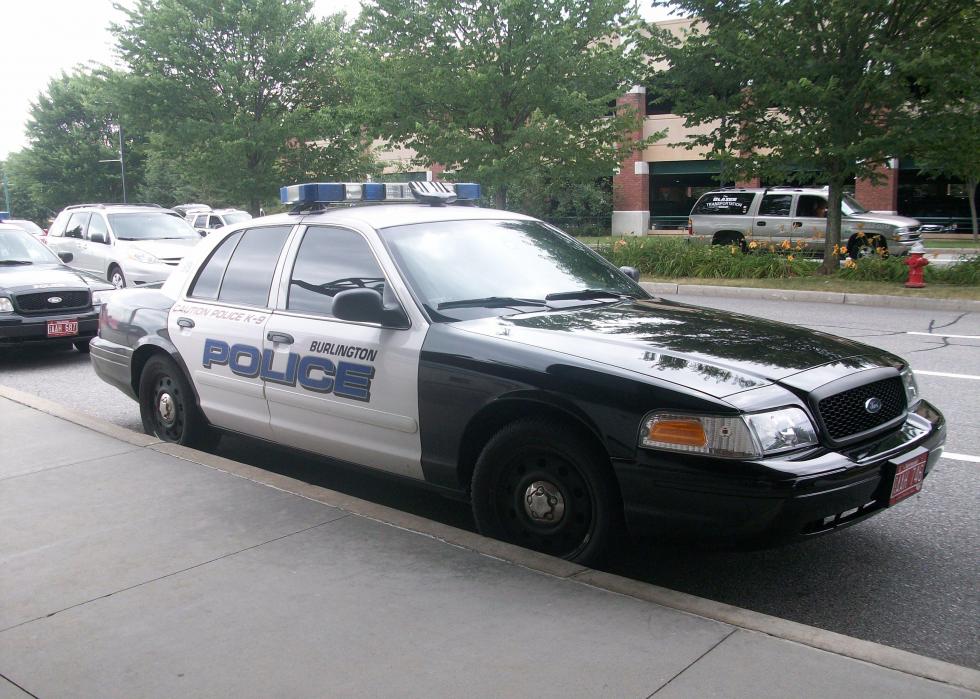 12 / 52
Kevin.B // Wikimedia Commons
#41. Vermont
Burglary rate: 297.3 crimes per 100,000 people (30.9% below national average)
Total burglaries: 1,854
2016 burglary rate: 302.2 crimes per 100,000 people (-1.6% change to 2017)
Overall property crime rate: 1,437 crimes per 100,000 people (Rank: #50; 39.2% below national average)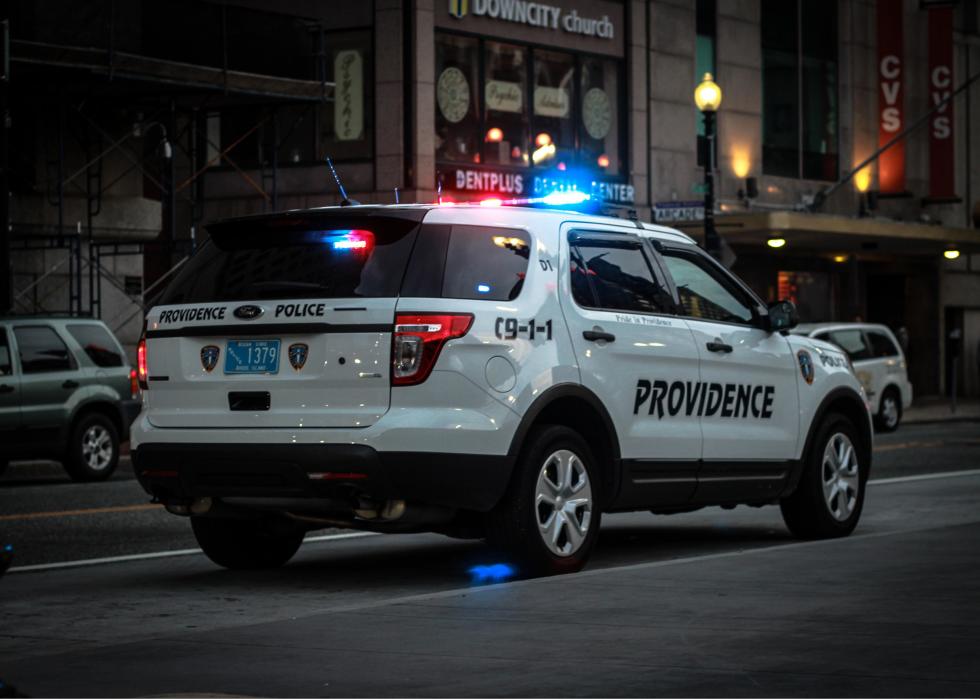 13 / 52
Sgt. David McLean // Wikimedia Commons
#40. Rhode Island
Burglary rate: 303.6 crimes per 100,000 people (29.5% below national average)
Total burglaries: 3,217
2016 burglary rate: 345.1 crimes per 100,000 people (-12% change to 2017)
Overall property crime rate: 1,752 crimes per 100,000 people (Rank: #43; 25.8% below national average)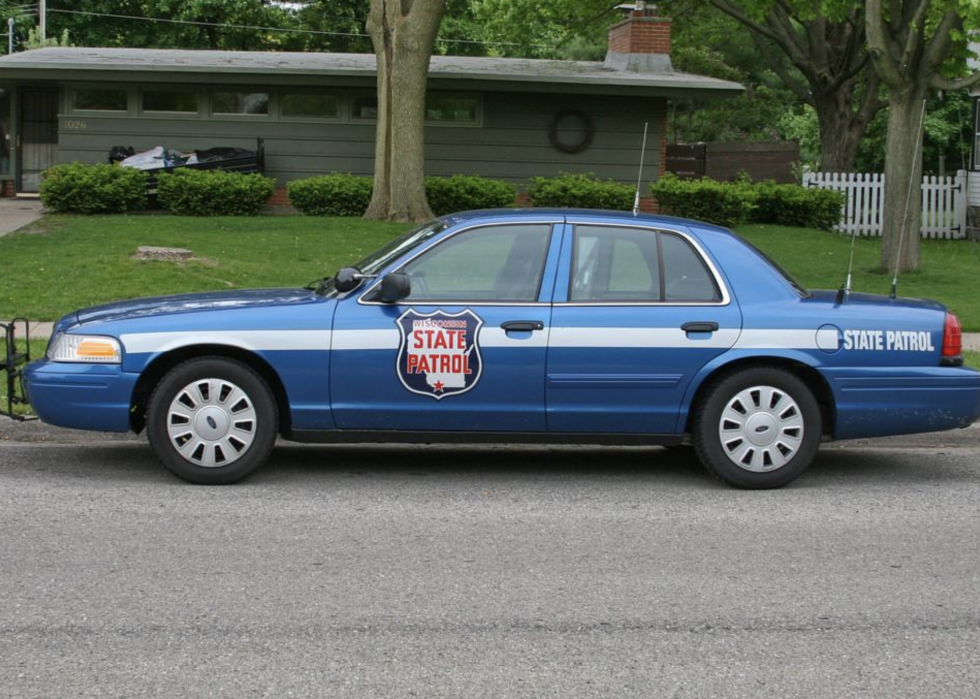 14 / 52
#39. Wisconsin
Burglary rate: 303.7 crimes per 100,000 people (29.4% below national average)
Total burglaries: 17,599
2016 burglary rate: 337.7 crimes per 100,000 people (-10.1% change to 2017)
Overall property crime rate: 1,808 crimes per 100,000 people (Rank: #39; 23.4% below national average)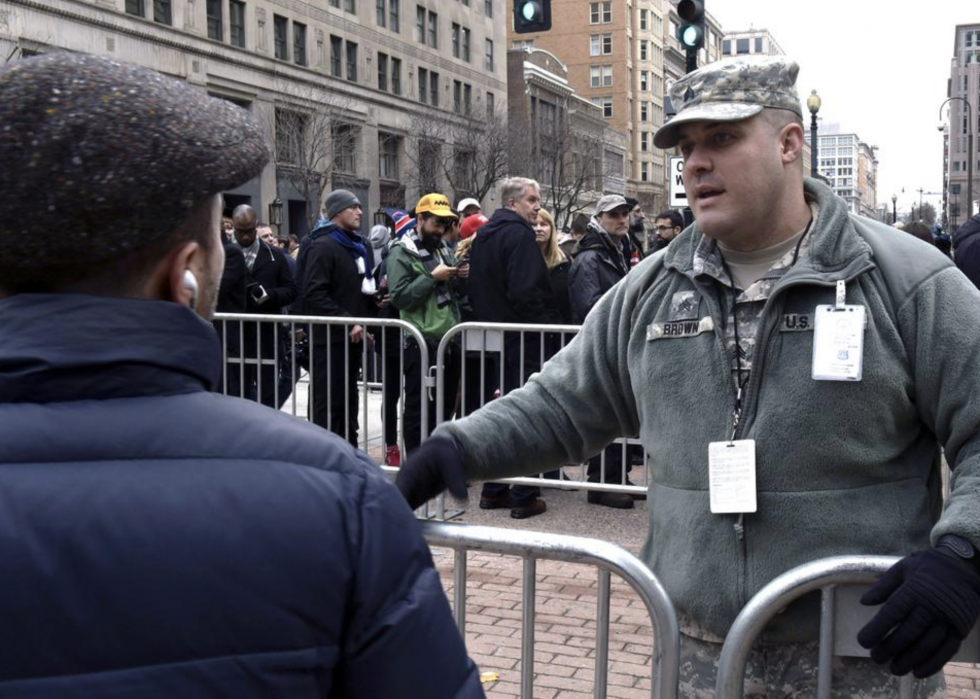 15 / 52
The National Guard // Flickr
#38. South Dakota
Burglary rate: 311.3 crimes per 100,000 people (27.7% below national average)
Total burglaries: 2,707
2016 burglary rate: 348.4 crimes per 100,000 people (-10.7% change to 2017)
Overall property crime rate: 1,876 crimes per 100,000 people (Rank: #36; 20.6% below national average)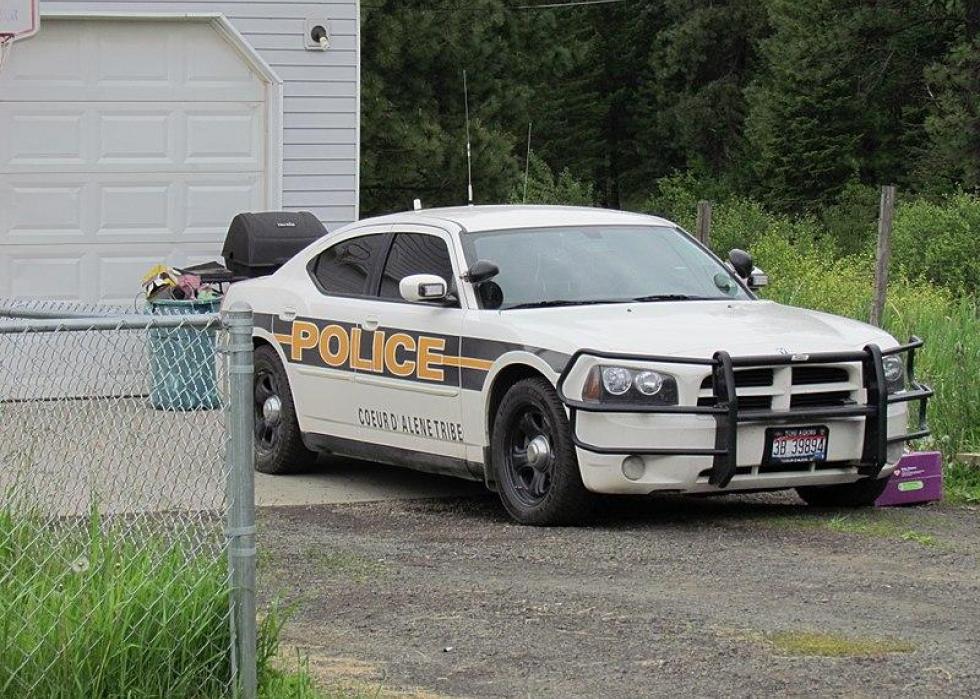 16 / 52
Richard Bauer // Wikimedia Commons
#37. Idaho
Burglary rate: 329.4 crimes per 100,000 people (23.5% below national average)
Total burglaries: 5,655
2016 burglary rate: 376.1 crimes per 100,000 people (-12.4% change to 2017)
Overall property crime rate: 1,635 crimes per 100,000 people (Rank: #45; 30.8% below national average)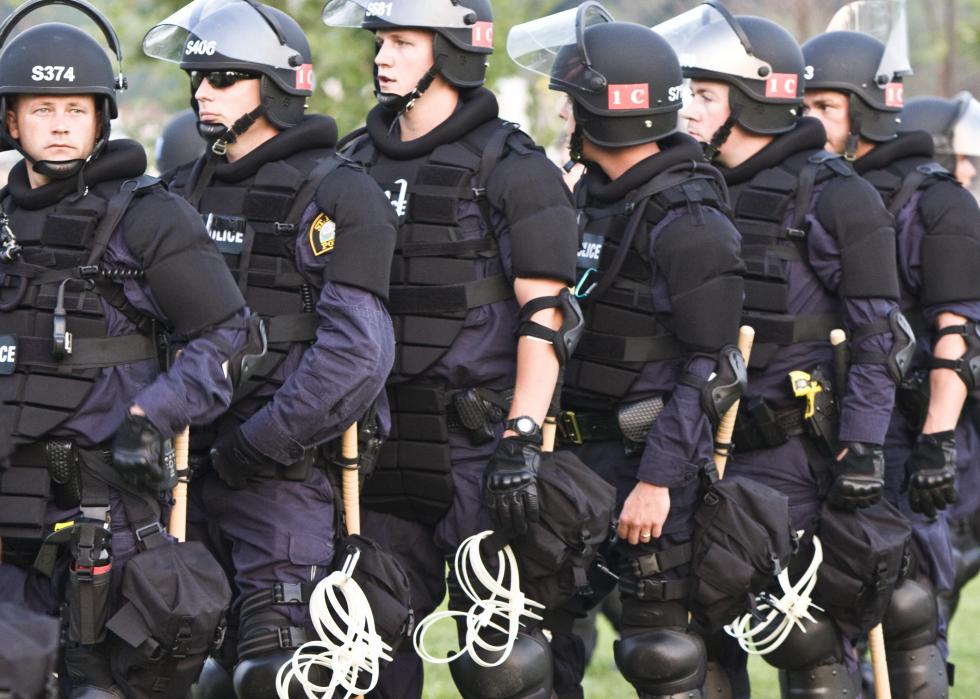 17 / 52
Tony Webster // Wikimedia Commons
#36. Minnesota
Burglary rate: 336.9 crimes per 100,000 people (21.7% below national average)
Total burglaries: 18,787
2016 burglary rate: 336.3 crimes per 100,000 people (0.2% change to 2017)
Overall property crime rate: 2,192 crimes per 100,000 people (Rank: #32; 7.2% below national average)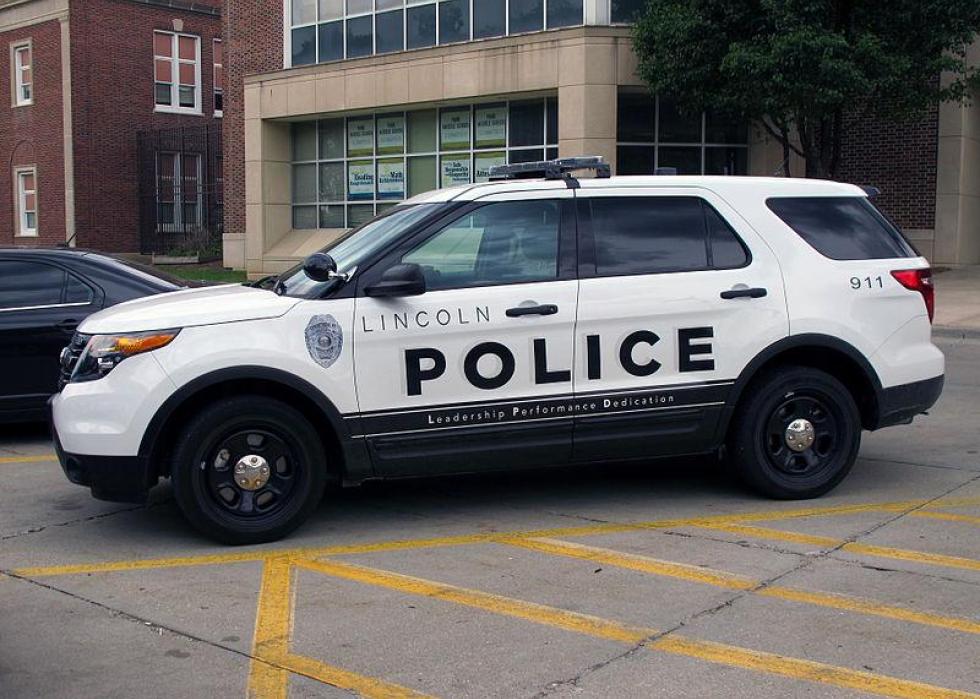 18 / 52
Hanyou23 // Wikimedia Commons
#35. Nebraska
Burglary rate: 337.1 crimes per 100,000 people (21.7% below national average)
Total burglaries: 6,472
2016 burglary rate: 338.6 crimes per 100,000 people (-0.4% change to 2017)
Overall property crime rate: 2,274 crimes per 100,000 people (Rank: #29; 3.7% below national average)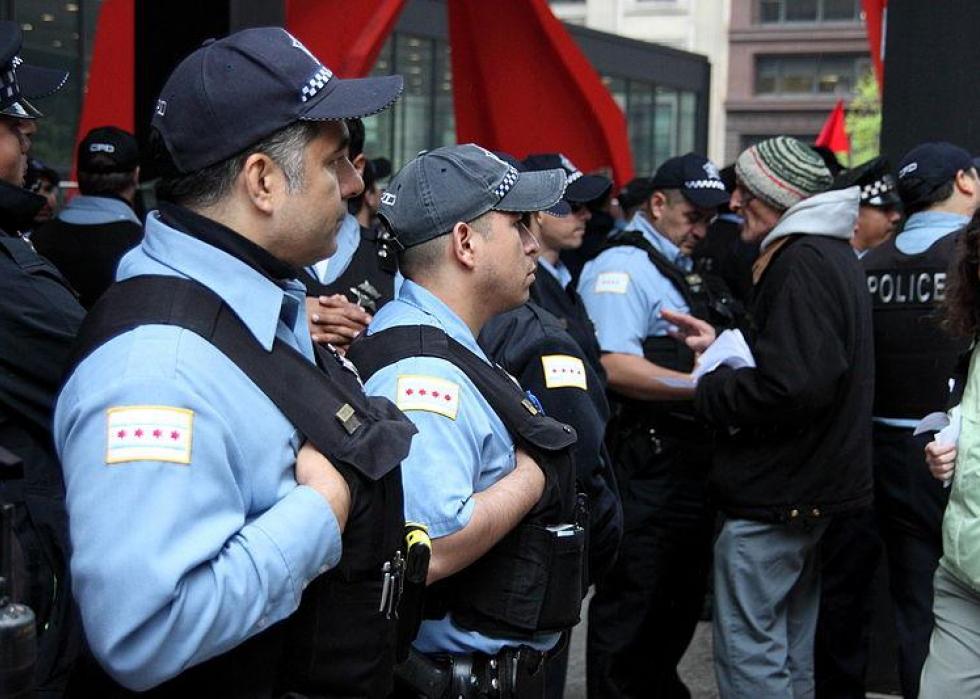 19 / 52
Mikasi // Wikimedia Commons
#34. Illinois
Burglary rate: 339.5 crimes per 100,000 people (21.1% below national average)
Total burglaries: 43,459
2016 burglary rate: 375.5 crimes per 100,000 people (-9.6% change to 2017)
Overall property crime rate: 2,011 crimes per 100,000 people (Rank: #35; 14.9% below national average)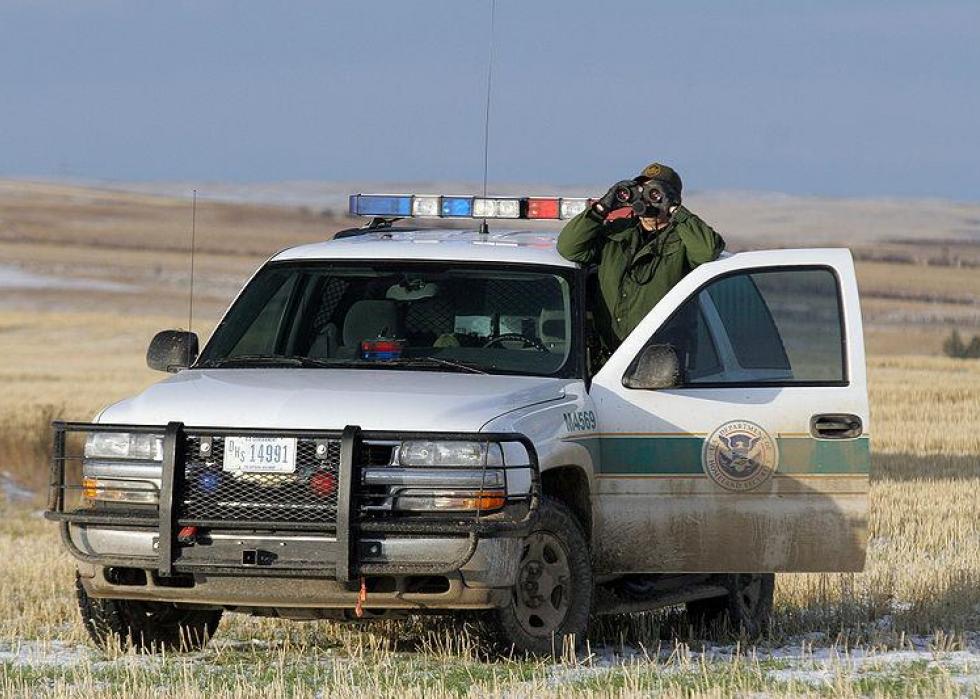 20 / 52
Gerald L. Nino // Wikimedia Commons
#33. Montana
Burglary rate: 344.1 crimes per 100,000 people (20.1% below national average)
Total burglaries: 3,615
2016 burglary rate: 381.8 crimes per 100,000 people (-9.9% change to 2017)
Overall property crime rate: 2,592 crimes per 100,000 people (Rank: #21; 9.7% above national average)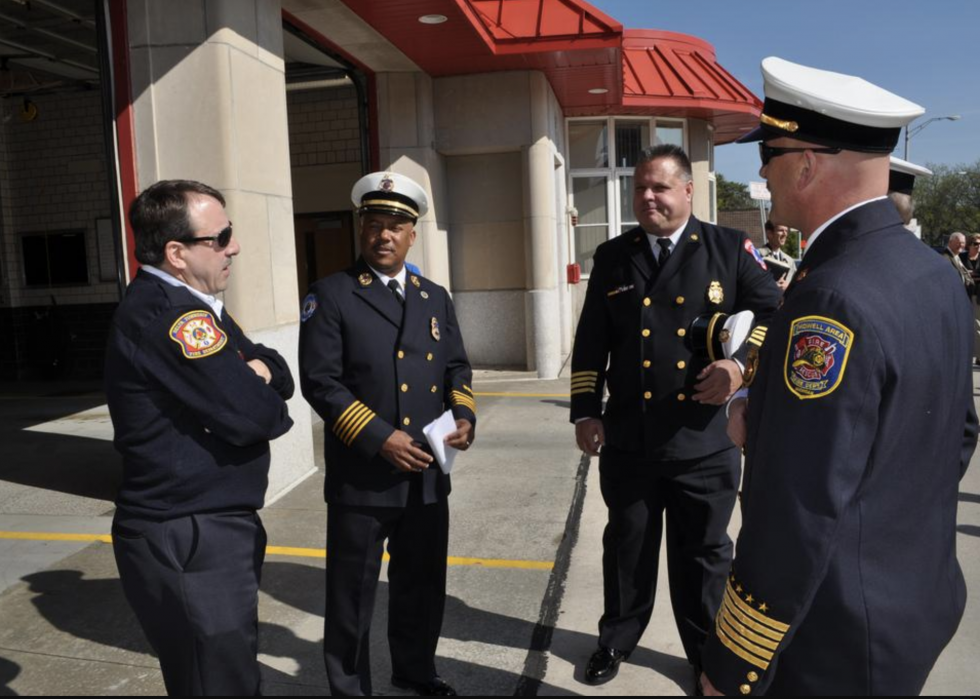 21 / 52
Michigan Municipal League // Flickr
#32. Michigan
Burglary rate: 357.8 crimes per 100,000 people (16.9% below national average)
Total burglaries: 35,641
2016 burglary rate: 400 crimes per 100,000 people (-10.6% change to 2017)
Overall property crime rate: 1,800 crimes per 100,000 people (Rank: #40; 23.8% below national average)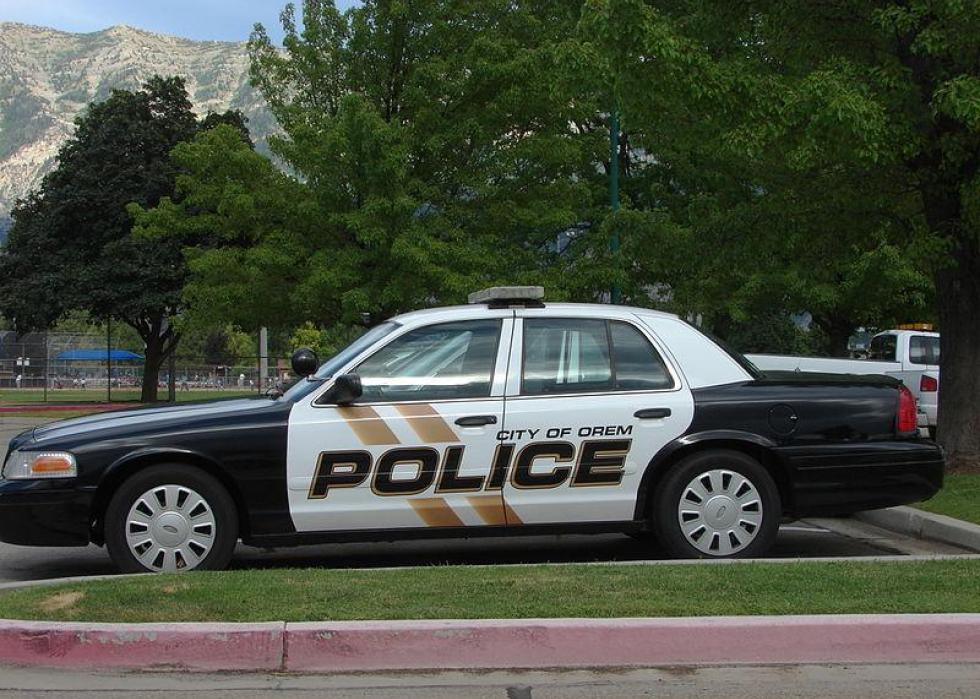 22 / 52
An Errant Knight // Flickr
#31. Utah
Burglary rate: 381 crimes per 100,000 people (11.5% below national average)
Total burglaries: 11,817
2016 burglary rate: 425 crimes per 100,000 people (-10.4% change to 2017)
Overall property crime rate: 2,780 crimes per 100,000 people (Rank: #17; 17.7% above national average)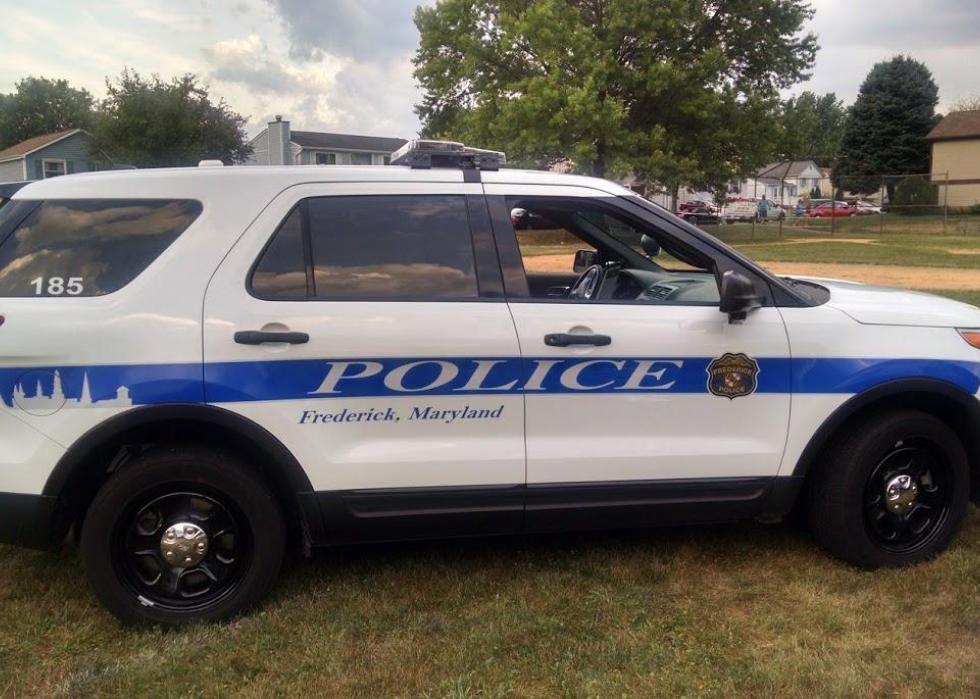 23 / 52
Ramsescoly // Wikimedia Commons
#30. Maryland
Burglary rate: 388.4 crimes per 100,000 people (9.8% below national average)
Total burglaries: 23,508
2016 burglary rate: 412.2 crimes per 100,000 people (-5.8% change to 2017)
Overall property crime rate: 2,222 crimes per 100,000 people (Rank: #30; 5.9% below national average)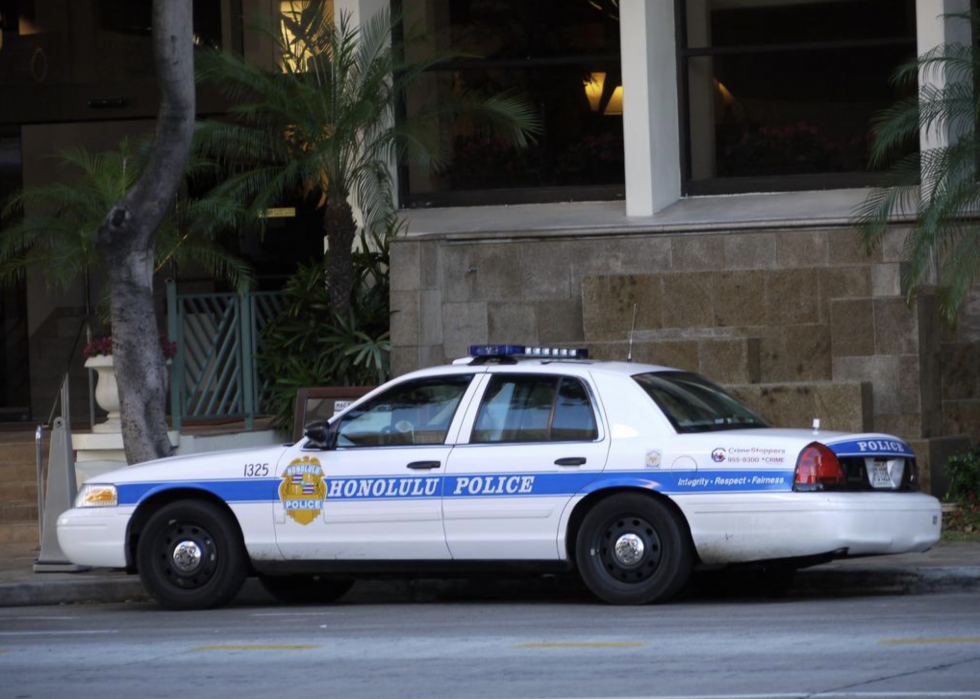 24 / 52
#29. Hawaii
Burglary rate: 388.7 crimes per 100,000 people (9.7% below national average)
Total burglaries: 5,549
2016 burglary rate: 418.8 crimes per 100,000 people (-7.2% change to 2017)
Overall property crime rate: 2,830 crimes per 100,000 people (Rank: #15; 19.8% above national average)
25 / 52
Bigbird78 // Wikimedia Commons
#28. North Dakota
Burglary rate: 389.5 crimes per 100,000 people (9.5% below national average)
Total burglaries: 2,942
2016 burglary rate: 429.9 crimes per 100,000 people (-9.4% change to 2017)
Overall property crime rate: 2,198 crimes per 100,000 people (Rank: #31; 7% below national average)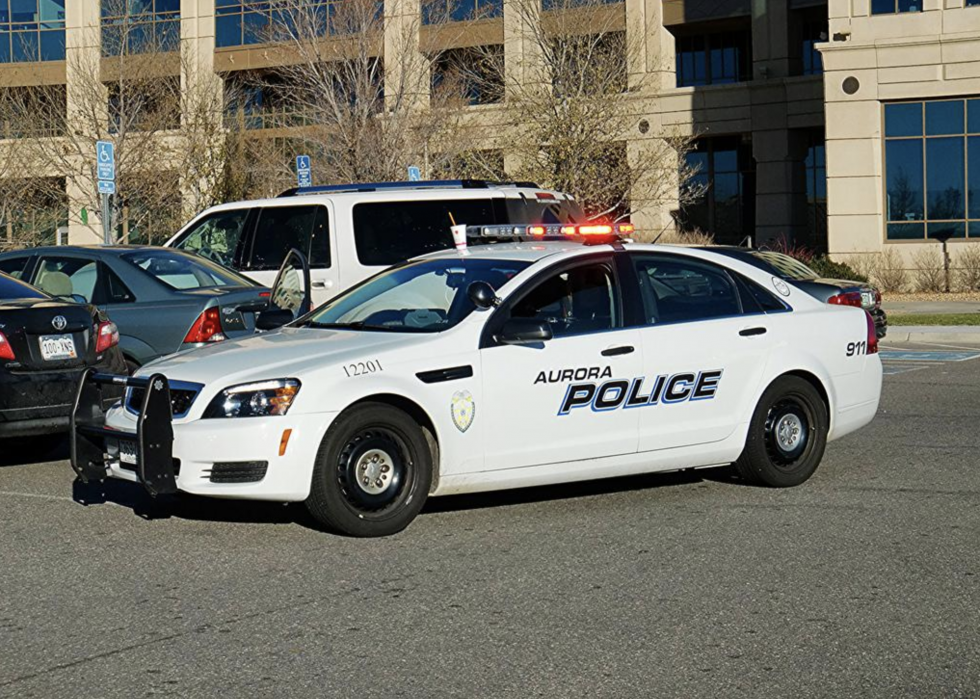 26 / 52
#27. Colorado
Burglary rate: 406.9 crimes per 100,000 people (5.5% below national average)
Total burglaries: 22,813
2016 burglary rate: 430.8 crimes per 100,000 people (-5.6% change to 2017)
Overall property crime rate: 2,702 crimes per 100,000 people (Rank: #19; 14.4% above national average)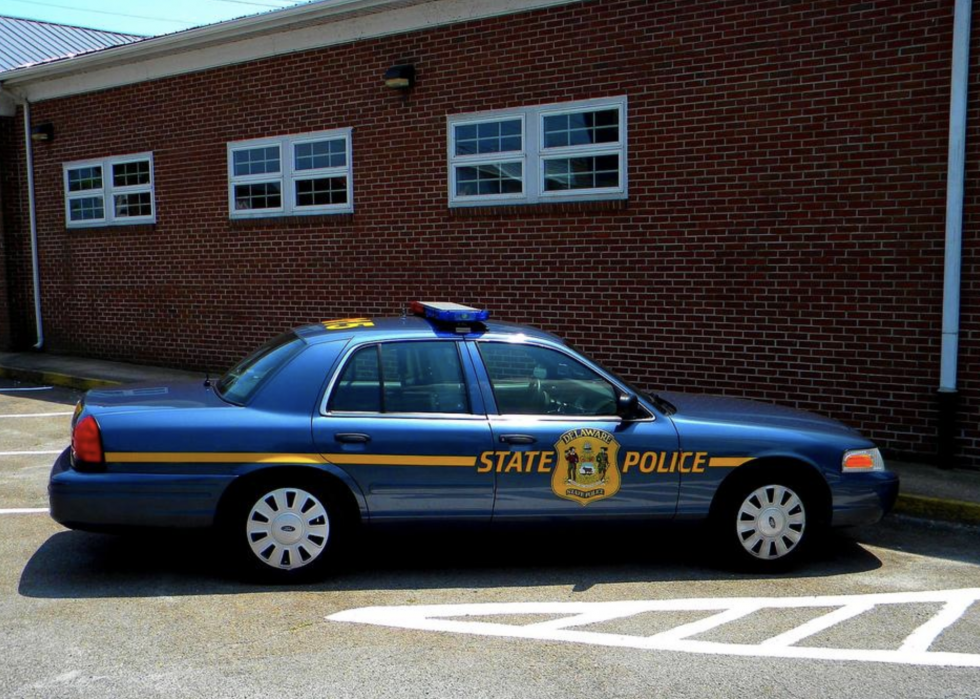 27 / 52
#26. Delaware
Burglary rate: 412.7 crimes per 100,000 people (4.1% below national average)
Total burglaries: 3,970
2016 burglary rate: 527.8 crimes per 100,000 people (-21.8% change to 2017)
Overall property crime rate: 2,441 crimes per 100,000 people (Rank: #26; 3.3% above national average)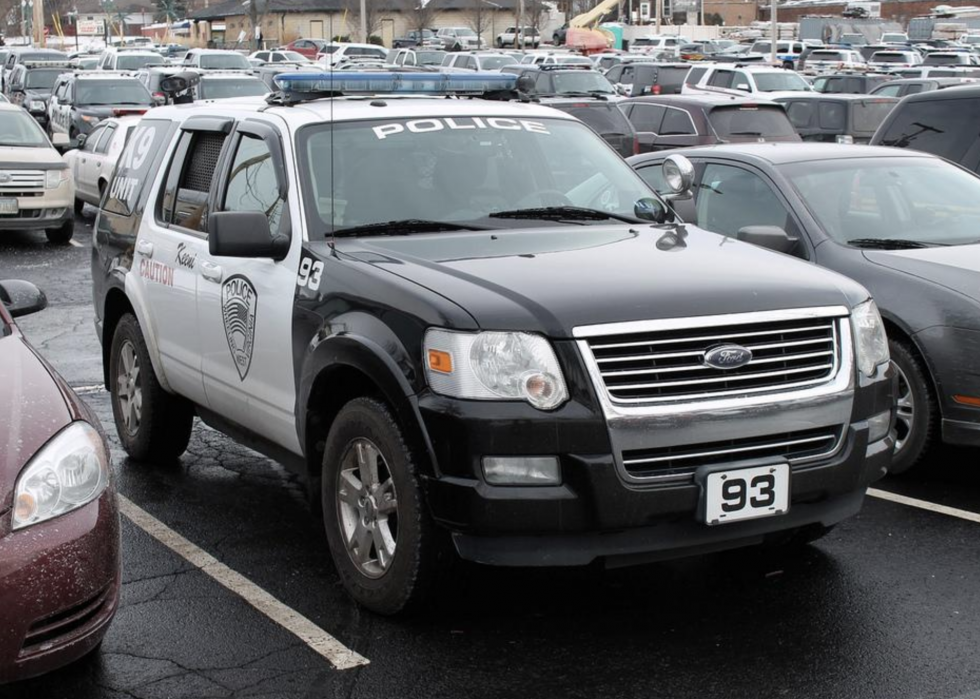 28 / 52
Raymond Wambsgans // Flickr
#25. West Virginia
Burglary rate: 420.1 crimes per 100,000 people (2.4% below national average)
Total burglaries: 7,628
2016 burglary rate: 499.1 crimes per 100,000 people (-15.8% change to 2017)
Overall property crime rate: 1,852 crimes per 100,000 people (Rank: #37; 21.6% below national average)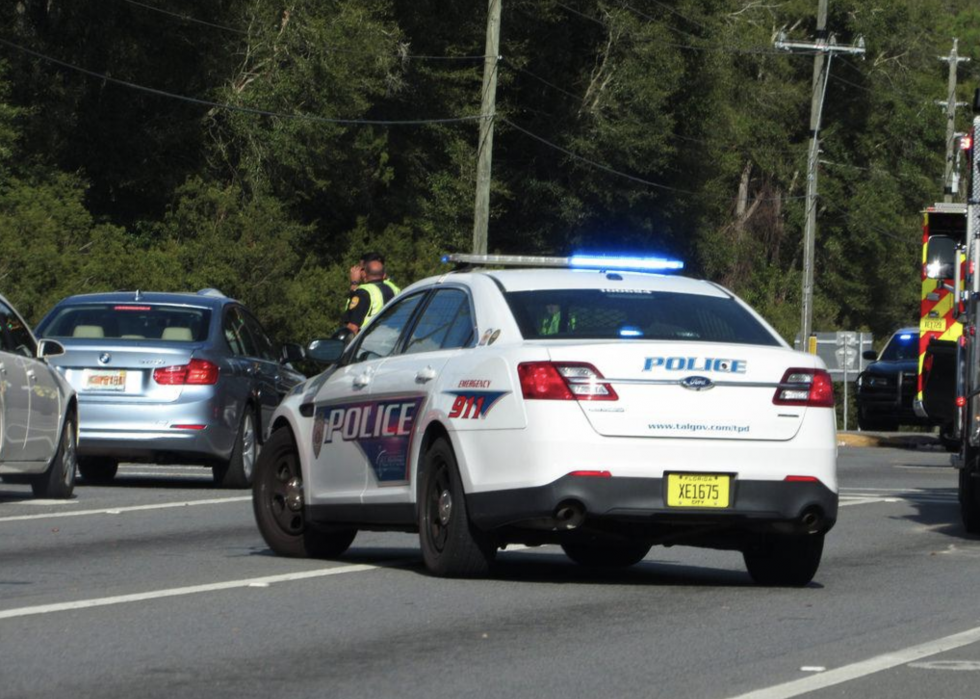 29 / 52
HAH Photography // Flickr
#24. Florida
Burglary rate: 423.4 crimes per 100,000 people (1.6% below national average)
Total burglaries: 88,853
2016 burglary rate: 485.7 crimes per 100,000 people (-12.8% change to 2017)
Overall property crime rate: 2,512 crimes per 100,000 people (Rank: #24; 6.4% above national average)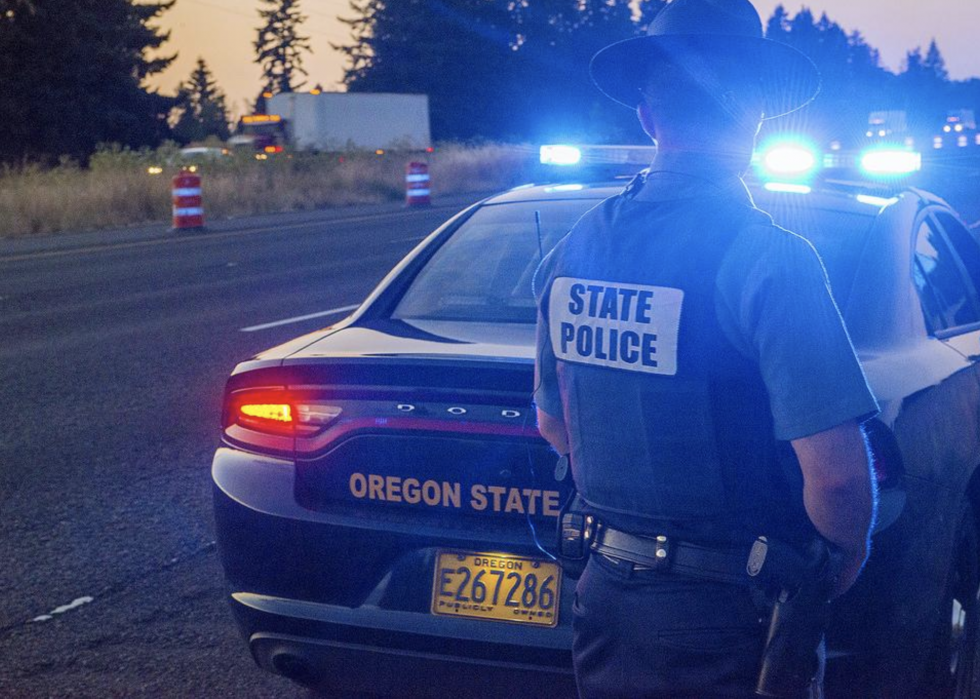 30 / 52
Oregon Department of Transportation // Flickr
#23. Oregon
Burglary rate: 427.4 crimes per 100,000 people (0.7% below national average)
Total burglaries: 17,705
2016 burglary rate: 414.1 crimes per 100,000 people (3.2% change to 2017)
Overall property crime rate: 2,987 crimes per 100,000 people (Rank: #8; 26.4% above national average)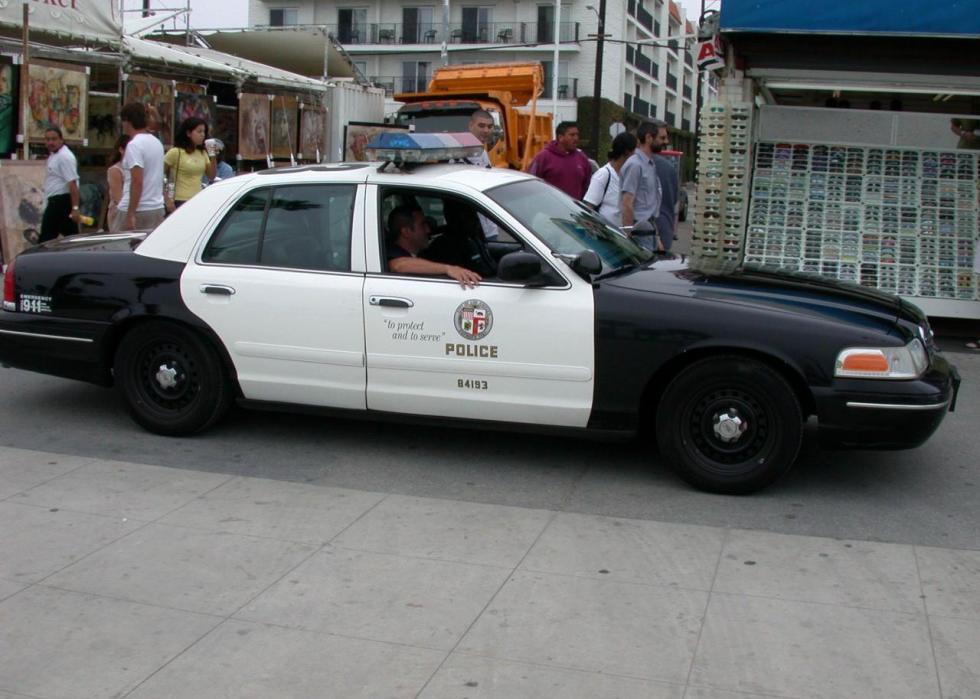 31 / 52
Cliff // Wikimedia Commons
#22. California
Burglary rate: 446.9 crimes per 100,000 people (3.8% above national average)
Total burglaries: 176,690
2016 burglary rate: 479.2 crimes per 100,000 people (-6.7% change to 2017)
Overall property crime rate: 2,497 crimes per 100,000 people (Rank: #25; 5.7% above national average)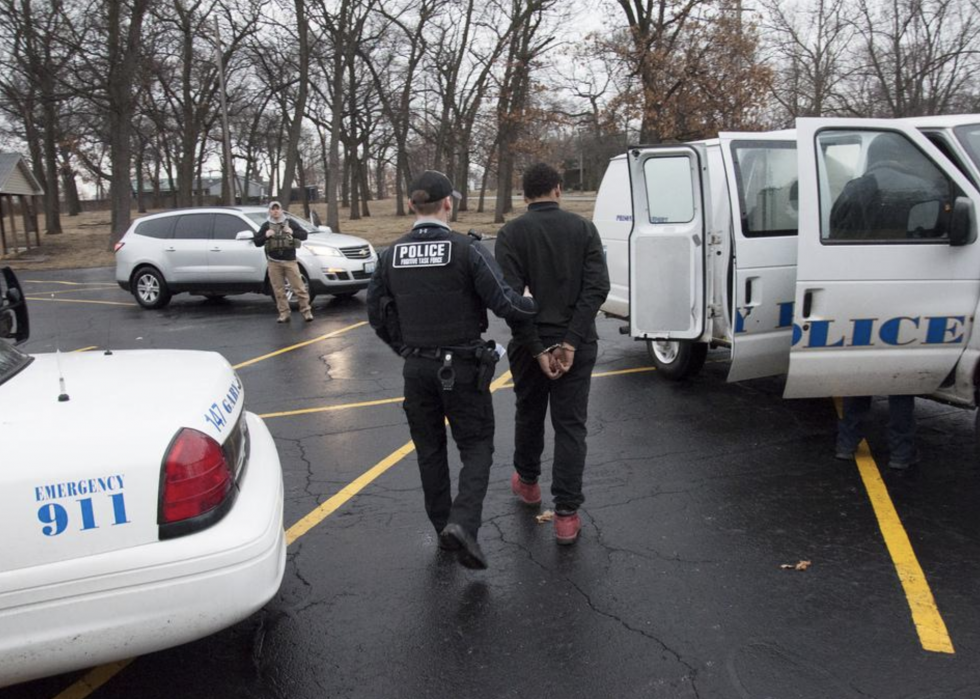 32 / 52
Office of Public Affairs // Flickr
#21. Indiana
Burglary rate: 452.1 crimes per 100,000 people (5% above national average)
Total burglaries: 30,140
2016 burglary rate: 506 crimes per 100,000 people (-10.7% change to 2017)
Overall property crime rate: 2,417 crimes per 100,000 people (Rank: #28; 2.3% above national average)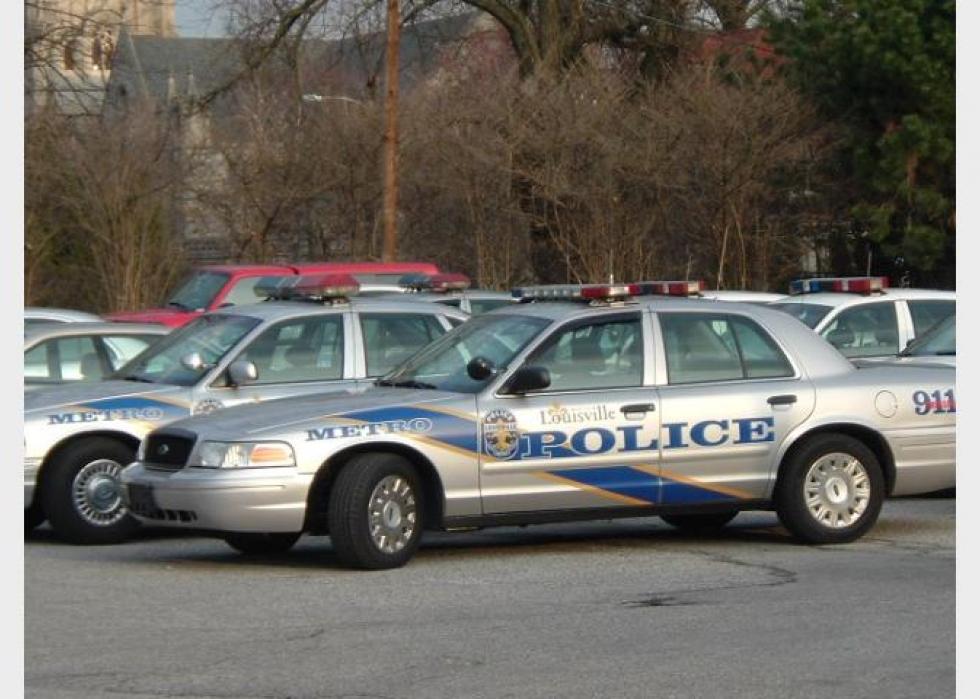 33 / 52
Censusdata // Wikimedia Commons
#20. Kentucky
Burglary rate: 453.4 crimes per 100,000 people (5.3% above national average)
Total burglaries: 20,195
2016 burglary rate: 471.9 crimes per 100,000 people (-3.9% change to 2017)
Overall property crime rate: 2,129 crimes per 100,000 people (Rank: #33; 9.9% below national average)
34 / 52
Robert Kaufmann // Wikimedia Commons
#19. Texas
Burglary rate: 473.7 crimes per 100,000 people (10.1% above national average)
Total burglaries: 134,066
2016 burglary rate: 533.2 crimes per 100,000 people (-11.2% change to 2017)
Overall property crime rate: 2,563 crimes per 100,000 people (Rank: #22; 8.5% above national average)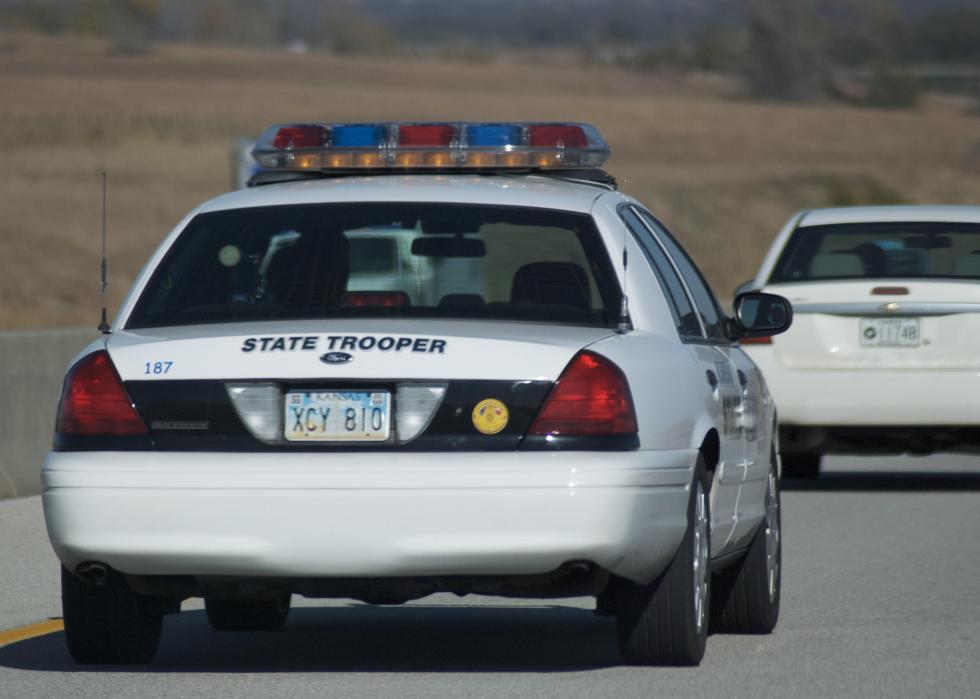 35 / 52
Non-dropframe // Wikimedia Commons
#18. Kansas
Burglary rate: 478.2 crimes per 100,000 people (11.1% above national average)
Total burglaries: 13,931
2016 burglary rate: 507.6 crimes per 100,000 people (-5.8% change to 2017)
Overall property crime rate: 2,801 crimes per 100,000 people (Rank: #16; 18.6% above national average)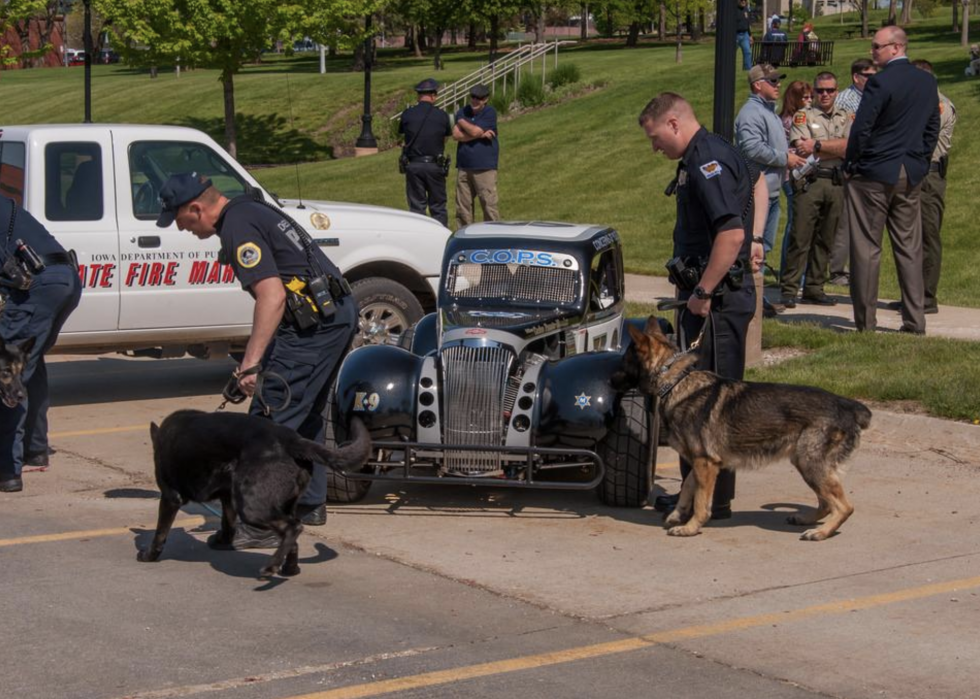 36 / 52
#17. Iowa
Burglary rate: 479.3 crimes per 100,000 people (11.4% above national average)
Total burglaries: 15,078
2016 burglary rate: 488.9 crimes per 100,000 people (-2% change to 2017)
Overall property crime rate: 2,125 crimes per 100,000 people (Rank: #34; 10% below national average)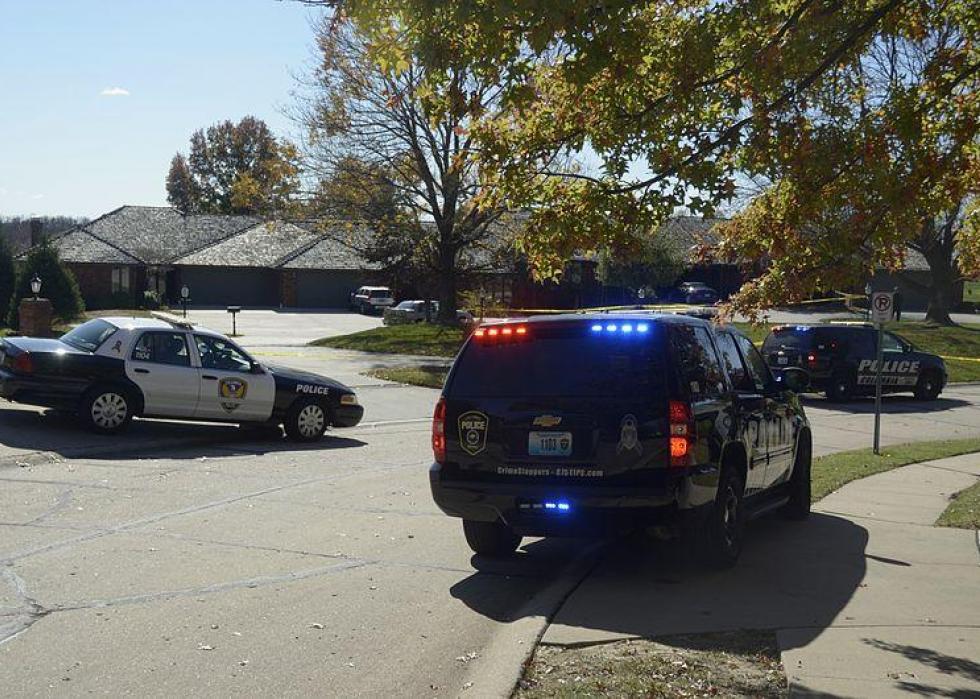 37 / 52
KOMUnews // Wikimedia Commons
#16. Missouri
Burglary rate: 492 crimes per 100,000 people (14.3% above national average)
Total burglaries: 30,081
2016 burglary rate: 520.7 crimes per 100,000 people (-5.5% change to 2017)
Overall property crime rate: 2,834 crimes per 100,000 people (Rank: #14; 20% above national average)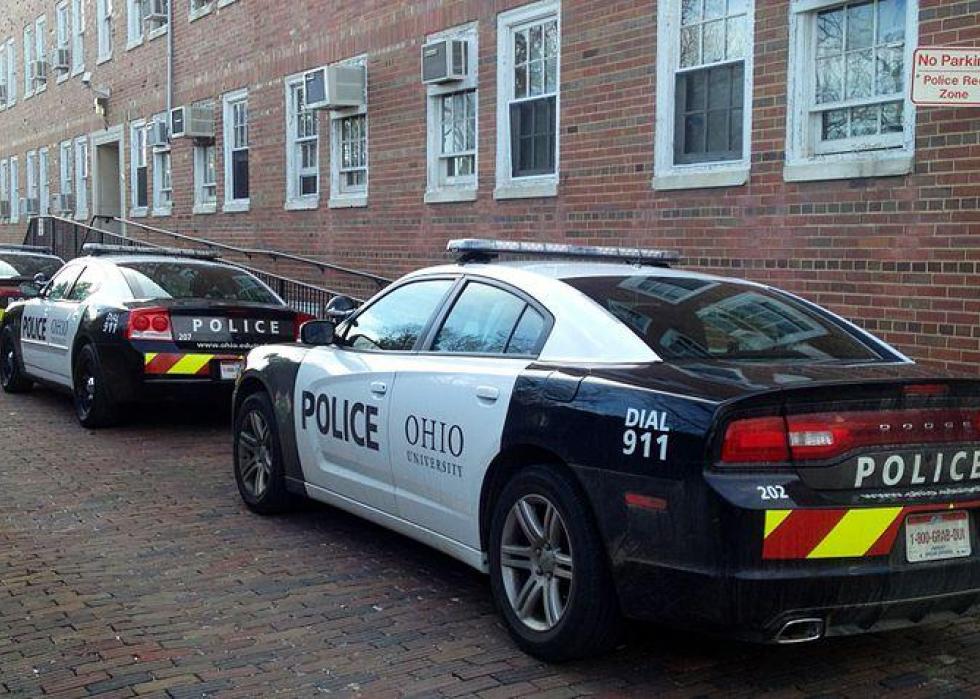 38 / 52
OUPD // Wikimedia Commons
#15. Ohio
Burglary rate: 502.4 crimes per 100,000 people (16.7% above national average)
Total burglaries: 58,573
2016 burglary rate: 577.2 crimes per 100,000 people (-13% change to 2017)
Overall property crime rate: 2,419 crimes per 100,000 people (Rank: #27; 2.4% above national average)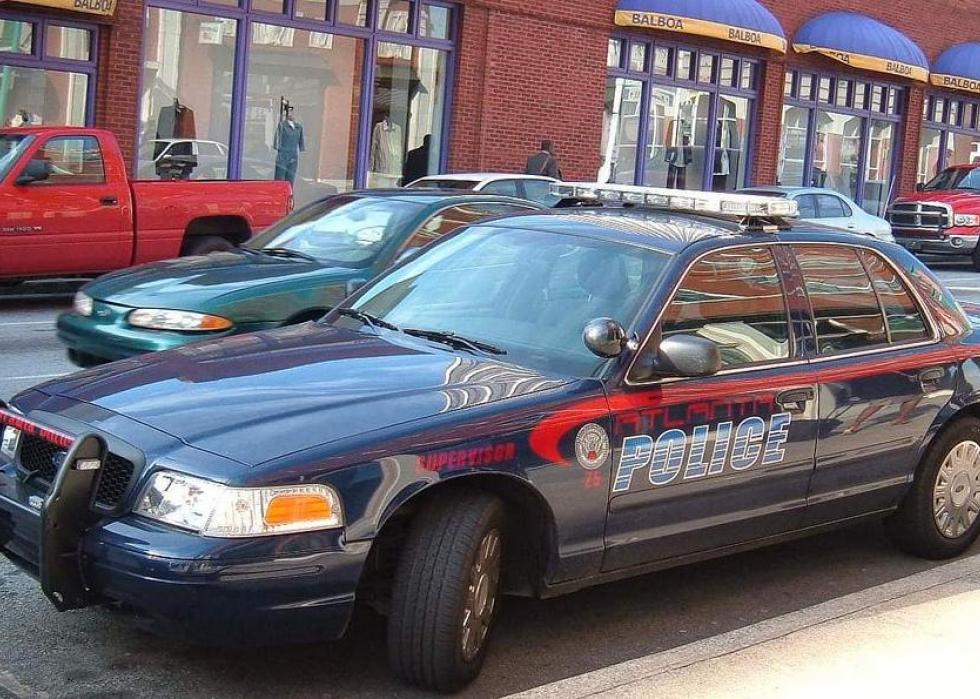 39 / 52
#14. Georgia
Burglary rate: 530.9 crimes per 100,000 people (23.4% above national average)
Total burglaries: 55,374
2016 burglary rate: 608.1 crimes per 100,000 people (-12.7% change to 2017)
Overall property crime rate: 2,860 crimes per 100,000 people (Rank: #13; 21.1% above national average)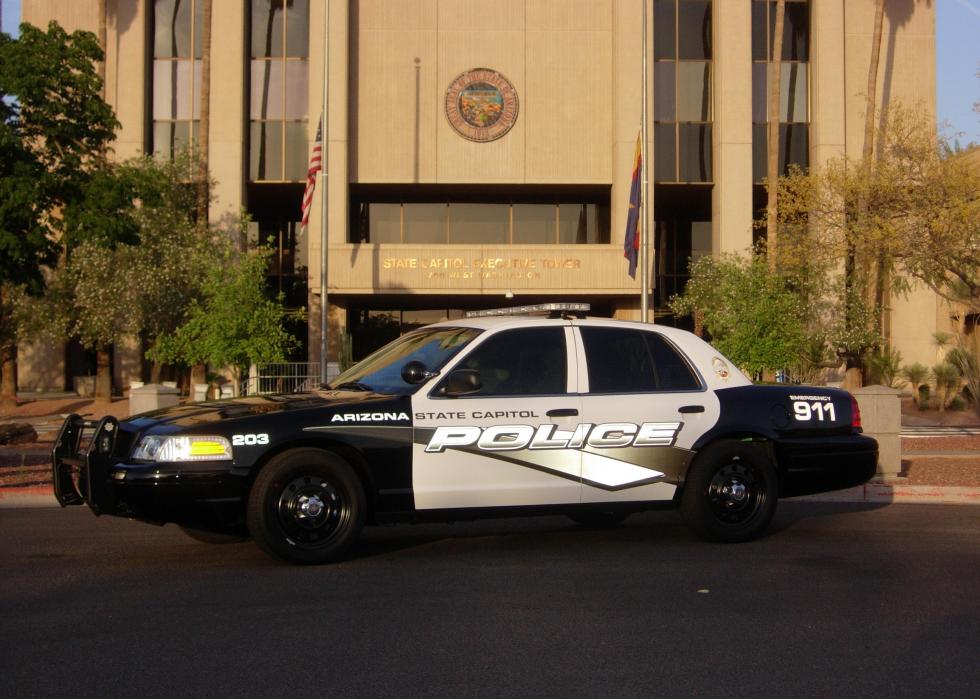 40 / 52
Roadiejay // Wikimedia Commons
#13. Arizona
Burglary rate: 536.3 crimes per 100,000 people (24.6% above national average)
Total burglaries: 37,627
2016 burglary rate: 553.2 crimes per 100,000 people (-3.1% change to 2017)
Overall property crime rate: 2,915 crimes per 100,000 people (Rank: #11; 23.4% above national average)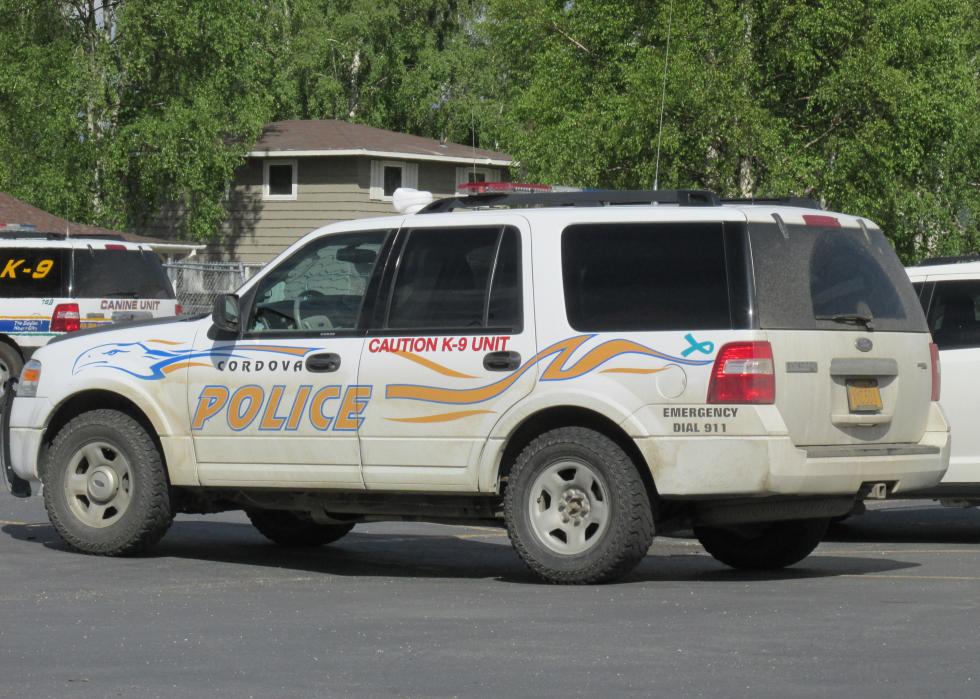 41 / 52
RadioKAOS // Wikimedia Commons
#12. Alaska
Burglary rate: 563.8 crimes per 100,000 people (31% above national average)
Total burglaries: 4,171
2016 burglary rate: 546.6 crimes per 100,000 people (3.2% change to 2017)
Overall property crime rate: 3,542 crimes per 100,000 people (Rank: #3; 49.9% above national average)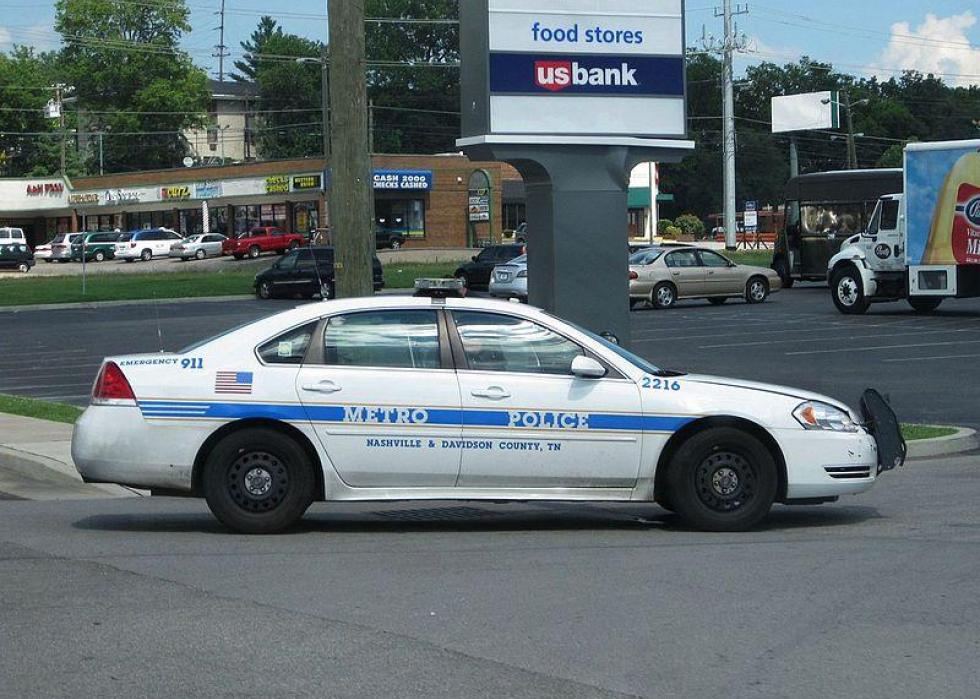 42 / 52
Thomas R Machnitzki // Wikimedia Commons
#11. Tennessee
Burglary rate: 576.5 crimes per 100,000 people (33.9% above national average)
Total burglaries: 38,716
2016 burglary rate: 610.7 crimes per 100,000 people (-5.6% change to 2017)
Overall property crime rate: 2,941 crimes per 100,000 people (Rank: #10; 24.5% above national average)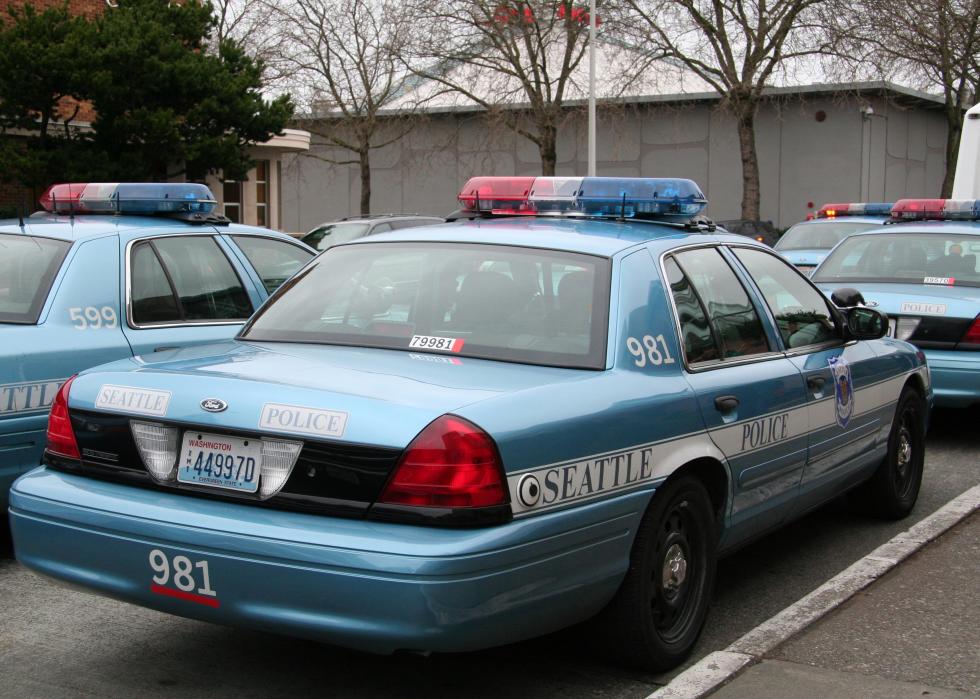 43 / 52
zeraien // Wikimedia Commons
#10. Washington
Burglary rate: 590.4 crimes per 100,000 people (37.2% above national average)
Total burglaries: 43,720
2016 burglary rate: 676.4 crimes per 100,000 people (-12.7% change to 2017)
Overall property crime rate: 3,174 crimes per 100,000 people (Rank: #6; 34.3% above national average)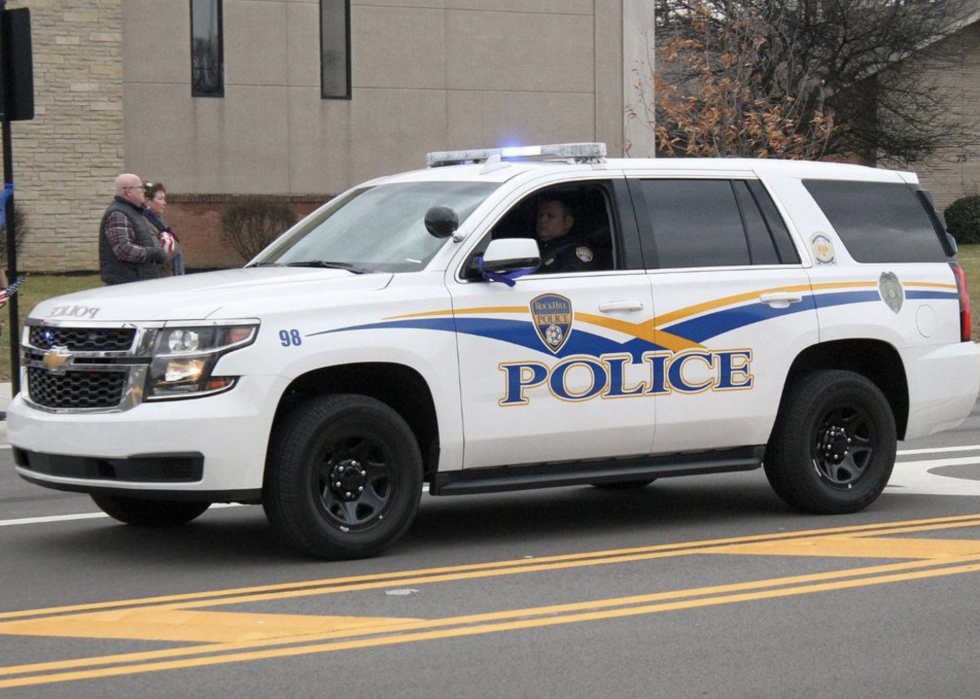 44 / 52
Raymond Wambsgans // Flickr
#9. South Carolina
Burglary rate: 623.1 crimes per 100,000 people (44.8% above national average)
Total burglaries: 31,306
2016 burglary rate: 668.4 crimes per 100,000 people (-6.8% change to 2017)
Overall property crime rate: 3,196 crimes per 100,000 people (Rank: #5; 35.3% above national average)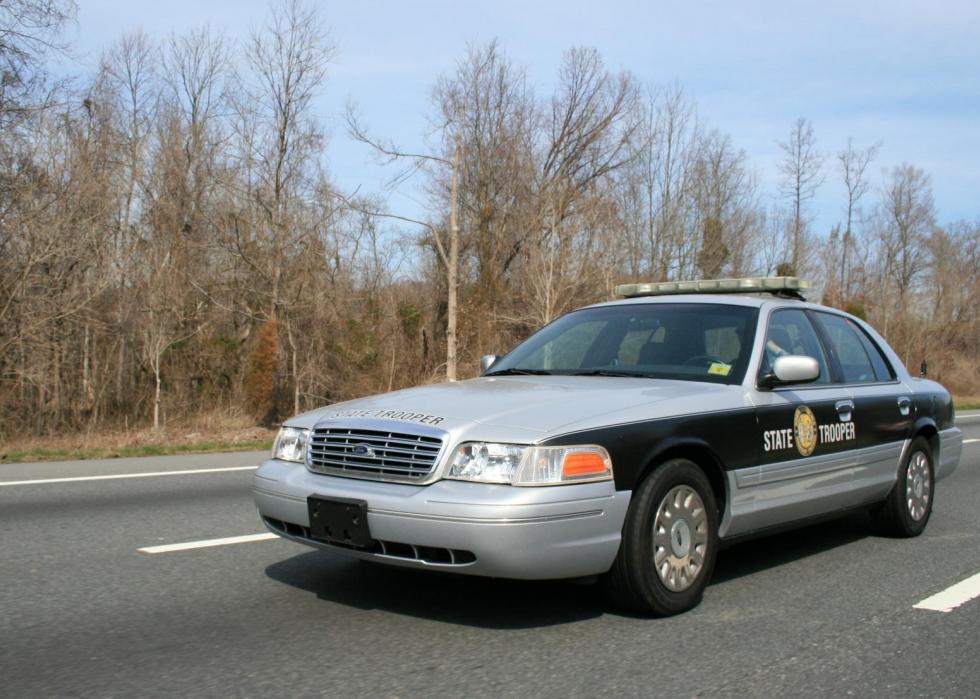 45 / 52
Donald Lee Pardue // Flickr
#8. North Carolina
Burglary rate: 630.6 crimes per 100,000 people (46.5% above national average)
Total burglaries: 64,786
2016 burglary rate: 709.7 crimes per 100,000 people (-11.1% change to 2017)
Overall property crime rate: 2,545 crimes per 100,000 people (Rank: #23; 7.8% above national average)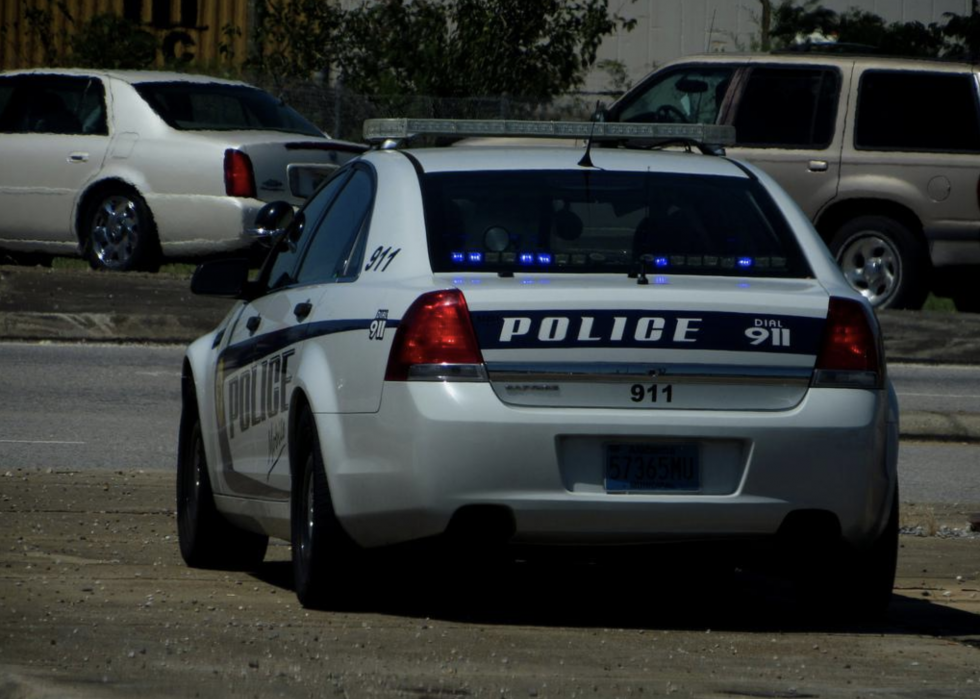 46 / 52
HAH Photography // Flickr
#7. Alabama
Burglary rate: 645.7 crimes per 100,000 people (50% above national average)
Total burglaries: 31,477
2016 burglary rate: 700.4 crimes per 100,000 people (-7.8% change to 2017)
Overall property crime rate: 2,957 crimes per 100,000 people (Rank: #9; 25.2% above national average)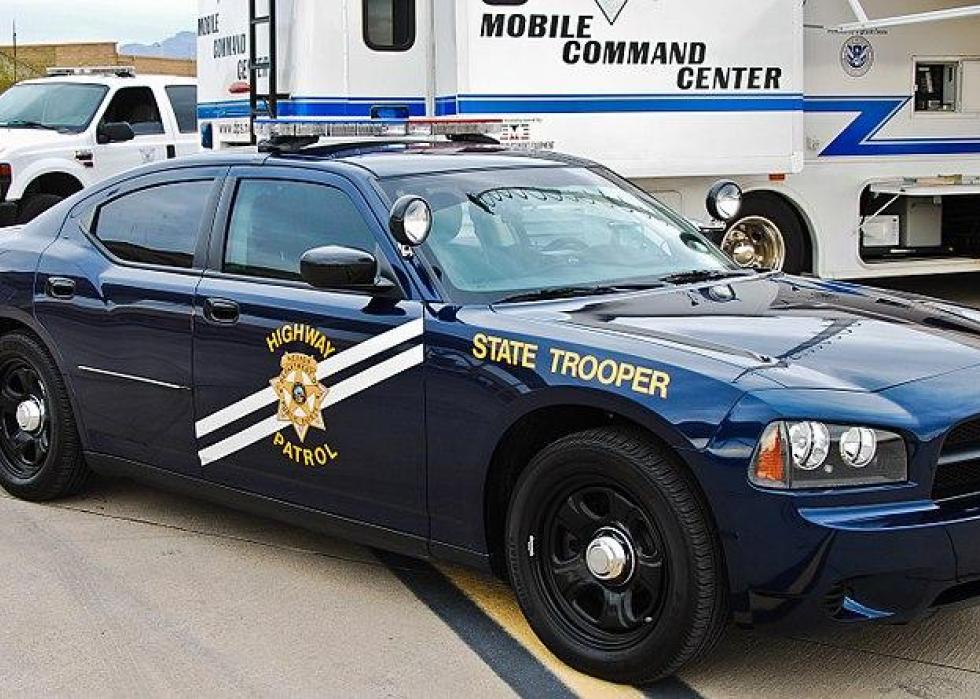 47 / 52
Tomás Del Coro // Wikimedia Commons
#6. Nevada
Burglary rate: 668.7 crimes per 100,000 people (55.4% above national average)
Total burglaries: 20,049
2016 burglary rate: 640.2 crimes per 100,000 people (4.5% change to 2017)
Overall property crime rate: 2,612 crimes per 100,000 people (Rank: #20; 10.6% above national average)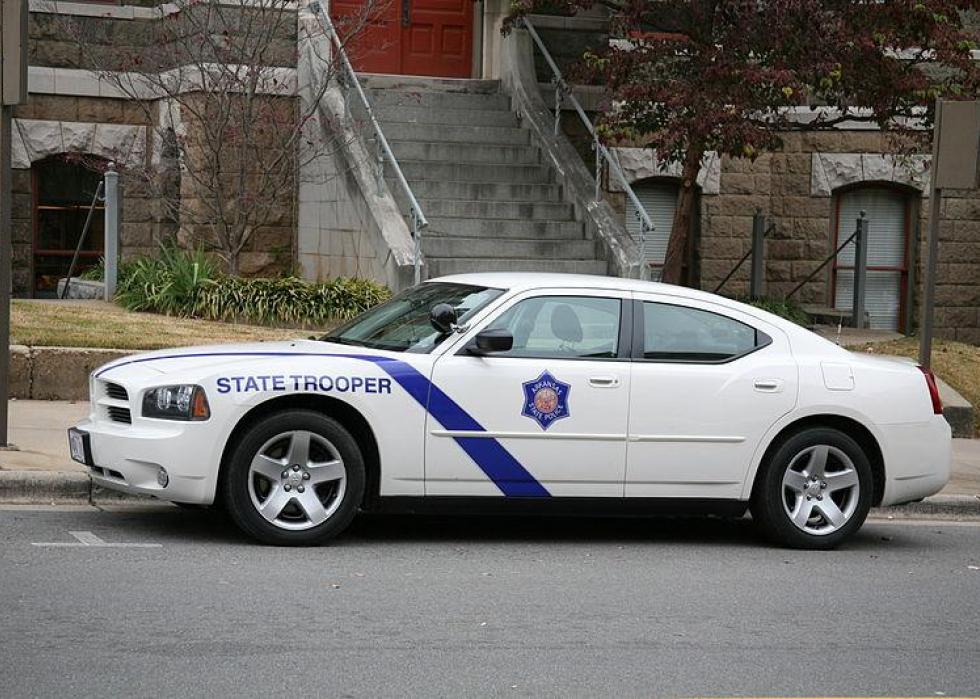 48 / 52
cliff1066 // Wikimedia Commons
#5. Arkansas
Burglary rate: 727.7 crimes per 100,000 people (69.1% above national average)
Total burglaries: 21,862
2016 burglary rate: 796.9 crimes per 100,000 people (-8.7% change to 2017)
Overall property crime rate: 3,079 crimes per 100,000 people (Rank: #7; 30.3% above national average)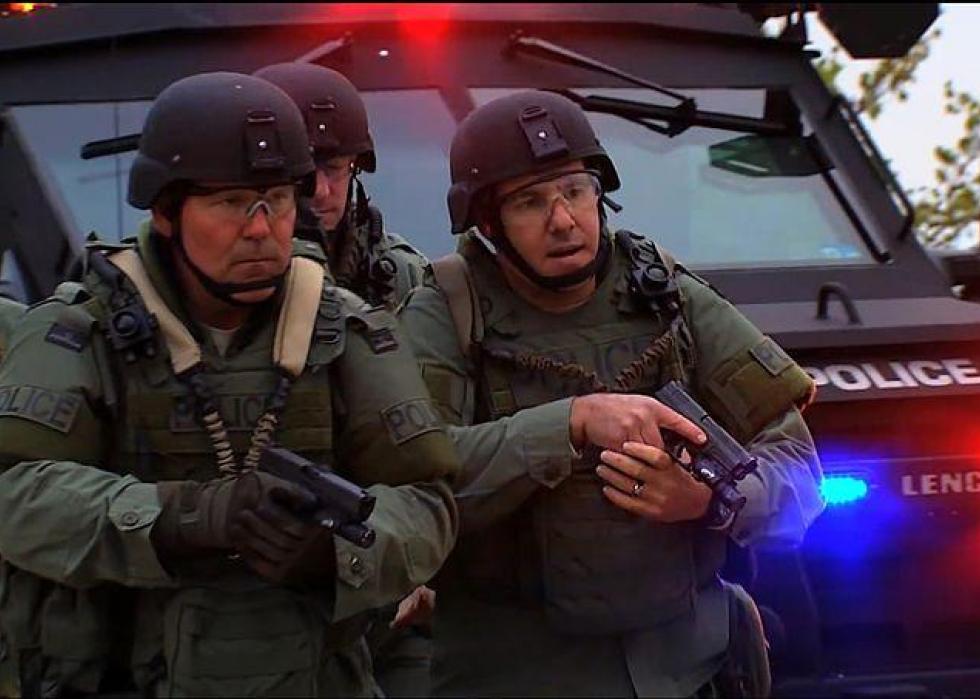 49 / 52
Oklahoma City Police Department // Wikimedia Commons
#4. Oklahoma
Burglary rate: 727.8 crimes per 100,000 people (69.1% above national average)
Total burglaries: 28,608
2016 burglary rate: 749.2 crimes per 100,000 people (-2.9% change to 2017)
Overall property crime rate: 2,876 crimes per 100,000 people (Rank: #12; 21.8% above national average)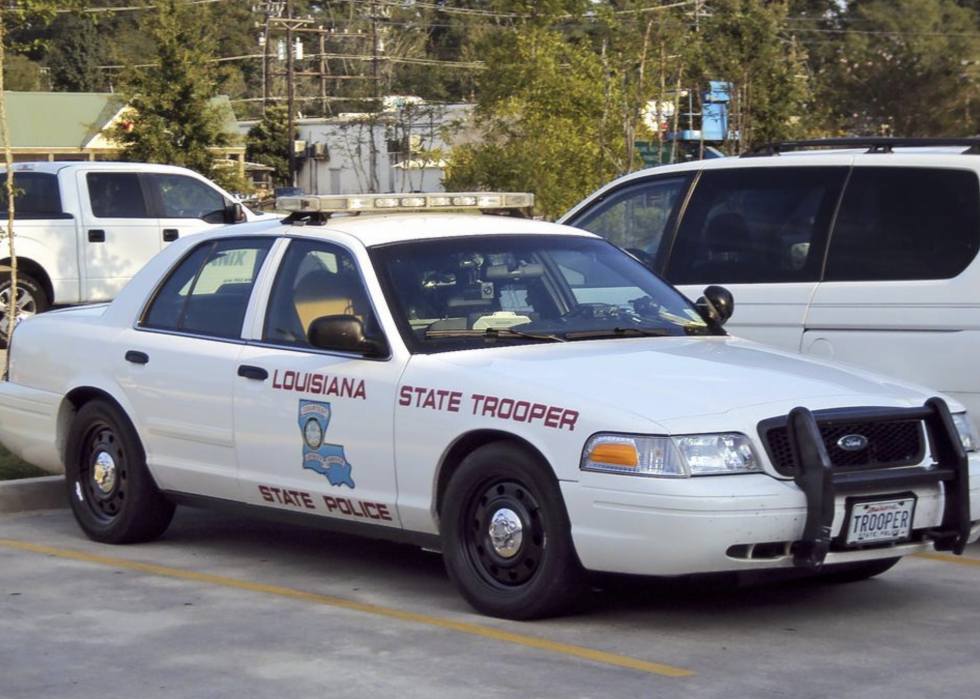 50 / 52
#3. Louisiana
Burglary rate: 731.5 crimes per 100,000 people (70% above national average)
Total burglaries: 34,265
2016 burglary rate: 740.2 crimes per 100,000 people (-1.2% change to 2017)
Overall property crime rate: 3,367 crimes per 100,000 people (Rank: #4; 42.5% above national average)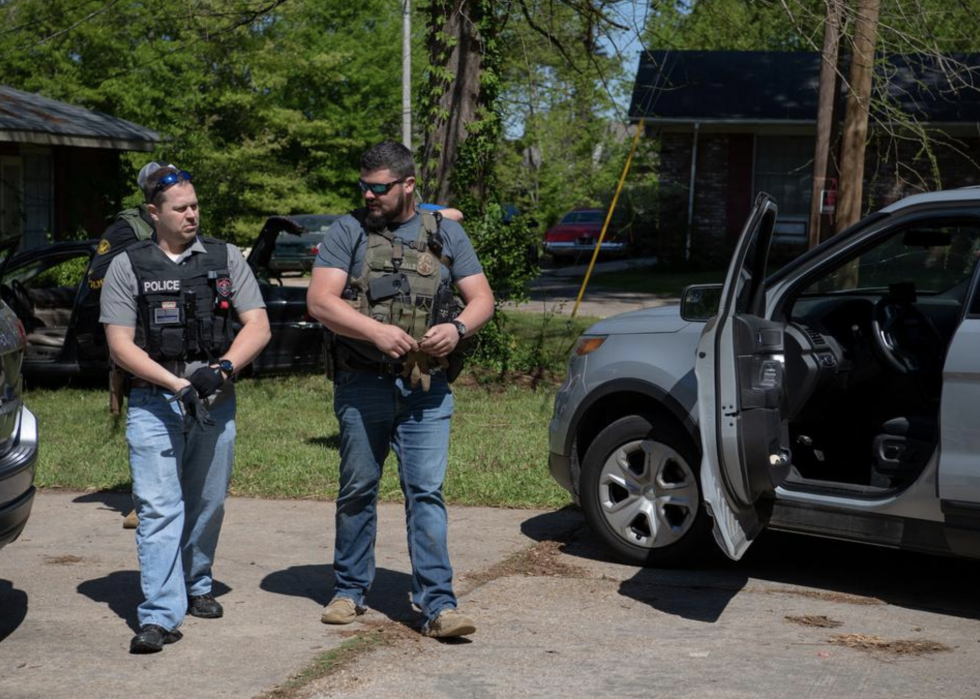 51 / 52
Office of Public Affairs // Flickr
#2. Mississippi
Burglary rate: 828.1 crimes per 100,000 people (92.4% above national average)
Total burglaries: 24,710
2016 burglary rate: 786.8 crimes per 100,000 people (5.2% change to 2017)
Overall property crime rate: 2,734 crimes per 100,000 people (Rank: #18; 15.7% above national average)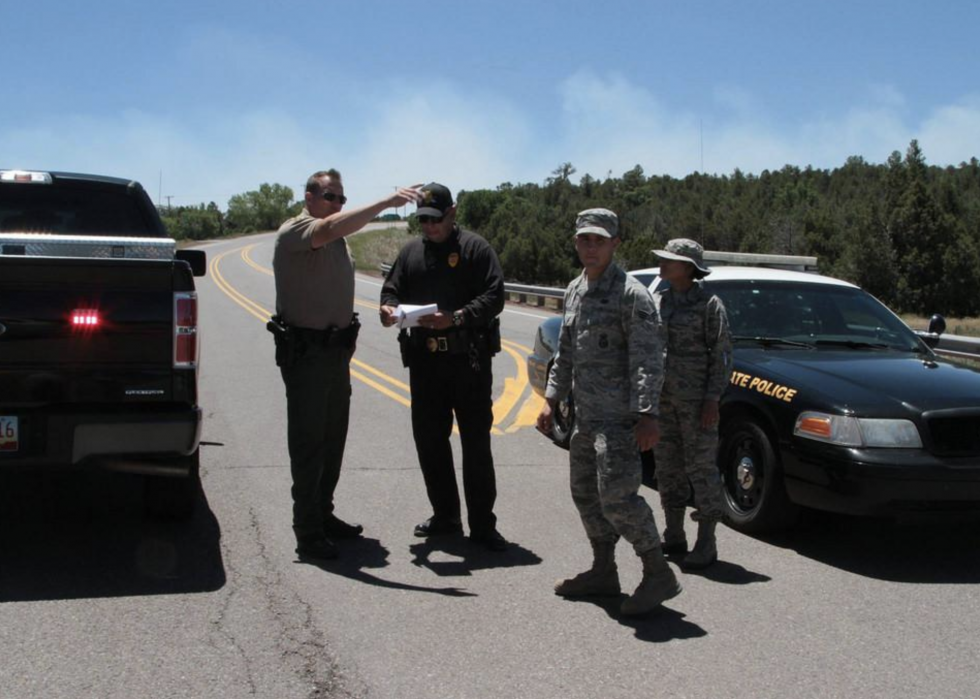 52 / 52
The National Guard // Flickr
#1. New Mexico
Burglary rate: 858.1 crimes per 100,000 people (99.4% above national average)
Total burglaries: 17,917
2016 burglary rate: 828.6 crimes per 100,000 people (3.6% change to 2017)
Overall property crime rate: 3,942 crimes per 100,000 people (Rank: #2; 66.9% above national average)