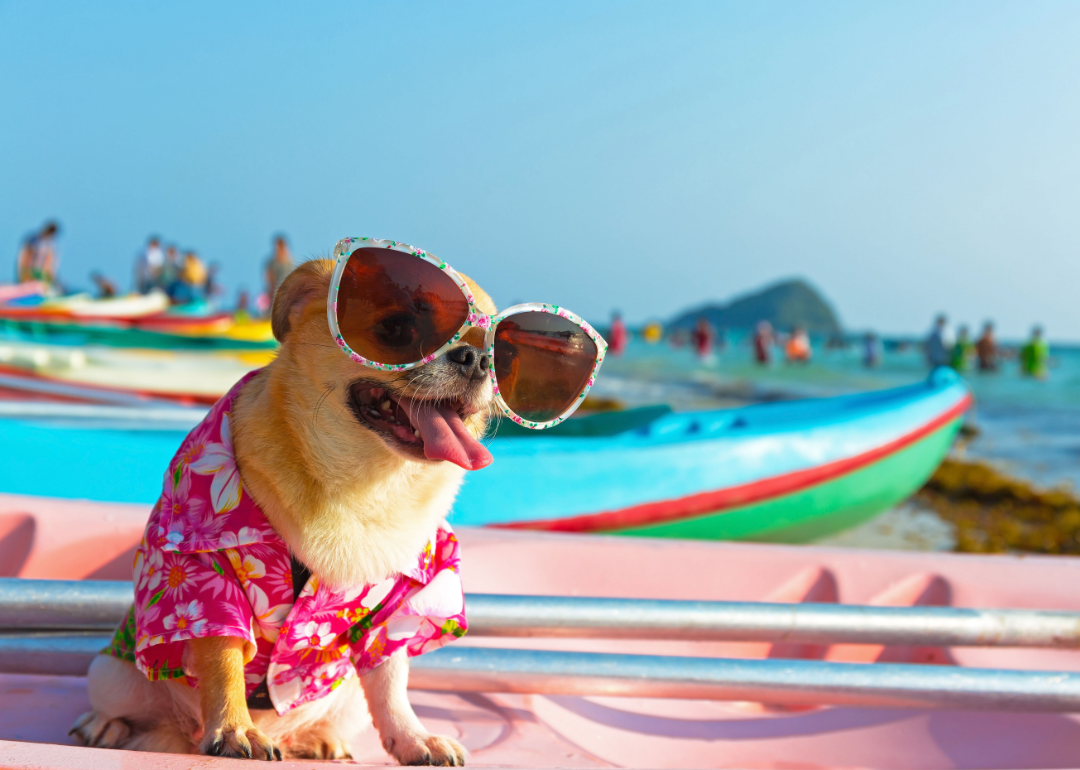 50 dogs as incredible as the celebrities who own them
50 dogs as incredible as the celebrities who own them
Look past the lavish mansions, A-list friends, and Hollywood glamour, and one may see that celebrities really are just like everyone else—in some respects, anyway. Take their pets, for instance. Dogs don't care whether their owner walks the red carpet at the Academy Awards, dresses in the latest designer fashions, or has millions of Instagram followers; they just want a belly rub and head scratch.
Of course, dogs with celebrity parents might have a few more creature comforts like organic kibble, custom-built dog houses, and one-of-a-kind toys. Not to mention the dog walkers, top-of-the-line vets, and ritzy spa treatments.
Curious to see how the other half of dog owners live, Stacker scoured news articles, photo galleries, and Instagram posts to compile this list of 50 celebrities who have at least one canine companion.
Read on to see how many famous actors, musicians and athletes have a furry friend of their own—and which celeb has nine pooches.
Ariana Grande: Toulouse, Ophelia, Fawkes, Cinnamon, Coco, Lafayette, Sirius, Strauss, and Pignoli
Pop star Ariana Grande has a big heart when it comes to animals: Her wolfpack includes nine dogs. The pups are all different breeds, from a beagle-Chihuahua mix to a shiba inu to a chocolate lab mix.
Blake Lively and Ryan Reynolds: Billie
Billie not only belongs to hunky actor Ryan Reynolds, but also to his wife Blake Lively. Billie is also a big sister to the couple's daughters James and Inez.
Kelly Osbourne: Polly
Kelly Osbourne is particularly close to her Pomeranian dog Polly. The pooch has even accompanied Osbourne on the red carpet before.
Zendaya: Noon
Black miniature schnauzer Noon has some behavior issues. He's hyperactive, likes to pick fights with other dogs, and occasionally humps legs—or at least he did, before the actress brought in Cesar Millan to train him.
Mariah Carey: The Good Revered Pow Jackson, Mutley P. Gore Jackson the Third, Jill E. Beans, Pipitty Jackson, Cha Cha, Jackie Lambchops, J.J., and Squeak E. Beans
Dog mom and singer Mariah Carey spares no expense when it comes to her fur babies: She reportedly spent more than $25,000 to send her eight dogs to a ritzy hotel called Paw Seasons in 2017.
Zac Efron: MACA
The star of "The Greatest Showman" adopted this sweet girl who was originally named Tilly from Bark n' Bitches Dog Boutique in Los Angeles. The rescue organization revealed that MACA would have been euthanized if she hadn't been rescued, fostered, and eventually adopted by Efron.
Jane Lynch: Arbuckle
Actress Jane Lynch and her partner Jennifer Cheyne were inspired to adopt Arbuckle, a cattle dog, after seeing a photo of him on A Purposeful Rescue's Instagram account. Thanks to plenty of love and care from the couple, Arbuckle has slimmed down from his 116-pound weight and recovered from debilitating skin sores.  
Paris Hilton: Many dogs
It's fitting that Paris Hilton popularized the trend of carrying a dog around in one's purse as she's known as dog lover to her fans. She spares no expense for her family of pooches—she even built a two-story "doggy mansion" for them to live in. Fans can follow the dogs' adventures on Instagram @HiltonPets.
Barbra Streisand: Miss Fanny, Miss Violet, and Miss Scarlett
Barbra Streisand holds a distinction that no one else on this list can claim: She has cloned her dogs. Violet and Scarlett are clones of Streisand's beloved Coton de Tulear Samantha, while Fanny is a straight-haired Coton de Tulear from the same breeder.
Maria Menounos: Benjamin and Maximus
Actress and TV host Maria Menounos is also a well-documented animal lover. She rescued Maximus the German shepherd while also caring for her senior dog Benjamin, who might be battling a brain tumor.
Joe Jonas and Sophie Turner: Porky Basquiat
Joe Jonas shares a dog with his fiancé, "Game of Thrones" star Sophie Turner. The pair chose an interesting name for the Siberian husky: Porky Basquiat.  
Miley Cyrus: Emu, Happy, Milky, Mary Jane, Bean, and Penny Lane
Miley Cyrus's love for animals is well documented: She frequently posts photos of her menagerie of pets, which includes seven dogs, three cats and even a pig named Pig.
Zooey Deschanel: Dot and Zelda
The "New Girl" actress is a noted animal lover. Not only has she hosted parties benefiting the Humane Society in the past, but Deschanel also adopted two sister dogs—Dot and Zelda—from the Bill Foundation.
Serena Williams: Chip
Though Serena Williams recently became a mother when she and fiancé Alexis Ohanian welcomed baby girl Alexis Olympia into the world, she was already a dog mom. Her beloved Yorkshire terrier Chip often accompanies Williams on trips and outings.
Gisele Bundchen and Tom Brady: Lua and Fluffy
NFL quarterback Tom Brady and his supermodel wife Gisele Bündchen have two furry family members: rescue dog Fluffy and pit bull mix Lua.
Kourtney Kardashian: Honey
When mom Kourtney got her daughter Penelope a puppy, she knew right away what she wanted to name it: Honey. It took her cousin North a little longer to settle on a name for her dog, though.
Demi Lovato: Batman
Demi Lovato's puppy Batman really has one thing in common with the DC Comics superhero: They both wear the color black. Otherwise, the tiny dog doesn't seem too ferocious.
D.R.A.M.: Idnit
The rapper behind "Broccoli" named his dog Idnit, which is short for "Idnit so cute?" The pooch always sleeps at the foot of D.R.A.M.'s bed and makes a ruckus if his owner isn't there. 
Caitlyn Jenner: Bertha
In 2017, Caitlyn Jenner adopted an adorable 2-month-old yellow lab puppy and named her Bertha. 
Hilary Duff: Lucy and Momo
Kim Kardashian: Sushi
Technically, this dog belongs jointly to Kim and her daughter North. Kim and sister Kourtney got their daughters fluffy puppies at the same time, and North decided to name her dog Sushi.
Carrie Underwood: Ace and Penny
Fans might have seen the country star and her two pups, Ace and Penny, in the news recently: In December 2017, Underwood fell outside her home while taking the dogs out to do their business and injured herself, requiring wrist surgery and 40 or more stitches in her face.  
Khloe Kardashian: Gabbana
Khloe Kardashian also appears to like labrador retrievers, since she's a dog mom to Gabbana, an older lab. The family also adopted another lab, Dolce, when Gabbana joined the family, but Dolce was sadly killed by a coyote.
Millie Bobby Brown: Dolly
Though she's only 14, Millie Bobby Brown has a dog of her own: Dolly, an English mastiff. The pup even has her own Instagram.
Lindsey Vonn: Lucy, Leo, and Bear
Ski racer Lindsey Vonn just can't resist dogs. First, she adopted brindle pup Leo in 2014; fluffy black dog Bear joined the family next. Finally, while traveling Italy in 2016, Vonn met Lucy, a Cavalier King Charles spaniel, and had to bring her home.
Kristen Bell: Lola
Kristen Bell takes her commitment to her pets seriously. She has called them "kids I didn't birth" and treats her fur baby Lola like she's one of her human kids.
Amanda Seyfried: Finn
Like her blond actress mother, Finn has a gorgeous mane. Seyfried adopted the pooch from Best Friends Animal Society and the pair often attend adoption events together.
Lady Gaga: Fozzi
The pop star is often spotted with a sandy colored ball of fluff named Fozzi, though there's some speculation among fans about whether or not he's her dog or a friend's dog.
Kylie Jenner: Norman, Bambi, and their puppies; and Sophia, Penny, and Ernie
The youngest Kardashian-Jenner sister is a huge animal lover—just take a look at all of her pets. Her Italian greyhounds Norman and Bambi appear to be the favorites as they have their own Instagram account.
Josh Groban: Sweeney
Musician Josh Groban is apparently close to his dog Sweeney: The pooch often visits him on set, flying on private jets in order to stay by Groban's side.
Charlize Theron: Johnny and Berkley
Not only does actress Charlize Theron celebrate the fact that her dogs are mutts, but she also encourages others to consider adoption. Theron often refers to her dogs Johnny and Berkley as her sons.
Katy Perry: Nugget
Katy Perry recently had a scare when her tiny dog Nugget jumped off the bed and became unresponsive. Thankfully, her assistant Tamra sprung into action, giving Nugget CPR to help her start breathing again.
Lisa Vanderpump: Binky
The restaurateur and reality TV star adopted Wheaten terrier Binky from her own organization, Vanderpump Dog Foundation, just a few months after deaths of her dogs Pikachu and Pink Dog.
Olivia Wilde and Jason Sudeikis: Elvis
In 2017, actress Olivia Wilde and her husband Jason Sudeikis adopted Elvis, a three-pound pup. Their other furry family member Paco died in early 2018.
Cardi B: Boujee and Bentley
Before she gave birth to daughter Kulture in 2018, Cardi B shared her home with another pregnant lady: her dog. Dogs Boujee and Bentley welcomed a litter of puppies, making Cardi B and partner Offset grandparents.
Liam Hemsworth: Tani
Like his partner Miley Cyrus, Liam Hemsworth loves animals. He often posts photos with his brown-and-white dog Tani.
Ariel Winter: Chloe, Rocco, Cash, and Casper
When "Modern Family" star Ariel Winter adopted a mixed-breed dog in July (name unknown), her wolf pack grew to five dogs. Winter has adopted dogs from the Westside German Shepherd Rescue of Los Angeles in the past.
Emmy Rossum: Cinnamon, Sugar, and Pepper
All three of Emmy Rossum's dogs and her cat Fiona were rescued from Best Friends Animal Society. It's fair to say that the "Shameless" star believes in the saying: "adopt, don't shop."
Drew Barrymore: Douglas
Movie and TV star Drew Barrymore is a big proponent of animal rescues. She adopted her dog Douglas from a San Fernando Valley shelter and recently rescued three kittens.
Waka Flocka Flame: Angel
Don't believe that rapper Waka Flocka Flame has a soft side? Just observe his relationship with his French bulldog Angel. He told Pitchfork that she even inspired him to write the song "Big Dawg."
Nina Dobrev: Maverick
Like many of the other A-listers on the list, Dobrev chose to adopt her furry friend. She got Maverick from The Pet Care Foundation.
Jake Gyllenhaal: Atticus
Both actor Jake Gyllenhaal and his German shepherd Atticus are undeniably handsome. Gyllenhaal also named his pooch after Atticus Finch from Harper Lee's novel "To Kill a Mockingbird."
Chrissy Teigen and John Legend: Pippa, Pepper, and Penny
Model Chrissy Teigen and husband John Legend own three dogs together: Pippa, Pepper, and Penny. Sadly, their beloved bulldog Puddy passed away earlier this year.
Dwayne "The Rock" Johnson: Hobbs
One might not expect a macho, imposing guy to have such a soft side, but the Rock's is on full display when he posts videos of his French bulldog Hobbs. The photos of the pair working out together are a stand out.
Kendall Jenner: Mew
Kendall Jenner only has one dog, a tiny Italian greyhound named Mew. When she travels, Jenner uses the on-demand dog walking app Wag to make sure Mew gets enough exercise.
Oprah Winfrey: Sadie, Sunny, Layla, Luke, and Lauren
Having Oprah for a mom must be pretty awesome. Just ask her five dogs Sadie, Sunny, Layla, Luke, and Lauren: Their human mother has reportedly set up a sizable trust to provide for them if something were to happen to her.
Kaley Cuoco: Norman, Shirley, and Ruby
"Big Bang Theory" star Kaley Cuoco has a bonafide menagerie of animals at home. The family includes rescued pit bulls Shirley and Norman, fluffy white dog Ruby, dwarf horse Shmooshy and the horses that Cuoco rides at local equestrian centers.
Steph Curry: Rookie and Reza
The Curry family already had Reza when they decided to adopt a goldendoodle in 2017. They brought home an puppy, who daughters Riley and Ryan named Rookie. 
Selma Blair: Cappy
Not long after the loss of her dog Ducky, actress Selma Blair adopted a new pooch: Cappuccino Houston, or Cappy.
Jeff Goldblum: Woody
"Jurassic Park" actor Jeff Goldblum is known for his quirky personality, never-ending curiosity, and love for exploring. Luckily, he found an adventure buddy in his poodle Woody.