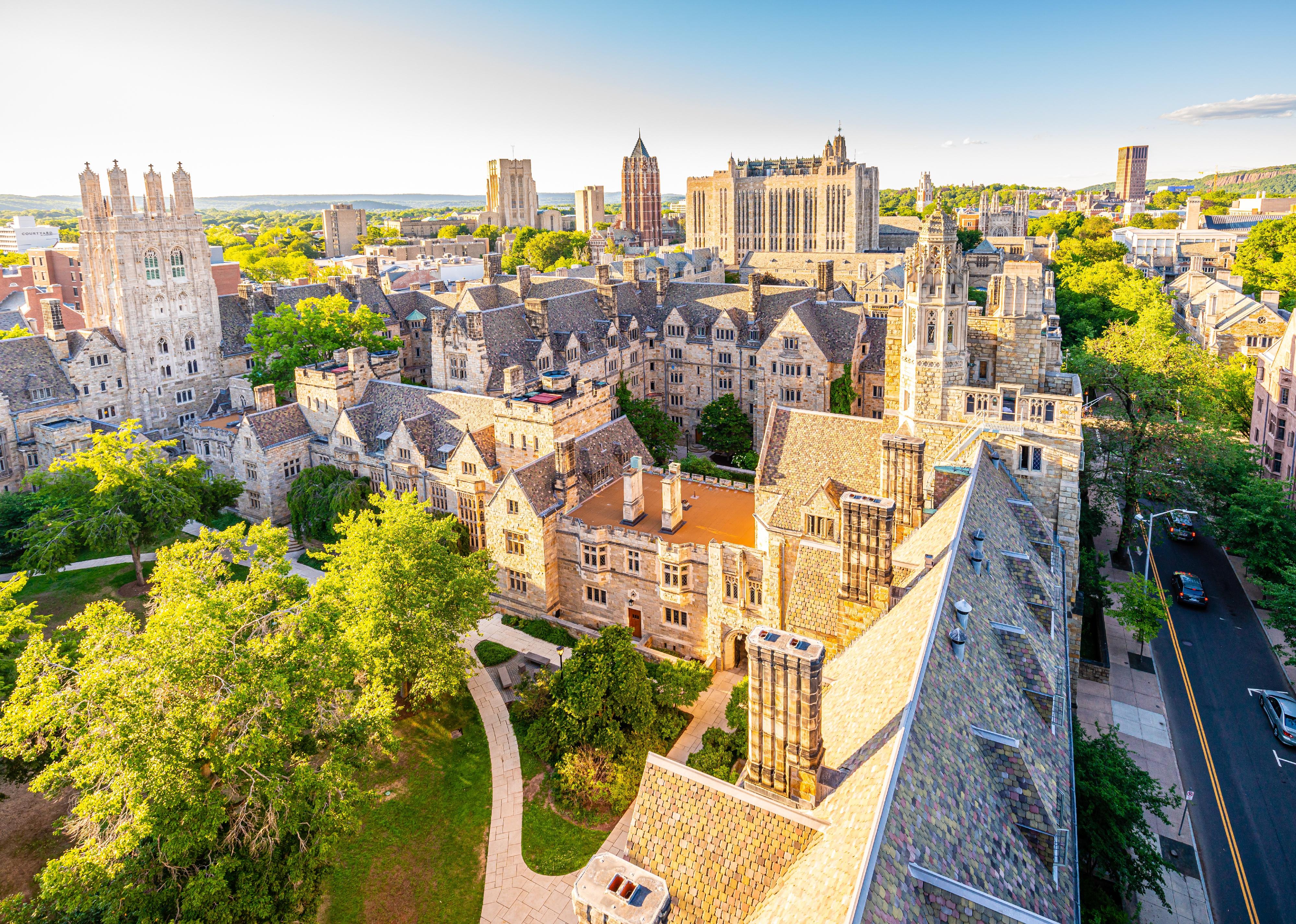 Best private colleges in America
Winston Tan // Shutterstock
Best private colleges in America
Private colleges are defined and distinguished from other types of institutions by their source of funding—they are privately funded by tuition dollars, endowments, grants, and donations. Public colleges and universities, on the other hand, are at least partially subsidized by state government funding. As a result, private schools tend to be more expensive.
According to the College Board's 2022 Trends in College Pricing and Student Aid report, the average tuition for full-time in-state undergraduate students at public four-year colleges was $10,940, and $28,240 for out-of-state students in 2022. The average tuition for students attending private four-year institutions was $39,400.
Both private and public schools play important roles in the postsecondary landscape, offering top-tier education and valuable opportunities outside the classroom. But some characteristics of private institutions—namely size, reputation, and flexibility—make them more appealing to prospective students.
Private colleges, which tend to be more selective, generally offer smaller classes and, therefore, more direct instruction and support. Large lectures of around 100 students are more of an exception at private schools when compared to public colleges. Private colleges may also attract more distinguished faculty based on prestige.
While the quality of education received at private institutions is not necessarily better than what students receive at public schools, graduates from more selective colleges with name recognition generally tend to have higher earnings, according to a study on earnings outcomes by the Georgetown University Center on Education and the Workforce.
The study also notes, however, that within specific majors, the institution that a student attends can have a significant effect on earnings outcomes. For students entering college without a well-defined idea of what discipline they want to pursue, the flexibility to explore various subjects at a liberal arts institution often makes private colleges an appealing option.
Stacker compiled a list of the best private colleges in America, using data from Niche released in 2023. Niche ranks schools based on a variety of factors, including academic, admissions, financial, and student life.
#100. Rhode Island School of Design
- Location: Providence, RI
- Students: 1,736
- Acceptance rate: 27%
- Graduation rate: 89%
- Faculty ratio: 6:1
- Six-year median earnings: $51,100
#99. Yeshiva University
- Location: New York, NY
- Students: 2,553
- Acceptance rate: 67%
- Graduation rate: 77%
- Faculty ratio: 5:1
- Six-year median earnings: $58,500
#98. Wabash College
- Location: Crawfordsville, IN
- Students: 868
- Acceptance rate: 63%
- Graduation rate: 75%
- Faculty ratio: 9:1
- Six-year median earnings: $56,300
#97. Creighton University
- Location: Omaha, NE
- Students: 4,330
- Acceptance rate: 64%
- Graduation rate: 82%
- Faculty ratio: 6:1
- Six-year median earnings: $59,700
#96. University of Dayton
- Location: Dayton, OH
- Students: 8,285
- Acceptance rate: 81%
- Graduation rate: 81%
- Faculty ratio: 11:1
- Six-year median earnings: $55,100
#95. Stevens Institute of Technology
- Location: Hoboken, NJ
- Students: 4,025
- Acceptance rate: 53%
- Graduation rate: 88%
- Faculty ratio: 12:1
- Six-year median earnings: $89,200
#94. American University
- Location: Washington, DC
- Students: 7,453
- Acceptance rate: 39%
- Graduation rate: 79%
- Faculty ratio: 7:1
- Six-year median earnings: $61,000
#93. University of San Diego
- Location: San Diego, CA
- Students: 5,294
- Acceptance rate: 59%
- Graduation rate: 80%
- Faculty ratio: 8:1
- Six-year median earnings: $60,000
#92. Loyola Marymount University
- Location: Los Angeles, CA
- Students: 6,383
- Acceptance rate: 50%
- Graduation rate: 83%
- Faculty ratio: 9:1
- Six-year median earnings: $61,300
#91. Denison University
- Location: Granville, OH
- Students: 2,258
- Acceptance rate: 28%
- Graduation rate: 80%
- Faculty ratio: 9:1
- Six-year median earnings: $48,800
#90. St. Olaf College
- Location: Northfield, MN
- Students: 2,916
- Acceptance rate: 51%
- Graduation rate: 85%
- Faculty ratio: 12:1
- Six-year median earnings: $50,400
#89. Worcester Polytechnic Institute
- Location: Worcester, MA
- Students: 5,010
- Acceptance rate: 59%
- Graduation rate: 89%
- Faculty ratio: 12:1
- Six-year median earnings: $84,900
#88. Mount Holyoke College
- Location: South Hadley, MA
- Students: 2,200
- Acceptance rate: 52%
- Graduation rate: 84%
- Faculty ratio: 10:1
- Six-year median earnings: $48,600
#87. Saint Louis University
- Location: St. Louis, MO
- Students: 6,847
- Acceptance rate: 56%
- Graduation rate: 79%
- Faculty ratio: 5:1
- Six-year median earnings: $56,500
#86. Occidental College
- Location: Los Angeles, CA
- Students: 1,938
- Acceptance rate: 41%
- Graduation rate: 84%
- Faculty ratio: 9:1
- Six-year median earnings: $50,600
#85. Wheaton College - Illinois
- Location: Wheaton, IL
- Students: 2,195
- Acceptance rate: 87%
- Graduation rate: 88%
- Faculty ratio: 9:1
- Six-year median earnings: $48,400
#84. Union College - New York
- Location: Schenectady, NY
- Students: 2,030
- Acceptance rate: 41%
- Graduation rate: 86%
- Faculty ratio: 9:1
- Six-year median earnings: $65,400
#83. Trinity College - Connecticut
- Location: Hartford, CT
- Students: 2,167
- Acceptance rate: 36%
- Graduation rate: 82%
- Faculty ratio: 9:1
- Six-year median earnings: $66,100
#82. Brandeis University
- Location: Waltham, MA
- Students: 3,465
- Acceptance rate: 33%
- Graduation rate: 89%
- Faculty ratio: 8:1
- Six-year median earnings: $57,900
#81. The University of Tulsa
- Location: Tulsa, OK
- Students: 2,819
- Acceptance rate: 69%
- Graduation rate: 73%
- Faculty ratio: 8:1
- Six-year median earnings: $48,500
#80. Bryn Mawr College
- Location: Bryn Mawr, PA
- Students: 1,421
- Acceptance rate: 38%
- Graduation rate: 85%
- Faculty ratio: 8:1
- Six-year median earnings: $54,600
#79. Pepperdine University
- Location: Malibu, CA
- Students: 3,132
- Acceptance rate: 42%
- Graduation rate: 89%
- Faculty ratio: 6:1
- Six-year median earnings: $65,500
#78. Rensselaer Polytechnic Institute
- Location: Troy, NY
- Students: 6,262
- Acceptance rate: 57%
- Graduation rate: 87%
- Faculty ratio: 14:1
- Six-year median earnings: $82,000
#77. Rose-Hulman Institute of Technology
- Location: Terre Haute, IN
- Students: 2,058
- Acceptance rate: 77%
- Graduation rate: 83%
- Faculty ratio: 11:1
- Six-year median earnings: $80,900
#76. Skidmore College
- Location: Saratoga Springs, NY
- Students: 2,510
- Acceptance rate: 32%
- Graduation rate: 86%
- Faculty ratio: 8:1
- Six-year median earnings: $49,700
#75. Reed College
- Location: Portland, OR
- Students: 1,492
- Acceptance rate: 42%
- Graduation rate: 77%
- Faculty ratio: 9:1
- Six-year median earnings: $42,200
#74. Santa Clara University
- Location: Santa Clara, CA
- Students: 5,478
- Acceptance rate: 51%
- Graduation rate: 92%
- Faculty ratio: 8:1
- Six-year median earnings: $72,600
#73. Texas Christian University
- Location: Fort Worth, TX
- Students: 9,448
- Acceptance rate: 48%
- Graduation rate: 82%
- Faculty ratio: 11:1
- Six-year median earnings: $52,800
#72. Scripps College
- Location: Claremont, CA
- Students: 1,095
- Acceptance rate: 35%
- Graduation rate: 88%
- Faculty ratio: 10:1
- Six-year median earnings: $54,100
#71. Colorado College
- Location: Colorado Springs, CO
- Students: 2,190
- Acceptance rate: 14%
- Graduation rate: 88%
- Faculty ratio: 10:1
- Six-year median earnings: $45,400
#70. Trinity University
- Location: San Antonio, TX
- Students: 2,471
- Acceptance rate: 34%
- Graduation rate: 79%
- Faculty ratio: 9:1
- Six-year median earnings: $54,900
#69. Brigham Young University
- Location: Provo, UT
- Students: 30,039
- Acceptance rate: 69%
- Graduation rate: 75%
- Faculty ratio: 21:1
- Six-year median earnings: $59,700
#68. George Washington University
- Location: Washington, DC
- Students: 10,141
- Acceptance rate: 43%
- Graduation rate: 85%
- Faculty ratio: 6:1
- Six-year median earnings: $69,600
#67. Bucknell University
- Location: Lewisburg, PA
- Students: 3,686
- Acceptance rate: 38%
- Graduation rate: 88%
- Faculty ratio: 9:1
- Six-year median earnings: $70,800
#66. Lafayette College
- Location: Easton, PA
- Students: 2,457
- Acceptance rate: 36%
- Graduation rate: 90%
- Faculty ratio: 9:1
- Six-year median earnings: $68,600
#65. Pitzer College
- Location: Claremont, CA
- Students: 802
- Acceptance rate: 17%
- Graduation rate: 83%
- Faculty ratio: 9:1
- Six-year median earnings: $48,700
#64. College of the Holy Cross
- Location: Worcester, MA
- Students: 2,966
- Acceptance rate: 38%
- Graduation rate: 93%
- Faculty ratio: 10:1
- Six-year median earnings: $71,000
#63. Kenyon College
- Location: Gambier, OH
- Students: 1,610
- Acceptance rate: 37%
- Graduation rate: 89%
- Faculty ratio: 8:1
- Six-year median earnings: $48,700
#62. Smith College
- Location: Northampton, MA
- Students: 2,160
- Acceptance rate: 37%
- Graduation rate: 87%
- Faculty ratio: 6:1
- Six-year median earnings: $46,200
#61. Macalester College
- Location: Saint Paul, MN
- Students: 2,207
- Acceptance rate: 39%
- Graduation rate: 93%
- Faculty ratio: 11:1
- Six-year median earnings: $47,600
#60. Southern Methodist University
- Location: Dallas, TX
- Students: 6,616
- Acceptance rate: 53%
- Graduation rate: 81%
- Faculty ratio: 7:1
- Six-year median earnings: $60,700
#59. University of Richmond
- Location: University Of Richmond, VA
- Students: 3,028
- Acceptance rate: 31%
- Graduation rate: 88%
- Faculty ratio: 6:1
- Six-year median earnings: $64,500
#58. The Cooper Union for the Advancement of Science and Art
- Location: New York, NY
- Students: 802
- Acceptance rate: 18%
- Graduation rate: 79%
- Faculty ratio: 8:1
- Six-year median earnings: $64,900
#57. Carleton College
- Location: Northfield, MN
- Students: 1,918
- Acceptance rate: 21%
- Graduation rate: 94%
- Faculty ratio: 8:1
- Six-year median earnings: $54,200
#56. Vassar College
- Location: Poughkeepsie, NY
- Students: 2,409
- Acceptance rate: 25%
- Graduation rate: 88%
- Faculty ratio: 8:1
- Six-year median earnings: $54,600
#55. Grinnell College
- Location: Grinnell, IA
- Students: 1,459
- Acceptance rate: 19%
- Graduation rate: 87%
- Faculty ratio: 7:1
- Six-year median earnings: $49,100
#54. University of Rochester
- Location: Rochester, NY
- Students: 6,100
- Acceptance rate: 35%
- Graduation rate: 86%
- Faculty ratio: 2:1
- Six-year median earnings: $61,200
#53. Wesleyan University
- Location: Middletown, CT
- Students: 2,836
- Acceptance rate: 21%
- Graduation rate: 91%
- Faculty ratio: 7:1
- Six-year median earnings: $54,700
#52. Villanova University
- Location: Villanova, PA
- Students: 6,793
- Acceptance rate: 31%
- Graduation rate: 92%
- Faculty ratio: 8:1
- Six-year median earnings: $77,900
#51. Colby College
- Location: Waterville, ME
- Students: 2,155
- Acceptance rate: 10%
- Graduation rate: 90%
- Faculty ratio: 9:1
- Six-year median earnings: $58,100
#50. Case Western Reserve University
- Location: Cleveland, OH
- Students: 5,286
- Acceptance rate: 30%
- Graduation rate: 85%
- Faculty ratio: 4:1
- Six-year median earnings: $74,600
#49. Lehigh University
- Location: Bethlehem, PA
- Students: 5,374
- Acceptance rate: 50%
- Graduation rate: 88%
- Faculty ratio: 9:1
- Six-year median earnings: $81,900
#48. Tulane University
- Location: New Orleans, LA
- Students: 8,231
- Acceptance rate: 11%
- Graduation rate: 86%
- Faculty ratio: 5:1
- Six-year median earnings: $61,700
#47. Hamilton College
- Location: Clinton, NY
- Students: 2,043
- Acceptance rate: 18%
- Graduation rate: 91%
- Faculty ratio: 9:1
- Six-year median earnings: $60,200
#46. University of Miami
- Location: Coral Gables, FL
- Students: 12,089
- Acceptance rate: 33%
- Graduation rate: 83%
- Faculty ratio: 8:1
- Six-year median earnings: $60,100
#45. Bates College
- Location: Lewiston, ME
- Students: 1,876
- Acceptance rate: 14%
- Graduation rate: 92%
- Faculty ratio: 10:1
- Six-year median earnings: $59,200
#44. Babson College
- Location: Wellesley, MA
- Students: 2,457
- Acceptance rate: 27%
- Graduation rate: 95%
- Faculty ratio: 12:1
- Six-year median earnings: $96,100
#43. Colgate University
- Location: Hamilton, NY
- Students: 3,023
- Acceptance rate: 27%
- Graduation rate: 91%
- Faculty ratio: 9:1
- Six-year median earnings: $63,600
#42. Haverford College
- Location: Haverford, PA
- Students: 1,419
- Acceptance rate: 18%
- Graduation rate: 93%
- Faculty ratio: 8:1
- Six-year median earnings: $60,700
#41. New York University
- Location: New York, NY
- Students: 25,854
- Acceptance rate: 21%
- Graduation rate: 88%
- Faculty ratio: 4:1
- Six-year median earnings: $61,900
#40. Wake Forest University
- Location: Winston-salem, NC
- Students: 5,391
- Acceptance rate: 32%
- Graduation rate: 89%
- Faculty ratio: 3:1
- Six-year median earnings: $63,800
#39. Boston University
- Location: Boston, MA
- Students: 16,026
- Acceptance rate: 20%
- Graduation rate: 89%
- Faculty ratio: 5:1
- Six-year median earnings: $65,300
#38. Northeastern University
- Location: Boston, MA
- Students: 15,131
- Acceptance rate: 20%
- Graduation rate: 90%
- Faculty ratio: 10:1
- Six-year median earnings: $67,400
#37. Middlebury College
- Location: Middlebury, VT
- Students: 2,835
- Acceptance rate: 22%
- Graduation rate: 94%
- Faculty ratio: 9:1
- Six-year median earnings: $58,200
#36. Williams College
- Location: Williamstown, MA
- Students: 1,917
- Acceptance rate: 15%
- Graduation rate: 96%
- Faculty ratio: 6:1
- Six-year median earnings: $59,000
#35. Amherst College
- Location: Amherst, MA
- Students: 1,745
- Acceptance rate: 12%
- Graduation rate: 95%
- Faculty ratio: 7:1
- Six-year median earnings: $65,000
#34. Boston College
- Location: Chestnut Hill, MA
- Students: 9,532
- Acceptance rate: 26%
- Graduation rate: 92%
- Faculty ratio: 9:1
- Six-year median earnings: $72,500
#33. Tufts University
- Location: Medford, MA
- Students: 5,938
- Acceptance rate: 16%
- Graduation rate: 94%
- Faculty ratio: 6:1
- Six-year median earnings: $75,800
#32. Washington and Lee University
- Location: Lexington, VA
- Students: 1,853
- Acceptance rate: 25%
- Graduation rate: 93%
- Faculty ratio: 7:1
- Six-year median earnings: $76,100
#31. Wellesley College
- Location: Wellesley, MA
- Students: 2,375
- Acceptance rate: 20%
- Graduation rate: 94%
- Faculty ratio: 7:1
- Six-year median earnings: $60,800
#30. Emory University
- Location: Atlanta, GA
- Students: 6,814
- Acceptance rate: 19%
- Graduation rate: 90%
- Faculty ratio: 3:1
- Six-year median earnings: $66,000
#29. Davidson College
- Location: Davidson, NC
- Students: 1,983
- Acceptance rate: 20%
- Graduation rate: 93%
- Faculty ratio: 9:1
- Six-year median earnings: $58,900
#28. Barnard College
- Location: New York, NY
- Students: 2,651
- Acceptance rate: 14%
- Graduation rate: 90%
- Faculty ratio: 10:1
- Six-year median earnings: $57,900
#27. Swarthmore College
- Location: Swarthmore, PA
- Students: 1,437
- Acceptance rate: 9%
- Graduation rate: 97%
- Faculty ratio: 6:1
- Six-year median earnings: $56,700
#26. Bowdoin College
- Location: Brunswick, ME
- Students: 1,948
- Acceptance rate: 9%
- Graduation rate: 95%
- Faculty ratio: 9:1
- Six-year median earnings: $65,500
#25. Claremont McKenna College
- Location: Claremont, CA
- Students: 1,240
- Acceptance rate: 13%
- Graduation rate: 92%
- Faculty ratio: 7:1
- Six-year median earnings: $72,900
#24. University of Southern California
- Location: Los Angeles, CA
- Students: 18,560
- Acceptance rate: 16%
- Graduation rate: 92%
- Faculty ratio: 7:1
- Six-year median earnings: $74,000
#23. Cornell University
- Location: Ithaca, NY
- Students: 15,735
- Acceptance rate: 11%
- Graduation rate: 95%
- Faculty ratio: 8:1
- Six-year median earnings: $77,200
#22. Carnegie Mellon University
- Location: Pittsburgh, PA
- Students: 6,341
- Acceptance rate: 17%
- Graduation rate: 93%
- Faculty ratio: 5:1
- Six-year median earnings: $83,600
#21. Johns Hopkins University
- Location: Baltimore, MD
- Students: 5,766
- Acceptance rate: 11%
- Graduation rate: 94%
- Faculty ratio: 2:1
- Six-year median earnings: $73,200
#20. Pomona College
- Location: Claremont, CA
- Students: 1,756
- Acceptance rate: 9%
- Graduation rate: 94%
- Faculty ratio: 8:1
- Six-year median earnings: $58,100
#19. University of Notre Dame
- Location: Notre Dame, IN
- Students: 8,833
- Acceptance rate: 19%
- Graduation rate: 97%
- Faculty ratio: 7:1
- Six-year median earnings: $78,400
#18. Harvey Mudd College
- Location: Claremont, CA
- Students: 821
- Acceptance rate: 18%
- Graduation rate: 93%
- Faculty ratio: 8:1
- Six-year median earnings: $88,800
#17. Georgetown University
- Location: Washington, DC
- Students: 6,610
- Acceptance rate: 17%
- Graduation rate: 94%
- Faculty ratio: 4:1
- Six-year median earnings: $93,500
#16. University of Chicago
- Location: Chicago, IL
- Students: 7,020
- Acceptance rate: 7%
- Graduation rate: 96%
- Faculty ratio: 3:1
- Six-year median earnings: $68,100
#15. Washington University in St. Louis
- Location: Saint Louis, MO
- Students: 7,348
- Acceptance rate: 16%
- Graduation rate: 94%
- Faculty ratio: 4:1
- Six-year median earnings: $70,100
#14. Northwestern University
- Location: Evanston, IL
- Students: 8,095
- Acceptance rate: 9%
- Graduation rate: 95%
- Faculty ratio: 3:1
- Six-year median earnings: $69,000
#13. Vanderbilt University
- Location: Nashville, TN
- Students: 6,983
- Acceptance rate: 12%
- Graduation rate: 93%
- Faculty ratio: 5:1
- Six-year median earnings: $69,000
#12. Columbia University
- Location: New York, NY
- Students: 7,509
- Acceptance rate: 7%
- Graduation rate: 96%
- Faculty ratio: 2:1
- Six-year median earnings: $83,300
#11. University of Pennsylvania
- Location: Philadelphia, PA
- Students: 9,960
- Acceptance rate: 9%
- Graduation rate: 96%
- Faculty ratio: 4:1
- Six-year median earnings: $85,900
#10. Dartmouth College
- Location: Hanover, NH
- Students: 4,169
- Acceptance rate: 9%
- Graduation rate: 95%
- Faculty ratio: 5:1
- Six-year median earnings: $75,500
#9. Brown University
- Location: Providence, RI
- Students: 6,605
- Acceptance rate: 8%
- Graduation rate: 95%
- Faculty ratio: 7:1
- Six-year median earnings: $67,500
#8. Duke University
- Location: Durham, NC
- Students: 6,838
- Acceptance rate: 8%
- Graduation rate: 96%
- Faculty ratio: 2:1
- Six-year median earnings: $84,400
#7. California Institute of Technology
- Location: Pasadena, CA
- Students: 901
- Acceptance rate: 7%
- Graduation rate: 92%
- Faculty ratio: 2:1
- Six-year median earnings: $85,900
#6. Rice University
- Location: Houston, TX
- Students: 4,150
- Acceptance rate: 11%
- Graduation rate: 94%
- Faculty ratio: 6:1
- Six-year median earnings: $65,400
#5. Princeton University
- Location: Princeton, NJ
- Students: 4,689
- Acceptance rate: 6%
- Graduation rate: 98%
- Faculty ratio: 4:1
- Six-year median earnings: $74,700
#4. Yale University
- Location: New Haven, CT
- Students: 4,696
- Acceptance rate: 7%
- Graduation rate: 96%
- Faculty ratio: 2:1
- Six-year median earnings: $83,200
#3. Harvard University
- Location: Cambridge, MA
- Students: 5,699
- Acceptance rate: 5%
- Graduation rate: 98%
- Faculty ratio: 3:1
- Six-year median earnings: $89,700
#2. Stanford University
- Location: Stanford, CA
- Students: 5,752
- Acceptance rate: 5%
- Graduation rate: 95%
- Faculty ratio: 2:1
- Six-year median earnings: $94,000
#1. Massachusetts Institute of Technology
- Location: Cambridge, MA
- Students: 4,234
- Acceptance rate: 7%
- Graduation rate: 96%
- Faculty ratio: 3:1
- Six-year median earnings: $104,700