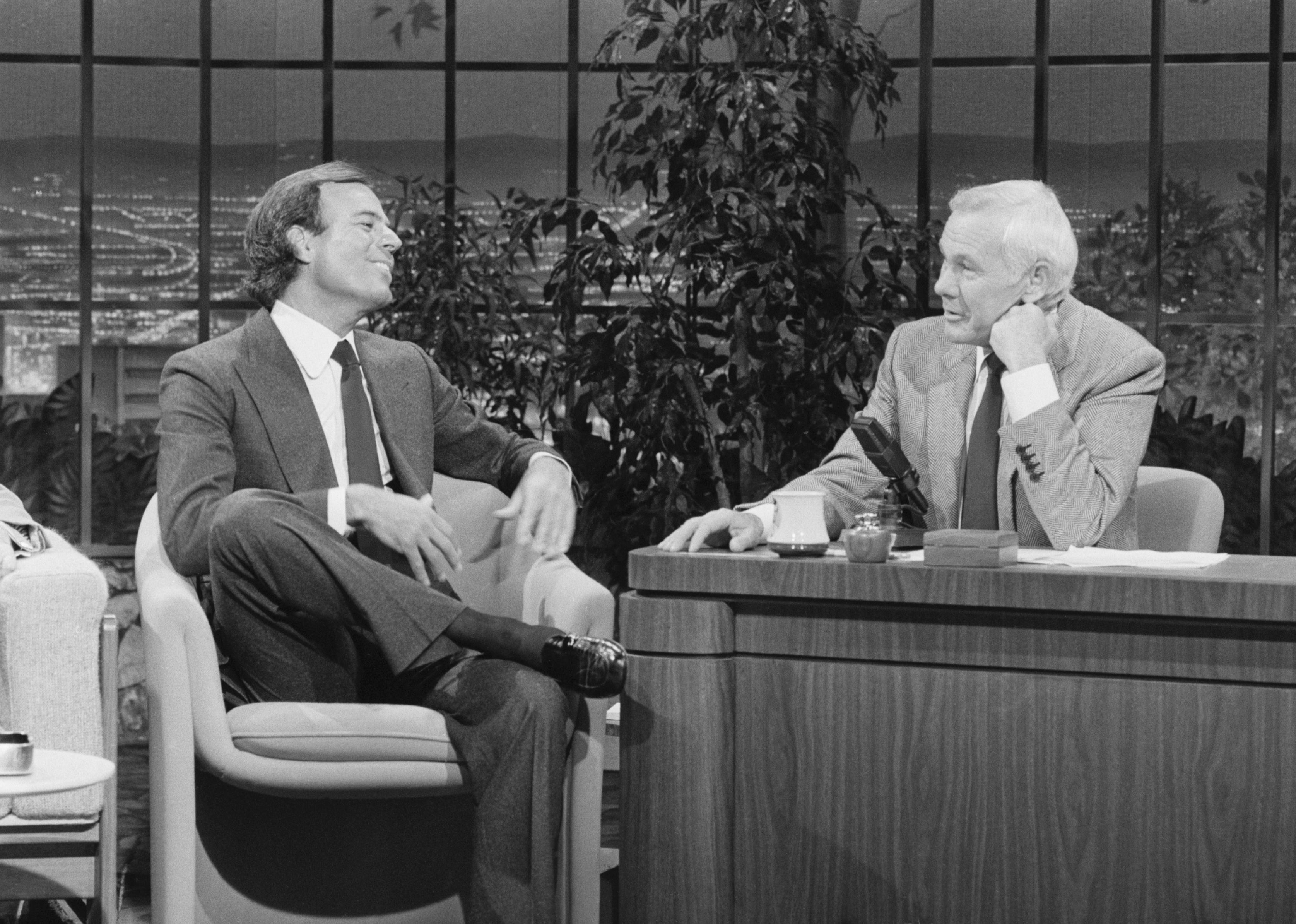 50 best talk shows in TV history
50 best talk shows in TV history
"The Joe Franklin Show" was filmed in a dingy New York City basement where the "no smoking" sign aimed to ensure no wayward spark would cause a conflagration. The series, which remained on the air until 1993, is among the first (and longest-running) talk shows in the U.S. While it never achieved national syndication, it is a cultural institution.
The talk show floodgates have opened since Franklin's program first hit the air. Viewers can watch hosts discuss any topic they desire on various platforms, including cable television, streaming, and web series. The variety of styles and formatting is endless, including late-night celebrity talk shows, dramatic daytime series, political satire, and sports news programs, each filled with banter and debates. There are even talk shows that parody the traditional talk show format.
Stacker is tipping its hat to the best talk shows throughout history. To create the list, we analyzed IMDb data as of July 2023, using its user ratings to rank shows. Anything before 1990 required at least 500 votes for consideration, whereas shows after 1990 needed at least 1,500 votes.
Keep reading to see the rankings.
#50. Talking Dead
- IMDb user rating: 7.2
- On air: 2011-present
The Chris Hardwick-hosted, celebrity-heavy talk show that breaks down "The Walking Dead" (and the cult show's many spinoffs) aired initially after the zombie show's second season premiere in 2011. Twelve years, 10 seasons, four spinoffs (including shows on "Breaking Bad" and "Better Call Saul"), two Emmy nominations, and 243 episodes later, it came to a (perhaps temporary) close in November 2022 with "The Walking Dead" finale.
However, the talk show has continued dutifully through its podcast counterpart of the same name, with over 600 episodes.
#49. The Late Show with Stephen Colbert
- IMDb user rating: 7.2
- On air: 2015-present
When David Letterman retired after more than 20 years hosting "The Late Show," comedian Stephen Colbert took the reins. Already well known for his work on "The Daily Show" and its spinoff "The Colbert Report," Colbert's show was fairly well-received right out of the gate. Donald Trump's presidential run proved a ratings boon; the show's ratings climbed even more once Colbert shifted to a more political approach.
#48. The Problem with Jon Stewart
- IMDb user rating: 7.3
- On air: 2021-present
Jon Stewart left his post on "The Daily Show" in 2015 but couldn't stay away from the political arena for too long. In 2021, his new show, "The Problem with Jon Stewart," debuted on Apple TV+. Unlike "The Daily Show," each episode focuses on a singular issue. Stewart also hosts a podcast of the same name that acts as a spill-over discussion of what didn't make the TV cut.
#47. The Jim Jefferies Show
- IMDb user rating: 7.5
- On air: 2017-2019
Jim Jefferies was no stranger to television or politics when Comedy Central offered the Australian comic his weekly news satire show. From 2013 to 2014, he starred in "Legit," a sitcom he co-created. In 2014, he delivered a popular bit about gun control in his stand-up special (which again went viral eight years after a Texas school shooting), and two years later, he spoke about Donald Trump in his "Jim Jefferies: Freedumb" special. Though his take on politics became a popular one, what might have been the best thing about "The Jim Jefferies Show" was Brad Pitt playing the weatherman. Fun fact: The A-list actor only got paid $400 per episode.
#46. Late Night with David Letterman
- IMDb user rating: 7.5
- On air: 1982-1993
Before the "Late Show," David Letterman spent 11 years at NBC, establishing his late-night voice and carving out a name for himself. It was here he debuted his famous "Top Ten List" (later to become CBS's "Late Show Top Ten") and performed recurring skits like "Stupid Human Tricks" and "Viewer Mail."
#45. Charlie Rose
- IMDb user rating: 7.6
- On air: 1991-2017
For 27 years, Charlie Rose interviewed everyone from Al Gore to Jon Bon Jovi on his eponymous talk show. He was an iconic broadcast journalist; however, the "Charlie Rose" show came to a screeching halt after its host was accused of sexual harassment by several former employees in 2017. PBS swiftly fired Rose, and Bloomberg Television severed ties after The Washington Post published a report detailing eight women's abuse allegations.
#44. Running Wild with Bear Grylls
- IMDb user rating: 7.6
- On air: 2014-present
Adventurer extraordinaire Bear Grylls became a household name with "Man vs. Wild"—a show in which he showed viewers how to survive some of the planet's most grueling environments. Though he usually ventured on his own, some of the episodes featured a celebrity tagging along. In 2014, that concept became the focal point of a new show, "Running Wild with Bear Grylls." The survival skills reality series has starred the likes of Kate Winslet, Channing Tatum, and more A-list celebrities.
#43. Comedy Bang! Bang!
- IMDb user rating: 7.6
- On air: 2012-2016
A spinoff of a podcast of the same name, "Comedy Bang! Bang!" was a parody of late-night talk shows. The series featured real celebrity guests alongside comedy sketches and animated clips, spoofing late-night tropes while conducting real (albeit light) interviews. The show, well-received by both audiences and critics, aired for five seasons, while the podcast that inspired it is still in production.
#42. CBS News Sunday Morning
- IMDb user rating: 7.9
- On air: 1979-present
"CBS News Sunday Morning" has been going strong since 1979. In its 40-plus years on the air, the news magazine show has had three permanent hosts: Charles Kuralt, Charles Osgood, and current host Jane Pauley. Despite its long history, the past decade has been the show's most successful—winning five Daytime Emmys in the Outstanding Morning Program category since first being nominated in 2013.
#41. The Ed Sullivan Show
- IMDb user rating: 7.9
- On air: 1948-1971
"The Ed Sullivan Show" hit its prime just as television became widely popular in the U.S. The weekly variety show aired every Sunday at 8 p.m. Eastern time. In 1964, the height of its success, it pulled in 14 million weekly viewers. The program's biggest claim to fame is booking the Beatles' first live performance in America, which has since become one of the biggest moments in television history.
#40. Eye on Entertainment
- IMDb user rating: 7.9
- On air: 2005-present
Dawna Lee Heising created and hosts "Eye on Entertainment." Each episode features the actor interviewing figures from different facets of the entertainment industry, from fellow actors and musicians to producers, artists, and more, focusing on independent arts. In December 2022, the show began its 19th season.
#39. My Next Guest Needs No Introduction with David Letterman
- IMDb user rating: 7.9
- On air: 2018-present
Just a few years after retiring from late-night TV, host David Letterman launched this Netflix series, in which he interviews world leaders and other major celebrities with an intimate, personal approach. While the show is occasionally humorous, it has a much more subdued tone than his late-night work.
#38. Space Ghost Coast to Coast
- IMDb user rating: 7.9
- On air: 1993-2012
"Space Ghost Coast to Coast," another parody talk show, was an animated series aimed at adults and hosted by the Hanna-Barbera character Space Ghost. Cartoon Network's first original series aimed at adults featured interviews with real celebrities and ordinary citizens, completed via an " intergalactic video phone." Despite its awkward and occasionally hostile humor, the series was a hit with fans. The show would pave the way for Adult Swim and arguably the random, recontextualized humor prevalent today.
#37. The Tonight Show with Conan O'Brien
- IMDb user rating: 8.0
- On air: 2009-2010
Conan O'Brien in 2009 was promoted from NBC's "Late Night," which he'd hosted since 1993, to the network's premiere program "The Tonight Show"—a position he'd allegedly been promised in 2001. Six months later, however, O'Brien left the show amid a network feud with Jay Leno.
#36. Comedians in Cars Getting Coffee
- IMDb user rating: 8.0
- On air: 2012-present
Hosted by longtime funnyman Jerry Seinfeld, "Comedians in Cars Getting Coffee" is a low-key Netflix series where the host invites fellow comedians to drive around in vintage cars with him and eat food or drink coffee at nearby cafes. It has been nominated for five Emmys and won five Producers Guild of America Awards.
#35. Soul Train
- IMDb user rating: 8.1
- On air: 1971-2006
This musical variety show, which launched in the early '70s and ran all the way up until 2006, featured music and dance performances by artists rooted primarily in R&B, soul, pop, and hip-hop. In its 35-year run, the show was often called the "Black American Bandstand," although its original host and creator, Don Cornelius, refuted the title, saying it was for everybody. It held the title of America's longest-running first-run, nationally syndicated program until 2016, when "Entertainment Tonight" took the title.
#34. Pardon the Interruption
- IMDb user rating: 8.1
- On air: 2001-present
"Pardon the Interruption" is a weekday sports show that airs on ESPN. Hosts Tony Kornheiser and Michael Wilbon cram a lot into the 30-minute airtime, including national headlines, "Five Good Minutes" interviews with sports figures, various games, and the "Big Finish," where the co-hosts discuss topics at a rapid pace. As the name suggests, Kornheiser and Wilbon often interrupt each other and debate over the topics of the day.
#33. SportsCenter
- IMDb user rating: 8.1
- On air: 1979-present
"SportsCenter" is ESPN's flagship sports program that airs up to 12 times a day under different editions, offering viewers up-to-date clips of major highlights from games, score reviews, and general sporting news. Almost three dozen anchors currently host the show's various iterations, including long-timers John Anderson, Linda Cohn, and David Lloyd.
#32. Adam Ruins Everything
- IMDb user rating: 8.1
- On air: 2015-2019
CollegeHumor comedian Adam Conover was the host of "Adam Ruins Everything," an educational comedy show that debunked common misconceptions viewers held about…everything. During the show's three seasons, Conover tackled topics ranging from presidential elections to counting calories, encouraging critical thinking from his audience while providing, as critic Andy Dehnart put it, "a highly effective model for overcoming the roadblocks between our brains and reality."
The series ended in 2019, but Conover is slated to host an Obama-produced Netflix series that is currently in development called "The G Word with Adam Conover."
#31. Late Night with Conan O'Brien
- IMDb user rating: 8.2
- On air: 1993-2009
Prior to his TBS show "Conan," the popular late-night comedian spent 17 years performing on NBC's "Late Night" franchise after its original host David Letterman moved to the network's "Tonight Show." O'Brien's humor was goofy and often edgy, with lots of wacky stunts and silly sketches. The host spent time riffing with his house band's drummer Max Weinberg and frequently did skits with Amy Poehler before she joined "SNL."
#30. Conan
- IMDb user rating: 8.2
- On air: 2010-2021
After the flap with NBC and Jay Leno, late-night host Conan O'Brien permanently separated from his long-time network and migrated to TBS, where "Conan" lived from 2010 to 2021. The half-hour program is similar to its predecessors, albeit skewed toward a younger audience, with a monologue followed by celebrity interviews and a musical guest.
#29. The Dick Cavett Show
- IMDb user rating: 8.3
- On air: 1968-1988
"The Dick Cavett Show" premiered in 1968, six years after "The Tonight Show Starring Johnny Carson." Though Carson was the king of late night at the time, Cavett's show was always seen as the cool alternative because of his rapport with rock 'n' roll icons like Janis Joplin and Jimi Hendrix, despite not caring about the genre itself.
#28. I Hate Everything
- IMDb user rating: 8.3
- On air: 2013-present
Alex Beltman's series "I Hate Everything" is aptly titled. The YouTuber has been posting videos for the past decade where he slams things like popular video games and movies, toys, and even brands, using black comedy to back his opinions. Beltman may hate a lot of things, but there is one thing he loves: the minions.
#27. The Daily Show
- IMDb user rating: 8.3
- On air: 1996-present
Although "The Daily Show" was originally hosted by comedian Craig Kilborn, it was his successor Jon Stewart who made it famous with his quick wit and sharp political commentary. Stewart was succeeded by Trevor Noah, a fellow comedian who began as a recurring contributor on the satirical news show, which includes monologues, news roundups, political analysis, and guest interviews. Comedy Central said the goal of Noah's tenure, which began in 2015 and ended in 2022, was to recalibrate the program for a new, younger generation.
#26. Selena + Chef
- IMDb user rating: 8.4
- On air: 2020-present
Selena Gomez isn't just a singer and actor; she's also an aspiring cook. In "Selena + Chef," the pop star invites acclaimed chefs into her home to help her make a meal. There are often mistakes along the way, making this show perfect for a viewer learning how to cook themselves.
#25. Hot Ones
- IMDb user rating: 8.4
- On air: 2015-present
"Hot Ones" has been heating up the internet since it premiered in 2015. Host Sean Evans interviews celebrities while simultaneously going through a gauntlet of 10 hot sauce-drenched chicken wings that increase in intensity. By the bite of the last wing (if the guest can even get to it), the reactions are priceless and never get old, even 21 seasons in.
#24. Patriot Act with Hasan Minhaj
- IMDb user rating: 8.4
- On air: 2018-2020
Hasan Minhaj hosted six seasons of this comedy news show on Netflix, focusing on the parts of American society that make us the angriest and providing pathways to solutions. With several accolades, including Emmy and Peabody Awards, the show was not without controversy (the streaming service pulled an early episode that criticized Saudi Arabia). But fans loved it regardless, even petitioning Netflix to reconsider the decision to cancel. "Patriot Act" was the first weekly talk show in the United States hosted by an Indian American.
#23. Between Two Ferns with Zach Galifianakis
- IMDb user rating: 8.4
- On air: 2008-present
This quirky online talk show features Zach Galifianakis sitting awkwardly between two potted ferns while exchanging antagonistic jabs with his guests. The short-form sketches, uploaded to "Funny Or Die" and typically last five or six minutes, often become viral videos. Notable guests have included Hillary Clinton, former President Barack Obama, Bruce Willis, Brad Pitt, Jimmy Kimmel, Justin Bieber, and Bradley Cooper.
#22. The Late Late Show with Craig Ferguson
- IMDb user rating: 8.4
- On air: 2005-2015
The third incarnation of CBS's "Late Late Show" franchise, Craig Ferguson followed in the footsteps of his predecessors Tom Snyder and Craig Kilborn. The late-night show, which ran for over a decade with mostly positive reviews, featured a funny cold open that often included his animatronic skeleton sidekick Geoff Peterson, followed by guests, music, sketches, gags, and other offbeat humor.
#21. The Graham Norton Show
- IMDb user rating: 8.4
- On air: 2007-present
"The Graham Norton Show" is the quintessential late-night show in the U.K. The weekly program features the eponymous host using his comedic skills while interviewing celebrities in a group interview format. Daily Beast praised the U.K. show's "pure, unapologetic fun." Since premiering in 2007, "The Graham Norton Show" has won five BAFTA Awards.
#20. The Ricky Gervais Show
- IMDb user rating: 8.4
- On air: 2010-2012
"The Ricky Gervais Show" was an animated version of the namesake host's popular British radio program. Gervais, perhaps most famous for being a co-creator of "The Office," performed the show with fellow comedians Stephen Merchant and Karl Pilkington. It was essentially a cartoon that followed a casual, comedic conversation between the three men, facilitating jokes along the way.
#19. Sneak Previews
- IMDb user rating: 8.5
- On air: 1975-1996
"Sneak Previews" was Gene Siskel and Roger Ebert's first film review show, which ran on PBS. The critics, who had a rocky relationship in their early years, discussed the latest movies each week and dissected what they did or didn't like. At the end of each episode, one of the critics would sign off by saying, "See you at the movies." The show continued after the pair left in 1981.
#18. You Bet Your Life
- IMDb user rating: 8.5
- On air: 1950-1961
Originally a radio show before moving to NBC in 1950, "You Bet Your Life" was a quiz show hosted by Groucho Marx. Unlike many of today's game shows, the series featured a significant amount of conversation between the host and participants, giving it much more of a talk show feel. Jay Leno now hosts a 2021 reboot of the series.
#17. At the Movies
- IMDb user rating: 8.5
- On air: 1982-1986
After leaving "Sneak Previews" in 1981, Gene Siskel and Roger Ebert moved to Tribune Entertainment, where they starred in "At the Movies." The duo left the show in 1986 amid a contract dispute, and the series continued for several more years with film critics Rex Reed and Bill Harris.
#16. The Tonight Show Starring Johnny Carson
- IMDb user rating: 8.5
- On air: 1962-1992
The original "King of Late Night," Johnny Carson took over the "Tonight Show" from Jack Paar in 1962. Carson helmed the megalithic talk show for 30 years. The comedian, prone to light-hearted jokes and friendly, sophisticated humor, launched dozens of comedic careers, including those of Jerry Seinfeld, Jay Leno, Ellen DeGeneres, Joan Rivers, and others.
#15. The Being Frank Show
- IMDb user rating: 8.5
- On air: 2010-present
Frank D'Angelo is a comedian and entrepreneur, and both aspects of his career are on display on "The Being Frank Show." The Canadian variety show is equal parts celebrity interviews, comedy sketches, and commercials for his products.
#14. The Colbert Report
- IMDb user rating: 8.5
- On air: 2005-2014
After Stephen Colbert's enormously popular recurring role on Jon Stewart's "The Daily Show," Colbert got his spinoff in 2005. "The Colbert Report" ran for almost 10 years before the comedian left to host the "Late Show" on CBS. The news satire program centered around a fictional political pundit who was extremely uninformed and prone to senseless arguments. Colbert stayed in character constantly—through improv sketches and when he interviewed guests.
#13. Siskel & Ebert
- IMDb user rating: 8.6
- On air: 1986-2010
Gene Siskel and Roger Ebert are considered two of the most iconic film critics of all time, and for 25 years, viewers could tune in to "Siskel & Ebert" to see the duo's honest takes on movies. Siskel tragically died in 1999 after suffering surgery complications due to brain tumor treatment. Richard Roeper took his place the following year alongside Ebert.
#12. Inside the Actors Studio
- IMDb user rating: 8.6
- On air: 1994-present
For almost 30 years, host James Lipton has been interviewing some of Hollywood's most famous actors as part of "Inside the Actors Studio." The show began as a televised seminar for students of the Actors Studio Drama School, where Lipton is dean emeritus. The Bravo network's flagship program has received 20 Emmys nominations, one of which it won for Outstanding Informational Series or Special.
#11. Check It Out! with Dr. Steve Brule
- IMDb user rating: 8.6
- On air: 2010-2017
Cartoon Network series "Check It Out! with Dr. Steve Brule" saw John C. Reilly play Dr. Brule, host of a predawn public-access talk show. Reilly's character is inept and socially awkward—not at all the type of person you'd imagine would host a talk show, fictional or not. During each episode, Dr. Brule invites his audience to join him as he "checks out" some of the most basic facets of human life, from money to boats to relationships.
#10. The Eric Andre Show
- IMDb user rating: 8.6
- On air: 2012-present
Eric Andre's off-the-wall sense of humor is on full display during the comedian's namesake show. The format is a talk show parody-sketch comedy hybrid that digresses into absolute and pure chaos by the episode's end. But in a good way.
#9. Inside the NBA
- IMDb user rating: 8.7
- On air: 1988-present
Charles Barkley, Shaquille O'Neal, Kenny Smith, and Ernie Johnson make up the panel of experts on TNT's "Inside the NBA." During each episode, the group discusses basketball news, analyzes gameplay, and makes bets about upcoming matchups. The series has won multiple Sports Emmy Awards throughout its extensive run, including one for Outstanding Studio Show in 2020.
#8. The Grand Tour
- IMDb user rating: 8.7
- On air: 2016-present
"The Grand Tour" is a British motoring show on Amazon Prime Video hosted by Jeremy Clarkson, Richard Hammond, and James May. The three hosts began producing the show after Clarkson was suspended from their previous BBC show "Top Gear" amid complaints of racism and other ongoing issues. In each episode of "The Grand Tour," the hosts travel to a different destination to drive cars and discuss auto-related topics.
#7. Top Gear
- IMDb user rating: 8.7
- On air: 2002-present
"Top Gear" has been a British television institution since it first aired in 1977. The show's current iteration, which premiered in 2002, picked up where its predecessor left off. Its enthusiastic hosts, Jeremy Clarkson, Richard Hammond, and James May, turn the conventional car show on its heels, informing viewers of automobile news through creative (and often humorous) segments that include races and interviewing celebrities in "reasonably priced" cars.
After the trio had left amid controversy involving Clarkson, BBC found a new trio (Freddie Flintoff, Paddy McGuinness, and Chris Harris) to get into the driver's seat. Production for its 34th season was halted due to an accident involving Flintoff in 2022.
#6. Last Week Tonight with John Oliver
- IMDb user rating: 8.9
- On air: 2014-present
This satirical late-night news show on Max features comedian John Oliver, a one-time correspondent and fill-in host for "The Daily Show." The program begins with Oliver performing a humorous and sometimes critical recap of the week's biggest news events. From there, the show morphs into a panel discussion broken up by funny segments and comedic sketches.
#5. Unstoppable with NBK
- IMDb user rating: 9.1
- On air: 2021-present
"Unstoppable with NBK" is an Indian talk show that's known for its host Nandamuri Balakrishna's ability to ask his guests the tough questions. The web series airs on Aha and was the streaming platform's most popular celebrity talk show after its first season.
#4. On Cinema
- IMDb user rating: 9.2
- On air: 2012-present
On its surface, "On Cinema" is a parody of a film critic talk show, but at its core, the series is much more complex (and strange). Hosted by Tim Heidecker and Gregg Turkington, both known for their bizarre brand of comedy, each episode begins with a review of a movie neither character has seen before, devolving into arguments and rants about Heidecker and Turkington's fictional lives. "On Cinema" began as a podcast and has transformed into a wacky universe with numerous spinoffs.
#3. Norm Macdonald Live
- IMDb user rating: 9.2
- On air: 2013-2017
Contrary to its name, "Norm Macdonald Live" wasn't filmed in front of a live audience. Though it shared the same format as a talk show, the series was technically a video podcast that saw Macdonald and fellow comedian Adam Eget indulge in co-host banter, celebrity interviews, and spewing off one-liners.
#2. Best of the Worst
- IMDb user rating: 9.4
- On air: 2013-present
"Best of the Worst" centers on three commentators disparaging the worst B movies, educational films, and instructional videos ever created. The panel typically consists of a combination of Red Letter Media personalities with the occasional special guest. Like "Half in the Bag" (another Red Letter Media production), viewers can only find the series on YouTube.
#1. The Last Drive-In with Joe Bob Briggs
- IMDb user rating: 9.5
- On air: 2018-present
Joe Bob Briggs has been a horror icon since the '80s when he hosted a show called "Joe Bob's Drive-in Theater." In 1996, he became even more well-known after taking over hosting duties on "MonsterVision."
Fans were devastated when the movie commentary show ended in 2000, but it wouldn't be the last time they saw their favorite horror film buff. The critic made his triumphant return in 2018 with "The Last Drive-In with Joe Bob Briggs"—a variety show that sees Briggs not only host horror double features, but also discuss the film's history, accolades, and importance to the genre during its runtime.
Data reporting by Luke Hicks. Story editing by Carren Jao. Copy editing by Kristen Wegrzyn. Photo selection by Clarese Moller.