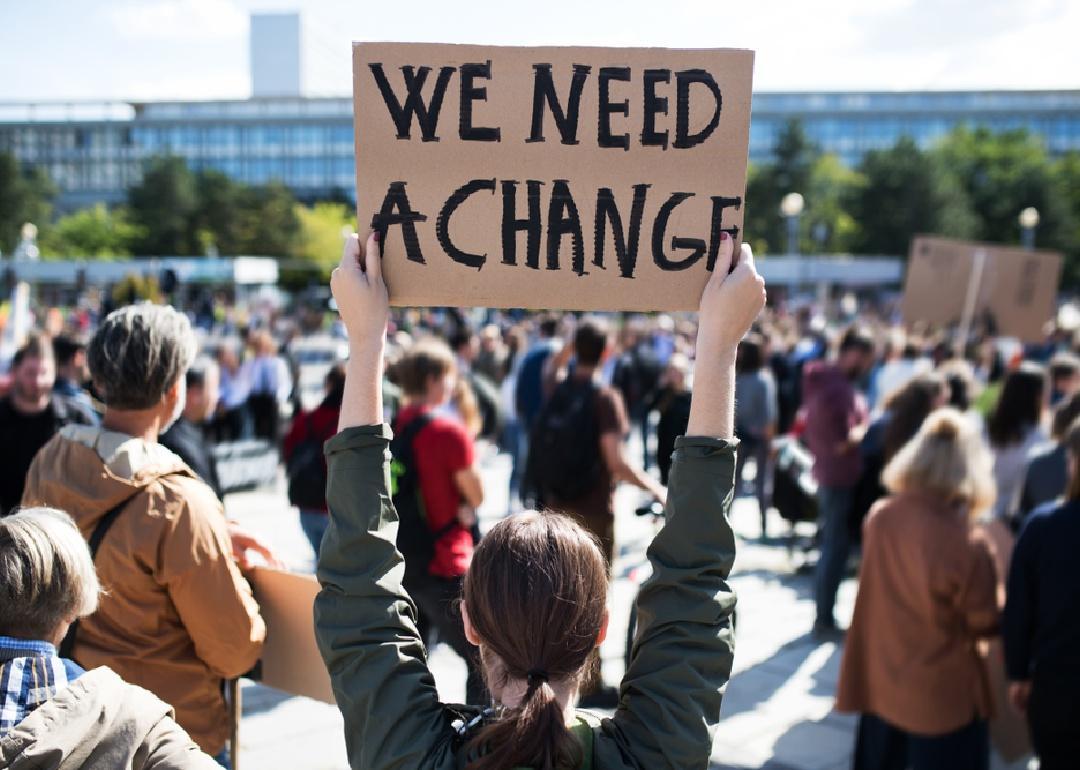 20 environmental crusaders you should know
Halfpoint // Shutterstock
20 environmental crusaders you should know
In one of the biggest environmental protests in world history, more than 7.6 million people from 185 countries joined forces between Sept. 20 and 27, 2019, for the Global Climate Strike. That immense civic action is part of a swelling movement, sparked in August 2018 by then-15-year-old activist Greta Thunberg. The Swedish teenager began cutting school to stand outside the parliament building holding a sign that translates in English to "School strike for climate." Her civil disobedience touched off a worldwide effort demanding stronger, more comprehensive climate policies, an end to oil extraction, clean energy options, investments in green infrastructure, and more equitable futures for citizens around the globe.
The movement is coming at the same time politicians in the U.S. push for the banning of plastic bags, the eradication of single-use drinking straws, and the passage of the Green New Deal, a bold plan that envisions drastic measures to curb greenhouse gases. These green efforts come against a backdrop of numerous reports of natural disasters caused by climate change, how weather patterns are expected to shift in the next 50 years, and how climate change is adversely affecting the food systems people rely on.
Other environmental crusaders are pressuring governments and corporations to divest from fossil fuels—and mounting legislation against oil companies who, according to recently surfaced evidence, knowingly disrupted information linking oil drilling to global warming in a way that's reminiscent of how tobacco companies hid evidence linking smoking to cancer in the 20th century.
Stacker scoured data from Apolitical to take a closer look at 20 top environmental crusaders working in local and national governments, international organizations, and nongovernmental groups like the Organisation for Economic Co-operation and Development (OECD), United Nations Development Programme (UNDP), Harvard, Oxford, Bloomberg Philanthropies, and The Climate Action Network.
To determine who was nominated to Apolitical's master list of 100 individuals influencing climate policy, the organization accepted nominations from experts as well as peers of the organization. Hundreds of nominations were counted, followed by research conducted into each nominee and the work he or she is doing on behalf of the climate. Factors considered included the number of nominations received, the potential for affecting change, past achievements affecting change, public perception of influence, seniority beyond expectations for someone of a similar age, significant speaking engagements, social media presence, and feedback from experts.
Finally, Apolitical's list of nominees was reviewed by experts for final decisions and updated in March 2019. This gallery lists the 20 most influential people in climate policy in alphabetical order according to their first names.
Read on to learn more about the world's top environmental crusaders, from long-established leaders like Bill McKibben to more recent crusaders like Alexandria Ocasio-Cortez.
You may also like: 10 toxic cleaning products and their natural alternatives