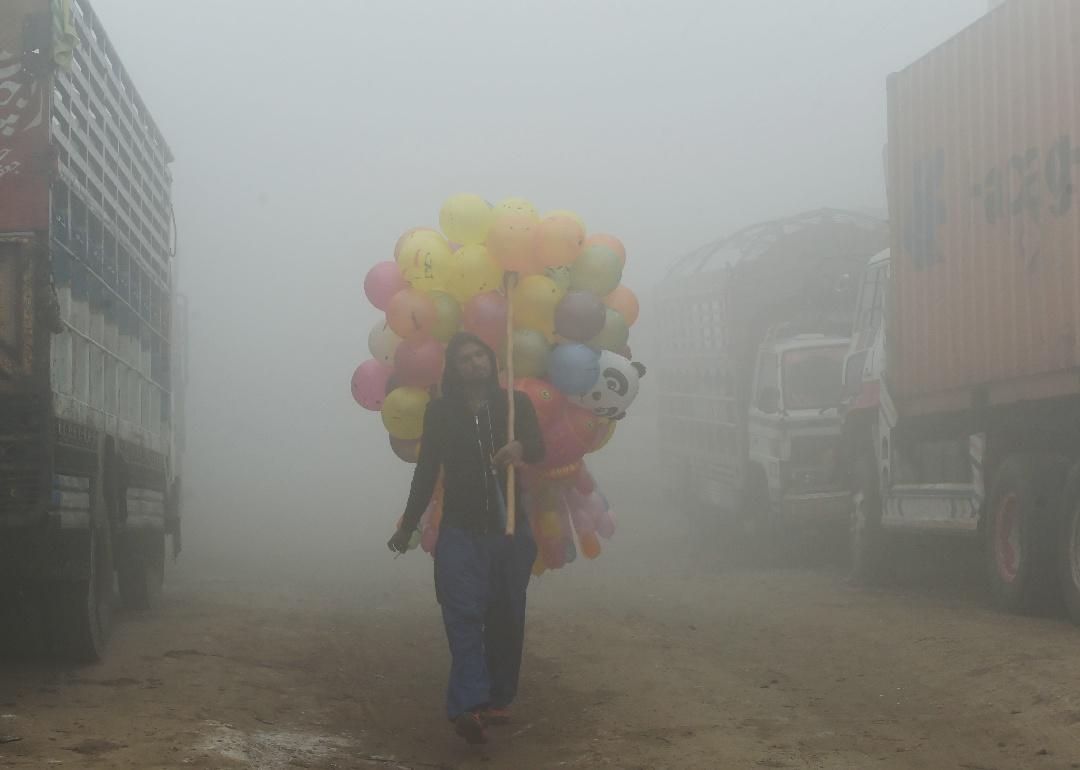 Cities with the dirtiest air in the world
ARIF ALI // AFP via Getty Images
Cities with the dirtiest air in the world
With problems of climate change being exacerbated in the past 10 to 15 years, the air quality of urban dwellers is at risk more than ever before. Some adverse effects of poor air quality can be as severe as stroke, lung cancer, and chronic pulmonary disease, or even premature death. Unfortunately, there are many cities around the globe—most of which are concentrated in the Middle East and India—where air quality is so poor that it is extremely unhealthy. The top three countries with the most polluted cities are India with 11, Bahrain with four, and Pakistan with three.
The World Health Organization (WHO) monitors this air quality closely and ranks cities based on ambient (outdoor) air quality, based on two measures. The first is mean particulate matter between 2.5 and 10 micrometers in the air, known as coarse air quality (PM10), and the second is mean particulate matter less than 2.5 micrometers in the air, known as fine air quality (PM2.5). Both metrics are measured in micrograms per cubic meter of air (ug/m3). The database covers 4,300 cities in 108 countries.
According to the WHO, as air quality declines, the risk of fatal illness and diseases such as stroke, heart disease, lung cancer, and chronic and acute respiratory diseases, including asthma, increases. Like the food we eat and the water we drink, the air we breathe affects our short and long-term health.
To compile the following list, Stacker took data from WHO's 2018 list and measured each of the top 25 cities with the worst air quality for PM10 and PM2.5. In the case of a tie in terms of PM10, the tie was broken by the city with a higher annual mean PM2.5 amount.
Read on to find out which cities have the dirtiest air in the world and which have increased, even incrementally, the quality of their ambient air in the past few years.

You may also like: States with the highest and lowest rates of obesity