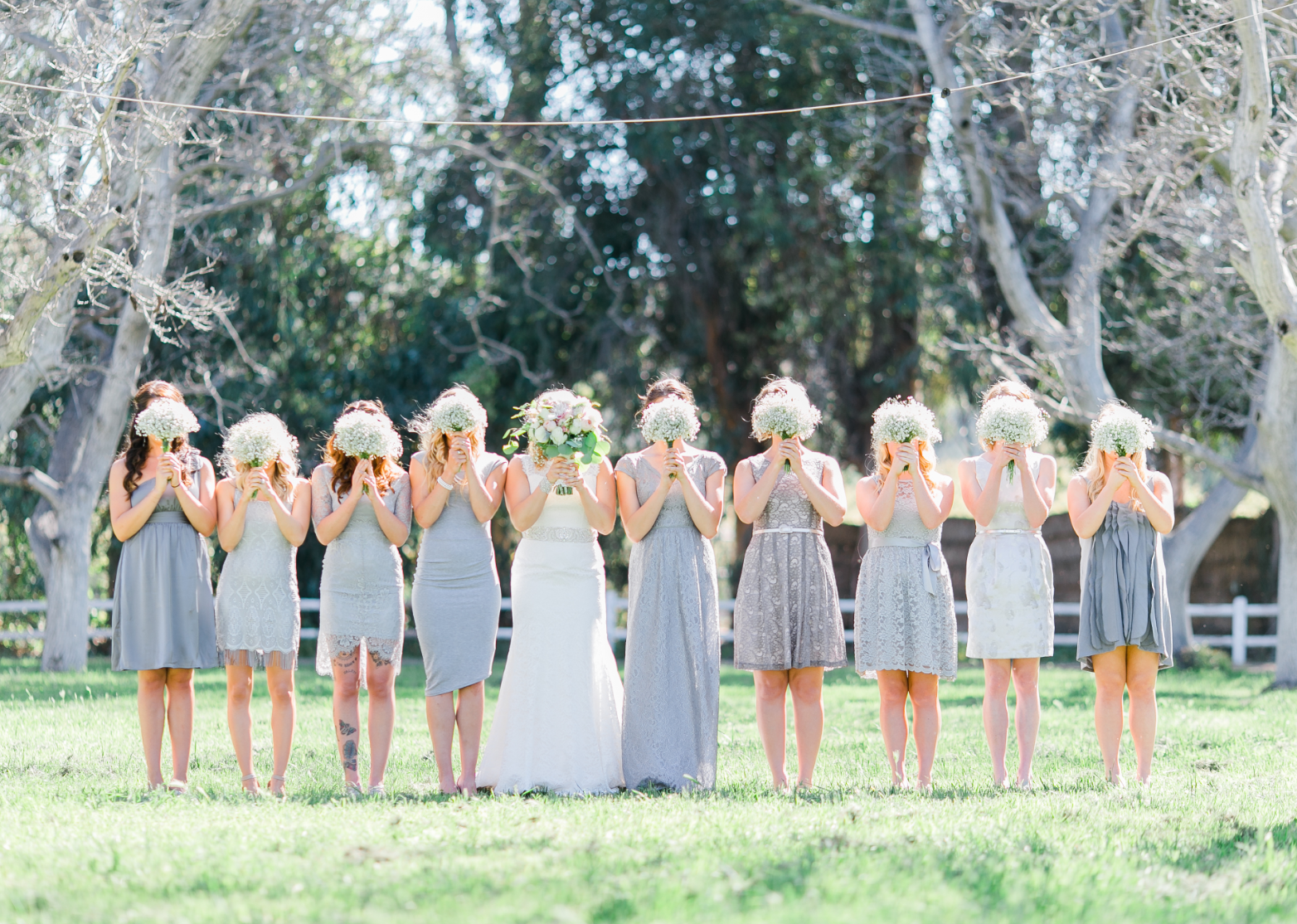 50 ways weddings have changed over the last 50 years
Matthew Nigel // Shutterstock
50 ways weddings have changed over the last 50 years
Marriage is a longstanding institution: The first known evidence of marriage contracts and ceremonies dates back 4,000 years ago in Mesopotamia. However, it wasn't until the church made marriage a holy sacrament in the 13th century that weddings as we know them truly took off. And it wasn't until the Industrial Revolution and the growth of the middle class, when matches were no longer required to be about wealth or status, that love really entered the picture.
There were 2.24 million marriages in the U.S. in 2017, according to the National Center for Health Statistics. The U.S. wedding industry is worth $60 billion in the U.S. alone and $300 billion worldwide, the HuffPost reported. It's an industry comprised of about 600,000 businesses that employ around 1 million people. It's also an industry that has almost unprecedented power in determining how and when people get married.
There are a number of factors outside of the wedding industry—the boom of which came in the 1980s, in part thanks to the incredible amount of hype surrounding the wedding of Prince Charles and Princess Diana—that have an incredible influence on changing wedding trends. For example, the 1990s saw the release of a high volume of wedding-related movies like "Father of the Bride," "Four Weddings and a Funeral," and "My Best Friend's Wedding," that influenced the level of grandeur brides wanted their own weddings to have. Social media platforms have been another major influence on how personalized and over-the-top couples want their weddings to be.
Weddings have changed in countless ways over the last 50 years. Stacker has compiled a list of 50 significant changes to wedding culture over the last half-century. From who pays for the big day, to the style of dress, to things like personalized vows and YOLO honeymoons, read on to find out how different a 2019 wedding is from a 1969 wedding.
You may also like: 50 ways the American family has changed in the last 50 years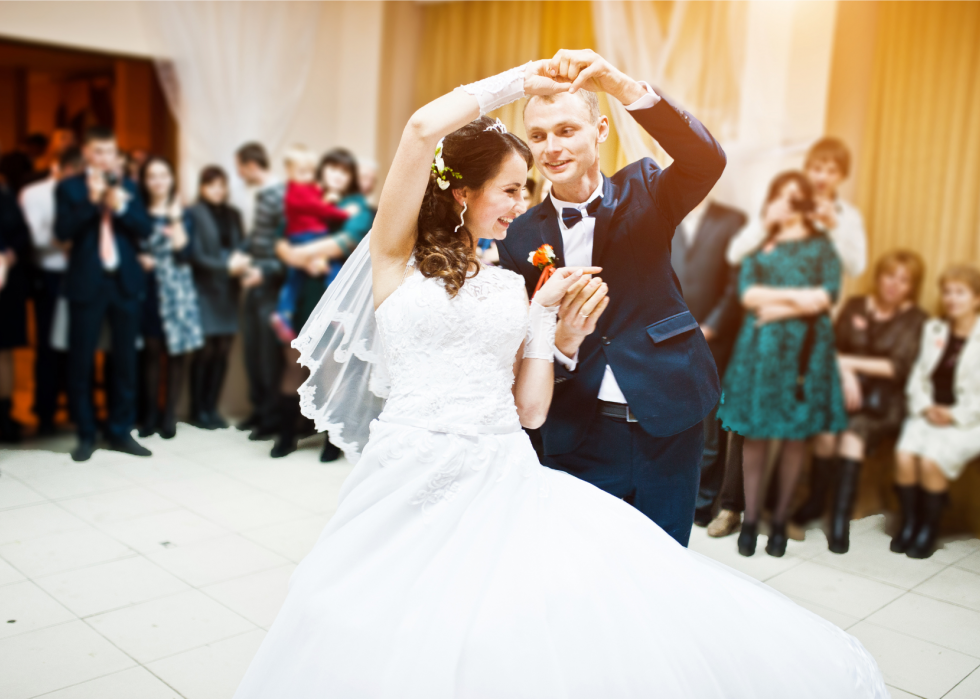 1 / 50
Wedding Stock Photo // Shutterstock
The first dance
A first dance song is one of the biggest choices many couples make when it comes to planning their wedding day. In 1967, one of the top choices for a first dance song was a classic, Louis Armstrong's "What a Wonderful World," but today many couples are choosing slightly more contemporary tracks from the likes of Ed Sheeran and Bruno Mars.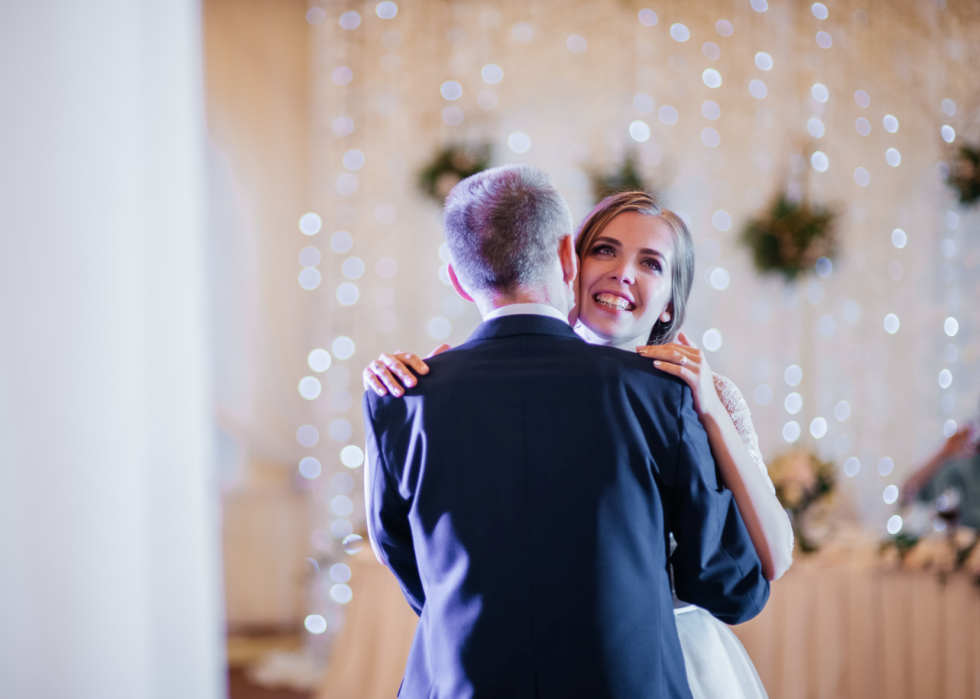 2 / 50
Malysheva Liudmyla // Shutterstock
Father-daughter dances
Father-daughter dances have long been a wedding tradition in the U.S. In the '60s and '70s, these dances were usually classic waltzes, but today they've sprung into something bigger. With the rise of social media, weddings have become more of a performance than ever before, and plenty of father-daughter duos are now choosing to perform epic choreographed routines rather than a quick box step.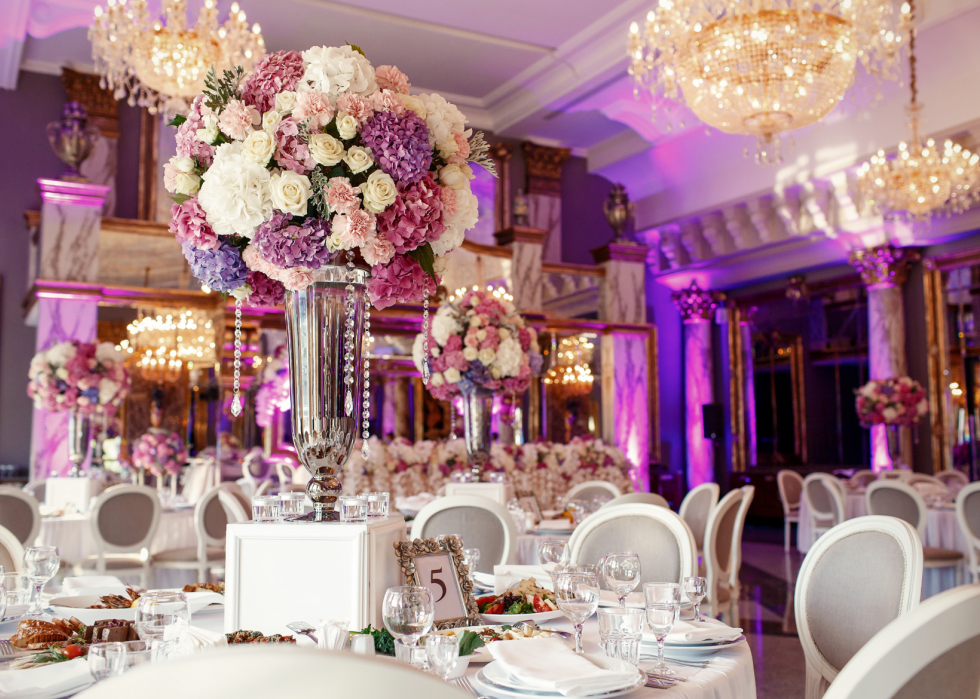 3 / 50
IVASHstudio // Shutterstock
Reception venue
In the 1960s, many receptions were held at home. As the wedding industry has grown, most receptions are now held at venues, which has increased overall wedding costs by thousands of dollars.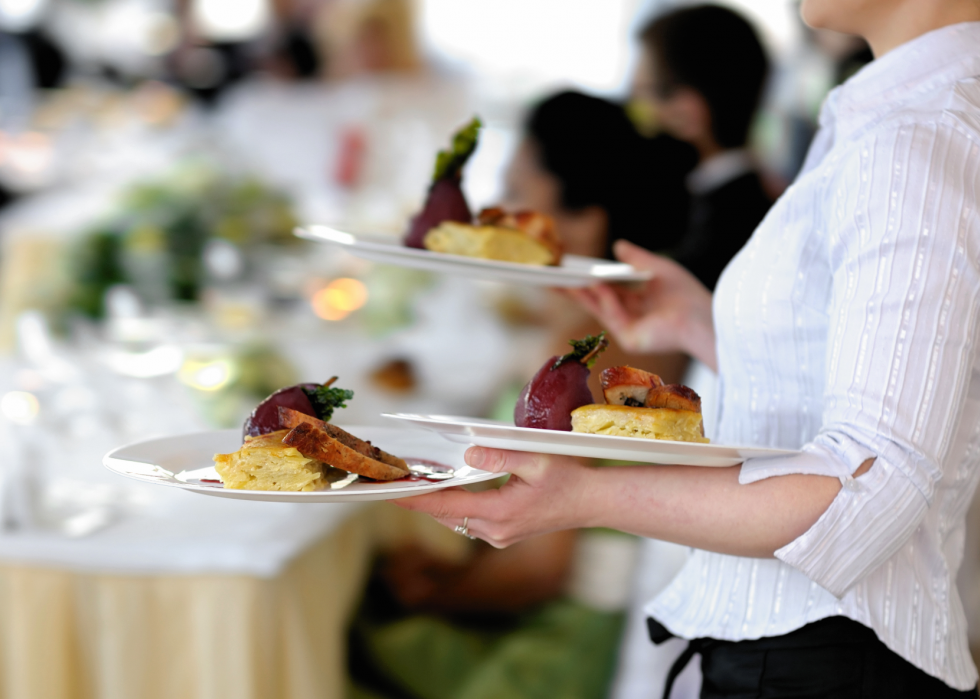 4 / 50
Reception fare
In the 1960s cake and punch receptions were a popular way to celebrate new nuptials, but full sit-down dinners were becoming more popular. Today, it's almost the reverse. Full dinners are the most popular way to celebrate a wedding, while cocktail and cake hours are less frequently chosen options.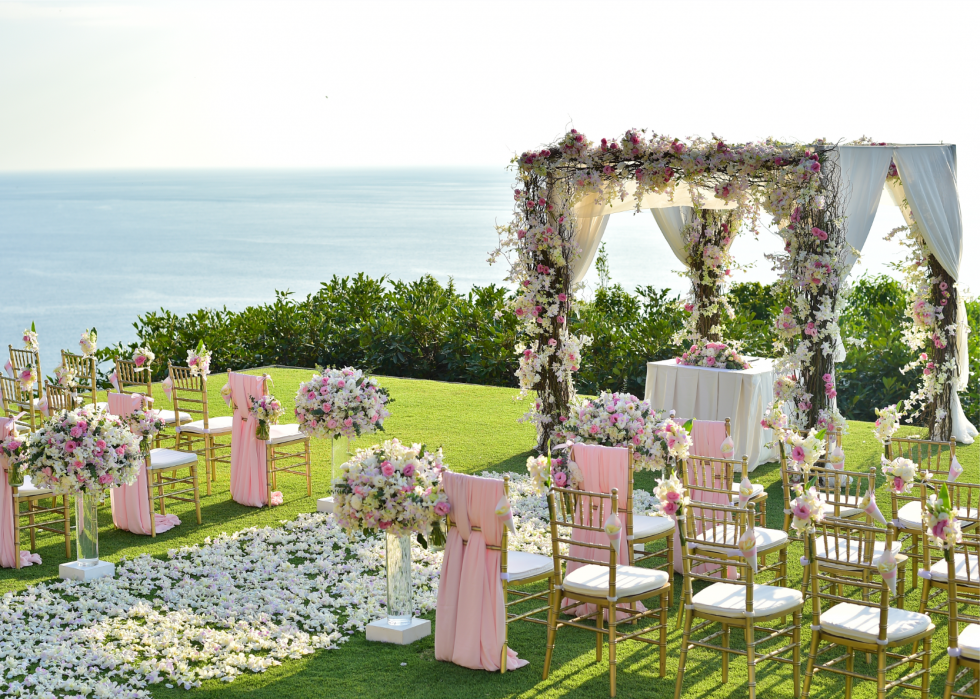 5 / 50
mambographer // Shutterstock
Outdoor weddings
In the 1960s a majority of weddings were held indoors at churches. If the ceremony was an outdoor one it usually took place in the backyard and was a small, casual affair. However, the 1970s saw a huge surge in upscale outdoor wedding venues with more couples hoping to exchange vows in the open air, a trend that continues today.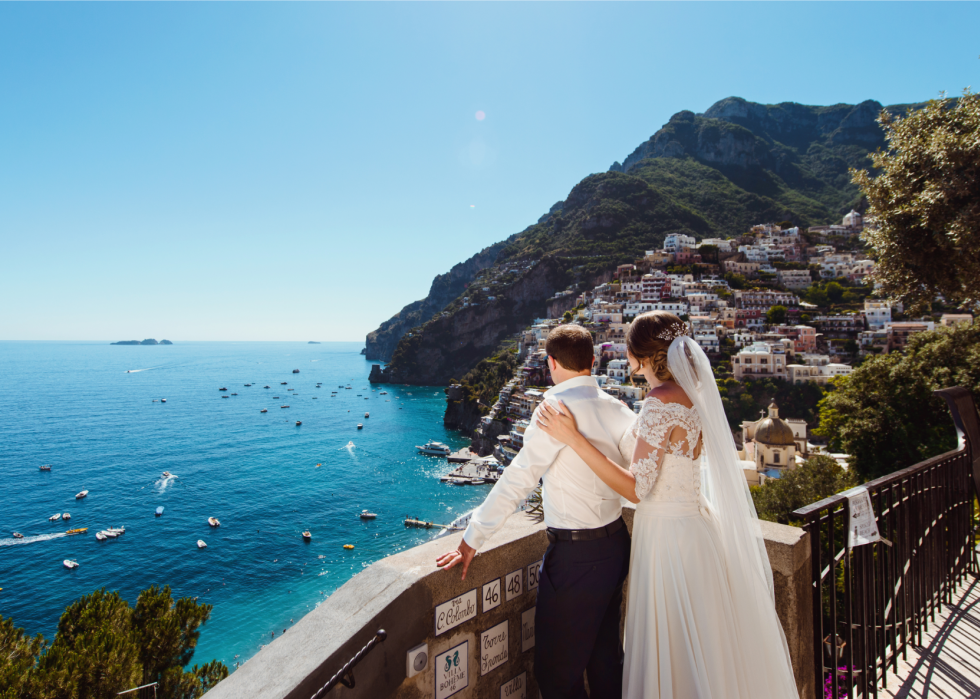 6 / 50
ANRproduction // Shutterstock
Destination weddings
The growth of the wedding industry changed what used to be couple-oriented, often-religious commitment ceremonies into full-blown, magazine-worthy productions. A perfect example of this is the rise of destination weddings in the 1990s. Since then, more and more couples are planning weddings in cities or countries other than their own, and today more than 1 in 4 weddings is a destination one, according to The Knot's "2018 Real Weddings Study."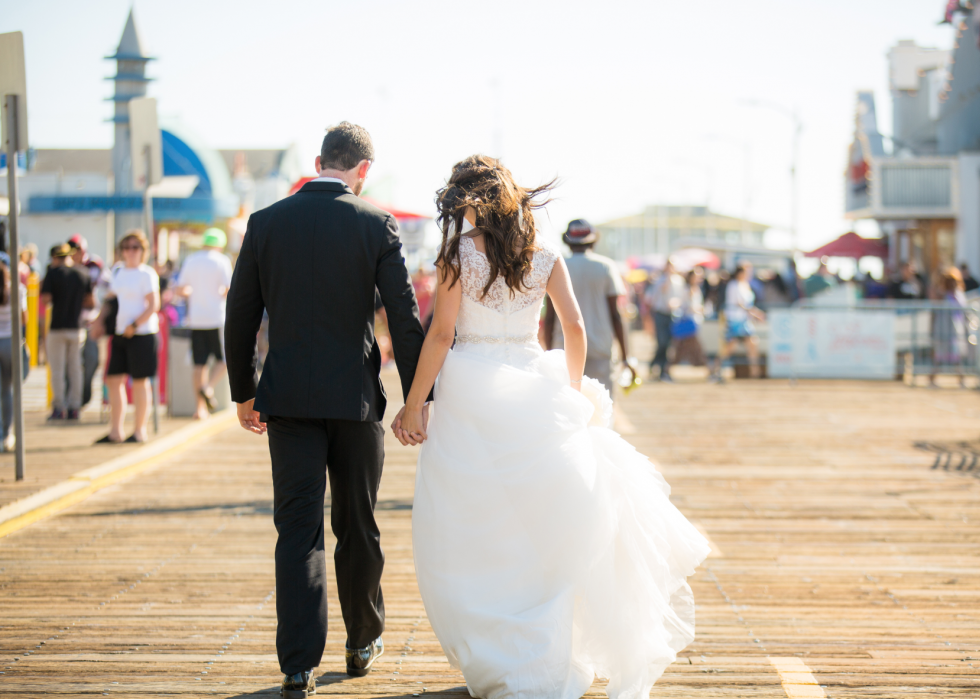 7 / 50
The rise of elopements
Prior to 1990, elopements were seen as a way for "unconventional" relationships, like those between already-pregnant couples and those on their second or third marriages, to gain legitimacy. But in the last decade of the millennium, they became more popular with couples looking to skip the entire expensive affair or to have a much more intimate celebration.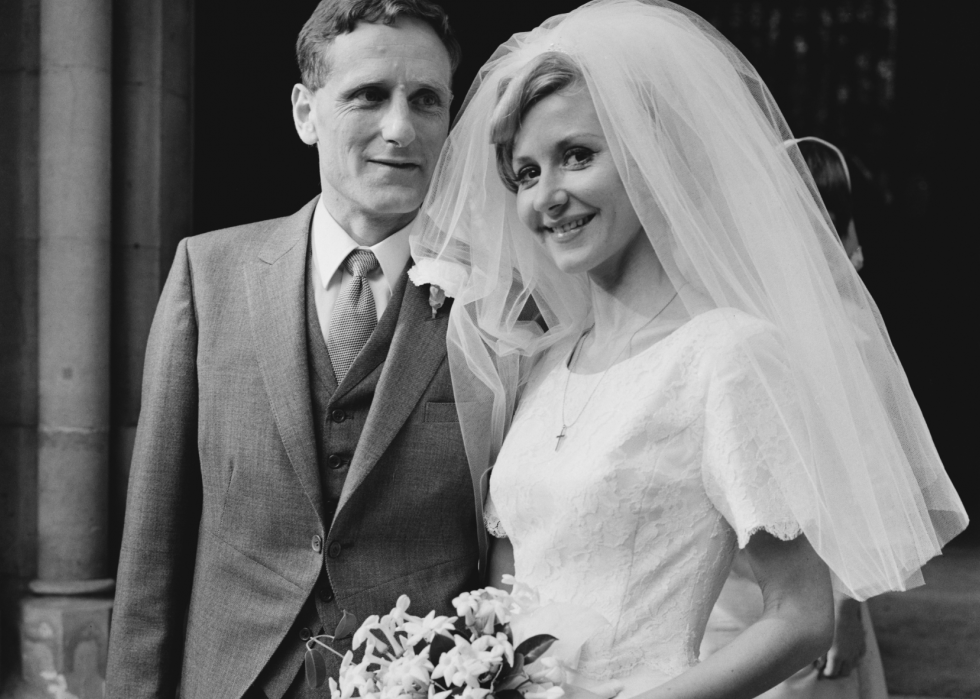 8 / 50
Wedding dresses: '60s
For a bride, one of the biggest choices she'll make for her wedding day is which dress to wear. In the 1960s A-line styles, cap sleeves, and short-shift dresses (stemming from the increased popularity of the mini-skirt) were on-trend.
9 / 50
Wedding dresses: '70s
While there wasn't a particular style that reigned supreme in the 1970s, many dresses included flowy, draped fabrics or bell sleeves. White pantsuits were also a major trend among more liberated brides.
10 / 50
Wedding dresses: '80s
Drama was the name of the game in the 1980s. Brides dressed in ballgown-sized dresses, with plenty of frills, lace, and puffed sleeves, were heading down aisles all around the world. Princess Diana wore perhaps the most recognizable wedding dress of the decade.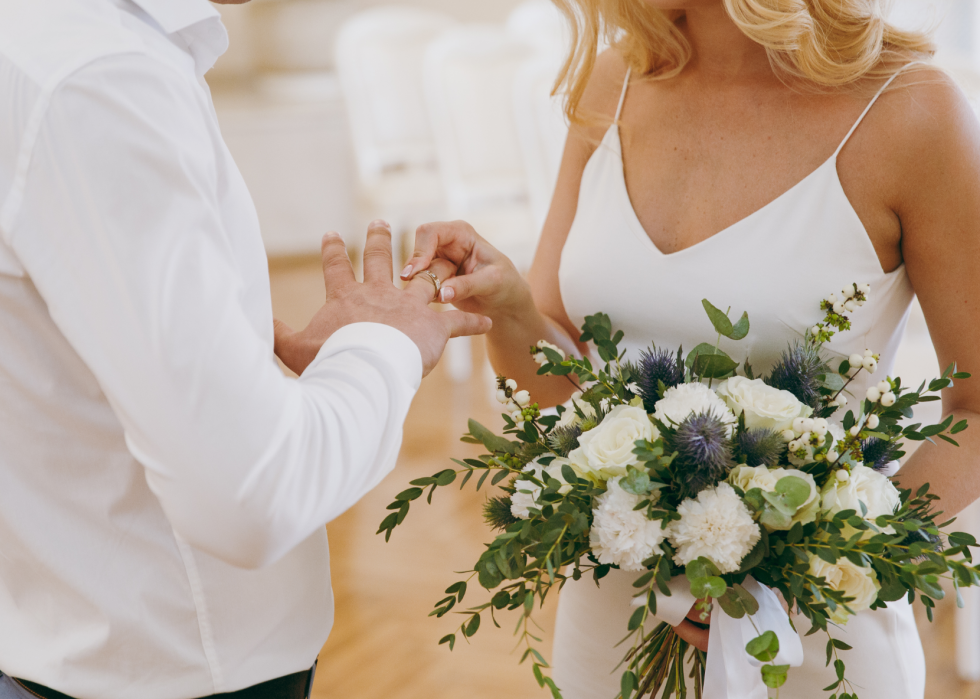 11 / 50
ViDi Studio // Shutterstock
Wedding dresses: '90s
Perhaps as a reaction to the over-the-top '80s, wedding dresses in the '90s were sleeker and simpler. Silk dominated designs and classic sheath dresses (many with revealing necklines) were all the rage up until the turn of the millennium.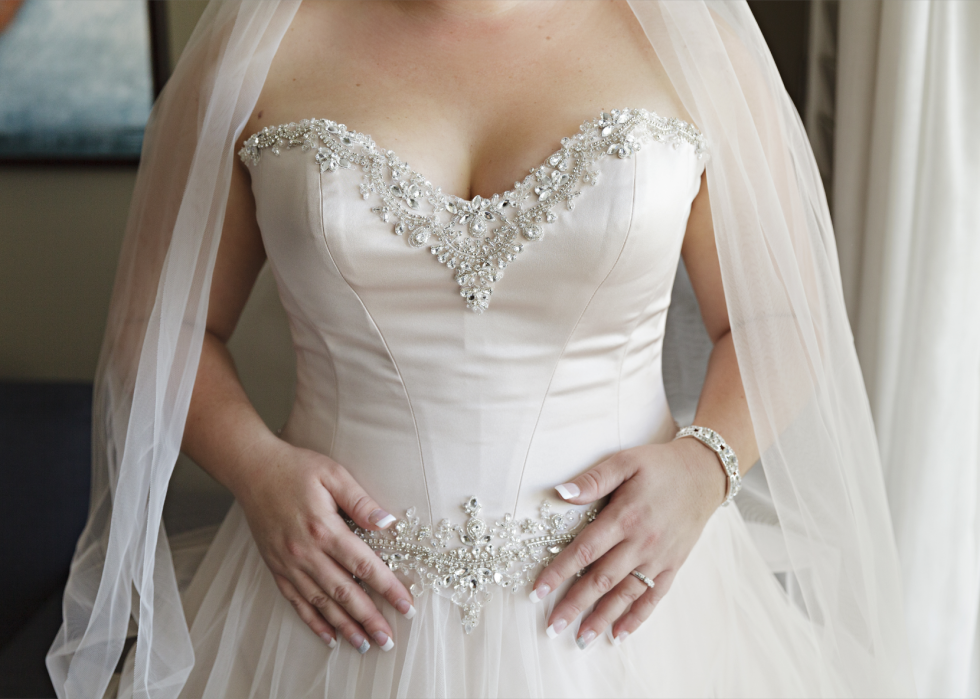 12 / 50
Jodie Litzow // Shutterstock
Wedding dresses: '00s
More and more weddings in the early '00s were moved out of houses of worship, which freed up brides to wear whatever they wanted as they would no longer have to adhere to church modesty guidelines. Strapless dresses, sweetheart necklines, taffeta and bling (like diamantes and rhinestones) were brides' most commonly chosen design elements.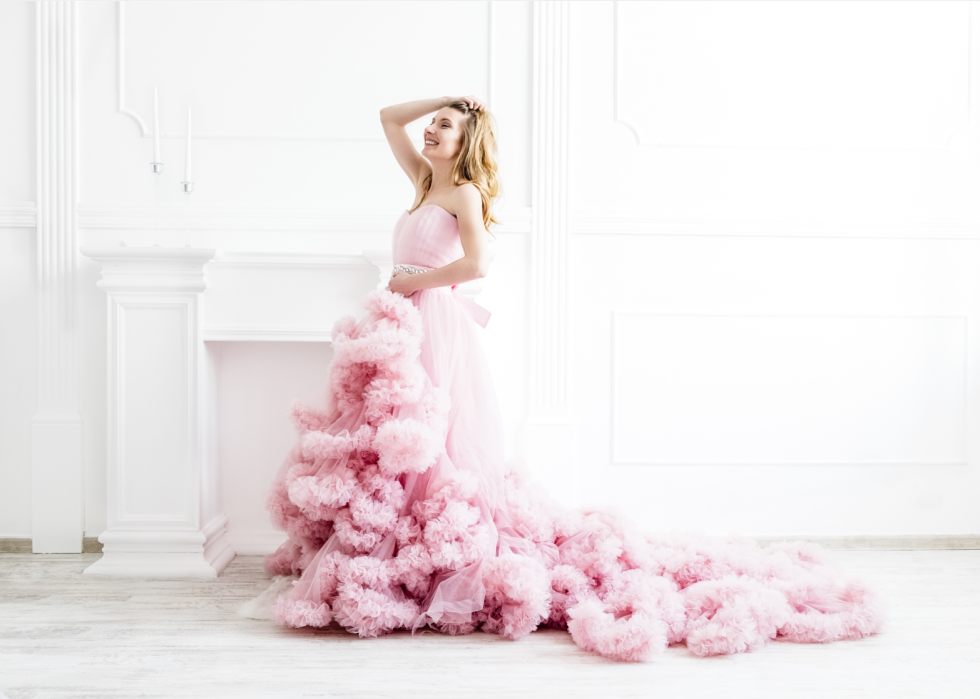 13 / 50
July Prokopiv // Shutterstock
Wedding dresses: today
Modern wedding dresses are a mix of all sorts of styles, but there have been two major trends in the past decade that set it apart from others. First, more brides are choosing to wear color instead of the classic white. Second, several services have come onto the scene that allow brides to save money by renting their dresses for the big day instead of dropping thousands of dollars on an outfit they'll wear only once.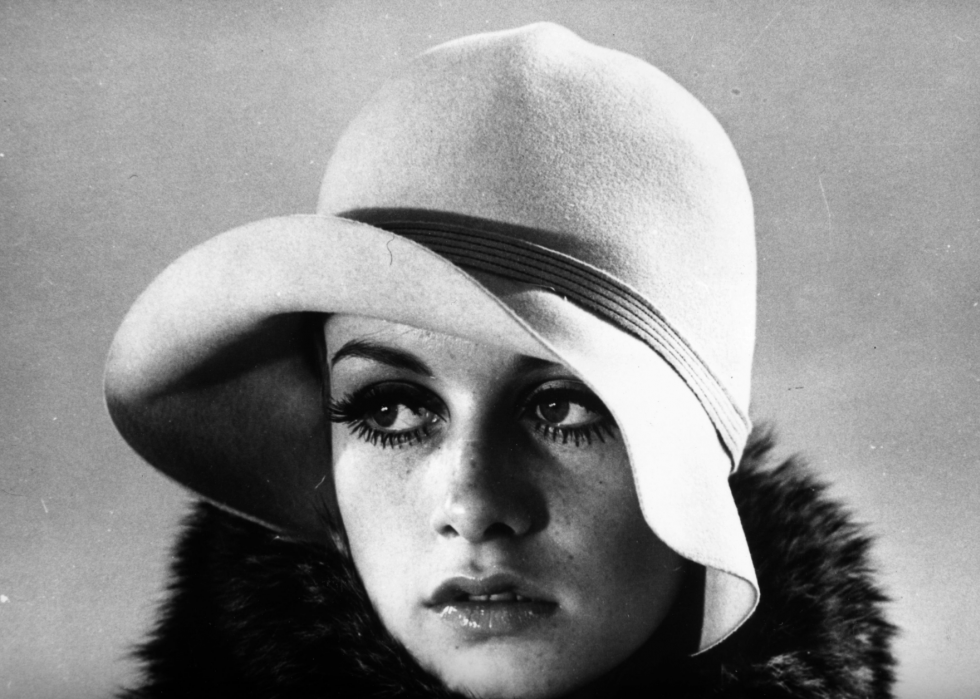 14 / 50
Keystone Features // Getty Images
Beauty trends: '60s
In the '60s, brides favored Twiggy's thick black eyeliner and dramatic lashes for their wedding day makeup. Pillbox hats with attached birdcage veils or short shoulder-length blushers tied the look together.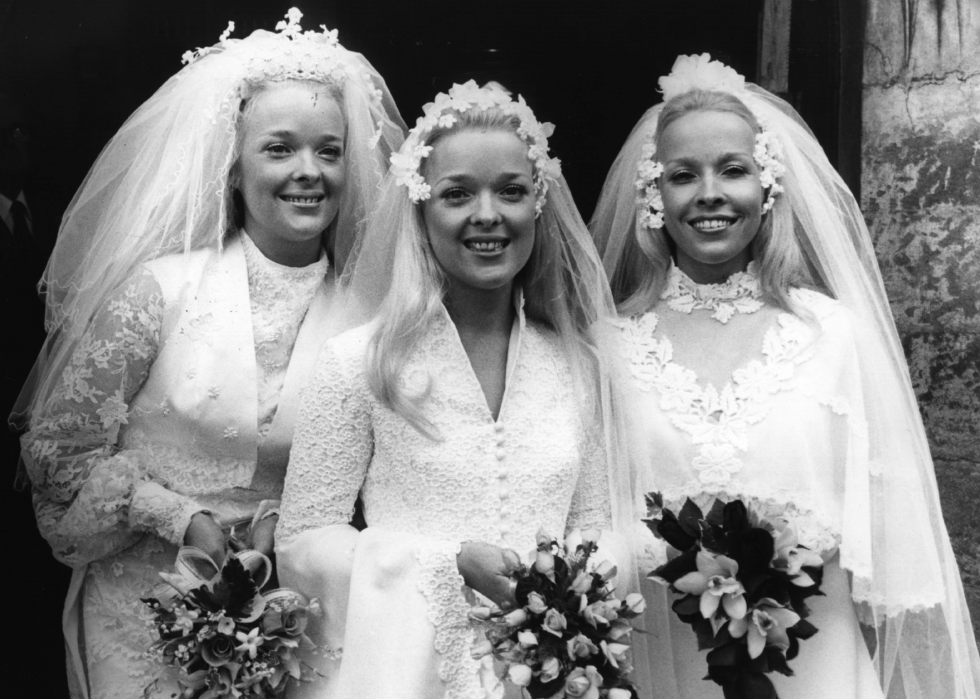 15 / 50
Beauty trends: '70s
Makeup trends tended to be much more subtle in the '70s than in the previous decade, so many brides chose a minimal makeup look or went barefaced. Circular headpieces worn over long, flowy hair sometimes replaced the standard veil in this decade as well.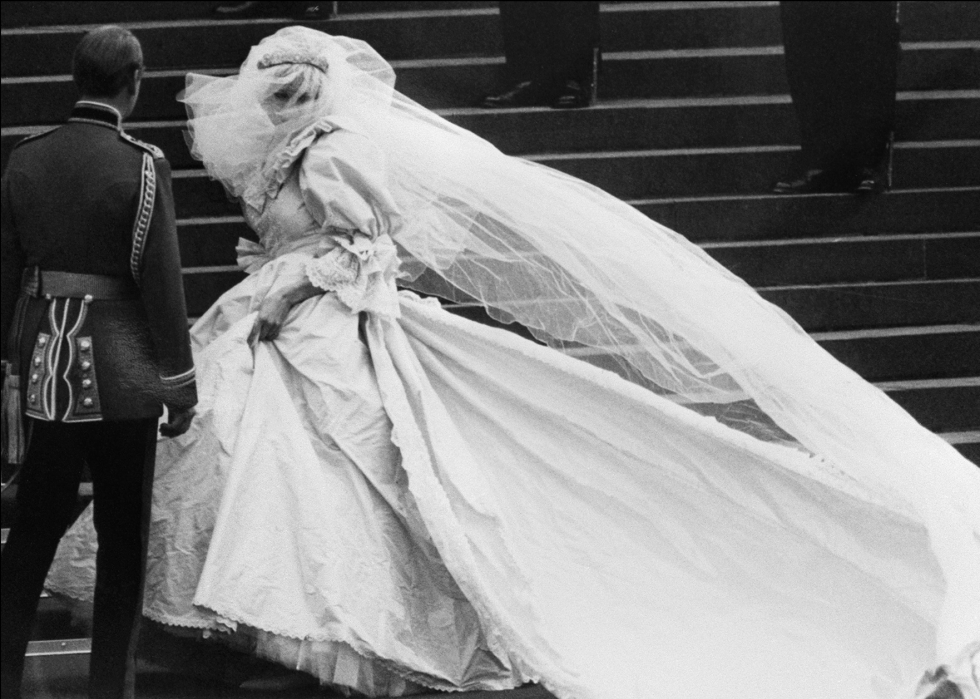 16 / 50
Beauty trends: '80s
Long, cathedral-length veils and elbow-length silk gloves finished off many a bride's ensemble in the '80s. Vivid makeup, featuring hot pink lipstick or baby blue eye shadow, paired perfectly with elaborately teased updos and curly wedding day hairstyles.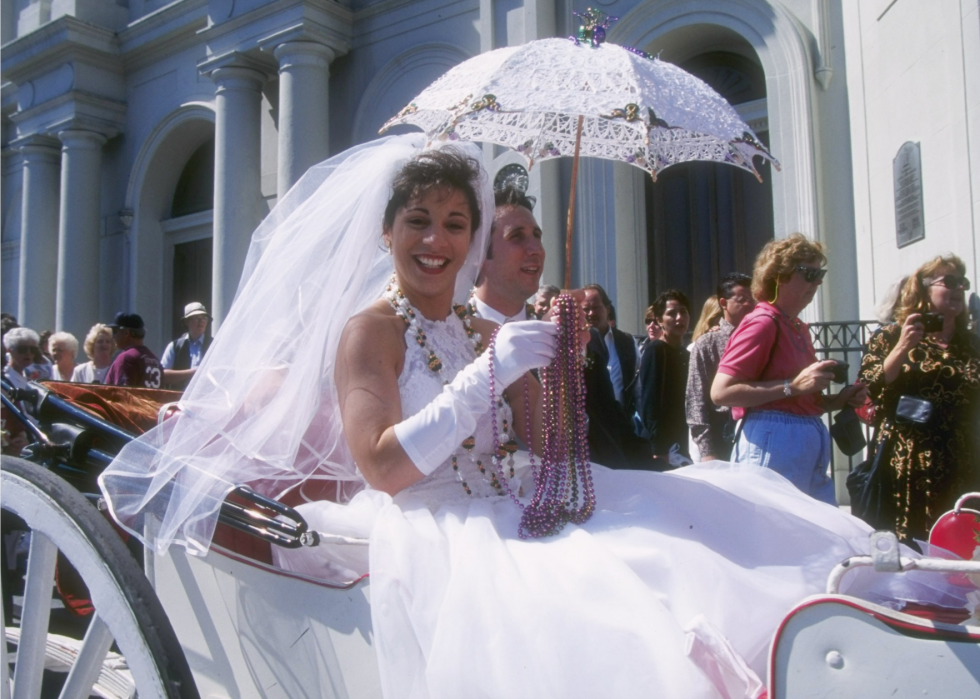 17 / 50
Jamie Squire // Getty Images
Beauty trends: '90s
Brown-hued makeup with bold lipstick colors was on-trend for '90s brides. Shoulder-length veils attached to a headband or clip (worn under an updo) were also a popular way to finish off a look.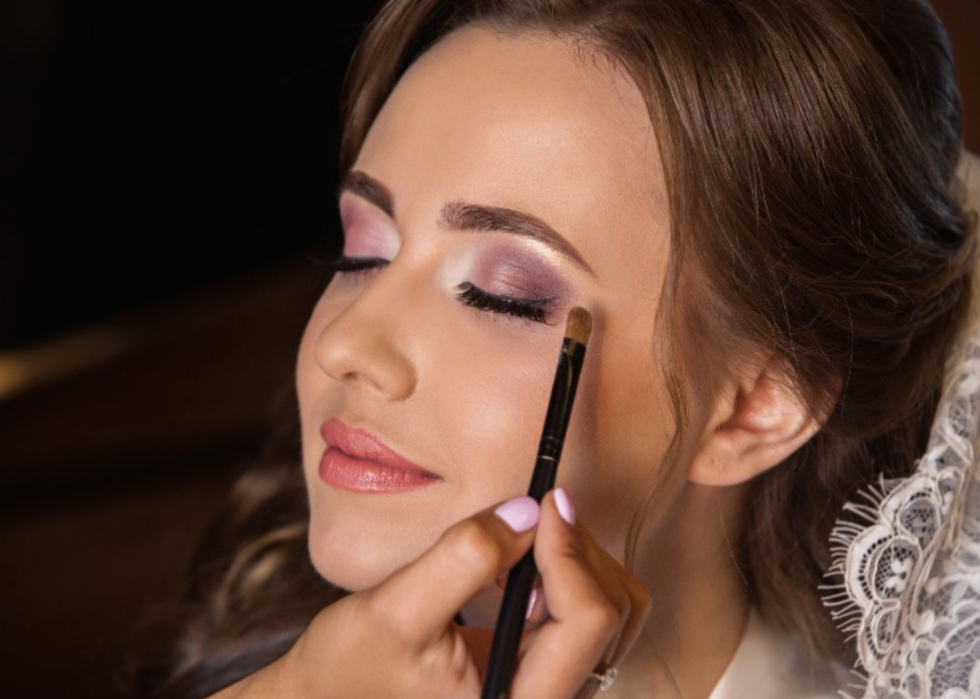 18 / 50
Wedding and lifestyle // Shutterstock
Beauty trends: '00s
Noticeable tans, smoky eyes, and neutral lipstick colors were brides' go-to beauty choices in the early '00s. Once again, veils were out as more and more women chose tiaras or fascinators to complete their glamorous outfits.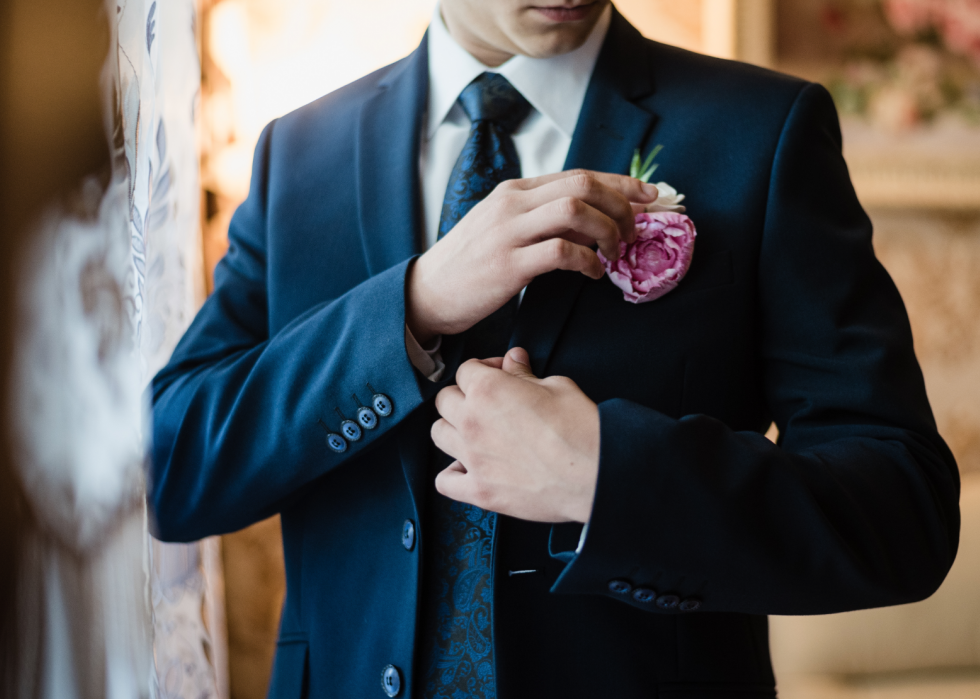 19 / 50
Olga Rusinova // Shutterstock
Grooms' attire
While bridal attire has changed dramatically over the years, grooms' attire has stayed more or less the same. Sure, cuts have changed, but most grooms have opted to wear dark toned suits or tuxedos on their big day for the past 50 years. The one exception to this is the 1970s, where many men chose to have a John Travolta moment in their tight, white, disco suits.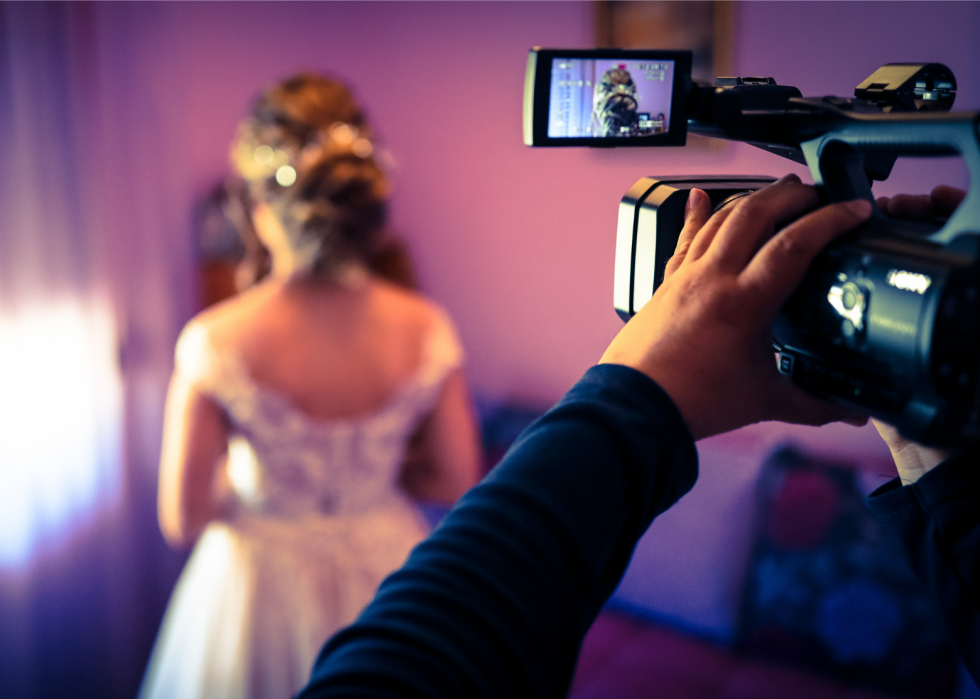 20 / 50
The videographer
Wedding pictures have been a tradition almost since photography was born. But having your wedding recorded didn't become a trend until the '80s. As video cameras became more accessible, the wedding videography business really took off, and more brides chose to have the biggest day of their life commemorated on tape.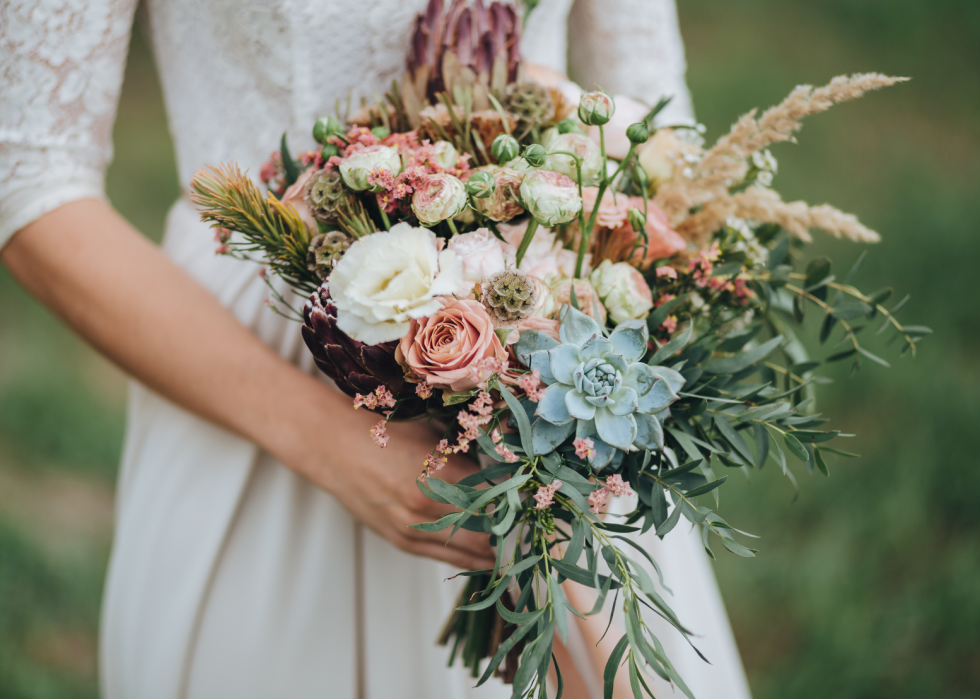 21 / 50
Alex Gukalov // Shutterstock
The wedding bouquet
In the '80s giant, cascading wedding bouquets were all the rage. Brides loved the overflowing look then, but today more brides are opting for smaller, stand-up bouquets. Increasingly, organic, locally sourced flowers and bouquets that include lots of greenery are dominating florists' orders.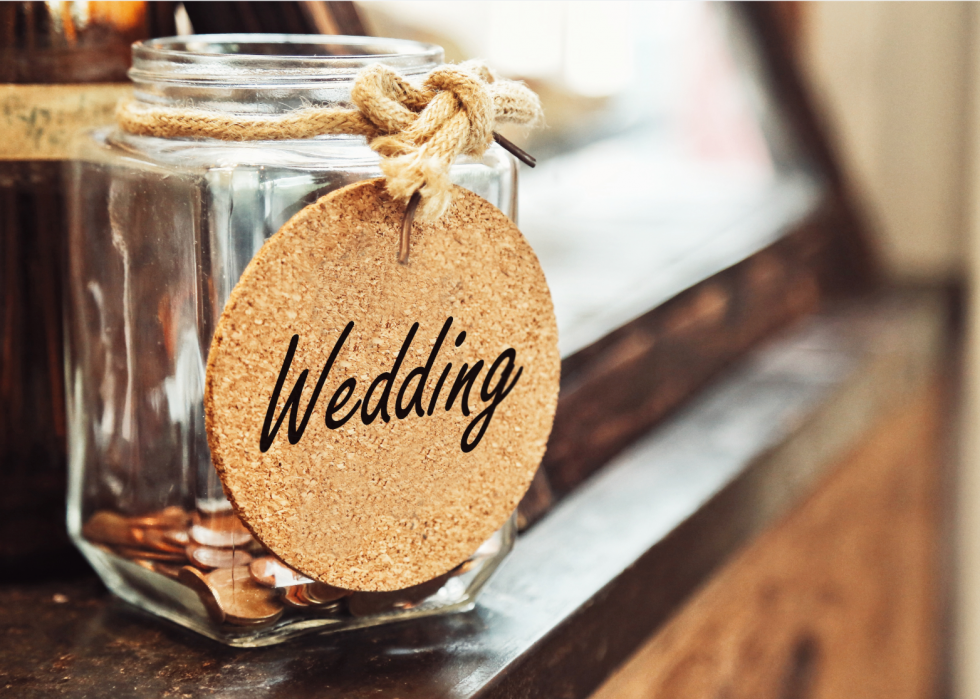 22 / 50
The wedding cost
50 years ago, parents started saving for their daughters' weddings almost as soon as they were born, knowing that it would be on their shoulders to foot the bill for the whole affair. By the end of the 20th century, they were granted some financial relief as more and more brides and grooms began paying for at least a portion of their big day.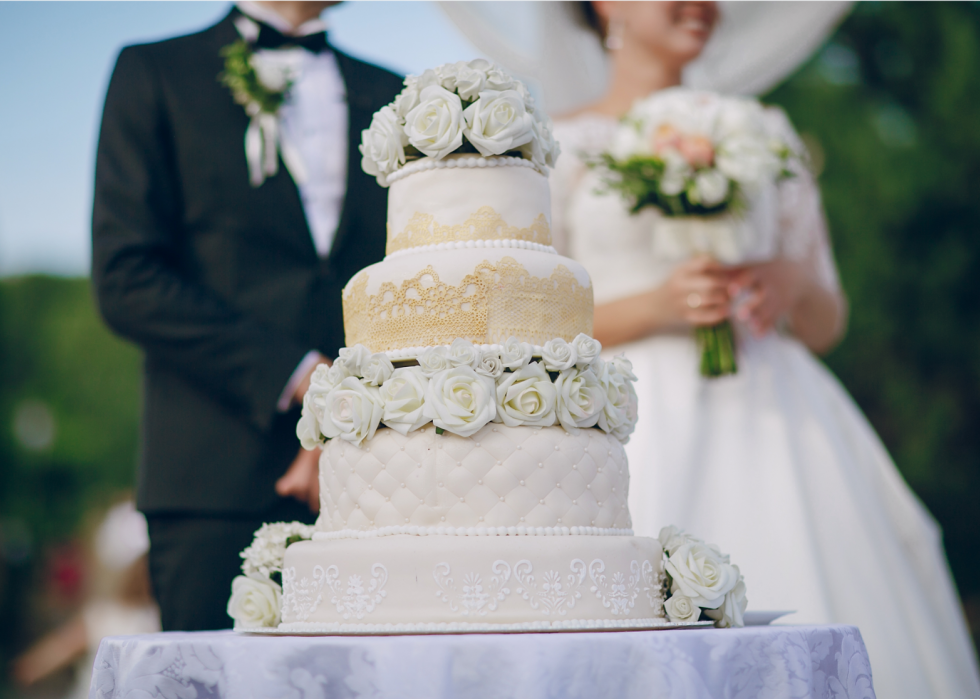 23 / 50
Wedding cakes: then
In the '60s, '70s, and '80s multi-tiered white wedding cakes, decked out with a bride and groom topper, were all the rage. The bigger the better, especially when it came time for the cutting of the cake ceremony.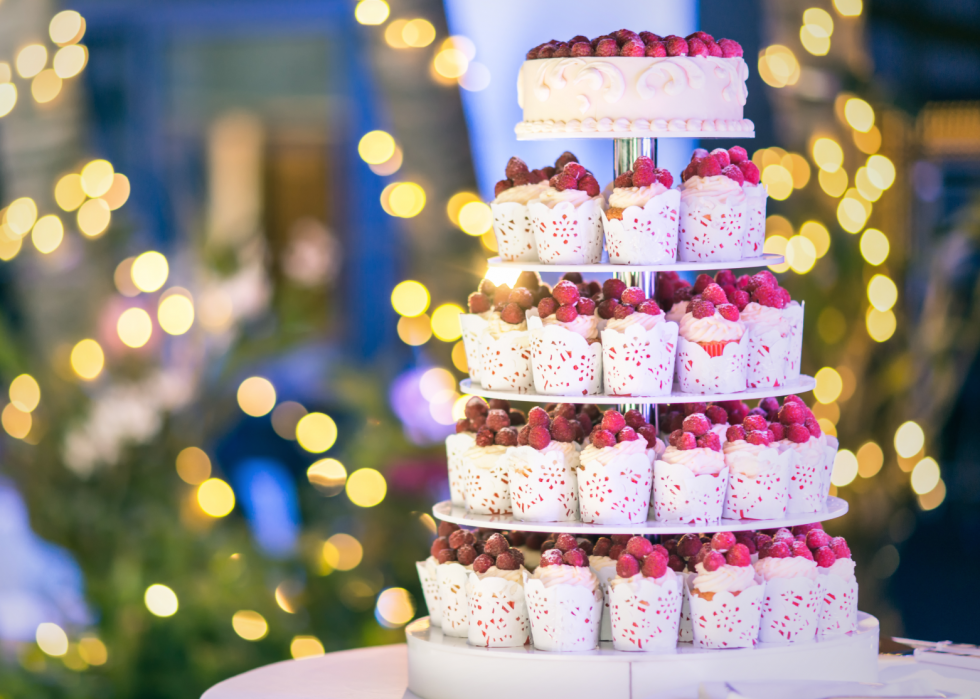 24 / 50
Kitti Tantibankul // Shutterstock
Wedding cakes: now
These days, many couples are opting out of cakes entirely. Tougher financial times have led to many couples choosing to serve things like cupcakes, pies, doughnuts and even s'mores instead of a big, expensive cake. But for those who still choose to go the cake route, smaller and experimental cakes are dominating trends.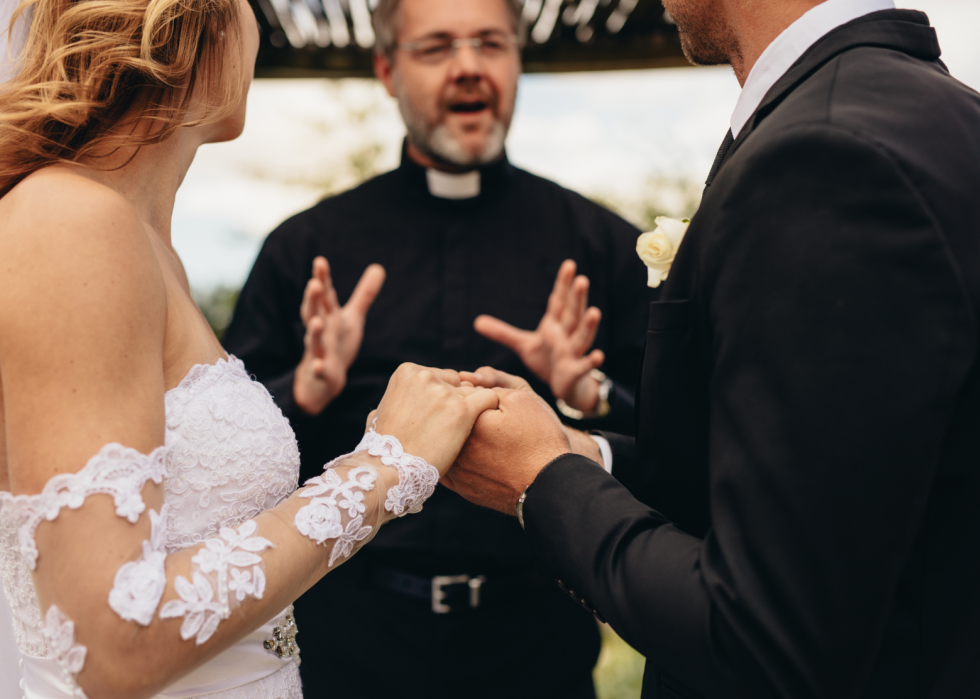 25 / 50
Dropping "obey"
In classic wedding vows, dating back as far as 1549, the bride promises to "love, honor, keep, obey, and serve" her husband. Beginning in the '80s, brides began to drop those last two words, no longer promising to obey their new husbands. Notably, when Diana married Prince Charles in the wedding seen around the world, she didn't promise to obey her husband—an example both Kate Middleton and Meghan Markle followed in their own weddings to Diana's sons.
26 / 50
shevtsovy // Shutterstock
Personalized vows
The '60s and '70s saw a countercultural revolution in the world at large. This pushback against societal norms was reflected in weddings by couples' desires to write their own, personal vows, rather than recite the predetermined ones their parents had used. Particularly in the '70s, personalized vows became more common than classic wedding vows.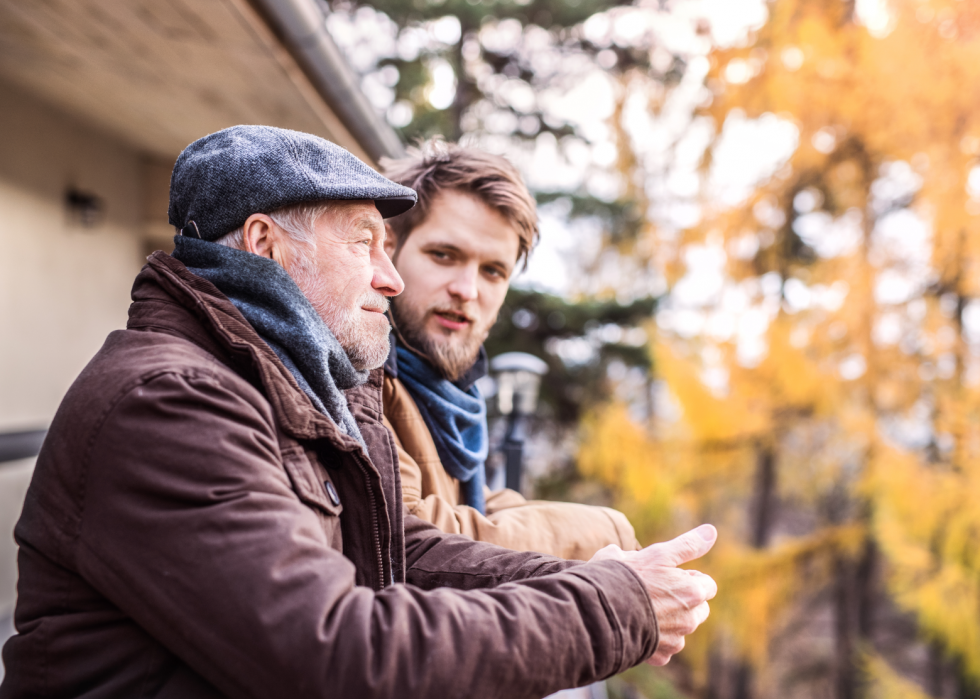 27 / 50
Halfpoint // Shutterstock
Asking the father
Another way couples in the '70s and '80s chose to buck tradition was by no longer asking the bride's father for his permission before tying the knot. In the '50s and even the '60s, this was standard practice and would have been expected of any upstanding young man. Today, many modern couples choose to forgo this prenuptial step altogether.
28 / 50
Rawpixel.com // Shutterstock
Giving the bride away
Once again, leading up to the '70s it was standard practice for the father of the bride (or an equivalent male relative if the father was not present) to accompany his daughter down the aisle before giving her away to her betrothed. Today, many modern women are choosing to make the journey on their own or skip the part of their ceremony that asks "Who gives this woman to be wed?"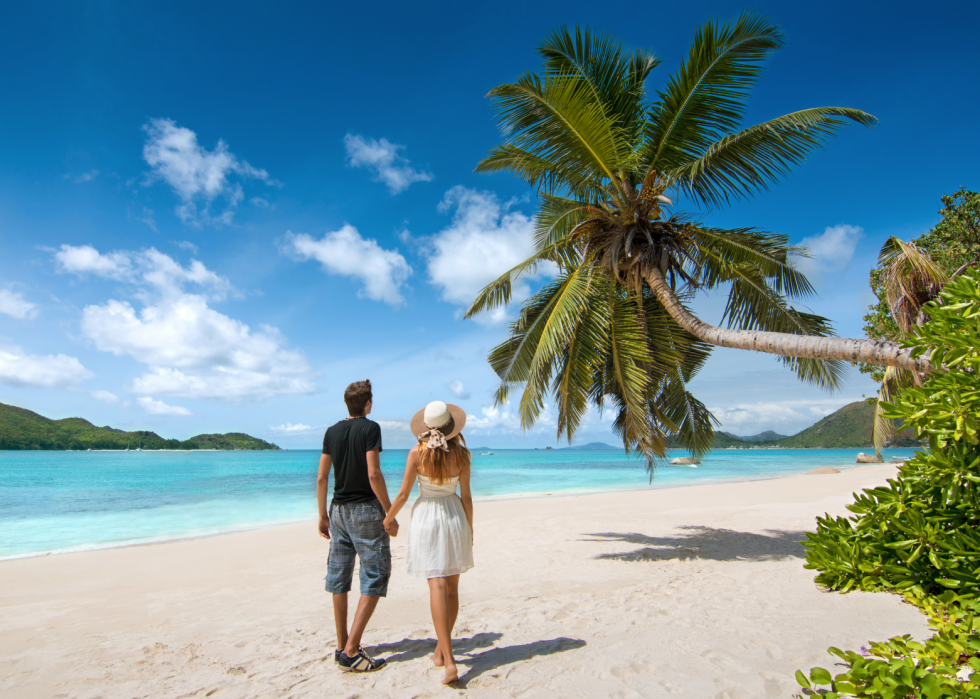 29 / 50
Ciurtin Ramona Georgiana // Shutterstock
The honeymoon
Honeymoons date back to the early 19th century, but they've changed quite a bit over the last few years. As international travel has become easier, many couples began striking out for more exotic locations in the late '60s and early '70s, and in the '80s they headed out towards mostly tropical destinations.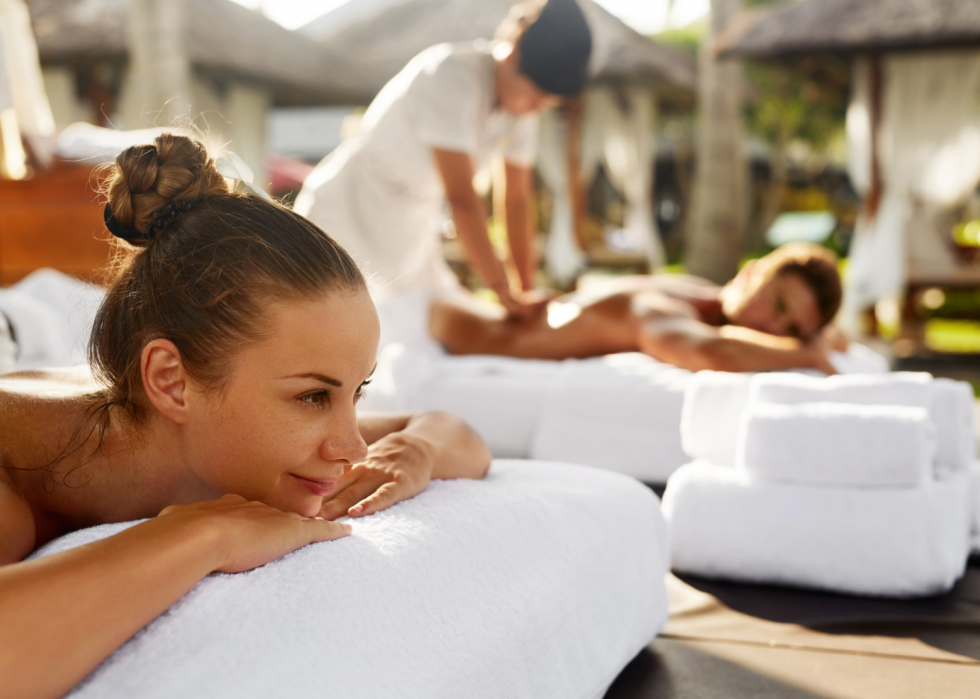 30 / 50
Honeymoon packages
In the 1990s, honeymoon packages were born. Many couples began opting for getaways that packed all essential honeymoon attributes, from couples massages to sightseeing to water sports, into one, usually tropical, place.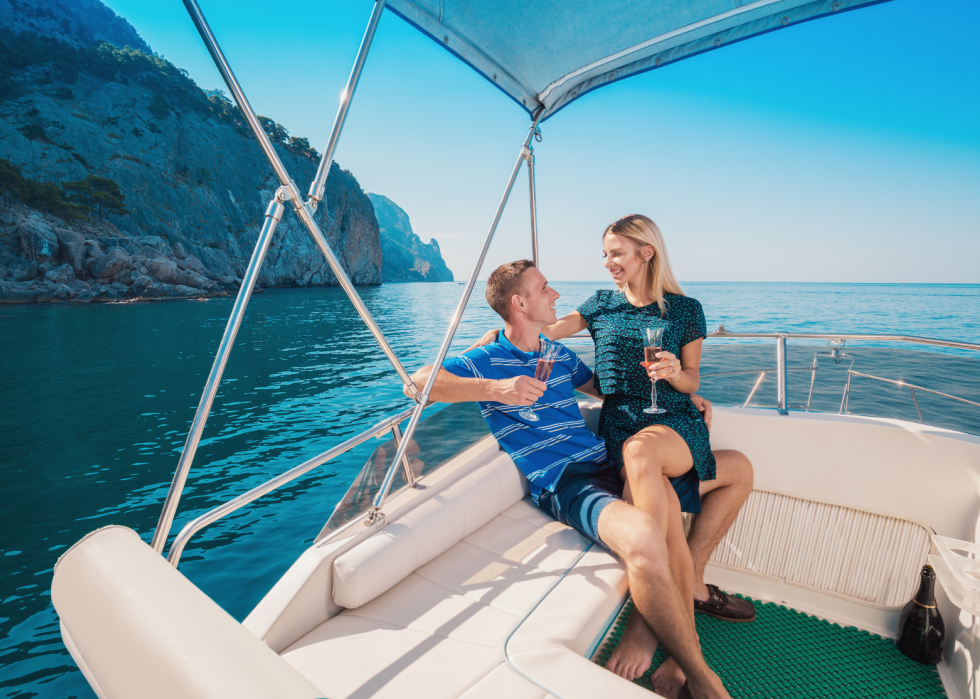 31 / 50
Kuznetcov_Konstantin // Shutterstock
YOLO honeymoons
Today more couples than ever before are planning what the New York Post has dubbed "YOLO honeymoons." These budget busters are carefully crafted to look perfect on social media. Couples are heading to exotic locales like Bora Bora and the Maldives, or, in extreme cases, are renting entire private islands to show off on their feeds.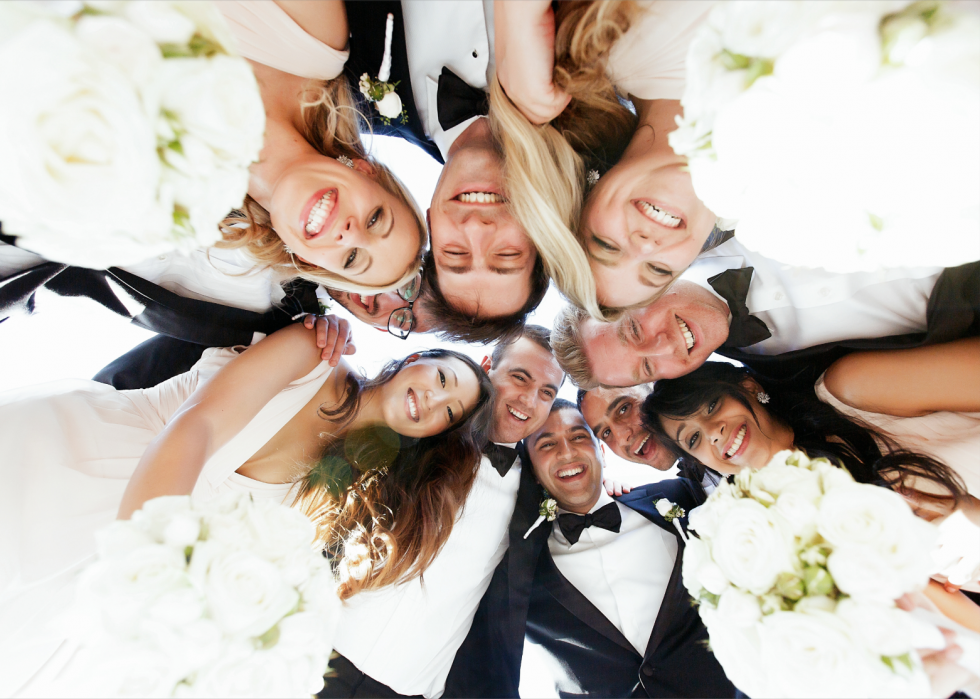 32 / 50
IVASHstudio // Shutterstock
The wedding party
Bridesmaids and groomsmen are traditions that date back to the earliest years of weddings. Traditionally, brides have only had women standing on their side of the altar and grooms have chosen their companions from their best male friends. But over the last decade or so we've seen a shift in this—millennials, in particular, are choosing their bridal party based on relationships and not gender.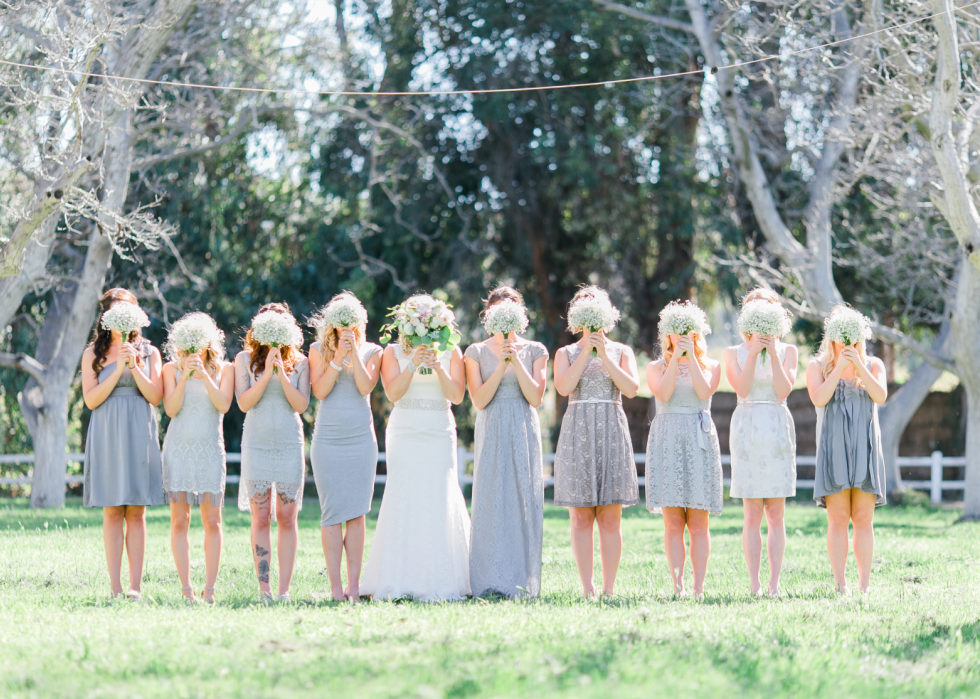 33 / 50
Matthew Nigel // Shutterstock
Bridesmaids dresses
Up until the mid-to-late-'00s, bridesmaids would all be dressed in identical confectionary gowns. These days, many brides are choosing to forgo matching attire, allowing their bridesmaids to pick their own dresses or giving them a loose set of guidelines to follow instead.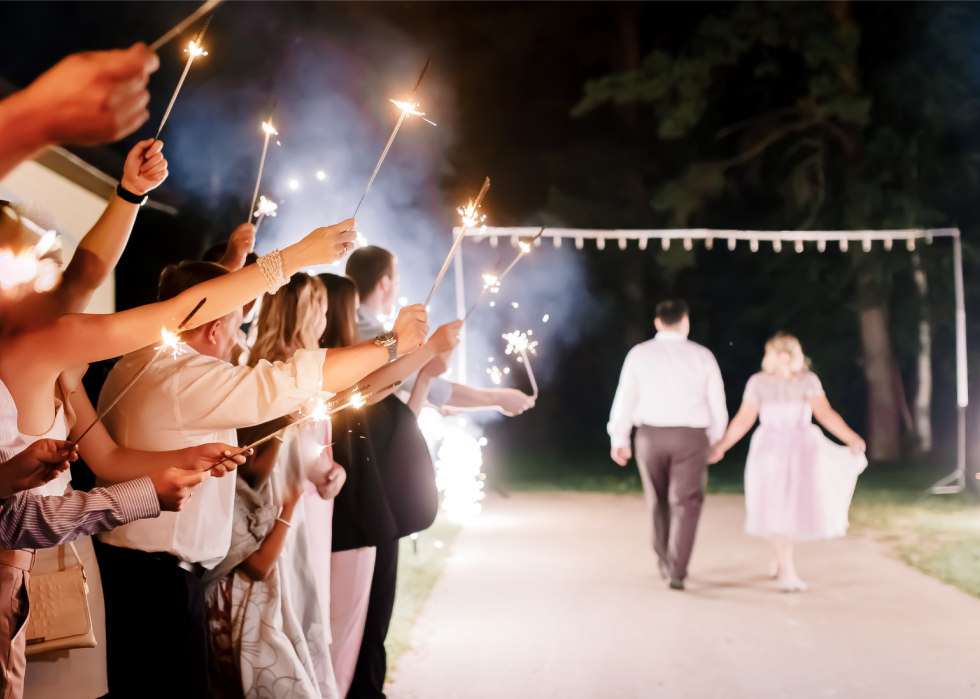 34 / 50
Nastya goldi // Shutterstock
No more rice
Rice has long been a traditional wedding send off for the bride and groom as they leave the reception and head off towards marital bliss. These days, thanks in large part to environmental concerns, couples are celebrating their send-off with different things like bubbles, glitter, sparklers, and mini confetti—with some couples choosing eco-friendly alternatives.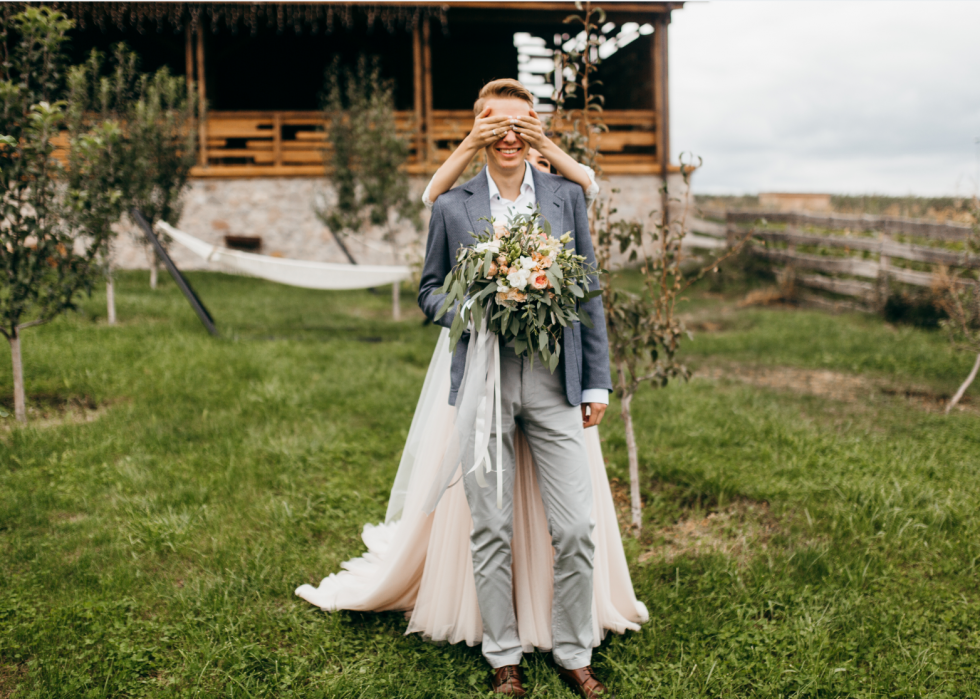 35 / 50
Shunevych Serhii // Shutterstock
The first look
It's a long-held tradition that seeing your betrothed before the wedding ceremony was bad luck. In the '60s and '70s, well past the time of arranged marriages, which the superstition stems from, couples were still holding off on seeing each other until meeting at the altar. Today it's common for many couples to have a "first look" before walking down the aisle, and many of these first looks are caught on film by wedding photographers.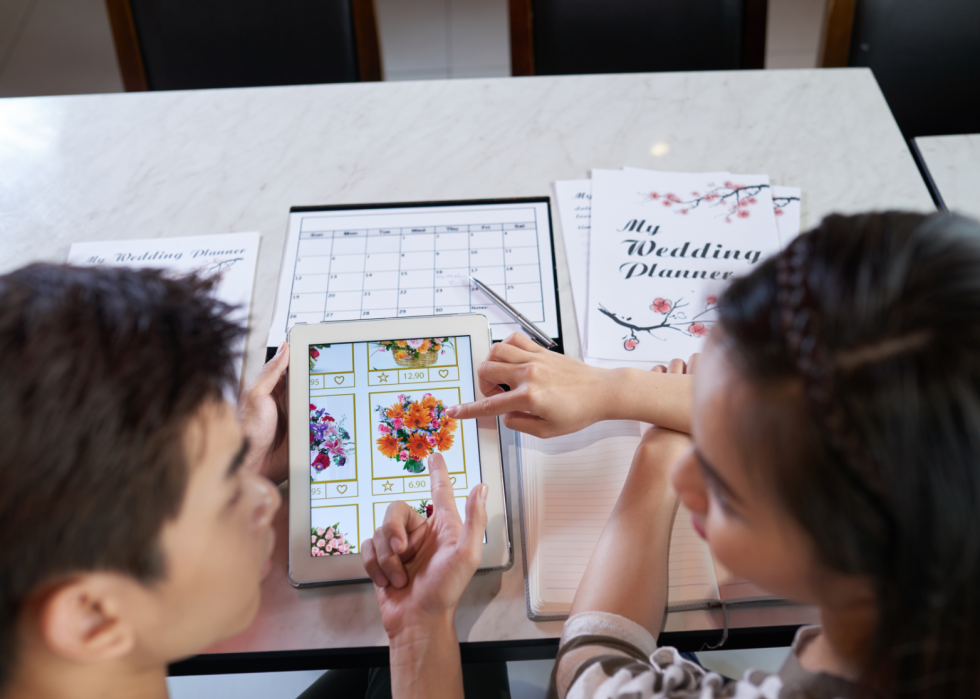 36 / 50
Dragon Images // Shutterstock
The groom's involvement
It wasn't common for grooms in the baby boomer generation to be all that involved in planning their weddings. In fact, only 49% of grooms in the '60s and 70s were active in the planning process, according to a survey conducted by Best Buy in 2015; 69% of recent brides reported their future husbands had a significant role in planning the wedding, helping to choose everything from food to music.
37 / 50
oliveromg // Shutterstock
The wedding planner
As the wedding industry has grown, so has the need for a wedding planner. The relatively small size of weddings in the '60s and '70s meant that most couples had no need for a consultant to help the arrange and organize everything. But in the '80s the industry really exploded, and today 31% of couples report hiring a wedding planner to help make their big day perfect, according to a Wedding Wire survey.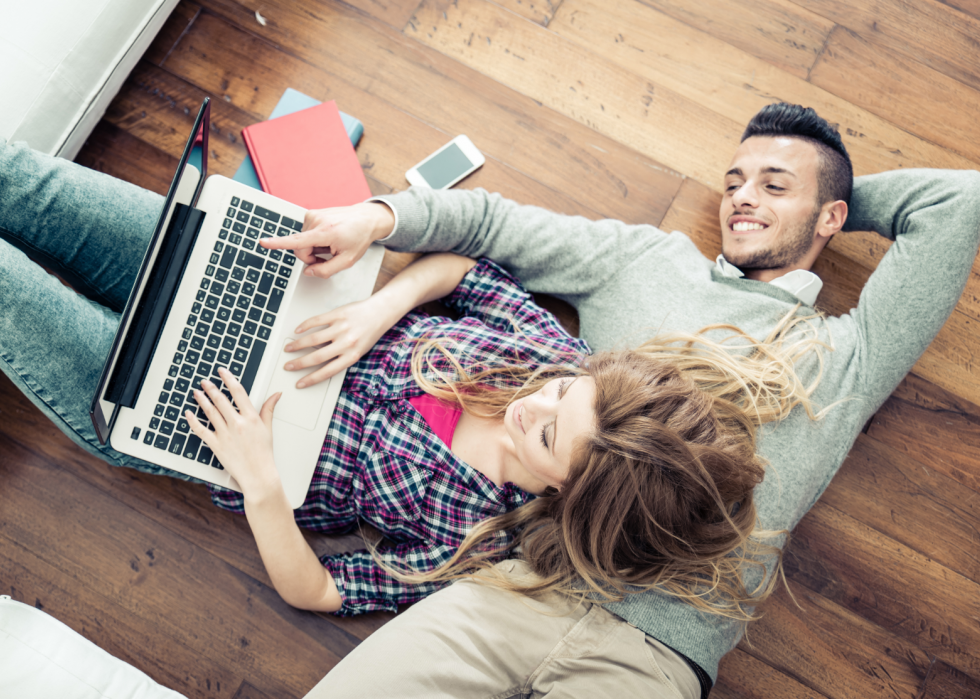 38 / 50
oneinchpunch // Shutterstock
The wedding registry
Macy's unveiled the first wedding registry in 1924, which prompted many department stores to follow suit. It's been a ubiquitous part of planning a wedding ever since, but what's included on the registry has changed quite a bit over the last 50 years. Couples in the latter half of the 20th century often included things like kitchen appliances, linens, and other assorted housewares. More modern couples live together before getting married these days, which has made those "home essentials" no longer as desperately needed. Instead, many couples ask for money or more personalized gifts on their wedding registries.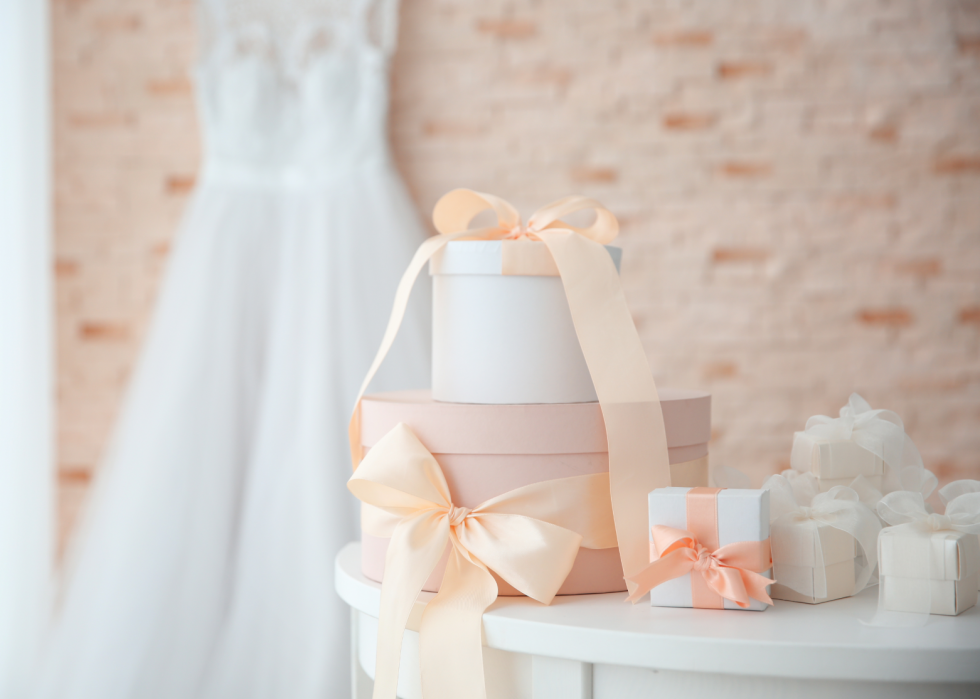 39 / 50
Africa Studio // Shutterstock
Online planning
The ways that planning occurs has changed significantly over the last 50 years. Thanks to the rise of the internet, Wedding Wire says 80% of the planning a couple does for their wedding is done online or through an app.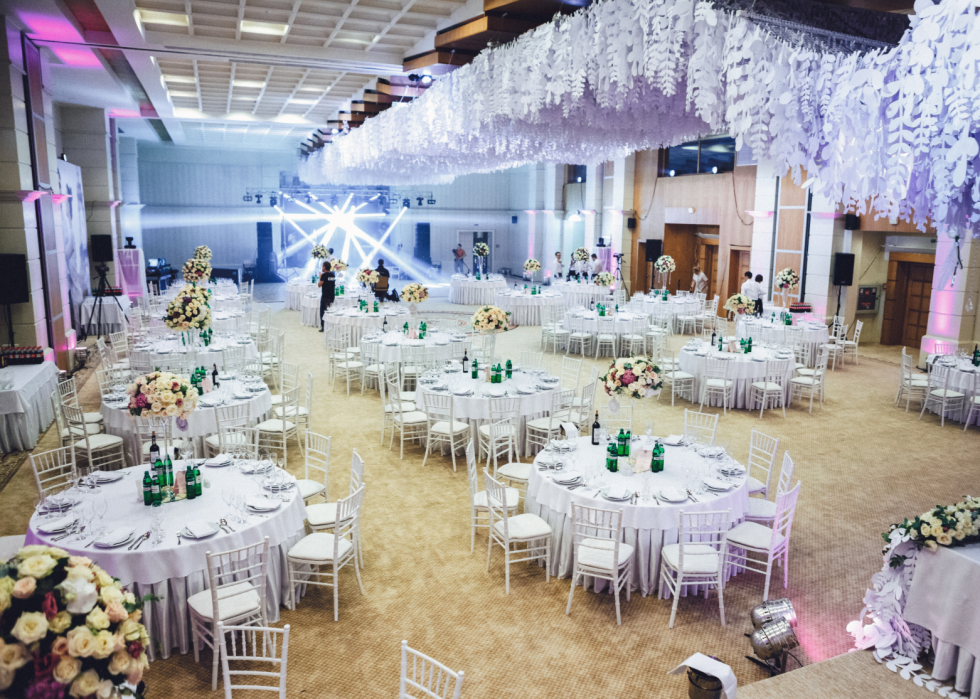 40 / 50
Myronovych // Shutterstock
The size of the wedding
In the '60s and '70s, before the rise of the wedding industry as a whole, weddings tended to be smaller, more family-oriented affairs. Sure, plenty of friends would be invited, but the typical wedding wasn't the budget-buster it is today. Weddings have grown significantly over the past 10 years, even: Wedding Wire found that in 2007 the standard wedding had 110 guests, by 2017 that number had grown to 124 guests (an 81% increase).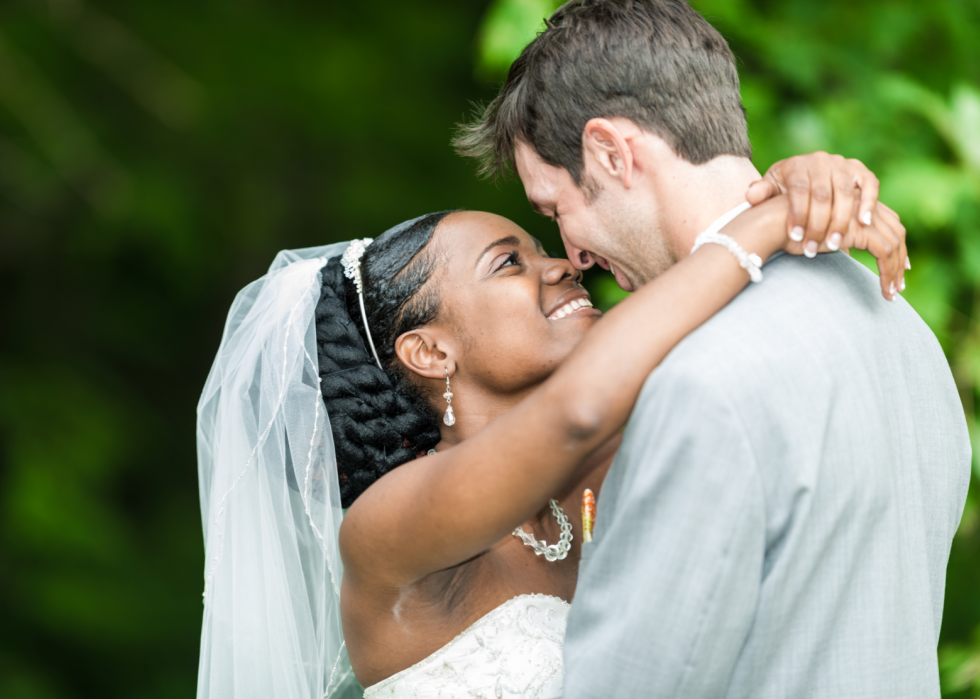 41 / 50
IVY PHOTOS // Shutterstock
The rise of interracial weddings
It wasn't until 1967 that the laws prohibiting interracial weddings and relationships were deemed unconstitutional by the U.S. Supreme Court. Even after the ruling, interracial marriages remained uncommon for years. Today, Wedding Wire reports that 58% of couples are marrying outside of their race, religion, ethnic, or regional backgrounds.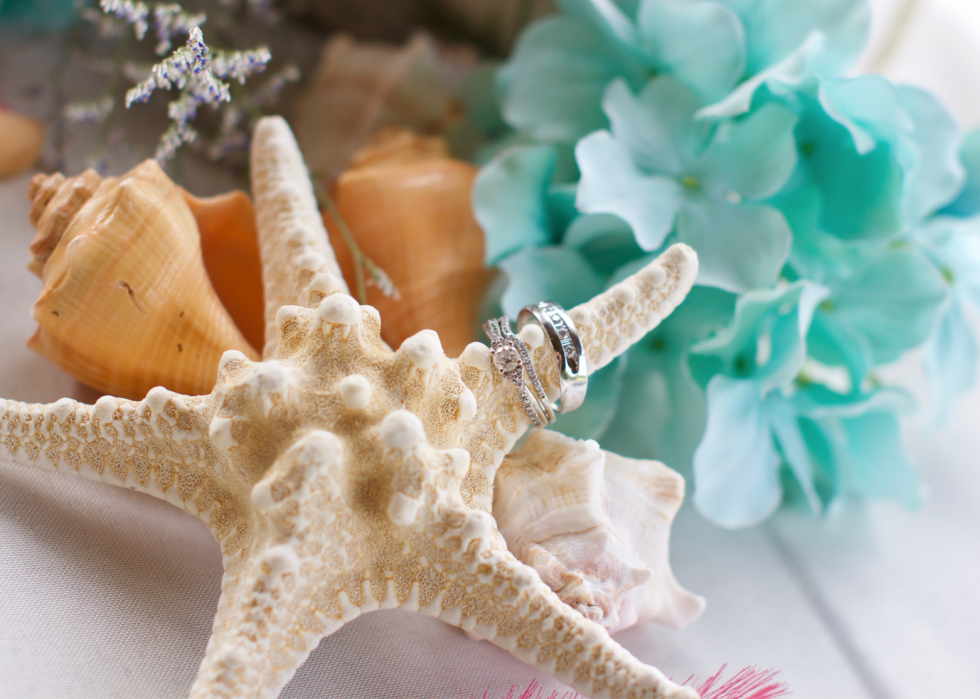 42 / 50
Justina Stickland // Shutterstock
Themed weddings
These days, if you've been to any number of weddings, it's likely that you've attended one with a theme. Beachy, rustic, and glamorous are favorites with couples, over 50% of whom plan their weddings around a theme, according to Wedding Wire's report. Ten years ago, only 17% of couples had a theme, marking an incredible 188% increase in the trend.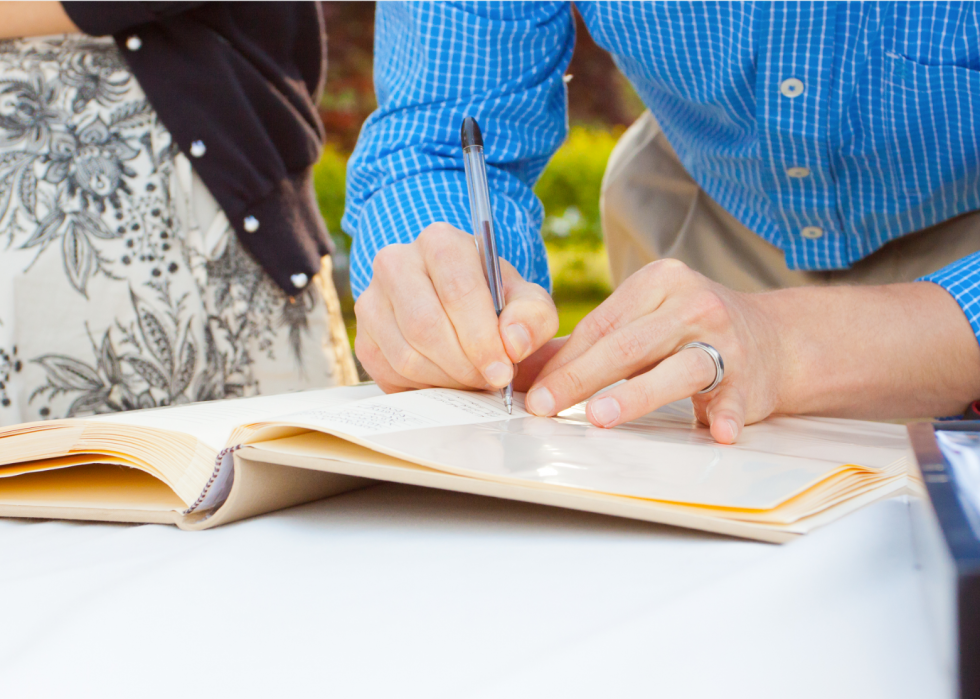 43 / 50
Joshua Rainey Photography // Shutterstock
The disappearance of the wedding guest book
Centuries ago, wedding guest books were a legal obligation as a record of witnesses who could testify to the validity of a marriage. Even into the '60s, '70s, and '80s, couples continued to have guest books at their weddings as sentimental keepsakes. These days, many couples forgo the practice, choosing either an alternative (like leaving pieces of advice) or doing away with the concept altogether.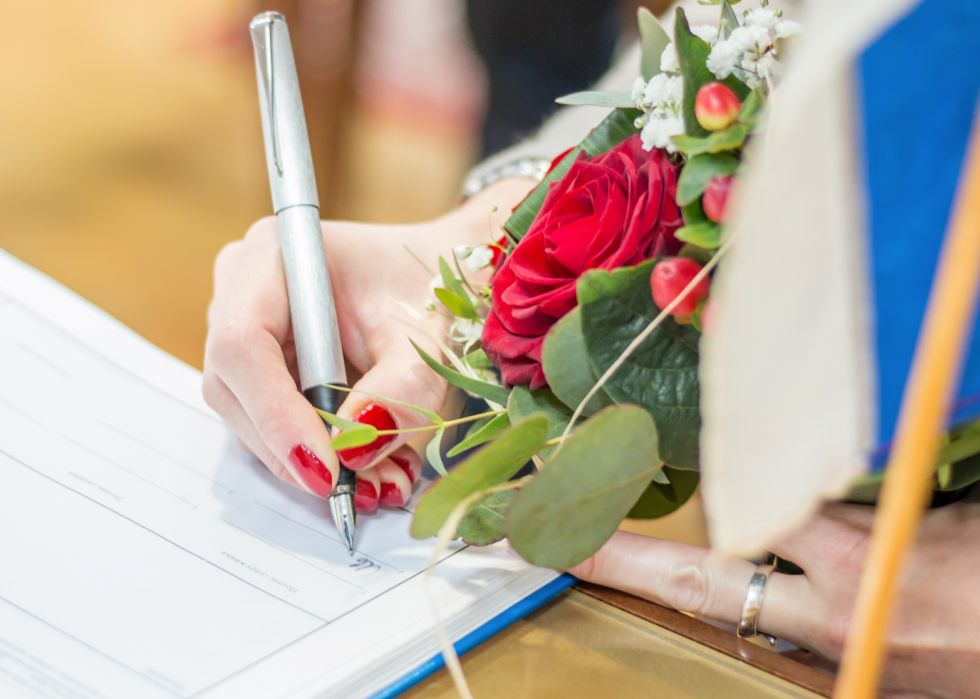 44 / 50
Stefan foto video // Shutterstock
Keeping her maiden name
According to a Google Consumer Survey conducted by The Upshot, 20% of modern brides elect to keep their maiden name after their wedding, while another 10% choose to either hyphenate their last name or continue using their maiden name in professional settings. This is a huge change and upswing from the '60s and '70s when state laws require that a woman use her husband's last name for things like voting or banking, and tradition virtually required women to change their last names after marriage.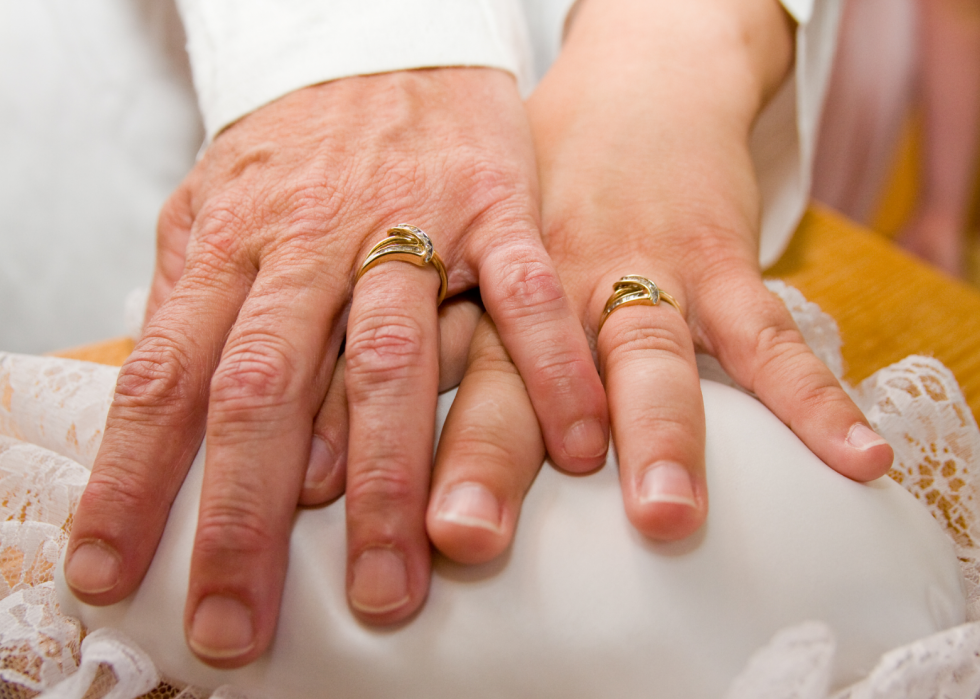 45 / 50
Joseph Dilag // Shutterstock
Vow renewals
Deciding not to share the same last name, however, doesn't mean that love is dead. In fact, more couples than ever before are deciding to have vow renewals to celebrate the endurance of their love and connection. In a 2016 New York Times article by Linda Marx, which interviewed wedding planners who have have indicated that at least a quarter of weddings they perform each year are vow renewals, illustrating just how trendy they've become.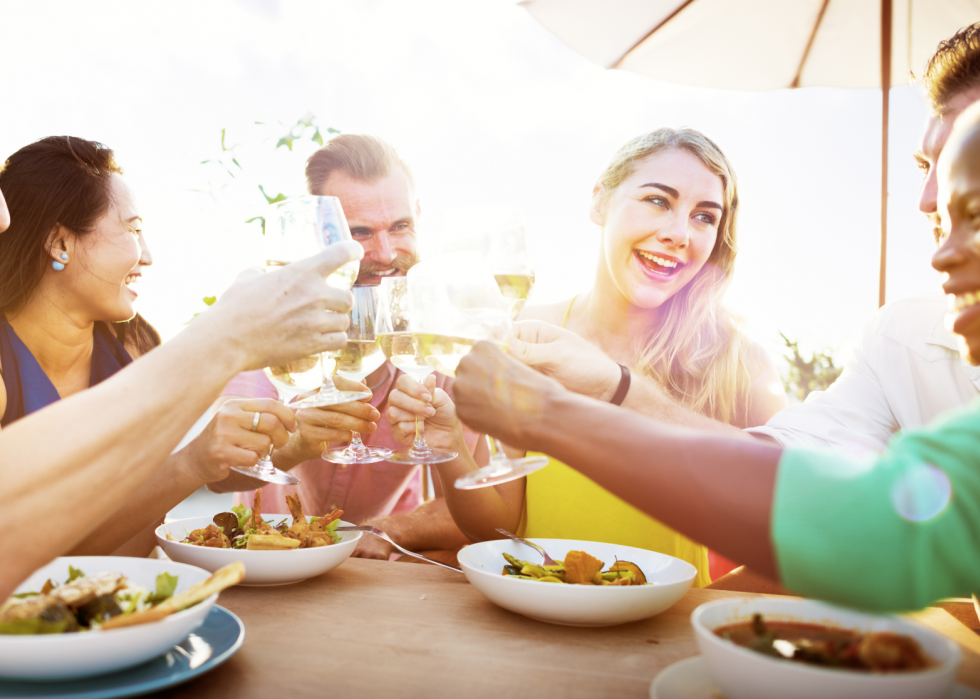 46 / 50
Rawpixel.com // Shutterstock
Multi-day events
Thanks to the wedding industry, weddings are becoming longer and more elaborate events than ever before. One area that clearly demonstrates this is that weddings have become multi-event affairs. Wedding Wire found that 25% of couples report holding an after-party, and 28% of couples host a brunch the day after their wedding.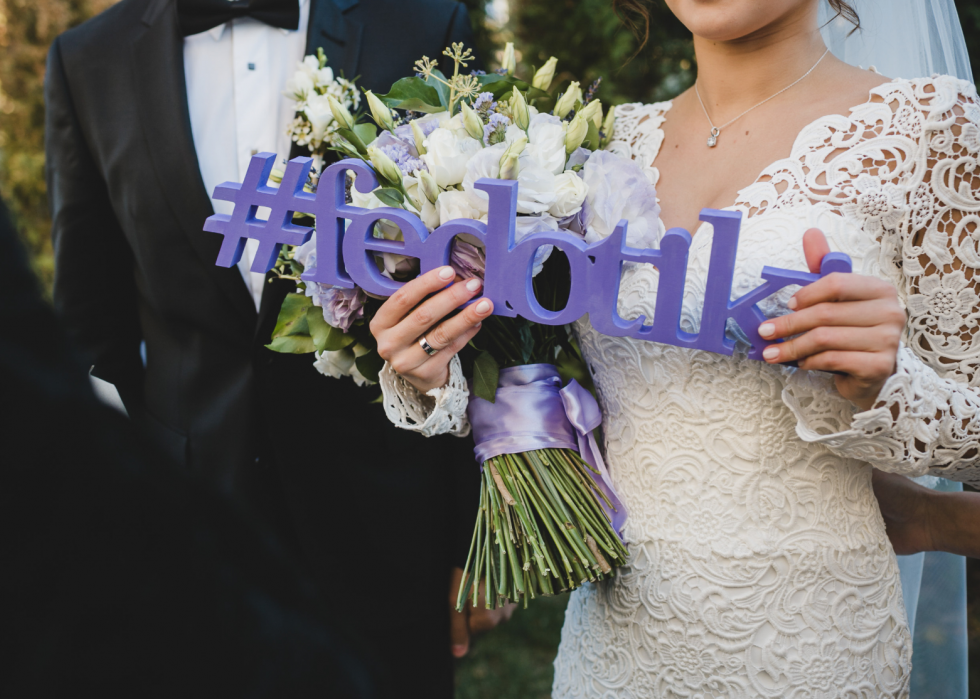 47 / 50
Jurij Krupiak // Shutterstock
Monogram vs. hashtag
50 years ago, a couple may have personalized their big day by having a monogram drawn up, which would adorn everything from invitations and programs to napkins and favors. Thanks to social media, today's couples are now choosing their own hashtags to personalize their big day.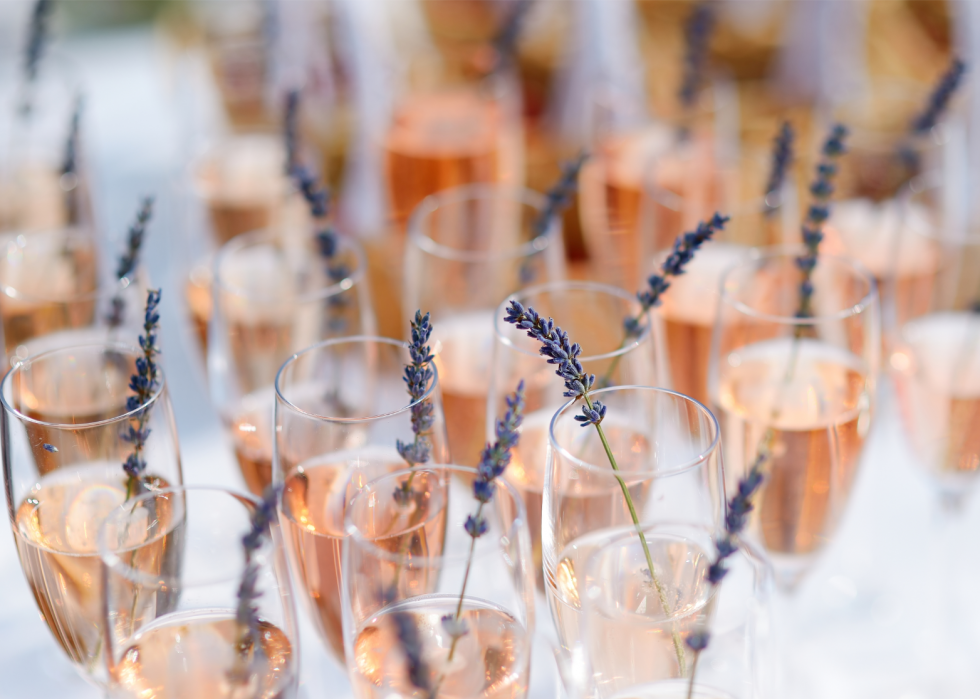 48 / 50
A personalized event
Thanks in large part to social media, couples today are seeking to personalize every aspect of their wedding, from the cocktails to the design elements. Modern brides and grooms are more focused on their weddings telling their own unique stories than their parents were. Today's couples are well aware that this special day will live forever on the internet (and therefore it must look good), a concern previous generations never had.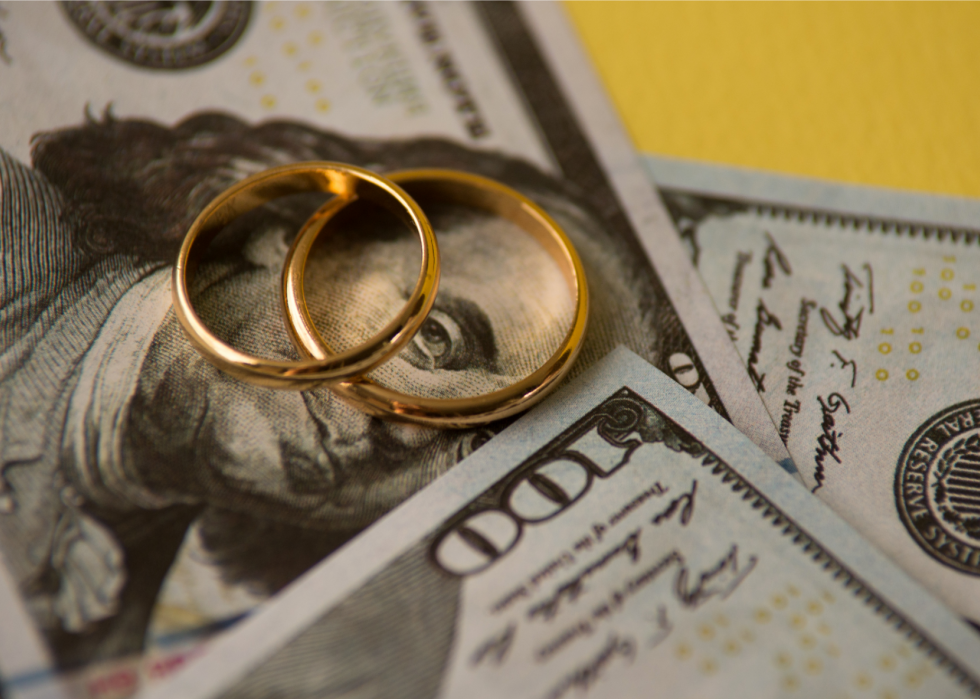 49 / 50
Burdun Iliya // Shutterstock
Wedding cost: now and then
All of this change adds up to quite the pretty penny. In the 1990s an average wedding cost $15,208, according to a Conde Nast Bridal Media research survey. It reasons then, that a wedding 50 years ago, in the 1960s, would have been even cheaper than that—some brides report paying less than $100 for the entire day. Today, the typical American wedding costs between $30,000-44,000, reports Wedding Wire. However, costs in major metropolitan areas, like New York City, can skyrocket costs, proving that couples everywhere are sparing no expense when it comes to their big day.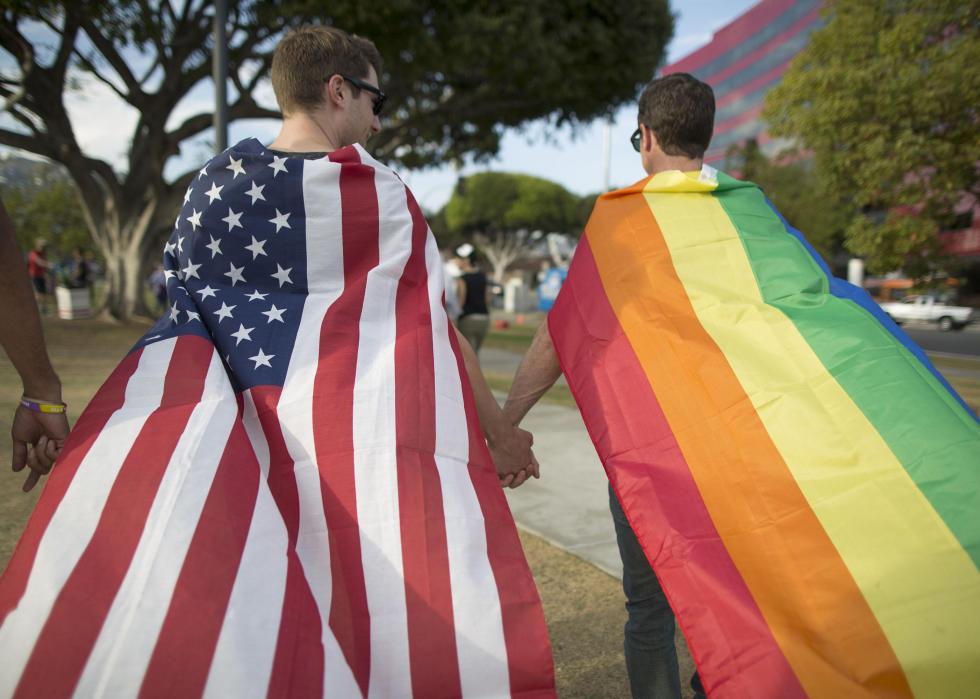 50 / 50
David McNew / Stringer // Getty Images
Marriage becomes inclusive
Perhaps one of the most notable changes in weddings in the U.S. over the past 50 years is its steps toward inclusivity. In the late 1990s, states began to make political strides in equal rights regarding marriage for LGBTQ people. In 2015, the Supreme Court ruled 5-4 that states were no longer allowed to ban same-sex marriage, and all states must accept out-of-state same-sex marriage licenses.