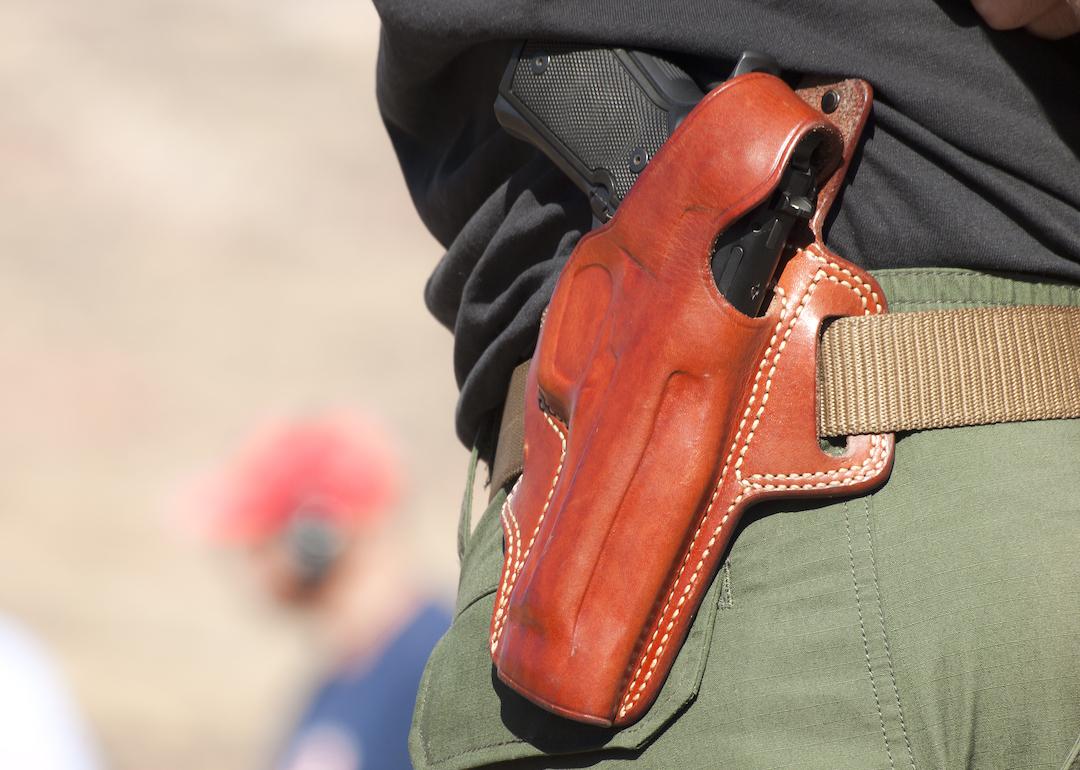 50 facts about guns in America
Arina P Habich // Shutterstock
50 facts about guns in America
The right to bear arms conferred by the Second Amendment is one of the most debated pieces of legislation in U.S. history; it is repeatedly challenged or upheld in court and also is subject to fierce debate among gun rights organizations, political action committees, and news organizations. Consequently, for better or worse, guns are inextricably tied to America's image, with the U.S. leading the world in firearms possession. In 2020 alone, Americans collectively bought more than 21 million firearms; in 2021, they bought a further estimated 19 million, according to FBI data. And while America only accounts for 5% of the global populace, it still owns almost 45% of worldwide firearms. In fact, in the U.S. there are more guns in private ownership than there are people to own them—about 1.2 guns for every single person, including children.
Each of the 50 states has its own specific rules regarding gun ownership, from Stand Your Ground laws to the right to carry a loaded concealed firearm in public to bans on the possession of assault weapons. Research has demonstrated that, demographically, where there are fewer or less strict gun laws, there tend to be more firearm deaths per capita. Alabama and Mississippi, states with some of the least restrictive laws in the country, have a firearm mortality rate seven times that of Massachusetts, where guns are heavily legislated.
Gun ownership is a complex thing. From hunters and sportsmen to recreational shooting range users to individuals who belong to fringe or extremist groups bent on defending what they see as a threat to their liberty, the reasons behind and justifications for gun ownership are myriad. Panic is also a factor, as was the case in 2020, as fears associated with the COVID-19 pandemic drove record-shattering numbers of federal background checks—3.9 million were performed that June alone, more than in any month in the previous 20 years, a figure that was matched shortly thereafter in December of that year. And while new firearm background checks have since returned to pre-COVID levels, incidents of gun violence have shown no sign of slowing.
From Las Vegas to Uvalde, and as far back as Columbine, mass shooting incidents have become a part of life. As of late October, there have been more than 650 mass shootings in 2022. That the U.S. leads the world in mass shootings should come as a surprise to no one.
Recent efforts to curb gun violence have resulted in positive strides and unfortunate setbacks. A little more than a month after the horrific school shooting in Uvalde, Texas, President Joe Biden signed into law the Bipartisan Safer Communities Act, which aimed to boost "red flag" laws, expand background checks for anyone under the age of 21, and finally close what had come to be known as the "boyfriend loophole," a discrepancy in previous legislation that had discluded dating partners convicted of domestic abuse from owning a firearm. This progressive piece of legislation was somewhat tinged by a ruling handed down by the Supreme Court just days before the signing of the bill that reversed New York state's ban on the concealed carrying of guns.
The issue of gun ownership remains fraught, with each new act of gun violence reopening the call for tougher restrictions. As this is an issue that affects all Americans, Stacker gathered information from scientific reports and government and news sites to generate a list of 50 facts related to guns in America.
You may also like: Republican Party history from the year you were born