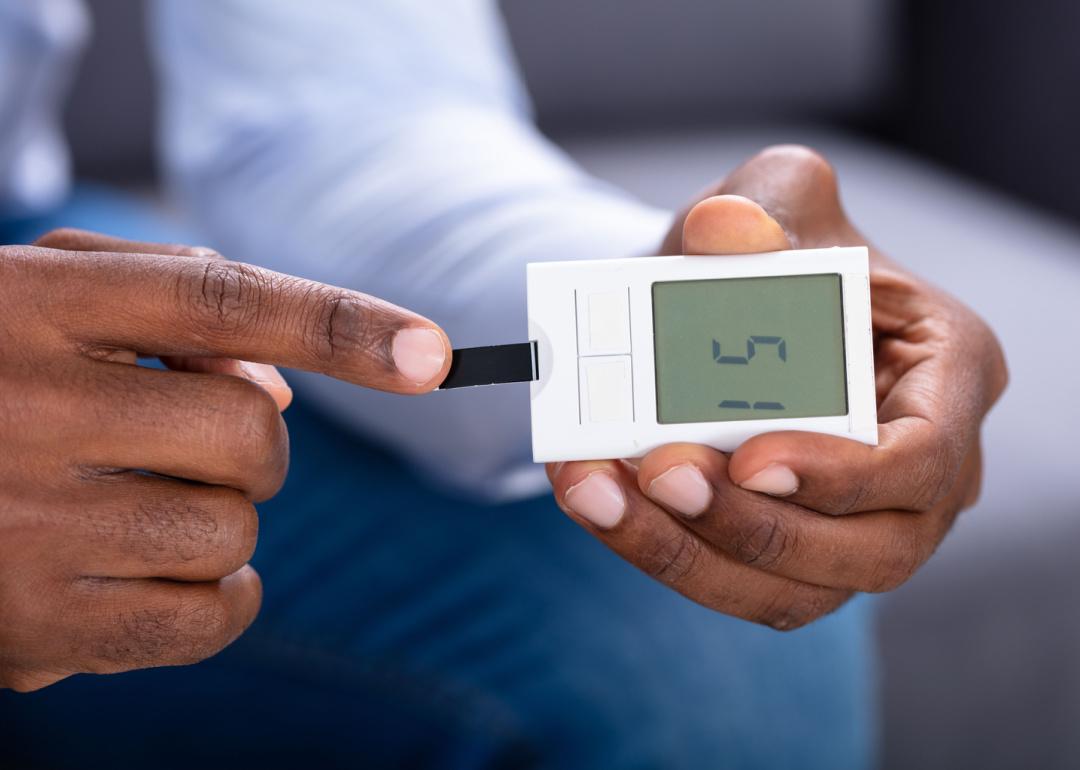 Stacker Studio
Breaking down racial disparities in diabetes prevalence
Andrey_Popov // Shutterstock
Breaking down racial disparities in diabetes prevalence
Diabetes is a disease about which there are countless myths, misconceptions, and even moral judgments. Widespread cultural beliefs about who develops diabetes—as well as how and why—contribute to stigma and shame around the illness while obscuring its real, and very troubling, social determinants.
To many, diabetes—particularly Type 2—is associated with bad decision-making: It is seen as a consequence of unhealthy dietary and lifestyle choices, and therefore somehow different from other chronic illnesses like cancer or Crohn's. Others may consider diabetes a product of body fat or even a disease specific to the biology of certain racial or ethnic groups.
Diabetes stigma is pervasive. Two studies published in 2020 in association with the University of Connecticut's Rudd Center for Food Policy & Health found this to be the case not only socially but within medical settings as well. In one study, 53% of surveyed adults with Type 2 diabetes believed they could have prevented developing the condition, and nearly 1 in 2 experienced judgment for their dietary choices and felt the need to hide their condition from others.
A second study showed that 44% of diabetic adults felt judged by their health care provider for their weight and condition. In an earlier 2017 study of people with either Type 1 or Type 2 diabetes, 81% of those who reported stigmatization indicated they felt perceived as having a character flaw, or that having diabetes was a "failure of personal responsibility."
Yet medical researchers have debunked factors like individual choice, body fat, or ethnic biology as the driving forces behind diabetes. Instead, the disease is one of many health conditions that expose existing racial and class-related health disparities. The impacts of social inequities, including conditions created by systemic racism and poverty—like access to quality, affordable health care, nutritious foods, and a clean environment—as well as other factors like family history, have been shown to heavily influence diabetes rates.
These inequities continue to also impact the treatment of those who have already been diagnosed with diabetes. The price of insulin in the U.S. has exploded by more than 600% over the past two decades, far surpassing inflation rates. Reports have accused pharmaceutical companies of taking advantage of the fact that insulin is a lifesaving drug for millions of people, knowing that it will likely be bought at any price.
The increasingly high cost of insulin disproportionately impacts low-income and uninsured populations, putting them at higher risk of dangerous complications and death. The Inflation Reduction Act capped copays on insulin for Medicare subscribers at $35, but set no limit for Medicaid, employer-provided, or individually purchased insurance coverage.
Using data from the Centers for Disease Control and Prevention and World Bank, Northwell Health looked at racial disparities in the prevalence of and morbidity from diabetes in the U.S. Both Type 1 and Type 2 diabetes were included in the data, but since Type 2 is far more common, most of the trends represented in the analysis reflect the rates of Type 2 diabetes.
This story originally appeared on Northwell Health and was produced and distributed in partnership with Stacker Studio.