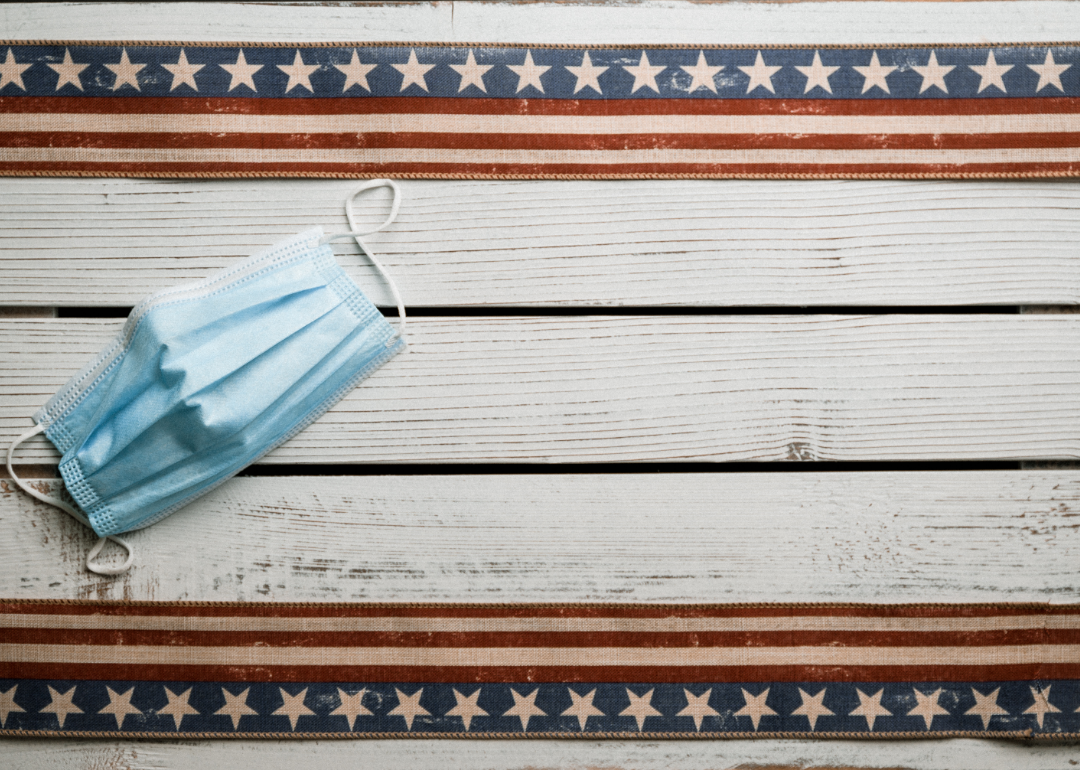 Counties doing the most and least COVID-19 testing in every state
Counties doing the most and least COVID-19 testing in every state
The United States is in the midst of a COVID-19 surge, with a record-setting 85,000 new cases on Oct. 23 after weeks of steadily rising infections. The Midwest, west, and rural areas are experiencing growing outbreaks, and cold temperatures could help the virus flourish even more. This "third wave" of coronavirus outbreaks is prompting the public and policymakers to assess the available data to inform how to combat outbreaks, but breakdowns in data that appear to be straightforward can belie the more-complex realities of infection, transmission, testing, and survival. Test positivity rates, for example, show a simple snapshot of which areas are experiencing climbing rates of infection. But as scientists point out, looking solely to the test positivity rates only reveals one part of the picture: that of the group of people who got tested—not of the whole population.
That's why it's so important to track testing rates in addition to positivity rates. As John Hopkins' Coronavirus Resource Center notes, the testing rate, in addition to the number of new daily cases and the positivity rate, are the best metrics "for understanding the reach and severity of COVID-19 in a given area." With increasing testing comes a more-complete understanding of the coronavirus' spread and impact across the U.S., down to the county level. And this more complete understanding is what policymakers need when considering imposing new lockdowns, lifting restrictions, and instituting rules around distancing and mask wearing.
In an effort to contribute to that fuller picture, Stacker compiled the counties doing the most and least COVID-19 testing in every state. Every Monday, the Center for Medicare and Medicaid Services updates a dataset on COVID-19 testing at the county level. The data include total tests conducted in every U.S. county, tests per 100,000 population, and test positivity rates, all for a 14-day period. The CMS dataset only includes polymerase chain reaction (PCR) tests, not antigen or antibody tests, and is compiled from state public health departments and the Department of Health and Human Services. In this story, counties were ranked based on testing rates adjusted by county populations. Test positivity rates are not calculated for counties that have conducted fewer than 20 tests in the past 14 days. State values are calculated by summing total tests from all counties in the state and by averaging county positivity rates in the state. This story includes the most recent data, for Oct. 8 through Oct. 21 (published on Oct. 26).
Read on to see which counties in your state are doing the most—and the least—testing to combat COVID-19.
Alabama
Overall state testing (PCR only, 10/8 to 10/21):
- Total PCR tests: 154,020
- Tests per 100,000 people: 3,141 (#35 highest of all states)
- Average test positivity rate: 10.1% (#14 highest)
Counties doing the most testing:
- #1. Jackson County (7,173 tests per 100k, 11.0% positivity rate)
- #2. Marengo County (6,770 tests per 100k, 12.6% positivity rate)
- #3. Butler County (6,397 tests per 100k, 5.1% positivity rate)
Counties doing the least testing:
- #1. Chambers County (884 tests per 100k, 6.8% positivity rate)
- #2. Choctaw County (1,056 tests per 100k, 6.0% positivity rate)
- #3. Dallas County (1,137 tests per 100k, 6.4% positivity rate)
Alaska
Overall state testing (PCR only, 10/8 to 10/21):
- Total PCR tests: 82,469
- Tests per 100,000 people: 11,273 (#3 highest of all states)
- Average test positivity rate: 3.8% (#38 highest)
Counties doing the most testing:
- #1. Sitka City and Borough (42,553 tests per 100k, 0.6% positivity rate)
- #2. Nome Census Area (39,414 tests per 100k, 0.7% positivity rate)
- #3. Kusilvak Census Area (30,407 tests per 100k, 14.8% positivity rate)
Counties doing the least testing:
- #1. Lake and Peninsula Borough (under 20 tests)
- #2. Yukon-Koyukuk Census Area (1,606 tests per 100k, 1.2% positivity rate)
- #3. Prince of Wales-Hyder Census Area (2,176 tests per 100k, 0.0% positivity rate)
Arizona
Overall state testing (PCR only, 10/8 to 10/21):
- Total PCR tests: 203,618
- Tests per 100,000 people: 2,797 (#38 highest of all states)
- Average test positivity rate: 7.4% (#26 highest)
Counties doing the most testing:
- #1. Coconino County (5,754 tests per 100k, 6.6% positivity rate)
- #2. Santa Cruz County (5,723 tests per 100k, 3.0% positivity rate)
- #3. Gila County (3,732 tests per 100k, 13.5% positivity rate)
Counties doing the least testing:
- #1. Mohave County (1,037 tests per 100k, 4.7% positivity rate)
- #2. Greenlee County (1,042 tests per 100k, 16.2% positivity rate)
- #3. Cochise County (1,327 tests per 100k, 7.4% positivity rate)
Arkansas
Overall state testing (PCR only, 10/8 to 10/21):
- Total PCR tests: 133,368
- Tests per 100,000 people: 4,419 (#21 highest of all states)
- Average test positivity rate: 7.9% (#21 highest)
Counties doing the most testing:
- #1. Jackson County (9,863 tests per 100k, 8.2% positivity rate)
- #2. Phillips County (8,975 tests per 100k, 6.8% positivity rate)
- #3. Lee County (8,739 tests per 100k, 2.7% positivity rate)
Counties doing the least testing:
- #1. Little River County (1,273 tests per 100k, 9.6% positivity rate)
- #2. Baxter County (1,436 tests per 100k, 12.5% positivity rate)
- #3. Howard County (1,485 tests per 100k, 9.7% positivity rate)
California
Overall state testing (PCR only, 10/8 to 10/21):
- Total PCR tests: 942,810
- Tests per 100,000 people: 2,386 (#42 highest of all states)
- Average test positivity rate: 3.0% (#41 highest)
Counties doing the most testing:
- #1. San Francisco County (5,429 tests per 100k, 0.8% positivity rate)
- #2. Marin County (4,468 tests per 100k, 1.3% positivity rate)
- #3. Santa Clara County (3,609 tests per 100k, 1.5% positivity rate)
Counties doing the least testing:
- #1. Kern County (1,759 tests per 100k, 4.1% positivity rate)
- #2. Orange County (1,772 tests per 100k, 3.1% positivity rate)
- #3. Stanislaus County (1,783 tests per 100k, 3.9% positivity rate)
Colorado
Overall state testing (PCR only, 10/8 to 10/21):
- Total PCR tests: 225,830
- Tests per 100,000 people: 3,922 (#26 highest of all states)
- Average test positivity rate: 3.7% (#39 highest)
Counties doing the most testing:
- #1. Logan County (20,121 tests per 100k, 7.1% positivity rate)
- #2. Fremont County (19,731 tests per 100k, 4.6% positivity rate)
- #3. Baca County (14,354 tests per 100k, 1.0% positivity rate)
Counties doing the least testing:
- #1. Costilla County (under 20 tests), Hinsdale County (under 20 tests), Jackson County (under 20 tests), Mineral County (under 20 tests), San Juan County (under 20 tests)
- #2. Alamosa County (493 tests per 100k, 0.0% positivity rate)
- #3. Dolores County (1,022 tests per 100k, 0.0% positivity rate)
Connecticut
Overall state testing (PCR only, 10/8 to 10/21):
- Total PCR tests: 88,507
- Tests per 100,000 people: 2,482 (#40 highest of all states)
- Average test positivity rate: 2.7% (#44 highest)
Counties doing the most testing:
- #1. New London County (3,825 tests per 100k, 4.0% positivity rate)
- #2. Windham County (3,013 tests per 100k, 3.1% positivity rate)
- #3. Litchfield County (2,720 tests per 100k, 1.5% positivity rate)
Counties doing the least testing:
- #1. New Haven County (2,013 tests per 100k, 2.7% positivity rate)
- #2. Fairfield County (2,301 tests per 100k, 3.0% positivity rate)
- #3. Tolland County (2,365 tests per 100k, 2.1% positivity rate)
Delaware
Overall state testing (PCR only, 10/8 to 10/21):
- Total PCR tests: 60,038
- Tests per 100,000 people: 6,166 (#10 highest of all states)
- Average test positivity rate: 2.7% (#43 highest)
Counties doing the most testing:
- #1. New Castle County (7,272 tests per 100k, 2.4% positivity rate)
- #2. Sussex County (5,052 tests per 100k, 4.0% positivity rate)
- #3. Kent County (4,189 tests per 100k, 1.8% positivity rate)
Counties doing the least testing:
- #1. Kent County (4,189 tests per 100k, 1.8% positivity rate)
- #2. Sussex County (5,052 tests per 100k, 4.0% positivity rate)
- #3. New Castle County (7,272 tests per 100k, 2.4% positivity rate)
Florida
Overall state testing (PCR only, 10/8 to 10/21):
- Total PCR tests: 701,276
- Tests per 100,000 people: 3,265 (#33 highest of all states)
- Average test positivity rate: 6.4% (#31 highest)
Counties doing the most testing:
- #1. Alachua County (5,312 tests per 100k, 5.6% positivity rate)
- #2. Suwannee County (4,732 tests per 100k, 5.0% positivity rate)
- #3. Miami-Dade County (4,638 tests per 100k, 6.0% positivity rate)
Counties doing the least testing:
- #1. Glades County (840 tests per 100k, 14.7% positivity rate)
- #2. Santa Rosa County (968 tests per 100k, 5.7% positivity rate)
- #3. Bay County (1,178 tests per 100k, 4.4% positivity rate)
Georgia
Overall state testing (PCR only, 10/8 to 10/21):
- Total PCR tests: 251,697
- Tests per 100,000 people: 2,371 (#43 highest of all states)
- Average test positivity rate: 7.9% (#23 highest)
Counties doing the most testing:
- #1. Miller County (10,336 tests per 100k, 3.4% positivity rate)
- #2. Fulton County (7,535 tests per 100k, 5.4% positivity rate)
- #3. Ware County (4,500 tests per 100k, 8.3% positivity rate)
Counties doing the least testing:
- #1. Clay County (under 20 tests), Quitman County (under 20 tests), Taliaferro County (under 20 tests), Webster County (under 20 tests)
- #2. Catoosa County (402 tests per 100k, 6.6% positivity rate)
- #3. Telfair County (448 tests per 100k, 19.7% positivity rate)
Hawaii
Overall state testing (PCR only, 10/8 to 10/21):
- Total PCR tests: 31,254
- Tests per 100,000 people: 2,207 (#46 highest of all states)
- Average test positivity rate: 2.9% (#42 highest)
Counties doing the most testing:
- #1. Hawaii County (3,499 tests per 100k, 3.9% positivity rate)
- #2. Honolulu County (2,053 tests per 100k, 4.9% positivity rate)
- #3. Maui County (1,853 tests per 100k, 1.8% positivity rate)
Counties doing the least testing:
- #1. Kauai County (1,516 tests per 100k, 1.0% positivity rate)
- #2. Maui County (1,853 tests per 100k, 1.8% positivity rate)
- #3. Honolulu County (2,053 tests per 100k, 4.9% positivity rate)
Idaho
Overall state testing (PCR only, 10/8 to 10/21):
- Total PCR tests: 60,401
- Tests per 100,000 people: 3,380 (#32 highest of all states)
- Average test positivity rate: 19.1% (#2 highest)
Counties doing the most testing:
- #1. Madison County (6,540 tests per 100k, 35.2% positivity rate)
- #2. Twin Falls County (6,227 tests per 100k, 24.3% positivity rate)
- #3. Caribou County (4,752 tests per 100k, 30.6% positivity rate)
Counties doing the least testing:
- #1. Butte County (under 20 tests), Clark County (under 20 tests)
- #2. Benewah County (581 tests per 100k, 9.3% positivity rate)
- #3. Boundary County (825 tests per 100k, 16.8% positivity rate)
Illinois
Overall state testing (PCR only, 10/8 to 10/21):
- Total PCR tests: 793,976
- Tests per 100,000 people: 6,266 (#9 highest of all states)
- Average test positivity rate: 8.5% (#19 highest)
Counties doing the most testing:
- #1. Champaign County (57,639 tests per 100k, 0.9% positivity rate)
- #2. White County (10,024 tests per 100k, 4.1% positivity rate)
- #3. Marion County (9,442 tests per 100k, 8.6% positivity rate)
Counties doing the least testing:
- #1. Pope County (1,580 tests per 100k, 9.1% positivity rate)
- #2. Edwards County (1,704 tests per 100k, 19.3% positivity rate)
- #3. Jersey County (1,833 tests per 100k, 10.3% positivity rate)
Indiana
Overall state testing (PCR only, 10/8 to 10/21):
- Total PCR tests: 323,426
- Tests per 100,000 people: 4,804 (#18 highest of all states)
- Average test positivity rate: 9.1% (#18 highest)
Counties doing the most testing:
- #1. Marshall County (12,013 tests per 100k, 6.3% positivity rate)
- #2. St. Joseph County (10,508 tests per 100k, 8.9% positivity rate)
- #3. Monroe County (10,335 tests per 100k, 2.0% positivity rate)
Counties doing the least testing:
- #1. Newton County (1,101 tests per 100k, 10.4% positivity rate)
- #2. Morgan County (1,620 tests per 100k, 6.8% positivity rate)
- #3. Pulaski County (2,016 tests per 100k, 7.2% positivity rate)
Iowa
Overall state testing (PCR only, 10/8 to 10/21):
- Total PCR tests: 157,499
- Tests per 100,000 people: 4,992 (#16 highest of all states)
- Average test positivity rate: 11.3% (#11 highest)
Counties doing the most testing:
- #1. Greene County (9,586 tests per 100k, 3.9% positivity rate)
- #2. Page County (9,135 tests per 100k, 6.4% positivity rate)
- #3. Hancock County (9,031 tests per 100k, 6.1% positivity rate)
Counties doing the least testing:
- #1. Decatur County (1,652 tests per 100k, 10.8% positivity rate)
- #2. Wayne County (1,941 tests per 100k, 6.4% positivity rate)
- #3. Franklin County (2,433 tests per 100k, 4.9% positivity rate)
Kansas
Overall state testing (PCR only, 10/8 to 10/21):
- Total PCR tests: 112,886
- Tests per 100,000 people: 3,875 (#27 highest of all states)
- Average test positivity rate: 13.9% (#7 highest)
Counties doing the most testing:
- #1. Norton County (28,073 tests per 100k, 28.9% positivity rate)
- #2. Comanche County (11,882 tests per 100k, 1.5% positivity rate)
- #3. Sheridan County (11,424 tests per 100k, 46.2% positivity rate)
Counties doing the least testing:
- #1. Morton County (under 20 tests)
- #2. Cheyenne County (979 tests per 100k, 23.1% positivity rate)
- #3. Greenwood County (1,304 tests per 100k, 15.4% positivity rate)
Kentucky
Overall state testing (PCR only, 10/8 to 10/21):
- Total PCR tests: 153,008
- Tests per 100,000 people: 3,425 (#31 highest of all states)
- Average test positivity rate: 10.8% (#13 highest)
Counties doing the most testing:
- #1. Rockcastle County (10,308 tests per 100k, 5.8% positivity rate)
- #2. Boyle County (7,605 tests per 100k, 4.9% positivity rate)
- #3. Boyd County (6,526 tests per 100k, 3.1% positivity rate)
Counties doing the least testing:
- #1. Cumberland County (756 tests per 100k, 10.0% positivity rate)
- #2. Owen County (771 tests per 100k, 7.1% positivity rate)
- #3. Russell County (776 tests per 100k, 5.0% positivity rate)
Louisiana
Overall state testing (PCR only, 10/8 to 10/21):
- Total PCR tests: 182,691
- Tests per 100,000 people: 3,930 (#25 highest of all states)
- Average test positivity rate: 6.9% (#28 highest)
Counties doing the most testing:
- #1. East Feliciana Parish (9,600 tests per 100k, 2.4% positivity rate)
- #2. Orleans Parish (9,307 tests per 100k, 1.4% positivity rate)
- #3. Bienville Parish (9,055 tests per 100k, 5.3% positivity rate)
Counties doing the least testing:
- #1. Cameron Parish (660 tests per 100k, 15.2% positivity rate)
- #2. Beauregard Parish (1,187 tests per 100k, 6.5% positivity rate)
- #3. Vernon Parish (1,255 tests per 100k, 3.9% positivity rate)
Maine
Overall state testing (PCR only, 10/8 to 10/21):
- Total PCR tests: 43,446
- Tests per 100,000 people: 3,232 (#34 highest of all states)
- Average test positivity rate: 0.7% (#50 highest)
Counties doing the most testing:
- #1. Cumberland County (7,166 tests per 100k, 0.6% positivity rate)
- #2. Penobscot County (5,602 tests per 100k, 0.5% positivity rate)
- #3. Androscoggin County (2,980 tests per 100k, 1.3% positivity rate)
Counties doing the least testing:
- #1. Lincoln County (860 tests per 100k, 0.3% positivity rate)
- #2. Aroostook County (868 tests per 100k, 0.3% positivity rate)
- #3. Hancock County (1,084 tests per 100k, 0.3% positivity rate)
Maryland
Overall state testing (PCR only, 10/8 to 10/21):
- Total PCR tests: 273,526
- Tests per 100,000 people: 4,524 (#20 highest of all states)
- Average test positivity rate: 4.4% (#35 highest)
Counties doing the most testing:
- #1. Dorchester County (8,262 tests per 100k, 5.0% positivity rate)
- #2. Somerset County (6,488 tests per 100k, 6.5% positivity rate)
- #3. Wicomico County (6,304 tests per 100k, 5.3% positivity rate)
Counties doing the least testing:
- #1. Calvert County (2,367 tests per 100k, 4.5% positivity rate)
- #2. St. Mary's County (2,623 tests per 100k, 2.7% positivity rate)
- #3. Harford County (3,201 tests per 100k, 5.6% positivity rate)
Massachusetts
Overall state testing (PCR only, 10/8 to 10/21):
- Total PCR tests: 845,387
- Tests per 100,000 people: 12,265 (#2 highest of all states)
- Average test positivity rate: 1.3% (#48 highest)
Counties doing the most testing:
- #1. Hampshire County (24,100 tests per 100k, 0.3% positivity rate)
- #2. Suffolk County (22,386 tests per 100k, 1.1% positivity rate)
- #3. Middlesex County (14,281 tests per 100k, 1.1% positivity rate)
Counties doing the least testing:
- #1. Barnstable County (5,642 tests per 100k, 0.8% positivity rate)
- #2. Nantucket County (7,044 tests per 100k, 1.7% positivity rate)
- #3. Plymouth County (7,217 tests per 100k, 2.5% positivity rate)
Michigan
Overall state testing (PCR only, 10/8 to 10/21):
- Total PCR tests: 498,727
- Tests per 100,000 people: 4,994 (#15 highest of all states)
- Average test positivity rate: 4.3% (#36 highest)
Counties doing the most testing:
- #1. Baraga County (24,096 tests per 100k, 0.9% positivity rate)
- #2. Alger County (18,654 tests per 100k, 2.5% positivity rate)
- #3. Luce County (17,338 tests per 100k, 3.2% positivity rate)
Counties doing the least testing:
- #1. Chippewa County (1,400 tests per 100k, 1.9% positivity rate)
- #2. Alpena County (1,943 tests per 100k, 0.9% positivity rate)
- #3. Otsego County (2,153 tests per 100k, 4.1% positivity rate)
Minnesota
Overall state testing (PCR only, 10/8 to 10/21):
- Total PCR tests: 469,666
- Tests per 100,000 people: 8,328 (#6 highest of all states)
- Average test positivity rate: 7.3% (#27 highest)
Counties doing the most testing:
- #1. Kittson County (20,009 tests per 100k, 5.1% positivity rate)
- #2. Chippewa County (16,907 tests per 100k, 9.2% positivity rate)
- #3. Lac qui Parle County (16,322 tests per 100k, 4.1% positivity rate)
Counties doing the least testing:
- #1. Red Lake County (3,527 tests per 100k, 16.1% positivity rate)
- #2. Cook County (4,228 tests per 100k, 5.6% positivity rate)
- #3. Clearwater County (4,582 tests per 100k, 17.6% positivity rate)
Mississippi
Overall state testing (PCR only, 10/8 to 10/21):
- Total PCR tests: 40,933
- Tests per 100,000 people: 1,375 (#49 highest of all states)
- Average test positivity rate: 9.2% (#17 highest)
Counties doing the most testing:
- #1. Covington County (10,469 tests per 100k, 9.1% positivity rate)
- #2. Lauderdale County (4,633 tests per 100k, 9.8% positivity rate)
- #3. Hinds County (4,457 tests per 100k, 7.1% positivity rate)
Counties doing the least testing:
- #1. Carroll County (under 20 tests), Issaquena County (under 20 tests), Sharkey County (under 20 tests)
- #2. Tishomingo County (150 tests per 100k, 6.9% positivity rate)
- #3. Clarke County (193 tests per 100k, 13.3% positivity rate)
Missouri
Overall state testing (PCR only, 10/8 to 10/21):
- Total PCR tests: 135,578
- Tests per 100,000 people: 2,209 (#45 highest of all states)
- Average test positivity rate: 14.5% (#6 highest)
Counties doing the most testing:
- #1. Cedar County (6,223 tests per 100k, 3.9% positivity rate)
- #2. St. Louis City (5,146 tests per 100k, 6.6% positivity rate)
- #3. Sullivan County (4,878 tests per 100k, 11.1% positivity rate)
Counties doing the least testing:
- #1. Atchison County (under 20 tests), Douglas County (under 20 tests), Howard County (under 20 tests)
- #2. Linn County (361 tests per 100k, 0.0% positivity rate)
- #3. Audrain County (370 tests per 100k, 9.6% positivity rate)
Montana
Overall state testing (PCR only, 10/8 to 10/21):
- Total PCR tests: 61,439
- Tests per 100,000 people: 5,749 (#12 highest of all states)
- Average test positivity rate: 22.1% (#1 highest)
Counties doing the most testing:
- #1. Carter County (12,380 tests per 100k, 40.6% positivity rate)
- #2. Roosevelt County (11,668 tests per 100k, 39.6% positivity rate)
- #3. Sheridan County (11,635 tests per 100k, 7.5% positivity rate)
Counties doing the least testing:
- #1. Petroleum County (under 20 tests)
- #2. Chouteau County (1,118 tests per 100k, 50.8% positivity rate)
- #3. Judith Basin County (1,196 tests per 100k, 25.0% positivity rate)
Nebraska
Overall state testing (PCR only, 10/8 to 10/21):
- Total PCR tests: 96,482
- Tests per 100,000 people: 4,988 (#17 highest of all states)
- Average test positivity rate: 16.9% (#3 highest)
Counties doing the most testing:
- #1. Nemaha County (10,657 tests per 100k, 3.1% positivity rate)
- #2. Hamilton County (8,054 tests per 100k, 12.1% positivity rate)
- #3. Nance County (7,900 tests per 100k, 5.8% positivity rate)
Counties doing the least testing:
- #1. Arthur County (under 20 tests), Banner County (under 20 tests), Blaine County (under 20 tests), Hooker County (under 20 tests), Keya Paha County (under 20 tests), Logan County (under 20 tests), Loup County (under 20 tests), McPherson County (under 20 tests), Sioux County (under 20 tests), Wheeler County (under 20 tests)
- #2. Kimball County (743 tests per 100k, 0.0% positivity rate)
- #3. Morrill County (1,400 tests per 100k, 20.0% positivity rate)
Nevada
Overall state testing (PCR only, 10/8 to 10/21):
- Total PCR tests: 125,923
- Tests per 100,000 people: 4,088 (#24 highest of all states)
- Average test positivity rate: 9.7% (#16 highest)
Counties doing the most testing:
- #1. Pershing County (7,985 tests per 100k, 1.1% positivity rate)
- #2. Lander County (6,146 tests per 100k, 6.8% positivity rate)
- #3. Carson City (4,766 tests per 100k, 8.6% positivity rate)
Counties doing the least testing:
- #1. Esmeralda County (under 20 tests), Eureka County (under 20 tests)
- #2. Storey County (728 tests per 100k, 6.7% positivity rate)
- #3. Nye County (972 tests per 100k, 14.2% positivity rate)
New Hampshire
Overall state testing (PCR only, 10/8 to 10/21):
- Total PCR tests: 50,396
- Tests per 100,000 people: 3,706 (#28 highest of all states)
- Average test positivity rate: 1.6% (#47 highest)
Counties doing the most testing:
- #1. Grafton County (9,749 tests per 100k, 0.4% positivity rate)
- #2. Coos County (4,318 tests per 100k, 1.2% positivity rate)
- #3. Cheshire County (3,760 tests per 100k, 0.7% positivity rate)
Counties doing the least testing:
- #1. Strafford County (1,777 tests per 100k, 2.9% positivity rate)
- #2. Carroll County (2,736 tests per 100k, 0.4% positivity rate)
- #3. Sullivan County (2,765 tests per 100k, 0.9% positivity rate)
New Jersey
Overall state testing (PCR only, 10/8 to 10/21):
- Total PCR tests: 402,429
- Tests per 100,000 people: 4,531 (#19 highest of all states)
- Average test positivity rate: 3.3% (#40 highest)
Counties doing the most testing:
- #1. Ocean County (5,263 tests per 100k, 4.1% positivity rate)
- #2. Monmouth County (5,135 tests per 100k, 3.2% positivity rate)
- #3. Bergen County (5,023 tests per 100k, 3.1% positivity rate)
Counties doing the least testing:
- #1. Warren County (3,065 tests per 100k, 2.1% positivity rate)
- #2. Salem County (3,310 tests per 100k, 2.4% positivity rate)
- #3. Sussex County (3,709 tests per 100k, 1.9% positivity rate)
New Mexico
Overall state testing (PCR only, 10/8 to 10/21):
- Total PCR tests: 76,564
- Tests per 100,000 people: 3,651 (#29 highest of all states)
- Average test positivity rate: 6.8% (#29 highest)
Counties doing the most testing:
- #1. Cibola County (7,070 tests per 100k, 3.4% positivity rate)
- #2. Sierra County (6,876 tests per 100k, 3.1% positivity rate)
- #3. Luna County (4,926 tests per 100k, 16.5% positivity rate)
Counties doing the least testing:
- #1. Harding County (under 20 tests)
- #2. Catron County (709 tests per 100k, 0.0% positivity rate)
- #3. Mora County (1,416 tests per 100k, 7.8% positivity rate)
New York
Overall state testing (PCR only, 10/8 to 10/21):
- Total PCR tests: 1.5 million
- Tests per 100,000 people: 7,610 (#7 highest of all states)
- Average test positivity rate: 1.8% (#45 highest)
Counties doing the most testing:
- #1. Tompkins County (61,410 tests per 100k, 0.2% positivity rate)
- #2. Chemung County (12,581 tests per 100k, 9.4% positivity rate)
- #3. Broome County (11,432 tests per 100k, 5.2% positivity rate)
Counties doing the least testing:
- #1. Jefferson County (3,235 tests per 100k, 0.5% positivity rate)
- #2. Schoharie County (3,478 tests per 100k, 1.3% positivity rate)
- #3. Lewis County (3,932 tests per 100k, 0.4% positivity rate)
North Carolina
Overall state testing (PCR only, 10/8 to 10/21):
- Total PCR tests: 438,901
- Tests per 100,000 people: 4,185 (#22 highest of all states)
- Average test positivity rate: 7.6% (#24 highest)
Counties doing the most testing:
- #1. Greene County (9,540 tests per 100k, 9.7% positivity rate)
- #2. Watauga County (8,306 tests per 100k, 4.0% positivity rate)
- #3. Lenoir County (7,460 tests per 100k, 5.1% positivity rate)
Counties doing the least testing:
- #1. Camden County (1,077 tests per 100k, 8.5% positivity rate)
- #2. Swain County (1,107 tests per 100k, 28.5% positivity rate)
- #3. Currituck County (1,239 tests per 100k, 6.7% positivity rate)
North Dakota
Overall state testing (PCR only, 10/8 to 10/21):
- Total PCR tests: 82,664
- Tests per 100,000 people: 10,847 (#4 highest of all states)
- Average test positivity rate: 9.9% (#15 highest)
Counties doing the most testing:
- #1. Eddy County (32,882 tests per 100k, 7.2% positivity rate)
- #2. McIntosh County (32,639 tests per 100k, 5.2% positivity rate)
- #3. Logan County (27,351 tests per 100k, 5.9% positivity rate)
Counties doing the least testing:
- #1. Slope County (under 20 tests)
- #2. Divide County (4,373 tests per 100k, 5.1% positivity rate)
- #3. Williams County (4,387 tests per 100k, 16.7% positivity rate)
Ohio
Overall state testing (PCR only, 10/8 to 10/21):
- Total PCR tests: 217,284
- Tests per 100,000 people: 1,859 (#47 highest of all states)
- Average test positivity rate: 7.5% (#25 highest)
Counties doing the most testing:
- #1. Fayette County (23,635 tests per 100k, 6.7% positivity rate)
- #2. Gallia County (6,077 tests per 100k, 6.7% positivity rate)
- #3. Scioto County (5,493 tests per 100k, 5.5% positivity rate)
Counties doing the least testing:
- #1. Shelby County (177 tests per 100k, 12.8% positivity rate)
- #2. Carroll County (208 tests per 100k, 5.4% positivity rate)
- #3. Tuscarawas County (225 tests per 100k, 13.0% positivity rate)
Oklahoma
Overall state testing (PCR only, 10/8 to 10/21):
- Total PCR tests: 63,385
- Tests per 100,000 people: 1,602 (#48 highest of all states)
- Average test positivity rate: 12.1% (#9 highest)
Counties doing the most testing:
- #1. Cherokee County (8,846 tests per 100k, 8.5% positivity rate)
- #2. Grant County (4,962 tests per 100k, 7.0% positivity rate)
- #3. Le Flore County (3,240 tests per 100k, 13.0% positivity rate)
Counties doing the least testing:
- #1. Cimarron County (under 20 tests), Ellis County (under 20 tests), Harmon County (under 20 tests), Noble County (under 20 tests)
- #2. Texas County (100 tests per 100k, 15.0% positivity rate)
- #3. Kay County (172 tests per 100k, 6.7% positivity rate)
Oregon
Overall state testing (PCR only, 10/8 to 10/21):
- Total PCR tests: 219,498
- Tests per 100,000 people: 5,204 (#14 highest of all states)
- Average test positivity rate: 5.0% (#32 highest)
Counties doing the most testing:
- #1. Hood River County (14,511 tests per 100k, 4.8% positivity rate)
- #2. Yamhill County (8,120 tests per 100k, 7.3% positivity rate)
- #3. Multnomah County (7,376 tests per 100k, 7.5% positivity rate)
Counties doing the least testing:
- #1. Union County (660 tests per 100k, 3.4% positivity rate)
- #2. Wallowa County (1,013 tests per 100k, 2.7% positivity rate)
- #3. Morrow County (1,310 tests per 100k, 5.3% positivity rate)
Pennsylvania
Overall state testing (PCR only, 10/8 to 10/21):
- Total PCR tests: 463,164
- Tests per 100,000 people: 3,618 (#30 highest of all states)
- Average test positivity rate: 4.5% (#34 highest)
Counties doing the most testing:
- #1. Union County (13,732 tests per 100k, 1.5% positivity rate)
- #2. Centre County (7,583 tests per 100k, 5.0% positivity rate)
- #3. Huntingdon County (7,091 tests per 100k, 11.7% positivity rate)
Counties doing the least testing:
- #1. Potter County (1,150 tests per 100k, 4.7% positivity rate)
- #2. Warren County (1,480 tests per 100k, 3.1% positivity rate)
- #3. Cameron County (1,664 tests per 100k, 0.0% positivity rate)
Rhode Island
Overall state testing (PCR only, 10/8 to 10/21):
- Total PCR tests: 149,304
- Tests per 100,000 people: 14,094 (#1 highest of all states)
- Average test positivity rate: 1.7% (#46 highest)
Counties doing the most testing:
- #1. Bristol County (38,008 tests per 100k, 0.5% positivity rate)
- #2. Washington County (16,050 tests per 100k, 1.4% positivity rate)
- #3. Providence County (14,378 tests per 100k, 2.9% positivity rate)
Counties doing the least testing:
- #1. Kent County (7,570 tests per 100k, 2.3% positivity rate)
- #2. Newport County (7,823 tests per 100k, 1.2% positivity rate)
- #3. Providence County (14,378 tests per 100k, 2.9% positivity rate)
South Carolina
Overall state testing (PCR only, 10/8 to 10/21):
- Total PCR tests: 130,562
- Tests per 100,000 people: 2,536 (#39 highest of all states)
- Average test positivity rate: 7.9% (#22 highest)
Counties doing the most testing:
- #1. Williamsburg County (5,848 tests per 100k, 3.5% positivity rate)
- #2. Barnwell County (4,323 tests per 100k, 14.7% positivity rate)
- #3. Allendale County (4,316 tests per 100k, 3.7% positivity rate)
Counties doing the least testing:
- #1. Cherokee County (595 tests per 100k, 13.2% positivity rate)
- #2. Saluda County (606 tests per 100k, 6.5% positivity rate)
- #3. Spartanburg County (1,208 tests per 100k, 8.3% positivity rate)
South Dakota
Overall state testing (PCR only, 10/8 to 10/21):
- Total PCR tests: 36,311
- Tests per 100,000 people: 4,105 (#23 highest of all states)
- Average test positivity rate: 16.3% (#4 highest)
Counties doing the most testing:
- #1. Haakon County (15,640 tests per 100k, 10.1% positivity rate)
- #2. McPherson County (10,677 tests per 100k, 3.9% positivity rate)
- #3. Potter County (10,497 tests per 100k, 6.6% positivity rate)
Counties doing the least testing:
- #1. Buffalo County (under 20 tests), Perkins County (under 20 tests), Ziebach County (under 20 tests)
- #2. Todd County (865 tests per 100k, 10.2% positivity rate)
- #3. Faulk County (1,044 tests per 100k, 29.2% positivity rate)
Tennessee
Overall state testing (PCR only, 10/8 to 10/21):
- Total PCR tests: 197,304
- Tests per 100,000 people: 2,889 (#36 highest of all states)
- Average test positivity rate: 11.4% (#10 highest)
Counties doing the most testing:
- #1. Franklin County (5,542 tests per 100k, 5.5% positivity rate)
- #2. Pickett County (5,210 tests per 100k, 14.1% positivity rate)
- #3. Houston County (5,085 tests per 100k, 7.2% positivity rate)
Counties doing the least testing:
- #1. Hancock County (1,027 tests per 100k, 4.4% positivity rate)
- #2. Lincoln County (1,050 tests per 100k, 16.3% positivity rate)
- #3. Moore County (1,110 tests per 100k, 18.1% positivity rate)
Texas
Overall state testing (PCR only, 10/8 to 10/21):
- Total PCR tests: 719,312
- Tests per 100,000 people: 2,481 (#41 highest of all states)
- Average test positivity rate: 11.3% (#12 highest)
Counties doing the most testing:
- #1. Jim Hogg County (16,904 tests per 100k, 4.1% positivity rate)
- #2. Brooks County (14,832 tests per 100k, 5.1% positivity rate)
- #3. Brewster County (9,399 tests per 100k, 4.5% positivity rate)
Counties doing the least testing:
- #1. Borden County (under 20 tests), Crockett County (under 20 tests), Glasscock County (under 20 tests), Hartley County (under 20 tests), Irion County (under 20 tests), Kenedy County (under 20 tests), King County (under 20 tests), Lipscomb County (under 20 tests), Loving County (under 20 tests), McMullen County (under 20 tests), Reagan County (under 20 tests), Roberts County (under 20 tests), Sherman County (under 20 tests), Stonewall County (under 20 tests), Terrell County (under 20 tests), Throckmorton County (under 20 tests)
- #2. Ochiltree County (264 tests per 100k, 11.5% positivity rate)
- #3. Dallam County (343 tests per 100k, 20.0% positivity rate)
Utah
Overall state testing (PCR only, 10/8 to 10/21):
- Total PCR tests: 173,593
- Tests per 100,000 people: 5,415 (#13 highest of all states)
- Average test positivity rate: 14.6% (#5 highest)
Counties doing the most testing:
- #1. Salt Lake County (7,109 tests per 100k, 14.5% positivity rate)
- #2. Grand County (6,766 tests per 100k, 3.3% positivity rate)
- #3. Summit County (6,667 tests per 100k, 11.1% positivity rate)
Counties doing the least testing:
- #1. Emery County (1,119 tests per 100k, 8.9% positivity rate)
- #2. Rich County (1,772 tests per 100k, 6.8% positivity rate)
- #3. Uintah County (1,911 tests per 100k, 8.9% positivity rate)
Vermont
Overall state testing (PCR only, 10/8 to 10/21):
- Total PCR tests: 56,883
- Tests per 100,000 people: 9,116 (#5 highest of all states)
- Average test positivity rate: 0.9% (#49 highest)
Counties doing the most testing:
- #1. Chittenden County (23,849 tests per 100k, 0.2% positivity rate)
- #2. Washington County (6,884 tests per 100k, 0.9% positivity rate)
- #3. Bennington County (5,971 tests per 100k, 0.7% positivity rate)
Counties doing the least testing:
- #1. Orleans County (1,184 tests per 100k, 2.2% positivity rate)
- #2. Orange County (1,945 tests per 100k, 1.2% positivity rate)
- #3. Grand Isle County (1,949 tests per 100k, 3.5% positivity rate)
Virginia
Overall state testing (PCR only, 10/8 to 10/21):
- Total PCR tests: 246,359
- Tests per 100,000 people: 2,886 (#37 highest of all states)
- Average test positivity rate: 8.3% (#20 highest)
Counties doing the most testing:
- #1. Roanoke City (13,807 tests per 100k, 9.0% positivity rate)
- #2. Lexington City (13,000 tests per 100k, 2.7% positivity rate)
- #3. Richmond County (12,335 tests per 100k, 1.1% positivity rate)
Counties doing the least testing:
- #1. Fairfax City (under 20 tests)
- #2. Williamsburg City (187 tests per 100k, 25.0% positivity rate)
- #3. Manassas Park City (189 tests per 100k, 66.7% positivity rate)
Washington
Overall state testing (PCR only, 10/8 to 10/21):
- Total PCR tests: 179,205
- Tests per 100,000 people: 2,353 (#44 highest of all states)
- Average test positivity rate: 4.2% (#37 highest)
Counties doing the most testing:
- #1. King County (5,498 tests per 100k, 2.8% positivity rate)
- #2. Pend Oreille County (4,146 tests per 100k, 4.6% positivity rate)
- #3. Chelan County (3,847 tests per 100k, 4.0% positivity rate)
Counties doing the least testing:
- #1. Wahkiakum County (under 20 tests)
- #2. Franklin County (69 tests per 100k, 13.6% positivity rate)
- #3. Douglas County (71 tests per 100k, 3.2% positivity rate)
West Virginia
Overall state testing (PCR only, 10/8 to 10/21):
- Total PCR tests: 103,936
- Tests per 100,000 people: 5,800 (#11 highest of all states)
- Average test positivity rate: 4.8% (#33 highest)
Counties doing the most testing:
- #1. Tucker County (16,318 tests per 100k, 1.0% positivity rate)
- #2. Cabell County (8,750 tests per 100k, 5.9% positivity rate)
- #3. Grant County (8,549 tests per 100k, 2.2% positivity rate)
Counties doing the least testing:
- #1. Pocahontas County (2,304 tests per 100k, 2.1% positivity rate)
- #2. Hardy County (2,635 tests per 100k, 1.7% positivity rate)
- #3. Pleasants County (2,668 tests per 100k, 2.5% positivity rate)
Wisconsin
Overall state testing (PCR only, 10/8 to 10/21):
- Total PCR tests: 415,134
- Tests per 100,000 people: 7,130 (#8 highest of all states)
- Average test positivity rate: 12.9% (#8 highest)
Counties doing the most testing:
- #1. Menominee County (14,816 tests per 100k, 20.0% positivity rate)
- #2. Langlade County (12,601 tests per 100k, 26.2% positivity rate)
- #3. Green Lake County (11,077 tests per 100k, 15.0% positivity rate)
Counties doing the least testing:
- #1. Pepin County (3,609 tests per 100k, 10.3% positivity rate)
- #2. Burnett County (3,665 tests per 100k, 5.5% positivity rate)
- #3. St. Croix County (3,786 tests per 100k, 11.0% positivity rate)
Wyoming
Overall state testing (PCR only, 10/8 to 10/21):
- Total PCR tests: 3,315
- Tests per 100,000 people: 573 (#50 highest of all states)
- Average test positivity rate: 6.7% (#30 highest)
Counties doing the most testing:
- #1. Teton County (2,101 tests per 100k, 6.1% positivity rate)
- #2. Albany County (1,785 tests per 100k, 1.4% positivity rate)
- #3. Carbon County (1,074 tests per 100k, 0.0% positivity rate)
Counties doing the least testing:
- #1. Converse County (under 20 tests), Crook County (under 20 tests), Hot Springs County (under 20 tests), Niobrara County (under 20 tests), Sublette County (under 20 tests)
- #2. Campbell County (69 tests per 100k, 9.4% positivity rate)
- #3. Park County (113 tests per 100k, 12.1% positivity rate)