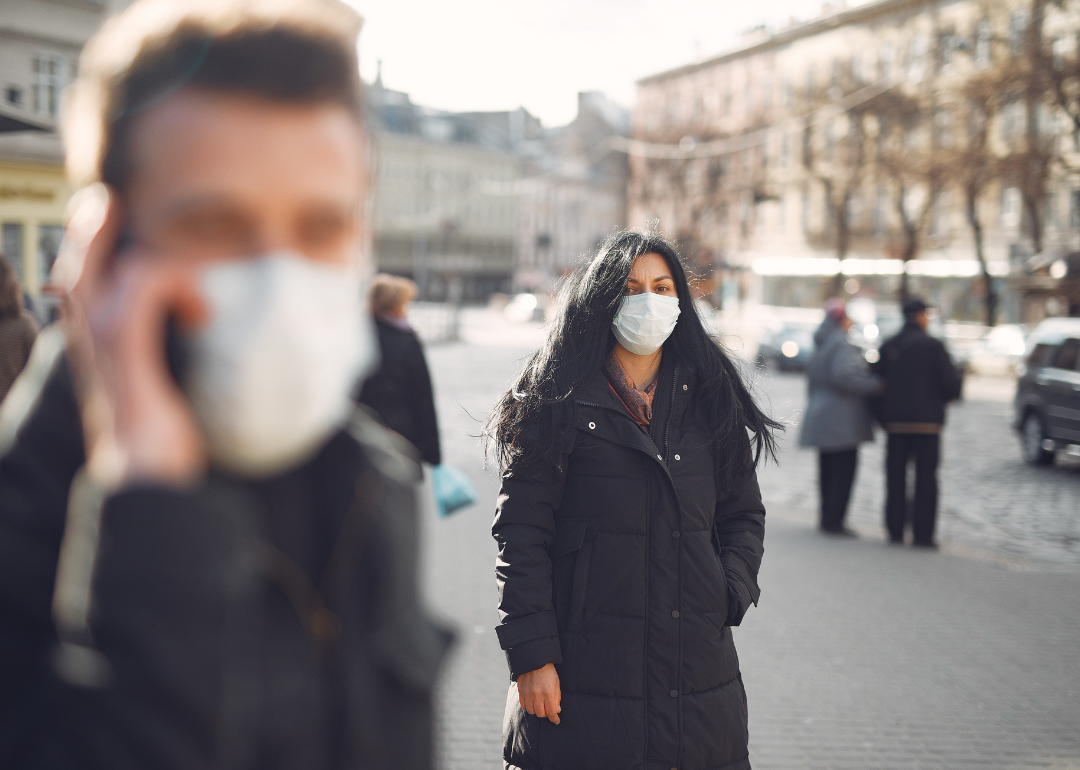 Counties in every state with the highest COVID-19 test positivity rates
Counties in every state with the highest COVID-19 test positivity rates
For the first time since America's COVID-19 outbreak started, a federal public health agency released county-level testing data. On Sept. 3, the Centers for Medicare & Medicaid Services (CMS) published a dataset showing COVID-19 test positivity rates broken out by U.S. county. While this dataset has not been highly publicized, it provides key information about the state of COVID-19 testing and outbreak control across the country.
Stacker used the CMS data to show which counties in every state have the highest COVID-19 test positivity rates. These figures reflect average weekly test positivity for the week of Aug. 27 to Sept. 2. CMS has further categorized counties according to their test positivity rates: green, test positivity under 5% in the past week (or with fewer than 10 tests in the past week); yellow, test positivity between 5% and 10% in the past week; red, test positivity greater than 10% in the past week.
The forthcoming gallery further compares the positivity rates of each county to its state's overall test positivity rate for the same week (Aug. 27 to Sept. 2). State testing figures are sourced from the COVID Tracking Project at The Atlantic. COVID-19 statistics for the most recent week of data available (Sept. 4 to Sept. 10) and cumulative case, test, and death counts, also sourced from the COVID Tracking Project, are included as well.
A test positivity rate describes the percentage of tests conducted in a particular area that returns a positive result. For example, if 1,000 people in a New York county are tested for  COVID-19 in a particular week and 10 of those people test positive, the county would have a positivity rate of 1%. Meanwhile, if 25 people in an Oklahoma county are tested and five people test positive, the test positivity rate for that county is 20%.
These positivity rates are typically reported for a short period of time, either one day or one week, and are used to reflect a region's testing capacity over time. If a region has a higher positivity rate, that likely means either many people there have COVID-19, the region does not have enough testing available to accurately measure its outbreak, or both. If a region has a lower positivity rate, on the other hand, that likely means a large share of the population has access to testing, and the region is diagnosing a more accurate share of its infected residents.
Test positivity rates are often used as a key indicator of how well a particular region is controlling its COVID-19 outbreak. The World Health Organization (WHO) recommends a test positivity rate of 5% or lower. This figure, and a more lenient benchmark of 10%, have been adopted by school districts looking to reopen and states looking to restrict out-of-state visitors as a key threshold that must be met.
Keep reading to see which counties in your state have the highest COVID-19 test positivity rates.
You may also like: Counties with the highest and lowest COVID-19 test positivity rates
Alabama
Counties with the highest test positivity rates, Aug. 27 to Sept. 2:
--- #1. Cleburne County: 34.1% (class: red, 140.6% above state positivity rate)
--- #2. Chilton County: 28.1% (class: red, 98.3% above state positivity rate)
--- #3. Blount County: 25.2% (class: red, 77.8% above state positivity rate)
--- #4. Lee County: 24.3% (class: red, 71.5% above state positivity rate)
--- #5. Macon County: 21.0% (class: red, 48.2% above state positivity rate)
Daily new counts over the past week (Sept. 4 to Sept. 10, seven-day averages):
- New cases: 18.4 per 100,000 people (#8 highest among all states)
- New deaths: 0.20 per 100k (#16 highest)
- New tests: 112.0 per 100k (#44 highest)
- Test positivity rate: 17.0% (#6 highest, recommended ratio: under 5%)
Total state COVID-19 counts as of Sept. 10:
- 135,565 total cases (2,786.7 per 100k, #6 highest among all states)
- 2,301 total deaths (47.3 per 100k, #21 highest)
- 993,440 total tests (20,421.5 per 100k, #37 highest)
Alaska
Counties with the highest test positivity rates, Aug. 27 to Sept. 2:
--- #1. North Slope Borough: 5.4% (class: yellow, 81.2% above state positivity rate)
--- #2. Fairbanks North Star Borough: 5.0% (class: yellow, 67.8% above state positivity rate)
--- #3. Denali Borough: 4.8% (class: green, 61.1% above state positivity rate)
--- #4. Anchorage Municipality: 3.2% (class: green, 7.4% above state positivity rate)
--- #4. Valdez-Cordova Census Area: 3.2% (class: green, 7.4% above state positivity rate)
Daily new counts over the past week (Sept. 4 to Sept. 10, seven-day averages):
- New cases: 11.1 per 100,000 people (#28 highest among all states)
- New deaths: 0.04 per 100k (#46 highest)
- New tests: 292.9 per 100k (#11 highest)
- Test positivity rate: 6.9% (#23 highest, recommended ratio: under 5%)
Total state COVID-19 counts as of Sept. 10:
- 6,915 total cases (936.3 per 100k, #43 highest among all states)
- 42 total deaths (5.7 per 100k, #51 highest)
- 393,077 total tests (53,225.3 per 100k, #2 highest)
Arizona
Counties with the highest test positivity rates, Aug. 27 to Sept. 2:
--- #1. Yuma County: 9.2% (class: yellow, 23.2% above state positivity rate)
--- #2. Graham County: 8.3% (class: yellow, 11.1% above state positivity rate)
--- #3. Gila County: 6.7% (class: yellow, 10.3% below state positivity rate)
--- #4. Pima County: 5.6% (class: yellow, 25.0% below state positivity rate)
--- #5. Santa Cruz County: 5.2% (class: yellow, 30.4% below state positivity rate)
Daily new counts over the past week (Sept. 4 to Sept. 10, seven-day averages):
- New cases: 6.3 per 100,000 people (#38 highest among all states)
- New deaths: 0.29 per 100k (#12 highest)
- New tests: 102.4 per 100k (#47 highest)
- Test positivity rate: 7.7% (#21 highest, recommended ratio: under 5%)
Total state COVID-19 counts as of Sept. 10:
- 207,002 total cases (2,979.9 per 100k, #3 highest among all states)
- 5,273 total deaths (75.9 per 100k, #9 highest)
- 1.3 million total tests (18,294.7 per 100k, #43 highest)
Arkansas
Counties with the highest test positivity rates, Aug. 27 to Sept. 2:
--- #1. Lincoln County: 30.7% (class: red, 274.4% above state positivity rate)
--- #2. Little River County: 25.0% (class: red, 204.9% above state positivity rate)
--- #3. Dallas County: 23.4% (class: red, 185.4% above state positivity rate)
--- #4. Lafayette County: 22.2% (class: red, 170.7% above state positivity rate)
--- #5. Montgomery County: 16.2% (class: red, 97.6% above state positivity rate)
Daily new counts over the past week (Sept. 4 to Sept. 10, seven-day averages):
- New cases: 20.5 per 100,000 people (#6 highest among all states)
- New deaths: 0.38 per 100k (#7 highest)
- New tests: 280.5 per 100k (#13 highest)
- Test positivity rate: 5.7% (#30 highest, recommended ratio: under 5%)
Total state COVID-19 counts as of Sept. 10:
- 67,803 total cases (2,267.2 per 100k, #11 highest among all states)
- 940 total deaths (31.4 per 100k, #30 highest)
- 796,179 total tests (26,622.1 per 100k, #19 highest)
California
Counties with the highest test positivity rates, Aug. 27 to Sept. 2:
--- #1. Imperial County: 16.9% (class: red, 274.7% above state positivity rate)
--- #2. Tulare County: 12.0% (class: red, 166.1% above state positivity rate)
--- #3. Kings County: 11.8% (class: red, 161.6% above state positivity rate)
--- #4. Fresno County: 11.5% (class: red, 155.0% above state positivity rate)
--- #5. Stanislaus County: 11.2% (class: red, 148.3% above state positivity rate)
Daily new counts over the past week (Sept. 4 to Sept. 10, seven-day averages):
- New cases: 9.4 per 100,000 people (#32 highest among all states)
- New deaths: 0.24 per 100k (#15 highest)
- New tests: 264.9 per 100k (#17 highest)
- Test positivity rate: 3.8% (#38 highest, recommended ratio: under 5%)
Total state COVID-19 counts as of Sept. 10:
- 742,865 total cases (1,897.5 per 100k, #23 highest among all states)
- 13,978 total deaths (35.7 per 100k, #25 highest)
- 12.4 million total tests (31,648.5 per 100k, #13 highest)
Colorado
Counties with the highest test positivity rates, Aug. 27 to Sept. 2:
--- #1. Prowers County: 10.3% (class: red, 187.7% above state positivity rate)
--- #2. Washington County: 8.3% (class: yellow, 131.8% above state positivity rate)
--- #3. Yuma County: 7.3% (class: yellow, 103.9% above state positivity rate)
--- #4. San Juan County: 6.7% (class: yellow, 87.2% above state positivity rate)
--- #5. Garfield County: 5.2% (class: yellow, 45.3% above state positivity rate)
Daily new counts over the past week (Sept. 4 to Sept. 10, seven-day averages):
- New cases: 4.9 per 100,000 people (#42 highest among all states)
- New deaths: 0.07 per 100k (#43 highest)
- New tests: 149.2 per 100k (#36 highest)
- Test positivity rate: 3.5% (#39 highest, recommended ratio: under 5%)
Total state COVID-19 counts as of Sept. 10:
- 59,920 total cases (1,083.3 per 100k, #41 highest among all states)
- 1,882 total deaths (34.0 per 100k, #27 highest)
- 1.1 million total tests (19,512.7 per 100k, #40 highest)
Connecticut
Counties with the highest test positivity rates, Aug. 27 to Sept. 2:
--- #1. Fairfield County: 1.7% (class: green, 178.7% above state positivity rate)
--- #2. Litchfield County: 1.4% (class: green, 129.5% above state positivity rate)
--- #3. Hartford County: 1.3% (class: green, 113.1% above state positivity rate)
--- #3. Windham County: 1.3% (class: green, 113.1% above state positivity rate)
--- #4. New Haven County: 0.8% (class: green, 31.1% above state positivity rate)
Daily new counts over the past week (Sept. 4 to Sept. 10, seven-day averages):
- New cases: 3.5 per 100,000 people (#47 highest among all states)
- New deaths: 0.04 per 100k (#45 highest)
- New tests: 363.9 per 100k (#6 highest)
- Test positivity rate: 0.6% (#50 highest, recommended ratio: under 5%)
Total state COVID-19 counts as of Sept. 10:
- 54,093 total cases (1,510.3 per 100k, #34 highest among all states)
- 4,478 total deaths (125.0 per 100k, #4 highest)
- 1.3 million total tests (36,561.7 per 100k, #8 highest)
Delaware
Counties with the highest test positivity rates, Aug. 27 to Sept. 2:
--- #1. Kent County: 5.2% (class: yellow, 30.0% above state positivity rate)
--- #2. New Castle County: 4.5% (class: green, 12.5% above state positivity rate)
--- #3. Sussex County: 4.2% (class: green, 5.0% above state positivity rate)
Daily new counts over the past week (Sept. 4 to Sept. 10, seven-day averages):
- New cases: 12.2 per 100,000 people (#22 highest among all states)
- New deaths: 0.11 per 100k (#37 highest)
- New tests: 182.8 per 100k (#27 highest)
- Test positivity rate: 5.7% (#29 highest, recommended ratio: under 5%)
Total state COVID-19 counts as of Sept. 10:
- 18,466 total cases (1,944.8 per 100k, #19 highest among all states)
- 613 total deaths (64.6 per 100k, #12 highest)
- 256,698 total tests (27,035.2 per 100k, #17 highest)
Florida
Counties with the highest test positivity rates, Aug. 27 to Sept. 2:
--- #1. Union County: 19.5% (class: red, 58.9% above state positivity rate)
--- #2. Bradford County: 18.3% (class: red, 49.1% above state positivity rate)
--- #3. Dixie County: 13.1% (class: red, 6.8% above state positivity rate)
--- #4. Gadsden County: 12.3% (class: red, 0.2% above state positivity rate)
--- #5. Lafayette County: 12.0% (class: red, 2.2% below state positivity rate)
Daily new counts over the past week (Sept. 4 to Sept. 10, seven-day averages):
- New cases: 12.3 per 100,000 people (#21 highest among all states)
- New deaths: 0.47 per 100k (#3 highest)
- New tests: 91.9 per 100k (#48 highest)
- Test positivity rate: 13.2% (#11 highest, recommended ratio: under 5%)
Total state COVID-19 counts as of Sept. 10:
- 654,731 total cases (3,178.6 per 100k, #2 highest among all states)
- 12,482 total deaths (60.6 per 100k, #15 highest)
- 4.9 million total tests (23,547.1 per 100k, #27 highest)
Georgia
Counties with the highest test positivity rates, Aug. 27 to Sept. 2:
--- #1. Pulaski County: 43.2% (class: red, 301.5% above state positivity rate)
--- #2. Montgomery County: 34.0% (class: red, 216.0% above state positivity rate)
--- #3. Emanuel County: 29.7% (class: red, 176.0% above state positivity rate)
--- #4. Randolph County: 29.4% (class: red, 173.2% above state positivity rate)
--- #5. Johnson County: 28.0% (class: red, 160.2% above state positivity rate)
Daily new counts over the past week (Sept. 4 to Sept. 10, seven-day averages):
- New cases: 16.4 per 100,000 people (#12 highest among all states)
- New deaths: 0.47 per 100k (#4 highest)
- New tests: 183.0 per 100k (#26 highest)
- Test positivity rate: 9.1% (#18 highest, recommended ratio: under 5%)
Total state COVID-19 counts as of Sept. 10:
- 289,123 total cases (2,807.7 per 100k, #5 highest among all states)
- 6,204 total deaths (60.2 per 100k, #16 highest)
- 2.5 million total tests (24,691.4 per 100k, #23 highest)
Hawaii
Counties with the highest test positivity rates, Aug. 27 to Sept. 2:
--- #1. Honolulu County: 5.5% (class: yellow, 39.8% below state positivity rate)
--- #2. Hawaii County: 4.1% (class: green, 55.1% below state positivity rate)
--- #3. Maui County: 2.4% (class: green, 73.7% below state positivity rate)
--- #4. Kauai County: 0.2% (class: green, 97.8% below state positivity rate)
--- #5. Kalawao County: 0.0% (class: green, 100.0% below state positivity rate)
Daily new counts over the past week (Sept. 4 to Sept. 10, seven-day averages):
- New cases: 11.4 per 100,000 people (#26 highest among all states)
- New deaths: 0.16 per 100k (#24 highest)
- New tests: 319.9 per 100k (#9 highest)
- Test positivity rate: 4.7% (#33 highest, recommended ratio: under 5%)
Total state COVID-19 counts as of Sept. 10:
- 10,123 total cases (711.9 per 100k, #46 highest among all states)
- 91 total deaths (6.4 per 100k, #50 highest)
- 239,272 total tests (16,826.1 per 100k, #46 highest)
Idaho
Counties with the highest test positivity rates, Aug. 27 to Sept. 2:
--- #1. Power County: 31.9% (class: red, 122.9% above state positivity rate)
--- #2. Washington County: 28.0% (class: red, 95.7% above state positivity rate)
--- #3. Fremont County: 25.6% (class: red, 78.9% above state positivity rate)
--- #4. Payette County: 22.0% (class: red, 53.7% above state positivity rate)
--- #5. Bingham County: 20.7% (class: red, 44.7% above state positivity rate)
Daily new counts over the past week (Sept. 4 to Sept. 10, seven-day averages):
- New cases: 13.9 per 100,000 people (#17 highest among all states)
- New deaths: 0.29 per 100k (#13 highest)
- New tests: 89.5 per 100k (#50 highest)
- Test positivity rate: 15.8% (#7 highest, recommended ratio: under 5%)
Total state COVID-19 counts as of Sept. 10:
- 34,310 total cases (2,032.8 per 100k, #17 highest among all states)
- 406 total deaths (24.1 per 100k, #35 highest)
- 269,542 total tests (15,969.9 per 100k, #47 highest)
Illinois
Counties with the highest test positivity rates, Aug. 27 to Sept. 2:
--- #1. Jasper County: 22.0% (class: red, 356.4% above state positivity rate)
--- #2. Stark County: 16.9% (class: red, 250.6% above state positivity rate)
--- #3. Clinton County: 16.8% (class: red, 248.5% above state positivity rate)
--- #4. Lawrence County: 15.0% (class: red, 211.2% above state positivity rate)
--- #5. Pulaski County: 14.8% (class: red, 207.1% above state positivity rate)
Daily new counts over the past week (Sept. 4 to Sept. 10, seven-day averages):
- New cases: 17.7 per 100,000 people (#10 highest among all states)
- New deaths: 0.15 per 100k (#28 highest)
- New tests: 462.7 per 100k (#3 highest)
- Test positivity rate: 3.9% (#37 highest, recommended ratio: under 5%)
Total state COVID-19 counts as of Sept. 10:
- 257,571 total cases (2,008.9 per 100k, #18 highest among all states)
- 8,461 total deaths (66.0 per 100k, #11 highest)
- 4.6 million total tests (35,702.9 per 100k, #10 highest)
Indiana
Counties with the highest test positivity rates, Aug. 27 to Sept. 2:
--- #1. Martin County: 16.3% (class: red, 77.4% above state positivity rate)
--- #2. Delaware County: 14.6% (class: red, 58.9% above state positivity rate)
--- #3. Blackford County: 12.3% (class: red, 33.8% above state positivity rate)
--- #4. Monroe County: 11.9% (class: red, 29.5% above state positivity rate)
--- #5. Vigo County: 10.8% (class: red, 17.5% above state positivity rate)
Daily new counts over the past week (Sept. 4 to Sept. 10, seven-day averages):
- New cases: 11.6 per 100,000 people (#25 highest among all states)
- New deaths: 0.17 per 100k (#20 highest)
- New tests: 131.5 per 100k (#40 highest)
- Test positivity rate: 9.1% (#17 highest, recommended ratio: under 5%)
Total state COVID-19 counts as of Sept. 10:
- 102,243 total cases (1,540.4 per 100k, #33 highest among all states)
- 3,410 total deaths (51.4 per 100k, #18 highest)
- 1.2 million total tests (17,539.0 per 100k, #45 highest)
Iowa
Counties with the highest test positivity rates, Aug. 27 to Sept. 2:
--- #1. Plymouth County: 22.4% (class: red, 23.3% above state positivity rate)
--- #2. Lyon County: 21.5% (class: red, 18.3% above state positivity rate)
--- #3. Johnson County: 19.5% (class: red, 7.3% above state positivity rate)
--- #4. Carroll County: 19.3% (class: red, 6.2% above state positivity rate)
--- #5. Sioux County: 18.6% (class: red, 2.4% above state positivity rate)
Daily new counts over the past week (Sept. 4 to Sept. 10, seven-day averages):
- New cases: 22.3 per 100,000 people (#3 highest among all states)
- New deaths: 0.33 per 100k (#10 highest)
- New tests: 151.0 per 100k (#35 highest)
- Test positivity rate: 14.6% (#9 highest, recommended ratio: under 5%)
Total state COVID-19 counts as of Sept. 10:
- 70,405 total cases (2,247.6 per 100k, #13 highest among all states)
- 1,207 total deaths (38.5 per 100k, #23 highest)
- 667,869 total tests (21,320.6 per 100k, #33 highest)
Kansas
Counties with the highest test positivity rates, Aug. 27 to Sept. 2:
--- #1. Gove County: 41.7% (class: red, 467.3% above state positivity rate)
--- #2. Wallace County: 36.4% (class: red, 395.2% above state positivity rate)
--- #3. Crawford County: 34.4% (class: red, 368.0% above state positivity rate)
--- #4. Grant County: 33.3% (class: red, 353.1% above state positivity rate)
--- #5. Mitchell County: 27.8% (class: red, 278.2% above state positivity rate)
Daily new counts over the past week (Sept. 4 to Sept. 10, seven-day averages):
- New cases: 17.0 per 100,000 people (#11 highest among all states)
- New deaths: 0.18 per 100k (#19 highest)
- New tests: 108.9 per 100k (#45 highest)
- Test positivity rate: 6.3% (#28 highest, recommended ratio: under 5%)
Total state COVID-19 counts as of Sept. 10:
- 47,410 total cases (1,629.9 per 100k, #29 highest among all states)
- 495 total deaths (17.0 per 100k, #42 highest)
- 441,414 total tests (15,175.2 per 100k, #48 highest)
Kentucky
Counties with the highest test positivity rates, Aug. 27 to Sept. 2:
--- #1. Green County: 36.3% (class: red, 410.5% above state positivity rate)
--- #2. Crittenden County: 33.7% (class: red, 374.0% above state positivity rate)
--- #3. Henderson County: 29.6% (class: red, 316.3% above state positivity rate)
--- #4. Lewis County: 29.0% (class: red, 307.9% above state positivity rate)
--- #5. Warren County: 28.8% (class: red, 305.1% above state positivity rate)
Daily new counts over the past week (Sept. 4 to Sept. 10, seven-day averages):
- New cases: 12.5 per 100,000 people (#20 highest among all states)
- New deaths: 0.19 per 100k (#17 highest)
- New tests: 126.2 per 100k (#43 highest)
- Test positivity rate: 6.4% (#27 highest, recommended ratio: under 5%)
Total state COVID-19 counts as of Sept. 10:
- 54,772 total cases (1,233.5 per 100k, #37 highest among all states)
- 1,035 total deaths (23.3 per 100k, #36 highest)
- 878,917 total tests (19,794.5 per 100k, #39 highest)
Louisiana
Counties with the highest test positivity rates, Aug. 27 to Sept. 2:
--- #1. East Feliciana Parish: 24.0% (class: red, 355.4% above state positivity rate)
--- #2. Tensas Parish: 23.6% (class: red, 347.8% above state positivity rate)
--- #3. Jackson Parish: 21.5% (class: red, 308.0% above state positivity rate)
--- #4. Pointe Coupee Parish: 19.2% (class: red, 264.3% above state positivity rate)
--- #5. Caldwell Parish: 17.8% (class: red, 237.8% above state positivity rate)
Daily new counts over the past week (Sept. 4 to Sept. 10, seven-day averages):
- New cases: 14.7 per 100,000 people (#14 highest among all states)
- New deaths: 0.43 per 100k (#5 highest)
- New tests: 286.2 per 100k (#12 highest)
- Test positivity rate: 4.6% (#34 highest, recommended ratio: under 5%)
Total state COVID-19 counts as of Sept. 10:
- 156,354 total cases (3,352.6 per 100k, #1 highest among all states)
- 5,161 total deaths (110.7 per 100k, #5 highest)
- 2.0 million total tests (43,110.7 per 100k, #5 highest)
Maine
Counties with the highest test positivity rates, Aug. 27 to Sept. 2:
--- #1. York County: 3.3% (class: green, 459.3% above state positivity rate)
--- #2. Somerset County: 2.1% (class: green, 255.9% above state positivity rate)
--- #3. Oxford County: 1.5% (class: green, 154.2% above state positivity rate)
--- #4. Sagadahoc County: 1.3% (class: green, 120.3% above state positivity rate)
--- #5. Androscoggin County: 1.1% (class: green, 86.4% above state positivity rate)
Daily new counts over the past week (Sept. 4 to Sept. 10, seven-day averages):
- New cases: 1.5 per 100,000 people (#50 highest among all states)
- New deaths: 0.01 per 100k (#50 highest)
- New tests: 352.2 per 100k (#7 highest)
- Test positivity rate: 0.5% (#51 highest, recommended ratio: under 5%)
Total state COVID-19 counts as of Sept. 10:
- 4,760 total cases (357.1 per 100k, #50 highest among all states)
- 134 total deaths (10.1 per 100k, #47 highest)
- 313,909 total tests (23,552.4 per 100k, #26 highest)
Maryland
Counties with the highest test positivity rates, Aug. 27 to Sept. 2:
--- #1. Worcester County: 9.5% (class: yellow, 234.5% above state positivity rate)
--- #2. Caroline County: 8.8% (class: yellow, 209.9% above state positivity rate)
--- #3. Dorchester County: 7.0% (class: yellow, 146.5% above state positivity rate)
--- #4. Wicomico County: 6.2% (class: yellow, 118.3% above state positivity rate)
--- #5. Queen Anne's County: 5.6% (class: yellow, 97.2% above state positivity rate)
Daily new counts over the past week (Sept. 4 to Sept. 10, seven-day averages):
- New cases: 9.7 per 100,000 people (#31 highest among all states)
- New deaths: 0.11 per 100k (#36 highest)
- New tests: 328.7 per 100k (#8 highest)
- Test positivity rate: 3.0% (#40 highest, recommended ratio: under 5%)
Total state COVID-19 counts as of Sept. 10:
- 114,078 total cases (1,900.2 per 100k, #22 highest among all states)
- 3,824 total deaths (63.7 per 100k, #13 highest)
- 2.1 million total tests (35,446.8 per 100k, #11 highest)
Massachusetts
Counties with the highest test positivity rates, Aug. 27 to Sept. 2:
--- #1. Nantucket County: 2.0% (class: green, 167.6% below state positivity rate)
--- #2. Essex County: 1.6% (class: green, 154.1% below state positivity rate)
--- #3. Bristol County: 1.5% (class: green, 150.7% below state positivity rate)
--- #4. Suffolk County: 1.4% (class: green, 147.3% below state positivity rate)
--- #5. Plymouth County: 1.1% (class: green, 137.2% below state positivity rate)
Daily new counts over the past week (Sept. 4 to Sept. 10, seven-day averages):
- New cases: 4.2 per 100,000 people (#45 highest among all states)
- New deaths: 0.19 per 100k (#18 highest)
- New tests: 610.1 per 100k (#2 highest)
- Test positivity rate: 0.7% (#49 highest, recommended ratio: under 5%)
Total state COVID-19 counts as of Sept. 10:
- 123,546 total cases (1,808.8 per 100k, #26 highest among all states)
- 9,166 total deaths (134.2 per 100k, #2 highest)
- 2.9 million total tests (41,763.8 per 100k, #6 highest)
Michigan
Counties with the highest test positivity rates, Aug. 27 to Sept. 2:
--- #1. Isabella County: 8.8% (class: yellow, 235.9% above state positivity rate)
--- #2. Macomb County: 6.5% (class: yellow, 148.1% above state positivity rate)
--- #3. Branch County: 6.3% (class: yellow, 140.5% above state positivity rate)
--- #4. Arenac County: 5.9% (class: yellow, 125.2% above state positivity rate)
--- #5. Monroe County: 5.2% (class: yellow, 98.5% above state positivity rate)
Daily new counts over the past week (Sept. 4 to Sept. 10, seven-day averages):
- New cases: 8.0 per 100,000 people (#36 highest among all states)
- New deaths: 0.15 per 100k (#30 highest)
- New tests: 269.7 per 100k (#16 highest)
- Test positivity rate: 2.6% (#41 highest, recommended ratio: under 5%)
Total state COVID-19 counts as of Sept. 10:
- 120,846 total cases (1,213.6 per 100k, #38 highest among all states)
- 6,894 total deaths (69.2 per 100k, #10 highest)
- 3.1 million total tests (30,828.0 per 100k, #14 highest)
Minnesota
Counties with the highest test positivity rates, Aug. 27 to Sept. 2:
--- #1. Lyon County: 33.4% (class: red, 551.1% above state positivity rate)
--- #2. Nobles County: 21.7% (class: red, 323.0% above state positivity rate)
--- #3. Lake of the Woods County: 20.9% (class: red, 307.4% above state positivity rate)
--- #4. Winona County: 17.5% (class: red, 241.1% above state positivity rate)
--- #5. Watonwan County: 15.4% (class: red, 200.2% above state positivity rate)
Daily new counts over the past week (Sept. 4 to Sept. 10, seven-day averages):
- New cases: 10.7 per 100,000 people (#30 highest among all states)
- New deaths: 0.12 per 100k (#34 highest)
- New tests: 276.2 per 100k (#14 highest)
- Test positivity rate: 4.4% (#35 highest, recommended ratio: under 5%)
Total state COVID-19 counts as of Sept. 10:
- 82,249 total cases (1,488.0 per 100k, #35 highest among all states)
- 1,936 total deaths (35.0 per 100k, #26 highest)
- 1.6 million total tests (29,796.5 per 100k, #15 highest)
Mississippi
Counties with the highest test positivity rates, Aug. 27 to Sept. 2:
--- #1. Tishomingo County: 26.7% (class: red, 5.5% above state positivity rate)
--- #2. Perry County: 26.4% (class: red, 4.3% above state positivity rate)
--- #3. Quitman County: 23.5% (class: red, 7.1% below state positivity rate)
--- #4. Coahoma County: 23.1% (class: red, 8.7% below state positivity rate)
--- #5. Bolivar County: 22.3% (class: red, 11.9% below state positivity rate)
Daily new counts over the past week (Sept. 4 to Sept. 10, seven-day averages):
- New cases: 15.3 per 100,000 people (#13 highest among all states)
- New deaths: 0.57 per 100k (#1 highest)
- New tests: 127.4 per 100k (#42 highest)
- Test positivity rate: 48.0% (#1 highest, recommended ratio: under 5%)
Total state COVID-19 counts as of Sept. 10:
- 88,322 total cases (2,955.1 per 100k, #4 highest among all states)
- 2,656 total deaths (88.9 per 100k, #8 highest)
- 613,238 total tests (20,518.1 per 100k, #36 highest)
Missouri
Counties with the highest test positivity rates, Aug. 27 to Sept. 2:
--- #1. Newton County: 37.5% (class: red, 163.2% above state positivity rate)
--- #2. Madison County: 27.3% (class: red, 91.6% above state positivity rate)
--- #3. Wayne County: 22.9% (class: red, 60.7% above state positivity rate)
--- #4. Barton County: 22.2% (class: red, 55.8% above state positivity rate)
--- #5. Pemiscot County: 21.5% (class: red, 50.9% above state positivity rate)
Daily new counts over the past week (Sept. 4 to Sept. 10, seven-day averages):
- New cases: 21.1 per 100,000 people (#4 highest among all states)
- New deaths: 0.34 per 100k (#9 highest)
- New tests: 177.9 per 100k (#29 highest)
- Test positivity rate: 12.1% (#13 highest, recommended ratio: under 5%)
Total state COVID-19 counts as of Sept. 10:
- 97,591 total cases (1,602.5 per 100k, #30 highest among all states)
- 1,691 total deaths (27.8 per 100k, #33 highest)
- 1.1 million total tests (17,798.2 per 100k, #44 highest)
Montana
Counties with the highest test positivity rates, Aug. 27 to Sept. 2:
--- #1. Rosebud County: 23.8% (class: red, 273.6% above state positivity rate)
--- #2. Granite County: 18.6% (class: red, 192.0% above state positivity rate)
--- #3. Big Horn County: 18.3% (class: red, 187.3% above state positivity rate)
--- #4. Musselshell County: 18.2% (class: red, 185.7% above state positivity rate)
--- #5. Yellowstone County: 17.0% (class: red, 166.9% above state positivity rate)
Daily new counts over the past week (Sept. 4 to Sept. 10, seven-day averages):
- New cases: 10.9 per 100,000 people (#29 highest among all states)
- New deaths: 0.16 per 100k (#22 highest)
- New tests: 242.6 per 100k (#20 highest)
- Test positivity rate: 6.4% (#25 highest, recommended ratio: under 5%)
Total state COVID-19 counts as of Sept. 10:
- 8,663 total cases (831.6 per 100k, #44 highest among all states)
- 123 total deaths (11.8 per 100k, #46 highest)
- 273,353 total tests (26,240.2 per 100k, #20 highest)
Nebraska
Counties with the highest test positivity rates, Aug. 27 to Sept. 2:
--- #1. Rock County: 28.6% (class: red, 158.8% above state positivity rate)
--- #2. Boone County: 27.3% (class: red, 147.1% above state positivity rate)
--- #3. Wayne County: 22.6% (class: red, 104.5% above state positivity rate)
--- #4. Burt County: 22.5% (class: red, 103.6% above state positivity rate)
--- #5. Phelps County: 21.1% (class: red, 91.0% above state positivity rate)
Daily new counts over the past week (Sept. 4 to Sept. 10, seven-day averages):
- New cases: 14.4 per 100,000 people (#15 highest among all states)
- New deaths: 0.17 per 100k (#21 highest)
- New tests: 160.8 per 100k (#31 highest)
- Test positivity rate: 10.0% (#15 highest, recommended ratio: under 5%)
Total state COVID-19 counts as of Sept. 10:
- 36,917 total cases (1,938.1 per 100k, #20 highest among all states)
- 421 total deaths (22.1 per 100k, #38 highest)
- 390,832 total tests (20,518.7 per 100k, #35 highest)
Nevada
Counties with the highest test positivity rates, Aug. 27 to Sept. 2:
--- #1. Elko County: 10.7% (class: red, 28.9% below state positivity rate)
--- #2. Clark County: 9.9% (class: yellow, 34.2% below state positivity rate)
--- #3. Washoe County: 8.6% (class: yellow, 42.8% below state positivity rate)
--- #4. Lyon County: 8.1% (class: yellow, 46.1% below state positivity rate)
--- #5. Nye County: 7.0% (class: yellow, 53.5% below state positivity rate)
Daily new counts over the past week (Sept. 4 to Sept. 10, seven-day averages):
- New cases: 11.4 per 100,000 people (#27 highest among all states)
- New deaths: 0.32 per 100k (#11 highest)
- New tests: 107.8 per 100k (#46 highest)
- Test positivity rate: 11.8% (#14 highest, recommended ratio: under 5%)
Total state COVID-19 counts as of Sept. 10:
- 72,546 total cases (2,482.0 per 100k, #9 highest among all states)
- 1,429 total deaths (48.9 per 100k, #20 highest)
- 627,319 total tests (21,462.6 per 100k, #31 highest)
New Hampshire
Counties with the highest test positivity rates, Aug. 27 to Sept. 2:
--- #1. Strafford County: 1.9% (class: green, 134.6% above state positivity rate)
--- #2. Hillsborough County: 1.7% (class: green, 109.9% above state positivity rate)
--- #3. Rockingham County: 1.6% (class: green, 97.5% above state positivity rate)
--- #4. Carroll County: 0.9% (class: green, 11.1% above state positivity rate)
--- #5. Merrimack County: 0.7% (class: green, 13.6% below state positivity rate)
Daily new counts over the past week (Sept. 4 to Sept. 10, seven-day averages):
- New cases: 2.4 per 100,000 people (#49 highest among all states)
- New deaths: 0.02 per 100k (#49 highest)
- New tests: 261.2 per 100k (#18 highest)
- Test positivity rate: 0.8% (#48 highest, recommended ratio: under 5%)
Total state COVID-19 counts as of Sept. 10:
- 7,573 total cases (563.6 per 100k, #49 highest among all states)
- 434 total deaths (32.3 per 100k, #28 highest)
- 361,968 total tests (26,939.7 per 100k, #18 highest)
New Jersey
Counties with the highest test positivity rates, Aug. 27 to Sept. 2:
--- #1. Gloucester County: 3.7% (class: green, 80.7% below state positivity rate)
--- #2. Cumberland County: 3.0% (class: green, 84.4% below state positivity rate)
--- #2. Passaic County: 3.0% (class: green, 84.4% below state positivity rate)
--- #3. Burlington County: 2.8% (class: green, 85.4% below state positivity rate)
--- #4. Ocean County: 2.3% (class: green, 88.0% below state positivity rate)
Daily new counts over the past week (Sept. 4 to Sept. 10, seven-day averages):
- New cases: 3.9 per 100,000 people (#46 highest among all states)
- New deaths: 0.07 per 100k (#44 highest)
- New tests: 295.4 per 100k (#10 highest)
- Test positivity rate: 15.4% (#8 highest, recommended ratio: under 5%)
Total state COVID-19 counts as of Sept. 10:
- 195,414 total cases (2,200.2 per 100k, #14 highest among all states)
- 16,014 total deaths (180.3 per 100k, #1 highest)
- 3.1 million total tests (35,056.4 per 100k, #12 highest)
New Mexico
Counties with the highest test positivity rates, Aug. 27 to Sept. 2:
--- #1. Catron County: 15.0% (class: red, 502.4% above state positivity rate)
--- #2. Lea County: 13.6% (class: red, 446.2% above state positivity rate)
--- #3. Chaves County: 8.2% (class: yellow, 229.3% above state positivity rate)
--- #4. Eddy County: 6.0% (class: yellow, 141.0% above state positivity rate)
--- #5. Roosevelt County: 5.9% (class: yellow, 136.9% above state positivity rate)
Daily new counts over the past week (Sept. 4 to Sept. 10, seven-day averages):
- New cases: 4.5 per 100,000 people (#44 highest among all states)
- New deaths: 0.16 per 100k (#26 highest)
- New tests: 219.4 per 100k (#21 highest)
- Test positivity rate: 1.9% (#43 highest, recommended ratio: under 5%)
Total state COVID-19 counts as of Sept. 10:
- 26,268 total cases (1,255.4 per 100k, #36 highest among all states)
- 813 total deaths (38.9 per 100k, #22 highest)
- 803,101 total tests (38,381.2 per 100k, #7 highest)
New York
Counties with the highest test positivity rates, Aug. 27 to Sept. 2:
--- #1. Otsego County: 3.4% (class: green, 314.6% above state positivity rate)
--- #2. Chautauqua County: 3.2% (class: green, 290.2% above state positivity rate)
--- #3. Essex County: 3.1% (class: green, 278.0% above state positivity rate)
--- #4. Rockland County: 2.6% (class: green, 217.1% above state positivity rate)
--- #5. Broome County: 2.2% (class: green, 168.3% above state positivity rate)
Daily new counts over the past week (Sept. 4 to Sept. 10, seven-day averages):
- New cases: 3.5 per 100,000 people (#48 highest among all states)
- New deaths: 0.02 per 100k (#47 highest)
- New tests: 390.0 per 100k (#5 highest)
- Test positivity rate: 0.9% (#46 highest, recommended ratio: under 5%)
Total state COVID-19 counts as of Sept. 10:
- 441,911 total cases (2,252.5 per 100k, #12 highest among all states)
- 25,377 total deaths (129.4 per 100k, #3 highest)
- 9.1 million total tests (46,145.2 per 100k, #4 highest)
North Carolina
Counties with the highest test positivity rates, Aug. 27 to Sept. 2:
--- #1. Pamlico County: 19.4% (class: red, 214.9% above state positivity rate)
--- #2. Robeson County: 18.7% (class: red, 203.6% above state positivity rate)
--- #3. Bertie County: 18.1% (class: red, 193.8% above state positivity rate)
--- #4. Gates County: 17.8% (class: red, 189.0% above state positivity rate)
--- #5. Hertford County: 17.6% (class: red, 185.7% above state positivity rate)
Daily new counts over the past week (Sept. 4 to Sept. 10, seven-day averages):
- New cases: 12.0 per 100,000 people (#23 highest among all states)
- New deaths: 0.26 per 100k (#14 highest)
- New tests: 244.8 per 100k (#19 highest)
- Test positivity rate: 5.3% (#32 highest, recommended ratio: under 5%)
Total state COVID-19 counts as of Sept. 10:
- 180,754 total cases (1,779.8 per 100k, #27 highest among all states)
- 2,990 total deaths (29.4 per 100k, #32 highest)
- 2.5 million total tests (24,831.9 per 100k, #22 highest)
North Dakota
Counties with the highest test positivity rates, Aug. 27 to Sept. 2:
--- #1. Slope County: 20.0% (class: red, 35.3% below state positivity rate)
--- #2. Benson County: 12.5% (class: red, 59.5% below state positivity rate)
--- #3. Sioux County: 12.0% (class: red, 61.2% below state positivity rate)
--- #4. Williams County: 11.9% (class: red, 61.5% below state positivity rate)
--- #5. Kidder County: 11.4% (class: red, 63.1% below state positivity rate)
Daily new counts over the past week (Sept. 4 to Sept. 10, seven-day averages):
- New cases: 34.5 per 100,000 people (#1 highest among all states)
- New deaths: 0.13 per 100k (#32 highest)
- New tests: 159.4 per 100k (#32 highest)
- Test positivity rate: 23.2% (#4 highest, recommended ratio: under 5%)
Total state COVID-19 counts as of Sept. 10:
- 14,443 total cases (1,920.1 per 100k, #21 highest among all states)
- 131 total deaths (17.4 per 100k, #41 highest)
- 214,292 total tests (28,488.7 per 100k, #16 highest)
Ohio
Counties with the highest test positivity rates, Aug. 27 to Sept. 2:
--- #1. Shelby County: 22.7% (class: red, 482.1% above state positivity rate)
--- #2. Mercer County: 16.7% (class: red, 328.2% above state positivity rate)
--- #3. Darke County: 15.2% (class: red, 289.7% above state positivity rate)
--- #4. Preble County: 14.3% (class: red, 266.7% above state positivity rate)
--- #5. Monroe County: 13.3% (class: red, 241.0% above state positivity rate)
Daily new counts over the past week (Sept. 4 to Sept. 10, seven-day averages):
- New cases: 8.6 per 100,000 people (#35 highest among all states)
- New deaths: 0.16 per 100k (#25 highest)
- New tests: 209.6 per 100k (#23 highest)
- Test positivity rate: 4.1% (#36 highest, recommended ratio: under 5%)
Total state COVID-19 counts as of Sept. 10:
- 134,086 total cases (1,151.8 per 100k, #39 highest among all states)
- 4,354 total deaths (37.4 per 100k, #24 highest)
- 2.5 million total tests (21,391.3 per 100k, #32 highest)
Oklahoma
Counties with the highest test positivity rates, Aug. 27 to Sept. 2:
--- #1. Muskogee County: 67.7% (class: red, 94.7% above state positivity rate)
--- #2. Texas County: 32.0% (class: red, 8.0% below state positivity rate)
--- #3. Atoka County: 28.9% (class: red, 16.9% below state positivity rate)
--- #4. McCurtain County: 21.3% (class: red, 38.8% below state positivity rate)
--- #5. Garfield County: 18.8% (class: red, 45.9% below state positivity rate)
Daily new counts over the past week (Sept. 4 to Sept. 10, seven-day averages):
- New cases: 20.7 per 100,000 people (#5 highest among all states)
- New deaths: 0.15 per 100k (#29 highest)
- New tests: 213.9 per 100k (#22 highest)
- Test positivity rate: 47.8% (#2 highest, recommended ratio: under 5%)
Total state COVID-19 counts as of Sept. 10:
- 66,700 total cases (1,702.3 per 100k, #28 highest among all states)
- 876 total deaths (22.4 per 100k, #37 highest)
- 961,710 total tests (24,545.1 per 100k, #24 highest)
Oregon
Counties with the highest test positivity rates, Aug. 27 to Sept. 2:
--- #1. Malheur County: 28.2% (class: red, 526.7% above state positivity rate)
--- #2. Morrow County: 22.3% (class: red, 395.6% above state positivity rate)
--- #3. Umatilla County: 12.5% (class: red, 177.8% above state positivity rate)
--- #4. Sherman County: 8.3% (class: yellow, 84.4% above state positivity rate)
--- #5. Marion County: 6.0% (class: yellow, 33.3% above state positivity rate)
Daily new counts over the past week (Sept. 4 to Sept. 10, seven-day averages):
- New cases: 4.6 per 100,000 people (#43 highest among all states)
- New deaths: 0.09 per 100k (#41 highest)
- New tests: 90.5 per 100k (#49 highest)
- Test positivity rate: 5.3% (#31 highest, recommended ratio: under 5%)
Total state COVID-19 counts as of Sept. 10:
- 28,654 total cases (702.0 per 100k, #47 highest among all states)
- 497 total deaths (12.2 per 100k, #45 highest)
- 596,988 total tests (14,625.1 per 100k, #50 highest)
Pennsylvania
Counties with the highest test positivity rates, Aug. 27 to Sept. 2:
--- #1. Columbia County: 11.3% (class: red, 117.3% above state positivity rate)
--- #2. Armstrong County: 9.0% (class: yellow, 73.1% above state positivity rate)
--- #3. York County: 8.2% (class: yellow, 57.7% above state positivity rate)
--- #4. Beaver County: 7.1% (class: yellow, 36.5% above state positivity rate)
--- #5. Montour County: 6.5% (class: yellow, 25.0% above state positivity rate)
Daily new counts over the past week (Sept. 4 to Sept. 10, seven-day averages):
- New cases: 5.7 per 100,000 people (#41 highest among all states)
- New deaths: 0.10 per 100k (#38 highest)
- New tests: 88.0 per 100k (#51 highest)
- Test positivity rate: 6.6% (#24 highest, recommended ratio: under 5%)
Total state COVID-19 counts as of Sept. 10:
- 141,877 total cases (1,109.2 per 100k, #40 highest among all states)
- 7,820 total deaths (61.1 per 100k, #14 highest)
- 1.8 million total tests (13,893.6 per 100k, #51 highest)
Rhode Island
Counties with the highest test positivity rates, Aug. 27 to Sept. 2:
--- #1. Newport County: 2.5% (class: green, 111.9% above state positivity rate)
--- #1. Providence County: 2.5% (class: green, 111.9% above state positivity rate)
--- #2. Bristol County: 1.4% (class: green, 18.6% above state positivity rate)
--- #3. Kent County: 1.1% (class: green, 6.8% below state positivity rate)
--- #4. Washington County: 0.4% (class: green, 66.1% below state positivity rate)
Daily new counts over the past week (Sept. 4 to Sept. 10, seven-day averages):
- New cases: 8.6 per 100,000 people (#34 highest among all states)
- New deaths: 0.16 per 100k (#23 highest)
- New tests: 801.9 per 100k (#1 highest)
- Test positivity rate: 1.1% (#45 highest, recommended ratio: under 5%)
Total state COVID-19 counts as of Sept. 10:
- 22,782 total cases (2,156.1 per 100k, #15 highest among all states)
- 1,067 total deaths (101.0 per 100k, #6 highest)
- 606,906 total tests (57,438.9 per 100k, #1 highest)
South Carolina
Counties with the highest test positivity rates, Aug. 27 to Sept. 2:
--- #1. Saluda County: 40.4% (class: red, 203.5% above state positivity rate)
--- #2. Spartanburg County: 36.0% (class: red, 170.5% above state positivity rate)
--- #3. Abbeville County: 34.1% (class: red, 156.2% above state positivity rate)
--- #4. Anderson County: 27.1% (class: red, 103.6% above state positivity rate)
--- #5. Kershaw County: 26.5% (class: red, 99.1% above state positivity rate)
Daily new counts over the past week (Sept. 4 to Sept. 10, seven-day averages):
- New cases: 14.1 per 100,000 people (#16 highest among all states)
- New deaths: 0.48 per 100k (#2 highest)
- New tests: 181.7 per 100k (#28 highest)
- Test positivity rate: 8.1% (#19 highest, recommended ratio: under 5%)
Total state COVID-19 counts as of Sept. 10:
- 126,592 total cases (2,554.4 per 100k, #7 highest among all states)
- 2,975 total deaths (60.0 per 100k, #17 highest)
- 1.0 million total tests (20,832.8 per 100k, #34 highest)
South Dakota
Counties with the highest test positivity rates, Aug. 27 to Sept. 2:
--- #1. Fall River County: 89.7% (class: red, 309.6% above state positivity rate)
--- #2. Custer County: 37.5% (class: red, 71.2% above state positivity rate)
--- #3. Pennington County: 35.8% (class: red, 63.5% above state positivity rate)
--- #4. Lawrence County: 32.7% (class: red, 49.3% above state positivity rate)
--- #5. Beadle County: 25.0% (class: red, 14.2% above state positivity rate)
Daily new counts over the past week (Sept. 4 to Sept. 10, seven-day averages):
- New cases: 24.7 per 100,000 people (#2 highest among all states)
- New deaths: 0.13 per 100k (#33 highest)
- New tests: 144.0 per 100k (#38 highest)
- Test positivity rate: 17.3% (#5 highest, recommended ratio: under 5%)
Total state COVID-19 counts as of Sept. 10:
- 15,834 total cases (1,832.0 per 100k, #25 highest among all states)
- 177 total deaths (20.5 per 100k, #40 highest)
- 159,250 total tests (18,425.5 per 100k, #42 highest)
Tennessee
Counties with the highest test positivity rates, Aug. 27 to Sept. 2:
--- #1. Wayne County: 53.1% (class: red, 545.2% above state positivity rate)
--- #2. Crockett County: 21.4% (class: red, 160.0% above state positivity rate)
--- #3. Jackson County: 19.8% (class: red, 140.6% above state positivity rate)
--- #4. Van Buren County: 18.5% (class: red, 124.8% above state positivity rate)
--- #5. Fentress County: 16.4% (class: red, 99.3% above state positivity rate)
Daily new counts over the past week (Sept. 4 to Sept. 10, seven-day averages):
- New cases: 18.7 per 100,000 people (#7 highest among all states)
- New deaths: 0.37 per 100k (#8 highest)
- New tests: 275.0 per 100k (#15 highest)
- Test positivity rate: 7.1% (#22 highest, recommended ratio: under 5%)
Total state COVID-19 counts as of Sept. 10:
- 168,237 total cases (2,529.5 per 100k, #8 highest among all states)
- 1,988 total deaths (29.9 per 100k, #31 highest)
- 2.4 million total tests (35,979.7 per 100k, #9 highest)
Texas
Counties with the highest test positivity rates, Aug. 27 to Sept. 2:
--- #1. Nolan County: 56.2% (class: red, 410.0% above state positivity rate)
--- #2. Culberson County: 48.0% (class: red, 335.6% above state positivity rate)
--- #3. Reagan County: 47.8% (class: red, 333.8% above state positivity rate)
--- #4. McMullen County: 45.5% (class: red, 312.9% above state positivity rate)
--- #5. Sterling County: 43.8% (class: red, 297.5% above state positivity rate)
Daily new counts over the past week (Sept. 4 to Sept. 10, seven-day averages):
- New cases: 12.5 per 100,000 people (#19 highest among all states)
- New deaths: 0.39 per 100k (#6 highest)
- New tests: 152.5 per 100k (#34 highest)
- Test positivity rate: 13.2% (#12 highest, recommended ratio: under 5%)
Total state COVID-19 counts as of Sept. 10:
- 649,809 total cases (2,330.3 per 100k, #10 highest among all states)
- 13,853 total deaths (49.7 per 100k, #19 highest)
- 5.4 million total tests (19,384.0 per 100k, #41 highest)
Utah
Counties with the highest test positivity rates, Aug. 27 to Sept. 2:
--- #1. Utah County: 14.9% (class: red, 65.2% above state positivity rate)
--- #2. Cache County: 11.6% (class: red, 28.6% above state positivity rate)
--- #3. Iron County: 10.9% (class: red, 20.8% above state positivity rate)
--- #4. Weber County: 10.5% (class: red, 16.4% above state positivity rate)
--- #5. Washington County: 9.7% (class: yellow, 7.5% above state positivity rate)
Daily new counts over the past week (Sept. 4 to Sept. 10, seven-day averages):
- New cases: 12.6 per 100,000 people (#18 highest among all states)
- New deaths: 0.08 per 100k (#42 highest)
- New tests: 141.2 per 100k (#39 highest)
- Test positivity rate: 9.2% (#16 highest, recommended ratio: under 5%)
Total state COVID-19 counts as of Sept. 10:
- 56,019 total cases (1,839.5 per 100k, #24 highest among all states)
- 430 total deaths (14.1 per 100k, #43 highest)
- 703,766 total tests (23,109.5 per 100k, #29 highest)
Vermont
Counties with the highest test positivity rates, Aug. 27 to Sept. 2:
--- #1. Rutland County: 1.9% (class: green, 442.9% above state positivity rate)
--- #2. Windsor County: 0.9% (class: green, 157.1% above state positivity rate)
--- #3. Bennington County: 0.8% (class: green, 128.6% above state positivity rate)
--- #4. Franklin County: 0.5% (class: green, 42.9% above state positivity rate)
--- #4. Windham County: 0.5% (class: green, 42.9% above state positivity rate)
Daily new counts over the past week (Sept. 4 to Sept. 10, seven-day averages):
- New cases: 0.5 per 100,000 people (#51 highest among all states)
- New deaths: 0.00 per 100k (#51 highest)
- New tests: 146.9 per 100k (#37 highest)
- Test positivity rate: 0.8% (#47 highest, recommended ratio: under 5%)
Total state COVID-19 counts as of Sept. 10:
- 1,661 total cases (265.8 per 100k, #51 highest among all states)
- 58 total deaths (9.3 per 100k, #48 highest)
- 147,306 total tests (23,569.8 per 100k, #25 highest)
Virginia
Counties with the highest test positivity rates, Aug. 27 to Sept. 2:
--- #1. Emporia City: 89.7% (class: red, 1346.8% above state positivity rate)
--- #2. Martinsville City: 62.1% (class: red, 901.6% above state positivity rate)
--- #3. Manassas Park City: 47.8% (class: red, 671.0% above state positivity rate)
--- #4. Radford City: 36.7% (class: red, 491.9% above state positivity rate)
--- #5. Harrisonburg City: 35.1% (class: red, 466.1% above state positivity rate)
Daily new counts over the past week (Sept. 4 to Sept. 10, seven-day averages):
- New cases: 11.6 per 100,000 people (#24 highest among all states)
- New deaths: 0.10 per 100k (#40 highest)
- New tests: 155.4 per 100k (#33 highest)
- Test positivity rate: 7.8% (#20 highest, recommended ratio: under 5%)
Total state COVID-19 counts as of Sept. 10:
- 130,525 total cases (1,551.3 per 100k, #32 highest among all states)
- 2,708 total deaths (32.2 per 100k, #29 highest)
- 1.7 million total tests (20,330.4 per 100k, #38 highest)
Washington
Counties with the highest test positivity rates, Aug. 27 to Sept. 2:
--- #1. Adams County: 15.2% (class: red, 408.4% above state positivity rate)
--- #2. Franklin County: 12.0% (class: red, 301.3% above state positivity rate)
--- #3. Grant County: 9.2% (class: yellow, 207.7% above state positivity rate)
--- #4. Benton County: 9.1% (class: yellow, 204.3% above state positivity rate)
--- #5. Chelan County: 9.0% (class: yellow, 201.0% above state positivity rate)
Daily new counts over the past week (Sept. 4 to Sept. 10, seven-day averages):
- New cases: 6.1 per 100,000 people (#39 highest among all states)
- New deaths: 0.10 per 100k (#39 highest)
- New tests: 199.0 per 100k (#24 highest)
- Test positivity rate: 2.6% (#42 highest, recommended ratio: under 5%)
Total state COVID-19 counts as of Sept. 10:
- 78,467 total cases (1,075.7 per 100k, #42 highest among all states)
- 1,985 total deaths (27.2 per 100k, #34 highest)
- 1.6 million total tests (21,907.2 per 100k, #30 highest)
West Virginia
Counties with the highest test positivity rates, Aug. 27 to Sept. 2:
--- #1. Monroe County: 15.2% (class: red, 273.5% above state positivity rate)
--- #2. Logan County: 13.8% (class: red, 239.1% above state positivity rate)
--- #3. Monongalia County: 11.8% (class: red, 189.9% above state positivity rate)
--- #4. Wayne County: 10.1% (class: red, 148.2% above state positivity rate)
--- #5. Doddridge County: 9.1% (class: yellow, 123.6% above state positivity rate)
Daily new counts over the past week (Sept. 4 to Sept. 10, seven-day averages):
- New cases: 9.2 per 100,000 people (#33 highest among all states)
- New deaths: 0.16 per 100k (#27 highest)
- New tests: 177.3 per 100k (#30 highest)
- Test positivity rate: 6.4% (#26 highest, recommended ratio: under 5%)
Total state COVID-19 counts as of Sept. 10:
- 12,017 total cases (657.0 per 100k, #48 highest among all states)
- 257 total deaths (14.1 per 100k, #44 highest)
- 467,790 total tests (25,575.5 per 100k, #21 highest)
Wisconsin
Counties with the highest test positivity rates, Aug. 27 to Sept. 2:
--- #1. Kewaunee County: 16.7% (class: red, 90.6% above state positivity rate)
--- #2. Forest County: 15.1% (class: red, 72.4% above state positivity rate)
--- #3. Florence County: 14.7% (class: red, 67.8% above state positivity rate)
--- #4. Shawano County: 12.5% (class: red, 42.7% above state positivity rate)
--- #5. Buffalo County: 11.3% (class: red, 29.0% above state positivity rate)
Daily new counts over the past week (Sept. 4 to Sept. 10, seven-day averages):
- New cases: 17.9 per 100,000 people (#9 highest among all states)
- New deaths: 0.12 per 100k (#35 highest)
- New tests: 130.3 per 100k (#41 highest)
- Test positivity rate: 14.1% (#10 highest, recommended ratio: under 5%)
Total state COVID-19 counts as of Sept. 10:
- 90,182 total cases (1,560.7 per 100k, #31 highest among all states)
- 1,201 total deaths (20.8 per 100k, #39 highest)
- 1.3 million total tests (23,114.2 per 100k, #28 highest)
Wyoming
Counties with the highest test positivity rates, Aug. 27 to Sept. 2:
--- #1. Campbell County: 9.8% (class: yellow, 70.9% below state positivity rate)
--- #2. Uinta County: 8.5% (class: yellow, 74.8% below state positivity rate)
--- #3. Sweetwater County: 6.2% (class: yellow, 81.6% below state positivity rate)
--- #4. Goshen County: 5.5% (class: yellow, 83.7% below state positivity rate)
--- #5. Weston County: 4.8% (class: green, 85.7% below state positivity rate)
Daily new counts over the past week (Sept. 4 to Sept. 10, seven-day averages):
- New cases: 6.4 per 100,000 people (#37 highest among all states)
- New deaths: 0.02 per 100k (#48 highest)
- New tests: 191.5 per 100k (#25 highest)
- Test positivity rate: 31.5% (#3 highest, recommended ratio: under 5%)
Total state COVID-19 counts as of Sept. 10:
- 4,199 total cases (721.7 per 100k, #45 highest among all states)
- 42 total deaths (7.2 per 100k, #49 highest)
- 85,299 total tests (14,660.3 per 100k, #49 highest)