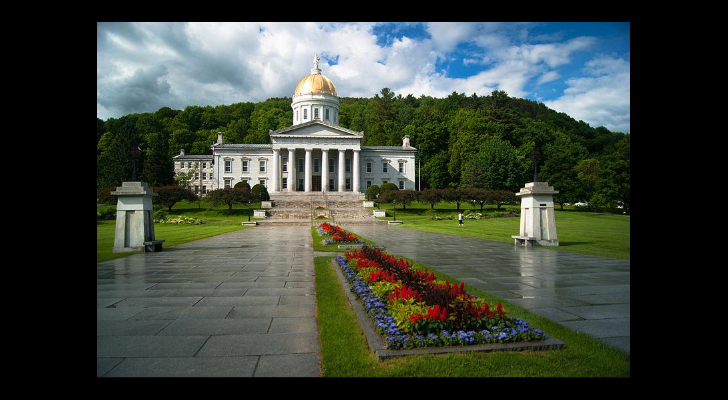 Healthiest States in America
Healthiest States in America
One of the best metrics of success and happiness in a country is longevity. With life expectancy generally increasing in the world, it is helpful to know what factors contribute to a healthy and long life. The World Health Organization defines health as "a state of complete physical, mental, and social well-being and not merely the absence of disease or infirmity." This definition points us in the right direction towards the pursuit of overall health.
However, being healthy in every part of our lives and finding the resources to help us get there is not an easy task. As living in an environment conducive to better living is needed to produce health, Stacker has ranked the healthiest states in the U.S. using the America's Health Rankings 2017 Annual Report.
States are ranked by five metrics: behaviors, community, environmental policy, clinical care, and health outcomes. Find out if your state is as healthy as you think, and read here for more details about its current health condition.
#50. Mississippi
Score above/below the national norm: -1.04
Behaviors rank: #49
Community & environment rank: #44
Policy rank: #47
Clinical care rank: #50
Health outcomes rank: #48



 
#49. Louisiana
Score above/below the national norm: -0.91
Behaviors rank: #50
Community & environment rank: #50
Policy rank: #38
Clinical care rank: #49
Health outcomes rank: #43



 
#48. Arkansas
Score above/below the national norm: -0.77
Behaviors rank: #45
Community & environment rank: #42
Policy rank: #27
Clinical care rank: #48
Health outcomes rank: #47



 
#47. Alabama
Score above/below the national norm: -0.76
Behaviors rank: #38
Community & environment rank: #48
Policy rank: #23
Clinical care rank: #47
Health outcomes rank: #49



 
#46. West Virginia
Score above/below the national norm: -0.70
Behaviors rank: #48
Community & environment rank: #36
Policy rank: #12
Clinical care rank: #44
Health outcomes rank: #50



 
#45. Tennessee
Score above/below the national norm: -0.64
Behaviors rank: #43
Community & environment rank: #40
Policy rank: #35
Clinical care rank: #45
Health outcomes rank: #44



 
#44. South Carolina
Score above/below the national norm: -0.61
Behaviors rank: #42
Community & environment rank: #46
Policy rank: #44
Clinical care rank: #46
Health outcomes rank: #42



 
#43. Oklahoma
Score above/below the national norm: -0.59
Behaviors rank: #37
Community & environment rank: #41
Policy rank: #49
Clinical care rank: #43
Health outcomes rank: #45



 
#42. Kentucky
Score above/below the national norm: -0.51
Behaviors rank: #47
Community & environment rank: #26
Policy rank: #16
Clinical care rank: #39
Health outcomes rank: #46



 
#41. Georgia
Score above/below the national norm: -0.43
Behaviors rank: #35
Community & environment rank: #39
Policy rank: #33
Clinical care rank: #42
Health outcomes rank: #37



 
#40. Missouri
Score above/below the national norm: -0.42
Behaviors rank: #39
Community & environment rank: #35
Policy rank: #42
Clinical care rank: #41
Health outcomes rank: #40



 
#39. Ohio
Score above/below the national norm: -0.41
Behaviors rank: #46
Community & environment rank: #33
Policy rank: #24
Clinical care rank: #40
Health outcomes rank: #39



 
#38. Indiana
Score above/below the national norm: -0.36
Behaviors rank: #40
Community & environment rank: #27
Policy rank: #32
Clinical care rank: #37
Health outcomes rank: #41



 
#37. Nevada
Score above/below the national norm: -0.29
Behaviors rank: #32
Community & environment rank: #32
Policy rank: #43
Clinical care rank: #35
Health outcomes rank: #35



 
#36. New Mexico
Score above/below the national norm: -0.25
Behaviors rank: #36
Community & environment rank: #47
Policy rank: #31
Clinical care rank: #36
Health outcomes rank: #32



 
#35. Michigan
Score above/below the national norm: -0.21
Behaviors rank: #44
Community & environment rank: #29
Policy rank: #18
Clinical care rank: #30
Health outcomes rank: #38



 
#34. Texas
Score above/below the national norm: -0.19
Behaviors rank: #15
Community & environment rank: #37
Policy rank: #50
Clinical care rank: #38
Health outcomes rank: #27



 
#33. North Carolina
Score above/below the national norm: -0.18
Behaviors rank: #26
Community & environment rank: #31
Policy rank: #30
Clinical care rank: #31
Health outcomes rank: #36



 
#32. Florida
Score above/below the national norm: -0.15
Behaviors rank: #28
Community & environment rank: #28
Policy rank: #46
Clinical care rank: #32
Health outcomes rank: #30



 
#31. Arizona
Score above/below the national norm: -0.11
Behaviors rank: #25
Community & environment rank: #45
Policy rank: #40
Clinical care rank: #33
Health outcomes rank: #25



 
#30. Delaware
Score above/below the national norm: -0.10
Behaviors rank: #30
Community & environment rank: #34
Policy rank: #5
Clinical care rank: #28
Health outcomes rank: #34



 
#29. Alaska
Score above/below the national norm: -0.07
Behaviors rank: #40
Community & environment rank: #49
Policy rank: #45
Clinical care rank: #34
Health outcomes rank: #13



 
#28. Pennsylvania
Score above/below the national norm: 0.01
Behaviors rank: #31
Community & environment rank: #30
Policy rank: #13
Clinical care rank: #24
Health outcomes rank: #31



 
#27. Illinois
Score above/below the national norm: 0.03
Behaviors rank: #23
Community & environment rank: #38
Policy rank: #21
Clinical care rank: #27
Health outcomes rank: #28



 
#26. Wyoming
Score above/below the national norm: 0.07
Behaviors rank: #34
Community & environment rank: #7
Policy rank: #48
Clinical care rank: #29
Health outcomes rank: #19



 
#25. Kansas
Score above/below the national norm: 0.12
Behaviors rank: #22
Community & environment rank: #24
Policy rank: #28
Clinical care rank: #25
Health outcomes rank: #22



 
#24. South Dakota
Score above/below the national norm: 0.20
Behaviors rank: #21
Community & environment rank: #25
Policy rank: #37
Clinical care rank: #26
Health outcomes rank: #6



 
#23. Maine
Score above/below the national norm: 0.21
Behaviors rank: #29
Community & environment rank: #8
Policy rank: #22
Clinical care rank: #15
Health outcomes rank: #33



 
#22. Montana
Score above/below the national norm: 0.23
Behaviors rank: #16
Community & environment rank: #23
Policy rank: #41
Clinical care rank: #23
Health outcomes rank: #12



 
#21. Wisconsin
Score above/below the national norm: 0.27
Behaviors rank: #23
Community & environment rank: #21
Policy rank: #9
Clinical care rank: #21
Health outcomes rank: #21



 
#20. Oregon
Score above/below the national norm: 0.30
Behaviors rank: #27
Community & environment rank: #16
Policy rank: #34
Clinical care rank: #17
Health outcomes rank: #24



 
#19. Virginia
Score above/below the national norm: 0.30
Behaviors rank: #8
Community & environment rank: #6
Policy rank: #39
Clinical care rank: #19
Health outcomes rank: #23



 
#18. North Dakota
Score above/below the national norm: 0.33
Behaviors rank: #33
Community & environment rank: #14
Policy rank: #14
Clinical care rank: #22
Health outcomes rank: #5



 
#17. California
Score above/below the national norm: 0.35
Behaviors rank: #2
Community & environment rank: #43
Policy rank: #29
Clinical care rank: #18
Health outcomes rank: #15



 
#16. Maryland
Score above/below the national norm: 0.36
Behaviors rank: #7
Community & environment rank: #22
Policy rank: #17
Clinical care rank: #13
Health outcomes rank: #26



 
#15. Iowa
Score above/below the national norm: 0.38
Behaviors rank: #18
Community & environment rank: #17
Policy rank: #11
Clinical care rank: #20
Health outcomes rank: #7



 
#14. Idaho
Score above/below the national norm: 0.38
Behaviors rank: #11
Community & environment rank: #11
Policy rank: #25
Clinical care rank: #14
Health outcomes rank: #17



 
#13. Nebraska
Score above/below the national norm: 0.40
Behaviors rank: #19
Community & environment rank: #18
Policy rank: #19
Clinical care rank: #16
Health outcomes rank: #8



 
#12. New Jersey
Score above/below the national norm: 0.47
Behaviors rank: #6
Community & environment rank: #12
Policy rank: #26
Clinical care rank: #12
Health outcomes rank: #18



 
#11. Rhode Island
Score above/below the national norm: 0.47
Behaviors rank: #17
Community & environment rank: #13
Policy rank: #3
Clinical care rank: #7
Health outcomes rank: #29



 
#10. New York
Score above/below the national norm: 0.51
Behaviors rank: #13
Community & environment rank: #18
Policy rank: #8
Clinical care rank: #10
Health outcomes rank: #16



 
#9. Washington
Score above/below the national norm: 0.52
Behaviors rank: #12
Community & environment rank: #20
Policy rank: #15
Clinical care rank: #11
Health outcomes rank: #11



 
#8. New Hampshire
Score above/below the national norm: 0.62
Behaviors rank: #20
Community & environment rank: #1
Policy rank: #7
Clinical care rank: #5
Health outcomes rank: #20



 
#7. Colorado
Score above/below the national norm: 0.62
Behaviors rank: #9
Community & environment rank: #5
Policy rank: #20
Clinical care rank: #9
Health outcomes rank: #3



 
#6. Minnesota
Score above/below the national norm: 0.68
Behaviors rank: #14
Community & environment rank: #10
Policy rank: #10
Clinical care rank: #8
Health outcomes rank: #1



 
#5. Connecticut
Score above/below the national norm: 0.70
Behaviors rank: #4
Community & environment rank: #15
Policy rank: #6
Clinical care rank: #4
Health outcomes rank: #10



 
#4. Utah
Score above/below the national norm: 0.73
Behaviors rank: #1
Community & environment rank: #9
Policy rank: #35
Clinical care rank: #6
Health outcomes rank: #2



 
#3. Vermont
Score above/below the national norm: 0.79
Behaviors rank: #10
Community & environment rank: #2
Policy rank: #2
Clinical care rank: #2
Health outcomes rank: #14



 
#2. Hawaii
Score above/below the national norm: 0.85
Behaviors rank: #5
Community & environment rank: #4
Policy rank: #4
Clinical care rank: #3
Health outcomes rank: #4



 
#1. Massachusetts
Score above/below the national norm: 0.92
Behaviors rank: #3
Community & environment rank: #3
Policy rank: #1
Clinical care rank: #1
Health outcomes rank: #9